This article may contain affiliate links; if you click on a shopping link and make a purchase I may receive a commission. As an Amazon Associate, I earn from qualifying purchases.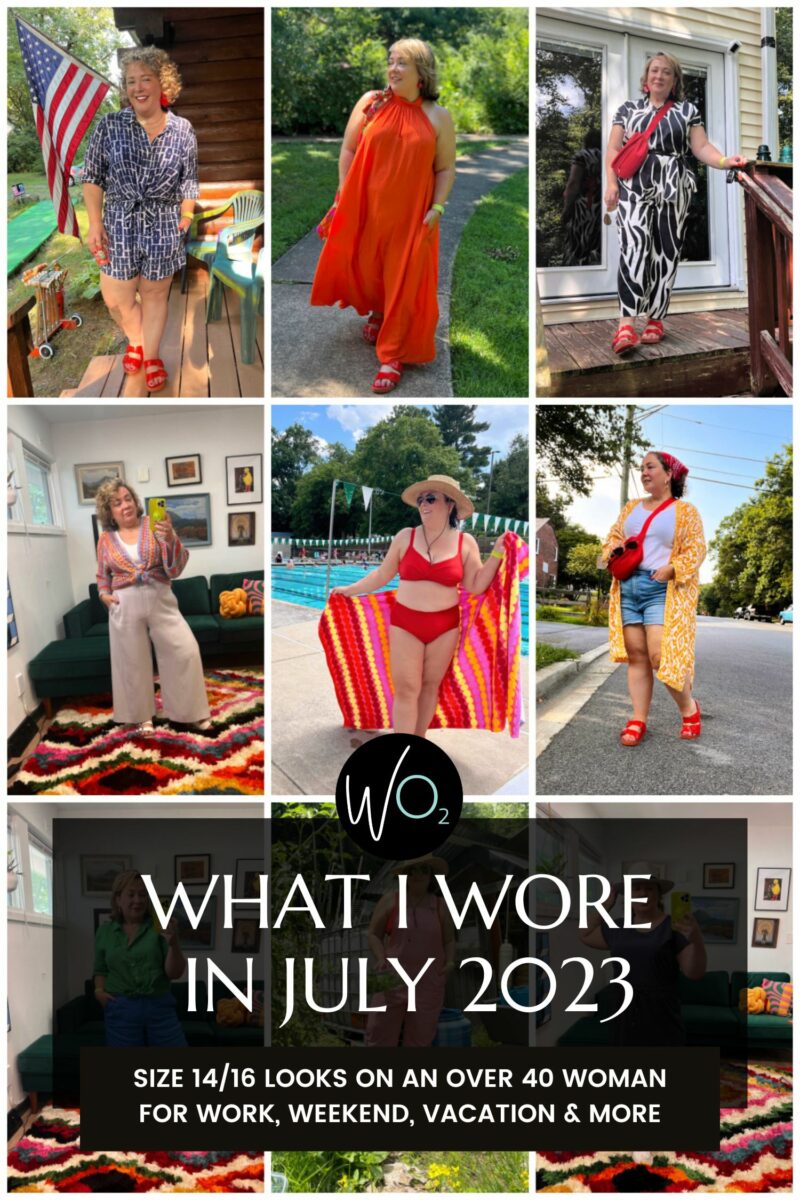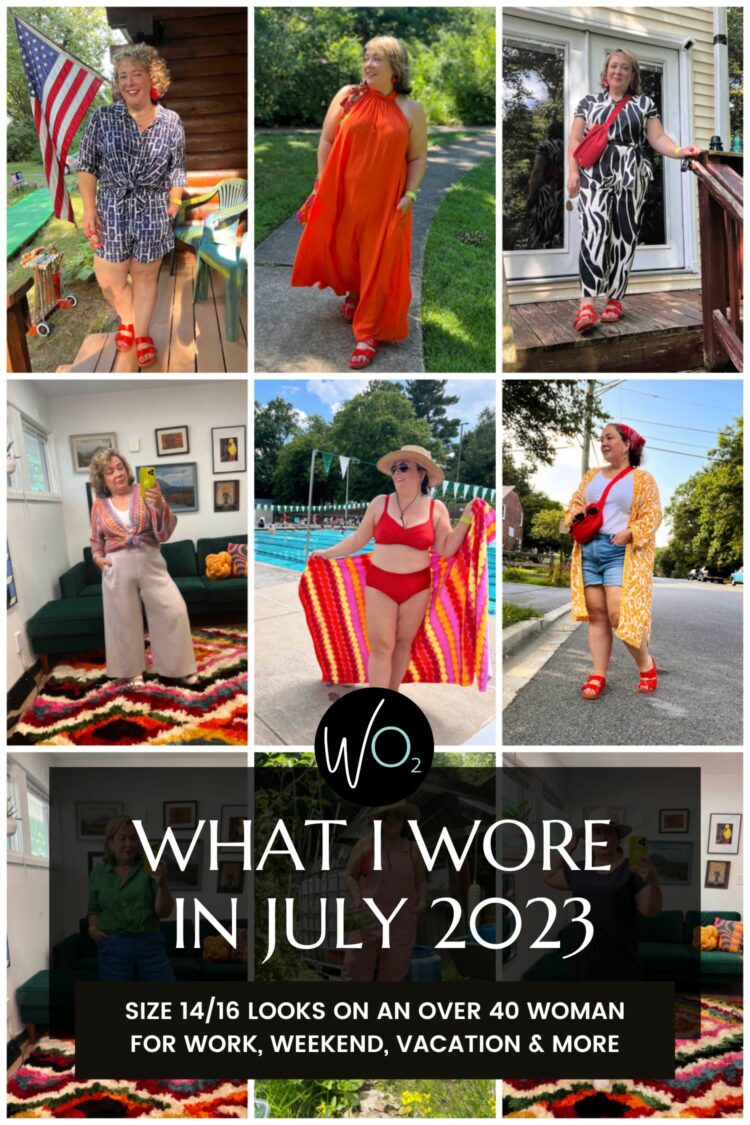 You know what happens when I go on vacation in August? What I wore in July isn't posted until it's almost September! It's amazing how quickly this month has gone by. Well, better late than never, right?
What I Wore in July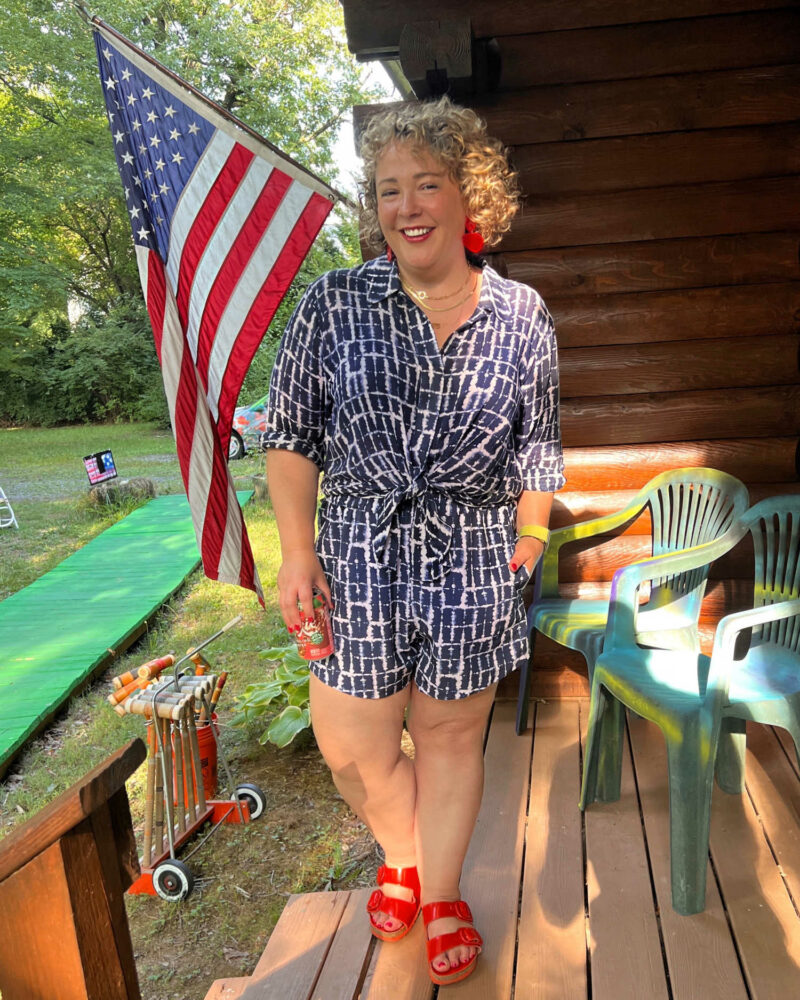 For the 4th of July holiday, we went to a friend's house for a daytime party before our community's fireworks at the lake. For the party I wore a blue and white shibori print top and shorts from Universal Standard (no longer available). The top is XS, the shorts are S. With it I wore red earrings I got at Nordstrom maybe a decade ago, and my red Birkenstock sandals. The top has a deep shirrtail hem so I tied the front and tucked the back into the shorts to create a romper/jumpsuit effect.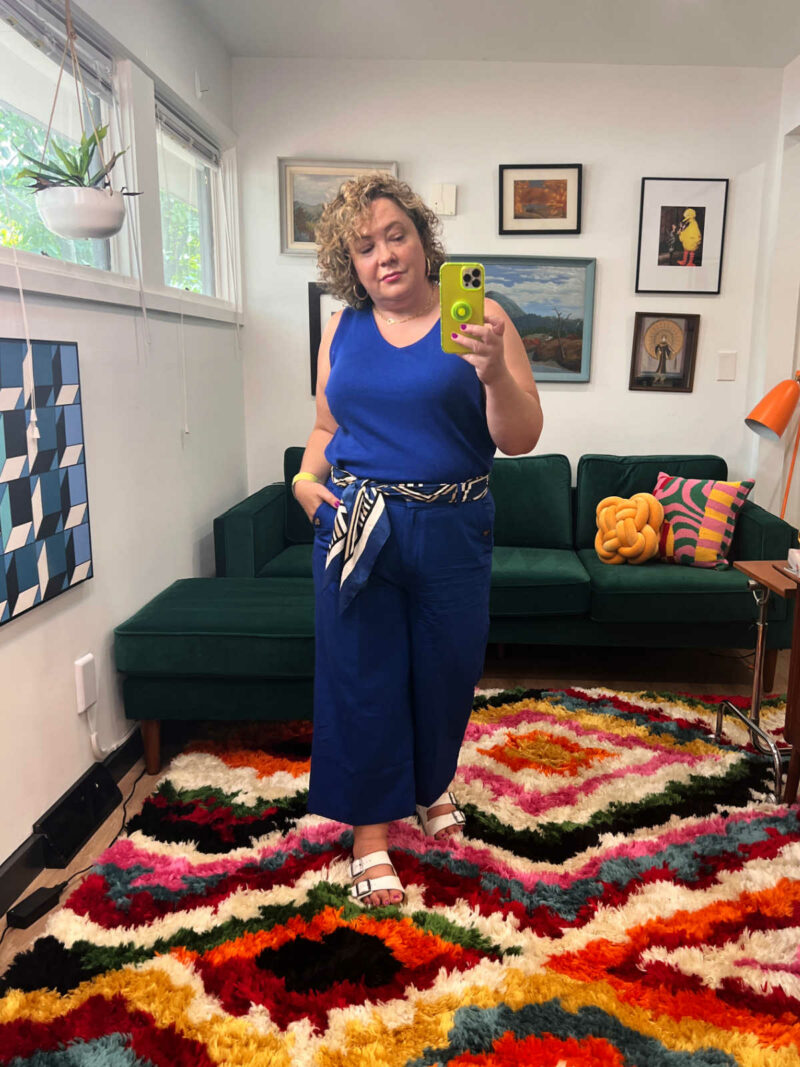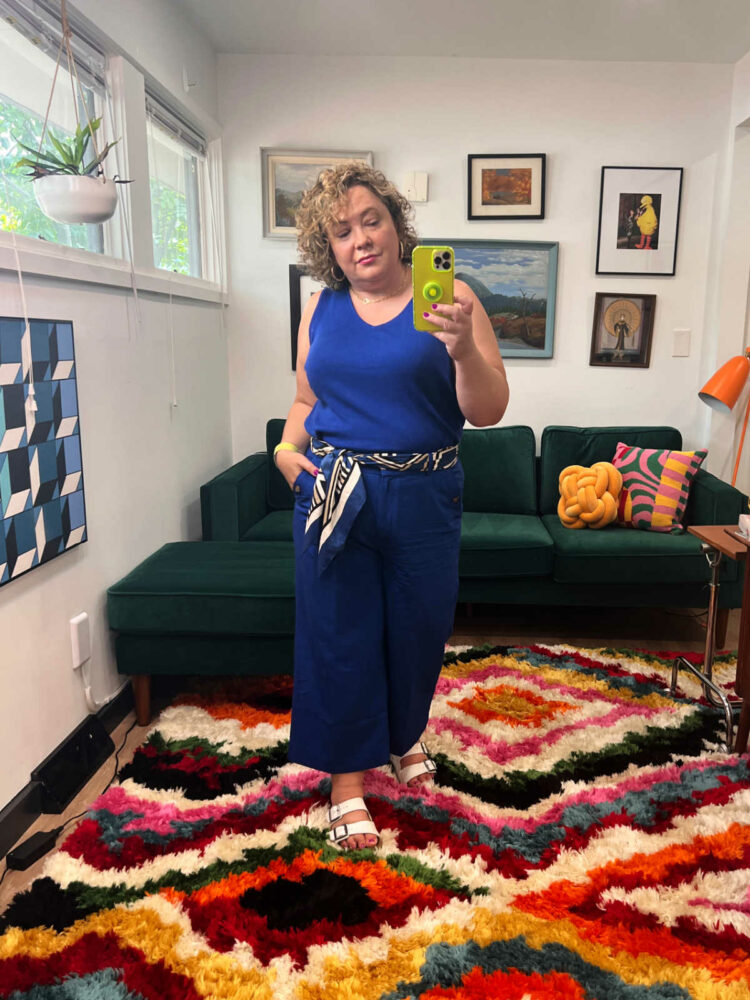 I know this sweater shell sold out FAST, when I ordered it for the campaign it was in stock in all sizes, but by time it was ready to go live it was almost sold out and no plans to restock. I was told to feature it anyway, since it's a focus on the Blue Majesty color that was in their new arrivals and still live on their site in other pieces.
Both pieces I ordered for the campaign a bit too big, but I still loved the silhouettes and colors so I wore them. I added a Banana Republic Factory scarf as a belt (same size different print, same print different size) to cinch the pants for a better fit. And then I added white Birkenstock sandals.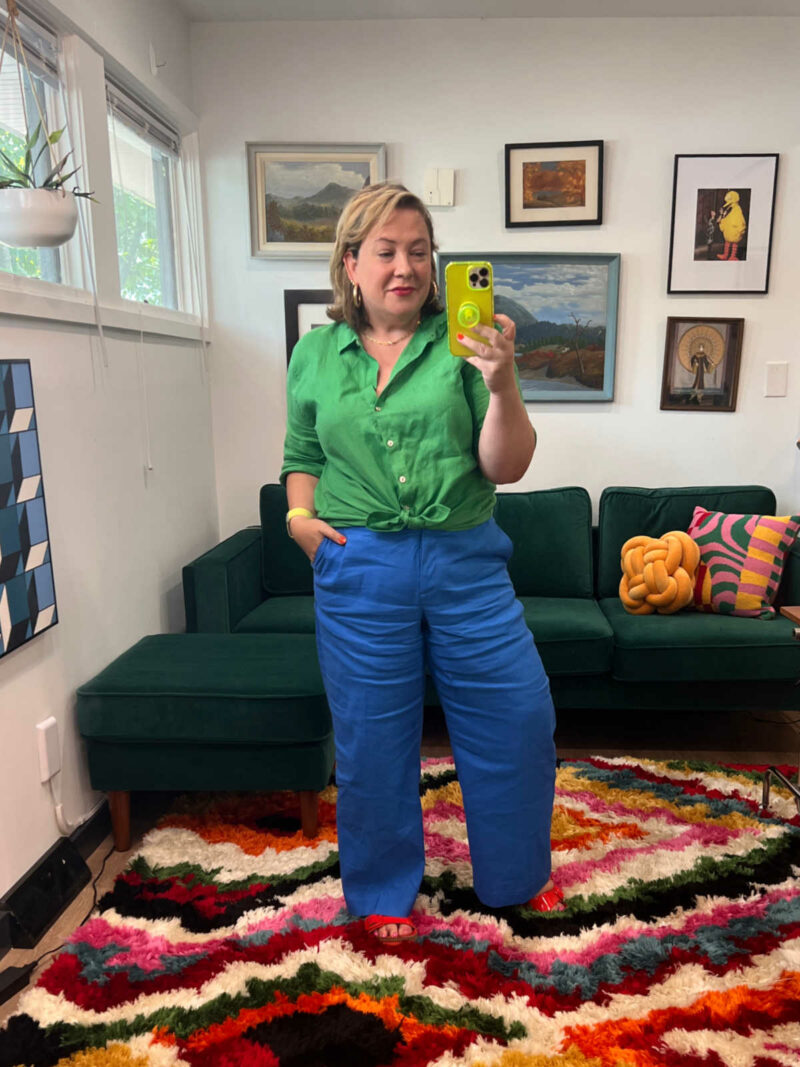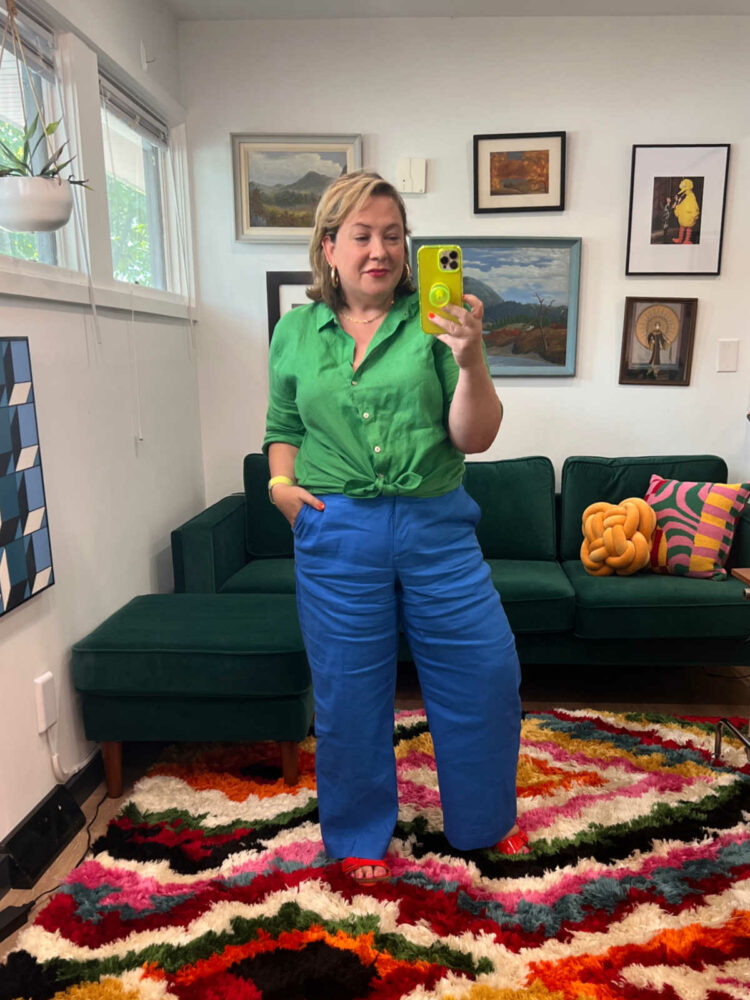 Both of these linen pieces I got last year.
The shirt is Chico's and I wore a year ago in a similar fashion. The pants are Ann Taylor and I can't seem to find a photo online but I did find this reel from last June when I was wearing them. I finished the look with red lips and my red Birkenstocks.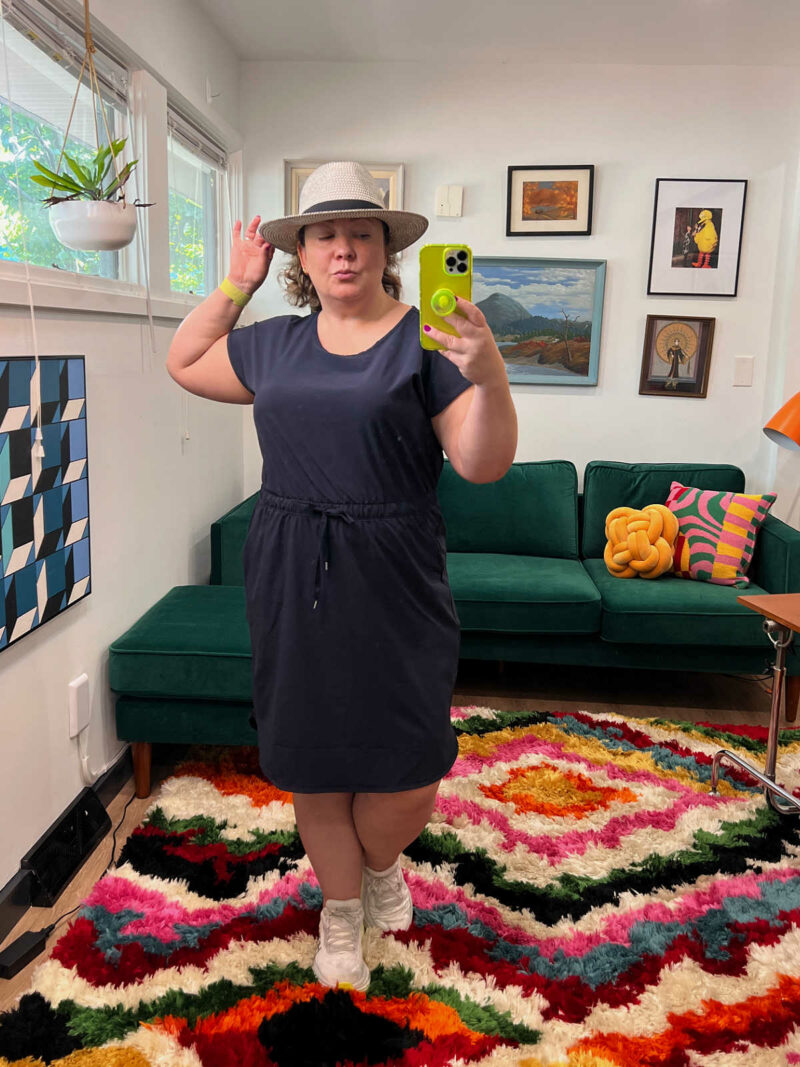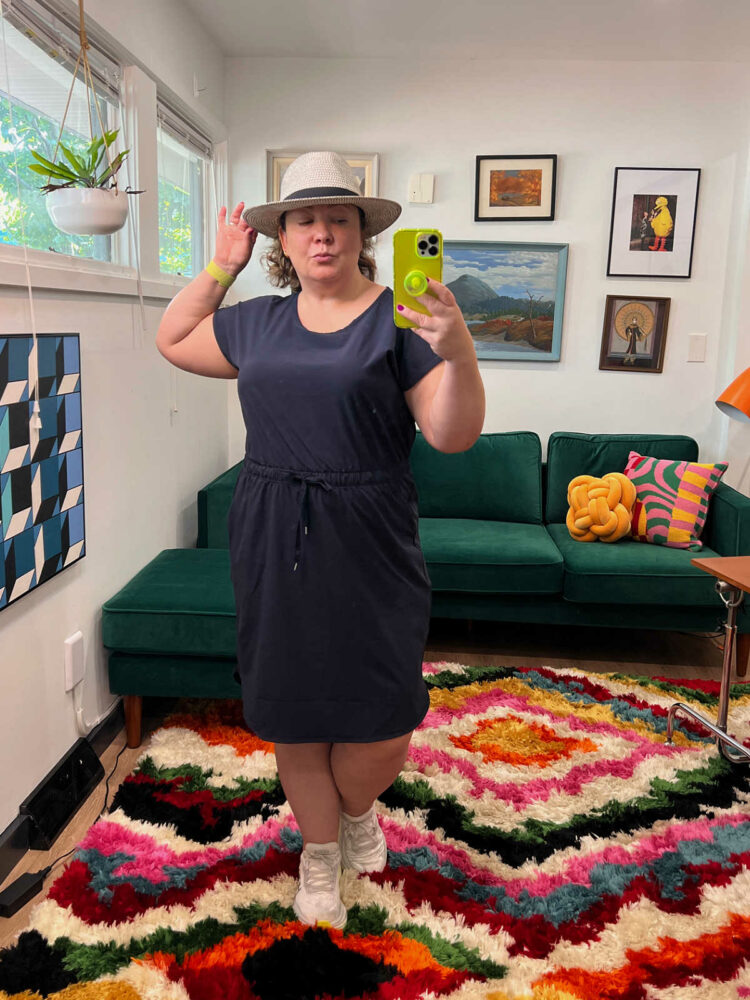 I featured this dress in my summer road trip capsule wardrobe. Folks saw it on Instagram while I was on my road trip and many purchased it and many of those folks said they too loved it. There are a few sizes left in misses and petite, and the dress is on sale. It's a good dress; I wore it for a walk with a friend and coffee. The hat is Wallaroo, and HOKA Bondi 8 sneakers.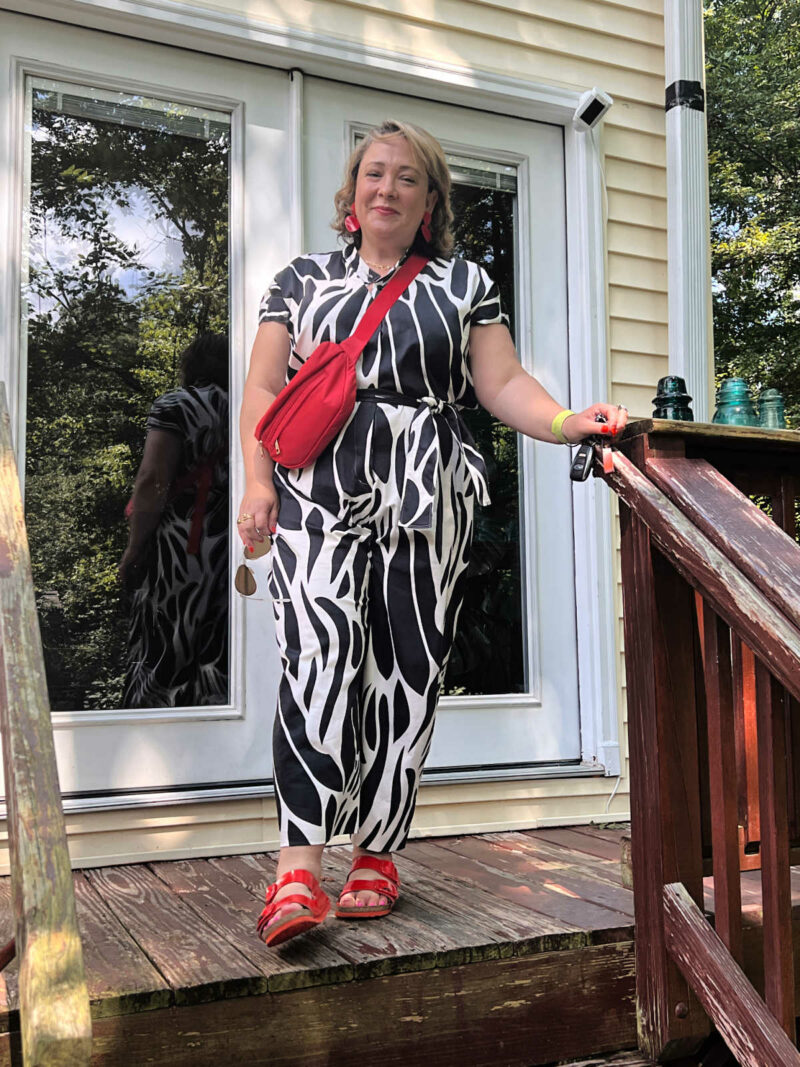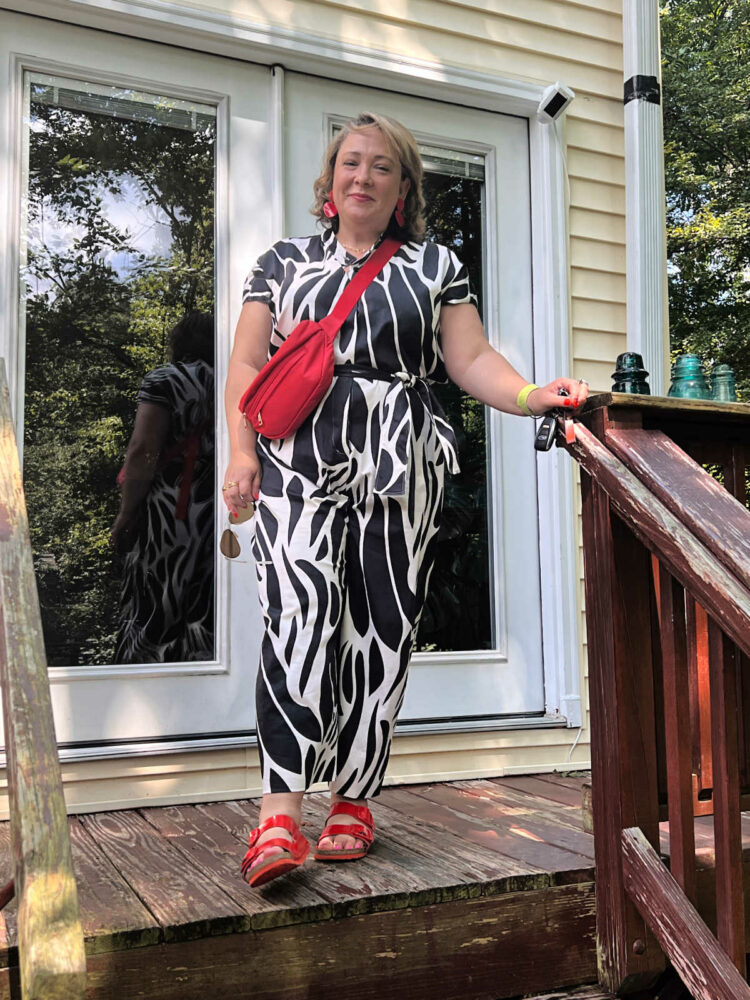 I've worn this Natori jumpsuit before, casual with Birks and dressed up for my friend's baby shower. For this day I was meeting a friend for lunch and dressed it up with red accessories. The same old earrings from the 4th of July, same red Birks, and a red belt bag I got at Target.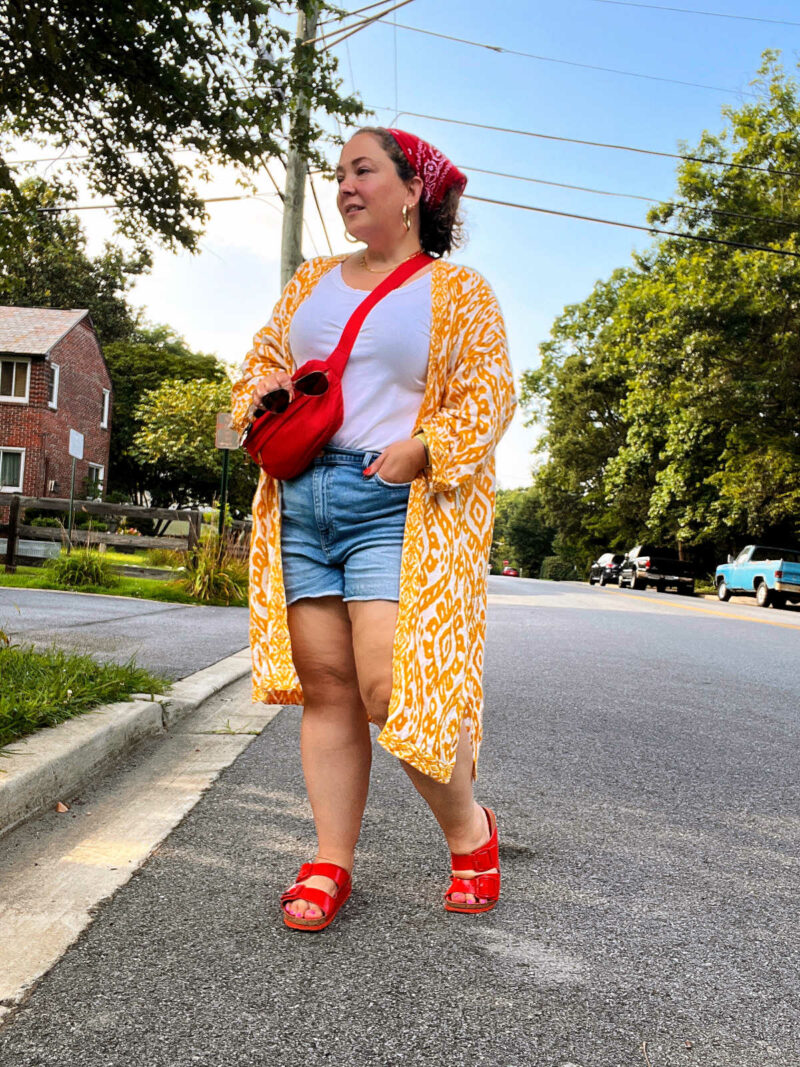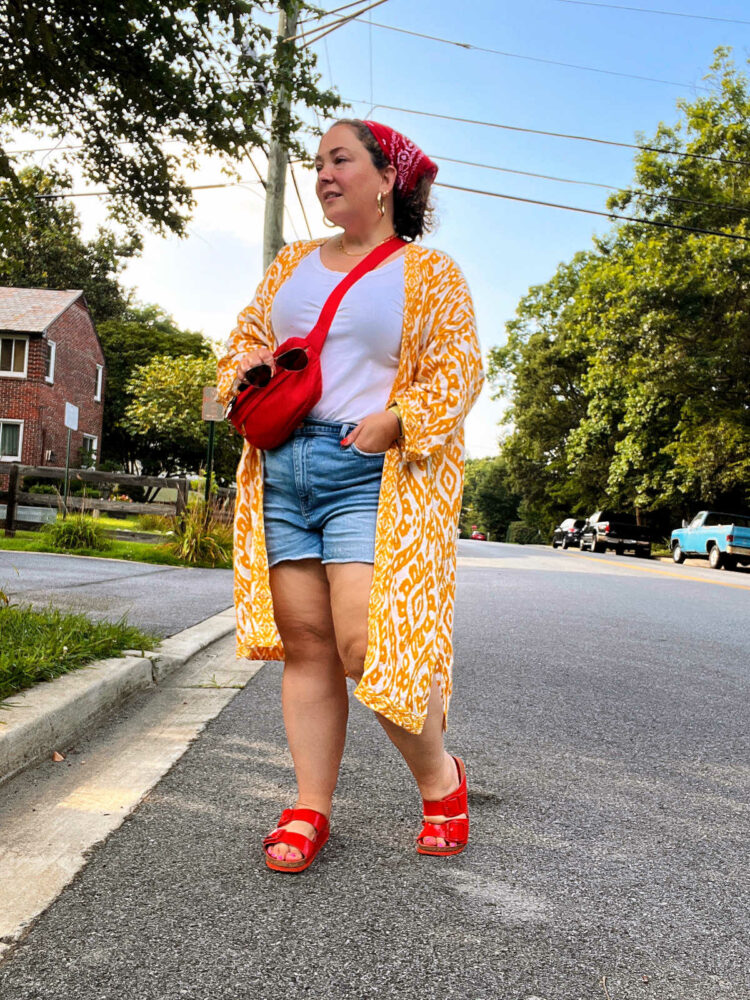 White tank and denim shorts
Same red belt bag and Birks, styled with J. Crew denim shorts that are at least two years old (these look similar; I always go up a size with shorts) and a tank from Able. The topper is linen and from Ann Taylor (earlier this summer, no longer available); I've also worn it with white linen pants and as a swimsuit coverup. I put a red bandana over my hair because it was being quite unruly.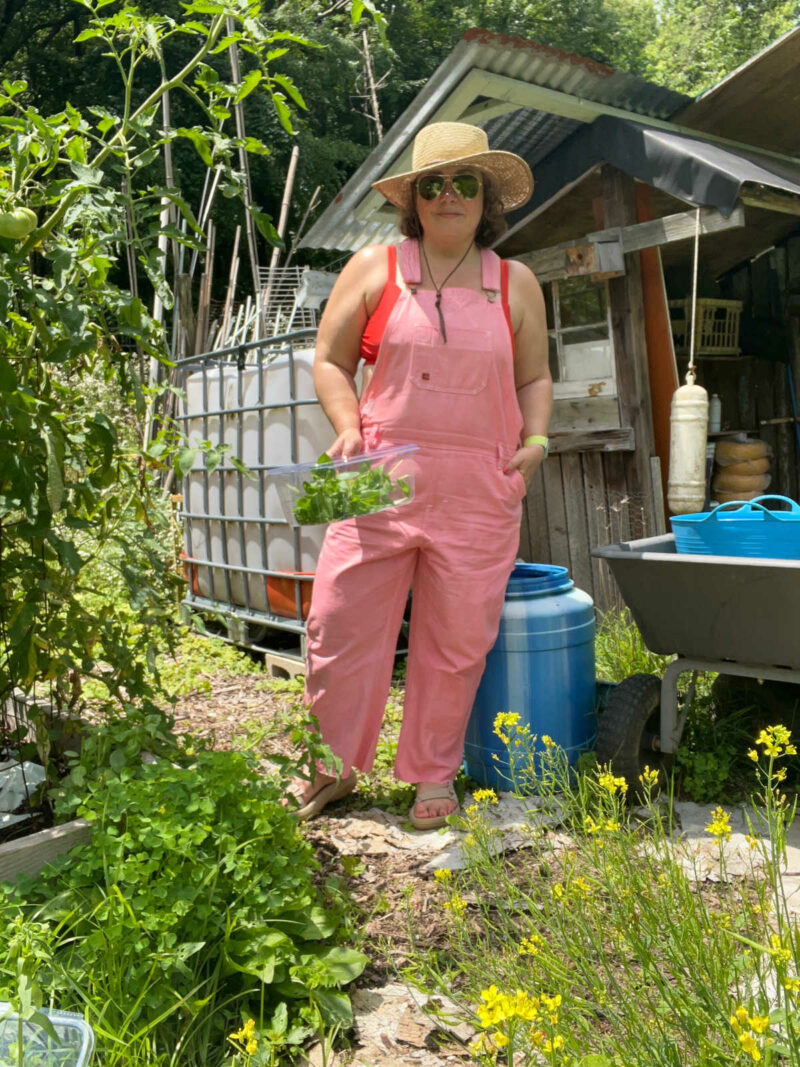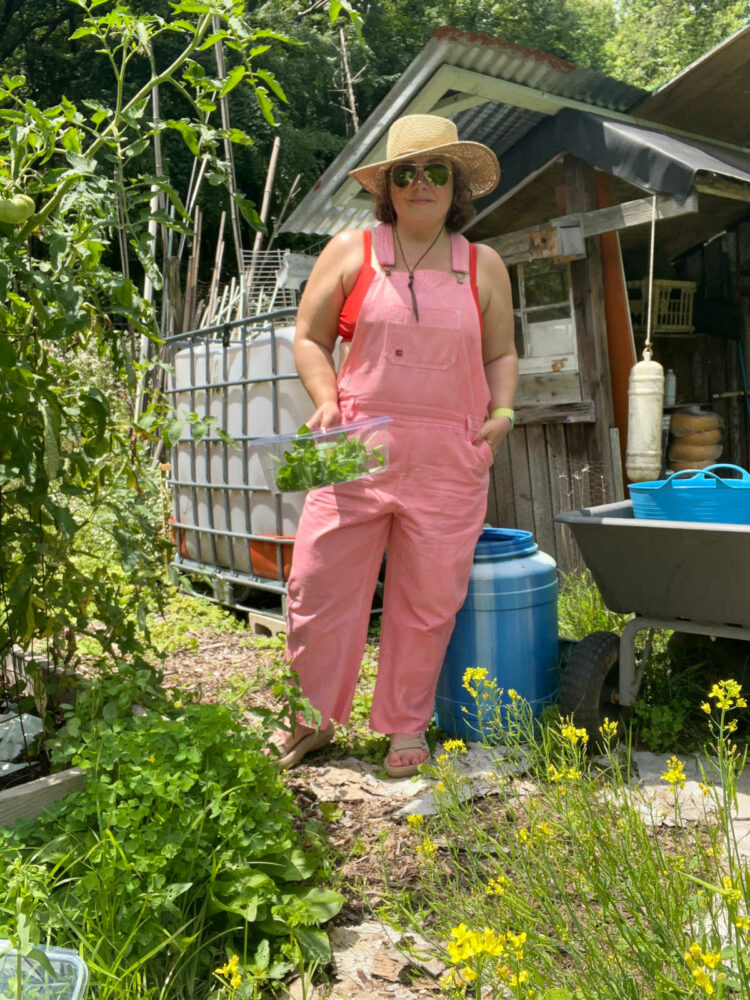 Pink overalls
I've worn these pink overalls before, they were seen in what I wore last month, as well as a whole post dedicated to them last year. Here, I am wearing them with an old straw hat, old Tevas I really don't like (these are better), and the Universal Standard twist bikini for a quick trip to my husband's plot at the community garden to gather produce.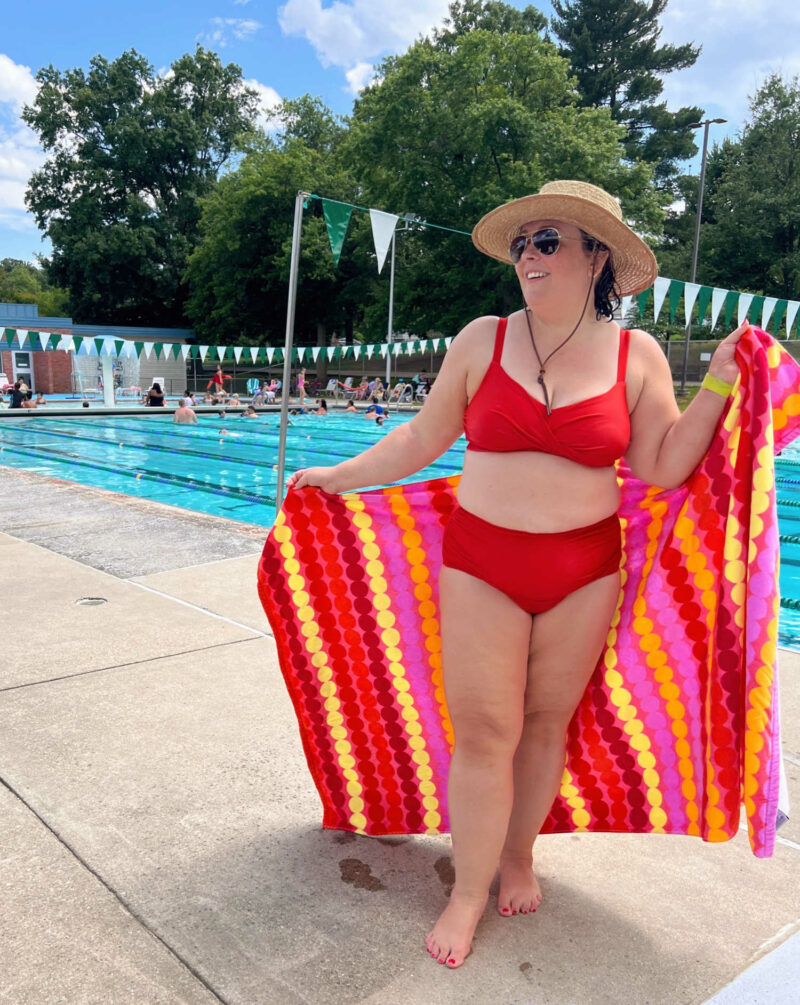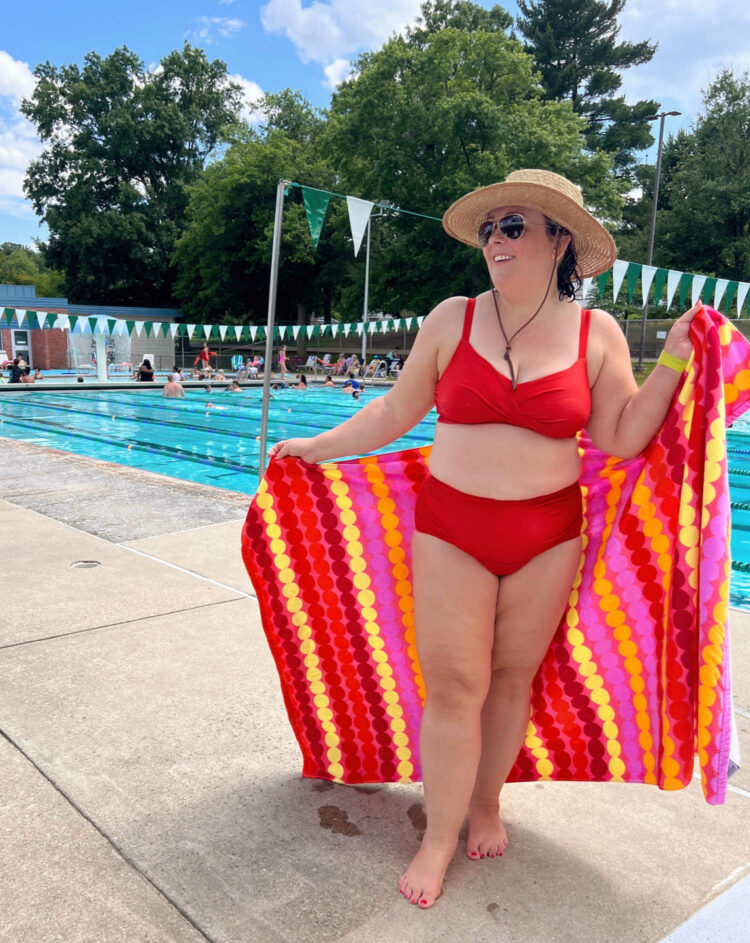 Speaking of the Universal Standards bikini… I also wore it to the pool.
I actually wore it to the garden to see how it would hold up in sweat and a lot of movement, and then wore to the pool to see how it did when it was saturated and how it did with swimming and somersaults. I am wearing the bikini brief and the twist bikini top in size XS.
This suit is great; it ended up being the one I took on my vacations (yes instead of my tried and true Lands' End Tugless Tank!). It's a good choice for those who like the beach and pool not just for floating and sunning, but volleyball, water polo, a few casual laps, boogie boarding, kayaking, and other activities. The towel is Marimekko.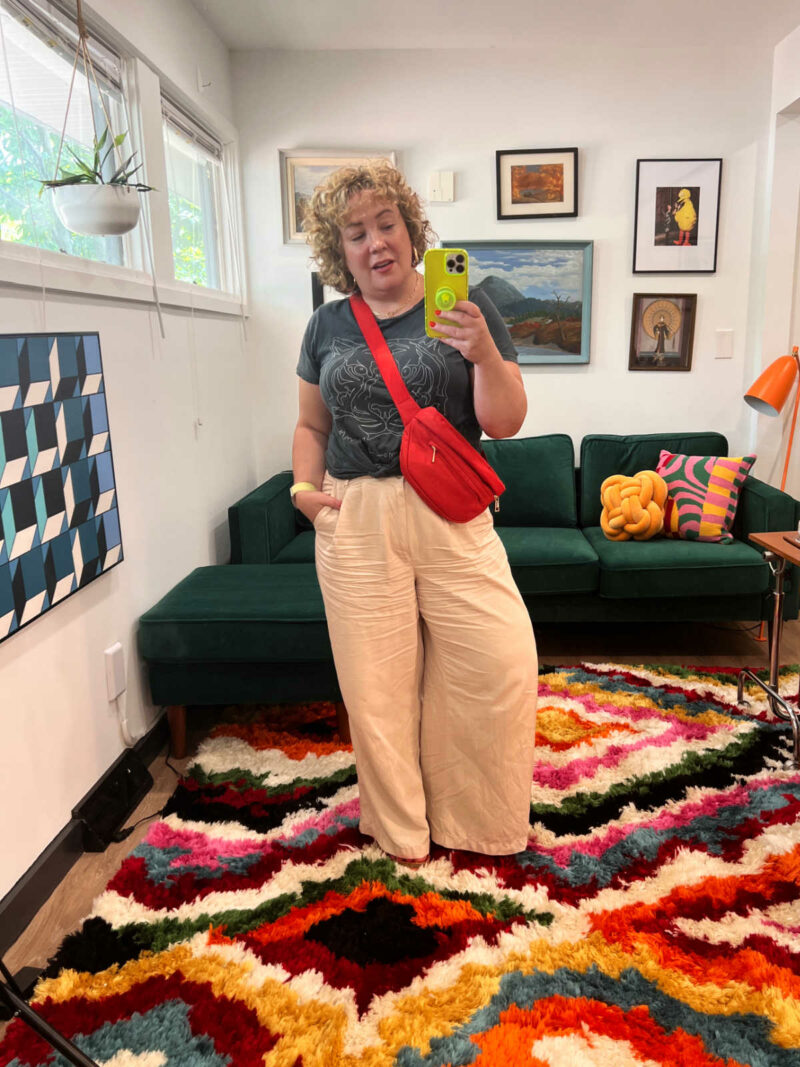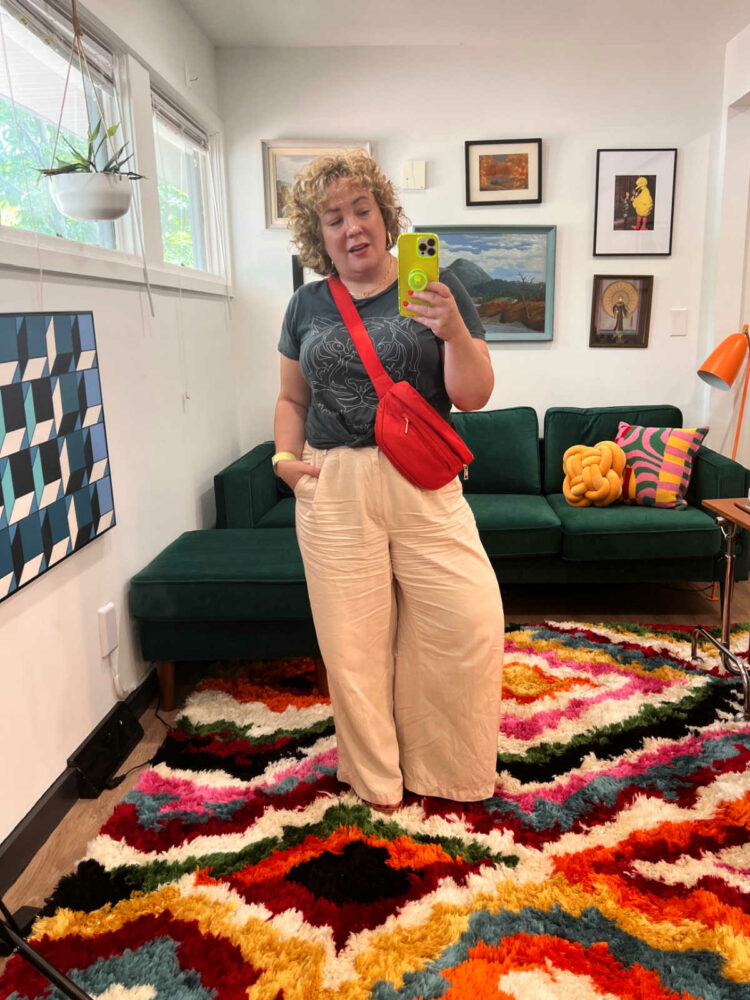 A total casual look, but a few details keep it from being schlubby.
The t-shirt is about five years old; I tied it to add some style and shape (I used this method). Instead of jeans or pull-on pants, I'm wearing the Madewell Harlow pants, which IMO are pretty darn comfortable but look more elevated (size 14P). The red pops (including a stain of red lipcolor) makes the outfit look puposeful and adds a necessary dose of color with the neutrals. Same Birks and red belt bag you see above.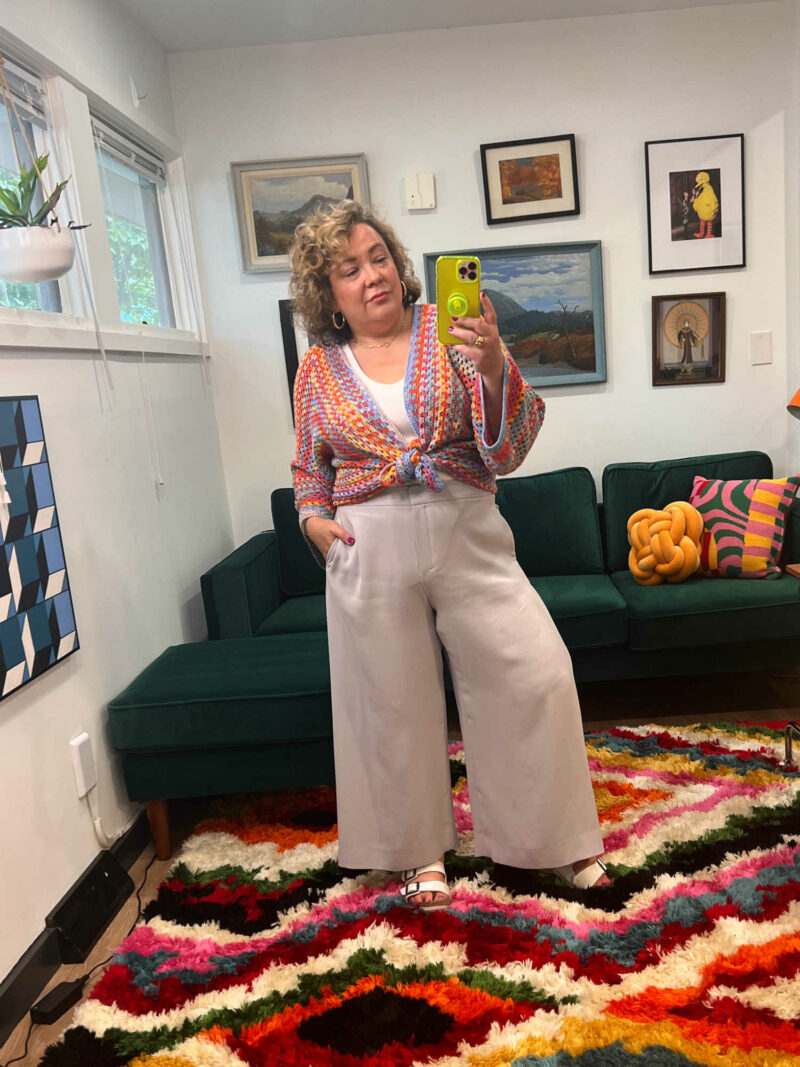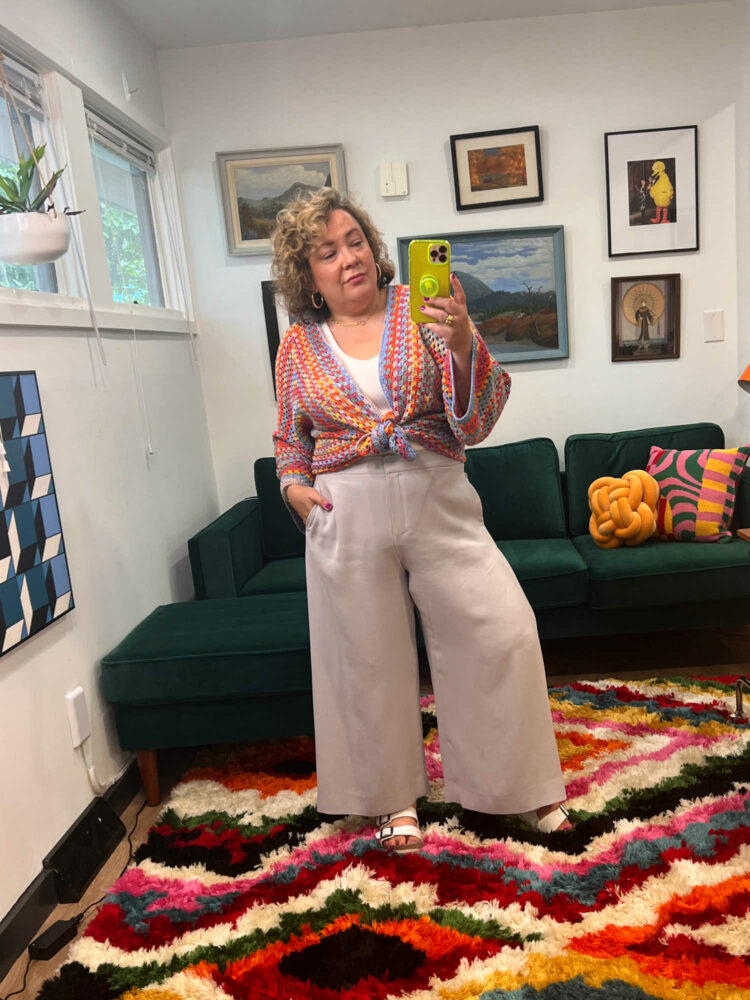 Another casual look that doesn't look so casual.
These are the Zhou culottes from M.M.LaFleur which I now own in two colors and a printed silk version. They run a bit roomy; I am wearing a 14. I love that these in the Eco Weave are machine wash, line dry, no need to iron, and they don't wrinkle. I paired them with a simple white ribbed tank, and then took a cardigan I got on Etsy back in 2020 (you can also see it here) and tied it in a knot instead of leaving it loose. Just that knot elevated the look. White Birks and some gold hoops (these from Chico's) finish the look.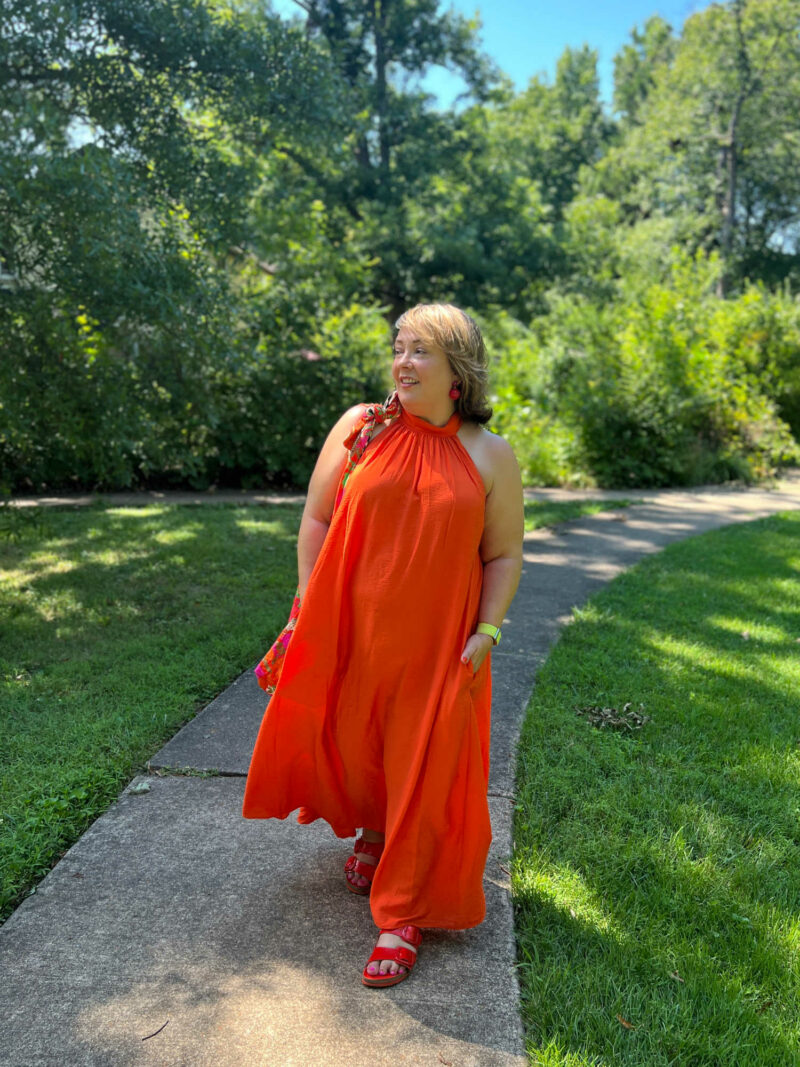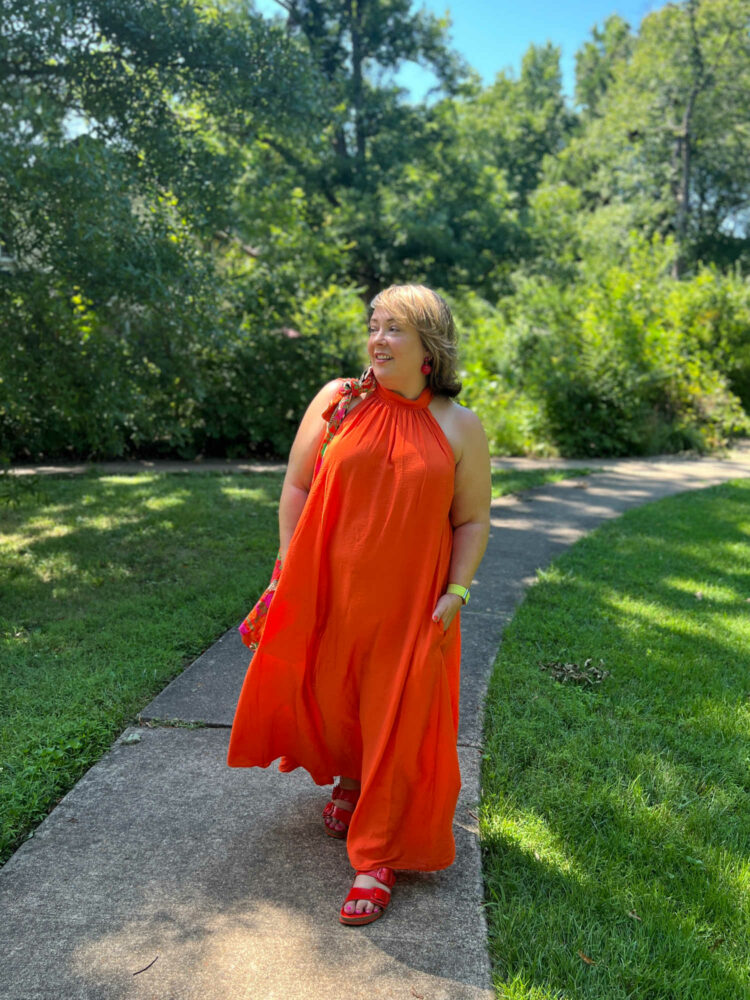 And finally, I got this COS brand dress from Nordstrom in XL and have been wearing it pretty continuously since. I can dress it up like I did here, but I also wear it like a muumuu bra free around the house. It's machine washable and I line dry it because it dries super fast. I took it to Savannah and it was perfect there too. Unfortunately it's almost out of stock and I never saw it on the COS website.
Same red Birks, ball earrings I got from a Target designer collab (first seen in this post) and my bag is a reversible cotton tote I got at cabi a few years ago. The bra underneath is the Wacoal Red Carpet Strapless which is the lightest weight strapless bra I've found for large busts that still does something and isn't horribly uncomfortable. It's my summer go-to strapless bra.