This article may contain affiliate links; if you click on a shopping link and make a purchase I may receive a commission. As an Amazon Associate, I earn from qualifying purchases.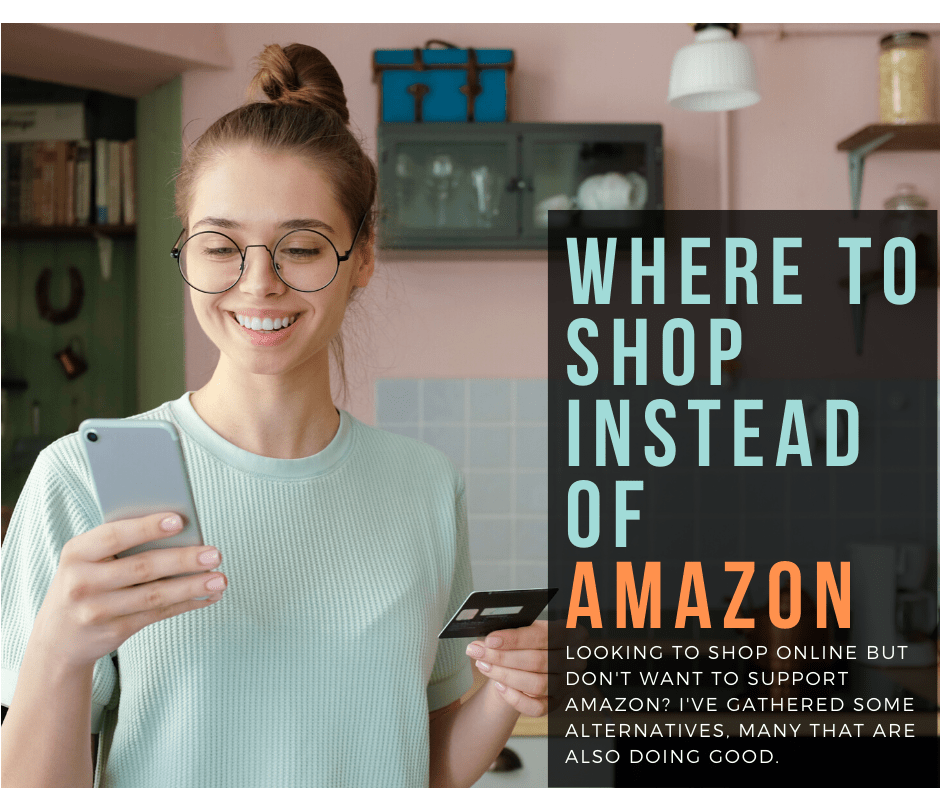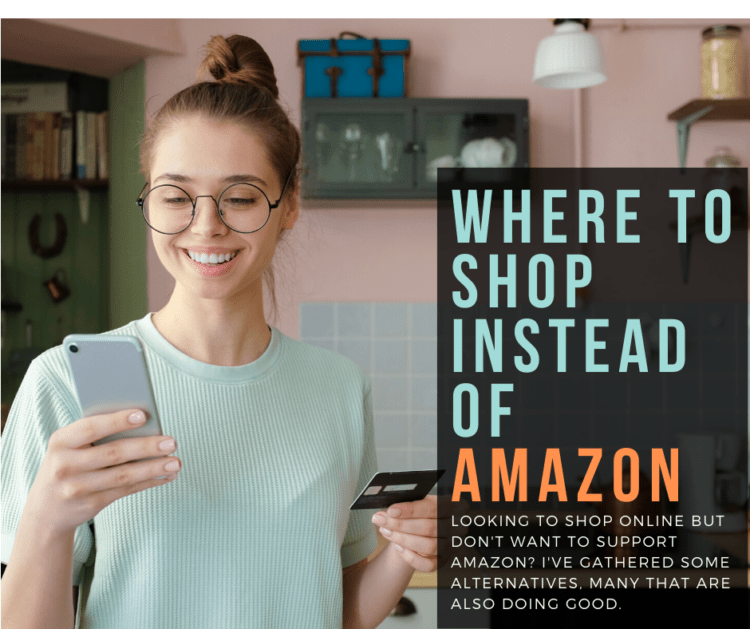 If you're not aware, Amazon is not the most… ethical company and it's becoming even more obvious in the recent weeks. I won't get into it, you can Google it and find out for yourself. I admit I have become a lazy shopper and often go to Amazon for super simple things, especially now that we are sheltering in place. But no more. I am working to find places where I can find the same items that will also ship to me but are not Amazon. Some of the places I have recently shopped:
Places to Shop Instead of Amazon
I'm doing a Closet Cleanout / Rearranging my Pantry / Organizing My Office
Head to The Container Store! Shipping is free on purchases of $75 or more. They are experiencing shipping delays due to having way more with stores being closed but that's just fine considering you're not going anywhere and neither is your pantry, closet, or office.
The Container Store also has items you may not expect. For example, we were looking for ways to hang up our bikes indoors, but have them lay flat against the wall. The Container Store had several different types of bike racks to choose from, and one that was exactly what we were looking for. They also have a lot of kitchen gadgets from respected brands like OXO and unexpected items like makeup mirrors. With a robust search tool on their site, it's easy to take a gander and see if they may have what non-hanger or storage bin thing you're looking for.
The Container Store year after year is awarded a top place to work. With stores closed, they have had to furlough many corporate and store employees but are maintaining curbside pickup where it is still legally permitted and is staffed only by employees who desire to work right now. The Container Store also reduced the base salaries of their CEO and other executive officers by 45 percent and 33 percent respectively. Their CEO and CFO have changed their employment contracts to temporarily defer annual cash bonus payments for the 2020 fiscal year.

I'm Starting a Garden and Want to Work on My Yard
Head to Gardener's Supply Company! From seeds and plants to soil and mulch, compost bins to patio furniture, and even supplies to grow plants indoors, Gardener's Supply Company likely has it and will be at a fair price with plenty of customer reviews to help you determine what is right for your gardening project. While they admit their orders are backed up right now, most leave their warehouse within 10 business days and arrives within a week of shipping. Shipping rates vary depending on how much you spend.
Gardener's Supply Company is an employee-owned company in Vermont and has been employee-owned since 2009. Gardner's Supply Company is also a B-Corp, which means they meet the highest standards of verified social and environmental performance, public transparency, and legal accountability to balance profit and purpose.
I Need Shampoo / Nail Clippers / Box Hair Dye / Beloved Drugstore Brand Mascara
Head to Ulta! From Maybelline to Meaningful Beauty to MAC, Ulta has an amazing selection of beauty brands. If you're looking to touch up your roots at home, Ulta offers Madison Reed, the coveted L'Oreal Root Cover Up spray, and plenty of permanent, semi-permanent, and nontoxic options. Whether it's a $3 nail clipper or the $200 NuFACE toning device, Ulta has you covered with free standard shipping on any order $35 or more.
With stores closed, employees have been furloughed. Ulta's CEO will forego her base salary and personally donated $500K the Ulta Beauty Associate Relief Program, which provides monetary grants to associates in need of financial assistance due to COVID-19. Ulta continues to offer online sales, and is paying workers in its distribution centers an additional $2 an hour. The company also said it plans to donate 450,000 medical-grade gloves from its salons to hospitals nationwide in coordination with the Federal Emergency Management Agency.

I'm Trying to Get my Fitness On
Head to Dick's Sporting Goods! Dick's has been my favorite place to shop for sports, fitness, and other athletic needs for years due to their ethics and they continue to impress during a pandemic. Hand weights of every shape size, yoga mats, TRX systems, even a punching bag to get out your aggression to what is going on… Dick's has it along with apparel, footwear, and more. While they are dealing with many items out of stock, it's worth checking back as I've seen things sold out two weeks ago are again available on the website. Dick's Sporting Goods offers free shipping on orders of $49 and more, though this excludes oversized or overweight items. See their site for specifics.
Almost 40,000 employees have also been furloughed at Dick's since their stores closed. Some locations are still offering contactless curbside pickup with reduced staff to manage it. Dick's enacted a temporary, graduated payroll cut for employees who are eligible for bonuses. The CEO and President are not receiving a salary.

I Want to Read a Book!
I hear you, I've struggled to find time to read and now I am going through books. It's a great way to distance yourself from the news and also helps you sleep better. No better time than now to support an independent bookstore. Many of them are shipping, and a few are offering curbside pickup of purchases. A few bookstores that are offering shipping (updated with reader suggestions):
Bookshop is a great alternative to Amazon for buying books and part of the profits are divided amongst independent booksellers. Thank you to all who recommended Bookshop! You can also click here to find a local independent bookseller, many that are offering contactless curbside pickup and/or home delivery. Some like DC's Kramerbooks is using Postmates for delivery. If you know of an amazing bookstore that is shipping, do share in the comments!
I Have a Kindle, Is there An Alternative to Amazon for eBooks?
If you have a library card, you can use Libby or OverDrive to borrow eBooks. If you do not have a library card or it expired, check your local library system because many (including Prince George's County, Maryland where I live) have the ability to sign up or renew online so you can get straight to reading!
There are plenty of other ways to score books that can be added to your Kindle, and several other eBook apps you can download and subscribe to. Some are more legal than others and none I have tried myself. If you have had success with any of them, do share in the comments and help others!
What About an Audible Alternative?
Libro.fm offers a wide range of audiobooks and shares the profits with the independent bookstore of your choice.
I'm Ready to do One of Those 1000-piece Puzzles and Teach My Kids Scrabble
Looking for puzzles, board games, and other ways to entertain yourself and your family at this time?
Puzzle Warehouse is the world's largest jigsaw puzzle store offering free shipping on all orders over $75 and 365 days for returns. They also offer plenty of games and brainteasers with classics like Apples to Apples, Risk, checkers, Rubix Cube, and more.
Stick it to Amazon by purchasing puzzles, games and even LEGO sets from Barnes & Noble!
Fat Brain Toys offers games, puzzles, and brainteasers by age and that includes adults! Along with classic games like Scrabble, Clue, and Bananagrams (a personal favorite), find toys from your childhood like Lite Brite, Spirograph, and latch-hook kits.

I'm Focused on Cleaning and Need Supplies
There are plenty of places that are delivering popular brand, organic, and specialty cleaning supplies, and you're not as likely to be price gouged there as you may be at Amazon. Some online options:
Have a favorite not listed? Share in the comments!

I Need my Quest Bars/Protein Shake/Supplements!
Head to Vitamin Shoppe! Vitamin Shoppe has all the popular brands and most any health or fitness supplement you desire. You can shop online, some stores have curbside pickup, and if autodelivery is your thing, Vitamin Shoppe also offers that. They also offer a lot of promotions and deals; at the time of writing this Vitamin Shoppe was offering 20% off and free shipping for any orders of $75 or more. Please note at this time, all sales are final at Vitamin Shoppe.
I searched online and can't find a lot about The Vitamin Shoppe and how they are handling things during the pandemic. Stores are franchises and many have stayed open longer than a lot of other retailers citing their products to be "essential," but unlike their competitor which shall not be named, there aren't a lot of news articles about store employees feeling unsafe and being forced to come to work. Let me know if you know more about this retailer, good or bad.
Where Else Can I Find My K-Beauty Products if I Don't Shop Amazon?
Head to Jolse! Jolse distributes many of the most popular K-beauty brands like COSRX, Sulwahsoo, Missha, Dr. Jart+, and Innisfree. They also have plenty of gadgets like face rollers and gua sha, makeup brushes, and even LED masks. While shipping isn't swift with Jolse, it usually isn't on Amazon either and like Amazon, shipping is free.
Let's Be Honest, I'm Looking for Some… Self-Satisfaction
Head to Good Vibrations! You should not be buying your personal pleasure needs from Amazon anyway, go to a store that is expert in this subject! I bought my first toy at Good Vibrations, a sex-positive US-based adult toy company that has been around since 1977. Lots of product detail, quality brands offered, and detailed customer reviews mean you'll get what you really want and what you deserve. Good Vibrations offers free discreet shipping on any orders over $69.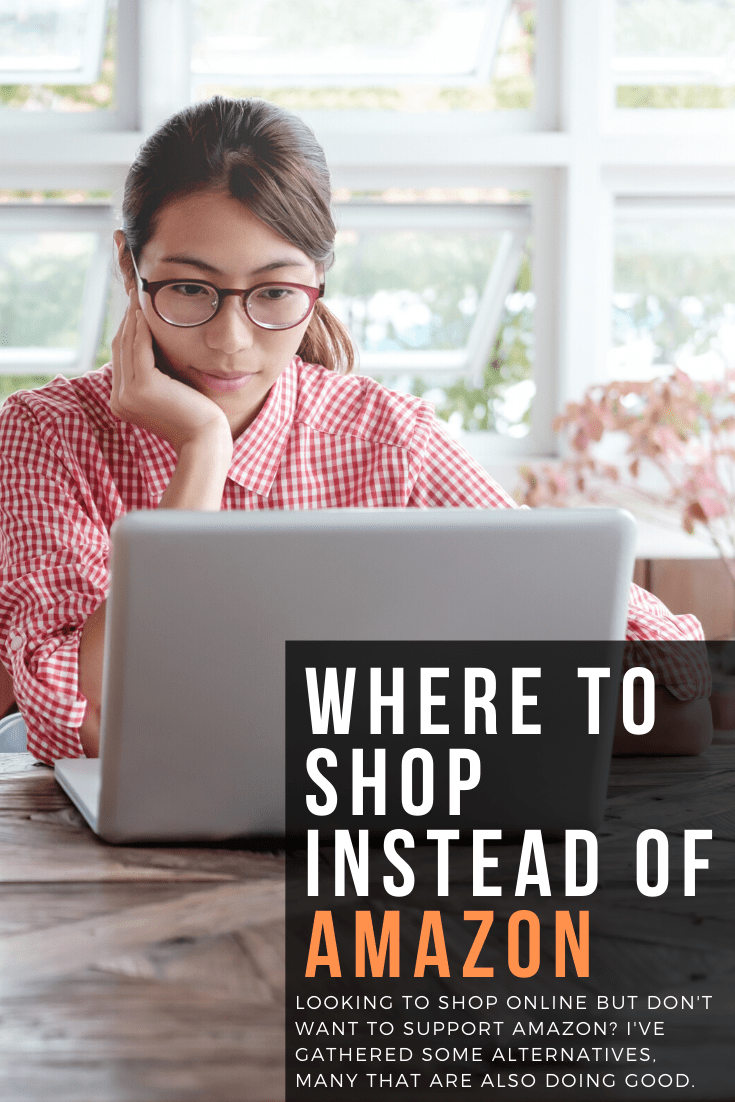 This isn't everything that is bought on Amazon, but I focused on the things it seems people are purchasing the most in the past month of sheltering in place. If you have suggestions on where to buy besides Amazon, do share them in the comments!
Please note: Furloughed employees are eligible to apply for unemployment benefits, which were recently increased with the passing of the federal CARES Act.