This article may contain affiliate links; if you click on a shopping link and make a purchase I may receive a commission. As an Amazon Associate, I earn from qualifying purchases. 
Many of you have written to me lately on how to handle very cold temperatures while maintaining your personal style. While it's frigid right now by DC standards, I don't deal with such cold temps on a regular basis and would never consider myself to be an expert on cold weather fashion. I know many of you live in far colder parts of the country and world than I and would love you to weigh in on what you swear by to stay warm and fashionable. Below are the winter style tips I use to stay warm when it's super cold: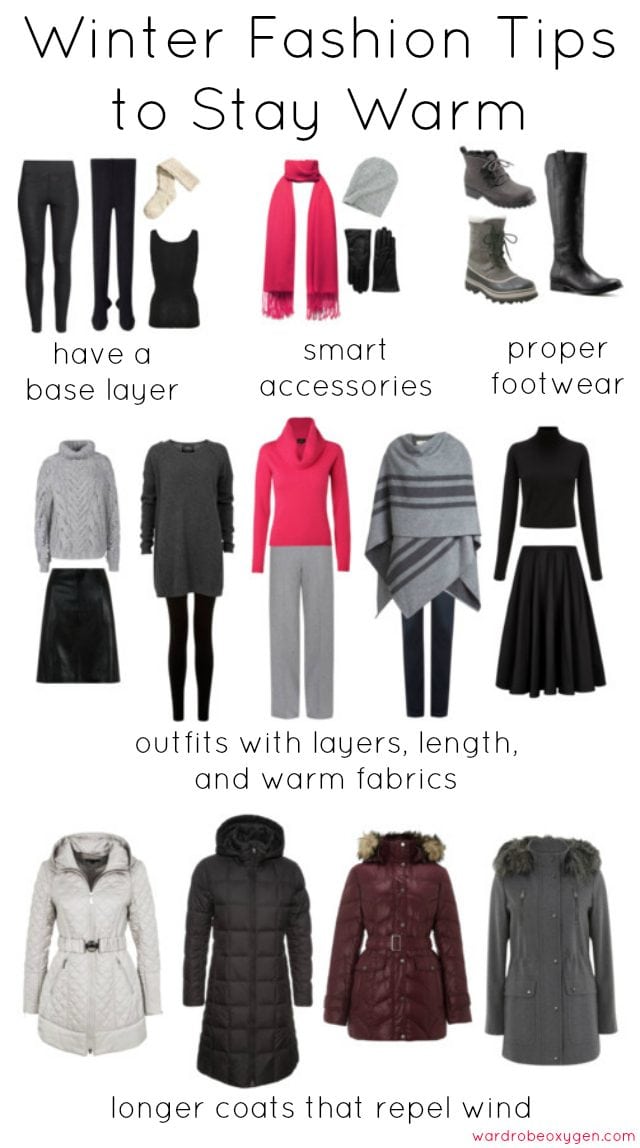 Have a Base Layer
Keeping your core warm will ensure you stay comfortable when the temps drop. Thin layers close to the body will do a remarkably good job without adding too much bulk to your outfit.

Wear Smart Accessories
When it comes to accessorizing in the winter, choose pieces that have fashion as well as function. It's possible for your styling accents to keep you toasty in the winter.
I'm such a fan of pashminas. In wool, cashmere, or a blend these scarves are toasty without being bulky, stylish, and versatile. I will cross a pashmina across my body in front before putting on my coat; it will fill the neck area but also add an additional layer of warmth to my core. Once at my destination I'll loop it around my throat for a pop of color to my outfit. Pashminas are also great when it's not freezing; they can act as a shawl with a dress and I take them on travel to be my plane blanket as well as to ward off strong A/C on planes and at conferences.
A cashmere beanie is in style right now, so it's easy to find a color and weight that appeals to you. I have a black cashmere beanie that I'll put on in the morning and not take off until I go to bed. I style my hair around it, intensify my lip color and it's a chic look that also keeps me warm. Adding a hat when it's cold can really do much for increasing comfort; in fact I am writing this while wearing my cashmere beanie and am quite comfortable even though it's around 60 degrees inside.
Gloves are a must-have and my favorite are cashmere-lined leather gloves. They are super warm, wind repellent, keep you dry when scraping off your windshield and look quite chic. Right now is the perfect time of year to stock up on leather gloves as they are on sale everywhere after the holidays. I always have a pair of classic black but when I can find fun colors like purple or green on clearance I snatch them up so add a pop of color or fun to black outerwear.

You Need Proper Footwear
When it comes to inclement weather, function always trumps fashion. A pair of warm boots that provide traction on slick sidewalks is a must-have for cold weather. Come winter, I keep a pair of black pumps at the office and wear boots on my commute. When out and about, slim jeans and pants look great peeking out of tall fur-trimmed winter boots for ski lodge style. Tall leather boots (especially if they are waterproof) are wonderful for when it's cold but there's no snow or ice; the leather is a wind breaker and an extra layer of warmth. I'll wear tall boots with a dress or skirt, fleece tights and wool knee-high socks and be toasty while still maintaining my personal style. FYI all the boots featured in the carousel below are waterproof and ready for all sorts of frightful weather!


Choose Outfits with Layers, Length, and Warm Fabrics
If you plan on getting away with a long-sleeved tee and a pair of jeans you're going to be shivering all day.
Layer: I'm a fan of sweater coats, puffer vests, and ponchos come winter because these are easy layers to slip on and off depending on how high the heat is cranking inside. Under, I'll wear a long-sleeved tee or fitted merino or cashmere sweater and a silk tank under that so when I slip off the topper I am still pulled together and warm. Chunky knits are popular this fall and easy to layer over a silk or knit tee. I'm also known to slip fleece tights or silk longjohns under dress pants or jeans come winter and no one is the wiser except my warm self!
Length: Winter isn't the time for mini skirts and crop tops. I pull out the midi skirts and wear with fleece tights and tall boots, longer tunic sweaters over slim pants or sweater dresses over fleece or wool leggings and tights, and thigh-skimming sweater coats keep my rear and upper legs warm.
Warm Fabrics: Wool pants are truly warmer than synthetics; look for a pair with lining to stay itchy-free and add some wind repellant. As mentioned a thousand times already, fleece and wool tights and leggings are a smart choice with dresses and skirts. Leather is wind repellant and warm; I wear a lot of leather skirts come winter for fashion with function. This year sweater and sweatshirt dresses are on trend and look great with tall boots and leggings or thick tights.
Longer Coats that Repel Wind
Many years ago I wrote that women don't need puffer coats and can be just as warm and more stylish with a wool coat with Thinsulate lining. And now that I commute in a city, ride public transportation in the snow, and walk longer distances I agree with many of you who thought my advice bunk. Buy a coat that keeps you warm. When it comes to frigid temperatures, first look for something that will keep you as warm and dry as possible, then look for stylish touches. A quilted or puffer coat with a longer length is brilliant because it's wind and water repellant, will keep your bum warm when sitting at the bus stop, prevents gusts from slipping up inside the coat, and is often machine washable. I like styles that at least cover the rear and have a belt which keeps you from looking like the Michelin man. While I wear a hat almost always, a hood is an additionally nice feature when you're waiting for the train or it begins to drizzle. Buy from a company that is known for outerwear and get one that is made for the climate you experience. Companies like Patagonia, Lands' End and LL Bean often give temperature ratings for their outerwear helping you make the best coat decision for your lifestyle.
And now I pass it back to you, what are your tips for staying toasty when the temperature drops? What are the best items in your wardrobe for winter weather? What brands or items do you recommend to those who are trying to stay stylish in the cold? Thanks!