This article may contain affiliate links; if you click on a shopping link and make a purchase I may receive a commission. As an Amazon Associate, I earn from qualifying purchases.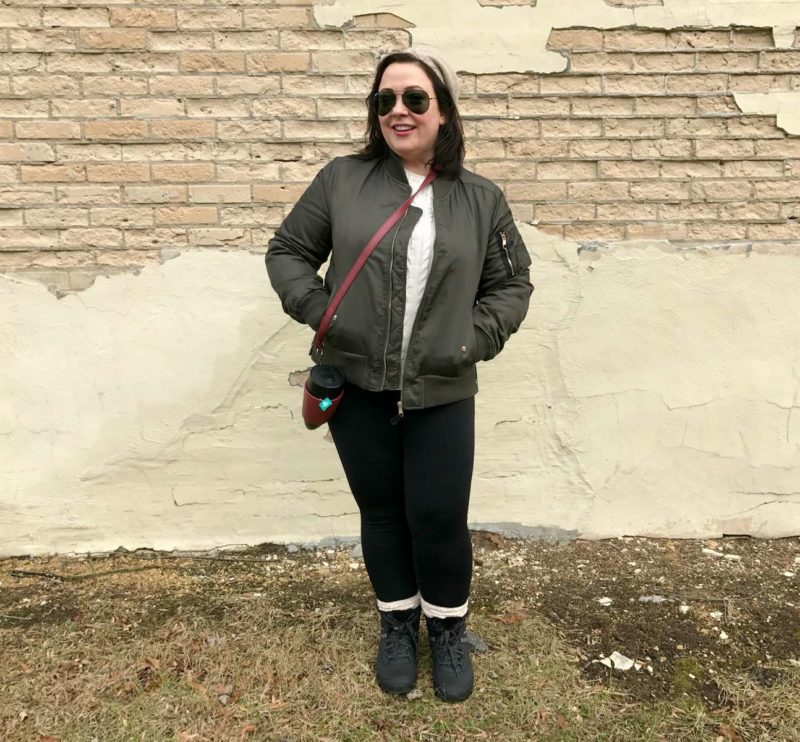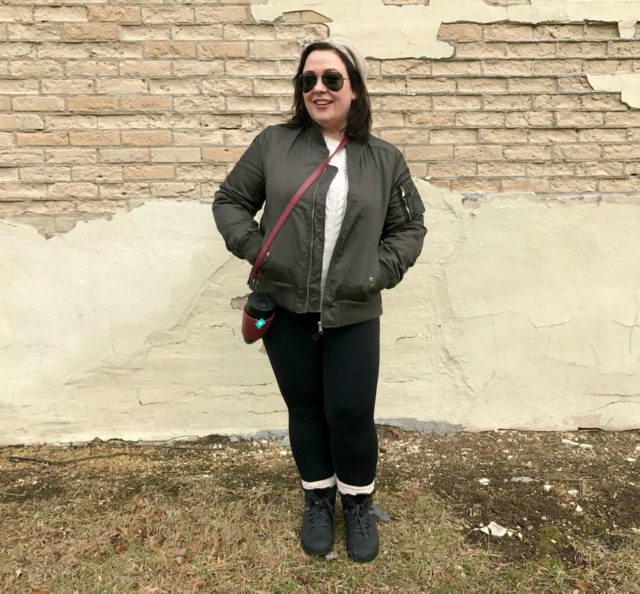 Jacket: Steve Madden (XL; plus size option) | Sweater: LL Bean (XL; plus size option) | Fleece Leggings: LL Bean (L; plus size option) | Socks: Lands' End | Boots: Merrell | Hat: Halogen (old; this year's version) | Sunglasses: Ray-Ban | Crossbody Travel Mug: GOAT STORY
Monday my office was open but after taking care of some emails and tying loose ends, I took the day off. I had an appointment in the morning; my sister offered to take Em for a whole day of fun and then drop her off for a late afternoon playdate and dinner with a bestie. But this meant an unexpected date day with Karl! We got some tasks accomplished, and then we strapped on our hiking boots and went for a long walk around town, the lake, the roads. This gave me a chance to test drive these new boots.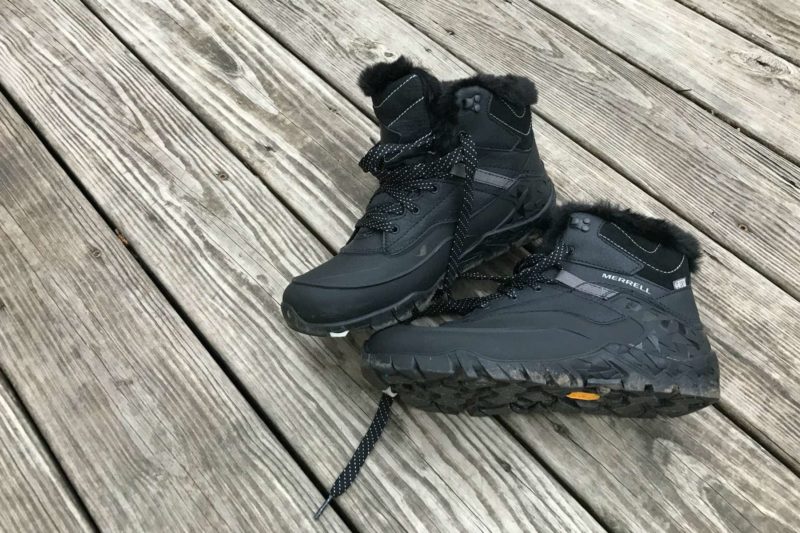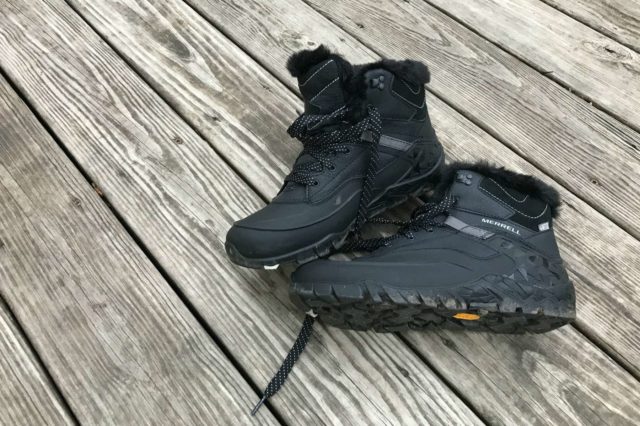 Since slipping on ice in 2014 and breaking my arm, I'm pretty nervous when the temps drop. Karl found out about Vibram's Arctic Grip soles and I was sold. They keep their grip, even on wet ice! One of Karl's yoga students got a high-shaft pair from Merrell and I liked how the soles were a tad bit gritty, but not enough to scratch up wood floors. I knew the tall shaft wouldn't work with my wide calves and I felt a shorter boot would be easier to wear with work clothes as a commuter boot. There's a lot of styles from Merrell with the Arctic Grip sole; I decided to go with the Aurora 6 because it's almost all black, it's fuzzy and warm, a shorter boot, and pretty subtle looking.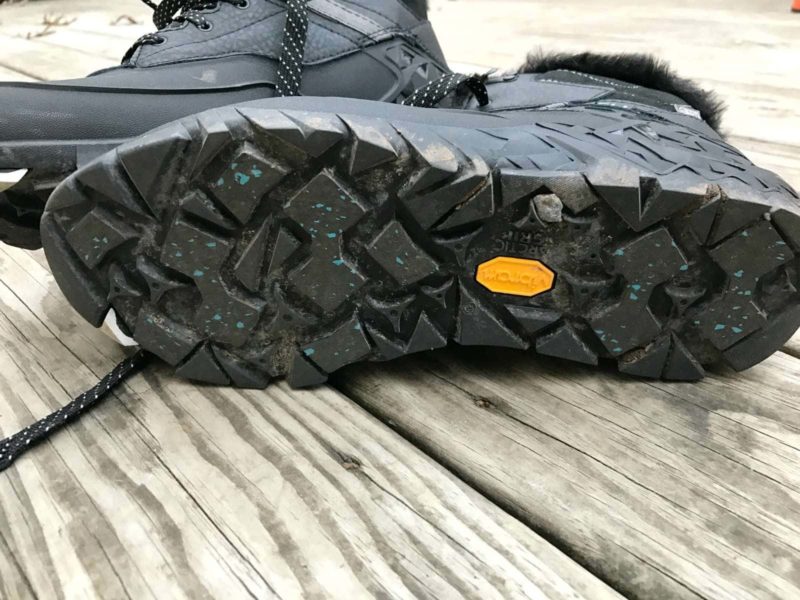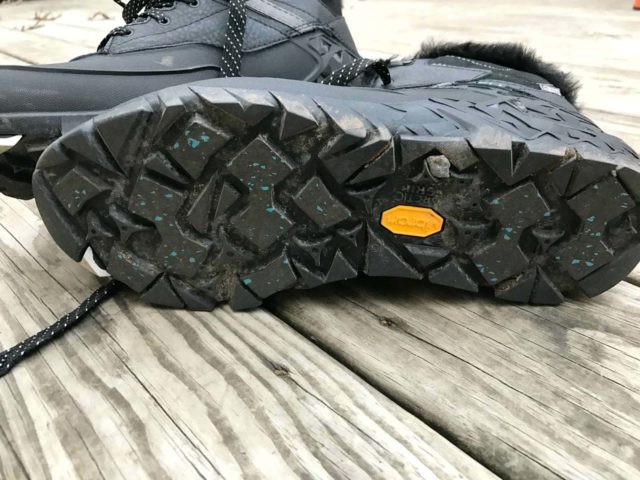 I went up a half size to be sure there was room for thick socks and my wide feet; while the shoe is perfectly comfortable I think I could have stuck with my normal size. It's roomy but it doesn't slip. The boots are warm, but my feet don't get sweaty on a warmer day, even with wool socks. The laces are the bomb; they don't slip. Tie them in a basic bow and you can hike all day without having to retie. As for the slipping, I haven't had the chance yet to try it – the weather has been too warm for ice but the boots have been through puddles and mud, worn on asphalt and slick DC sidewalks, on gravel and slippery rocks across a stream. No blisters, no hot spots, and hopefully when the ice comes to the DC area, no slips and falls!
This outfit was also a bit of a test drive of what I may wear Saturday to the Women's March. I'm thinking these fleece leggings (they're thick enough I was comfortable this day without my Thermaskin leggings underneath; if thinner or colder out I'd do both), different wool socks that fit under the leggings, these or another pair of waterproof boots. On top, considering the weather will be in the 50s I'll likely wear either this jacket or the longer jacket I'm wearing in this post. Underneath, I'm not sure. I ordered a March shirt but it hasn't arrived yet. I wouldn't do this sweater; it's cotton and heavy and I got sweaty wearing it. Likely two thin layers so I can adjust and then a lightweight scarf. As for a bag, I'm still figuring it out. We have this fanny pack which is just a hair larger than the size allowed for the march, I may try to get away with it. If not, I have a smaller fanny pack I'd likely use. I also have this clear tote which is regulation size for a clear bag; it has a crossbody strap and I may take that. However, I'm really getting into Festie/Prepper Allie mode for this day and am trying to go as light as possible. I know for long days I do better with weight on my back or hips/fanny than on my shoulders. Each person is different, wear what makes the most sense to you. But if you're going, wear thin layers, have the top layer be waterproof, and be sure your feet will be comfy!