This article may contain affiliate links; if you click on a shopping link and make a purchase I may receive a commission. As an Amazon Associate, I earn from qualifying purchases.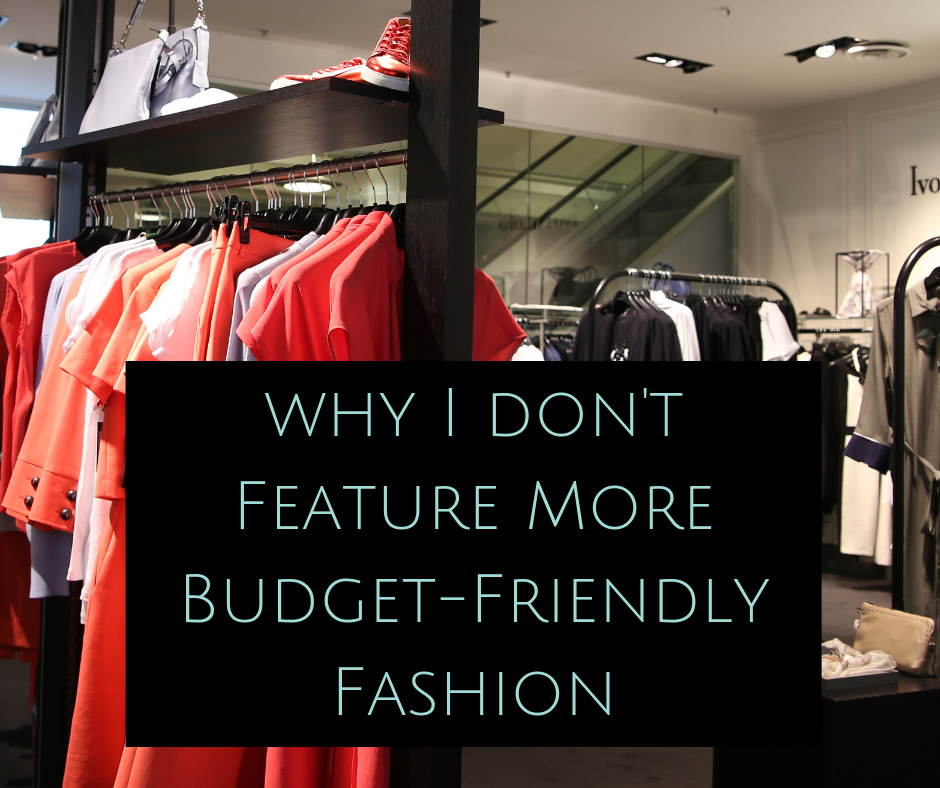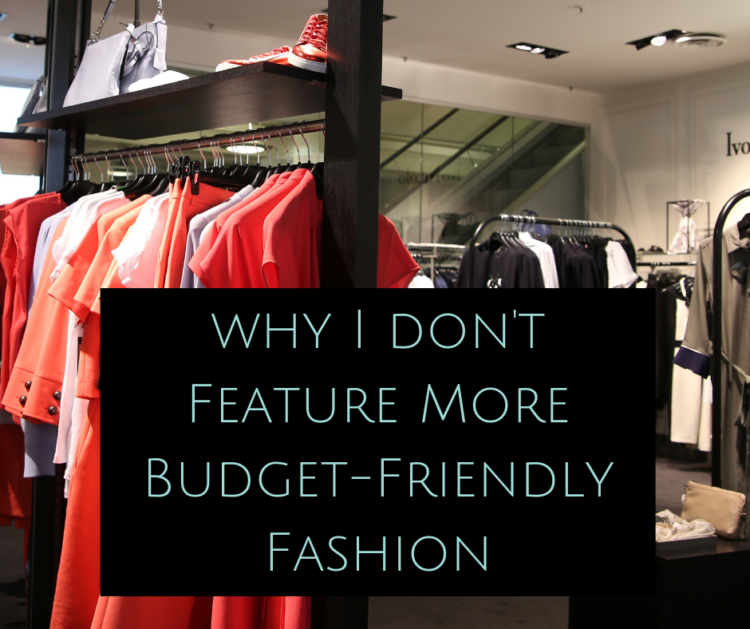 At the beginning of each year, I create a goal for Wardrobe Oxygen, based on your feedback from the previous year. This year I decided to offer more affordable fashion. While my affiliate sales show that the majority of the audience is comfortable with the retailers and pricepoints I share, several of you complained that the offerings were just too expensive. I feel fashion should be accessible for all so I decided to take this challenge and show fabulous fashion from a broader range of retailers, while still sticking to quality, style, and inclusive sizing.
I was surprised by how incredibly difficult it has been to achieve this goal. It really forced me to dig in, see why some retailers are a cheaper price than others, research quality at each price point, place orders with brands I've never tried before, and learn some surprising things.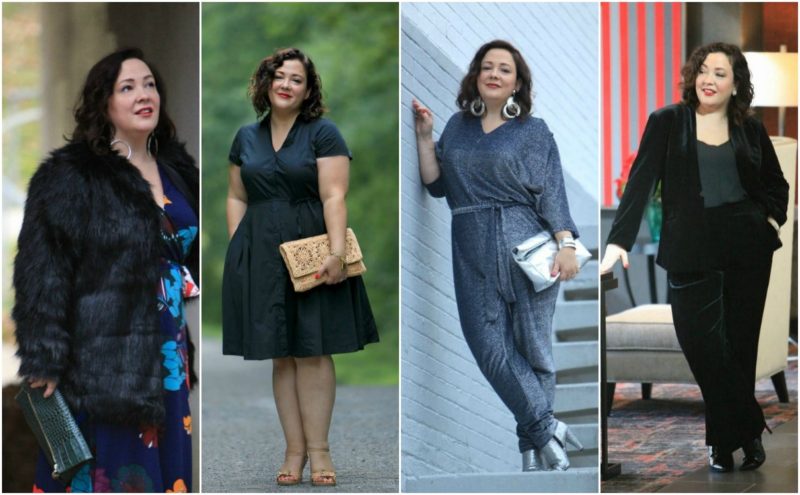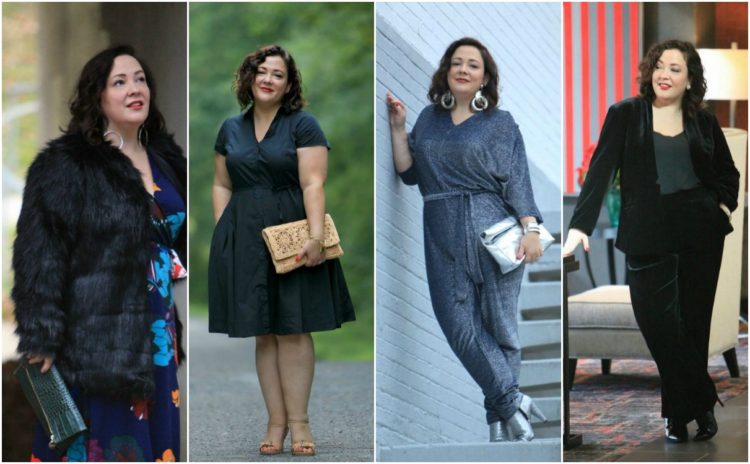 Wearing Ellos on the blog: faux fur coat | shirtdress | jumpsuit | pantsuit
Why I Don't Feature More Budget-Friendly Fashion
It Sells Out Too Fast
One of the best things about bargain shopping is the hunt. That item at Nordstrom Rack that seems to be mislabeled it's such a score. That item on the clearance rack, only one left. Even at big discount retailers, they usually focus on more styles than more pieces per style. That's great for an individual, not great for a blogger who caters to thousands. I order the piece, it arrives, I steam it, possibly tailor it, shoot it, it goes live anywhere from two days to two weeks after receiving, and very often by that point it's either sold out or size selection is meager. There's nothing more frustrating as a blog reader to see a fabulous outfit on someone and find out it's sold out.
Alternative: What I have been doing is incorporating into my outfit posts the why. Why I bought it, why the piece is good, ways to style it in multiple ways. To show it's not about that specific item, but the silhouette, the color, the cut, the trend. This way, you are armed with information to go shopping at a store that best fits your body, your personal style, and your wallet.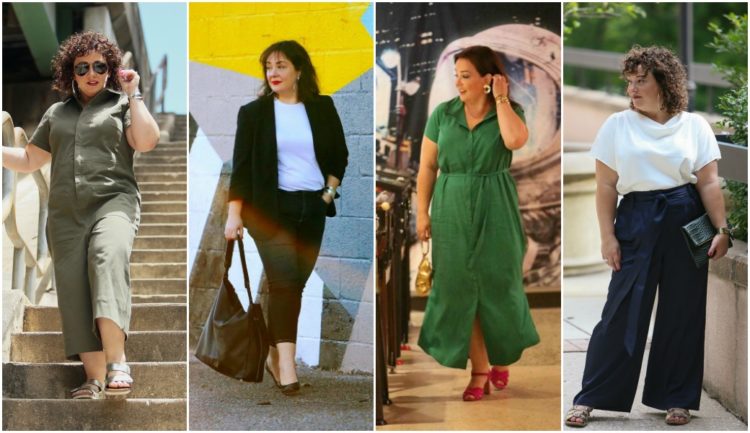 I regularly feature the brand Universal Standard for a variety of reasons. They offer size 00-40 and some styles in petite, they keep styles for a long time so I can wear and re-wear the pieces without them being out of stock, their quality is consistent and excellent for the price point, their pieces aren't too trendy and are good for the office as well as the weekend, they have a good shipping and return policy, but most of all – it's one of the best selling brands I feature on Wardrobe Oxygen.
Quality of Product and Manufacturing
This year I made over a dozen orders from lower-priced retailers. Some I knew and shopped before, some you recommended, some I saw featured on other influencers. Few were successful. A lot of times I found the quality subpar. Jackets that really needed lining or a heavier fabric to hang properly and look polished enough for the office, pants with one leg tighter than the other, cuts that are more Junior than Misses. They were things I just didn't feel good styling and promoting. I refuse, no matter the retailer or the price, to feature anything on Wardrobe Oxygen I wouldn't regularly wear. Whether it's $20 or $200, if it's junk it's not deserving of your time or hard-earned money.
Another problem is the manufacturing process of many budget-friendly retailers. Unfair and downright inhumane treatment of workers, dangerous working conditions, forced labor, child labor, and more. While brands of all price points are guilty of it, I find it more prevalent and blatant with low-priced brands. There are certain retailers I never feature on Wardrobe Oxygen for this very reason. Unfortunately, there aren't enough ethical brands out there that have a range of price points and sizes to rule out all sketchy manufacturers, but I do strive to not feature the biggest offenders.
Alternative: I'm trying harder to feature pieces that can be worn multiple ways, showing you can have big style with a small closet. While a dress may cost twice as much, if it can be worn three times as often to different occasions, the cost per wear is better and therefore a better purchase. I also share details about trends so you can find them at your local thrift store or even sew them yourself.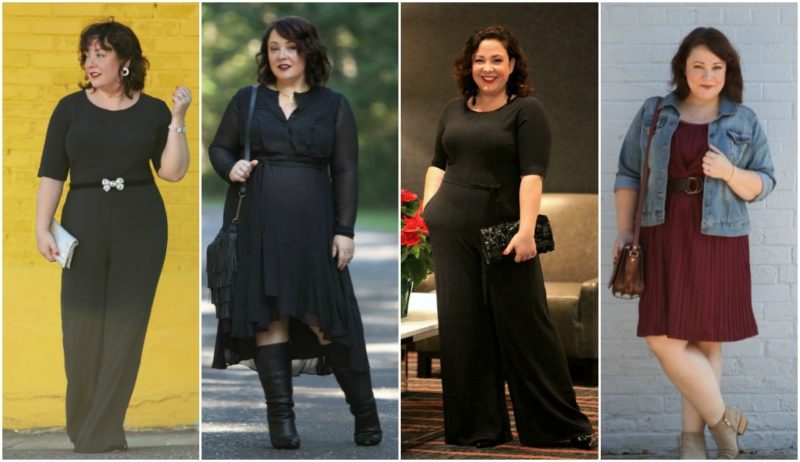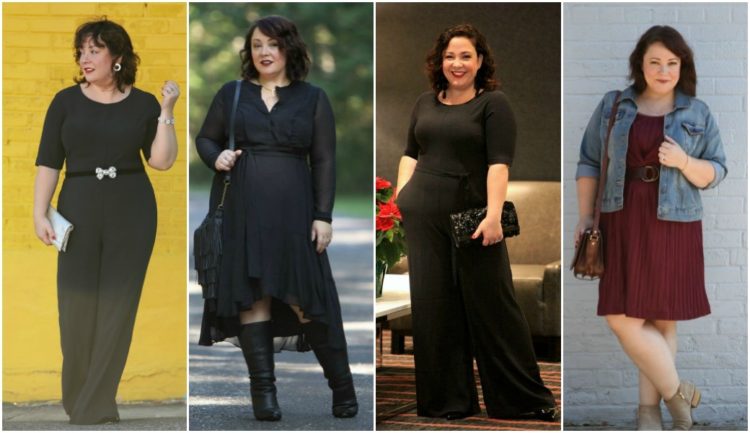 Wearing Kohl's on the blog: black jumpsuit | black dress | black jumpsuit | burgundy dress and denim jacket
It's Time-Consuming
I won't go into detail, but I usually find it more difficult to work with budget-friendly brands from a blogger/business perspective. I hear from employees and PR companies that many of these retailers have spent so many years resting on their brick and mortar and/or catalog laurels, they don't always understand the value of partnering with influencers. There is far more back and forth, approvals from Legal, and low rates for high expectations. I can spend 40 hours communicating with a brand and still not get approved for their affiliate program or receive a single piece of clothing for review.
Alternative: I am showcasing more variety of price points in the carousels of similar items within each blog post. I am also offering more of these carousels, breaking it down by size range, price range, and showing the prices so you know better what you're clicking on. I am also perusing more budget-friendly fashion websites when creating advice posts so I can incorporate pieces from there not only in the carousels but the collages.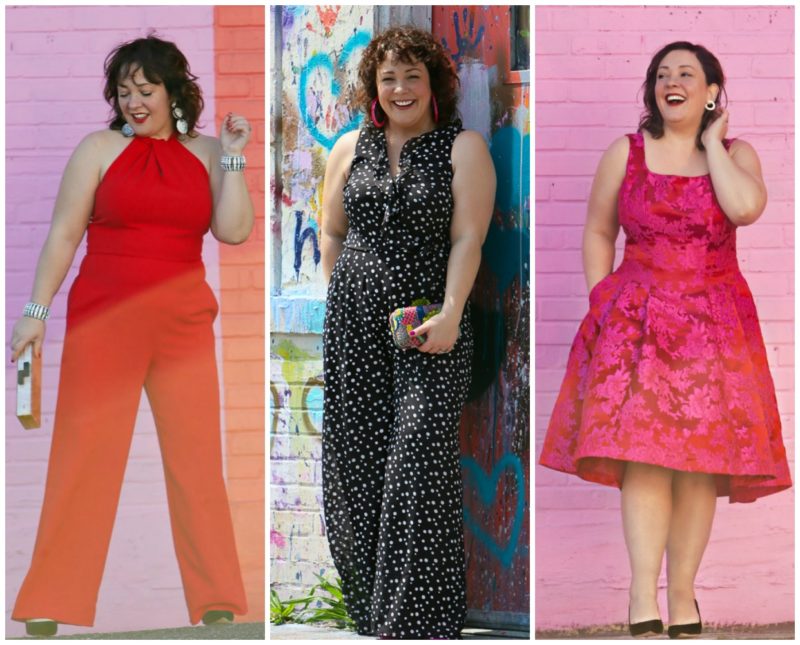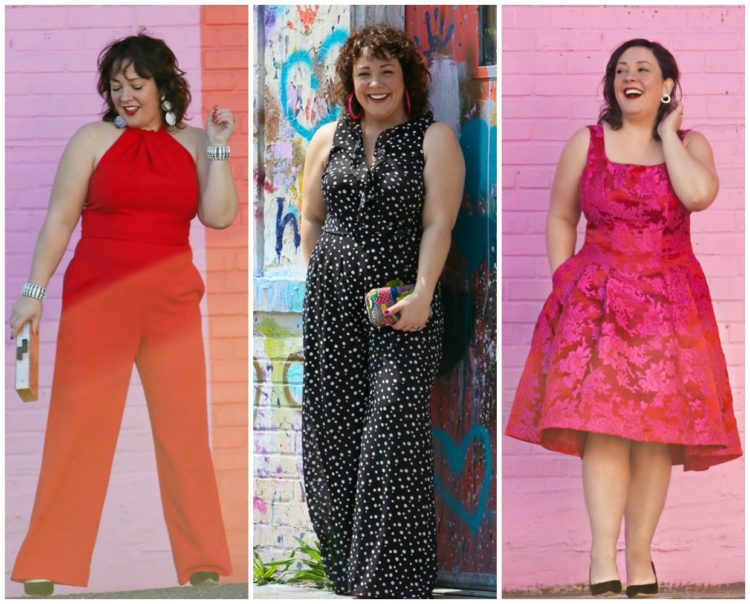 Wearing Dress Barn: red jumpsuit post | polka dot jumpsuit post | dress on Instagram
The Biggest Reason: You Don't Buy It
Last winter and this spring I showcased Dress Barn. I picked great pieces, the photos were amazing, the clothes were both low-priced and well-made. Great comments saying the clothes were cute, it would be perfect for you, yadda yadda. Do you know how many Dress Barn sales I've made in the past year? Four. In multiple posts over the years I have featured fashion from Kohl's. I don't know if I've even made a dozen sales at Kohl's over that time. I did a partnership with Ellos and featured their clothes several times; I made five sales in total.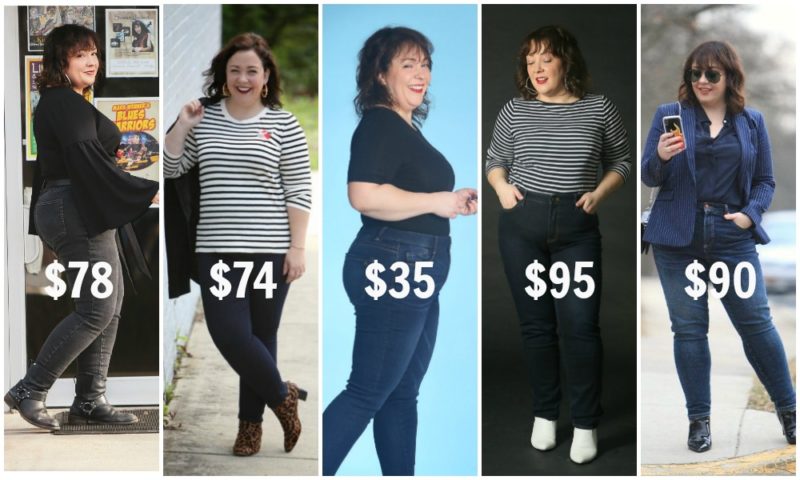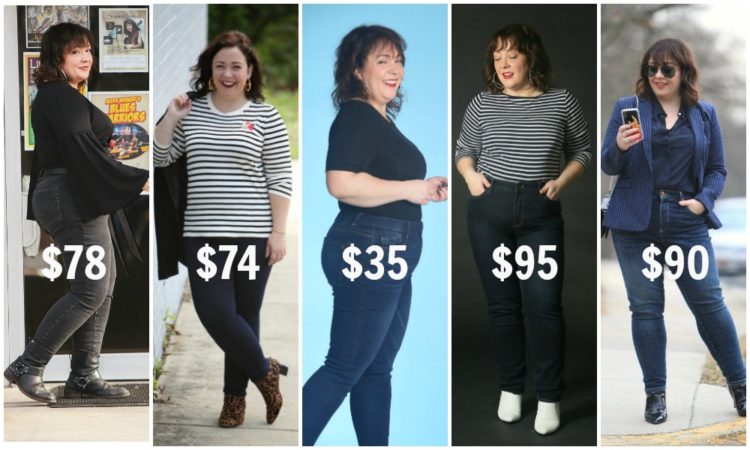 In this blog post, I featured several styles of jeans at a variety of price points. The best selling pair from the post? The $95 pair with the $90 in second place and the $78 in third.
In my carousels, I share budget-friendly brands. I show the pricing – here's a pair of jeans for $98, here's a pair for $115, here's a pair for $65, here's some for $40. Do you know what price point sells the best? The $98 with $65 a close second.
I am currently collecting data on plus-size shopping through this survey (I encourage you to share your thoughts in it!). So far I have over 200 entries. One of the questions is how much you would be willing to pair for a great pair of jeans – less than $50, less than $100, less than $150, less than $200, or I'll pay more than $200 if they're truly great. Over 50% have answered less than $100 with less than $150 the second-place answer. This is a small percentage of my audience that has answered, but it's a peek into the shopping habits of fellow Wardrobe Oxygen readers.
Based on comments on the blog and social and your emails, I believe many of you who shop budget do your shopping in person. I respect that; budget shopping really requires you to try items on, feel the fabric, ensure the quality and gives you a chance to scour sale racks and find gems in places like TJ Maxx and Nordstrom Rack. I get it, but I can't pay my bills with your in-store purchases.
Alternative: I will continue to find budget-friendly alternatives and feature them in carousels within blog posts. I will also continue to provide sale alerts in my Weekend Reads for retailers of all price points. However, I won't be spending as much time trying to pitch to budget-friendly retailers to partner with me because there is no return on investment for either parties.
My goal is to make Wardrobe Oxygen a useful resource for women, regardless of budget. I have slacked in the past with this, focusing on retailers I know and am comfortable with. This 2019 goal hasn't been achieved, but it has forced me to step outside my comfort zone, try new retailers, and make a concerted effort to offer tools in every post that will provide value regardless of how much is in your wallet. The ultimate goal is to have you realize you can achieve big style with a small closet. You don't need to buy so much, and sometimes purchases aren't made based off need. I hope that with Wardrobe Oxygen I can help everyone be a more informed and thoughtful shopper!