This article may contain affiliate links; if you click on a shopping link and make a purchase I may receive a commission. As an Amazon Associate, I earn from qualifying purchases. 
Could you please make some suggestions for appropriate guest attire for a wedding? I have a few this summer and fall and have no idea what to wear. Also, is black appropriate for a wedding? Thanks!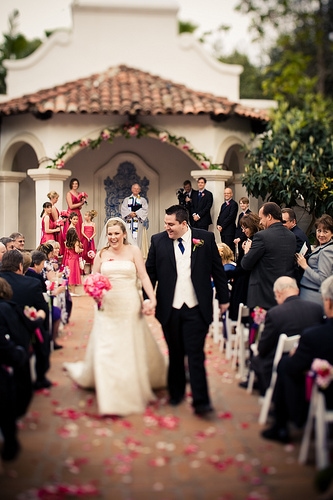 Each year I buy myself a Little Black Dress (LBD) to have on hand for such events. For the past couple of years, it has been a sleeveless matte jersey dress from Ann Taylor with a seamed waist and surplice neckline. I pair it with long pearls and D'Orsay heels for an evening wedding at a hotel ballroom, with gold heels and chandelier earrings for one at an historic mansion, with pink heeled sandals and a wrist of bangles for a day affair in a garden, with a colorful silk shawl and pumps for a church ceremony, with metallic flat sandals and big hoop earrings for a ceremony on the beach. The key is to find a versatile fabric – silk or a silk blend, matte jersey, crepe, gabardine are all fabrics that can dress up or down with ease. A classic sheath is a great choice, I also like the silhouette of this dress from Lands' End and this dress from Kate Spade.
Black has become acceptable for MOST weddings, however some are very traditional or religious and find black to still be inappropriate. If you believe the couple or their family to be traditional or religious, there's no harm in contacting a member of the wedding party or a close relative to the bride or groom and ask their opinion.
My friend is having a destination wedding in Aruba this fall and I have no clue what to wear. It will be on the beach but she's having six bridesmaids and is wearing a ballgown with a veil. Do I dress for the location or the dressiness of the bride?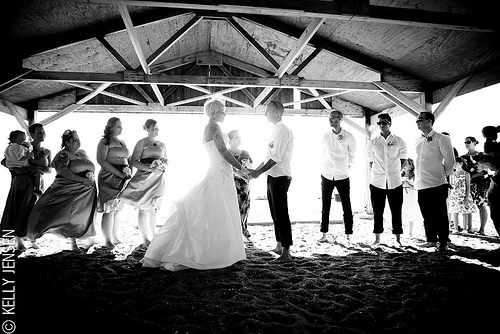 Both? While the wedding party will be in formal attire, I can bet that there will be a few in too-casual attire. It's best to find something that hovers nicely in the middle; for such an event, I would suggest a maxi dress. A maxi can look dressier, but it's also beach-friendly. If you choose a fabric like matte jersey, it will be ready to wear straight from the suitcase, won't get soggy if your hem touches the surf, won't have sand cling to it, and you can look as glamorous as the bride but still fit in with everyone else who decided that destination = Hawaiian shirts and shorts. Consider this the NSLBD (Not So Little Black Dress). I have a black matte jersey maxi dress from Calvin Klein I wore when I was Matron of Honor at my best friend's elegant outdoor wedding. A few months later I wore it with metallic flat sandals and dangly earrings to another friend's outdoor garden wedding in Charleston. I will be attending a destination wedding in Key West later this year and am seriously considering the same dress for the event.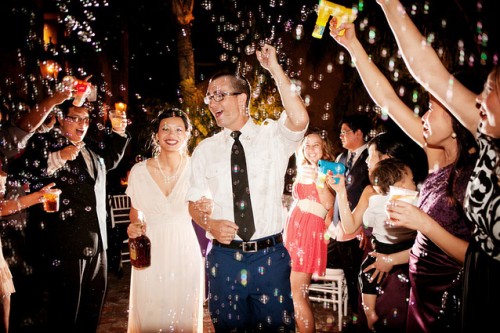 Such a dress does not have to be black, but a deeper shade will be more versatile and can pass for being formal more easily than a pastel or bright. This dress from Donna Morgan would be a great choice, as would this one from BCBGMAXAZRIA.
I'm 51 years old and about the same size and shape as you are. I will be attending a casual "country wedding" in early September and have no idea what to wear. I live in California and it's typically blazing hot at that time of year. I've been told the wedding is BBQish with S'mores for dessert instead of cake. Any creative ideas you have would be much appreciated.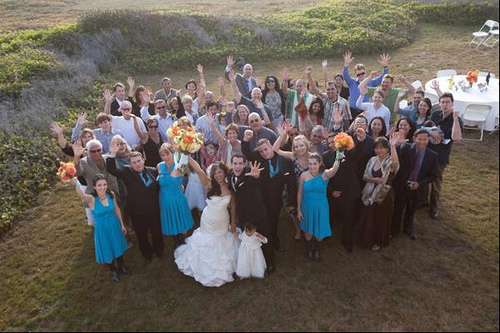 That sounds like such a fun wedding! However, I bet the majority of the guest list will be just as confused on the dress code as you. If I were attending, I would wear a cotton sundress or skirt with a knit top and wedge or flat sandals so I wouldn't sink into the grass. Since it's outside and you can't be sure of the In fact, since it is a theme wedding, feel free to don chambray, tie a western shirt over a sundress, or pair your frock with cowboy boots. This is the type of affair where the classic LBD is surprisingly NOT appropriate.
My coworker is getting married this summer and I DON'T KNOW WHAT TO WEAR! He's very colorful and flamboyant and his husband to be is just as wild and fun. I know there will be hats and masks for us to wear and a live band and he mentioned he's spending a lot on lighting for a dancefloor. I have never been to a wedding like this and I don't think my navy silk dress will be right. What do I wear so I look fun but also look like a respectful wedding guest and still look like myself?
Honestly, you could wear that navy dress if you like – it sounds respectful and like something you feel comfortable in. You could jazz it up with the addition of brighter lipstick, a fun necklace or heels, or you could just go as-is and have a blast on that well-lit dance floor. I promise you, the couple will not care what you are wearing – as long as it doesn't upstage them they will be thrilled just for your attendance and well-wishes.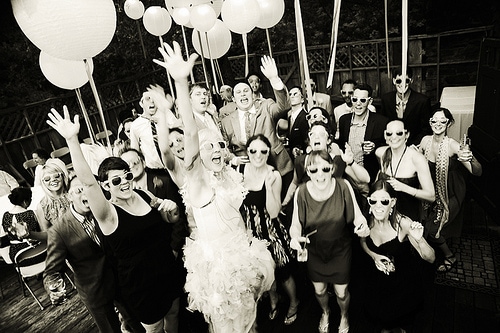 Or, if you desire (and your budget allows), you can use this opportunity to have a bit of fun with fashion. Kick it up with a festive bright color, a few more baubles, a pair of statement heels. This is the type of affair where you could rock that fascinator that has been collecting dust since Kate & William's wedding, wear those hot pink sequined pumps from New Year's Eve, or try out false lashes. You don't want to upstage the couple or their wedding party, but a bit of color and whimsy would be well appreciated at such an event and wouldn't be seen as disrespectful.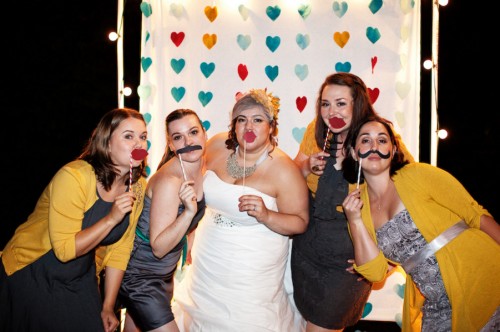 Do know that whimsy and flamboyance doesn't mean sexy or slutty. I never feel it is appropriate, no matter how alternative or creative the wedding, to wear skintight, super low-cut, or super short clothing. A bodycon dress is the equivalent of wearing white to a wedding – it is disrespectful and losing sight of the point of the event – the couple. You are a guest, a person privileged to attend and help celebrate this union and not the main event.
For more wedding attire advice, check out:
All photos from Offbeat Bride – a fabulous site for less-than-traditional weddings
Follow Me | Twitter | Facebook