This article may contain affiliate links; if you click on a shopping link and make a purchase I may receive a commission. As an Amazon Associate, I earn from qualifying purchases.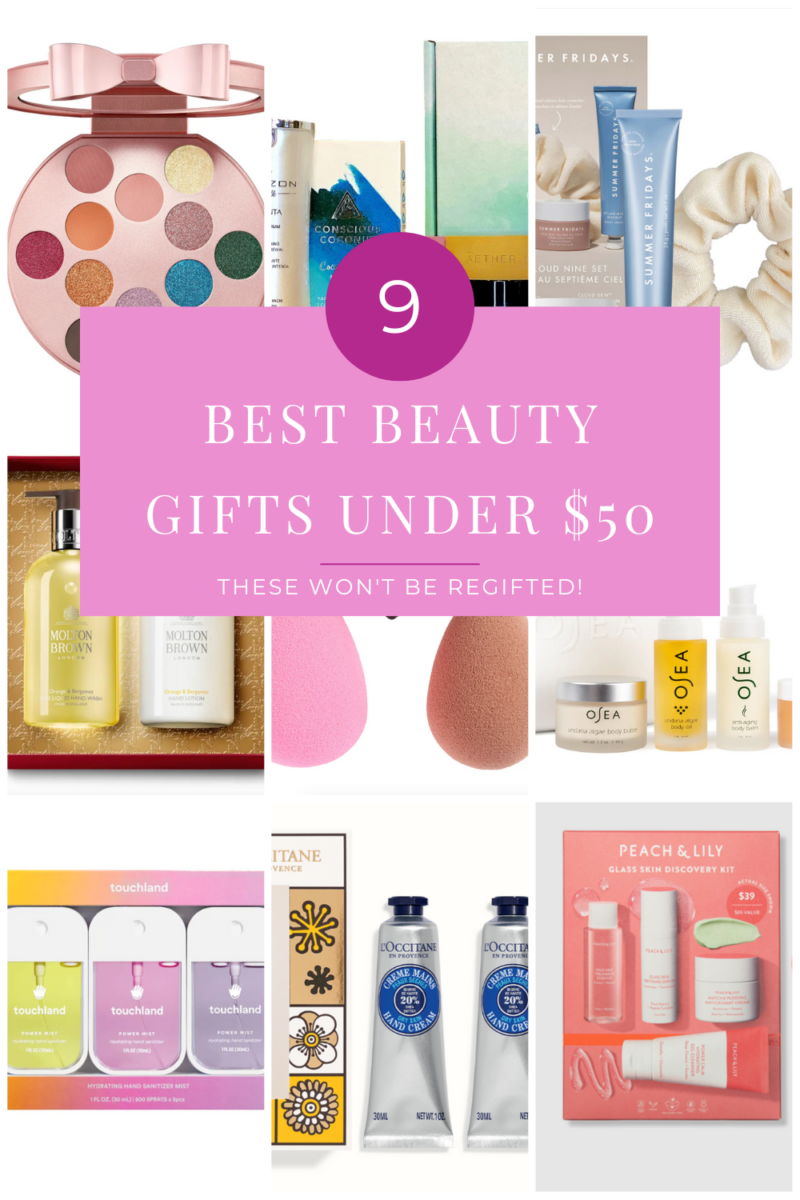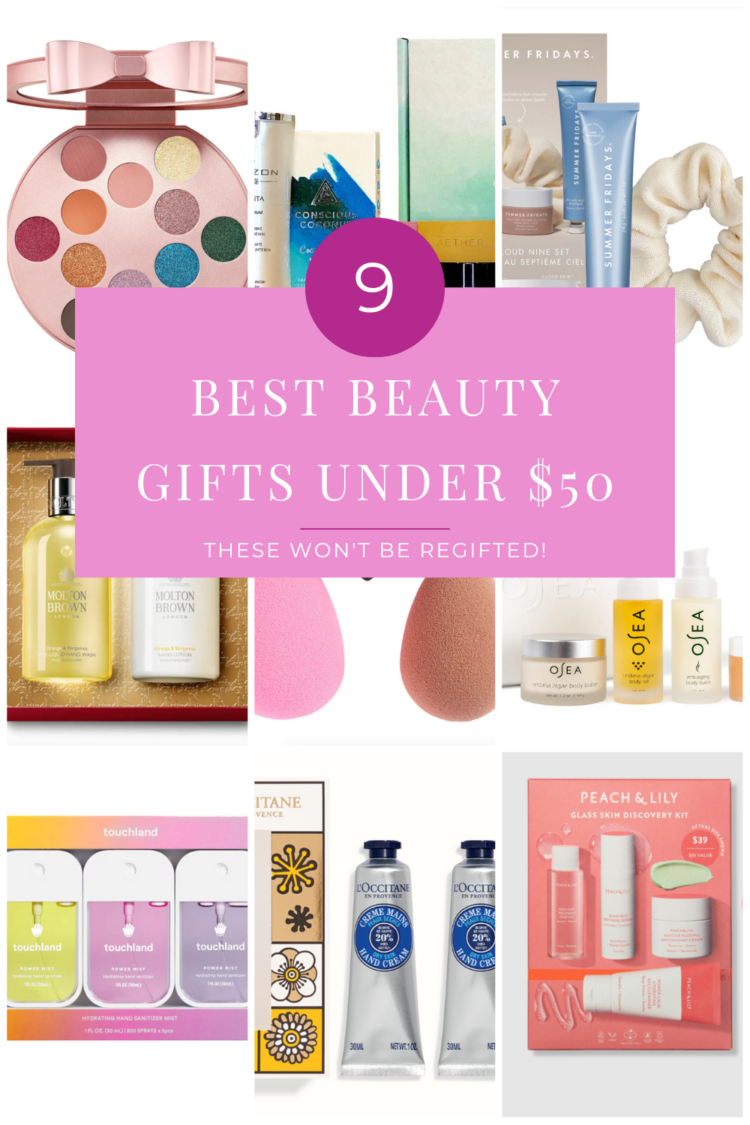 As someone who often gets beauty gifts and has a daughter who also gets a lot of beauty-inspired gifts (no shade, we love it!), I have had my share of great gift sets and not-so-great gift sets. Below I share what I believe to be the 9 best beauty holiday gift sets this year, and they are all under $50. They're good ones to give, and I've added a few that may be good to treat yourself due to the nice price or the unique contents only available this time of year.
Beauty Gift Sets Under $50 That Won't Likely Offend or Be Regifted
Beauty has become incredibly popular in the past decade. Folks can be into it like others are into gardening, painting, or baking. However, others have complex feelings about the beauty and skincare community. With a search engine at the tip of our fingerprints and social media to share what is found, many are now voting with their wallets and choosing brands based on sustainability, ethics, the actions of their founders, what organizations they donate to or support.
This makes beauty gifts easy to find at any price point, but gifts that if not carefully considered, may end up offending or being regifted to their neighbor. I tried to curate a list of reputable brands, practical yet indulgent products, and ingredients that will work with a broad range of skin tones and types. I kept the list under $50 so it fits more individuals on your holiday gift list.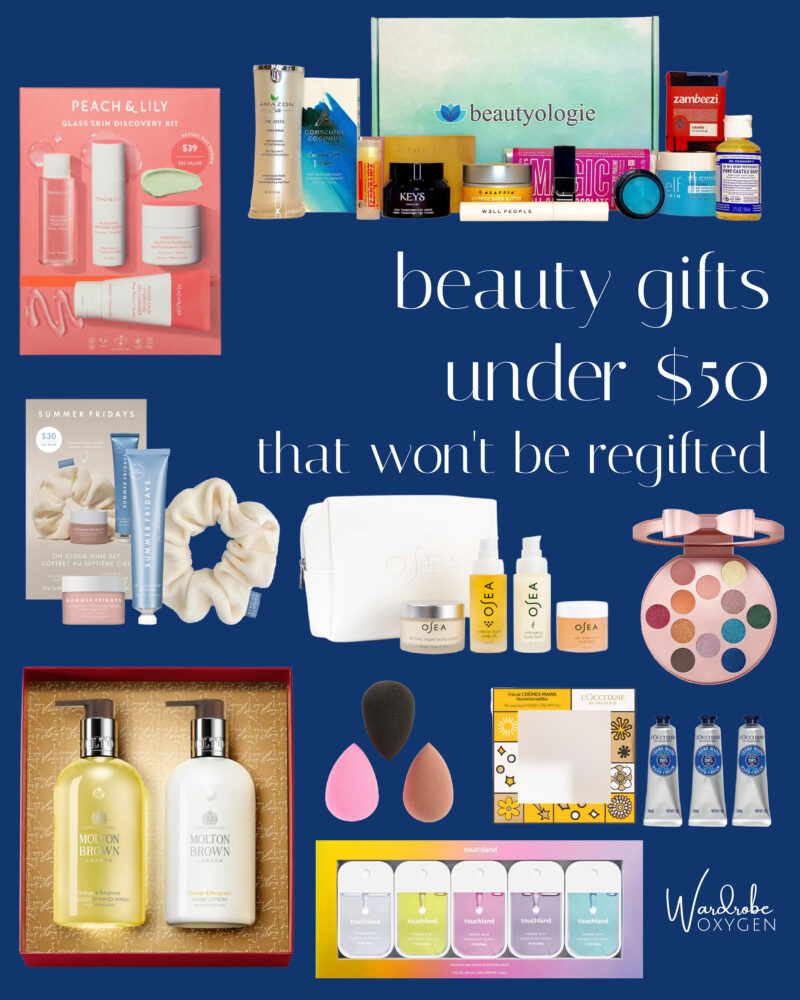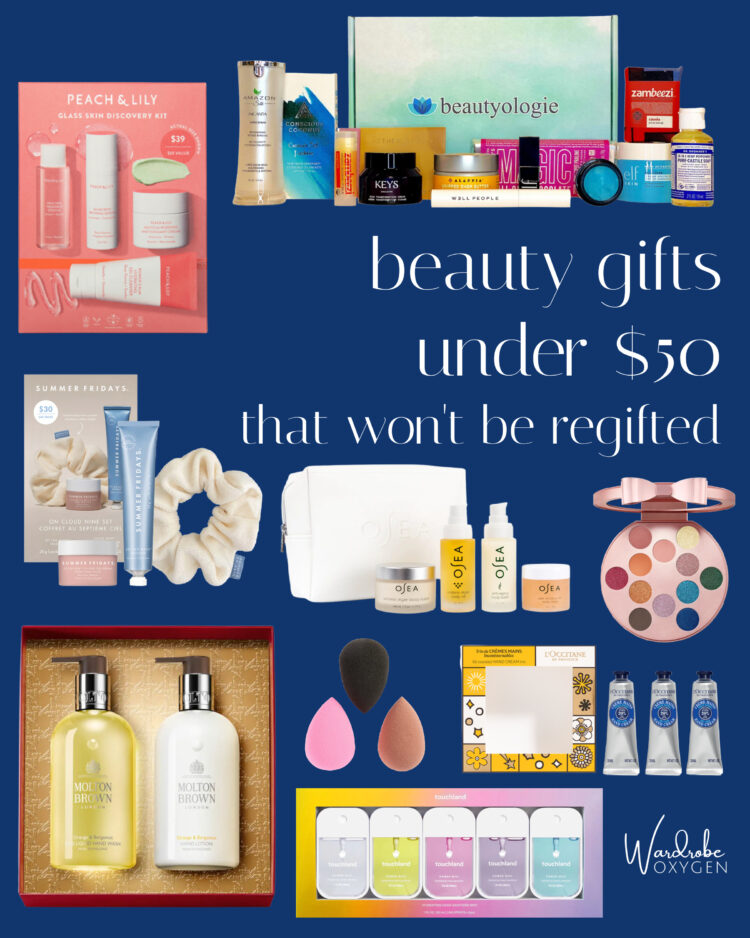 The Best Well-being and Beauty Holiday Gift Sets
I believe these gift sets are most likely to be appreciated and least likely to be thrown away or regifted. I collected a mix of pricepoints as well as types of beauty gift sets for a range of individuals.
Honestly, this is the kind of gift you may want to buy and have tucked in the back of your linen closet for those last-minute gift situations. It's under $35, it's from a quality brand that has been around for over four decades, that perfect combination of practical and indulgent, and isn't fragranced (it does have a shea/seed and nut oils scent). I am always appreciative of gifts of self-care that are free of color and fragrance, both which are so personal.
L'Occitane offers many gift sets, and the brand is sold at other retailers like QVC, Nordstrom, and Sephora. But I think this set, which I have only been able to find at L'Occitane's website, to be perfect because it doesn't include body products, nor any packaging that is specific to a gender, holiday, or time of year (yet this is limited holiday packaging so buy now even if you want to gift later).
Fair Trade beauty brands Alaffia, Dr. Bronner, Well People, Conscious Coconut, e.l.f. Cosmetics (and more) have partnered with Beautyologie on the first fair trade beauty box just in time for the holidays. Fifty percent of the proceeds are being donated to Fair Trade USA™, the leading nonprofit certifier of fair trade products in North America.
There is "clean" beauty (which is a vague but trendy term right now), and there is ethical beauty. This box is for the person who knows the difference, or for the person who is dipping their toes into this world and would like to try some of the O.G.s in the green and ethical beauty realm along with some trendier newer products. If you know that person races to Whole Foods to get their limited-edition beauty bag each year, they'd likely appreciate this gift set.
This isn't really a teenage gift set, unless you know the recipient is interested in ethical, fair-trade, organic beauty. I would think college age or older. Honestly, as a 40-something I would be happy to get this and know products would be used with whatever not right for me easily gifted to close friends.
This is also a great gift set to break up into stocking stuffers, and for this amazing price, it's a deal on adorable travel-size containers.
On the ride home from school, my teen told me about these really aesthetic spray hand sanitizers that some other kids have. That they are so pretty and fit in a lunch box or purse and don't spill and they come in all these cute colors and scents and they're from an ethical brand... I got home and immediately started Googling. I'm down for a gift that is "cool" and is also functional/practical.
I found this set of 5 hand sanitizers from Touchland for $40; individually these hand sanitizers are $10 so this set is a good deal. I know, that may sound like highway robbery for something you can buy at the market but I'd rather spend that on something actually used and useful than something that may be discarded. And I think many of us know the pleasure of upgrading an everyday essential.
This could stay intact, but I think the beauty of this gift set is breaking it up. Individual advent calendar gifts, stocking stuffers or Hanukkah gifts for multiple folks, additions to a gift for teachers and those interacting a lot with the public... and maybe you keep your favorite color/fragrance for yourself!
You know that person, they have a knack for eyecolor. They may be someone who always has a great eye look going on, someone who is just starting to dabble in color, or maybe someone like me who most days keeps it simple but for special occasions likes to have a bit of fun with an eye palette. That person I think would appreciate this MAC palette, especially coming from someone who may not know a lot about trendy beauty brands.
MAC is a highly respected beauty brand that creates pigments that work well on a range of skintones. This palette is an adorable shimmery pink compact with a bow closure. It's $49 which is a more accessible price than many palettes, but not chintzy. My 13-year-old would swoon over this, and as her mom, I would also enjoy this gift.
I believe that the beautyblender is superior to any other makeup sponges. I've bought a dozen different brands over the years and keep coming back. But one beautyblender sponge is $20. This kit, which is three standard-size beautyblenders is only $35. I have no idea the packaging but that price alone warranted a mention in this beauty gift guide.
For a teen into makeup, break this up and make it into three advent calendar gifts. For your bestie who loves beauty, she'd love you for this gift. And go ahead and treat yourself, this is a great price.
Glass skin is a trend of skin so hydrated, smooth, and glowing it is almost like glass. And it's a term a tween or teen may know if there is a mix of beauty and K-pop videos in their YouTube or TikTok views or they love going to Sephora and Ulta. If you have a gift recipient who is tween to young 20's and seems to be getting into beauty and skincare and they don't have some specific regimen/go to a dermatologist, this gift set may be well appreciated.
Peach & Lily is Leaping Bunny certified cruelty-free, vegan, and this collection would be good for most skin types except those who are dry and sensitive. This kit would provide about a month of skincare for the recipient; online reviews share many went to buy the full-sized products after enjoying this set.
I know, so specific yet so vague. I shared this gift set in a recent Weekend Reads that this would be a good gift for someone 12-25 years of age you may not know terribly well but you know they have at least shoulder-length hair and they seem to care about grooming. Folks older may also enjoy it, but I recommend you know them better to choose anything beauty-related. It's just $30, and the brand Summer Fridays is both trendy and considered quality.
The kit has two products that don't replace a skincare routine but can add to it and then a terrycloth hair scrunchie. This set isn't specific to one skin type or skin tone; it also would be a cute gift to give someone who is going on a flight, or someone who needs a little bit of self-care without getting too intimate or putting too much work in using the gift.
Summer Fridays is a cruelty-free, vegan beauty brand. The products in this gift set are fragrance free and good for normal to dry skin.
Again, a gift that is practical and luxurious. This combination of hand wash and body lotion is elegant and would fit with a variety of home decor. The scent isn't specific to a season and isn't too overpowering but smells elevated. The box is gorgeous. Molton Brown is a British brand that has been around since 1971.
What makes this gift great is it isn't specifically for the person, but not specifically for the home. Neither the packaging nor the scent is specifically masculine or feminine. And it's a box that is super easy to wrap and won't look terrible if you just slap a bow on it last minute. This is also one you may wish to buy an extra and have on hand for last-minute gift situations. This set ranges in price from $40 to $60; I found it for $40 at Dermstore, a site I trust and shop from often.
If your gift recipient is like me, they receive a lot of marketing on social media from ads and influencers about beauty brands, and one may be OSEA Malibu, a company that started in 1996. OSEA stands for ocean, sun, earth, atmosphere and this sustainable Leaping Bunny-certified brand is ethical and luxurious.
This gift set comes in a chic reusable toiletries bag with four travel-sized bestselling body care products from OSEA. I think this would be best for those in late 20's and up who have clearly shared before they enjoy pampering, clean beauty, trying buzzy brands, or body care.
This list of what I find to be the best beauty gift sets under $50 is only a smattering of what is available and would be received quite well this holiday season. If you have a tried and true beauty gift set that folks love getting, do share in the comments!