This article may contain affiliate links; if you click on a shopping link and make a purchase I may receive a commission. As an Amazon Associate, I earn from qualifying purchases.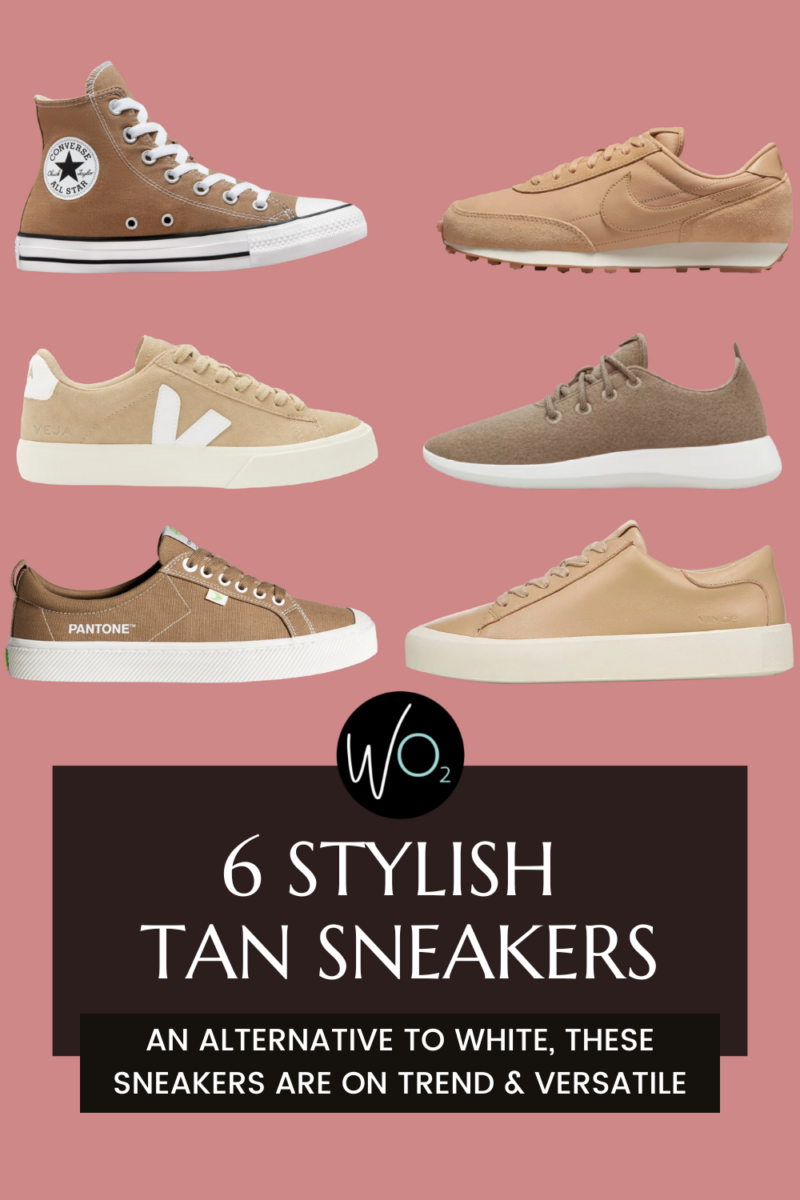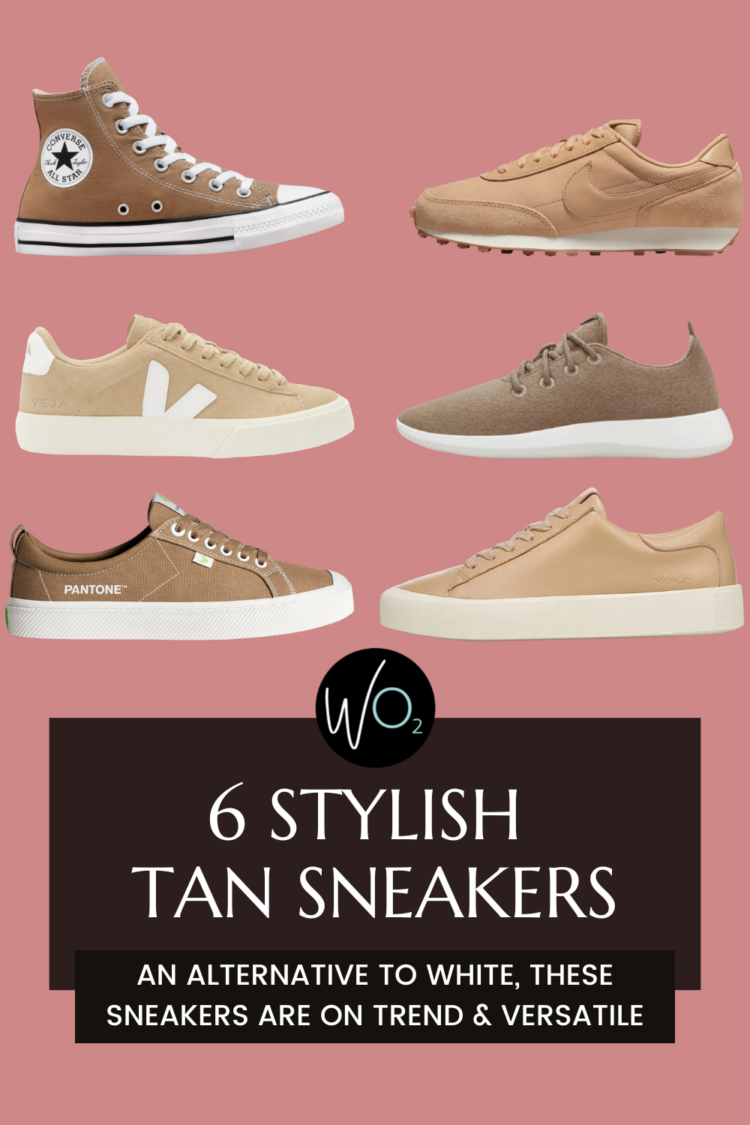 If you are one who has been waiting for non-white trendy sneakers to come back in style, this is the season for you! I recently shared this stylish black sneaker as a great choice for grown women because black sneakers, in general, are back in style. But so are other colors like tan. So I gathered what I think are the best stylish tan sneakers this season.
Why Tan Sneakers, and Why for Grown Women?
Tan sneakers are great because they don't require as much maintenance (that splash from your iced latte won't be as obvious), and they are a lower contrast to many skin tones, creating an unbroken line and letting your outfit take the spotlight. From cream to chocolate, you will find a range of brown-toned sneakers this season. For this article, I will focus on tan sneakers as they are the most plentiful and the most of-the-moment.
When choosing items for grown women, I look for styles that won't be a passing fancy. Looks that are achievable for a range of budgets and bodies. Ways to update, not completely overhaul your closet while helping you maintain your personal style and find comfort and joy in what you wear.
Tan sneakers this fall are both canvas and leather, casual and athletic. If you are looking for a stylish tan sneaker that will be an alternative to the white leather or canvas ones you wore with ankle jeans, cropped pants, wide-leg trousers, and casual dresses, then my selections will likely fit the bill.
I am focusing on tan sneakers that subtly update an existing wardrobe, not ones that are a fashion statement. Not so trendy they'll look passe in a year or two, but still on-trend styles from on-trend brands. And there will be a mix of price points and when available, I'll share a variety of retailers where the shoe is available.
The 6 Best Stylish Tan Sneakers for Grown Women
Not in any particular order, here are my six favorite tan sneakers for this season along with some tips on how to style each shoe: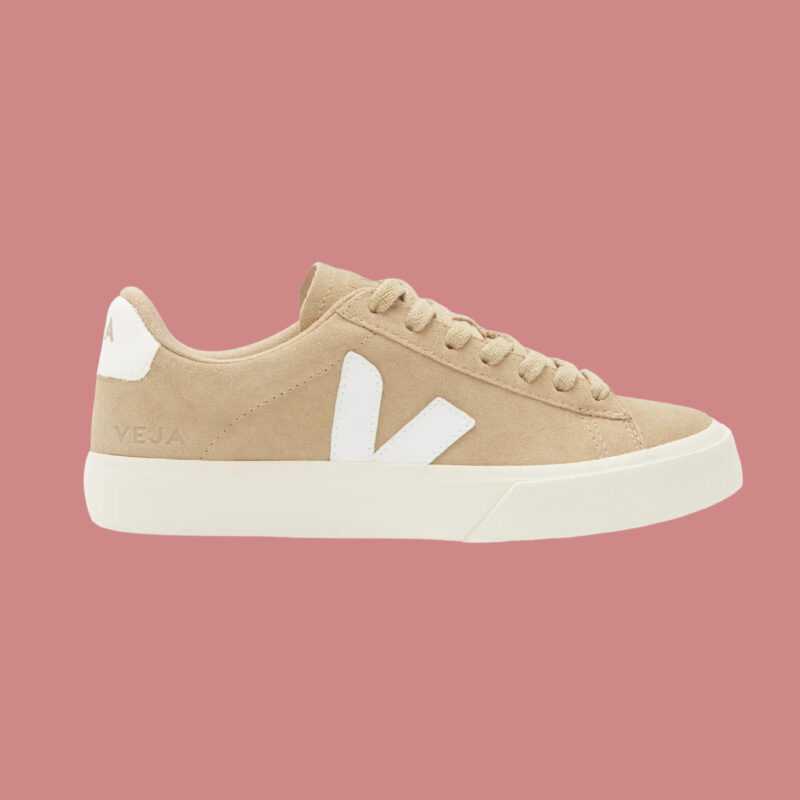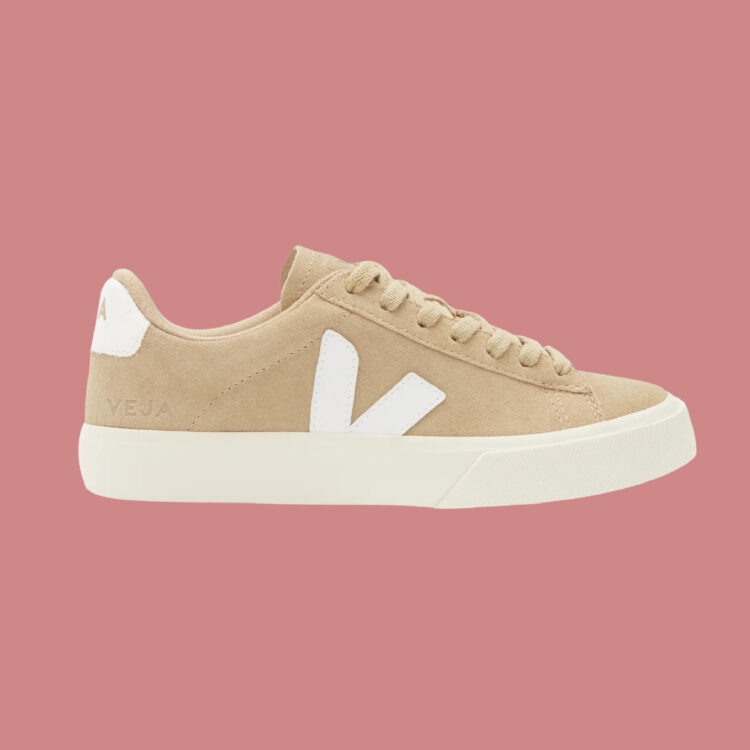 Veja Campo
Veja is a sustainable shoe brand that is also a fashionable shoe brand. And for the transparency, ethics, and quality of these shoes, the price is pretty reasonable. You can learn more about the brand on the Veja website or in this Esquire article (previously shared in my Weekend Reads).
A bit more taupe than tan, this is a nice choice for those who have cool undertones and those who would find a cool neutral to better coordinate with their existing wardrobe. I find this sneaker runs a bit narrow.
Available on the Veja website (with a bunch of other colors to choose from), at Zappos, at Nordstrom, and at Neiman Marcus . Only shop Amazon for Veja if it's through Shopbop so you can be sure they're authentic.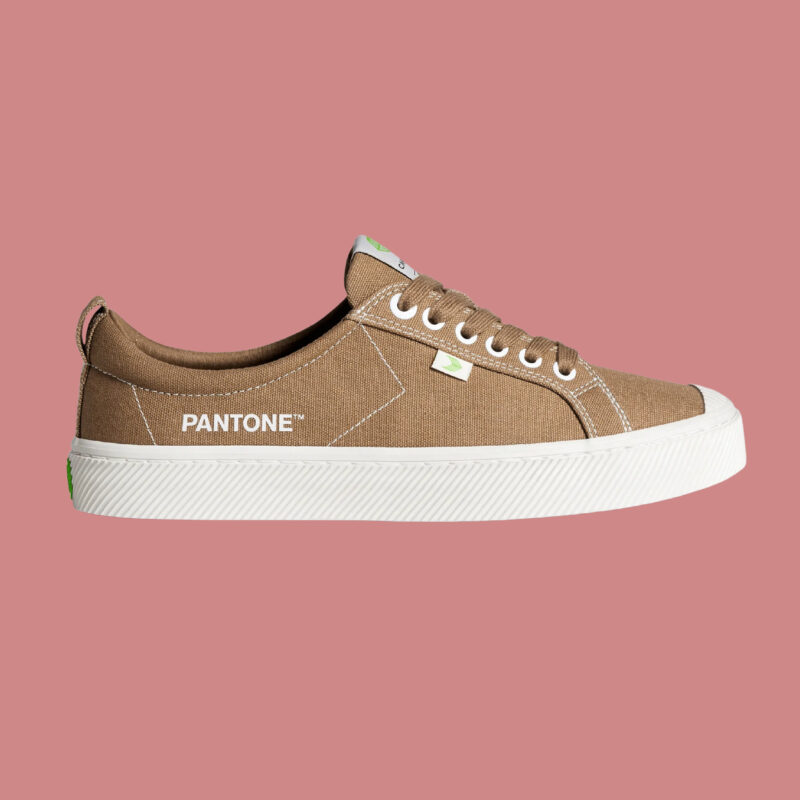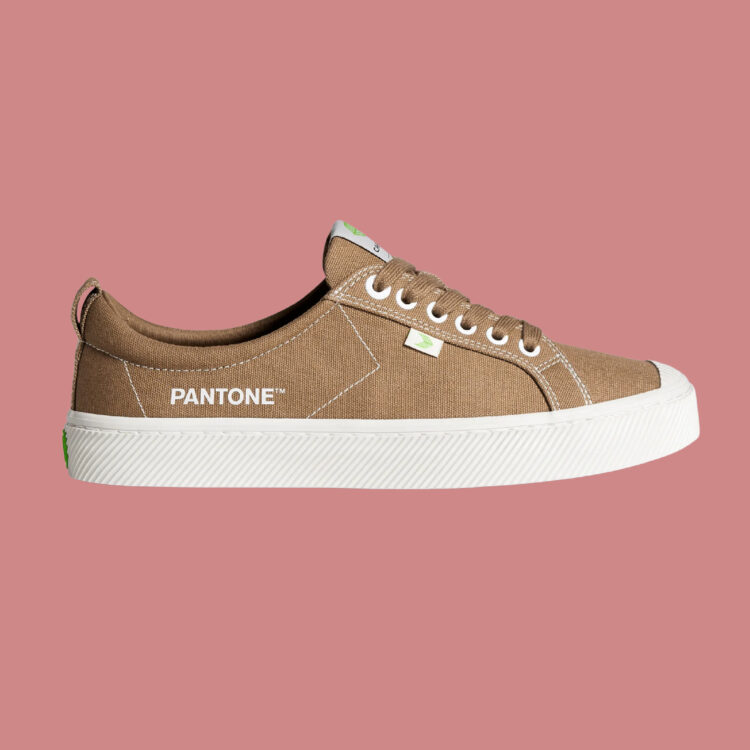 Cariuma x Pantone "Lion" Canvas Sneaker
Cariuma is a sustainable sneaker brand and a B Corp. I have a pair of their sneakers and think they're good looking, well made, and comfortable. I think every style of their sneakers are stylish, I am focusing on this style because it has a subtle extra detail – Pantone branding.
Cariuma and PANTONE have partnered with several colors, high and low top styles. "Lion" is described as a "rich reddish-brown" and I think looks like a stylish tan sneaker. Like the Veja Campo, this canvas shoe will fit most any situations where you may also wear a white sneaker.
At this time, Cariuma's website is where to shop for this brand. I found the shipping and return policies reasonable.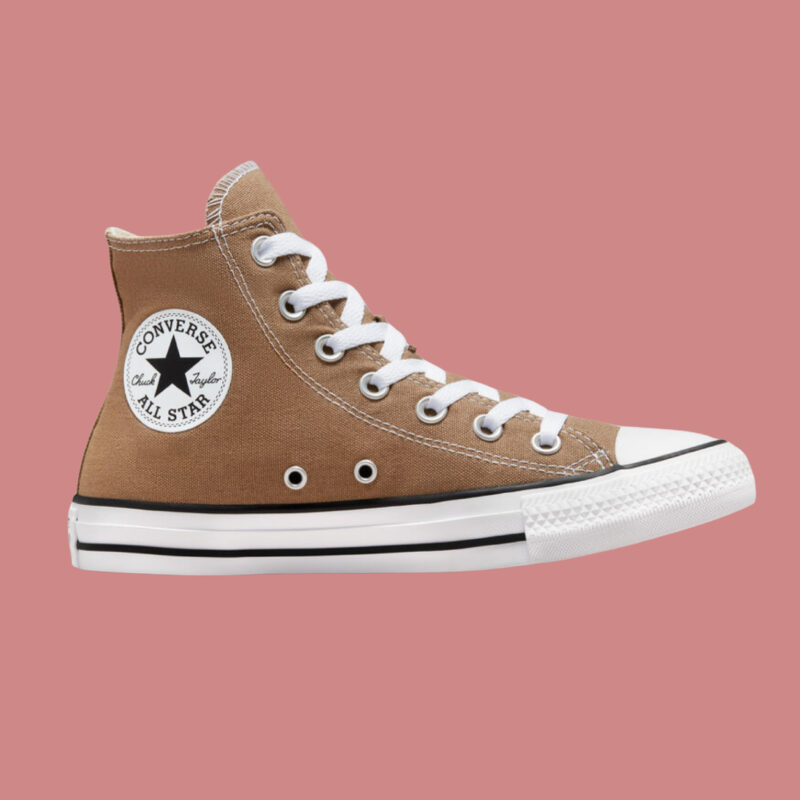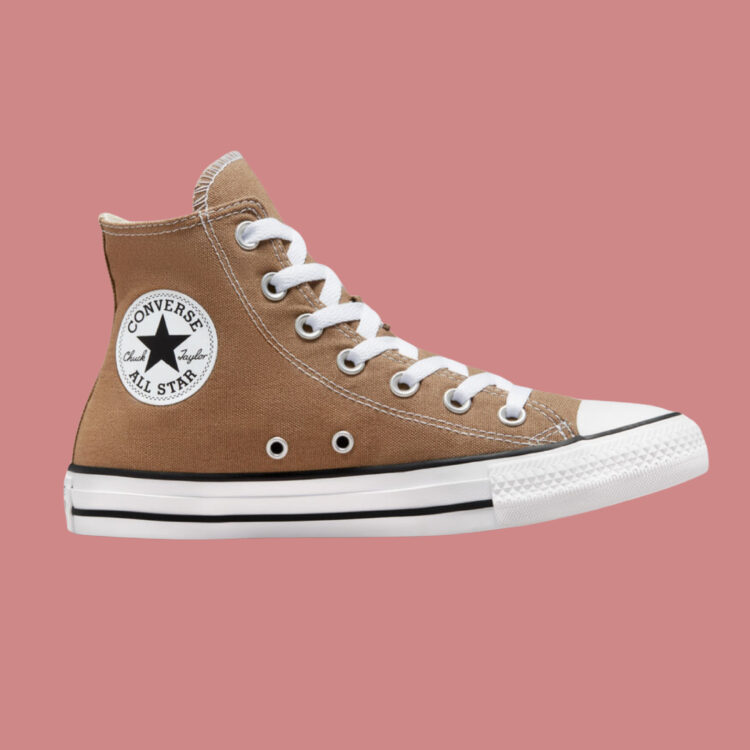 Chuck Taylor All Stars
Chucks are back… or did they ever leave? Well this classic is popular this season, with low tops and high tops both in style and both available in tan. I, someone who hasn't worn high tops since high school, is feeling the silhouette this season.
If you haven't worn high-top Chucks since you were a teen, these are a great way to cover an ankle with your shorter jeans and they look great with full-length denim too. Tan and colors that are low contrast to one's skin tone are a great choice with midi skirts (with bare legs). No need to lace them all the way up; you can leave the last one or two eyelets empty for a more comfortable and relaxed fit.
You're going to find Chucks everywhere. The sand color is a bit harder to find. On the Converse website, you find the best selection with high, low, platform, and even the ability to add custom embroidery. Nordstrom has them in the low top and in the high top. At the time of writing this I could only find the high top version in a tan color at Amazon.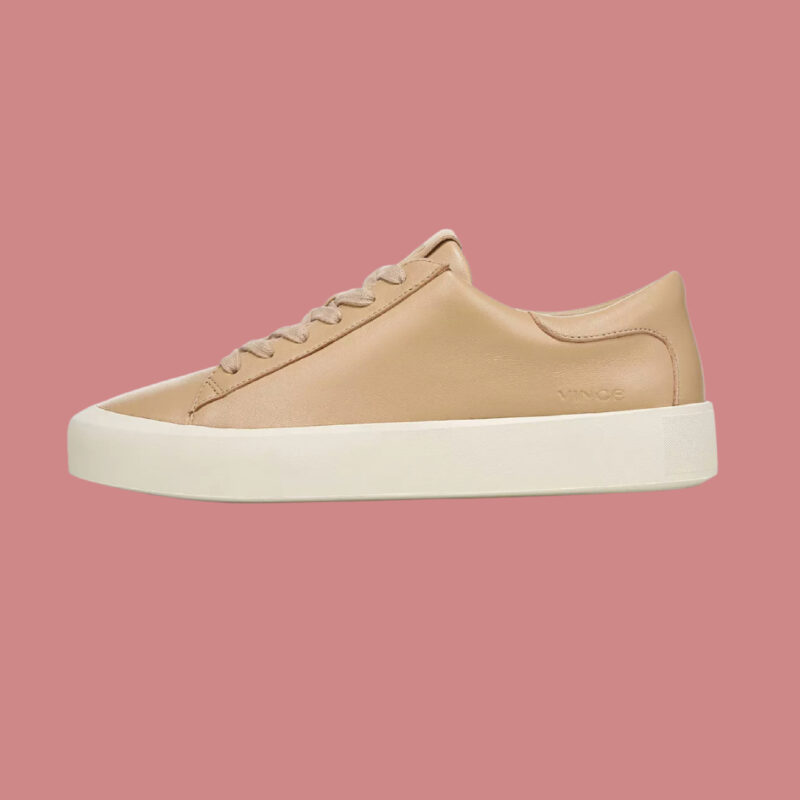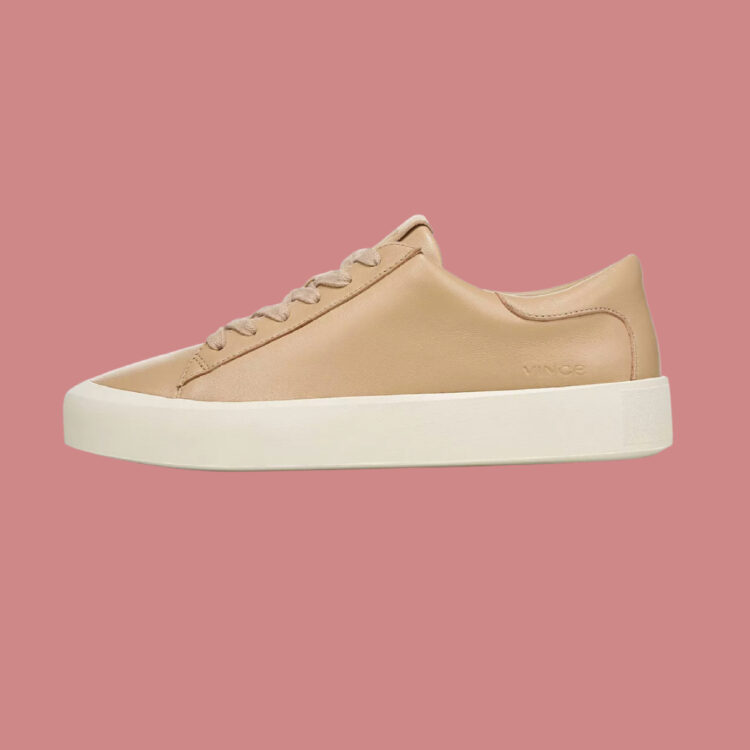 Vince "Gabi" Sneaker
If you like a more polished sneaker that will look at home with your chinos, your casual suits, and your classic wardrobe, the Gabi from Vince may be a good choice. Like the brand Vince as a whole, these are elevated, subtle, but not boring. These would also look great with sundresses and midi dresses.
With a subtle platform and leather upper, I like that the laces match the upper, and aren't white. It feels more elegant and easier to dress up. These are sneakers you can easily still be wearing years from now. I find this sneaker runs a bit wide.
You can find the "Gabi" from Vince on the Vince website, at Bloomingdale's, and at Nordstrom. And watch the Nordstrom Rack site; while there weren't any tan leather Gabis at the time of writing this, there were a lot of Vince sneakers and other tan options.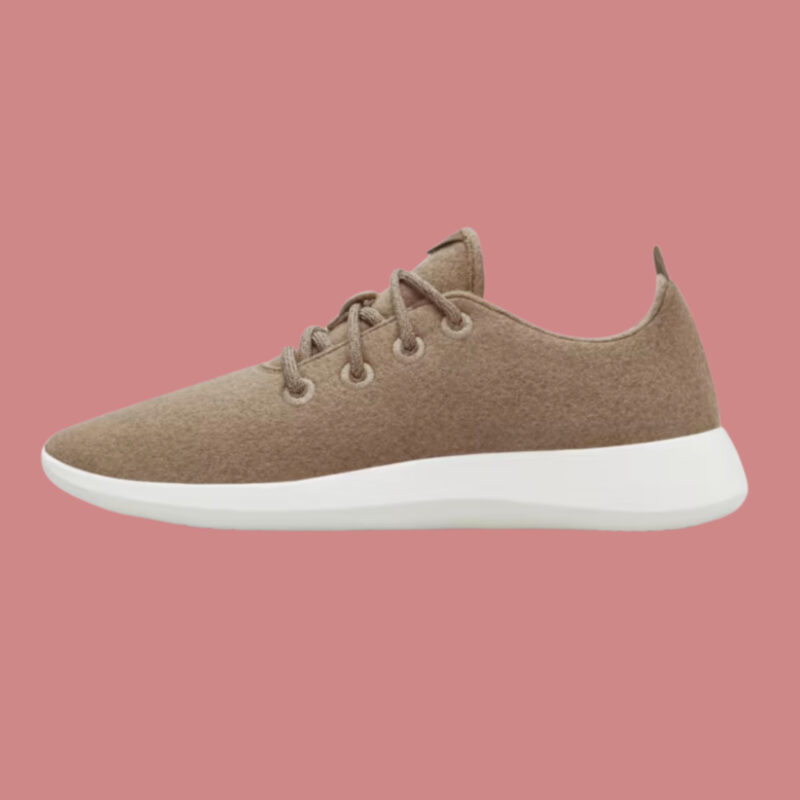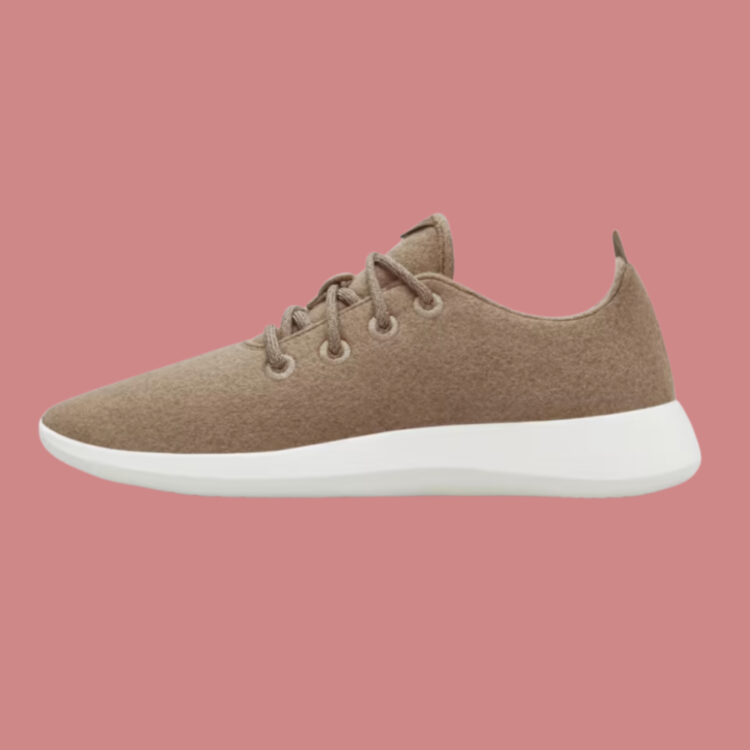 Allbirds Women's Wool Runners
I am a fan of Allbirds, a sustainable brand that is striving to reverse climate change. I find the aesthetic extremely neutral but still elevated, making it a shoe that is neither trendy nor passe and their Hazy Beige a color that can dress up or down.
The Wool Runners would look great with a pair of 501's and a fisherman sweater, a pleated midi skirt and cashmere turtleneck, chinos and a Breton striped shirt, a sweater dress, or a cozy jogger and hoodie set. Think aesthetics like classic, cozy, minimalist, coastal grandmother in the winter. Of course this is on top of their purpose which is a running shoe.
Allbirds are sold on the Allbirds site. I previously reviewed Allbirds for wide feet; you can read my review and be sure to check out the comments from other Allbirds customers. If you've worn this brand I encourage you to share your feedback on fit and quality!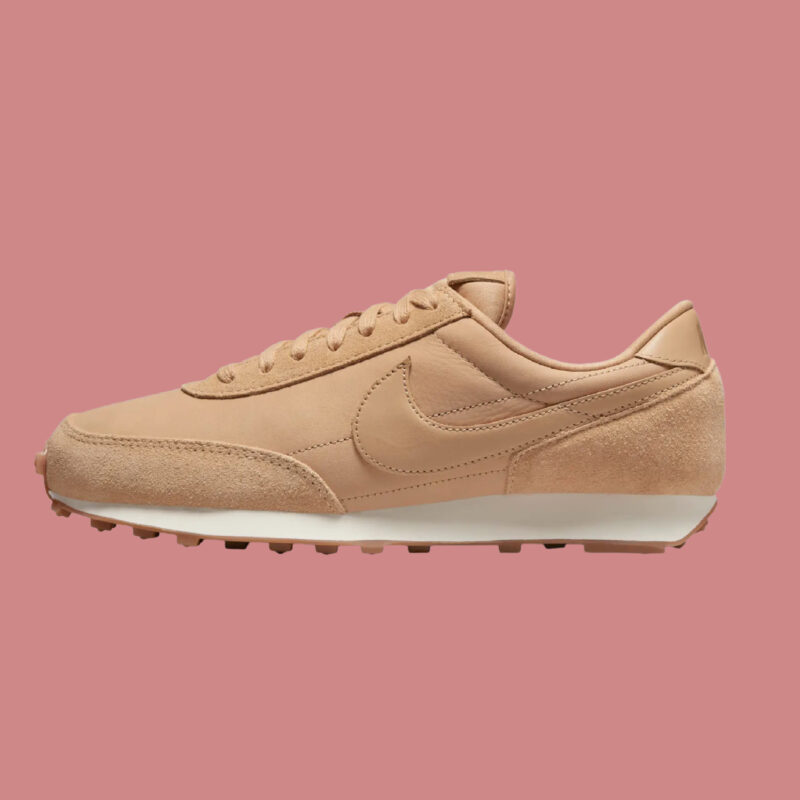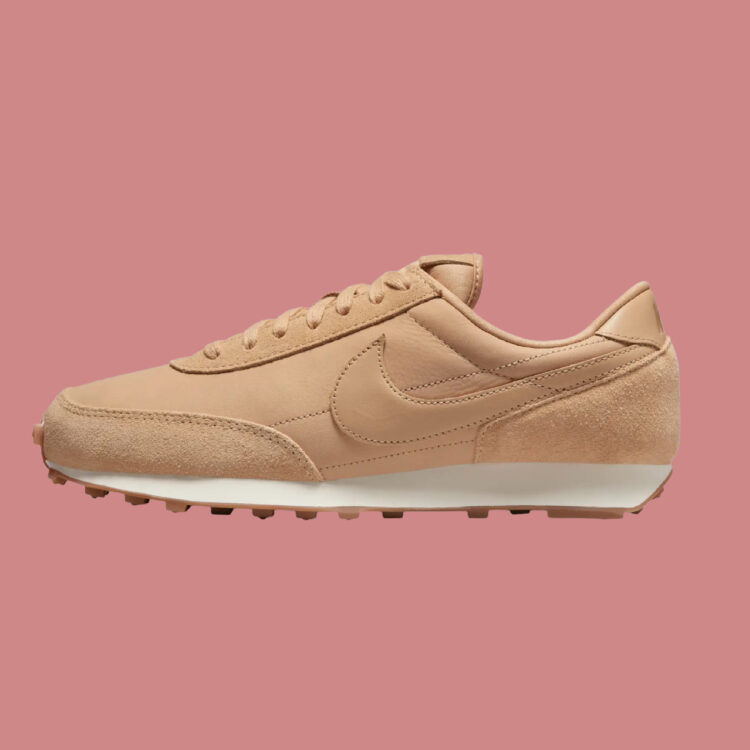 Nike DBreak / Daybreak
The Daybreak is a style of Nike that was originally released in 1979 and may feel a bit too on the nose for some of us GenXers, and for others it may be a welcome return. A textile and real/synthetic leather combo makes the shoe soft and pliable and also lighter weight, and the classic athletic style means these shoes are great whether you're walking the aisles of Target or walking the lake path at the park.
This shoe is called the Daybreak on some websites, even though it's likely the DBreak, the updated version of the original. I'm sharing both because this shoe sells out fast in tan colorways and if my links are sold out you may be searching and both terms will provide results at reputable retailers.
This is a great shoe to wear with your ankle and cropped jeans, your pleated midi skirts, and your athleisure. The unstructured shape can get lost under a longer and wider leg of trouser or jeans.
The Nike DBreak Premium is all tan and made from premium leather; this is a very elegant yet cool version of this shoe; it's available on the Nike website. It is also available at Nordstrom. Also on the Nike website, the Daybreak SE comes in a mix of tan and gray Nordstrom also has this version. This is a shoe that is constantly coming out with different colors and textiles so you're likely to find Daybreaks and DBreaks on resale sites, and retailers that carry Nike (such as all the popular department stores) will come out with tan versions every season.
What About [Enter Other Tan Sneaker Here]?
This list is of my personal opinion, and focusing on more universal styles that will work with the wardrobes of grown women. I also went through a lot of the tried and true sneaker brands that carry stylish tan sneakers… and for some reason they don't have them this season. Next season, I will update this list to have those who have the most stylish tan sneakers for the season in stock.
Shop The Post:

What Socks to Wear with Tan Sneakers?
As long as it's weather making it comfortable, tan sneakers are best with no-see or tab-ankle white socks. If you want to wear socks… I still think white is your best bet if it's more an athletic sock than trouser. If you're one to rock pop socks, I'm not stopping you. I think a print between pant hem and tan sneaker, if that's already your jam, can look quite fab.
For no-show socks my favorite are these from Bombas. For ankle tab socks, I swear by these from Bombas. Plus, Bombas donates with every purchase AND they offer sized socks (everyone not sized 9-11 rejoice!). For taller socks, I don't really wear them but my husband is beyond obsessed with his Bombas running calf socks and Bombas have a white version for women. Yes, there are other brands, but we've become a Bombas household.
For those unfamiliar with Bombas, it's a popular brand and it's an ethical brand. A bee is the Bombas logo, and this bee is featured on many of their styles of socks. The brand name is on the toe of every pair (even the white no-shows have white "Bombas" on them). It's brilliant marketing; as a Bombas customer I see that bee or the "Bombas" on the toe a mile away (AKA on the foot of a Peloton instructor when doing a stretch from the app on my iPhone) and smile. However, if you do not like logos on your socks, another brand may be a better choice.