This article may contain affiliate links; if you click on a shopping link and make a purchase I may receive a commission. As an Amazon Associate, I earn from qualifying purchases.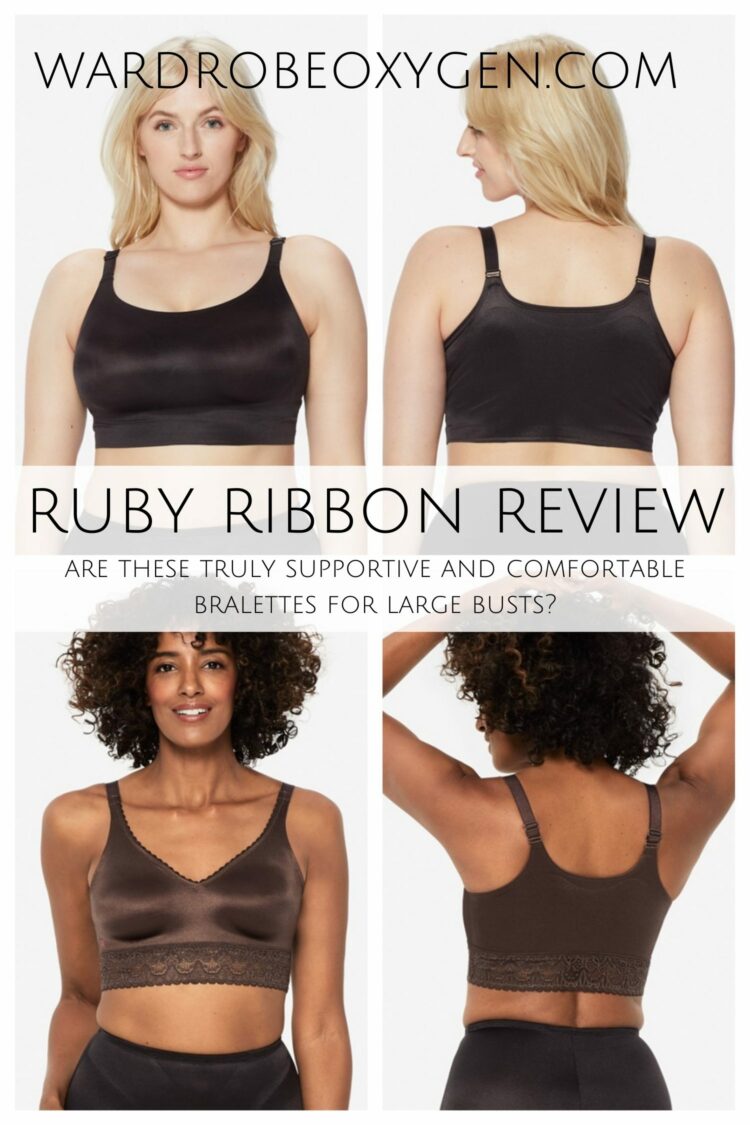 After quite a fiasco in the comment section of a Rodan + Fields Lash Boost review with a bunch of spiteful consultants (most of those comments I deleted because it got really nasty), I made a decision to not support direct sale or MLM companies on Wardrobe Oxygen unless I was contacted by corporate. Over the past year, I have added to that where I do not feature such a company if not just the company has ethics that match mine, but they also hold their consultants to such ethics.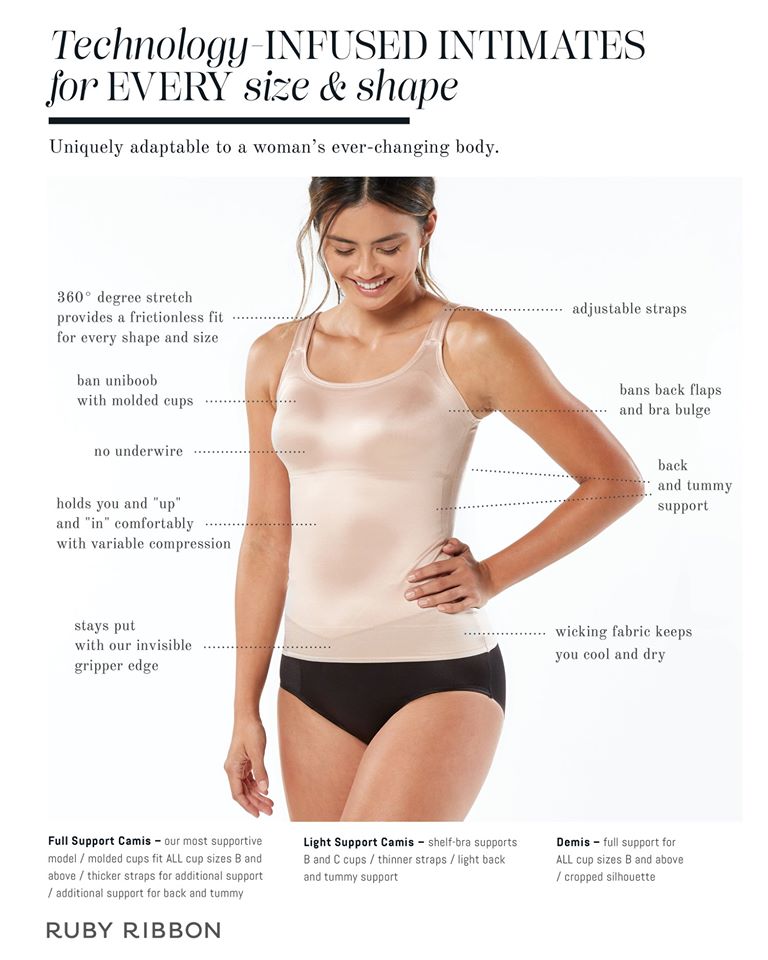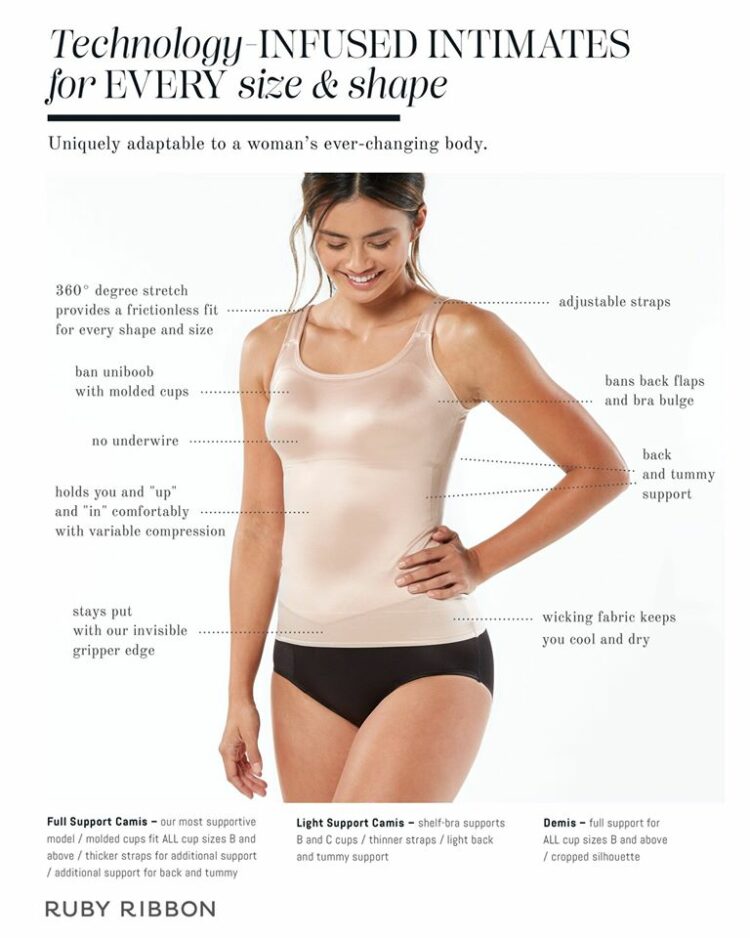 Well after I received so many questions about Ruby Ribbon, a company known for making wire-free bralettes that truly lift and support (though they also carry activewear, swimwear, and more), I finally said okay to no-strings gifting from their corporate office. The main reason that I said okay was that you can buy Ruby Ribbon without going to a stylist; you can shop directly from their website.
I also said okay because I have tried a LOT of wireless bras and bralettes for large busts and hardly any truly separate, support, and are comfortable for my over-40 bustline. I wanted to be able to provide an honest Ruby Ribbon review, free of bias from being a customer, a stylist/consultant, paid by the brand, or making money from affiliate links.
What is Ruby Ribbon?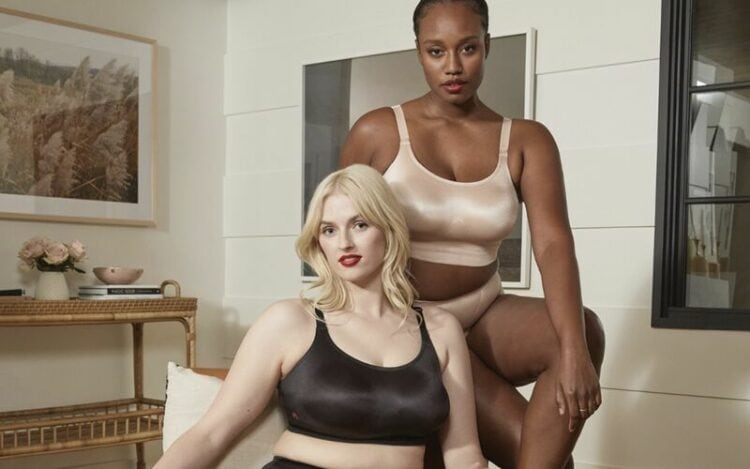 Before I get into it, I think it's important to know what kind of brand you are supporting and giving your hard-earned money to. I did a bit of a dive into Ruby Ribbon and what I learned:
Ruby Ribbon was founded in 2011 by Anna Zornosa with Deborah Uri, two Silicon Valley badasses who had an early-stage investment from Trinity Partners, which from what I can tell is now called Trinity Ventures, most likely because there are a ton of Trinity Ventures companies out there. Here is a link to the current Ruby Ribbon board of directors, leadership team, and corporate staff.
This is not some aw-shucks mama thought of an idea while chasing around her littles, this is a smart and savvy company based on a seen need using revolutionary fabrics. Zornosa saw how women were changing how they were getting dressed, desiring more comfort and flexibility. She had an idea for underpinnings that would offer the same benefits of beloved yoga pants and athleisure and believed a direct sales model would also change how women got paid too.
The company started with shapewear, and while they still offer a variety of compression for garments, Ruby Ribbon is best known for their camis and demiettes (their version of wireless bralettes) and they also offer some activewear, loungewear, and swimwear along with non-shapewear underwear, slipshorts, and slips.
Ruby Ribbon offers their collection in sizes XS-XXXL, or band sizes 28-50. They also offer nursing-specific merchandise. Ruby Ribbon offers an extensive fit guide based on the "level" of a garment (how firm, compressing, or supportive it is).
Ruby Ribbon has their career path for stylists on their website which shows the commission structure for sales and the benefits of recruiting a downline and making a portion of their commissions. Ruby Ribbon offers a variety of "kits" to buy in as a stylist; I did read a few Reddit threads where stylists say the prices ended up being higher after various fees like shipping, around $10 total in fees.
The Ruby Ribbon website doesn't go into their relationships with factories and manufactuers, but few intimate brands offer that so I wasn't surprised. In 2018, Ruby Ribbon stated they made their active products in Nicaragua, China and Vietnam (Apparel News), and in 2015 had their products made in United States, Nicaragua, India and China (Direct Selling News).
Before I agreed to review Ruby Ribbon, I checked out their social media, the diversity of their models and what they chose to share on social, and I also went through over 100 stylist accounts that tagged Ruby Ribbon on Instagram to see if they promoted Ruby Ribbon and also promoted any problematic content (racist, sexist, Qanon, violent, supportive of Operation Underground Railroad or the NRA or certain politicians) or followed problematic accounts. I didn't find a single one, while a previous MLM I worked with I found dozens. However, I did find that most of the stylists selling Ruby Ribbon are also selling other MLMs as well; they often had three or even five different companies in their bio. Take that information as you will.
I share this as just a taste; feel free to go down your own Ruby Ribbon rabbit hole and feel free to share what you know in the comments. Ruby Ribbon does not have an affiliate program, did not pay me for this review, I am only offering as a PSA for those curious about Ruby Ribbon or unable to find a similar product elsewhere. At the bottom of this review I share some more details about MLMs and my personal experience working for an MLM.
Shopping Ruby Ribbon without a Stylist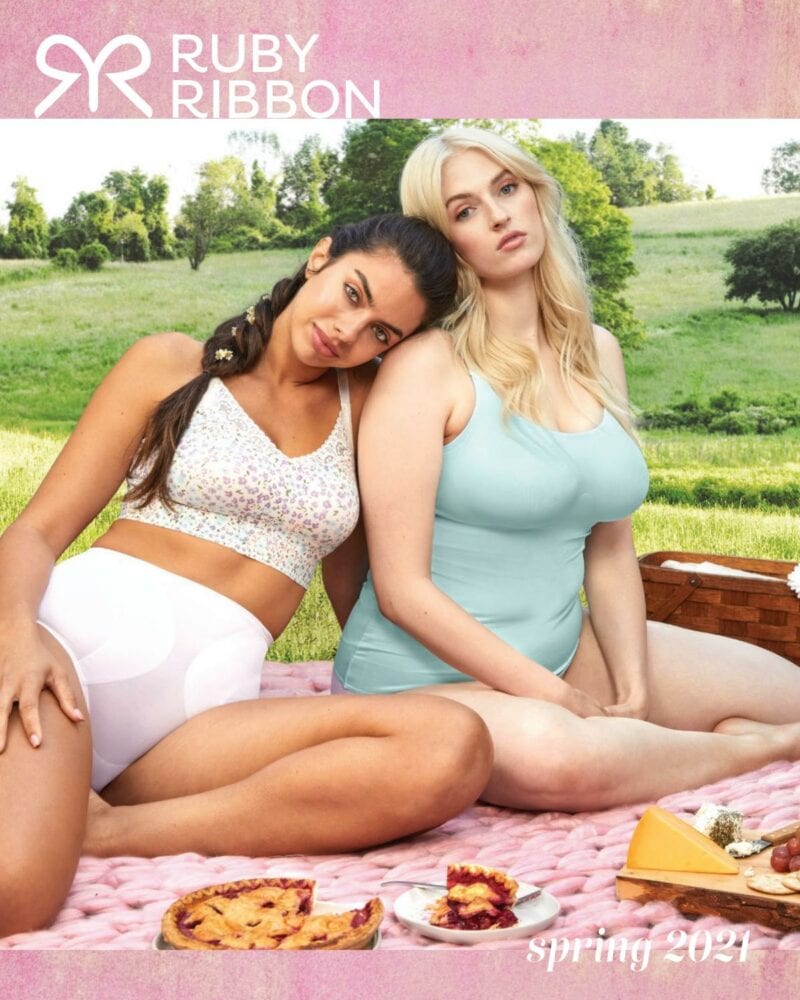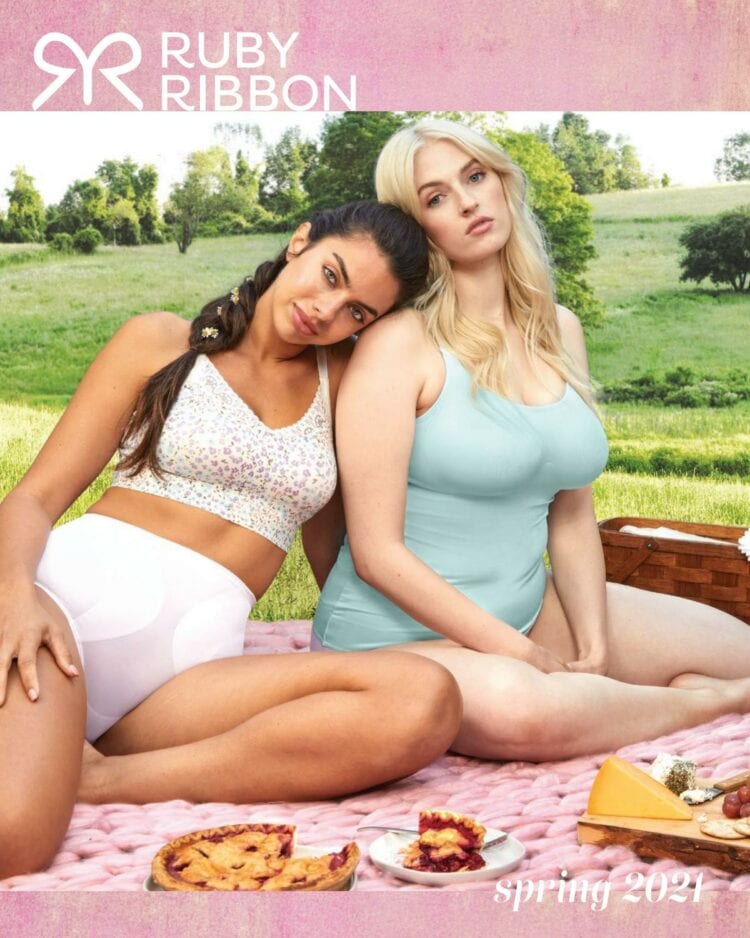 As I mentioned, you can shop Ruby Ribbon by a Stylist/Independent Consultant, but you can also shop directly from the Ruby Ribbon website without having to connect with a stylist or end up on their mailing list.
Shipping is $7.95, but Ruby Ribbon often has deals of free shipping if you spend at least X. Most orders are processed within two business days and should arrive within 3-10 business days after that. Currently, Ruby Ribbon only ships to all 50 United States and APO/FPO addresses; they do not offer international shipping nor shipping to Canada or U.S protectorates, including Guam, Puerto Rico, American Samoa, and US Virgin Islands.
Returns and exchanges must be completed within 30 days of ship date, and Ruby Ribbon only accepts returns in brand new condition, unwashed, unworn (ok to try on), free of any odors and stains (e.g. makeup or deodorant), and in the original packaging with hang tags (where applicable) to receive a full refund.
Returns are done through Narvar; if you have shopped Gap, Anthro, and a lot of brands you are familiar with this interface. Enter your order number and zip code, click which items to return, and get a prepaid ($6.95) label to return via USPS.
Okay so on to the actual review…
Honest Ruby Ribbon Review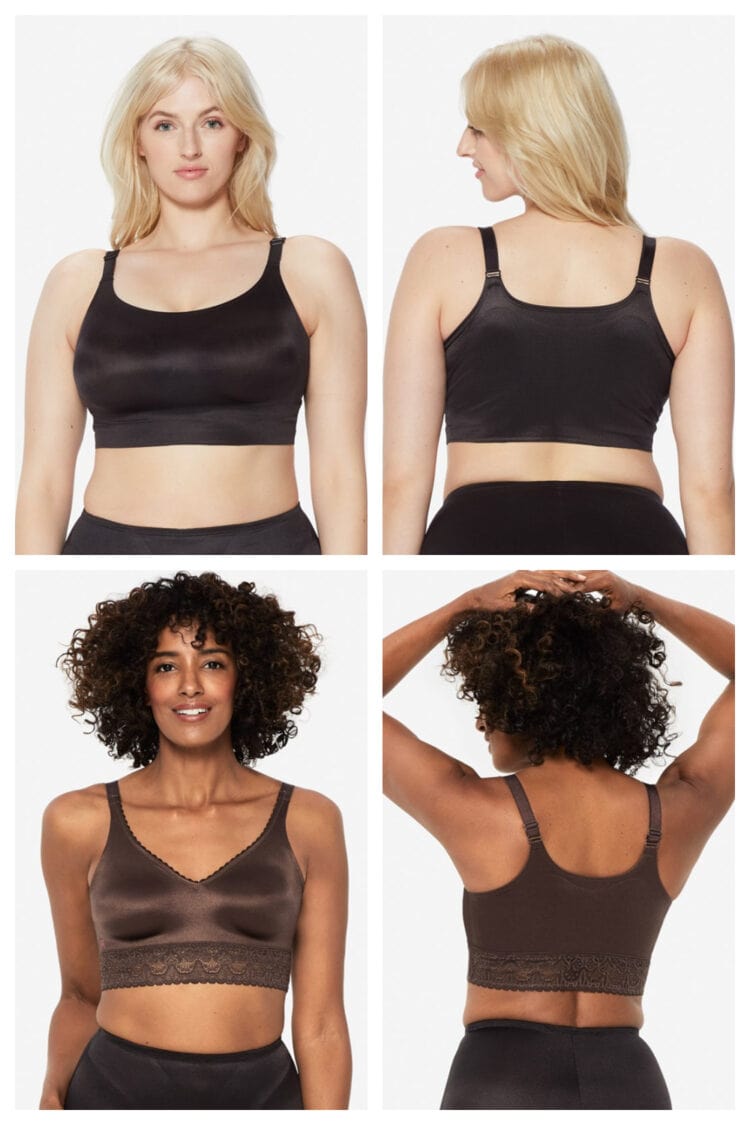 Ruby Ribbon let me pick the items of my choosing; since I knew most of you were interested in wireless bras and bralettes, I chose that instead of any of their other options. I wanted to experience Ruby Ribbon's highest level of support and see if they were any match for my 46-year old 36F/38DDD/nursed for over 2 years/much weight fluctuation over the years breasts. I got the Ultimate Demiette in black ($75 USD), and the Lace Demiette in Espresso ($72 USD), both in size 38.
I got these bras a couple of weeks ago and just got around to taking photos after showering. I finally tried one on and thought… I need to review Ruby Ribbon for Wardrobe Oxygen. Therefore, you have selfie photos from my phone with wet hair and no makeup but I think that helps you see what these Ruby Ribbon bralettes are really like.
Do know that because I deserve to control my narrative, some editing has been done to hide things such as "highlights." However, the design of the bras, the way they support my body, as well as the shape of my body inside Ruby Ribbon products has not been altered in any way.
Ruby Ribbon Ultimate Demiette Review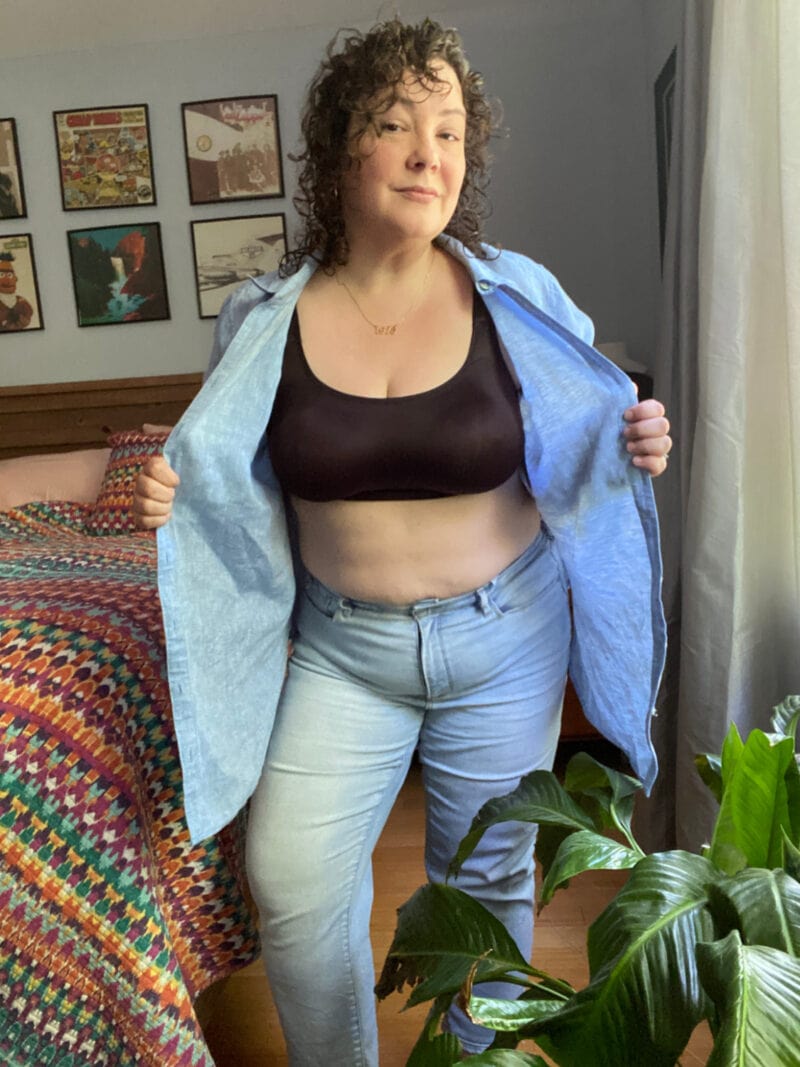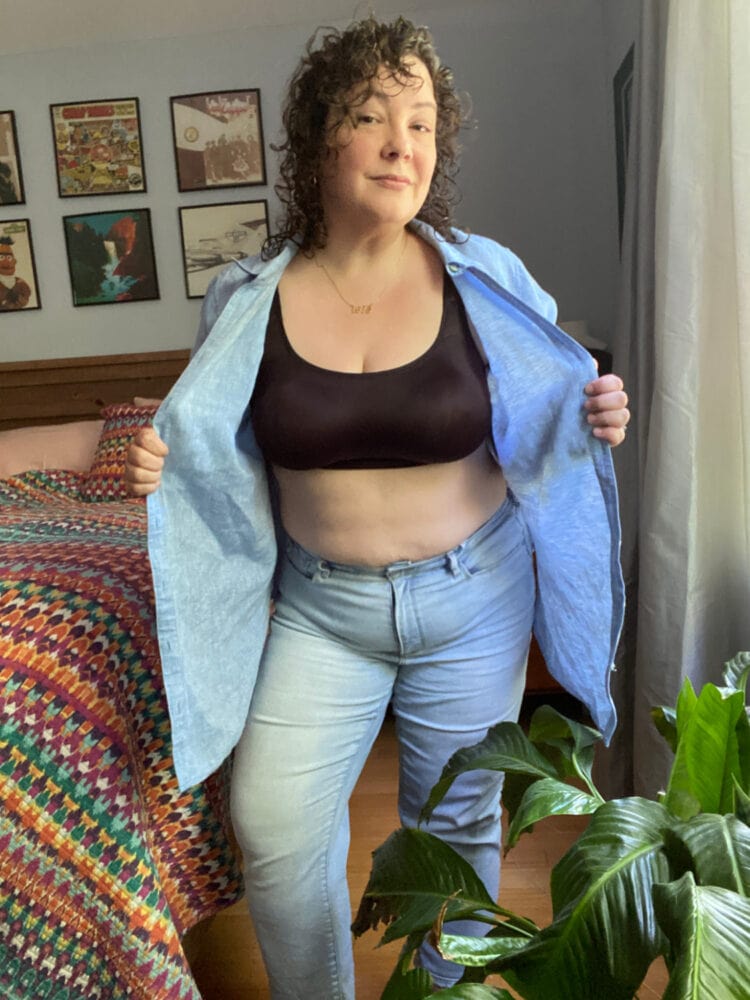 The Ruby Ribbon Ultimate Demiette has Level 5 support, which is the highest level the brand offers. This bralette is described as, "Maximum support for your curves with the wire-free comfort you want now in a cropped style. Built-in shelf bra plus sling construction for ultimate lift and confidence."
With molded cups, Ruby Ribbon suggests the Ultimate Demiette for a size B and above, adjustable straps, moisture-wicking fabric, and patented invisible gripper edge made from medical grade silicone, this looked to be the kind of bra that I could even wear alone when working from home or have it peeking out of low necklines.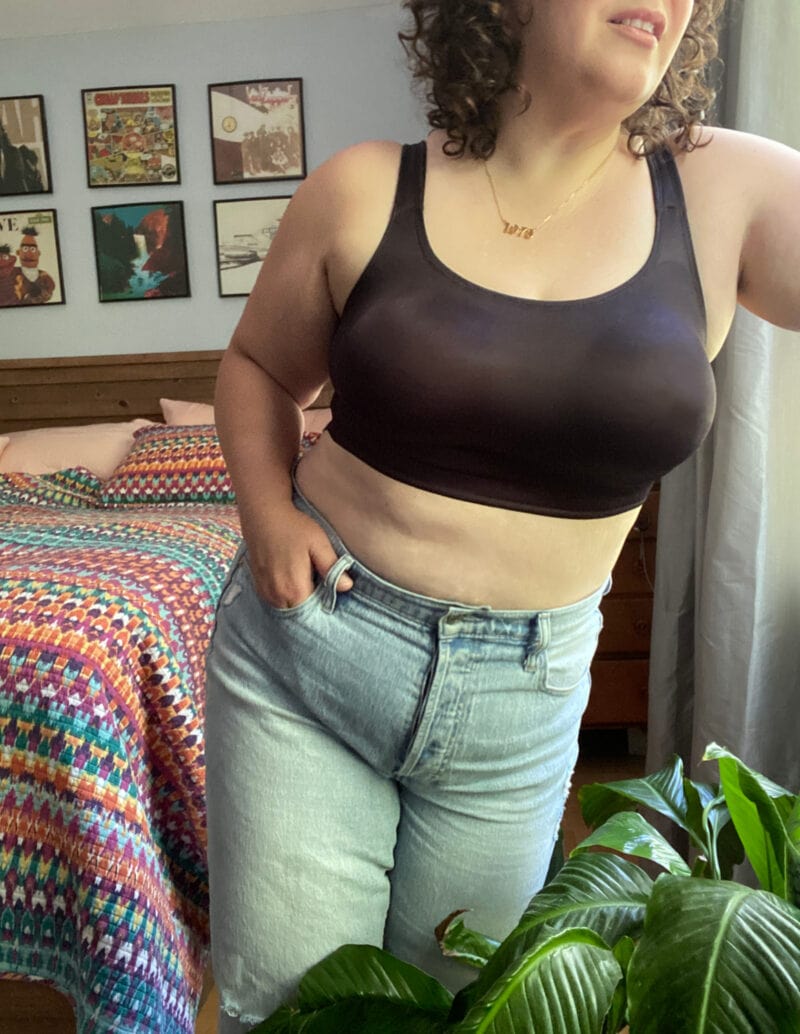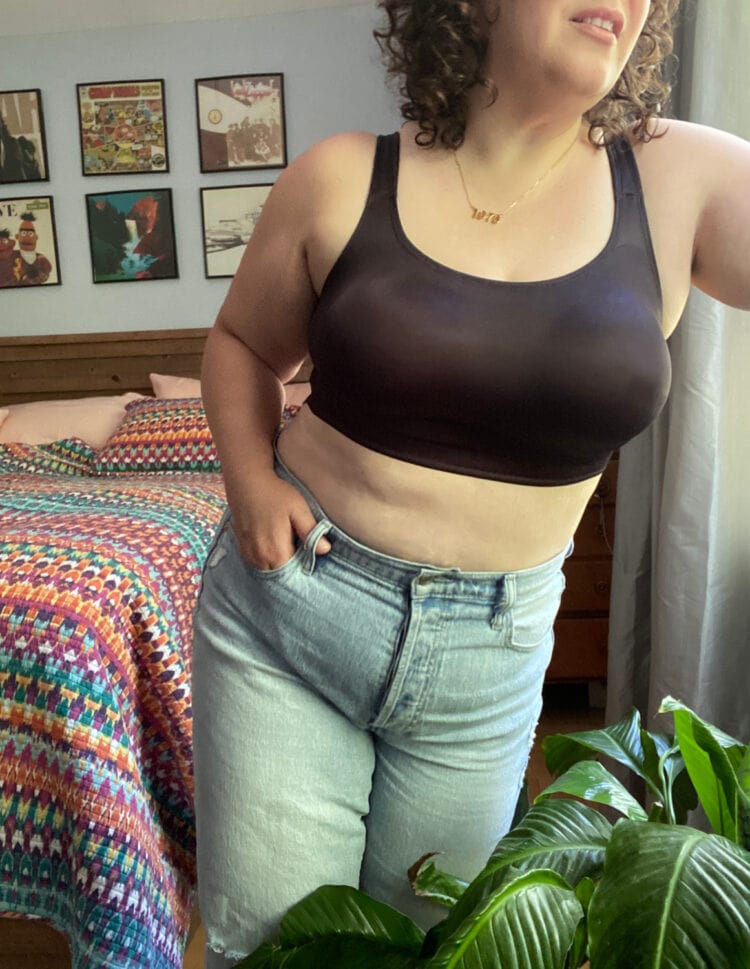 I was SHOCKED by the support I got from this bra. Like, I don't really want strangers examining my boobs, but in this instance, look at my BOOBS! No wires, no crazy seaming, no stiff fabrics, yet here are my breasts lifted and separated AND comfortable.
As for the concept "molded cups," I think that term makes most think of foam cups pre-shaped like breasts. With this bralette, it was like the fabric thinned and got stretchier in a circle and thinned as it got to where a nipple would be; the bralette is completely flexible and soft, and you can't feel this transition of the level of fabric.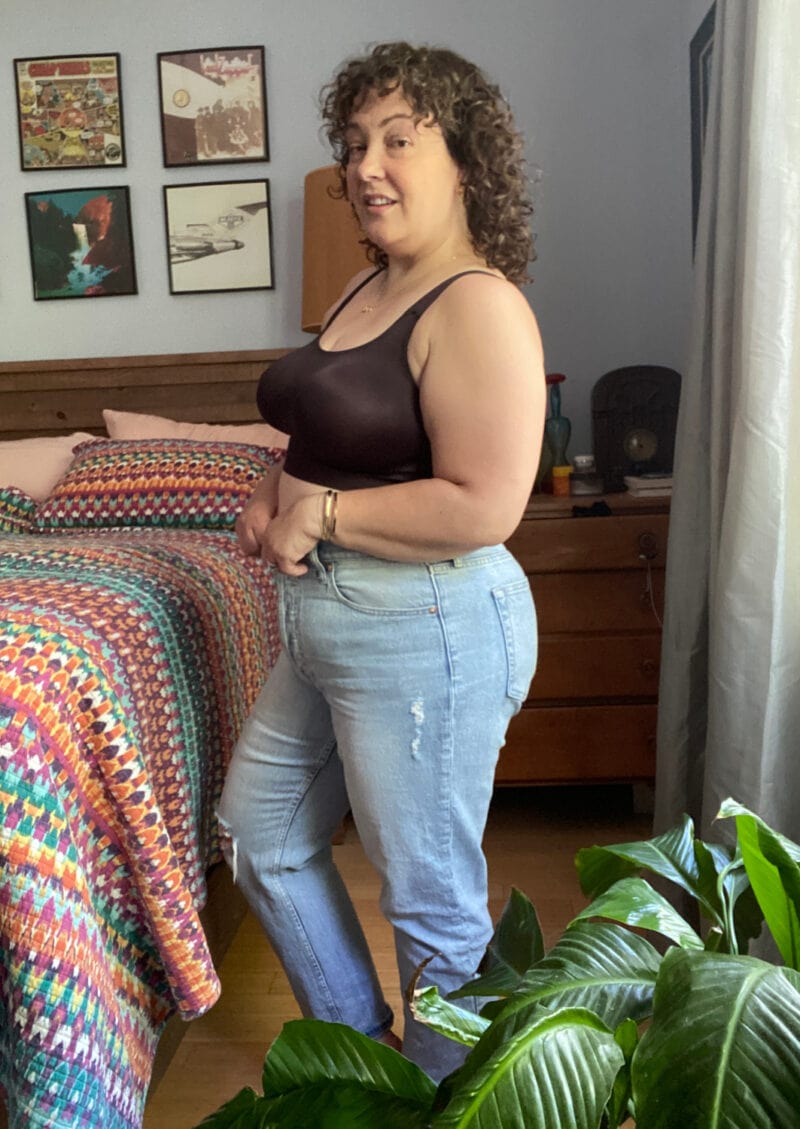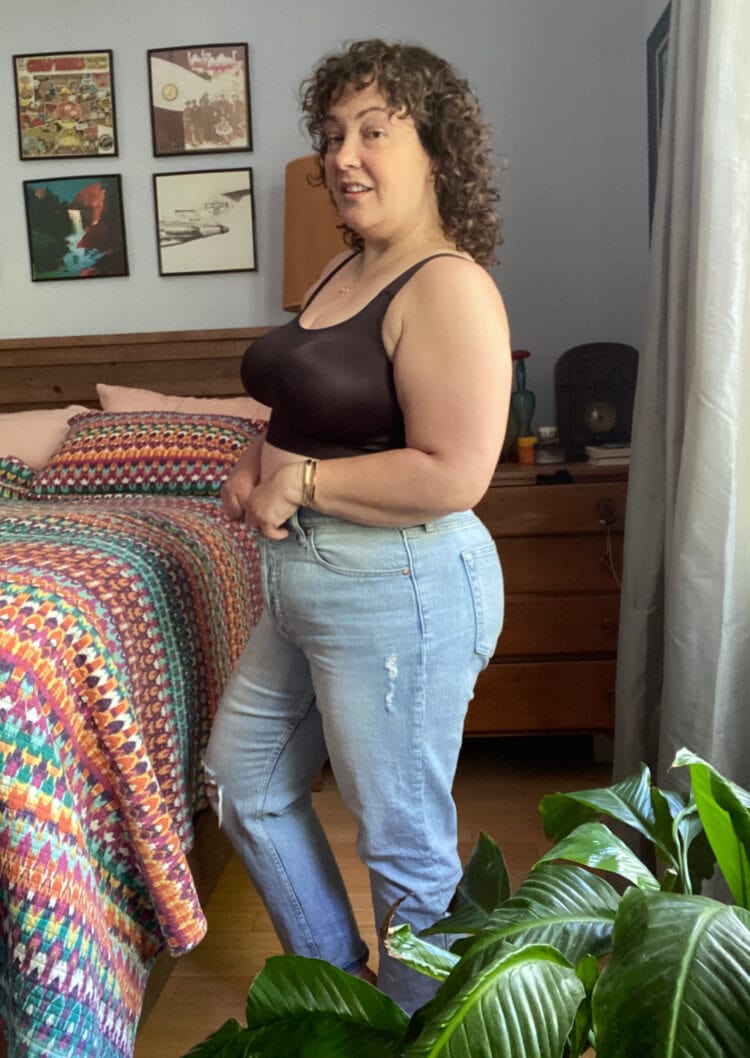 I wore this bra for eight hours straight. Unlike bralettes I've bought from brands that don't sell by cup size but swear my boobs will be great in their product, this bralette from Ruby Ribbon kept my breasts at attention all the hours this was worn and a trim t-shirt didn't squish things down.
This is the kind of wireless bra I truly would wear out of the house. With the lack of modesty (dude, the nipples are in full display with this fabric, and depending on your body, you may even be able to see the shape of your areolas through this fabric), I'd be most likely to wear them under looser or heavier weight garments.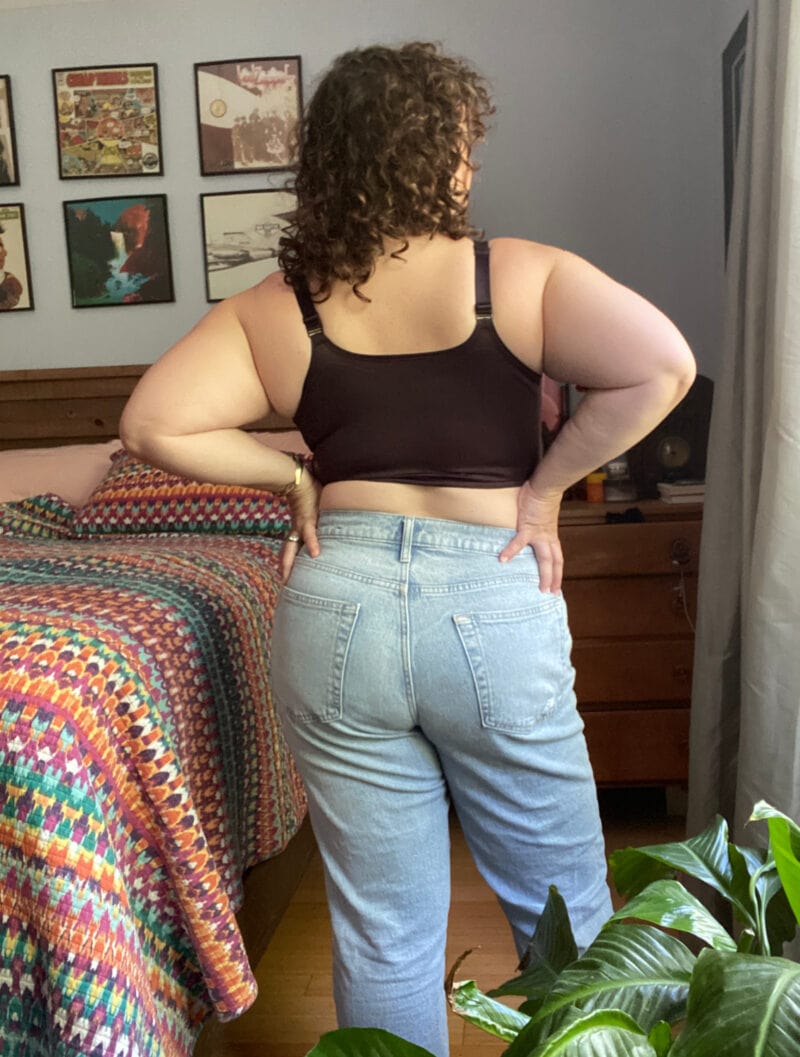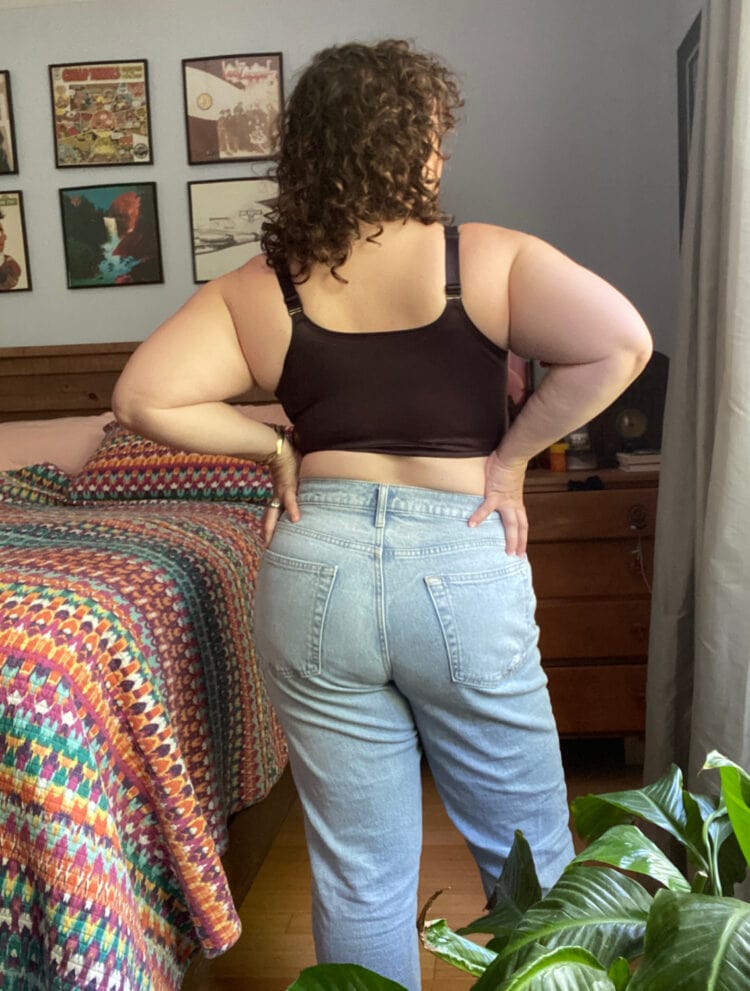 The only issue I experienced is one that I bet other curvy or fat women experience, especially if they have a short torso – the band rolled up as soon as I sat down. I flipped it down when I stood, but about ten minutes later I was in the kitchen talking to my husband and I felt the weirdest sensation under my shirt and it was the silicone-striped bottom slowly curling up like a wave from my left side to right side. The rolling didn't affect comfort or support, but it did affect the ability to wear this solo or under a low-neck top.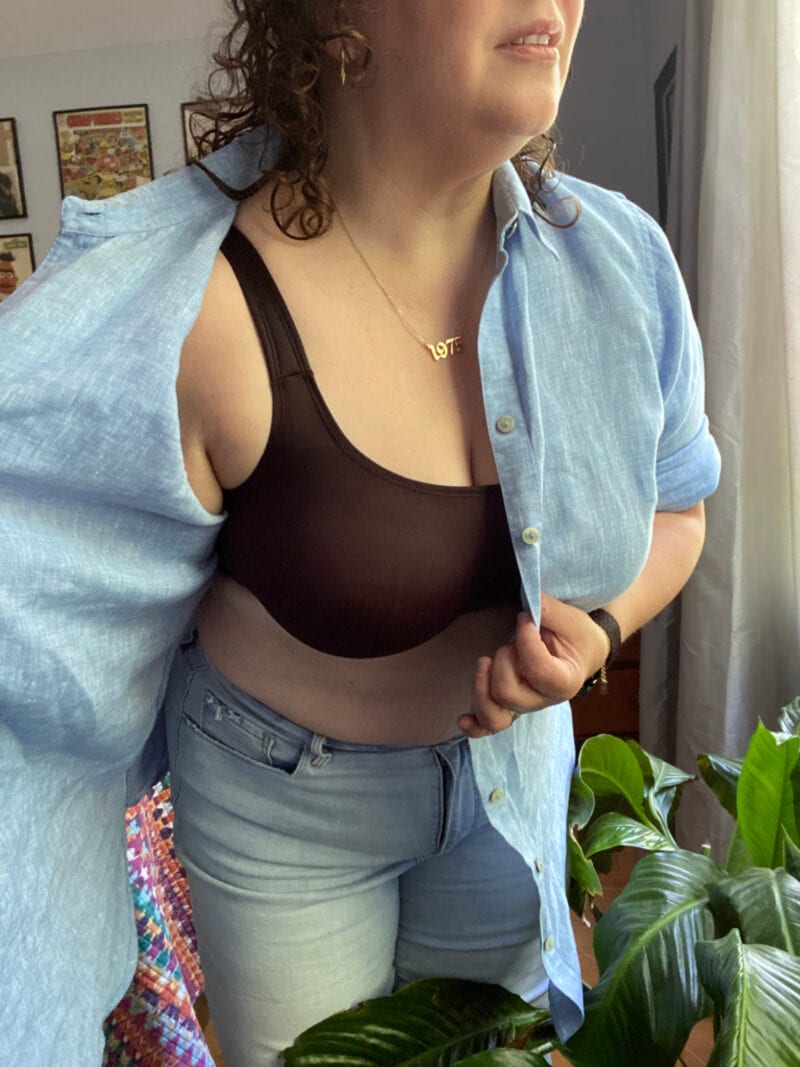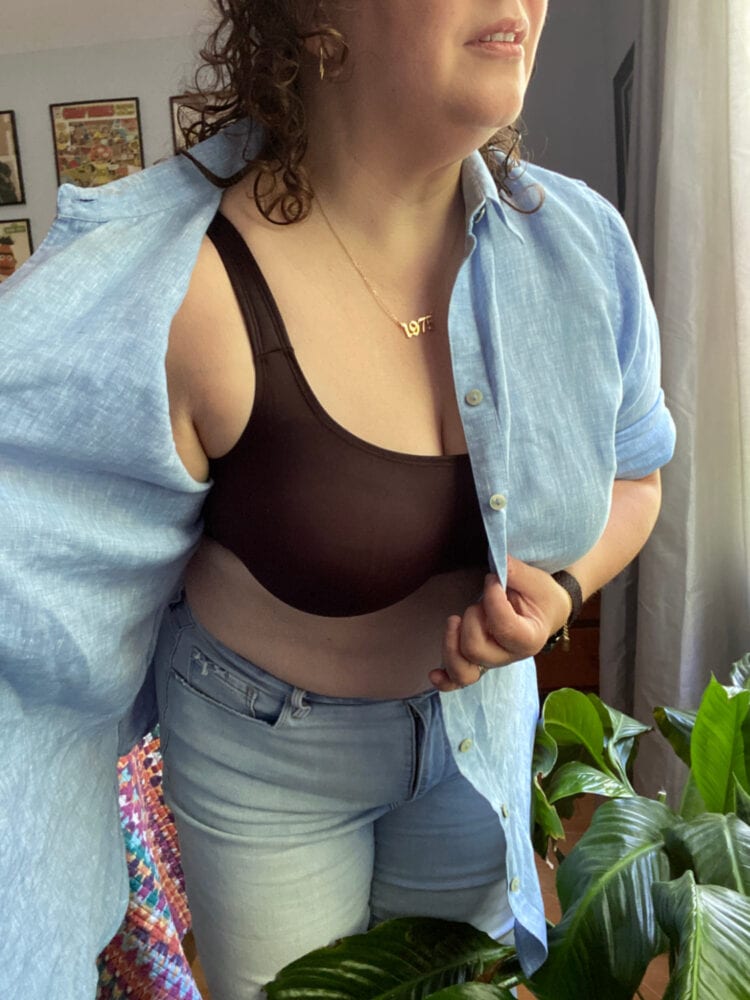 The Ruby Ribbon Ultimate Demiette is currently available on the website in the colors pale and black. This is the size chart for Ruby Ribbon products with Levels 3-5 of support; the chart shows sizes 32-50 (I am wearing 38) but at the time of writing this many sizes are out of stock with the Ultimate Demiette. They seem to replenish quickly; at the time of my order this was out of stock in black but a couple of days later they had it and was able to send my first choice.
Ruby Ribbon Lace Demiette Review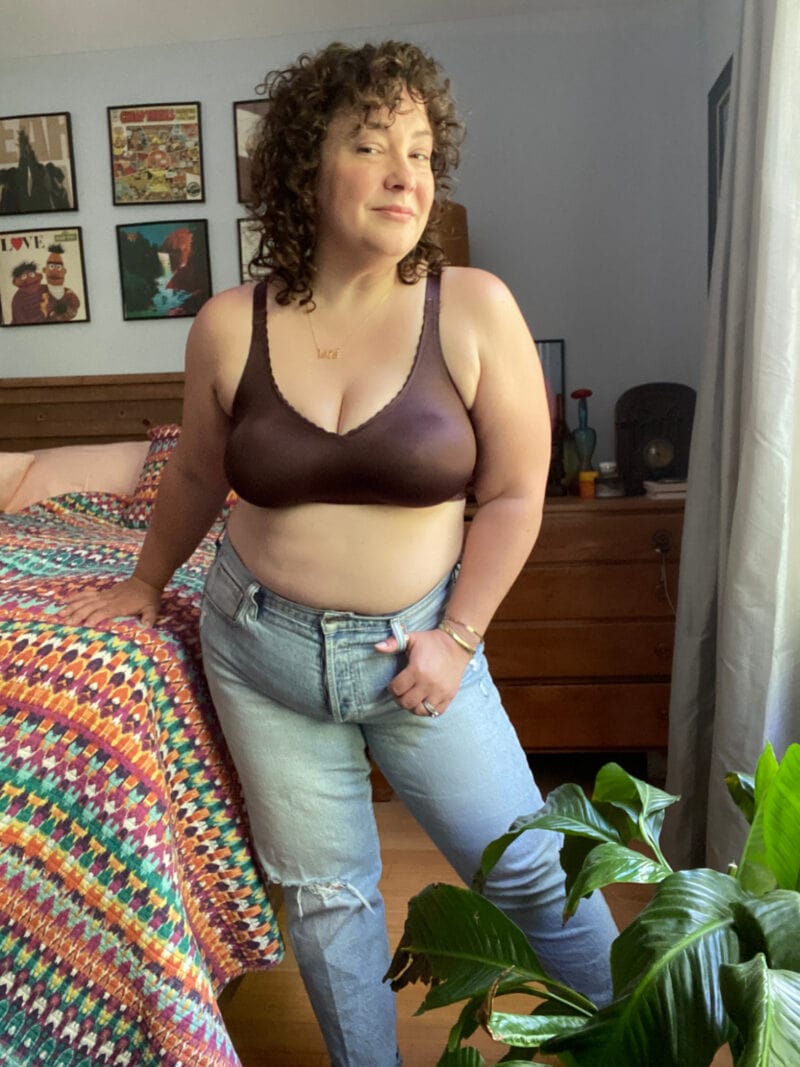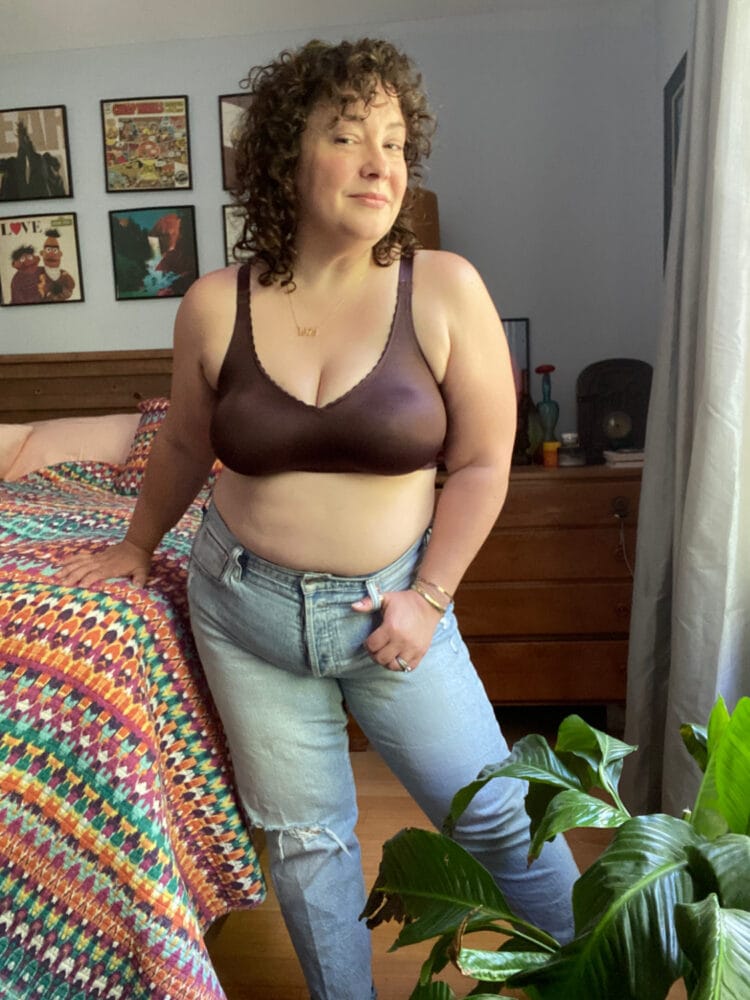 The Ruby Ribbon Lace Demiette is Level 4 for support, which is considered high, not ultra support but also with molded cups and best for cup sizes B and above. It has sling construction lifts & separates breasts without underwire, a v-neck, and the same moisture-wicking fabric and silicone grippers. While I got Espresso, this specific bralette is also available in white, pale, and black.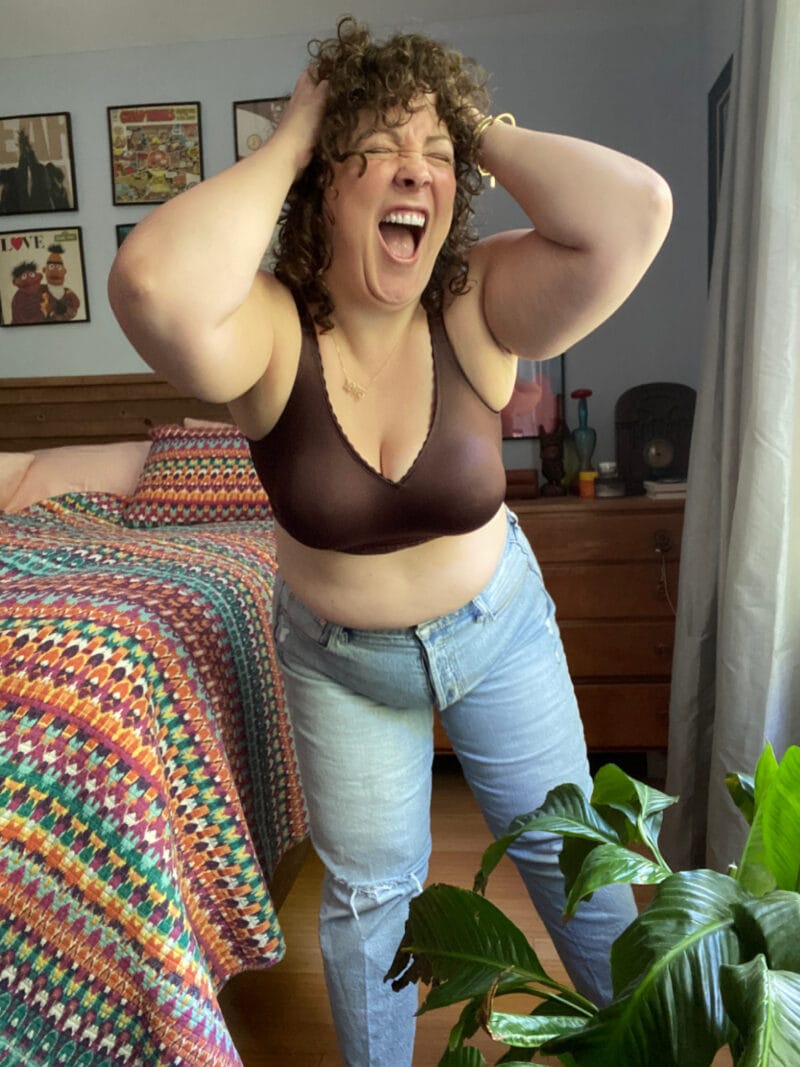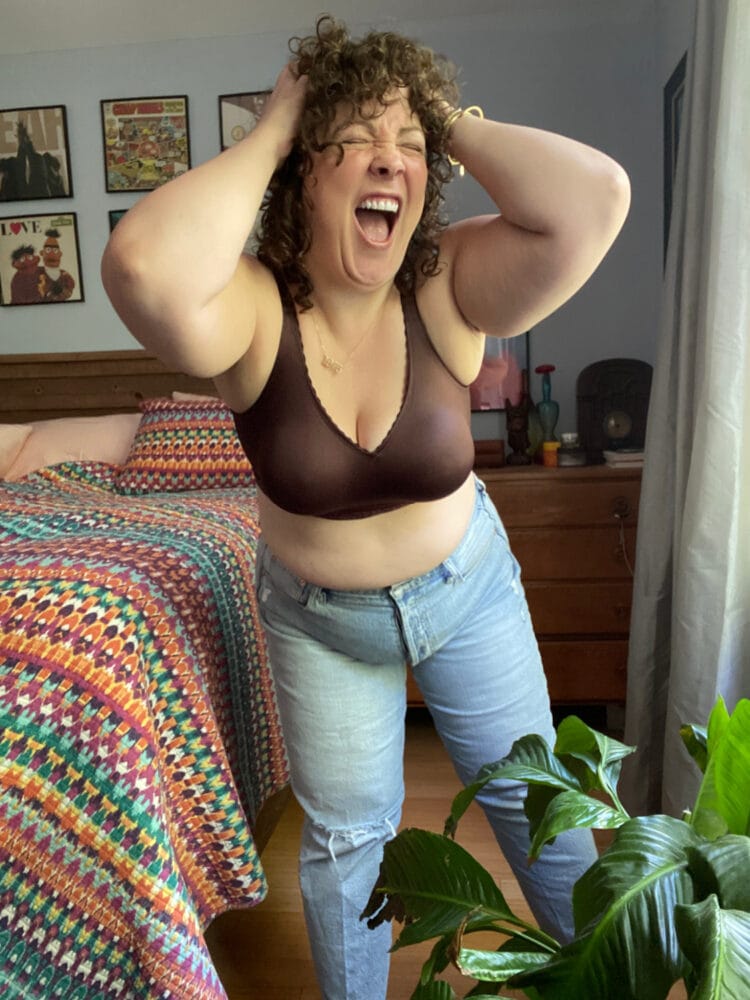 I liked the v-neck which would be less visible under tanks and lower-necked tops, and I wanted to see the difference between levels 4 and 5 for support. I liked the Espresso color, which is a nice change from black, but also it's nice to see non-beige skintones for intimates.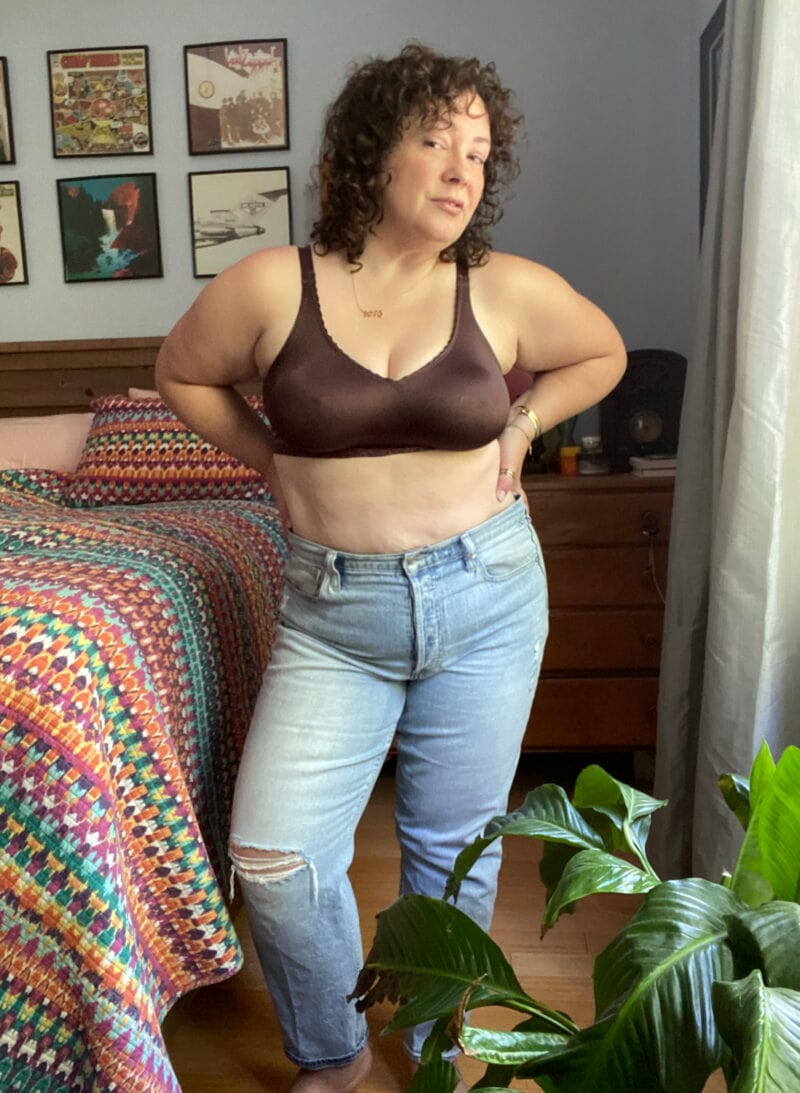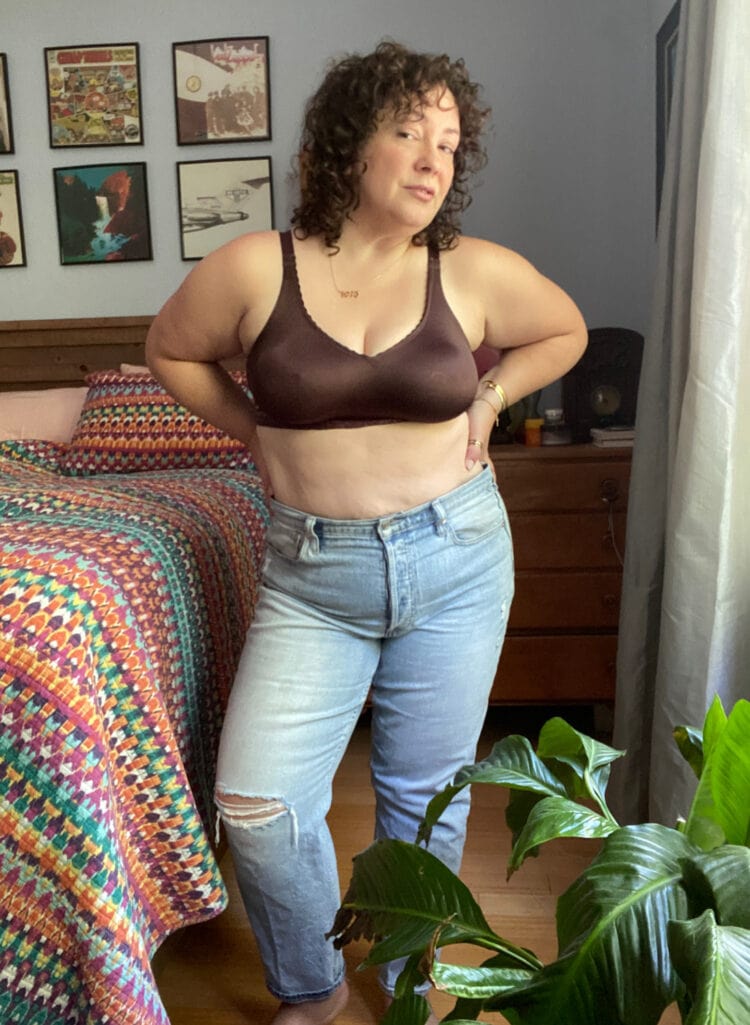 The combination of the v-neck and the lower level of support made the Lace Demiette not as mindblowing as the Level 5 demiette in regard to shape and support. The v-neck didn't feel uncomfortable, but it did dig a bit into my breasts affecting the silhouette. Also, the v-neck let my breasts shift a bit also making the silhouette not as smooth or even.
That being said, this bralette still offered way more support, shape, and definition than 99% of the bralettes I have tried for large busts.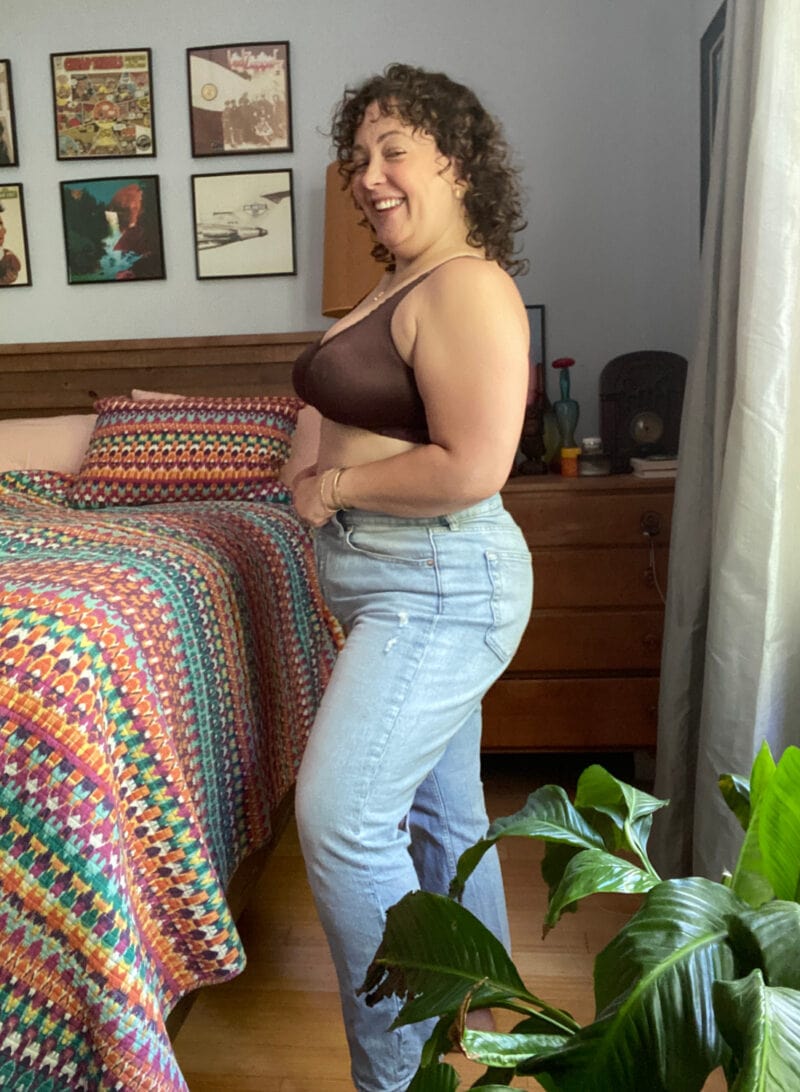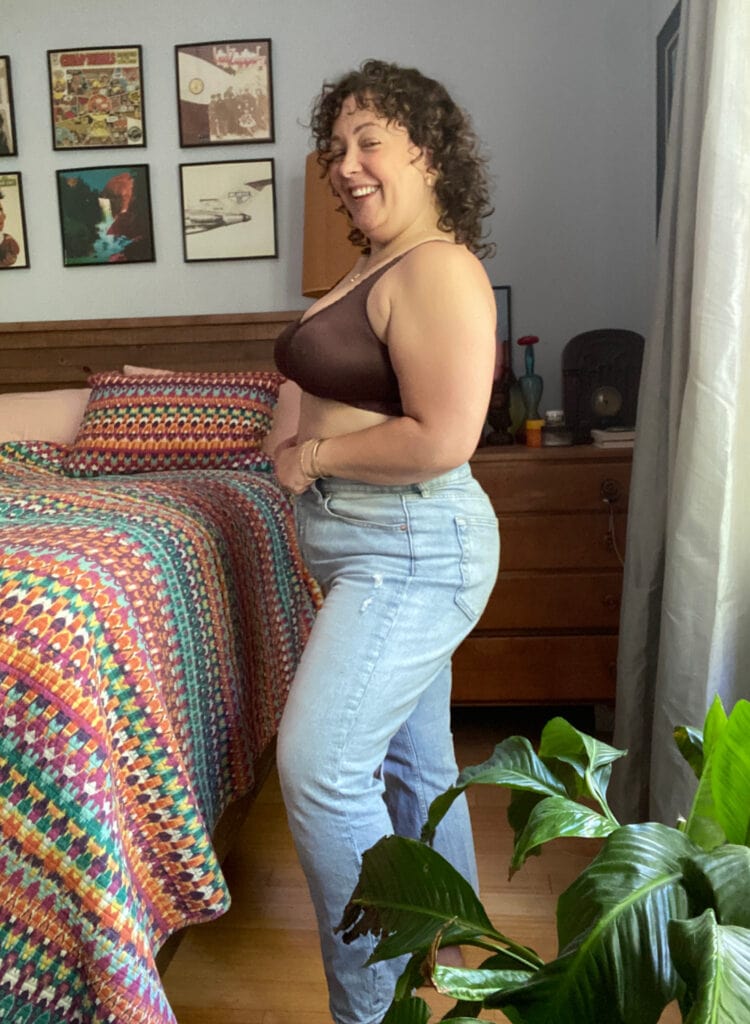 I didn't find this as comfortable as the Ultimate Demiette, I think because the separate lace band under the bust, the edging on the straps, and other details made the bra feel more like a bra. I didn't have impressions on my shoulders or ribcage after wearing, but I was happy to remove it after an eight-hour day. Still, way better than most wireless bras I've tried for large busts.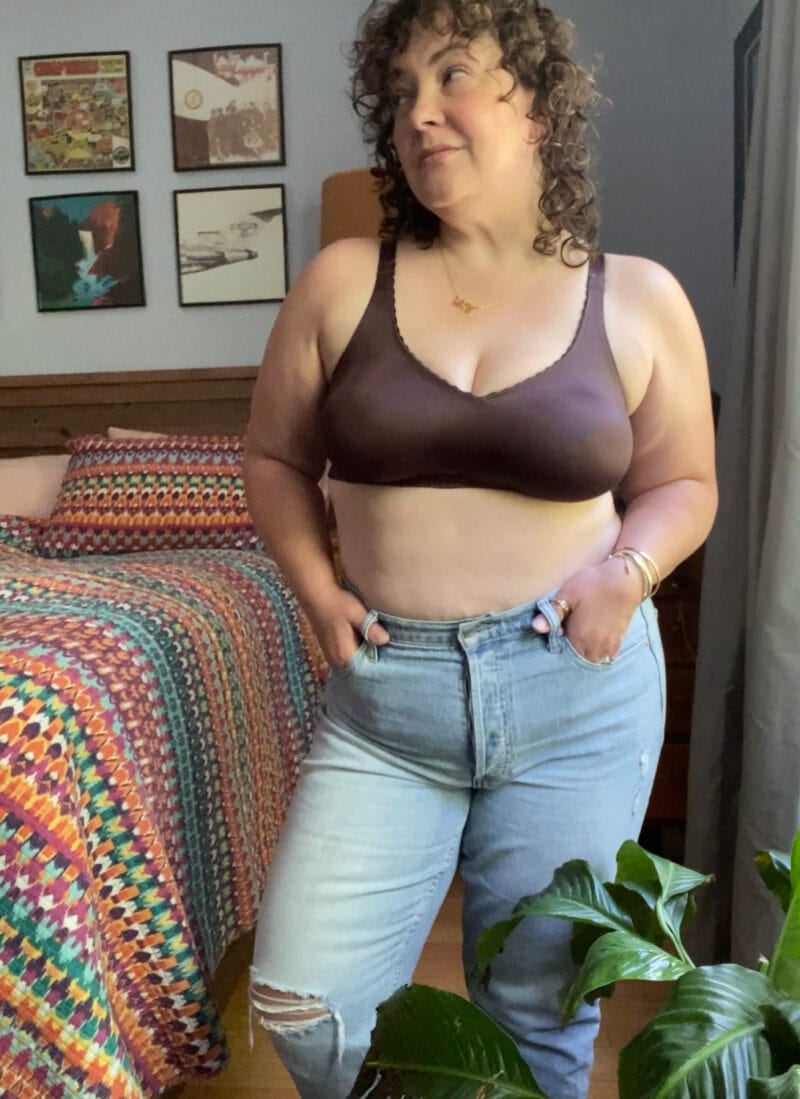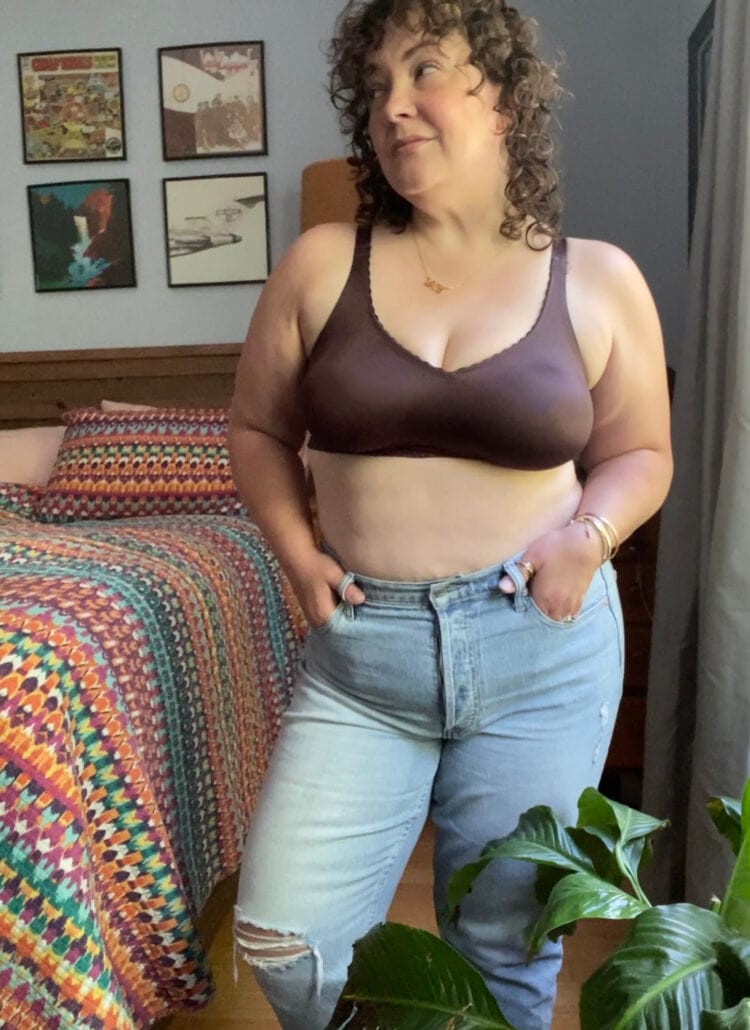 This bralette, in my opinion, would be a good choice for a large bust lounge bra. Depending on your comfort level, it could also be a great sleep bra. And it looks more like a bra than the Ultimate Demiette, which makes the cup transparency more sexy and less… jarring. If you are smaller (even a DD cup) I think the Lace Demiette could be a great alternative to a traditional bra.
Would I Shop Ruby Ribbon Again?
I didn't technically shop Ruby Ribbon because I received these two demiettes as a gift from the brand. If my lifestyle or body changed where I would need more wirefree support in my life, I would consider Ruby Ribbon. I have tried wireless bras and bralettes from no lie, over a dozen different retailers and I find these truly revolutionary for support, design, and I did the moisture-wicking aspect.
I don't love that Ruby Ribbon is an MLM. However, I do appreciate the fact that I can shop Ruby Ribbon without having to interact with a single human being, and even if I have to do a return I don't have to connect with a stylist.
What is an MLM?
MLM stands for multi-level marketing. Unlike shopping directly from a retailer's website or brick and mortar store, MLMs sell via sales representatives that are often called Consultants or Stylists but are usually set up as contractors for the MLM. These individuals sign up with the MLM, pay for inventory and when applicable, business supplies like order forms, display cubes, and marketing materials. The sales representatives then sell their product at home parties, through an email program, Facebook, and other methods, receiving a commission on every sale beyond the inventory they bought outright.
The multi-level aspect of these businesses refers to each contractor's ability to recruit and train other contractors to start their own business. As recruits make sales and recruit their own representatives, each individual above them earns a commission. These recruited individuals are called a "downline."
As someone who worked for an MLM in the past, you can make some money from selling product, even really good money, but the real money is when you recruit individuals to join your team, and then you not only make your commission but a percentage of everything they also sell. And this is where MLMs can be problematic.
My Experience Working for an MLM
Prior to working in Corporate America, I was a store manager and then regional trainer for The Body Shop. I loved the products, and since I was a trainer, I knew the products incredibly well. A couple of years later as a newlywed who was looking for extra ways to bring in money, I was invited to a Body Shop at Home party.
It was like a walk down memory lane, and I realized that I knew the products and how to sell them far better than the consultant standing in front of my friend's fireplace. I saw how many sales she got at that party and when I placed my order (because it's so hard to not buy at such an event, even when at home I still had a linen closet full of Body Shop products), the consultant asked if I'd like to learn more about being a consultant myself. We met for coffee the following week and I signed up.
If I recall correctly, it cost me around $65 to sign up. That price gave me a tablecloth and display products and special luggage to carry the product, order forms, a name badge, catalogs, and business cards as well as a base amount of products to use as testers at my parties. I would have to buy additional materials and samples when I ran out, though they would often have bundle deals for us that reduced the price.
The woman who recruited me would have monthly meetings at her house where all of us she recruited would get together and learn about new products, drink wine, share sales tactics, and get a guilt trip if we weren't making numbers or recruiting our own downline. Every so often we'd have a meeting with the woman who recruited the woman who recruited me, or even someone higher up the chain and all of us recruits. Those meetings could be 100 women in a living room or backyard drinking wine and being told we weren't just hurting ourselves by not making number, but hurting everyone there.
My first couple of months was AMAZING. All my friends hosted parties or at least made purchases. I chatted with coworkers and would drop samples and catalogs on their desk chairs. I was savvy with buying bundles and breaking them up so I could either make a bigger commission, or be able to sell product at a discount to motivate certain customers to purchase more. But after every friend and family member hosted a party, things started drying up.
If we didn't have a successful month or quarter, we were pressured to buy product to make the numbers, and then sell it on our own. Or, if the company had sales we were encouraged to buy those sales or bundles ourselves and then sell individually at the regular price to make more of a commission.
I remember one meeting; it was at the house of a high-level person in my area. She lived in Annapolis, her huge house overlooking the water. We were in this sunroom at golden hour, and she stood up in front and told us that The Body Shop bought this house. We could have the same house, but we were being LAZY. If we could get three recruits by the end of the month, we could easily have a down payment for such a home in three years.
I lived in a 745 square foot home that didn't have central air; I didn't think was lazy but maybe I wasn't selling this hard enough at my parties. I PUSHED. I pushed friends, and customers and coworkers at my day job. I ended up getting three recruits in a month. I swore I'd be more supportive than my upline, who mainly told me I wasn't trying hard enough when I struggled. However, all three recruits ghosted me within three months; not only did I only make about $10 in commission from them while spending a good $50 each on them, I got criticized by my upline for not being supportive or nurturing enough for them to stay. And that is when I finally quit, which was a little past my one-year anniversary with The Body Shop at Home.
It took me three years after leaving the MLM to finally use up and sell all the products I had purchased to hit targets and believed I'd be able to resell to customers. And when I left The Body Shop at Home after one year, I was in the red over $200, even though I knew that product and had almost a decade of retail sales under my belt.
Not all MLM experiences are the same. I have a friend who has been a consultant for an MLM for over a decade. She only has a couple downlines (her company caps downlines to not dilute the brand or make customers feel pressured to join) but still has made a full-time salary the entire time. I have another friend who is such a fan of the MLM product she became a sales representative 15 years ago. The MLM she works for has so low of monthly sales targets she is able to make them just by replenishing her personal supply and any sales to friends and family are gravy. But for those two, I know dozens like me who tried their hardest and still ended up going into debt or sacrificing relationships to recruit downlines and stay in good with the MLM.
Is an MLM a Pyramid Scheme?
When a business of this sort focuses primarily on recruitment, rather than the selling of products, this could signal that it is operating under a pyramid scheme. Over the years when I have shared MLMs on Wardrobe Oxygen, I have made sure that the sales representatives can make a decent income from just selling the product and not needing to recruit a downline.
It is important to do your homework if you are thinking of shopping from or joining an MLM, and that means homework beyond what you got from the brand website and the sales rep in your DMs. Search the brand and "reviews" and "honest experience;" the first page and even the second page may be pages managed by the MLM, but if you go beyond you'll find legit sites that monitor MLMs and stories from current and past consultants.
I am not an expert, I encourage you to go beyond this Ruby Ribbon review to decide if this brand is right for you.
This honest Ruby Ribbon review is not a sponsored/paid post, feel free to share your experiences with Ruby Ribbon in the comments below. However, if you are a Ruby Ribbon stylist and try to use my comment section to recruit customers or stylists, I will delete and ban you. This also stands for when I share this post on social media: try to sell on my pages and profile and I will delete, ban, block.
I will also delete any generic "all MLMs suck" comments; if you have anything constructive and well-researched beyond what I have shared you may share but know comments with more than one link will be held in moderation until I can review and I have the right to delete anything that I don't like or causes unnecessary drama.
UPDATE: Thanks to Ruby Ribbon stylists taking over my comment section with paragraphs and paragraphs of offering advice along with telling me how I am wrong, using their full name and contact info in their comments, etc. I have shut off comments for this post. If you wish to sell your products, build your own site.