This article may contain affiliate links; if you click on a shopping link and make a purchase I may receive a commission. As an Amazon Associate, I earn from qualifying purchases. 
What do grown women wear for a night out? If we don't want to look try-hard, but also don't want to look like we've given up, what is considered cool to wear for an evening at a bar, a club, a concert, or other social occasion? Is it possible to look cool for a night out while still remaining comfortable? Yes, and I am going to share my favorite go-to going out top, one I find the best going out top for grown women. It's versatile, relatively timeless, and size-inclusive, and I'll share some sample outfits to help you style it as a grown woman.
For years, the go-to night out look was a "going out top." Something with a bit of shine or sparkle, or else with a design that shows a bit more skin (one-shoulder, off the shoulder, halter neck, etc.). Paired with our favorite jeans or a trim pair of black pants, this was an easy look to create regardless of budget, shape, or personal style aesthetic. We'd get our stretchy black polyester pants or our bootcut jeans, pair with something dotted with sequins, or having a cowl neck or wrap style to flatter the bust, and with a smoky eye and a pair of black boots, we were set for a night of bar hopping or dancing until dawn.
And while the going-out top has regained popularity thanks to the return of late '90s and Y2K fashion, this is a surprisingly difficult night out look for us grown women to do well. The thing is, as grown women, choosing a "simple" look can put the spotlight exactly where we don't want it. Wrong pant silhouette, and focus is on our comfort shoes. If your top incorporates a trend that was hip two years ago but now is not as hot and you can look clueless. If the top is a budget-friendly fabric that looks nice in the fitting room, it may look cheap and ill-fitting on the dancefloor or the light of the restaurant bar.
As a grown woman, we may be on a budget but we don't want to look as though we are. Grown women buy less, and because of that, buy better. We choose pieces that won't go out of fashion after a season, and we don't want to look as though our daughter or niece or teenage neighbor and we shop at the same retailers. A stylish grown woman works with, not against her body and chooses comfort and joy over trends, even if it's for a night out on the town.
The Best Going Out Top for Grown Women
My personal preference for a going out top for grown women is something that is not shiny, is not sparkly, but instead uses architecture to look a bit more festive than a day top. Architecture is less likely to look dated in a year or three. Architecture can be done at any pricepoint. Architecture makes the focus on the design not the body underneath it.
Going Out Tops with Architecture
If you have a beautiful collarbone and/or bust, a plunging neckline. If you rock a bob or pixie, maybe an off-the shoulder look. If you love drama, consider a padded or statement shoulder. If you love your back, how about a long-sleeved turtleneck with a cutout? I personally love a one-shoulder piece where I don't feel too exposed but it definitely reads night out.
The Best Fabrics for Going Out Tops
I suggest sticking to one fabric, instead of the mixed media options that have been around the past couple of seasons. These are the knit tops with sheer sleeves, the sequined tops with a plain knit back, the stretchy tops with structured cotton sleeves. I see this trend eventually fading away so stick with one fabric for more lasting style power.
Choosing a matte or textured fabric keeps the piece looking more timeless and more expensive. Instead of jersey, look for stretch crepe (a subtle pebbled texture synthetic often found in wrap dresses). Instead of satin, consider silk or cupro. And instead of beading or sequins, think a luxe fabric like velvet or cashmere. And while it may feel like daywear, don't discount the versatility of a tight-weave sweater knit for a going-out top. Cashmere, merino, and synthetic blends look chic for a going out top for grown women.
The Best Color for Going Out Tops
As for color, if you don't go out often and just want one going out top to have at the ready, go with black. Black is versatile, timeless, and seasonless. For this example, I am going to use the Yarra Sweater from Universal Standard, which I personally own in both the tank and the long-sleeve versions. A tightly woven synthetic sweater you can machine wash after a night that may be a bit sweaty or fragrant, I've had mine for five years and never once has it felt out of fashion. And I find it works for a multitude of evening festivities. BTW use promo code INFS-MBALISON10 for 10% off at Universal Standard through 10/1/23.
Shop My Picks for Going Out Tops for Grown Women:

The Best Bra for One-Shoulder and Cut-Out Going Out Tops
I wear a one-shoulder sweater or top it with my Soma multiway strapless bra, using one strap for a bit of support. For those with average-sized busts, the Enbliss multiway strapless bra is great. I am also a fan of the Wacoal Red Carpet, which can also be worn strapless or with a variety of strap designs and works on a range of bust sizes.
I know some use two straps and have one standard and the second one cross over the body and follow the line of the sweater. However, I find on my petite frame it shows and just stick to one strap. But a multiway bra has straps long enough that you can play around and get a bit more support than with a traditional strapless. However, if you have a smaller bust, feel free to wear what makes you comfortable, whether it's a bra, a bandeau, or going commando.
Sample Going Out Outfits for Grown Women
Below I share a few sample outfits for us grown women for a range of night out events we may be invited to. From bachelorettes to gallery openings, I find the one-shoulder sweater to be a great option and incredibly versatile. I believe these sample outfits could work with other types of going-out tops and hope they inspire you to see how you can achieve style on a night out while holding true to your personal style and embracing comfort and joy on your budget!
What to Wear for an Indoor Concert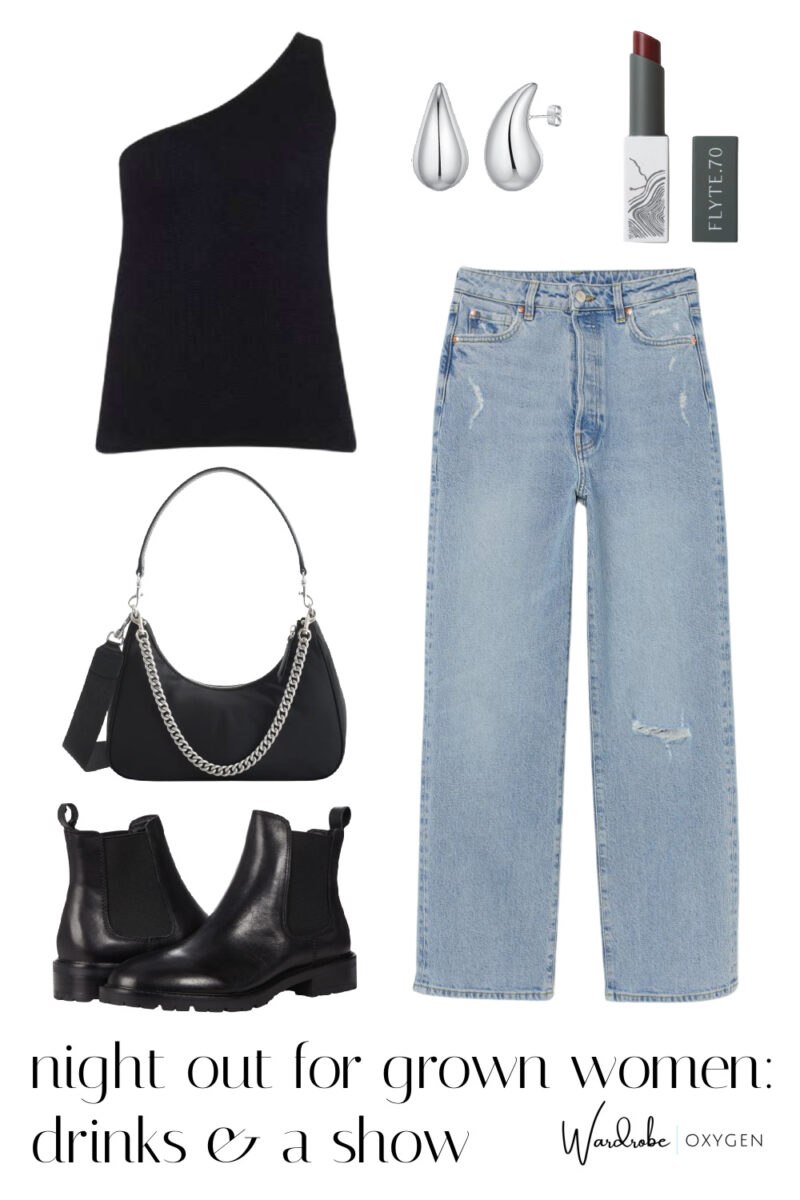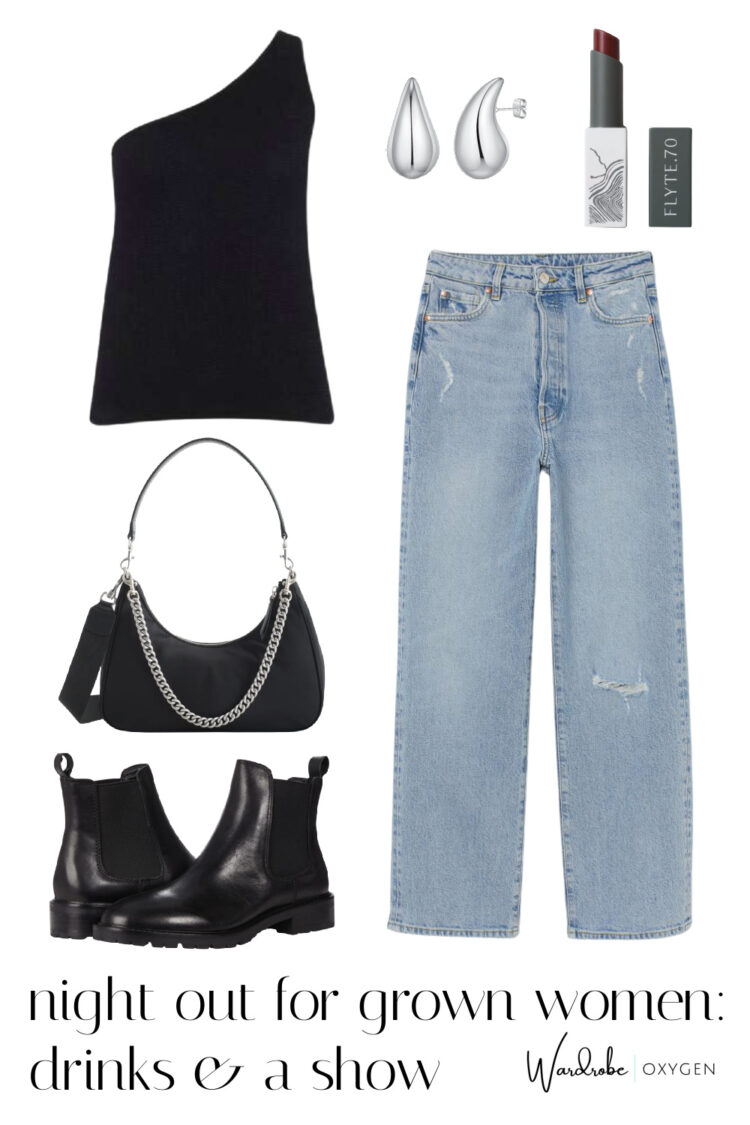 sweater | similar jeans (00-30 w/ tall & petite) | boots | bag | earrings | lipstick
One of the biggest questions I am asked is what to wear to a concert as a grown woman. And one of the easiest looks is a pair of comfortable jeans (loose, wide leg, relaxed, or straight), flat to low-heel boots, and a black going-out top. And my one-shoulder sweater has been worn to many a concert styled in a manner similar to the collage above. A nylon bag can handle a spill of beer or a rainy dash from venue to car, the earrings are very on trend but won't be heartbreaking if one is lost in the crowd, and look modern and not try-hard with a glossy brown-tinted lipstick that is easy enough to apply without looking in a mirror (use code WOXYGEN15 for 15% off).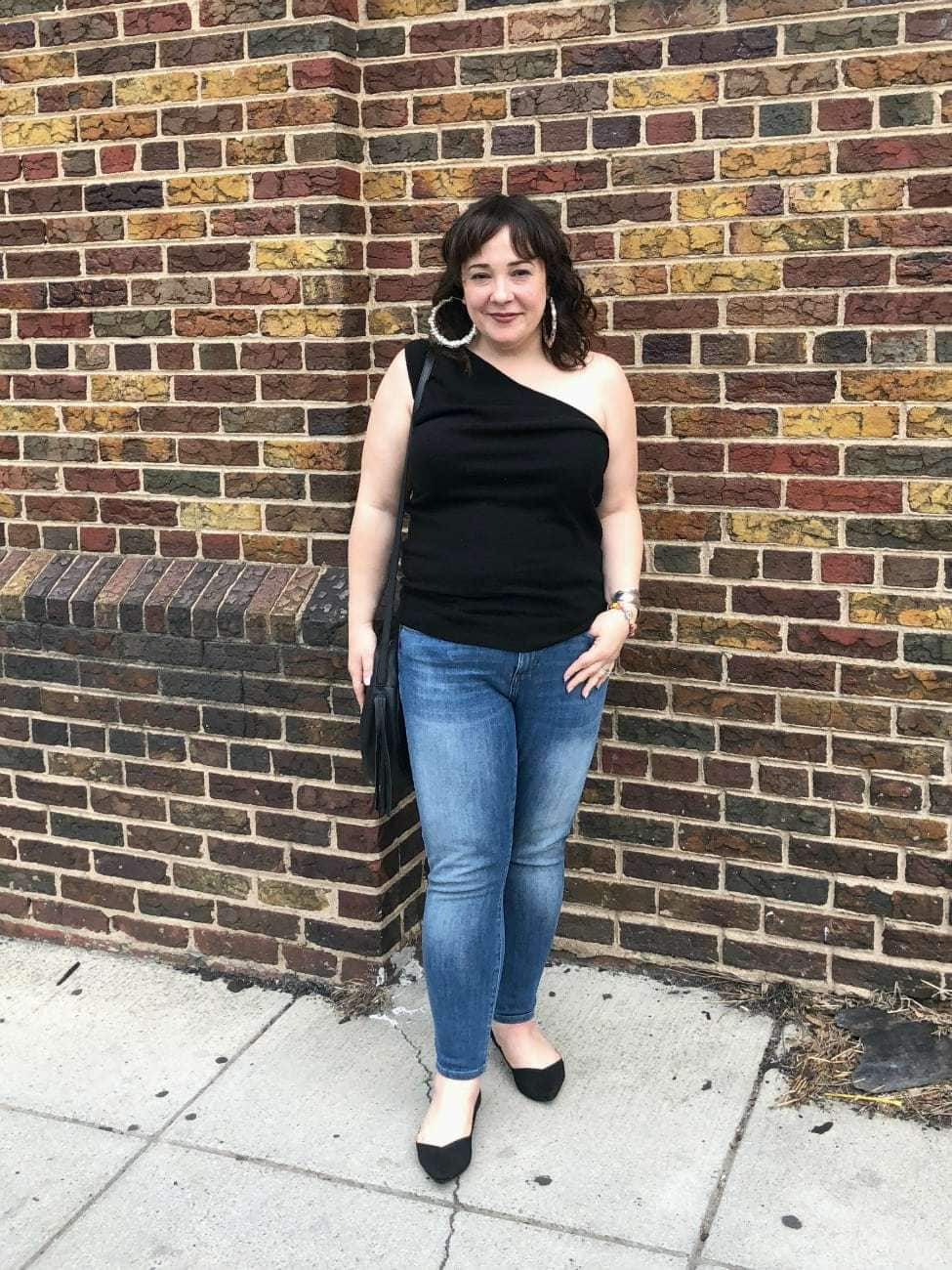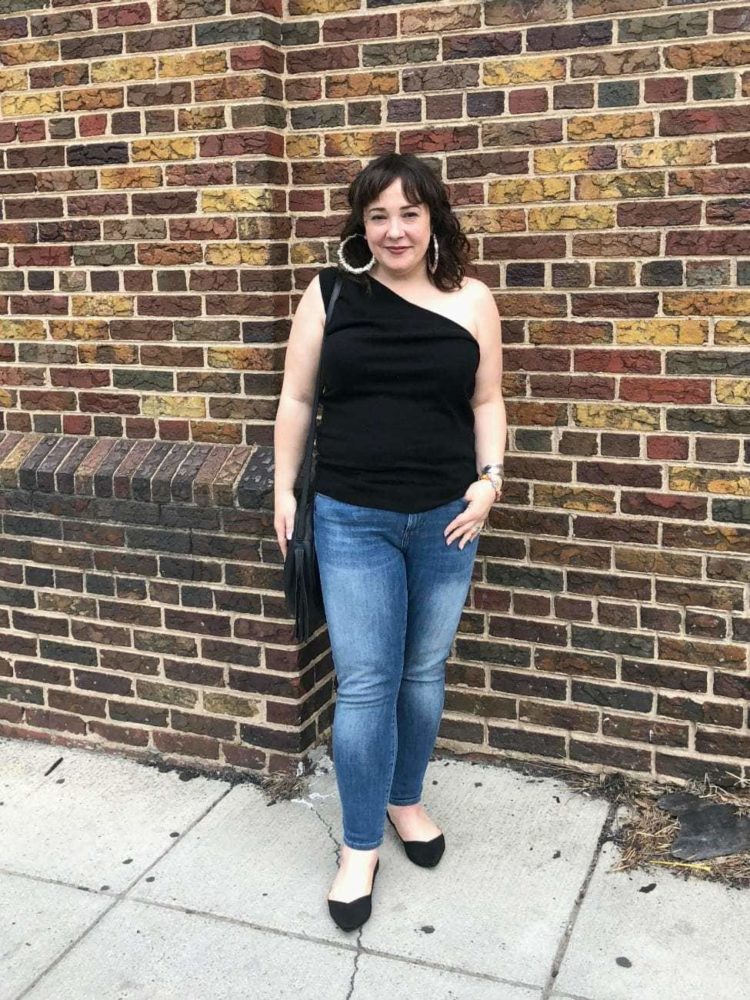 What to Wear for Rooftop Cocktails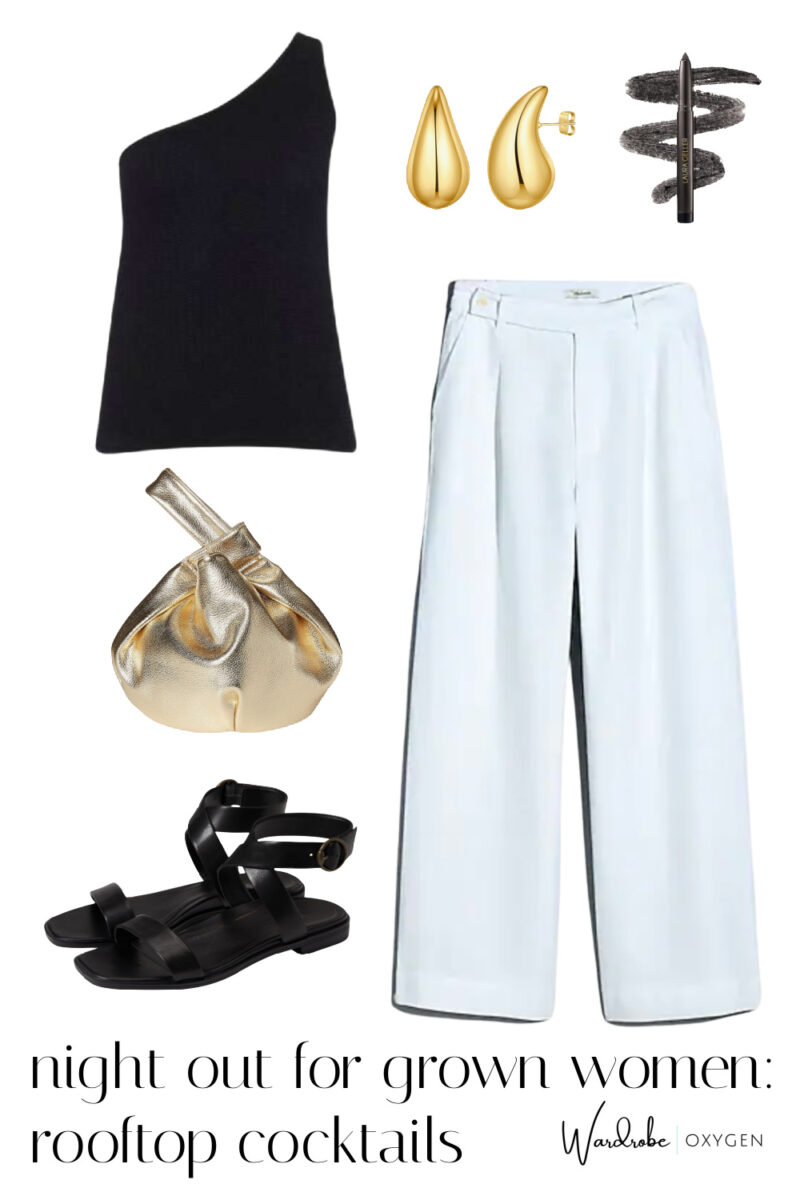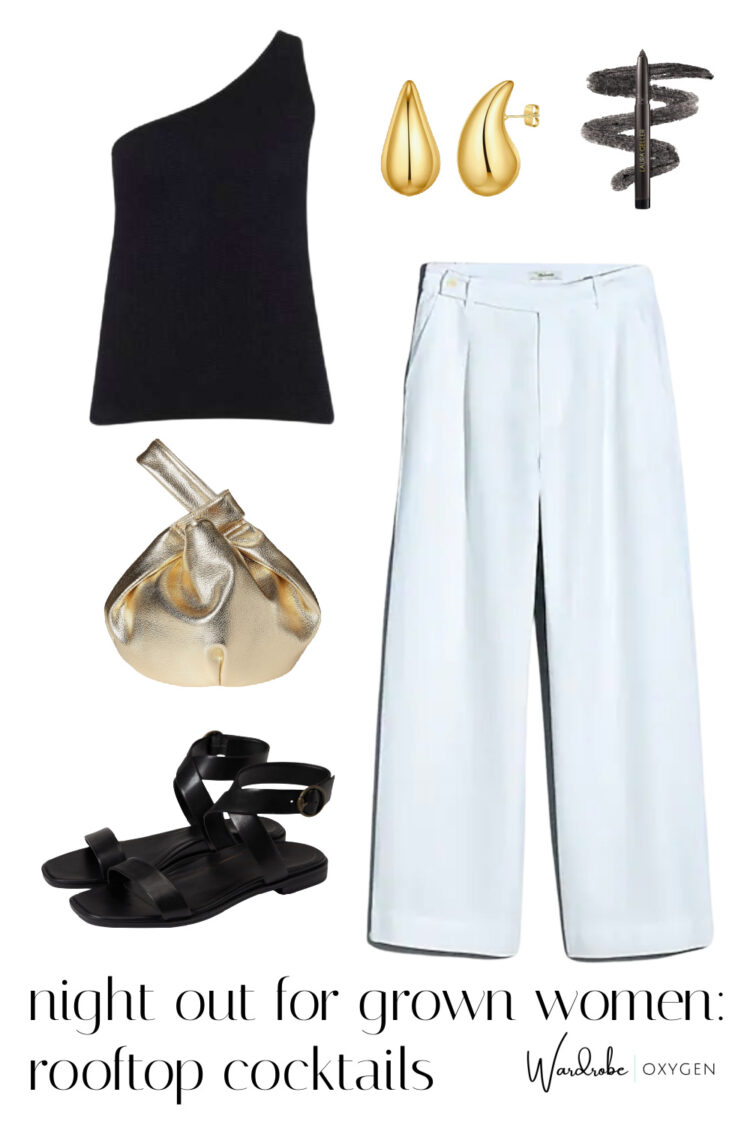 sweater | same pants | similar concept pants in stock (00-28 w/ petite & tall) | bag | sandals | earrings | eye crayon
Whether it's cocktails at sunset with a client at a rooftop bar or a rehearsal dinner at a beachside restaurant, you may be trying to figure out what to wear for a night out that seems cool but not try-hard. Again this is where the black architectural going-out top can be great. Here I styled with white linen wide-leg trousers I own, but you could switch out for any refined wide-leg trousers. They can be silky, a suiting fabric, a cool print, velvet, crepe… most anything as long as they have a bit of structure. No drawstring pants, and if pull-on style, a wide waistband preferably that is structured in front. Add flat leather sandals for an elevated beachy vibe; dress it up even more with a gold pair. I have this bag and love how it's not expensive, packs well, but looks cool and artsy. Again the same budget-friendly trendy earrings but this time in gold to match the bag, and a kajal pencil in a non-black color makes for an easy smoky eye that isn't too harsh.
If you don't want to tuck in the sweater but leaving it untucked looks messy, consider using a Beltaway for a fake tuck. Place the belt on your stomach under the sweater and fold up the hem under the belt. This video I made on Instagram illustrates what I am talking about, but it's a great hack to reduce bulk at the waistband. I prefer the Beltaway because there is no metal so you don't need to remove at TSA etc. It's wide enough that it doesn't roll or flip, the fabric doesn't get uncomfortable in the heat, and it's also a great belt for holding up jeans under untucked tops without adding bulk.
What to Wear for a Gallery Opening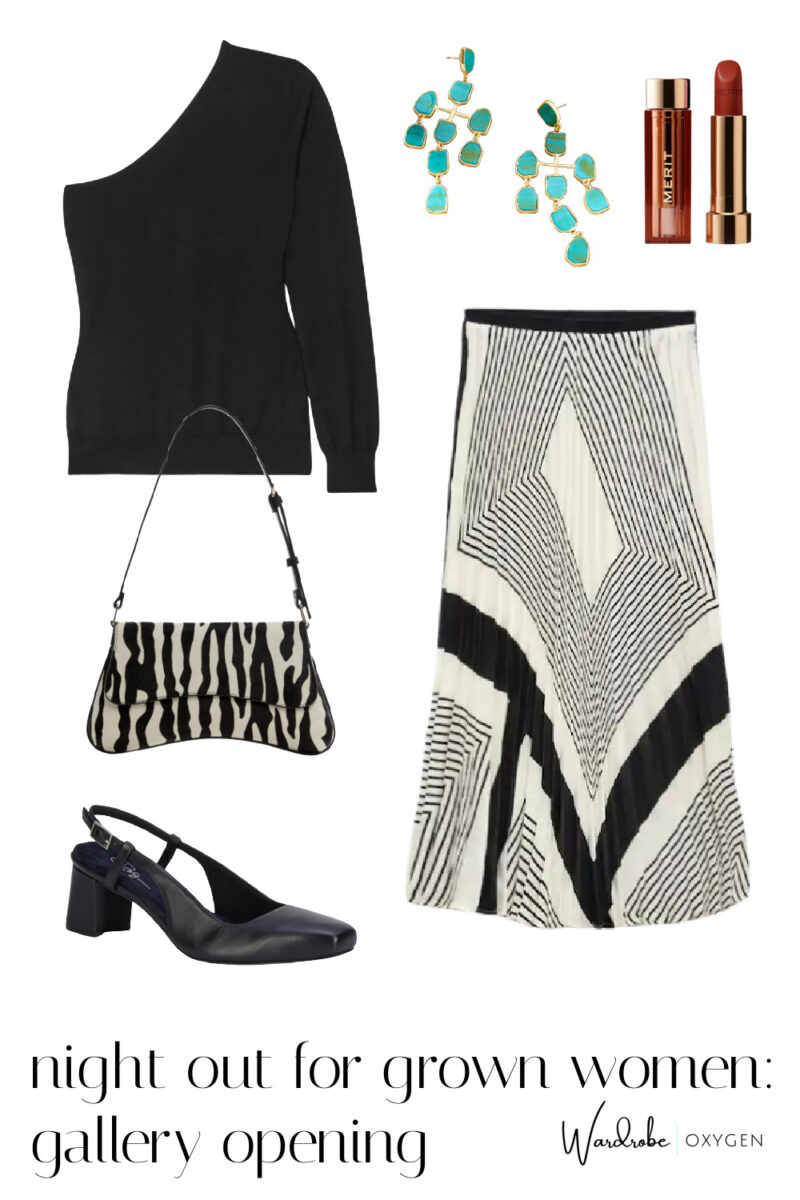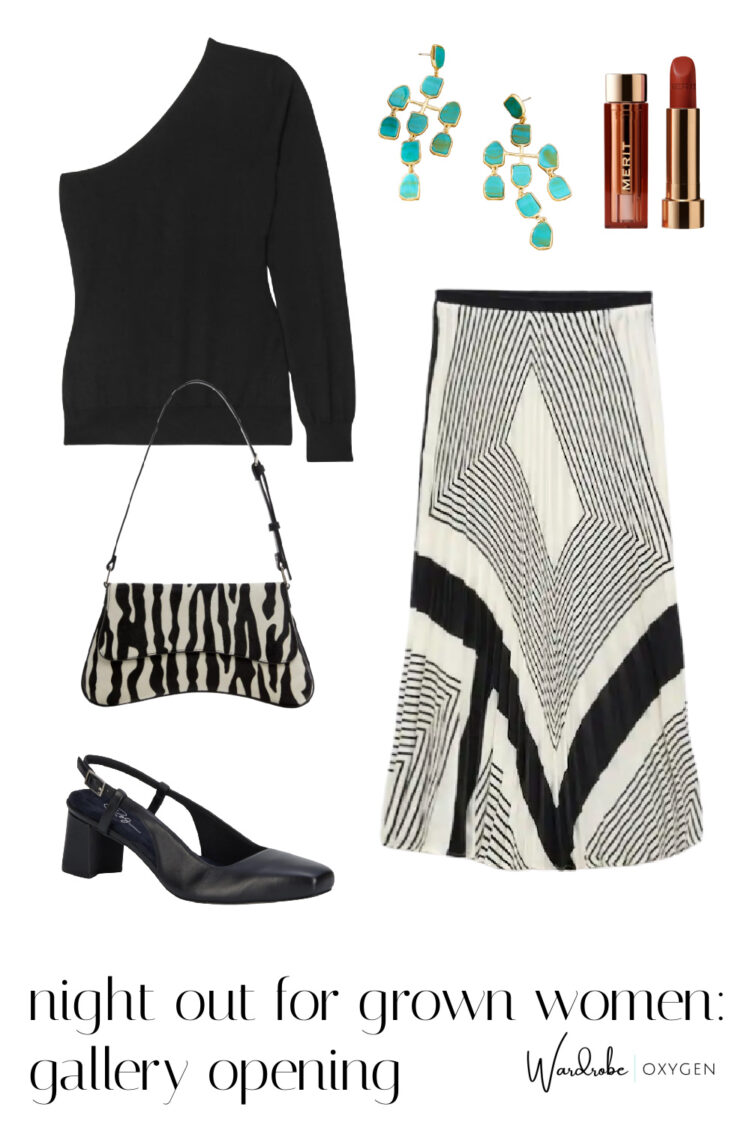 sweater | bag | shoes | lipstick | earrings | skirt (XXS-4XL)
Your artist friend is having an exhibit at a cool gallery in the city, or you're attending a performance at the arts center downtown. It will be an eclectic and stylish bunch and you want to look right for the occasion but still be comfortable. For this look, I chose the long-sleeve version of the Yarra sweater, but both will work. A pleated silky midi-length skirt is a great pairing to look dressy but not too dressy; I chose a patterned one but you could also do a solid in any color (though I'd pass on black on black… though you can do navy or brown or dark gray). I think pattern mixing is an easy way to look artsy and fun, but you could also do a pop of color with something like lime, mustard, or cerulean blue.
I own these slingbacks (they're the Mia from Ros Hommerson) and they're incredibly comfortable for long periods of standing and come in a range of widths (use OXYGEN10 for 10% off). Add lightweight but artsy earrings with a hint of color and a wearable reddish lipstick that adds polish without looking too obvious.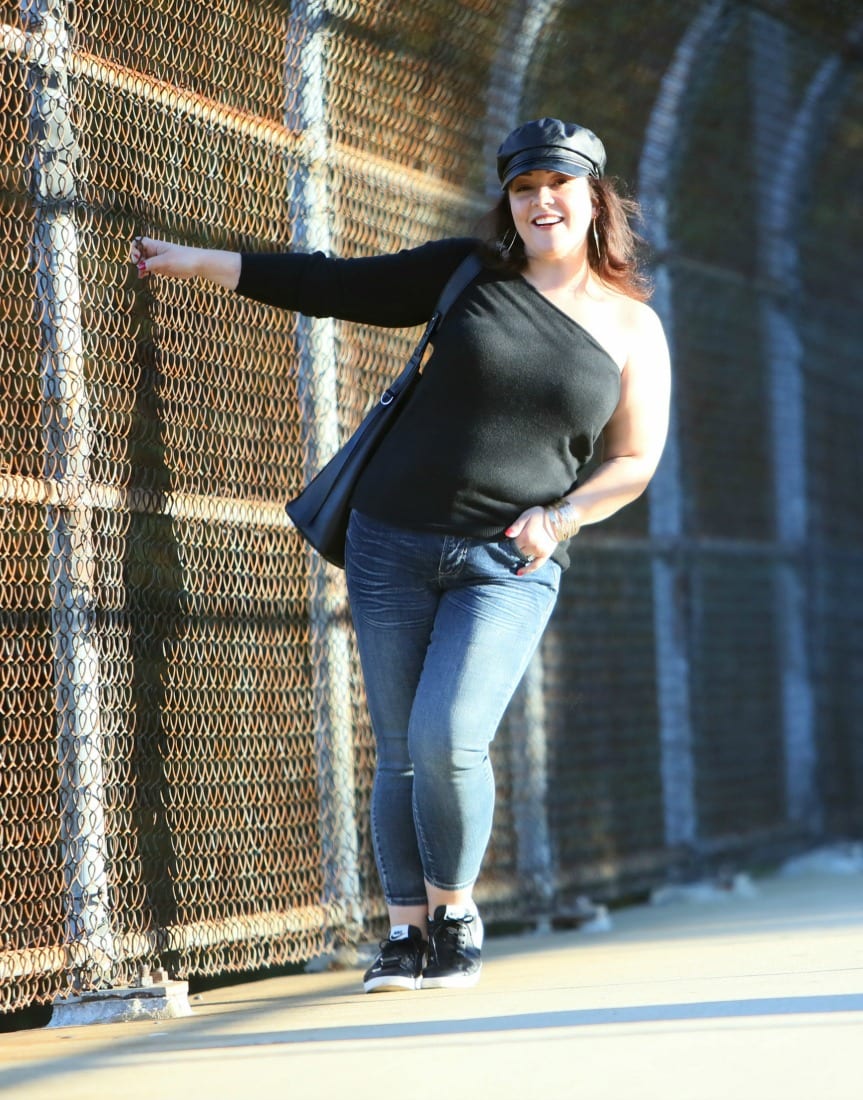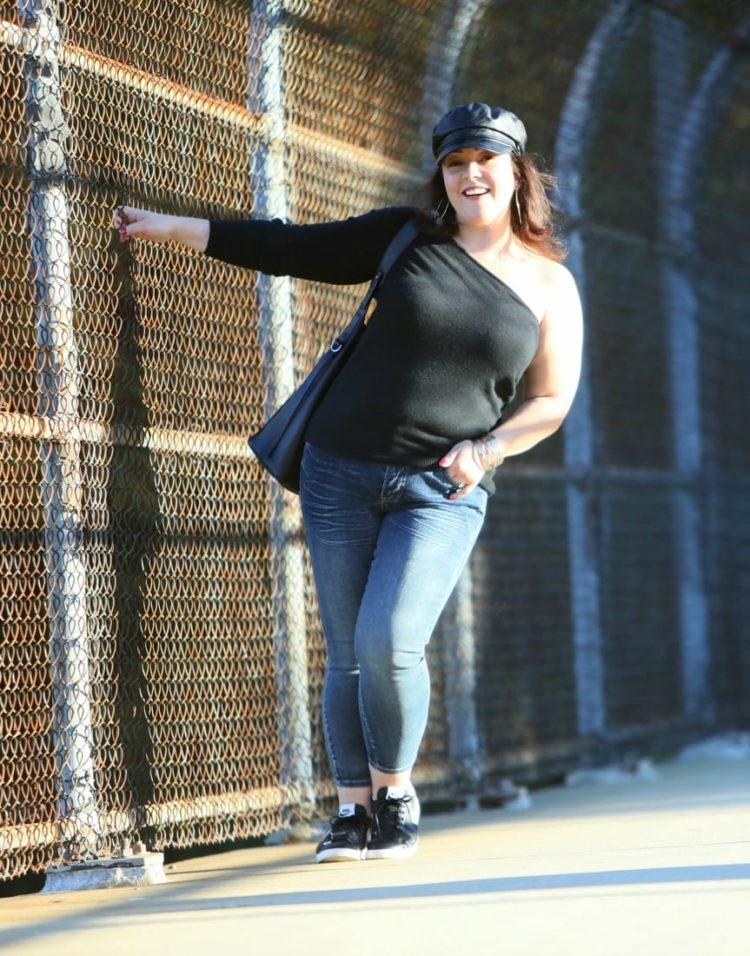 What to Wear to a Bachelorette Party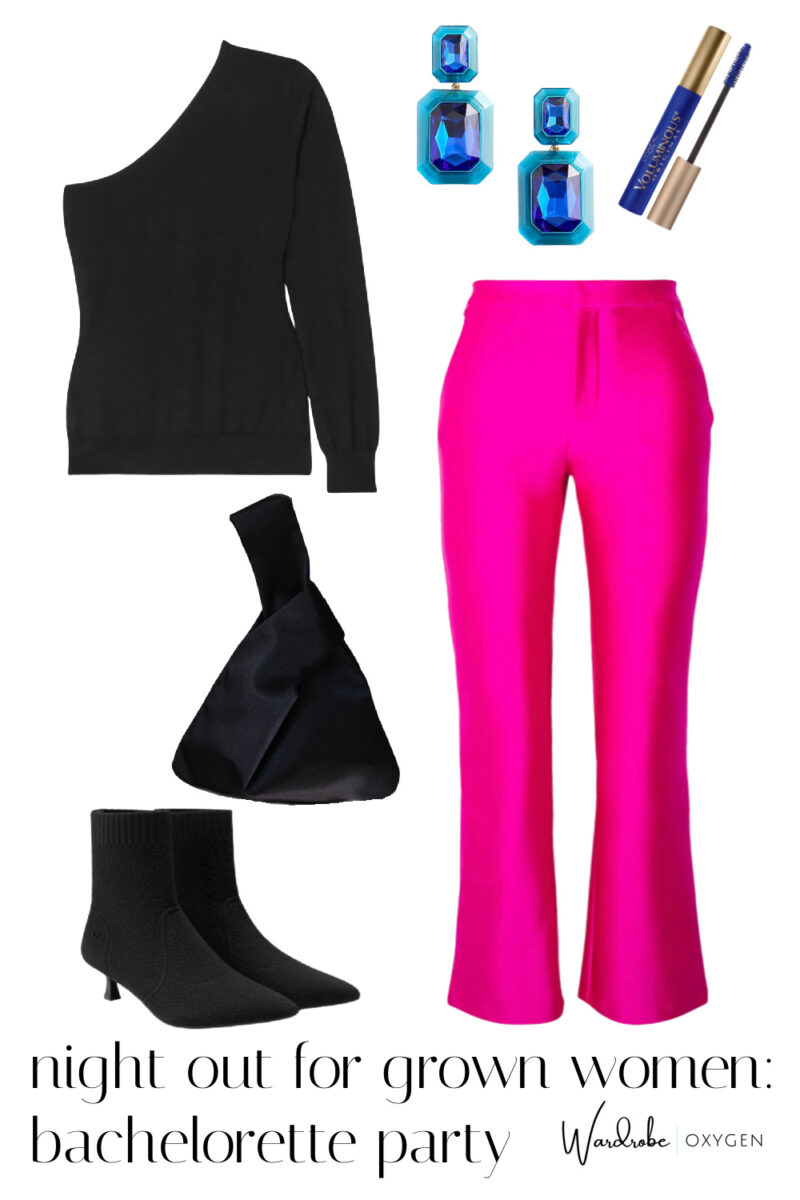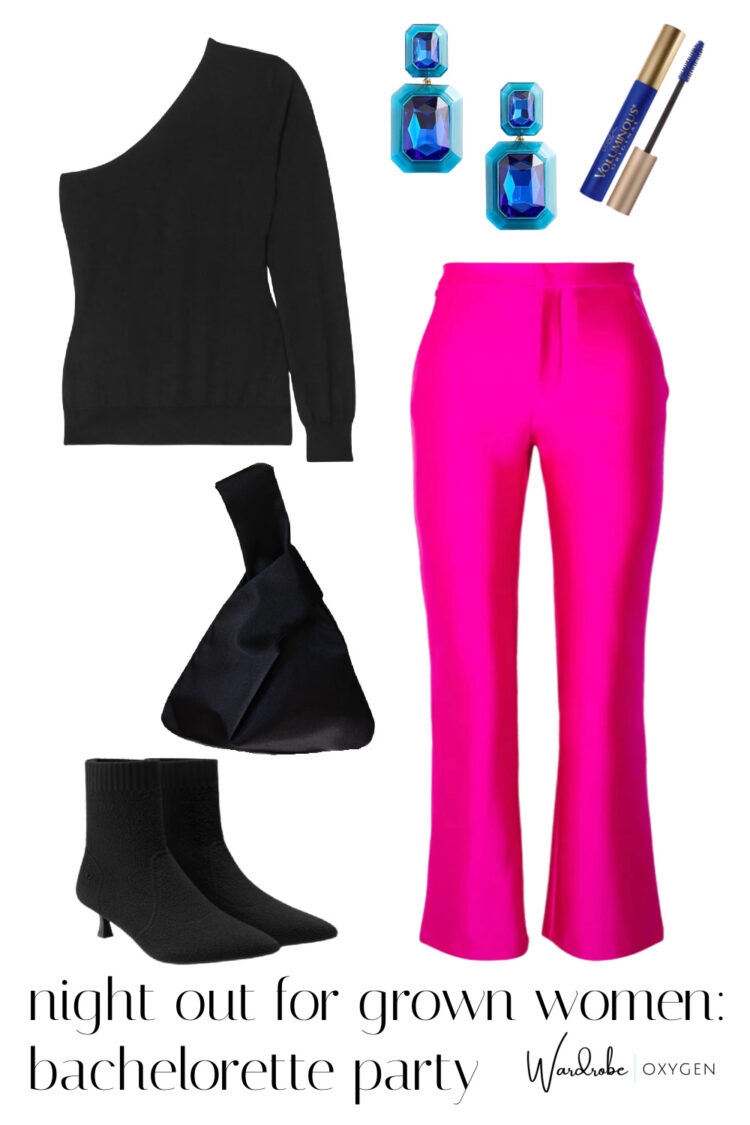 sweater | bag | booties | earrings | mascara | pants (00-28) (link to matching blazer)
Your friend is getting remarried, or maybe your daughter is having a multi-generational night out to celebrate her upcoming nuptials. Or possibly a friend is celebrating her milestone birthday in Vegas or at a club. What does a grown woman wear that isn't try hard but still looks cool and lots of fun? A black architectural going out top with a pair of party pants!
Here, I chose a pair of shiny pink bootcut pants but you could replace them with lace overlay ankle pants, metallic brocade kick flares, faux leather pants, sequined joggers, Pucci-eque printed satin wide-leg trousers… you name it. Something with a bit of shine or embellishment that is more elevated than a pair of coated jeans, and preferably in a color or print. I promise you, your bottom half will only look a hair bigger in photos wearing pink than wearing black, and you'll feel more festive and fun. These pants have a matching blazer; you can totally do this look with a jacket and take it off later when you hit the dancefloor.
Instead of metal earrings, try something in acrylic or lucite which will feel more modern. And instead of the default smoky eye or bold lip, why not colored mascara? It's back and easy to find even from your reliable drugstore brands. Wear with a bit of Vaseline or highlighter on your lids and cheekbones, or add a bit of smudged liner in the same color and a clear pink lipgloss.
Ensure your bag can securely be on your wrist or tucked under your arm on your shoulder so you can dance, drink, and hug with hands free. As for shoes, if you need comfort and a low to no heel, keep the shoe black and low shine so they disappear in the dim light. These booties have a bit of stretch and those with medium width feet find them quite comfy. Go with a soft or smooth textile so it won't snag; again a knot bag (this one is satin) is a great option that will hold a lot and stay on your wrist.