This article may contain affiliate links; if you click on a shopping link and make a purchase I may receive a commission. As an Amazon Associate, I earn from qualifying purchases.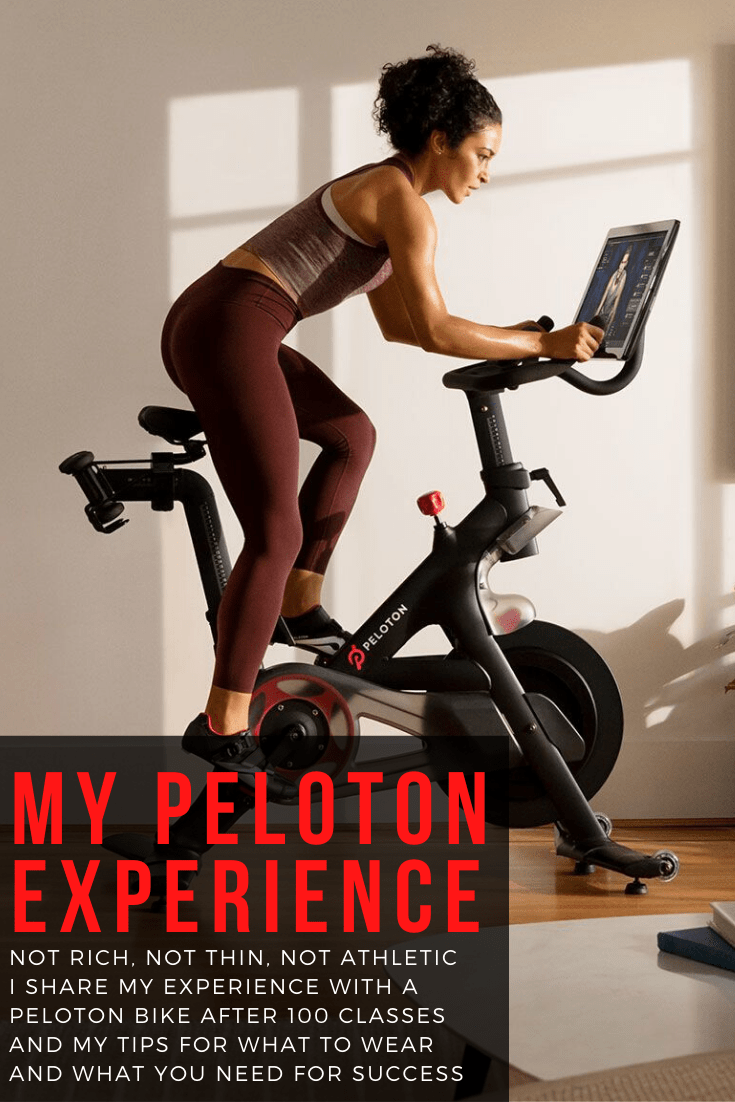 This weekend I achieved 100 classes with Peloton. In March, my family bought a Peloton bike and I have logged over 70 rides and 30 strength, meditation, and stretching classes with the app. I am not sponsored by Peloton, I am not a naturally athletic person, I never did a spin class before buying this bike nor did I regularly do any kind of cardio. I am a 45-year old working mom and any doctor's BMI chart would find me carrying too many pounds on my frame. I am sharing my Peloton experience because I know especially now, many are looking ways to stay active while being at home and Peloton, their equipment and their apps, is an option.
We bought the Peloton bike the week before everything shutdown so it arrived quite quickly. We are doing the interest-free payment plan through Affirm, and paying separately for the app. Because we bought the Peloton bike, the whole family can enjoy the app.
What Peloton Classes and Instructors My Family and I Enjoy
My husband rides the bike almost every single day and in the past few weeks has occasionally done two rides in a day and has added on a strength class. He rides with the closed captioning on and listens to his own music through Bluetooth headphones connected to his phone. He is more competitive than I, and really enjoys competing with others in the class or trying to beat his PR (personal record) from his last class of the same length of time.
He prefers to ride earlier in the day, bundling up all his classes together, though has been known to occasionally fit in a ride before dinner. His favorite instructors are Tunde Oyneyin, Kendall Toole, Robin Arzon, and Olivia Amato.
I ride a minimum of three days a week, haven't missed a week, but usually am more like 4-6 days a week. I do 1-2 strength classes a week and have begun doing a Peloton meditation after my ride. If I ride in the morning, I love a 30-minute theme ride with fun music.
If I ride in the evening, I prefer a 45-minute ride, though I will occasionally do two shorter rides with one being extra hard (hills, Tabata, etc.) and one being more chill (a theme ride or low-impact ride). I usually do my strength classes with my daughter and/or husband so they end up being random times of the day.
My favorite cycle instructors are Denis Morton, Tunde Oyneyin, Christine D'Ercole, and Hannah Frankson. For meditation, my favorite is Chelsea Jackson Roberts. For strength, it's Adrian Williams, Jess Sims, and Matty Maggiacomo.
My daughter finds riding the Peloton bike "boring" but still rides it on occasion when the weather makes it hard to go outside, preferring either the scenic rides or the "just ride" while listening to music on her iPad. She does enjoy the strength classes and does a few each week with us using 1lb weights. She loves Cody Rigsby and Jess Sims. She also has done the guided meditations from Peloton with me and likes the Zen in Ten especially with Anna Greenberg.
My Peloton Setup
I think in every niche, there is a desire to see other people's setups. Their planners, their desks, their makeup tables, their closets, their craft rooms. Peloton is no different and in the Facebook groups I'm in, members are often asking to see setups and share their updated Peloton setups.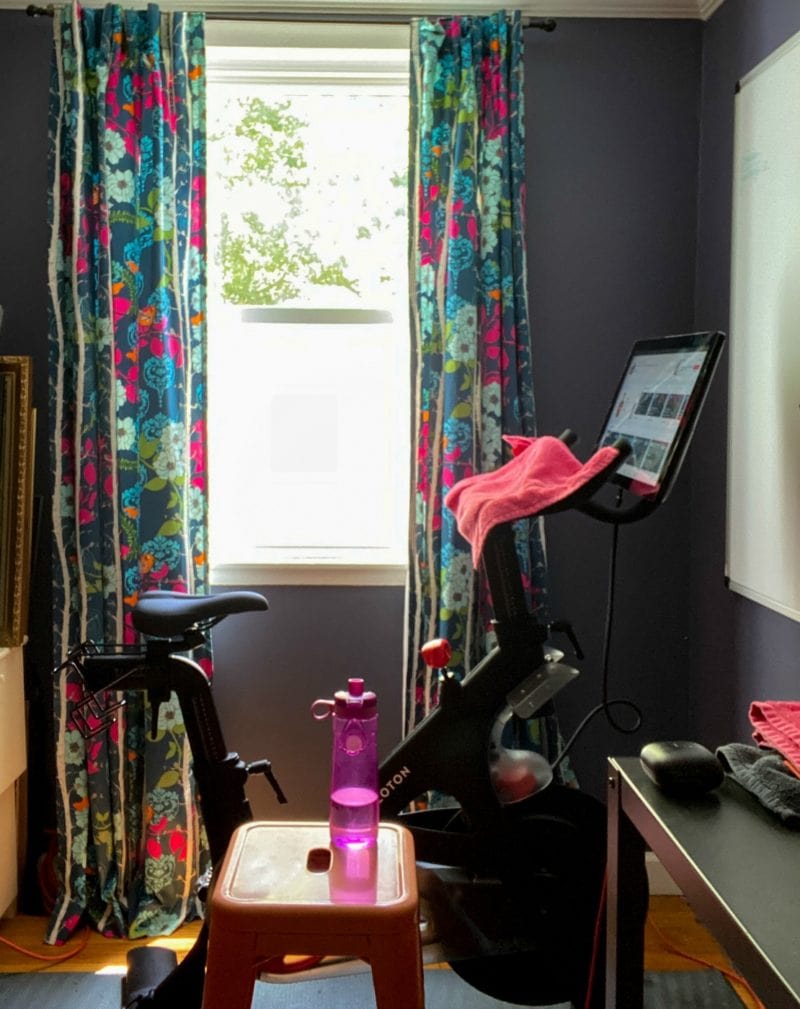 We set up our Peloton in my home office. The room is an L-shape, with the short part of the L a little nook with a window. We have the Peloton in there, parallel with the window, tucked between a file cabinet and bookcase and wall holding a dry erase board. The Peloton fits on a standard-sized yoga mat just fine and you don't do much movement on the bike beyond the space of a yoga mat showing you don't need a large home or special room to accommodate the bike.
Sometimes we like riding the bike with the curtains open, enjoying the sunshine. When the weather is cooler we often open the window for additional airflow. Other times, I really enjoy having the lights off and the curtain closed because I feel more connected to the instructor, who is usually also in a darker room. It's nice to have options.
We didn't buy the mat to go under the bike and just used an old yoga mat we owned. I did a lot of research online and found many did the same, saving money and also making it less painful to replace once the mat gets all grody with sweat and time. Having a mat under the bike is imperative as you WILL sweat enough to drip onto the ground. Also, Peloton users have said the feet of the bike can leave grooves and even stains on carpet and wood and the mat will protect your floor.
The Peloton comes with two water bottle holders, but I find the location not so great for my short self, and the water bottles I own and like (these from Pogo) are a bit too wide and easily fall out. We have a metal stool from our deck that we use as a table next to the bike; it can hold not just our water bottle for easy reach, but also our phone. I have looked into phone holders made to fit on the Peloton, but for now will go with this setup.
You may find the addition of a fan to be a gamechanger with a Peloton, especially as summer has arrived. We had this exact fan in our attic; we considered hanging it up on the wall to face us when we ride. I temporarily put it on the ground near the front wheel and angled it up to my face and found I really liked it there. Not only that, it's easy to reach to turn on and off and angle for whoever is riding the bike.
We've tried a few things for sopping up sweat during rides and found the best for us are standard issue hand towels. Some like microfiber, some like a loop to keep it from falling off the handles, we like basic terry ones. We bought fresh ones for our bathrooms and have a stack of the older ones near the bike at the ready.
Some rides have arm portions, and many of the strength workouts for arms are set up to do on the bike. Peloton carries weights, but honestly, any small hand weights fit in the weight holder on the back of the bike. I had one of those sets of 2-, 3-, and 5-pound weights from years ago and we use those. We keep the 3lb ones in the holder as that's the weight my husband and I both like for the workouts, but have the 5 and 1 nearby for when we all do an arm workout together.
We make sure to wipe down the bike after every workout. Pelotons are NOT cheap, and taking care of it makes a big difference. We started with Lysol wipes but they are very hard to come by so we switched to some cleaning wipes I had in the linen closet that I got at Thrive Market. However, you can use any all-purpose cleaner and a rag, or you can even use baby or personal cleansing wipes. Don't just wipe down the seat, sweat gets everywhere and it's a good idea to wipe down the entire bike including the feet to keep it looking and performing great.
I use my Powerbeats Pro on the bike and have a charging cord near the bike so they're always at the ready. My husband uses a pair of over-the-ear Bluetooth headphones, my daughter just uses the speakers on the Peloton screen or her iPad. I know some Peloton users connect speakers to their bike for a louder and more surround-sound experience.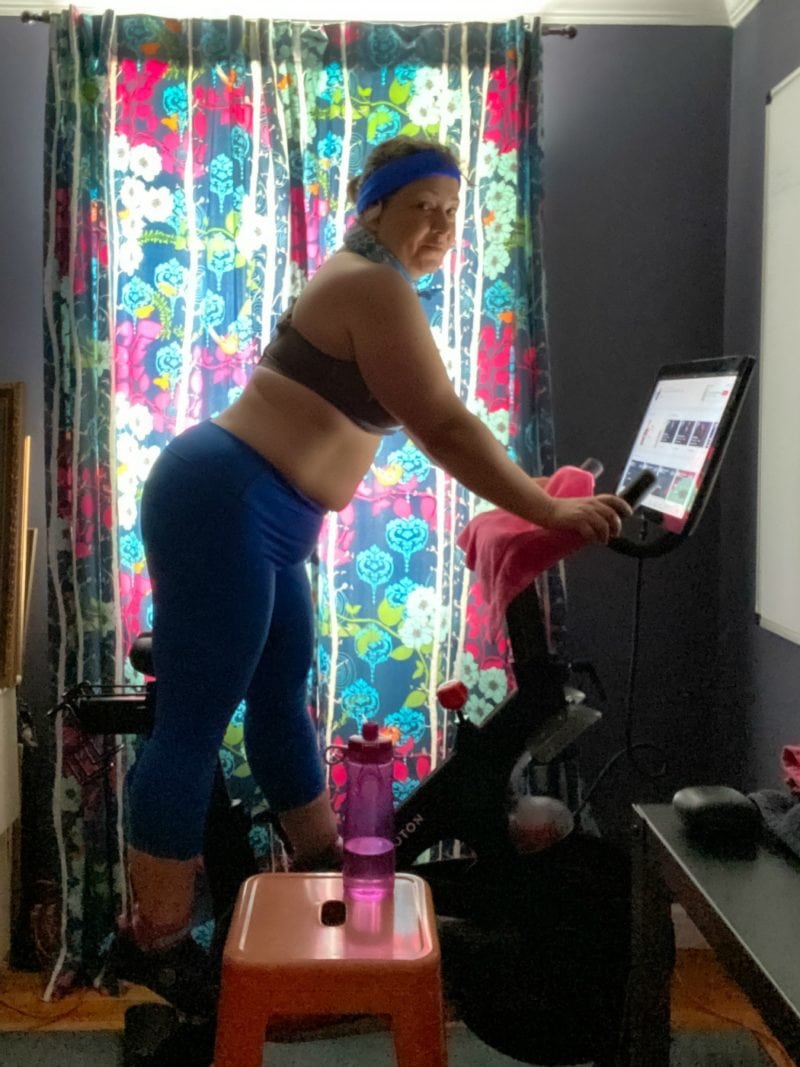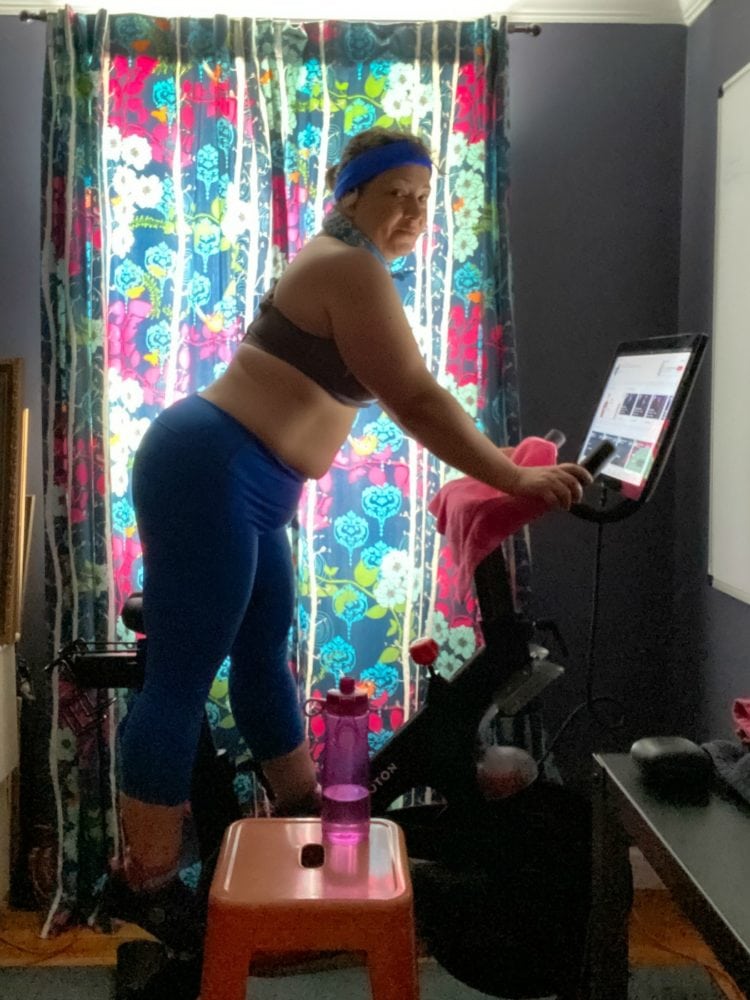 My Favorite Activewear for the Peloton
When I started with the Peloton, I figured my drawer of leggings, t-shirts, and a few performance tanks that I wore to the gym would be fine. After two weeks I realized they would not cut it. As I've mentioned above, you sweat a lot on the Peloton.
After a 30-minute ride my hair is completely soaked, any sweatband I am wearing is drenched, my bra could be wrung out, and there are drops of sweat all over the bike and the mat below. I couldn't wear most of the activewear I already owned. And with summer arriving, even with the A/C on, I was overheating in sleeves and full-length pants.
My favorite bike shorts for the Peloton are from Miami Fitwear, a woman-owned business that manufacturers here in the United States that offers women's sizes up to 4X and men up to XL as well as kids sizes. Miami Fitwear also carries full-length and Capri leggings, tops, and even face masks and headbands. My Miami Fitwear leggings and bike shorts aren't thick yet are opaque, passing the squat and sweat test.
Miami Fitwear is offering Wardrobe Oxygen readers 15% off one purchase with promo code WARDROBEOXYGEN15.
Miami Fitwear offers a variety of super fun patterns, don't ride down, accommodate my curves, and unlike many other bike shorts, don't ride up my thighs while pedaling. I've washed them many times and they even accidentally went in the dryer and still look new. As someone with a belly that hangs down, I find these stretch a bit as my body warms up and I can tuck a bit between my belly and thigh during a ride which makes things more comfortable.
For riding the Peloton, I also really like these cropped leggings from Old Navy. They are thin but not opaque, not too stretchy but accommodate my curves, and don't ride up bunching behind my knees on a ride. I have these in tie-dye, camo, and a solid color.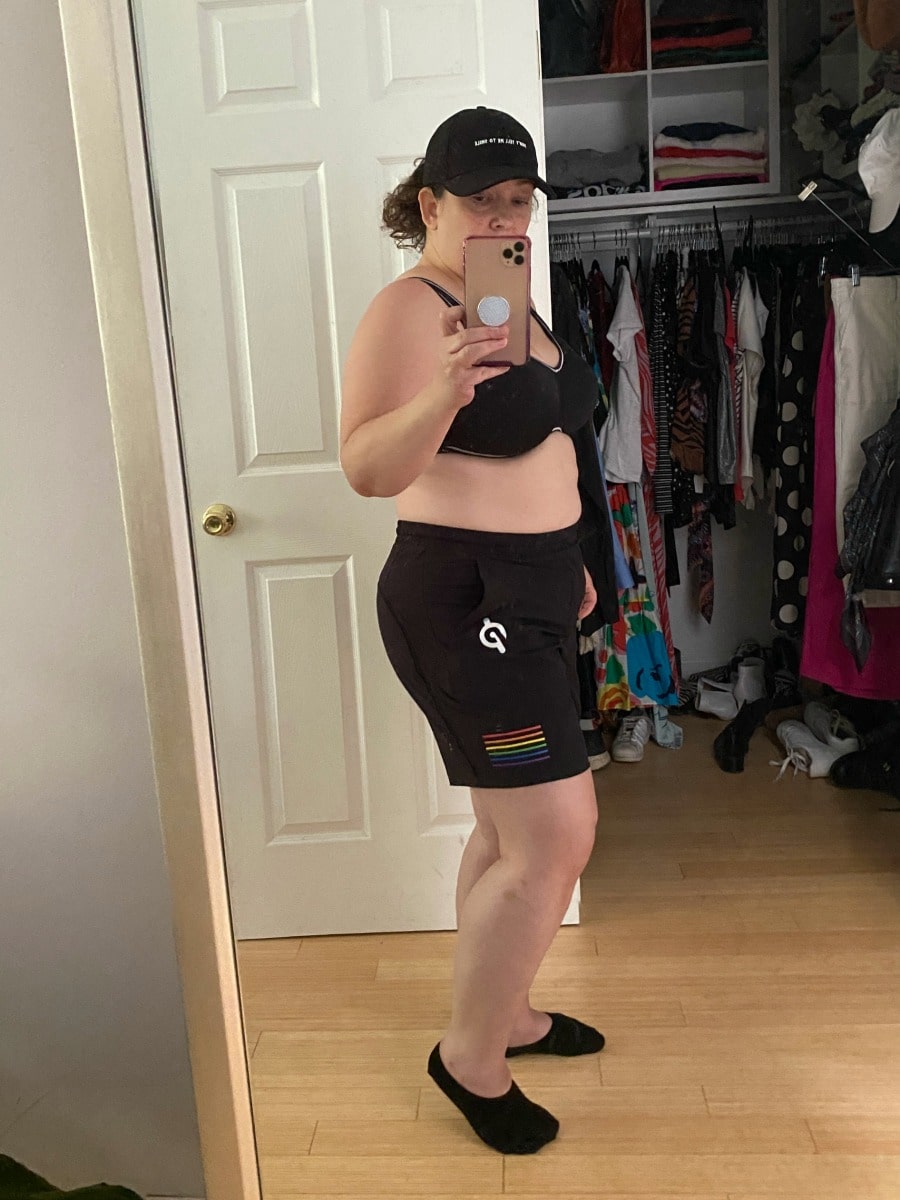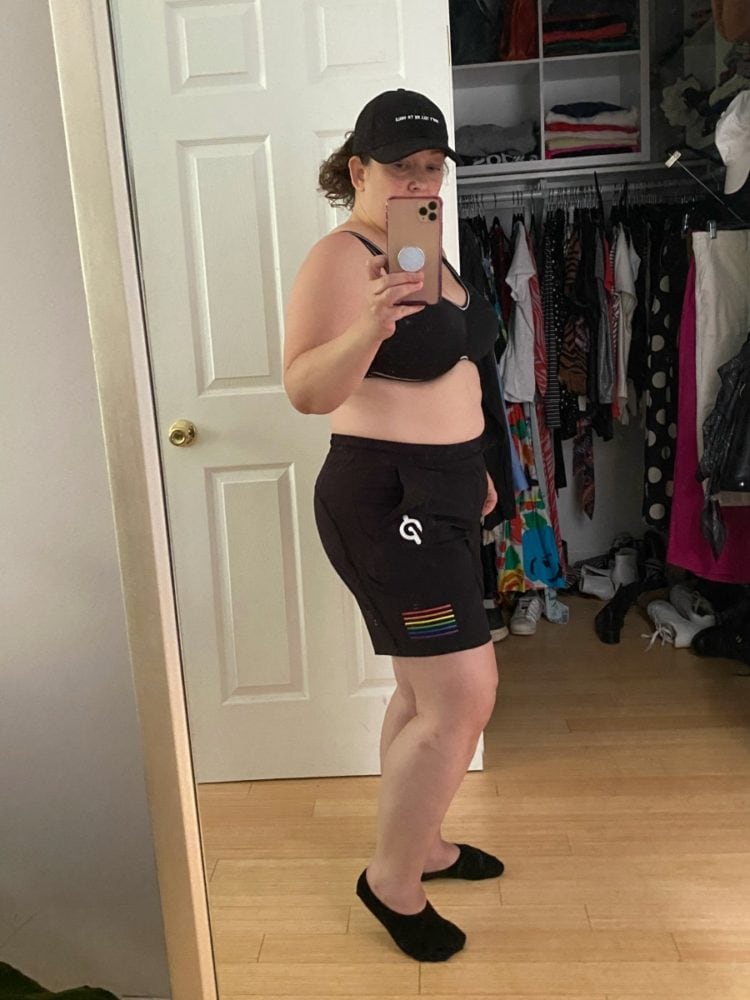 An unexpected favorite short for the Peloton is from Lululemon. When Peloton launched their Pride collection, they didn't have it on models and didn't separate the collection by gender and I bought a tank and shorts, figuring if I didn't like them my husband, who wears the same size I do, may like them. The shorts are for men, but that doesn't mean I don't adore them.
They look like standard shorts, but have a hint of stretch so they move with you. They have an elastic waist but also a drawstring, pockets, but also mesh bike shorts inside that also have a pocket. They stay in place during a ride but are also a great choice for hiking, kayaking, or just lounging on the couch. Lululemon has them in a variety of colors, Peloton is sold out of their Pride version.
I personally don't like padded bike shorts on the Peloton. I find them to chafe and just add bulk. I focus on staying far back on the seat which prevents most of the discomfort that can come from riding a bike. That being said, everybody and every body is different. I do have a pair of padded shorts from Terry, which is a woman-founded company that for over 30 years focuses on bike gear for women. They are very well made and fit well and have a fantastic return policy.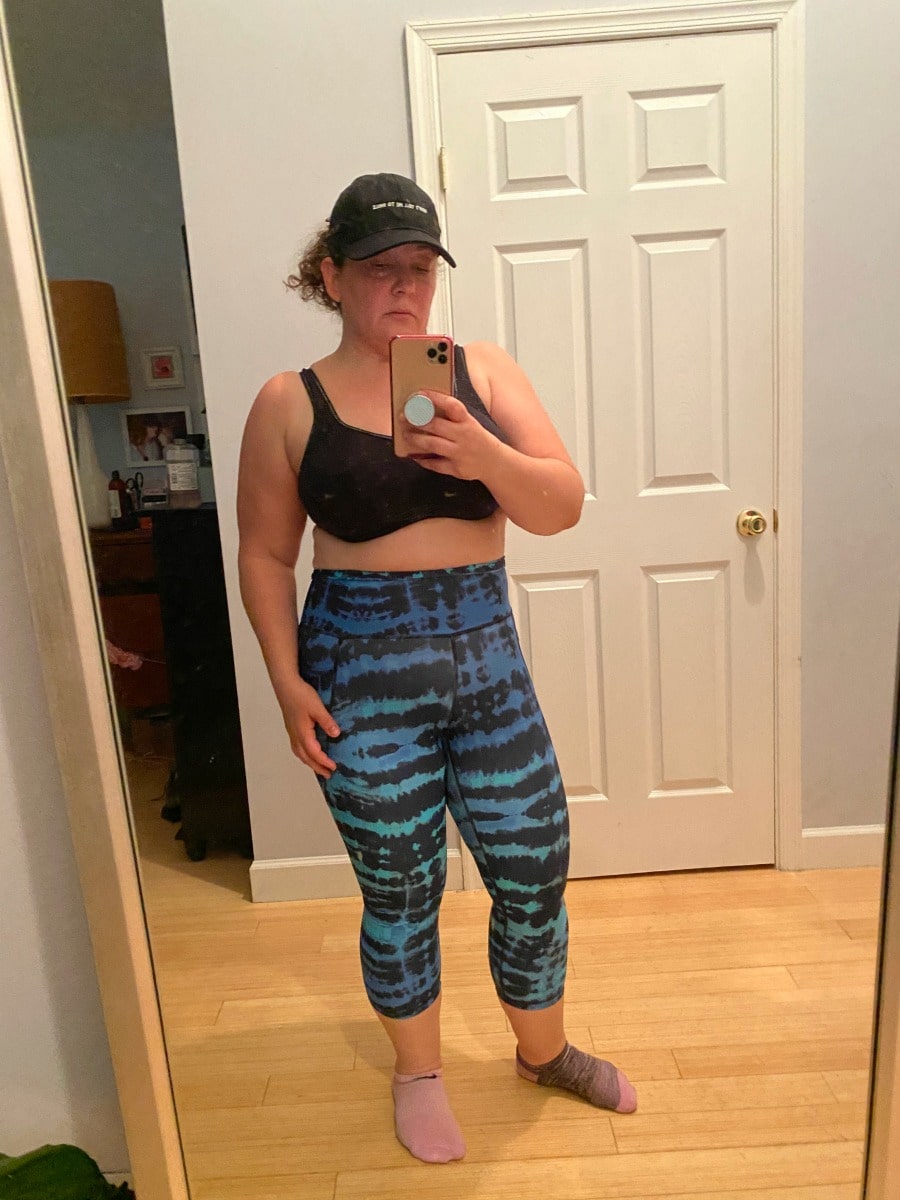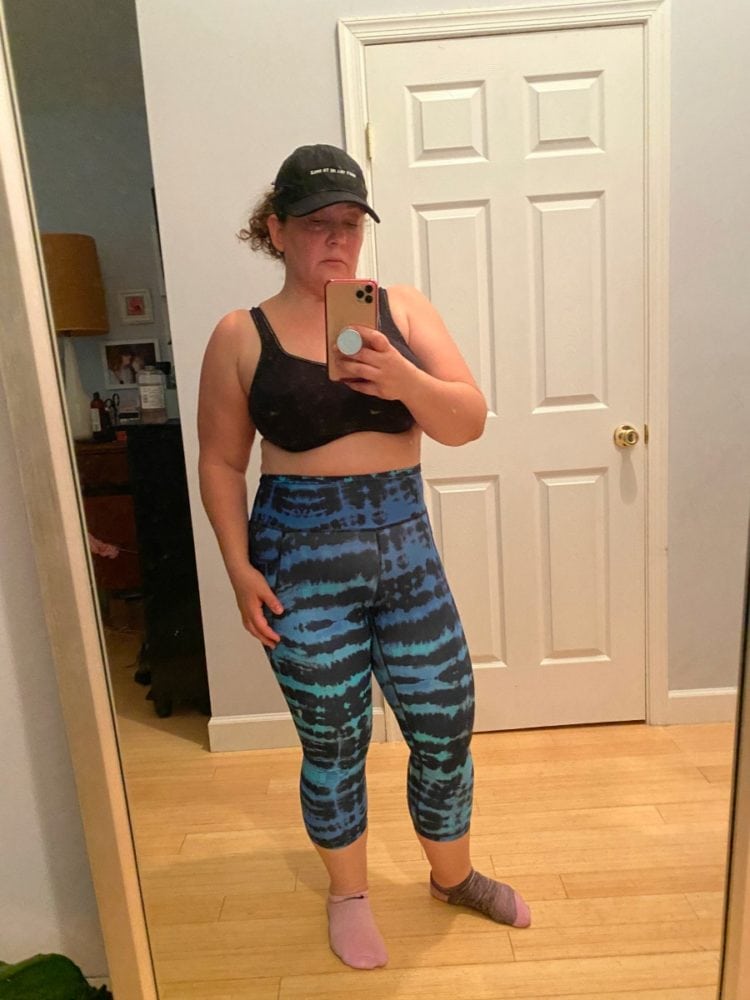 On top, since I am home, I rarely wear a shirt and just go with a sports bra. I consider it one of the perks of Peloton! While you aren't jumping up and down a lot on the Peloton, especially at the beginning when you're learning form and control, you will want a sports bra that will keep your bust from bouncing all over the place. Your size and firmness determine how much support you need.
My favorite sports bras are the Freya Epic, the Freya Sonic, and the Freya Active. They are easy to get on with hooks in the back and adjustable straps just like a normal bra. They lift and separate giving me a good shape along with support and control. They also come in some fun colors that make them look less like intimates and more like activewear.
Because I sweat so much, I need a headband to keep back flyaways but also keep sweat from getting into my eyes. I have a Halo band, I have one of the sweat bands from Peloton, but I find the old-school knit sweatbands to do just fine. They get heavy and gross and don't look cool, but again… you're riding in your home where no one can see you. I got my husband a multipack of them last summer for when he works in the garden and we just throw them in the wash with towels and dishrags and they've gotten a bit fuzzy but still look and work fine.
I also like tying a bandana over my hair; I fold it into a triangle, tie at the back and wear my hair in two braids or messy buns poking out of each side. This keeps my hair from getting dented and it more evenly absorbs sweat, so I am more likely to be able to refresh my 'do.
The Peloton band from Temple Tape is nothing unique and you can find the equivalent likely for much less elsewhere. My Halo band has a rubber band on the inside that blocks the sweat and also keeps the band from sliding off the head. I do like it a lot, but one costs the amount of the pack of knit bands I got so I only have one for now and may treat myself to another when I hit a Peloton milestone.
Shop My Peloton Gear:

Peloton Shoes for Wide Feet
I have wide feet. I can wear regular width sneakers, but only from certain brands that have a wider toebox. With dress shoes and sandals, I almost always choose a wide width. I knew the Peloton-brand shoes would not be comfortable.
Doing a bit of online research, I read that Shimano was great for wide feet. I found these on Zappos, thought they looked cool while also being knit so they would stretch with my feet. I have been wearing them since March and they are great for wide feet. That being said, I find they run a bit big thanks to the stretch and if I could do it over, I would have gone down half a size.
I have had issues with my feet over the years – plantar fasciitis, a fallen arch, too many years wearing high heels, too many years working retail in high heels. Then on top of that, I was going barefoot or in flat slippers while at home. After two weeks on the Peloton, my right foot started bothering me. I found focusing on pulling up and not pushing down when pedaling helped, but I still had a bit of discomfort.
I had a pair of these insoles in a different pair of shoes and put them in my cycling shoes. This not only helped with the shoes feeling a bit big, it also took away 95% of my foot discomfort. The insoles make the sole more stable, which I think was one of the problems I experienced. I love these insoles, I have them in my hiking boots, my beater sneakers I wear to music festivals, my snow boots, even my heeled knee-high dress boots. They carry a shearling version which is great for winter or for sweaty feet.
My Shoes, Insoles, Pedals, and More:

Switching out Pedals on your Peloton
Nowhere does it say in this document that switching out the pedals will void your Peloton warranty. If you have a pedal-related issue because of the switching of pedals, that's one thing but it won't affect you if anything else is wrong with your bike. We decided to switch out the Peloton pedals for SPD pedals. My husband has SPD pedals on his road and mountain bikes and SPD cleats already on his bike shoes.
SPD pedals can be ridden on even if you aren't wearing clip-in shoes making it a good choice for our growing tween as we don't want to invest in bike shoes she will outgrow in a month or two. SPD cleats are smaller, so you can walk around more easily in your bike shoes than with Peloton/LOOK Delta cleats.
If you choose to switch out your pedals, please look at a YouTube video or get assistance so you don't hurt your bike in the process. Many pedals thread backward on one side. Keep your original Peloton pedals just in case.
We bought toe cages when we got our Peloton, thinking it would be a good choice for our child, but the toe cages are not easy to slip on and off and definitely can not be done by a kid. She also found the toe cages awkward to get on and ride with. If you are looking to ride a Peloton without clip-in shoes, you may want to consider switching out the pedals instead, but do your own research first.
Then vs. Now: What I've Learned Riding Peloton for Over Three Months
Don't assume that because you hate or love cardio or spinning or whatever that it will affect what you think of a Peloton, how much you enjoy it, or how successful you will feel riding it. I have never taken a spin class and rarely ride a bike for fun, yet I was surprised by how much I enjoyed riding the Peloton bike, and how quickly I was able to get the hang of it and feel as though I was performing in a way that made me feel proud. I have a dear friend who is a SoulCycle enthusiast and has been one for years and she struggled the first few weeks on a Peloton. For the past couple of years, my husband would ride his road bike on a trainer in our bedroom for 30 minutes each night and he found a much more effective workout and was seriously challenged by the Peloton.
When I started, I began with beginner classes. There is nothing wrong with making a cool-down ride your only ride. There is only competition and comparison if you choose to embrace it. I was in a weightlifting mindset and was trying to achieve a high output when I started, but soon realized the key to success wasn't just pounding it out to get a high number, but to really work on technique. I found rides by Denis Morton to help me focus on posture, placement in the saddle, thinking about making circles with the pedals instead of pumping up and down, and working on pulling up my legs instead of just stomping. Matt Wilpers is also a great instructor to help you figure out technique. Posture, position, and focus on what exactly you're doing with your legs will make it easier to reach a higher cadence, will help strengthen your core while riding, and your back will be happier. I'm still learning and appreciate instructors who occasionally remind me to focus on these aspects, but I also have trained myself enough to remember most of the time on any kind of ride.
Occasionally, get out of your comfort zone. Try a different instructor or a longer class, or instead of one long class consider two shorter ones back to back. Instead of taking a rest day, try cycling multiple days in a row, switching up the length and intensity of the classes. Doing this taught me that I like longer rides because it gives me a chance to let my brain slow down and get into a zone, thereby getting a bit of a meditation along with a hardcore workout. I also learned my body doesn't like rest days unless I really over-exerted myself. It's like my body is clay and if I stop moving it, it dries and gets hard. At least an easy ride makes my body happier than a complete rest day.
Treat your body like a science fair experiment. Do you perform better or hurt less if you drink water beforehand? How about when you incorporate electrolytes (we love these tablets)? How about food? Do you enjoy classes more first thing in the morning or after a day in front of the computer? Sure, you like a certain instructor, but you may find you get your PR with one you don't normally like as much. Try focusing on flexing your feet, try moving your seat up a tiny bit to see how that affects your performance and feels on your knees. If anything is uncomfortable or has gotten to be too comfortable, try little adjustments as they may make all the difference.
I learned I like longer classes, fewer clothes, and to drink at least 20 ounces before a ride so I don't end up having a gummy mouth and want to spit into my towel after 20 minutes. I find that I will achieve a PR when the conditions are perfect, then get nowhere near it for a week and then beat it when I am on a class I don't especially love and I'm tired and thirsty and cranky proving that none of the "perfect conditions" are really what are determining my success. I find there's nothing more annoying to me than when a pair of leggings bunches up around my knees and creates a lump I press against each time I pedal but sweaty calves that stick to thighs may equally as awful. If I allow more than one day between rides it can easily become 10 so I get on saying I don't have to do a good job, I don't have to look at the leaderboard, I just need to clip in and do a ride. It's enough to get me back into the groove.
I learned that while in the first few weeks I rode alone and just for myself, as I got more into Peloton it helped to have others who also were into it. I created a hashtag on Peloton: #WO2fam which you can add to your profile and then be able to ride with other Wardrobe Oxygen readers and followers on social media. Feel free to follow me, I am wardrobeoxygen on Peloton and love to ride with others. I do virtual rides with IRL and social media friends; we either do a live class together or clip in at the same time and hit start at the same time and high-five one another throughout to motivate. Facebook groups and the Peloton Reddit can create a sense of community too. The Official Peloton Facebook group is a cesspool, and some of the groups geared towards moms and working women can feel like a bragfest about au pairs and inground pools but others can be super motivating and fun. Check out ones for your state or metro area, and the XXL group is a fantastic community of fun and supportive people who don't focus on diet or weightloss and offer great advice for staying motivated, finding good gear, great rides, and more.
FAQ I receive about Peloton
I'm not rich, is there a cheaper way to Peloton?
Totally. Many get the app and use it with a different bike. Some get bikes off Facebook Marketplace and other sites where you can buy used items in your neighborhood. Some prefer non-Peloton bikes. Do what is best for you and your budget.
Peloton costs me around $100/month for the interest-free payment plan and the app. Previously, I was spending $400/month for one gym and $21/month for another.
The full price of the bike is a LOT, I agree. However, the payment plan makes it easier to digest and forced me to see what I was spending monthly on things I really didn't need. I was able to offset the cost by curbing little purchases I was making.
That being said, Sunny and Schwinn make spin bikes that are far cheaper and with a little bit of Googling you can find plenty of information on how to make them work with the Peloton app and hacks by other users for the best user experience.
I am too big (height and/or weight) for Peloton
I know that Peloton has a height and weight limit. However there are a lot of people in the XXL Facebook group and the Peloton subreddit who are bigger than the Peloton weight and height limits. And take a closer look at the Instagram Stories and TikToks of some of your favorite big celebs and athletes, you'll often see a Peloton in their home gym.
I don't know what Peloton would do if your bike was broken under warranty and you are above their height and size limits. I encourage you to do some research on this topic and hear from those who are above the height or weight limit for Peloton. A few resources:
As for those who find Peloton caters to thin bodies, I agree all of Peloton's instructors are straight-sized, their boutique (which sucks in a variety of ways) doesn't offer plus-sized clothing, and their ads up until now have only featured slim individuals.
However, I have yet to take a ride, receive an email, or experience any marketing from Peloton that discusses losing weight, getting slim, creating a summer body, or any other problematic messaging. I do know some individuals find Tunde's messaging triggering as she experienced weightloss and sometimes discusses it.
Peloton features customers regularly on their Instagram page, and these are individuals with a range of body sizes and shapes. For example, this photo, this photo, this photo, and this photo.
Peloton is not perfect, but in the short few months I have had the bike and used the app, I have been impressed by their effort to be inclusive not just for size, but gender, race, culture, and lifestyle and how they are regularly sharing ways they are improving as a company and culture.
How much weight do you lose with Peloton?
The last time I weighed myself at my gym before the shutdown, I was 196 pounds and a size 14. I didn't think I owned a home scale; we had one years ago but it disappeared. Well, I found it under the bed at the end of May, after almost three months of the Peloton.
The suit I had tailored to fit me like a glove in February was now sagging on me, a lot of my clothes, especially pants, were now too loose, and those who follow me on social media said I looked like I had lost weight. We put in a new battery and I weighed myself, and I was 198 lbs. I tried again, I was 201 lbs. Another time, I was 192 lbs. We decided to buy a new non-digital scale. Got up on that, and I was 198 lbs. My point? Weight doesn't mean jack.
My body is different from what it was in March before I got my Peloton.
My rear end is so lifted and has gained so much muscle it is almost a square, and I'm heading to KimK territory where I could rest a glass on it. It's not smaller, it's stronger.
My waistband is a hair looser than it was a few months ago, but what is drastically different is my stomach below the waistband. It now looks like a deflated balloon, leaving all my pants and jeans too loose in the crotch. While I had built a strong core from lifting weights (example), now you can see a bit of ab definition on me instead of having it hidden under padding.
My thighs are a bit bigger, and much firmer. Like curled up on the couch watching TV and I run my hand along my thigh and it has angles from muscle. I lifted weights for two years loving Leg Day and didn't have such definition.
I don't believe weightloss should be the goal. We get one body, we should pamper and nurture it. I have a Peloton to keep my heart strong and build muscles so I can enjoy life better and longer. If your goal is just to be smaller, this likely isn't the route for you and I am not the person you should be looking to for advice or inspiration.
My goals are more like being able to get up from sitting on the floor without needing assistance, being able to tour a favorite city without feeling broken the next day, and having blood work that confuses doctors when they compare it to my age and weight. So yeah, I don't have a lot to share about weightloss and Peloton.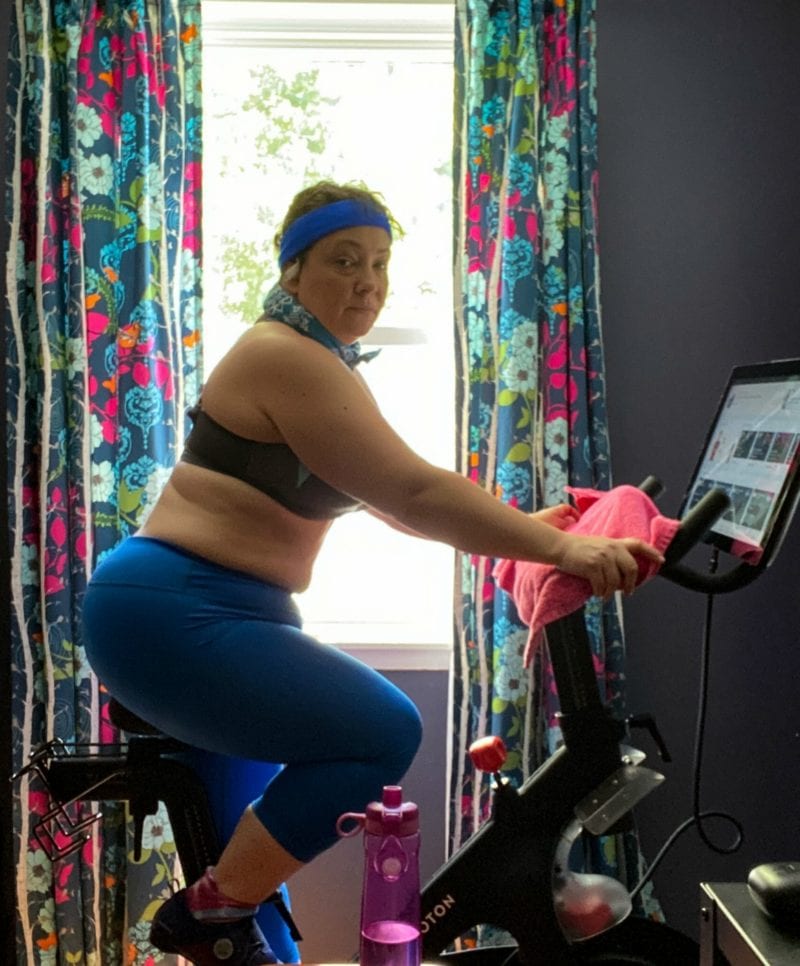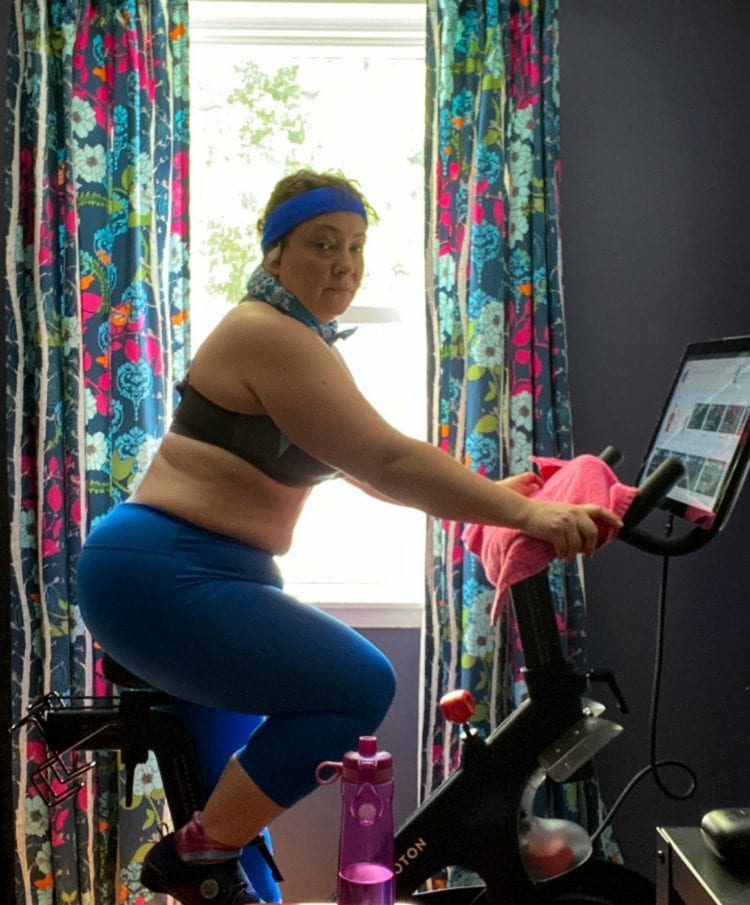 Does your bum/knees/back hurt with the Peloton?
Sore Bum: As I mentioned above, I don't like padded shorts. However, others do. I recommend starting to ride with whatever you already own so you can figure out what you don't like and what you need. Yes, there is a break-in period when riding any bike, and I know from the past when I had road and mountain bikes that a larger cushier seat may feel great at first but when you're riding more and longer it actually can be more uncomfortable. Also a Peloton isn't the same setup as a road bike, you're not in the same position exactly, and switching out the seat may alter your position putting pressure on a different part of your body. This hasn't been much of an issue for me, so do your research if you deal with this problem.
Sore Knees: If the front of your knees are bothering you, try raising your seat just a hair. I did the Peloton guide for the seat height and put it at 13. It seemed good, my husband who loves bikes said it looked like a good height. After two weeks I started getting this feeling like I had to pop or crack my left knee at the beginning of every ride. Sometimes it would pop, other times it wouldn't and by the end of the ride I'd be really uncomfortable. I moved my seat up to 14 and it stopped this issue immediately. I then had a bit of knee discomfort on the other leg, so I raised my seat just a hair (now to the bottom of the 14 line instead of the middle) and it took care of it. There is plenty of advice out there on how to adjust your bike to get rid of knee pain; Matt Wilpers also offers virtual sessions to get your bike to fit you.
Sore Back: It's all about your posture. Shoulders back and down, head raised in a regal way, pull in the stomach, make the back long. Whether I am sitting or standing or winded and falling onto the handlebars so I don't fall off, if I think about my posture my back is fine. When I focus more on output than posture, my back can ache. Also if I take off more than one day, my back aches.
What Are The Best Shorts/Bra/Shoes for Peloton?
I shared my favorites above but honestly, I will share what I said when I started weightlifting. Just do it with what you have and if you don't have, get what you can afford. It may not perform the best or be the most comfortable, but it's better than not starting at all. Also, what works for me may not for you, and the last thing I want you to do is waste your money.
You can ride in an old t-shirt bra and a pair of Lularoe leggings with a hole in the crotch. You can ride in a stretched-out sports bra and a pair of Jockey Skimmies. The beauty of Peloton is you are at home, so no one cares what you wear. Only buy when you need, and when you have gotten to a point where you know what you want.
The only thing I recommend is if you have complicated feet (the kind of feet that can't go into any Target and grab a pair of shoes that fit and will be comfortable enough for a day), do your research and invest in shoes.
If a bike shop is open in your area and you feel comfortable shopping in person, that is the best way to get the right shoes for your special feet. If not, Google is your friend where you can find all sorts of reviews, experts, virtual fittings, and tips.
Do you Have a Peloton Referral Code? Do You Get Paid by Peloton?
At this time, Peloton does not have an affiliate program which means I do not make any money writing about Peloton. While affiliate links are used in this post for clothing and gear and if you click on them I may make a small commission, I make nothing from any links to Peloton or its boutique. I do not have any sort of relationship with Peloton beyond being a regular customer.
Peloton offers all owners a referral code once they have completed 10 rides.  Each user can only refer 12 individuals a year.  The referral code provides a new customer $50 in accessories when they buy their bike and it provides the code owner $100 in store credit to the Peloton boutique.  I encourage you to contact the person who encouraged you to buy a bike to use their code in thanks.
How Can I Connect With You on Peloton?
If you have any questions, feel free to ask them in the comments and I will reply. No exercise is the best for all people, I am only sharing my personal experience!