This article may contain affiliate links; if you click on a shopping link and make a purchase I may receive a commission. As an Amazon Associate, I earn from qualifying purchases.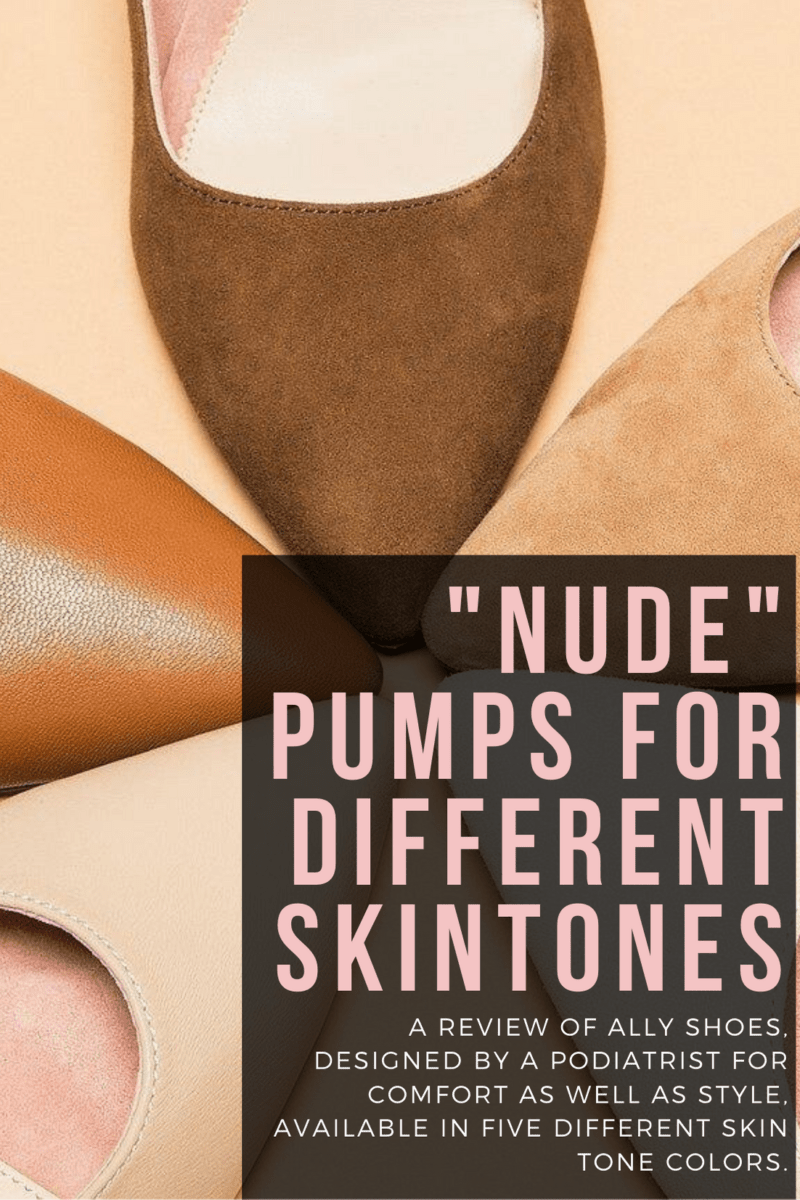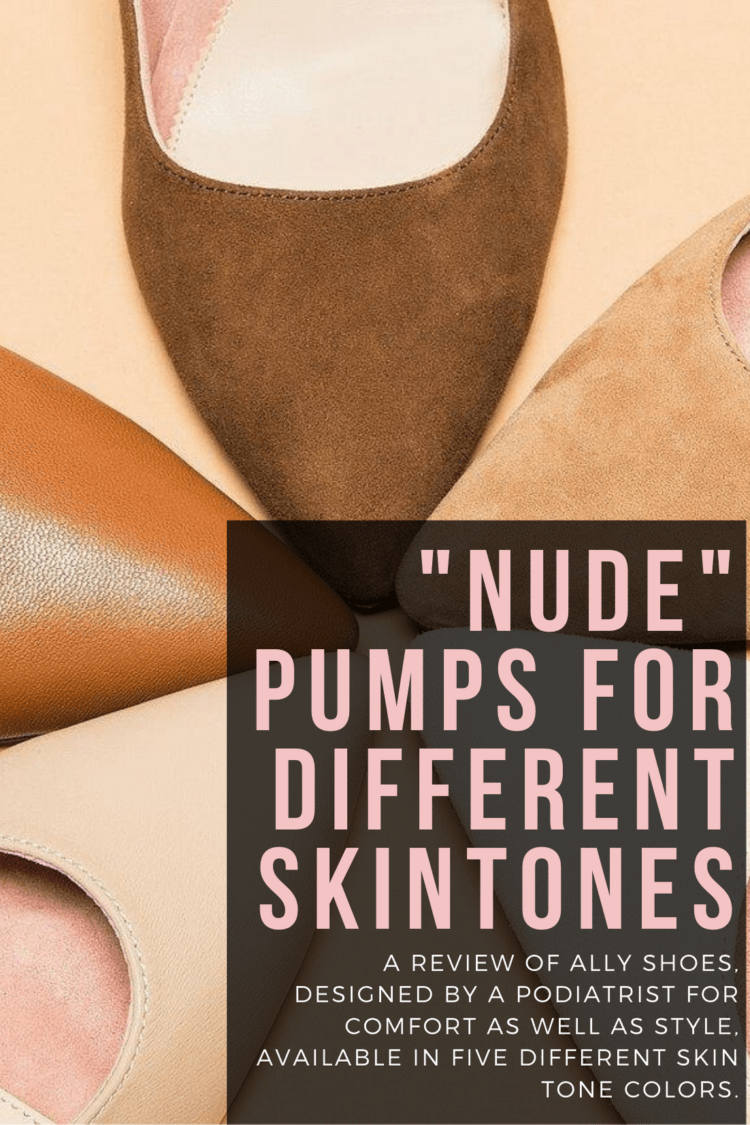 Many style experts recommend a pair of nude pumps with an almond or slightly pointed toe, but few retailers realize that calling that beige shade "nude" disregards a major portion of the US population. ALLY Shoes offers six different "nude" colors in a range of elegant shoe styles.  Not only that, ALLY Shoes are designed by a podiatrist to ensure they are stylish and comfortable. I decided to get a pair and do a proper ALLY Shoes review.
While ALLY Shoes did provide these shoes for free, I was not obligated in any way to provide an ALLY Shoes review. All thoughts are my own.
About ALLY Shoes
Samantha Dong was hiking Mt. Kilimanjaro when she injured her foot. After the foot injury, Dong struggled with wearing heels and was frustrated with the options on the market. Dong teamed up with podiatric expert Dr. Roxann Clarke and in-demand shoe designer Sara Jaramillo to design comfortable and stylish heels for all women.
Dr. Roxann Clarke, a Podiatric Surgeon, created a patent-pending three-point comfort system design for ALLY Shoes to address the common problem areas felt in heels. The ALLY team makes heels that are scientifically engineered to alleviate pain while bringing great style to powerful women. ALLY shoes come in four different widths (hello D width in chic shoes!) and half as well as quarter sizes 4 to 12, designed in New York City and are handcrafted of high-quality materials.  Not sure your size?  Check out ALLY's Fit Finder or order the free ALLY Shoes Fit Kit.
You can try ALLY shoes' Classic Pump no risk: Pay $0 upfront and try ALLY heels at home. Fill out their online questionnaire with your size and color preferences, and their fit stylist will curate a box of 1-2 pairs of shoes to be delivered right to your doorstep. Keep the ones you love and return the others.
US exchanges and returns are complimentary for eligible new, full price items in their original, unworn condition within 14 days of delivery. Eligible sale items are returnable for store credit only. Sample sale items are final sale only. Keep the sole protectors intact, and only try your shoes on a carpeted surface. Returns are through Loop Returns.
ALLY Pumps: Five Skintones and Several Colors and Finishes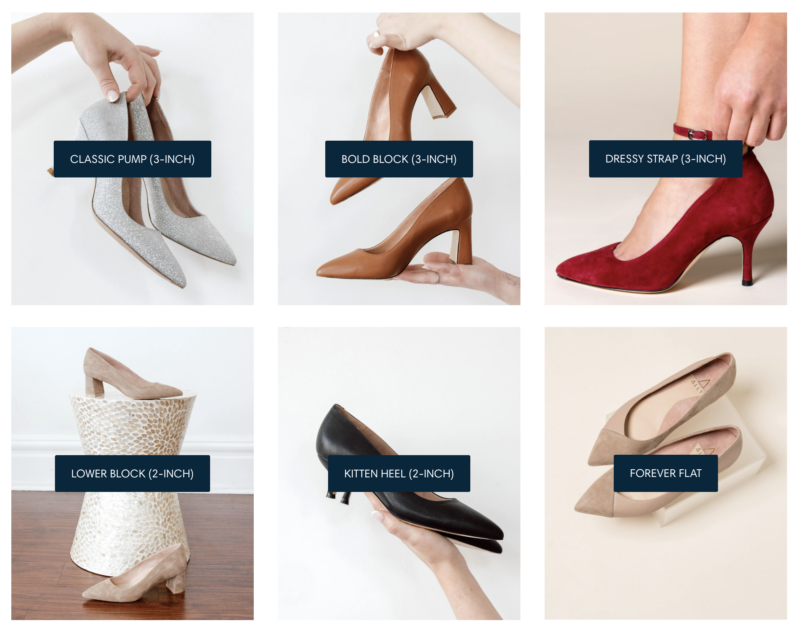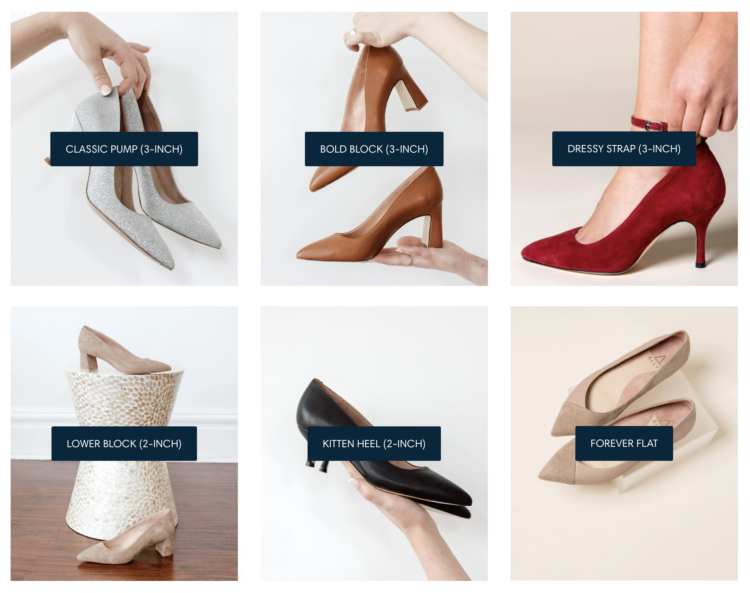 ALLY Shoes offers several different styles: a Classic Pump, a Block Heel Pump, a Low Block Heel, a Kitten Heel, a Forever Flat, and an Ankle Boot. This ALLY shoes review is of the Classic Pump; here is my ALLY Shoes Forever Flats review.
ALLY's 3" pointed-toe classic pump is the kind of classic heeled shoe I love and regularly recommend.  It's not so high you're teetering but high enough to elongate the leg, lift the rear, and look great with skirts and trousers in a variety of lengths and widths. The way these pumps are designed they are more comfortable than shoes an inch shorter.
ALLY Shoes offers six "nude" colors, neutrals in a range of textiles, plus bridal/formal fabrics and a variety of colors and prints that change with the seasons. This extensive color range and skintone range are available for all of their styles of shoes.
ALLY Shoes Review: The Classic Pump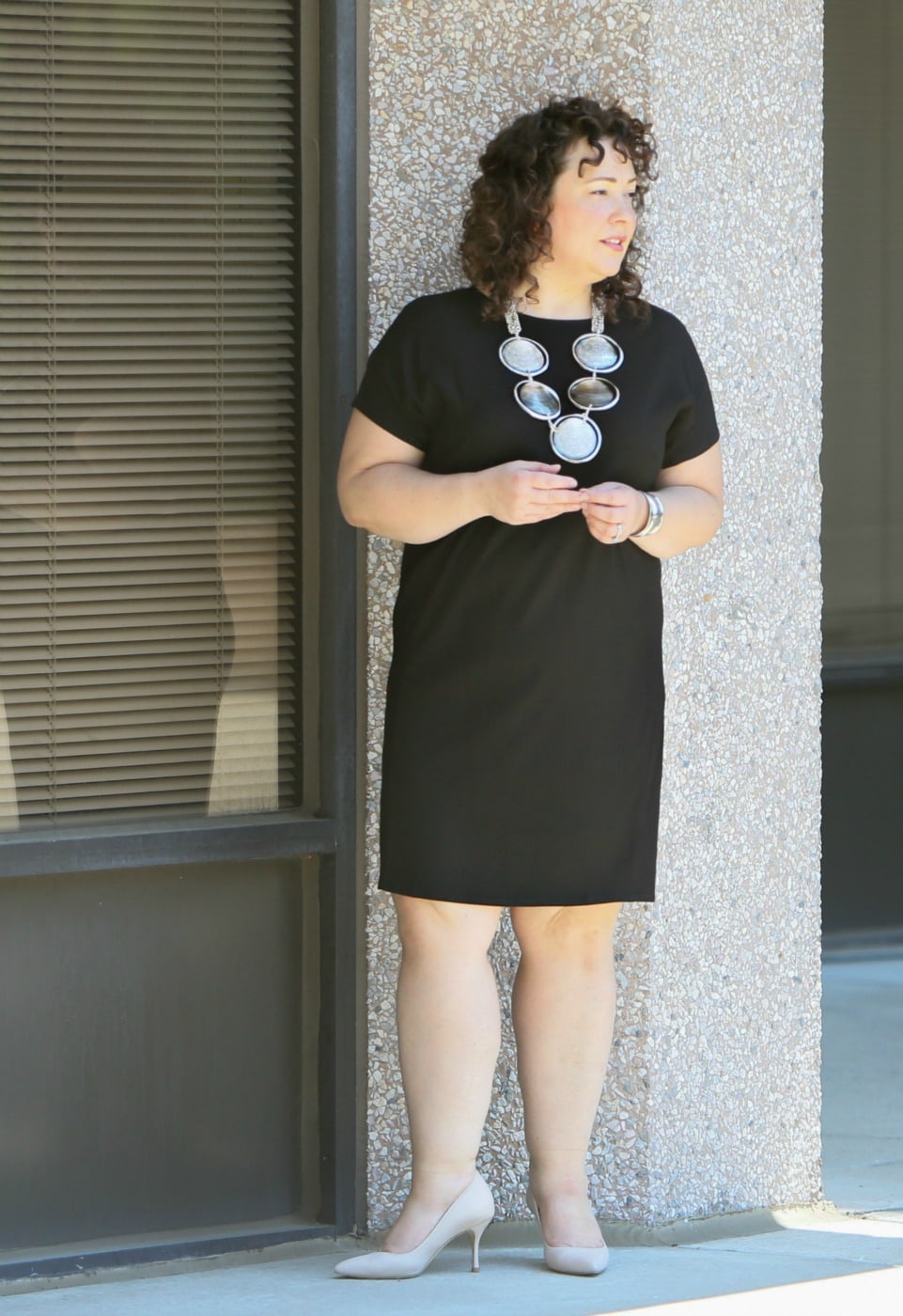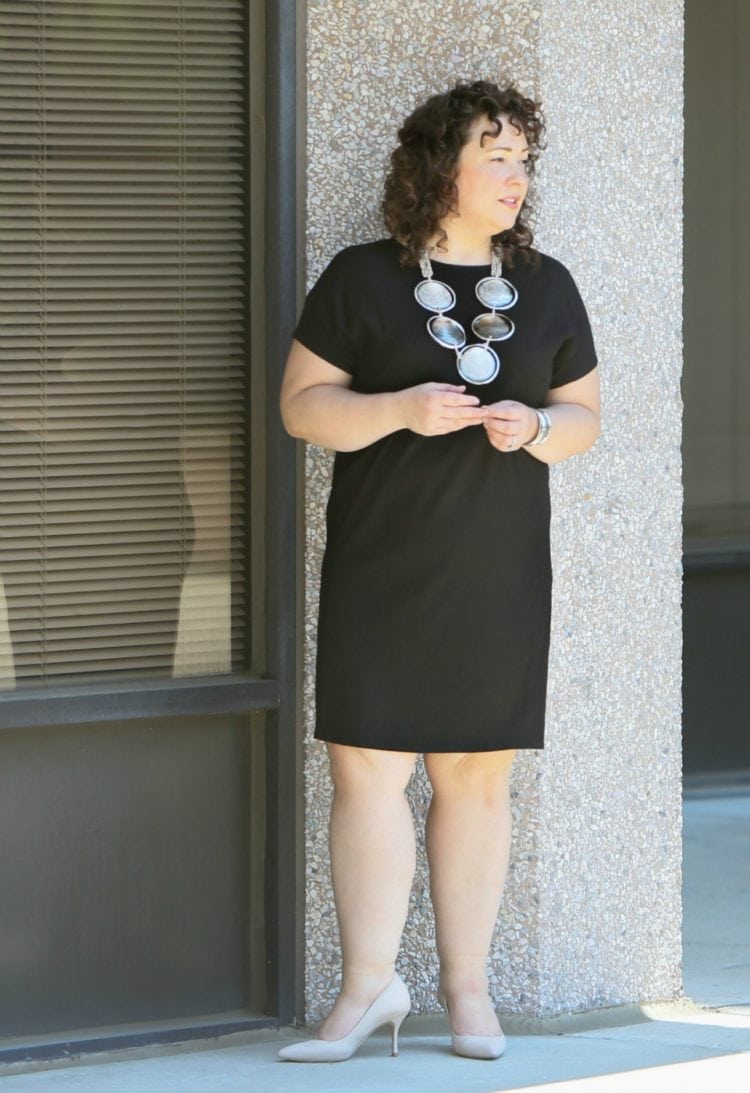 I received the ALLY pump in "Bossy Beige." I like that it's not a golden tone, and I appreciate the fact that all the "nude" shades that ALLY offers are varied, as people don't all come in the same tone as well as shade.  I used ALLY Shoes' Fit Finder and it said I was a 38.5/US 8 and C width.  This sounds right as I vary between a 7.5 and 8 shoe, usually desiring 8 for closed-toe styles, and wide whenever possible. 
I found the wide to be a tailored fit; often with pumps a wide fit gapes at the back of the heel and along the sides of the foot.  The shoe didn't slip when I walked, and I also found thanks to the insole, my foot didn't get sweaty and slide, shoving my toes forward. The padding and shaping on the insole hit at the right places for my foot and toes. The shoe is of soft leather that molded to my foot with more wear.
ALLY Shoes Promo Code
ALLY Shoes is offering Wardrobe Oxygen readers $40 off their first pair of pumps with promo code WO2HEELS. This works on any of the heeled styles from the brand. ALLY is also offering Wardrobe Oxygen readers 10% off their first pair of Forever Flats with promo code WO2FLATS.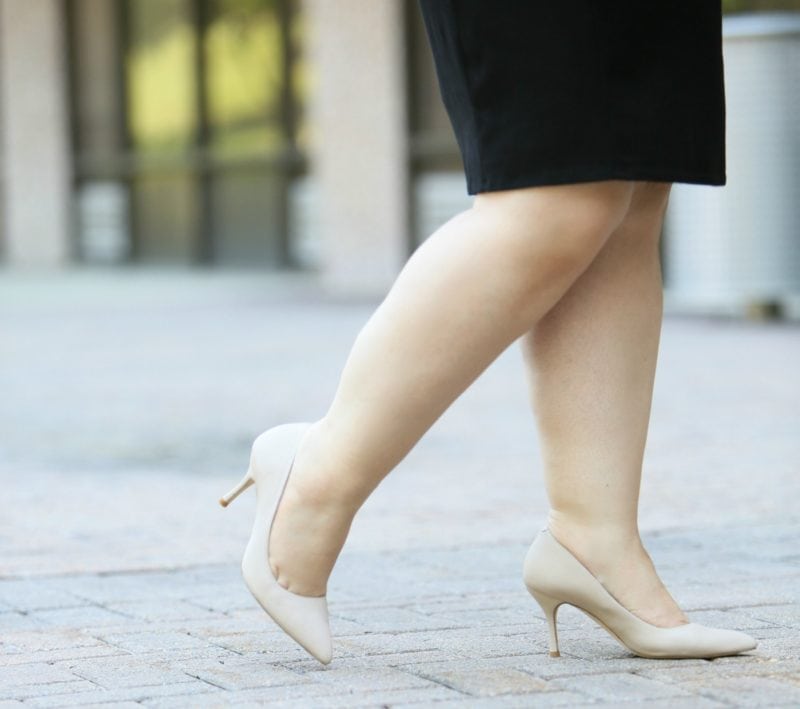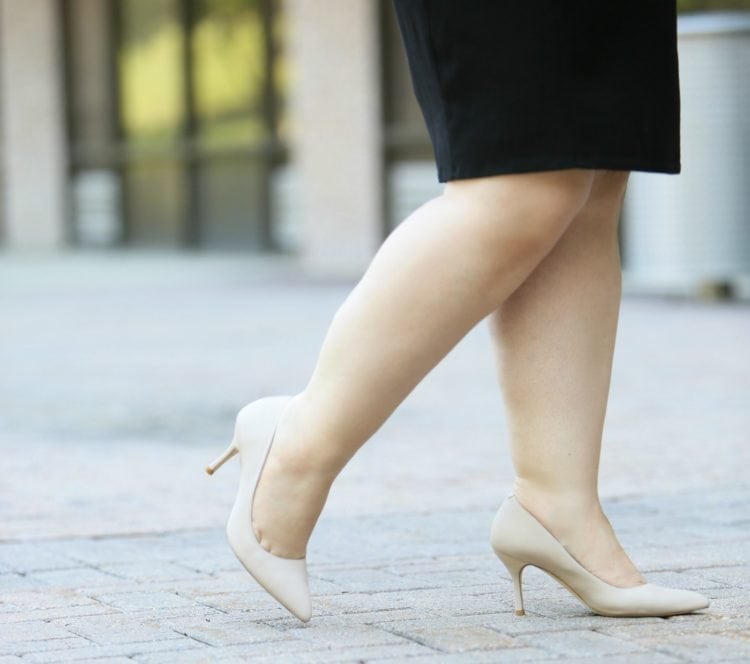 As with all reviews I feature on Wardrobe Oxygen, this product was tested by me beyond a photoshoot. I wore these shoes for several hours of standing, walking both on carpet and outside on concrete and asphalt, and then just sitting as my desk as many of us do in an office setting. If you have also tried ALLY Shoes I encourage you to share your thoughts in the comments!
For more information on ALLY Shoes please visit: