This article may contain affiliate links; if you click on a shopping link and make a purchase I may receive a commission. As an Amazon Associate, I earn from qualifying purchases.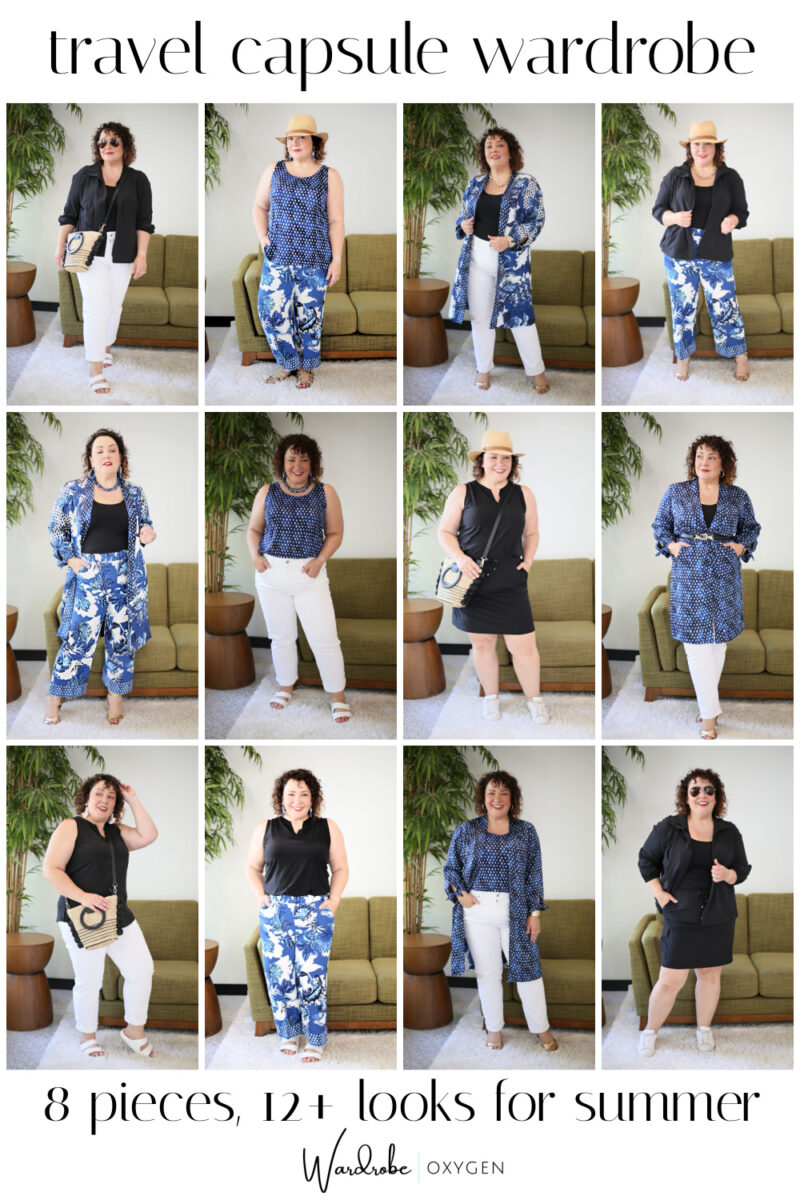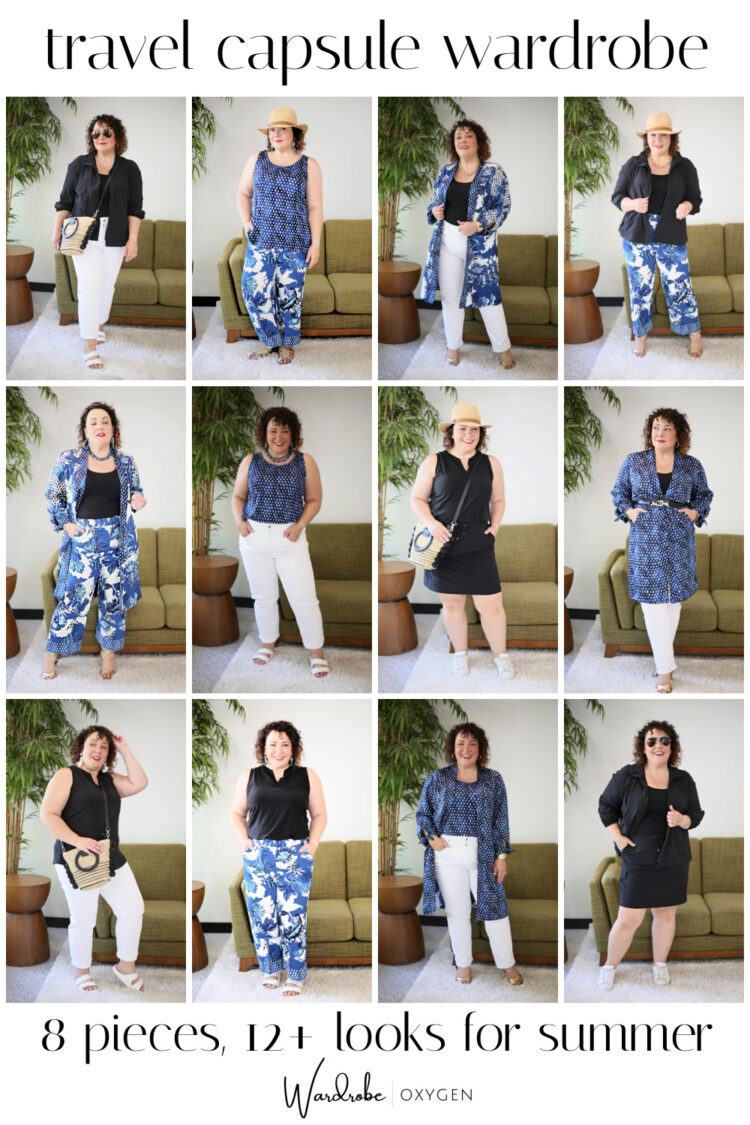 It's clear by now that I am a fan of creating capsule wardrobes. Wardrobe Oxygen for many years was known for its capsule wardrobes, but they tapered off in recent years. But in the past couple of years, I really see the value of shopping less, shopping carefully, and working with a capsule mindset to get more style with less in your closet. Checking out Chico's New Arrivals I envisioned a blue, black, and white capsule wardrobe for travel.
Since I am to style one look each month for Chico's as one of their ambassadors, I asked again (here is my previous Chico's capsule wardrobe) if I could receive some additional pieces to have my "look" be several looks from this capsule wardrobe. I mixed statement pieces with wardrobe staples you may already own to help inspire you to shop your closet before shopping online or at your local stores.
A Blue, Black, and White Capsule Wardrobe for Travel from Chico's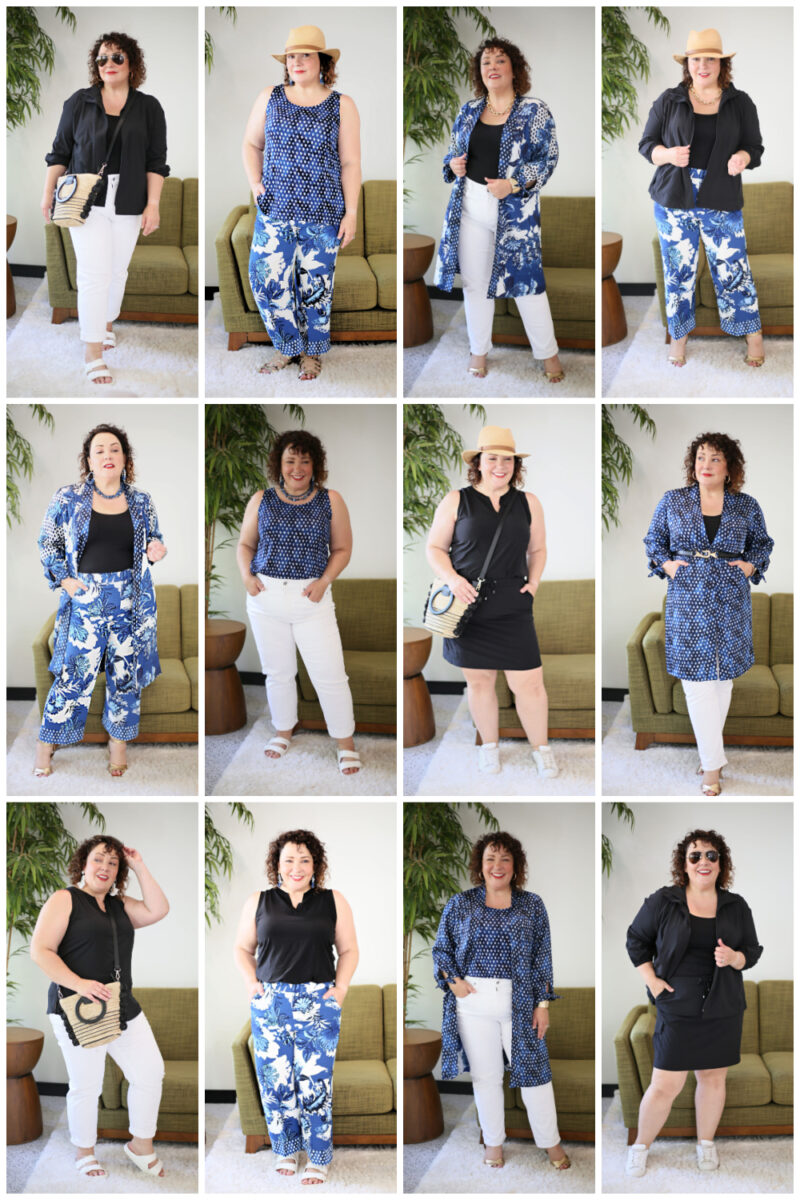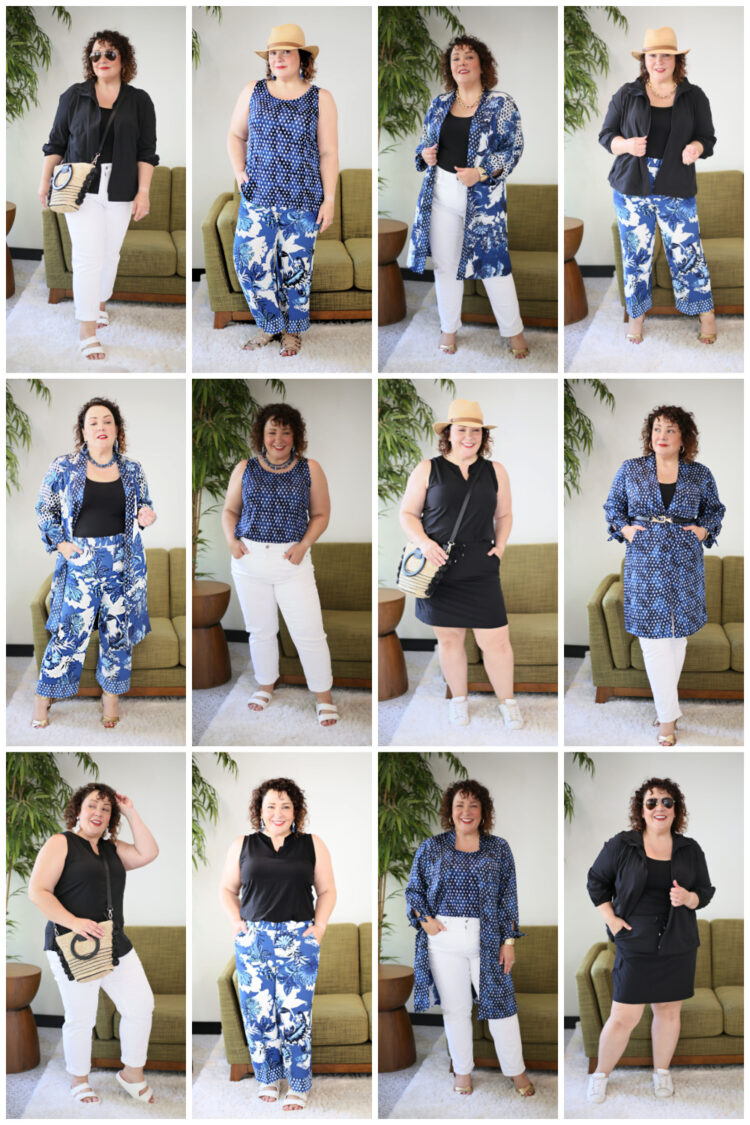 I feel this capsule is great for travel because the pieces can live a variety of lives without looking redundant, it's wrinkle-resistant, and many of the pieces are great for activities and fitness as well as streetwear, which is often the case for a day of vacation. And because I am a Chico's Ambassador I got all the pieces to wear and model for this travel capsule wardrobe!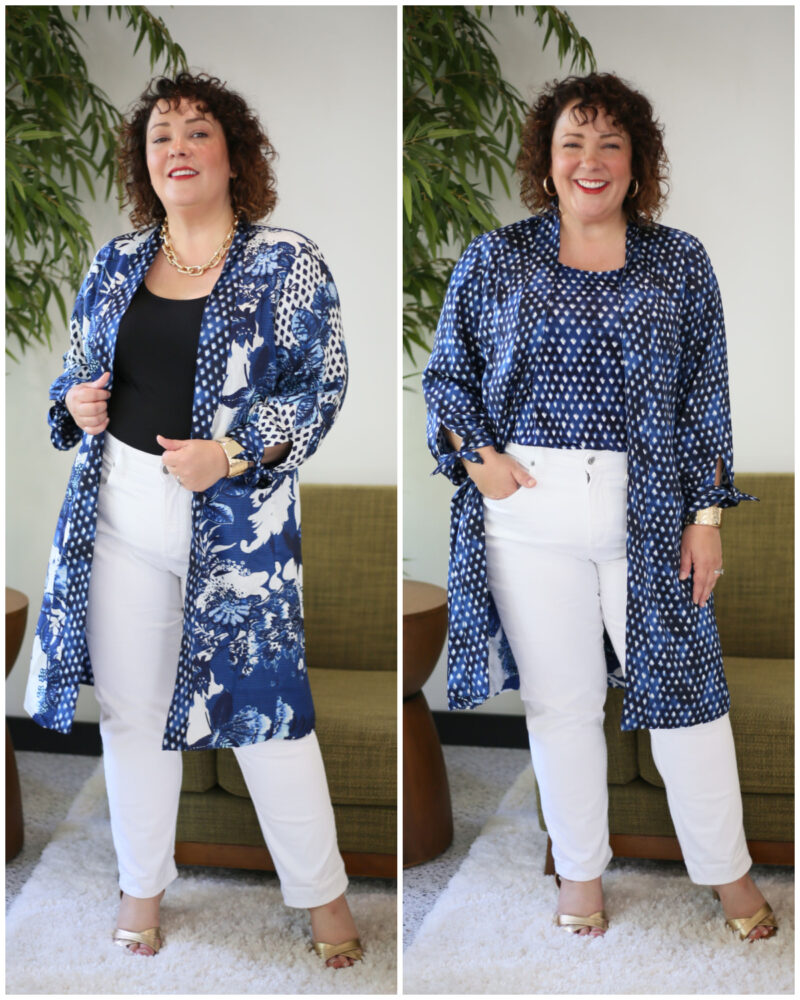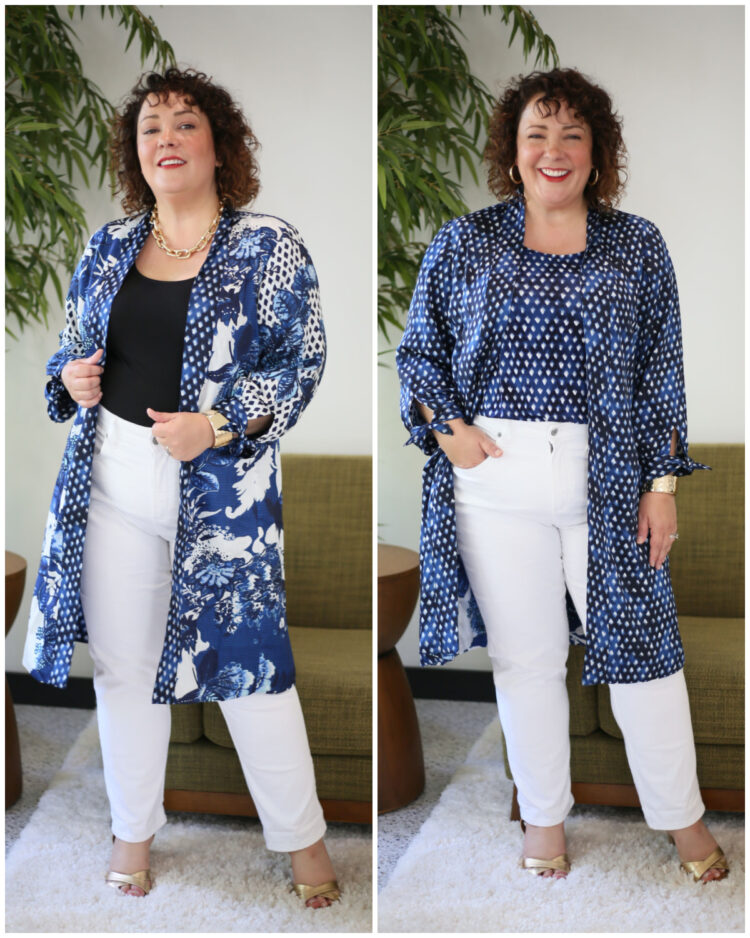 I was initially drawn to the Reversible Floral Daydream Duster and how it was two fantastic prints, reversible, a dressy fabric, and had pockets (and pockets on both sides!). This was a luxe piece that was also machine washable, and I saw so many possibilities with it. And then when I saw the Pull-On Wide Leg Printed Crops in the same print and fabric and then the Touch of Cool Dotted Tank that matched the smaller print of the duster and was ready to build a capsule wardrobe for travel based upon this blue and white print with pops of black.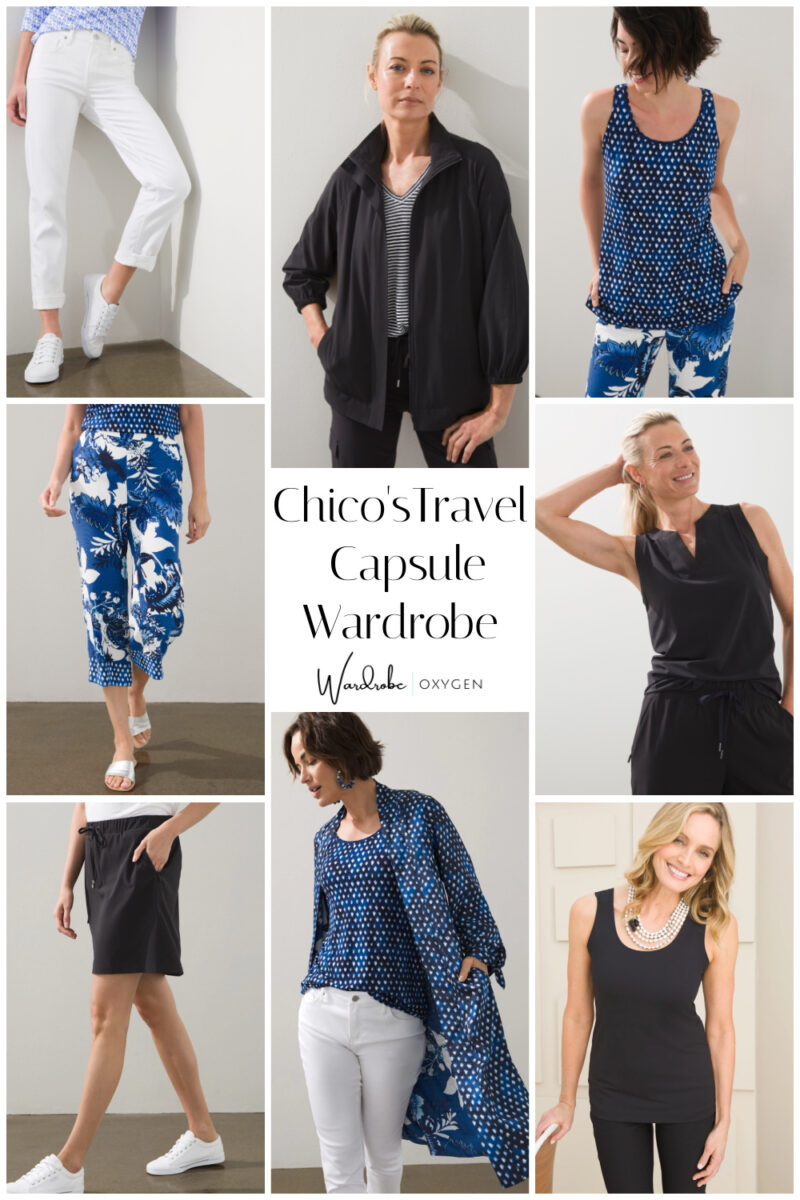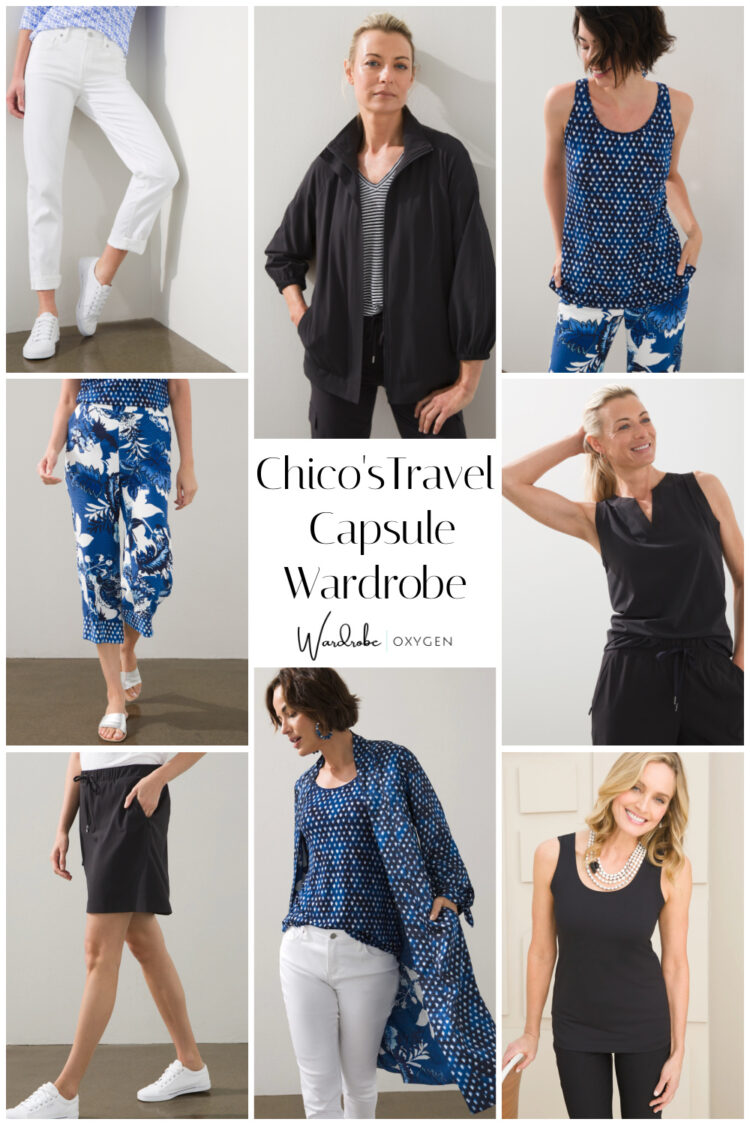 The Eight Pieces of Clothing in this Capsule Wardrobe for Travel:
white boyfriend jeans | black UPF 50 jacket | blue dotted tank | blue print wide leg cropped pants | black UPF 50 tank | black UPF 50 skort | blue print reversible duster jacket | black microfiber tank
I was generous with the accessories, since they are the true star of any capsule wardrobe. Besides the shoes, hat, and sunglasses, all of the accessories are from Chico's but unfortunately, some of them have sold out. However, Chico's carries some similar pieces as do other retailers and below I share worthy and wallet-friendly alternatives. You also may have similar concepts already in your jewelry box! Essentially, I used gold to dress up a look and the beaded blue pieces for a more artsy effect.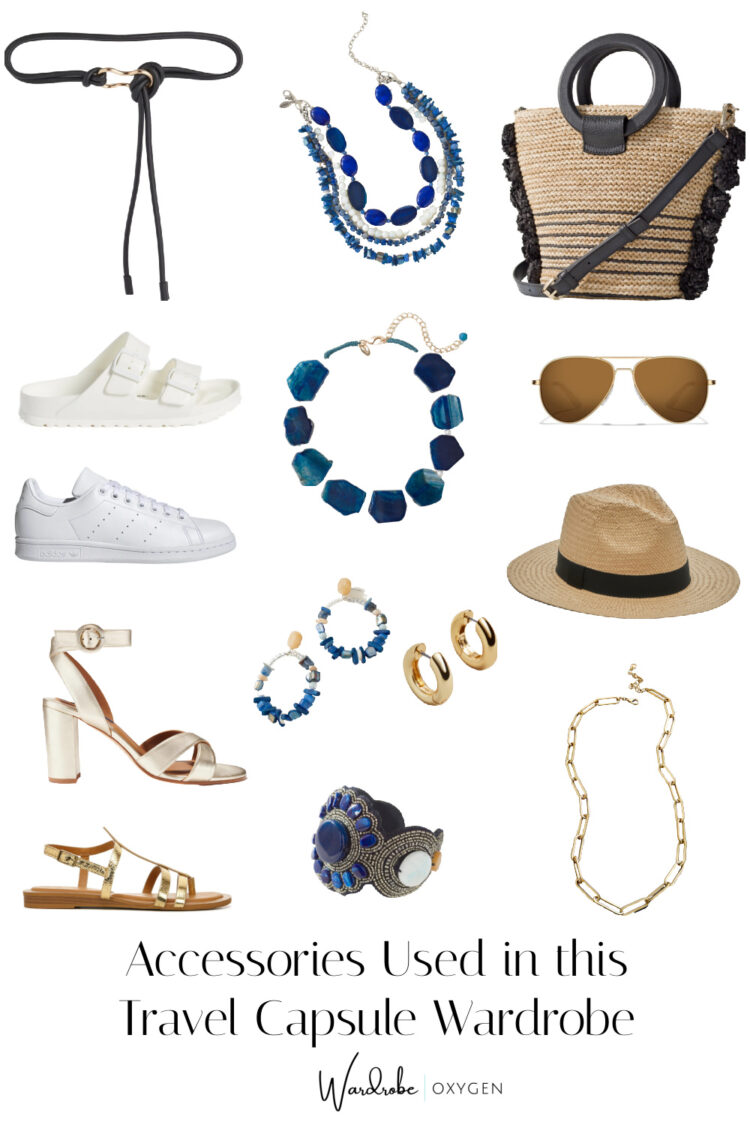 Shop Accessories for this Capsule Wardrobe for Travel:
black and gold belt | white water-resistant sandals | white sneakers | gold heeled sandals (come in widths) | gold flat sandals | multi-strand beaded necklace (you can remove strands to create multiple looks) | blue agate stone necklace | blue beaded earrings | gold hoops | blue stone cuff bracelet (adjustable fit) | straw and black bag | polarized aviator sunglasses | straw fedora (comes in sizes) | gold link necklace
Of course, your look can be adjusted and extended with accessories. Add a larger tote for shopping and the pool or beach (this one is a classic and also great as luggage; consider getting it personalized and with longer straps!). Consider a sun hat that is more secure and appropriate for fitness and water activities (this visor is a great choice). A belt bag is a great way to carry items hands-free. Sturdier sandals comfortable for walking are a smart choice (I love these and own two pairs and find them comfy even with my wide feet).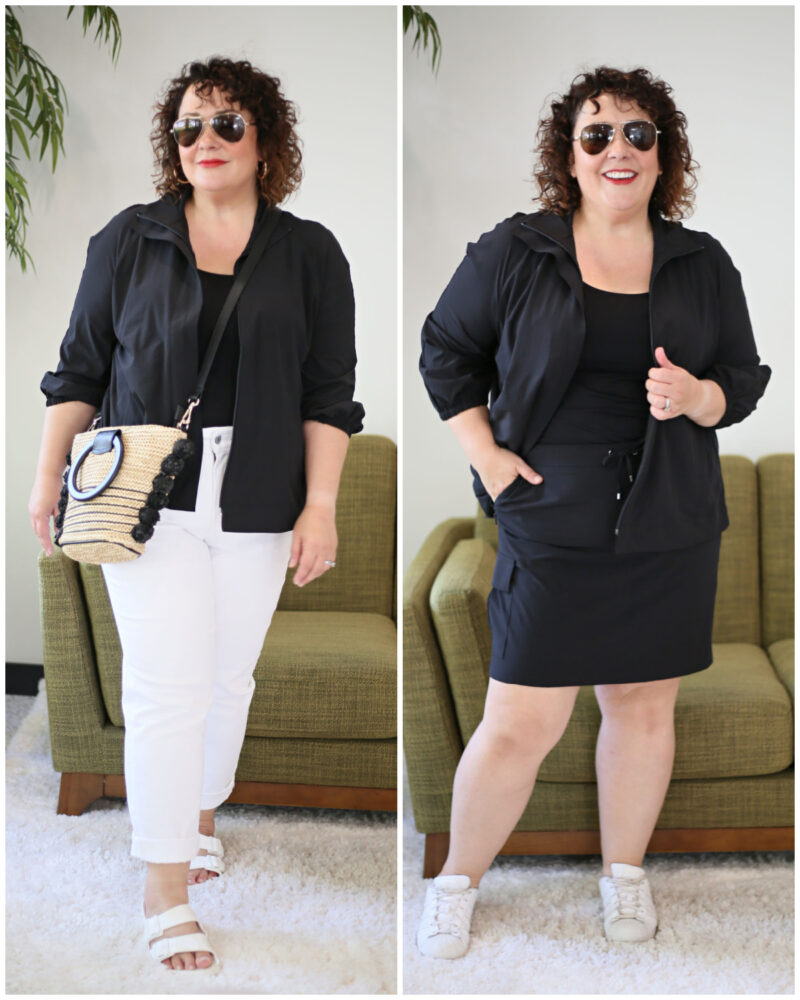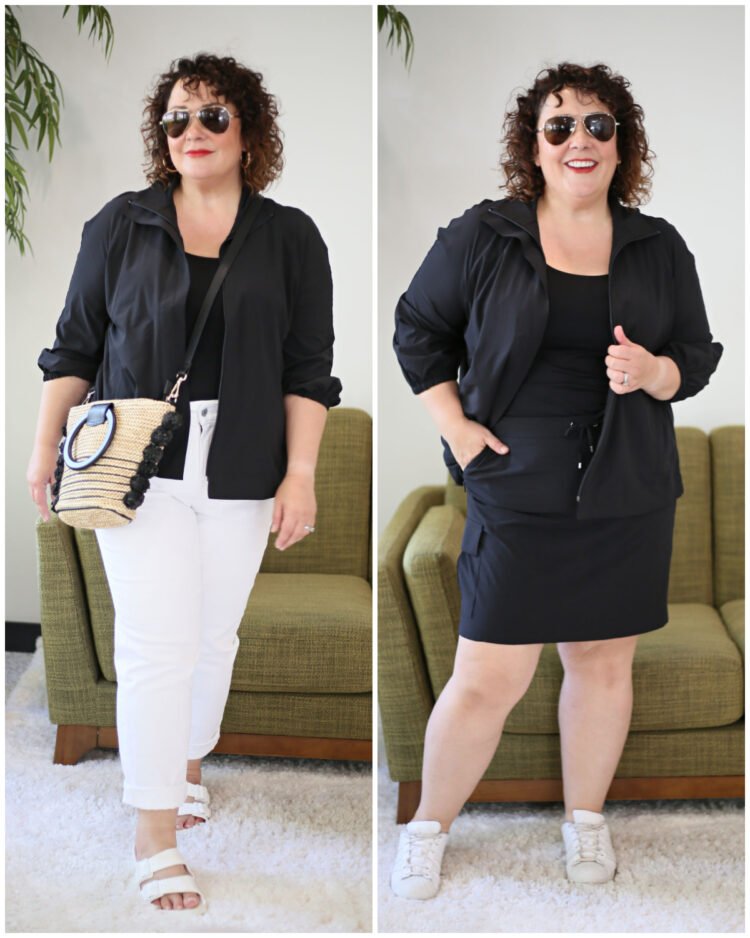 12 Looks from my Capsule Wardrobe for Travel from Chico's
For size reference, I am 5'3″ and wear a size 14 in most mall brands, a 16 in higher-end labels. With Chico's I am consistently a size 2 and everything you see here is a size 2 Regular except for the duster jacket, which is a 2 petite and the skort which is a 2.5.
If I could do it again, I would size down in the jeans and go up one size in the printed wide-leg crops. The jeans are very stretchy and I forgot that unlike other brands, you don't need to size up with white Chico's jeans. The wide-leg crops had a surprisingly straight fit and I didn't have enough room for comfort at my rear and thighs. The Zenergy jacket is a loose fit; if you would like a more tailored look you likely can size down and still find it quite comfortable.
To view these images larger, click any image and a carousel will appear. Use the arrows to scroll through, and then click the "X" in the upper right corner to close it and return to the original screen.
With eight pieces of clothing and a bunch of accessories, I created 12 different looks. I could have created more but if you can't tell from my hair transformation in these photos, the air conditioning in my building wasn't working well and I just had to quit! But a few other ideas:
Take the duster and pull to the front like you're going to tie it. Instead, take a hair elastic and cinch all the pieces together. It creates a floral-like detail that looks quite cool. I tried it myself but could not find my elastic at the time of shooting.
Consider this duster jacket as a swim coverup! The fabric won't collect sand, it's machine washable, and feels good against the skin.
Add a simple black dress to the collection. This one from Chico's Black Label Collection is perfect. Wear the duster jacket open or belted over it, belt the dress, style with heels or even with sneakers. It's supposedly dry clean only but bet it would work well washed on cold on the gentle cycle and line dried!
Add a pair of polished black shorts like these from Chico's which I think are a great length and a great fabric that can dress up or down with ease and travels well. The stretch and bounceback is so good with this fabric, you could wear them for more active excursions as well as glamming them up with the duster jacket and metallic sandals.
The pants in the same fabric as the shorts are another fave and would go well with this capsule wardrobe, especially if you desire more polished/dressier outfits.
Add a white shirt to the mix. Wear open over the black tank and jeans, tie at the waist with the printed pants, tuck into the jeans and add a colorful scarf as a belt, wear untucked over shorts. I'm a fan of Chico's no-iron linen; this tunic would be a good addition (if in doubt size up as it isn't as roomy in the bust and shoulders as the regular shirt).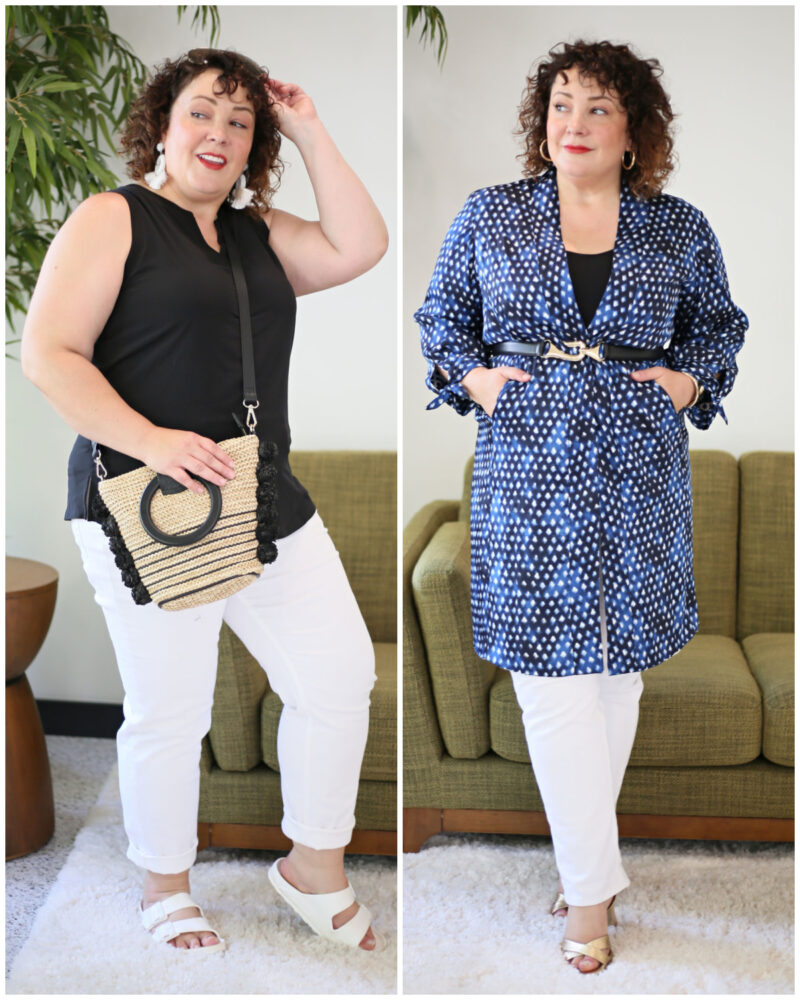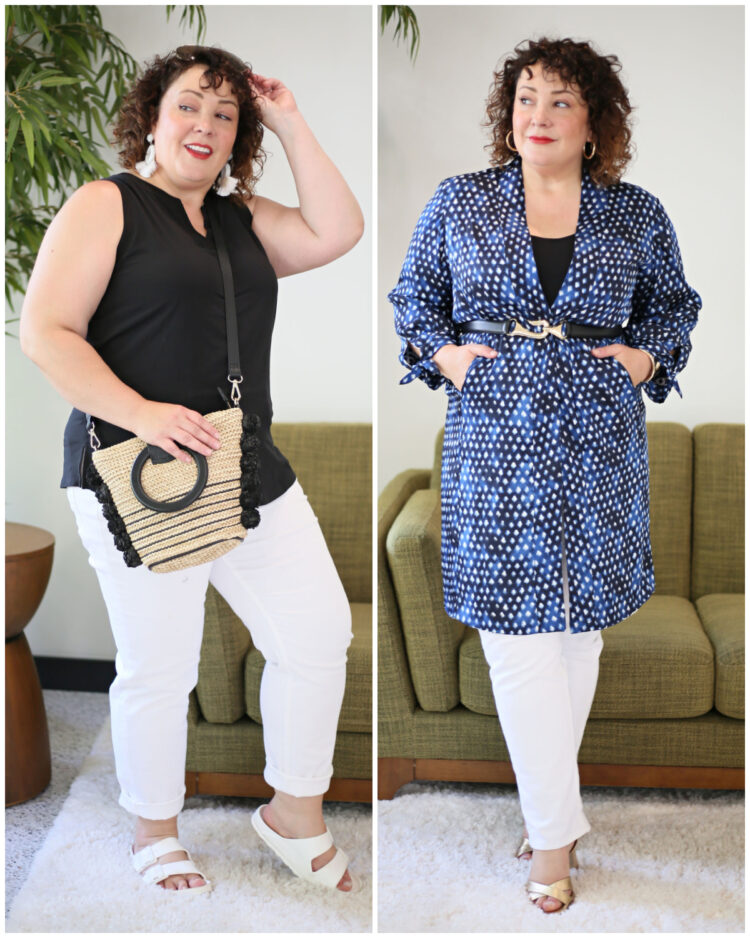 I love making these capsule wardrobes because they force me to think out of the box and create more style with fewer garments. No need to turn a shirt into a skirt for versatility, a switch of accessories and a modification of styling can go a long way to change up your look.
This capsule is a great example of adding just one or two statement pieces of clothing and/or accessories to wardrobe staples can go a long way. Classic pieces like white jeans and black tanks get a new life with such additions. Y'all know I love Chico's for such pieces, but such pieces can be found at thrift stores and consignment shops, your local street festival, purchased when on travel, maybe inherited from a relative, or maybe you're a sewist or a crafter and can create something similar.
These days, modern fashion means breaking those old dusty style rules. And a big one to break is the archaic idea of not wearing the same look twice. It's not repeating, it's creating a signature style which is oh so chic. Shop slow, shop with thought, consider your life and body and needs now not in the future, and always envision how an item can be styled three ways before adding it to your closet!
Shop the Post: