This article may contain affiliate links; if you click on a shopping link and make a purchase I may receive a commission. As an Amazon Associate, I earn from qualifying purchases.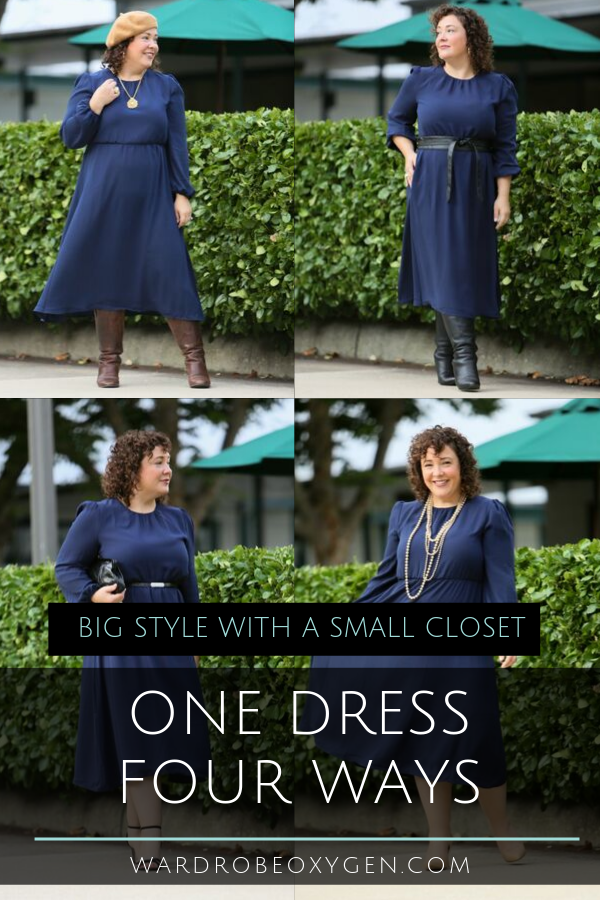 As I mentioned in a recent blog post, I am going to try once a month to review a classic wardrobe piece that is under $100, preferably under $50. The item needs to be available in a good range of sizes and be versatile – something that is quality that will survive and a style that can work in multiple situations with a quick switch of accessories. For this month I ordered the Halogen Long Sleeve Midi Dress – this is the link for the dress in regular and plus sizes; this link has more prints in regular and petite sizes. While I'm not in love with this dress (see below) I feel it does have the elements of a wardrobe workhorse and decided to use it as an example of how to switch up a dress for multiple situations. Below I style one dress four ways for fall:
This is the Halogen Long Sleeve Midi Dress in the color Navy Peacoat. I ordered it in a Large Petite. The dress is 100% polyester with a crepe/chiffon feel of fabric with a lining in the bodice and skirt. There is a zipper in back with a hook and eye closure at top. The waistband is elasticized, there are no pockets. For reference, I am 5'3″ and usually wear a 14 petite in dresses.
This is the kind of fabric that steams out wrinkles beautifully, but if you sit for a long period of time it will crease up again. The elastic on the wrists is loose enough that you can push up the sleeves without losing circulation. I needed help getting the zipper up; a Zipper Genie may work but it may be hard to connect as it is a small zipper. There are no pockets, and I really missed that feature. I find the length a bit awkward, a length I would expect with a regular not a petite dress. The only thing that felt petite was the waist, which is a bit too high for my tastes. The dress in regular and plus sizes comes in black, navy, a black and white print, and a navy-based graphic print. In regular and petite sizes, the dress comes in the same four options, plus a navy and burgundy print and an orchid color called Purple Dewberry. I would like this dress better if I were taller, and I think if I had chosen one of the prints.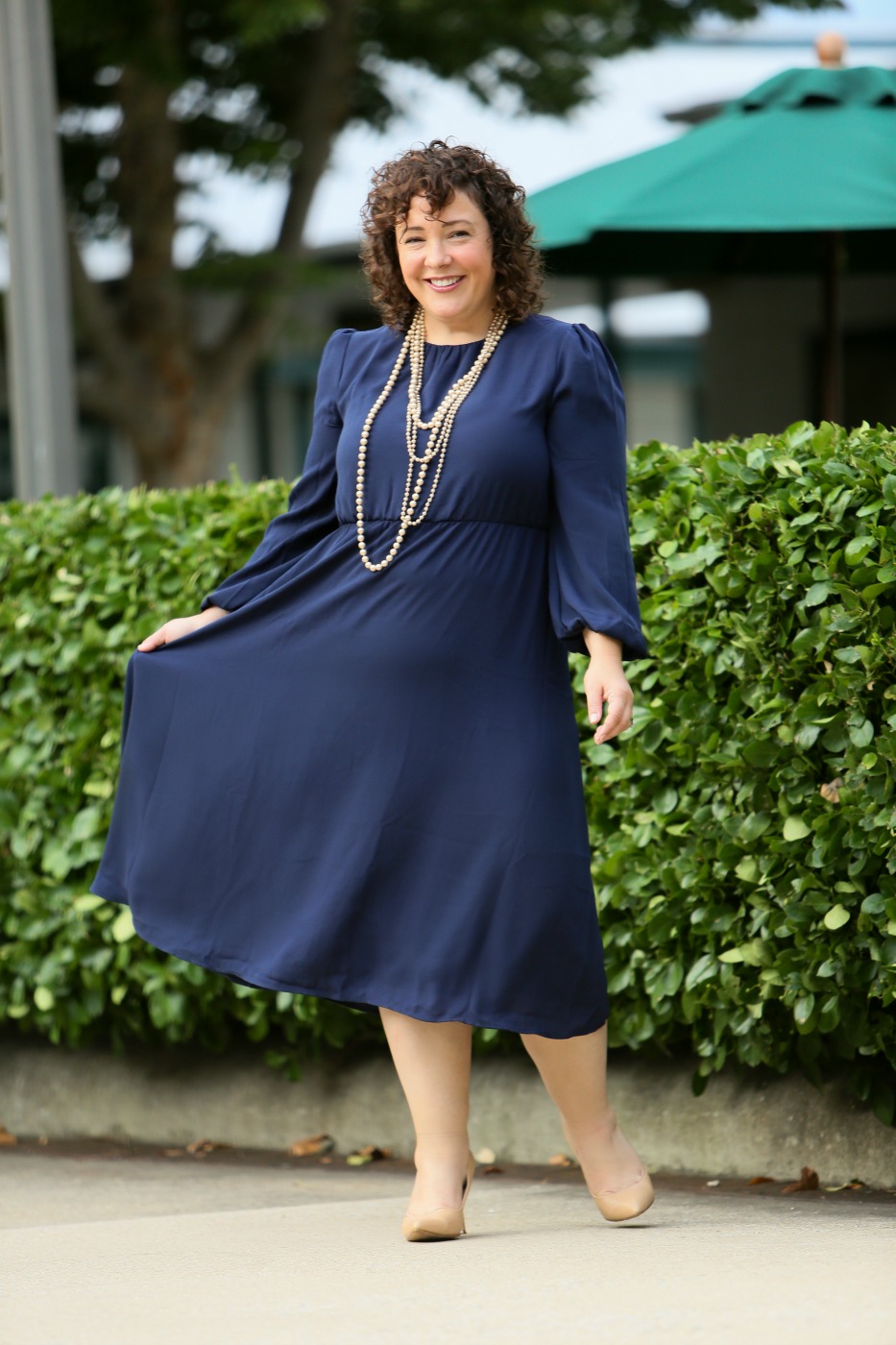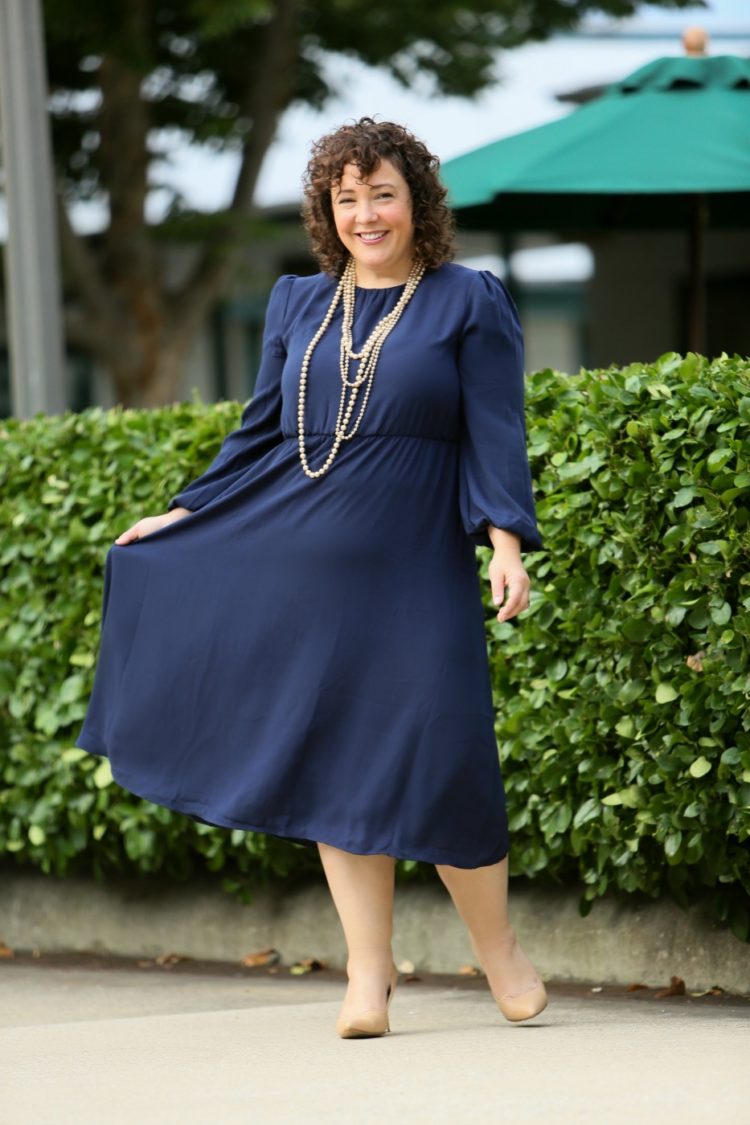 For this look, I embraced the return of pearls as a trend this fall and winter. I've had these two strands for eons, they are from Nordstrom's house brand, but they don't have anything similar this season. However, I found this strand and this strand at Macy's which will achieve the same effect for a lower price. I added nude-to-me pumps (these from Nine West, I have the Light Natural) to keep the look feeling light and bright. This would be good for a day wedding, for attending a house of worship, or even to the office.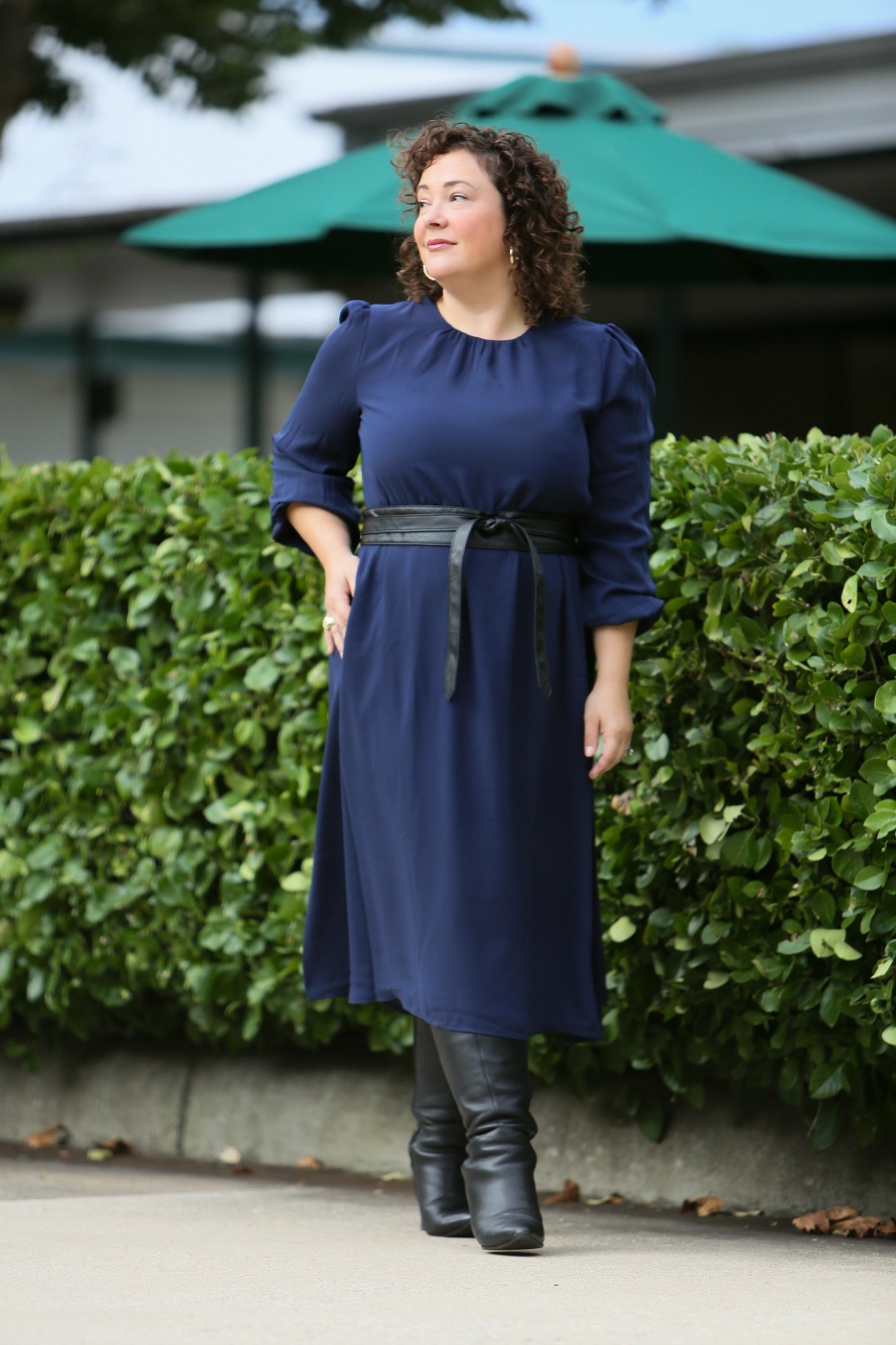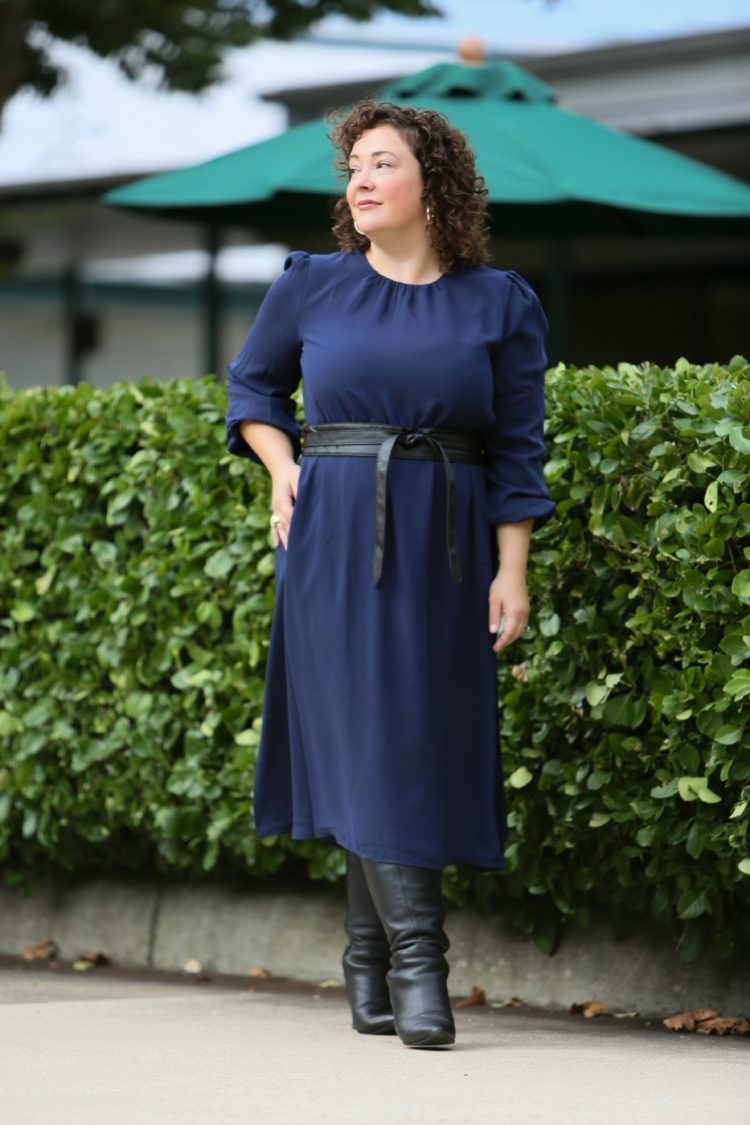 The exposed elasticized waist I felt was begging to be covered with a belt. I love obi belts (I wore my tan one recently in this post) and I love mixing navy with black, so this time used my black one (it's old; this is similar and is available up to 5XL). With the temps dropping, there's no better way to winterize a dress than with tall boots. These boots are over a decade old and no longer available; these are a similar silhouette at a great price. Add a pair of hoops for some shine (these are the ones I'm wearing) and this look is great for work, for brunch, or date night.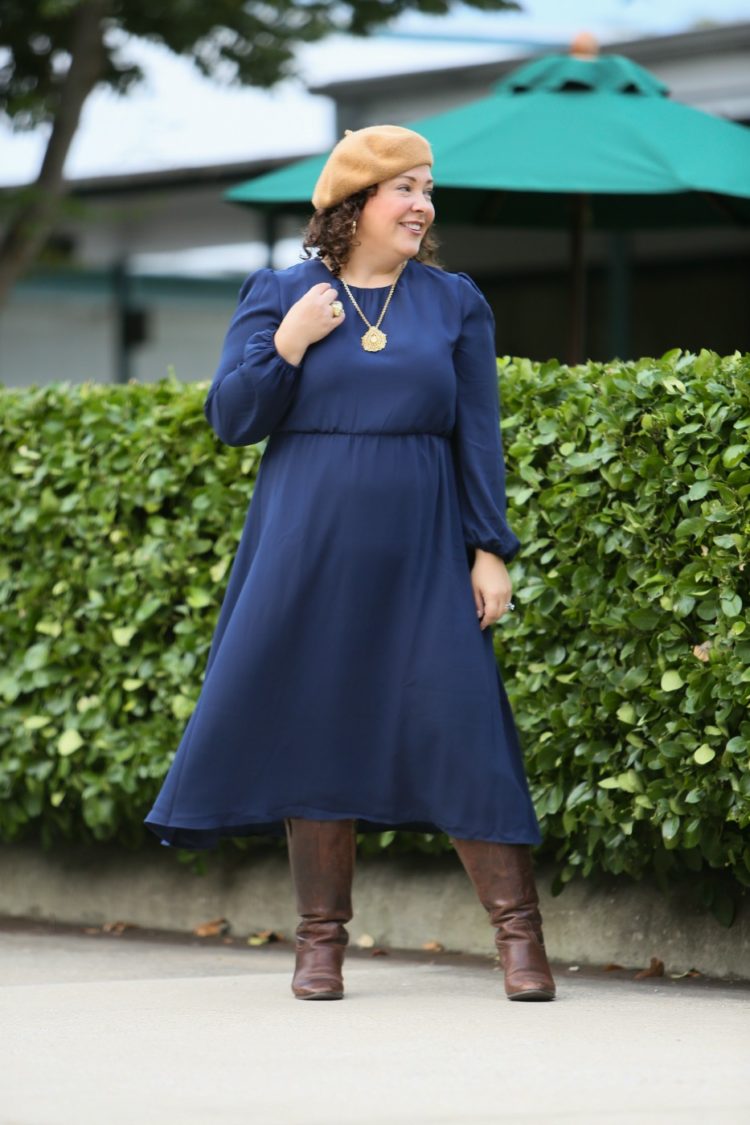 Navy also looks great with brown, so I decided to try the dress with my tall brown boots (old; these are similar in coloring and silhouette). To give it more of a retro feel, I added a vintage pendant necklace (this one is from Sweet & Spark; I think I found the same exact one on Etsy). For warmth, style, and to hide a bad hair day I love a beret. I've had this camel-colored one for a couple of years; this one is similar. This is a more casual version – meeting a friend for lunch, going shopping, visiting relatives.
Shop Vintage Pendant Necklaces Similar to Mine: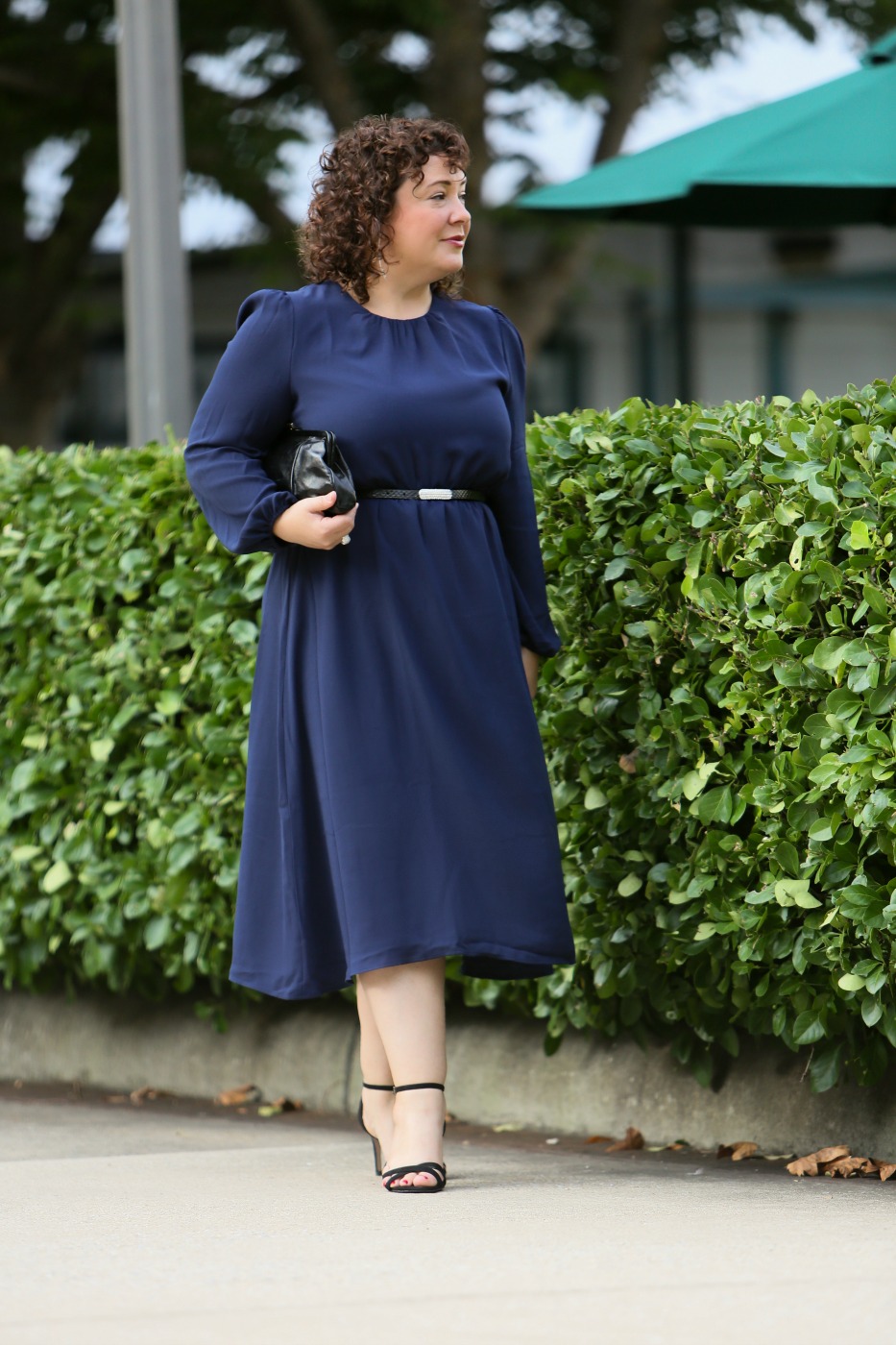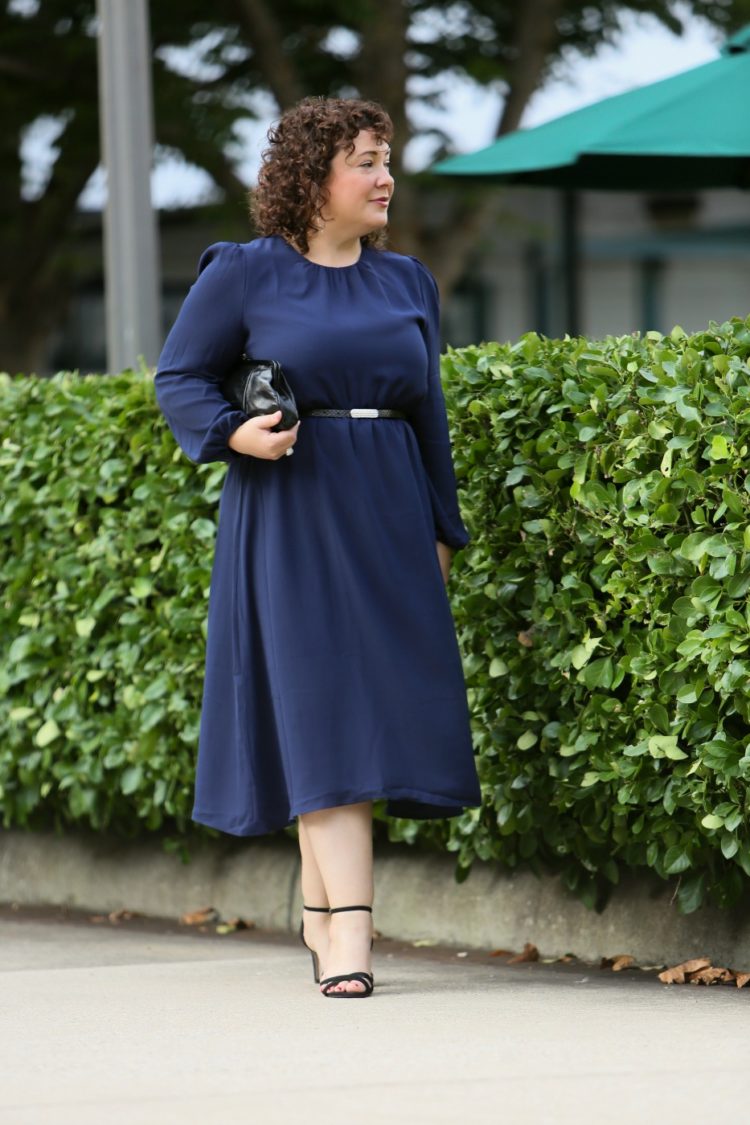 And this look, I glammed up the dress for a more formal occasion – it could be a wedding during the day or even in the evening. Switching to an open shoe (these are similar) and sparkly jewelry makes it feel more formal. I chose these earrings which I wore in this post with this ring. Switching from a handbag to a clutch also offers formality; this bag is very old but this one is similar. The belt is over 20 years old; I got it when I worked at Express after college. I couldn't find a similar one, but I do believe in the power of a dressy belt like this so I have shared a few I found online below:
Shop Dressy Belts:

Shop the Items Featured in this Post:

I hope this post gets your creative juices flowing, seeing how you can have big style with a small closet, and how you can get several different looks from one garment. The details that make this dress so versatile:
The color. We often gravitate towards black finding it so versatile, but a dark non-black color can actually be a better choice. Navy, plum, teal, pine green, berry… darker jewel tones will work for day and night, festive and sober situations, and work well with brown, black, and other colors of footwear and accessories. Also consider colors like mustard, pumpkin, jade, dusty blue, and other muted brights.
The fabric. Even though it's polyester, the crepe-like finish and bit of transparency makes it feel dressy… but not too dressy for the office. Chiffon overlay, matte jersey, crepe, silk… these are fabrics that will give a similar effect and can be found at a variety of price points. Sometimes with fit and flare styles, a ponte or scuba knit will work.
The silhouette. Super simple. A waist that can work with or without a belt, and belts in a variety of widths. A neckline that isn't too interesting so it can handle anything from a choker to a long strand of pearls, a scarf tied at the throat, or a wrap thrown around the shoulders. A length from the middle of the kneecap to middle of the calf muscle can dress up and down nicely and works with a variety of shoes. Shifts, sheaths, fit and flare styles… they are also versatile silhouettes. This dress could have a slightly fuller skirt, different or no sleeves, have a couple of inches taken off and it would still work.
Below I have a carousel of dresses that I found online that look as though they may be as versatile as this navy one from Halogen. However, with such dresses, it's important to try it on and see if it works for your unique body and life. This one online looked great but isn't the waist height I prefer so it's not even worth it to hem it to a shorter length. I also prefer pockets. But this exercise has forced me hold off on buying for emotional reasons. It's easy to justify a new dress for a funeral, a wedding, a high school reunion but often we already own the perfect thing in our closet. By spending the money on tailoring and accessories, you not only reduce spending but you extend your style for future outfits as well.
Shop Versatile Dresses: