I was a pretty creative teen when it came to fashion and style. I wore sweaters as skirts, sewed some of my own clothes, embellished and drew on my denim, even pulled down one of my bedroom curtains to fashion it into a cummerbund for a school dance. I'm eternally grateful that my parents gave me the freedom to express myself sartorially; while it made for some awkward social moments at the mall (strangers can be so cruel) it helped me be strong, believe in myself, and take risks.
I'm always thrilled to come across a blog of a younger woman or teen who has a bold and clearly defined personal style. I know it's not easy at that age to buck the norm, and I understand the passion and creativity and drive that goes behind such outfits. Some young bloggers you can see are still feeling things out and finding their way, and others you can clearly understand their message and can be in awe by their voice and maturity. When I came across Zoe Schlacter's blog, Girl With The Flower, she stopped me in my tracks with her incredibly creative, unique, and inspiring personal style. I subscribed, I became a huge fan, and asked her to be part of my True Fashionista series.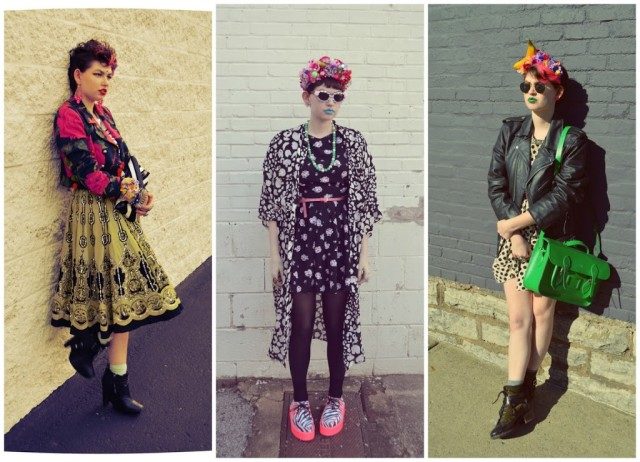 Zoe has always been a fan of fashion, in fact her second post on her blog, Girl With the Flower is from December 2009 when she met Tim Gunn. It's fun to scroll through her archives and see her personal style progression. Doing so you see that Zoe has always been a step ahead of the rest – her outfits in 2009 and 2010 look very much like what many personal style bloggers are wearing today, and I can bet that her current ensembles will be imitated in a couple years.
"In middle school, I went through an awkward insecure phase, like most middle-schoolers do. I wasn't quite as daring then; it's been a gradual progression up until now. I'm becoming more courageous with what I wear, and I'm more confident in myself." (source)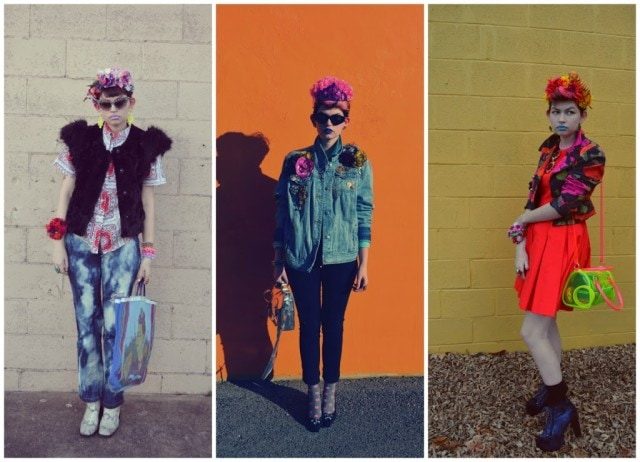 Zoe doesn't just put together creative outfits, but she is also an artist. She shares many of her photography concepts (like those googly eye images in her header), film projects, textiles she has designed, and handcrafted headpieces on her blog, and even has an Etsy store where she sells her unique headbands and other wearable art. She has been featured in Teen Vogue, Nashville Scene, the front page of Chictopia, and Metromix and I can bet that's just the beginning of this fashionista's deserved press.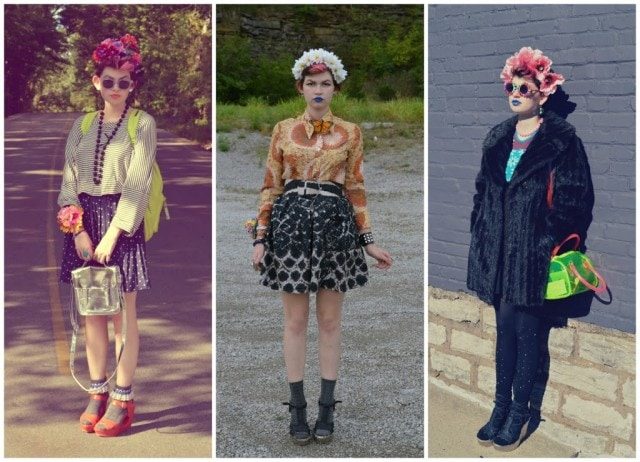 I look forward to Zoe's continued pushing of sartorial boundaries, and her inspiring mix of art and fashion. I was honored to have Zoe be a part of my True Fashionista series and asked her the same five questions I ask of each participant; her answers:
How would you describe your personal style? 
I cant really classify my style into one genre, but I like things that are colorful and patterned and shiny. I really love everything floral; I'm a big fan of flowers.
Where did you get your passion for fashion? 
I've always been really interested in visual art. My parents are creative people, and they've always been really supportive of my creative endeavors. I started getting into fashion when I was about ten or so, and I've gradually become more and more courageous in my fashion choices over the years. I got into fashion for the wrong reasons; when I first became conscious of my appearance, it was to fit in… to be like everyone else… to be beautiful to others. My passion for fashion has evolved into something more meaningful. Now, I dress for myself, and I wear things that make me happy. Additionally, my interests in visual art and fashion have coincided in recent years, and treat fashion like another form of art.
Where do you find sartorial inspiration? 
Recently, I've been interested in Japanese street style… everything "kawaii." And I've been inspired by Frida Kahlo for a long time now. I admire her art, and I admire her ability to stand up for her unusual viewpoints.
What is the difference between fashion and style? 
Fashion is on runways; style is what's in your closet.
Any advice for a woman who is starting to find her personal style? 
Don't be afraid to try new things, and don't be afraid to go with your gut instinct when making clothing decisions. If you want to develop a personal style truly your own, you need to stop caring what others think of you. You have to do it for yourself- not for other people.
***
The purpose of the Friday True Fashionista series is to show women who use clothing to express their personal style. Each woman has a different, unique look and opinion on clothing and fashion. These women inspire me in my clothing choices, and possibly their bold sartorial statements will inspire you. Stay tuned, there will be a featured True Fashionista every Friday. And if you know of a True Fashionista in your life, tell us about her in the comments… you never know she may end up being featured!