This article may contain affiliate links; if you click on a shopping link and make a purchase I may receive a commission. As an Amazon Associate, I earn from qualifying purchases.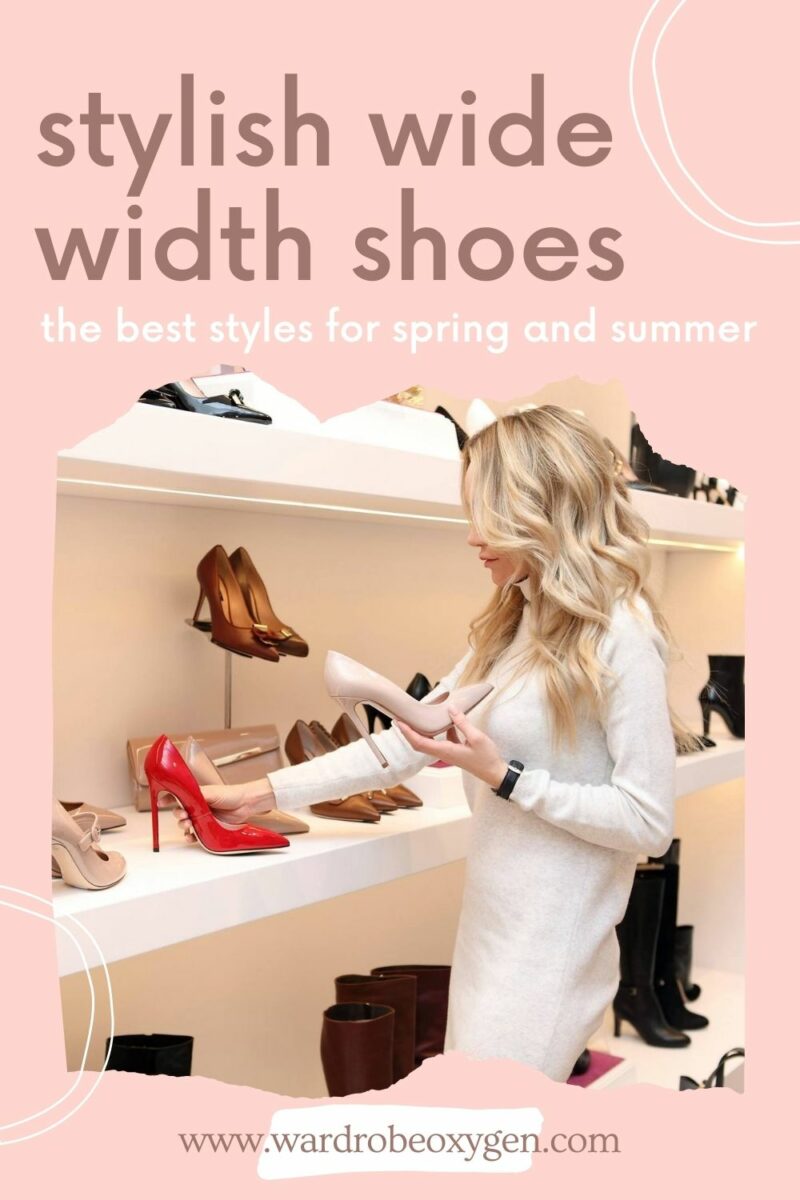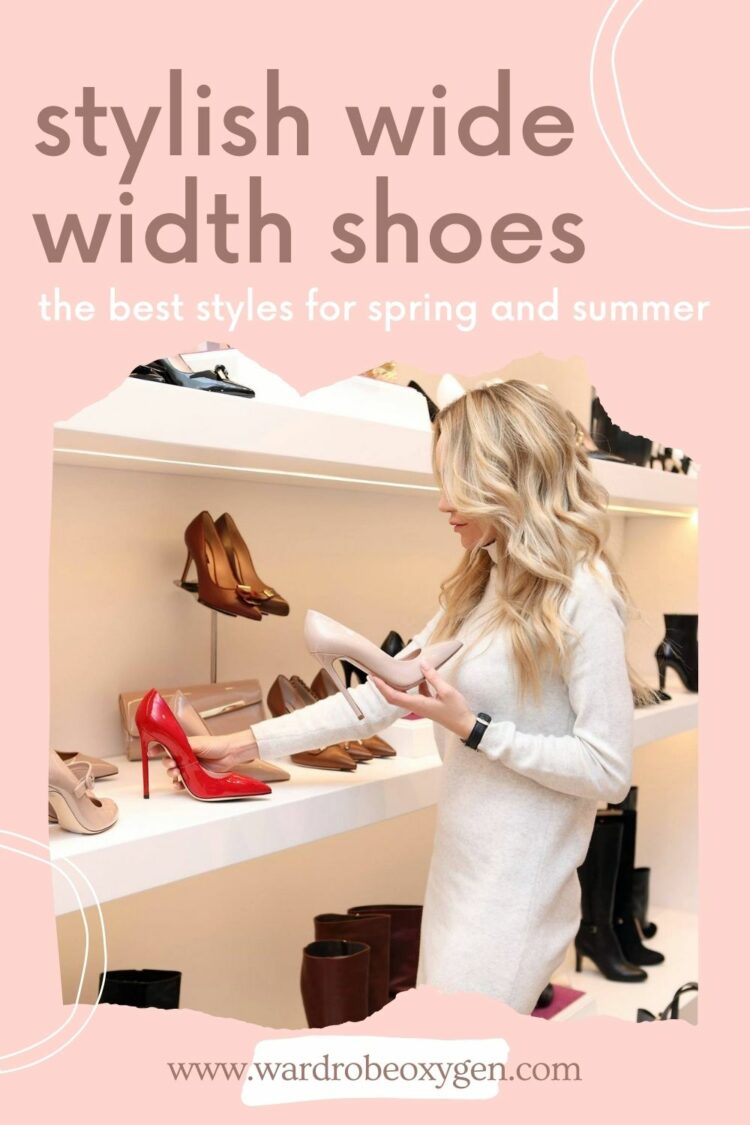 The world is slowly and cautiously opening up… is your shoe wardrobe ready? Many of us have spent the better part of the past year barefoot, in slippers, and comfy slip-on shoes. As you prepare to return to the office or your favorite coffee shop or brunch spot, you may find the shoes you used to wear for such situations no longer fit. Feet spread when not used to be restrained by shoes; you may find your foot will be happier in stylish wide width shoes this season.
As someone who had wide feet before the 'demic, I'm quite familiar with seeking out stylish wide width shoes. It's not easy, but it's possible, and it seems a lot more footwear retailers are getting on board and offering a variety of widths.
Where to Shop for Stylish Wide Width Shoes
The first two places I got to look for stylish wide width shoes is Nordstrom, and Zappos. I hit Nordstrom first, because they have a more curated selection and a better filtering system. I will just pick shoes, then choose width and size, and then after that any other specifics (heel height, color, style, etc.).
Zappos at first appears to have a more extensive selection, but they will feature each color of shoe as a separate item. They also make it harder to filter down by styles and only show styles on the first couple of pages in black. But after perusing Nordstrom, I have a better feel for these shoes as both retailers often have the same brands and styles, just photographed differently. Zappos' photos aren't as good, but they usually have a better selection of color and often have a better price than Nordstrom.
Macy's is also a great multi-brand site where you can find stylish wide-width shoes. Macy's often has exclusive styles and colors with popular footwear brands like Naturalizer. Macy's also has in-house shoe brands that come in wide widths; I've had a lot of luck with their INC International Concepts brand for wide width shoes. Their Style&Co brand also has some wide-width winners.
While Macy's doesn't carry as extensive a selection as Nordstrom or Zappos, I can often find one or two colors in a style I like from a popular brand there, and it's often on sale. Macy's also has the "True Colors" selection from Naturalizer, which offers simple "nude" style shoes in a variety of skintones.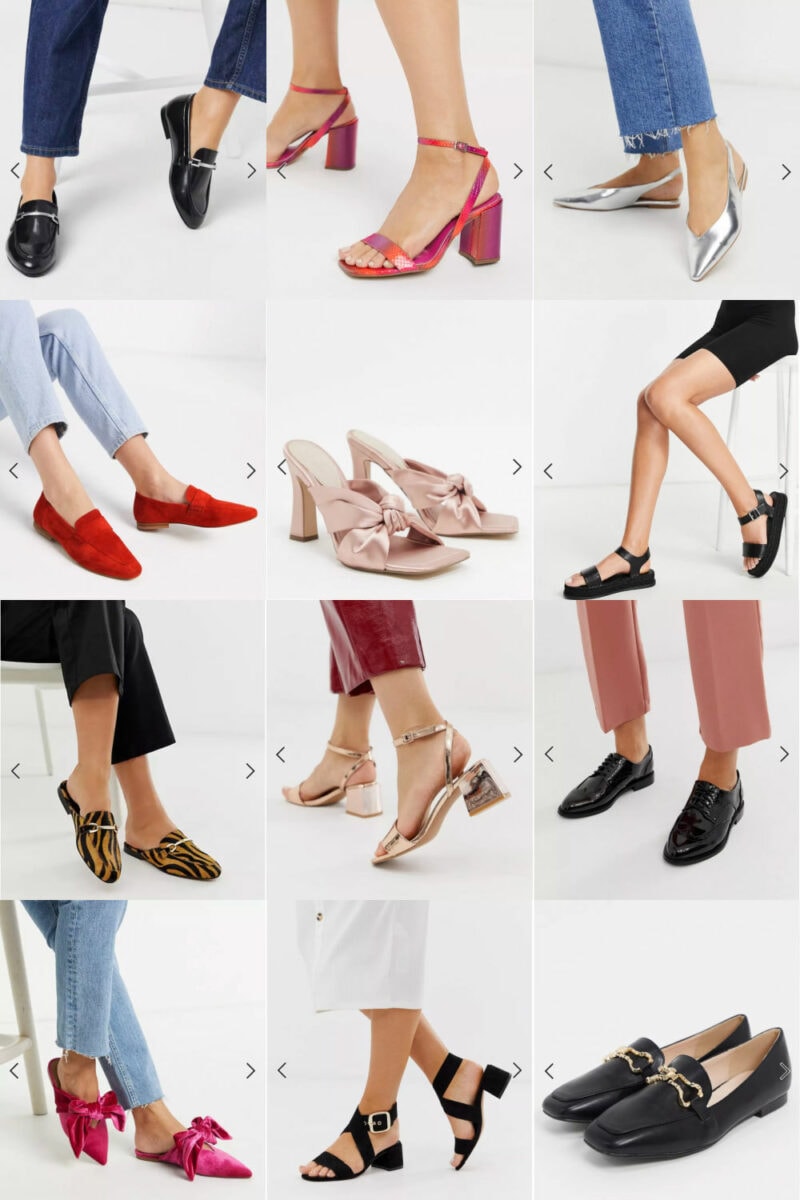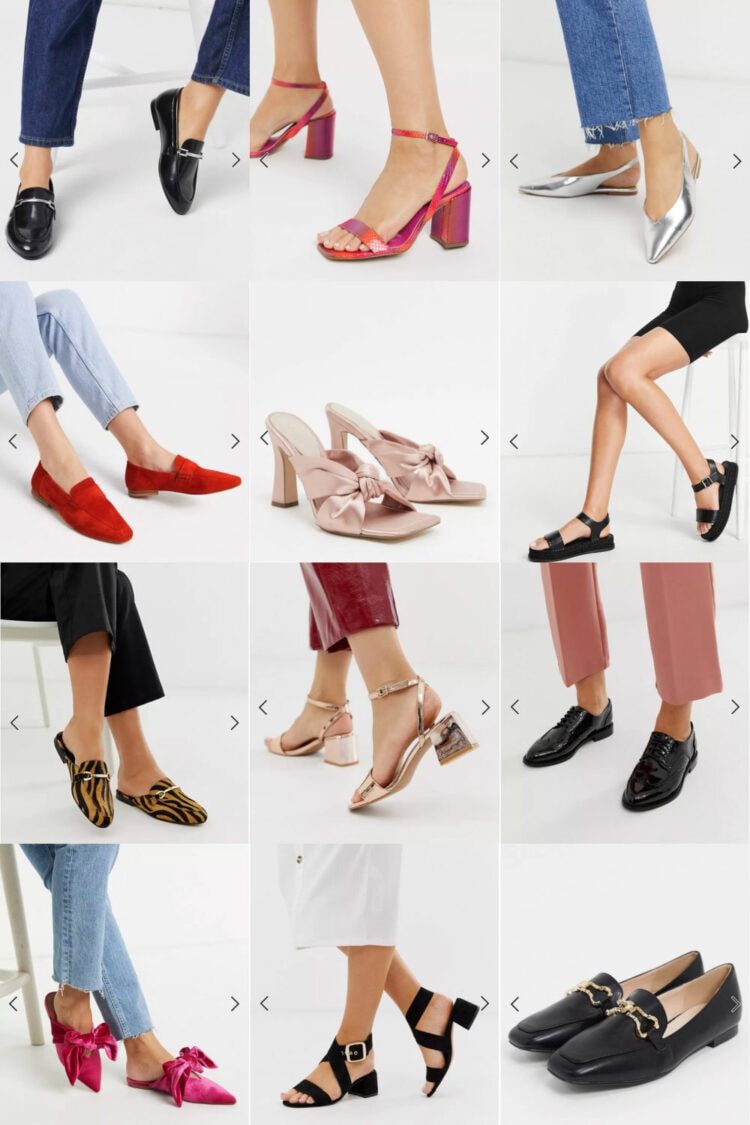 Shop ASOS Wide-Width Shoes:

The next places I head to for stylish wide width shoes are individual shoe retailers that I know carry widths. My favorites are: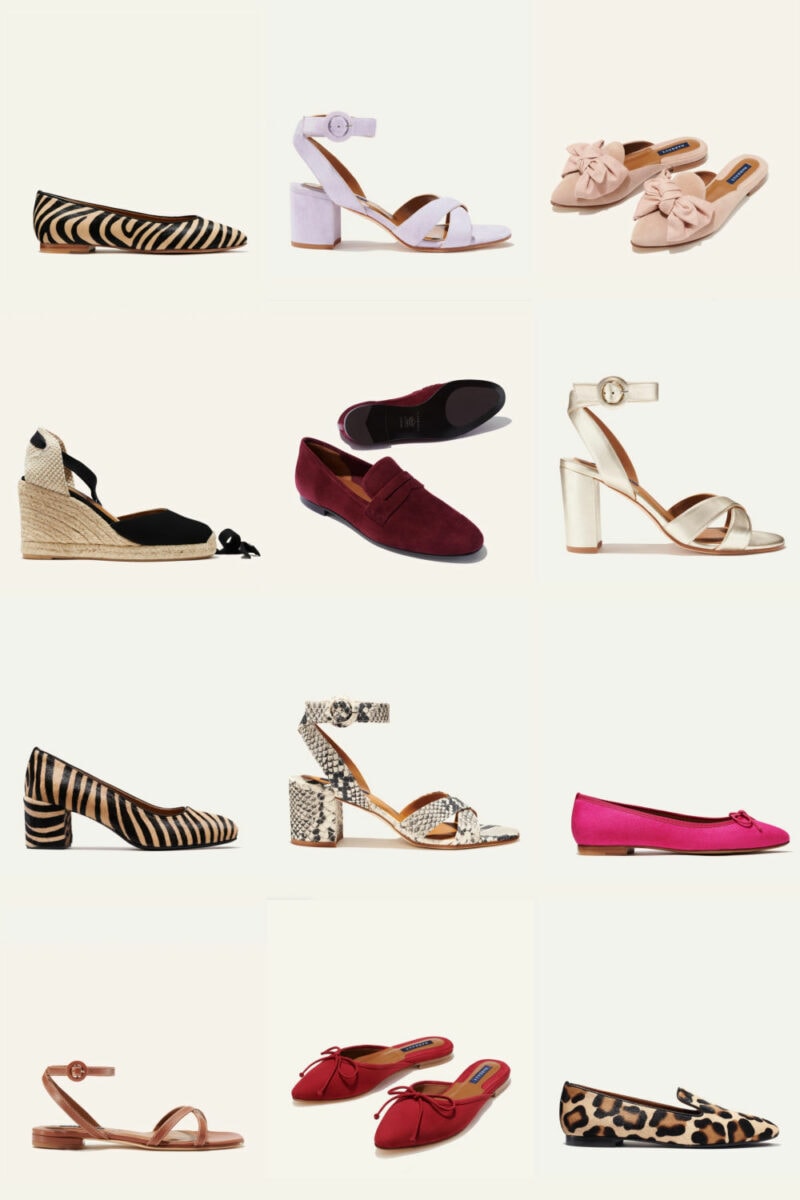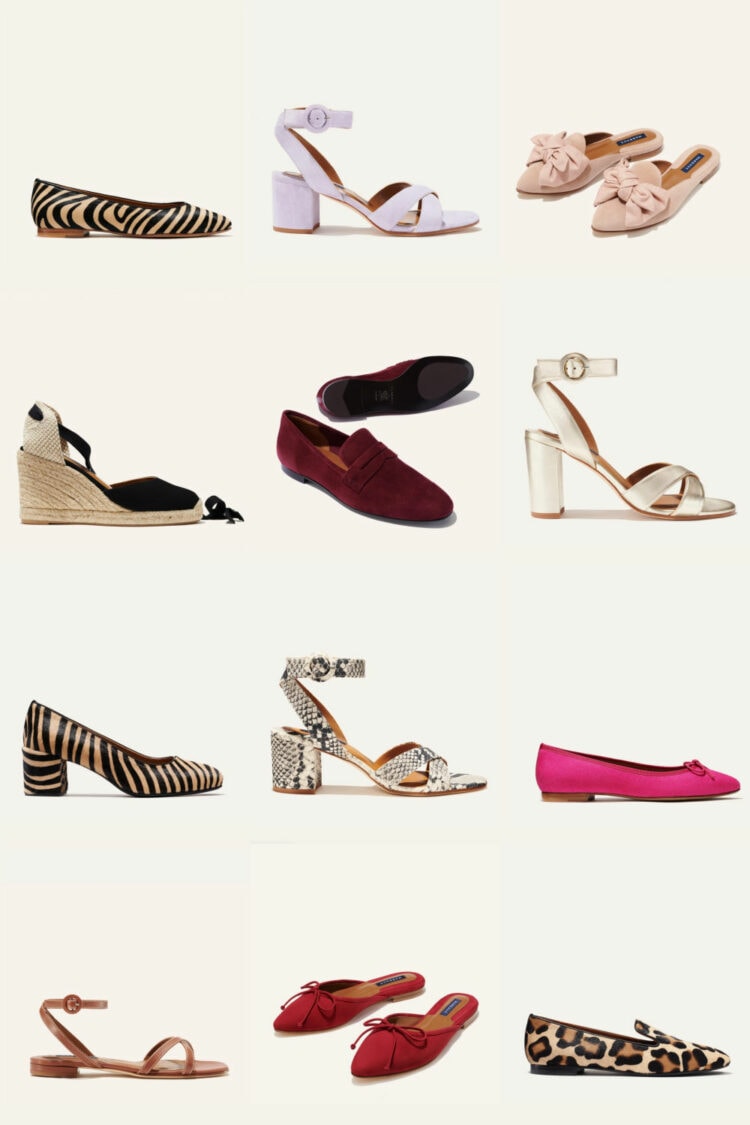 Shop Margaux Shoes:

Finally, I do a Google search. Let's say I found a great pair of Naturalizer sandals in my width, but not my size. I will Google search the shoe style's name and the brand and see if another retailer may have them.
I have a lot of luck finding last season's styles of shoes for much less on Amazon. I think a lot of shoe retailers use Amazon to offset small batches of old inventory, I have even found three-year-old styles on Amazon and have received them in the original box, never before touched.
6pm is another location where you can find previous seasons of shoes from popular designers for much less. I don't find the selection as awesome as it was a few years ago, but it's worth a check each season, especially if you know what brands and styles of shoes work best for you.
Stylish Wide Width Shoes for Spring and Summer
I searched the internet for some of the most stylish wide width shoes for the season in a variety of styles for most any occasion or situation. A few of these I own or have tried; if so I share my thoughts next to the link.
Stylish Wide Width Shoes for the Workplace
Your office may be reopening and you're not sure what to wear on your feet after months of Birkenstocks and sandals. These shoes are great for most workplaces while being comfortable and roomy.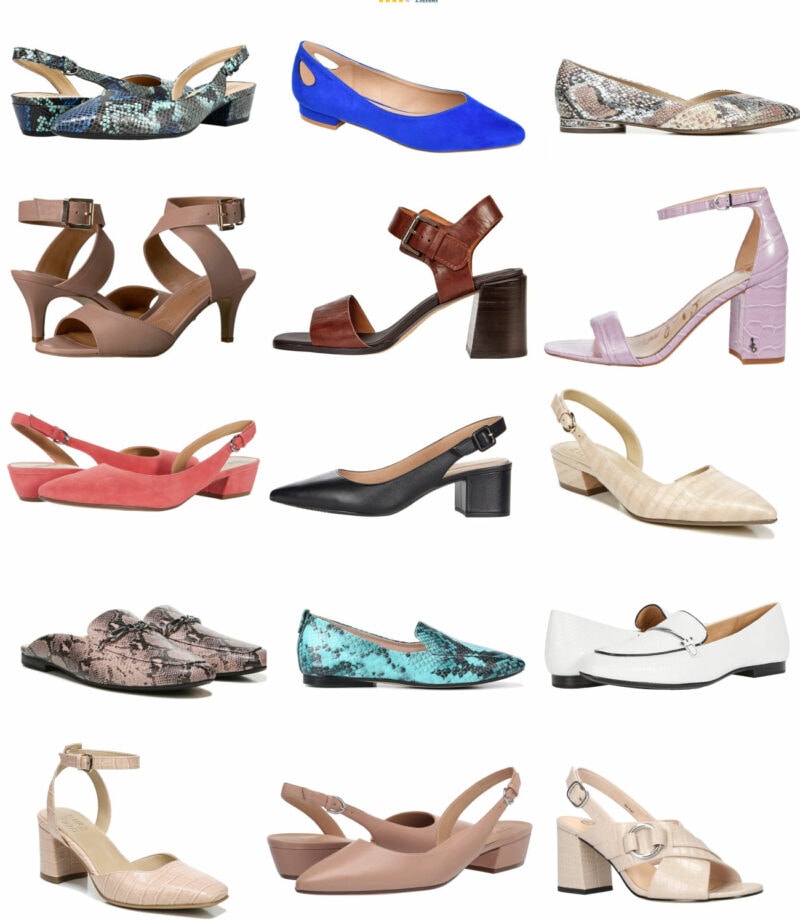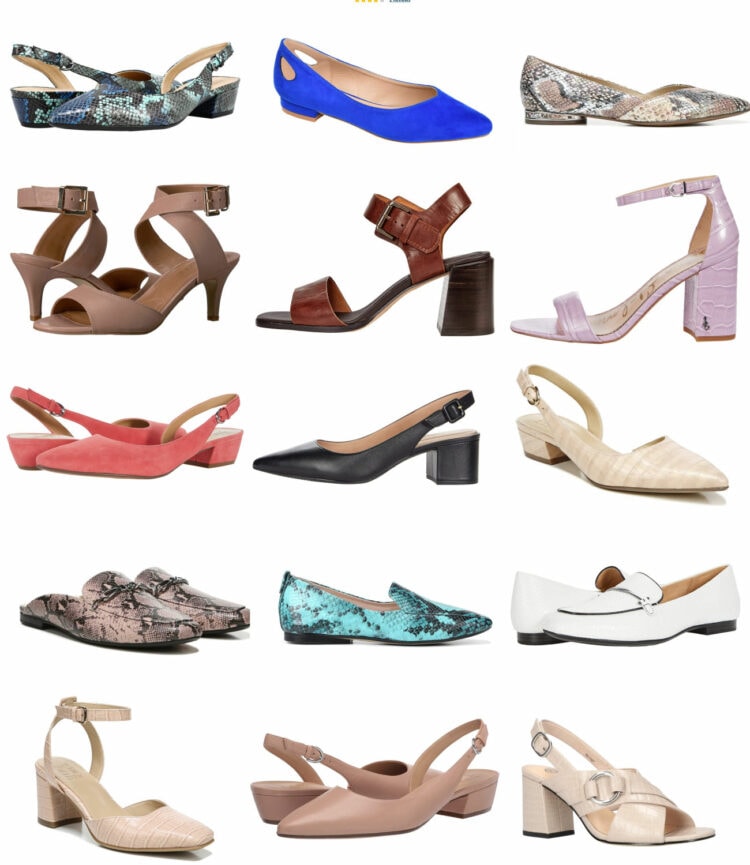 snakeskin slingbacks (roomy and comfy; don't own but tried)| blue suede flats | tan snakeskin flats | taupe cross-strap heels (great fit but ankle strap too short for my solid legs)| dark brown heeled sandals (I loved these even more in person; just too tall for me right now)| lavender heeled sandals | coral slingback flats (fit like the blue snakeskin but have an elasticized strap)| black low-heel slingbacks (if between sizes go down IMO but super comfy)| beige croco slingbacks | mauve snakeskin loafer mules | turquoise snakeskin loafers | white loafers (I own last year's version and they're awesome)| beige croco ankle-strap pumps | tan slingback low-heel pumps | ivory cross-strap slingback heels
Shop Work-Friendly Shoes:

Focusing on lighter colors, snakeskin, and pops of color, these shoes should work with a lot already in your closet while incorporating current trends for footwear.
A lighter-colored shoe or one that is lower contrast to your skin will feel springy even if it's a shoe that offers more coverage or is a more substantial or chunky style. A skin print or snakeskin/croco texture makes a shoe more versatile and can be a pop of color or an unexpected neutral.
Stylish Wide Width Heels for Spring and Summer
If you're a fan of heels but find your current pairs literally cramping your feet and therefore cramping your style, you may wish to upgrade to a fabulous new pair with more room.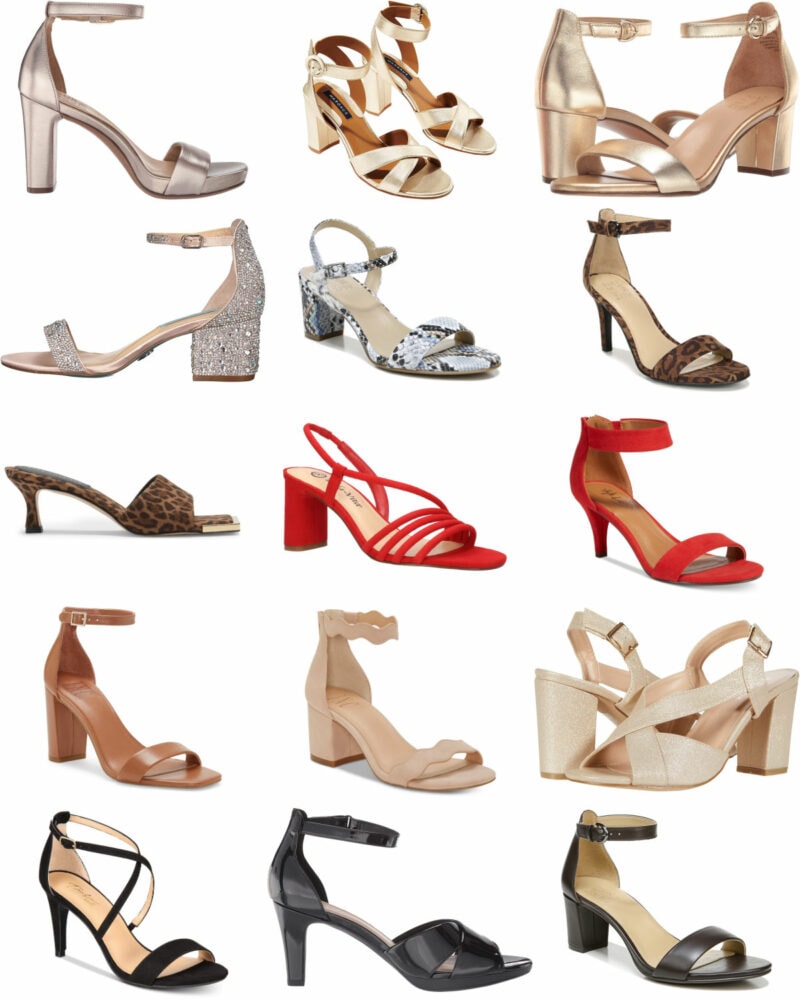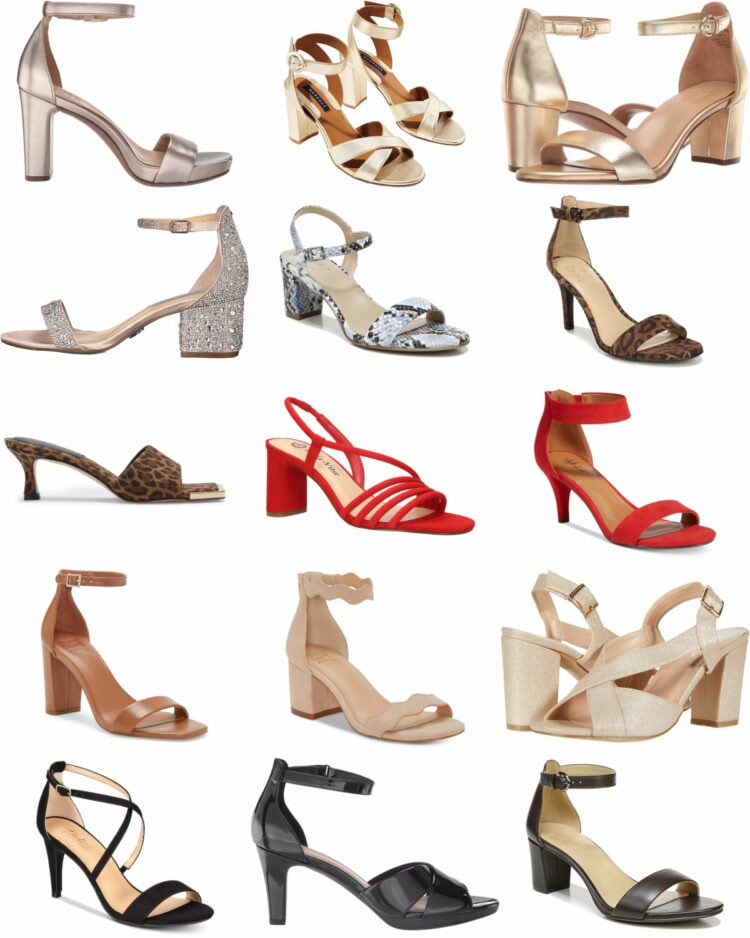 pewter ankle strap | soft gold cross strap (I own these and love them)| gold low heel ankle strap | bejeweled silver low heel | pale blue snakeskin | leopard print ankle strap| leopard print heeled slide | red multi-strap | red kitten heel ankle strap (quite comfy, I used to own but my toes aren't great with them)| light brown ankle strap | wavy beige ankle strap | soft metallic cross strap slingback | slender black strappy heel | black patent ankle strap (I owned these in a different color and I was able to dance all night in them)| dark brown low-heeled sandal
Shop Wide Width Heels:

A pair in a soft metallic or nude-to-you color will not only be more versatile with a variety of colors and prints in your closet, but it will also be more versatile in dressing up or down. A shoe like this can be worn with jeans, wide-leg trousers, ankle pants, as well as skirts and dresses of all lengths and silhouettes.
Stylish Wide Width Flat Sandals
I am not sure why, but I find it especially hard to find non-chunky flat sandals in wide widths. For some reason, shoe designers think that wide feet only want super supportive sandals perfect for sightseeing or hiking. And those are great, but we also like some delicate flat sandals to wear with breezy maxi dresses, cropped linen pants, and most anything in our summer wardrobe.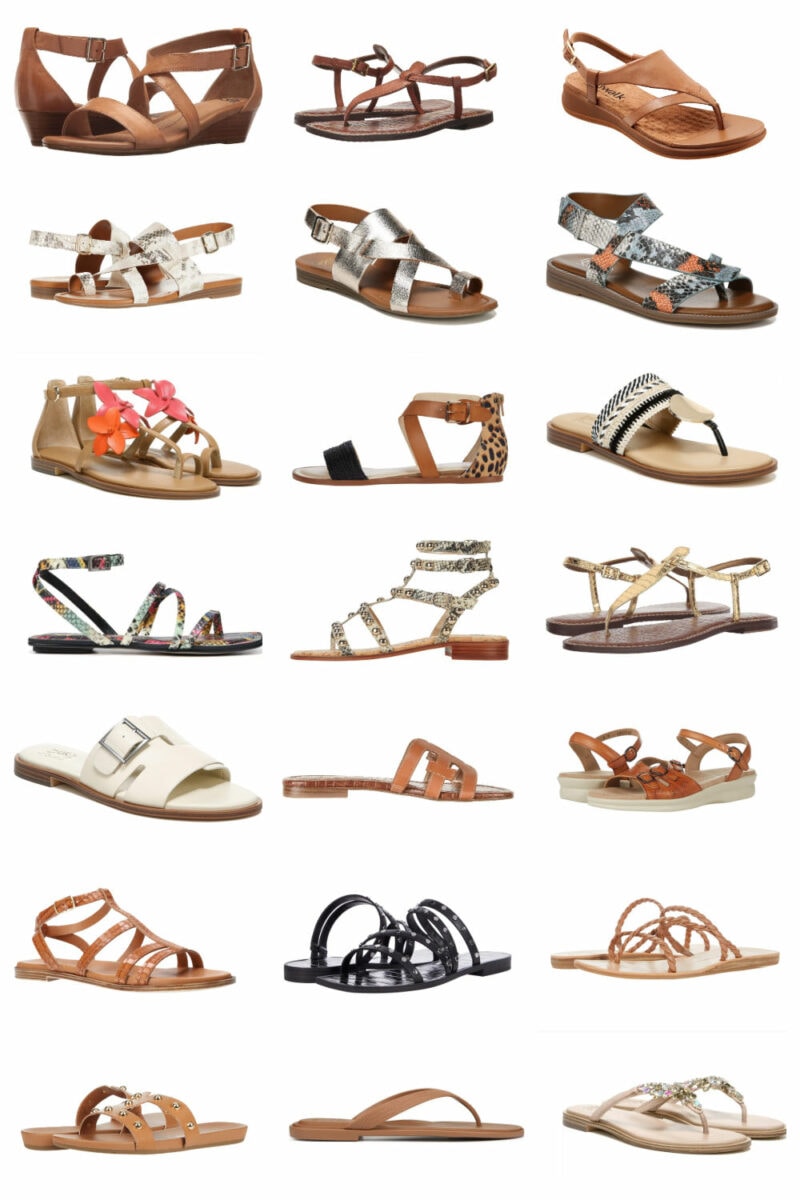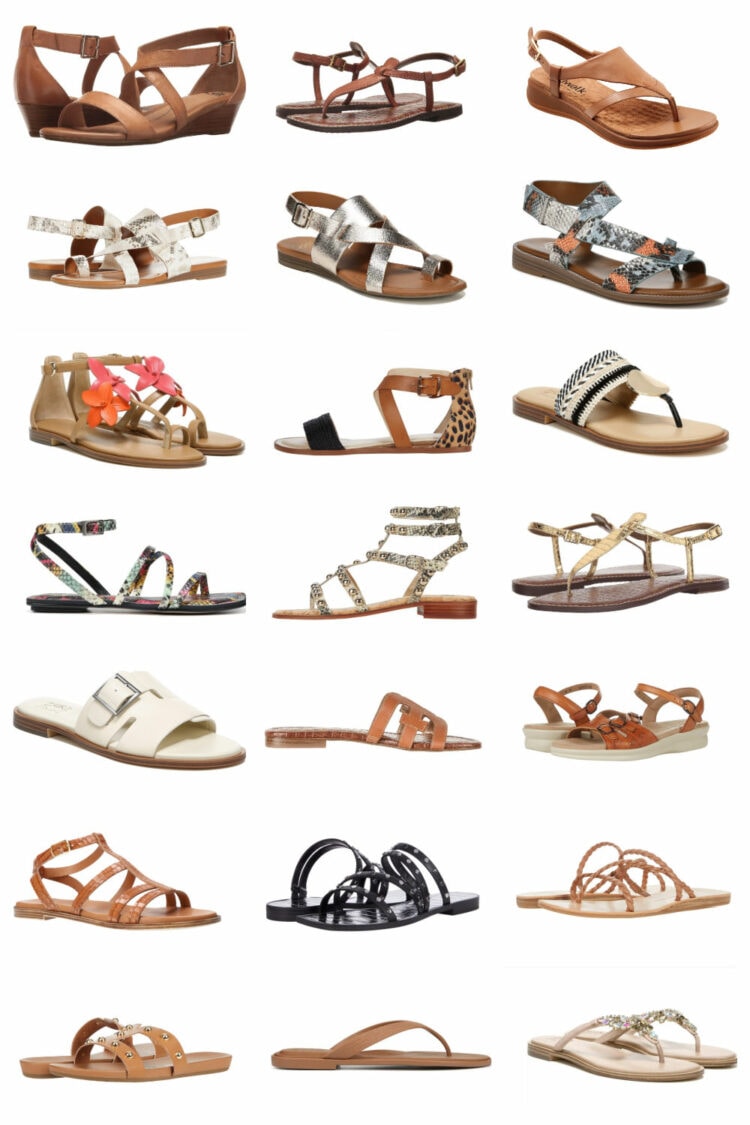 tan cross-strap low wedge (I owned these in another color and they're comfy)| brown leather thong | tan solid sole thong | ivory snakeskin | pewter metallic | blue with orange snakeskin | tan with pink and orange flowers | black and tan with cheetah print | black and ivory with gold detail | rainbow snakeskin | studded snakeskin gladiator | gold metallic thong | ivory with buckle | tan leather slide | tan classic sandal (I own and love these) | light brown gladiator (I tried these and they're fab just not right for my feet) | black studded slide | tan braided sandal | tan studded slide | tan thong | dressy bejeweled thong
Shop Flat Sandals:

Luckily, there is good selection this year, whether you want a nude-to-you sandal that virtually disappears and lets your outfit take the spotlight or a pair of metallic sandals for that garden or beach wedding. I find such a sandal to be so versatile, it's often the only or one of the only shoes I take for a summer getaway.
Wide Width Sandals Begging for Sundresses
After a year in sweats, I am so excited to take a sundress for a twirl this summer. And while all types of shoes are great with sundresses, a little bit of a heel and a little bit of whimsy can elevate the entire look while elevating the fun.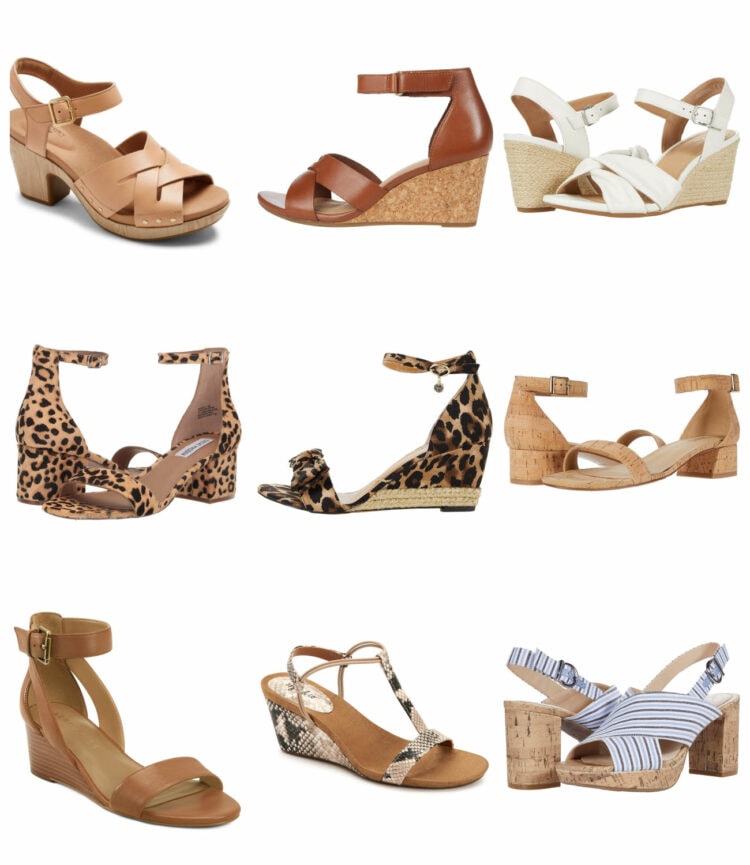 beige clog sandal (I ordered these while writing this post) | cognac-colored cork wedge | white wedge | cheetah print low heel | leopard print wedge | cork low heel (tried these, not right for my toes but really comfy and cute) | light brown and wood wedge | snakeskin T-strap wedge (I owned these and found them comfy but I twisted my ankle in them and donated) | awning stripe cork heel
Shop Summer Heels and Wedges:

Again, I find a shoe that is low-contrast to your skin tone to be the most versatile, working with that hot pink linen dress, the denim skirt, even the wide-leg pinstripe trousers. But don't discount skin prints, which work as a neutral while adding interest to a look. Denim and chambray prints and stripes work with the denim trend this spring and also are quite versatile.
I originally wrote this in 2019 but now all the styles feature are sold out (and heck, some of the retailers are no longer in business). Instead of deleting the post, I decided to rewrite it with new styles and retailers for 2021!