This article may contain affiliate links; if you click on a shopping link and make a purchase I may receive a commission. As an Amazon Associate, I earn from qualifying purchases.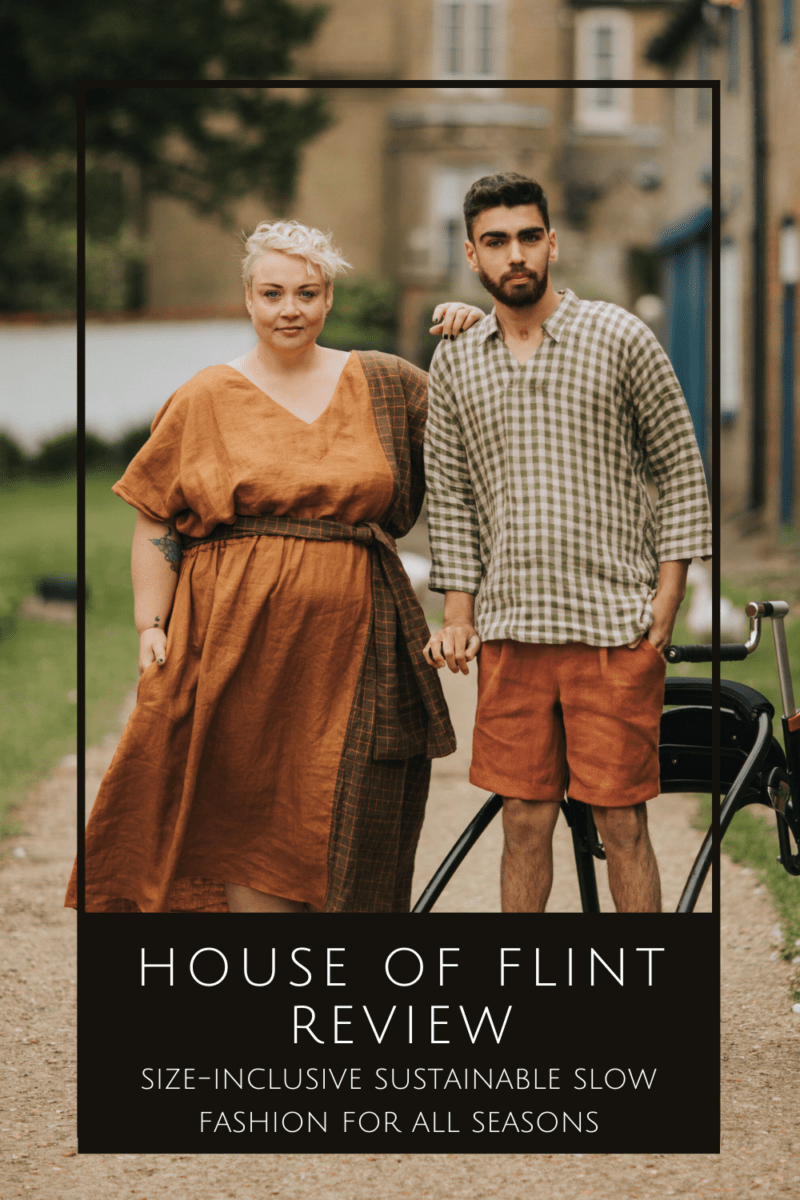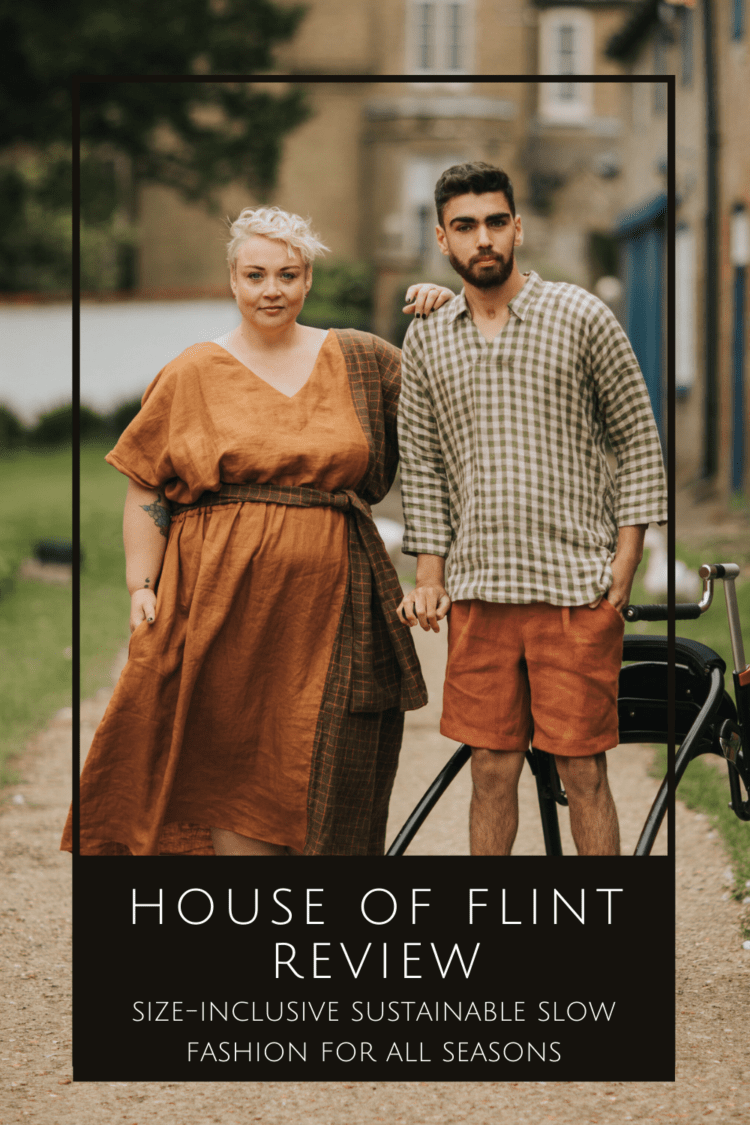 by Lissa T.
I've been curious about House of Flint, a UK-based sustainable and size-inclusive fashion brand for a while. I keep seeing beautiful pieces on Instagram and wanted to know more about House of Flint's fit, quality, and style. I invited Lissa, who has shopped the brand on more than one occasion, to provide a House of Flint review.
This apparel review is by Lissa, who you may recognize from her Christy Dawn review, or her informative posts in the Wardrobe Oxygen Community. Lissa is passionate about sustainable fashion and having a different body shape and height from me, I thought her reviews with outfit photos would be a wonderful addition to Wardrobe Oxygen. On a monthly basis, Lissa will share her thoughts on sustainable fashion brands she owns that have extended sizing (at a minimum up to XXL/size 20).
What is House of Flint?
House of Flint is in the Lincolnshire Wolds of the UK and Jessica Townsend is (mostly) a one-woman operation. Handmade to order, House of Flint slow crafts each garment to ensure a beautiful, well-made piece that fits and will be worn again and again, reducing textile waste. Every seam is stitched with a flat-felled seam, which means it is basically stitched twice to ensure it is as long-lasting and secure as possible.
While Jessica from House of Flint works mostly with linen, she recently expanded fabric offerings to some TENCEL and cotton, as well as two shades of corduroy.
Because everything is cut to order, lead time is usually 5-7 weeks. If you need something sooner, you can check her ready-to-wear shop although there are not usually a lot of pieces to choose from. This apparel brand is focused on slow fashion so you purchase less, and purchase with thought and care.
What Sizes Does House of Flint Offer?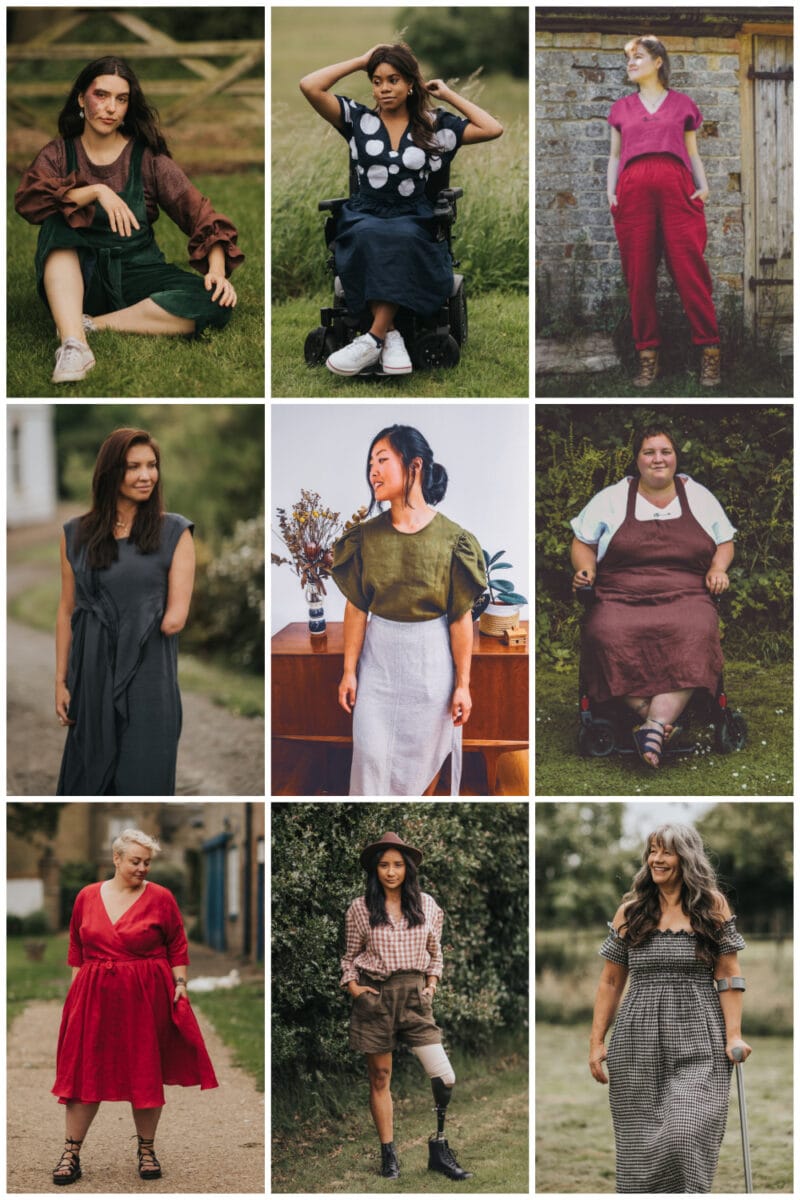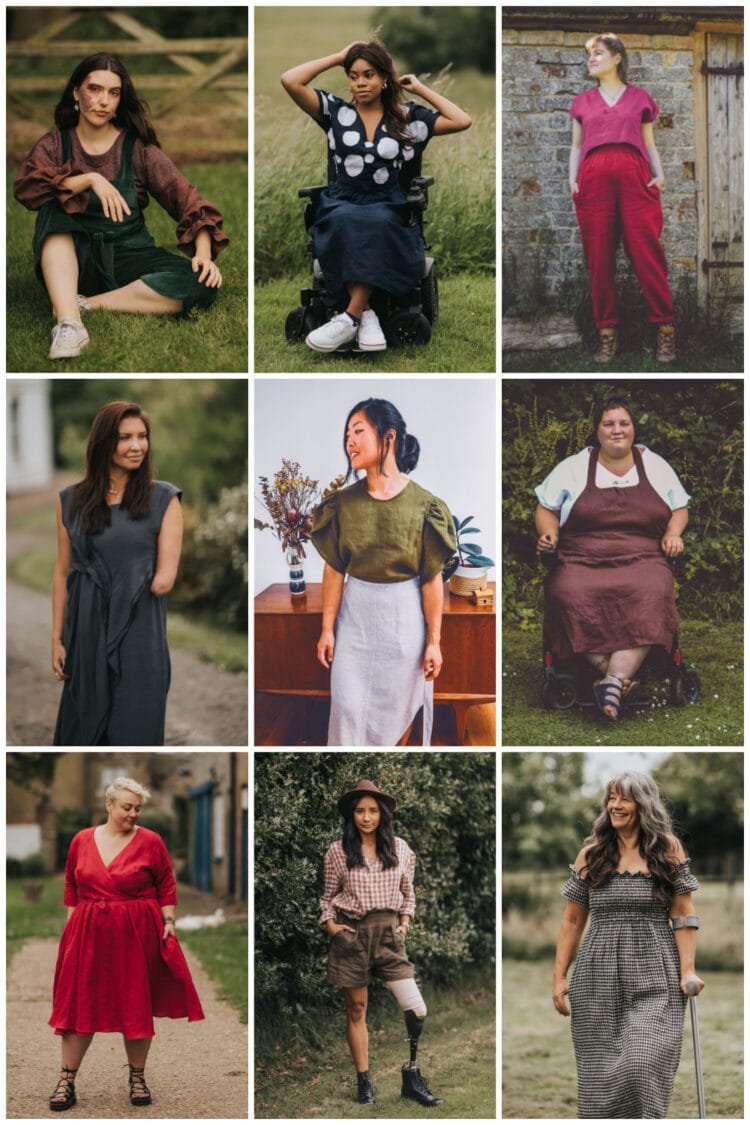 House of Flint standard sizing goes to 5X, which for this brand is a 57" bust, 60" waist and 72" hips. However, you can order pretty much anything custom-made to your own measurements in any of the fabrics that she has in stock that will work for the design.
House of Flint also thoughtfully includes fabric for patching with every order, and she will reinforce the thighs of your pants for you with an extra layer of fabric if you are worried about chub-rub. Many of her pieces are pregnancy and lactation friendly, and she has photographs of herself wearing her styles while pregnant.
If you haven't been following House of Flint on Instagram, you have really been missing out. Aside from posting beautiful photos and videos of the English countryside, she also gives you some insights into how the clothes are designed. When she was expanding her regular patterns above a 2X, she had some videos and posts about how she was fit testing the patterns on models of different sizes to ensure that they were more than just graded up.
Her Instagram also features all the wonderfully diverse models that she uses for her photoshoots. She truly embraces the variety we see in people – different genders, different sizes and heights, different skin tones, different abilities…. You will find all kinds of people in her advertising.
House of Flint Review
I love House of Flint and honestly cannot possibly say enough nice things about her. I've ordered three times from her. Today in this House of Flint review, I am going to show you the Everyday Dress, Everyday Trousers, Shard Trousers, and Shard Shirt. As a reminder, I am usually a size 12/L in dresses in brands like Old Navy or J. Crew, or an XS at Universal Standard. My pants size is usually a 14, or a 12/XS at Universal Standard. I am 5'10". A lot of these clothes are out of season for me right now, so most of my pictures are indoors.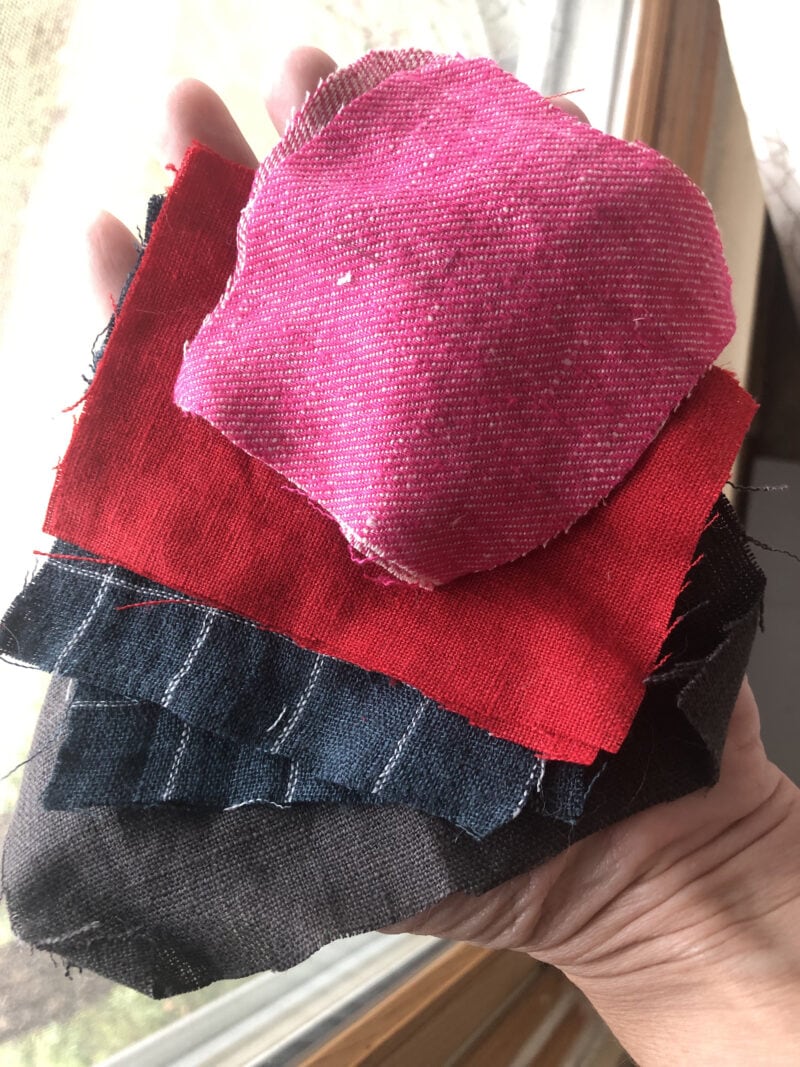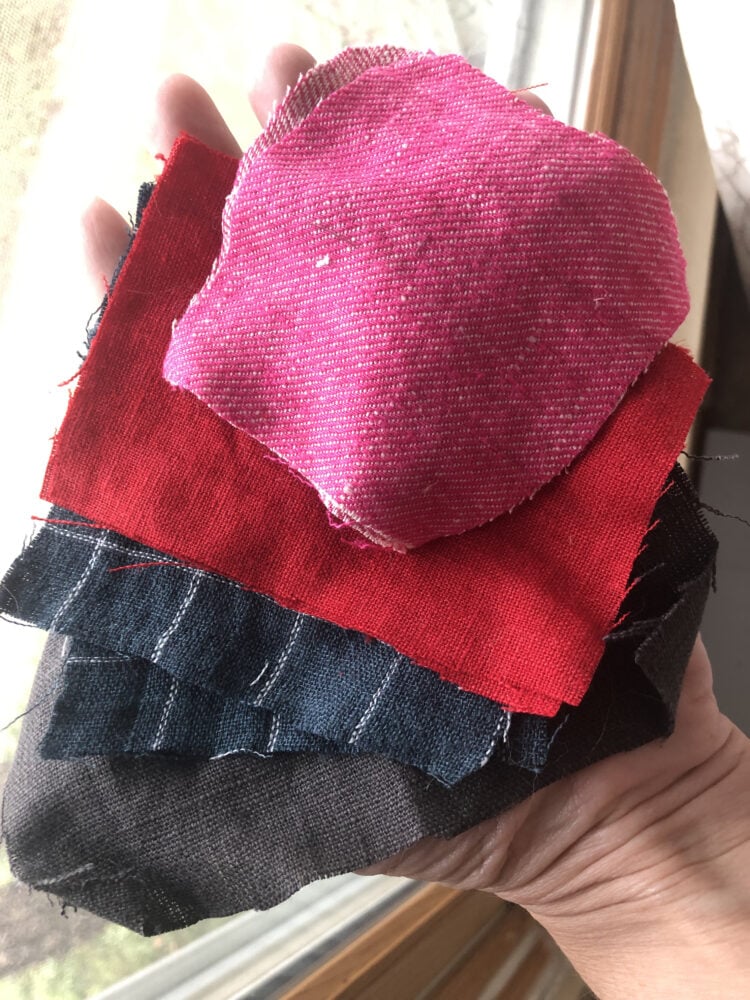 House of Flint Everyday Dress Review
I ordered the House of Flint Everyday Dress in a size medium in the redcurrant lightweight linen, and in the long length. Otherwise, I did not ask for any alterations to the pattern. It fits perfectly right now but the full skirt and elastic waist mean that this dress would fit me if I went down a size, but it will also still fit if I were to go up a size. I absolutely love this dress, and it was one of my summer favorites.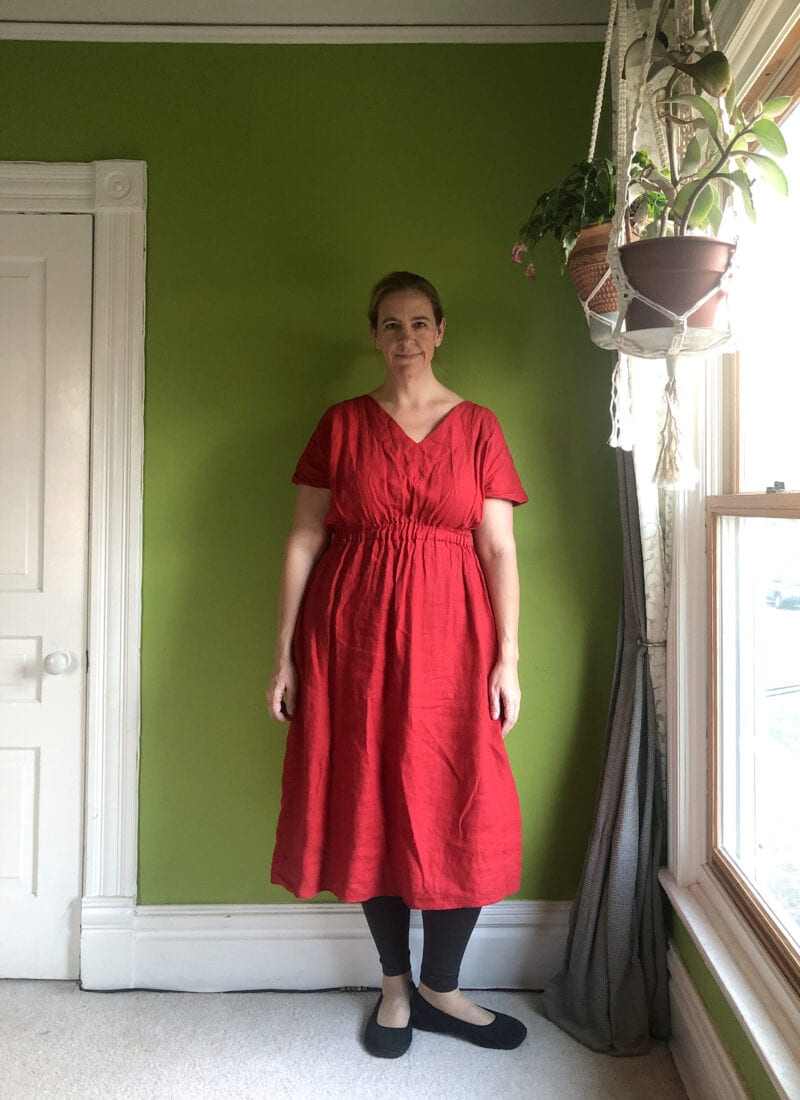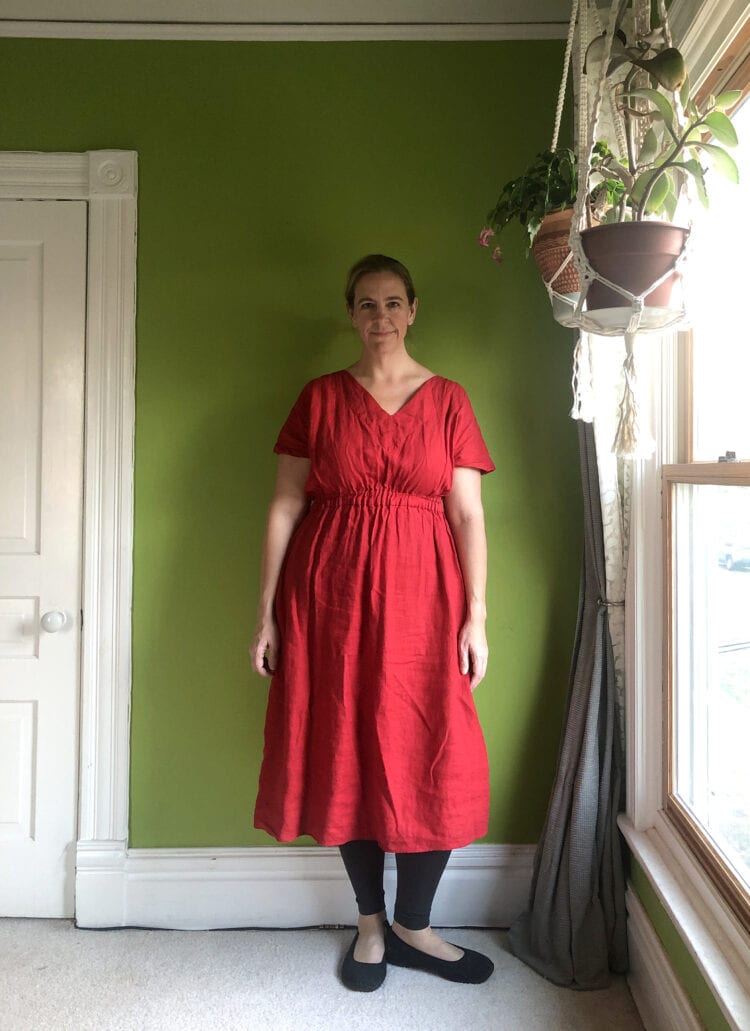 The style of this dress is easy to wear and the linen is lightweight and breathable. I wore this to an outdoor concert, to a winery and to a work meeting. The hemline is long enough that it is appropriate for many venues. The color is so bold that I don't think that it needs a lot of extra styling – this summer, I typically threw on sandals and walked out the door. In autumn, I think this dress would work great with a denim jacket and maybe some tights or leggings and booties.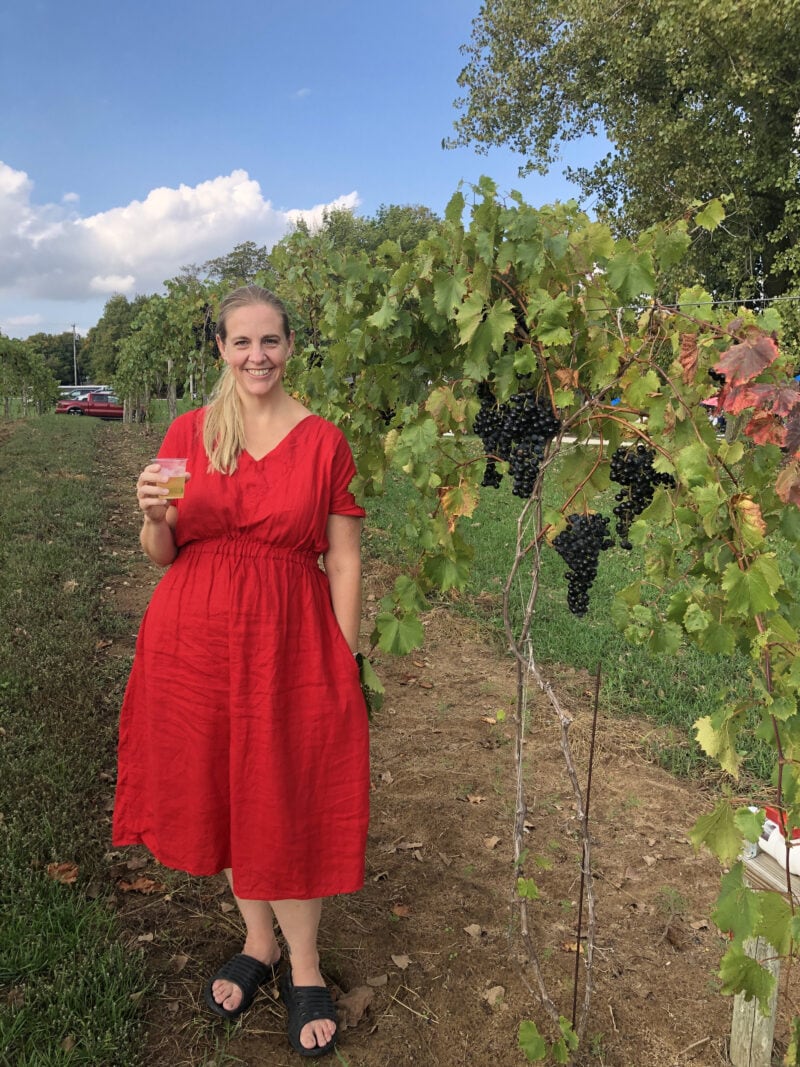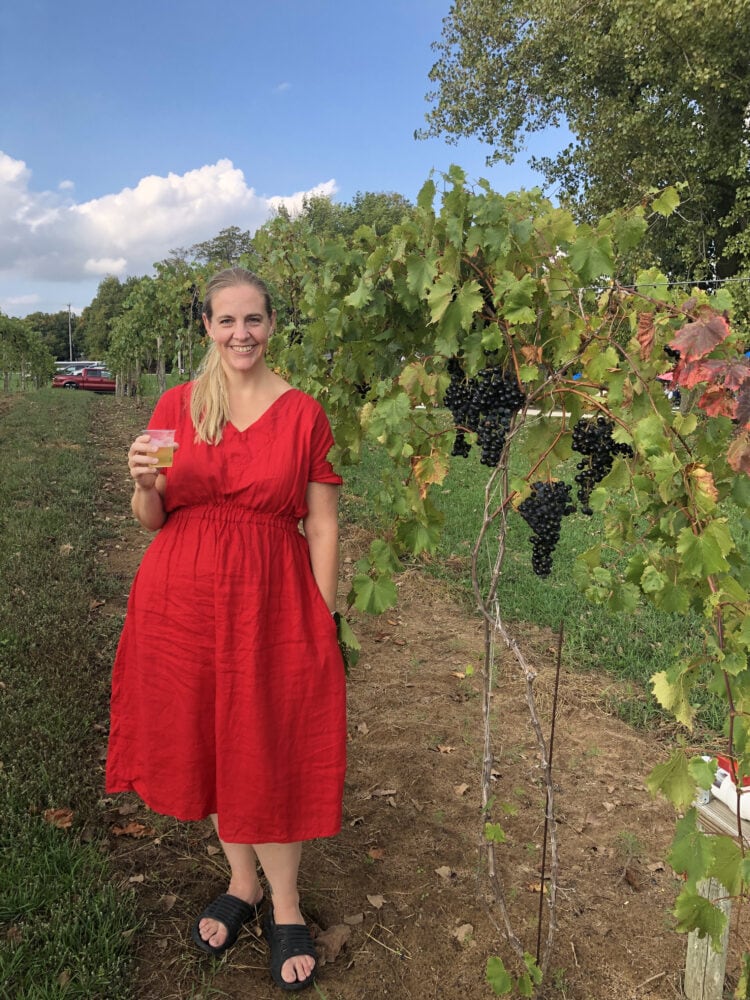 Unfortunately, here in the upper Midwest, we are sliding swiftly into winter and I think this fabric is a little too lightweight for days where the high barely break 40.  But, in a more moderate climate, I would happily wear the House of Flint Everyday Dress as a four-season dress. 
House of Flint Everyday Trousers Review
I ordered the House of Flint Everyday Trousers from her ready-made shop in a size L, so I made no alterations to the pattern. I think I'm really between sizes in this item and I almost ordered a new pair in a midsize, halfway between a large and extra-large. The waist and upper hips are fine, but the low hip is pretty much exactly my hip dimensions, and the charcoal heavyweight linen doesn't have any stretch and doesn't relax as much as the lighter linens. Also, surprisingly, the calves are a little snug on me and this is not normally an area where I have trouble. Finally, these are a midrise pant and since I have a long torso, I usually prefer something with quite a high rise.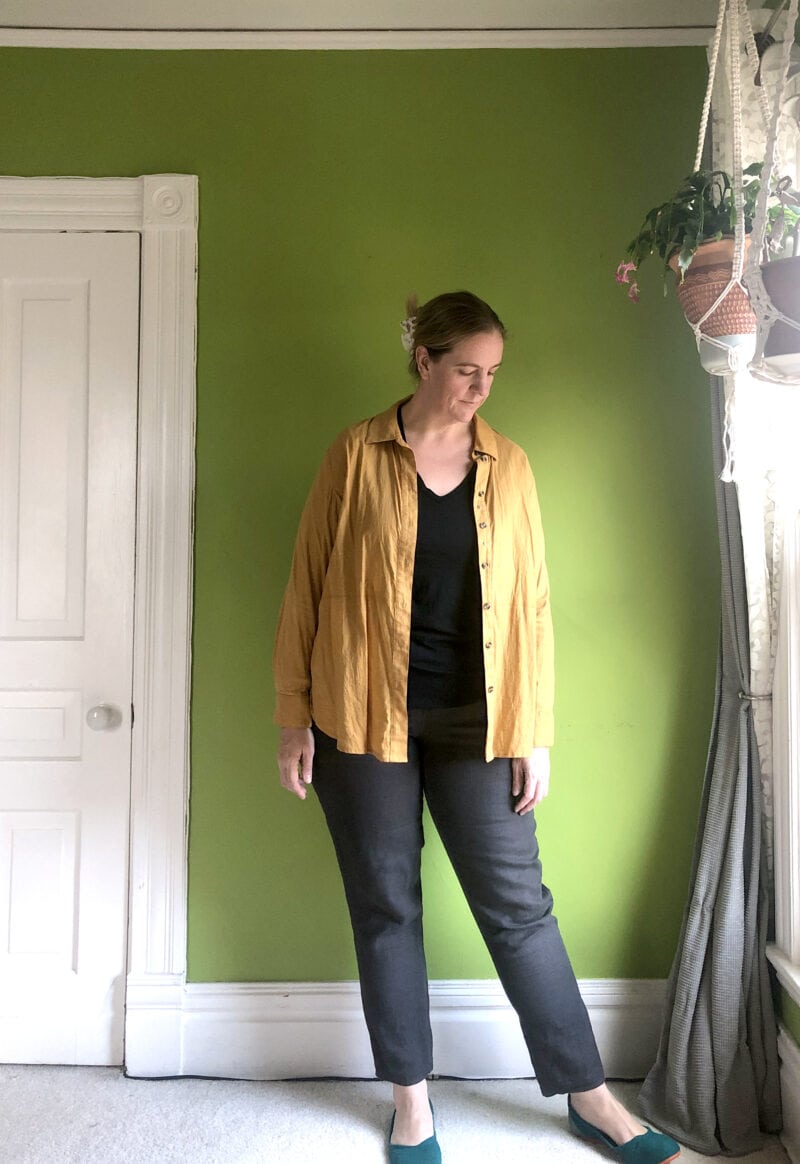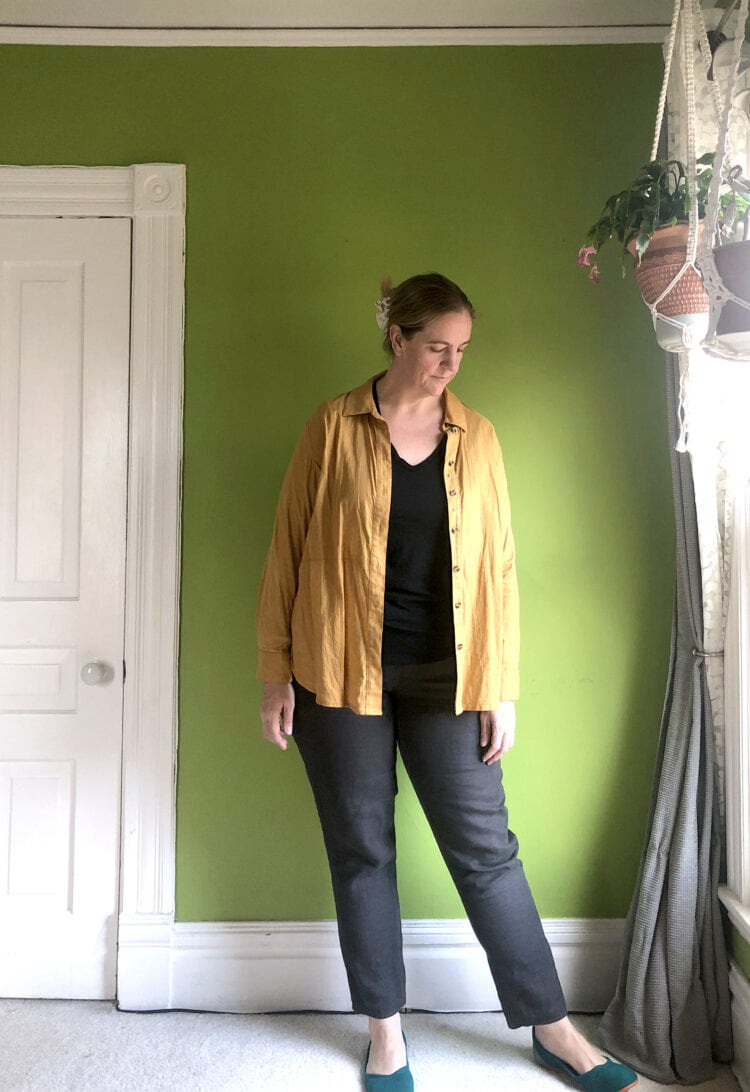 In one of her stretch fabrics, the large would absolutely be the right size for me. If I were to order again, I would ask her to add about an inch in the hips and thighs and a half inch around each calf, and maybe a little in the rise. The elastic in the back of the waist makes these ideal for someone who carries more weight through the middle.
Despite the fit issues experienced during this House of Flint review, I do still wear these though! Unlike the Everyday Dress, the heavyweight linen is definitely an autumn and winter fabric. I find it warm and cozy and quite insulating, even on a cold day. For those worried that linen is not a winter fabric, I think the dark charcoal color really reads "winter".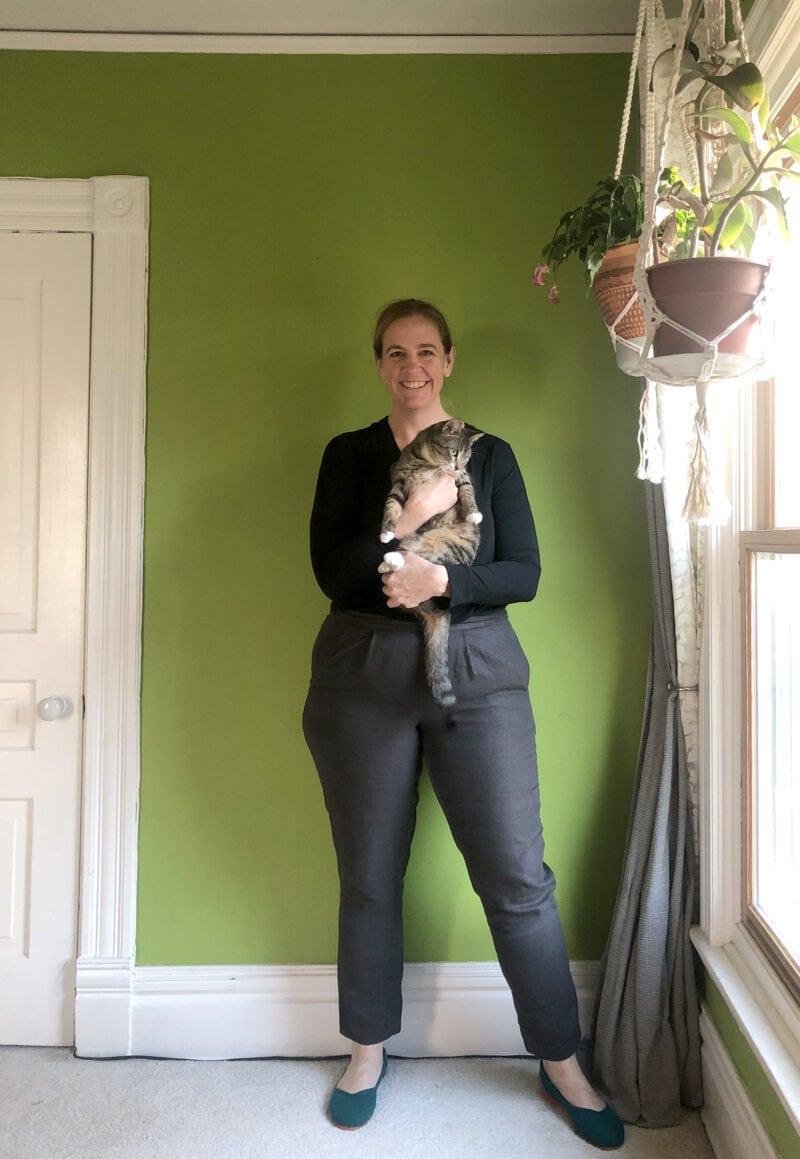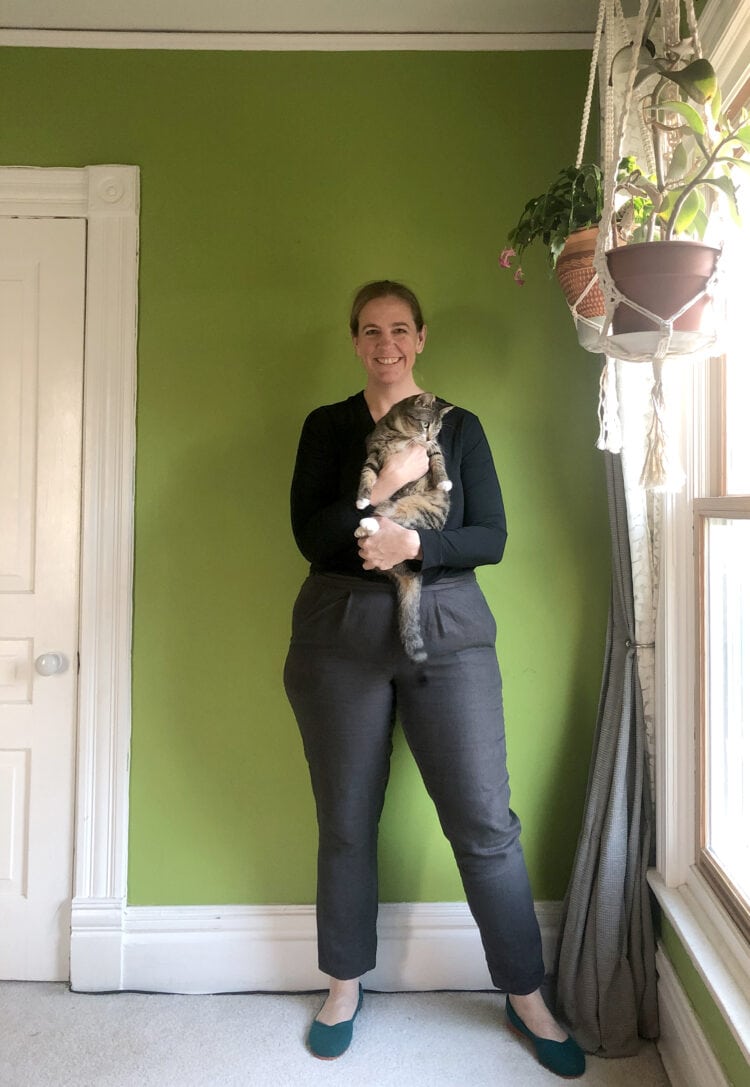 I have mostly worn these to work. In the past, I've paired them with something with more volume on top, like a boxy button-down shirt or oversized sweater and some bright colored flats.
House of Flint Shard Shirt Review
I got the House of Flint Shard Shirt in a size medium, with short sleeves and the cropped length in the fuchsia linen. The fuchsia linen is pretty as it has a slight pattern to it with little flecks of white throughout. All the shard shirts come with the cute safety pin detail, which I love. I made no other alterations to the pattern.
The cropped length of the Shard Shirt is supposed to sit right at the waistband of your pants, but on my long torso with my bust size, the cropped length is quite cropped. I would love to say that I am at the point in my life where I am happy to bare my midriff, but I am not quite there yet. If I wear these with very high-waisted pants and skirts, I feel comfortable with the length of the front of these (but I still usually put a camisole on underneath).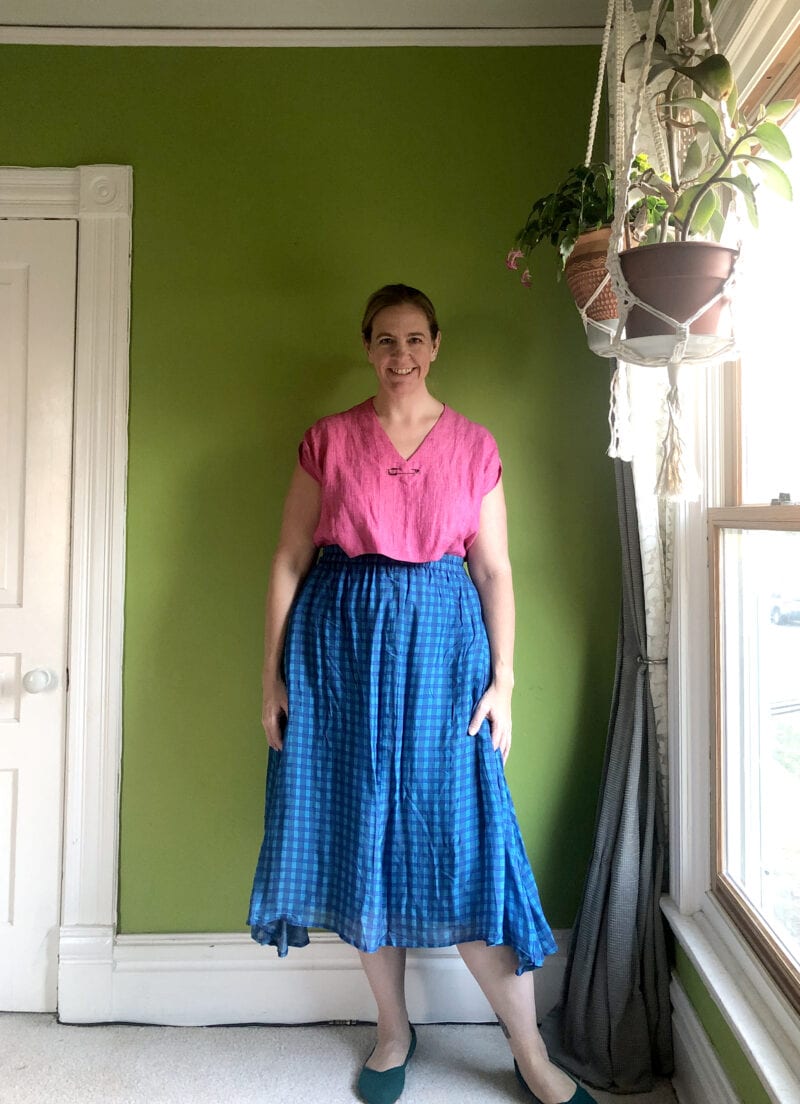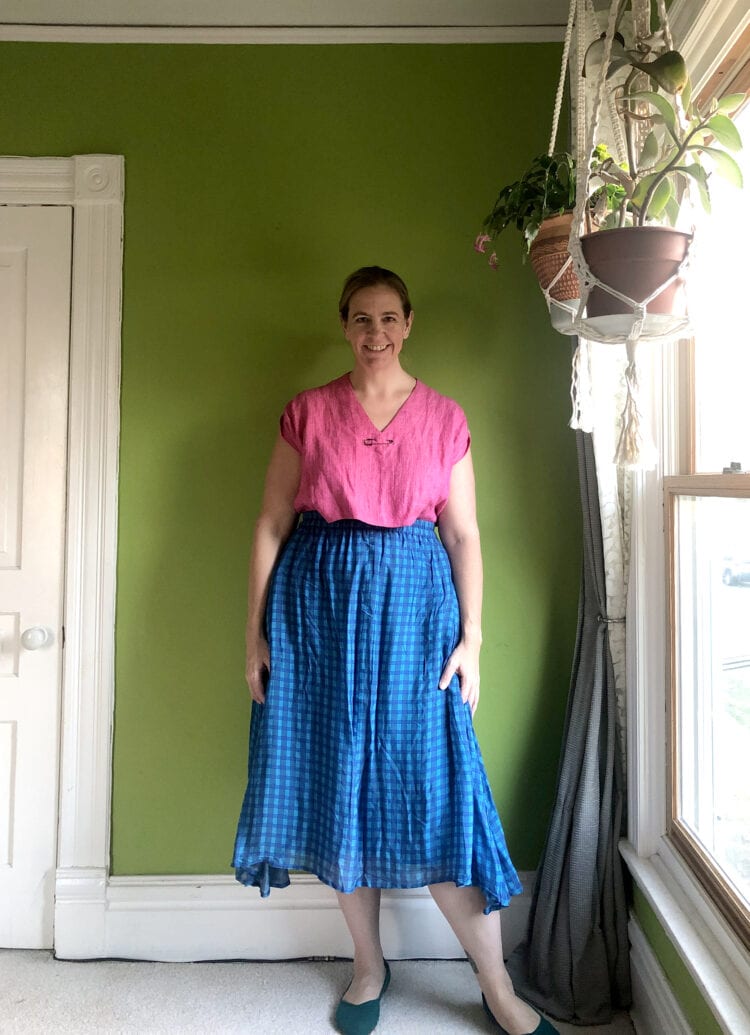 The cropped length, the sleeve length and the weight of the linen make this Shard Shirt a summer piece. I wore this last summer with my high-waisted denim skirt and also a pair of high-waisted linen pants. I think it is pretty casual, so I didn't wear these for work.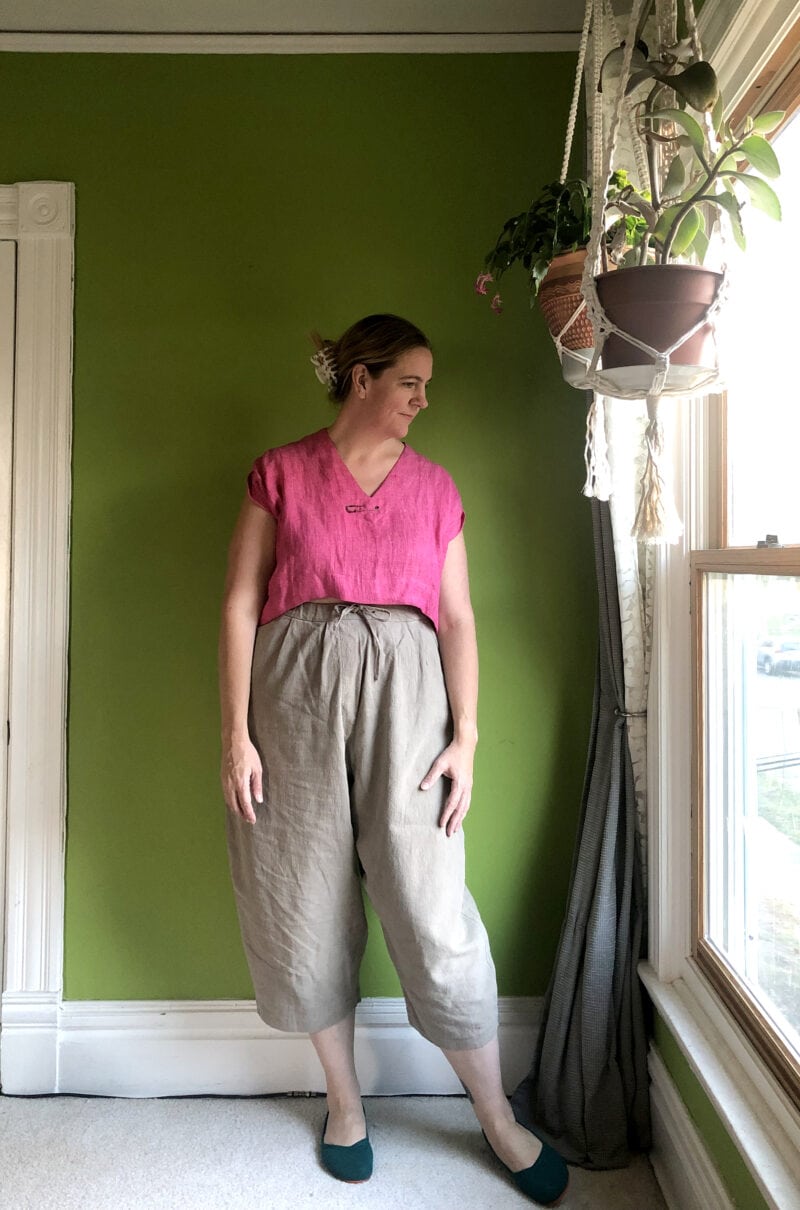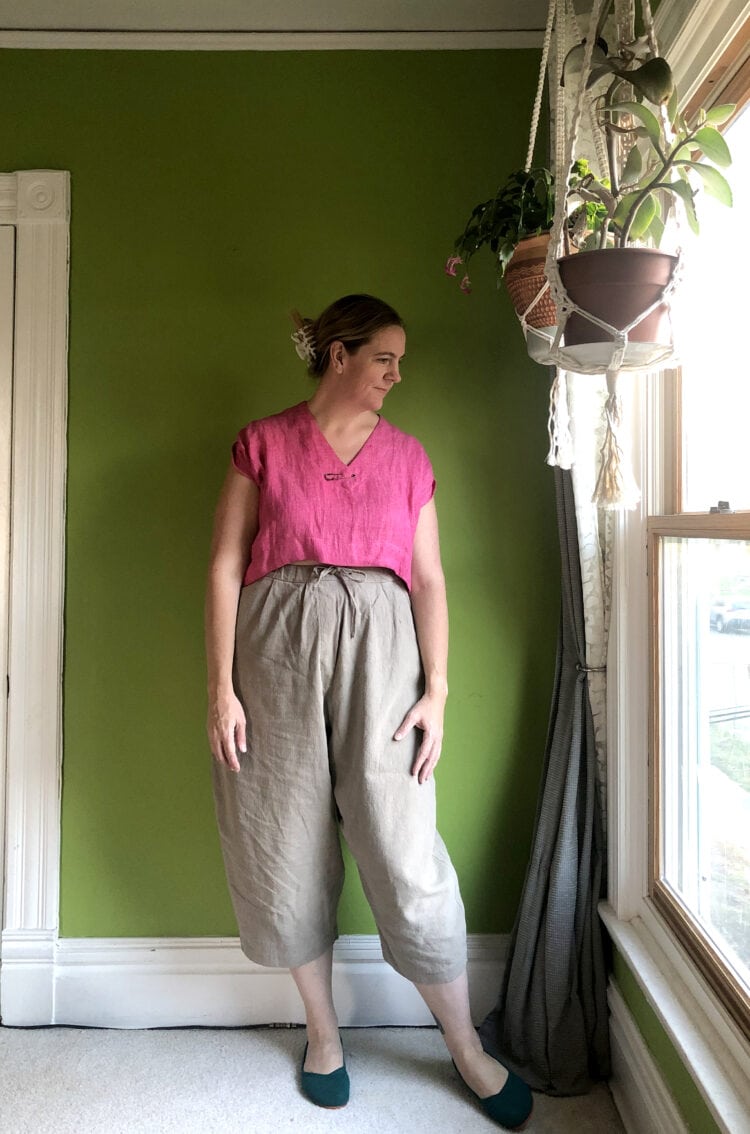 Maybe you could layer a long sleeve shirt under this for autumn or winter, but House of Flint does make a long sleeve version of this shirt which would be more practical for cooler months. In fact, I have a long-sleeved version on order in the cider color linen/TENCEL blend! I also asked Jessica to add about three inches to the length of the top all the way around so that I could wear it with more of my bottoms.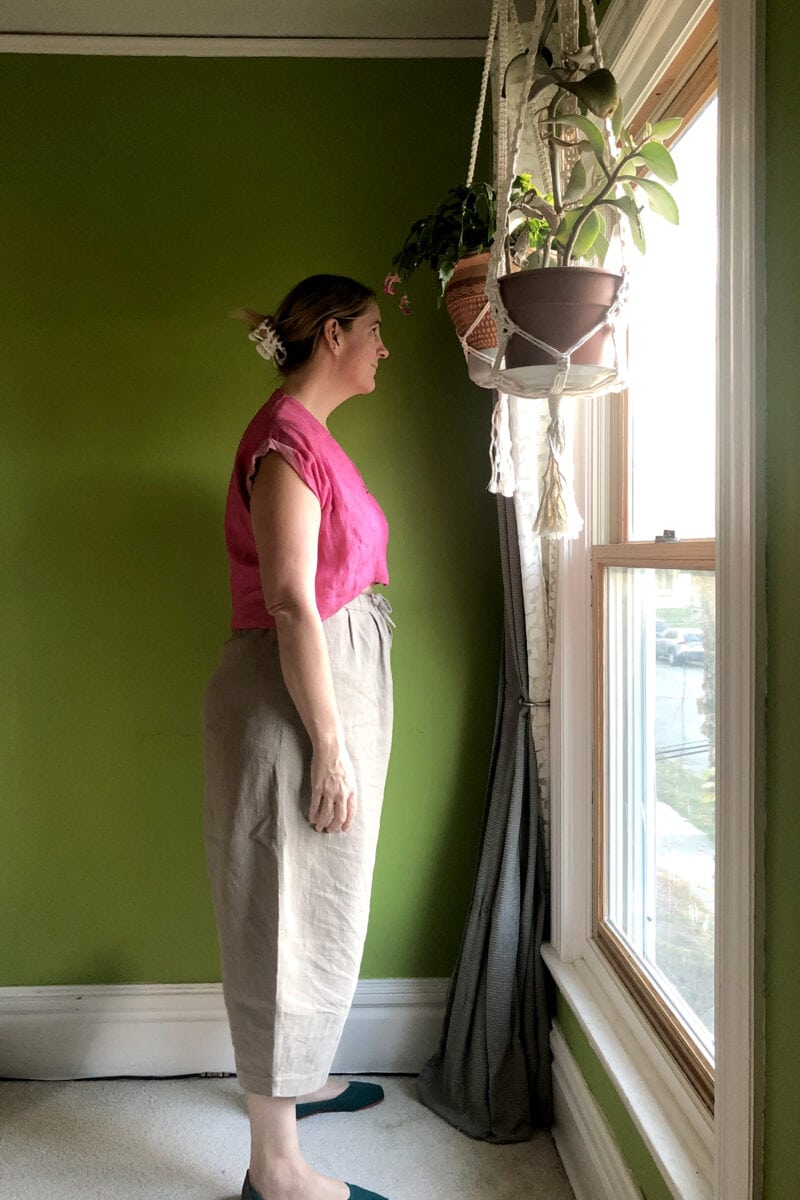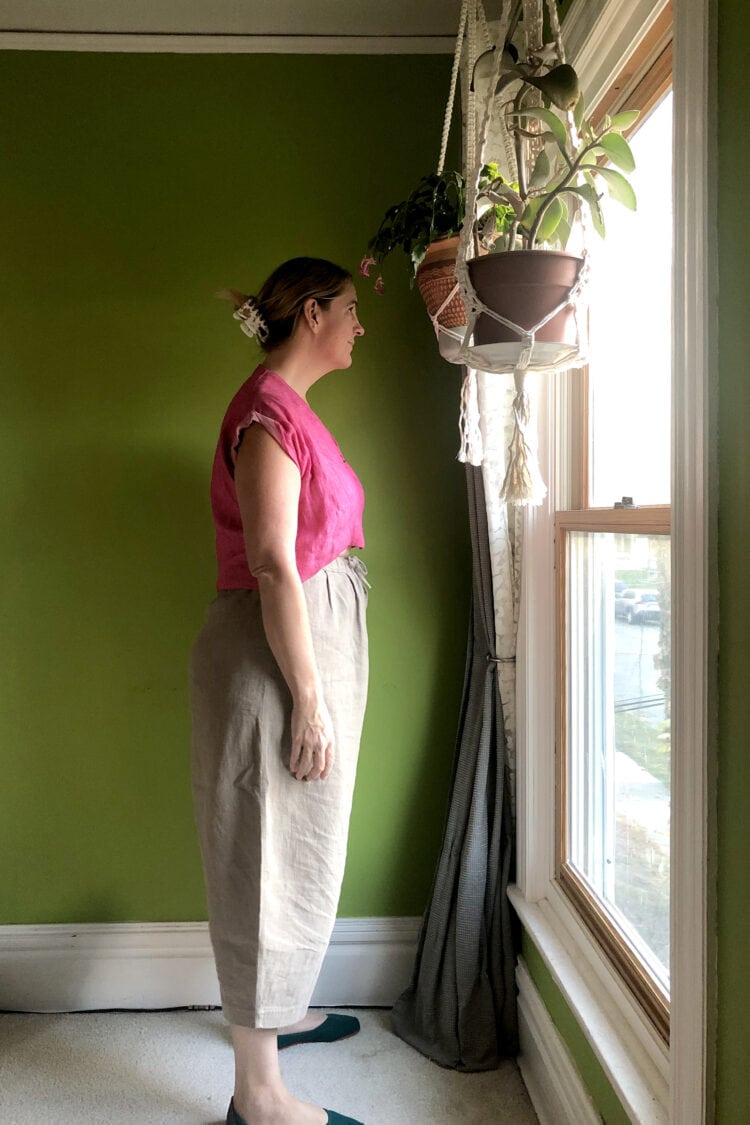 House of Flint Shard Trousers Review
Of the four House of Flint pieces that I currently own, the Shard Trousers have gotten the most wear. I ordered these in size Lissa – I asked Jessica to give me the waistband of a medium but cut the hips of the large. They fit like they were made for me – which they were!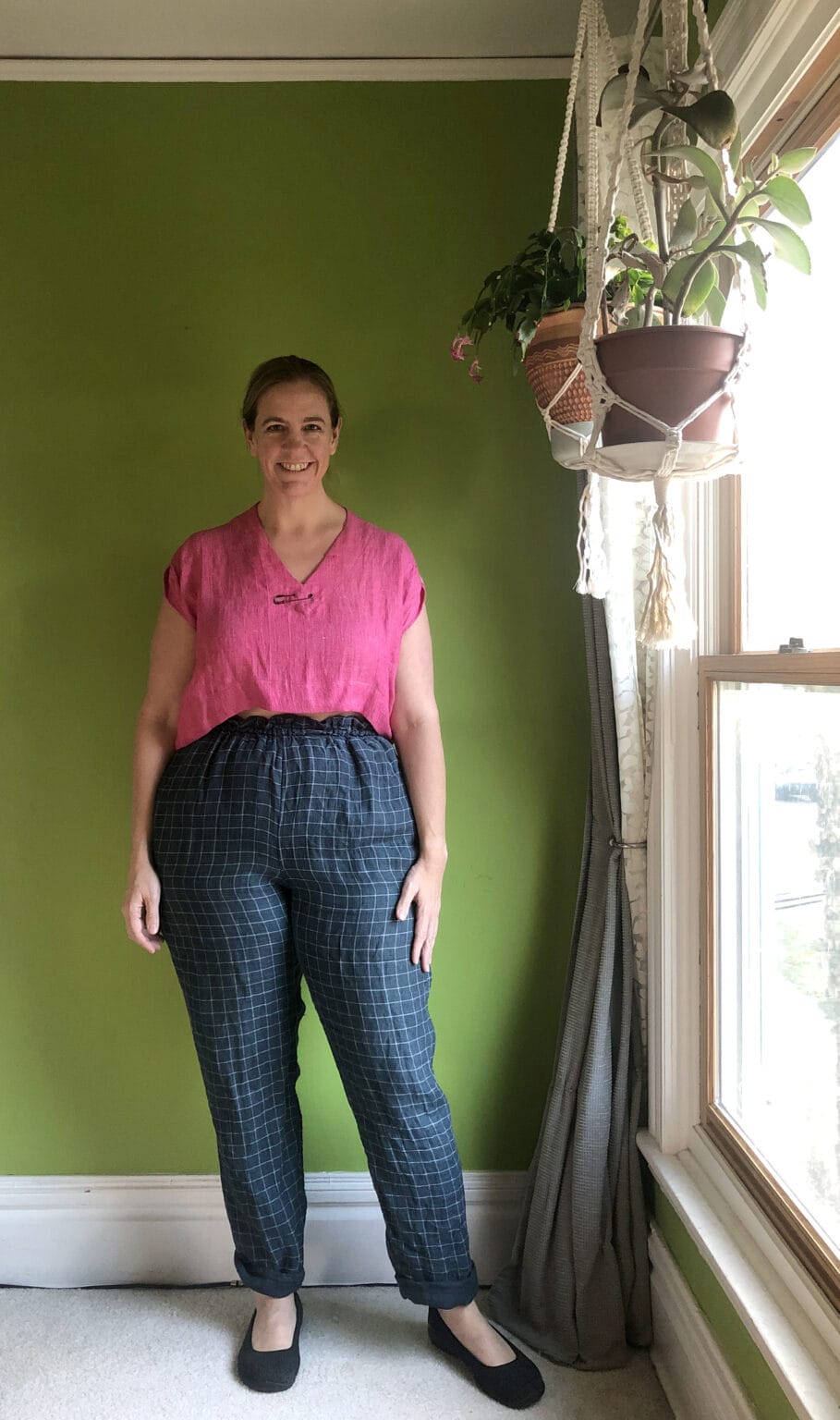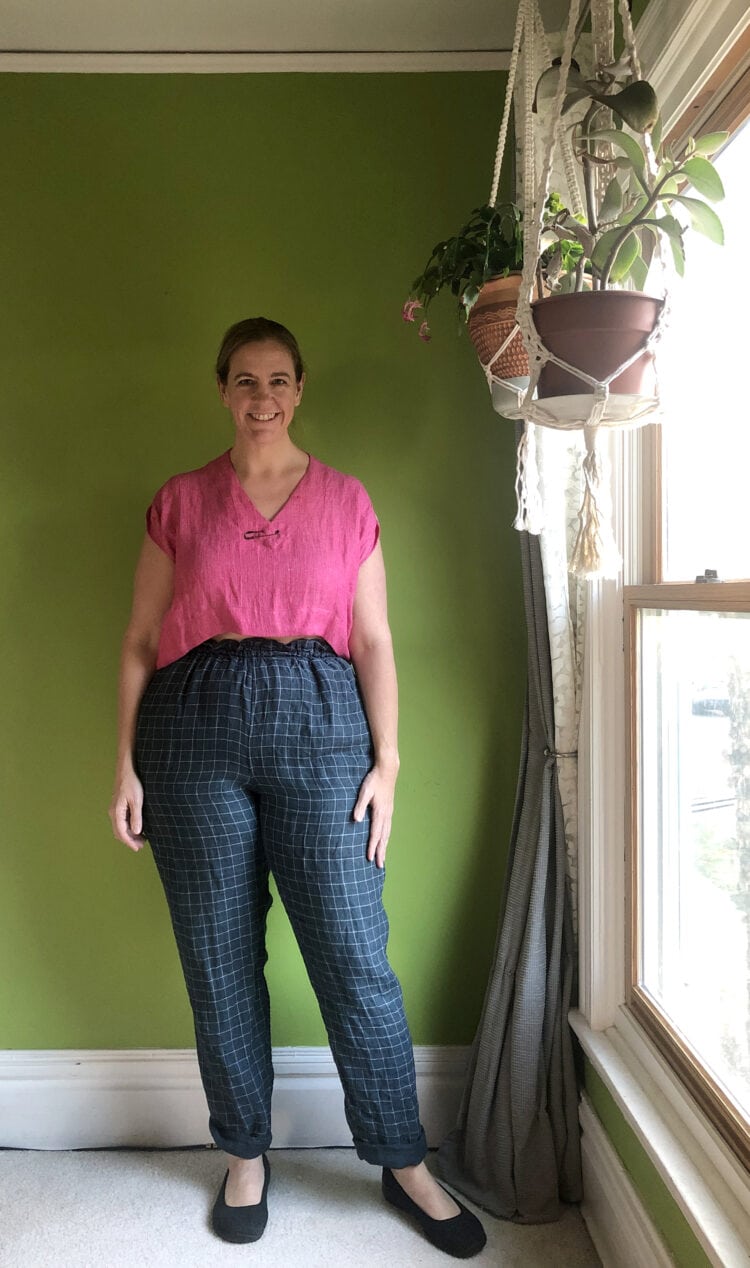 I ordered the Shard Trousers in the blue checked linen, which feels a little more substantive than the red and fuchsia linens, but not nearly as heavyweight as the charcoal linen. I have found that this linen has relaxed and softened over time. My boyfriend says that the pattern makes them look like pajama pants, but this is definitely the right timeline for wearing lounge pants out and about in the world, so I am good with that.
These have become some of my favorite house pants. When I get home from work, I am very happy to pull these on for the rest of the day. They keep me warm enough in the house in the wintertime but also were cool enough for the house in the summer. I have worn them out for a casual trip to the grocery store or to walk my dog. I took them with me on vacation this summer and they were the perfect long car ride pants. Basically, everyone needs a pair of these pants in their life.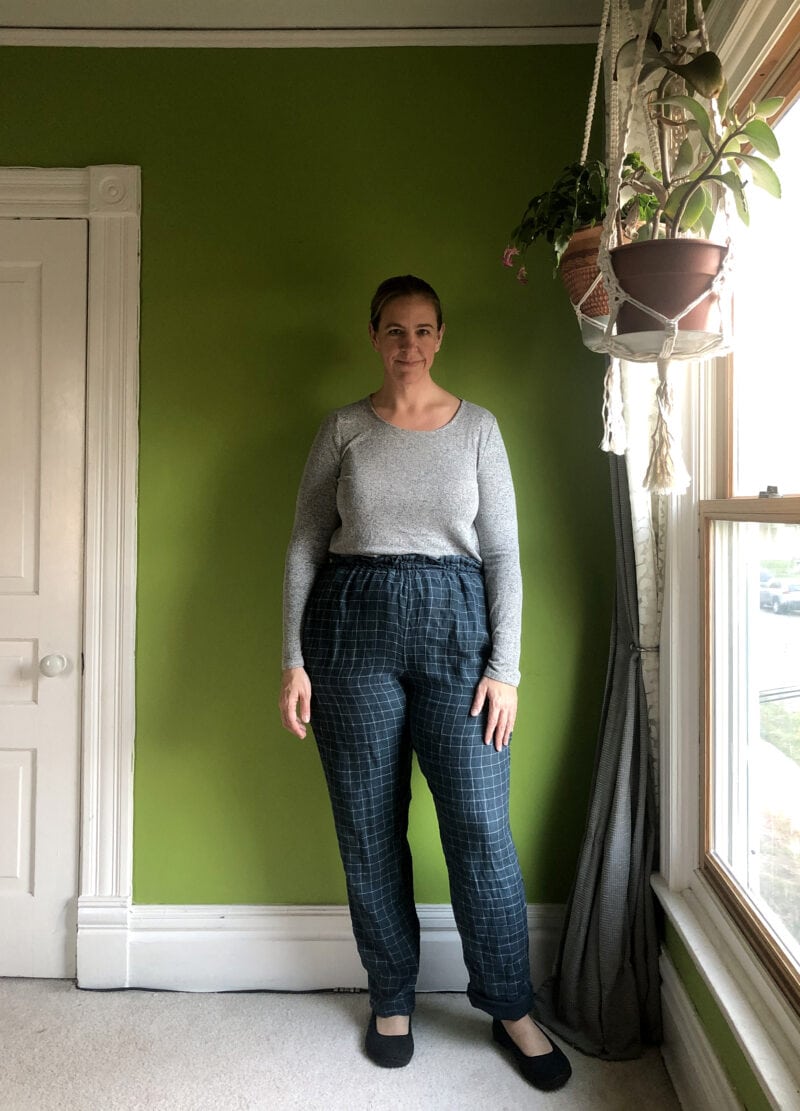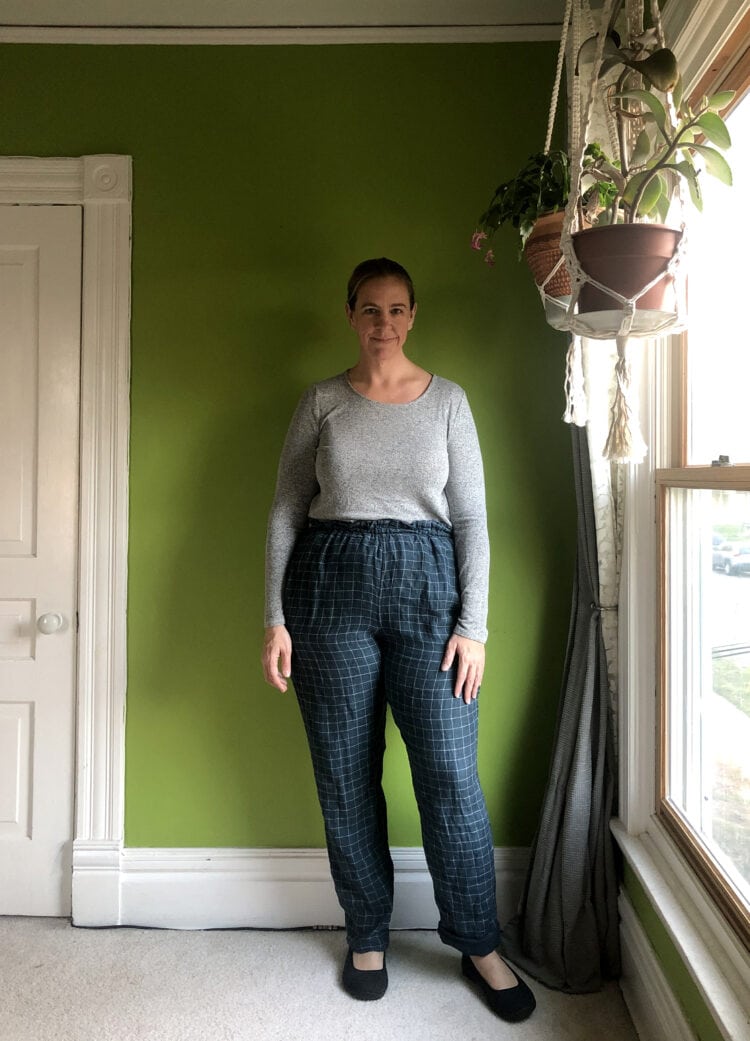 These pants also come in heavier-weight fabrics, which would be more appropriate for autumn and winter, and in a different print I would have no problems wearing these to work with a nicer shirt (but I work at a university, so a pretty casual environment!)
Because they have a full elastic waist (but stitched down and not free-floating!) and a generous cut, they will absolutely work across multiple sizes. Jessica has a photo of herself wearing the shard pants while quite pregnant too!
House of Flint Review: Would I Order Again?
Would I order from House of Flint again? Absolutely yes! I have the long-sleeved shard shirt on order, and additionally, I have a pair of the overalls on order in a custom fabric (the maroon TENCEL!) and an entire set of custom measurements to ensure that the body will be long enough for my long torso.  I missed the Christmas deadline, but I will be excited to get these as a gift for myself in the new year! I hope you enjoyed this review of the sustainable fashion brand House of Flint.
Have you tried House of Flint? Share your thoughts on this brand in the comments below!