This article may contain affiliate links; if you click on a shopping link and make a purchase I may receive a commission. As an Amazon Associate, I earn from qualifying purchases.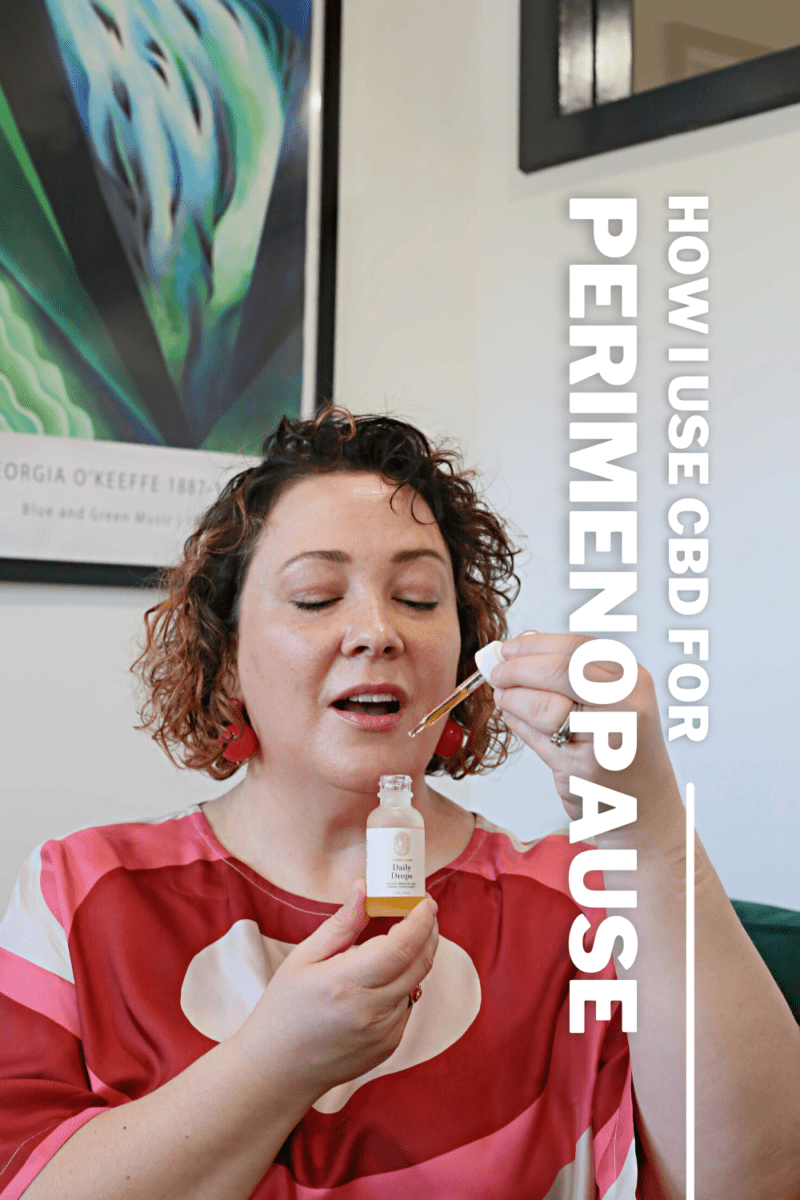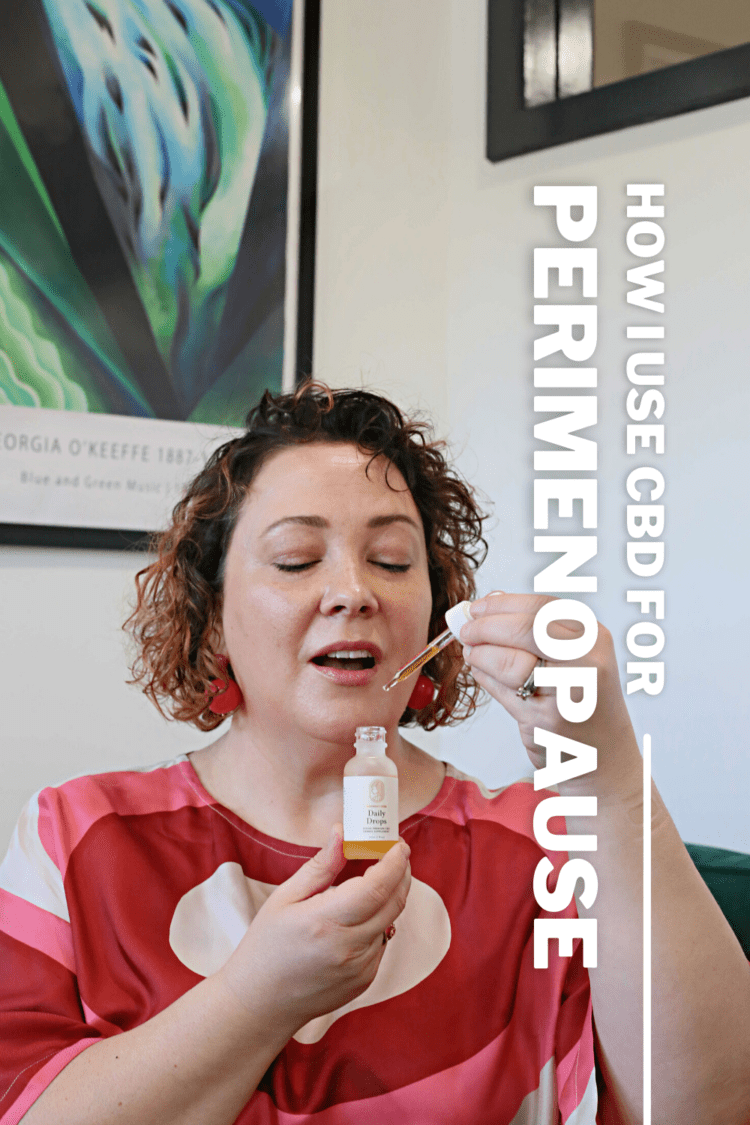 I turned 47 earlier this year and have noticed for a bit that my body has been acting differently. My sleep has been erratic, as has been my mood. I can wake up in the middle of the night dripping in sweat, and especially if I am stressed can have a hot flash in the middle of the day. I've played with diet, meditation, and supplements but one thing that has really helped me is CBD for perimenopause symptoms I seem to be experiencing.
Why I Started Using CBD
I began using CBD in 2018. A friend recommended it to help with mild anxiety and I ordered a bottle of drops. I found it did work, especially when taken regularly. It helped with mild anxiety without making me feel drugged, sleepy, or off and it didn't interact with anything else I took, didn't have to be super precise with timing or dosage, and that it worked for more than just mood.
I found CBD helped with inflammation. Taking it after a hard workout or before sleep after a tense day helped my body relax and recover. Applying it topically to cuts, burns, and irritated skin helped it heal faster, and applying it to sore knees and muscles reduced achiness.
This post is sponsored by Equilibria.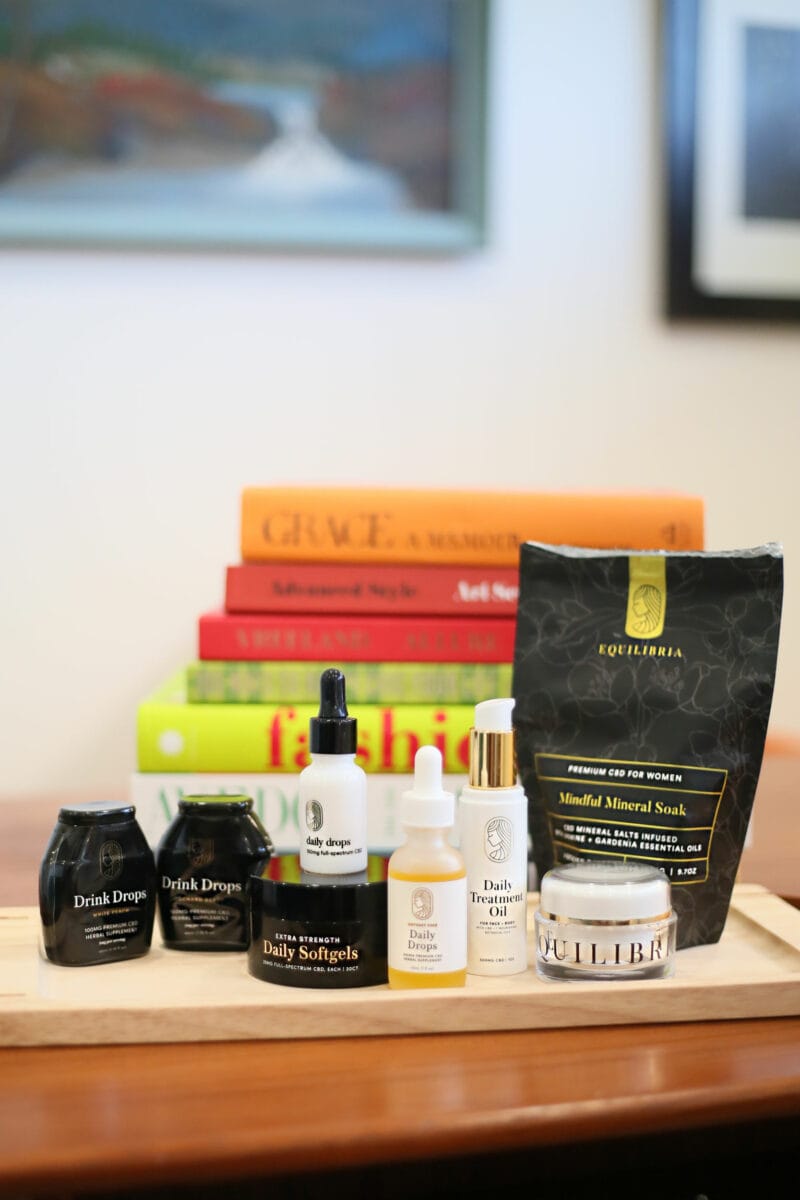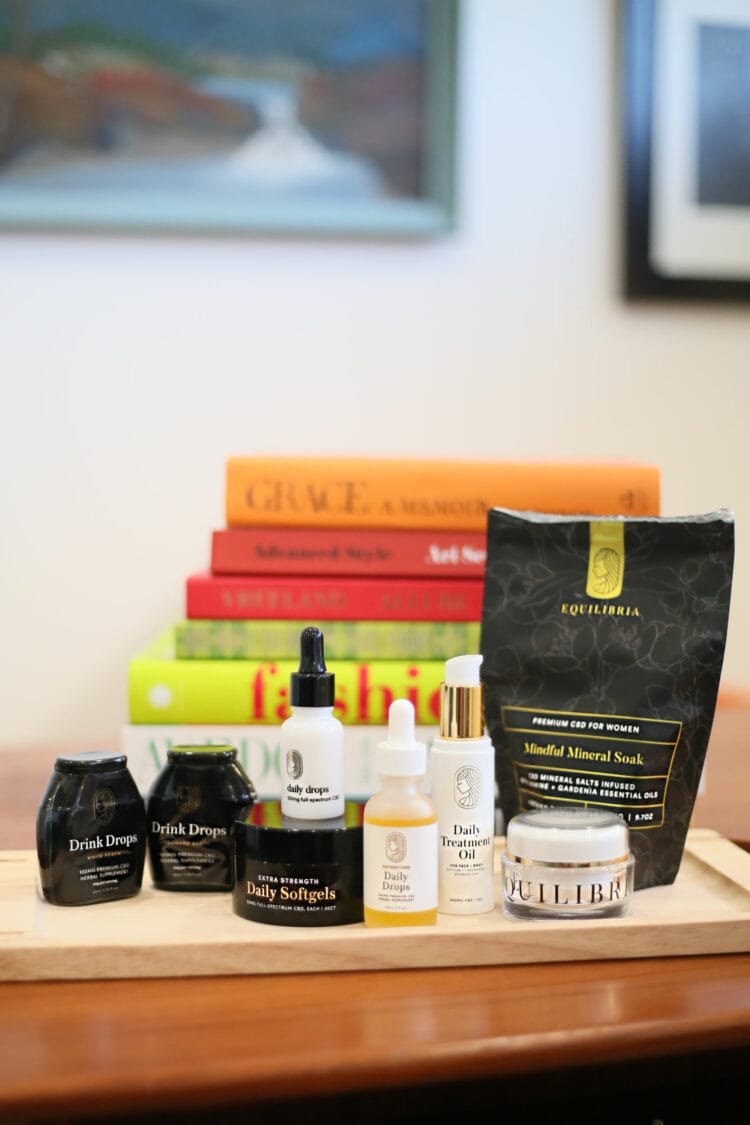 Why I Use Equilibria CBD
I've turned my husband, my mom, my sister, and so many of my friends onto CBD. And when I found out about Equilibria, a woman-owned organic full-spectrum single-source CBD company that creates products and does testing and research specifically for women and our needs, I began getting more of my products from them. I appreciated that they owned their farms, they controlled the quality and consistency of the products, they offer dosage specialists to get on the phone with you and help you create a CBD plan specific to you and your unique needs.
I've used many different CBD products from dozens of brands, but I have found Equilibria to offer high-quality, consistent product. Full disclosure: since my original Equilibria review, I became an Equilibria Ambassador. This means that if you make a purchase using my links or my discount code, I may make a commission. Speaking of which, at the bottom of this article is a promo code that will provide savings to new, existing, and previous Equilibria customers!
That being said, everything in this article is my own thoughts and honest feelings about Equilibria and how I have used CBD for perimenopause. I chose the topic, I chose what to include, and if you looked in my medicine cabinet, purse, or on my nightstand you'd see I walk the talk as a true Equilibira CBD fan.
CBD for Perimenopause: What Works for Me
Below I share how I use CBD for perimenopause symptoms I experience. I know this time of life is different for everyone, and I know that some of the symptoms individuals may experience even if they are not going through perimenopause.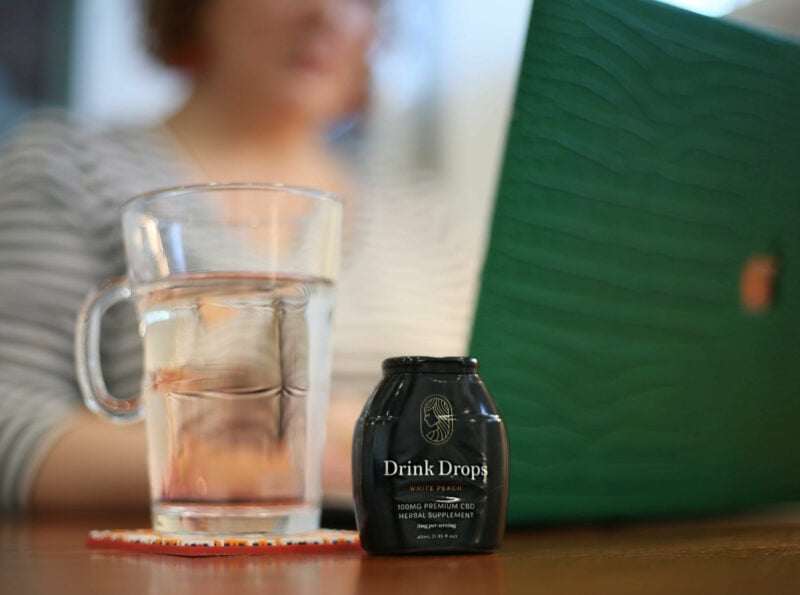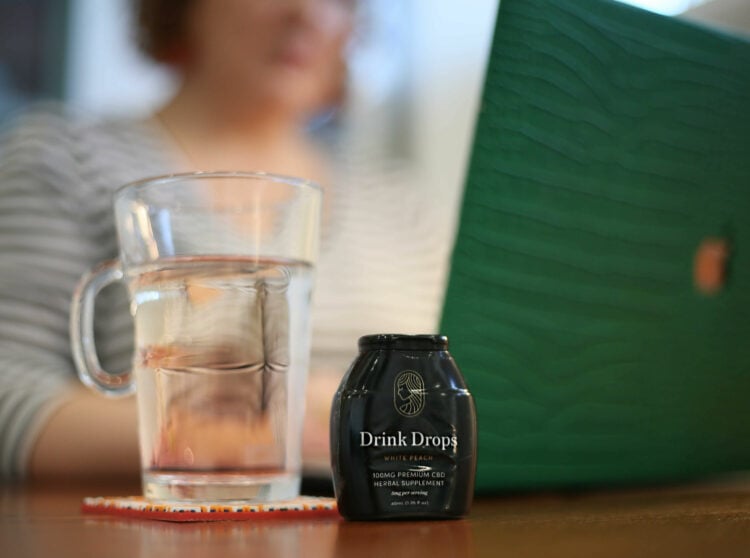 Trouble Falling Asleep
This is something that used to plague me, but has improved in the past two years – trouble falling asleep. It felt that I just could not turn off my brain. I'd reduce screen time before bed, dim the lights, do a guided meditation, read, journal… I tried all the methods with little success.
But then I started taking a dropper-full of CBD before hitting the pillow and it really helped quiet my mind without making me feel drugged or… honestly feel anything at all. While it worked well once in a while, I found it truly made the most impact when I used it every night.
CBD is fat-soluble, which means that it compounds in your body over time, so it ends up being more effective. And since CBD isn't habit-forming, there is no harm in using it on a daily basis. By taking a dropper-full under my tongue every night, after a few weeks I found that falling asleep was rarely an issue. To remember to take it, I kept the bottle of CBD Daily Drops next to my night cream and lip balm and added it to my bedtime routine. I highly recommend subscribing for Daily Drops; it's cheaper and then you'll always have a supply (and it's free shipping).
Equilibria has now come out with Drink Drops, which are concentrated flavored CBD liquids. You put one squeeze into any hot or cool liquid and the effects kick in within a half hour. I have really enjoyed this alternative; I'll put a squeeze into a cup of tea and savor it before heading upstairs for bed. The ritual of the drink plus the CBD has done worlds for helping me fall asleep even after a stressful day.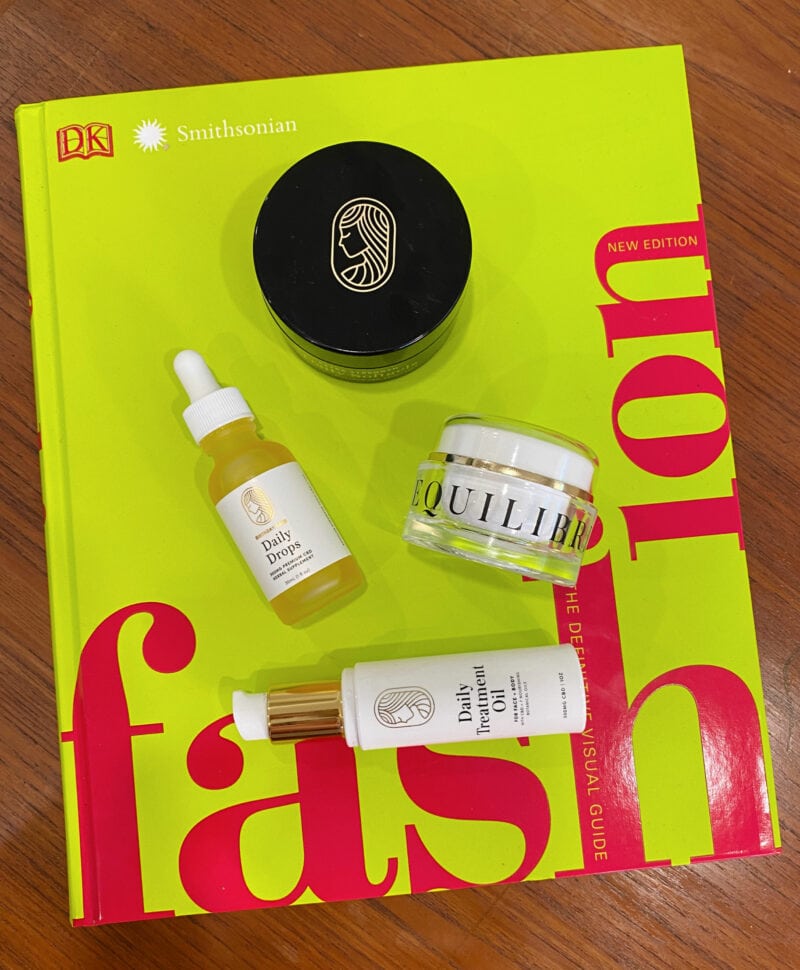 Trouble Staying Asleep
The issue with sleep and perimenopause that I have dealt with the most is staying asleep. It's like an internal alarm clock goes off at 3am and I am up with a start and it's near impossible to get back to sleep.
For over a year, I have been taking two Equilibria softgels each evening with a little snack about an hour before bed. CBD oil works better with a bit of food in the stomach; only need a couple of crackers or a cookie to get the job done. The softgels are slower release than drops, so it slowly goes into my system and I get the results not at bedtime, but hours after when my body seems to want to wake up. This is also a product I subscribe to so I can ensure having the right dosage at all times and for a lower price.
And if by chance I do end up waking up in the middle of the night (it's extremely rare since regularly taking the softgels) I now either have a glass of water or make a cup of tea and add a squirt of Drink Drops. That I find will help me get back into the right mindset to fall into a sound sleep and not be drowsy when the alarm goes off.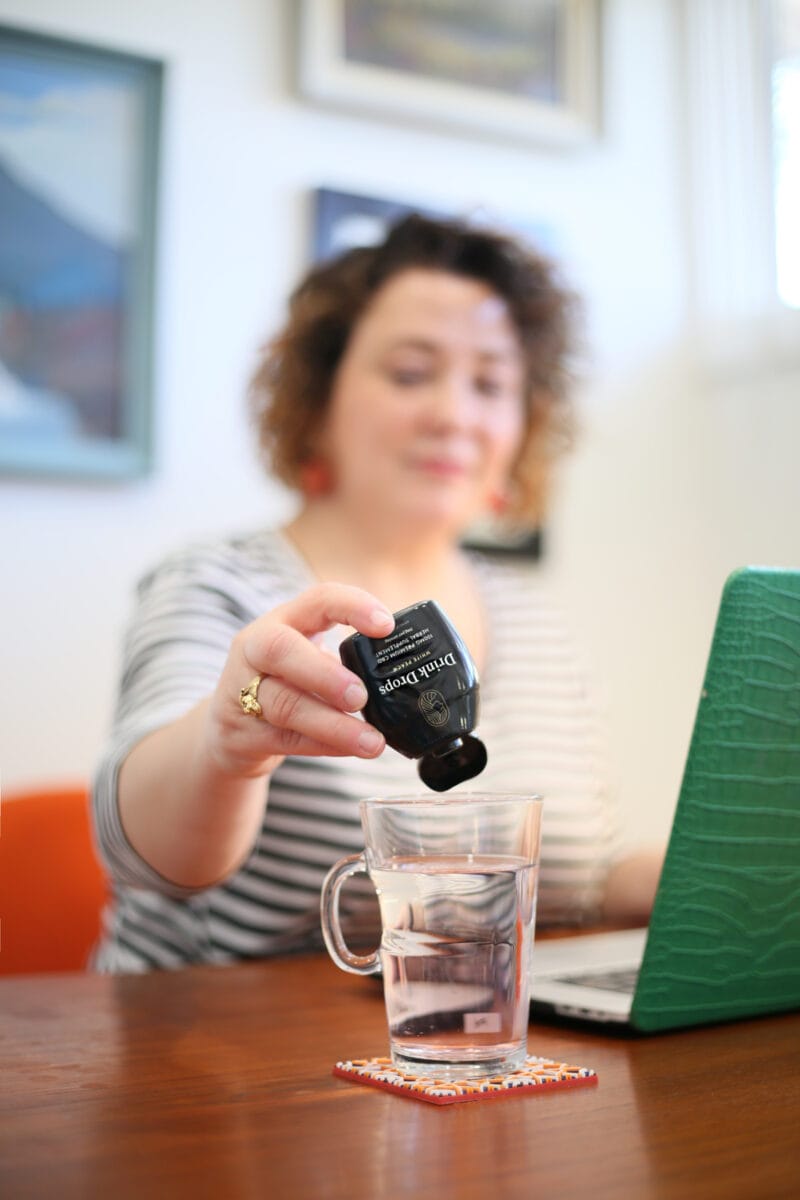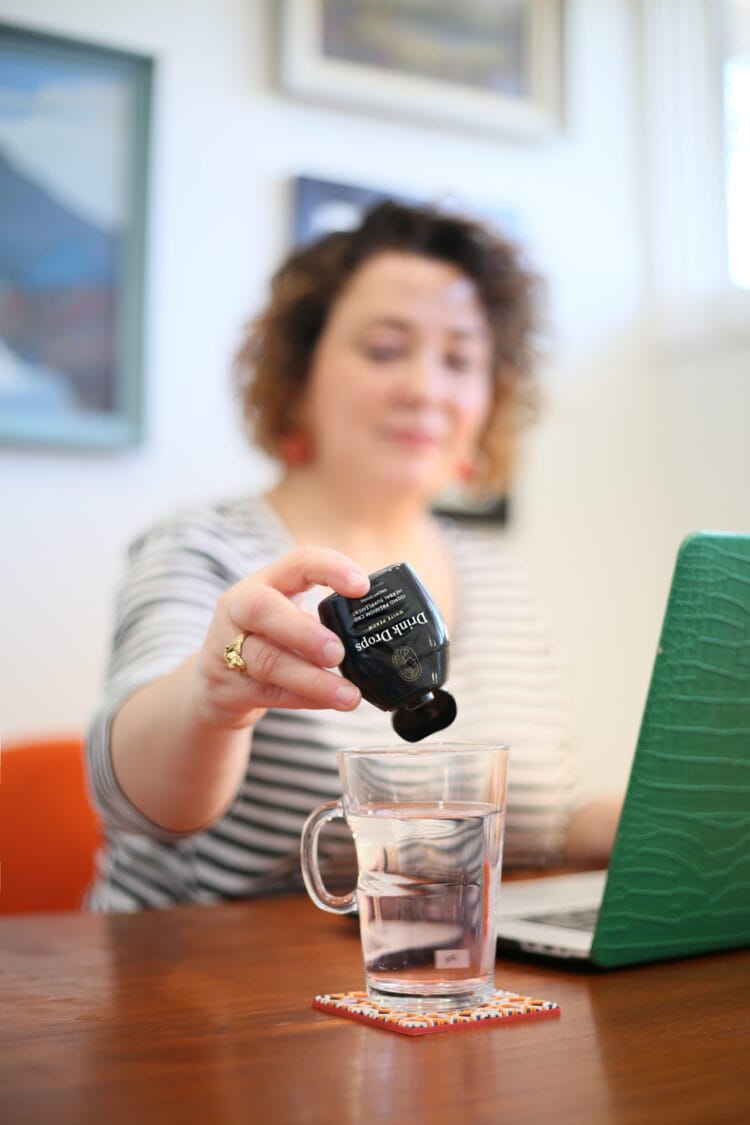 Mild Anxiety and Hot Flashes
I can feel cool as a cucumber, and then suddenly I feel incredibly anxious, like I am driving down a hill in a car and the brakes aren't working. Does anyone else experience this? I've tried box breathing, I've found benefit by ensuring I stay well hydrated all day, but CBD has also done wonders.
Equilibria has these little Rapid Calming Melts that dissolve super fast and provide super fast relief. I keep them in my purse; they're great when in traffic, in line, in a chaotic moment that can get my temperature rising and I can feel myself getting even more anxious.
I also keep Equilibria Drink Drops at the office and at home for such moments. Again, the ritual of making a cup of tea gets me in the right headspace, and the squirt of CBD added kicks in to make me feel levelheaded and not at all groggy.
I have found by taking CBD regularly, my hot flashes have been less frequent. I think taking Daily Drops or Drink Drops midday has been really good for both my anxiety and preventing hot flashes, which I often experienced most in the afternoon and early evening.
Feeling Stiff and Achy
I used to be able to go to the gym or go for a hike, stretch a bit after, and be fine. Now, it seems like a get a hangover-like experience from such a workout. Even with stretching, I can often wake feeling so stiff I can hardly get out of bed.
I've learned to "pre-party" with CBD. I have a few different topical CBD products, but by far the one that has made the most impact on me and my whole family is Equilibria Relief Balm. I rave about this product all the time because it has been SUCH a gamechanger.
Made with full-spectrum hemp flower oil, coconut oil, shea butter, arnica, menthol, lavender, and rosemary I rub this salve into my knees before a Peloton ride, rub it into my lower back before bed, and rub it on my feet before and after wearing heels or new shoes. Seriously, a gamechanger.
I also love Equilibria's Mindful Mineral Soak. This is a favorite on the weekend after a stressful week and a few hard Peloton rides. I light a candle, grab a magazine, fill the tub and add the Mindful Mineral Soak and enjoy a little Me Time that also helps relax my muscles and soften my skin.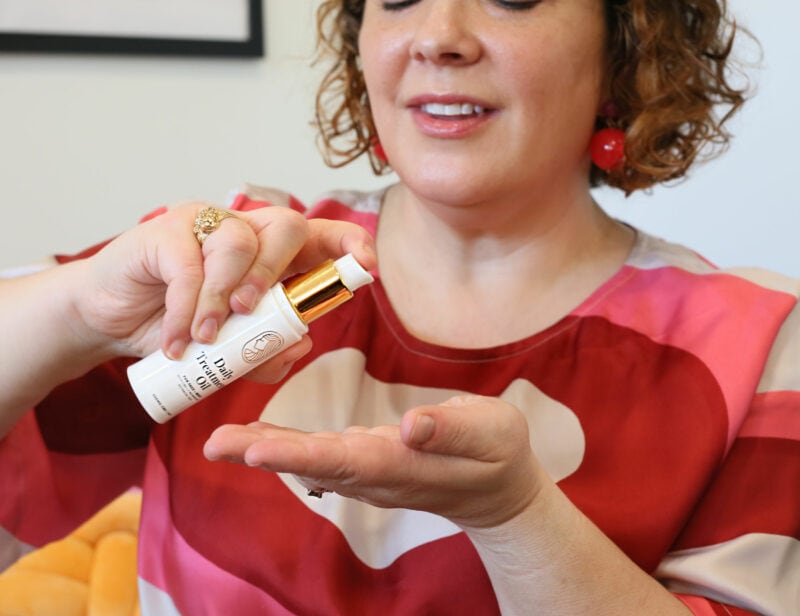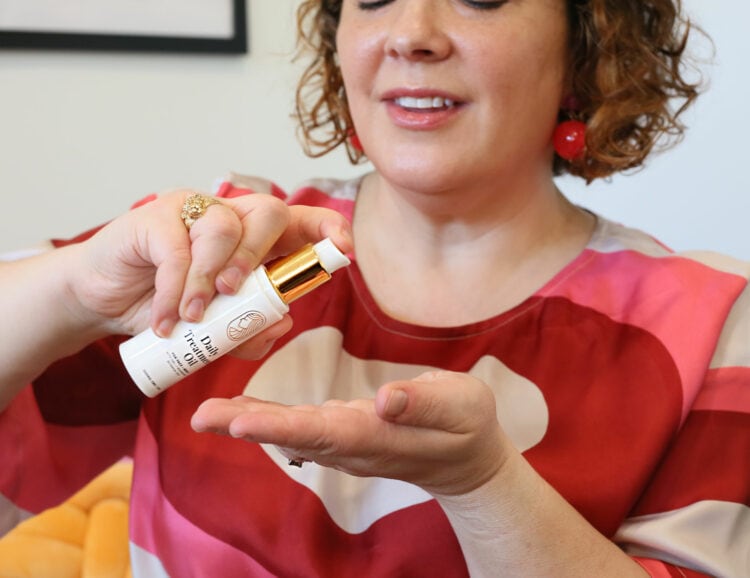 Dry Skin
I know I am not the only women over 40 who has begun to experience dryness. I have different products that deal with different issues of dryness, but for my face, a true gamechanger has been applying a layer of Equilibria Daily Treatment Oil over my night cream at night, on my face on WFH days when I don't apply makeup… and I have even added a bit to foundation to thin it out and help it spread more evenly.
The Nourishing Body Oil has the same great effects but for the rest of the body and it smells so good you're going to want to use it plus love the hydrating results.
CBD is a fantastic hydrator and also helps reduce redness and inflammation. But this oil, which smells like a fancy spa, also contains organic sweet almond oil, grapeseed oil, olive squalane, evening primrose oil, natural fragrance, grapefruit oil, and litsea oil for ultra hydration.
I have used oils in my skincare for years, but I'd say the Daily Treatment Oil is the one I use by far the most. I like the consistency, the smell, how it plays nice with other products, and how effective it is for a small amount.
Honestly, any CBD is great for really dry skin. My daughter uses the Daily Drops on her hands when she gets irritated from handsoaps with sulfates and hand sanitizers. We both use the Relief Balm on dry and cracked cuticles and it's amazing on feet for overnight repair.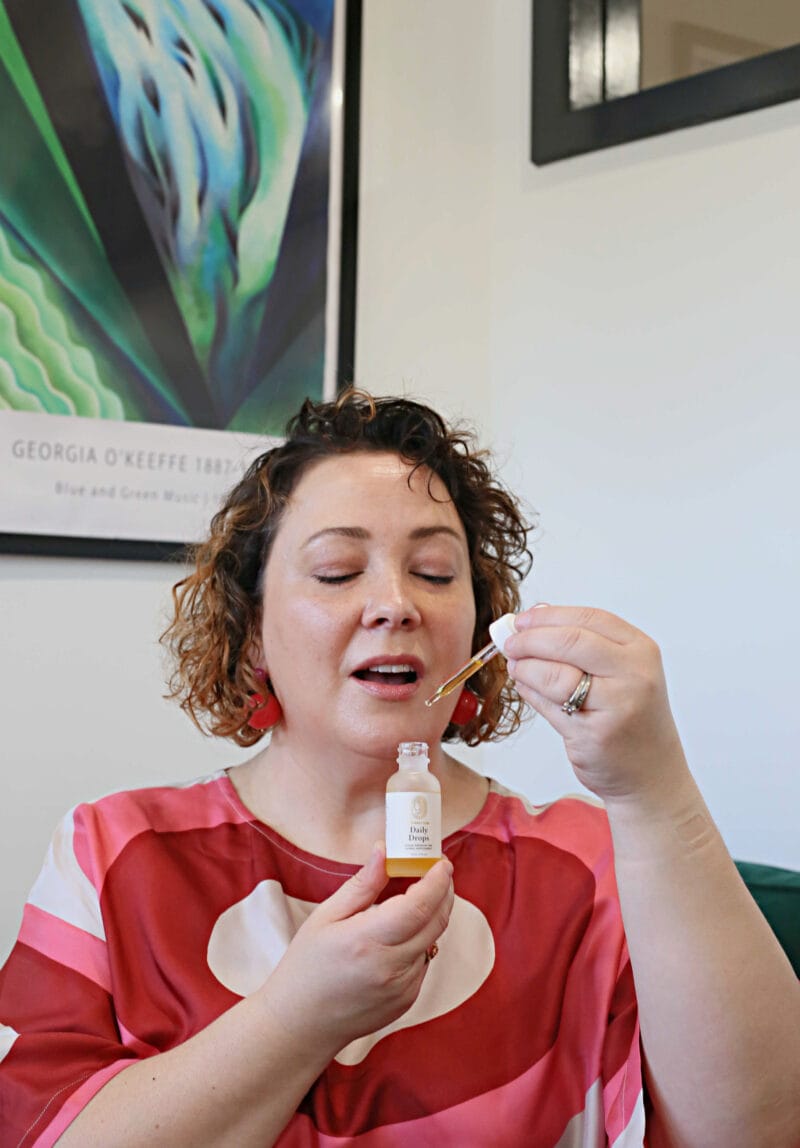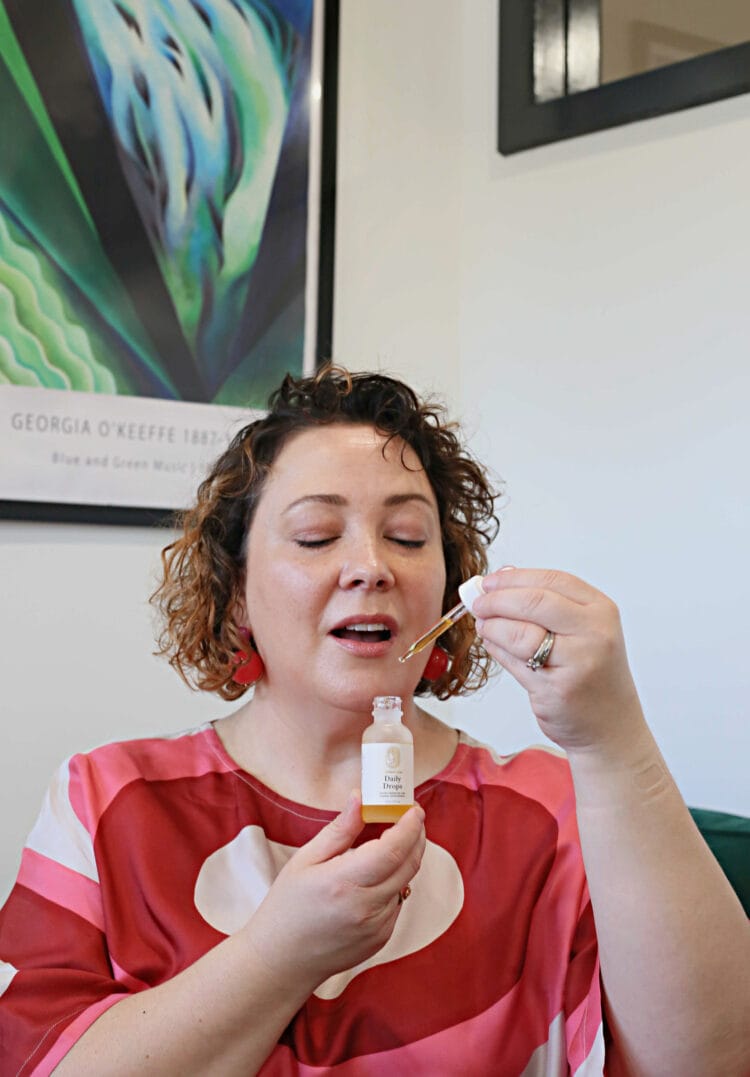 Is CBD for Perimenopause Right for You?
Equilibria CBD is full-spectrum, which means there may be trace amounts of THC. Nothing that will get you high, but if you drug test for any reason, you may not wish to consume CBD for the slight chance it may show on the test. This article from Verywell Health delves into what it means to be full-spectrum CBD.
If you have had issues in the past consuming CBD oil, I recommend the Drink Drops. No pills, no oil under the tongue. However, the Drink Drops have Stevia, which some individuals have trouble consuming.
If you are on medications and concerned about interactions, I encourage you to have a session with an Equilibria Dosage Specialist. These aren't generic customer service agents, but individuals with years of training and research with CBD under their belts who can provide honest information about what is right for your health and routine.
CBD isn't magic. It won't stop your hot flashes overnight, won't change you from being an insomniac to sleeping like a baby, won't turn your eczema into soft and happy skin. But high quality full-spectrum CBD like Equilibria can help minimize the effects of perimenopause and along with other lifestyle changes can make this period in life more comfortable.
I am not an expert, but the folks at Equilibria are when it comes to CBD. I encourage you to visit their site, contact their support, make an appointment with one of their Dosage Specialists, and do your own homework like I did when I first reviewed Equilibria. Even Harvard Medical School discusses the benefits of CBD for perimenopause. It's worth checking out if you're experiencing any of the issues I mentioned above.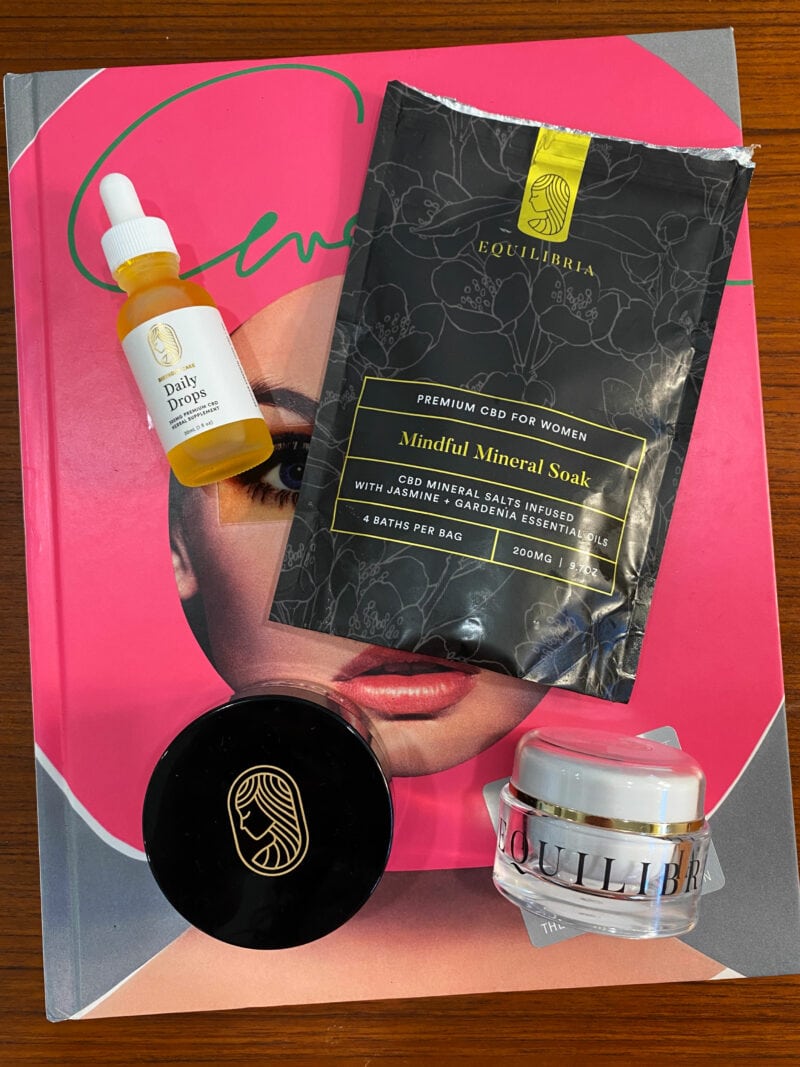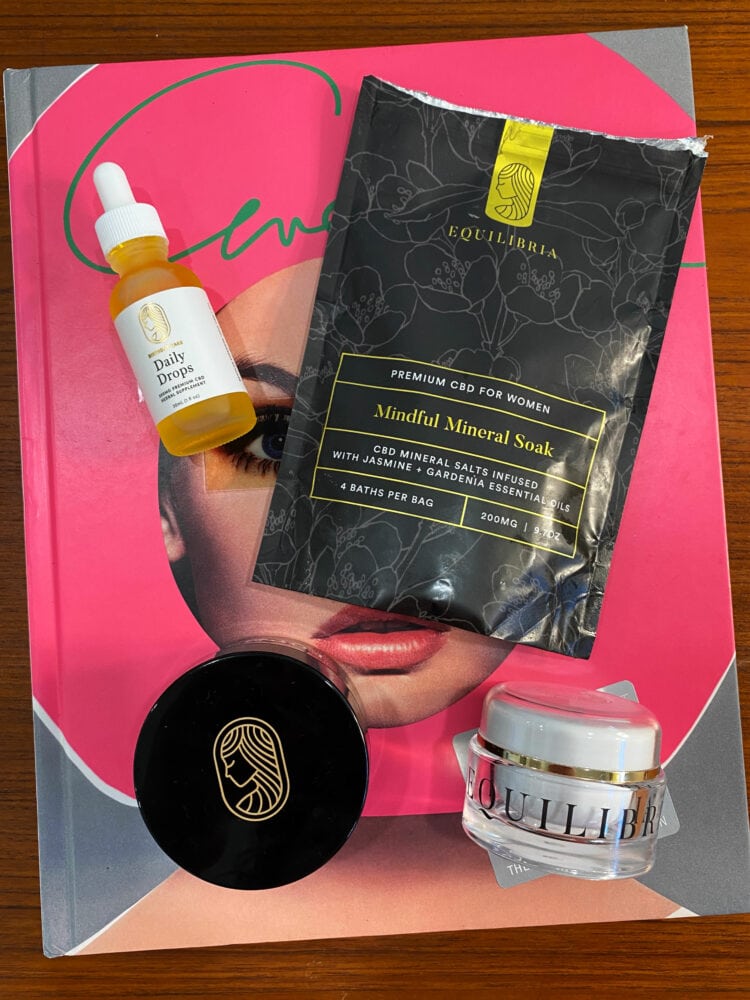 Equilibria Promo Code
Through the end of March 2022, use WARDROBEOXYGEN at checkout and get 33% off your entire Equilibria order! While Equilibria promo codes are usually just for new customers, through this month my code will work for all customers. Tried Equilibria before? Are you a current customer? Awesome, use this link and WARDROBEOXYGEN at checkout for 33% off your entire order. Single products, subscriptions, you name it, it's 33% off! What a great time to stock up or finally try Equilibria!