This article may contain affiliate links; if you click on a shopping link and make a purchase I may receive a commission. As an Amazon Associate, I earn from qualifying purchases.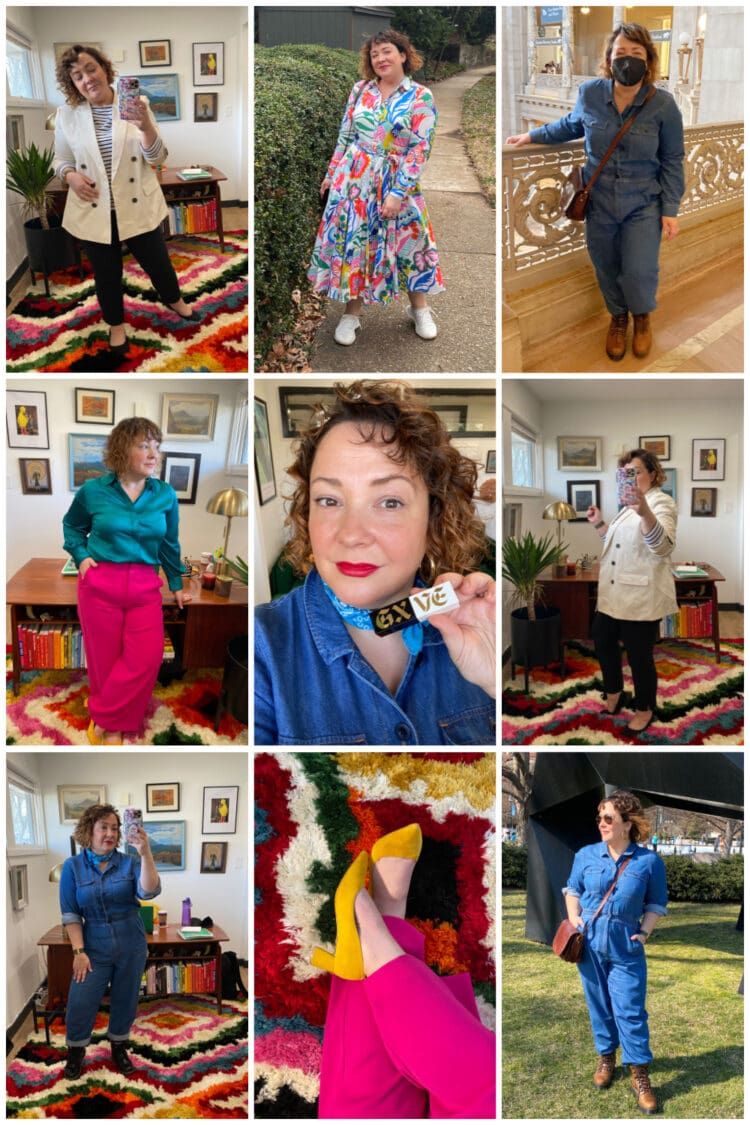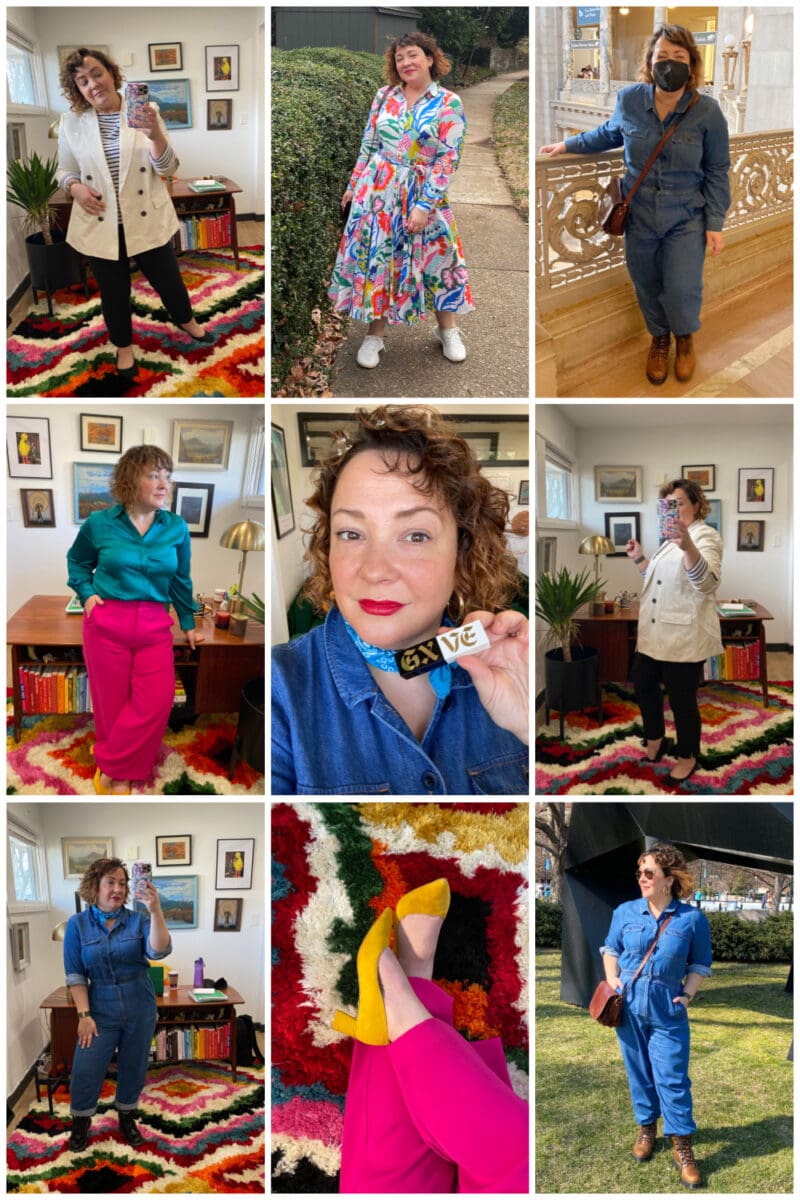 A few looks from the last two weeks… while our weather is all over the place, my mind is definitely in a springy place. We've had days where we drive with the car windows open and the next day experience a blizzard. Nights where the windows are open and we're sweating under a single sheet and others where we bundle extra blankets on the beds. But March comes in like a lion and out like a lamb and I'm just switching out footwear and outerwear to make the wardrobe work!
Color on Color on Color
When all else fails, wear color. This is a motto of mine after I went through a period of life where I felt black would make me look chic and modern and would minimize my wardrobe but it just made me feel sad. So now when a day is going to be tough or I wake up on the wrong side of bed, I try to give myself a good dose of color and it usually helps!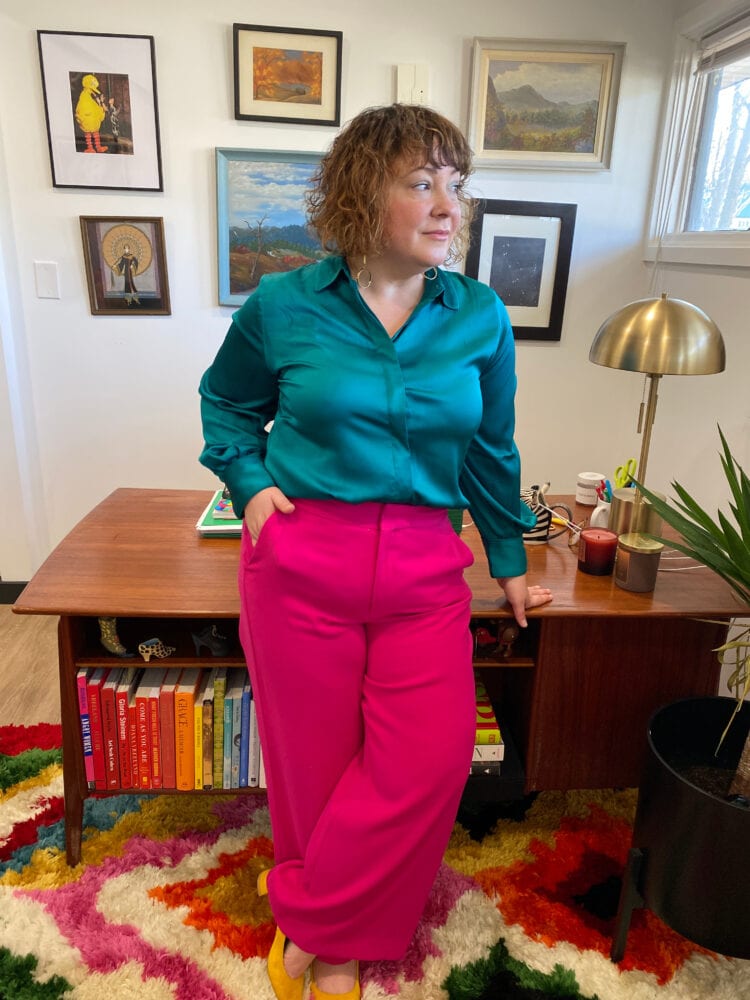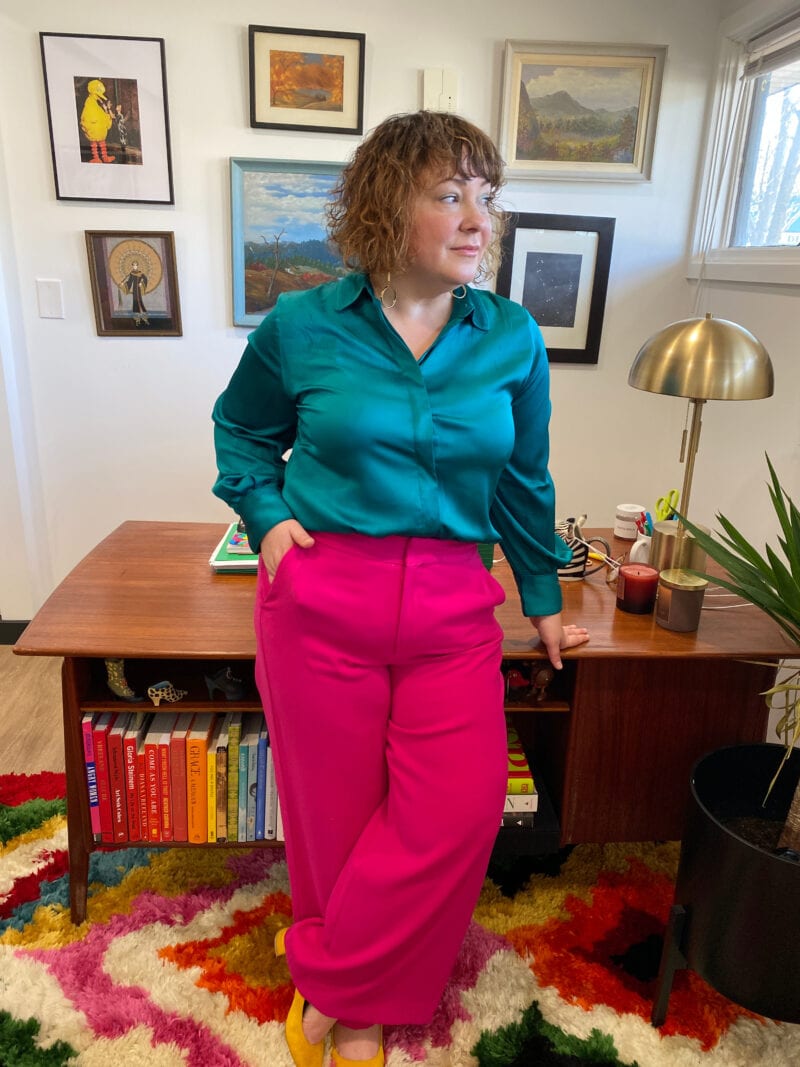 This blouse is from Chico's size 2. It's a bit snug in the bust since it's not stretchy, and this was the time of the month when my boobs are their most bodacious so I added a safety pin to keep them contained. This is a really lovely blouse and proof of why I continue to love Chico's. The pants you have seen many many times before; they are from Banana Republic and no longer available.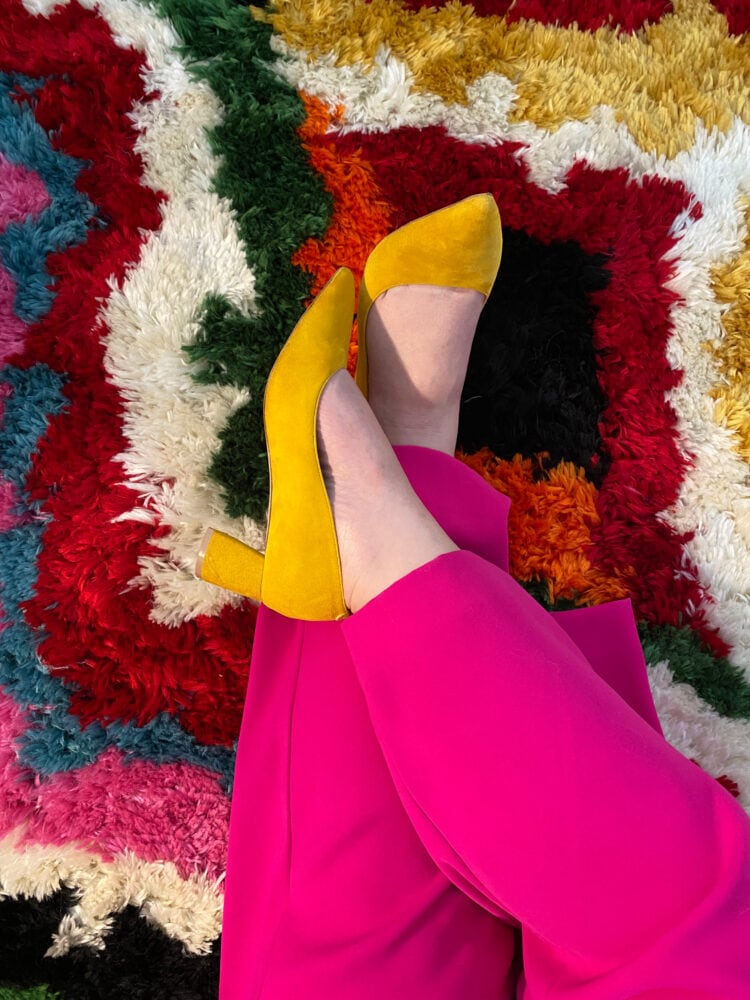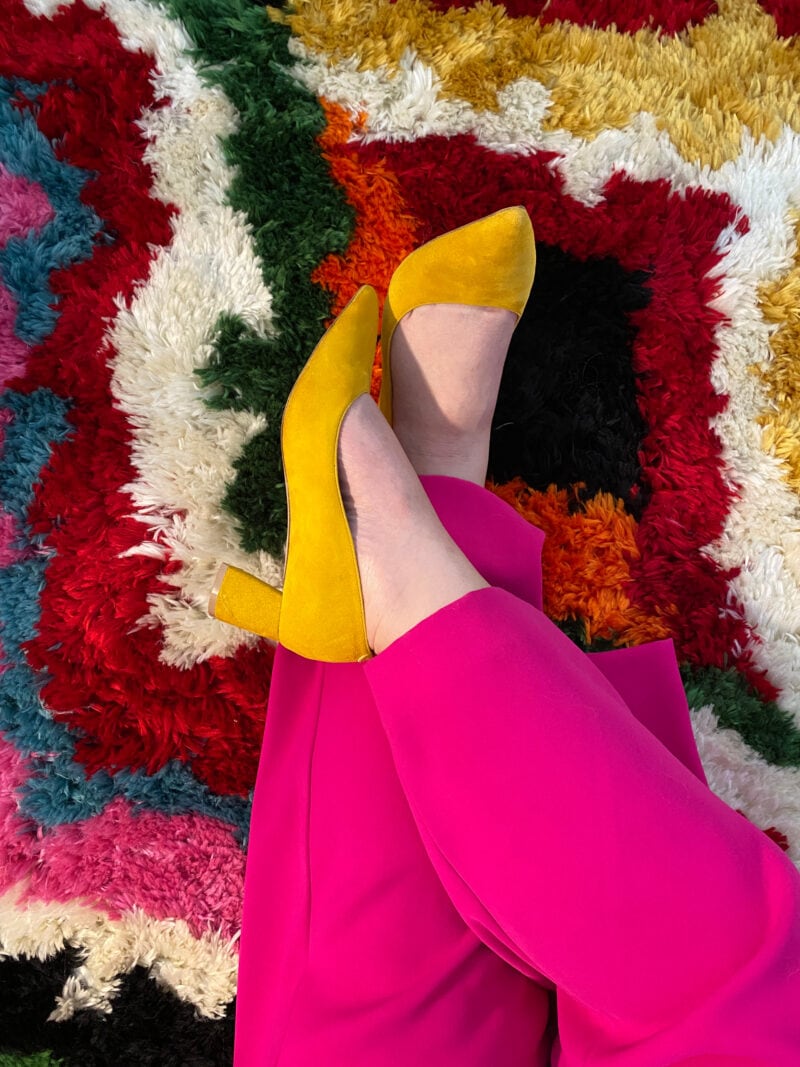 The shoes are from Ally NYC, which I have reviewed many times before. This pointed-toe low block heel is a really comfortable alternative to the pumps I rocked in Beforetimes and I love this yellow suede as an alternative neutral. Yellow isn't a color I enjoy wearing near my face but love for accessories like this.
Sightseeing on a Spring Day
I took my daughter and a few of her friends to DC the other weekend. We went to the Natural History Museum and then since it was a beautiful spring day, enjoyed some time outside at the Sculpture Garden and out on The National Mall.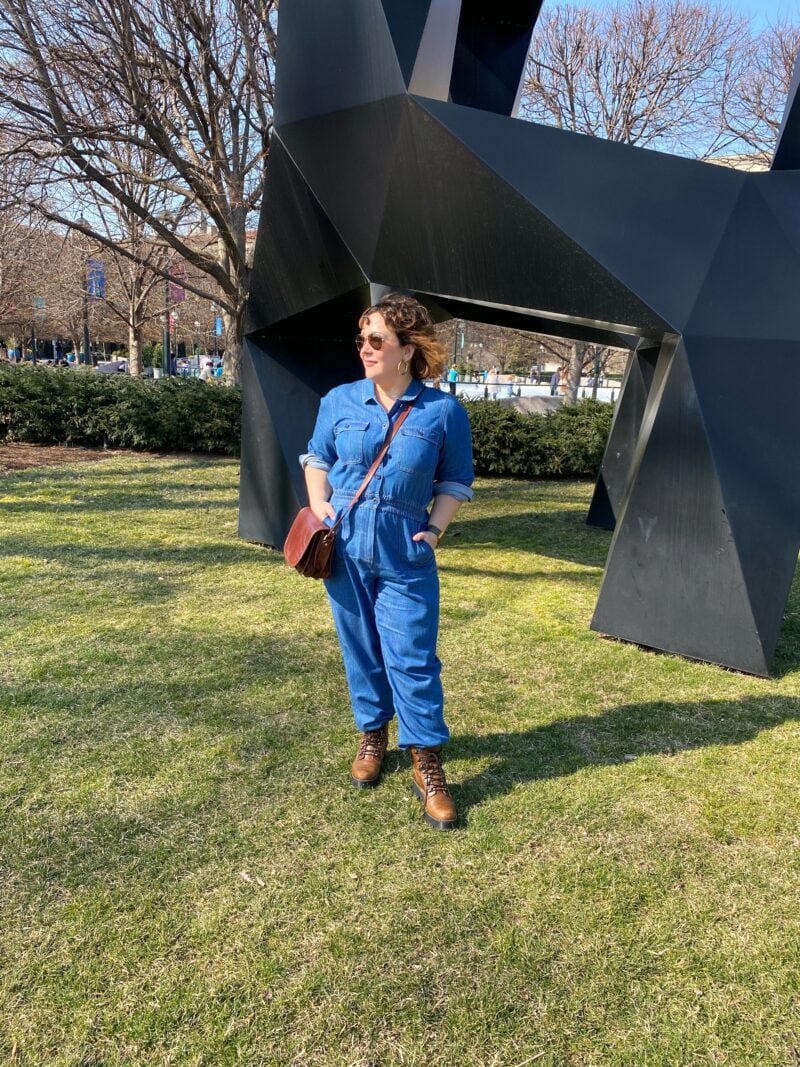 I chose to wear this jumpsuit I recently bought at J. Crew; this is a size 14. With the elasticized waist and large buttons, it's easy to get on and off in a public restroom, has big pockets, and will be comfortable while walking and standing for long periods of time.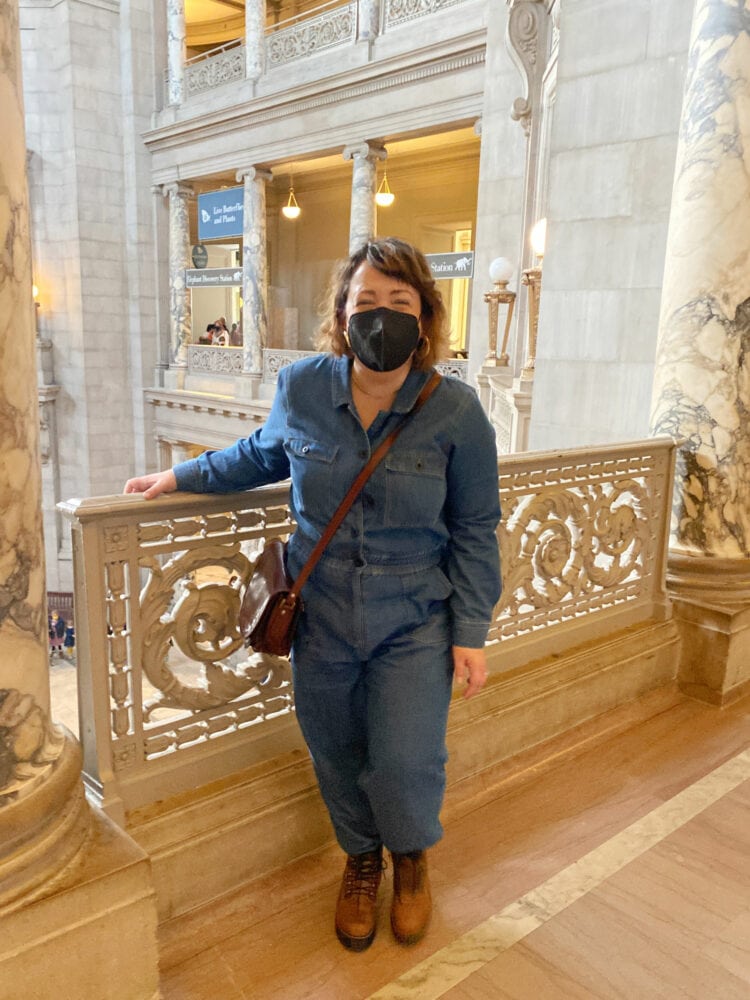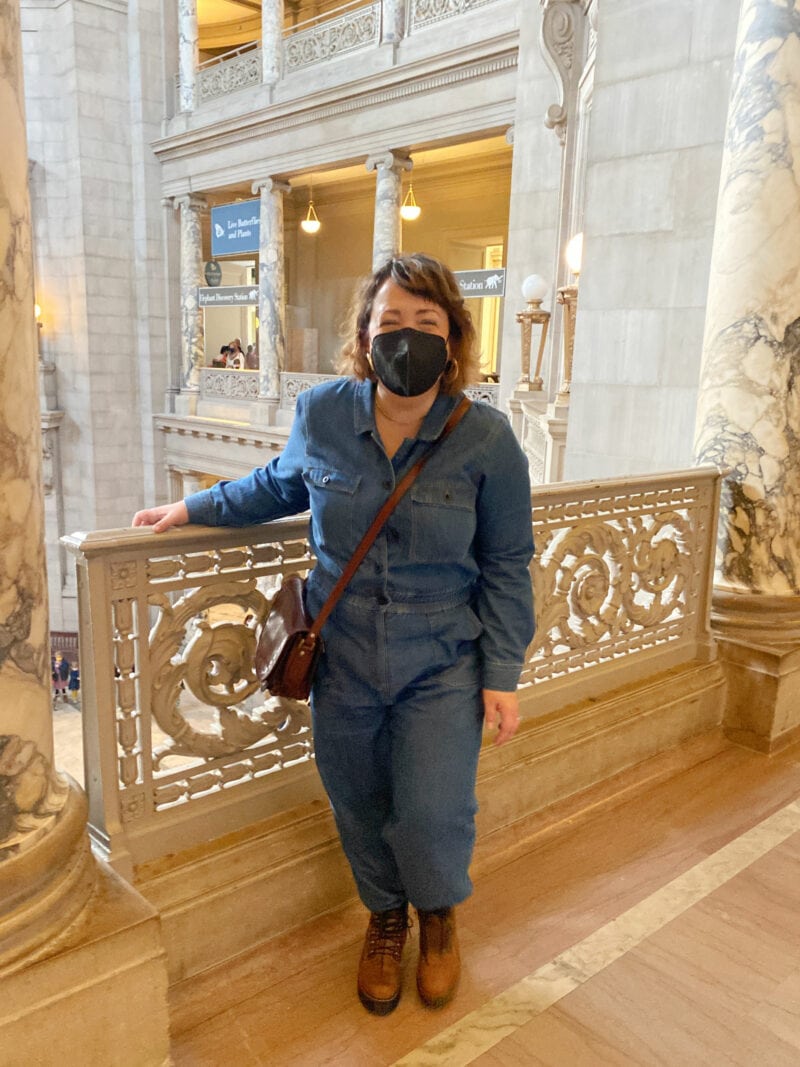 I added my Maxwell Scott saddle bag (use ALISON10 for 10% off at the site) which I have had for several years. I like how sturdy this bag is; you can sling winter coats over the bag and the strap can handle it. It has an interior zipper compartment big enough to protect a wallet and phone, and an exterior zipper pocket perfect for essentials as well as three other sections. And the strap adjusts nicely from shoulder to crossbody even if you have curves.
I chose to tuck the hem of the jumpsuit into a pair of boots to create a flight suit effect. These Docs seem sold out everywhere; a shame because they are comfortable right out of the box. I did find a few on Amazon. I added my ROKA aviators and these gold hoops from Baublebar to finish the look.
A Good Buy
I got this dress from Boden last year; you can see it in this blog post but I wore it so much through the spring, summer, and early fall. And when we had a slightly nice day, I was excited to bring it back out.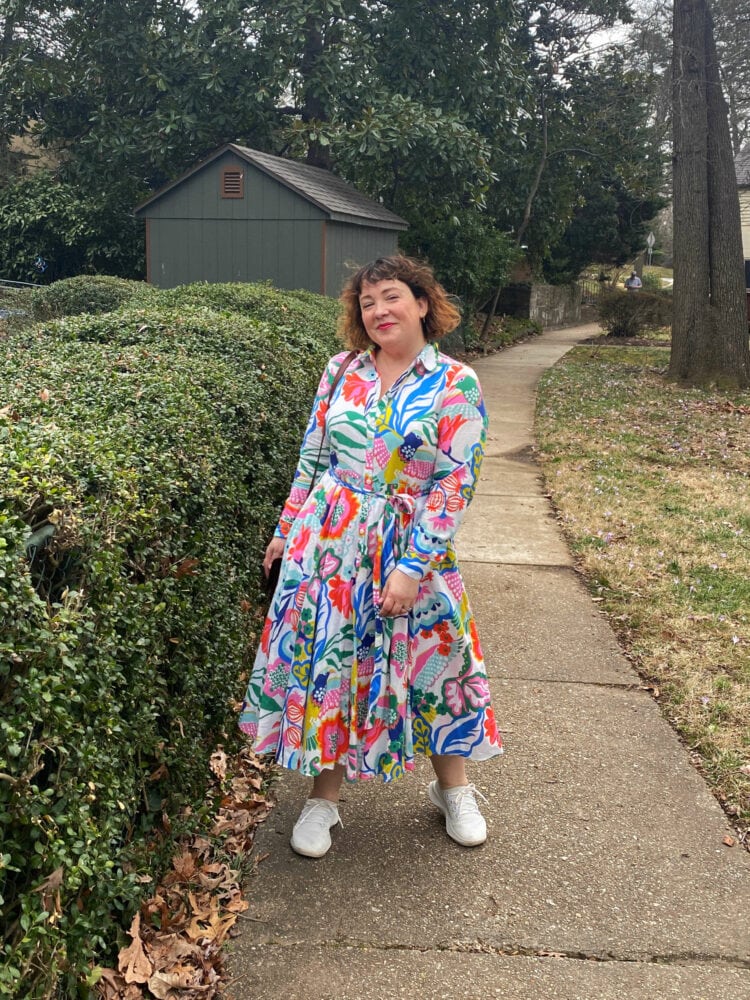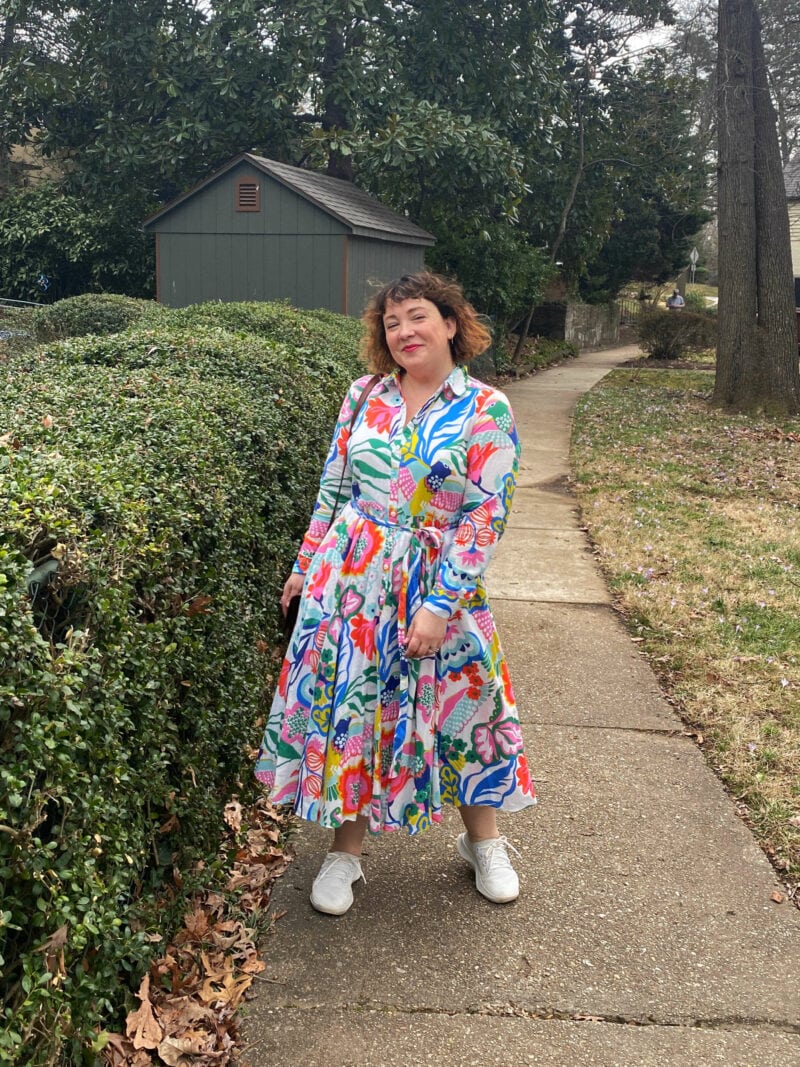 This is a size 14 regular and it fits great, even on my upper arms. The dress is a lightweight cotton, but the skirt has a lining so it has volume and opacity. And the cotton is more like voile so it doesn't really need to be ironed to look nice. I did iron the self-belt (so easy to do with a flat iron if you don't want to bring out the board and big iron!). Boden looks to have the same dress this season, just in a variety of other beautiful prints. There are also a few from last year on sale. I can't recommend this dress enough; I am tempted to get another one for myself!
With it I'm wearing my Allbirds sneakers; here you can read my Allbirds review and if they fit wide feet (for me, they do!).
Same Blazer, Different Day
I shared this blazer in last week's outfit recap post. Then I wore it with my Universal Standard NTN bodysuit. This time I dressed a bit more… completely.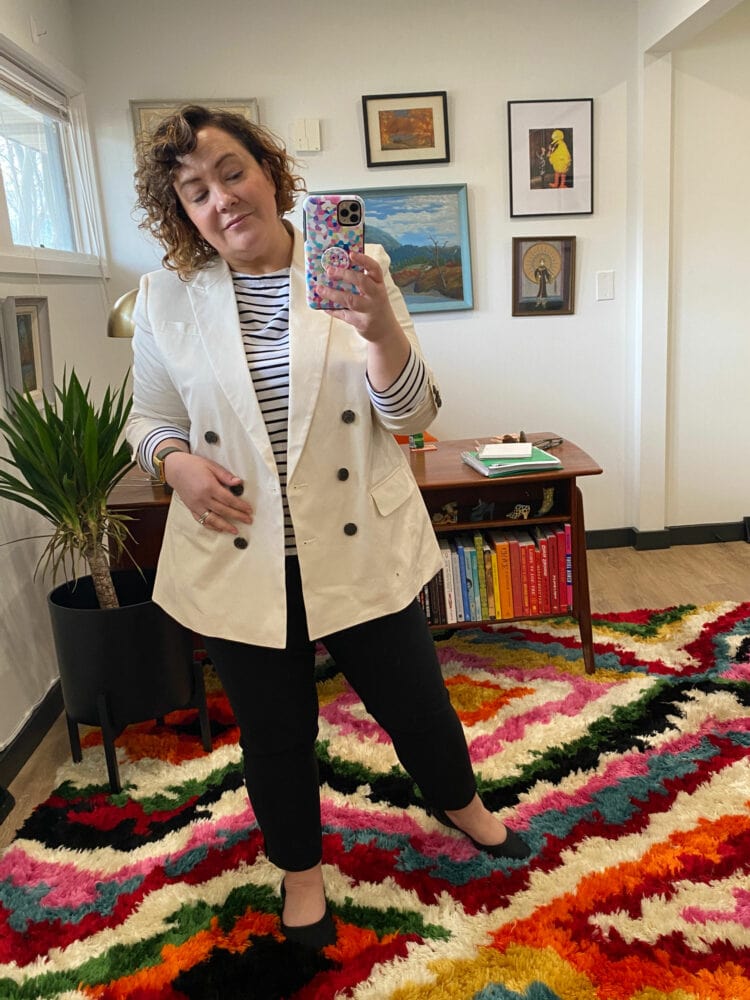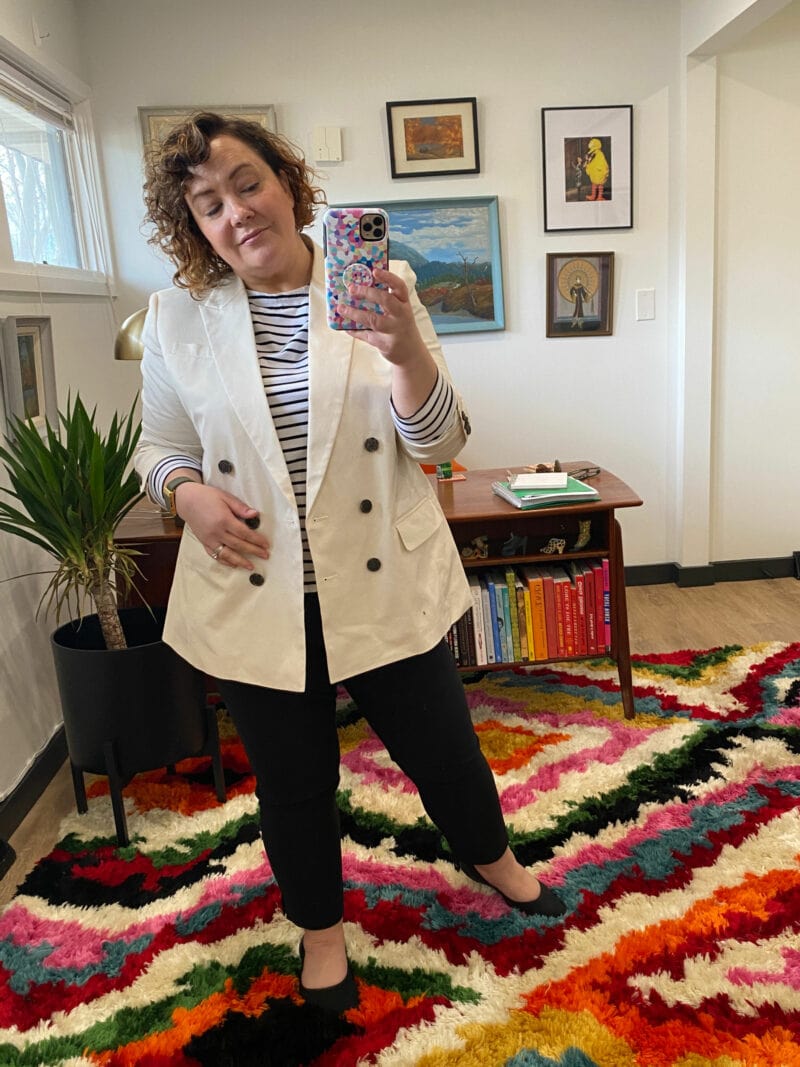 These pants are the Chico's Brigitte Ankle Pants, which is a classic pant the brand has carried for years. And I have been a fan for years. The fabric is this microtwill with a hint of shine that looks at home at Target as it does in the workplace or even a night out. This is the 2 Petite, which is a pretty great fit and length on me. They are a pull-on style with deep functional front pockets that don't bow out, and a subtle slit at the ankle. They come in so many colors and prints, different lengths, don't stretch out, and are machine washable.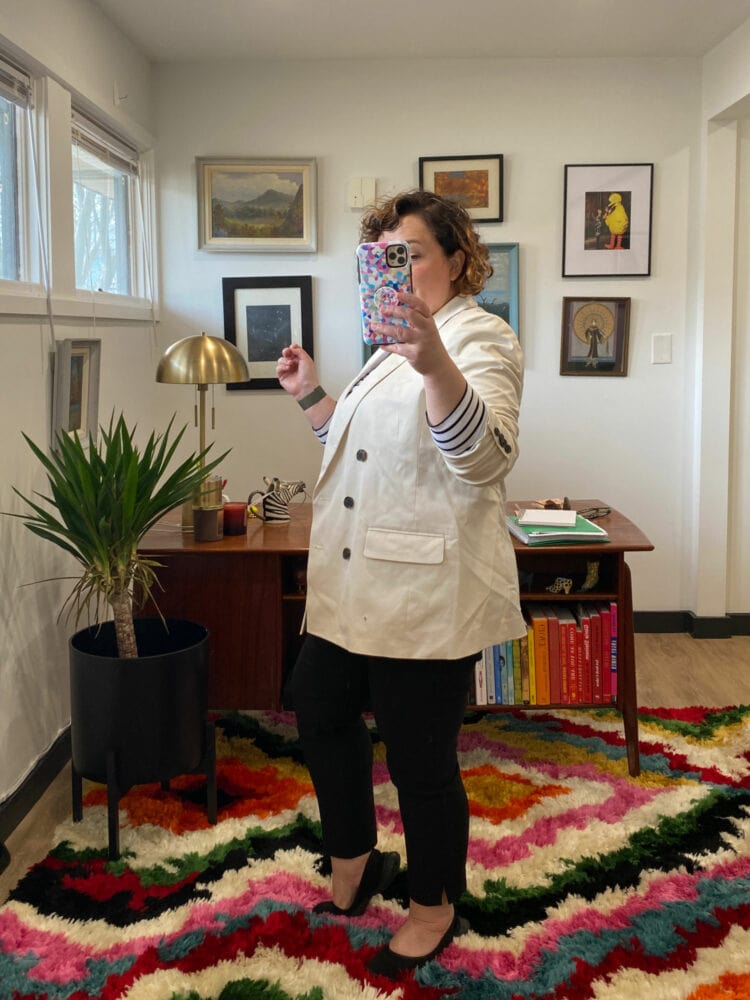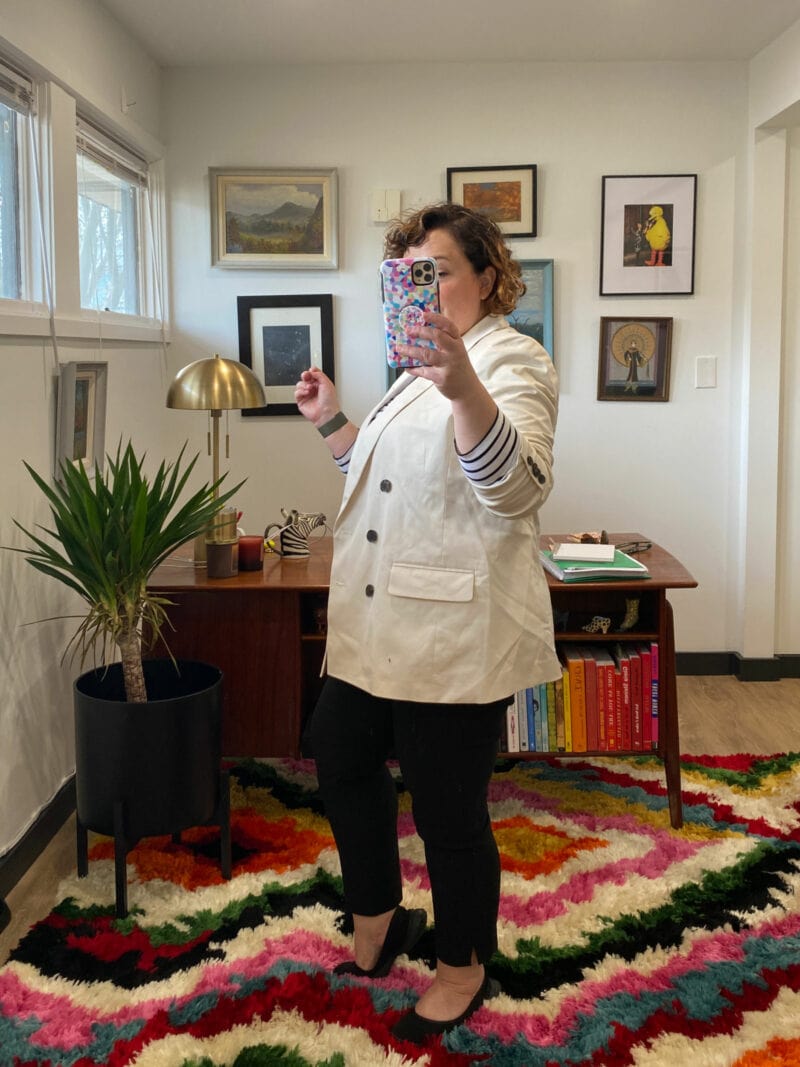 In fact, the morning before these photos I wore these pants and this top (this is the under-$25 Breton I review in this post, size XL) while cleaning my bedroom. I was crawling around on the floor getting under the bed and furniture and the pants kept their shape.
The blazer is size 16. It's a lightweight chino fabric which is great for spring, and I like the oversized effect. The shoes are the LISSOM flats; I've been pretty transparent with my relationship with this company. I still love these shoes, own two pairs and wear them regularly.
Not that Jumpsuit AGAIN!
Yep, here's that same J. Crew jumpsuit! It's why I love jumpsuits; they're so easy to get dressed. One-piece outfit, but no need for specific undergarments as one often has to do with dresses.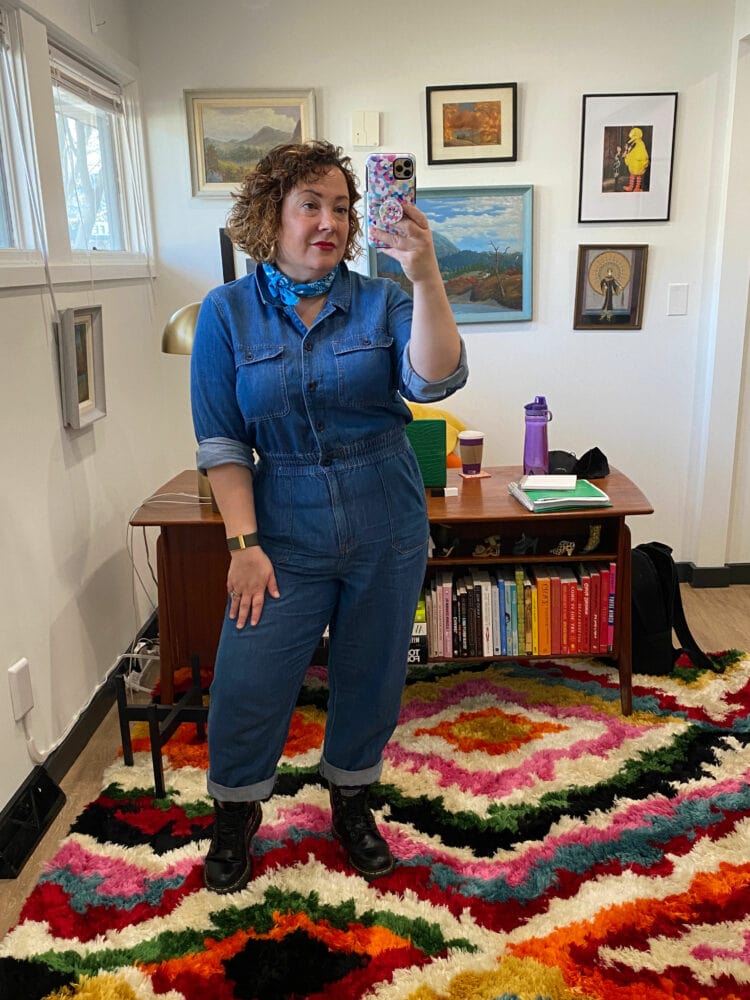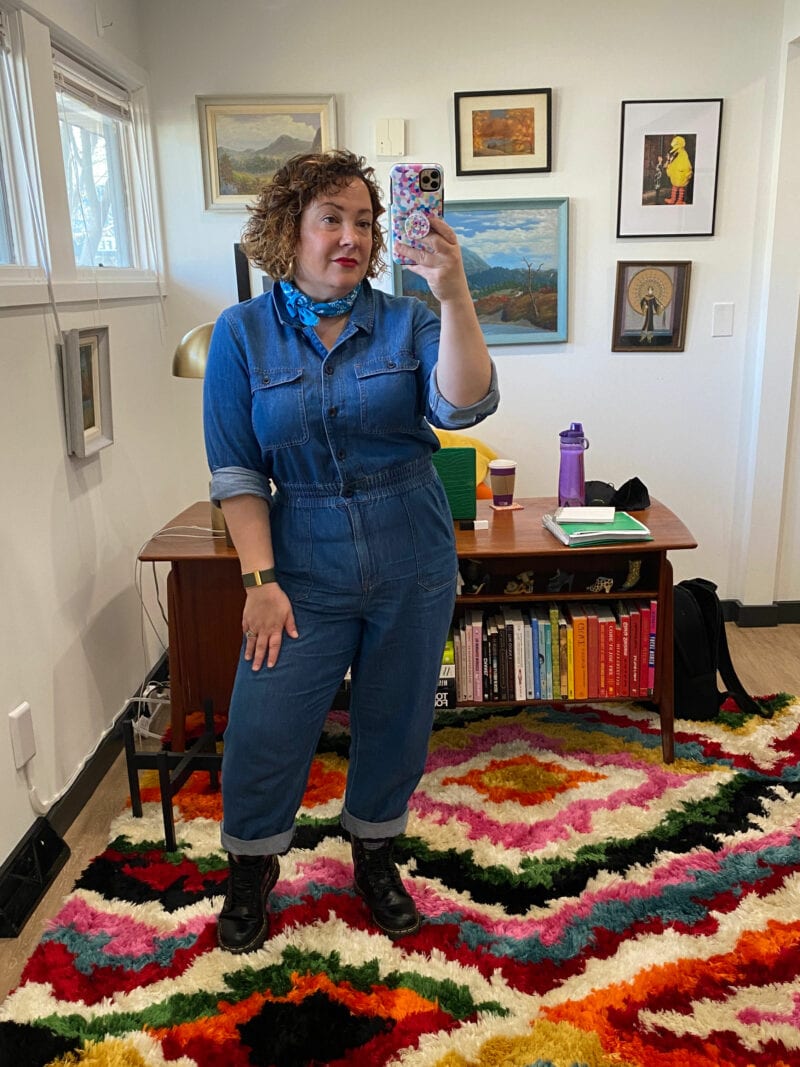 I actually was thinking of writing a post on how to style a denim jumpsuit with sneakers, boots, heels, and sandals and cuffed this jumpsuit twice to wear with my white Birks. It was cute, BTW. But I didn't shoot that day and the next day was this day and with the legs stiff cuffed I put on my boots for the cooler weather… and liked the result!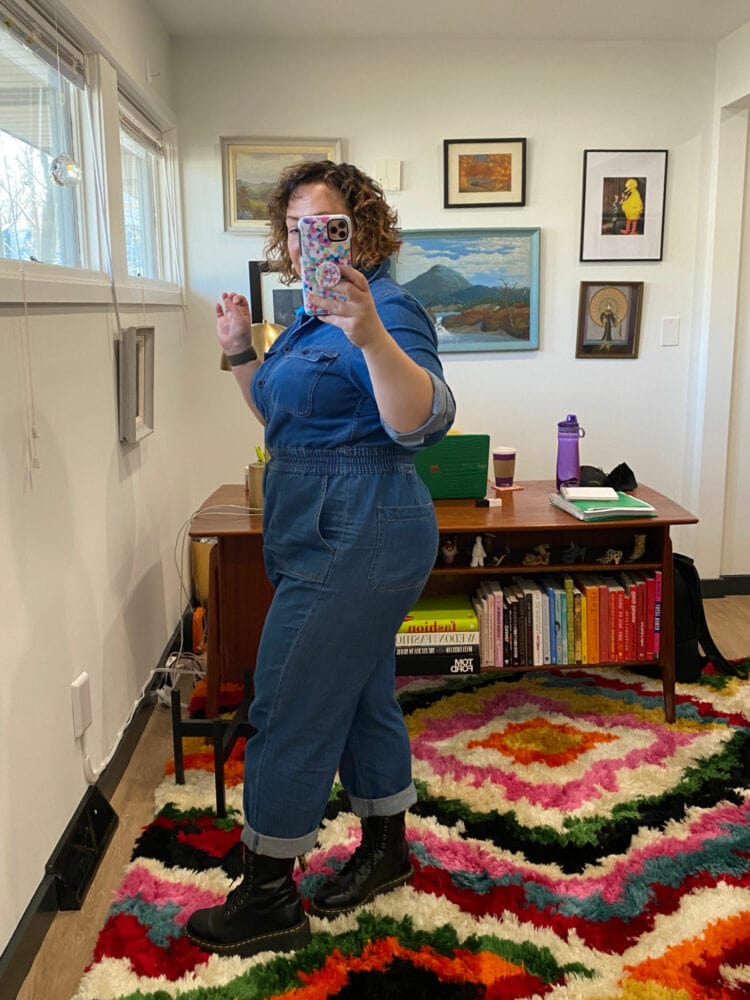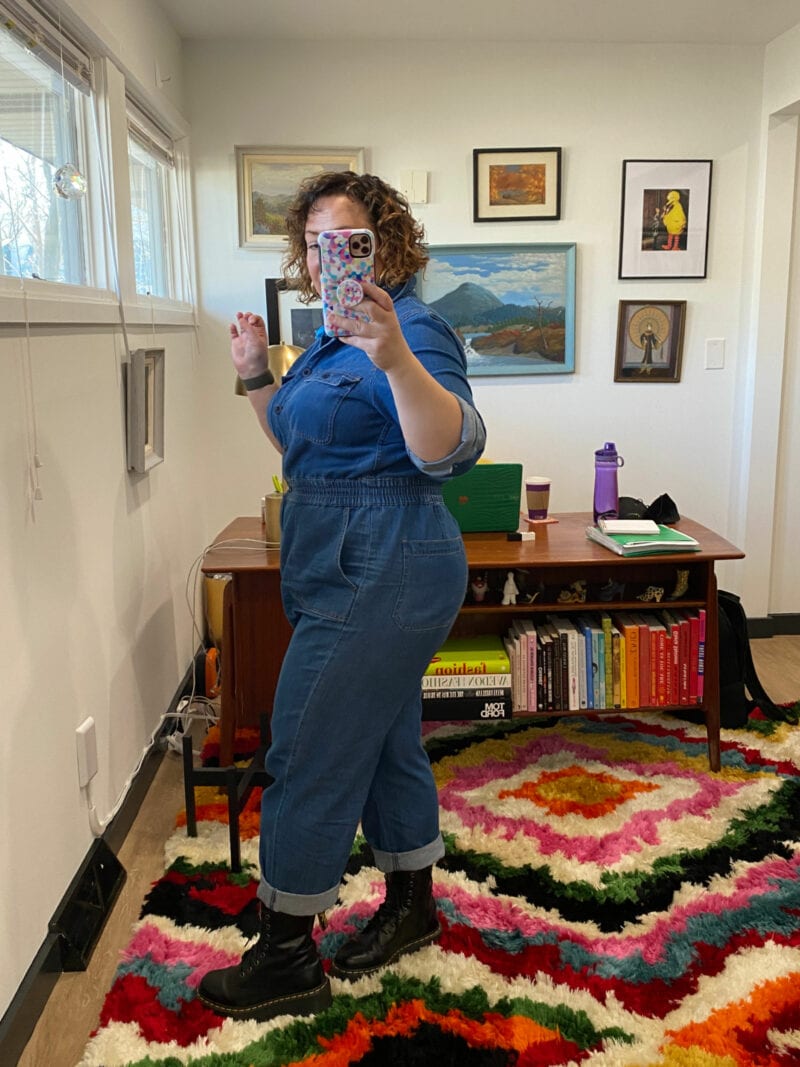 The bandana was my dad's but you can find similar on Etsy and Amazon. My tip for bandanas is throw them in every load of wash. It takes at least five washings for a bandana to get soft and awesome. After wash one, don't be afraid to use it as a napkin, a handkerchief, to wpe on or wash off facial products. The more a bandana is used, the better it becomes. Once it's soft it's not only a better accessory but then great for having in your bag to mop your brow, wipe your nose, protect your scalp or neck from the sun and much more. I learned this from my sister; carry a bandana in your bag. It's small and practical and stylish too!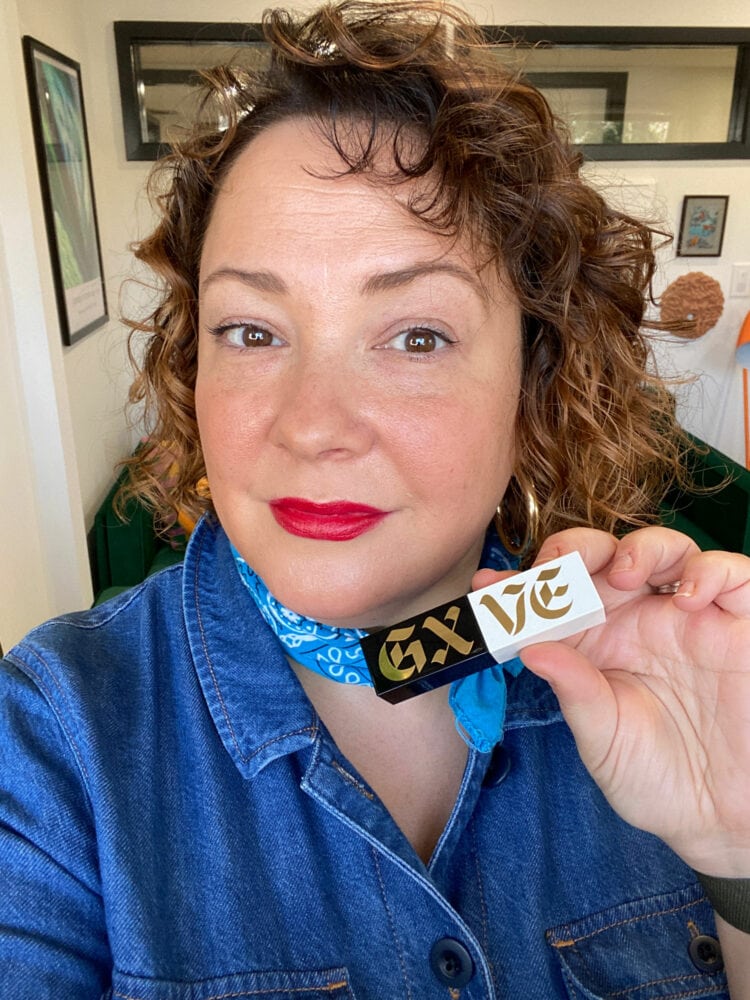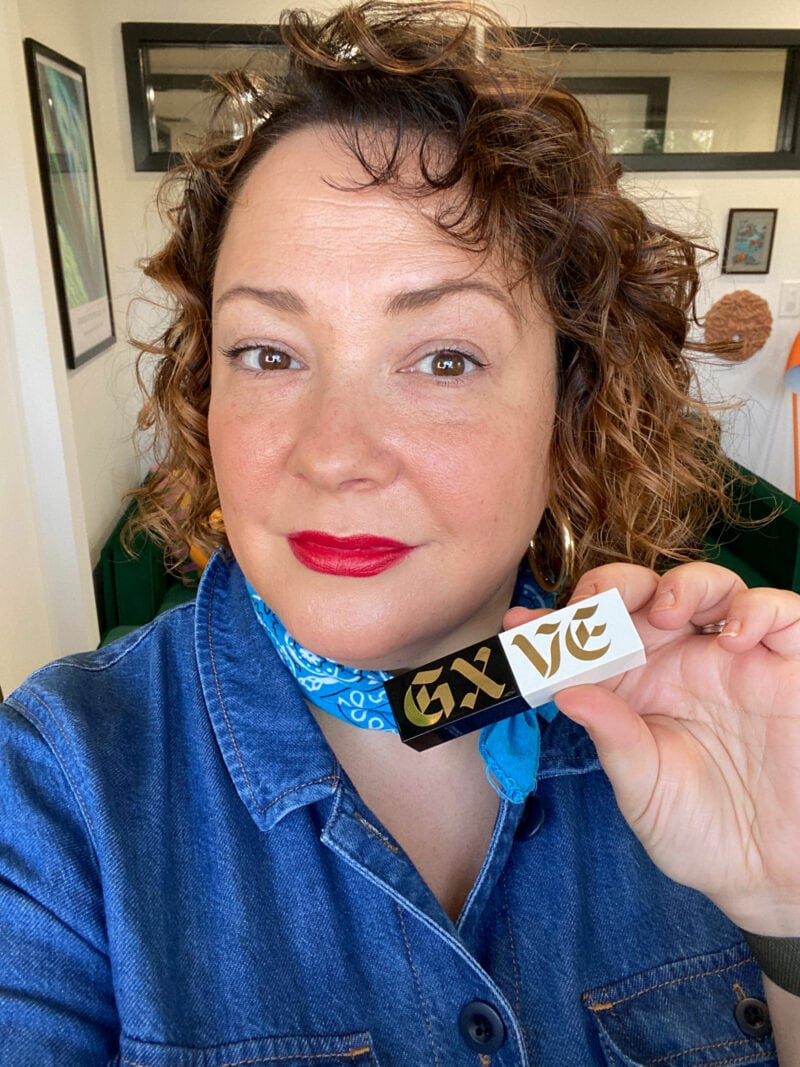 The boots are these from Dr. Martens. And the lipstick… as soon as I heard Gwen Stefani's clean beauty came out I had to try it. In the minimal collection are two lipsticks – a matte and a shine, each available in just one color of red. This is the shine. It's a beautiful cool red with great pigment. At first it's a bit of a messy red that will get on your hands and teeth. But it dries without feeling drying and wears away quite evenly.
Shop the Post: