This article may contain affiliate links; if you click on a shopping link and make a purchase I may receive a commission. As an Amazon Associate, I earn from qualifying purchases.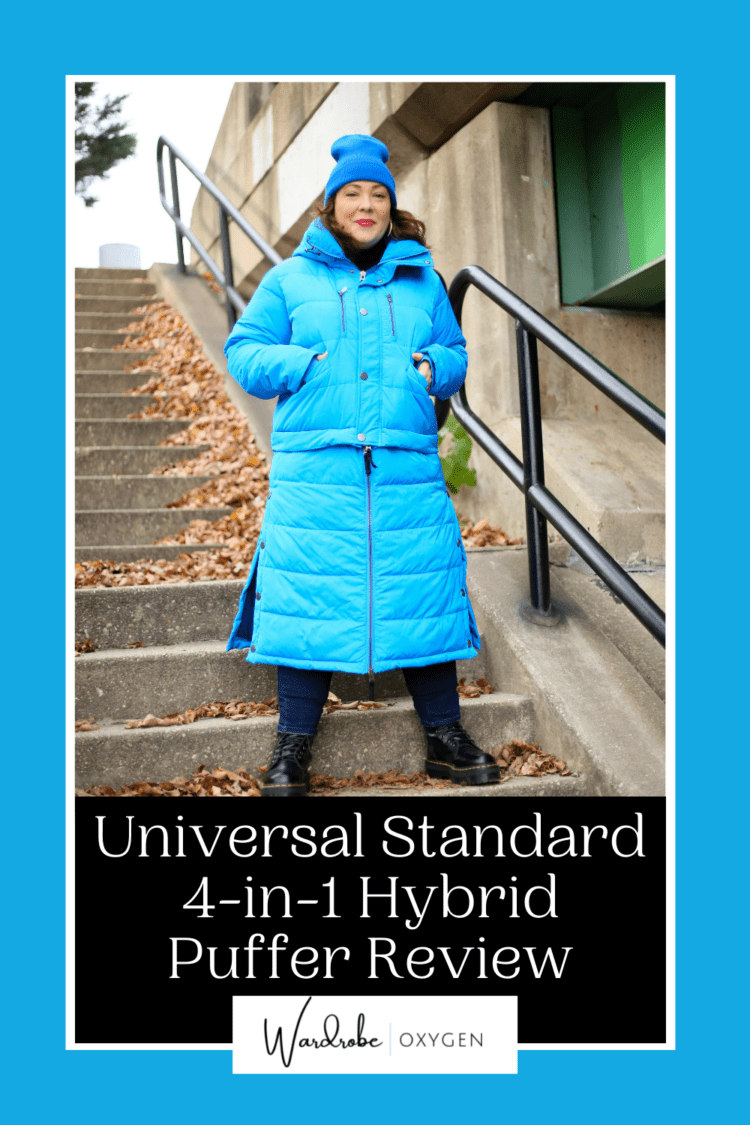 Black coats are practical and classic, but sometimes a person craves color during the grayest months of the year. Thing is, when you are looking for color as well as practicality for a winter's day, it's hard to find in larger clothing sizes. Universal Standard has been upping their game each winter with colorful, on-trend, and practical outerwear in sizes 00-40. This is a Universal Standard 4-in-1 Hybrid Puffer review that comes in eternally-chic black, a black and dark green combo, and a phenomenal electric blue that I needed in my life this winter.
Universal Standard was kind enough to send me the 4-in-1 Hybrid Puffer without additional compensation knowing I would write a detailed, but an honest review that they were not able to review prior to publishing.
Universal Standard 4-in-1 Hybrid Puffer Review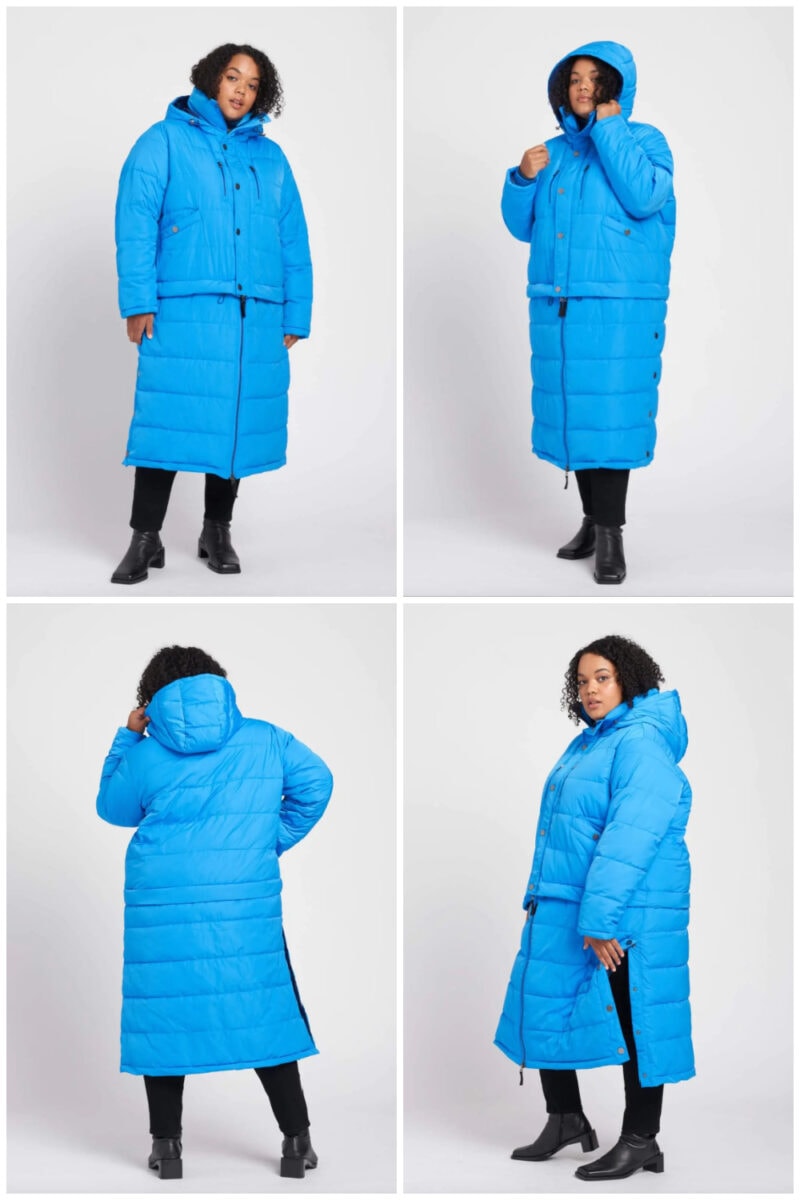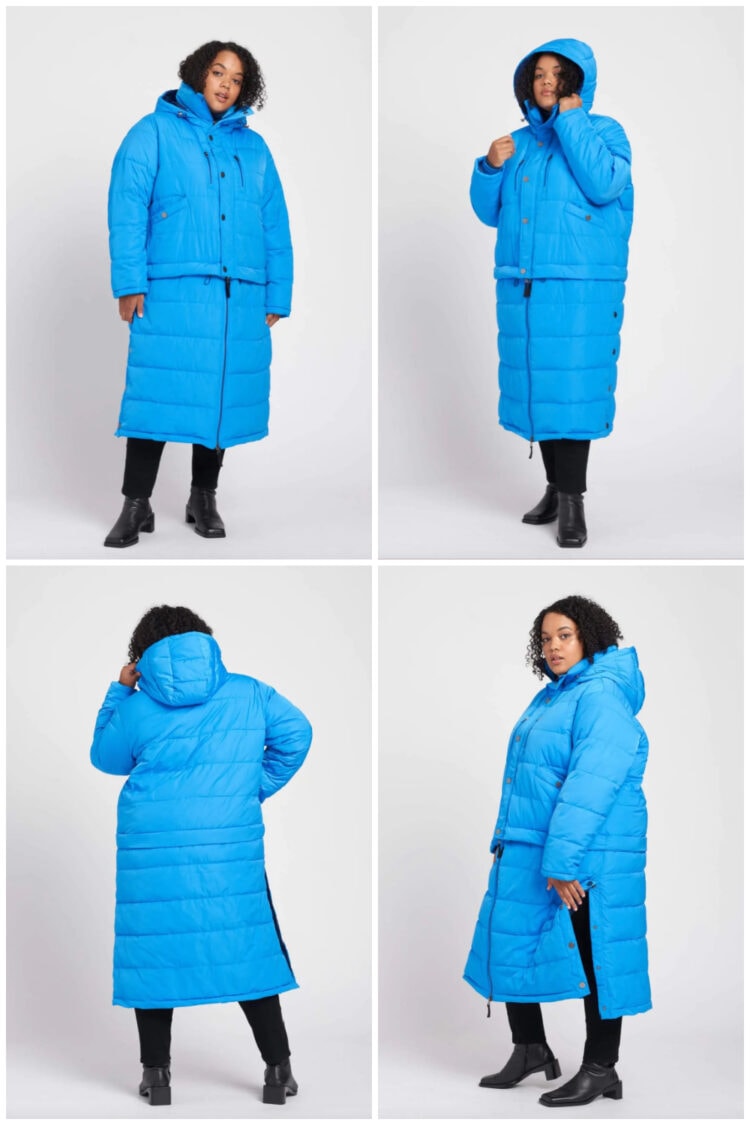 The Universal Standard website shares that the insulation, as well as the rest of the coat, is 100% polyester, it needs to be dry cleaned, and it has, "premium details like fleece-lined pockets, high-stretch jersey at the wrist with thumbholes for extra warmth, and extra pockets at the chest that fit your phone." That's a lot of vagueness for almost $300.
I have the Universal Standard Kanda puffer (no longer available) and a Lands' End Squall insulated parka. I think this coat is warmer than the Kanda and about equal to the insulated Squall. I can wear it on a day in the 40's but I also would be comfortable in it if it's in the 20's. It is relatively wind-resistant, all zippers are covered to prevent drafts, the hood doesn't fall over my eyes.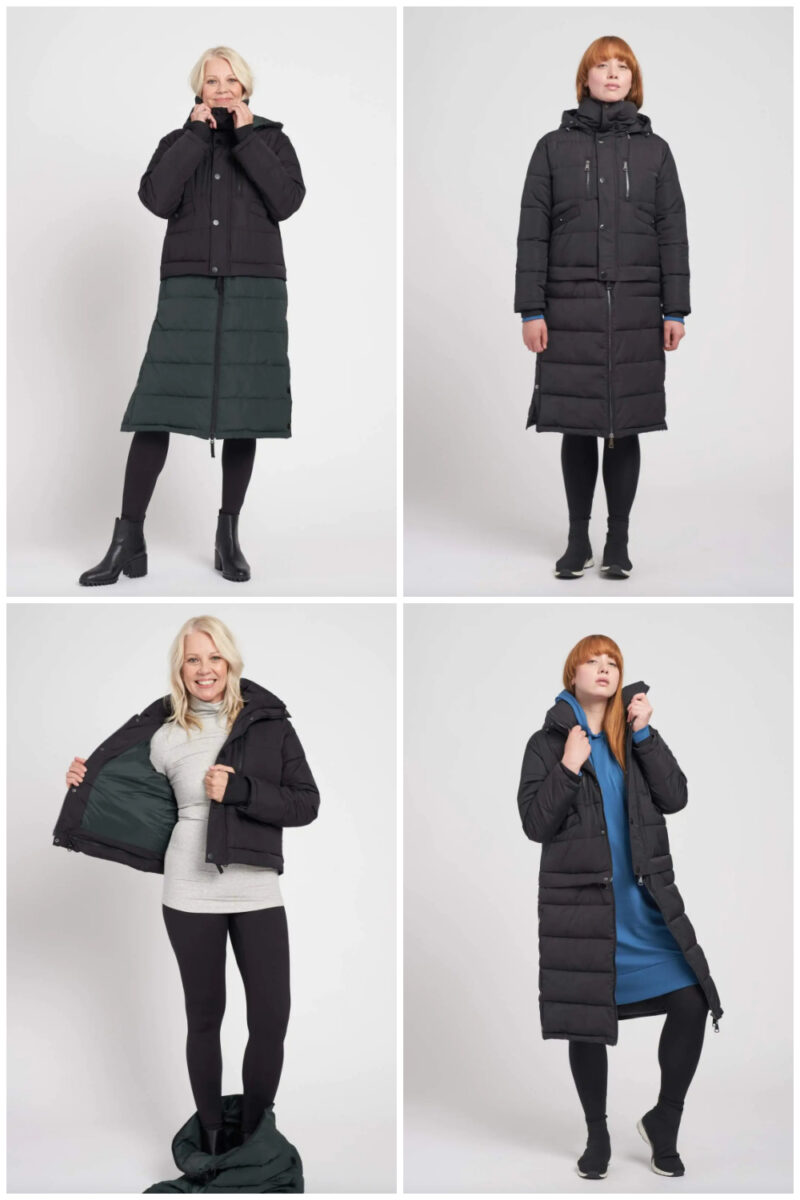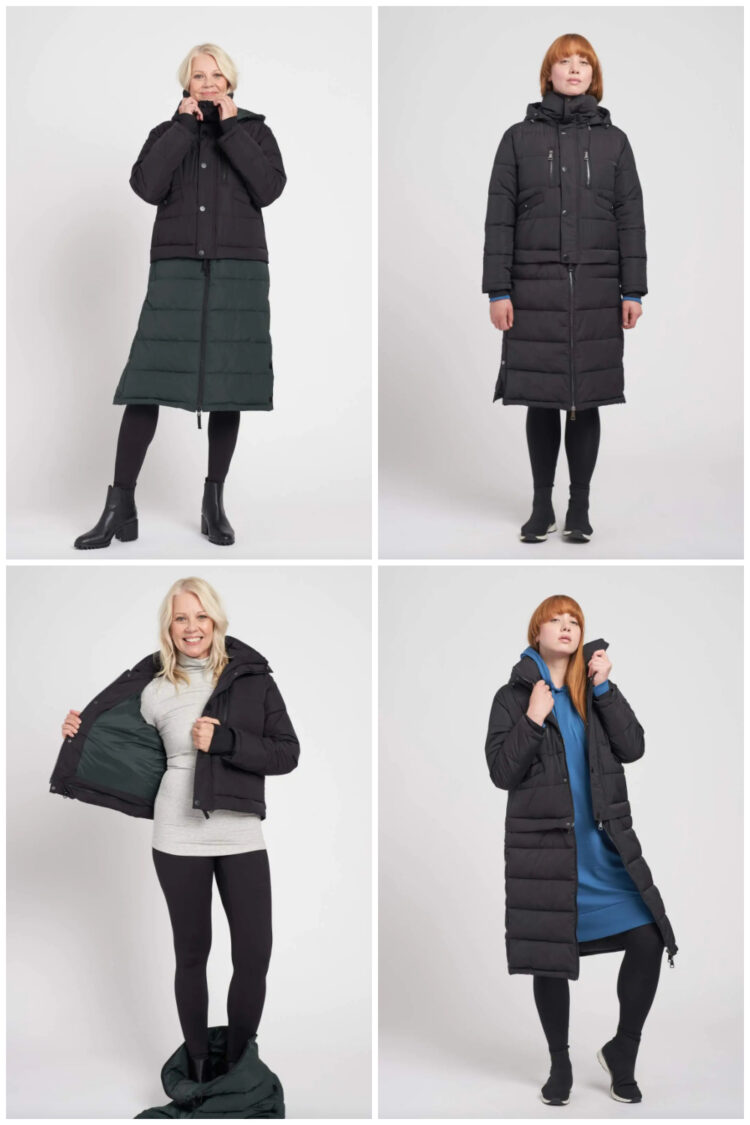 There are the occasional white threads I pull and realize it was a bit of the insulation so it pulls out clean without damaging the coat. The lining is a silky polyester in a light navy; the wrists with the thumbholes feel like non-shiny soft activewear. The hardware is black/hematite, the zippers are YKK. The puffer is designed to have all zippers covered so wind doesn't slip in.
There are two chest pockets that zip closed and are big enough to hold an iPhone Max or a slimmer glasses case. The hand pockets have a single snap closure, are fleece-lined, and also deep. I was able to have my jacket hold my small wallet/card case, sunglasses in a pouch, my iPhone, keys, mask, and lipbalm and still have room for my hands.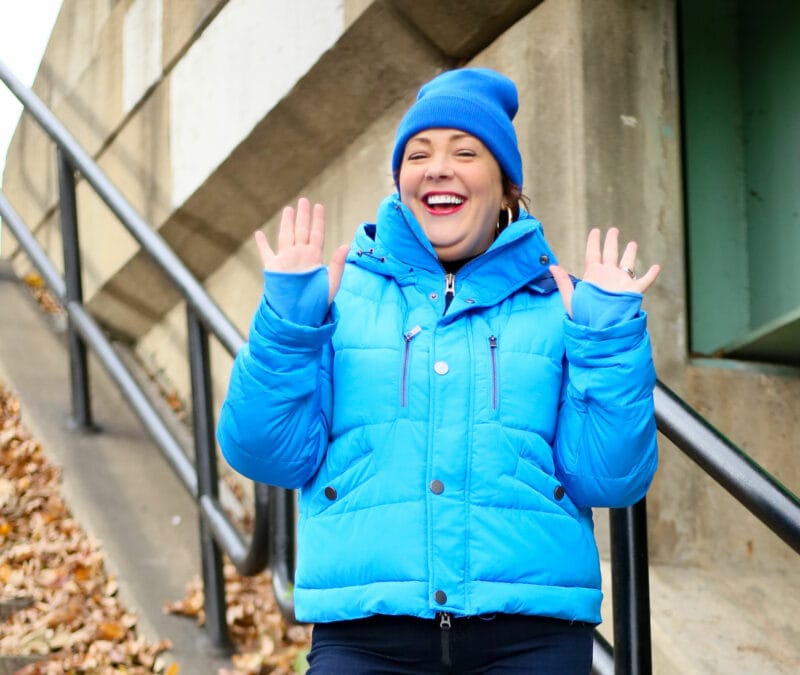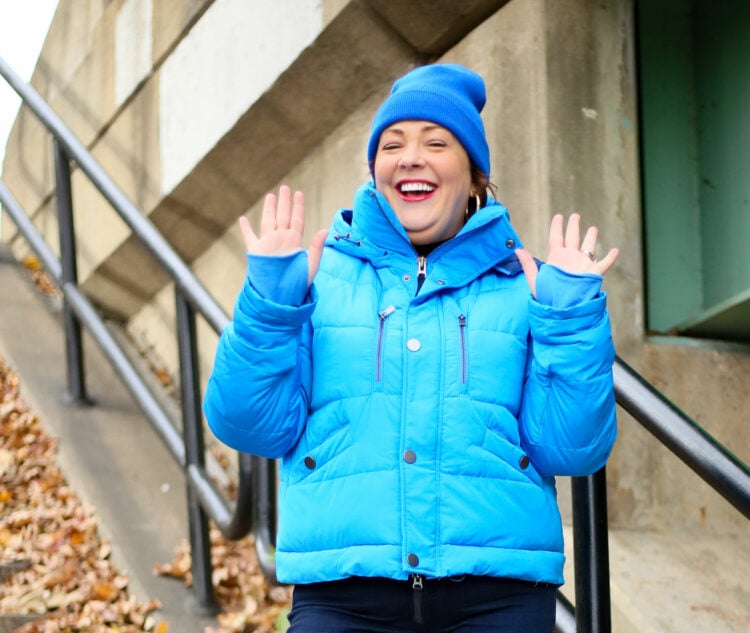 The hood has bungees to cinch it around your face. There is also a bungee elastic cord at the bottom of the top part of the jacket, below the zipper, to cinch. This bungee can offer shape at the midsection or offer additional wind resistance at the zippers. The front zippers of the coat are protected with a flap that has snap closure.
I have worn this coat in wind, and I have worn it during a light sprinkling of rain and found it kept me warm and dry. This coat isn't made specifically of fabrics to do either, but the esterior is more of a matte/performance fabric (think a softer thinner version of the Squall parka from Lands' End) while the lining is typical puffer silky fabric (like the Universal Standard Kanda puffer).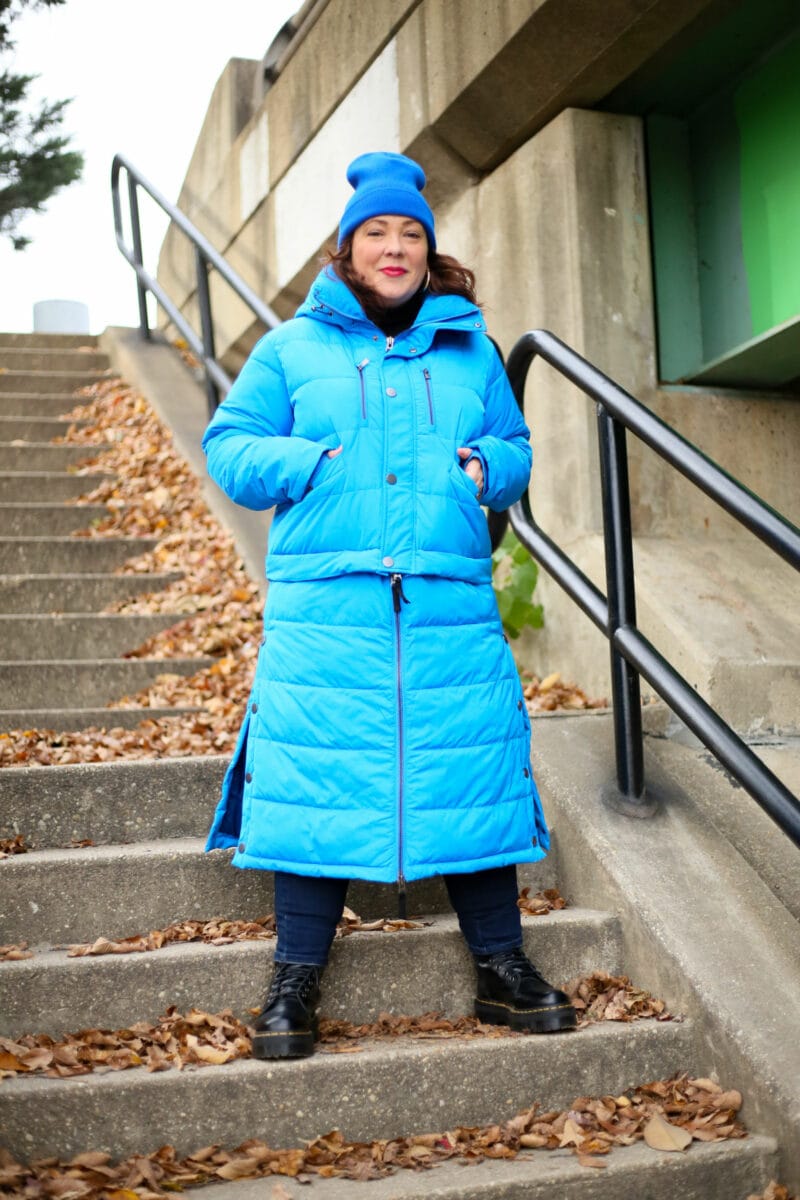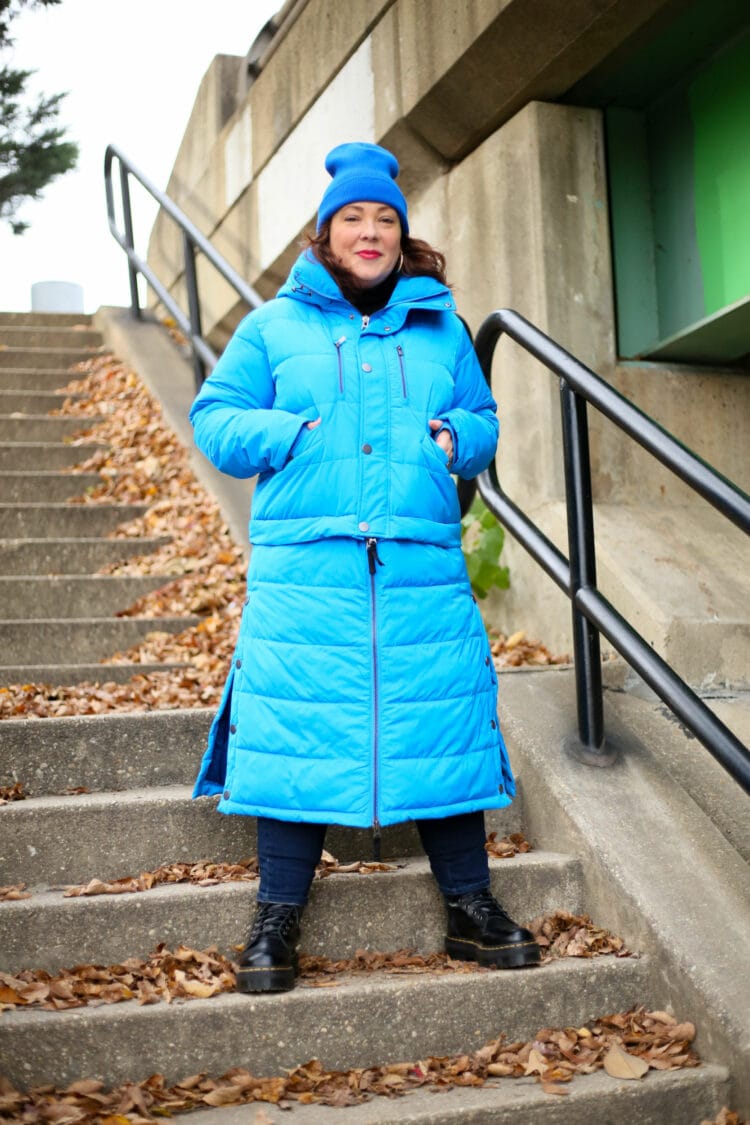 The coat says dry clean only which is not my jam. Winter coats like these are meant for shoveling snow and sitting on bleachers cheering your team or kids and commuting to work and standing at the bus stop and going for late night walks as the snow is falling and early morning walks with a dog who hates the cold and you may have to carry in your hands home. Such coats will get gray slush and coffee and dripping icicles from dirty rooftops and sweat and handprints and pawprints on them. I will be washing and drying my coat, taking one for the team, and will report back afterwards.
Fit of the Universal Standard 4-in-1 Hybrid Puffer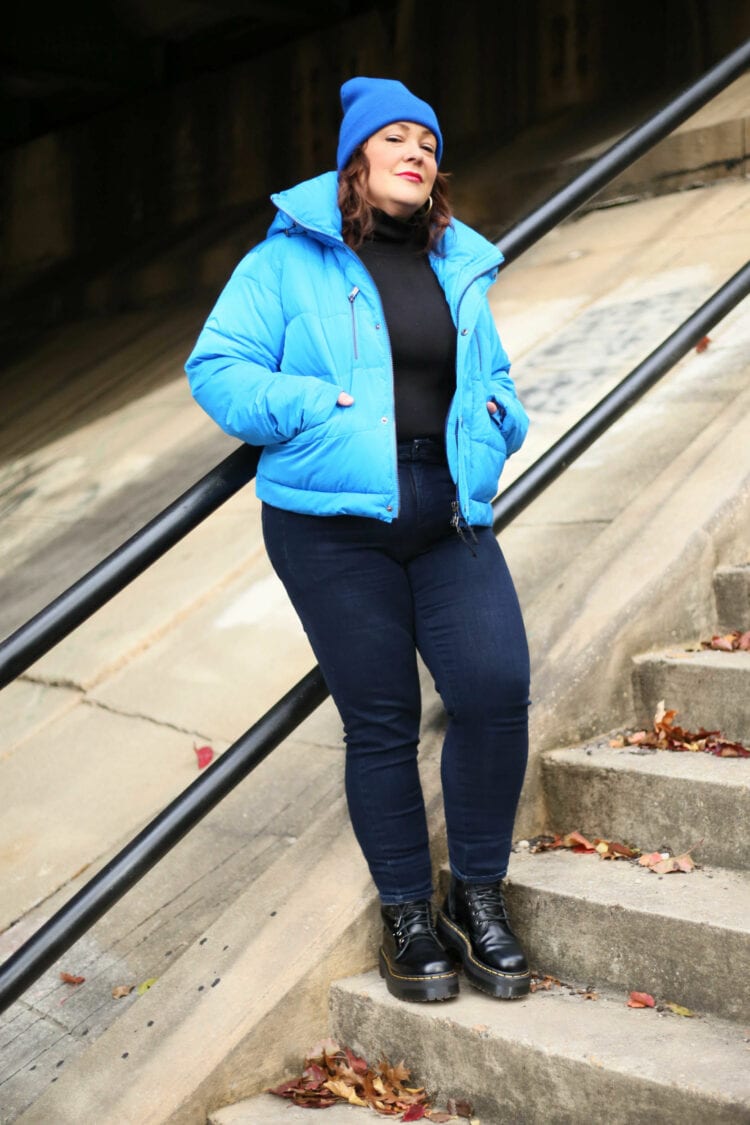 I am 5'3″ tall and usually wear an XS in Universal Standard. In most brands, I am a size 14 and if coats are letter sized, I usually go with XL to accommodate my bust and shoulders. If a coat comes in petite I usually choose it. to have the waist go in at the right place and have sleeves that aren't too long.
This coat does not come in petite; I chose my usual US size of XS and I think the fit is quite good. The sleeves aren't too long, the hood isn't so big it's covering my eyes. The only issue I find with my height is the placement of the waist bungee is mid-butt so I don't use it. If you are taller, this will likely hit at a more functional place on your body.
What Makes This Universal Standard Puffer Coat Special?
Besides having an incredibly inclusive size range and not being only available in black or gray or some depressing muted shade of plum, the 4-in-1 Hybrid Puffer has a removable hood but also a removable skirt that takes this coat from long (depending on your height, mid-shin to knee length) to short (hip length).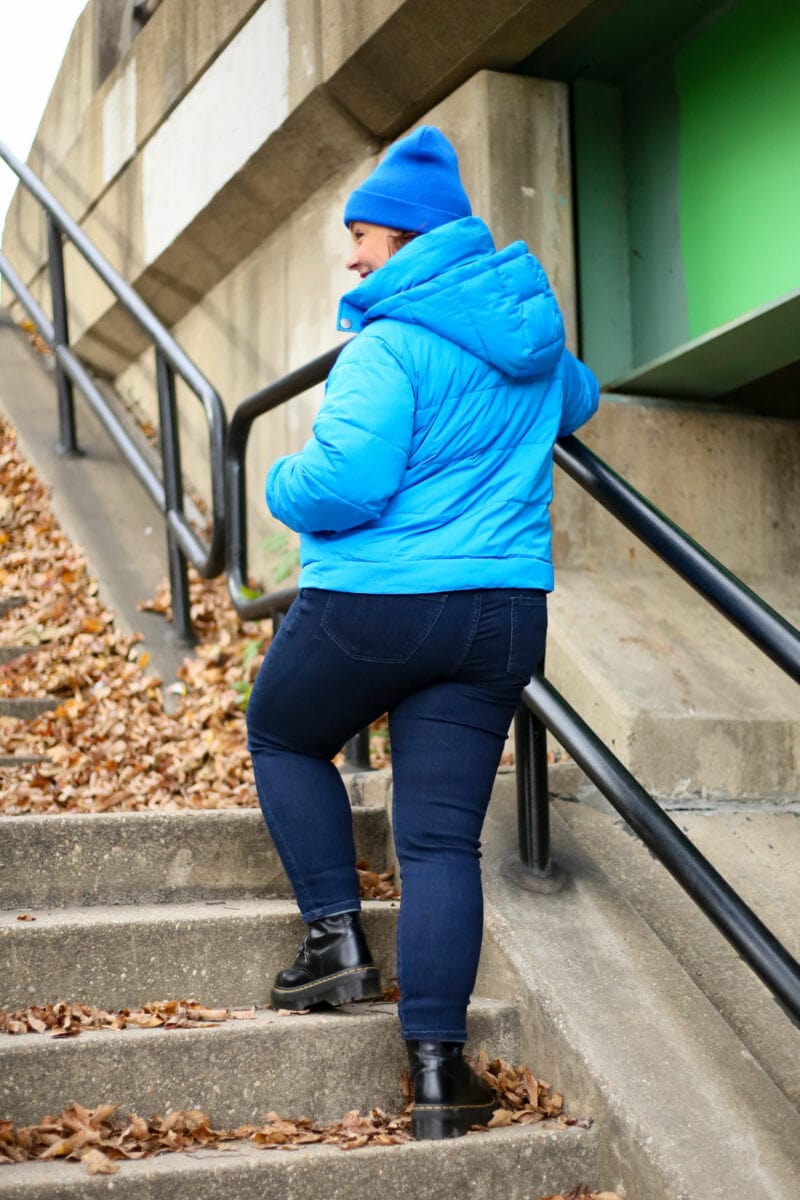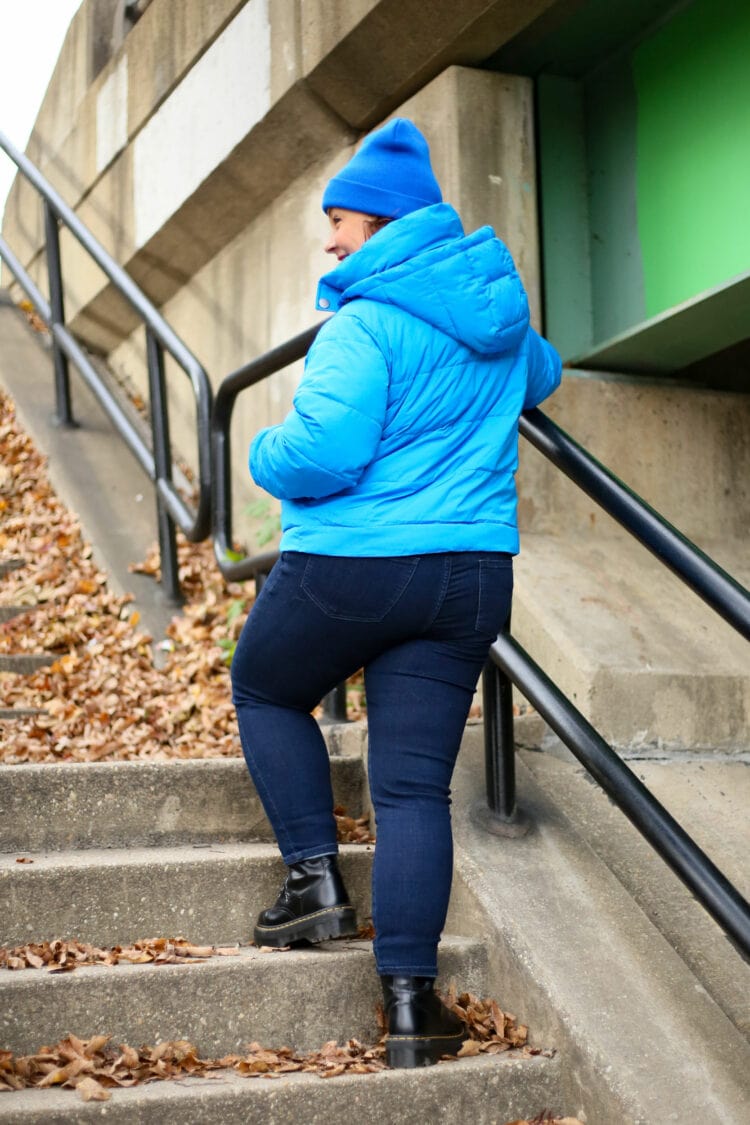 This adjustable feature was extremely appealing to me. For most occasions living in the Maryland suburbs of Washington DC, all I need is a short puffer. House to car, car to destination, short waits at the ATM or for the valet/Uber, a classic shorter puffer works. But I lacked a longer coat that isn't always necessary but when it is you hate not having it.
Walking the dog in cold and windy weather. Watching an outdoor event. Waiting for a bus or the Metro. Taking part in a march or rally. Walking instead of driving to a destination. Shoveling snow. Going sledding. Standing around a fire pit with friends. A long coat that repells wind makes life more enjoyable.
This coat's "skirt" is easily removable with a zipper. Seriously, you can unzip and remove the skirt while still wearing the coat. If you're very skilled and limber, you likely could also attach the skirt while wearing the top part, but I am not that talented. The skirt ends up being a rectangle with clean right angles that can go on the bar of a hanger, be shoved into a backpack or tote, or as I share below, can be used on its own.
When I worked in the city, I had a calf-length commuter puffer coat that I got from Lands' End (no longer available but this one is similar). It was warm, resisted wind and water, had a hood, was machine washable, made it very hard to walk. I have a curvy body, and found the coat limited my mobility, especially if I had the need to move quickly. I can remember one time hiking my coat up to my hips to run to catch the Metro.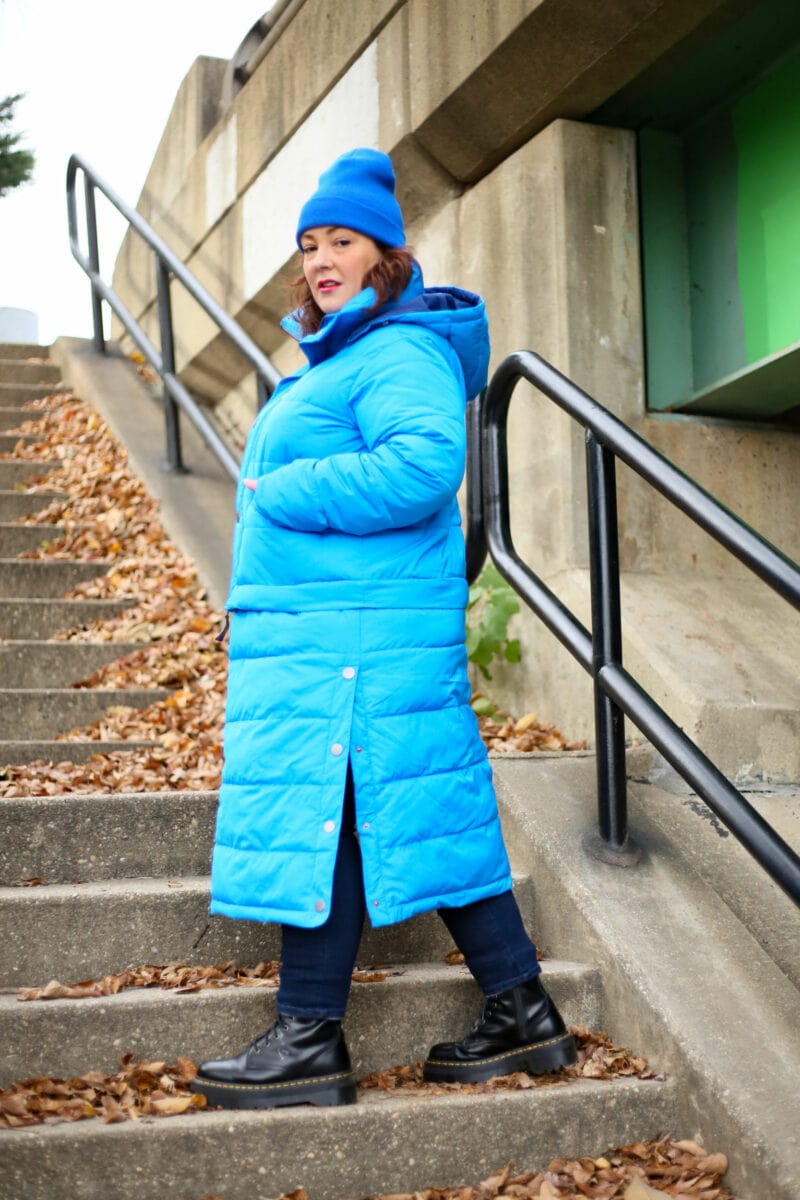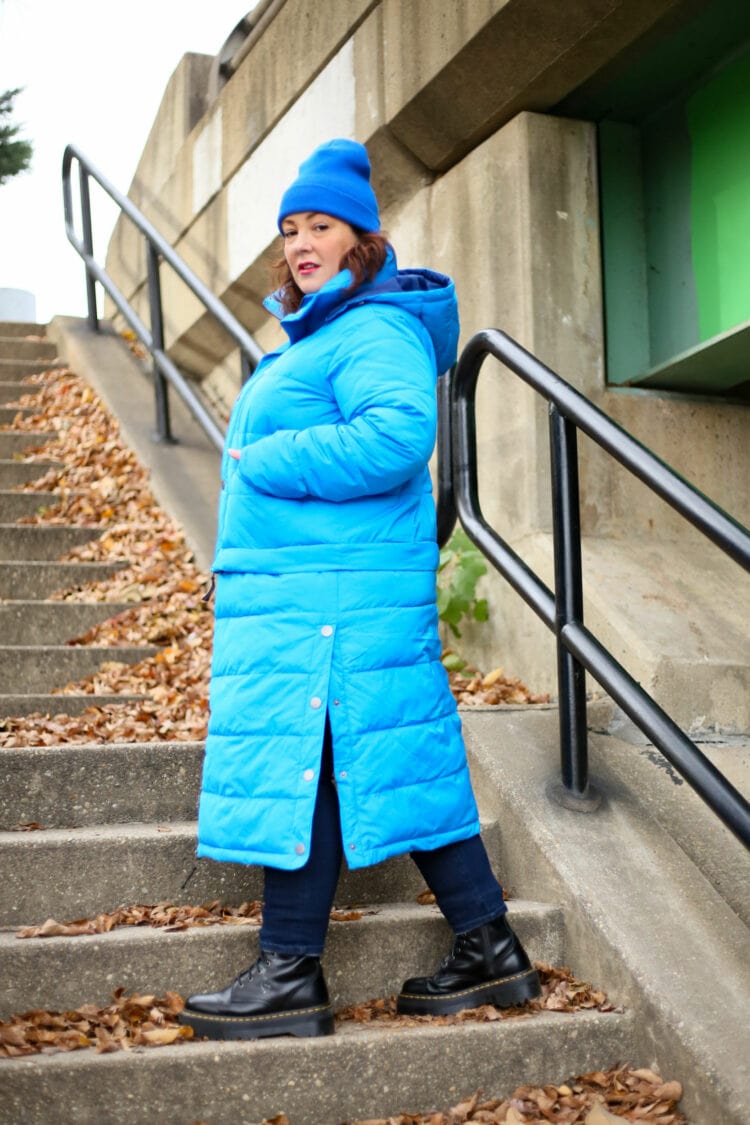 The Universal Standard 4-in-1 Hybrid Puffer is long with the skirt, but on either side of the skirt are slits closed with snaps. You can unsnap as much or as little of the slits to have more mobility. Cross puddles, cross your legs, and yes, run for that train with ease while still staying warm.
How is the Universal Standard Hybrid Puffer 4-in-1?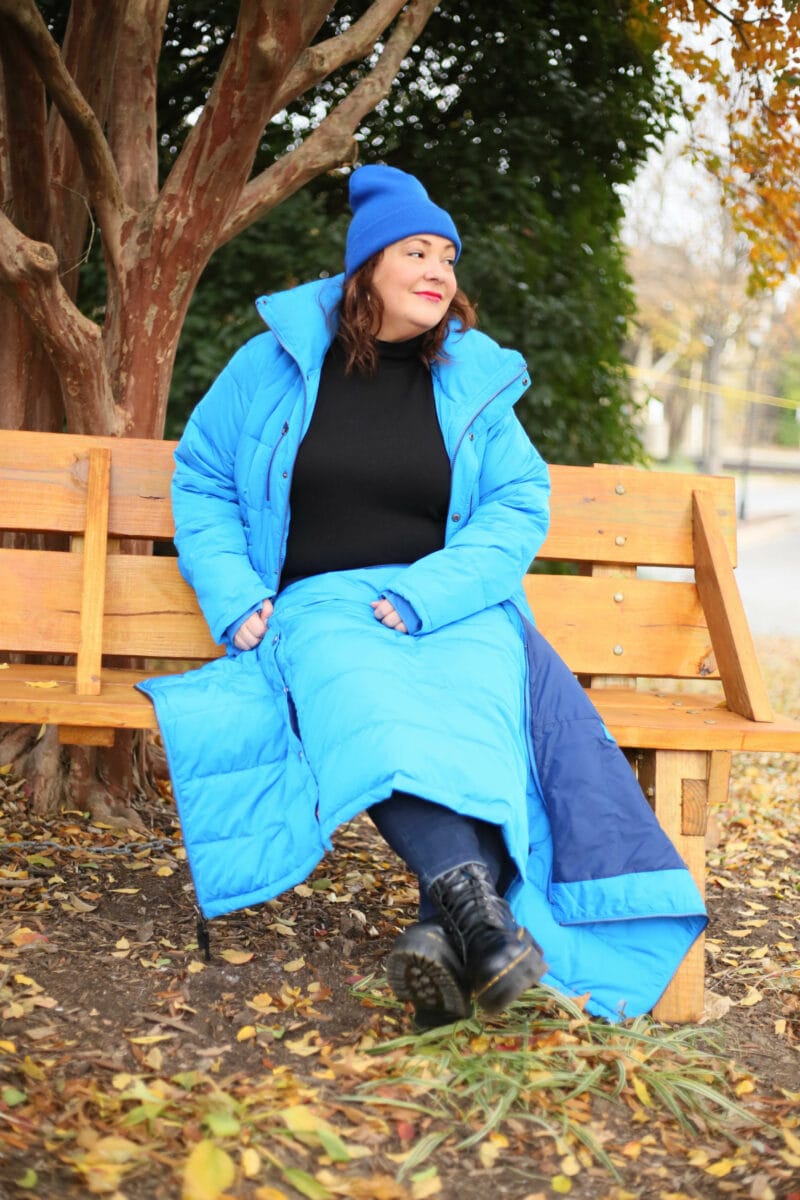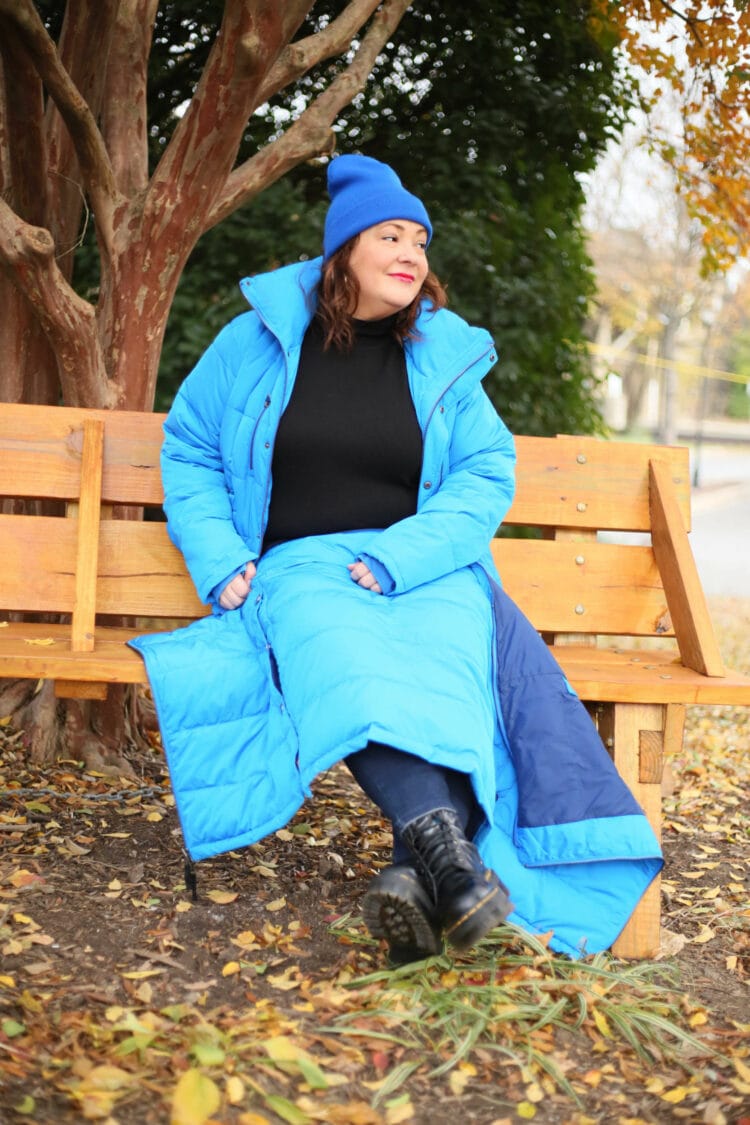 Four coats for the price of one, sounds pretty badass right? Thing is, I can't fully tell what are the four different coats. My guesses:
Long coat with hood
Short coat with hood
Long coat without hood
Short coat without hood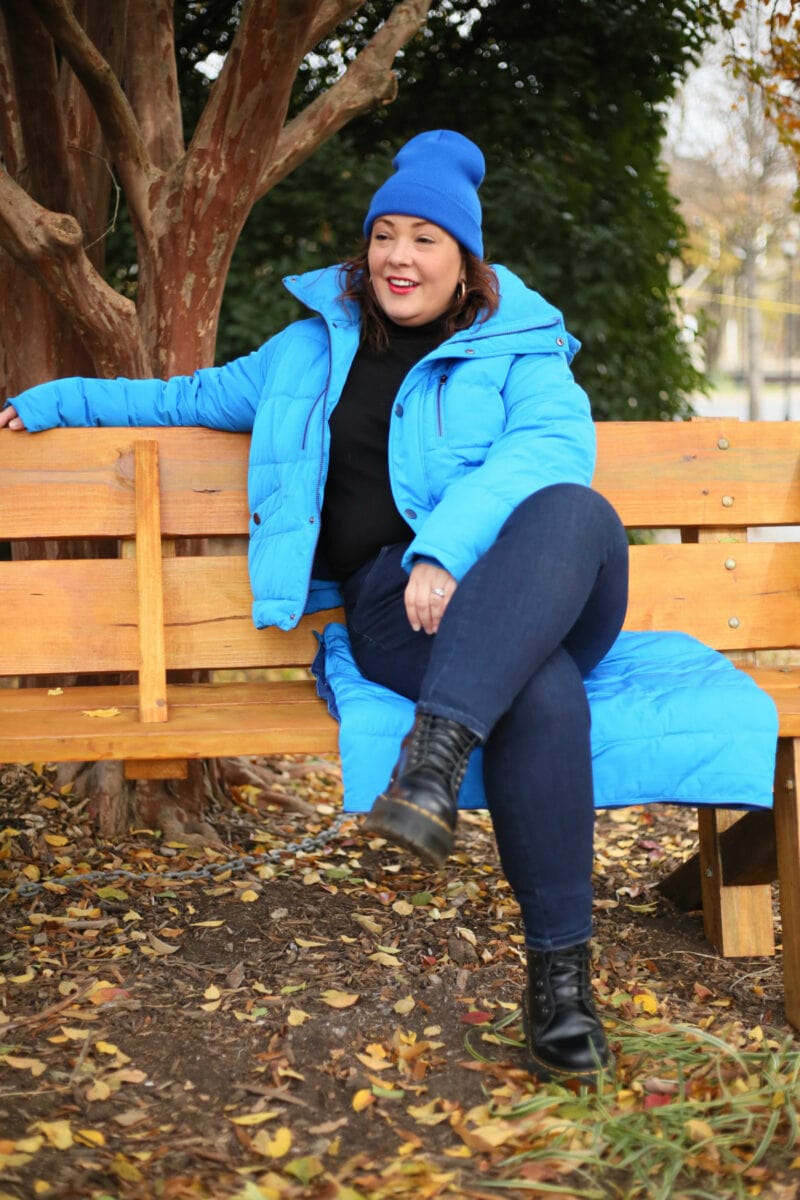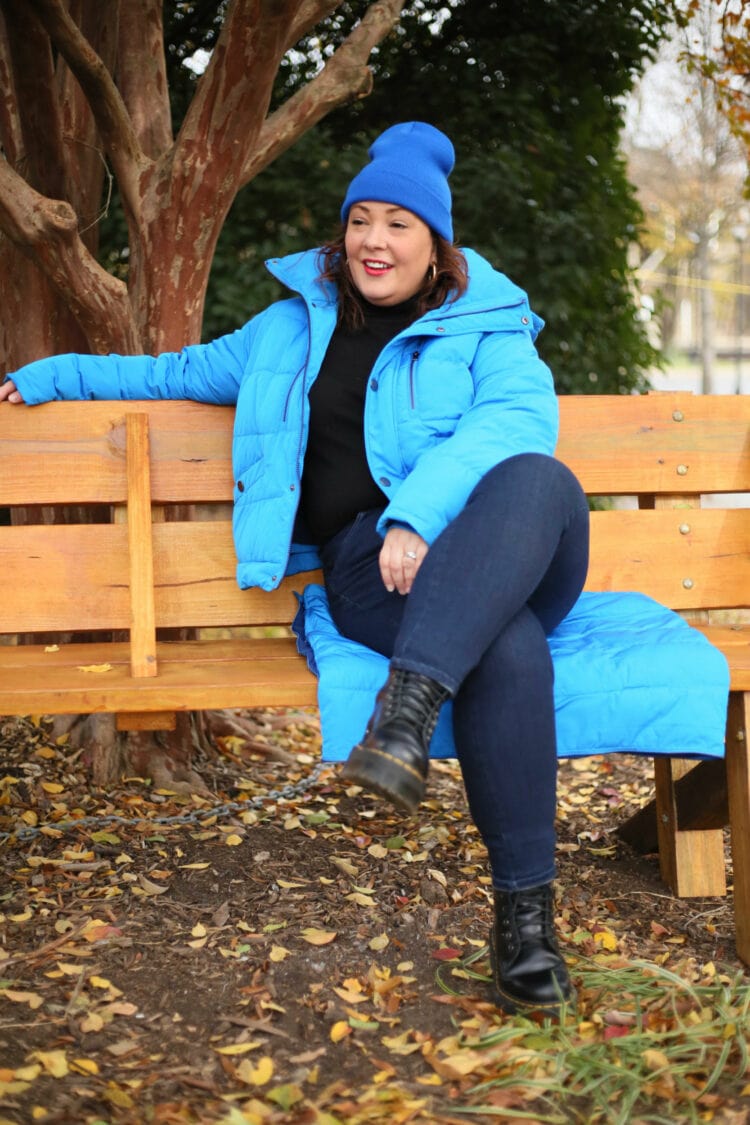 Yeah, that isn't four coats. However, the "skirt" on the bottom of this coat is pretty genius:
Use it as a lap blanket. I went to a friend's house and wore this coat. We sat out around her firepit and I wore the coat short and used the skirt to cover my legs while in the Adirondack chair. It was very cozy and I was able to move more easily than if I zipped on the skirt and had the coat long
Use it as a seat cushion. Benches are hella cold in the winter; fold in half for insulated cushioning or spread it out for less insulation but a roomier seat.
Use it as a ruana. If you unsnap the slits on the skirt, you can put it over your shoulders and it will keep your upper arms, chest, and upper back warm. This isn't some chic look you can rock for your next night out, but I may or may not do this on occasion when it's a hair chilly in my living room and I'm watching TV or writing a Universal Standard 4-in-1 Hybrid Puffer review.
Okay, So The Negative Part of my Universal Standard 4-in-1 Hybrid Puffer Review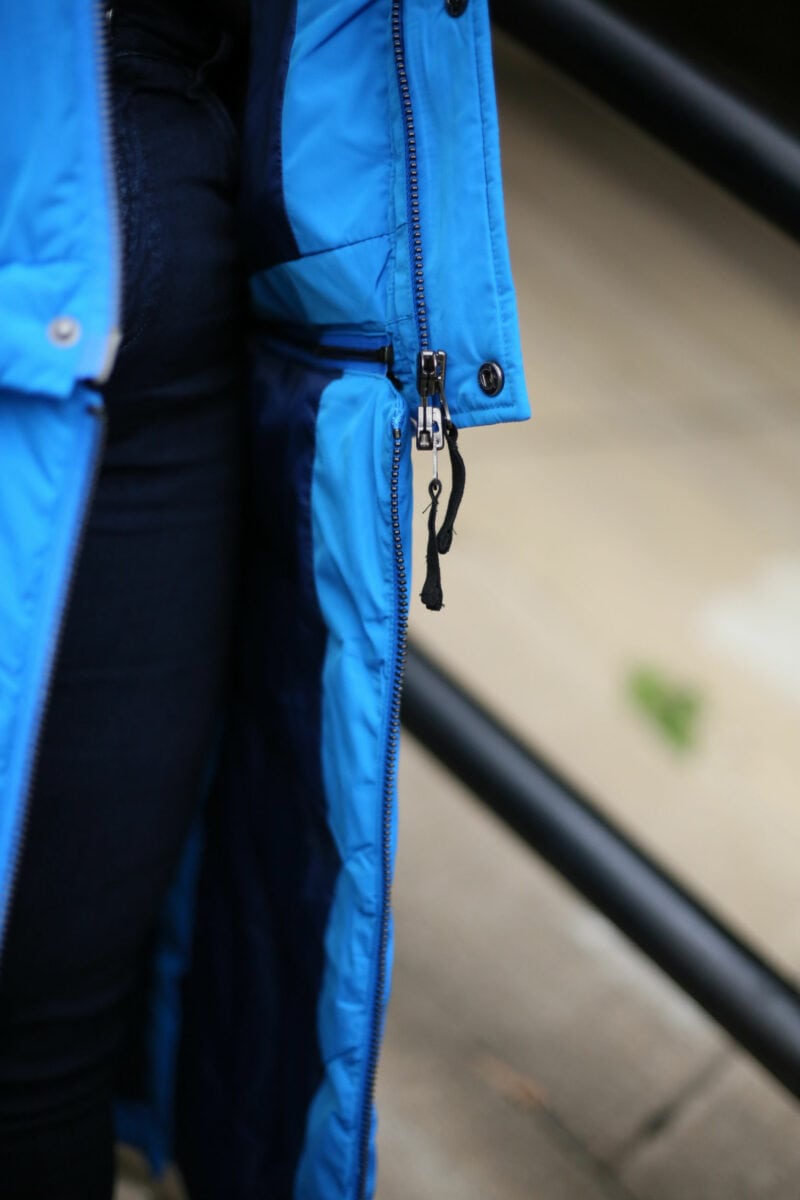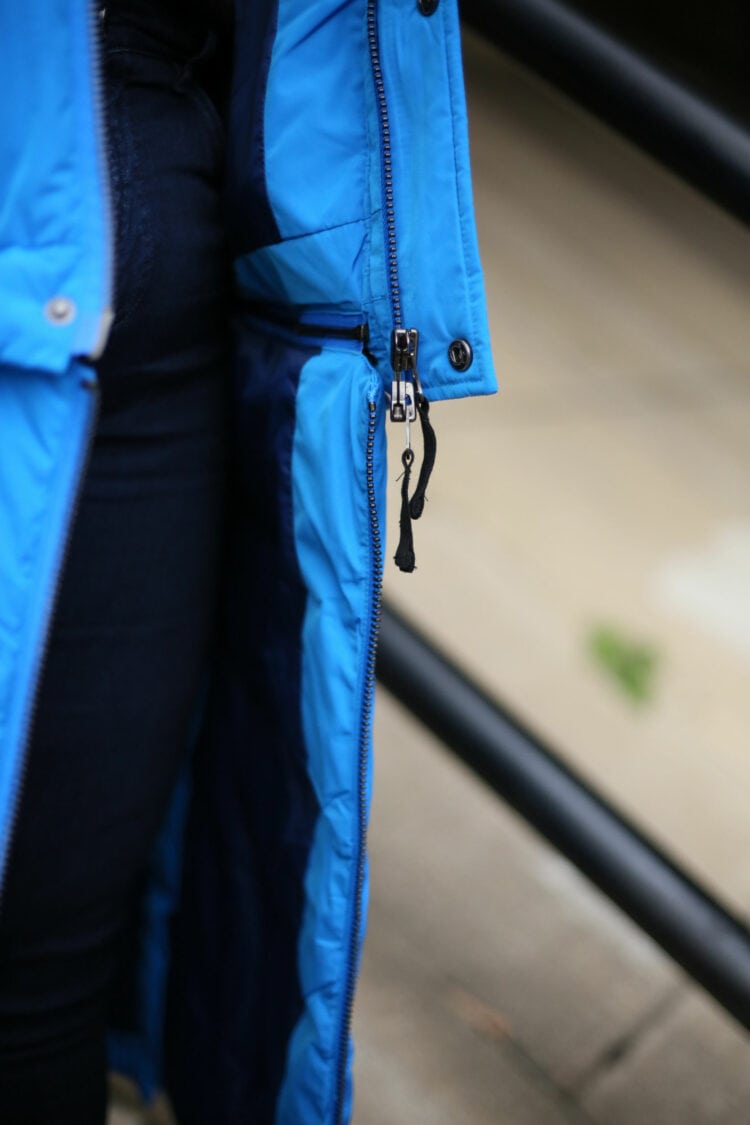 This is a good looking coat, and when it's all zipped and buttoned it does a good job of keeping you warm and comfortable. But the zippers drive me bonkers!
These are two-way zippers, so to zip up the jacket or the skirt, you need to get both pulls lined up to thread in the other side. And these zippers are heavy and don't like to line up, and the pulls get stuck and are wedged on an angle and you have to do a lot of maneuvering that doesn't work while wearing gloves to line them up and get the coat closed. I'll admit, I am not a terribly coordinated individual but this coat is more frustrating to zip than any other winter coat I own.
I really can't see any way that the skirt and the top part of the coat could have a continuous zipper, but to have to zip and unzip the parts separately are kind of annoying, especially if you have mobility issues and don't find it easy to bend over to zip something from mid-calf to crotch height with a zipper that sometimes is having a temper tantrum.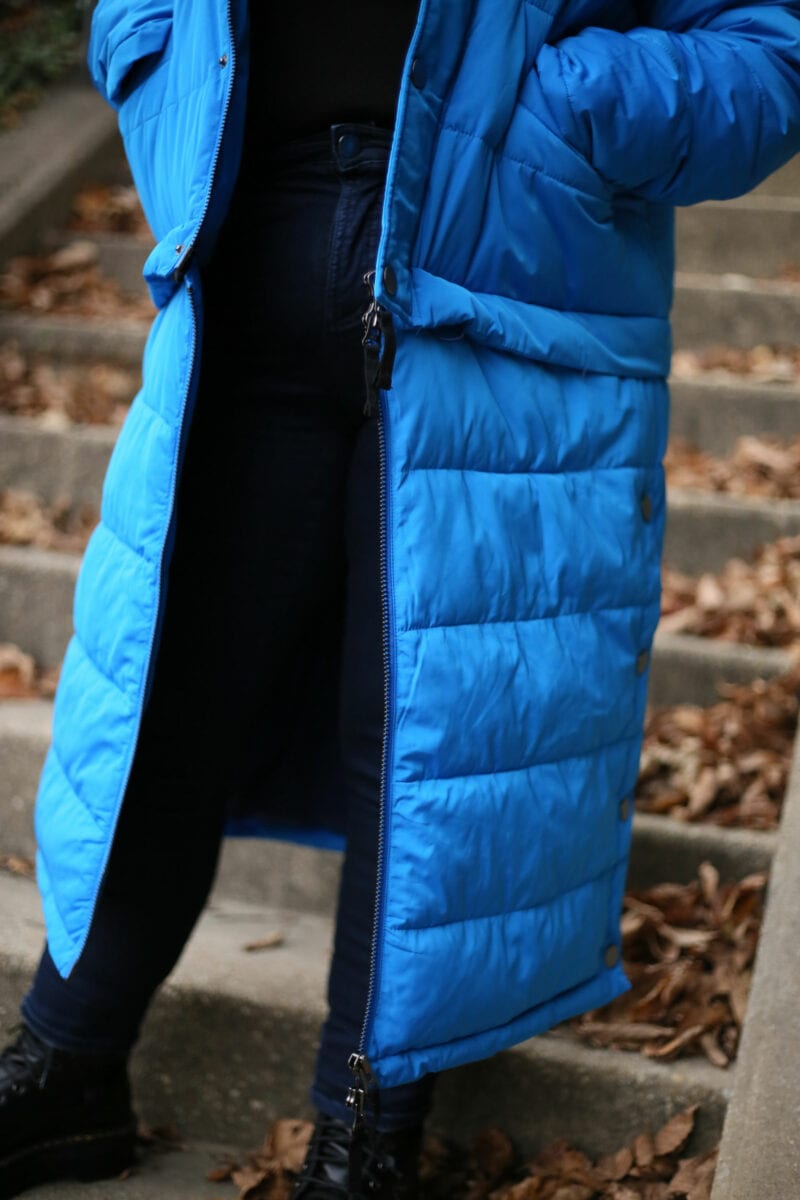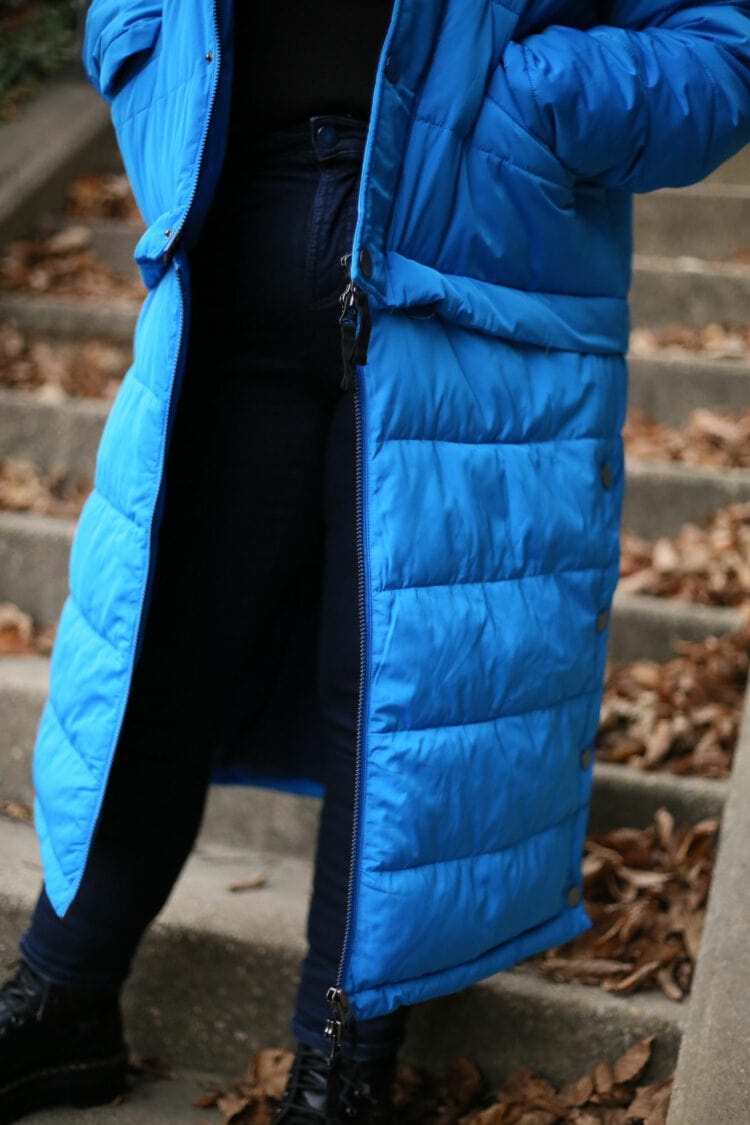 For me, the zippers aren't a dealbreaker, but I live in a climate where I can take off my gloves and fiddle with metal zippers to get things zipped up, or I take care of the zipper stuff while inside and warm. I also am physically able and have time in my lifestyle to be able to futz with these zippers.
I'd love to see Universal Standard relaunch this coat next year with the same benefits, but with different zippers. I've seen zippers that are either plastic or coated on performance outerwear and they're a bit beefier and stiffer. Imagine this coat with chartreuse zippers and hardware. Envision a berry colored one with orange or hot pink zippers. Or even just plain black. Still chic, but a bit more functional.
Do I Recommend the Universal Standard 4-in-1 Hybrid Puffer?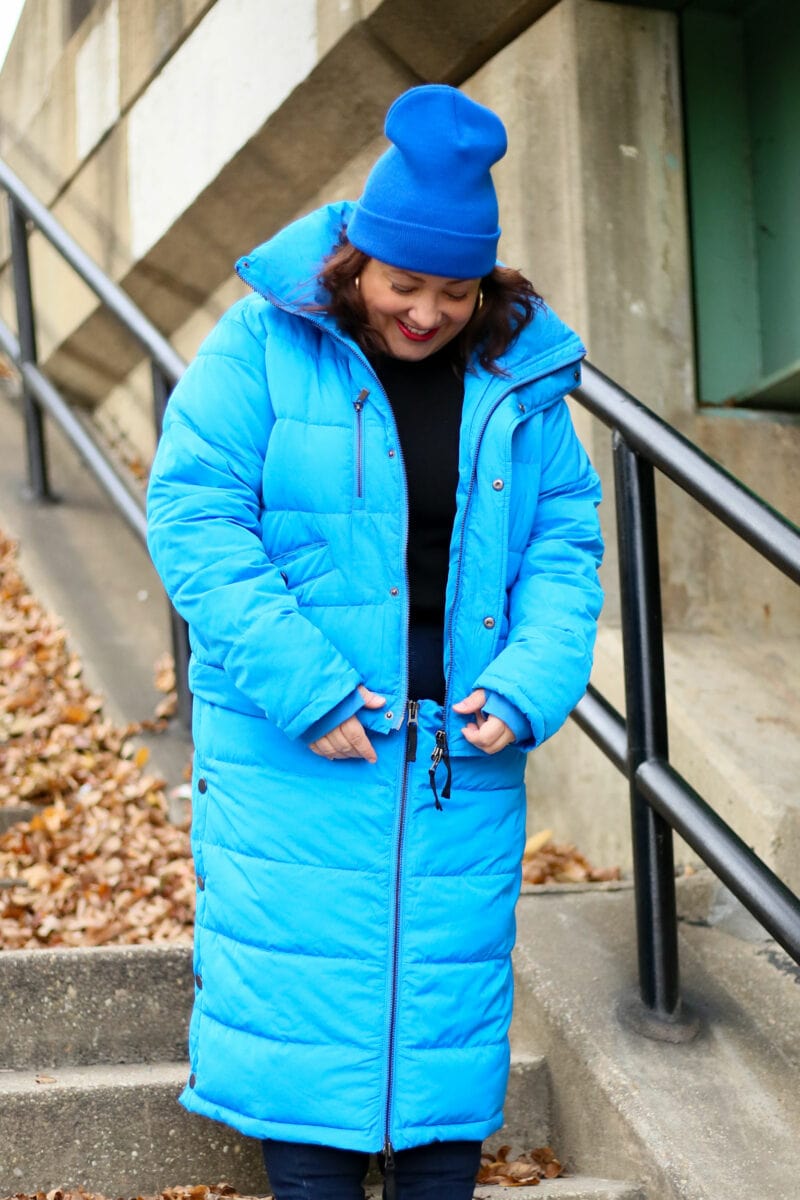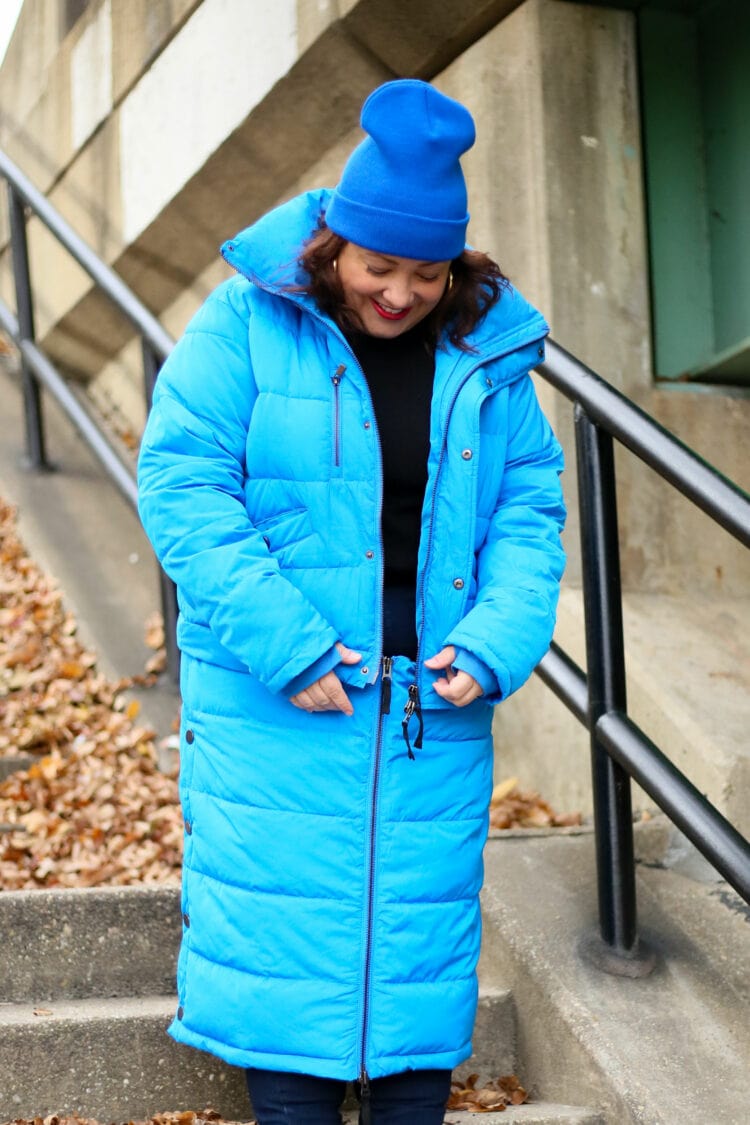 Even though I find the zippers frustrating, I LOVE this coat. The color is more gorgeous in person (there are no filters on these photos, taken on a cloudy day around 1pm). The coat is flexible, not too thick or heavy for being able to move around, and the versatility of the removable skirt is genius.
Whether worn as a short puffer or as a long coat, this is a good looking piece. I think the zipper for the skirt is in a really good place, and well designed so there isn't a place where wind slips in. The snaps on the slides are a detail few coats offer and I find truly make this coat functional and wearable for the cold weather activities in my life.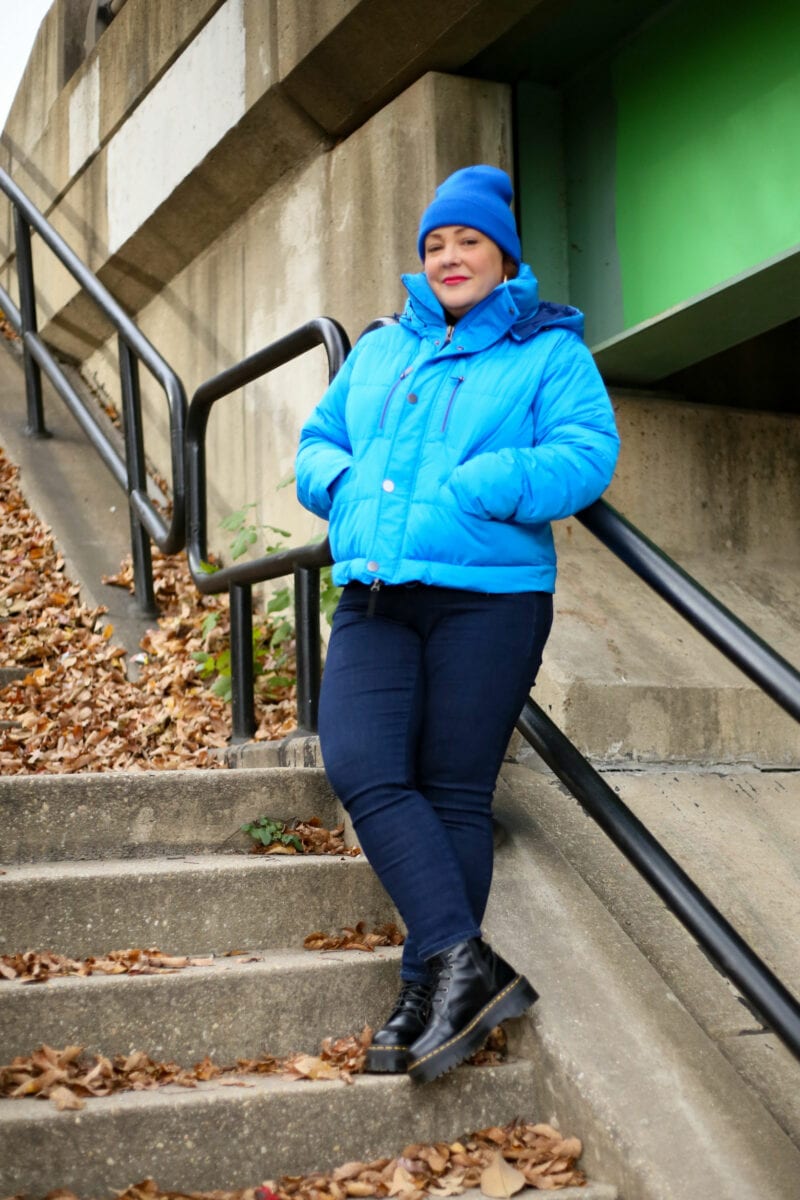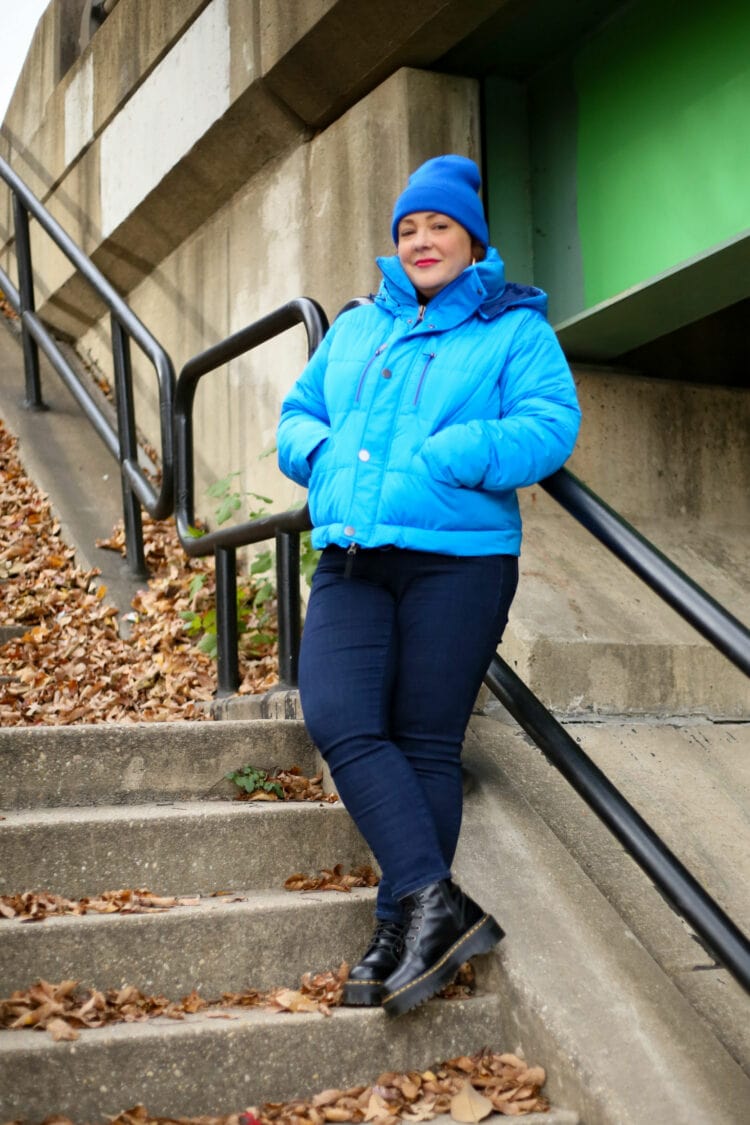 I live in Maryland, where it can get cold, but is nothing compared to northern and western parts of this country. I think this coat can be comfortable for long periods of time in the mid-30's and up, but lower temps you will want to layer or consider a coat specifically designed for your climate needs. If that Bernardo coat from Nordstrom works well for your winters, this one will too.
Universal Standard isn't trying to be Columbia or Canada Goose; they are trying to democratize fashion by offering good looking, good quality pieces in a great size range. And their 4-in-1 Hybrid Puffer achieves just that. I recommend this coat, and hope Universal Standard continues to expand and refine their outerwear collection each season!
Shop the Look: