This article may contain affiliate links; if you click on a shopping link and make a purchase I may receive a commission. As an Amazon Associate, I earn from qualifying purchases. 
I have a cowgirl ball to attend soon. I live in Texas and think I may need to add cowboy boots to my wardrobe. However my style is more classic and ladylike (think Talbots, Ann Taylor) and have a hard time doing "cowboy". Can you recommend something for this cowgirl ball plus how to add cowboy boots to my wardrobe going forward?
Up north, a ball usually means black tie. However I've noticed further south ball can mean a multitude of things. Thanks to your information, I was able to confirm that the type of ball you're attending is more casual than you'd expect. Think sundresses, jeans with cute tops, denim shirts with skirts. It would be completely acceptable to choose a dress like this one from Talbots, this one from Boden, or this one from Ann Taylor or something already residing in your closet.  If you wish to have it look more "cowgirl" consider topping it with a denim jacket, but honestly from the looks of the pictures while some will go all-out with cowgirl regalia, most seem to wear clothing you could find at your favorite mall retailer, just paired with boots.
When you're new to an area it can be pretty intimidating to attend such events; thanks to social media it's easy to search for photos or articles about previous years of the event or similar functions. Even if you don't have a Twitter account, if the event you are attending has a hashtag, enter it into the search function at the top of twitter.com and all the tweets using that hashtag will show up. Some of them may include photos showing what attendees wore. If there isn't a specific hashtag, enter the name of the event and likely tweets will show up. I admit I do this quite often; it's a great way to get a feel not just for the attire but the feel of the function and you can be prepared.
As for cowboy boots, it's actually not that difficult to incorporate them into a classic wardrobe. I'd recommend your first pair to be a single color, simple in design, and the leather color that best matches your current wardrobe (black or brown). There's no need to go out and buy a whole wardrobe of chambray, eyelet, and bandana prints to wear such pieces. Go slow, and incorporate them at first in the same manner you would a tall pair of boots. Here's some ideas to get your creative juices flowing: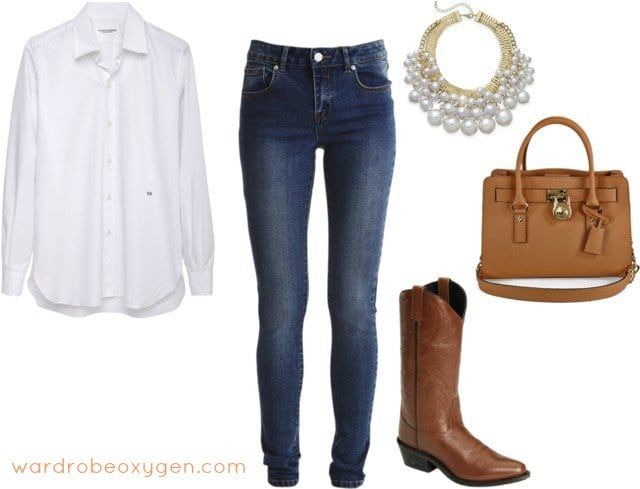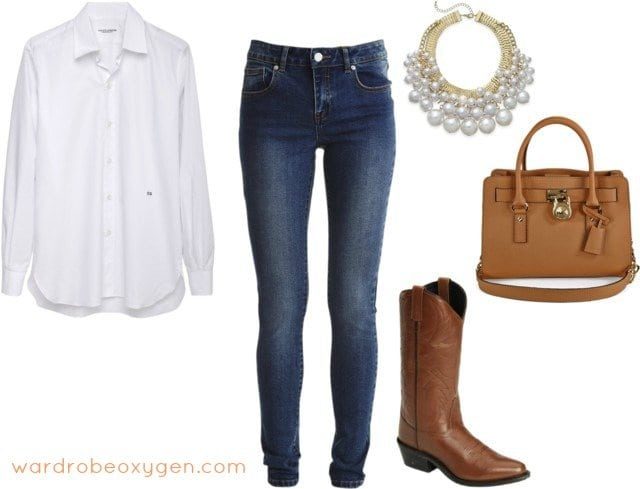 Here, I took a classic look of narrow jeans and a crisp white shirt which would often be styled with riding boots, and switched them out for cowboy boots. The white shirt could be topped with a blazer or cardigan and easily replaced with a simple knit top. The point is to show you can easily pair cowboy boots with your regular casual or business casual attire. There's no need to change your normal accessories because you changed your boots; go ahead and wear your pearls, your sparkly statement necklaces, your delicate chains. The same holds true for your bag; wear a style and shape that fits your personality first.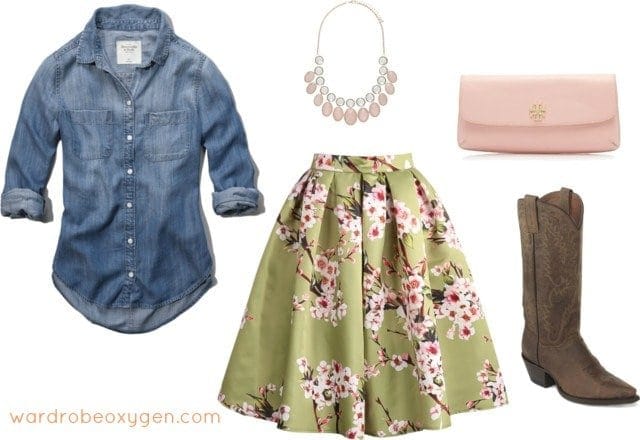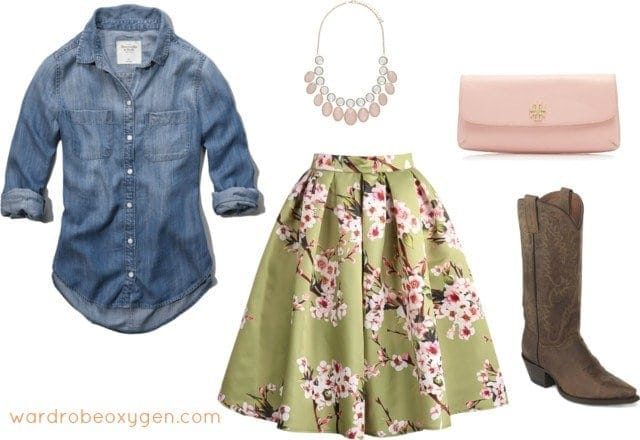 A cowboy boot looks great with a skirt with some volume, but that doesn't mean you need to look like a square dancer. Fit and flare, pleats, gathers, and a-lines nicely balance the weight of a cowboy boot. Like me, you likely already own pieces like this in your wardrobe and paired them before with sandals or nude pumps. A switch to cowboy boots won't look unusual; if you feel the cowboy boots are too rugged for your look up the femininity quota with a pastel bag and floral necklace. As an FYI, this look is an easy one to dress up for an event; switch out the skirt for a full length version, change the shirt into a crisp white one (or keep the denim if appropriate to the occasion) and have a super sparkly necklace and you're evening-ready.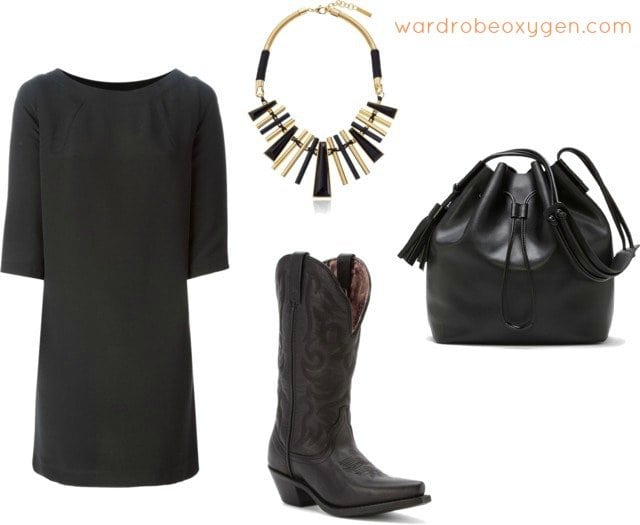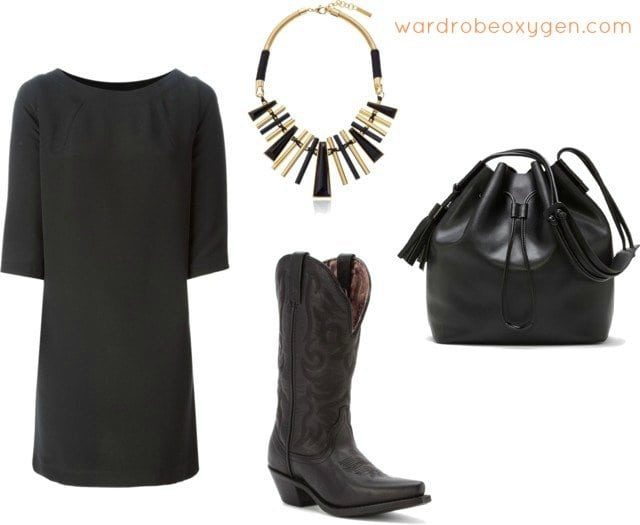 A boot also looks great with a looser shift dress. If you choose it in a drapey fabric like silk or rayon it won't look too boxy. Even add a longer or heavier necklace to hold down the dress and reduce volume on top. Again, no need to buy a whole new wardrobe of bags and necklaces to accommodate your boots.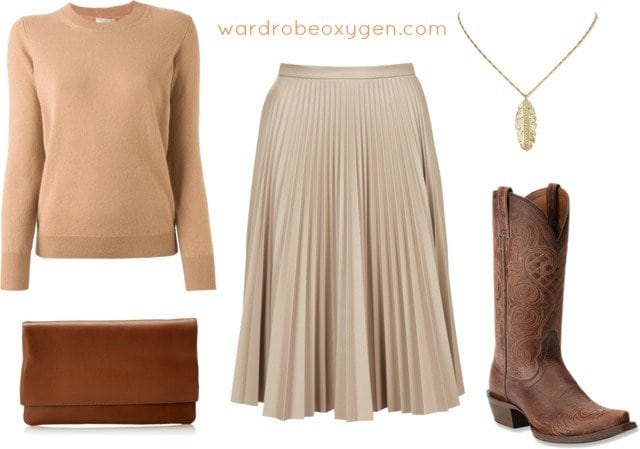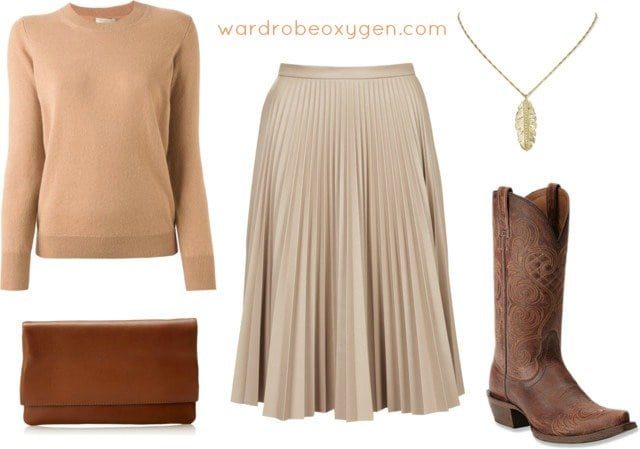 I must say this look was inspired by a woman I saw several years ago in the city. She had a similar outfit but in all greys with some well-worn brown cowboy boots when one would usually wear riding boots. The look was so chic and looked so right. A midi skirt is a great pairing for cowboy boots; the soft gathering gives a bit of volume to balance the footwear without overwhelming the frame. Keeping all the colors similar helps the boots blend into the look. A necklace with a natural element to it helps the boots look purposeful.
Do you wear cowboy boots? What are your recommendations for styling them?