This article may contain affiliate links; if you click on a shopping link and make a purchase I may receive a commission. As an Amazon Associate, I earn from qualifying purchases.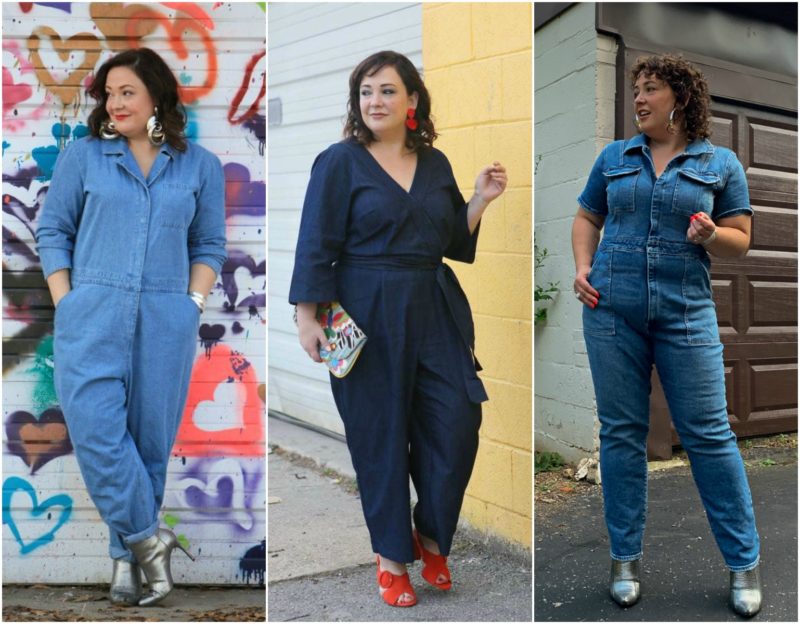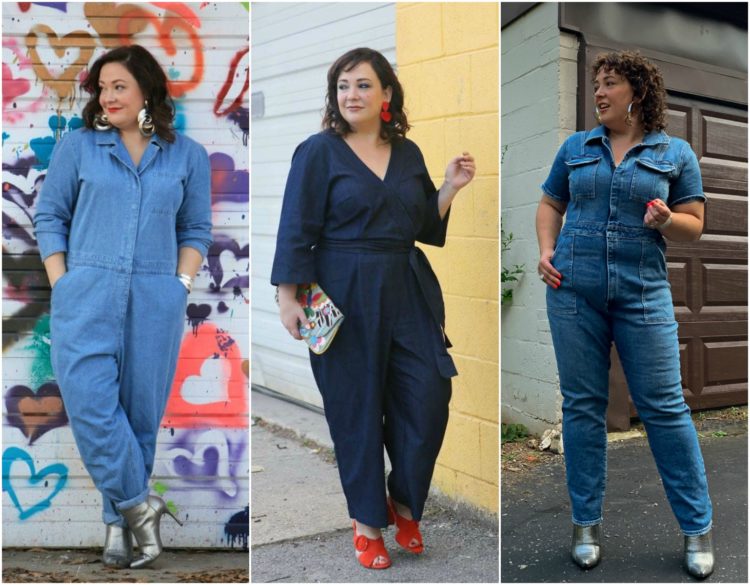 It's clear I have a thing for jumpsuits, coveralls, and any other term for a one-piece garment with legs. Rompers aren't really my jam just because they don't appeal to my current aesthetic, but anything that has legs that at least hit below my knee… I am a fan. I wear them for fancy occasions, I wear them around the house, I love them in silk, in jersey, and I love them in denim. I've been enamored with denim coveralls and jumpsuits since I saw this photo on The Sartorialist over a decade ago. A couple of years ago, I got these denim coveralls from ASOS and purchased sequined patches that looked like wings and sewed them on the back. Sadly, the coveralls no longer fit and I was again on the hunt. I had this refined denim jumpsuit from ELOQUII that got lots of wear but it too no longer fits. Last summer I rented this Good American denim jumpsuit from Rent the Runway Unlimited and kept it for a few months, returning just because it was too fitted for casual wear. FYI, Shopbop still has this Good American jumpsuit in stock up to size 3XL.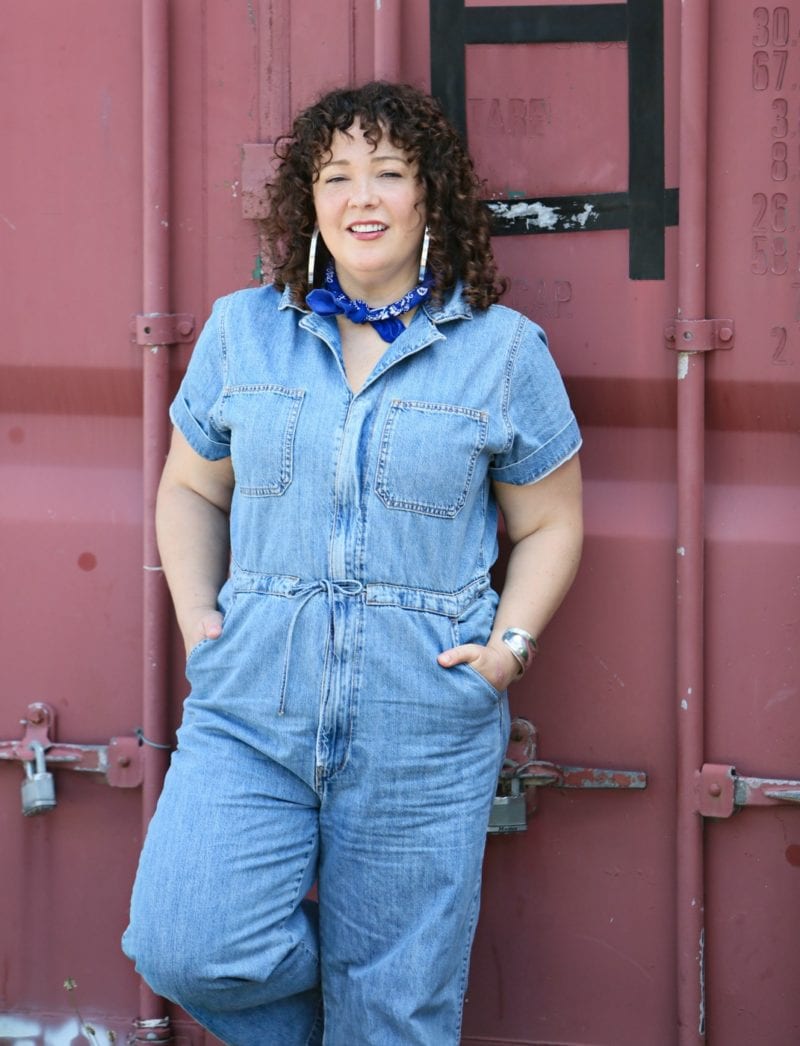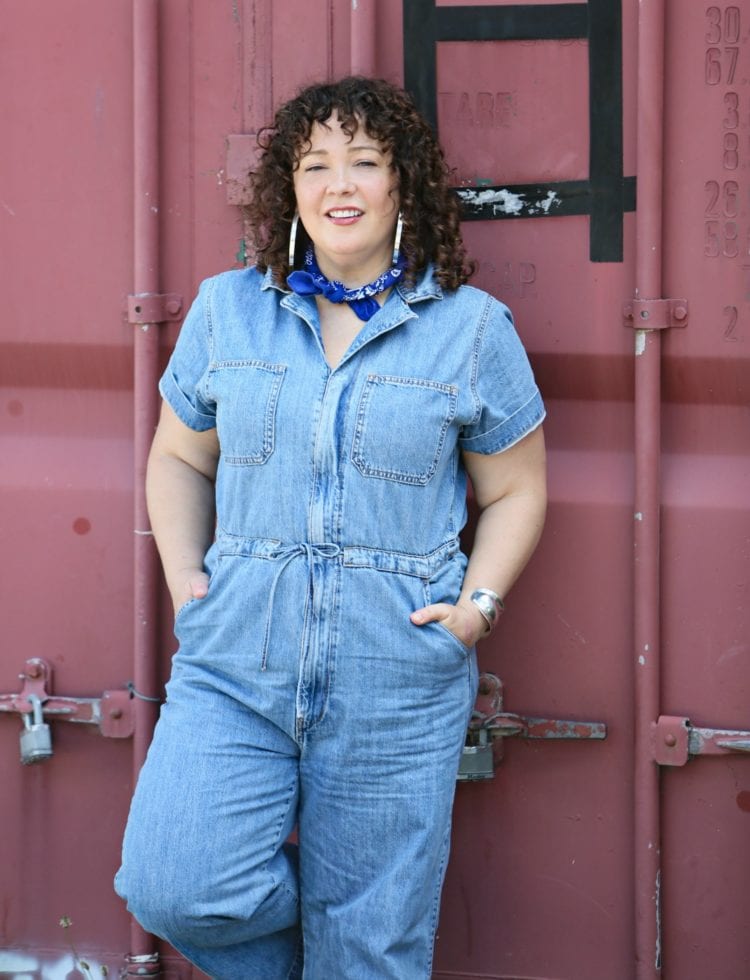 Denim Jumpsuit: Levi's (XL) | Earrings: Jenny Bird (sold out; similar concept) | Bandana: old (similar) | Shoes: Birkenstock | Bracelet: old (similar)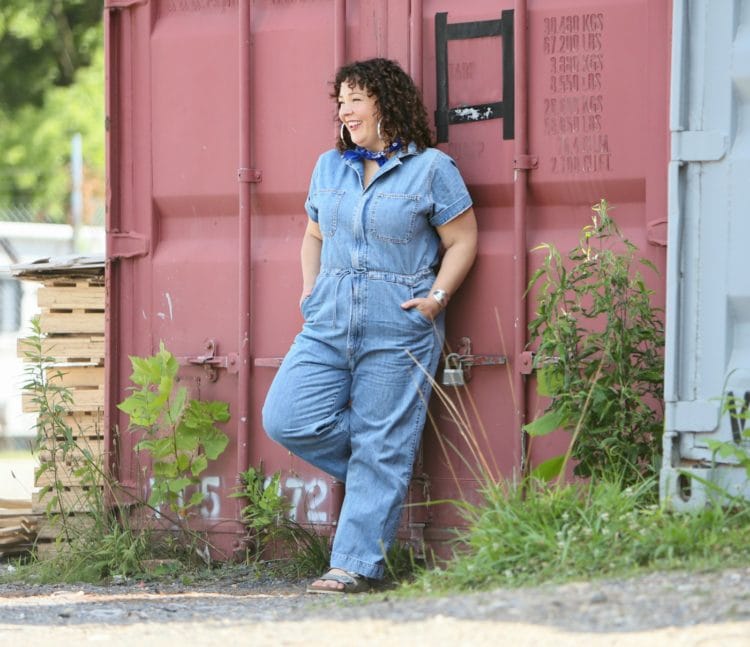 When I saw this Levi's denim jumpsuit at Nordstrom, I decided to try it out. Nordstrom is now sold out of this denim jumpsuit, but Levi's has it on sale in XS, S, and L; Revolve has it in XS, S, and M; Anthro has it in L; Amazon has it on sale in XS and XL, and Buckle has it in S and L. I am wearing an XL. For reference, I wear a 32 in jeans and am 5'3″. Because I know this size range is extremely limited, the price may not be right for you, and the style may not be exactly your taste, I've gathered other denim coveralls I've found around the internet below. Click the side arrows to scroll through the carousel, click on the image and a separate browser window will open taking you to the retailer. I also recommend checking Etsy where you can find vintage and thrifted denim coveralls that are unique and stylish.
Shop Denim Coveralls: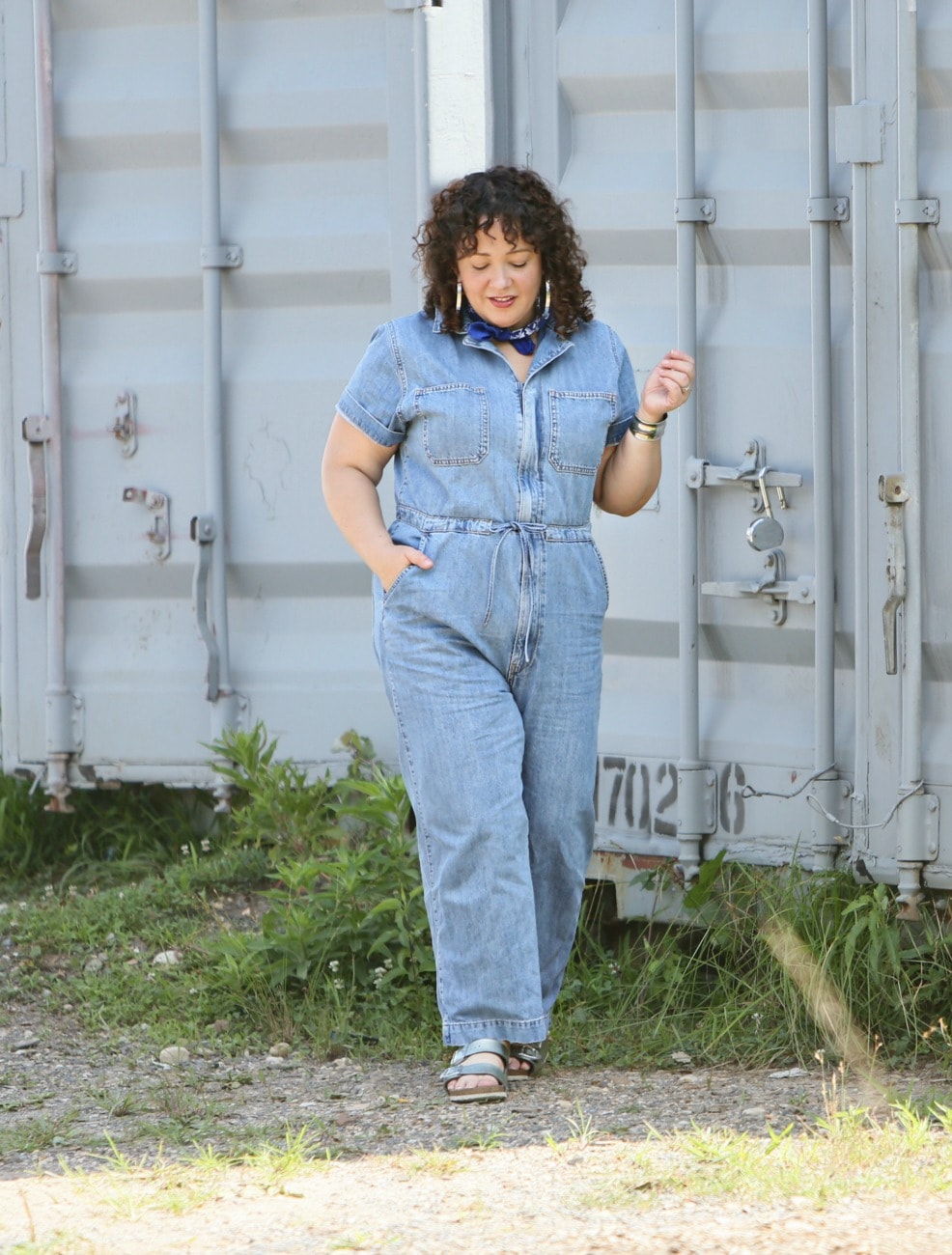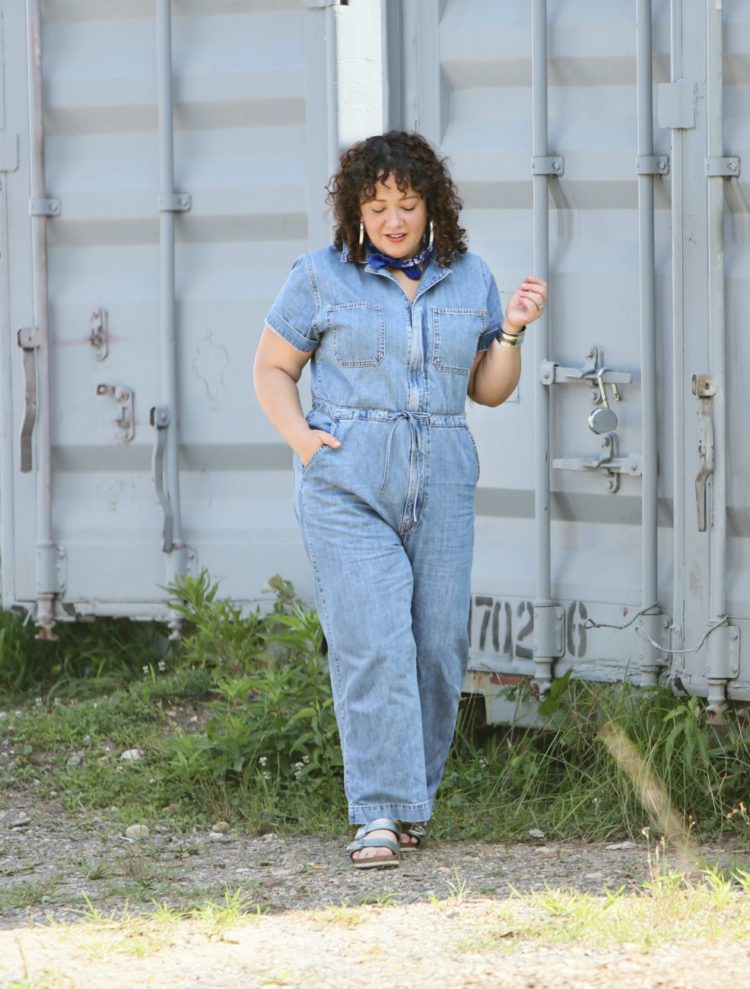 I wrote about this denim jumpsuit in a previous post, but I've only been photographed wearing it once. The reason is when I am at home, a jumpsuit like this just seems like… a lot. When out and about, I love the fabric, the pockets, the silhouette. But sitting or standing at my desk or on the couch, having a zipper go down my torso and be covered in non-stretch fabric seems like overkill. But I want this piece to soften and weather and get better with each wearing so I'm adding it to my rotation so once the world opens up for good, it will be ready.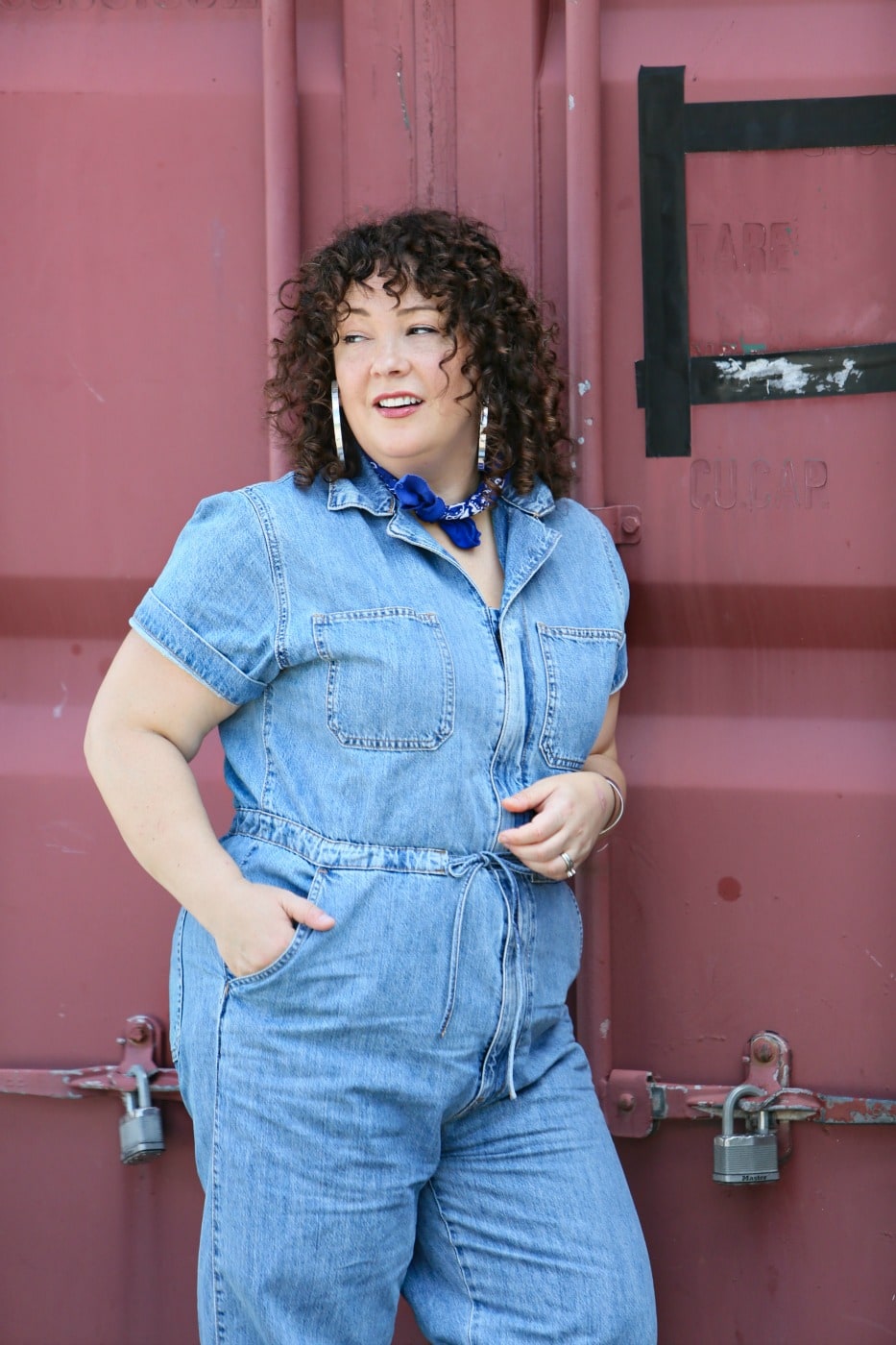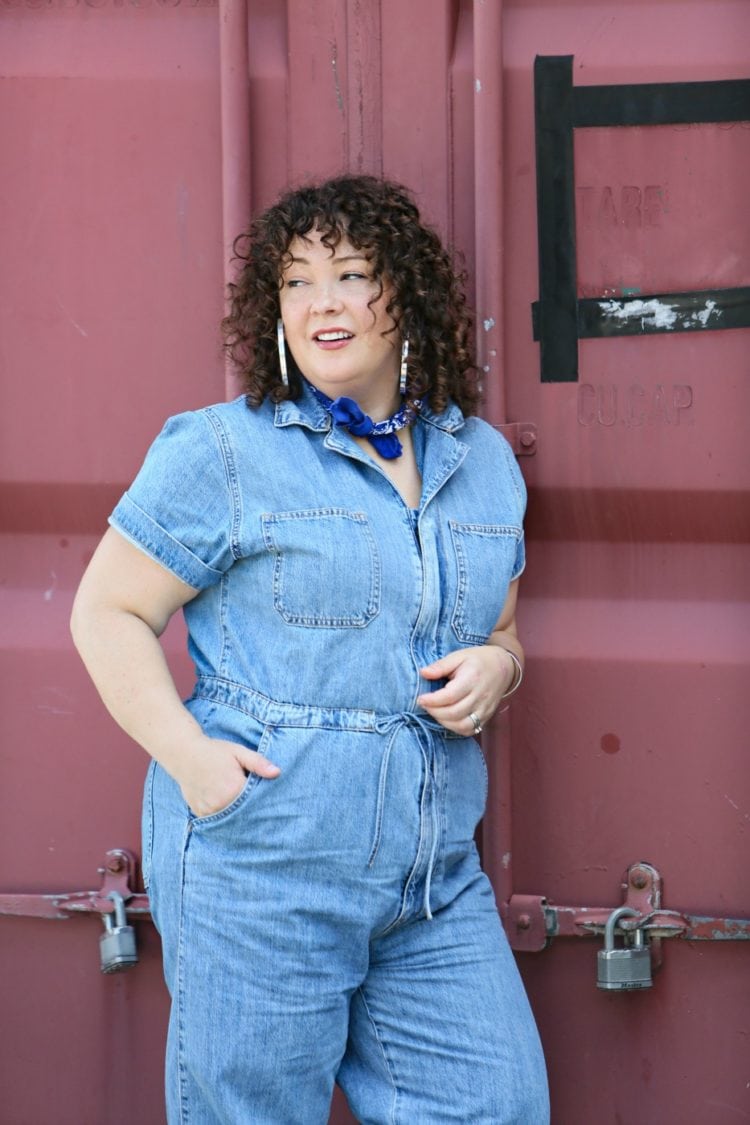 I kept the styling simple… for me. Not everyone is a bigger than a bracelet hoops kind of person, but I have been loving how they give a bit of shine and polish to my at home looks. They also match my Birks! I added a bandana, it felt right and also they have also been a staple lately to mop my brow and to have as a backup face mask.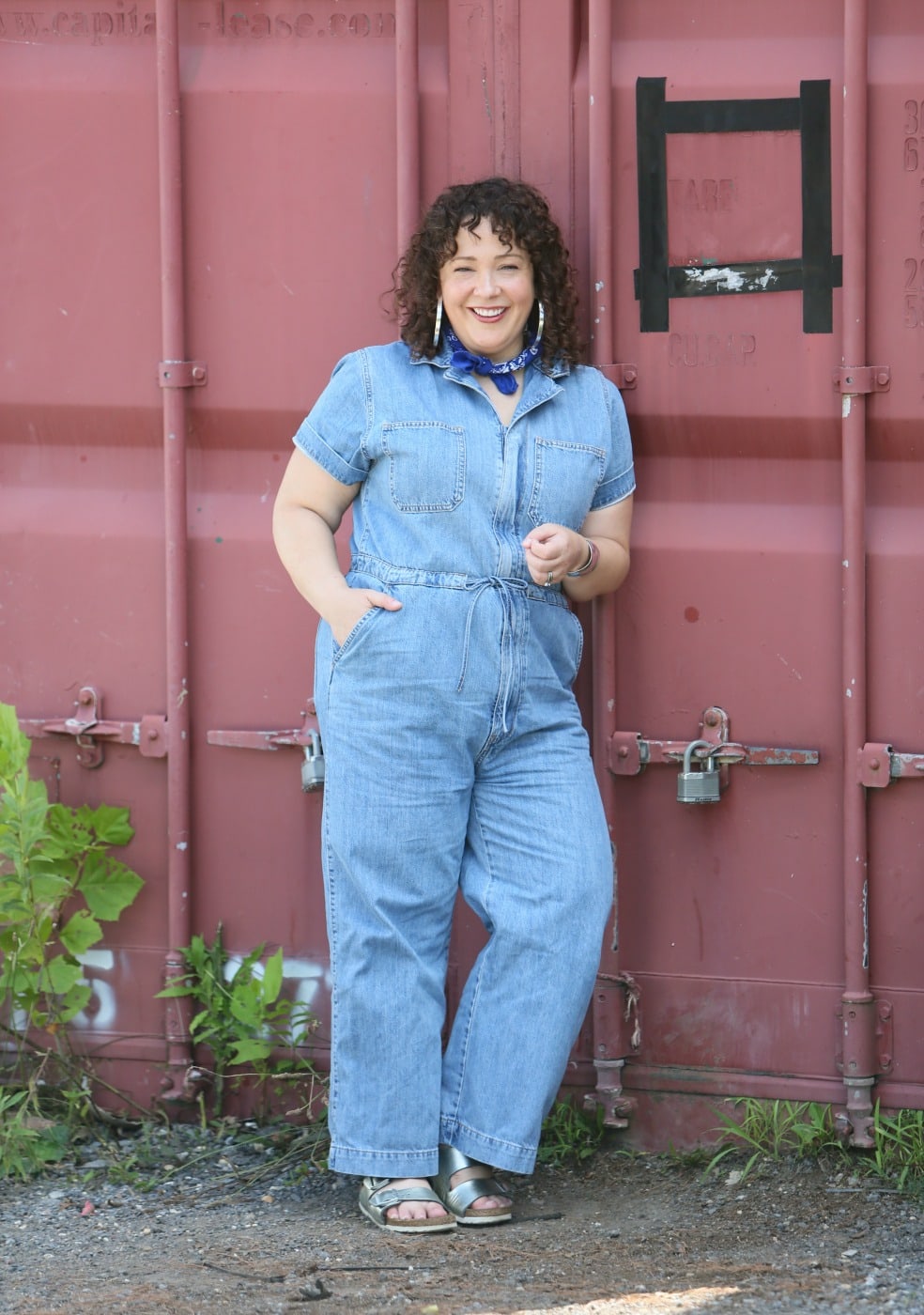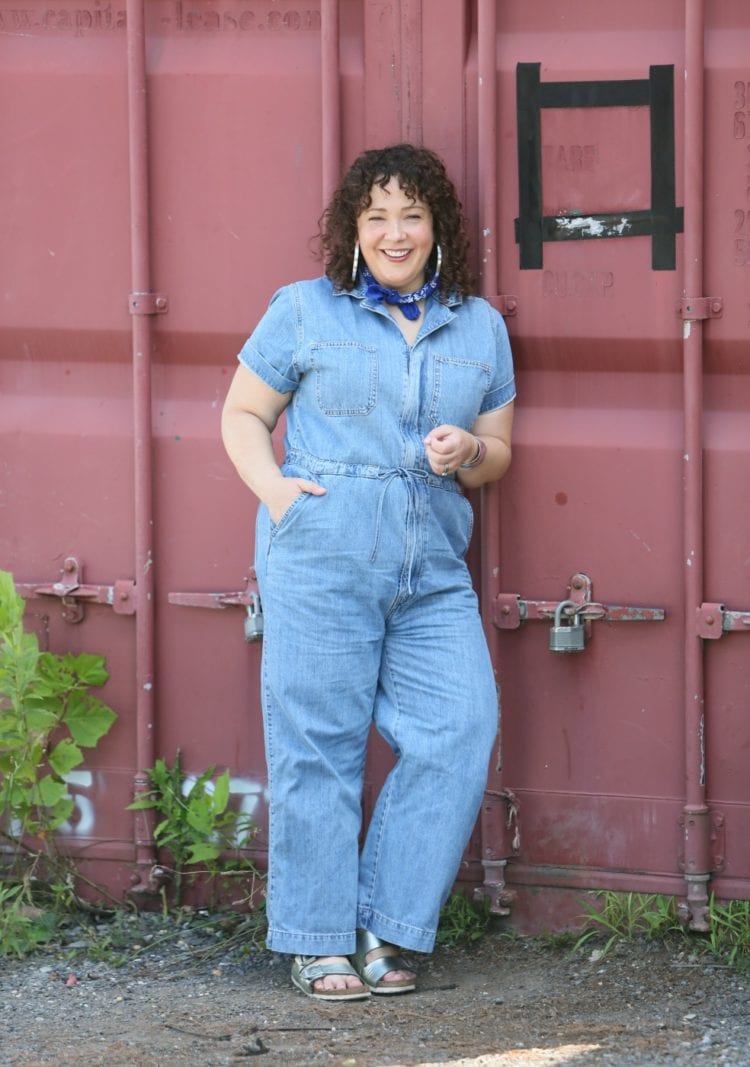 The length is awkward on me. At first, I was thinking of taking it to the tailor to have it shortened so it is a true crop, but now I'm toying with instead letting out the hem so it is longer. I figure I'm not going to the tailor right now anyway, might as well release the hem, see what I think, and if I don't like it, I can still have it hemmed to a different length in the future. This time at home has inspired me to analyze my clothing more.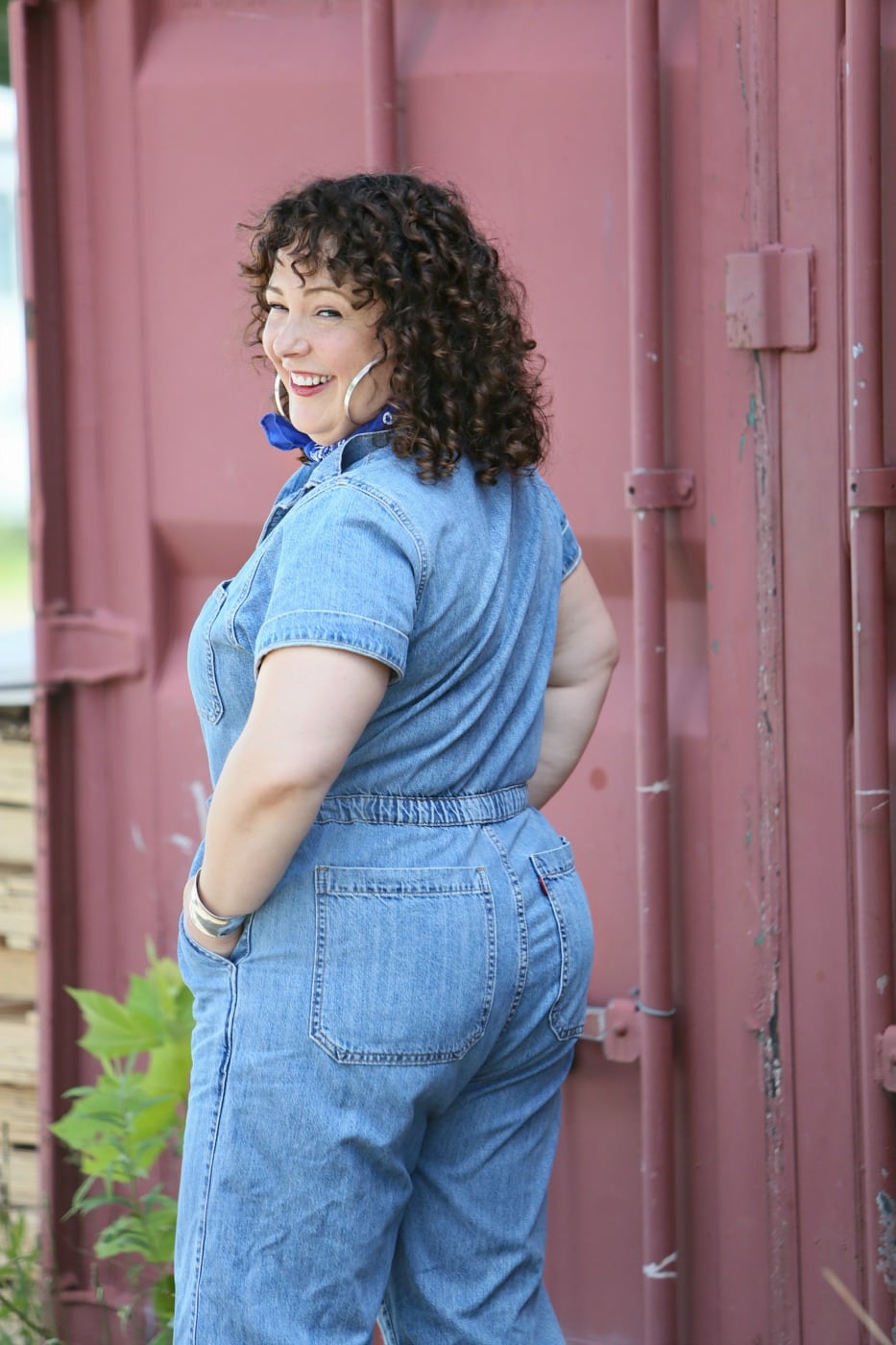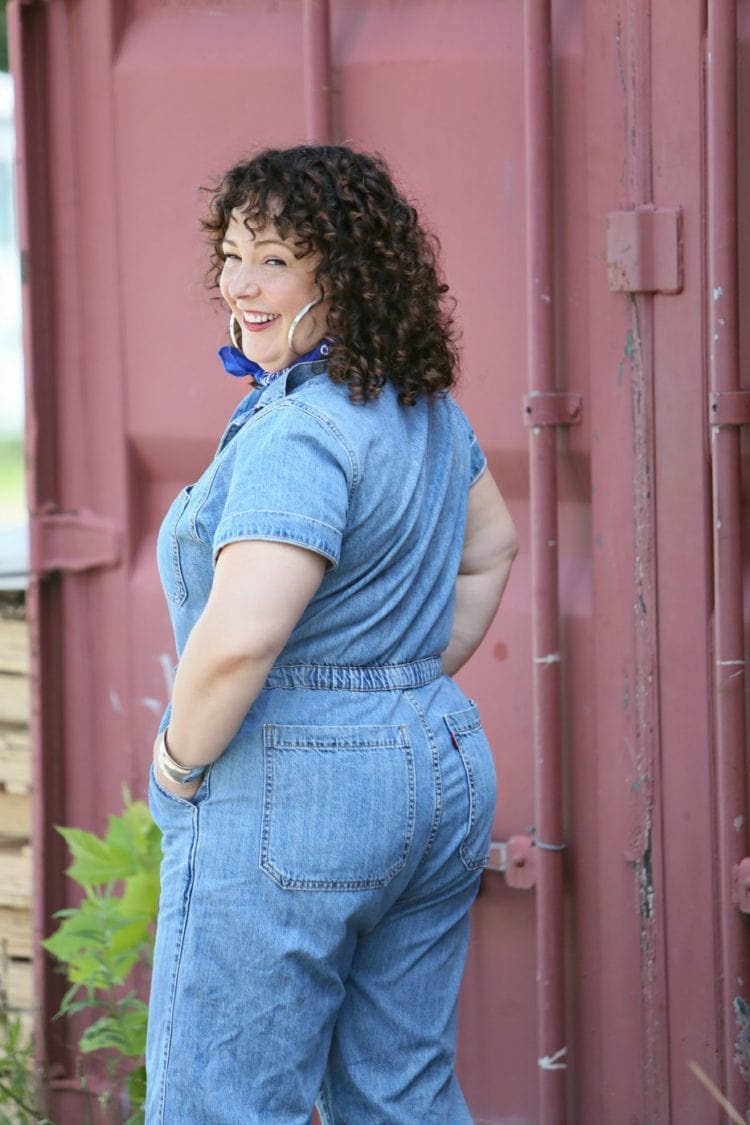 What do I really enjoy, what can I do to alter it to enjoy it more? Is this something I am embracing because it's trendy, or can I envision enjoying it a year from now or longer? I often buy things thinking oh yes, I'll be wearing this in a decade and come the end of the season I am over it. And that very well may hold true with these denim coveralls/denim jumpsuit/whatever you want to call it. But I'd like to think this is the kind of piece I've been admiring since 2007, and it's a silhouette that I can wear if I get a bit larger or a bit smaller, more muscular here or there, and it also is easy for me to get in and out of. I don't know what the future holds and how that will affect my wardrobe, but for now I'm digging it. Though I likely will be releasing the hem and playing with it to make it more me.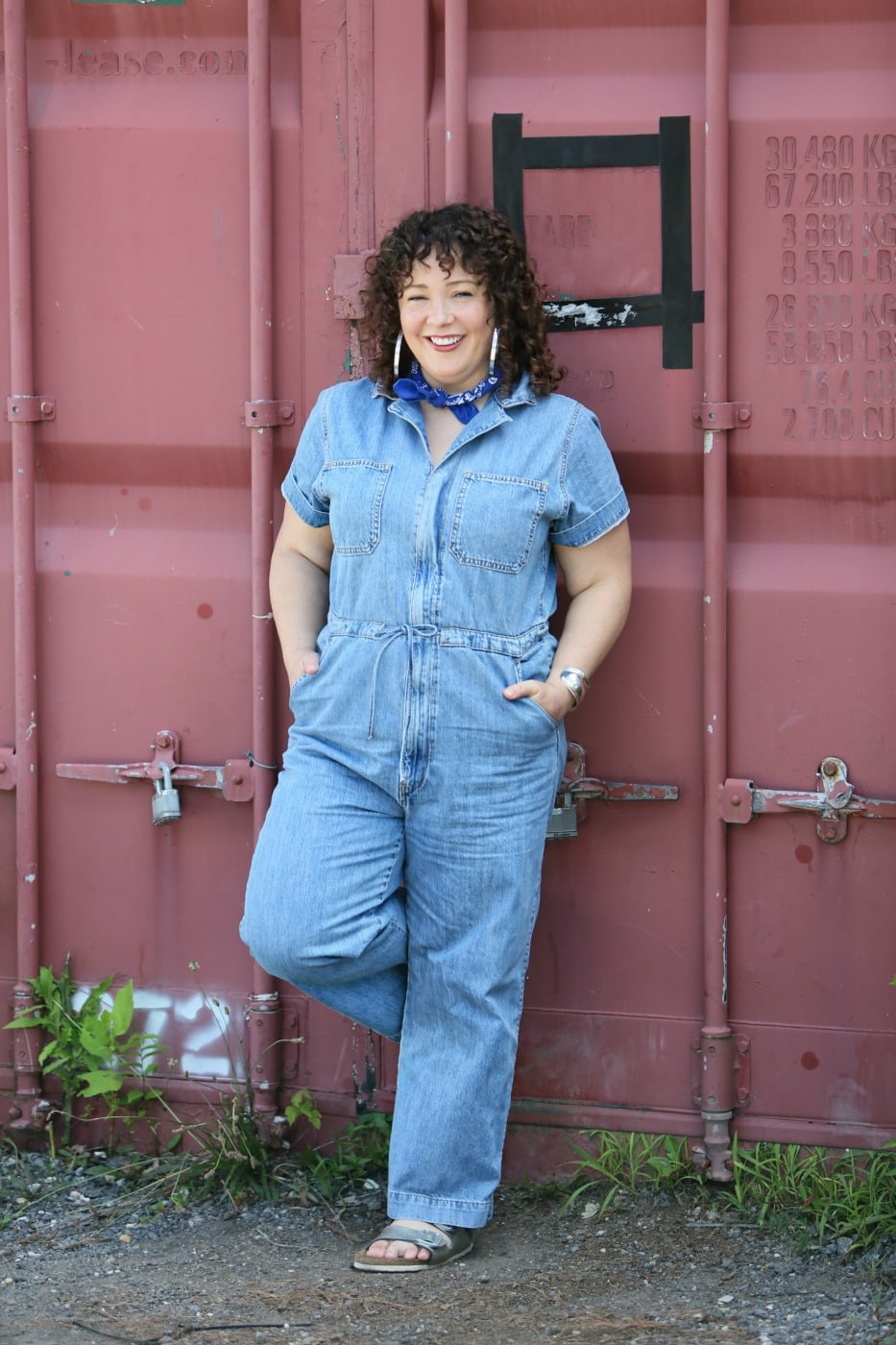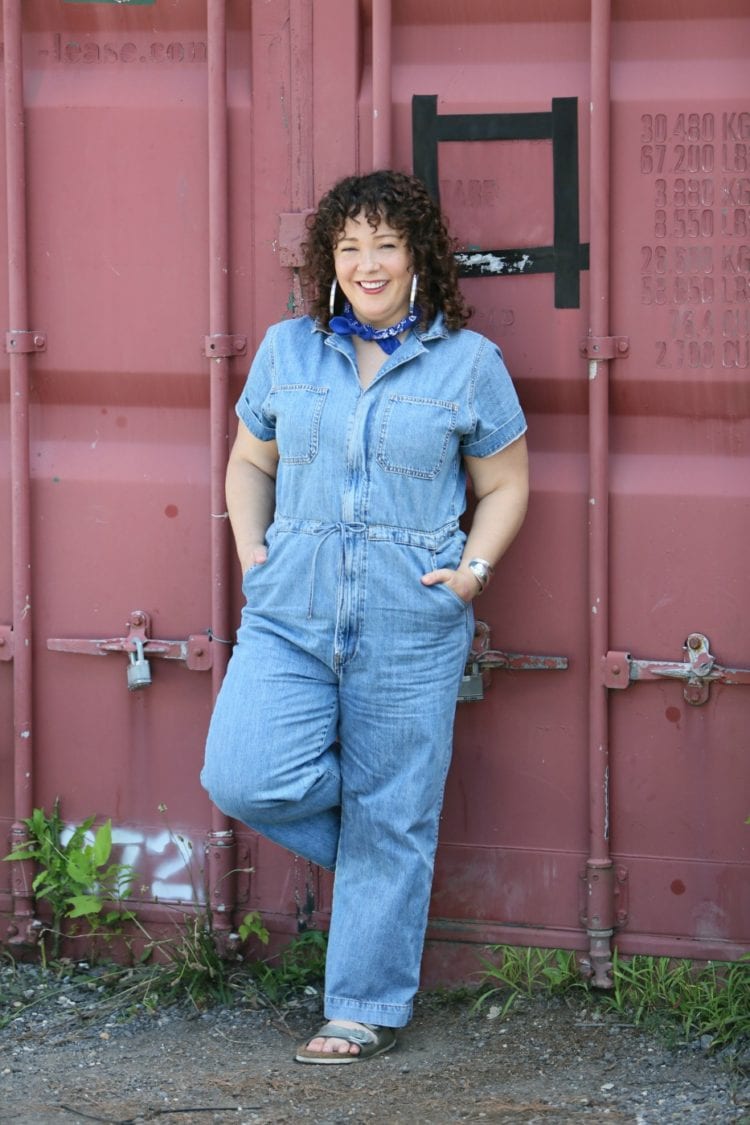 Shop the Post: