This article may contain affiliate links; if you click on a shopping link and make a purchase I may receive a commission. As an Amazon Associate, I earn from qualifying purchases.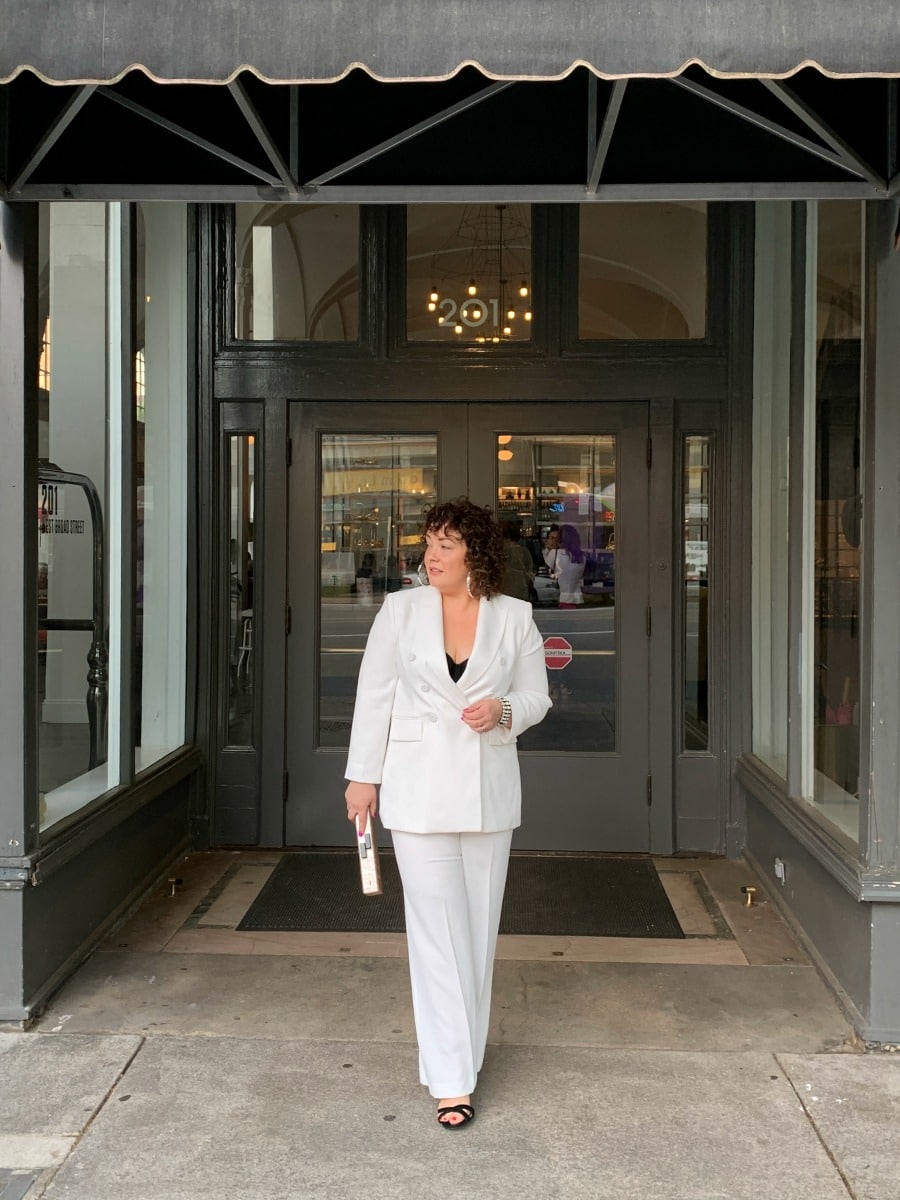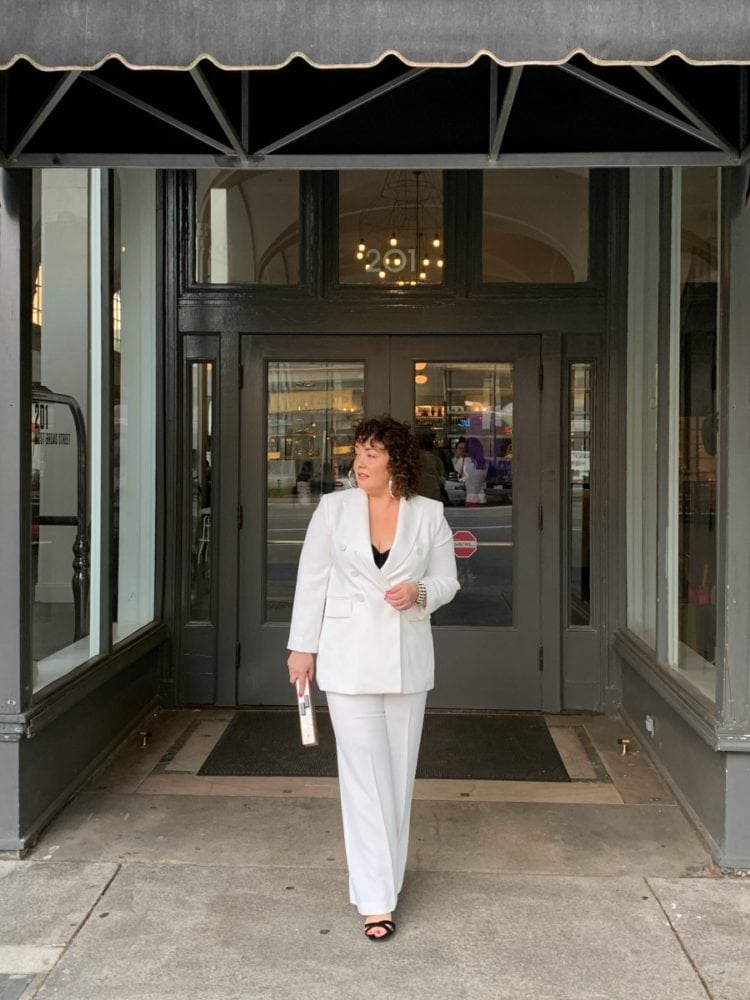 This week I dreamt I was in my white Zara pantsuit at an event at a restaurant or a bar. It was one of those places that is narrow and long, opens up to a large space, and then more nooks and hallways to best use the minimal space available in a city with a long bar along one side. I was in the back, trying to get to the front to leave and the place was packed. People on couches, sitting on the arms of chairs where others sat, so many high top tables with stools. I knew everyone there, and everyone wanted to say hi, kiss my cheek, give me a hug, touch my suit, touch my hair, grab me to take a selfie. They clinked glasses of wine, they ate food off of trays passed around by waiters, they did Boomerangs blowing kisses to the camera. I was the only one in a mask, and everyone kept asking me why I was wearing it. I kept trying to wiggle through the crowd to get free, get to the front which was glowing white showing a sunny day outside but I never got closer. I woke in a sweat, my heart racing. Raise your hand if you too have had dreams like this.
How to Help
I live in Prince George's (PG) County Maryland and grew up in this county for the majority of my life. It's a beautiful part of Maryland, full of history and diverse communities. It also has many problems and many regarding race, police, and the public school system have tarnished the reputation of this county and are being seen on a global stage with all that is going on right now regarding the pandemic, Black Lives Matter, and the government. One serious issue happening right now in PG County and likely in other counties across America is how the prison system is dealing with the pandemic and those in the system who have COVID.
There is an uncontrolled outbreak of COVID-19 at the Prince George's County Jail. The people housed there-predominantly pretrial detainees-are under a constant and substantial threat of contracting the disease, and those already infected receive grossly substandard medical treatment (if they receive treatment at all). Because jails are particularly vulnerable to COVID-19, the CDC has recommended basic measures these facilities should take to control the spread of the virus and treat infected prisoners-for example, providing prisoners with free access to soap and evaluating prisoners for symptoms. The PG County Jail has ignored these and other public health recommendations and as a result, nearly 600 people now imprisoned at the Jail are denied even the minimal precautions necessary to mitigate against the risks of COVID-19. Prisoners who test positive for COVID-19 are confined in filthy isolation cells, are barely monitored, and receive no real treatment.
I doubt you want to know more, but you should and the sworn statements by those jailed in Prince George's County are having their stories amplified by celebrities via the organization Gasping for Justice. Click here to see and hear their stories as read by celebs such as Alec Baldwin, Jesse Williams, Fiona Apple, and Baratunde Thurston. Even if you don't live in my county, you should be angry, and I hope it inspires you to share this and investigate the prison conditions in your area. If you want to help, consider signing this petition, if you live in the county sign up to court watch remotely, and consider donating to the DMV bail fund.
Weekend Reads
Designer Tracy Reese on how the fashion industry can truly become anti-racist. (Elle)
Does Gap have a Kanye West problem? (Retail Dive)
From stalwarts like T.J. Maxx and Nordstrom Rack to venture-backed newcomers and online luxury resellers, a multitude of discount retailers are all vying for a piece of the growing off-price market, which will thrive amid the lingering global recession. (Business of Fashion)
I love Wirecutter for their detailed reviews, it's where I go when looking to buy a new appliance or home product. Wirecutter reviews all sorts of useful things, and their review of the best vibrators may prove useful to some of you. (NYT Wirecutter)
Authors and illustrators reflect on what Arnold Lobel's friendship-defining series Frog and Toad means to them. (Slate)
Speaking of which… I don't recall if I shared this at the beginning of the pandemic but my daughter and I enjoyed it. (McSweeney's)
There's a divide in even the closest interracial friendships, even the friendship of co-authors and co-podcasters Aminataou Sou and Ann Friedman. (The Cut)
If you follow my Instagram Stories you may have seen I got a new pair of shoes: these hiking boots from Danner, a Portland, Oregon company. I was looking for waterproof, lightweight and not too hot in the summer, a wide toebox for my wide feet, not too tight on my thicker ankles, and a style that would look good with pants or shorts and not look gross if they get wet or muddy. They were comfortable right out of the box and roomy enough that I can put in a pair of insoles. I'll be sure to do a full review once I wear them more than a short hike in the woods and trip to the garden!
If happiness weren't the goal we'd have much better mental health. (Mel Magazine)
The slob-chic style of the coronavirus pandemic. (New Yorker)
The antisemitism we didn't see. (The Atlantic)
"Last year I attended several panel discussions, both in the United States and Australia, about the future of inclusivity and sustainability in the fashion industry. One thing was made clear: currently, the two are mutually exclusive." (Fashion Journal)
With the pandemic and a global uprising against racial injustice to be explained away, conspiracy communities are bleeding into each other, merging into one gigantic mass of suspicion. (Vice)
"My sex life as a fat woman was a trickle of accumulated humiliations and loneliness, so I decided to try enjoying my own company instead." (Buzzfeed)
RIP Clarisonic. (Insider)
See/Hear/Read
My husband and I are enjoying Down to Earth, a new travel/sustainable living show on Netflix hosted by Zac Efron. Yes, that guy from High School Musical who come to find out is quite a great travel host. He is joined by Darin Olien, a wellness expert who is ten years Efron's senior, and the combo of the two is really great. I wonder if it's like when my husband and I are together, Olien the vegan sustainable alternative health loving guy who will take his shoes off to ground himself in a new country and be wowed by mineral counts in drinking water and me, the one who is curious but not full in but along for the ride, absorbing the information, and slowly changing for the better. They have a really great "bromance" and the show isn't too polished or scripted. Each episode they visit a different country and feature its methods for a more sustainable existence, meeting with experts and visiting cool places often not available to the public.
I thought everyone knew who Walter Mercado was. I realized when Mucho Mucho Amor: The Legend of Walter Mercado came out on Netflix last week that many of my friends and family had never seen or heard of this legendary astrologist. I remember going to friends' houses as a kid and the whole house rushing to the living room and going silent to listen to their horoscopes. I remember flipping channels on the early days of cable and coming across Mercado on Univision and while not completely understanding what he was saying, still being so mesmerized I'd watch the remainder of the show. And I definitely remember his infomercials for the Psychic Friends Network. But for those who didn't have Latinx friends growing up or grew up in a more homogenous community, they may never have seen or heard about this iconic legend. Whether or not you knew of Walter Mercado, I highly recommend you watch Mucho Mucho Amor. It's a documentary that was filmed the last months of his life before a museum exhibit that honored his 50 year career and educates you on an incredibly strong and positive spirit who is sorely missed.
And get your Spotify ready, Michelle Obama's podcast launches exclusively on that platform at the end of the month! (Time)
For Your Entertainment
Senior year of college, I broke up with my high school sweetheart. Even though I am the one that ended it, I was devastated. I spent days in my room writing and crying and listening to Jewel's CD on repeat. That boyfriend and I reunited a few months later and now he's my husband, but that time still is with me, and has such a soundtrack. If this song had been out at that time, it would have been on my breakup playlist. I love Troye Sivan's voice, and really like this song, even if I'm not going through a breakup.