This article may contain affiliate links; if you click on a shopping link and make a purchase I may receive a commission. As an Amazon Associate, I earn from qualifying purchases.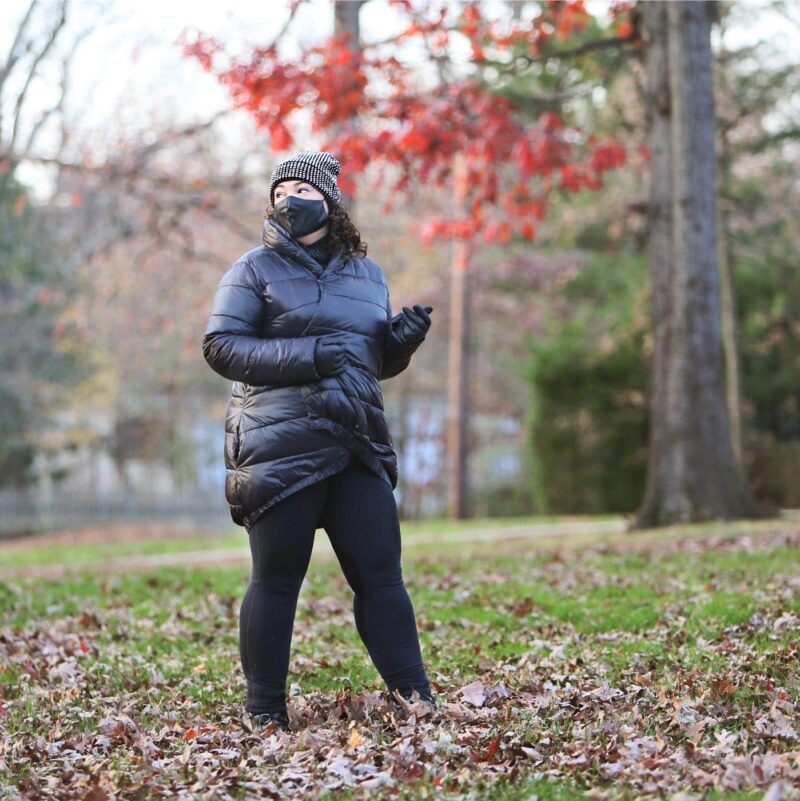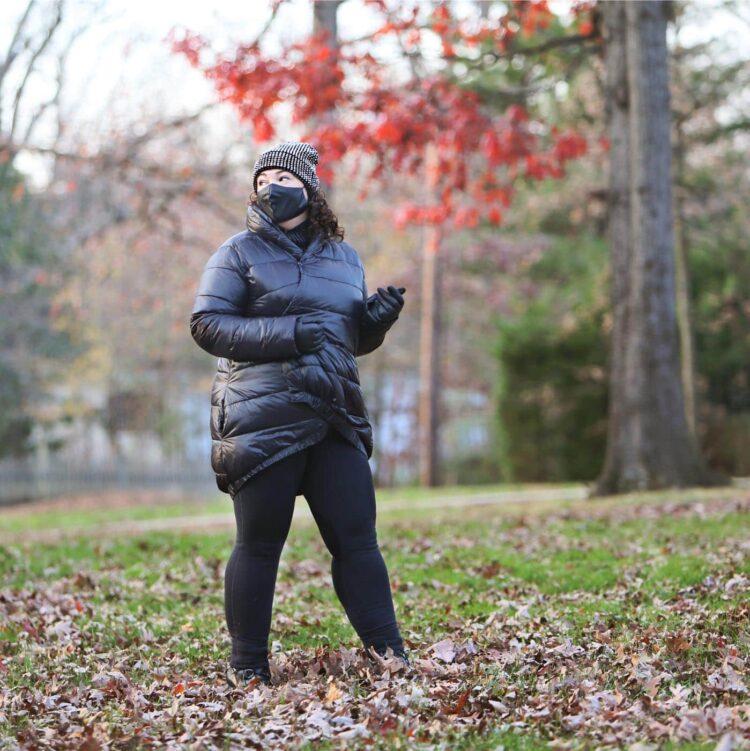 With the 'demic continuing through the winter, it's smart to figure out how to remain socially distant and dress for the weather. I know I am doing more walks outside even when it's cold, and visiting with neighbors over the fence or from a good distance around a firepit and wanting to dress feeling good while also feeling cozy.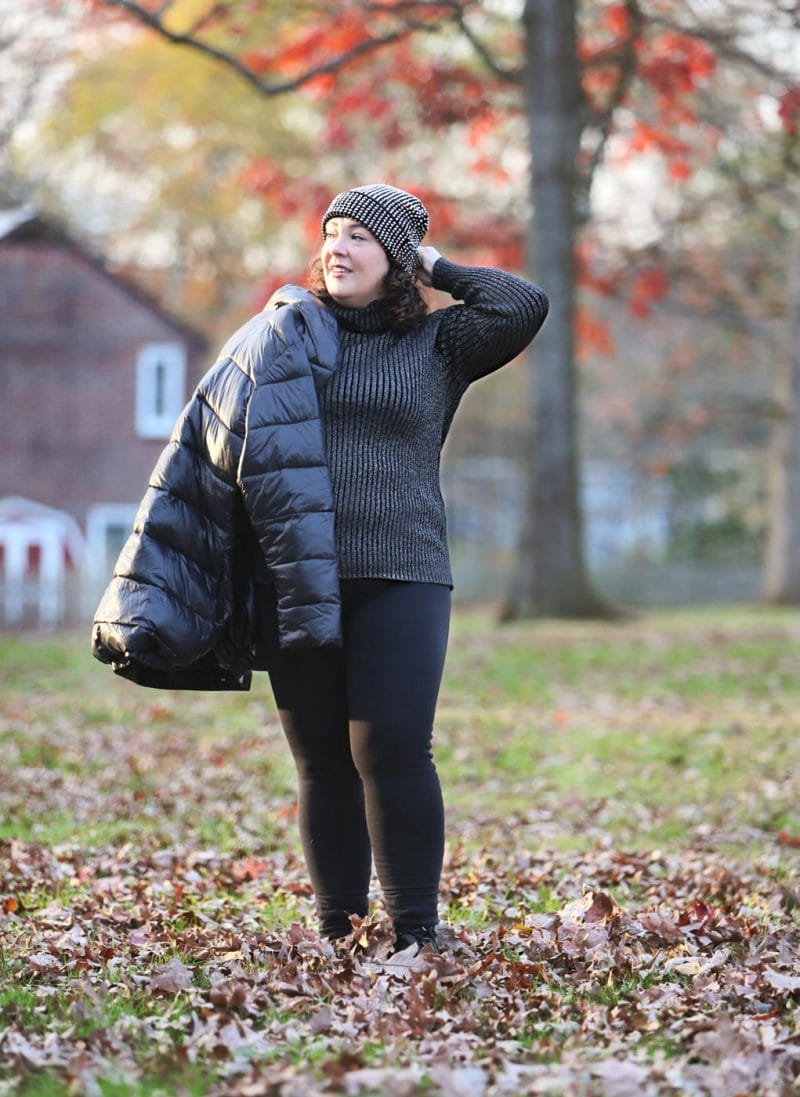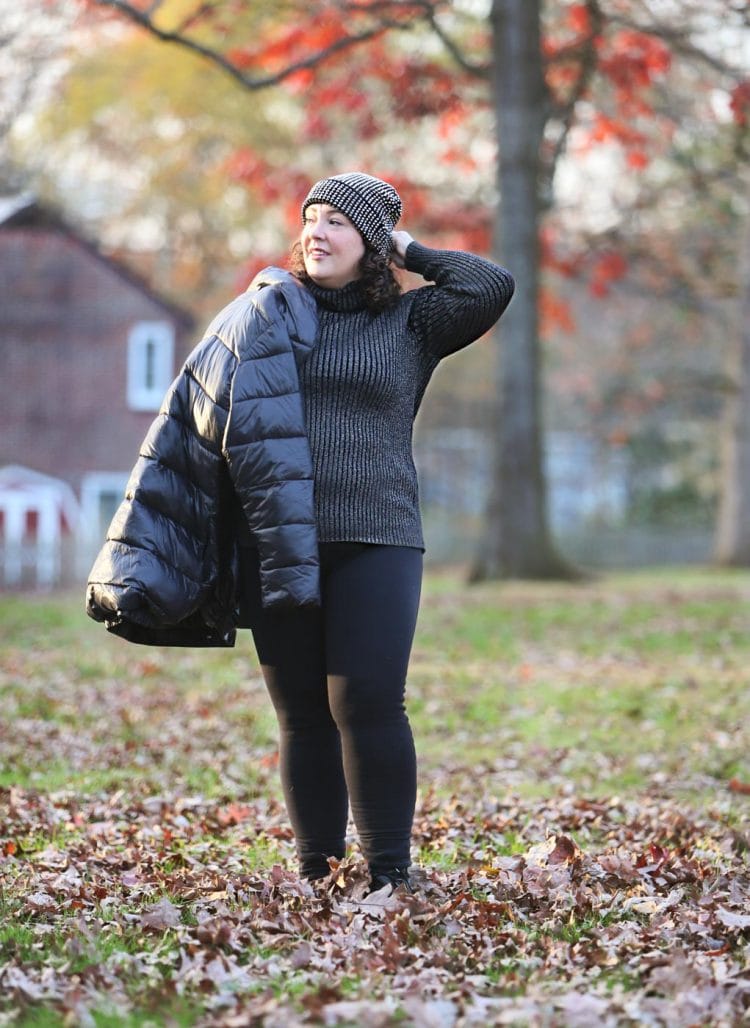 I wore this look this weekend for such a situation and it was perfect. It was cozy, comfortable, fun, and festive. Layers and winter accessories made the look adjustable if the were higher in the sunshine and dropped as the afternoon turned to evening.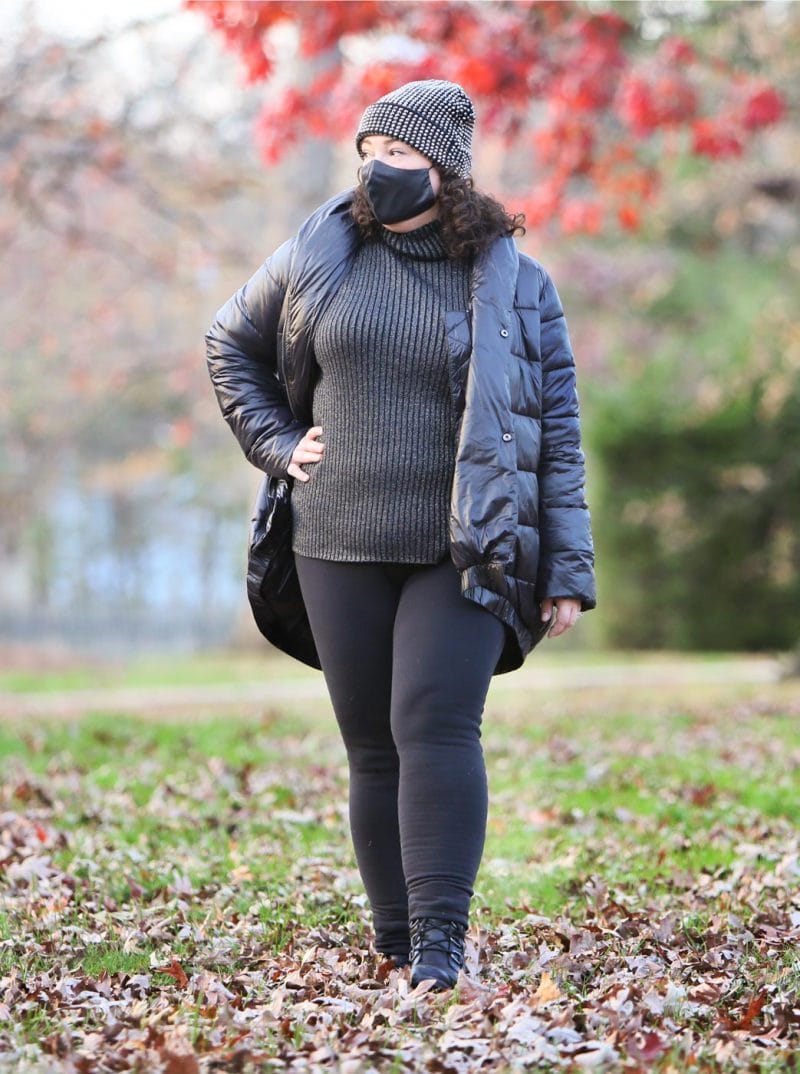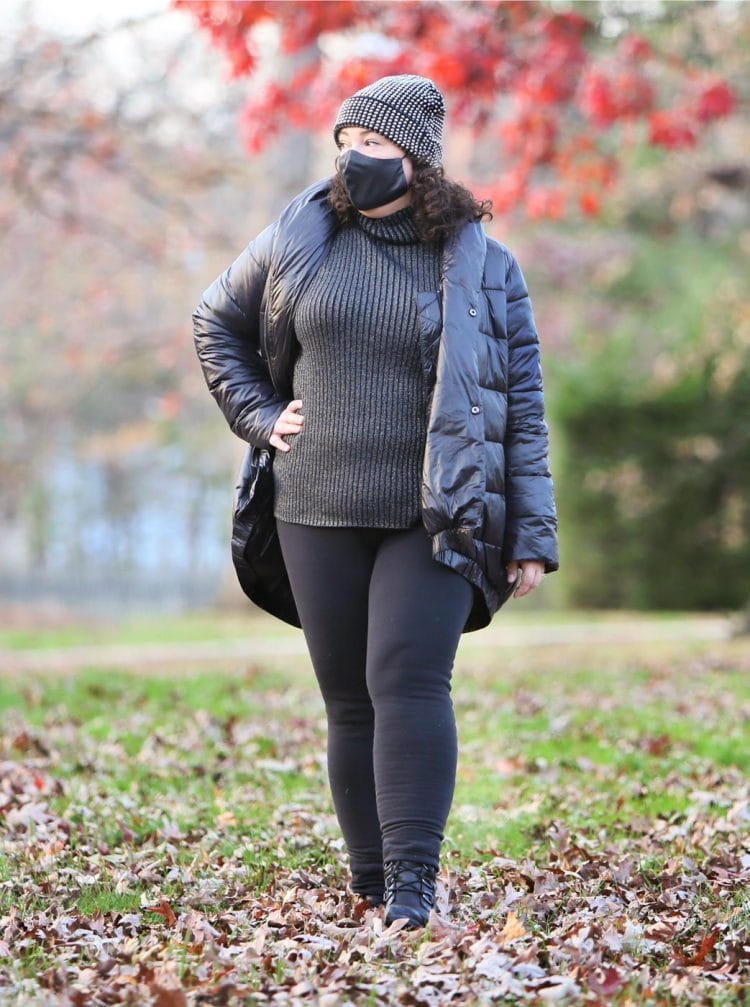 Sweater: Lurex Ribbed Coolmax Turtleneck c/o Chico's (2) | Leggings: Athleta (Large Petite) | Coat: Kanda Puffer c/o Universal Standard (XS) | Boots: Sorel (on sale!) | Hat: Tasha | Gloves: Nordstrom | Earrings: Lightning Bolt Huggie Earrings c/o Rellery | Mask: Candace Cort
You have seen every single piece I'm wearing in this look before… that is except the hat (unless you follow me on Instagram Stories, then you've seen it a few times).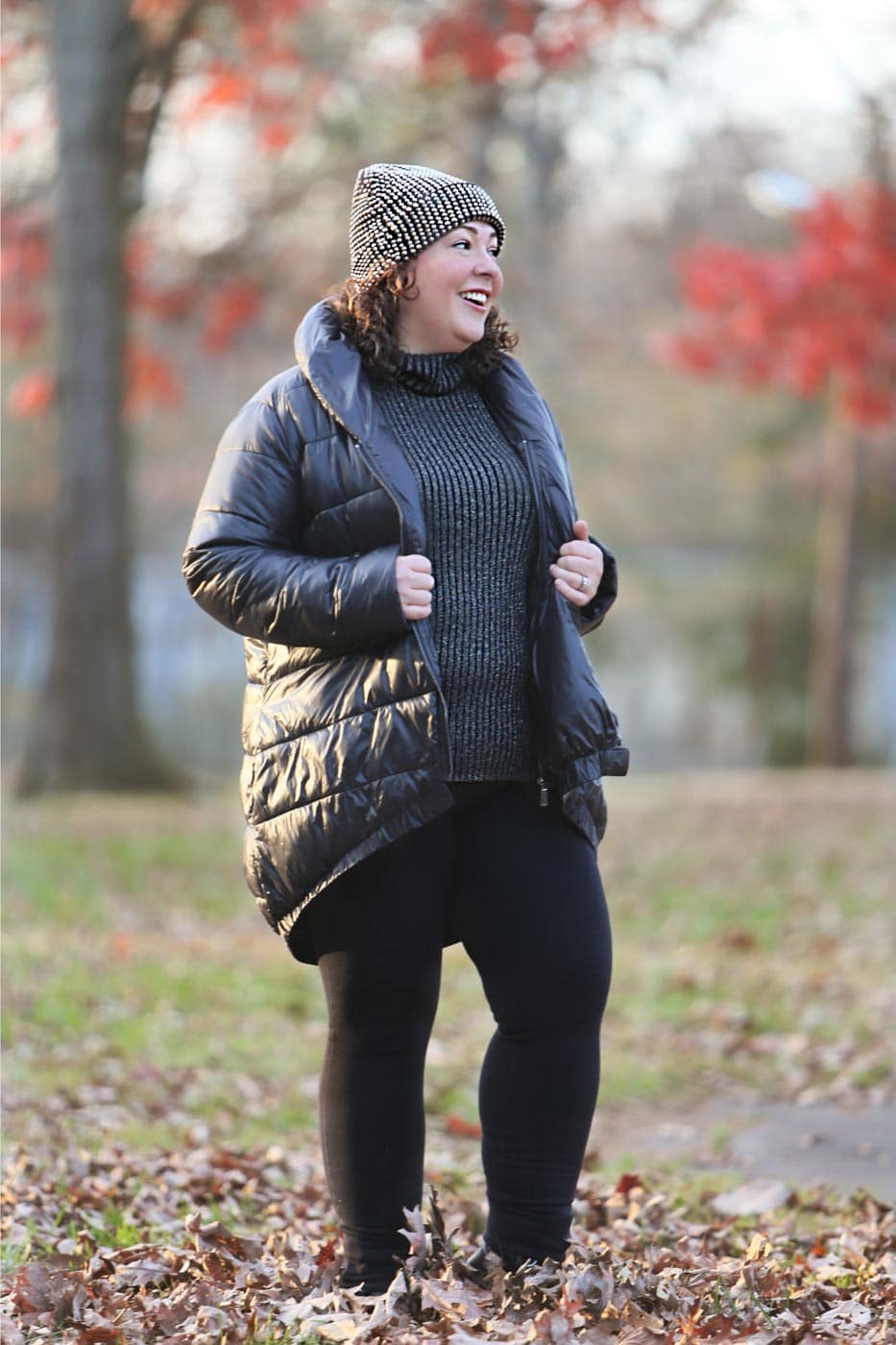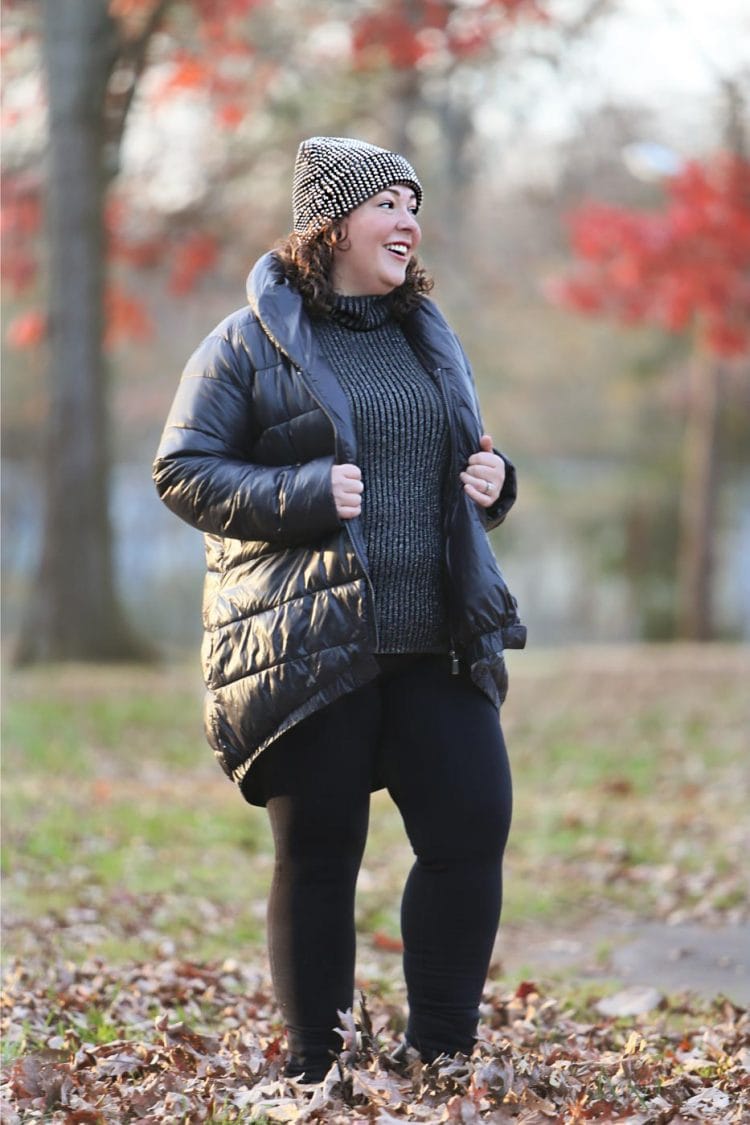 This sweater is the Coolmax turtleneck I wore in this blog post. There it was tucked into jeans and dressed up with a jacket. Here is how I will likely wear it the most this winter – untucked with Polartec leggings and a layer over it. Since it's made with Coolmax it keeps me warm without feeling overheated.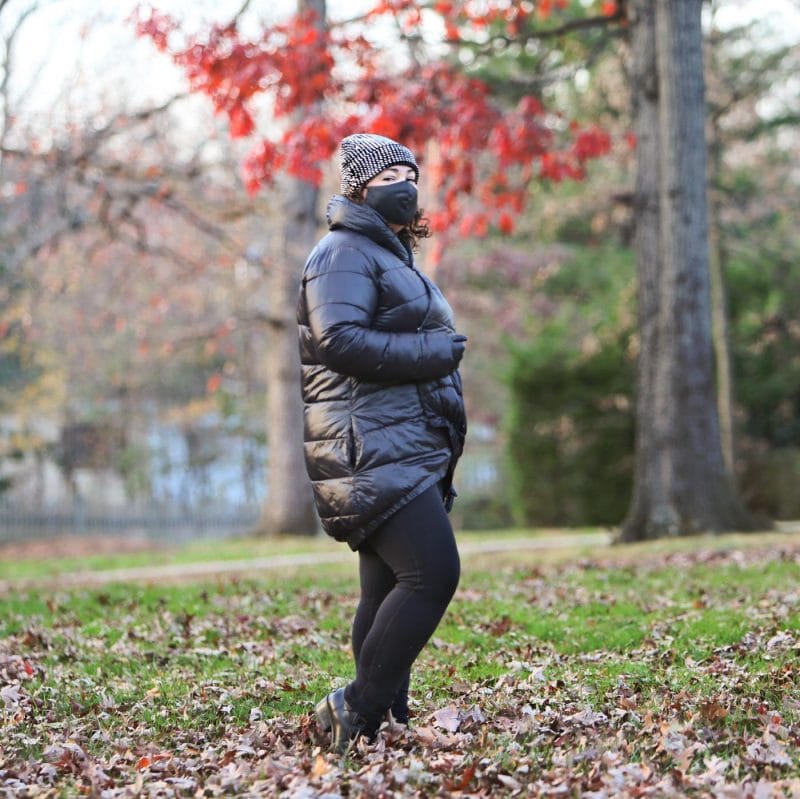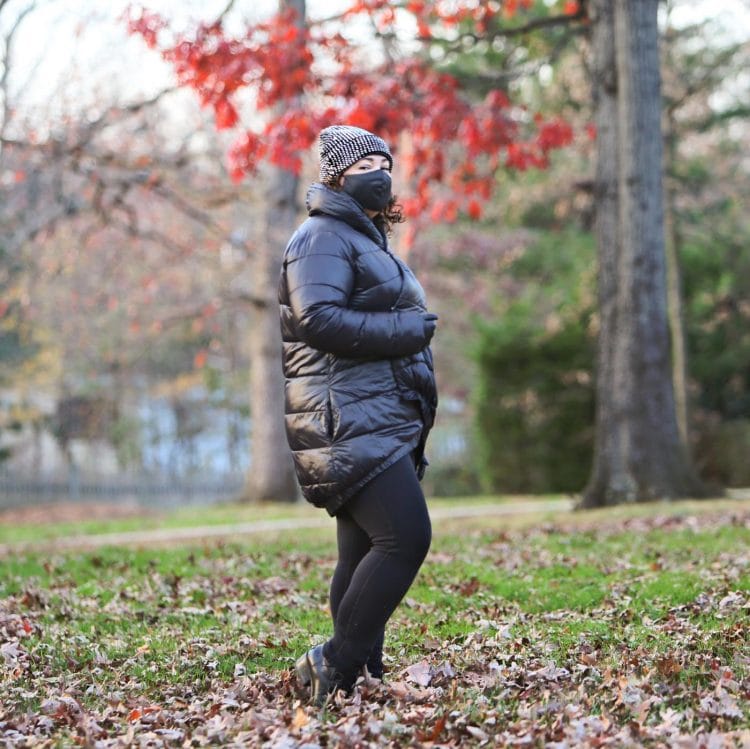 The leggings are these from Athleta and my fave. You saw them previously in this post and this post. They are thicker than fleece leggings, no fuzzy interior that sheds everywhere, they wash up great and are really comfortable.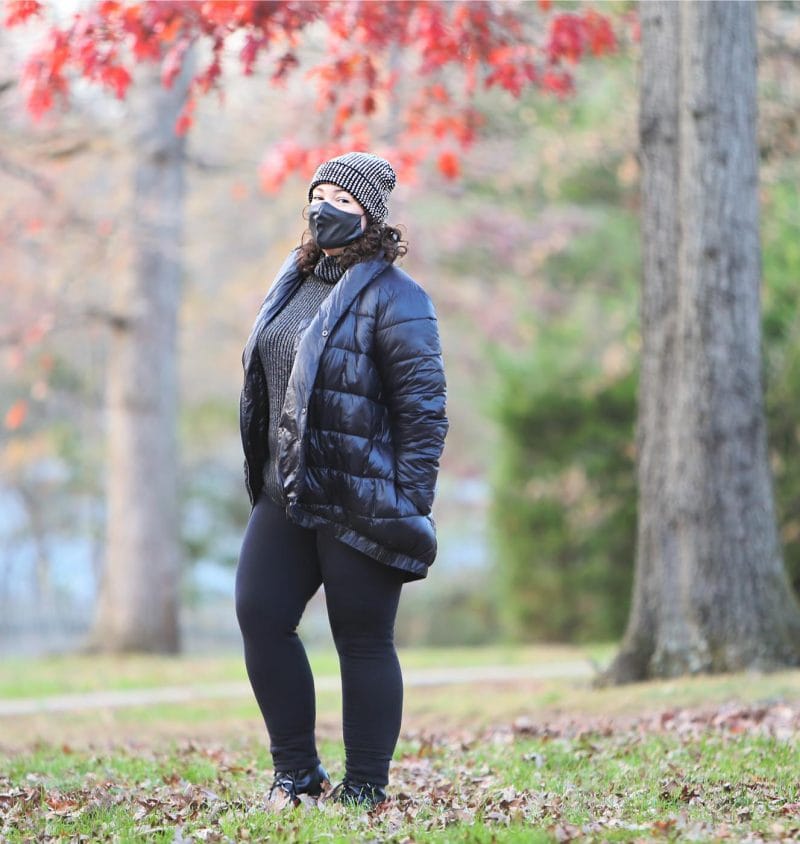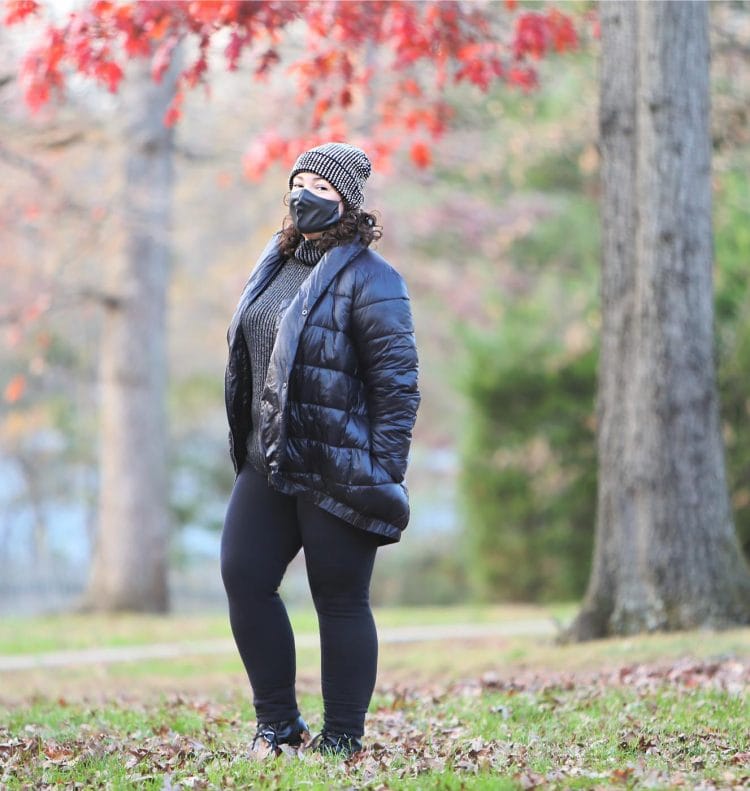 The coat is the Kanda Puffer from Universal Standard which I got last year and featured in this blog post. This coat comes with a tie closure; I ended up cutting it off because it was hard for me to tie with my short arms and I like it better this way. This coat isn't bulky but it's surprisingly warm.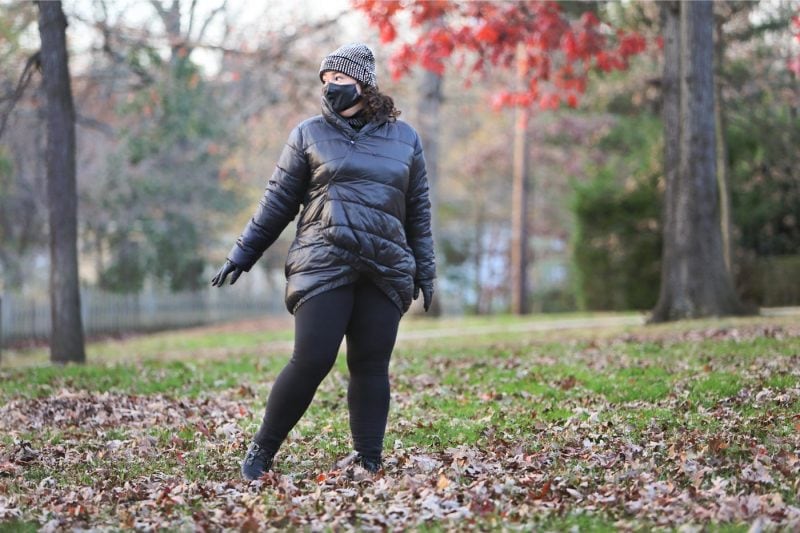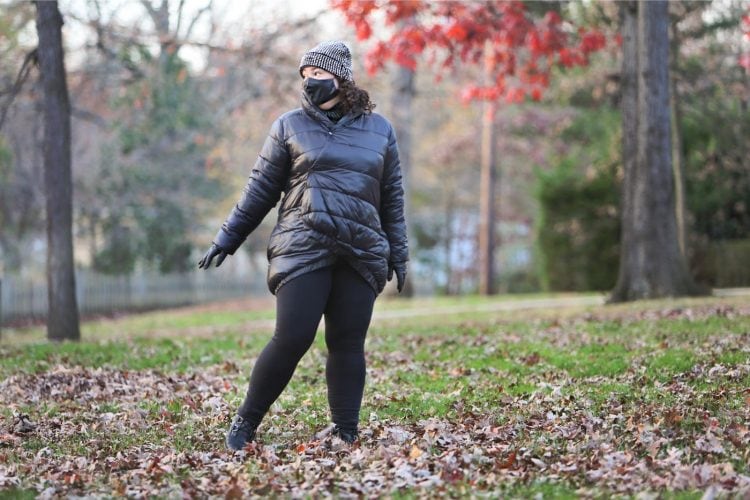 The boots are from Sorel and they were first featured on the blog in this post from last year. They are waterproof, have a slight heel but are still quite comfortable for standing and walking for longer periods of time. At the time of writing this, these boots are on sale.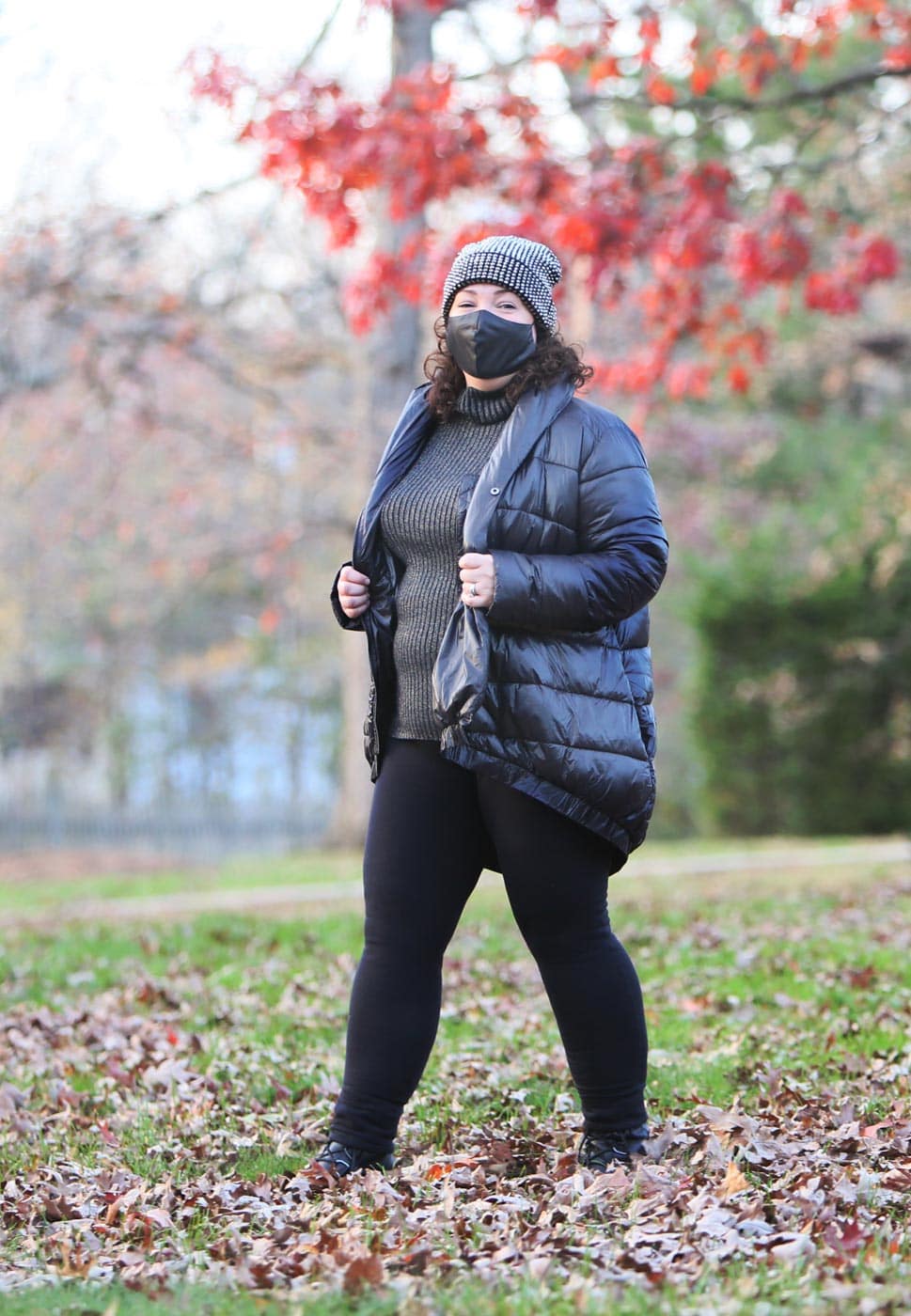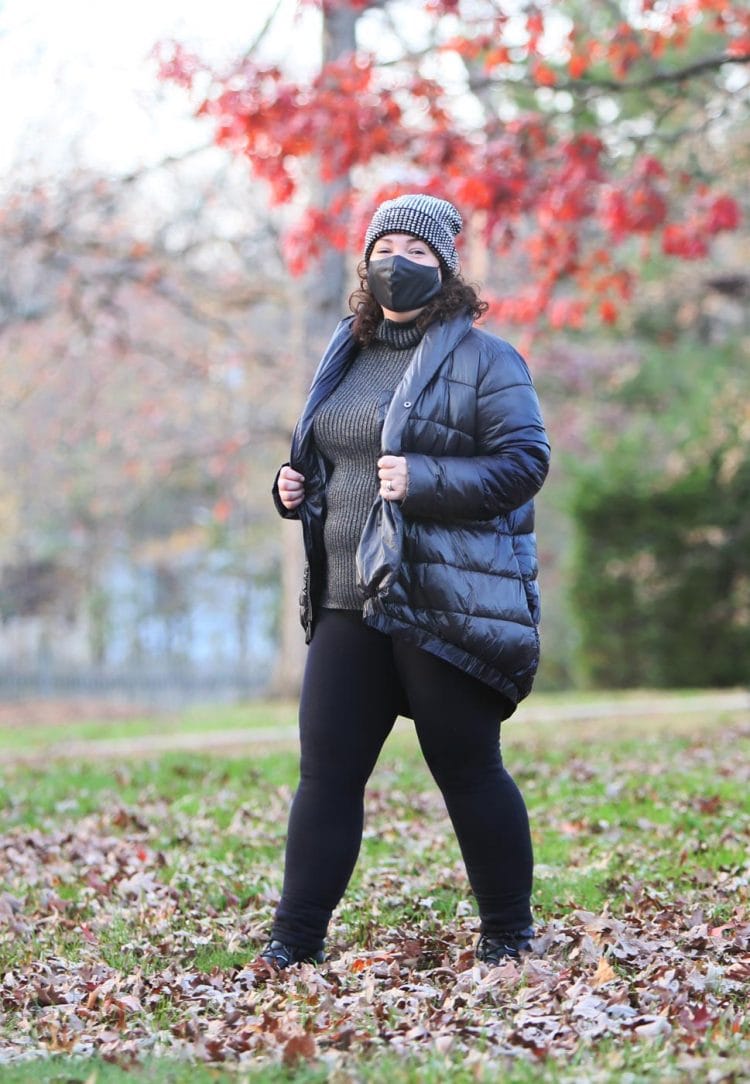 The hat is a new purchase from Nordstrom. I loved the idea of a studded beanie but didn't think how fun it would be to wear! It catches the light and I end up being a bit like a disco ball shooting sparkles all over the room when the light hits it. It's also great at night as it picks up firelight as well as being reflective making me feel safer even if it's dark colored.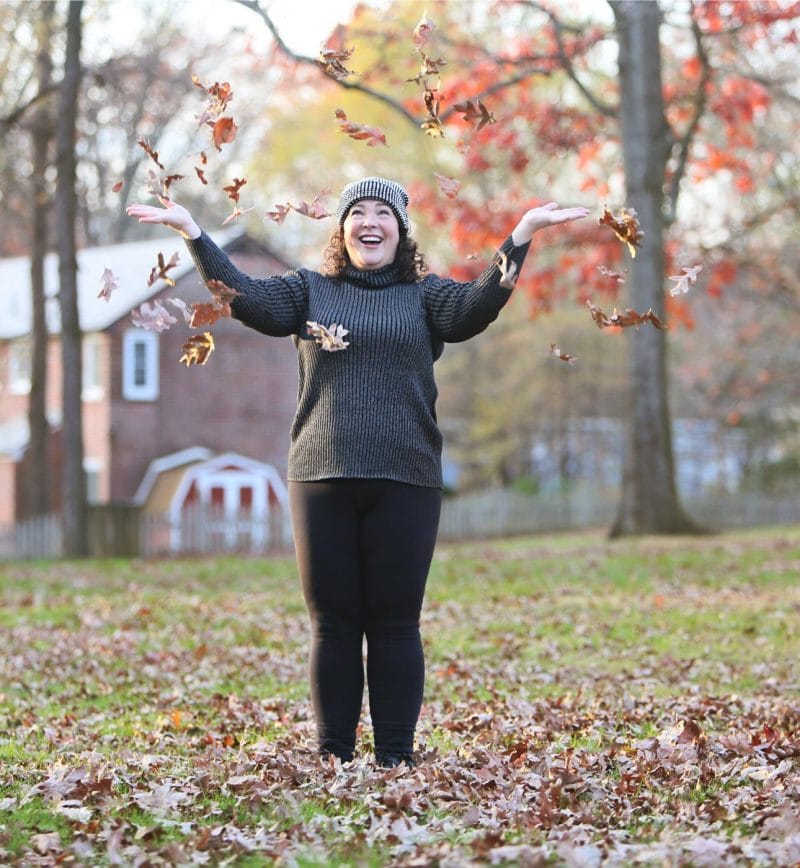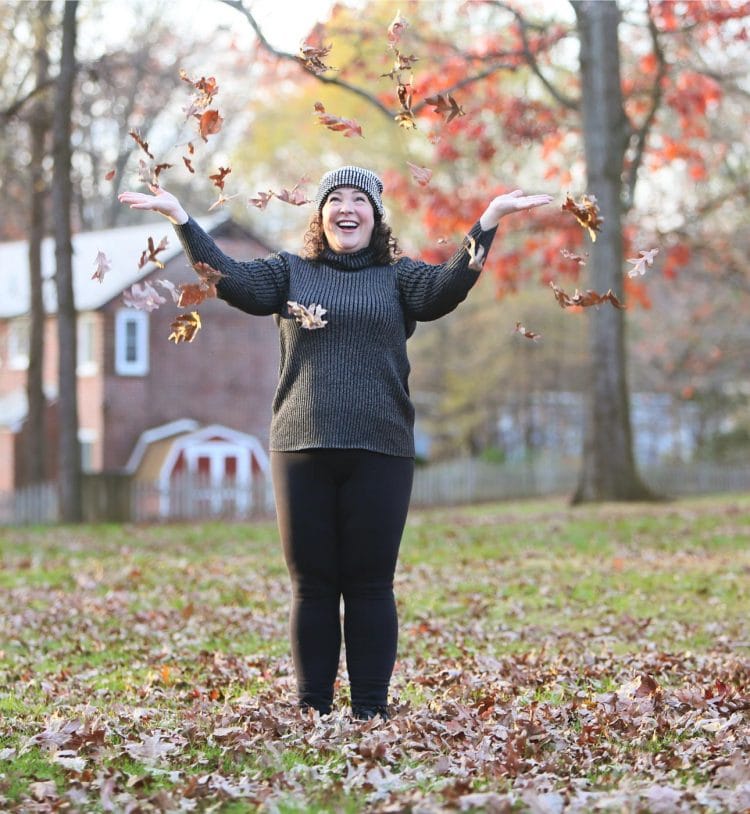 The mask is from Candace Cort, the gloves are a couple of years old and from Nordstrom. It's hard to see the earrings but they are these little huggies from Rellery, which I pretty much wear nonstop, even to sleep and in the shower!
Shop the Post: