This article may contain affiliate links; if you click on a shopping link and make a purchase I may receive a commission. As an Amazon Associate, I earn from qualifying purchases.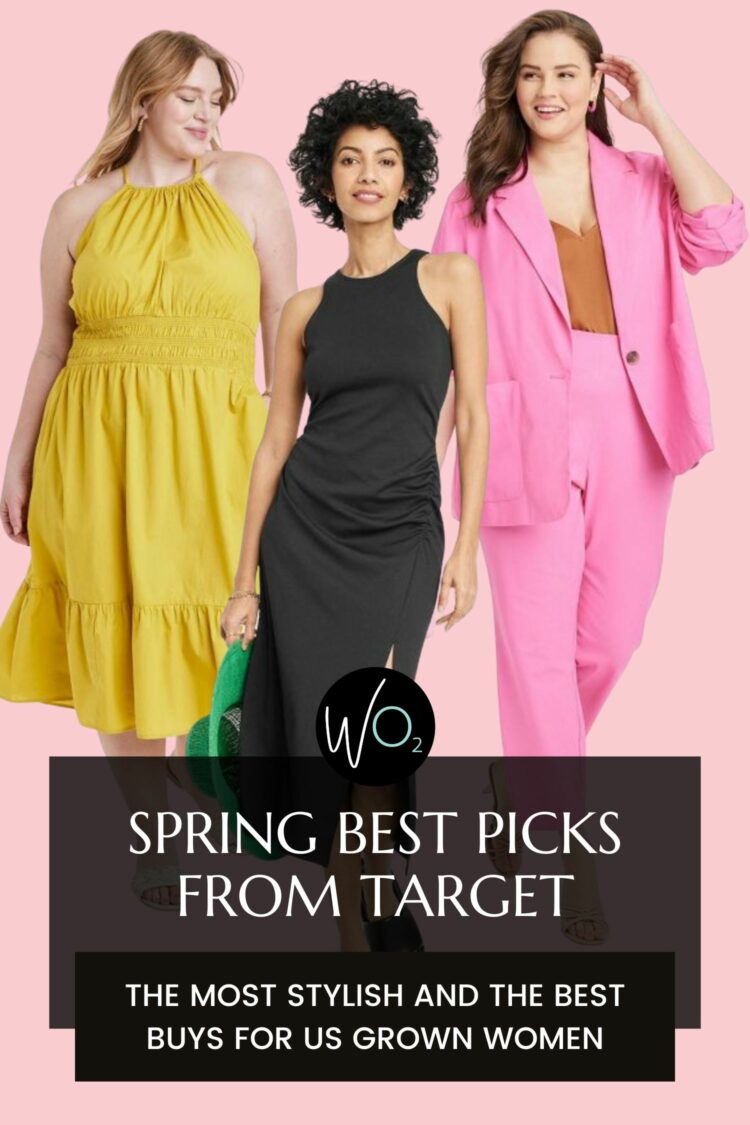 Target has been rocking it lately, and their spring/summer offerings are no different. Great style, great colors, and as always, a great size range at a great price. Below I share what I think is the most stylish buys from Target right now, geared to us grown-ass women.
Of course, any grown woman can wear whatever the heck she likes. I have chosen pieces I think are on trend but won't be passe in a season, styles that will work on softer frames, and will mix and match with one's existing closet. Going through reviews, I chose pieces that get positive ratings for fit and quality because whether a top costs $5 or $500 it's too expensive if you can't get a lot of joyful wear out of it.
The Most Stylish Buys from Target Right Now
I don't believe in the look for less, but I do believe you can find cool, on-trend style at most any retailer. These pieces available at Target are highly rated and high on style. Not flash in the pan looks, they can elevate wardrobe basics and be worn far beyond this current season. Below I share not only my picks of the most stylish buys from Target right now, but why I think they're worth your time and money (and some styling tips too!).
Spring and Summer Dresses from Target
I love Target for easy breezy dresses for late spring and all summer long. Often carrying cotton poplin and linen blends that keep cool while looking great, Target is a great destination for that throw-on-and-go dress you can pair with your favorite sandals or sneakers (just add a pair of slipshorts for cool comfort!).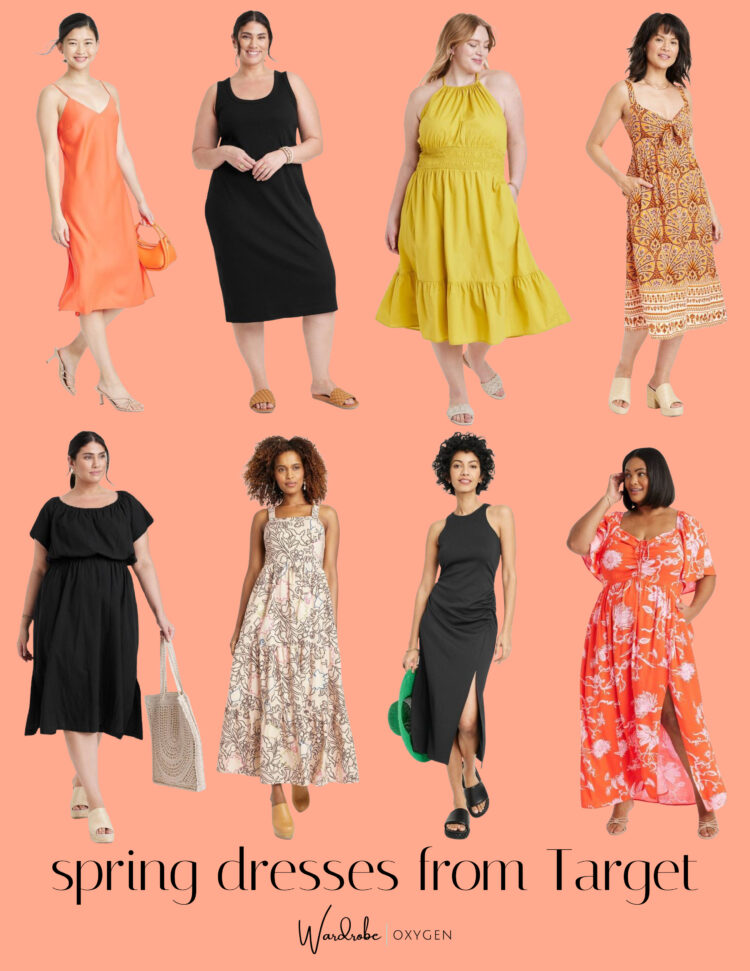 Top row from left to right: one | two | three | four
Bottom row from left to right: five | six | seven | eight

Summer Concert Style from Target
Heading to an outdoor concert this summer and no idea what to wear? My person go-to choices are a midi-length flowing sundress, or high-waisted jeans with stretch with a cute cropped top. Yes, we grown-ass women can wear cropped tops, and with high-waisted jeans, there is no visible stomach unless you're raising your hands in the air. Pair with flat sandals or sneakers for comfort and ease.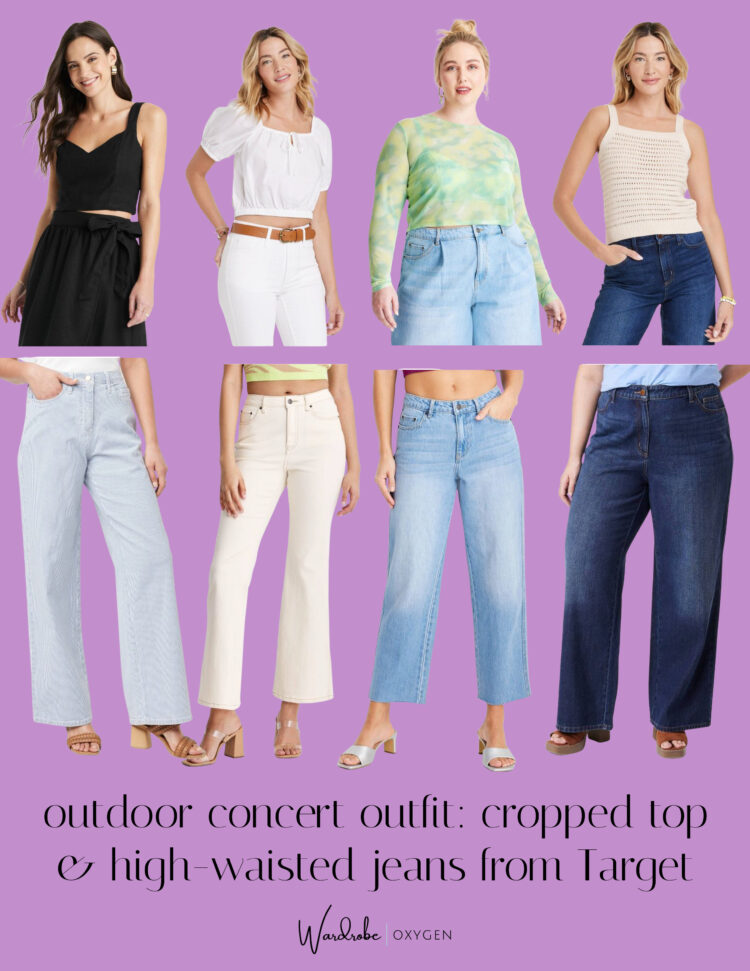 Tops: one | two | three | four
Jeans: five | six | seven | eight

Bright Wardrobe Basics from Target
'Tis the season for color, and Target has some beautiful hues in classic pieces this season. These are items you can wear now through fall, and likely will look forward to wearing again this time next year!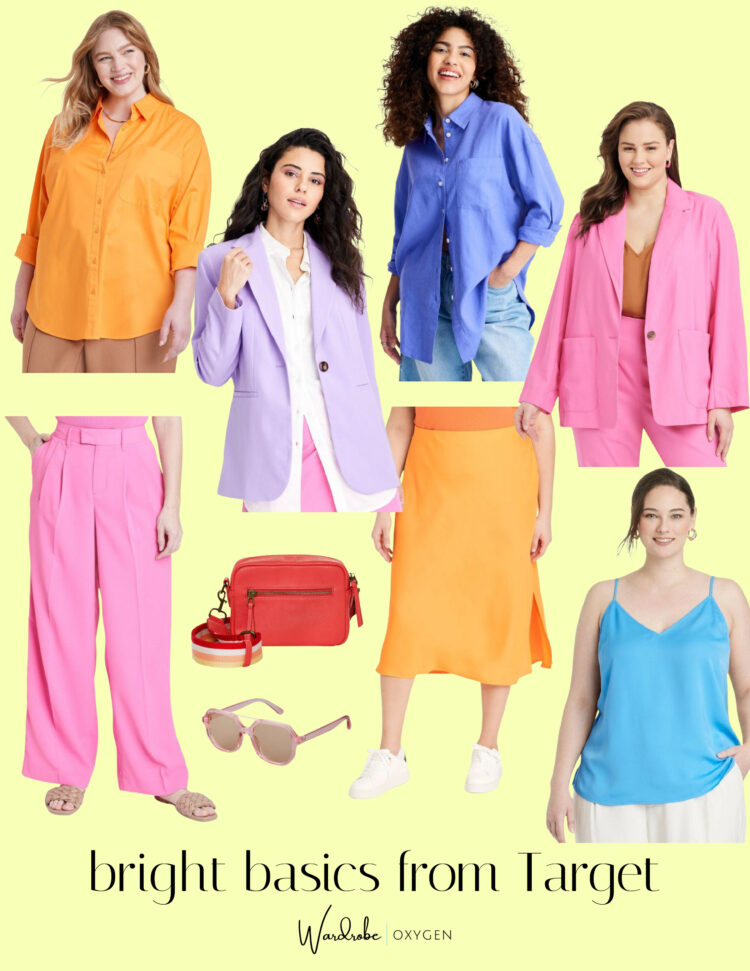 top row: shirt | blazer | shirt | blazer
bottom row: pants | bag | sunglasses | skirt | camisole

Chic Neutrals from Target
Again, Target is great for spring and summer wardrobe staples. Neutrals look elegant and elevated in summer fabrics like linen, poplin, and straw. You can achieve a more expensive look for less with some of the pieces available at Target this season.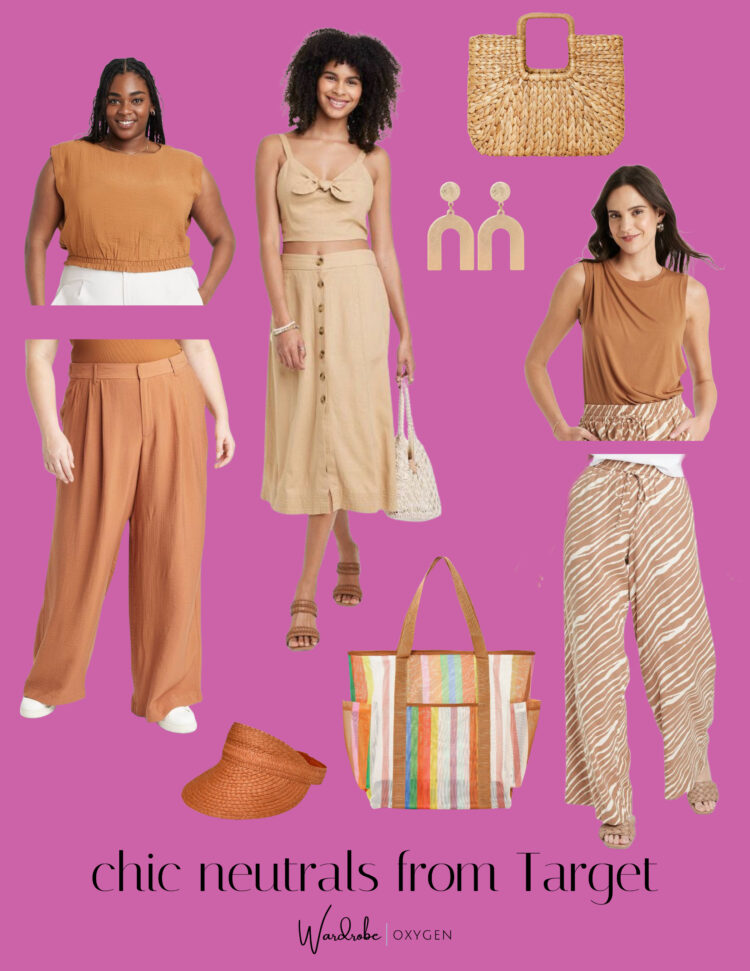 brown gauze top | matching pants | tie-front top | matching skirt | straw visor | mesh tote | straw bag | gold earrings | brown tank bodysuit | zebra pants

Please note: this post was previously published in January but completely updated with new items currently available in Target this season.