This article may contain affiliate links; if you click on a shopping link and make a purchase I may receive a commission. As an Amazon Associate, I earn from qualifying purchases.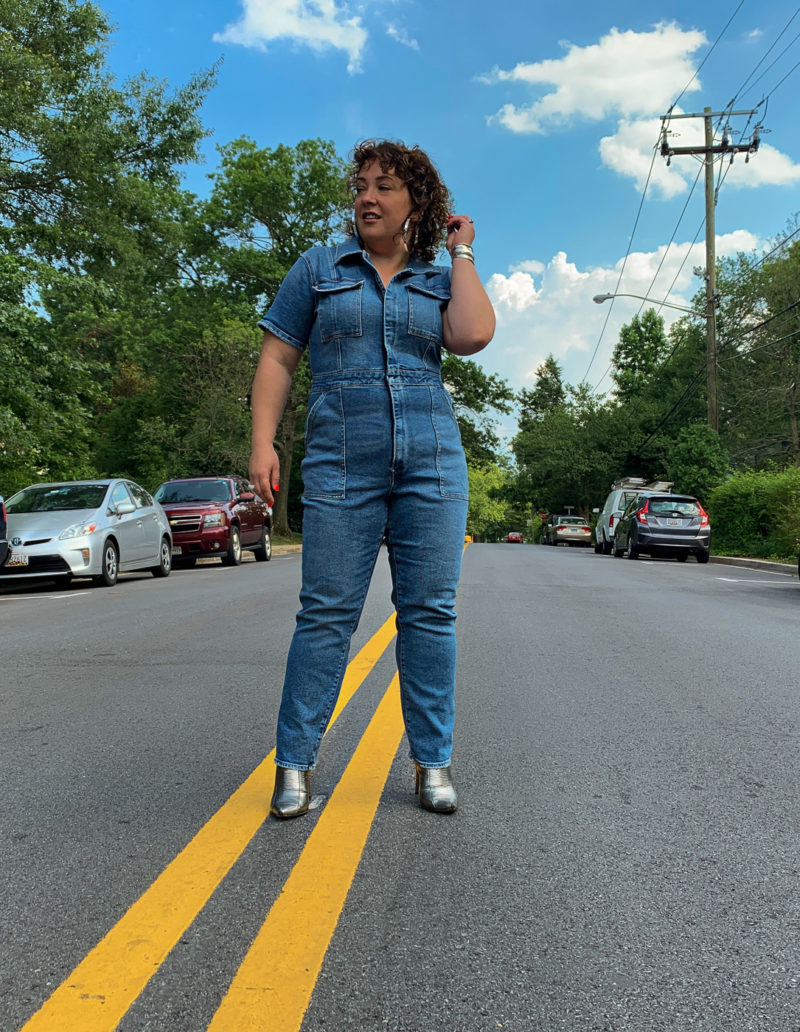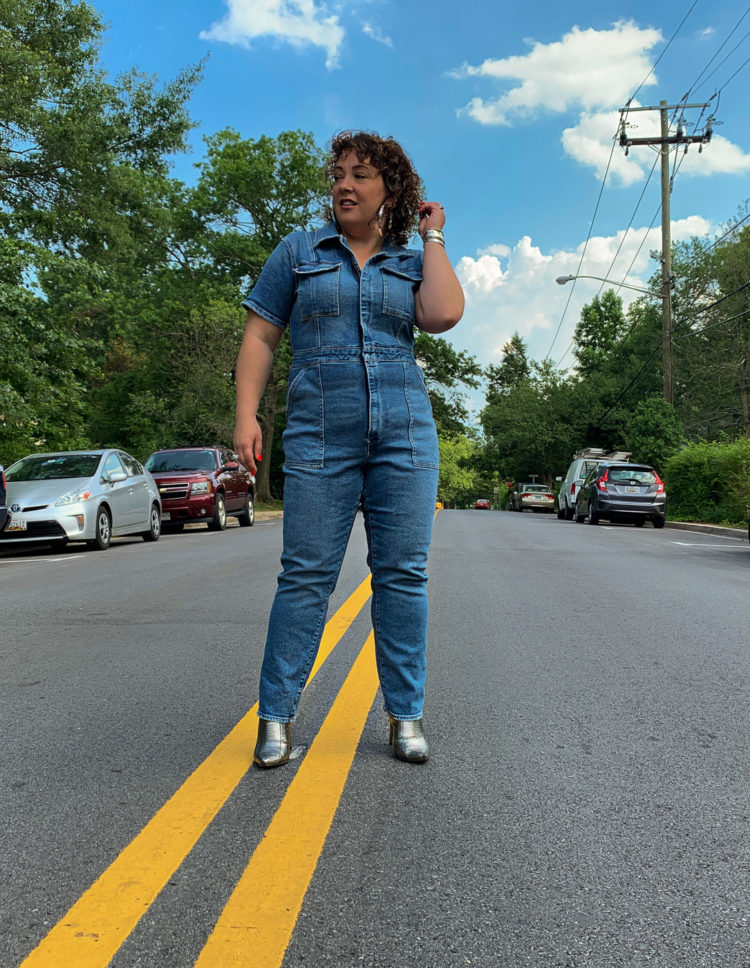 A quick scroll through my archives and you'll see I love overalls and jumpsuits.  I've written before about a denim boilersuit I saw over a decade ago on the blog The Sartorialist that I have wanted in my closet.  I bought a denim boilersuit, had it tailored, customized it with sequined wings on the back, it was never quite right but I wore the heck out of it until it no longer fit (stay tuned, it will soon be in my Poshmark shop). I've learned that I get so excited by the idea, but once it's in my closet it's not terribly practical.  I'll choose dressy ones (the one here I've worn a dozen times), I'll choose breezy casual ones (like this one I recently featured), but denim… that's a toughie.  But that's where renting clothing is awesome – I can rent a denim jumpsuit or boilersuit, keep it as long as I want, return it when I'm over it (or realize it's not right for me), or if I do fall in love with it, I can keep it.  Needless to say, when I saw this Good American denim jumpsuit available in my size at Rent the Runway I added it to my next delivery.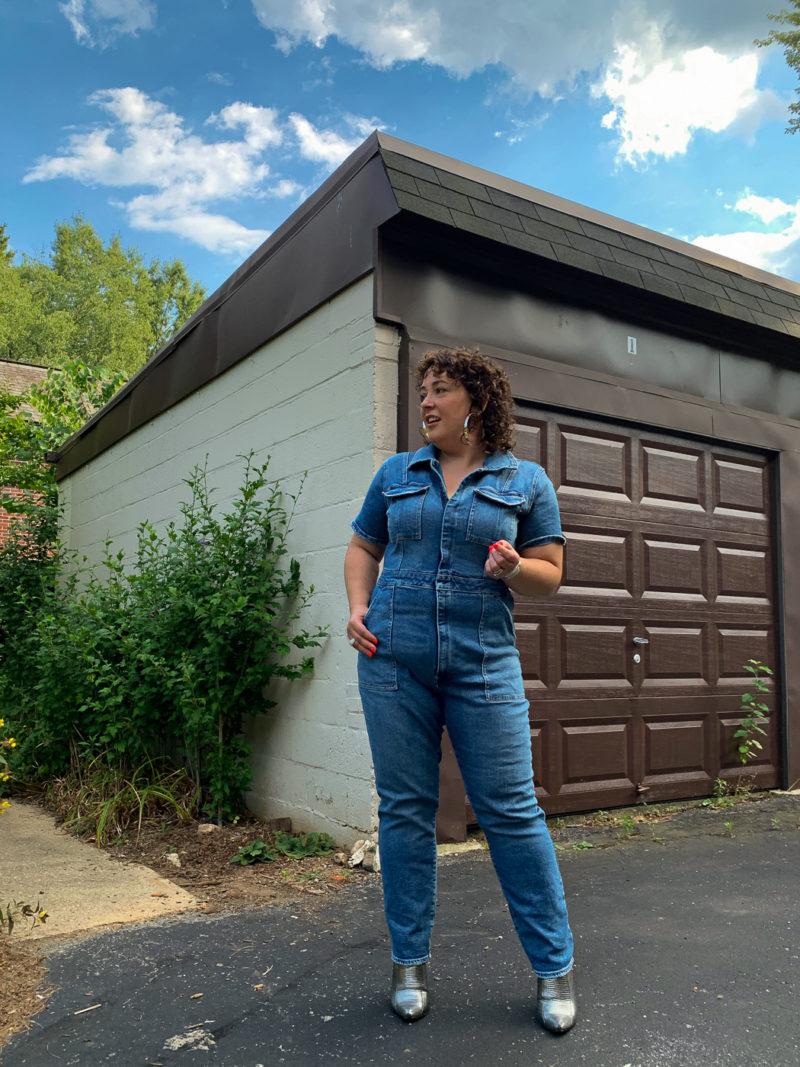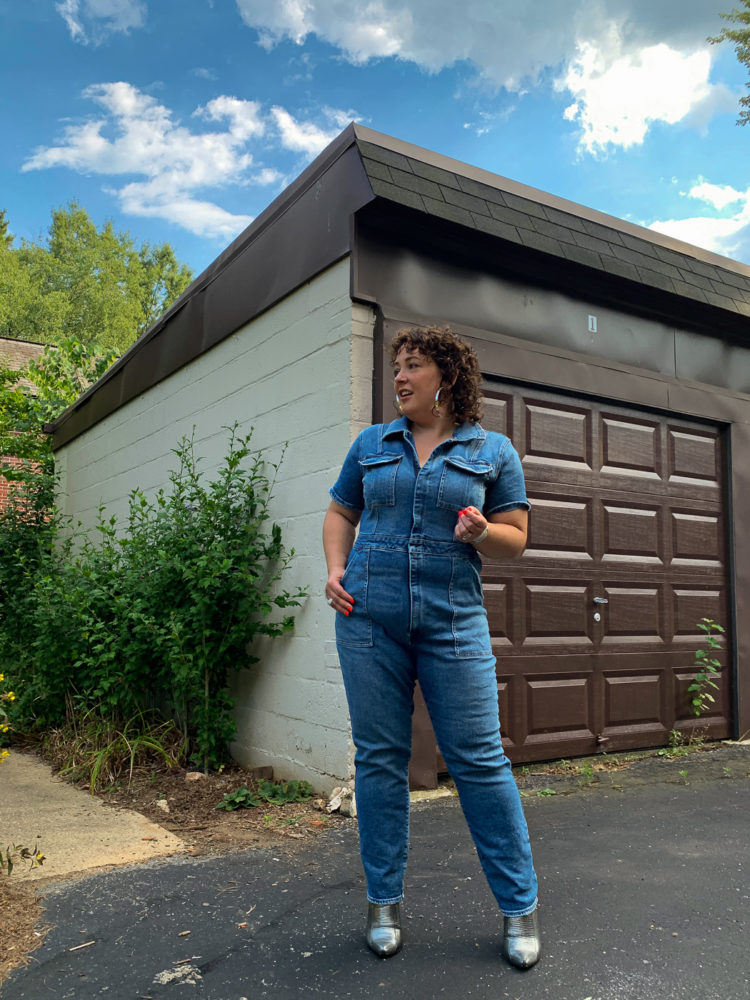 jumpsuit | earrings | shoes | ring | bag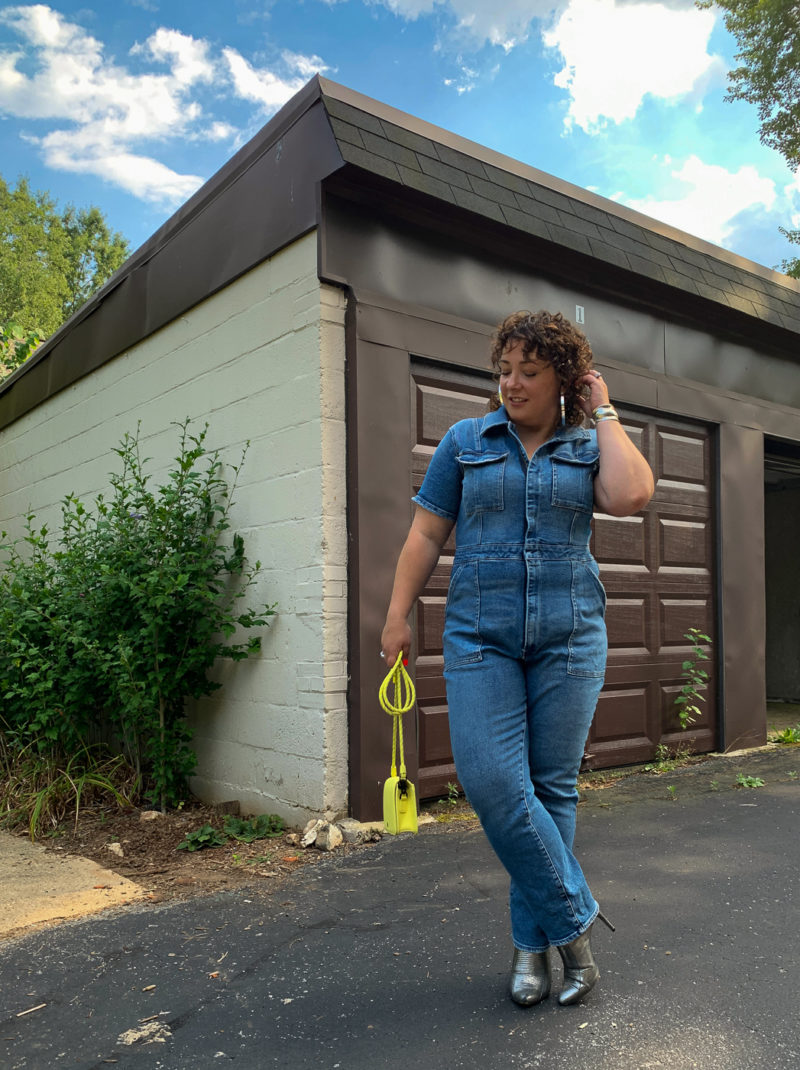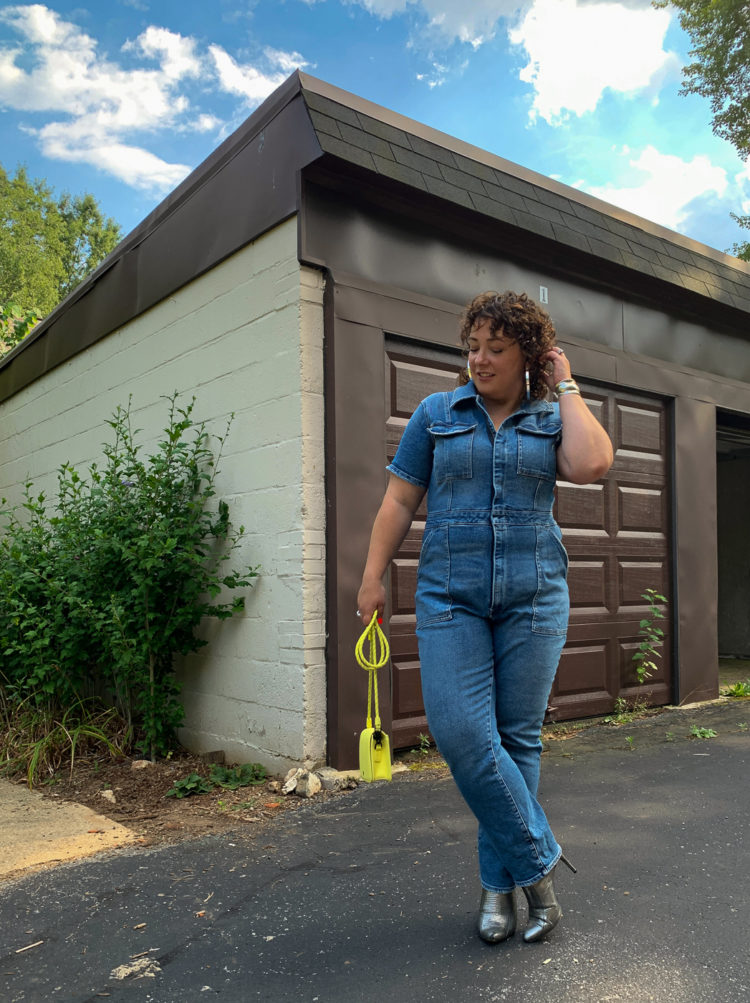 Jumpsuit: Good American Denim Jumpsuit via Rent the Runway Unlimited (size 4 which is equal to XL) use code RTRDC22F051 for $100 off your first month | Shoes: BCBG (super old; similar) | Earrings: Cober Hoops c/o Jenny Bird | Bag: Andra Crossbody c/o Dagne Dover (Medium) | Ring: Sceptre Pave Ring c/o REALM
Shop the Look:

I was surprised to find the jumpsuit wasn't too long for my short self.  While it's fitted I didn't feel self-conscious in it and thought it looked really good with my shape. I loved that it had a front zipper for ease getting it on and off.  I was able to slip it on just fine however, when it came to taking it off, it wasn't as easy.  I had to pull a sleeve, then pull on the pockets to shimmy it down, then practically be double-jointed to get the back and pull it, then the other sleeve… I couldn't imagine what I'd do if I was out and had to use a public restroom.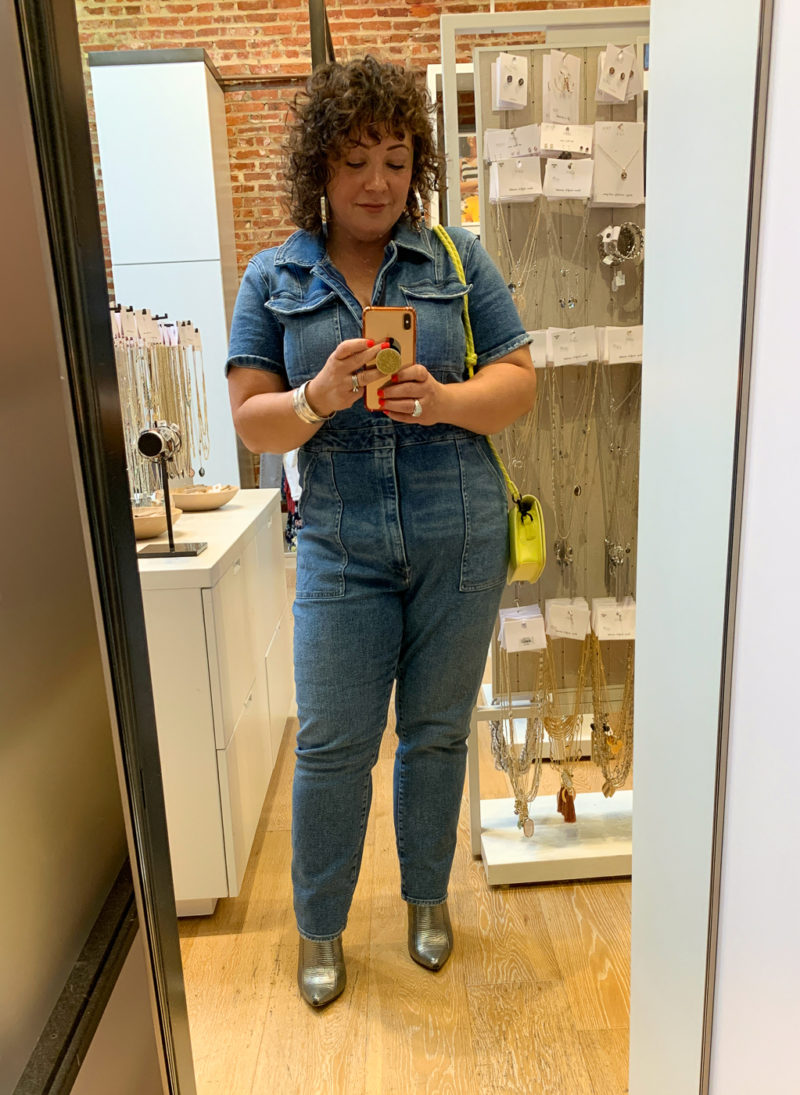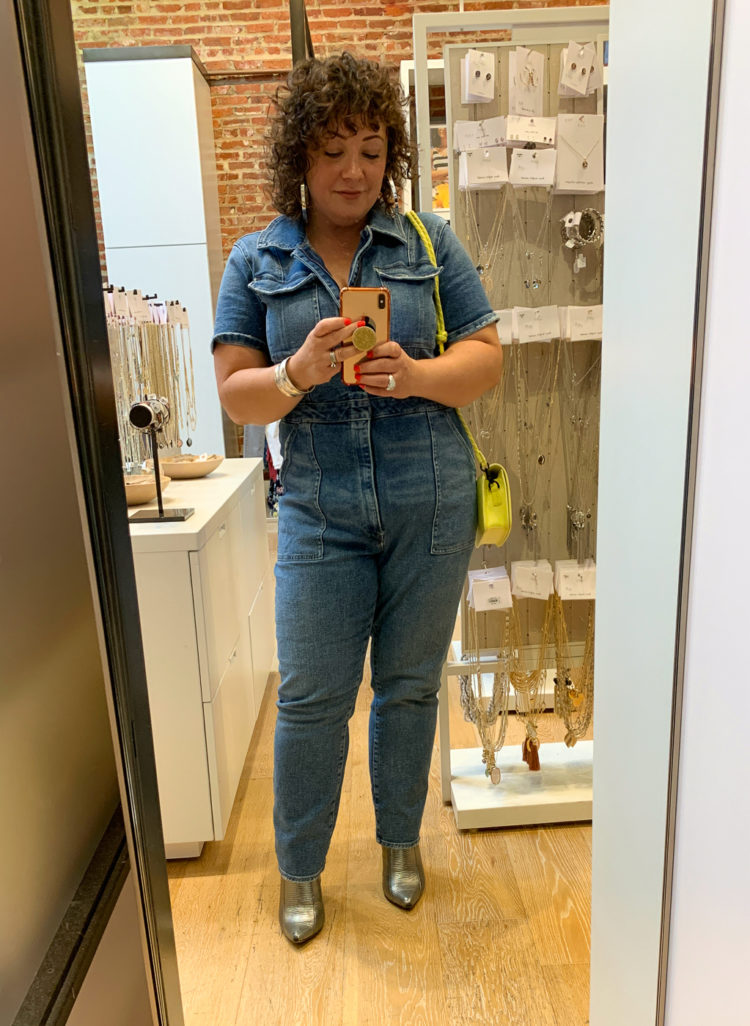 I was invited to a happy hour hosted by a local marketing company and figured it would be a short night.  I didn't plan on drinking, so I'd keep liquids to a minimum and be home before I have to try to Houdini myself out of it.  Enjoy the style, get a few photos feeling fierce, send it back to Rent the Runway Unlimited the next day.  These mirror selfies are from window shopping before I met up with my friend for the happy hour.
The happy hour was in a super cute bar in Georgetown and they had the whole top floor.  And the top floor's A/C stopped working.  It was hot, even hotter in a denim jumpsuit.  I got sparkling water with ice, guzzled it in less than a minute, blew on the ice to cool my face.  Refilled that glass four times with water, blotted my face with a napkin, fanned myself with a happy hour menu.  I sweat so much I think all those glasses of water just oozed out of my skin instead of heading to my bladder.
But then a friend and I decided to go to dinner afterward.  And I drank more water.  And before the meal was over I had to go use the restroom.  I was terrified, I was going to pull a muscle or wet myself or something in there and it wasn't a large multi-stall restroom down a hall.  Oh no, it was an individual bathroom right near tables, with a silly barn door that locked but wouldn't hide my screams or cries if I dislocated a shoulder while trying to pee.  But to my surprise, all that sweating must have stretched out the jumpsuit that little bit that I needed and with only a little wriggling I was able to get it off and get to business.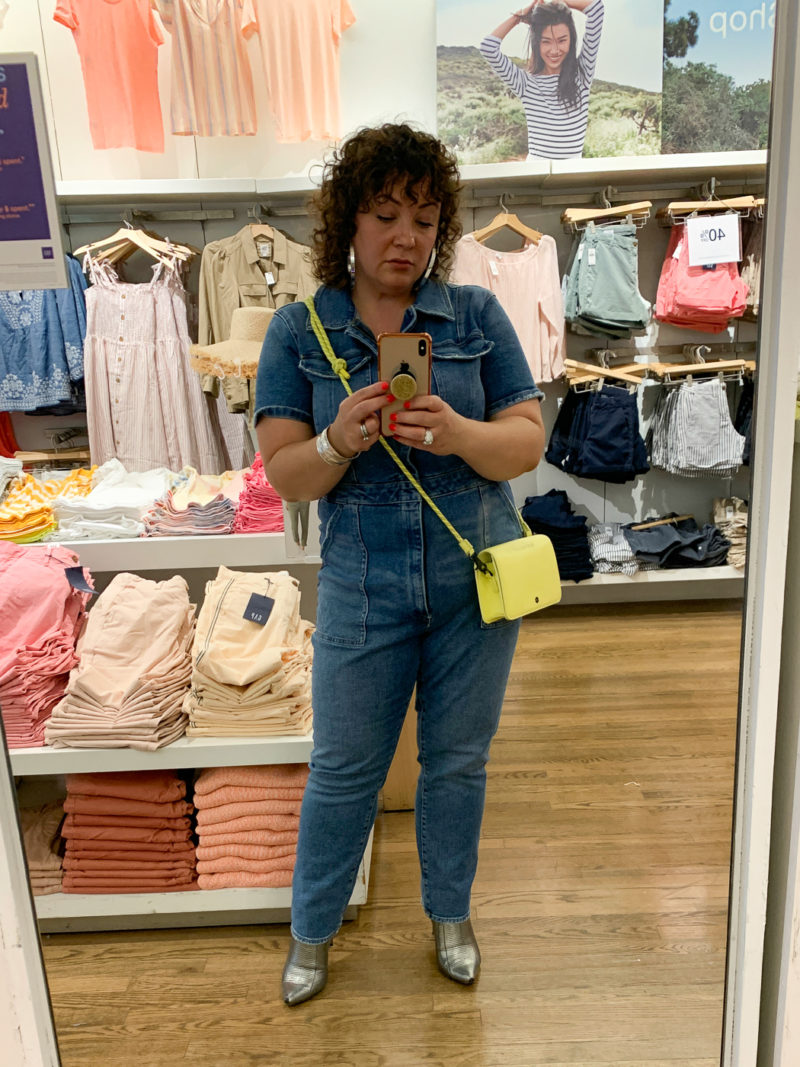 So I totally planned to send this back but instead, I kept it for maybe another wear.  This time I glammed out with my silver snakeskin boots (previously seen here and here) but next time maybe I'll cuff it and wear them with my Adidas Superstars or an open heel. I also saw some customer reviews on the RTR site that showed it unzipped more with a cami peeking out. Or maybe after a week or two, I'll realize I'll never wear it again and just mail it back for something else to replace it.  If you're interested in this Good American denim jumpsuit I did find it still available in some straight and plus sizes at Bloomingdale's.  I also linked to other denim jumpsuits below in a variety of sizes, retailers, and pricepoints.  And if you rent this jumpsuit from RTR Unlimited and decide you love it, you can buy it from RTR at 10% off the retail price.  And I've seen the older an item is, the better the discount from RTR.  I recently rented something and it was 45% off retail, but no longer available in any stores/a previous season.  If you're not a member, every influencer under the sun is currently a Rent the Runway ambassador and offering a discount code and you already either joined or despise the brand thanks to it being EVERYWHERE.  Shocker of all shockers I too am one of those annoying RTR ambassadors; my code is AGARY50 for 50% off your first month though there may be other promo codes out there that are better (I've seen some for 3 months for the price of 2, first month free, etc.).  It's worth it to Google to find the best promo for your needs.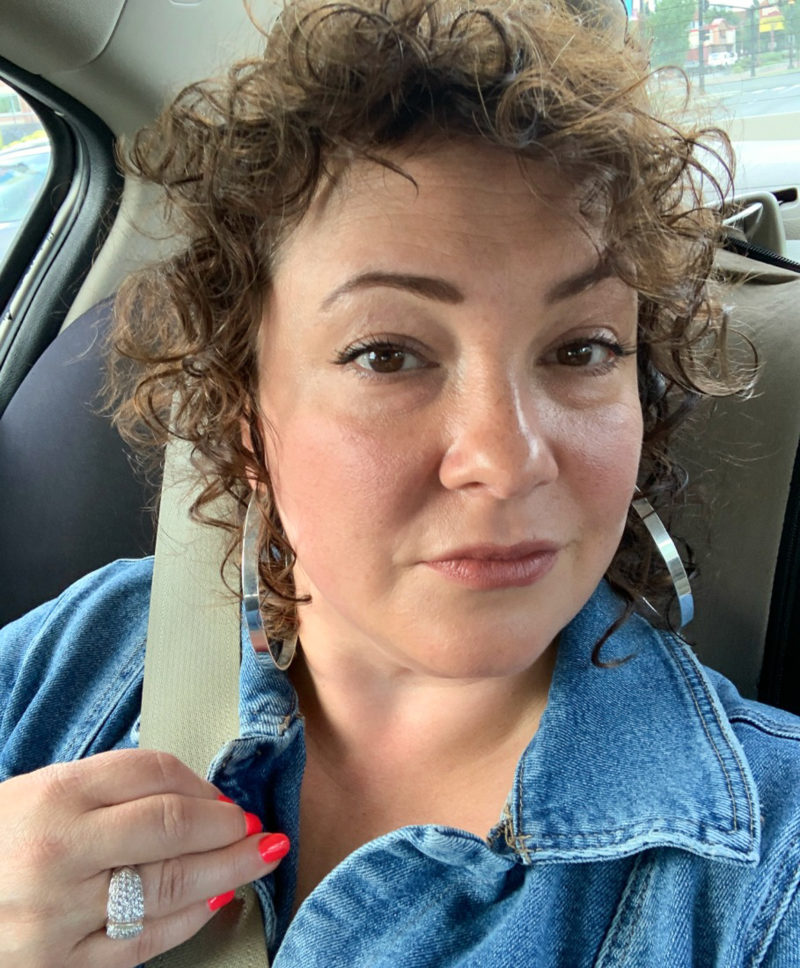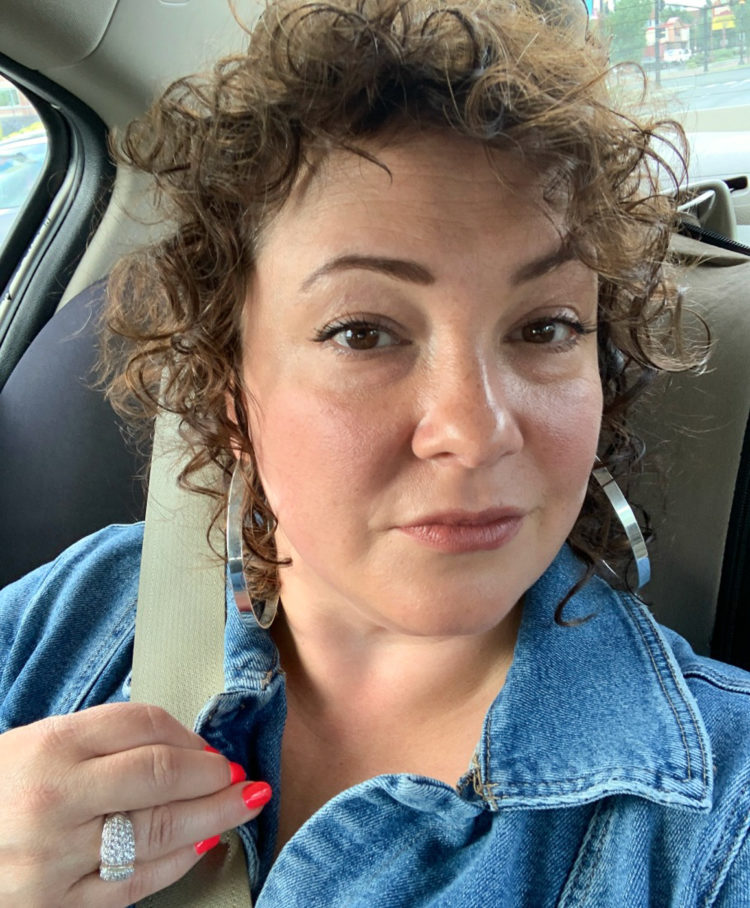 As for makeup, this summer I'm trying out spending more time on my skin and less time on makeup.  I did a hint of concealer (this one by Glossier) around the eyes just to hide darkness.  Did my brows (this pencil from NYX and Glossier's Bow Brow), curled my lashes and added mascara (Thrive Causemetics), sometimes a fine line of liquid liner, hint of bronzer, and then a neutral lip (often times just a glossy balm and if I want to be fancy, a matte red lip). So many summers I end up dabbing away my foundation and powders due to sweat or have beige-colored rivulets going down my neck.  So far I'm comfortable. The concealer helps; it may fade away through the day but makes my reflection match what I see in my mind so I can feel confident with or without it once I reach my destination.
Shop Denim Jumpsuits and Boilersuits:

Dagne Dover Promo Code
Use ALISON10 at checkout to get 10% off your order at Dagne