This article may contain affiliate links; if you click on a shopping link and make a purchase I may receive a commission. As an Amazon Associate, I earn from qualifying purchases.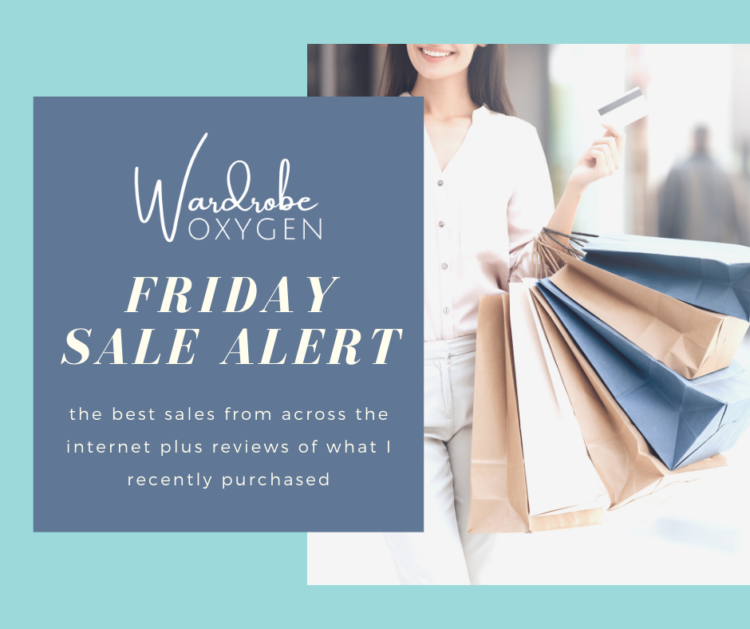 Hello again to any RSS subscribers because this post accidentally went live early with nothing but the What I Bought and What I Think part of the Friday Sale Alert! Ack!  Well here it is again in its complete glory sharing what I think are some of the best sales and items to purchase on the 'net this weekend!
Friday Sale Alert
Anthropologie: 40% off Dresses and Shoes
I wasn't much of Anthro shopper, mainly because I became accustomed to being too big for the store.  And then they came out with plus sizes and good ones but I was still so out of the Anthro habit and uncomfortable with the pricepoint on some pieces that I just didn't shop there.  And then they have had these amazing sales so I shopped and it was good (see below).  And then I have shared Anthro and I received six emails this week from those of you who have bought Anthro because I shared the brand in Friday Sale Alert and you all had great purchases!  So I'm sharing again, my picks from their selection of items 40% off this weekend only: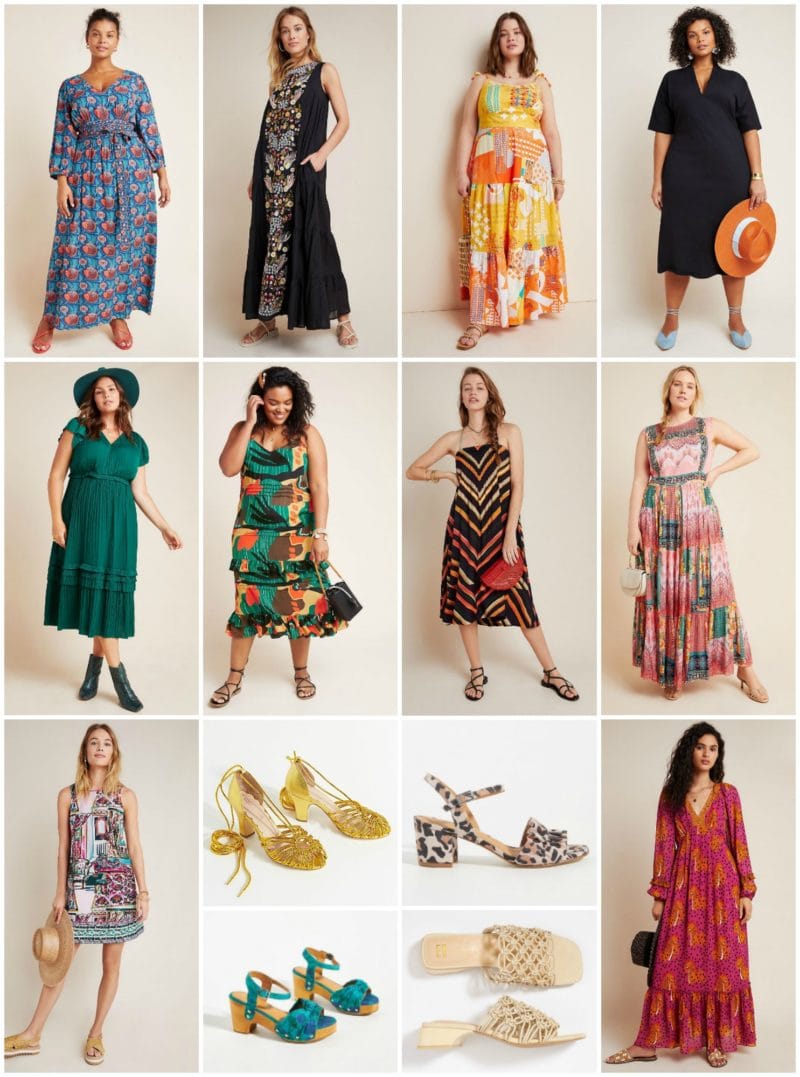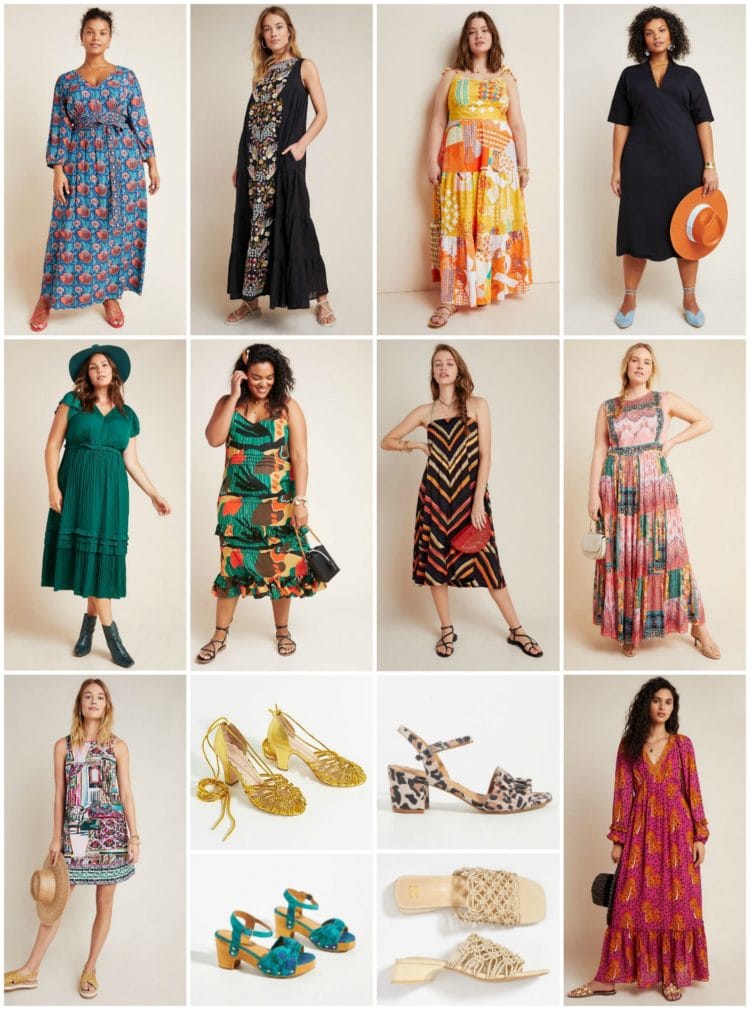 Standard, petite and plus and it has pockets! | I've loved this black embroidered dress for a while, not until I clicked for other photos did I realize it has pockets | this dress just screams summer and I love it | That chic simple machine washable dress (with pockets) you'll reach for all spring, summer, and fall
Four colors to choose from with this dreamy midi dress | This dress will make you want to shimmy (also would be cute with a denim jacket) | The details make this striped dress (and the pockets!) | Don't be surprised if you see me in this dress this summer (standard, petite, and plus available)
The perfect throw on and go dress (and it has pockets) | Retro-inspired gold heels that will have you dancing all night | Clogs, but make them fun and fashionable (2 colors) | The perfect low heel for spring through fall (4 colors) | Well-rated stretchy yet chic mules (3 colors) | The most stunning dress (a member of the F35 Plus FB group bought it and she looked so good in it I had to share here!)

Banana Republic: 50% off Dresses, 40% off Dresses, 30% off Tees
Banana Republic is surprising me with what they have this season.  I truly was expecting more elevated joggers, cool graphic tees, and denim on denim looks but they didn't choose to grab onto those trends and instead went into a lot of the desert-colored breezy boho concepts for Corporate America and I… I just don't get it even if there wasn't a pandemic.  But in between the random things that only look good on a select few and for an even smaller percentage of situations, they have some fun pieces I am digging: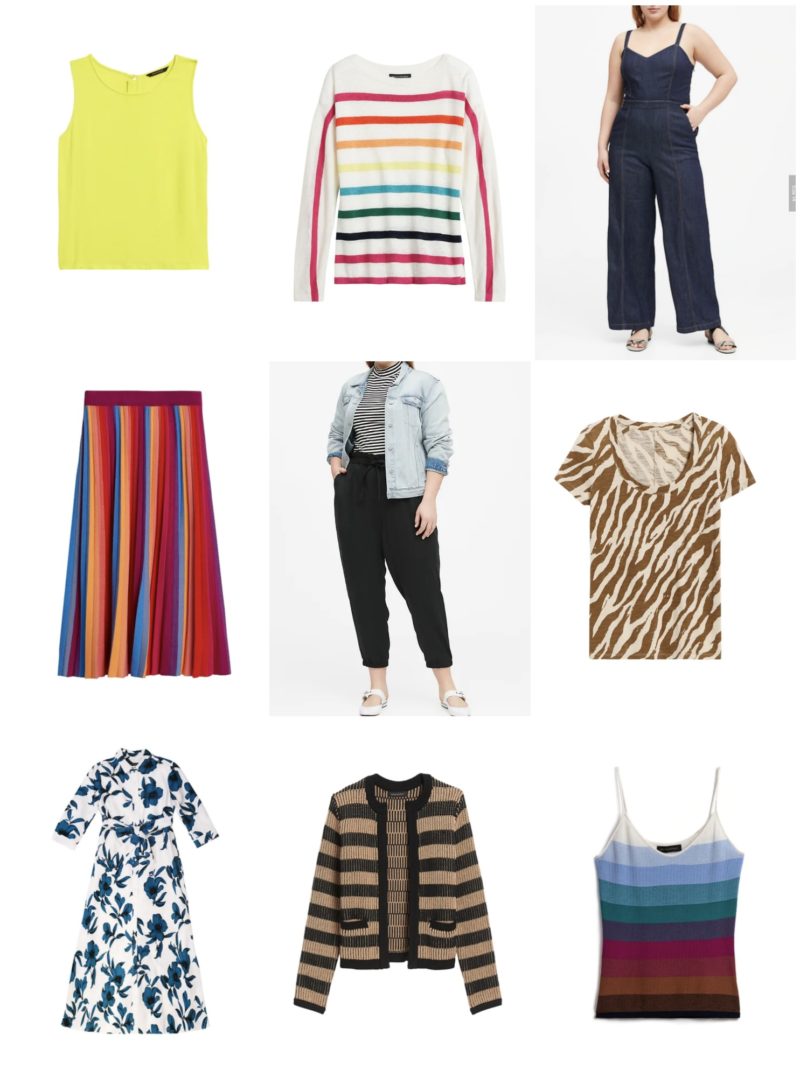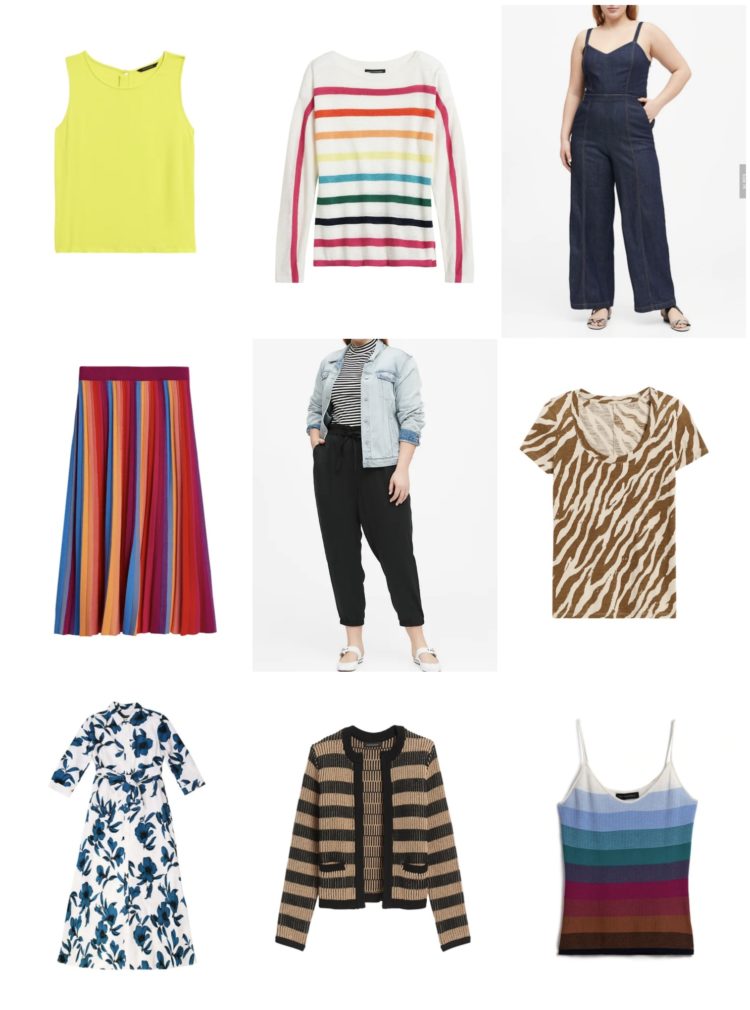 I really like this lightweight button-back blouse in a variety of colors and prints.  From under blazers to with shorts and jeans, it's so versatile | You KNOW I ordered this sweater! | Super chic denim jumpsuit in petite and tall too! 
A rainbow skirt is always a good idea | elevate your jogger game with Tencel (4 colors and petites) | Reminds me of the Banana animal-print tee I have and adore | 
Linen-cotton shirtdress perfection (yes it has pockets!) | way chicer than your beat-up cardigan (2 colors) | this also comes in a rainbow stripe

Other Sales Worth Shopping
There are plenty of amazing sales this weekend!
What I Bought and What I Think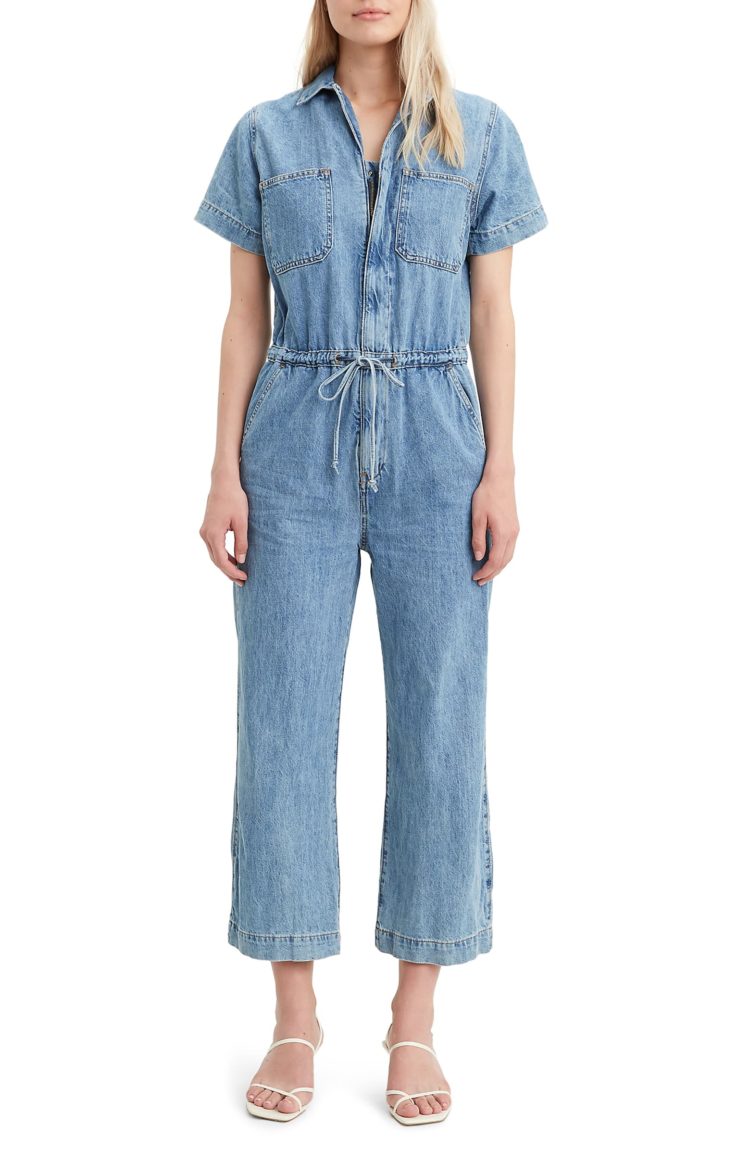 Do I need a denim jumpsuit? No.  But I had this one from Good American via Rent the Runway that I loved though it wasn't a perfect fit.  And I wear jumpsuits all the time.  And I love the concept of this boilersuit from Universal Standard but the color and silhouette isn't 100% me and I have been seeking out denim coveralls for eons based on this photo from The Sartorialist and I had to sell this boilersuit as it no longer fit so I took a chance and ordered this one from Levi's via Nordstrom in size XL. And I really like it. (FYI it's low stock at Nordstrom but they have it in more sizes at Levi's website though XL is the largest.)
I like that it is a zipper so it's easy to get on and off; I've found that I haven't liked coveralls and jumpsuits while at home because they're a pain when using the facilities.  This one is easy to slide on and off, and it's never bothered me to have to strip down, at home or out and about, to use the facilities in a jumpsuit.  I find the legs an awkward length; they're almost full length on me, but with the width it's weird.  Cuffing the hem twice makes it a nice cropped length that shows my ankle bones.  I plan on having them hemmed once the tailor is back open.  The sleeves also look better a hair shorter, but exactly the length if I single-cuff the sleeves.  I plan to cuff and myself tack the sleeves so they remain cuffed. The drawstring is the gamechanger, giving a feminine silhouette and a bit of fun detail to keep it looking like I work at a gas station. And I like that this is true denim, so it will just get better with time and wear and washings.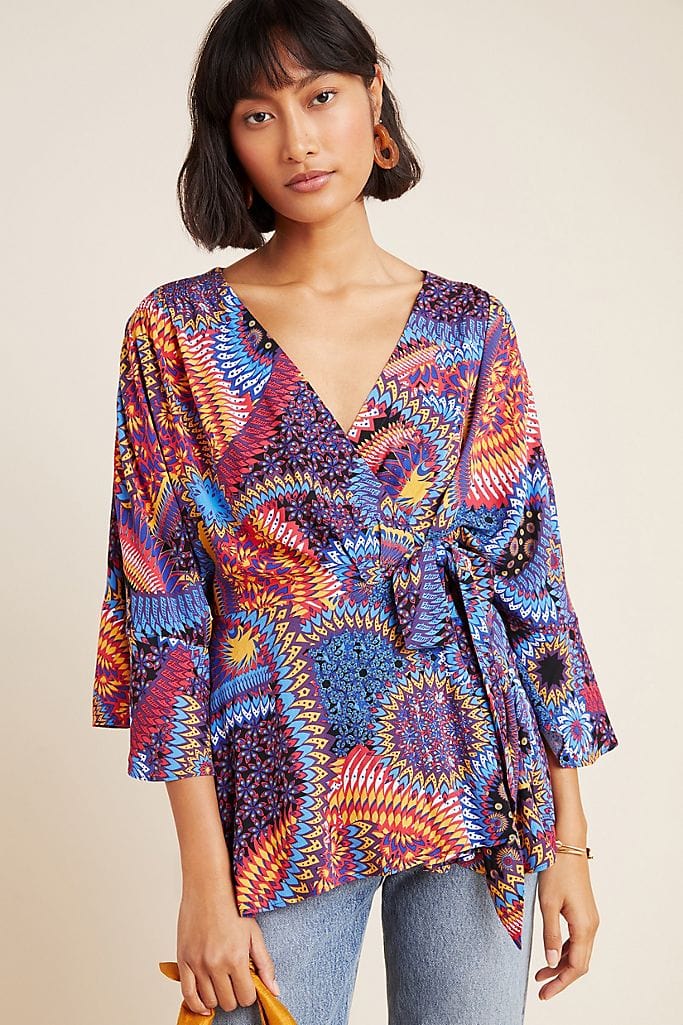 I mentioned in last week's Friday Sale Alert that I got this blouse from Anthro, I chose a Large Petite.  Likely by time you read this it will be completely sold out since it's on sale and right now only available in one size. I'd link to similar, but they don't have anything similar and I'd worry that it wouldn't have the same details that made this a keeper. Wrap-style tops rarely work with me thanks to my large bust, but this one works!  Like no hidden safety pin necessary!  The top has a button inside and one outside to hold it closed and the tie completes it while also being decorative. It has a subtle high-low hem which makes the piece hang nicely over the top of the bum without being long and maternity-like in front.  The fabric is a rayon and needed a steaming upon arrival, but breezy and comfy.  I'm really happy with this, one of my first Anthro purchases in a very long while!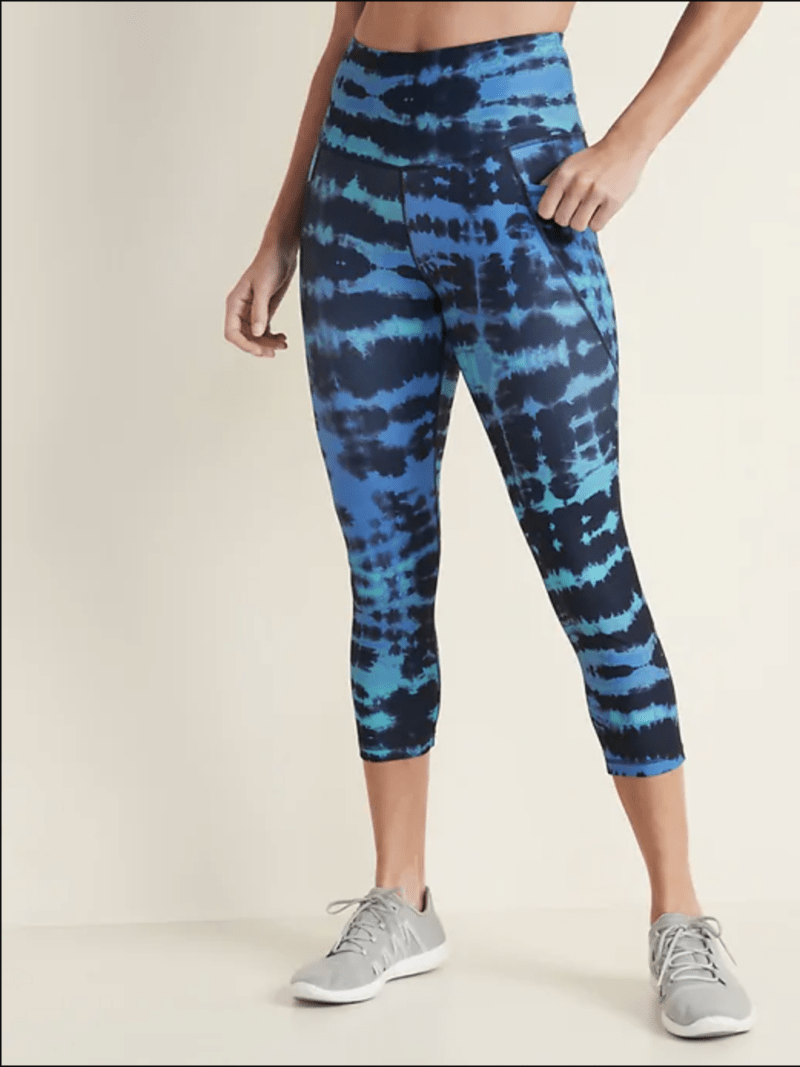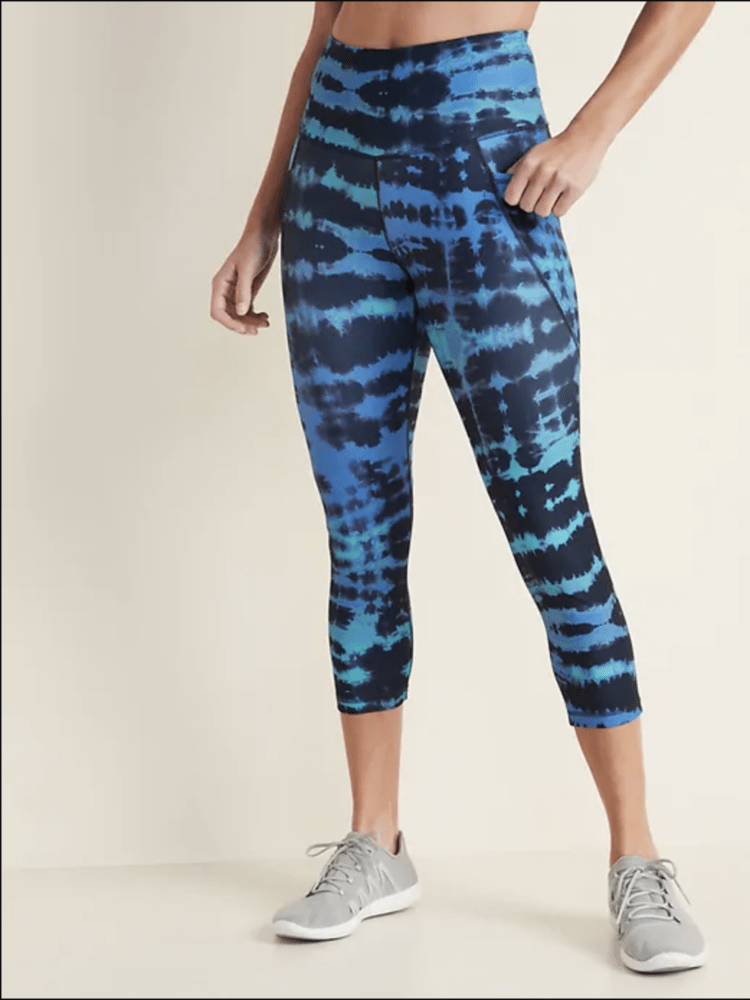 The capri leggings to match the awful Old Navy workout top I reviewed last week arrived and I realize they didn't send me the right top.  The tie-dye prints do not match and they are not the same fabric or even have the same style of labeling on them.  I think I got some random return that was mis-labeled at the store. The leggings are what I expect and love from Old Navy activewear: cute print, stash pockets, great value.  Old Navy activewear is pretty straight cut so if you have curves you may find it runs snug or rolls down.  These leggings aren't thick but the print keeps them opaque enough for my comfort level.  For the price, Old Navy isn't bad, and I find it rivals Fabletics. Expect to see them in next week's What I Wore Last Week as I've worn them for some morning workouts!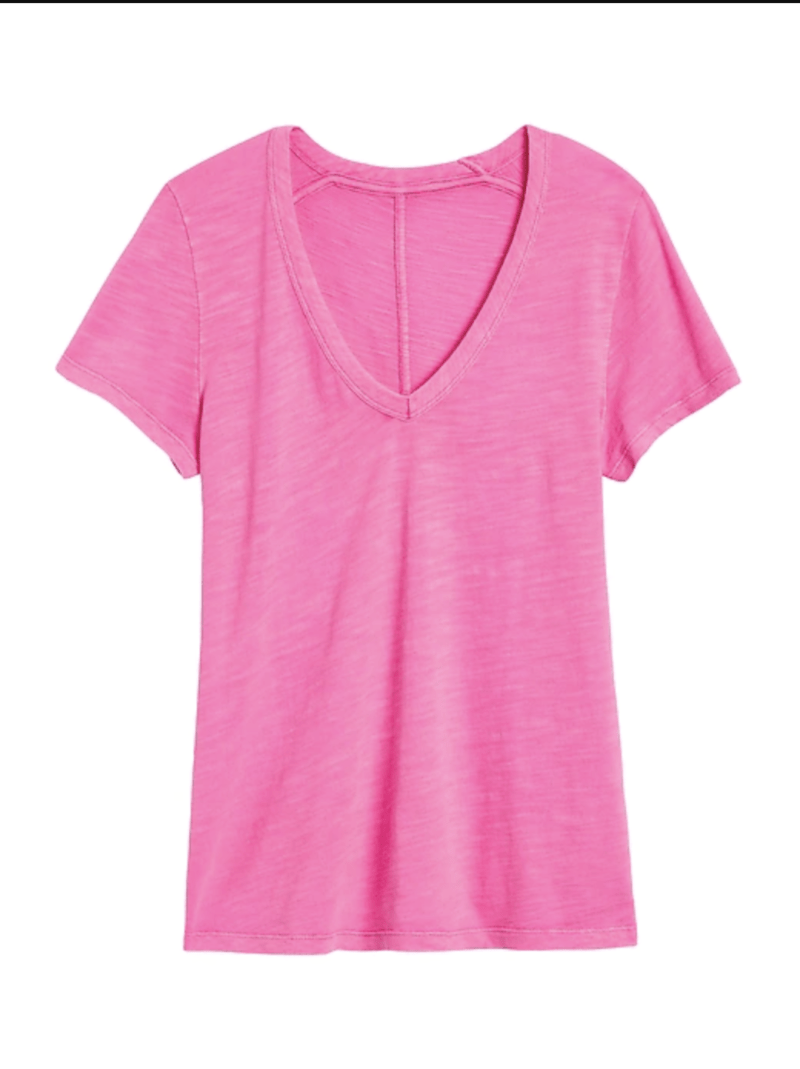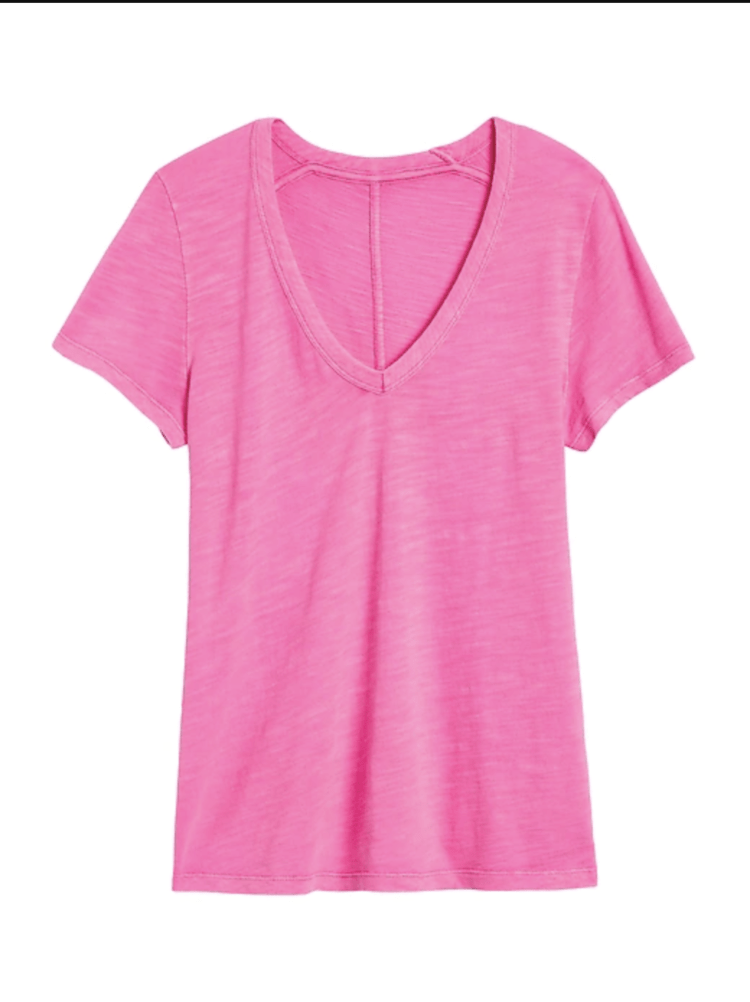 I also got this t-shirt from Banana Republic in neon pink, which is a gorgeous Barbie pink with a hint of electricity to it.  It is a slub tee, so it's not thick, but thanks to the color opaque enough to not see my belly button (though you do want to wear a nude-to-you bra underneath).  The fabric is nice and soft and it has really cool seaming which gives it a nice tailored fit.  I wear my vintage v-neck from J. Crew all the time but don't really love the silhouette and always end up knotting it to make it fit better; I also find it not soft or stretchy. This tee is an elevated version of the J. Crew vintage v-neck, and the color makes me super happy.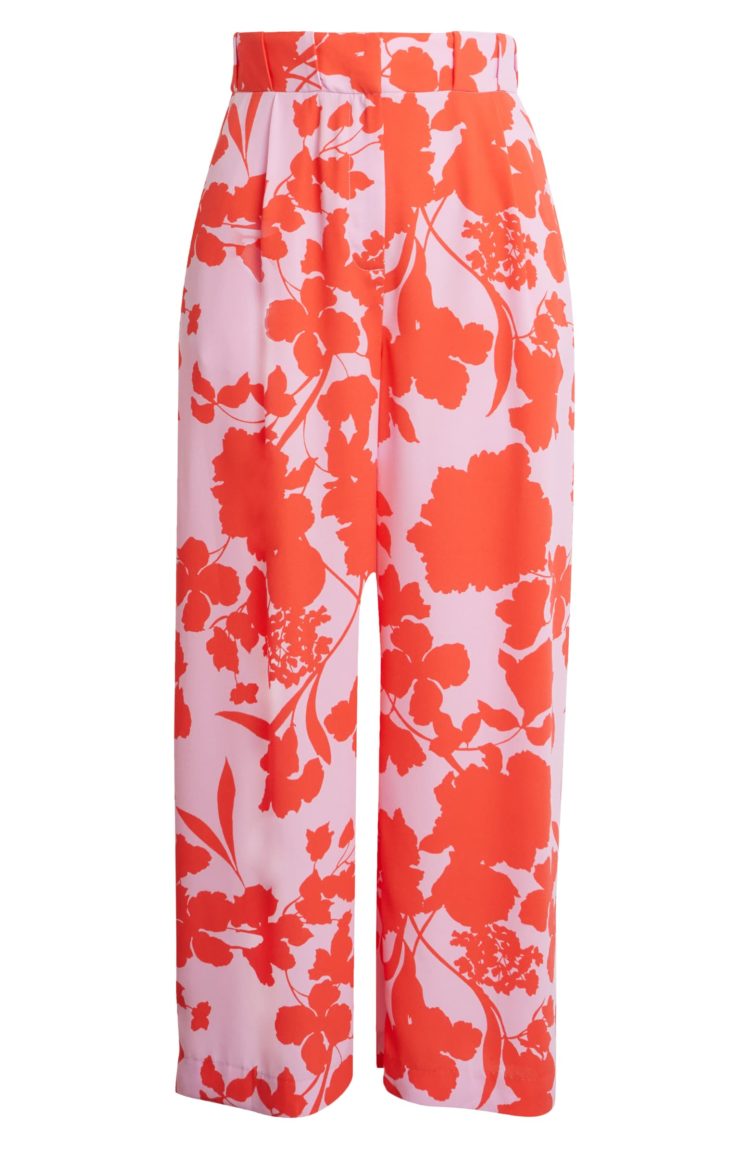 In this Monday's post, I shared that I got these pants from the Atlantic-Pacific x Halogen collaboration at Nordstrom.  I'm usually a 14, and even with the reviews saying tyhse run small I went with 14.  I find them comfortable, but they are a bit higher rise on me since I'm short.  They are a full-length pant on me, the perfect length for some Birkenstocks or flat sandals; I wore them Sunday with sneakers because I was walking and it was chilly, but they will look better with a sandal.  They are drapey and lightweight and have pockets and don't stretch out with wear.  I think the pleated waistband is a dumb detail; either have it plain or have it with belt loops.  The only plus is it's now stiff enough to not fold over, but I really would have loved some hidden belt loops in the pleats. They aren't anything super flattering or high quality, but the perfect lightweight pant that isn't in a boring color to wear with tanks and graphic tees and maybe a denim jacket or a chambray shirt tied at the waist.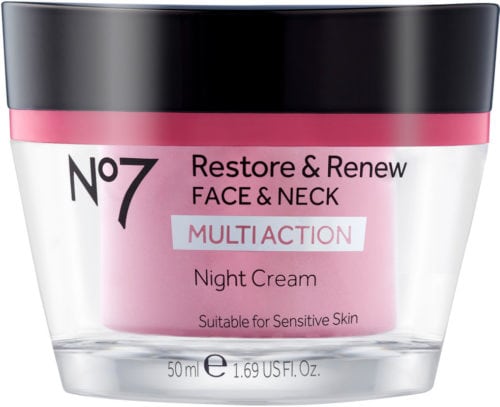 I freaked out that I was almost out of my beloved Ouidad anti-humidity hair gel.  I get the big bottle and do at least seven pumps of it on my wet hair after a shower to maintain my curls so I raced to Ulta where I ordered a bottle and then opened the linen closet and found a big bottle, unopened, hiding behind the bath towels.  Oh well, I am still prepared.  And while I was at Ulta I decided to order a night cream.  Sure I have used Colleen Rothschild's Extreme Recovery Cream for years and adore it for being thick yet not greasy and absorbent and how nicely it plays with my skin, but I wanted to try something cheaper and see if it was just as good.  I ordered No7's Restore & Renew Face & Neck Multi Action Night Cream, it got great reviews.  And it may be fantastic, but the fragrance is so intense I only wore it one night.  Do you have any scents that your nose and body are just like no, nope, not gonna do it?  For me it's the perfume Escape by Calvin Klein.  It was a popular fragrance when I was in high school, I even tried to wear it for a while but there's something in it that really bothers me.  And the older I get, the more the scent affects me. Like my nose flares, my throat gets thick, I feel claustrophobic.  And this night cream from No7 has the same base notes or whatever the proper terminology is for it not smelling the same but as it dissipates it hits my nose and throat like a woman on the elevator with me wearing several sprays of Calvin Klein's Escape.  Even if you don't get that result from Escape, know this night cream is very heavily perfumed which is surprising for a product that claims to be suitable for sensitive skin.  If it's good… I'll never know. It looks pretty wasting space in my medicine cabinet…