This article may contain affiliate links; if you click on a shopping link and make a purchase I may receive a commission. As an Amazon Associate, I earn from qualifying purchases.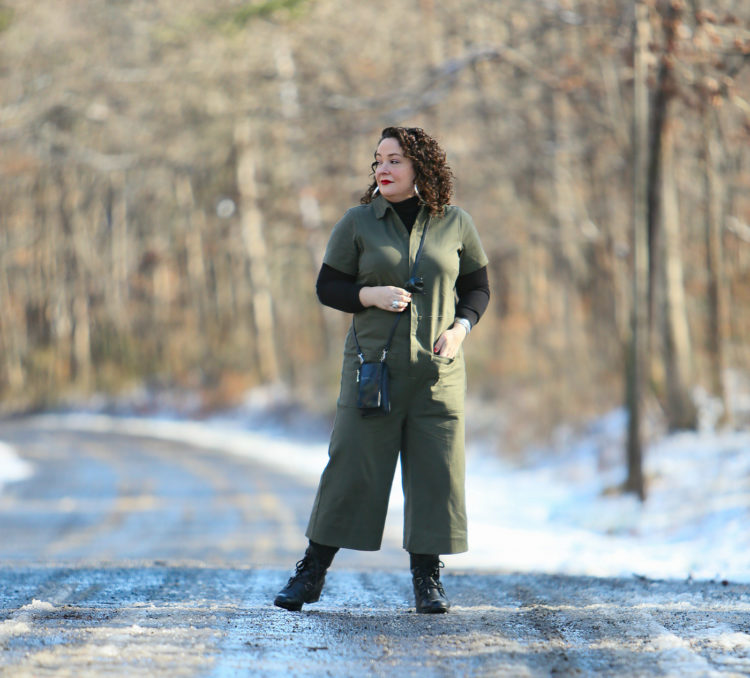 I'm all about wearing what I already own, and I've been looking at this Universal Standard jumpsuit I wore this summer and was trying to figure out how to winterize it. It's twill, so it's a seasonless fabric, and the color doesn't scream summer either.  A turtleneck is a given, but since the sleeves are short and the fabric is casual I needed a turtleneck that was a knit, without a sheen, very fitted (but still comfy), and completely opaque.  This turtleneck from Universal Standard I've had for over a year (seen many times before including this post) was a perfect choice… but what the heck do I do for shoes?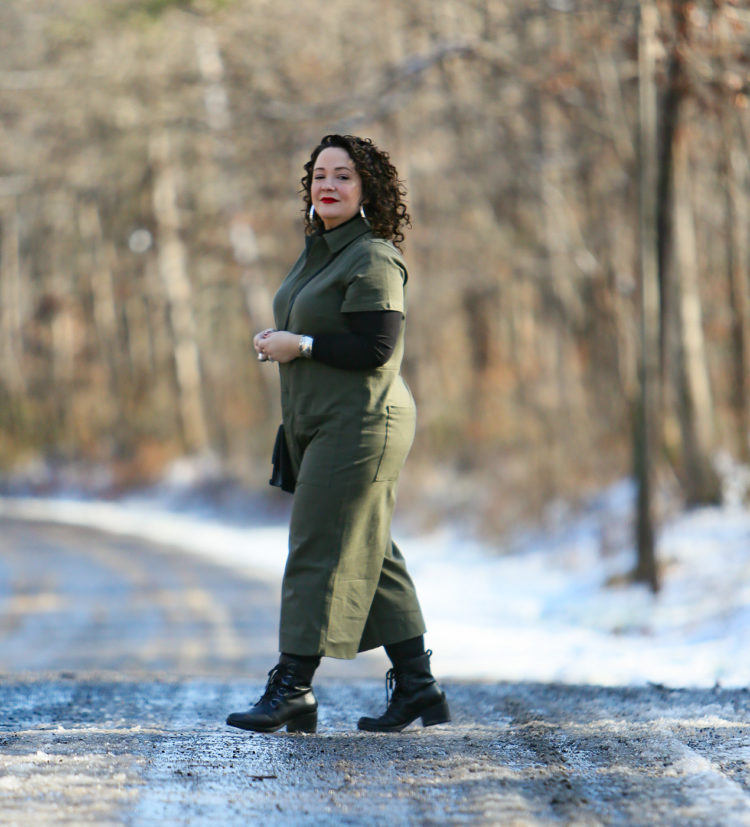 jumpsuit | turtleneck | boots | iPhone case | earrings | sunglasses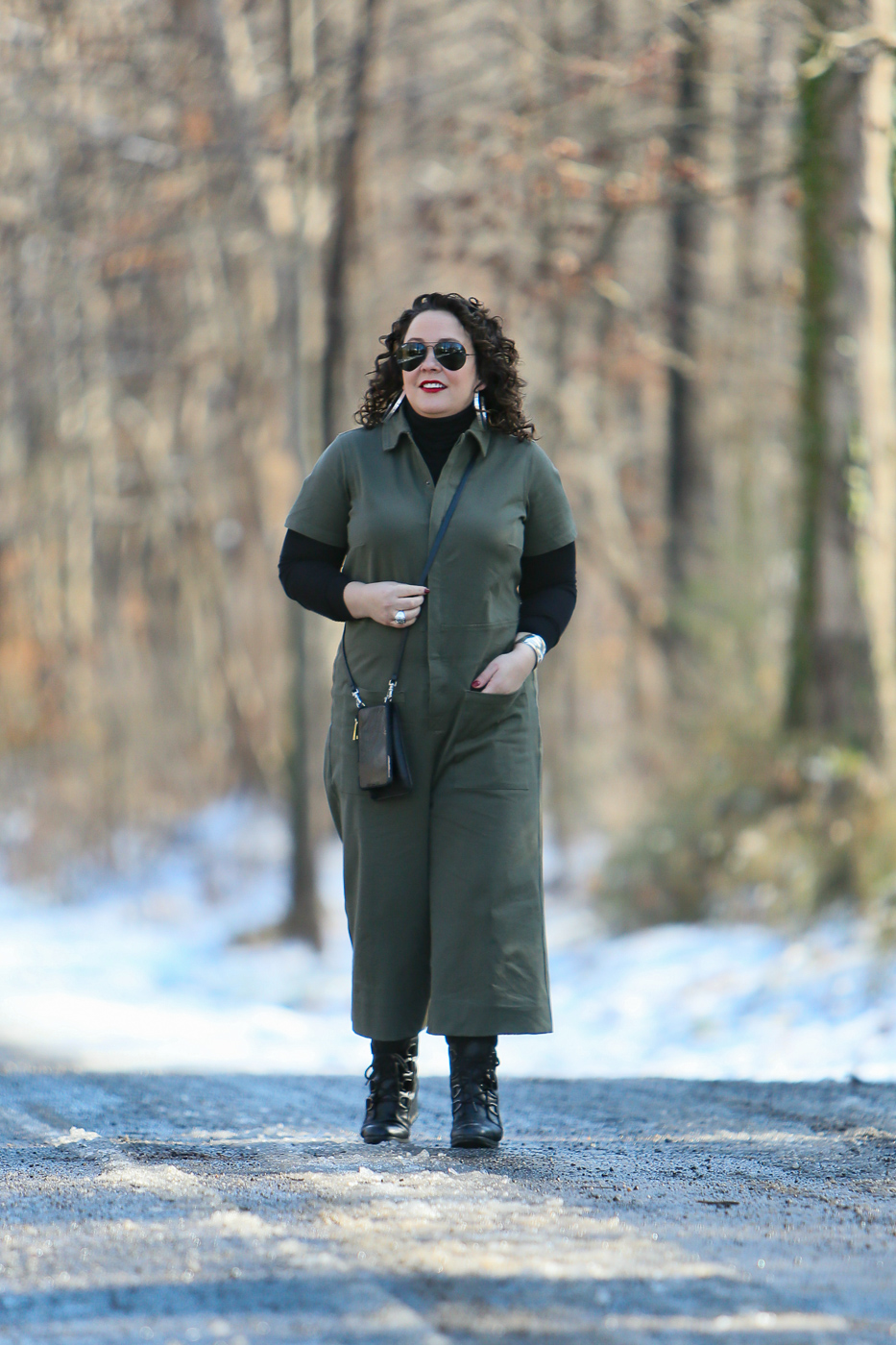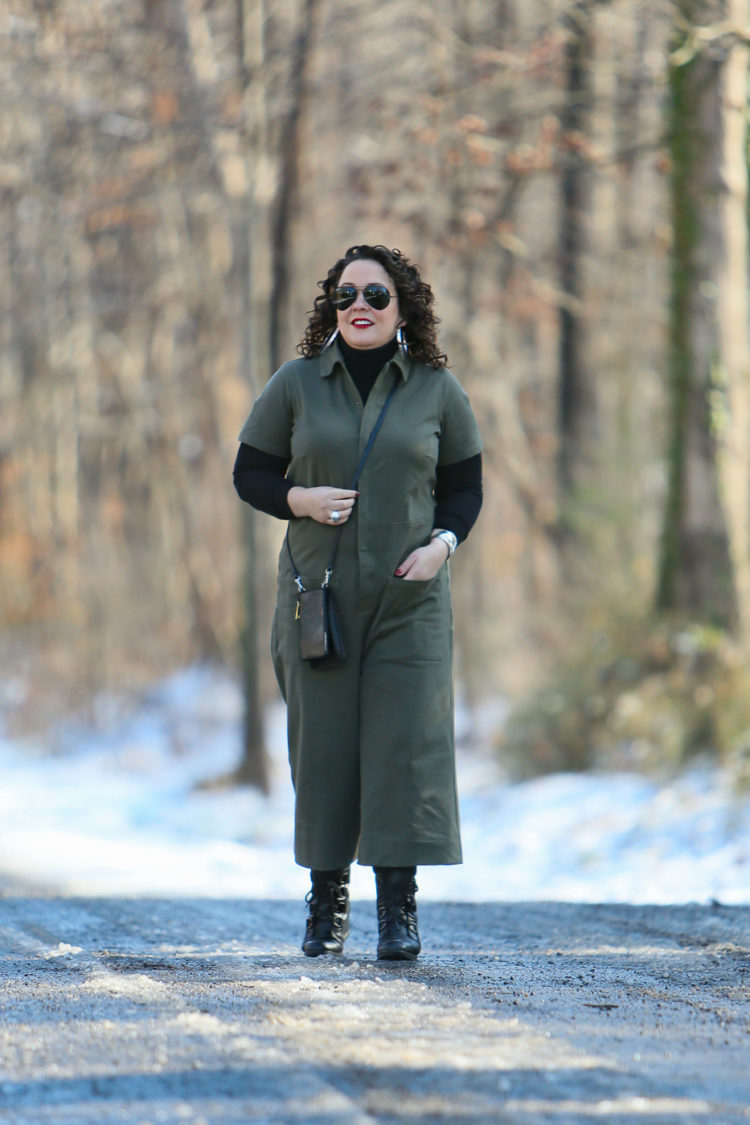 Jumpsuit: Kate Twill Jumpsuit c/o Universal Standard (XS and shortened with Stitch Witchery) | Turtleneck: Foundation Turtleneck c/o Universal Standard (XS) | Boots: Sorel (on sale!) | Earrings: Cober Hoops c/o Jenny Bird (similar) | Ring: Empress Insignia Luxe Ring c/o REALM | Sunglasses: Ray-Ban | iPhone Case: Bandolier | iPhone Case Pouch: Bandolier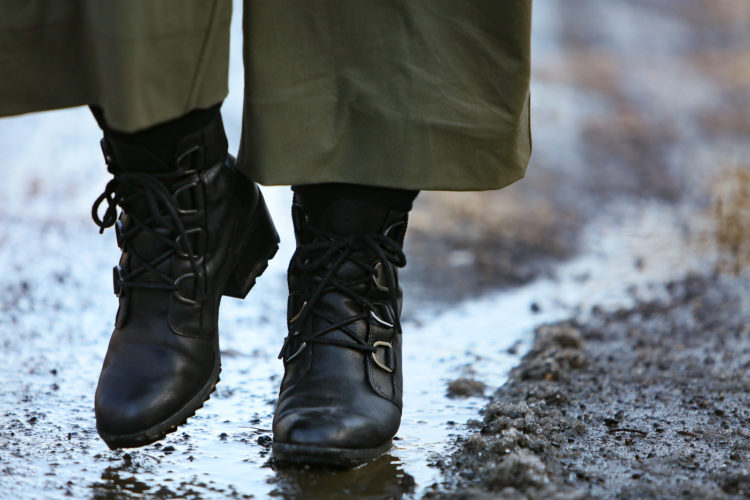 Tuesday night while falling asleep, I was thinking about this jumpsuit because these days my brain is far happier to race thinking about random things like what shoes to wear with a summer jumpsuit than to turn off and go to sleep.  Women especially over 40, I know you feel me.  A slim boot with a heel would look too try-hard and wouldn't be practical.  A sneaker wouldn't keep my ankles warm. I thought, why not try my Sorel boots that I wore in this winter accessories review?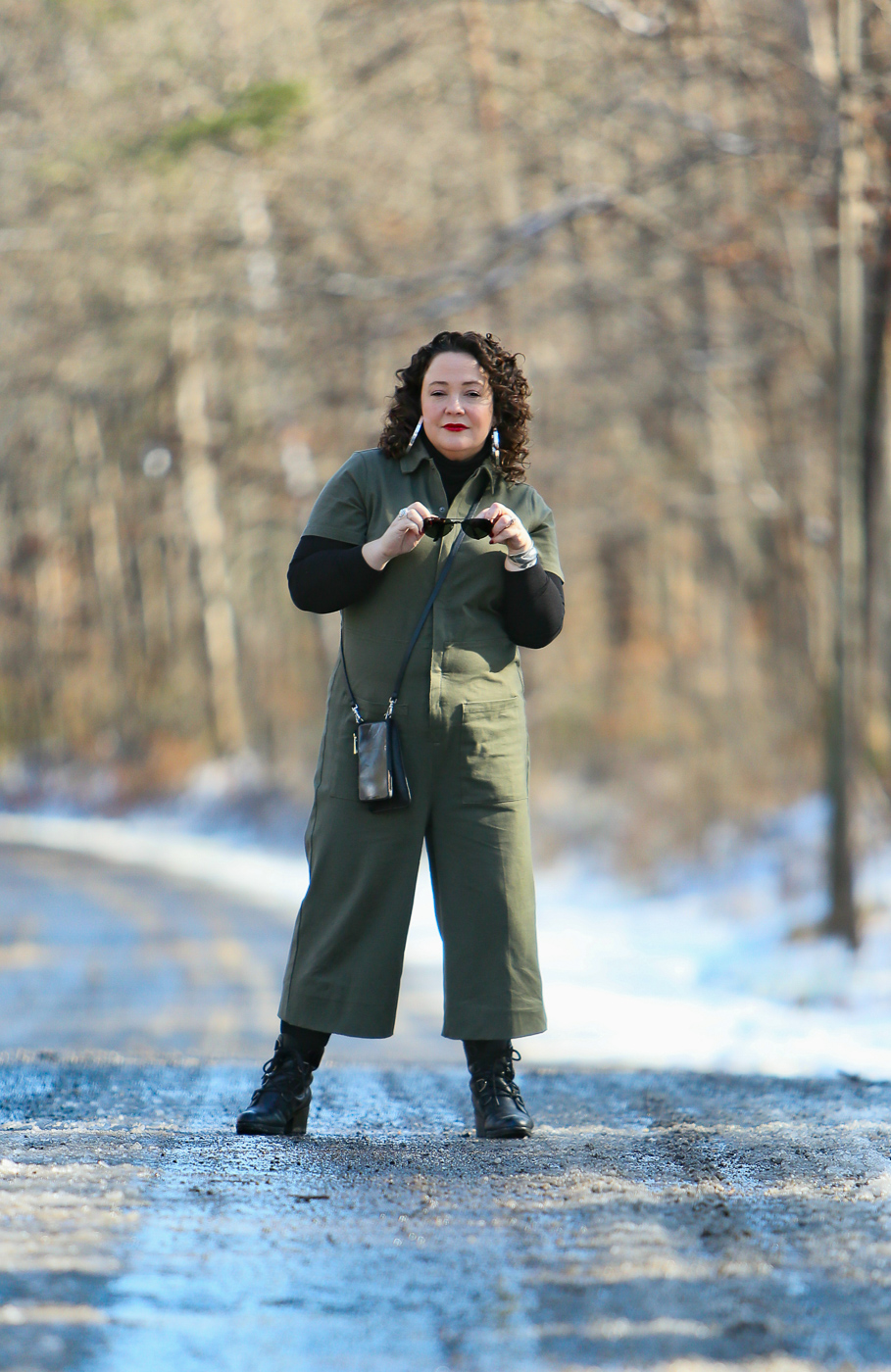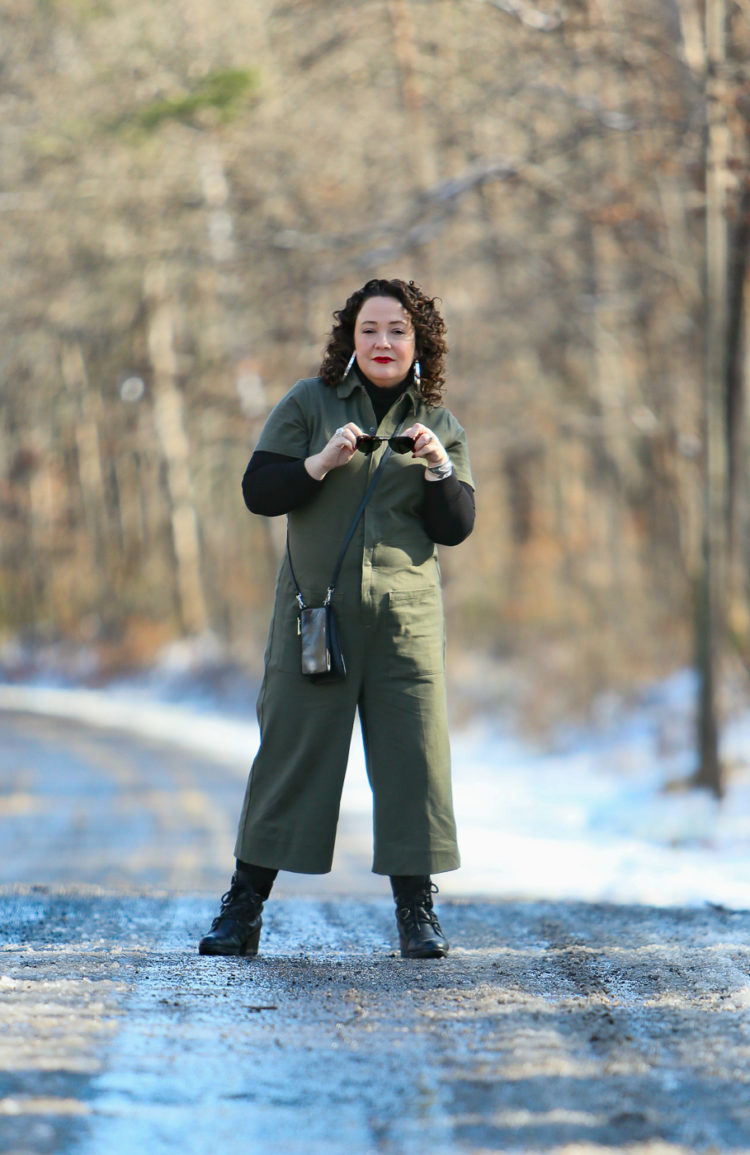 The jumpsuit is a hair too short for these boots, since they are hemmed with Stitch Witchery I will bring them down a hair for the next time I wear them this winter.  Especially when I walk you can see some of my black socks.  But this look was comfortable and practical for a winter day.  I was warm and cozy, had plenty of pockets, and waterproof boots with good grip without looking like I'm dressed for the snow.  To add more warmth I could have added my Thermakin leggings underneath.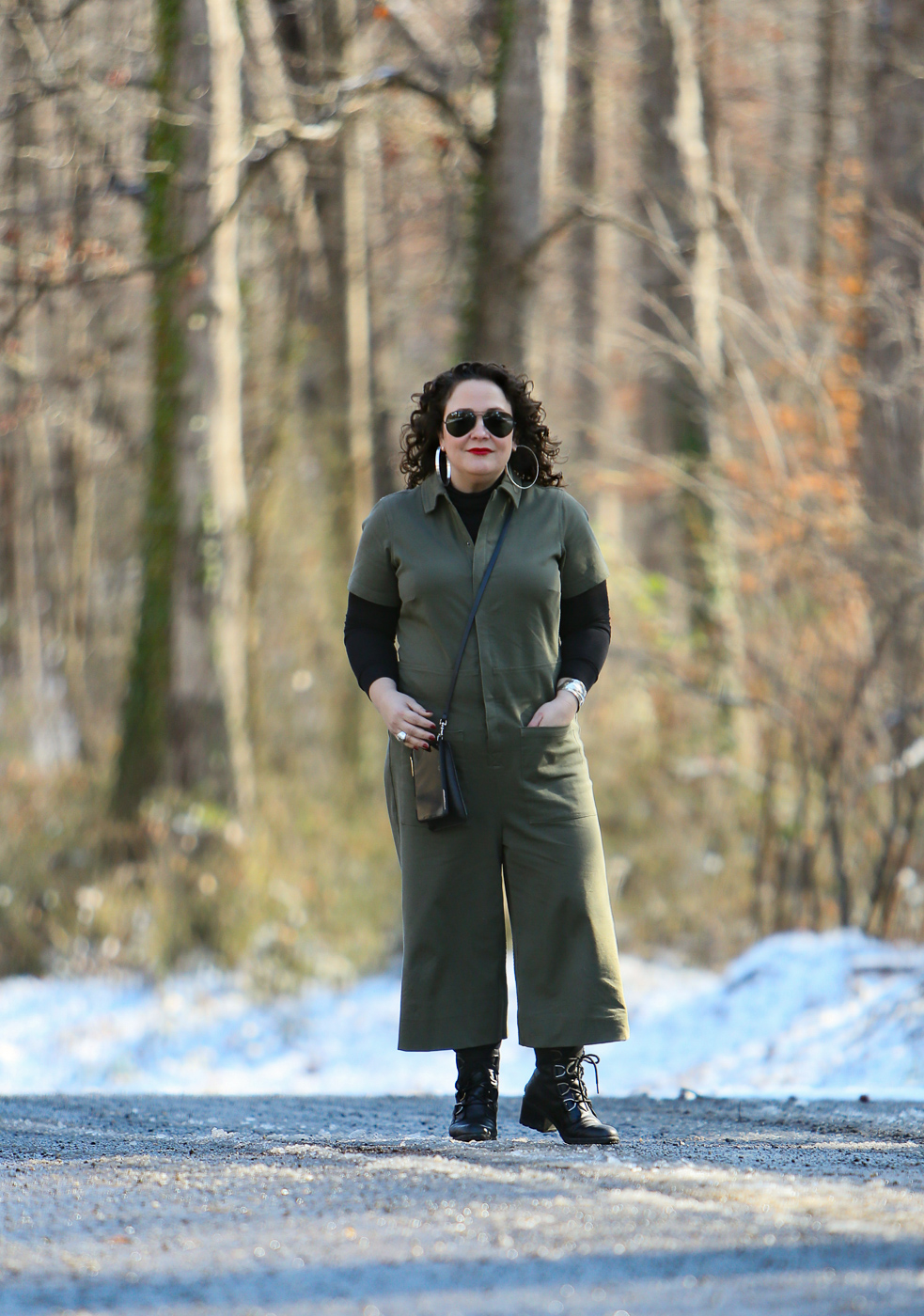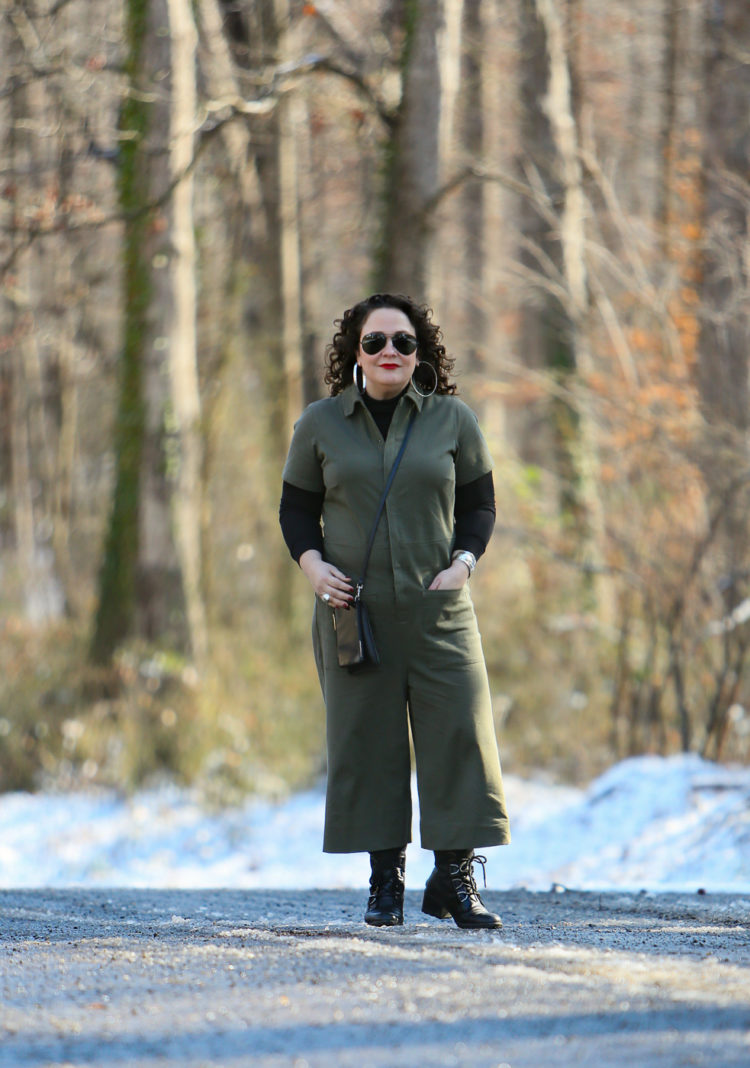 I'm continuing with the "letting go of the Just In Case Bag" theme with this look.  In place of my bag, I went with my Bandolier phone case.  The case itself has a snap pocket on the back to hold two cards.  I added a zipper pouch that has my Dagne Dover card case as a wallet and my lipstick inside, as well as a flosser and some Listerine breath strips.  I bought the zipper pouch when I got an iPhone 7 Plus and it still works with every version of the Plus iPhone I've bought since.  I do have to replace the actual Bandolier case with each phone upgrade, but old ones sell quickly on Poshmark.  I've also bought the cheapest black Bandolier for the newest phone and use my old favorite straps.  This case and pouch combo is my favorite for concerts and it's also great for travel so you can have your personal bag be full of your book or Kindle, snacks, a sweater, etc. and easily access what you need quickly like your phone, ID, and lip balm.  I bought my first Bandolier in 2017 after meeting a woman at a conference with one and now can't imagine not having one!
Shop the Look: