This article may contain affiliate links; if you click on a shopping link and make a purchase I may receive a commission. As an Amazon Associate, I earn from qualifying purchases. 
I've done a bit of shopping the past couple of months. My wardrobe was woefully unprepared for the cold; I don't know what I was wearing up until February last year because this year I just laugh at my thin cardigans and distressed jeans and crave more wool, more fleece, more layers. In the DC area, it doesn't really get cold until after Christmas and I did end up spending most of February and March in yoga pants and a caftan and a tres chic full-arm cast, so I think that may be one reason why I had many holes to fill this winter. Below, what I purchased and whether it was worthy of space in my closet:

I have big calves, thick shins, and what many would not hesitate to call cankles. I know it, I embrace it, and I often say "fugget" and wear what I want even if it emphasizes the situation. One thing that is not the most flattering with my gams is a pair of ankle boots. But a pair of ankle boots is pretty fantastic. Slip them on with skinny jeans or leggings and a sweater coat and you're weekend ready. As I showed in my post about Chelsea boots, they work with skirts and dresses too. And do you know how long I have longed for a pair of engineer boots? We're talking over 20 years, folks. So when I saw these boots at L.L. Bean, and saw the reviews stating that they're too wide in the ankle and opening, I thought I may have a chance. Gaping on the normal individual means won't cut off the circulation to my feet for me.
Since the reviews said these ran narrow, I purchased a wide. I also went up a half size; I could say it's because I want to wear thick socks but it's truthfully because my size was sold out. I'm actually glad I did because an 8.5 wide feels like an 8 medium. The boot is snug on the sides of my foot, but not enough to rub and I think they'll stretch with wear.
The shoes are well made, as is the majority of L.L. Bean's merchandise. The hardware isn't too shiny, the soles not too lug-ish, the leather is heavy but not too stiff and matte but not in a cheap leather sort of way. These are engineer-style boots that will remain in style, become a classic.
And yes, the tops are wide, and have little elastic gussets. Wider than my leg wide. Wide enough that they don't chafe when I walk and I can easily slip in skinny jeans or heavyweight ponte leggings. They would likely show under straight and bootcut jeans, but would work with fuller leg styles and likely would hide under trousers.
These boots are pretty darn perfect… but they're just too wonky looking with the legs I have. I think a shoe with a lot of style can help justify me wearing unflattering shoes, but with my legs these boots end up looking like something I'm wearing to work in the garden or to ride a bike – a uniform and not a fashion statement. If I were taller or had slimmer shins I'd keep them because they are lovely.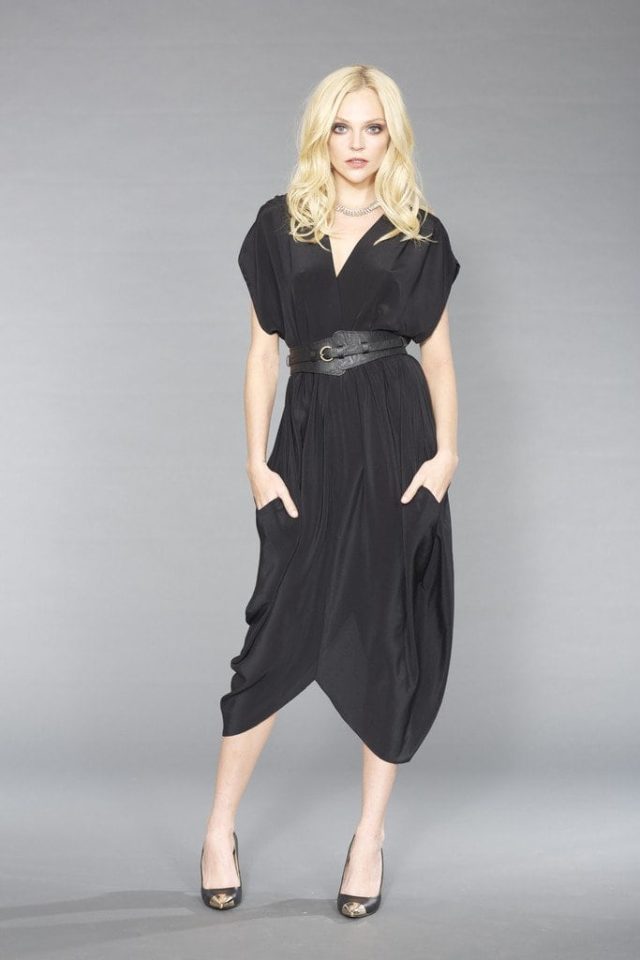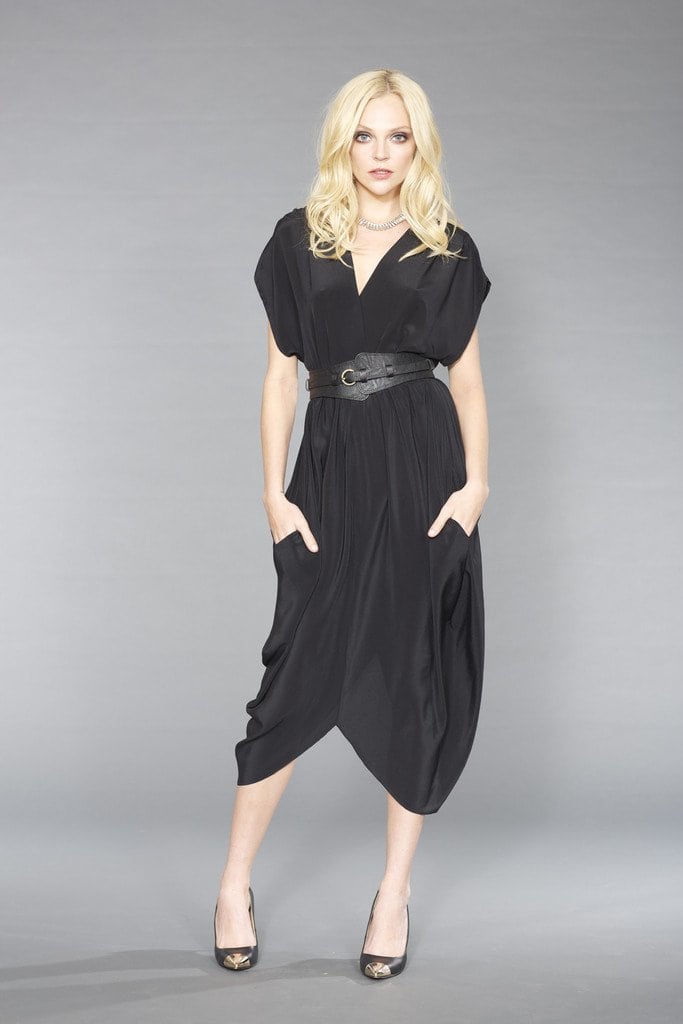 When I was thinking about what I wish I had in my wardrobe this past year and what in my wardrobe got the most wear, one of the pieces was this off the shoulder maxi dress. This is my party dress when it's cold out; the fabric is like a lightweight sweatshirt so it keeps me warm but the off the shoulder detail (the tank isn't attached) makes it festive. I wore it to my friend's birthday the night I broke my arm, I wore it to Karl's cousin's holiday get together, and I wore it to my sister's New Year's Eve party. I really wanted something similar that wasn't as long, not as heavy, and more appropriate for warmer months.
Yeah, this dress is a mega mega splurge. I never ever spend this much on a dress, but if it gets as much wear for as long as my maxi has, it could end up saving me money in the long run. And to be honest, since I got it at Nordstrom if I don't wear it by May, I can return it.
The dress is so, pardon my French, FUCKING BADASS. I got the 12 in Black and I felt like a modern minimalist Grecian goddess in it, if that makes sense. My soft curves made it look way better on me than the model. The skirt has draping that are kind of like pockets but also add volume in the right way and make the dress look at first like a jumpsuit, the gathering on the shoulders creates cool draping, and oh wow when I replaced it with my ASOS metal band belt and added my Miss Sixty booties I was ready to go to a party. Karl even said it was awesome. But the large was a bit too large – I had to hike back the shoulders to not expose my bra and the bodice was a bit too full, making the wrap gape open. So I ordered a 10. Not as voluminous but still badass and now fits in the bodice. This could be dressed up or down with a change of accessories; it comes with a boring skinny belt but I tried it with my metal belt, a large silk scarf tied like a cummerbund, my skinny python belt with a pave buckle, and my vintage wide brown leather belt and they all looked so cool and give different effects. I can see it for a blogger event, for a wedding, for a party.  It's silk so it could be worn year round.  I haven't worn it yet, so I'll keep you posted as to whether it is a keeper, and worth the money.
Random factoid: when looking online to find any reviews of this dress, I found out Kim Kardashian has this same dress in multiple colors.  Didn't sway my purchase, but does show how it fits on someone who isn't tall and is curvy and shows why a smaller size was a better choice (less boobage)…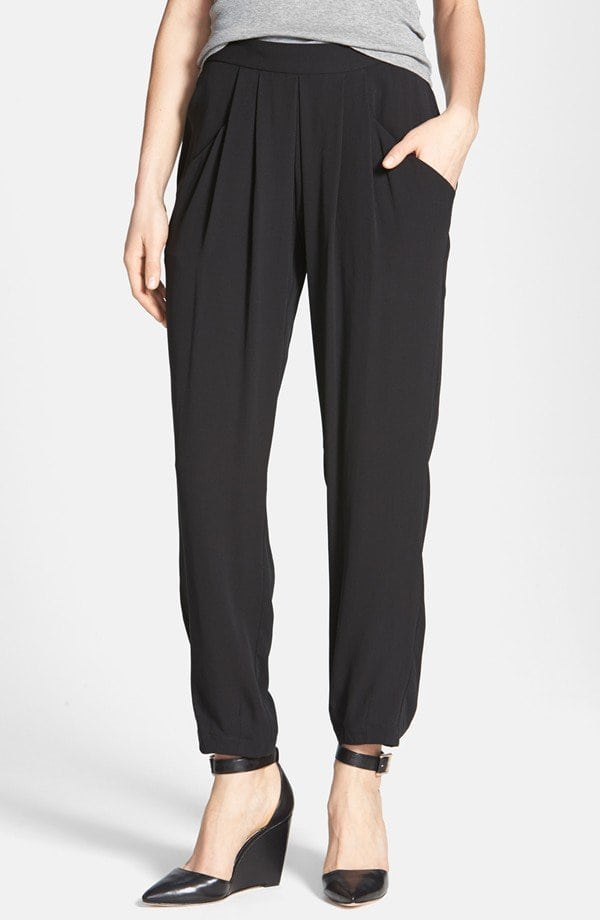 I don't know what I was smoking when I ordered these pants. Maybe I was on a Myne Heidi dress high? I was thinking of them with pumps, a silk shirt, my slouchy black merino sweater, come summer with a silk tank and a fabulous necklace.
The pants made my ass look saggy, they were larger than expected in the waist (I ordered a Large and they fit like a 16), the pleats were too strong emphasizing my pooch, and they didn't look cool or modern but like a thrifted pair of work trousers from 1986.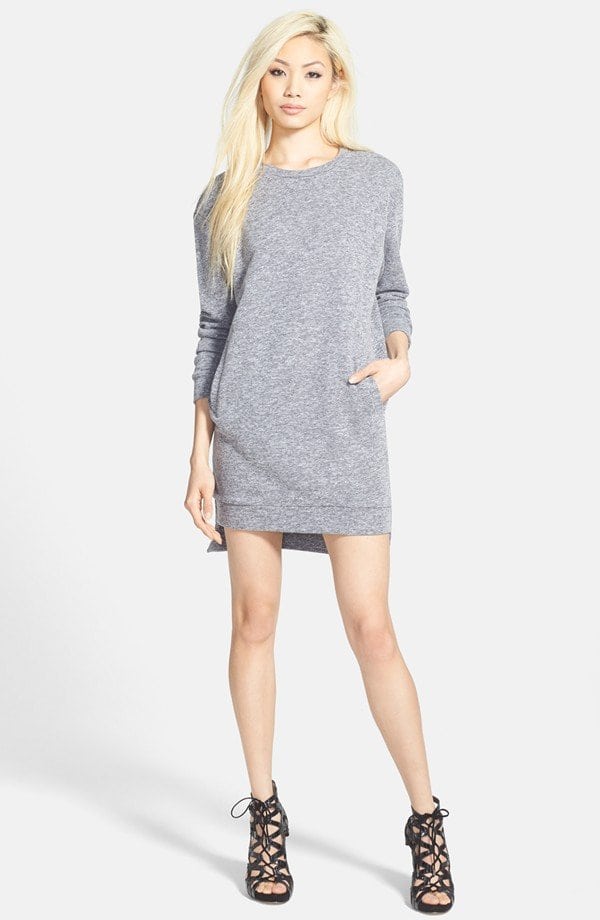 Tunic is the word for this description. On my 5'3" self, this dress hardly covered the good china. This made the kangaroo pocket directly over my tummy and hips, killing any shape to my body and making me look second trimester. Too bad, because if it was 6" longer bringing down the pocket, it could be a super cute piece to wear with leggings now and just a pair of Chucks come spring.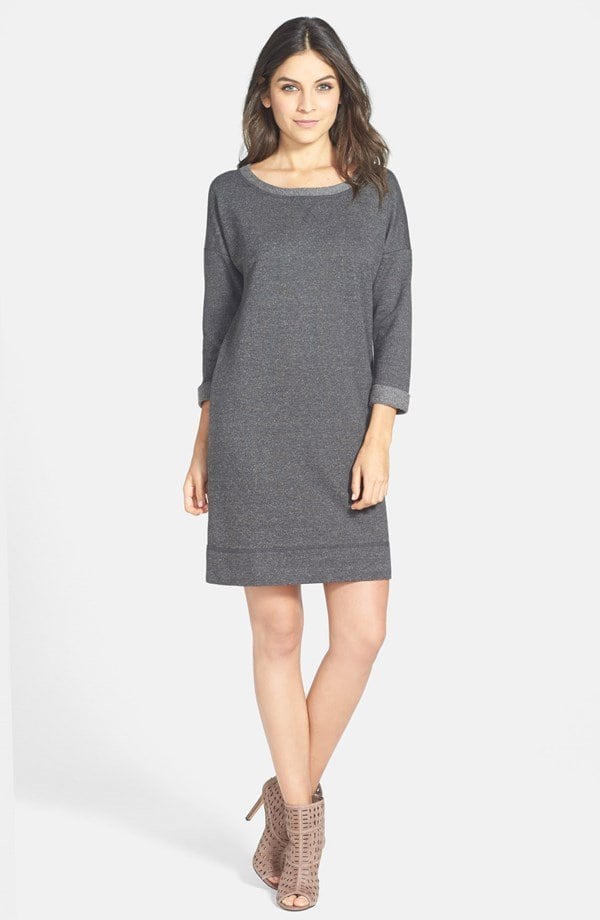 I love Caslon, and Caslon usually loves me. Not with this. The body was shapeless with a band at the bottom that made it look as though my torso was inflated. The neckline was super wide, and the sleeves so incredibly tight I could hardly get the dress on. Also the fabric in this sweatshirt dress was far cheaper looking than the one from Glamorous.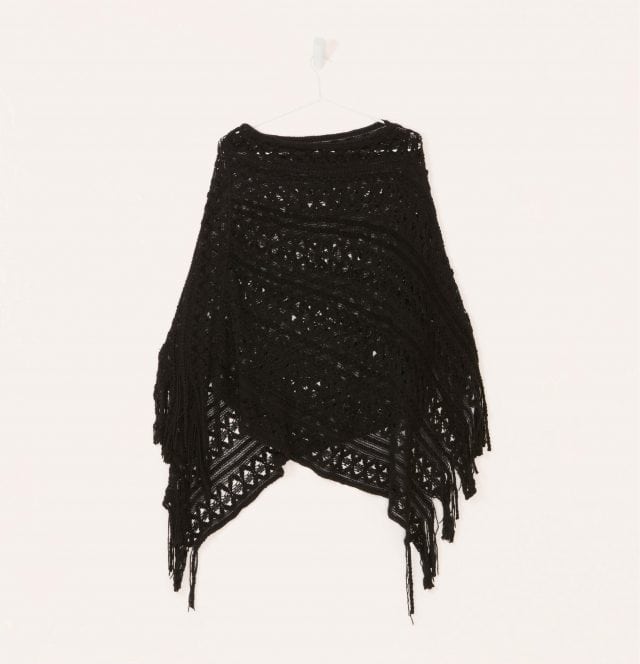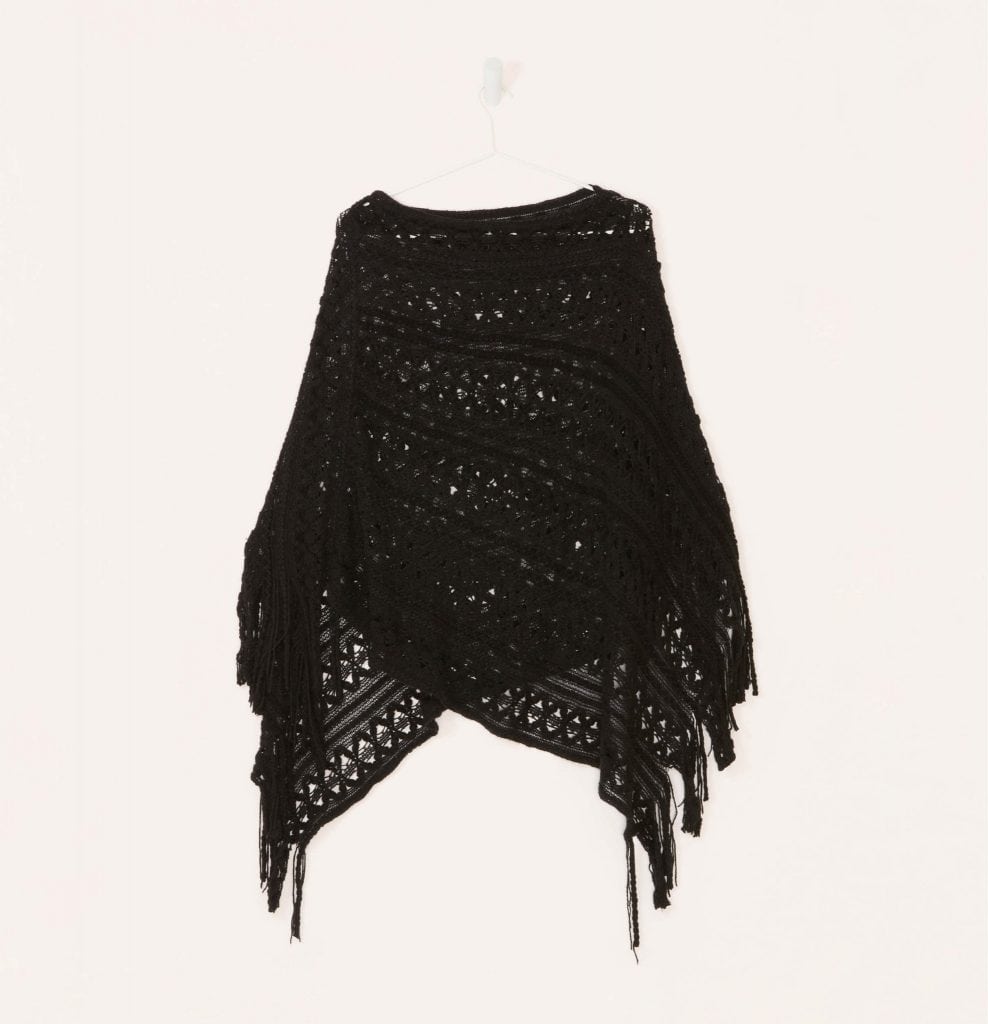 In person it looks exactly as it does on the site. I took cuticle scissors to rip the seams out of the tags and gently remove them because they were visible through the open weave, and once I did this I fell in love. It's soft, it has cool fringe, it has a slouchy flattering neckline, it's not too open or too opaque. I've worn it twice with a black tank under it, black ponte pants tucked into tall heeled boots and a lot of silver jewelry and know come spring I'll be pairing it with a white tank and distressed jeans.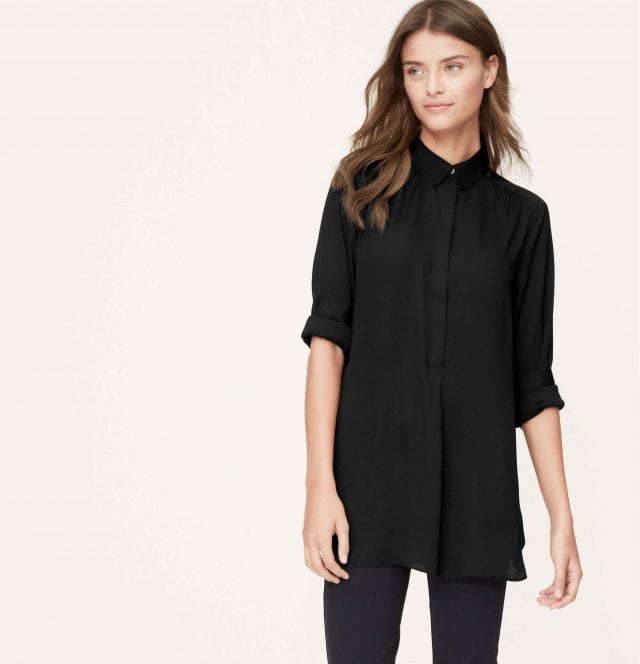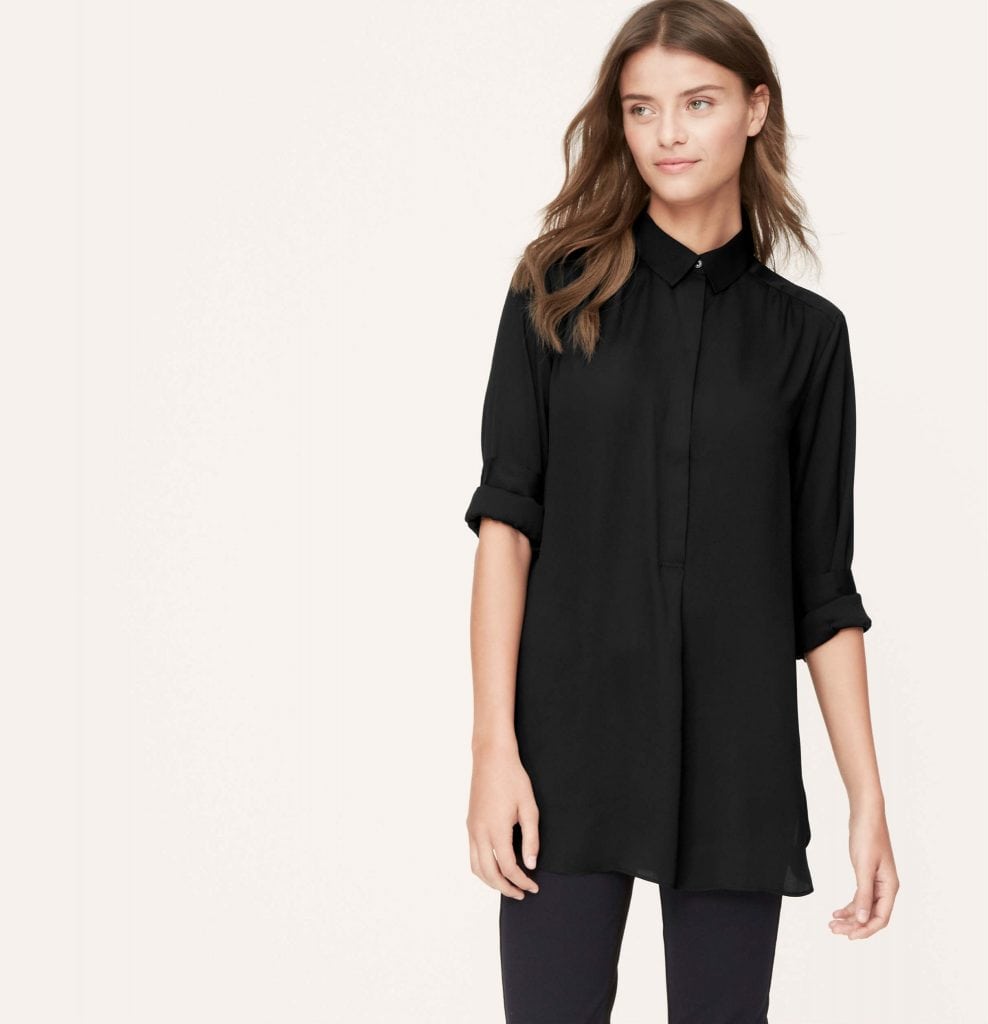 Yeah, was so imagining this top with those Eileen Fisher pants. This was just as frumptastic as the pants. It looked more like a regular blouse, properly fitted in the shoulders and arms in that it would likely work well under a blazer. However at the end of the buttons it is pleated and flares out like a maternity shirt. The combination was not flattering.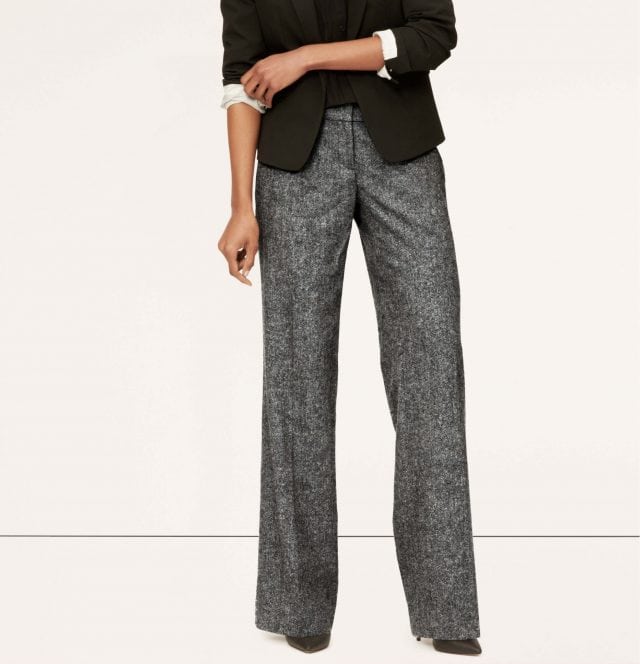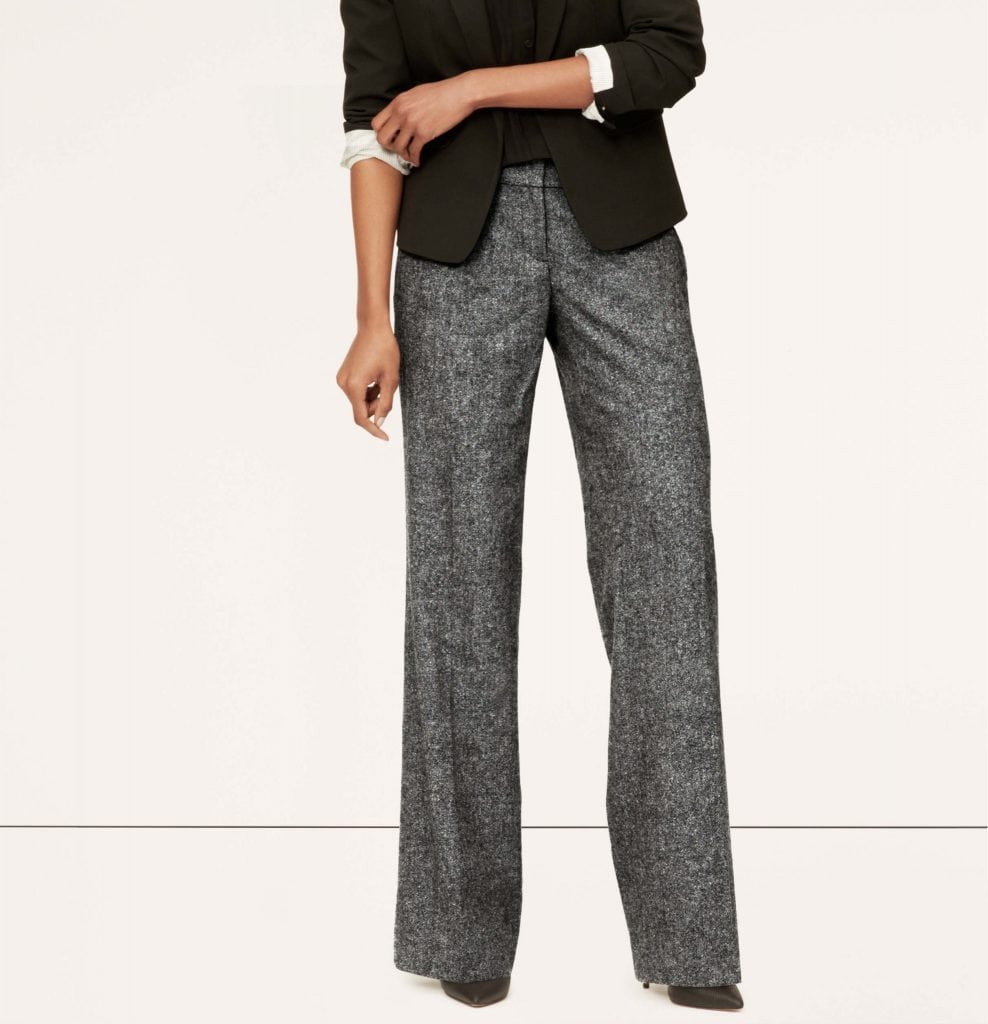 I should have believed the reviews that complained about the pleats. The pleats are awful, making these too look like thrifted work pants from 1986. Super unflattering. A shame because the leg width and the fabric is really nice. If they had a clean front, I would have kept them.
Have you made any great or horrible purchases since the holidays? Share your triumphs or warn fellow readers in the comments below!