This article may contain affiliate links; if you click on a shopping link and make a purchase I may receive a commission. As an Amazon Associate, I earn from qualifying purchases.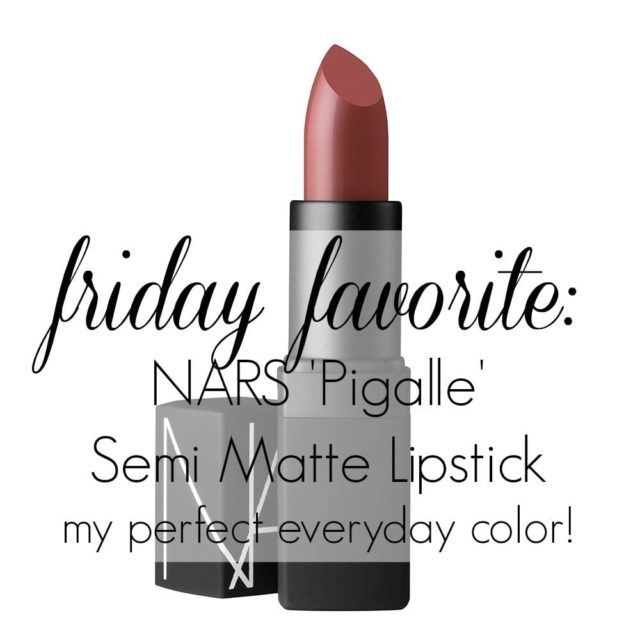 In this blog post I mentioned how I was looking for a "my lip color only better" lipstick and how I almost found it in NARS 'Tolede'. Almost, but not quite. In the comments, reader Michele shared,


And that very day I purchased NARS 'Pigalle' and I have been wearing it almost every day since. Michele is right, it's like a shade darker than my lips, it makes me look finished and polished yet I can swipe it on without a mirror, it's a cool tone but works with the peachy blushes she and I both prefer with our fair skin.


I have NARS 'Dolce Vita' which many say is a universally flattering lipstick. It's so flattering on me; it looks as though I haven't put anything on. 'Tolede' isn't that different in how dark it shows on my lips, but has a slightly warmer nude tone. 'Pigalle' is darker, and a tone between the two. I now wear it every day I don't do a bold lip. Usually I wear it alone, sometimes for shine I add NARS 'Viva' gloss over it, sometimes I dab Vaseline Rosy Lips to give it a creamy feel. It's matte enough to stick around through my morning coffee, but it doesn't dry out my lips.
I have been a fan of NARS blushes for over a decade; I have purchased the "look for less" dupes for 'Orgasm' and other colors from the brand I like and they never compare. I am on my third compact of 'Orgasm' and I have used the blush almost daily for ten years – that's a great cost per wear, far better than the drugstore blushes I have bought and ended up tossing after a month.
I've bought what people have claimed are dupes for popular NARS lipstick colors like Heat Wave or Schiap and they didn't make the grade. Greasy, too strong, too muted, too matte, too blue, too orange. The cap won't stay on and my purse ends up coated in red-orange smears, the bullet changes consistency halfway through and I have to toss or else make-do with a lip pencil. NARS cosmetics are worth their price. Their colors, their formulas, their understated packaging, NARS rarely disappoints (except their lip pencils, I don't get the hype). I have 'hit pan' with NARS more than any other cosmetic I have ever purchased.
I believe that you can get amazing high-quality cosmetics at your local drugstore or big-box retailer, but sometimes I find it's worth it to pay a bit more. I have tossed more lipsticks than I'd like to admit over the years, and many were splurge purchases when heading out to buy deodorant, diapers, or cough medicine. I'm trying to purchase less, which extends past my closet. If I can buy a lipstick that I will love enough to "hit pan" it's worth the extra money and 'Pigalle' is looking to be that kind of lipstick.
Thanks Michele!