This article may contain affiliate links; if you click on a shopping link and make a purchase I may receive a commission. As an Amazon Associate, I earn from qualifying purchases. 
In the last swimsuit review post I ended seeming as though I didn't find anything good. And then last weekend we took a trip to Rehoboth Beach and I knew I'd be spending time in an indoor pool and I was still without a suit so I kept the green tropical bikini. It was really my favorite, and I still loved it as I swam a couple laps, did handstands, and played ball with Emerson. But I still would like something with a bit more coverage for active days at the outdoor pool so I returned what didn't work and ordered some more. The results:
Since my last order, they had more suits available in my size so I figured I'd try some out.  Nordstrom's free shipping and returns makes it so easy, I hope they continue to expand their swimwear selections, there's nothing better than being able to try swimsuits at home, in your room, away from fluorescent lights, pushy salespeople, and fitting rooms that smell like Fritos.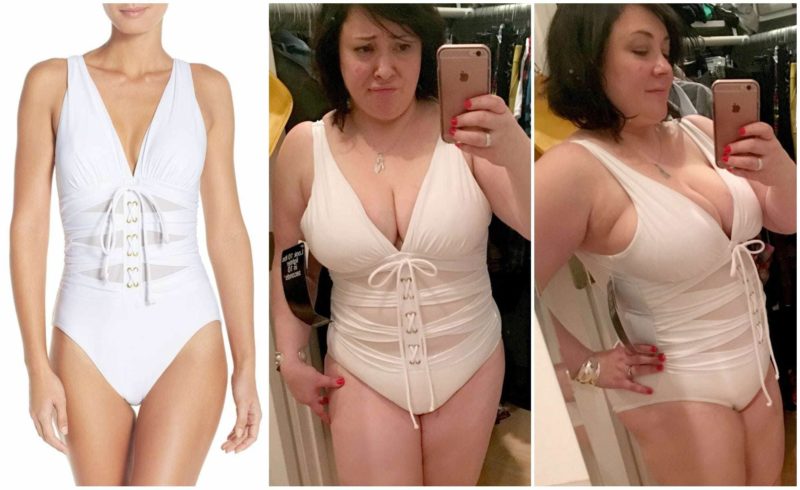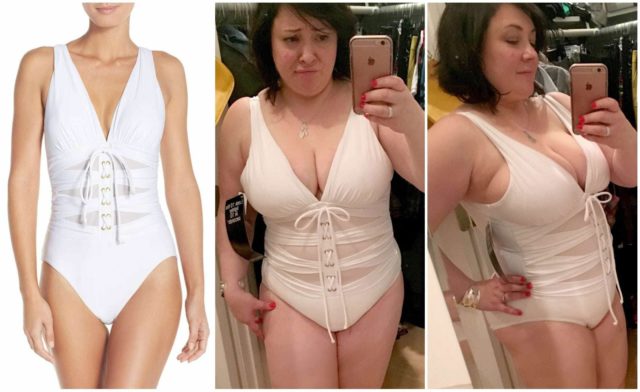 The seaming below and gathers at the bust gave me hope that this suit could possibly work. Maybe I'd feel like a Bond Girl in this awesome one-piece.  I also ordered this in a 14.
LOLOLOLOLOLOLOLOLOL
Yeah, I need suits that are by cup size. This was also short in the torso, if I hiked it up to have the seam in the right place for the bust, I gave myself a front and back wedgie. This would be a darn sexy suit for a slimmer, smaller busted woman who just wanted a bit of tummy control to refine her shape.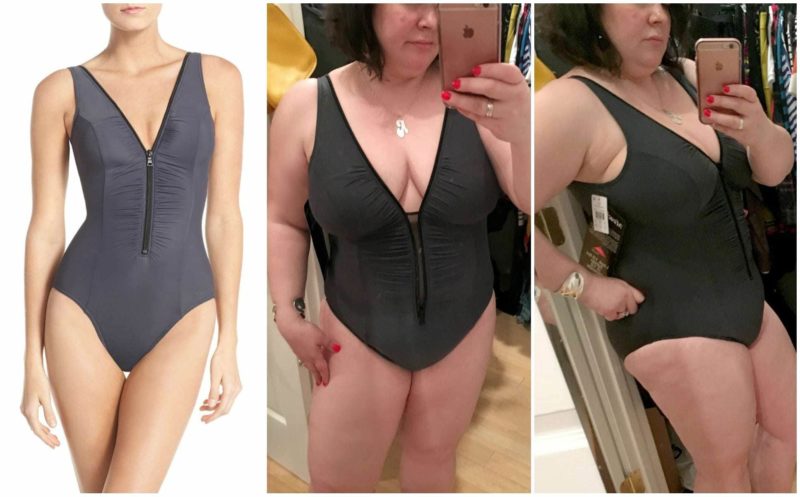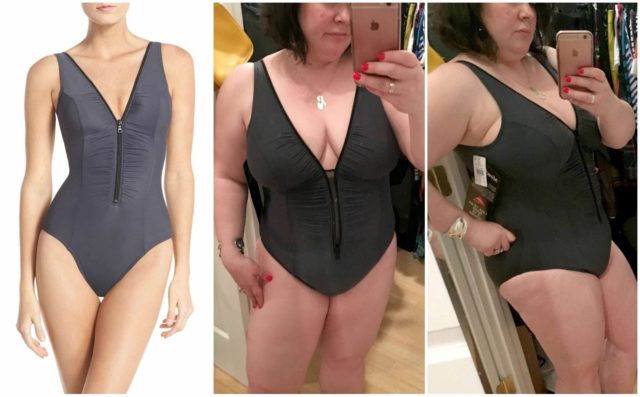 I ordered a 14. This suit (and a few others below) is proof as to why I need a bathing suit with bra sizing. If you follow me on Snapchat (I'm wardrobeoxygen) you may have caught my rant about Miraclesuits. How can a 5'3" short-waisted woman find a size 14 one-piece too short in the torso? Boobs. Seems as though Miraclesuit forgot that women with bellies may also have breasts. I think with a smaller bust both of these suits would have fit.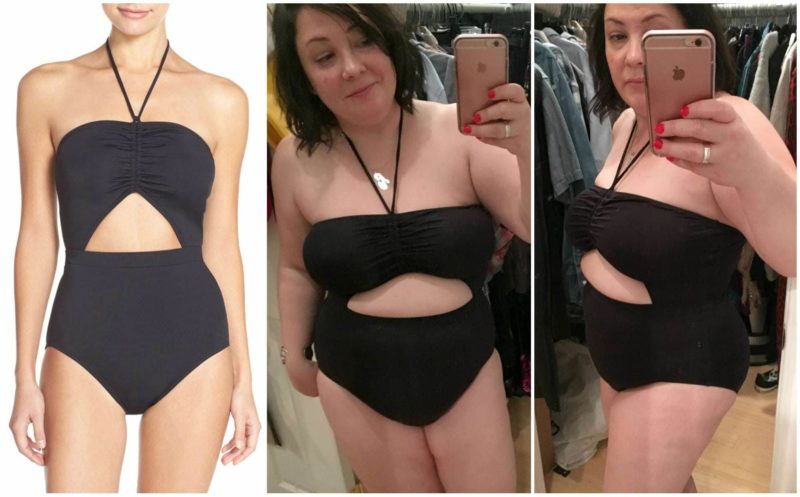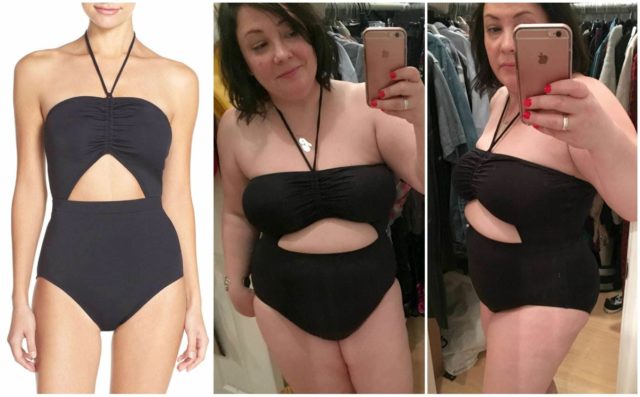 I ordered a 14. I figured what the heck, why not?  I should have known.  This was a huge major colossal fail. The suit has no structure, it's one layer of traditional nylon spandex with a bit of lining in certain spots. However, I think if one was younger and firmer this would be a really gorgeous suit.
Lands' End has always been one of my go-tos for swimwear, but I was hoping to steer clear of them this year because of their debacle with Gloria Steinem. But Lands' End makes clothing and swimwear for a broad range of sizes and shapes, the price is good for the excellent quality, and I have owned Lands' End suits before and know they work for my shape. I also know that I need a bra-sized suit, I don't need a bikini, and one-pieces are often too long in the torso so I went with their tankini pieces.
Before ordering from Lands' End, check sites like Retail Me Not to see if there are any promos going on. Lately there's been plenty of codes to get 30-40% off and most include swimwear.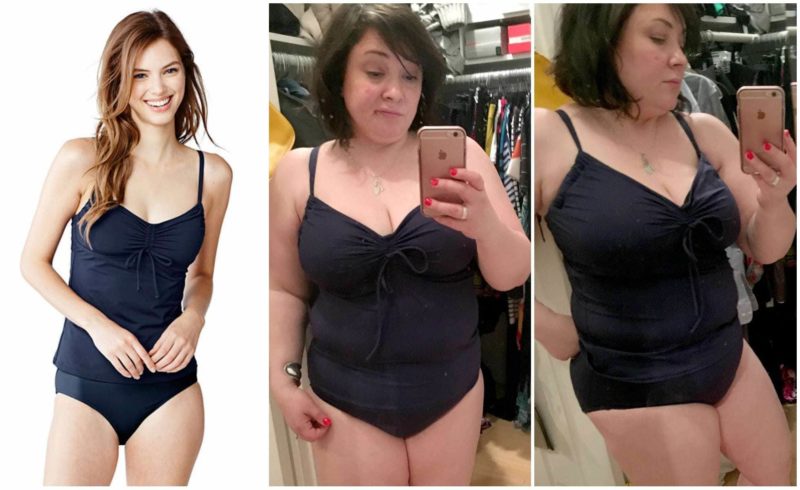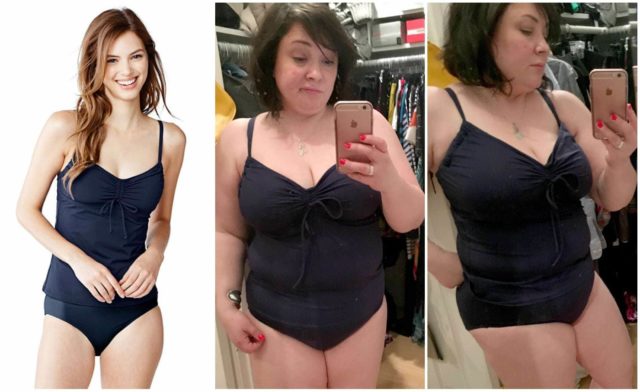 I ordered the top in 14 DDD cup, and the bottom in a 14. I like a suit with color, but I just didn't feel me wearing a purple or pink swimsuit with a big bow in the front so I went with Deep Sea (navy).
The control bottom sucked me in, but it gave me muffin top. The top had underwire but if I had the underwire truly under my breasts and not an inch lower, I'd have the cups end up near my chin. No adjustment of the bow or the straps could get placement right, but even so the suit gave more support and separation than one without underwire and I had enough fabric to not be spilling out. The top though was perfect in the torso – not too tight but not too loose. I think with a different bottom it would have been more flattering.
But this suit is a whole lot of meh. It reminded me of the green one-piece in the previous post. It's fine. It's okay.  I wouldn't look twice at a woman wearing it at the pool or beach.  It's what most women my age and size wear because it fits and it sucks to try on swimsuits and it gets the job done without more agony at the full-length mirror. I just can't justify spending $100 (that is if there's not a Lands' End promo going on) for meh.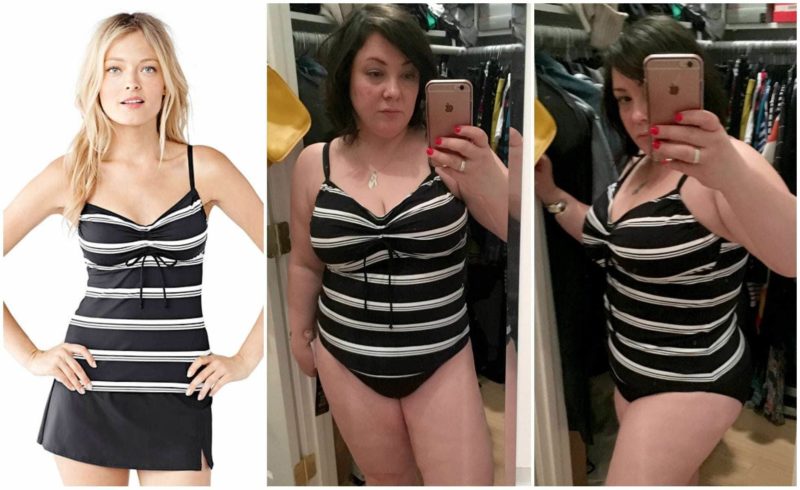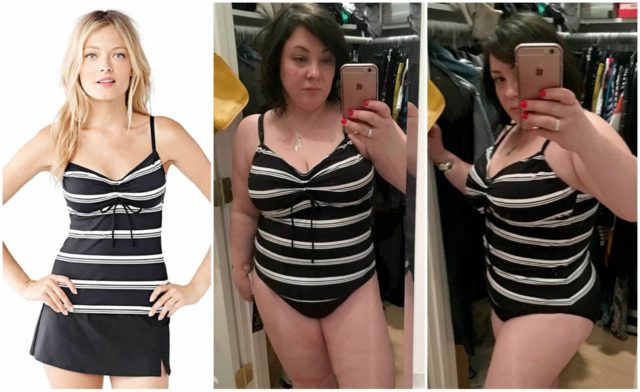 Going through the clearance section at Lands' End I found this black and white striped top in DDD cup 14 and ordered it since it was on sale for $35.99. Here it is featured with the Miraclesuit bottom I reviewed in this post.
I have no idea why this top fits better than the navy one but it does. The cups align better, neckline looks nicer. I know it lays better on the torso because of the different bottom I paired it with. Totally shows the power of getting the right bottom for your specific body! Thanks to my promo code and it being on clearance, this top only cost me $22. I plan on keeping it, it's perfect for playing at the community pool with Emerson.  Of course I'd end up with a suit that has stripes!
I already raved about Bare Necessities' selection for bra-sized swimwear. Based on my last order, I ordered two more things from them: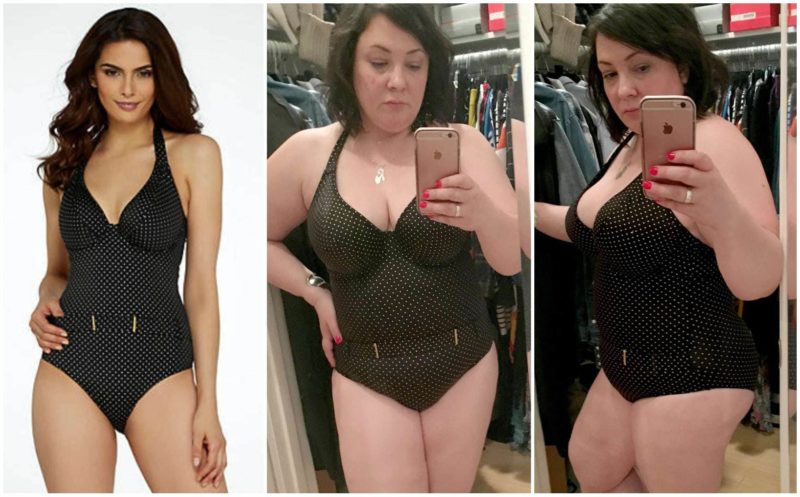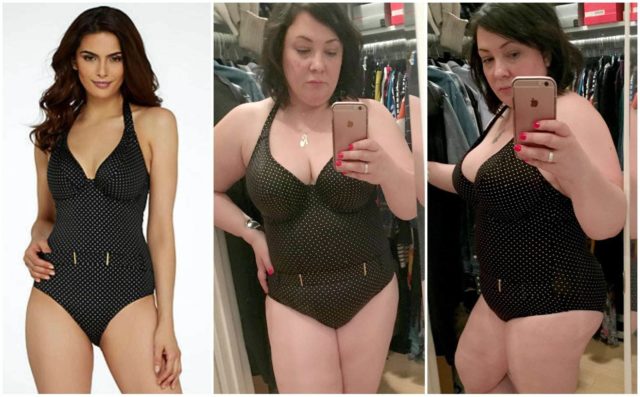 I didn't order this the first go-round because I've had halter swimsuits before and while they make a large bust look amazing, after a day at the pool your neck ends up sore from holding up your breasts. But this is Freya, Freya rocks, and I could order it in a cup size so likely the rest of the suit would be designed to help keep my breasts lifted. I ordered a 36E.
I am too short for this swimsuit. While it doesn't look bad from the front or side, in the back you can see how it just doesn't fit, and that issue affects the whole bust area. There's a backstrap, which should help with the breast support, but because I am short in the torso, it can't lie in the right place and ends up all squished down which pushes up the front, which makes my breasts lie funny in the cups which causes me to tighten the halter straps which puts more strain on my neck…
This is a cute suit if you have a longer torso or are taller. The top is made so it can support a large bust but also flatter and enhance a smaller one. And the dots are gold foil, the fabric is really nice, this suit feels and looks expensive. You can easily rock it at the pool, but gosh it would be fabulous on a tropical vacation with a big sunhat, the dots gleaming in the sun, a frozen cocktail in your hand. If you buy it, email me a picture of you wearing it and being utterly fabulous, dahlink!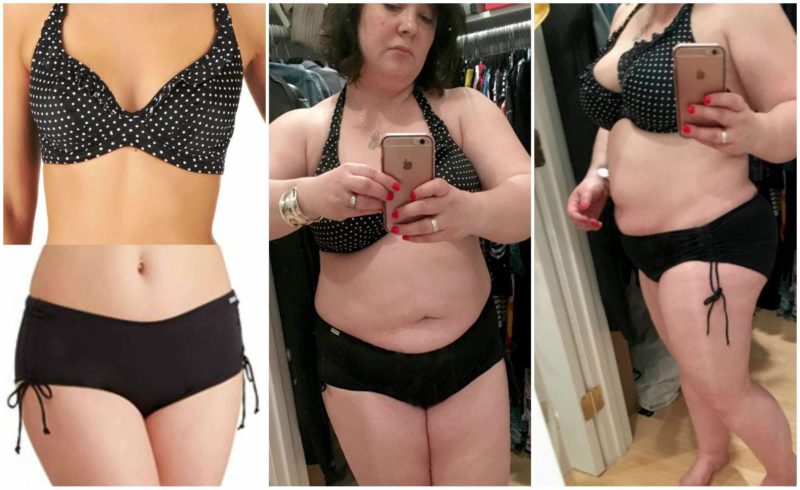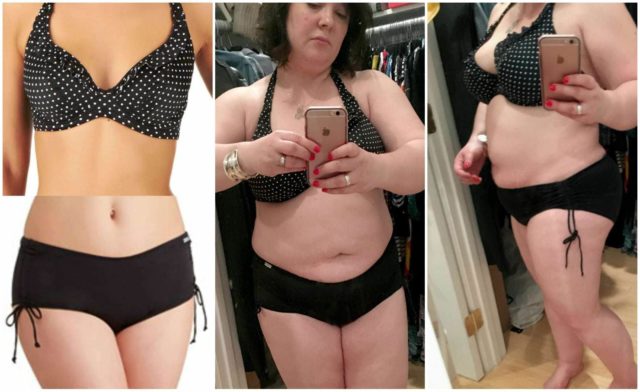 I really like the fit of the Fantasie Kuranda swim bottom and thought this bottom would essentially be the same thing but in black.  Newp. No. No way. Nuh-uh. It does have a more adjustable side, you can see in the side view I cinched it tighter for a smaller side, but it is a stretchier, thinner fabric and a lower-rise style.  When I bent over it rolled down even lower and I spilled over the waistband.  I know my strengths and love to highlight them; my lower abdomen is a part I prefer to keep covered.
Final Result?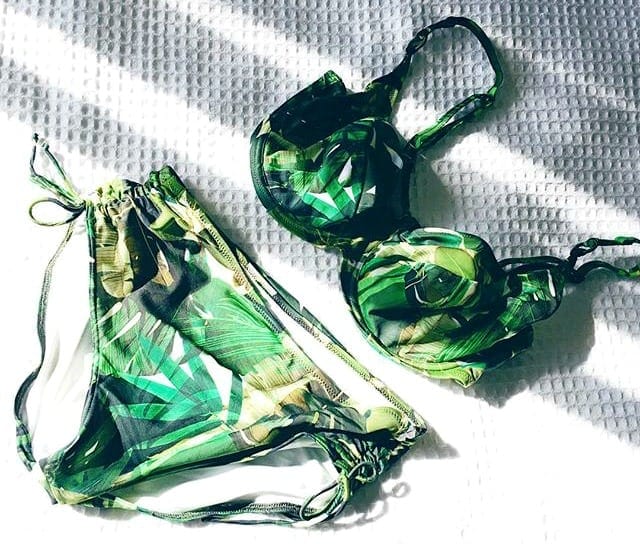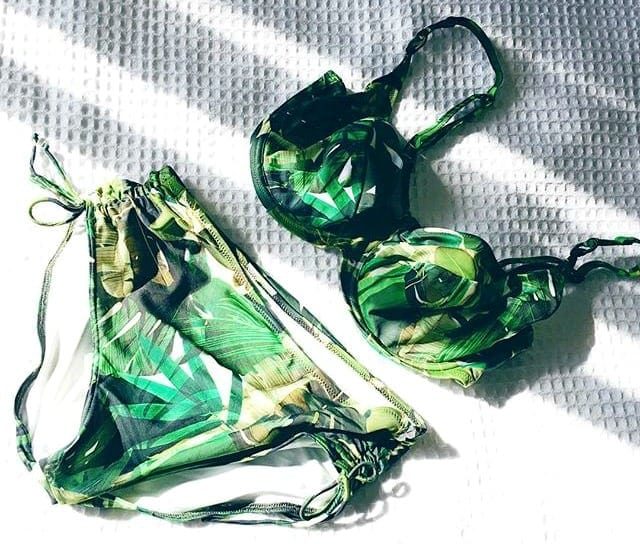 I may still look for a better black control swimsuit bottom to go with the Lands' End top, but otherwise I feel ready for summer.  I have the Fantasie Kuranda Balconette Top and Boyshort Bottom as my sassy sunning and funning swimsuit, and my Lands' End Beach Living striped tankini top to wear for playing in the ocean or pool with Emerson and being more active.  I'm ready to have fun in the sun!