This article may contain affiliate links; if you click on a shopping link and make a purchase I may receive a commission. As an Amazon Associate, I earn from qualifying purchases.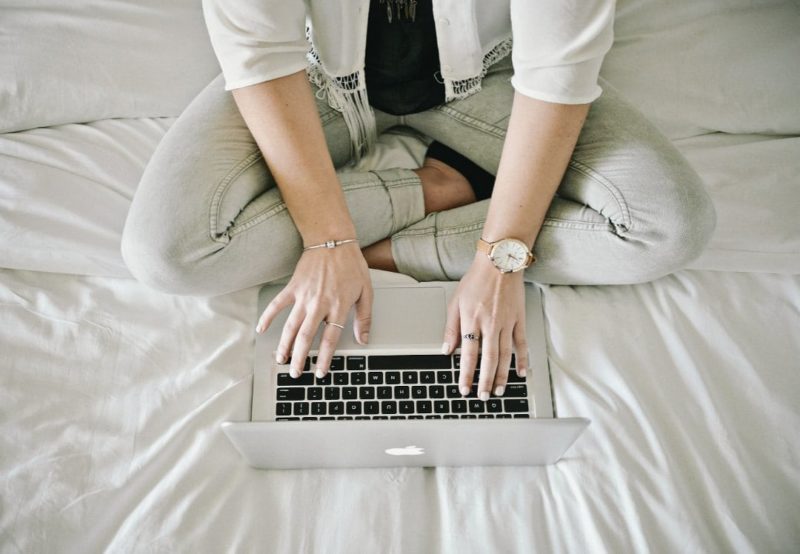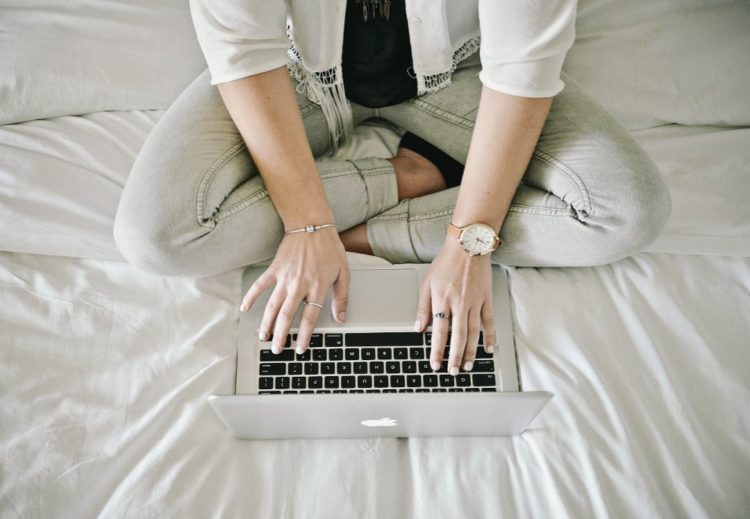 Per my blog post about taking a summer vacation from blogging, I promised to share how much I made in the month of August and would donate $100 for every $1,000 made.  Read July's recap at this link.
Site Traffic Results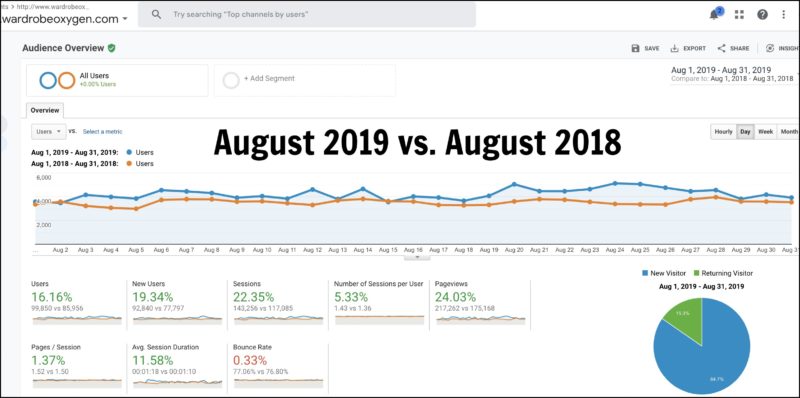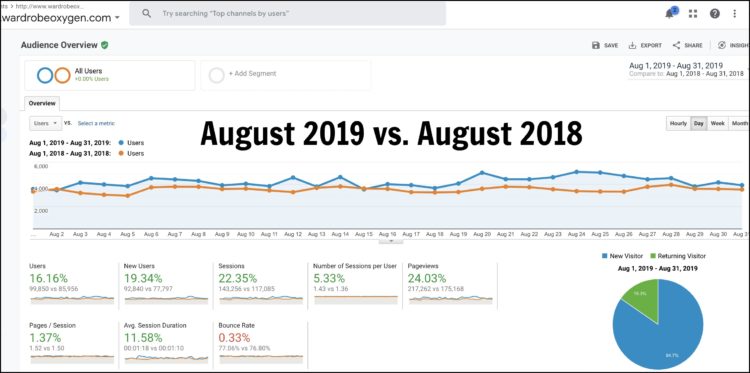 Traffic (which is the number of people who come and visit Wardrobe Oxygen) was up 16% to last August and up 0.45% to last month.  But August 2018 was up 18% to August 2017 and up 10% to July 2018 so I'm not thrilled with how August did.  But I brought it upon myself for a couple of reasons.
I didn't focus on fall. Lots of people joke about how bloggers jump the gun with fall.  It's the 4th of July and they're wrapped up in blanket scarves and wool hats.  But the way affiliate sales go, it makes sense to be early.  First of all, it usually takes at least three views or mentions of an item before someone makes a purchase.  If we get early on the fall looks, we're more likely to have time to get it ingrained in your head so you'll make a purchase just in time for you to wear it in the appropriate season.  Secondly, things sell out fast and you know it.  If you see a fabulous sweater, even in July, you will buy it and hold on to it to wear in October because of FOMO (fear of missing out).  Thing is, I feel inauthentic wearing wool in August.  I just can't show true fall clothes until September, it feels wrong to me (and feels miserable when shooting in the bright sun on a 115-degree day).  At the end of the month, I shared how to fall-ize a summer look; I should do more of this in August to balance the coming season with it still being hot as heck outside.
I didn't write enough content this August.  This year I had 20 posts in the month, last year I had 26.  That doesn't seem like a major change but that's more than one post a week lost.  The more often I post, the more often people visit the site.   Sure, I traveled a lot but I should have had more content in the queue ready to go.
I didn't have enough outfit posts.  Last August I had 10 outfit posts, this year I had only four.  I love taking pictures while on vacation but hate having to be photographed.  I like Karl shooting me, he goes click click click and I randomly move around and from the 500+ photos I'll find 5-10 I like.  But when I'm on travel, I often have to ask a stranger or someone who doesn't know me or "get" my job to take my outfit photo on my phone and it suuuuucks.  It's so awkward, they don't know what I'm looking for and to be honest I don't either because I don't usually shoot with my phone so it's either me thanking them for a photo that cuts off my feet and my eyes are closed or me being a control freak and making them do it over ten times.  So I usually just pass and wait to take a mirror selfie or find a place to set up my phone with a timer and no helpful stranger will interrupt and offer to take it for me.  I need to get over myself, work harder on having set poses and knowing my angles with a phone so I can get strangers to take my photo and have more content.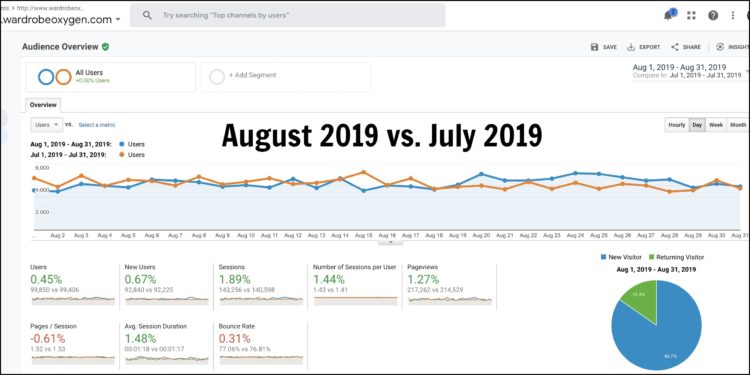 I saw August 20th to have the biggest change between 2018 and 2019 with that day this year being the highest traffic of the whole month.  I wanted to know what in the world I posted this year and last year that would cause such a spike.  I must say I wasn't surprised to find it was my post about the Amazon Nightgown.  As you'll see below, it was one of my top sellers for the month and I won't be surprised if it is also a top seller for September. Another thing that is lucrative but just doesn't feel right to me – regularly selling cheap fast fashion and viral trends.  Made in China fast fashion is regularly created by people, sometimes children, who are treated horrifically, paid terribly, and often are slaves.  The clothing is inconsistent with sizing and quality, the fit is usually so wacky that you need to size up and that also means it's not available to plus size women, it regularly falls apart before the end of a season, and often times cannot be returned.  Oh, and it's usually a blatant copy of an equally trendy piece from a designer. So yeah… I don't even know what to do with this kind of data.
I'm writing this paragraph the next day mulling over that data and I do have an idea – each month I'll review a size-inclusive piece that is reasonably priced and useful.  A dress you could wear to work or to church, a pair of pants or jeans, flats or loafers… something that is relatively universal and under $100 and if I can find it, under $50. I'll buy it, style it, and provide an honest review.  I'll strive to find quality pieces that can last more than a season, pieces I think worth the money no matter the price.  I ordered a couple of things this morning to see if any will be a good choice.  I think this will be a good balance – no crappy clothing that will go into the landfill or are blatant copies from designers but still a good price for your wallet.  We'll see how it goes.
Affiliate Revenue Recap
Traffic was up 16% this year, but affiliate revenue was down to last year.  This is the first month all year where revenue was down to last year.  As I mentioned above, I did fewer outfit posts and I think that's a big reason.  Outfit posts bring in the second most affiliate revenue of any kind of post I do, capsules being #1.  However, capsule wardrobes are a "slow burn" where they do well the month they're published but continue to bring in revenue for months and oftentimes years later.  Outfit posts go hard and then fizzle out after a few weeks.  This month I had four outfit posts and one semi-capsule (my travel wardrobe). If I had the same amount of outfit posts as last August or added in another capsule I would have had a financially successful month.
I also had a lot of content not focusing on sales.  A lot of my Weekend Reads went without a single affiliate link in them.  I wrote about this summer vacation, I wrote about our trip to Philly, I wrote a whole post about a 10-year-old t-shirt.  Fun to write, but not good for the bottom line.  I need to balance each fun post with a selling post.
Top Selling Items in August
I figured this would be helpful for such a recap post, plus it's also fun to see what other people are purchasing. This also gives insight into my affiliate revenue for the month.  Click this link to learn how blogs make money and more about affiliate revenue.
Sponsored Content Recap
I didn't do any paid content on my blog or social.  I did attend a trip with the intimates brand Soma; I will do a recap very soon.  The trip was mentioned in this article on CNBC and you can see me in the back row of the feature photo!
I was paid to do this mini capsule wardrobe and blog post for cabi. I wasn't paid to do any promotion for it, all promotion was done because I was proud of my work.  I wasn't paid for it, but I was interviewed for an article at Prevention about the best jeans; you can read it at this link.
August Ad and Affiliate Income Recap
Ad revenue is based upon traffic, but also how long people stick around on the site reading posts and clicking to other pages. Since traffic was up from last month, there was more ad revenue.  However, it wasn't a huge spike in traffic and therefore not a huge spike in revenue. This month wasn't as low as July for total income, but August is usually a bigger month than July when it comes to affiliate income.  All in all, it was a pretty disappointing month, but as I said above, it's all on me and I know better.
Please understand I am sharing the gross profit from the month of August from ad revenue and affiliate links.  This is before taxes, business expenses, and insurance. With the gross income made from affiliate and ad revenue, I was able to donate $900, 10% off what I made, to the charity of your choice.
August Charitable Donation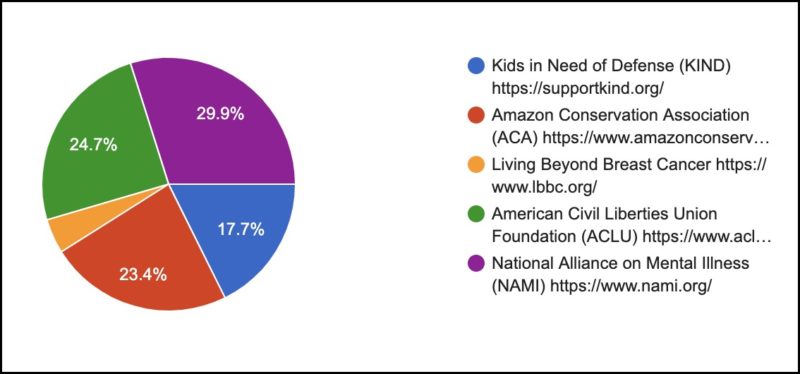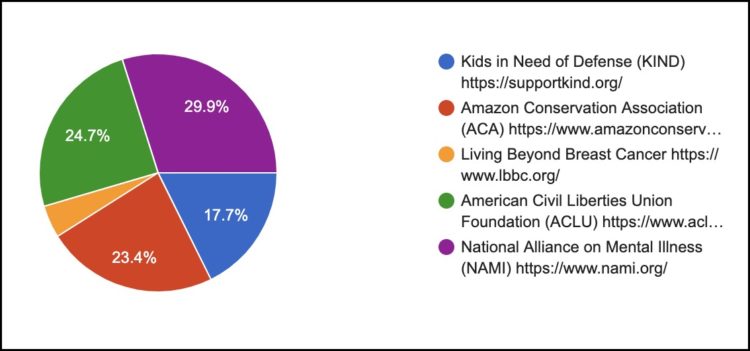 I opened this survey at 6 am ET on Saturday, July 31st.  By 10:15 pm last night I received 1,239 votes.  This month was a much closer competition with the ultimate winner The National Alliance on Mental Illness (NAMI).  I am not surprised considering all the horrific domestic terrorist shootings this year.  As an FYI, based on feedback from the past charitable survey, I only went with 4-star charities per Charity Navigator and there aren't any for gun safety or regulation.  I am thrilled to be able to give NAMI this donation which will help support millions who face mental illness on a daily basis.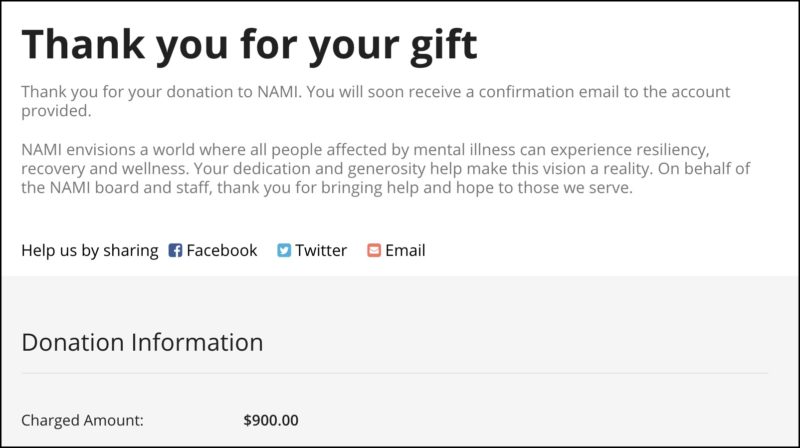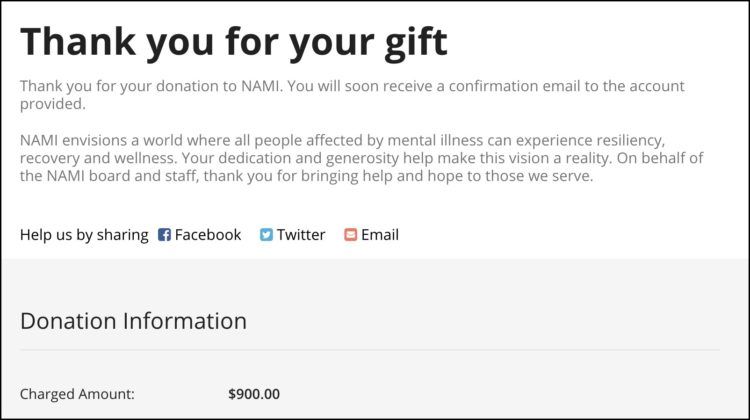 The second-place charity is the ACLU so it will be included in the possible winners for September.  While I won't share actual numbers after this month, I will continue to let you vote on the recipient of the charity for each month.  I donated to charities each month before this "summer vacation" but never before thought to involve you.  This will change.  And please continue to share your suggestions on which charities I should consider.
This "summer vacation" was not at all good for my wallet, but it was good for my soul.  I didn't spent my entire vacation focused on work, I gave myself some breathing room to be able to see the whole business more clearly.  I loved being able to include all of you into the business and the charitable donations.  I feel refreshed and ready to bring out some amazing content for the last quarter of 2019.  Thank you so much for your support!