This article may contain affiliate links; if you click on a shopping link and make a purchase I may receive a commission. As an Amazon Associate, I earn from qualifying purchases.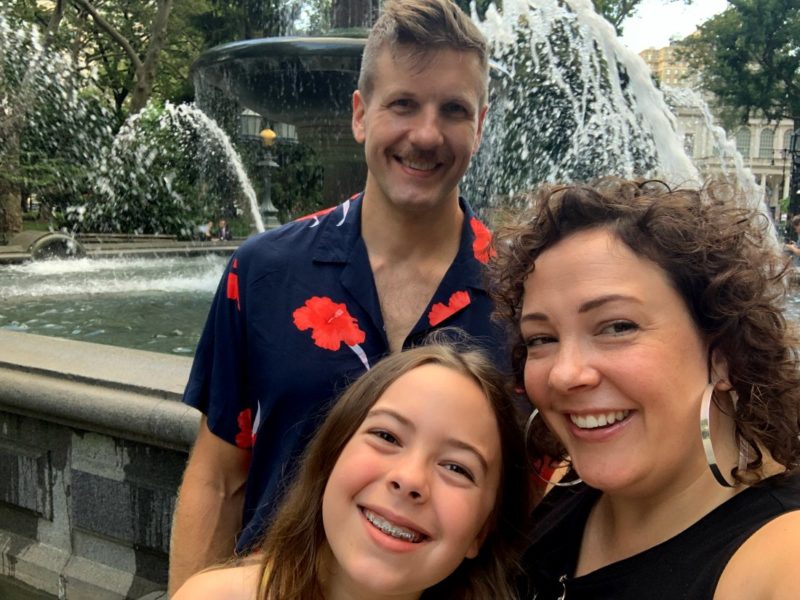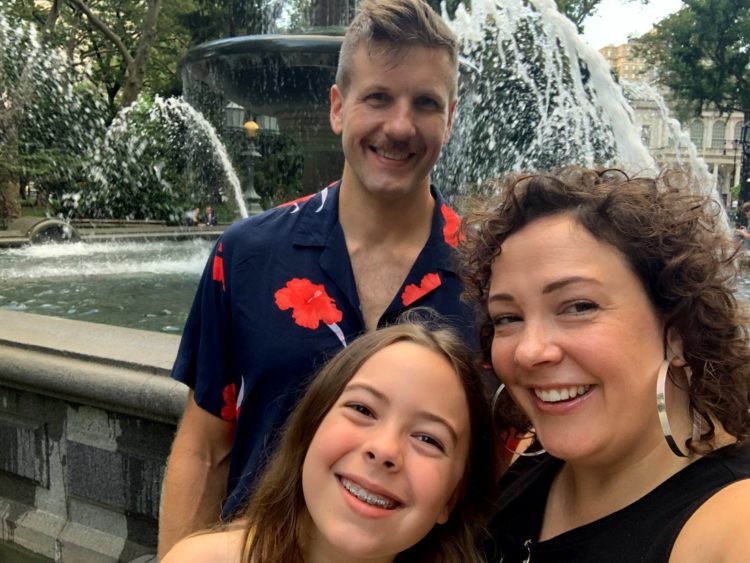 It's been a bit since my first post about our summer road trip, but that's typical for the end of the summer. It's a blur of cookouts, Labor Day parades, and next thing you know the kids are back to school and you're wearing sweaters and closed-toe shoes. But the memories from our two-week summer vacation remain and I want to share the second part of the trip – quick visits to New York City and Boston.
Visiting New York City
After our visit to Philadelphia, we drove up to New York City. As a family, we try to visit The Big Apple at least once a year. As a child, we had family that lived in Brooklyn and we visited New York City on a regular basis. By high school, all that family had moved to other states and I didn't visit again until after college. Living only a few hours from it, I want my daughter to appreciate and know the city, at least a little. Last year, we stayed near Times Square. This year, we decided to stay in Lower Manhattan to get familiar with a different part of the city.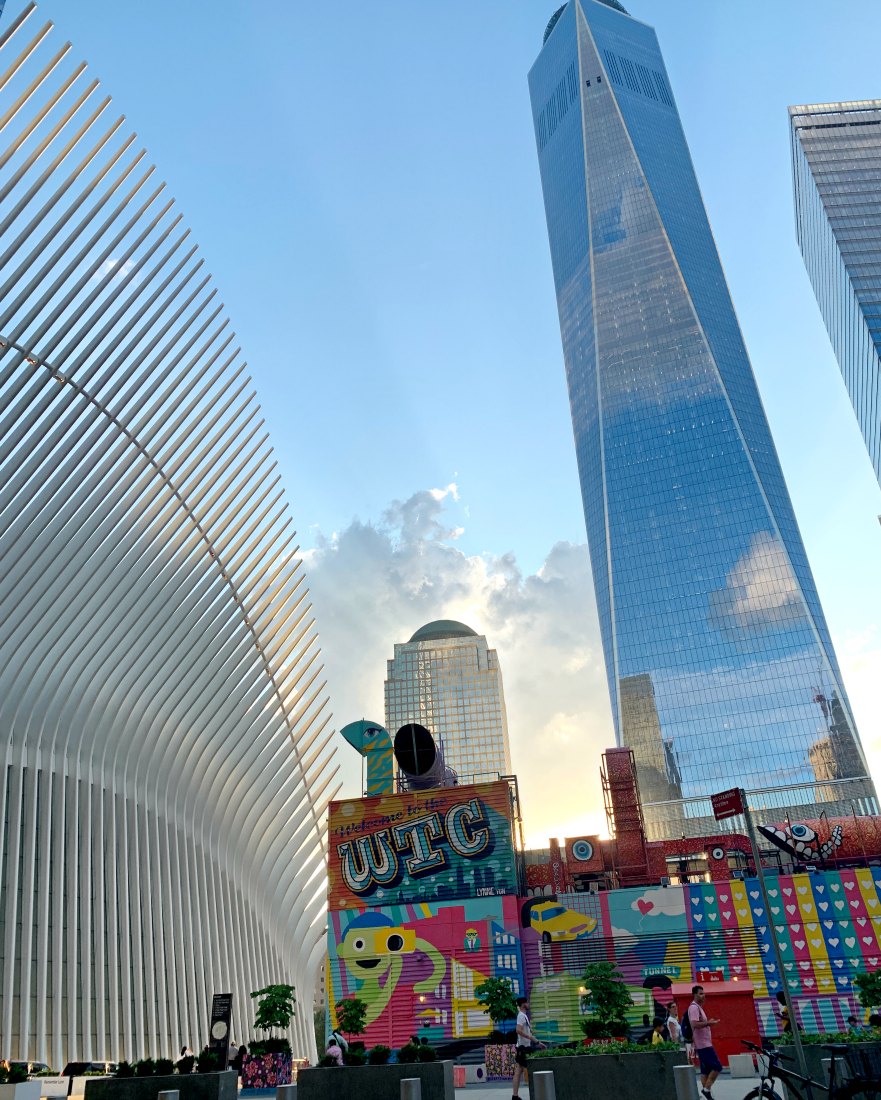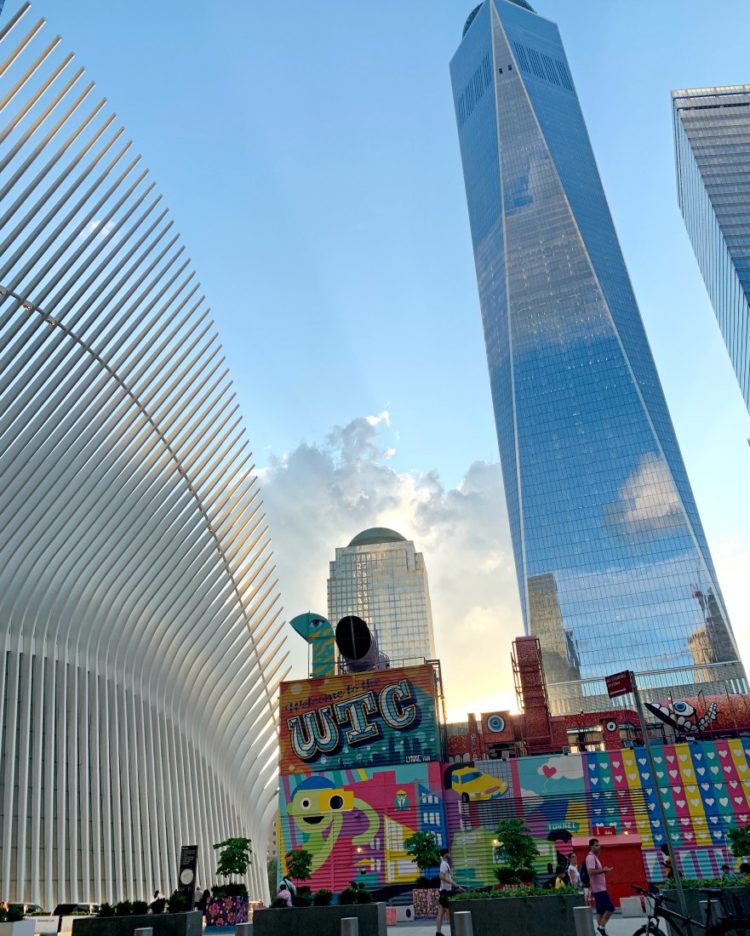 Staying at the New York Marriott Downtown
We stayed at the New York Marriott Downtown and I can't recommend it enough. The hotel is recently renovated, we had a corner room with the most spectacular views of the Hudson River, 9/11 Memorial, and more. It is not the cheapest hotel, but after all my stays in New York I think this was the best value for money spent.
Travel Tip: All those free hotel points programs? Join them. Even if you only travel once a year, they pay off. After many years of being part of the Marriott loyalty program, I earned enough points to get one night at this hotel for free and they said because I was a member we got this corner room!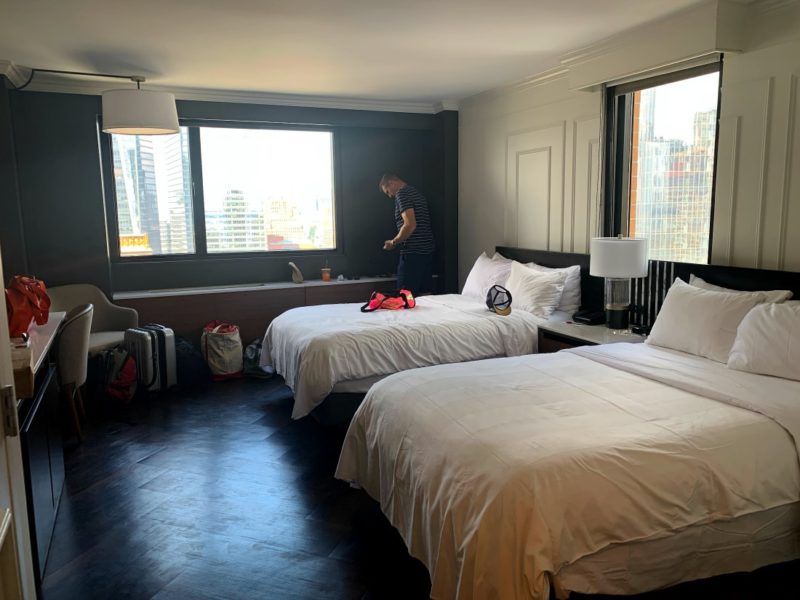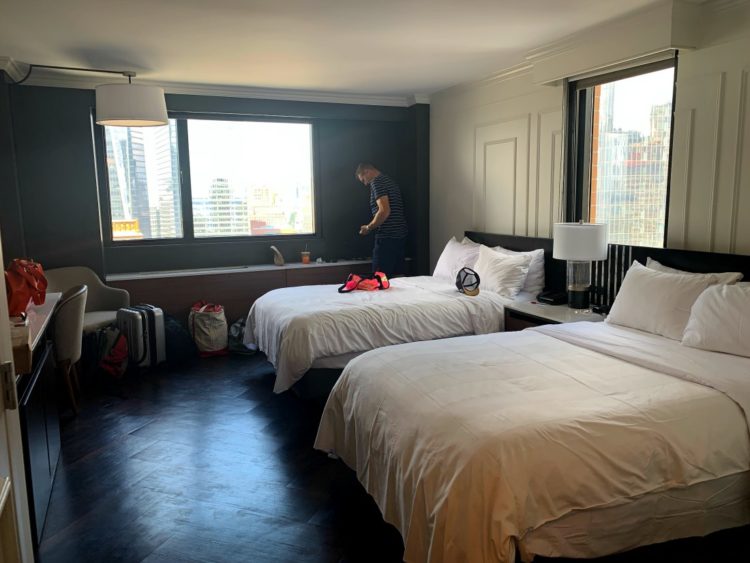 The gym is huge with every machine you could desire. They have a restaurant (which is great if you like burgers but not great if you're trying to eat healthy or have a family member who is vegan) and a Starbucks, valet parking (expensive, but only a hair more pricey than parking yourself a couple of blocks away), and a fabulous staff that offers great advice, doesn't look down their noses at tourists, and will go above and beyond to ensure you have a wonderful time.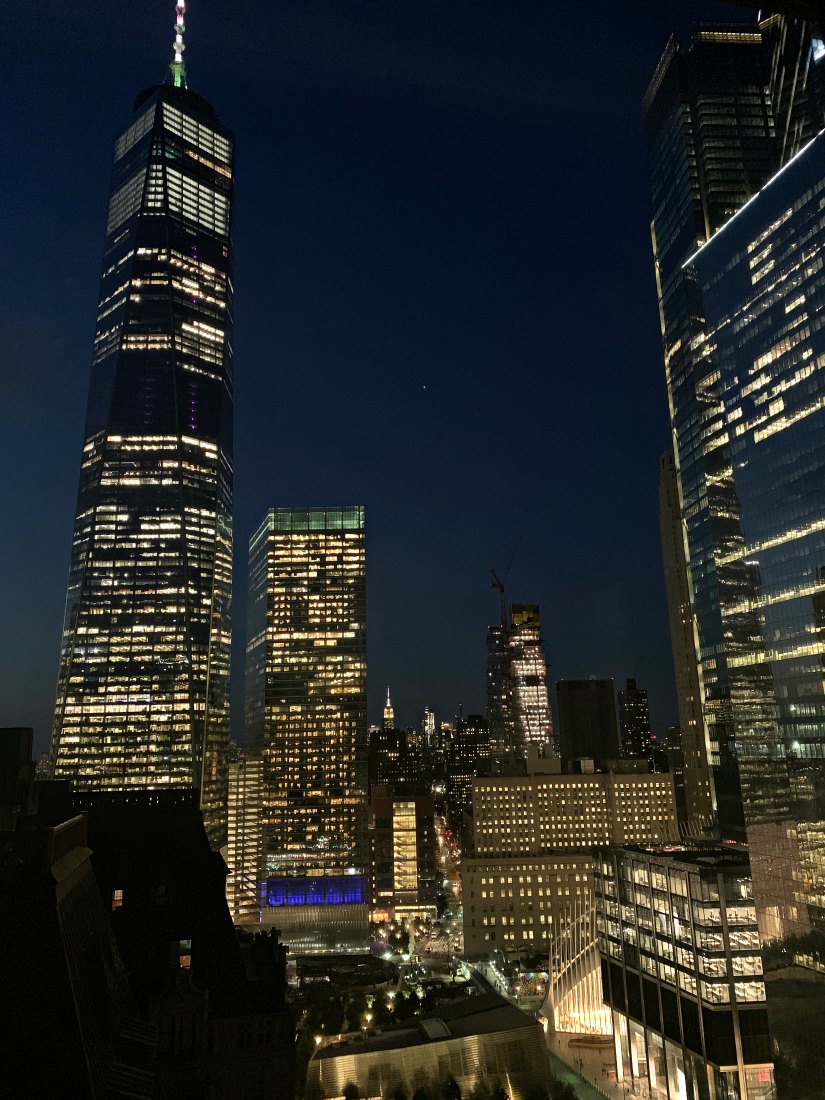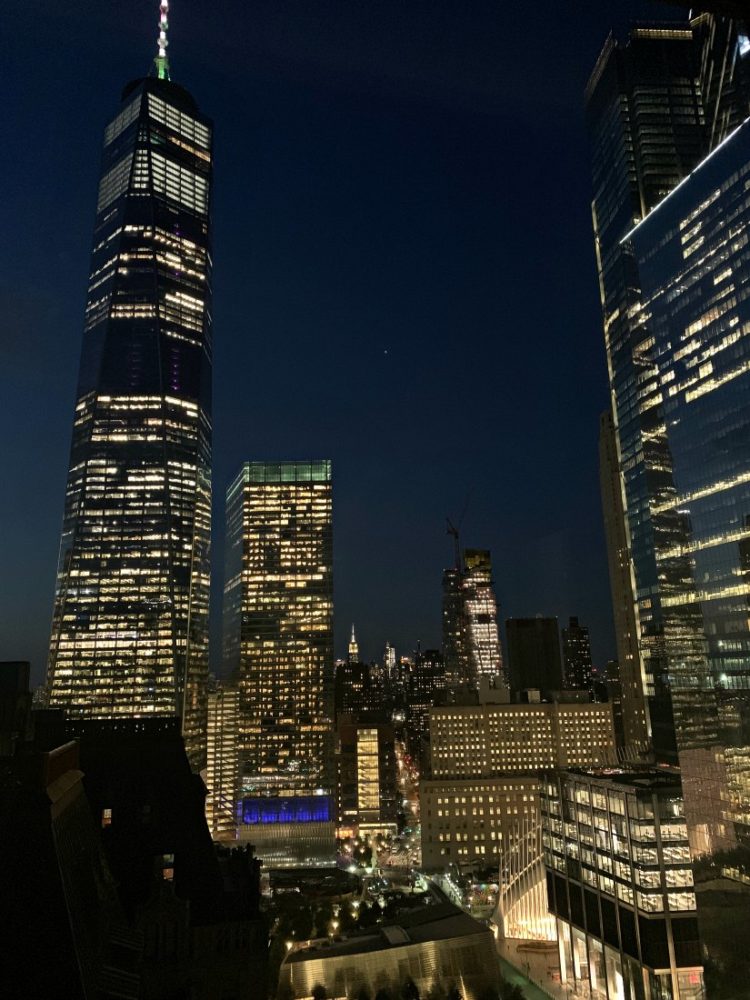 We stayed for two nights, so only had one and a half days in the city. We asked our daughter what she wanted to do while in New York and she immediately screamed, "Coney Island!" I hadn't been to Coney Island since I was her age or younger; my husband had never visited. For this trip we had our car so we decided to put it on the agenda. Coney Island was a very easy 30-minute drive from our hotel; even if you don't like driving in a strange city this is an easy to manage trip with Waze by your side. We found street parking without a problem (it was a weekday around 10:30am which helped).
Visiting Coney Island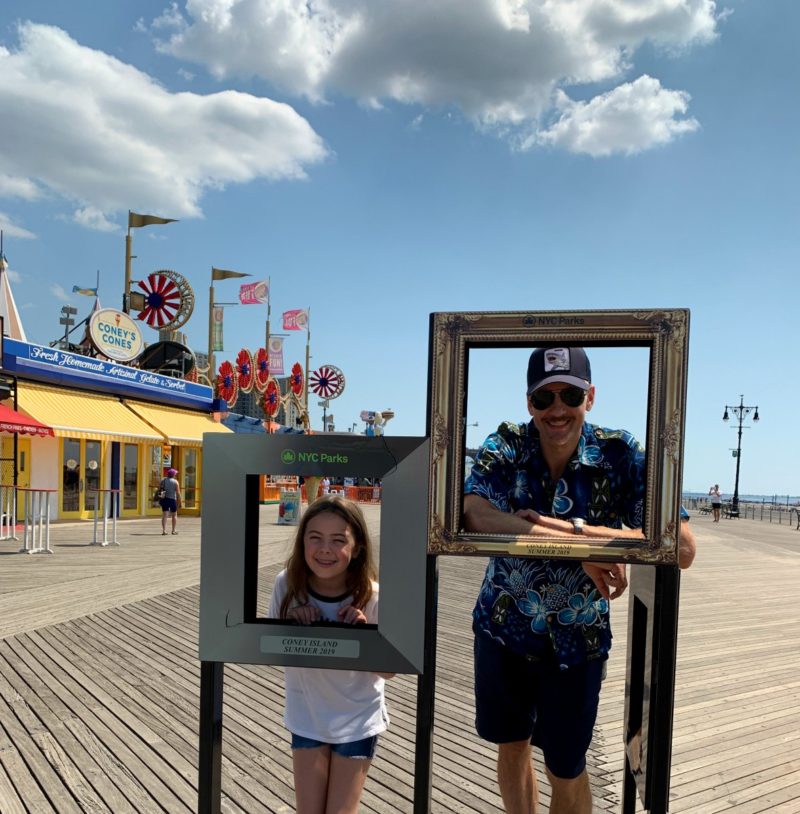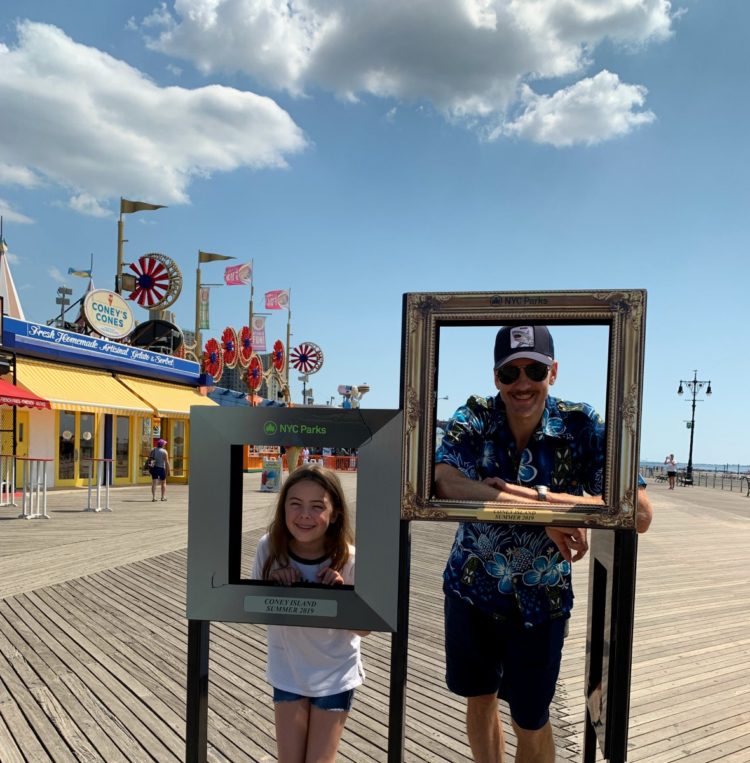 Coney Island seems far more exciting and magical and… large in movies. Reality, it's closer to a large carnival that rolls into town than Six Flags. But it's still exciting to visit, especially with kids. There are separate sections of Coney Island, know this when you go to buy "tickets." Instead of paper tickets, you receive a plastic card and it is scanned at each of the games.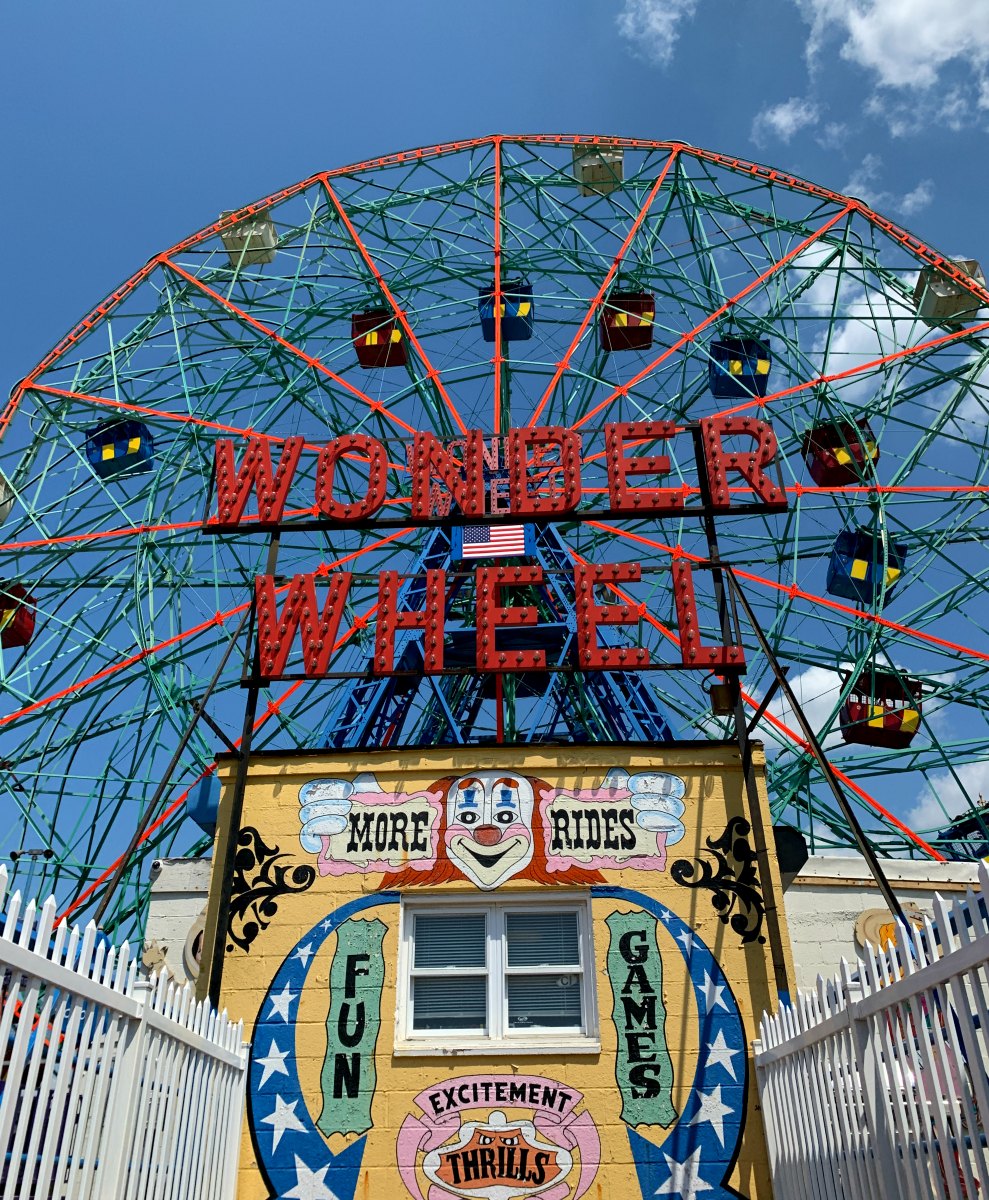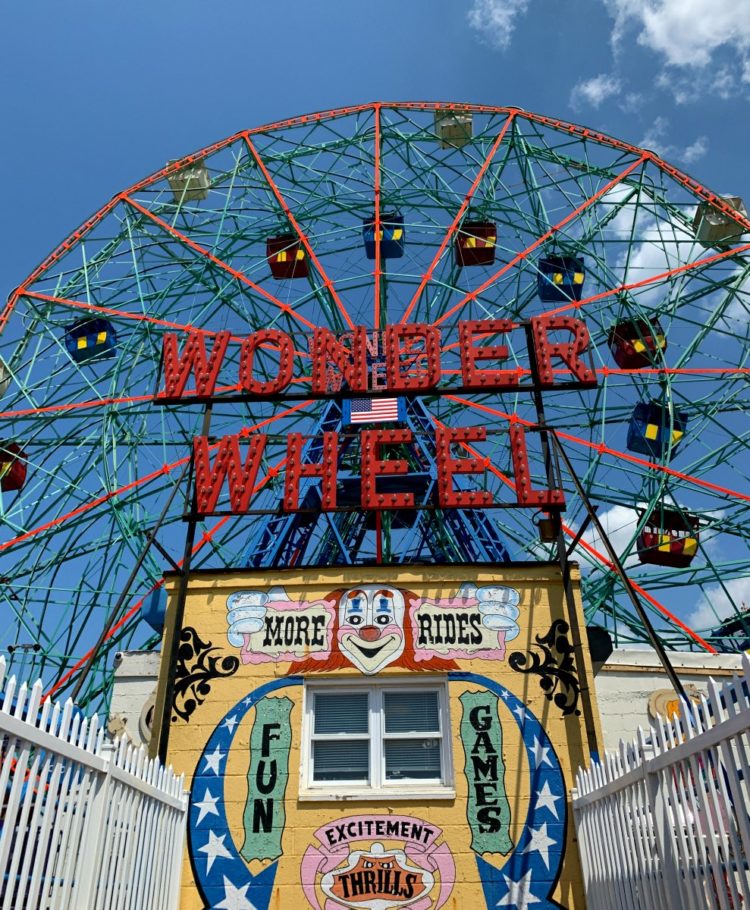 The Wonder Wheel, which is the iconic Ferris Wheel at Coney Island, is in the same section as smaller-kid rides. If you don't plan to ride any rides with little kids, be sure to only get enough tickets for the Wonder Wheel and then get tickets at the section with the roller coaster. I say this because we didn't realize this and ended up with extra tickets and our daughter was too grown for any of them except the Tilt-a-Whirl, which we rode twice to use up our tickets.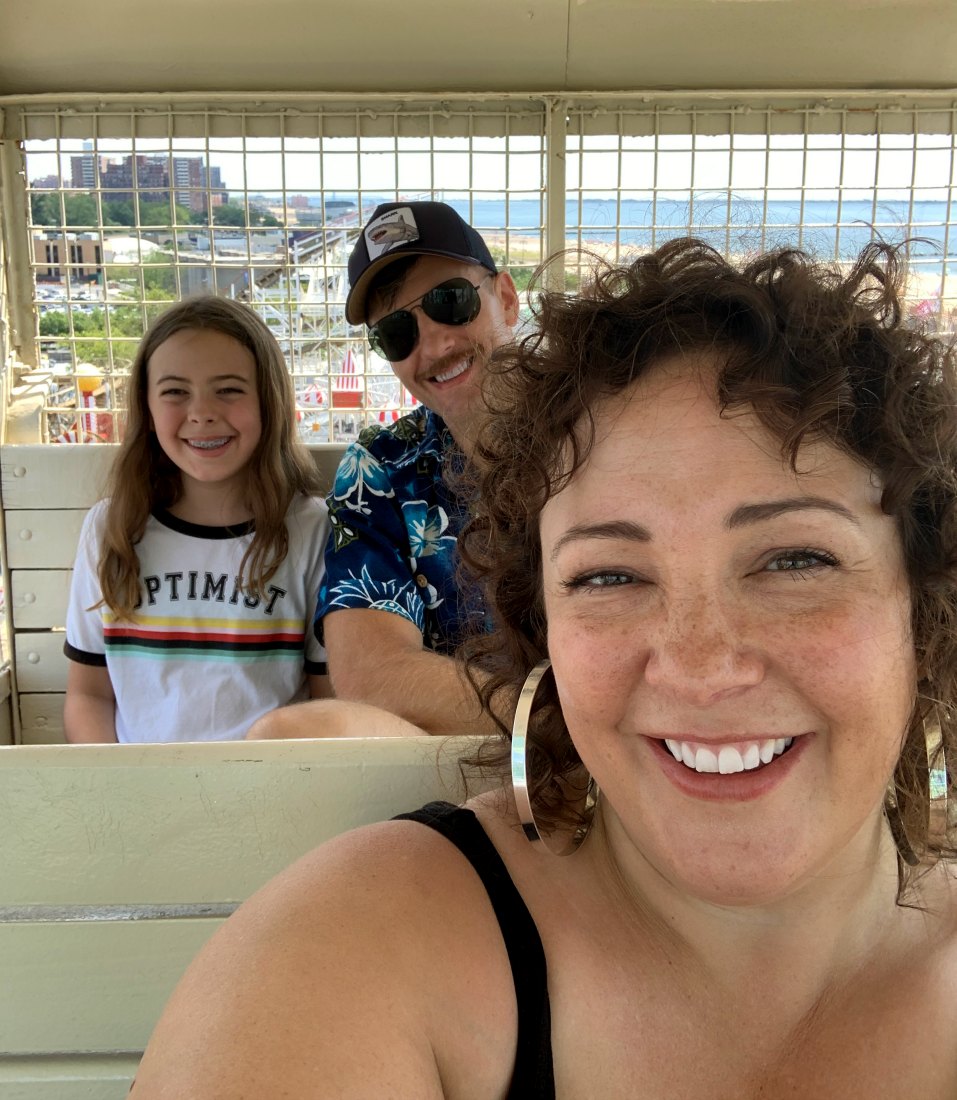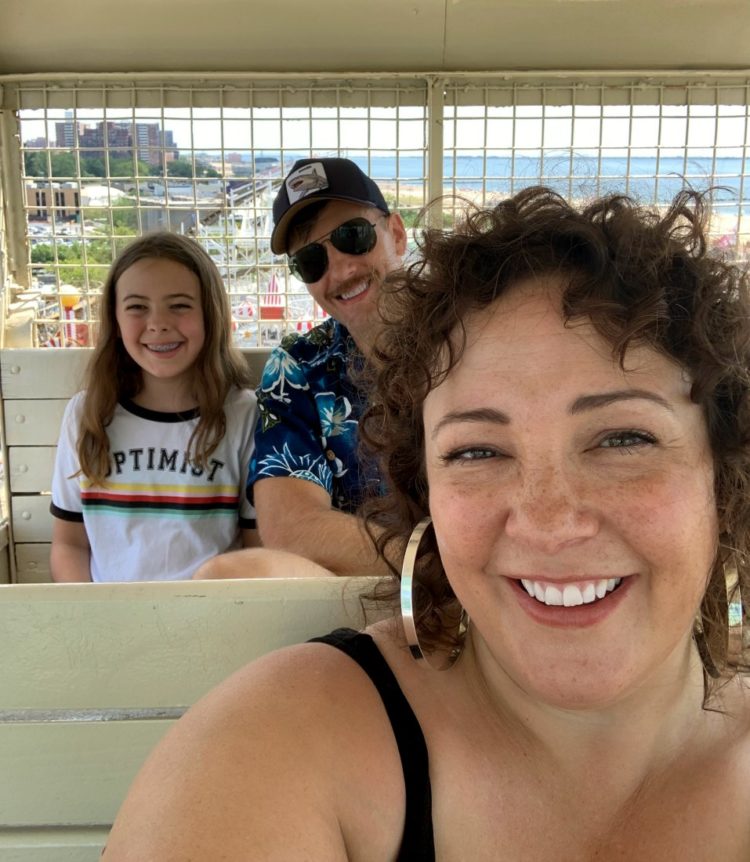 If you're into roller coasters and hot dogs, Coney Island is amazing and can be an all-day adventure. If you're timider and want a different diet, Coney Island is a great visit for maybe two hours max. If the weather is nice, you may wish to consider enjoying the beach along with the rides; the day we went the beach wasn't too crowded and not grody like I recall from my childhood.
What to Do in Lower Manhattan
If you've spent most of your time in NYC around Times Square, Broadway, and Central Park; Lower Manhattan is a refreshing change. The pace is slower, there are few tourists, there seems to be a lot more breathing room and nature.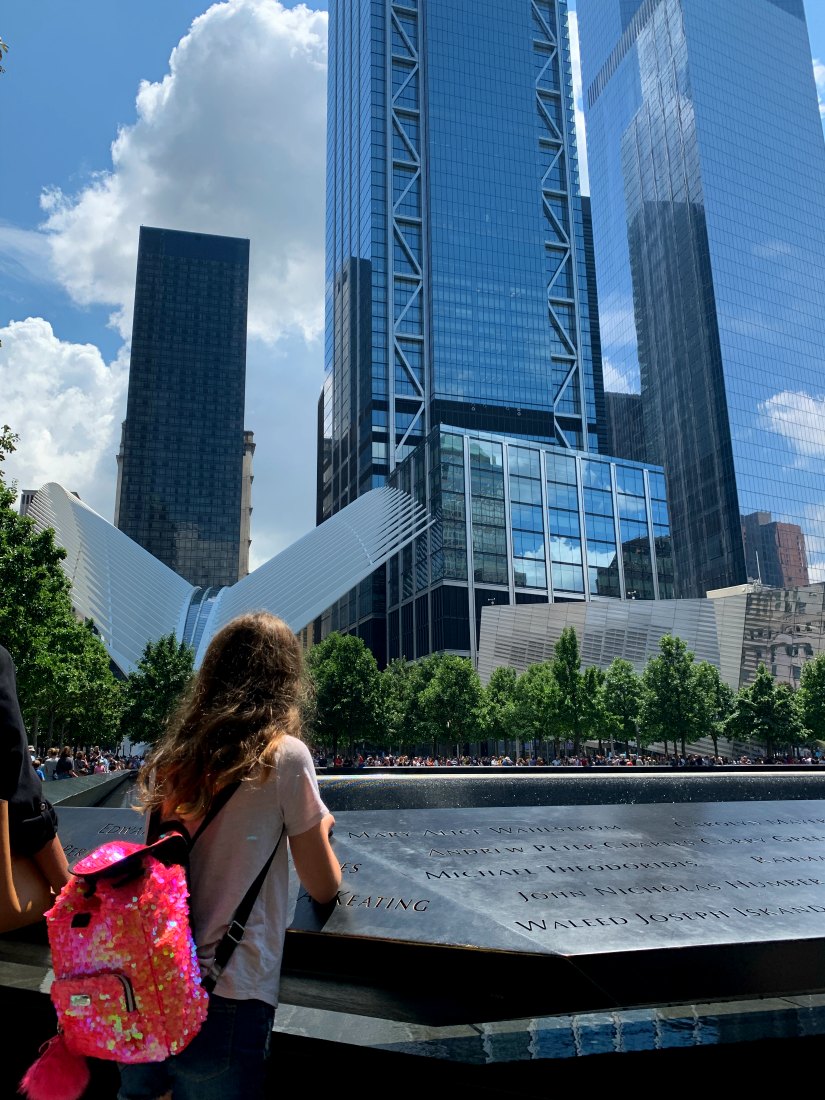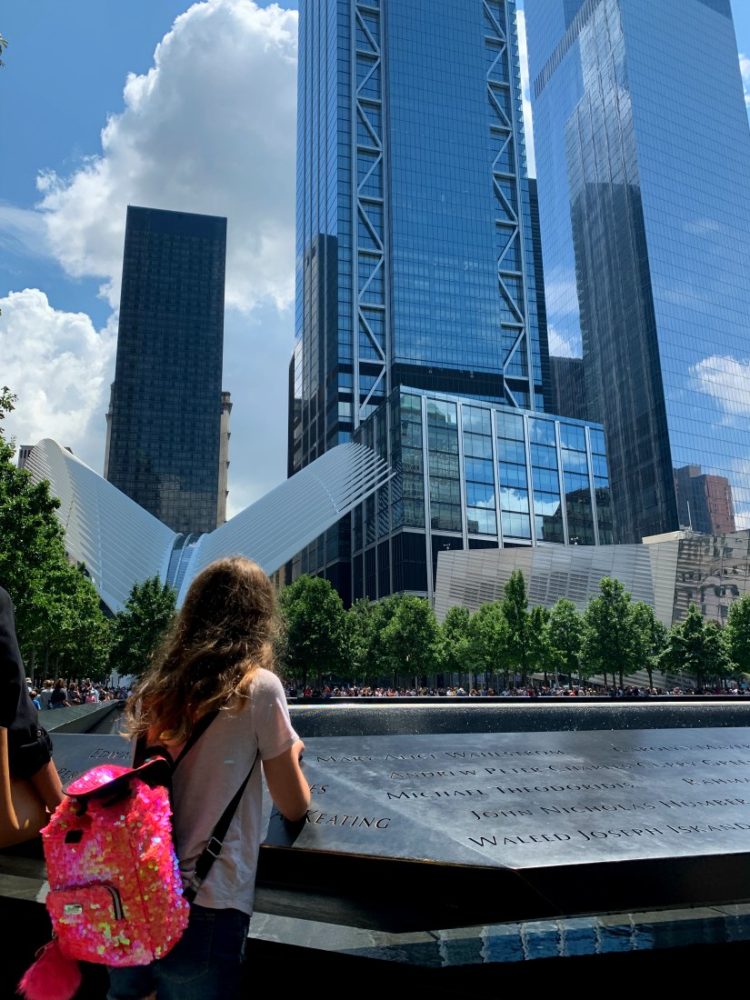 From our hotel, we visited City Hall Park, Zuccotti Park, walked along the water and had lunch al fresco, walked to the Brooklyn Bridge, through the Financial District, and visited South Street Seaport. Our hotel was right next to the 9/11 Memorial which is heartbreakingly beautiful. There is plenty of shopping at The Oculus and Brookfield Place as well as within the buildings of the World Trade Center.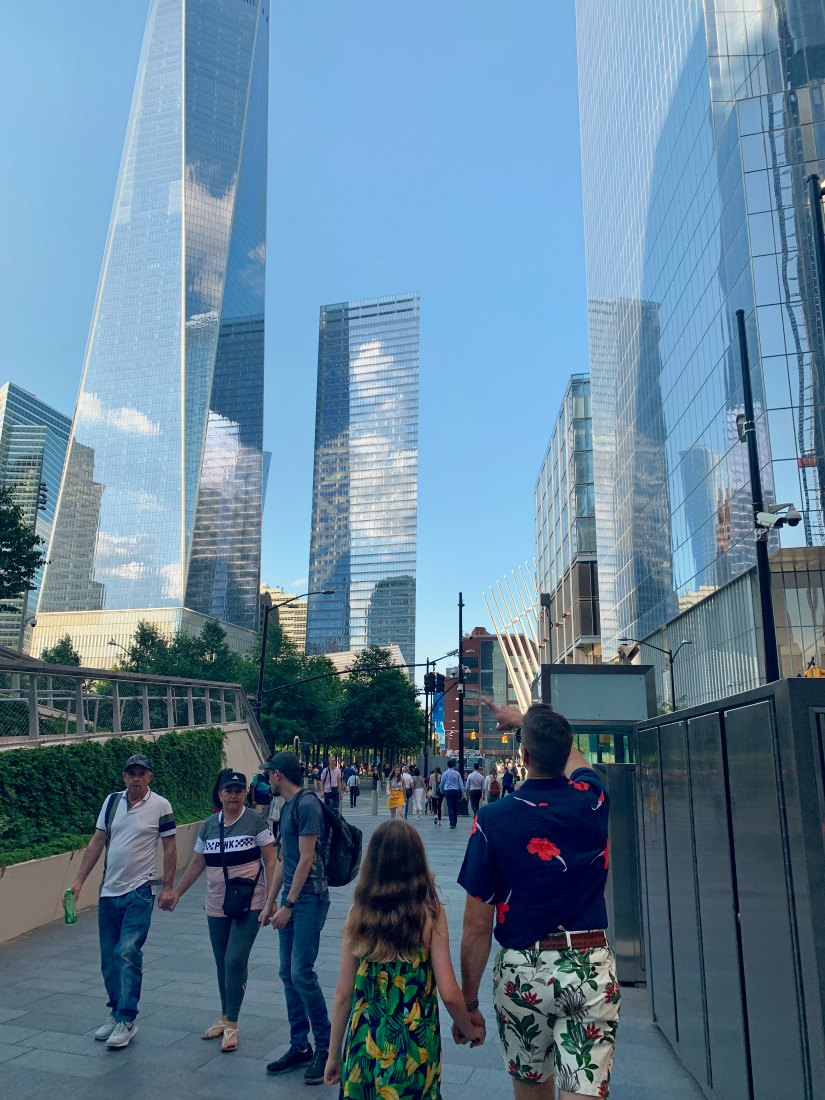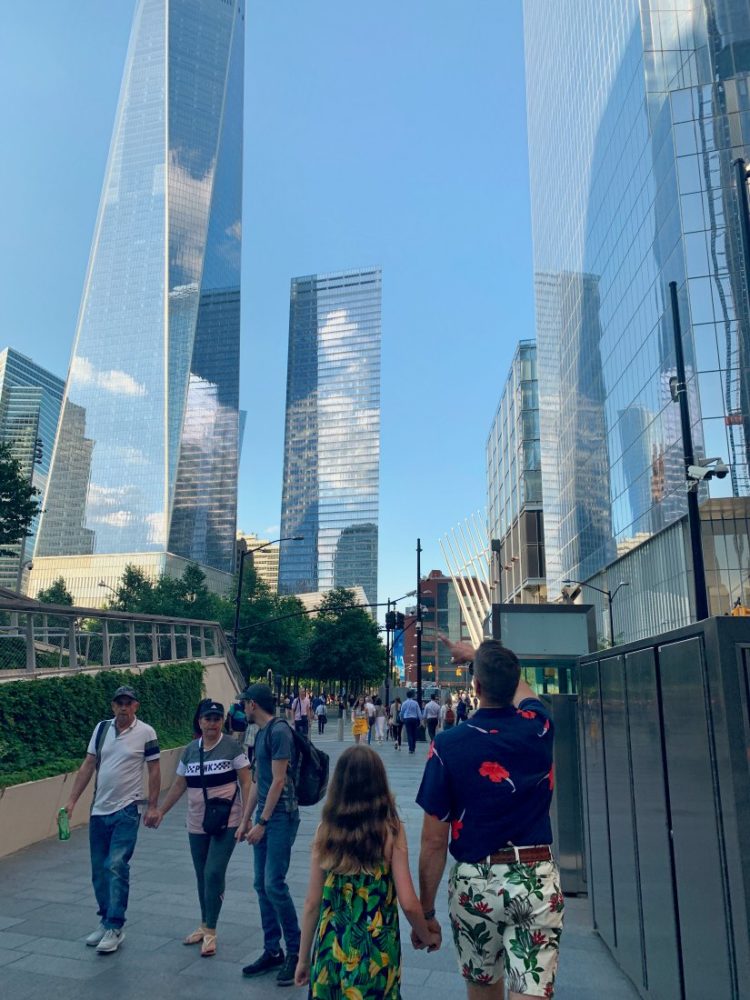 Where to Eat as a Family in Lower Manhattan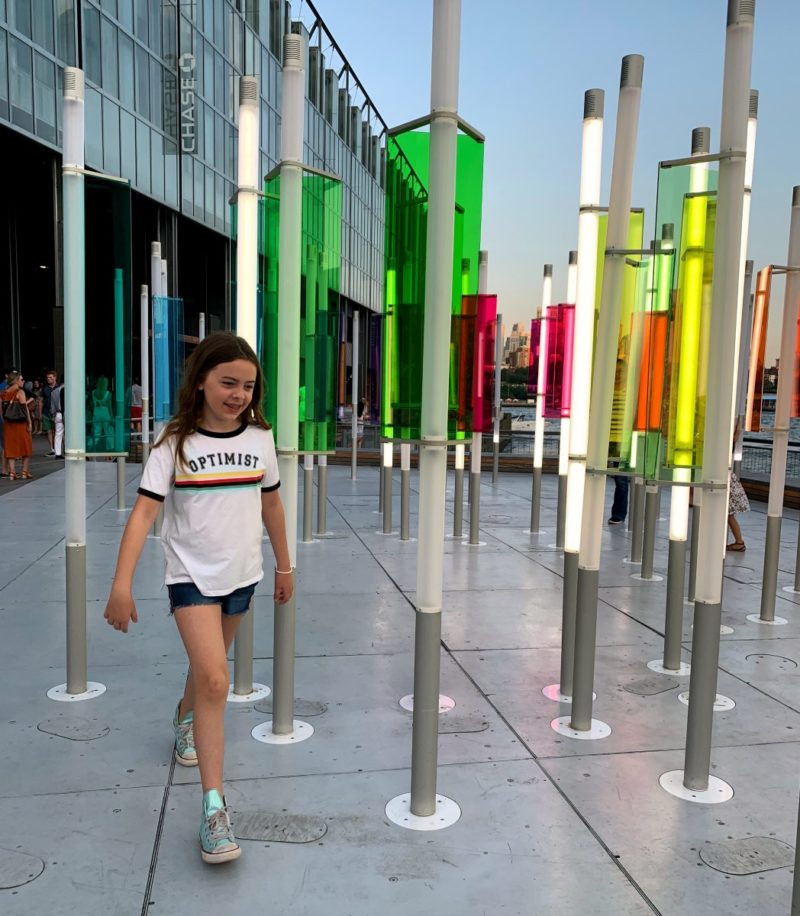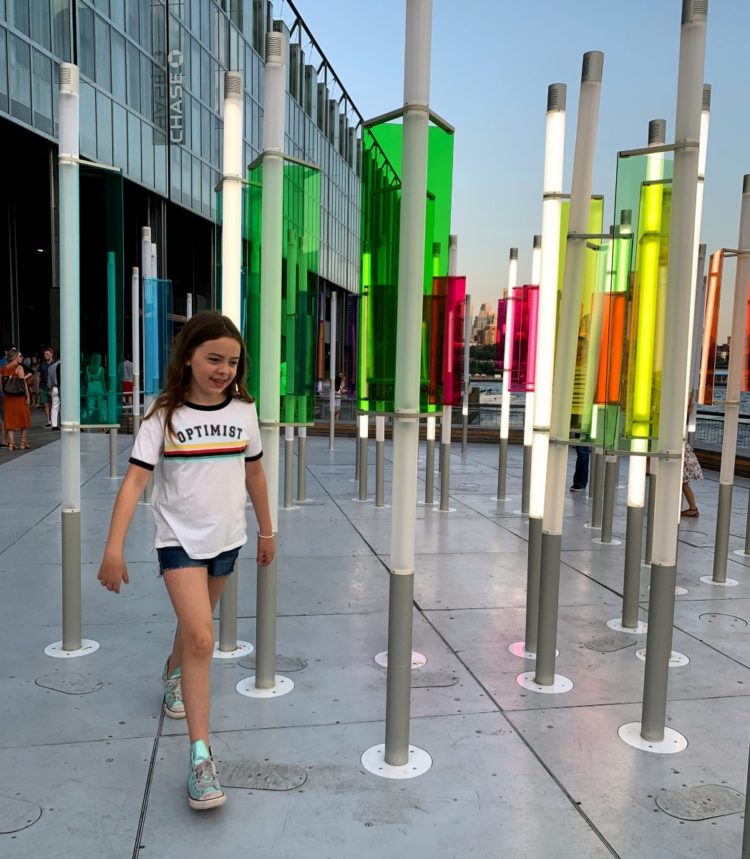 Lower Manhattan is less touristy, so you're not going to find as many dining choices, especially late at night or for breakfast. However, we had some wonderful meals during our stay and learned of many others: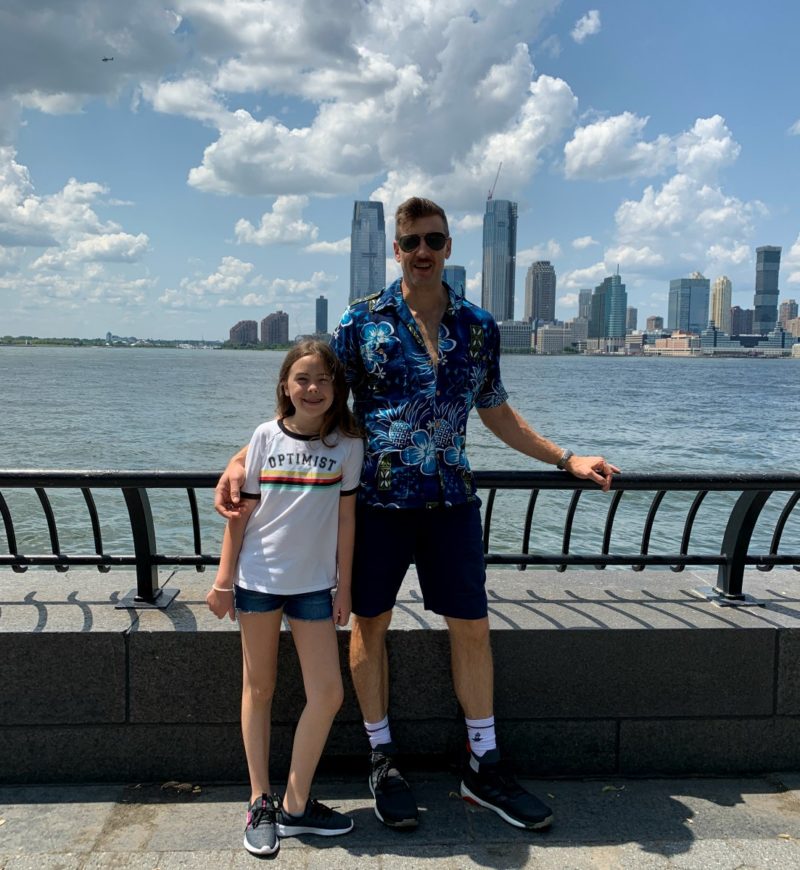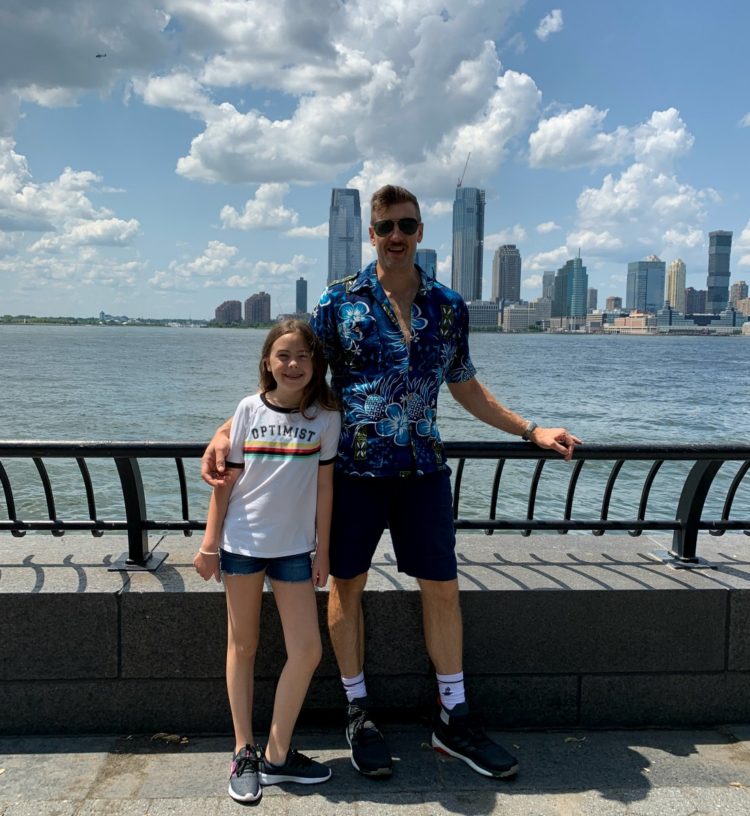 For all the times I've been to New York, I never before explored Lower Manhattan. I am so glad we did. New York City is seen in a certain way on TV and in movies, but it's such a large city with so many different aspects to it. It feels worlds away, but is a quick subway ride to Midtown. We're so glad we decided to stay here and can't wait for our next visit to the Big Apple.
Visiting Boston
Our vacation centered around the last week up north; we knew we wanted to visit New York City and I just used a map to plot out the rest. I was psyched to see that Boston was a comfortable day's drive from New York, and a comfortable drive to our final destination. I hadn't been to Boston since college and my husband hadn't been since 2001. Our daughter had learned so much American history in 4th grade it seemed like it made sense to visit both Philly and Boston on this trip and have her see things she only read about the year prior.
Okay, total transparency here. When planning our Boston part of the trip, I was extremely busy and distracted. I had several browser tabs open to find the best rate with good reviews, near good places. TripAdvisor, Google, blogs, and more. I thought I found an INCREDIBLE deal on a hotel room. Decent reviews, great price, even had a POOL! I booked it. I didn't realize until we were eating our last breakfast in New York and I was pulling up Waze to see the trip to Boston that I booked a hotel room… that wasn't in Boston. My breakfast at George's was salty enough, it didn't need my tears falling in it. My husband said no worries, we'll make the best of it. And you know what? If I could do it again I would. It was one of the best accidental decisions I've made.
Staying at the Hotel Indigo Boston – Newton Riverside
We stayed at the Hotel Indigo Boston, and in parentheses, Newton Riverside. Reviews said it was safe, clean, had a huge pool, a good restaurant, but the pool atmosphere, room layouts, and staff left something to be desired. I was willing to accept all that for what I thought was a STEAL in downtown Boston. However, the Hotel indigo was in Newton, Massachusetts which was a half-hour drive from Boston Common. I would not recommend this hotel, but it's not dreadful. The room was smaller than the one we had in NYC, the shade was broken, there was no room fridge, no hooks or bars for towels in the bathroom, the beds were terrible, the room was either freezing (and noisy from the awful A/C) or hot. The staff was nice, the lobby quite lovely, the place was clean and felt safe, the restaurant looked nice though we didn't eat there. Plenty of free covered parking. And yes, there was a big beautiful pool but it also seems to double as the local nightclub. People not staying at the hotel pay to use the pool. There are chair and cabana service and a bar, pop music playing on speakers, and about 20 minutes after we arrived so did a few couples who proceeded to do shots and make out and grind on one another in the pool. The cabanas were all empty yet roped off and needed paid reservations to use; there weren't enough chairs for the rest of us. We families staying at the hotel with kids and goggles and pool noodles were NOT comfortable and ended up rolling out after less than an hour.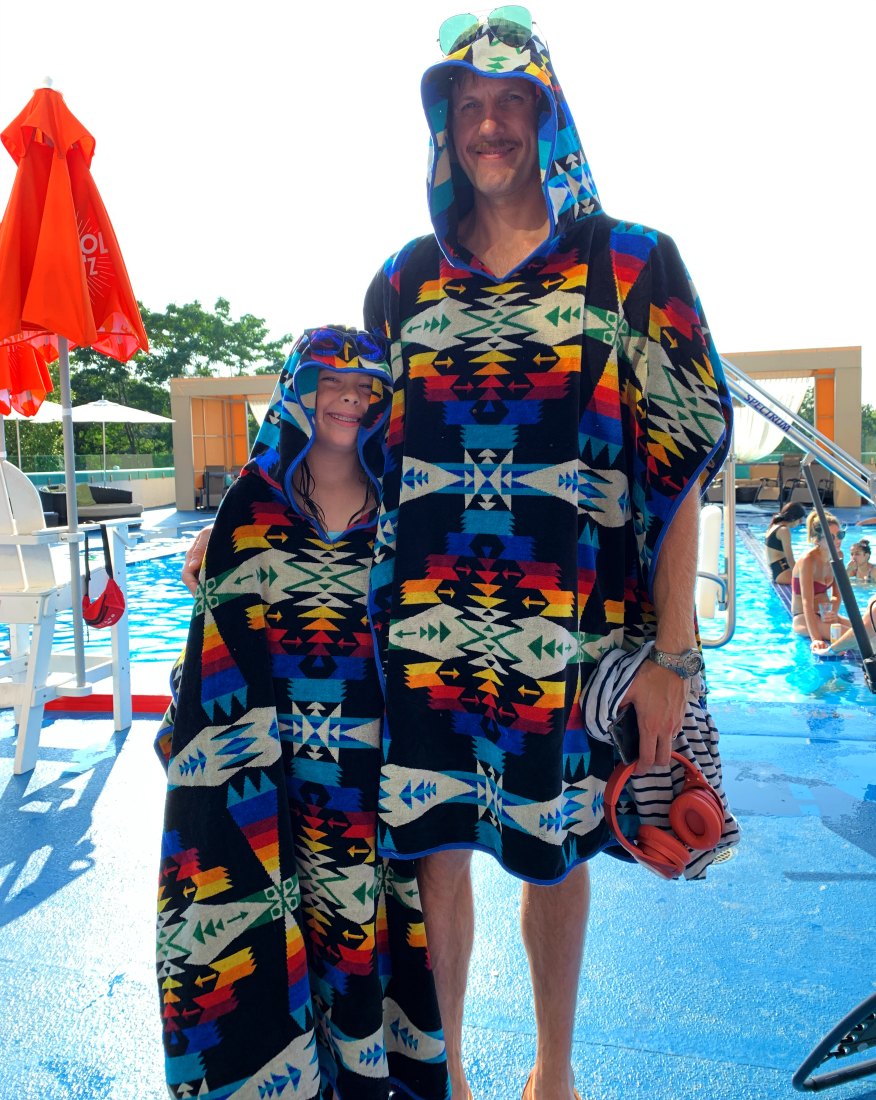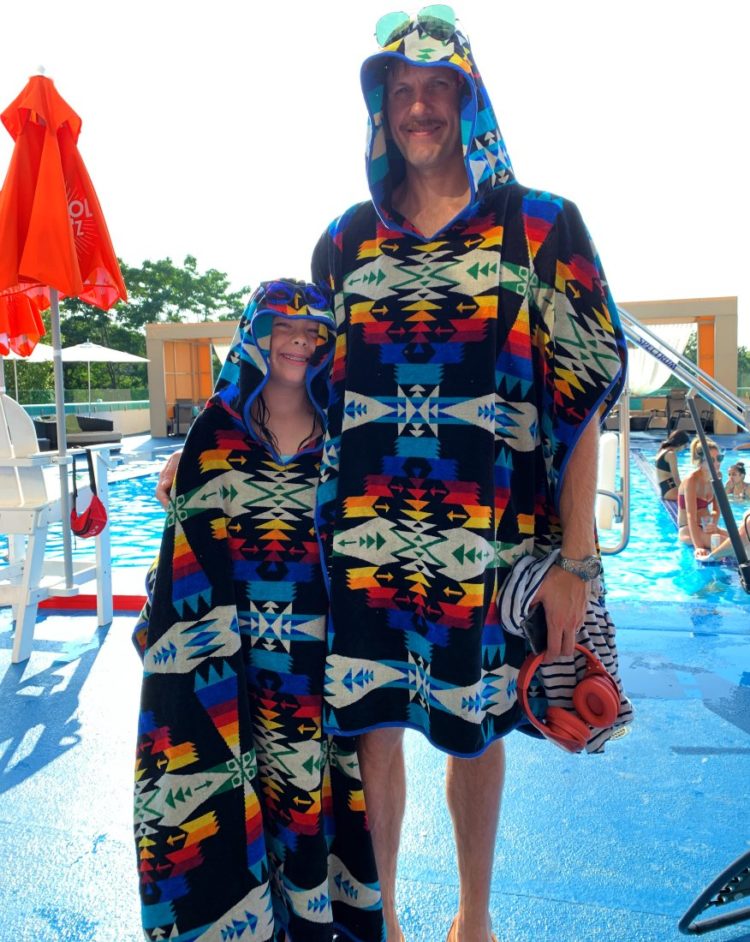 That being said, if you plan to visit Boston I recommend staying outside the city. Our cousin also went to Boston with her family this summer and did the same. Her hotel was right down the street from the subway and they took that into the city each day. We found it a very easy drive even during rush hour, and it was easy to find a parking lot near Boston Common. When staying in a city, it's not just the room that costs a lot but the meals and the parking. Staying in Newton and choosing to eat almost all our meals there saved us hundreds.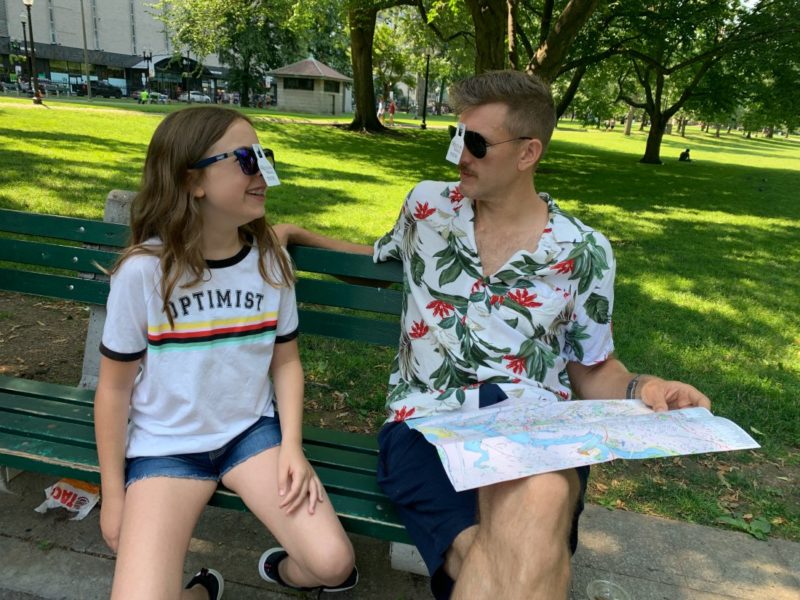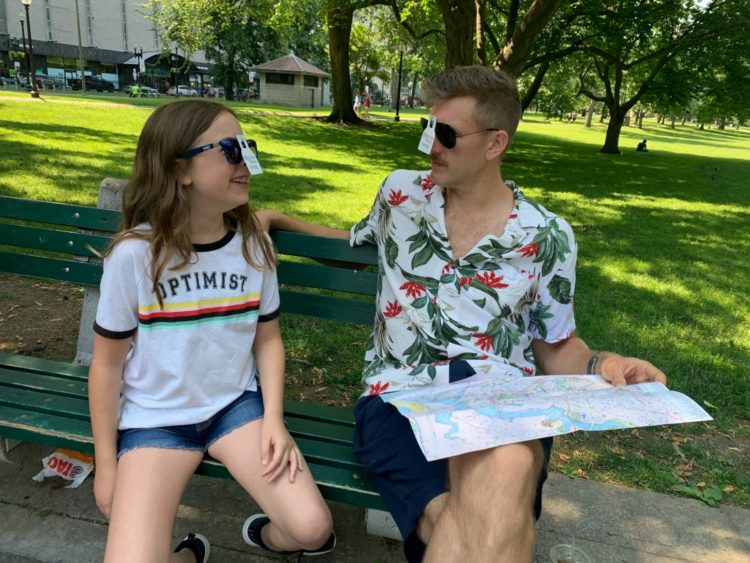 One Day in Boston – What to See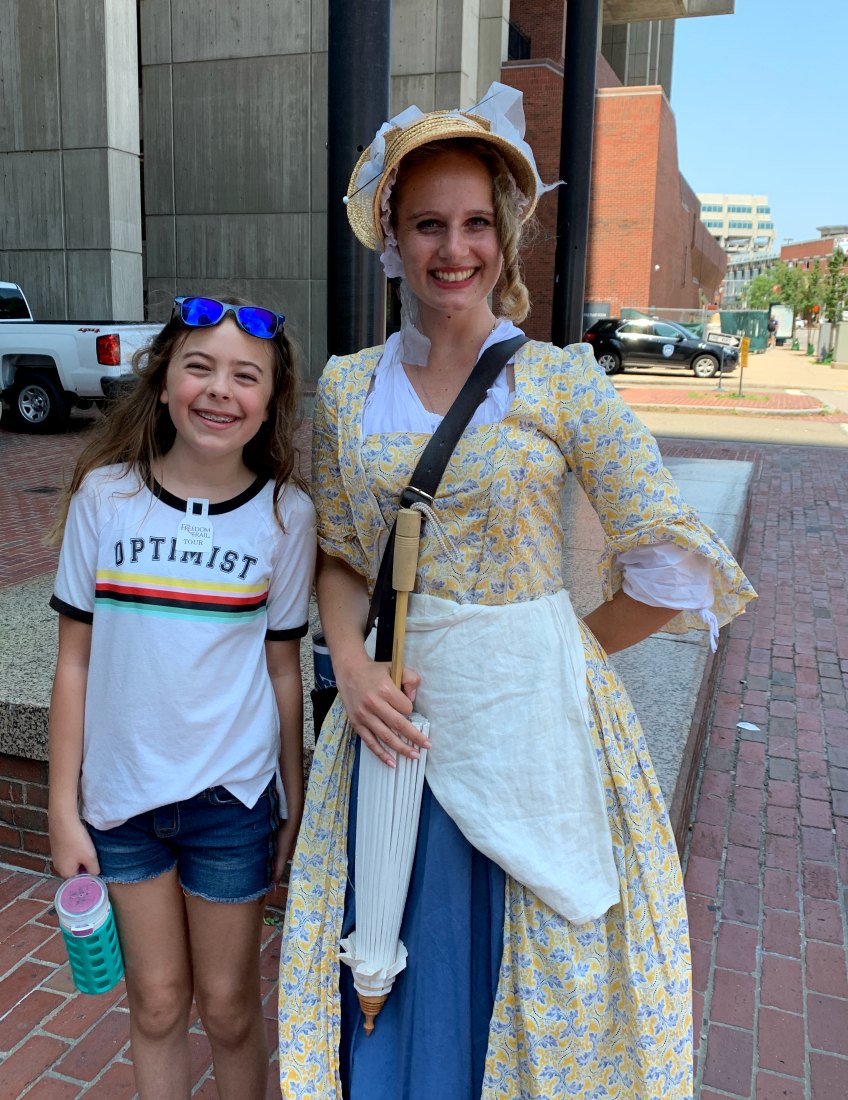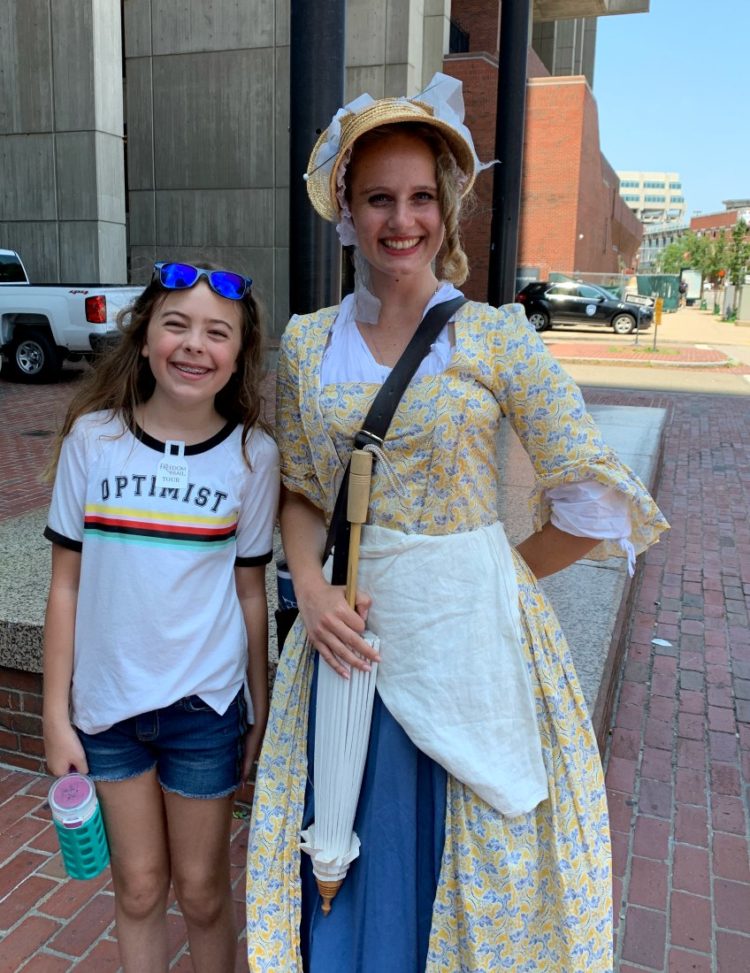 We only had one day in Boston, so we totally went the tourist route. We drove in and found a lot that was $15 for up to six hours and it was two blocks to Boston Common. We grabbed a delicious breakfast at Thinking Cup Café and then went across the street and bought tickets for the Freedom Trail tour. This is the classic tourist activity of walking in a group led by a person in historical garb getting the deets on all the famous old stuff in town and I have to say it was amazing. Our tour guide was funny, informative, and didn't blink an eye at any of my husband's 500 questions. It wasn't too long, it wasn't boring, and it left us right in front of Faneuil Hall just in time for lunch. Sometimes it's good to be a "typical tourist" and whether you've never been to Boston or have been but haven't really explored its history, this is a fantastic, well-run way to enjoy it.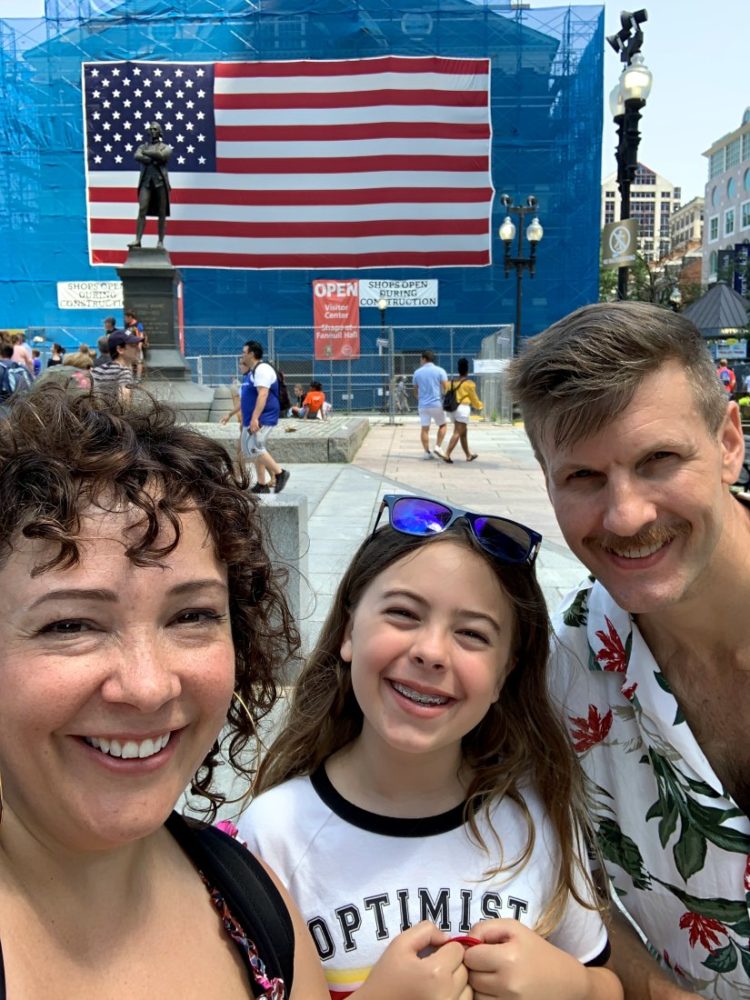 Quincy Market, Faneuil Hall, and the surrounding area has plenty of places to eat, we didn't go to a sit-down restaurant and all got different things, enjoying them at a table outside. My husband played a game of chess with a little boy who recently learned and wanted to practice on someone other than his parents while our daughter and I went to UNIQLO where she could score some BT21 t-shirts (don't worry I didn't know what that was either and honestly I still don't completely).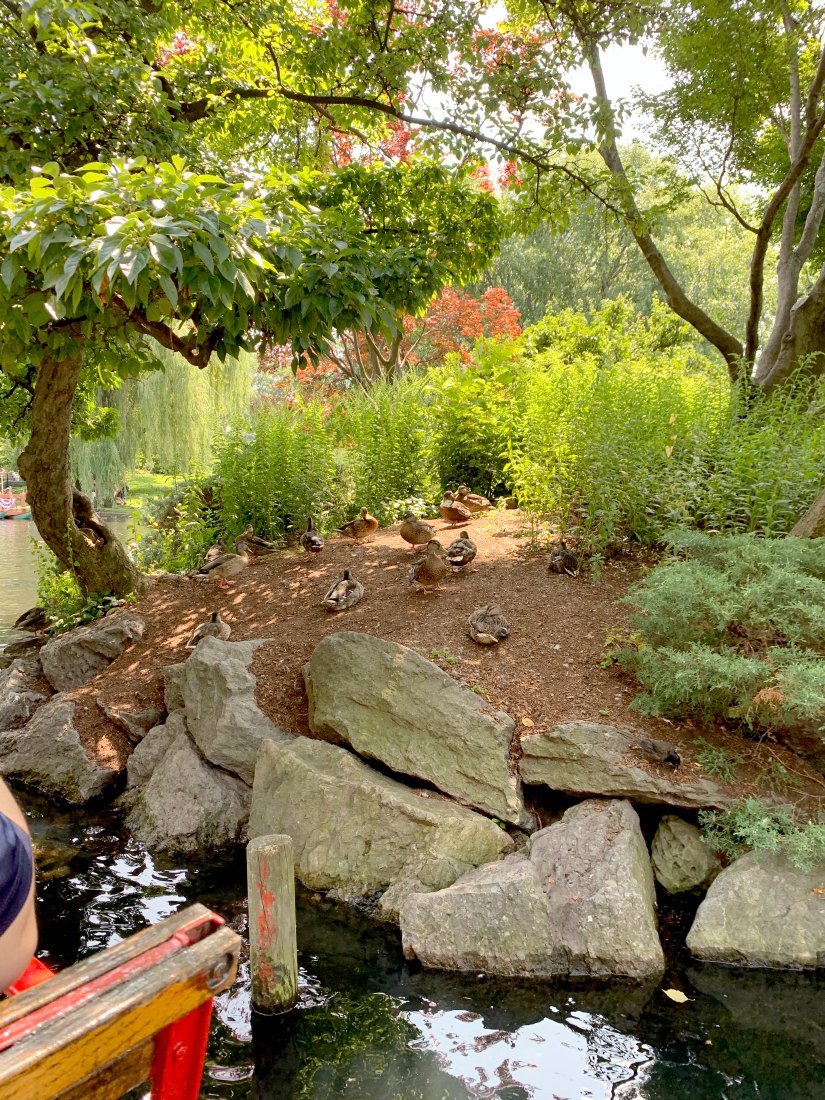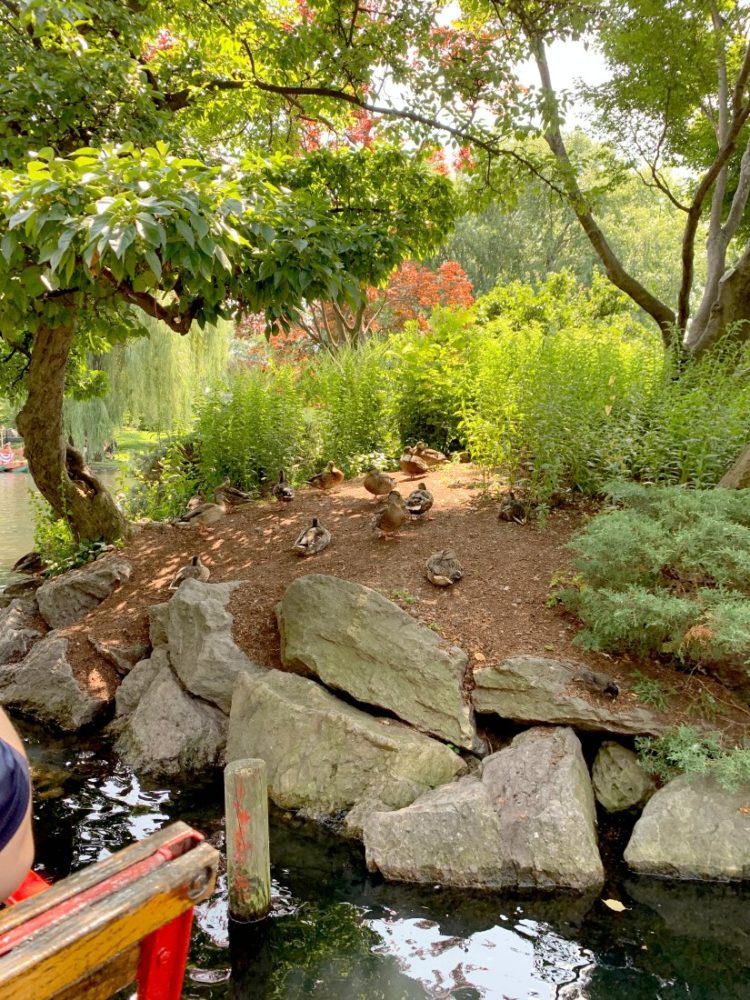 After lunch, we headed back to Boston Common to cross another thing off our bucket list – the swan boats. In operation since 1877, they're a Boston Icon and the three of us could ride for $10.50. There are like 16 people on each boat and it's just a leisurely float in a circle around the pond, but it was so charming and we're so glad we did it. We saw so many ducks and swans; food and drink are allowed on the boat so consider bringing cold brew or croissant with you for the most beautiful coffee date.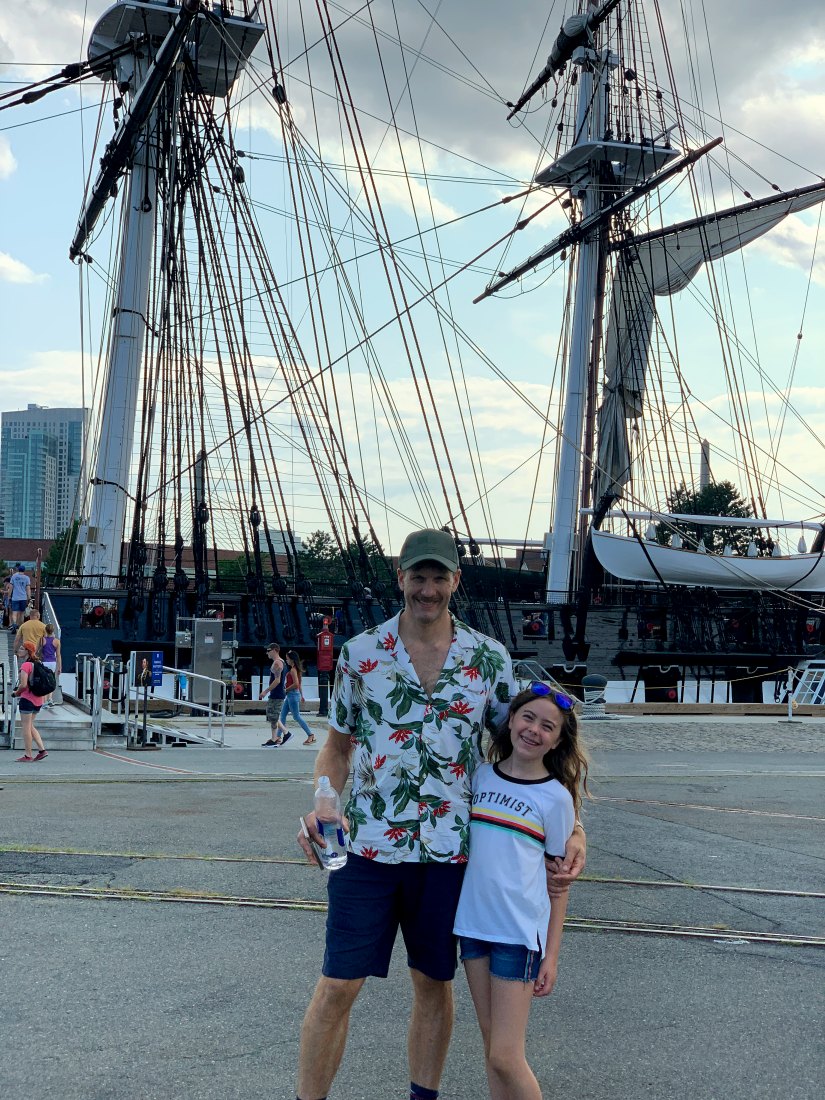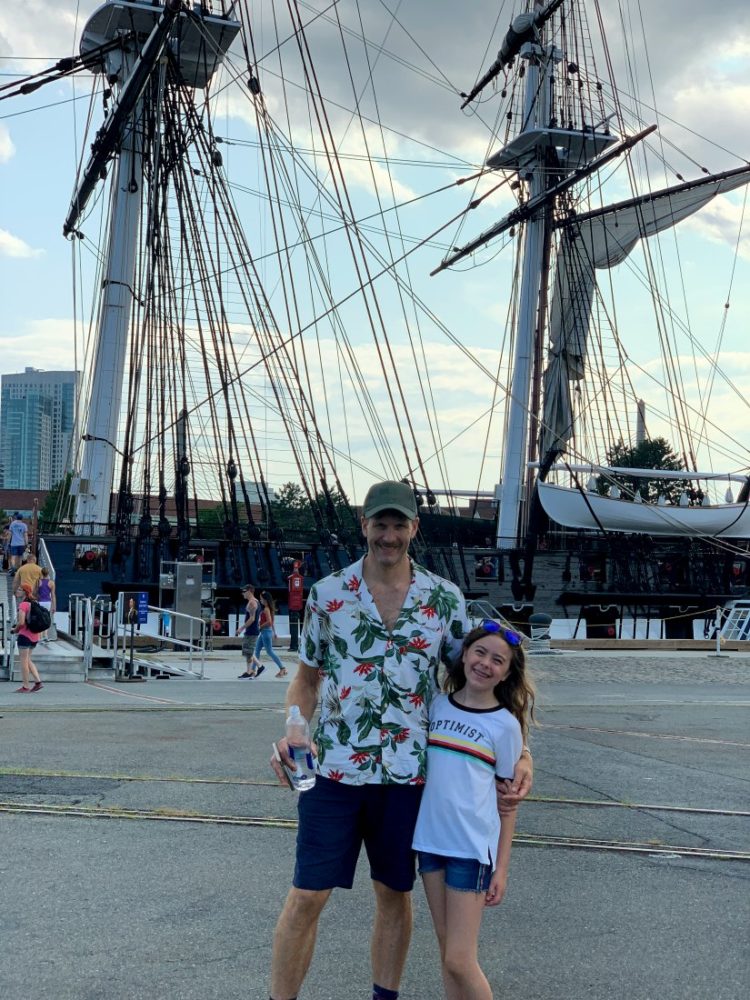 My husband was in the Navy and really wanted to see the USS Constitution, so we headed back to the car and drove about 15 minutes to the Charleston Navy Yard. We were able to find free street parking and there wasn't much of a line for getting on the Constitution nor was the museum too crowded. If you have little ones, this is a great activity. The ship is interesting and the museum is very geared towards little learners. Be sure to go upstairs to transport a goat onto the deck!
By this time we were pooped and headed back to Newton for a dinner in town and early bedtime. In the morning we were off to our last stop on the Gary Family East Coast Road Trip – The Northeast Kingdom of Vermont! Stay tuned for a recap!