This article may contain affiliate links; if you click on a shopping link and make a purchase I may receive a commission. As an Amazon Associate, I earn from qualifying purchases.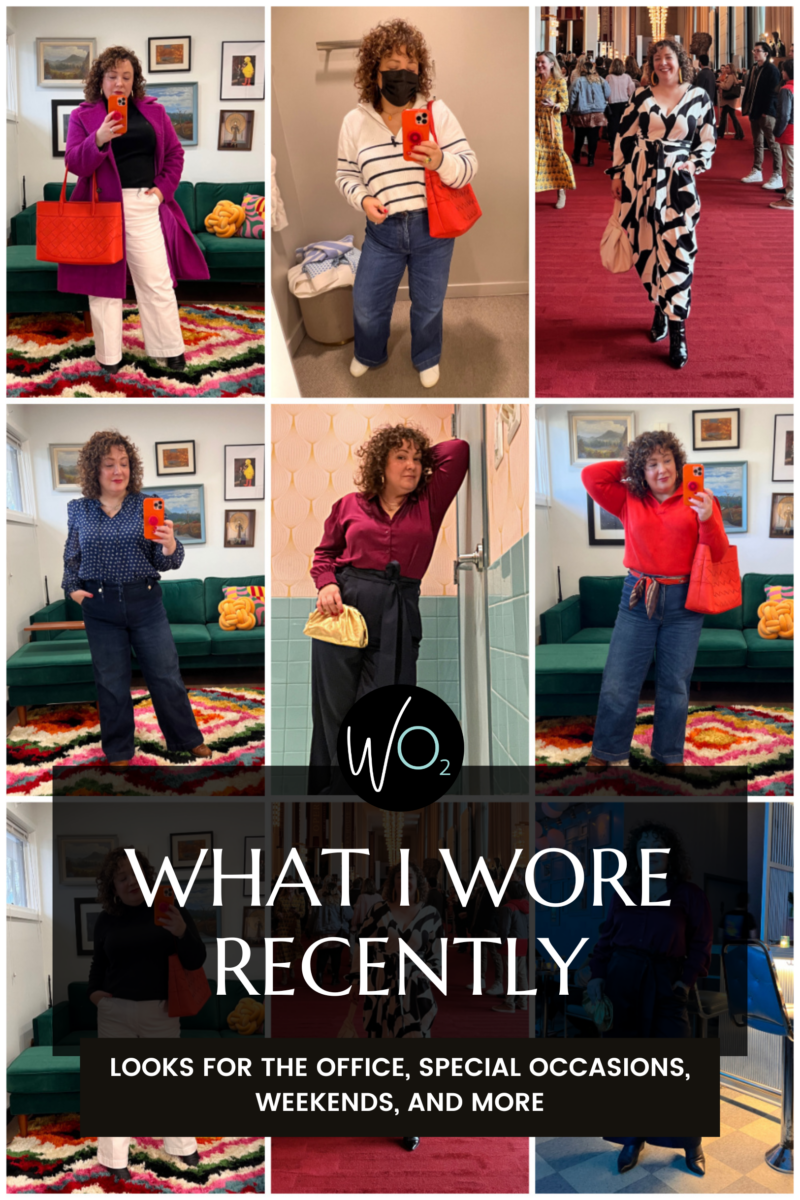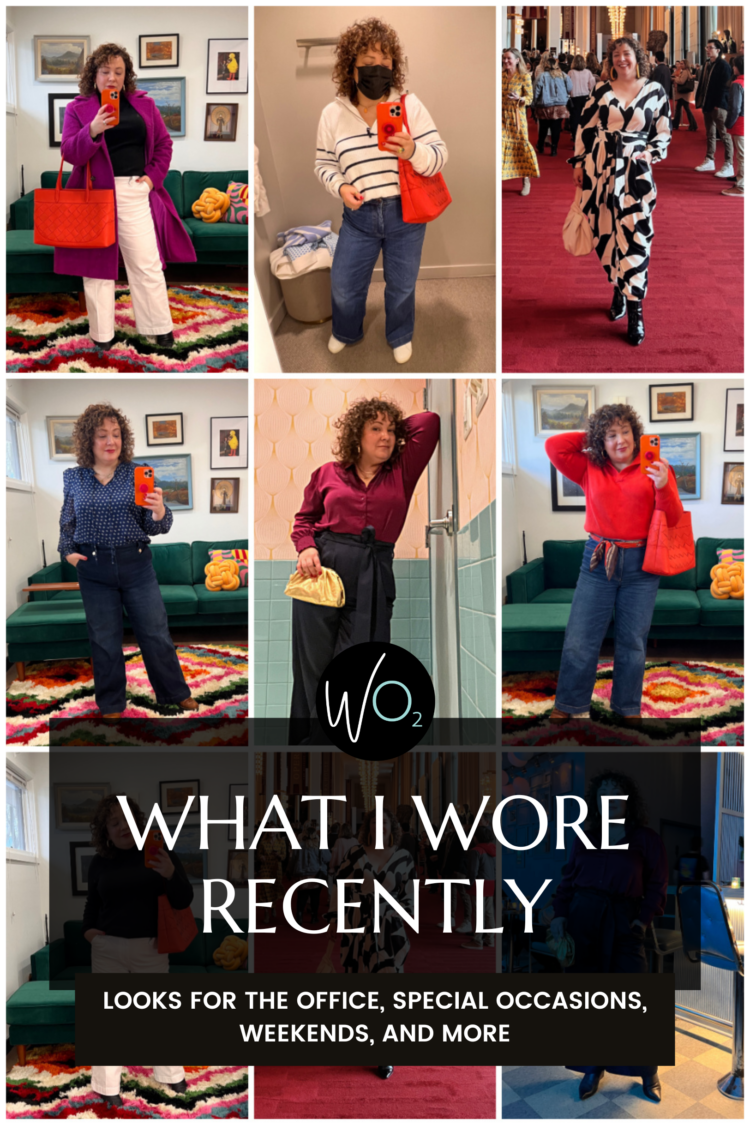 These are a few of the looks I've worn recently. I've tried counteracting Deep Winter with bright cheery clothing and taking advantage of any sunny day we experience. I received some items gifted from Talbots and give them an honest review, and share how a pair of jeans in one of my latest capsule wardrobes looks on me and handles a day of trying on clothes at the mall.
What I Wore Recently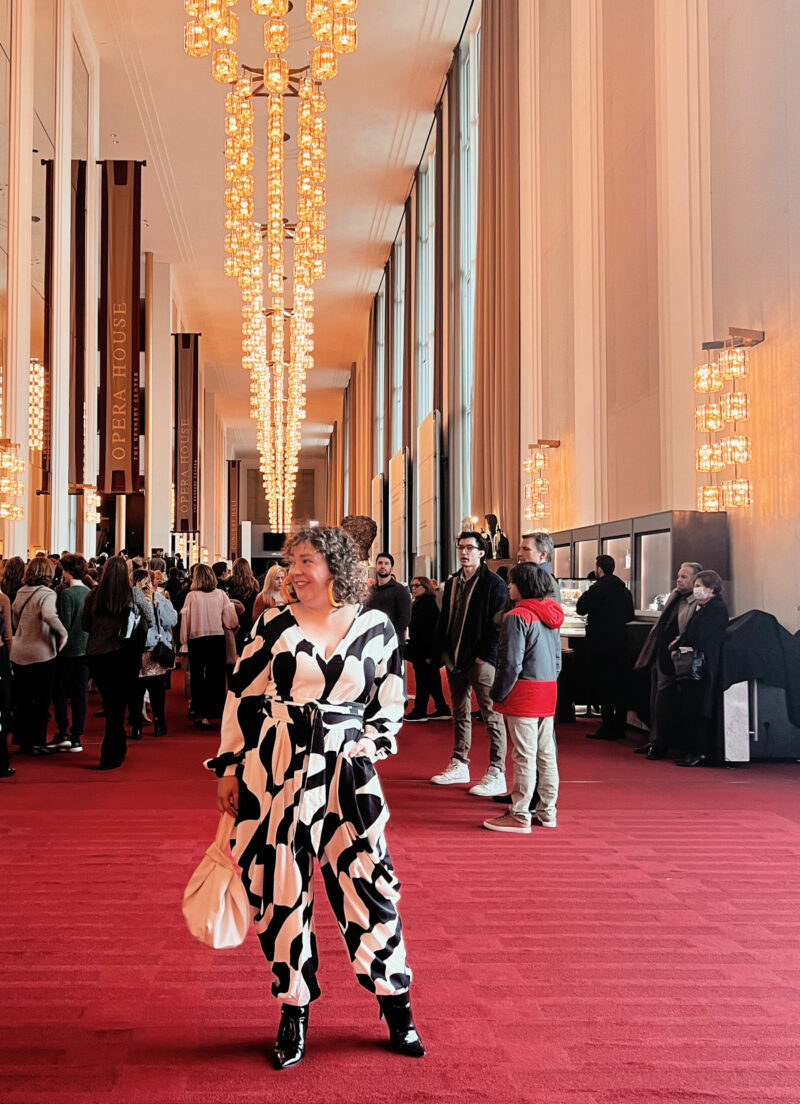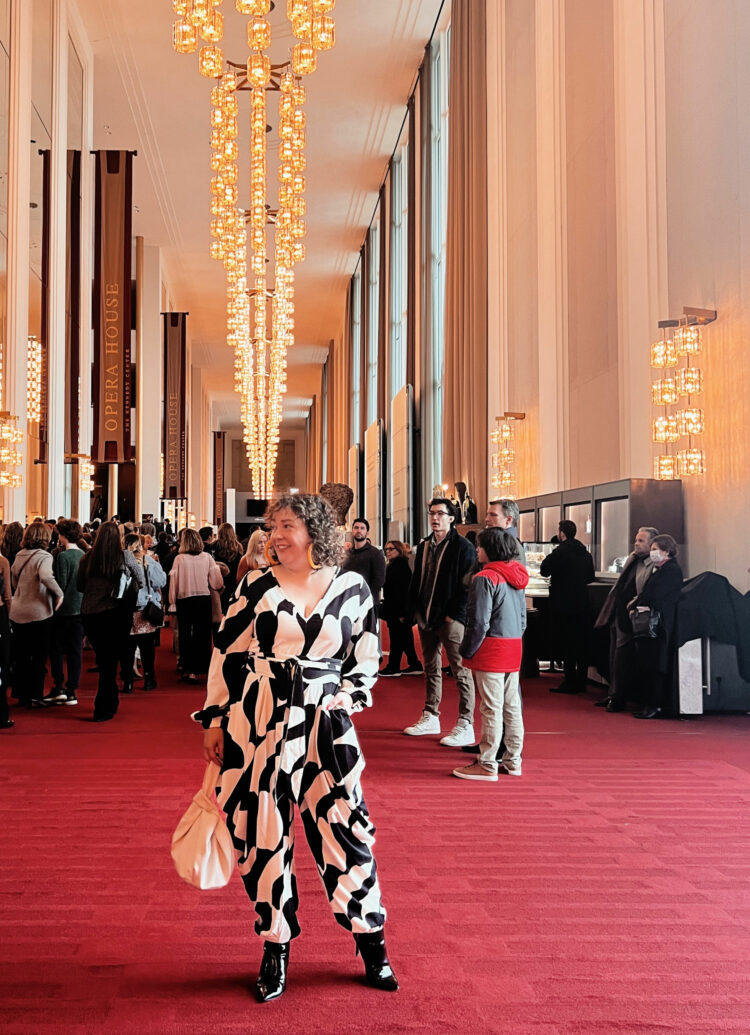 January is the month of my birthday, my mom's, my sister's, and my daughter. We have a tradition of celebrating them together with one big fun experience. This year, we celebrated by going to see a performance of 'Wicked' at The Kennedy Center. I wore the same JIBRI for Amazon The Drop jumpsuit that I wore for Christmas Eve. This jumpsuit is not available but JIBRI carries badass other jumpsuits in sizes 10-28.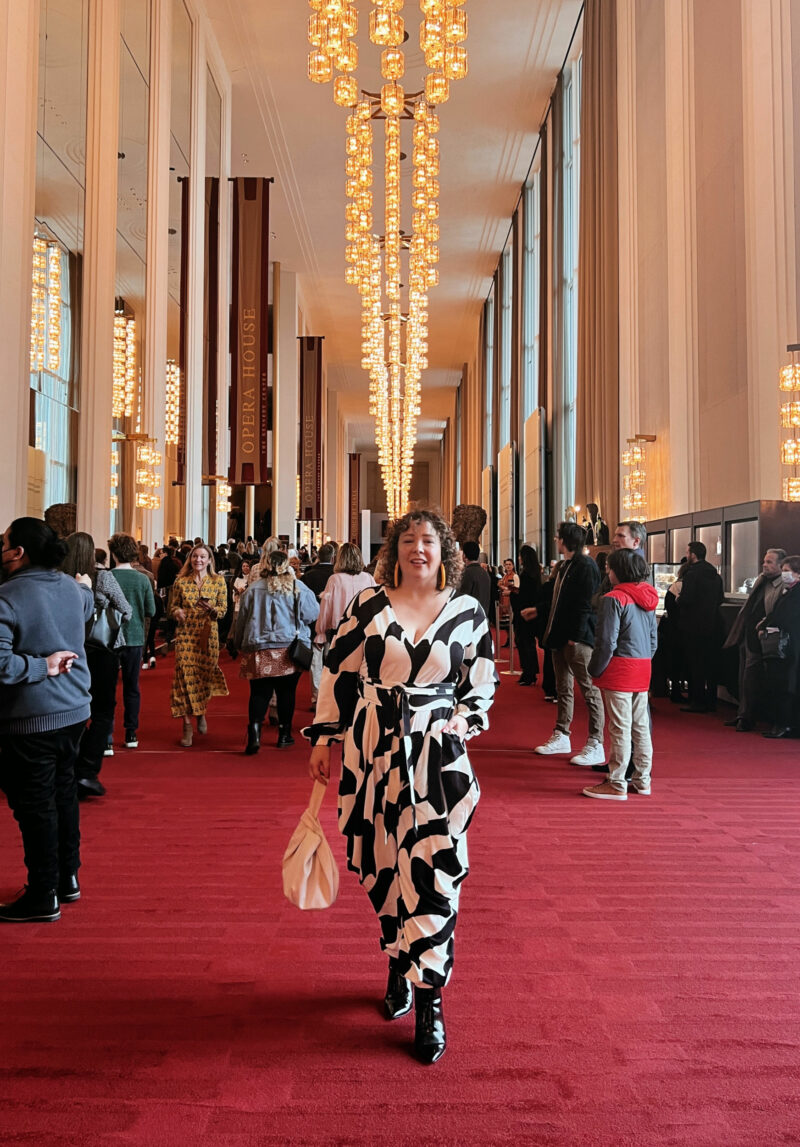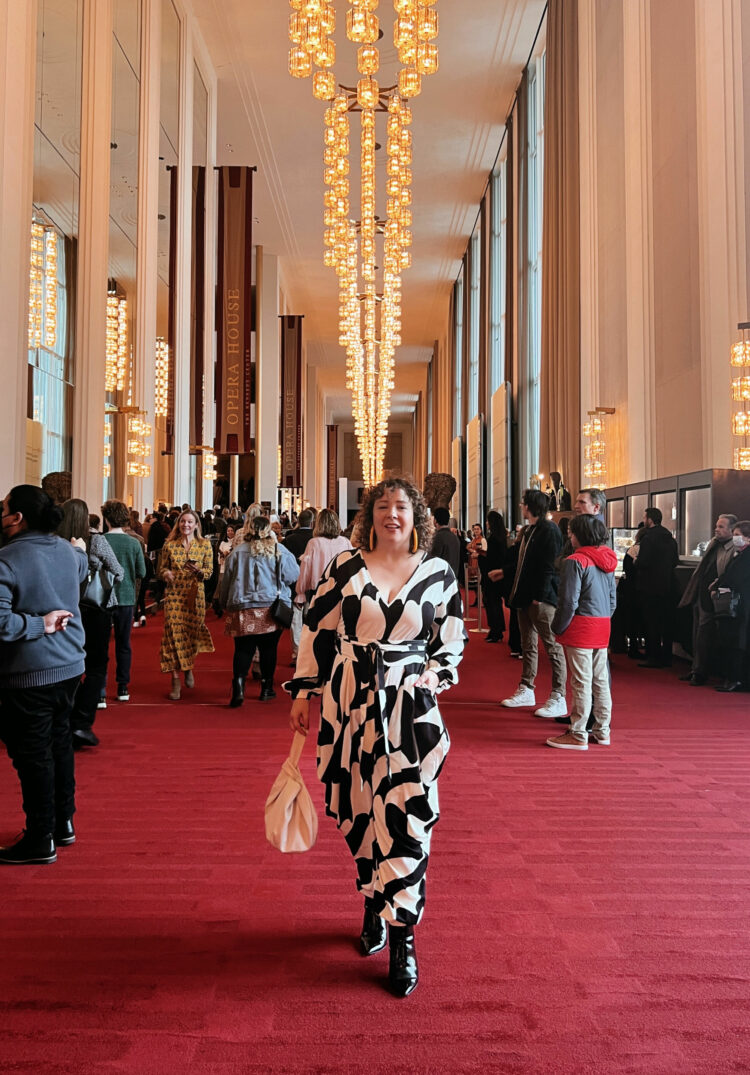 I added a pop of color with vintage yellow hoops I got a few years ago on Etsy. You can find a lot of fun and colorful hoops there! The patent leather boots are ASOS and I got several years ago; these are similar and also wide fit. The bag is also Amazon The Drop; by far one of the most used festive bags in my closet; I think the last time I featured it was this summer. It's tempting to get another in a different color. It packs flat, weighs nothing, always garners compliments, and fits comfortably on my wrist almost two years later.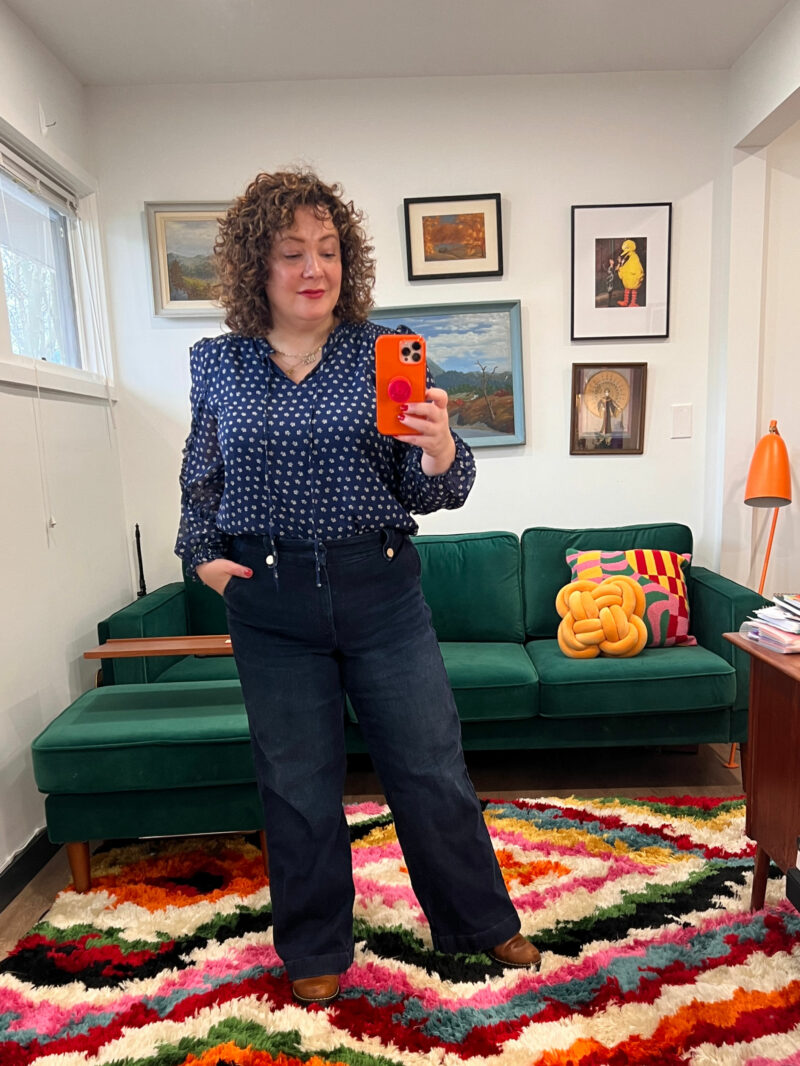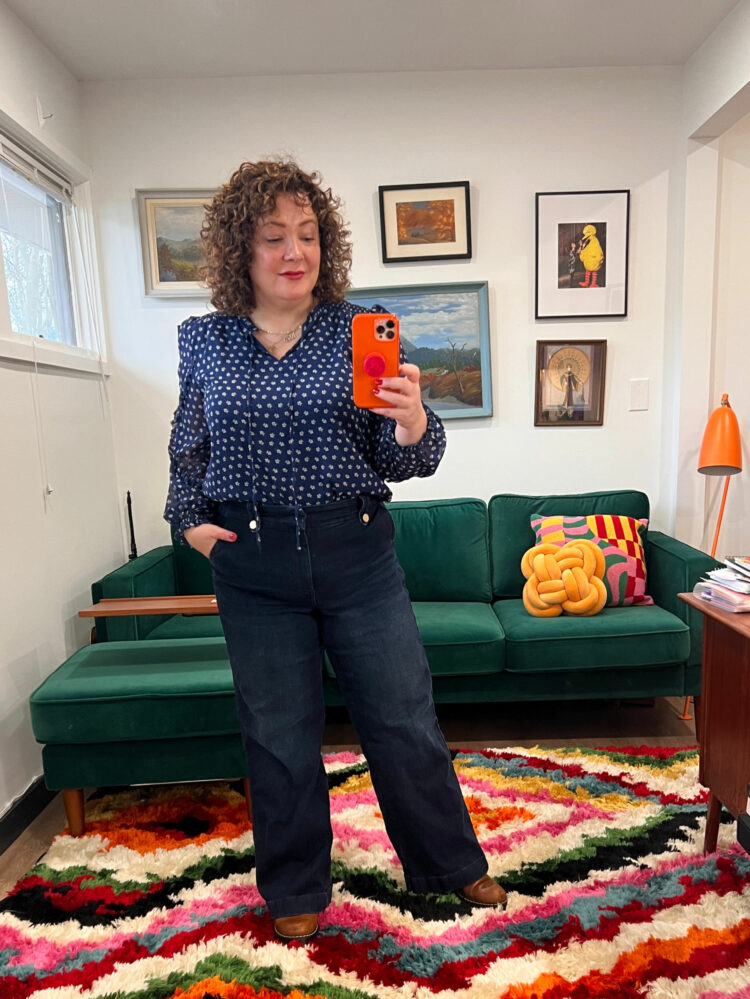 These wide-leg jeans from Talbots I have been wearing quite a lot. I like that they're stretchy denim, but are free of the contrast stitching so they look more refined. There are brass buttons at the ends of each belt loop; I know that may not be everyone's jam but I think it looks elevated, not complicated.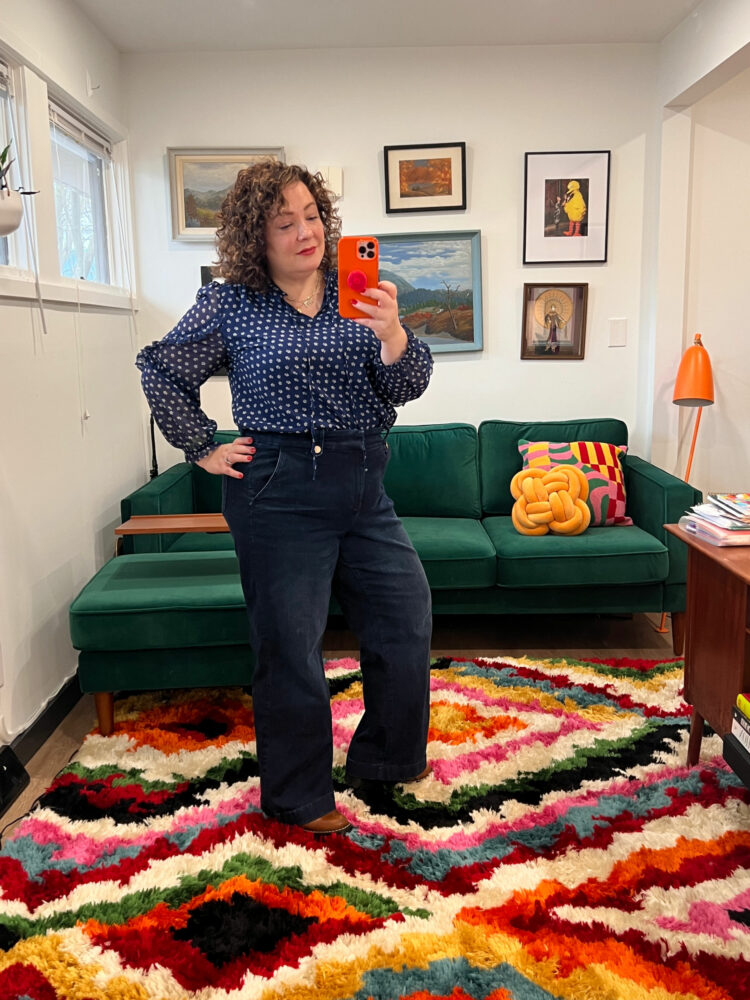 With it I am wearing a Talbots blouse I got a couple of years ago; you can see me wear it in this blog post. It's funny, this blouse isn't typical for me but I really like it and it has lasted in my closet longer than a lot of other printed blouses. The print isn't too busy, the navy is bright, the details aren't too trendy, and the sheer arms provide coverage without having me overheat. It also looks great with white and cream pants and jeans.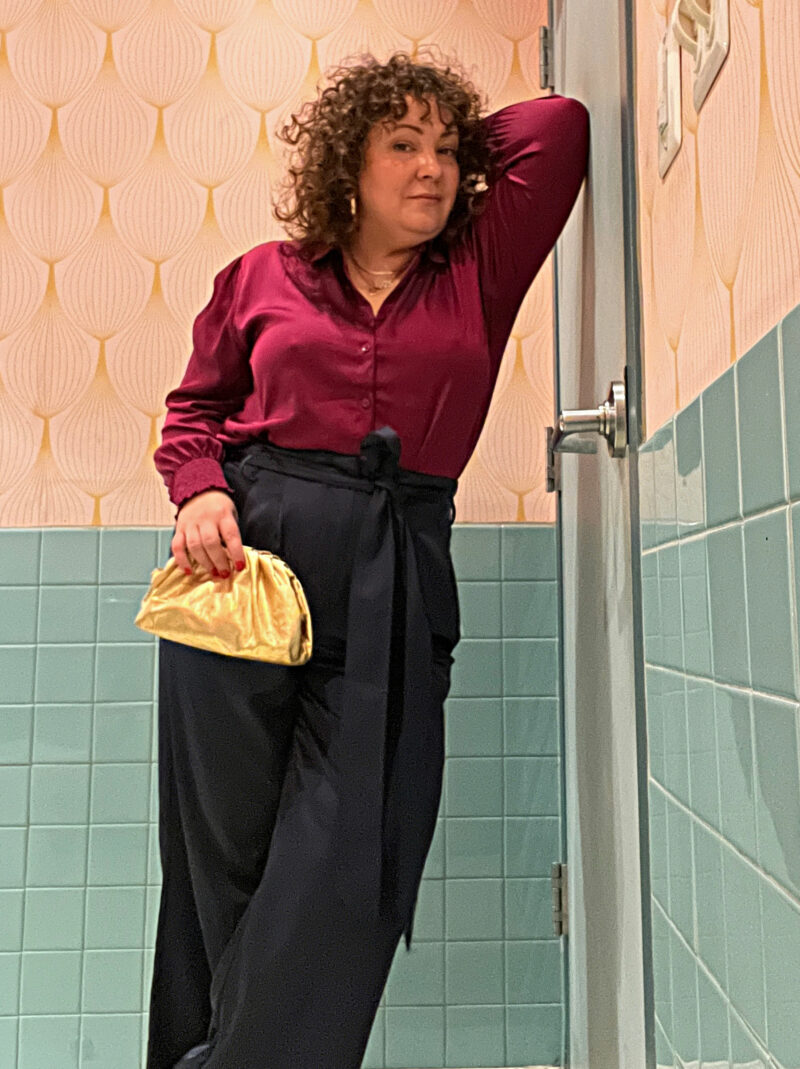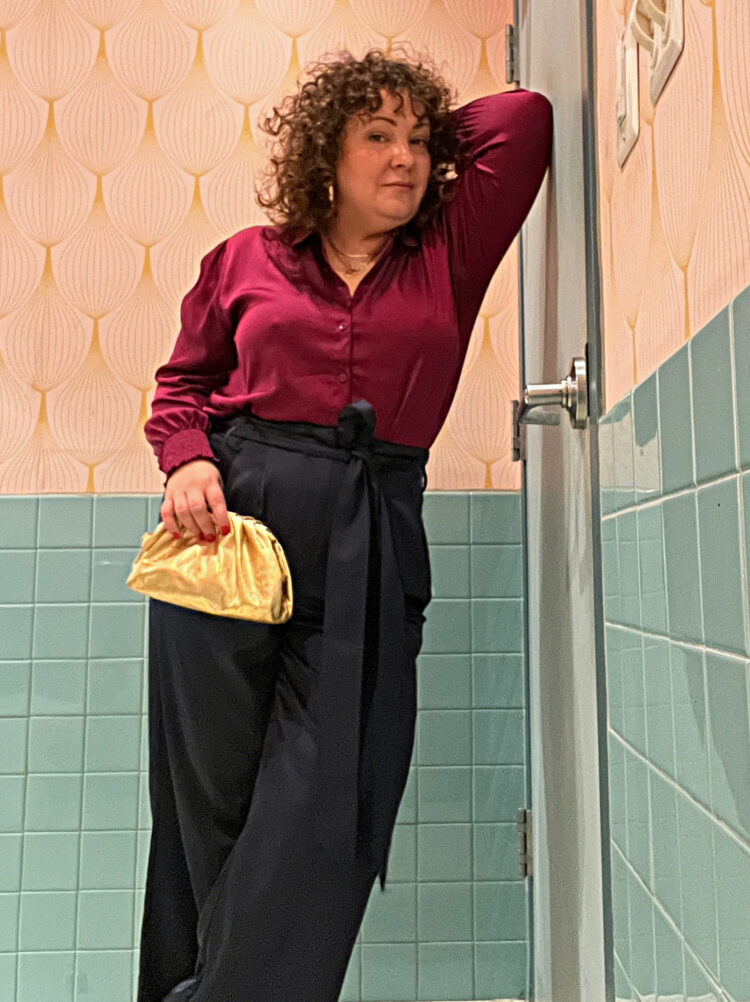 For my sister's birthday, a few of her friends and I took her to dinner at Rumi's Kitchen. It was a Friday night with a strong chance of going to a bar or somewhere else after dinner. I dressed as I did for the event at The Four Seasons this past fall and did something that would work next to Night Out attire but also fine if someone in the party just came from the office.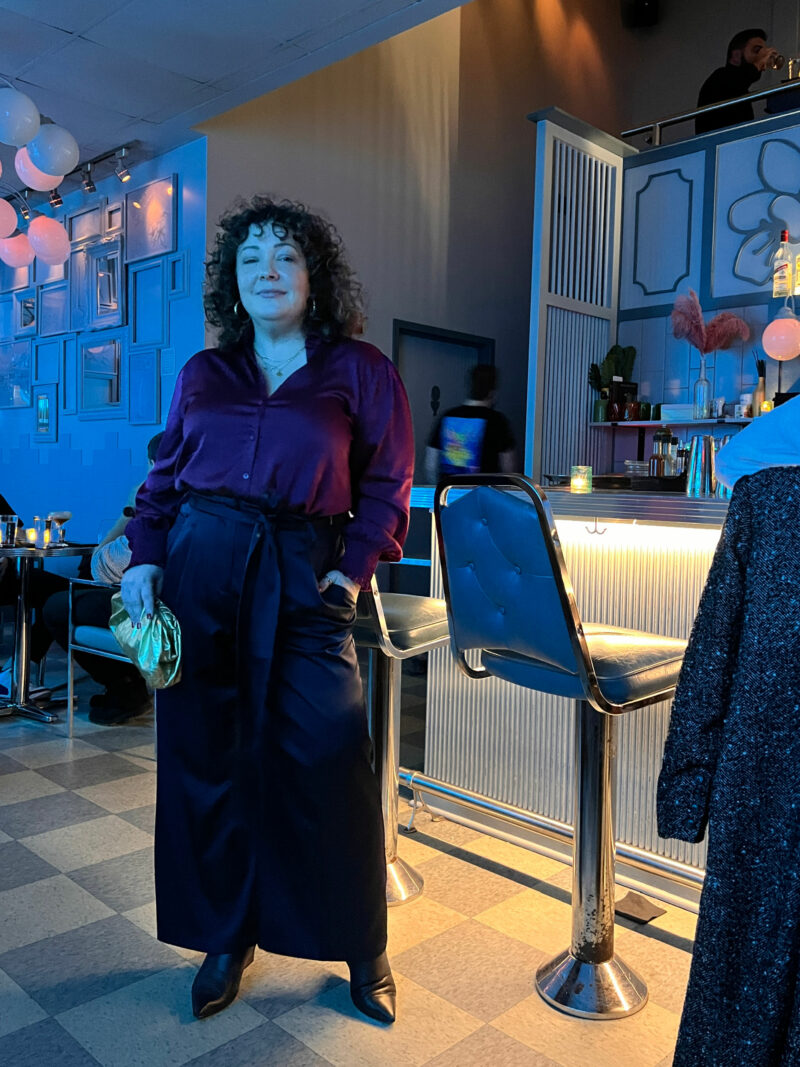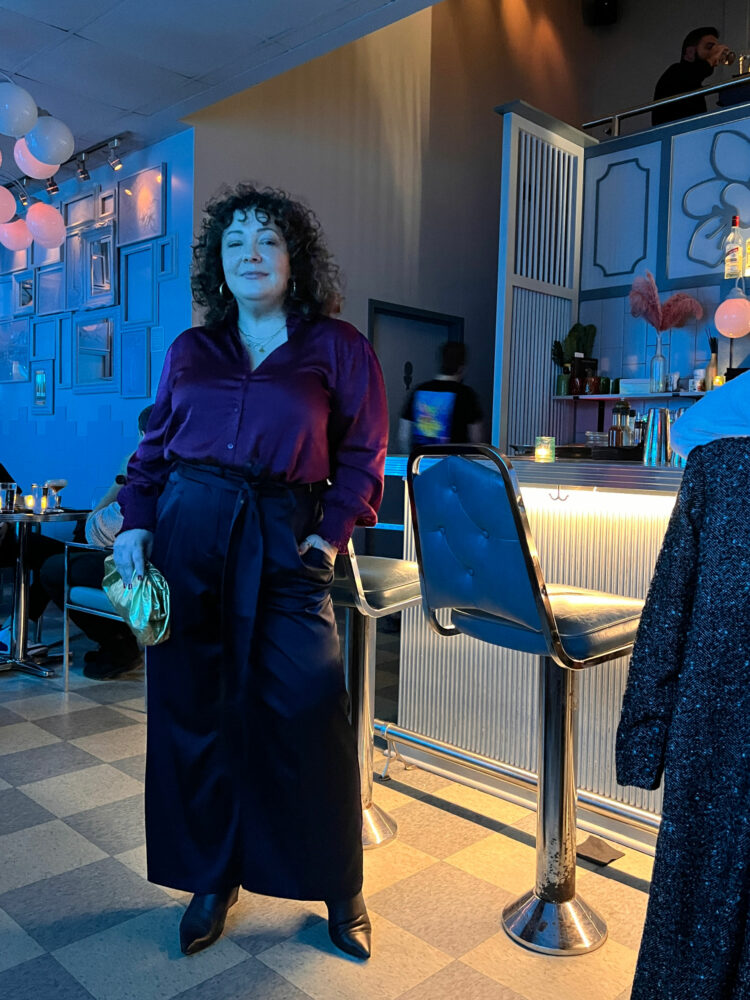 The pants are the original Universal Standard "Tresa" which was available in navy and copper, and also available in petite. I've worn these pants a LOT over the years, seen here in 2019 and here just in November. They are no longer available; these pants have a similar vibe in a more casual fabric; these are satin and wide legs in a pretty purple. I also found some on eBay. On top is a stretch satin blouse from Chico's that is currently on sale for less than $50.
The clutch is from Etsy, and I wore my black leather Naturalizer boots because I wanted something I knew I could stand in for a period of time and because I knew I'd be outside in the cold. Gold hoops from Baublebar and my mix of gold chains (including this one) finished the look.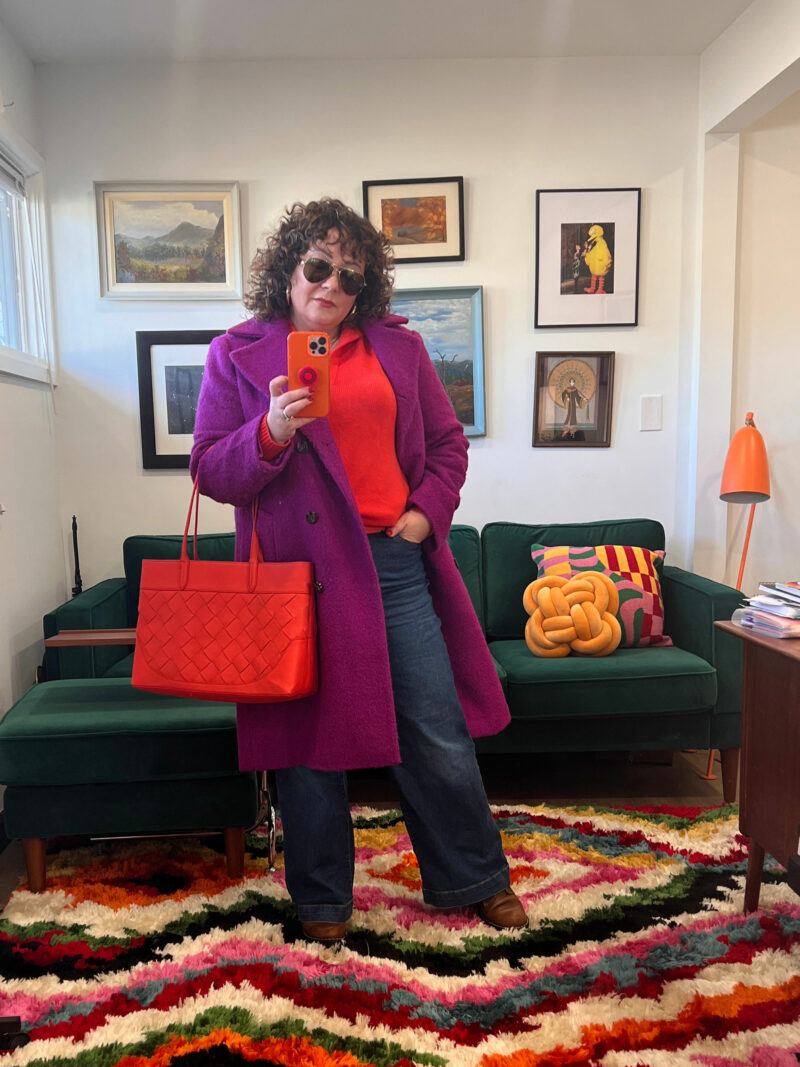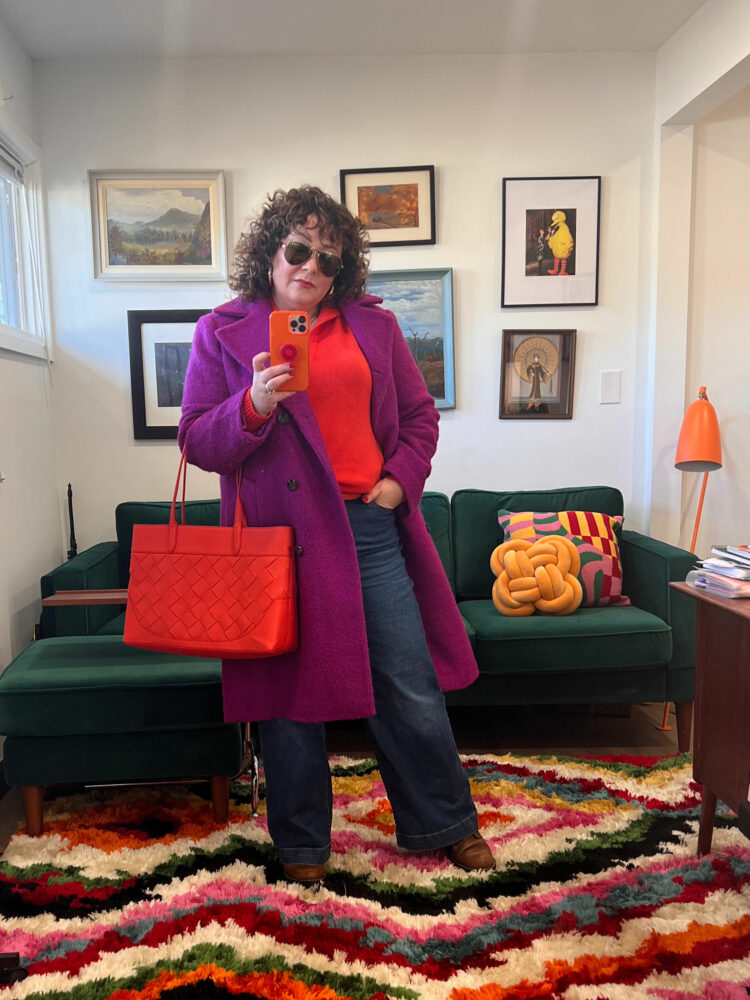 You've seen this coat from Ann Taylor before in this blog post. If you are an XS or an S you're in luck, this coat is still in stock (at least at time of writing this) and on major clearance. The sweater is from Talbots; I really like its weight, quality, and style. It's size Large. The tote is also from Talbots; the same one I featured in this capsule wardrobe.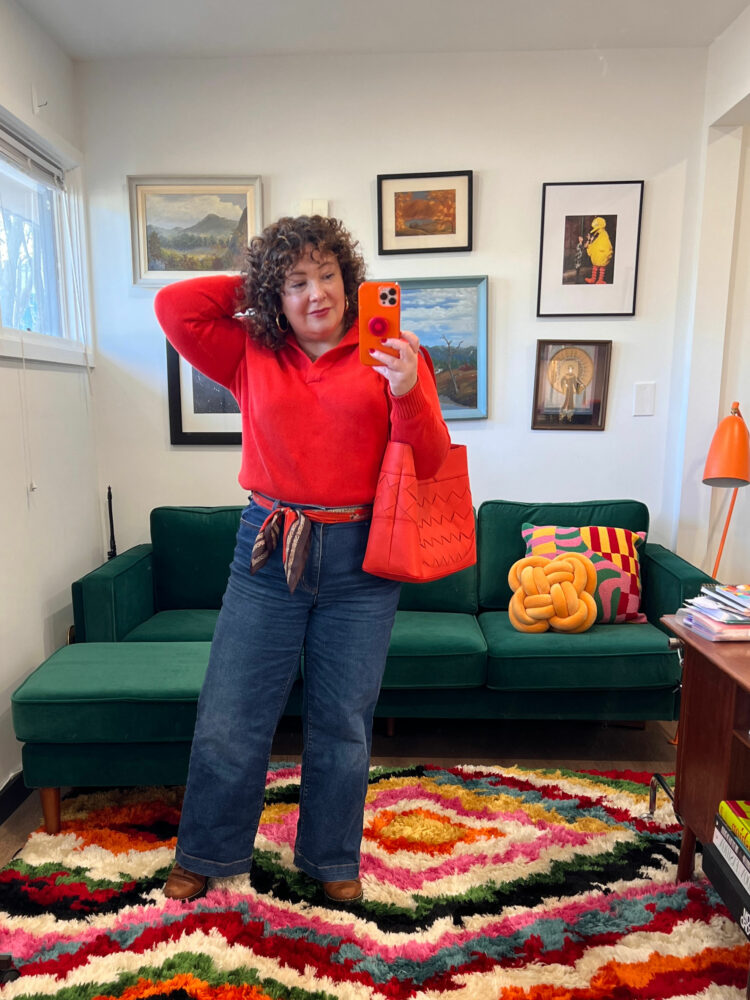 And these are the Lands' End wide leg jeans I keep raving about. I am wearing size 14, with the 30″ inseam. These jeans originally came in three denim washes and this was the middle color. Now, it seems these jeans are only available in the darkest color (and then I also found in cream, black, and white). I had also ordered the dark and found they were a heavier/stiffer fabric and a tad more snug.
The boots are Docs I got last year, the belt is a scarf from cabi I got a few years ago. I'm again wearing these fantastic Baublebar hoops (if they're too big for you they come in other sizes). And because folks always ask, my sofa is from Albany Park (use ALISON10 for 10% off) and my rug is from Rugs USA.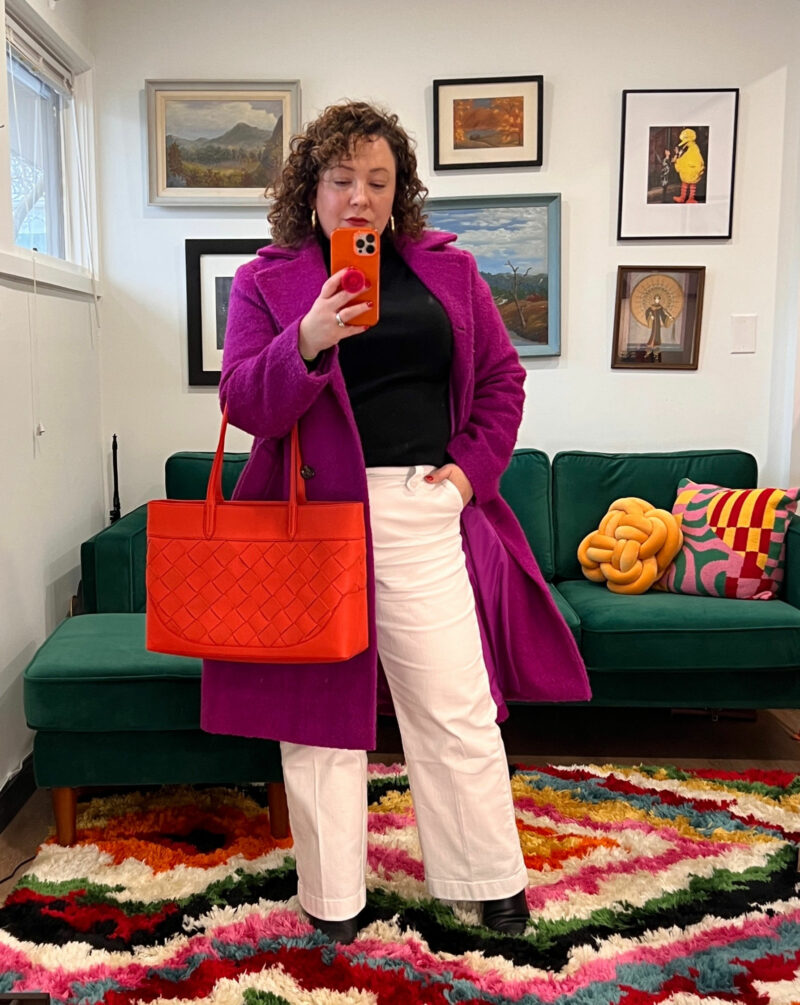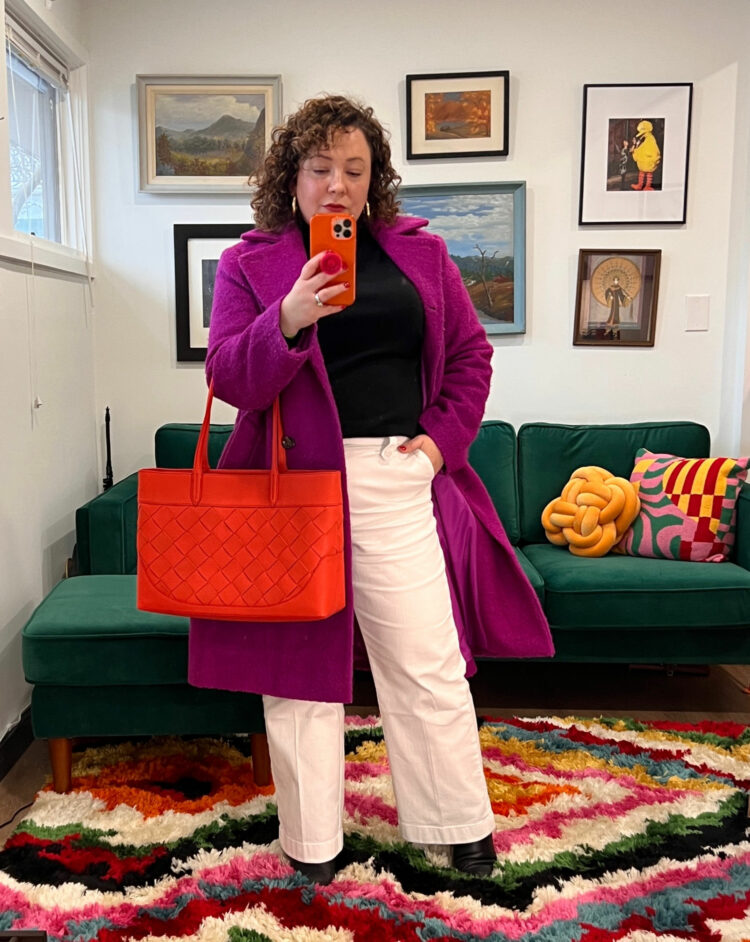 Similar, but different! Same tote, same coat, but this time paired with a black and white. The turtleneck is Chico's and a couple of years old; this one is similar and on sale. The white wide-leg jeans are from Talbots and the same jeans as I have up with the navy outfit. A 14 petite is just right for me. The boots are the same ones from Naturalizer I've worn in previous looks and have in recent capsule wardrobes.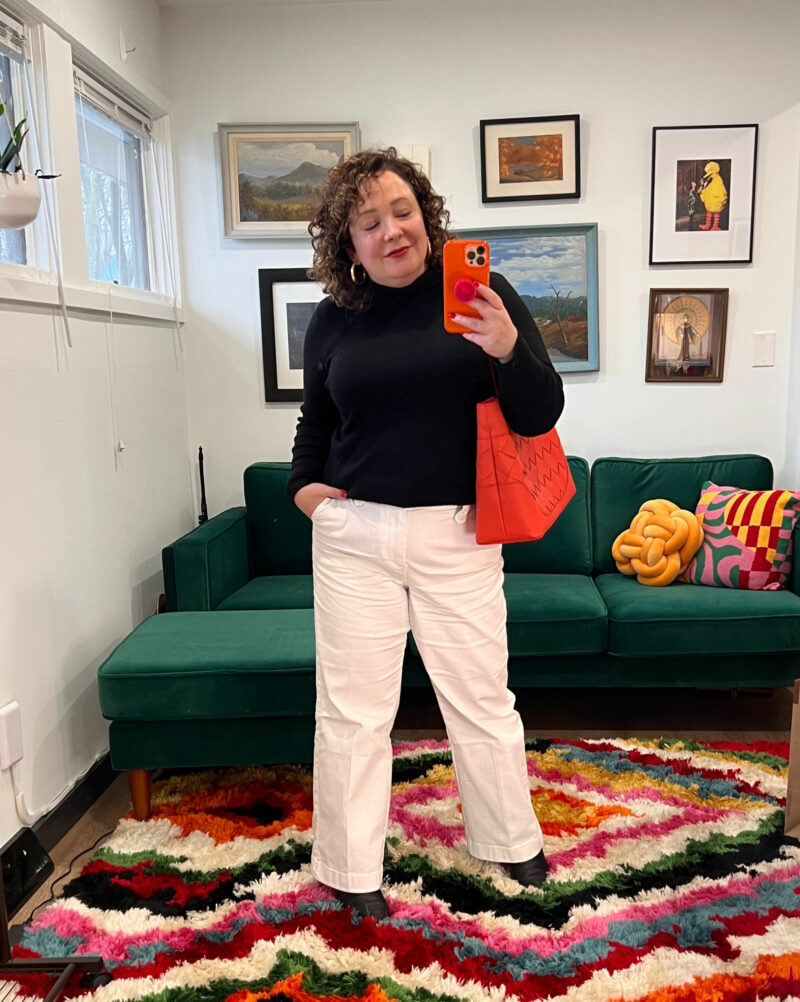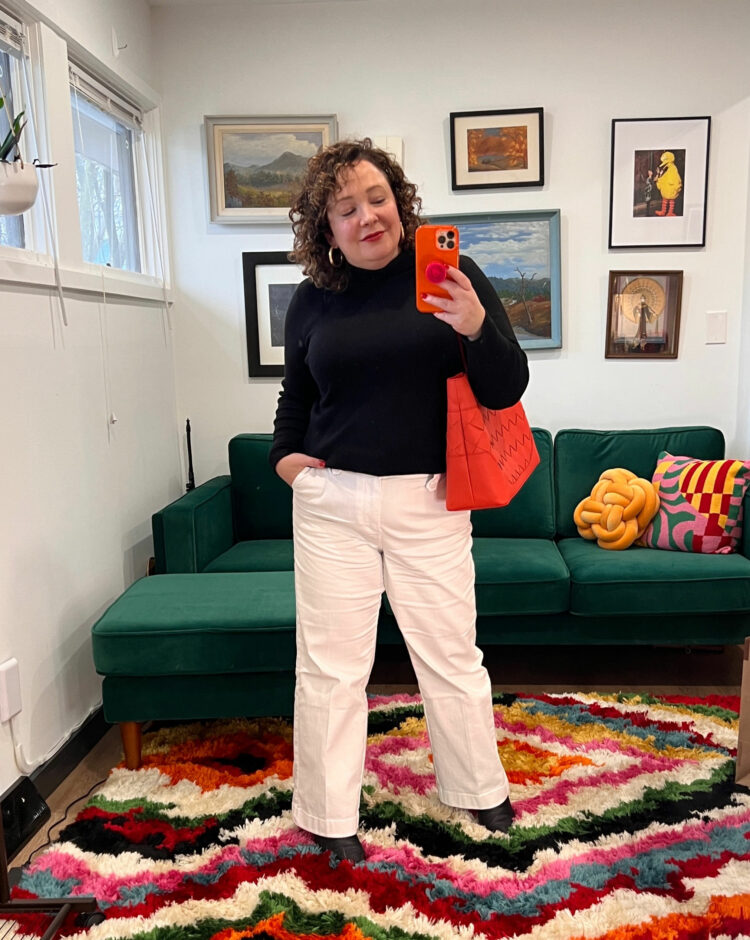 This is a reminder that in 2023, fashion is fluid and nothing is more chic than breaking a style rule. Yes, you can wear white after Labor Day! I made the white feel purposeful by bookending it with black and choosing seasonally appropriate fabrics and styles. The denim is a good weight for the season and the weather!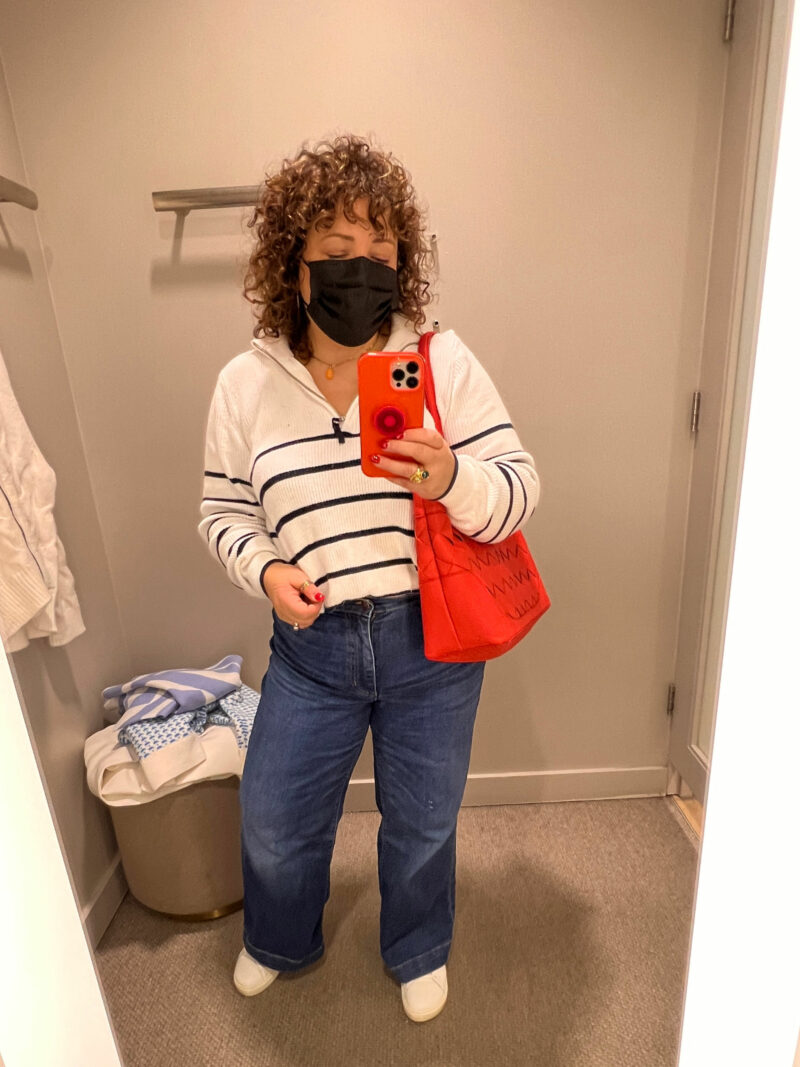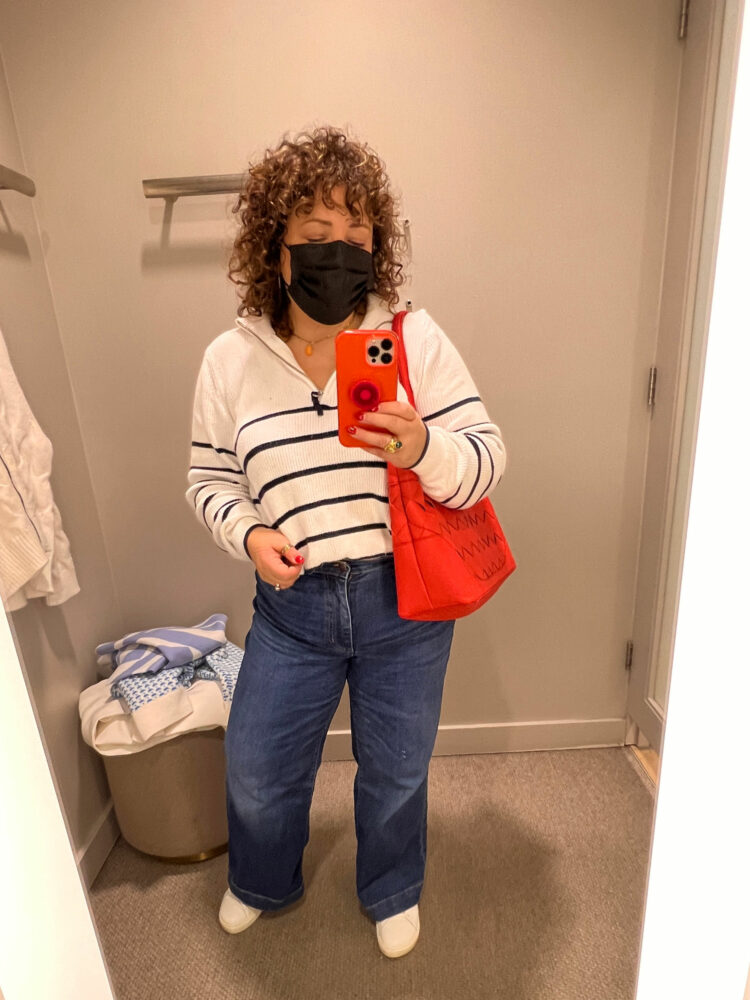 Let's go to the mall, today! I went to the mall for the first time since the holidays and while the trip was to do returns for my friend and get some jeans for my ever-growing kid, I also did some try-ons. I captured these photos when I was in the Ann Taylor fitting room. I am wearing the same Lands' End wide-leg jeans and the same Talbots tote with a cotton sweater from Joules I got last fall (size 16). The sweater is sold out; this one from Joules is a similar concept with stripes; this one is a similar concept with the zipper neckline.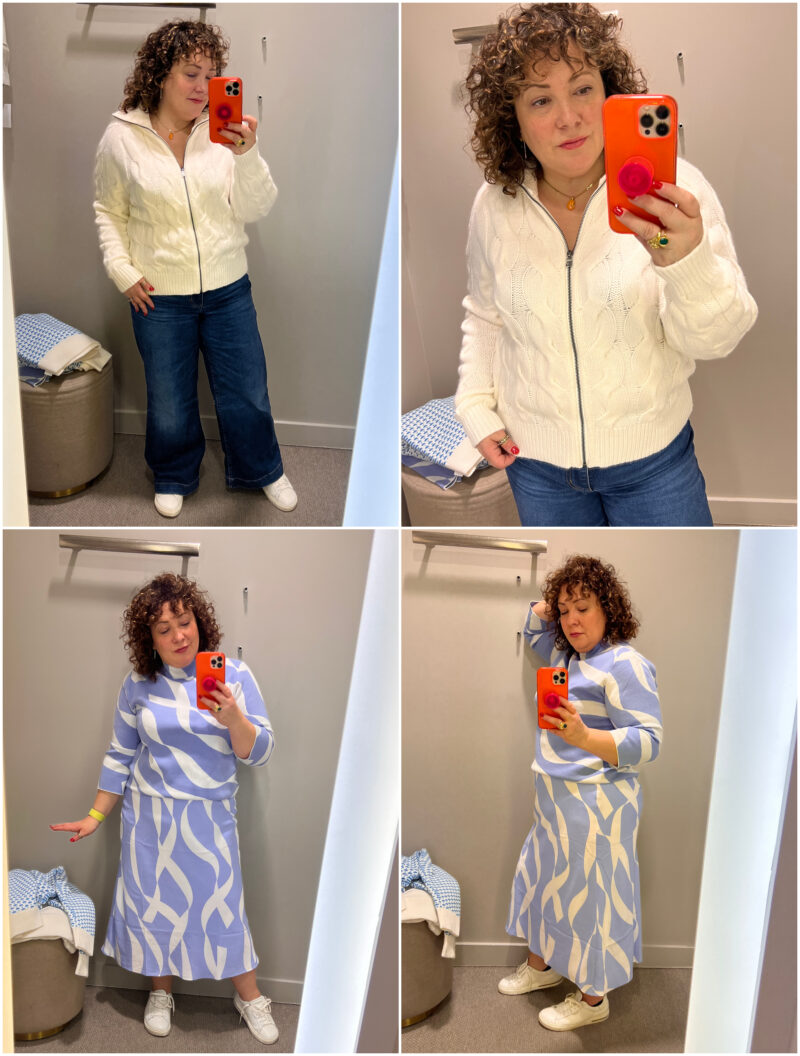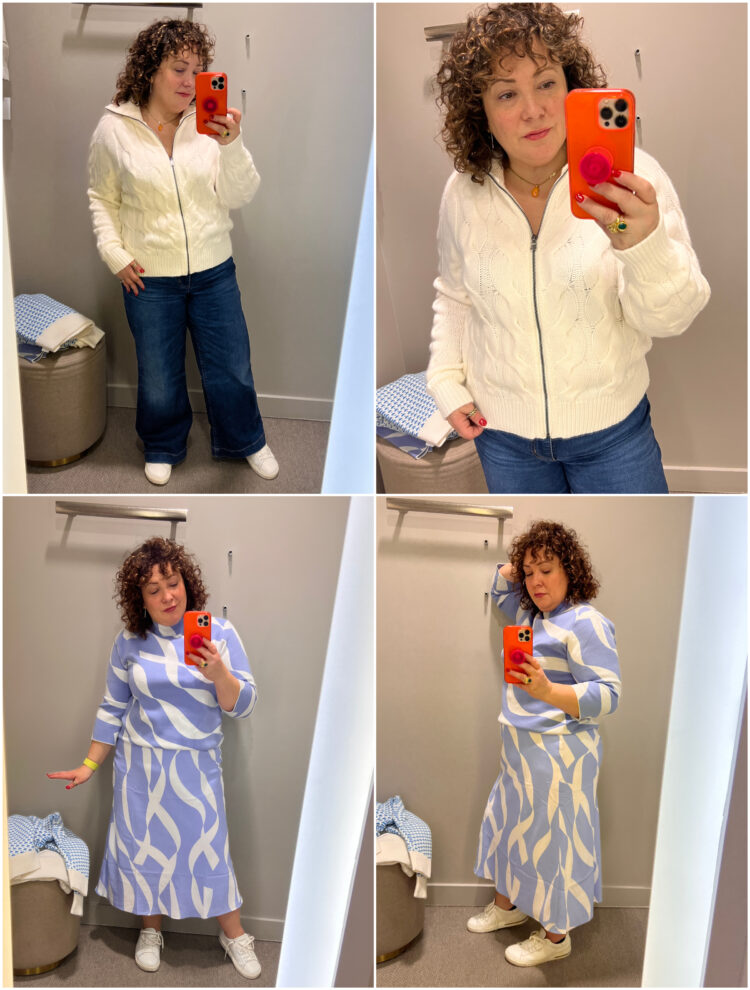 At Ann Taylor, these were the wins I experienced. This zip-front sweater was thick and soft and looked very expensive. It looked chic fully zipped, partially open, and worn as a cardigan. This is XL. And this sweater (XL) and skirt (L) I thought was a cute outfit even with my Birkenstock sneakers! Ann Taylor was kind enough to gift it to me afgter seeing me trying it on Instagram Stories, I'll be styling it soon!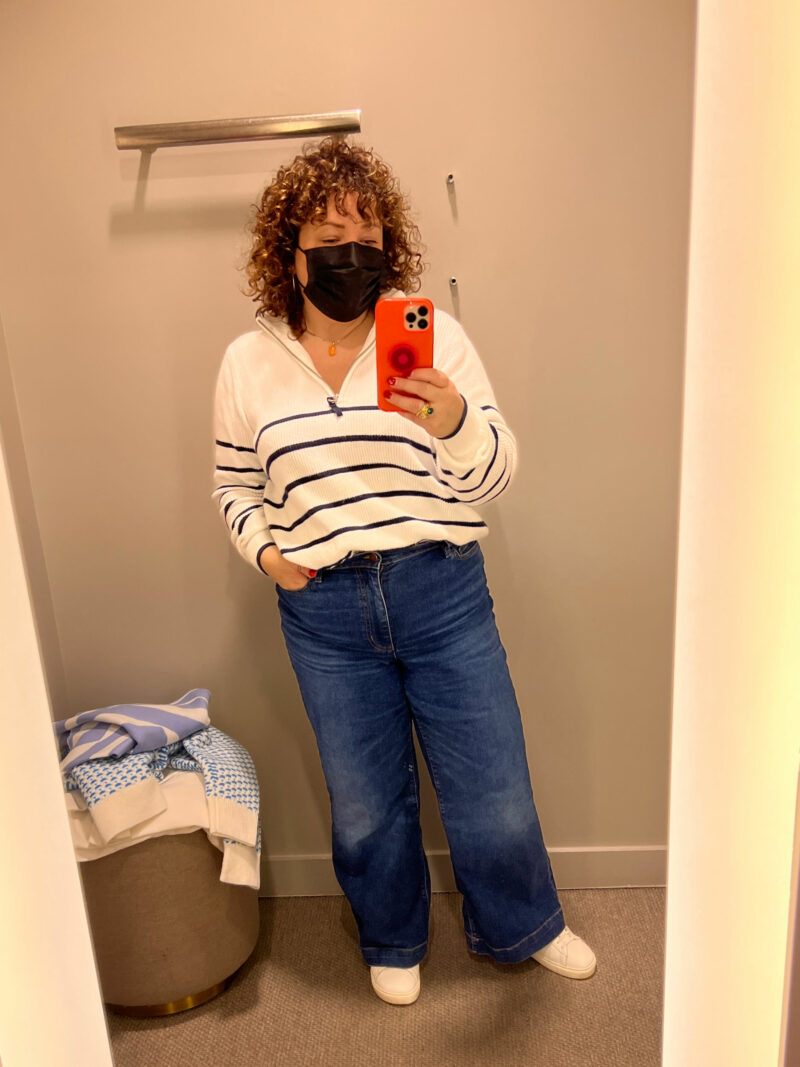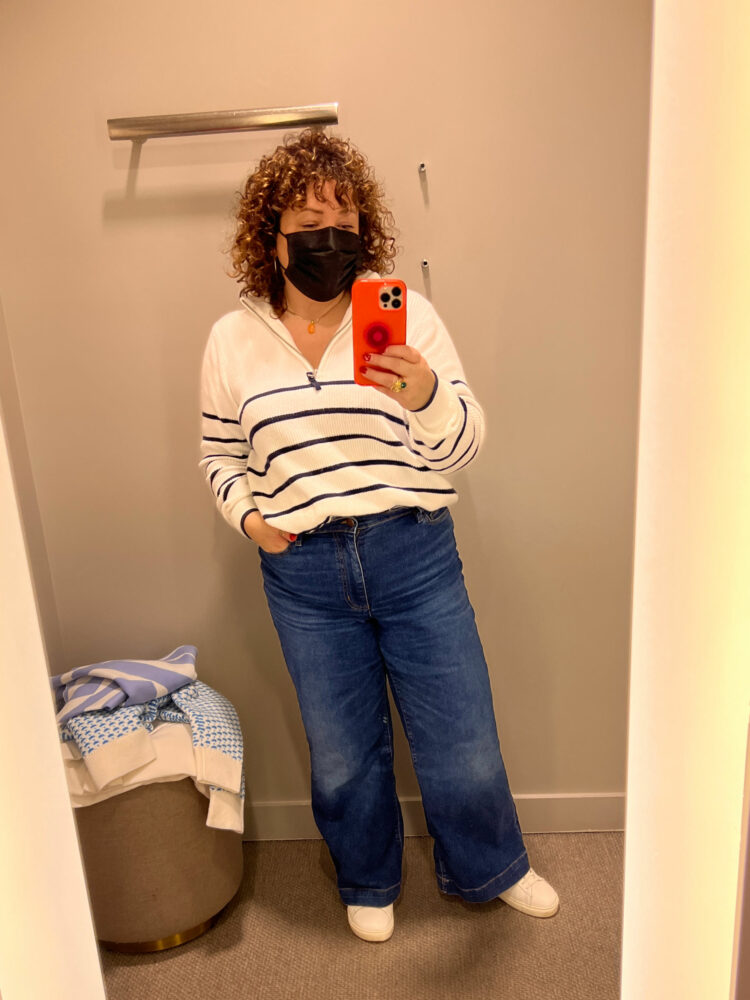 And speaking of future posts, I really need to write a review of these Birkenstock sneakers! I am OBSESSED with the Birkenstock Bend. They are really nice looking, a smooth off-white leather that looks elevated. They have the same support and insoles as Birkenstock sandals. They are fantastic when being on your feet a long time, great for lots of walking, great for wider feet (and they have a narrower option), and look cute with a lot of different kinds of outfits! Stay tuned for a more detailed report!