This article may contain affiliate links; if you click on a shopping link and make a purchase I may receive a commission. As an Amazon Associate, I earn from qualifying purchases.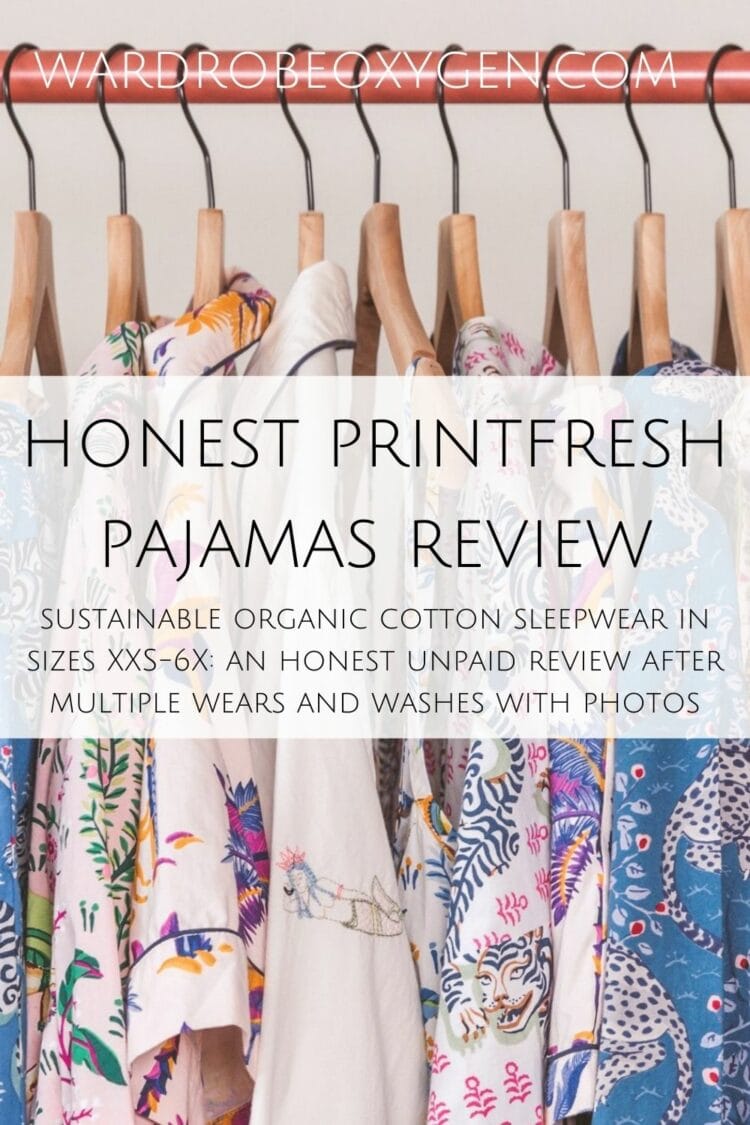 I don't know why I haven't done a review of my Printfresh pajamas until now. Oh yeah, now I remember. Because Printfresh pajamas need to be washed at least three times to become awesome. In fact, the more you wash them, the more you will like them.
You've likely seen Printfresh pajamas on your social media feeds. That is because Printfresh reached out to a bunch of influencers, offered to send one or two pieces free, and gave each of us an affiliate link (click here to understand how affiliate links work) in exchange for at least one share. And I was like okay, I keep hearing about Printfresh pajamas, I like the size inclusivity and sustainability of the brand, I can do a quick mention and swipe-up on my Instagram Stories in exchange for two pairs so I can come here and do a truly honest and thorough Printfresh review.
And now it is two months later and I am finally doing my Printfresh review for you. Spoiler alert, it's pretty positive.
What is Printfresh?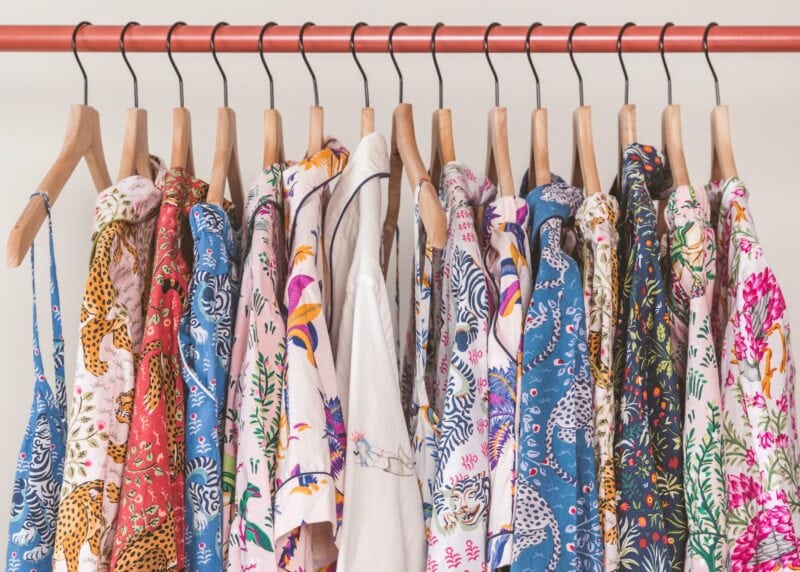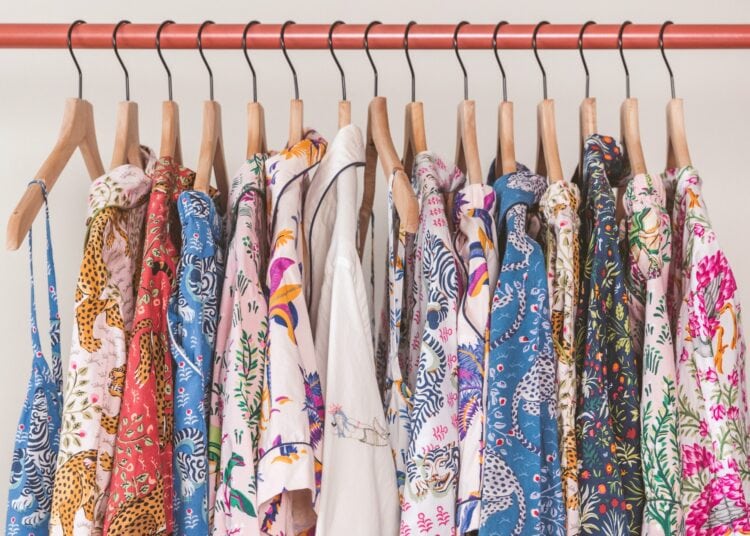 Printfresh offers pajamas, robes, and other sleepwear in women's US sizes XXS/00 through 6X/34-36 and men's US sizes XS-XL. While 5-6X isn't yet available in all styles, Printfresh is actively expanding their size range and works with a variety of sizes and shapes of fit models. In 2021, Printfresh began offering Tall in some pajamas (sizes S-XL so far) and is switching their XXS to an XXS Petite option.
Printfresh offers sets (buying a matched top and bottom in the same size) but also offers separates so you can get a more custom fit. Printfresh also offers a small selection of homegoods and accessories.
Founded in 2017 by textile designer and fashion entrepreneur Amy Voloshin, Printfresh's collection of sleepwear and accessories is designed in Philadelphia by a small in-house team and produced by socially and environmentally conscious vendors in India. It's a family business; Voloshin is Founder and Creative Director and her husband Leo is the General Manager.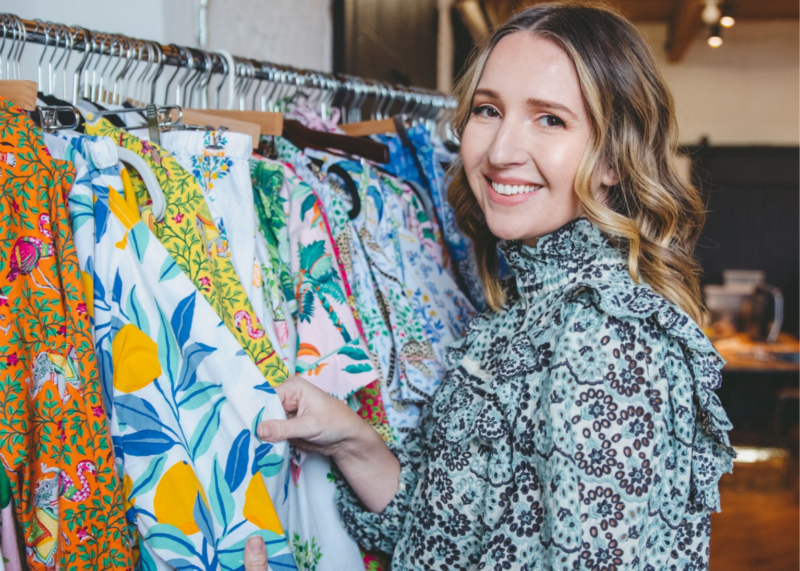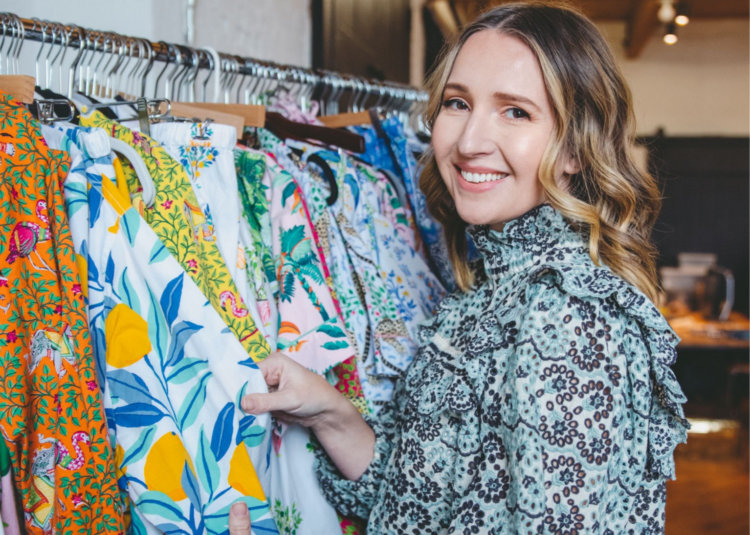 I wanted to get to know Voloshin better and did a bit of a Google search on her and Printfresh. I enjoyed this interview with Voloshin in Medium where she discussed her company in a post-COVID economy and how they are a purpose-driven business. This article from 2019 via the Philadelphia Inquirer shares how Printfresh came to be and Voloshin's resume and other ventures.
Printfresh is best known for their amazing prints. Very intricate, Printfresh prints have botanicals, animals, and artistic flourishes that make me wish they had the fabric available for more than just sleepwear.
Printfresh is a Sedex-certified company that is constantly implementing new ways to reduce waste in regard to packaging, shipping, and manufacturing. They have strategic buying and shipping to warehouses to reduce their carbon footprint, use GOTS-certified organic cotton, and create long-lasting products to prevent fast fashion-esque turnover of their pieces.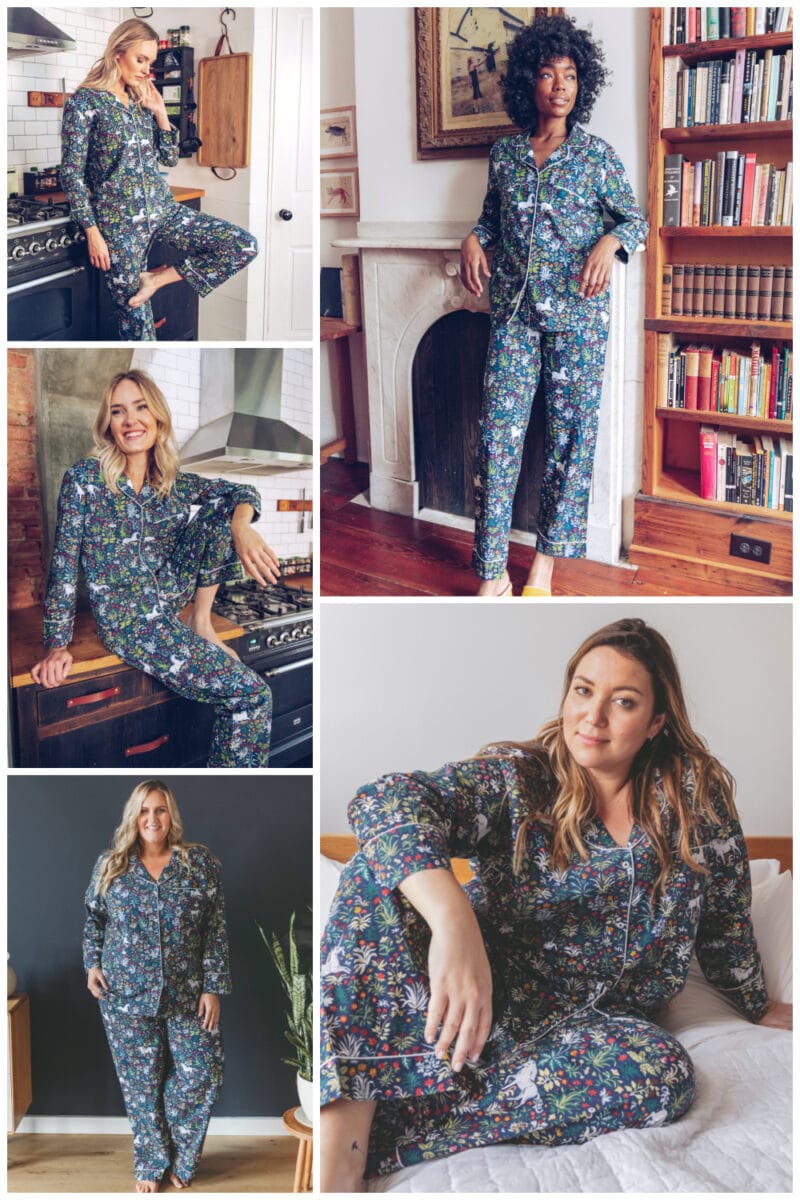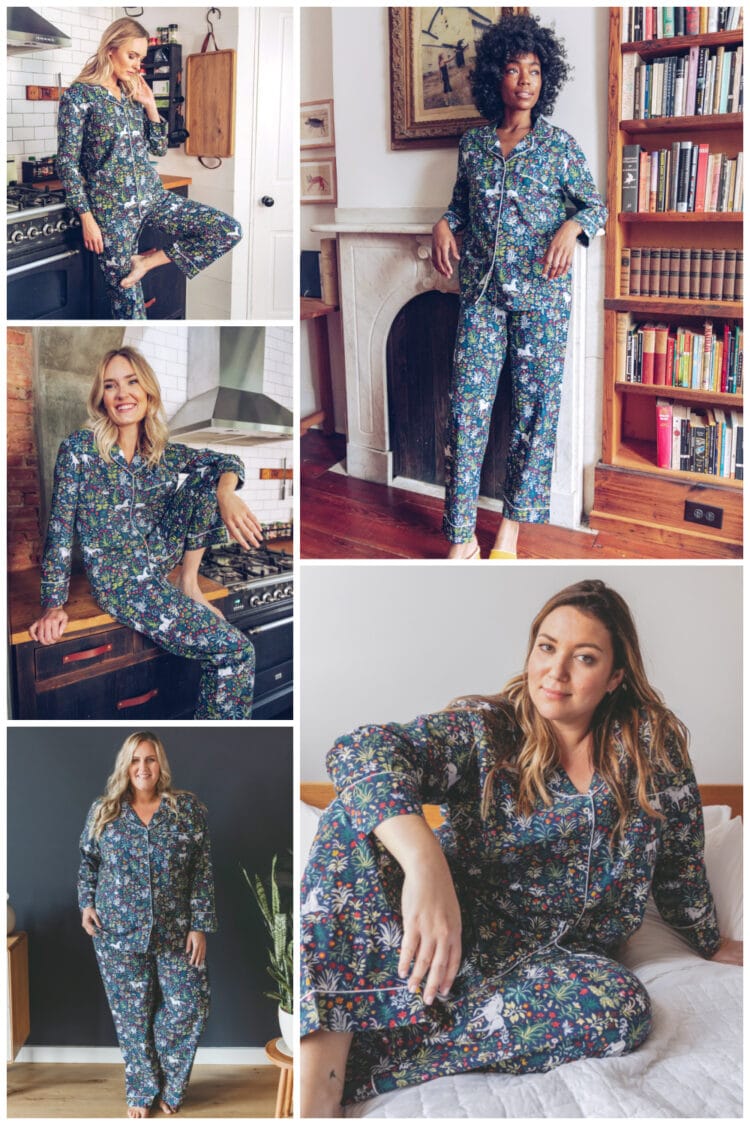 Printfresh offers free shipping and free returns within 60 days of purchase. Printfresh also offers international shipping, discounts for frontline workers, and a rewards program for regular customers.
Printfresh Promo Code: Save 15%
Printfresh has offered me a discount code for Wardrobe Oxygen readers: use WARDROBE_OXYGEN at checkout and save 15% on your entire order!
Printfresh Review: Short and Long Pajamas
For this gifting program, I was able to pick any two sets or a robe from Printfresh that were in stock. I didn't need a robe (though now I wish I picked one) so I chose two pairs of PJ's for this Printfresh review.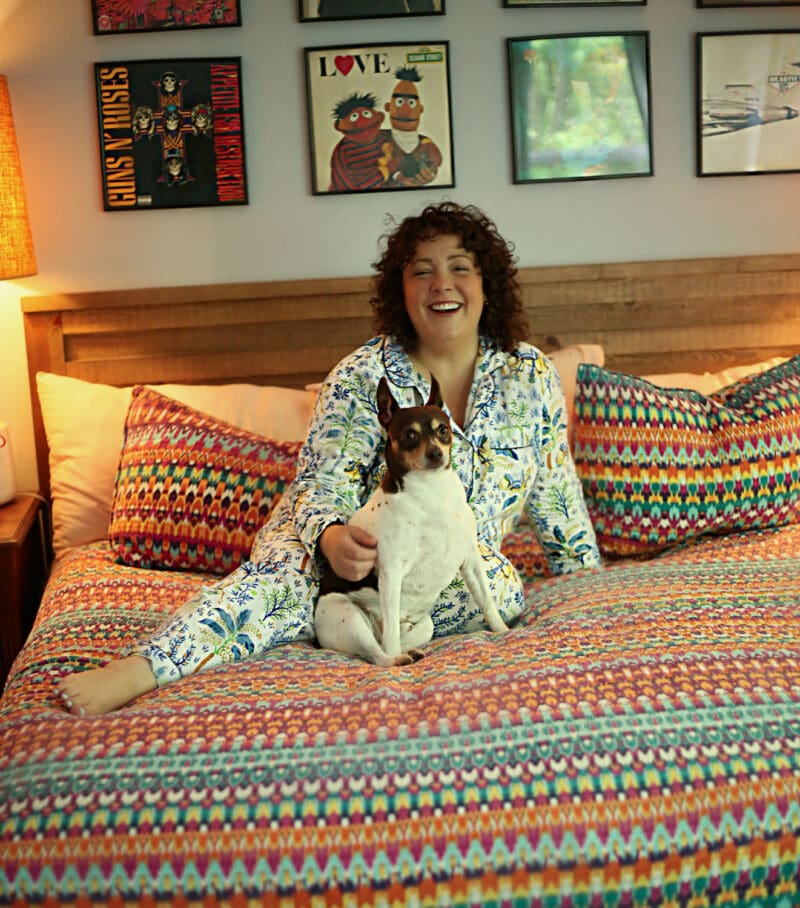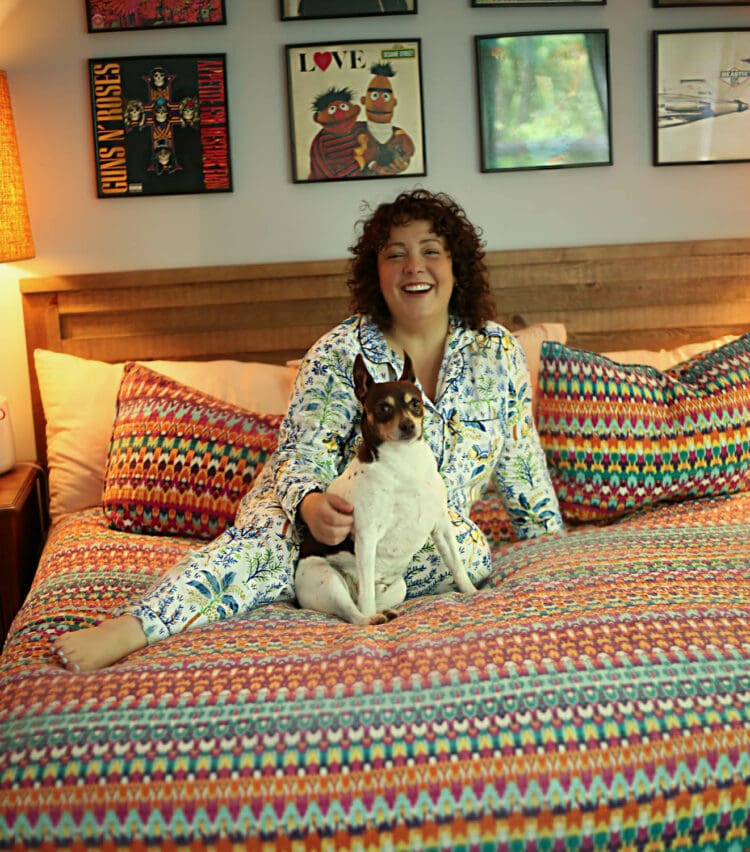 A lot of the prints were out of stock so I got the Camel's Courtyard long set (long sleeves and long pants) in "Cloud" in size XL and the Camel's Courtyard short set (short sleeves and shorts) in "Rose" in Large because I wasn't sure exactly what size I'd be.
Printfresh's US warehouse is based in Maryland, where I live, and it's a woman-run warehouse. Very cool, and also made it that my Printfresh order arrived super quick.
I liked the packaging; it was eco-friendly and minimal but not those terrible paper mailers that shed everywhere and can't be reused. The shipping bag had branding on it and was reusable. Cute little postcard with a personal message was tucked in the package; don't know if that's for everyone or because I was part of the influencer program.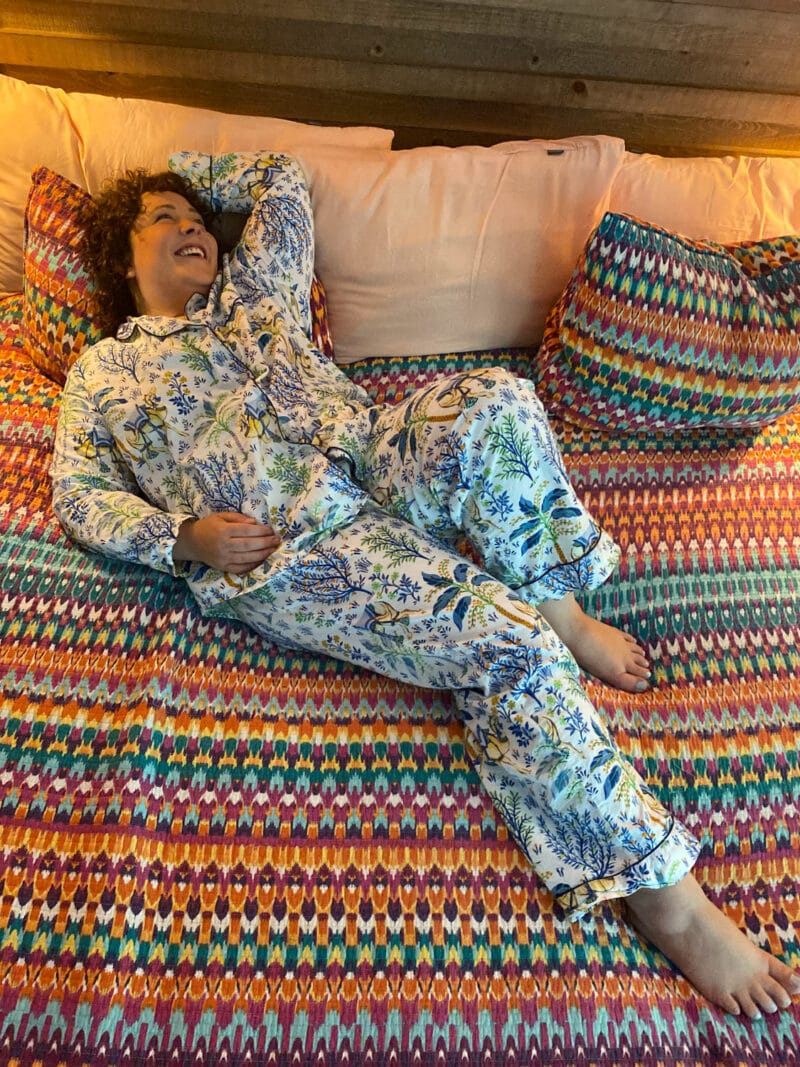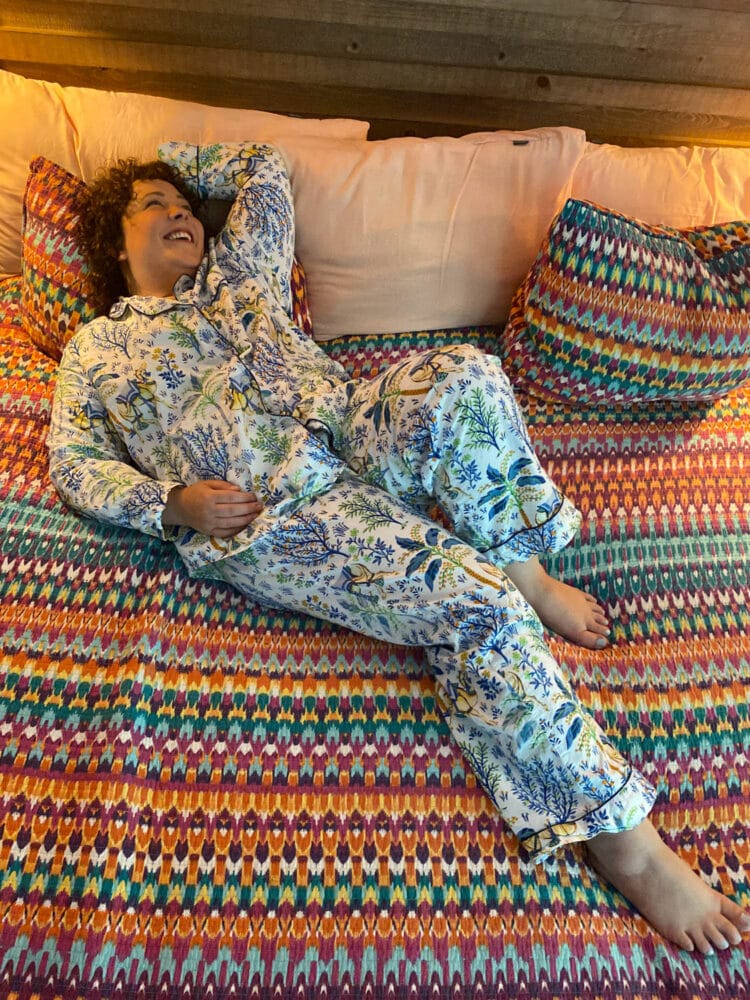 The pajamas were stiff and rough and looked a bit… dingy. I tried on the long pajamas and was not a fan. They felt both too big and too narrow. Being 100% organic cotton poplin, there wasn't any stretch. However, I liked that both the shirt and the pants had pockets, the waistband was both elasticized and had a drawstring, and the pants weren't too long for my 5'3″ self.
I then tried on the short pair… they fit but not in a way my 46-year-old soft curvy body enjoyed. The top was a bit too fitted; it didn't pop at the buttons or press into my arms at the sleeve hems, but it just fit more like streetwear than something to comfortably sleep in.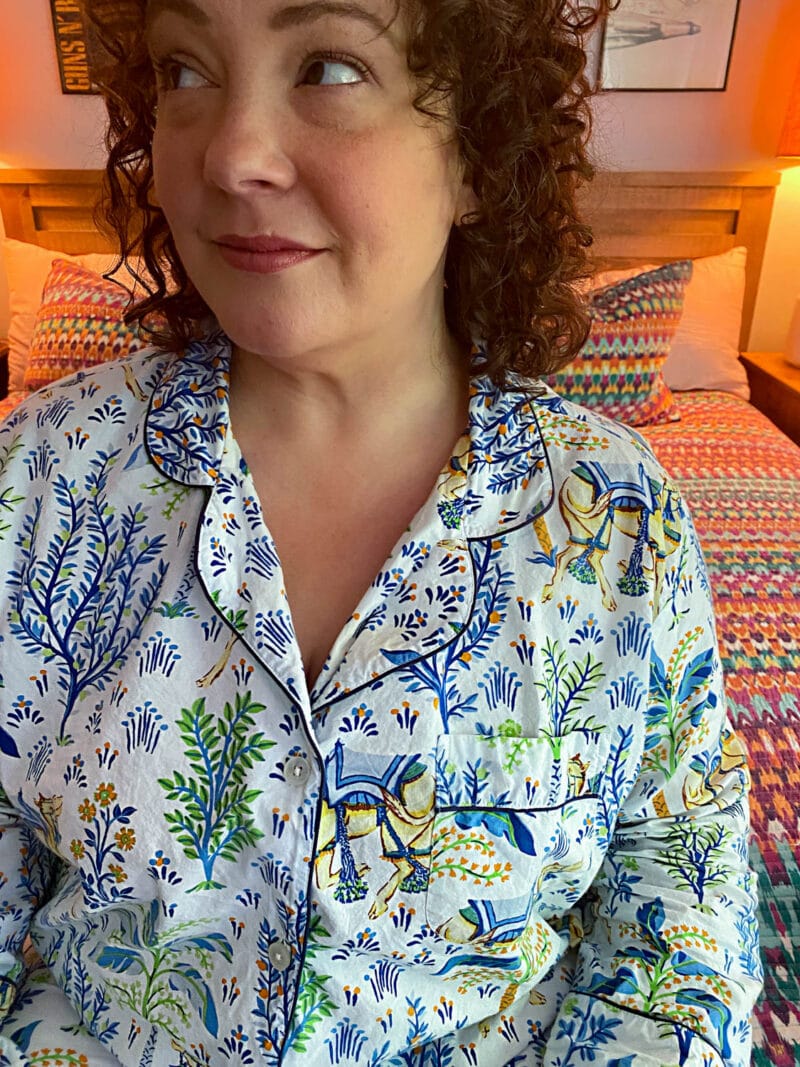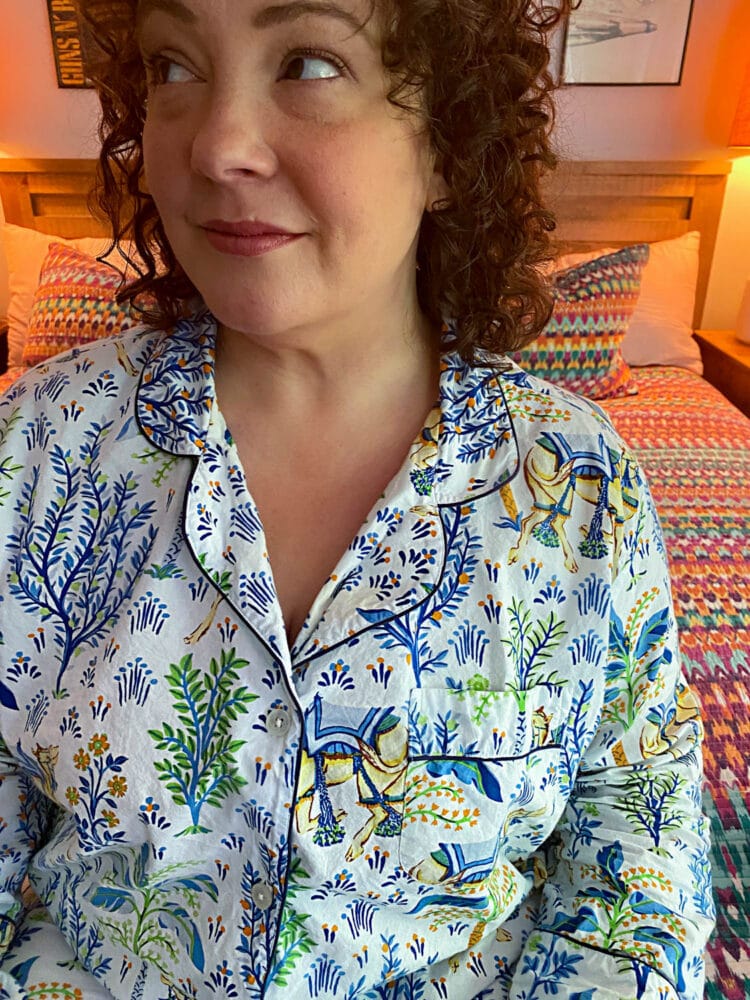 I threw them in the wash and used the dryer. They came out a bit softer and brighter in color and the white ground of the "Cloud" pajamas appeared whiter. I wore them, was pleased to find they didn't shrink much, but still found them a bit restrictive and rough. Washed them again, and again put them in the dryer. Even better, though it made it especially clear that I was an XL. Those shorty pajamas were just too snug for my tastes.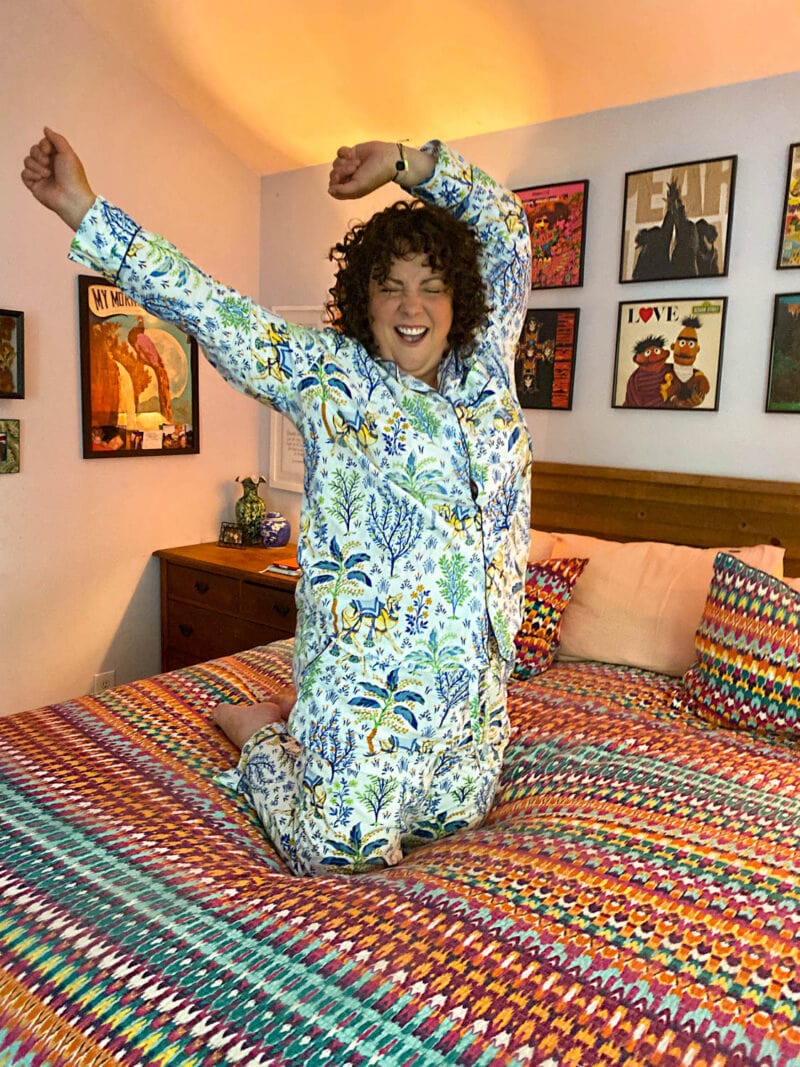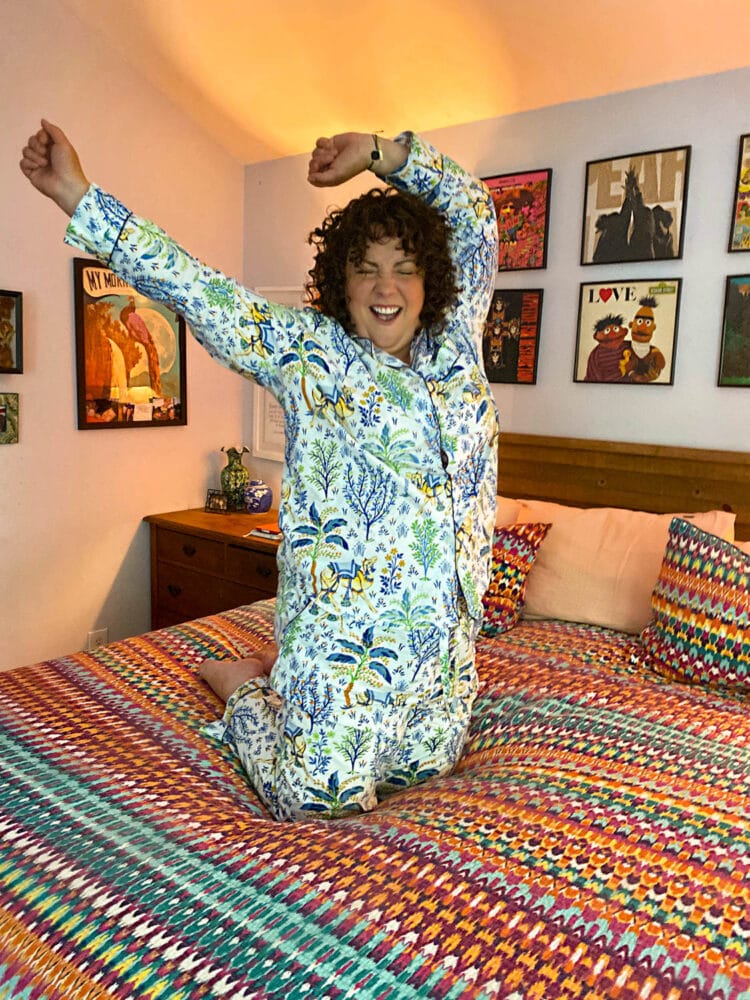 After three washes and dries… my Printfresh pajamas are awesome. The cotton gets rumpled in that perfect cotton way, the colors are bright, the white is crisp, the collar gets a bit rumpled too and sometimes looks like I popped my collar, but I can smooth it down. I haven't ironed or steamed my Printfresh pajamas because I love the rumple.
What I like about these pajamas is that they have that body that comes with cotton poplin. They don't cling or drape or skim. You can't really see my shape under them, making me feel more comfortable padding around the house without underpinnings. When I went away to a cabin for a few days with my sister, the only sleepwear I took was my Printfresh pajamas because I knew I'd be comfy letting it all hang loose in them while we were out on the deck enjoying morning coffee.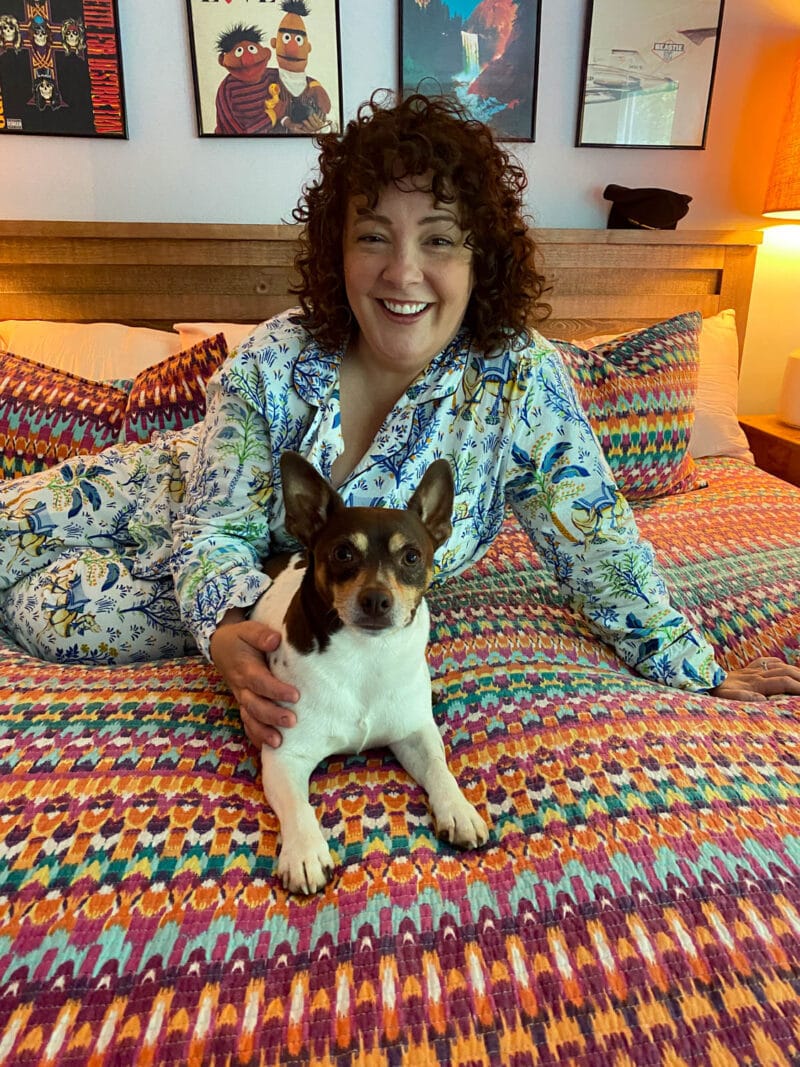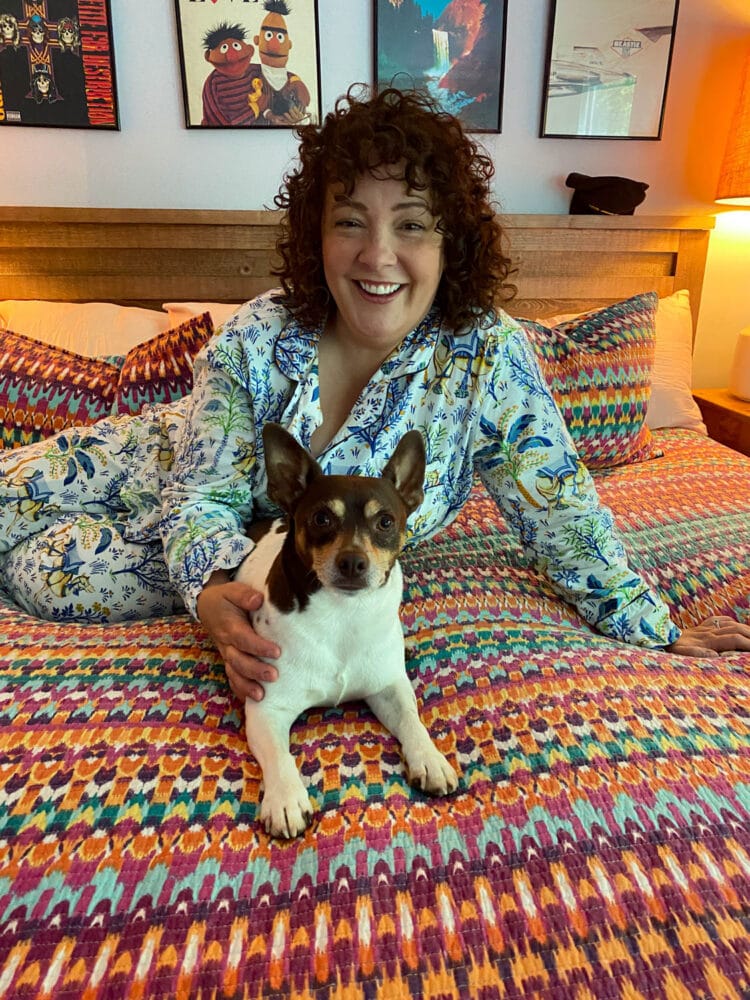 These photos are after washing and drying my Printfresh pajamas… gosh at least eight times. And I may or may not be wearing them as I type this at 12:10pm on a Wednesday afternoon.
But I am Short/Tall/Large/Small Will Printfresh Work for Me?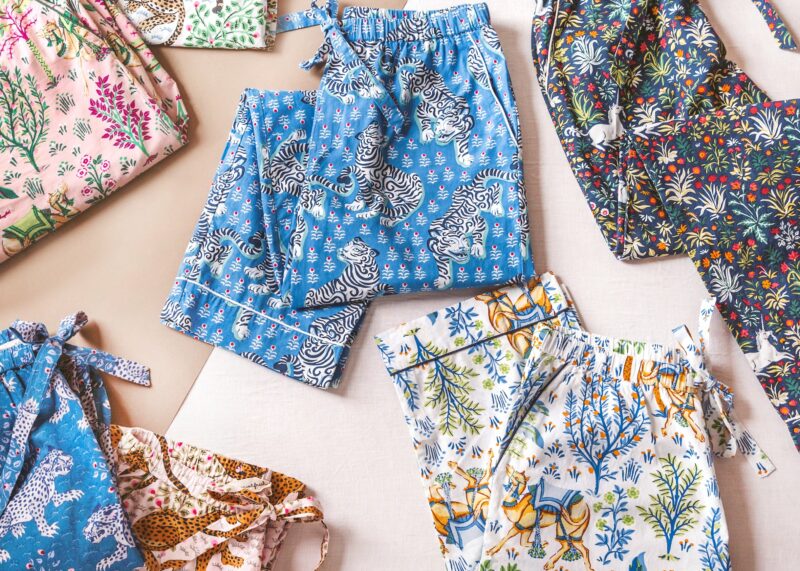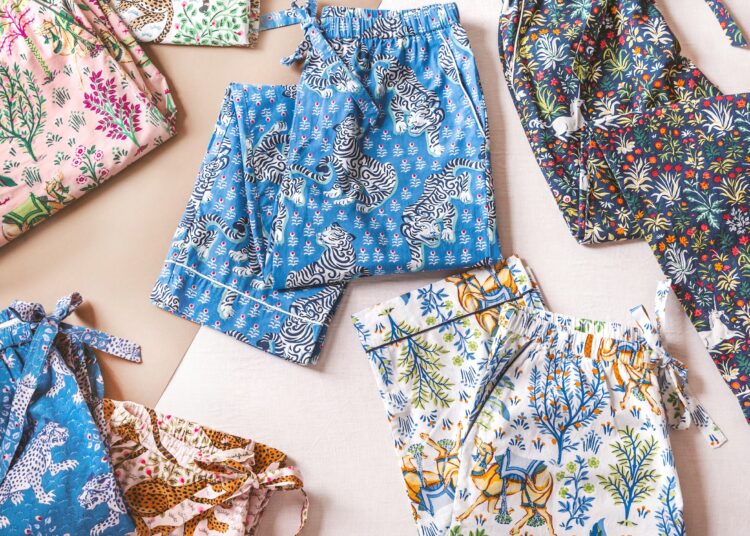 I am 5'3″, I wear a 36 F bra, and size 14 in most clothing. If jeans are sized in inches, depending on the style I wear a 32 or a 33. A 27″ inseam is full-length on me without a "break".
After multiple washings, my long-sleeved pajama top hovers just above my knuckles, the length long enough to cover my bum. The pants have a "break" in where they hit the top of my feet and bend, but they're not so long that I may trip over them. The Printfresh long bottoms all have a 28″ inseam regardless of size. The pajama shorts have a 2 1/4″ inseam regardless of size.
Printfresh sleepwear is made from 100% cotton poplin, there is no stretch and there is a chance that your pieces may shrink in the wash, especially if you use hot water and/or a hot dryer. Printfresh recommends that if you are buying a set and are a different size on top from bottom to go with the larger size. I would agree.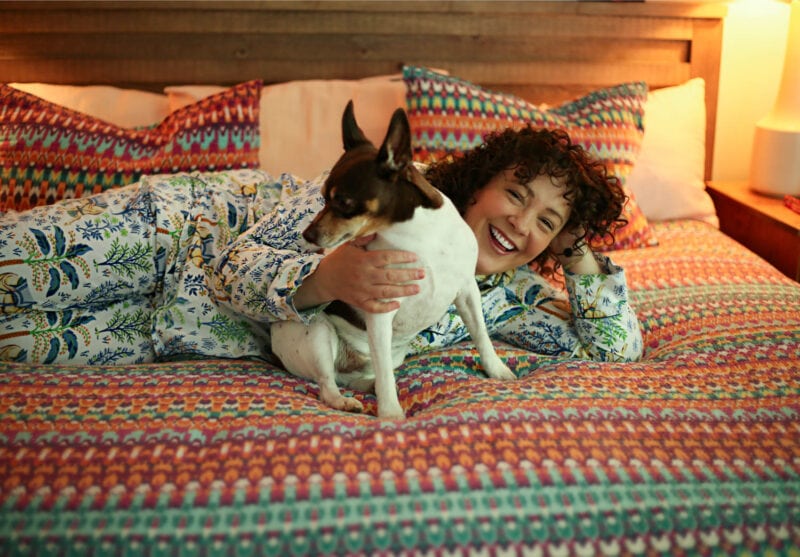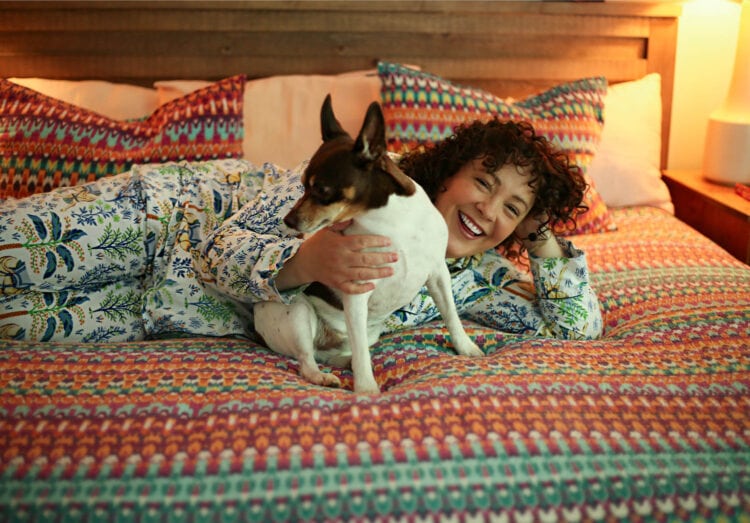 I have only tried two things from Printfresh, but my suggestion is if in doubt for sets or separates, size up. While the size chart would say I am a Large and while the Large did technically fit me, the XL is a more comfortable option for sleeping and lounging.
Would I Shop Printfresh Again?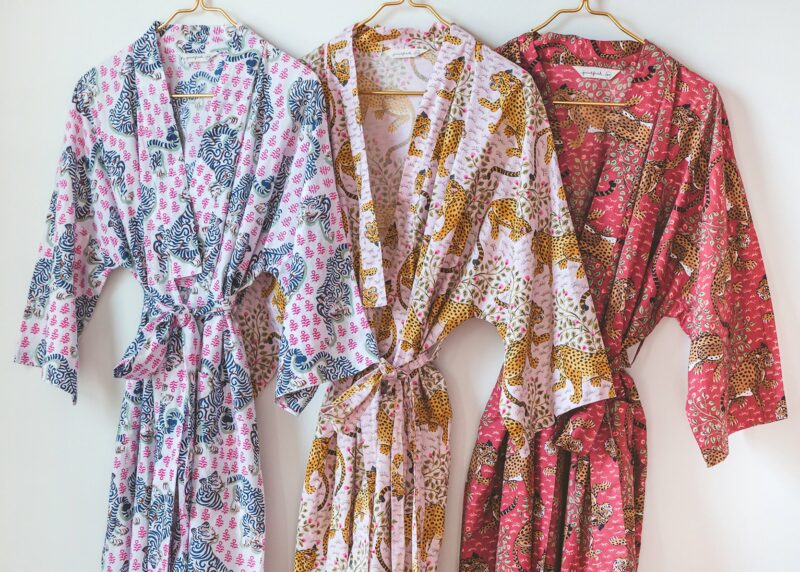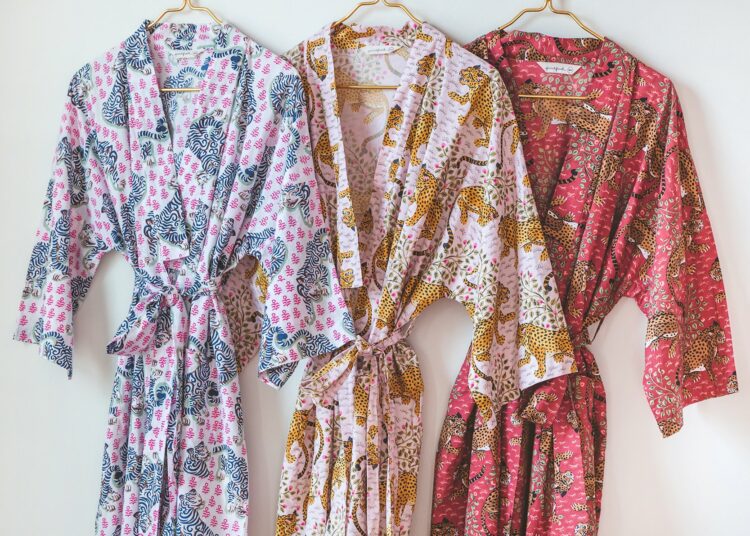 Heck yeah. I love these long pajamas so much, and now seeing they have separates, I am totally thinking about what I'd like next. Now that it's summer I'd eyeing the cropped pajama pants and I'm thinking even though my breasts are not perky like they used to, I think their cami in the cotton poplin with the subtle pleating on top may hide that fact like the pajama shirts do for me.
And above I mentioned I wish I got a robe… I had a cotton robe a couple of years ago and hated it because it always looked wrinkled and didn't accomodate my curves and didn't offer enough coverage to sit down. I thought I needed stretch in my fabric to make a robe work for me.
But since so many influencers of different sizes and ages also got this same gifting opportunity from Printfresh, I have seen bodies I can relate to wearing the Printfresh robes. And now I want one and think it would be a nice summer switch from my terry and fleece robes. I appreciate the large patch pockets that can hold a smartphone without causing the whole robe to hang to one side and the prints are just so good.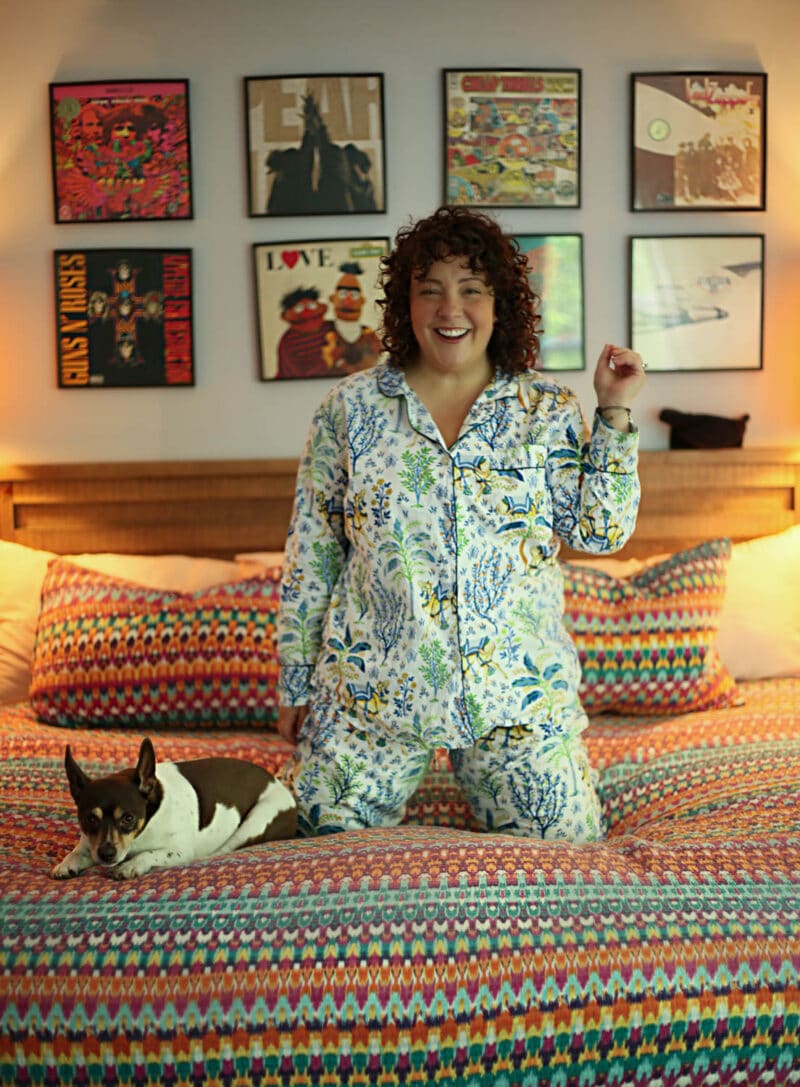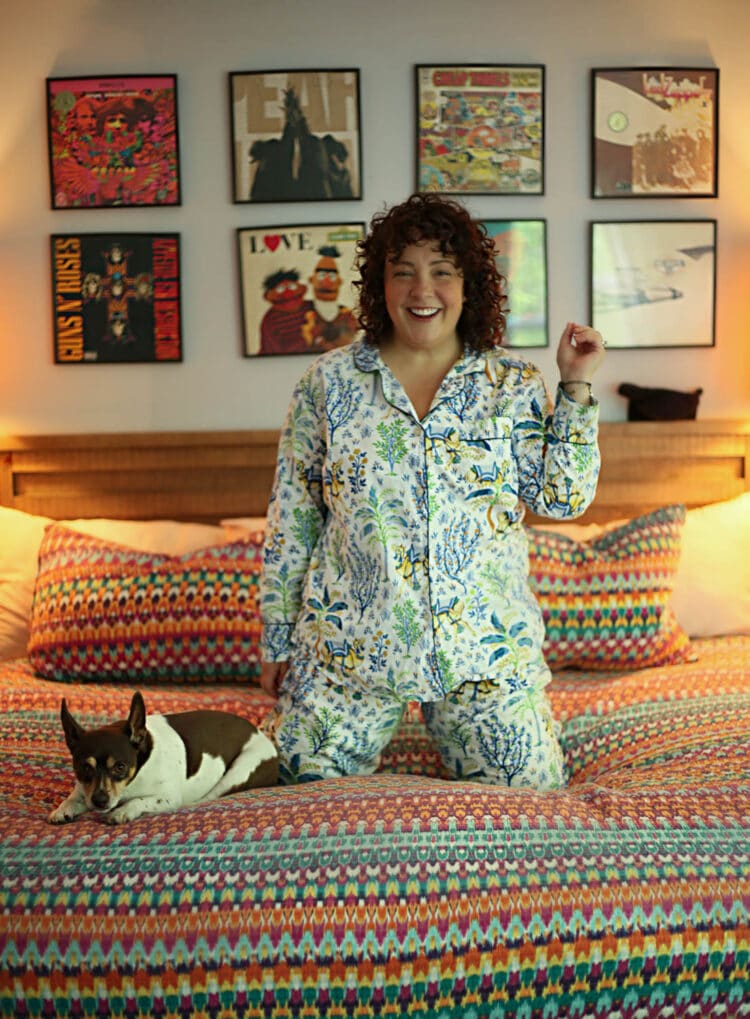 The goal of these gifting programs is awareness. If you see Jessica and Kelly and Kerri and Chrissy all in the same item you're going to be more likely to look into the product. When you see a body you can relate to in it, you're even more interested. And even though I am one of the influencers part of this campaign, it influenced me to shop Printfresh again and to write this review for you.
As a reminder, if you want to shop and get 15% off, use WARDROBE_OXYGEN at checkout on your Printfresh order!
Affiliate Disclosure:
The only links that are affiliate to Printfresh are those that are to the general site. If you click on those and make a purchase I will make a commission. The links to direct pages on the Printfresh page are not affiliate because I was only offered a single link and I wanted to make this site helpful with direct links.
I thank you if you choose to click one of these generic links before making your purchase so I get credit. Not only do I get a small commission, but Printfresh will also know that Wardrobe Oxygen's Printfresh review was the reason you chose to shop. I pride myself on my honest and thorough reviews and thank you for taking the time to read them!