This article may contain affiliate links; if you click on a shopping link and make a purchase I may receive a commission. As an Amazon Associate, I earn from qualifying purchases. 
I've had a few gifted items and some purchases I've made recently from brands I know you all love. Most were misses for me but not misses in general so they deserve some love. I know we're not all built the same with the same lifestyles or personal styles so I believe my misses can be beneficial and future hits in your closet!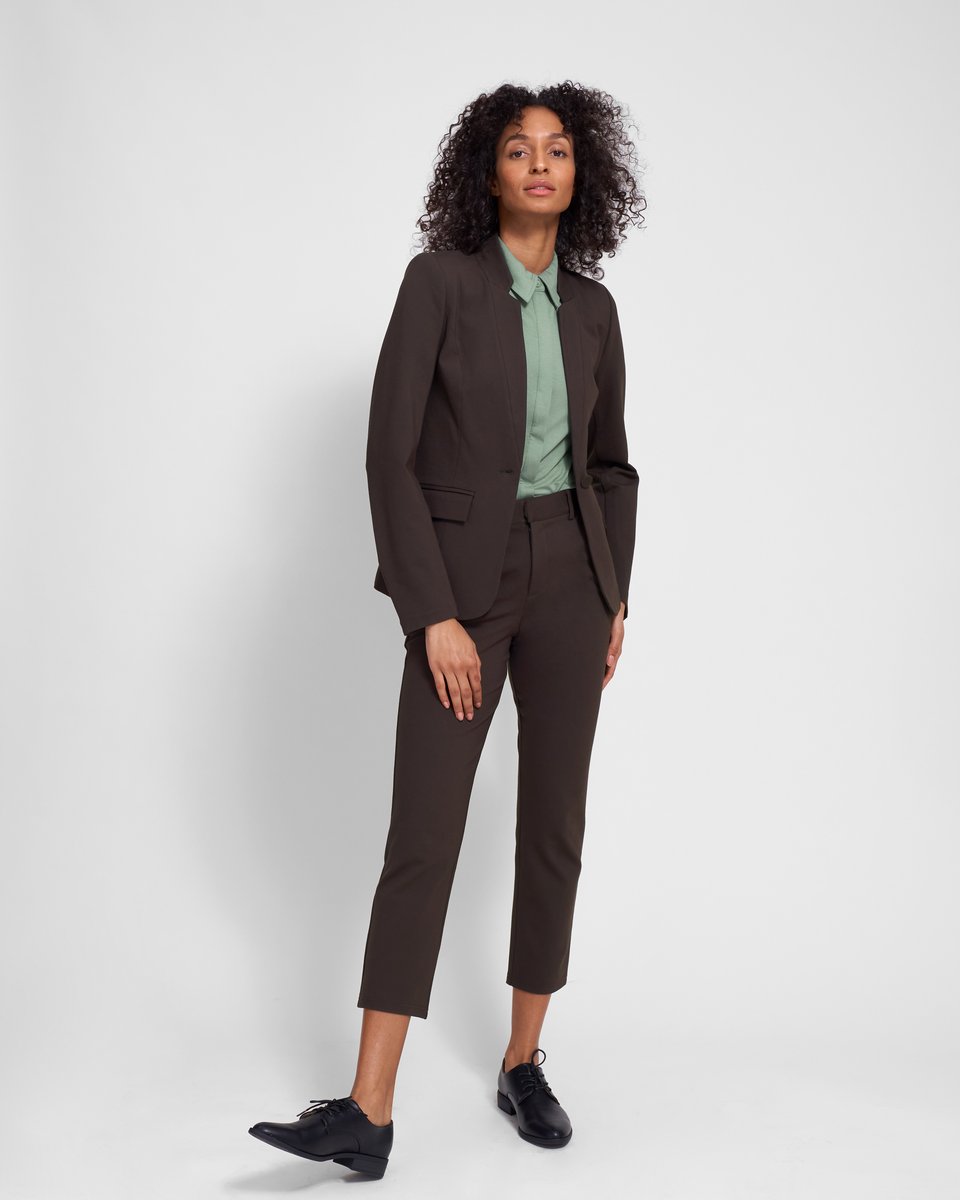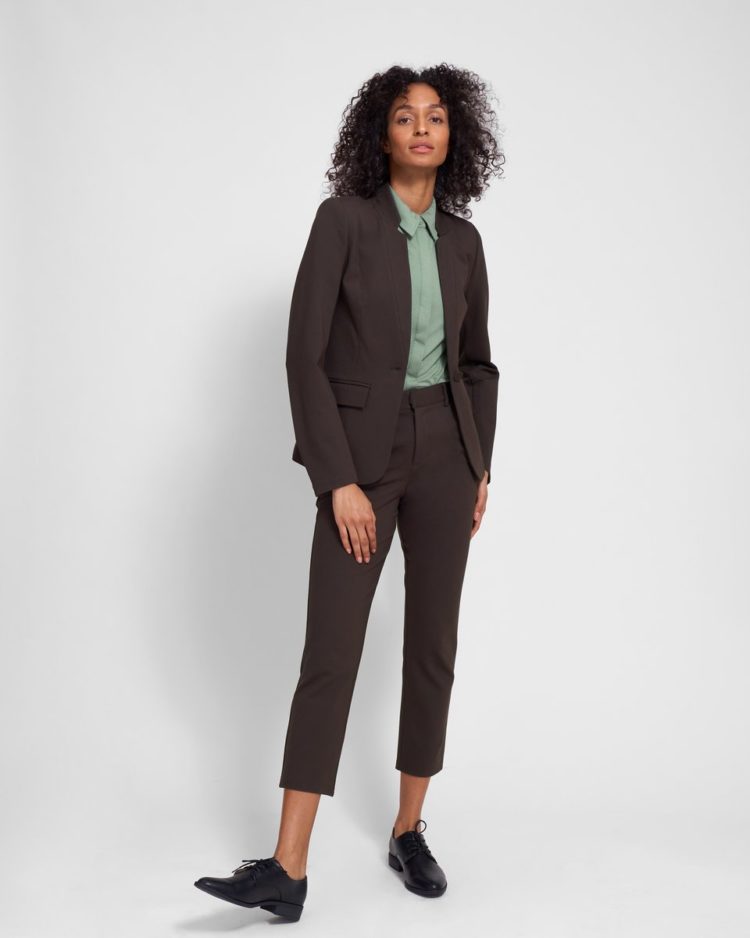 I love suits, they're so good for my lifestyle. I can do the blazer with jeans, the pants with a sweater, the look together with a silky cami and heels for an evening blogger event or a graphic tee and sneakers for a more casual day one. I rock them with turtlenecks and ankle boots, and sometimes with no top at all. I got the Miranda blazer in XS, my standard size, and because I reviewed the cigarette pants before in black and found them a bit too snug for my liking, I went up a size in them. I got both of them in the brown color (Mole).
This is high-quality ponte with weight and structure yet stretch. The jacket is lined, the details like all other suiting I have from Universal Standard is impeccable. Fabric-covered working buttons, working pockets, a smart and modern silhouette, and made for curves. The color is really beautiful, it almost has a hint of berry or purple undertones, very rich and elegant. This is a brown that would look gorgeous with blush pink, ivory, teal, red and berry shades, and even looked great with the black and white striped tank I had on before the package arrived. I liked the black and white with the brown so much I totally would have worn the pieces together… if the suit fit. It felt amazing on, but it was made for a taller person. I needed a 12 petite in both pieces; the shoulders were too wide and the sleeves too long and the button closure wasn't at the right place on my torso. The pants drooped in the crotch/butt and were too long and the waist gapped a bit. I looked at this suit and thought if I was 5'6″ this suit would be perfection. I think if you don't want really tight pants with these to size up. For reference, I am a straight 14 petite in Talbots suiting and rarely need alterations.
Both pieces also come in black; the jacket comes in a color called Storm that looks like a slate blue with a hint of green to it; the pants also come in navy. Neither come in petite or tall, both are available sizes 00-40. So for me a miss, but for others this suit is a serious hit!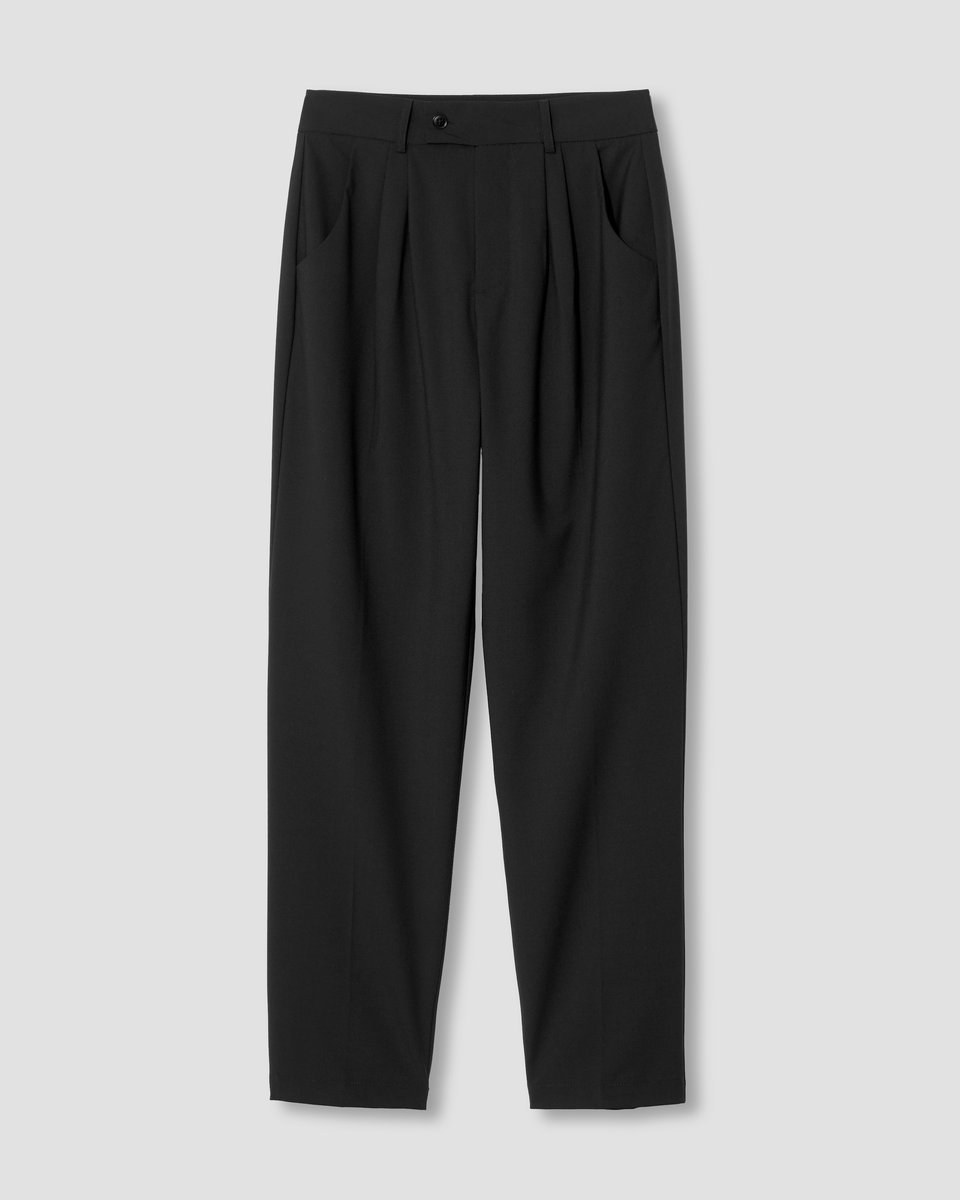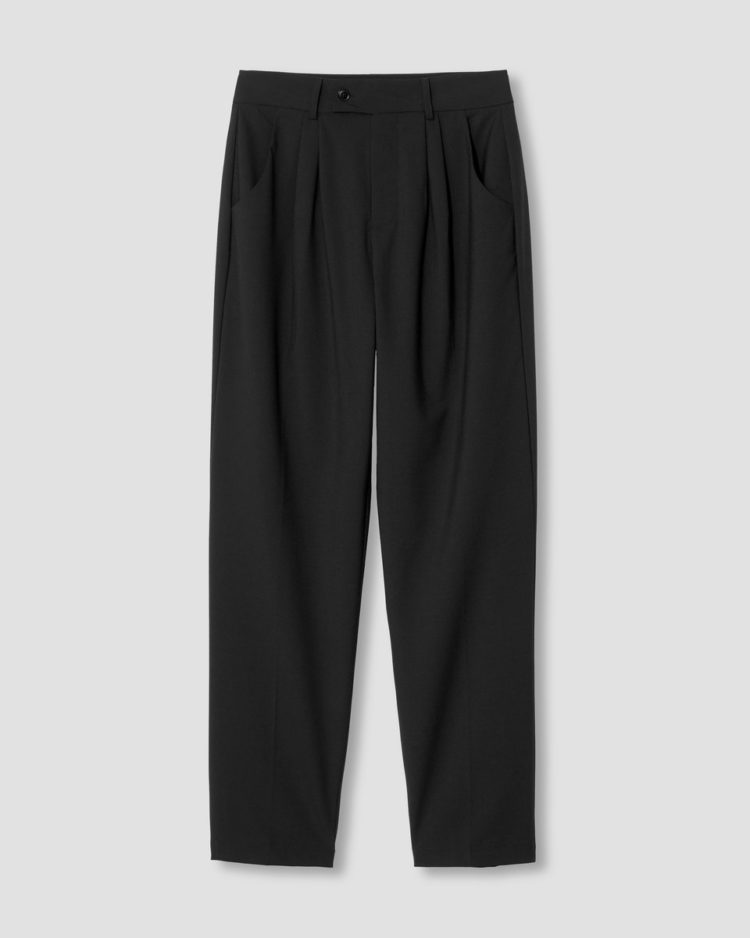 I own and love the Rio jacket and wanted to get these pants for a matched suit. Based on my experience with the cigarette pants being too tight I went with a 14 for these pants. The pants are a perfect match for the Rio blazer; same color and fabric. However, as you can guess from the previous review, they didn't fit. They were hanging off my hips and the pleating in front made me look like a deflated balloon. But I used their easy exchange program, sent them back, and got word earlier this week that the 12s are on their way. I don't know if they will work either, weightlifting has changed the shape of my midsection and rear and I've gone from carrying my weight all in the front to mostly in the back, but I'm willing to try because the fabric is so good and the Rio blazer is so good. I'm willing to tailor these to work, but not have my tailor recreate the pants. I'll keep you posted. So I can't tell whether these are a hit or a miss for me, but they must be a hit for some because they're great pants!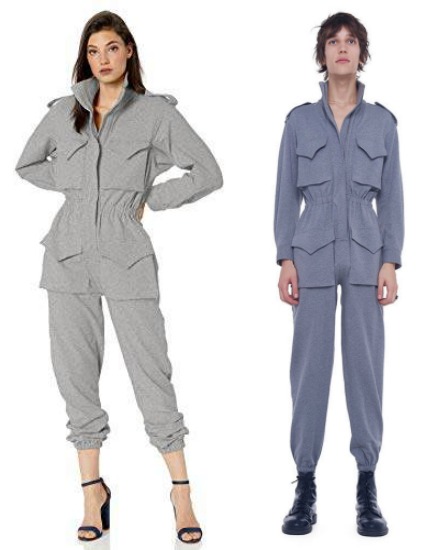 I said I wouldn't buy anything to wear for NYFW, but then I panicked the last couple of days before we left and I ordered this jumpsuit on Amazon. I thought it's warm, it's comfy, it would look cool with combat boots, it looks FASHUN while being easy in the cold and rain. It came Saturday afternoon, we were to leave early Sunday. It fit great, roomy without being oversized. It's super warm, it's like a stylish onesie made of sweatshirt material, no lint and really gorgeous fabric. The collar looked cool zipped all the way up or left down to show a bit of neck or even an expanse of décolletage. This is the kind of thing where people will stop you to ask what you're wearing and cool people will compliment you on your look but you'll essentially be wearing pajamas. This jumpsuit is on Amazon in yellow, red, olive, navy, and heather gray; I picked the gray purely because it was the only one available for next-day delivery in my size. I liked the gray much more than I thought I would. However, this too was made for a taller woman. The sleeves covered my hands, the legs puddled at my ankles, and the pockets stuck out weird because I wasn't tall enough for the fabric to lie correctly. A Large with Norma Kamali is a 12/14 but this fit more like a 14/16 IMO and the brand goes up to XL. From this experience, I'd shop Norma Kamali again, but with my height, I'd steer clear of the jumpsuits. So this was a great discovery but a fail for me.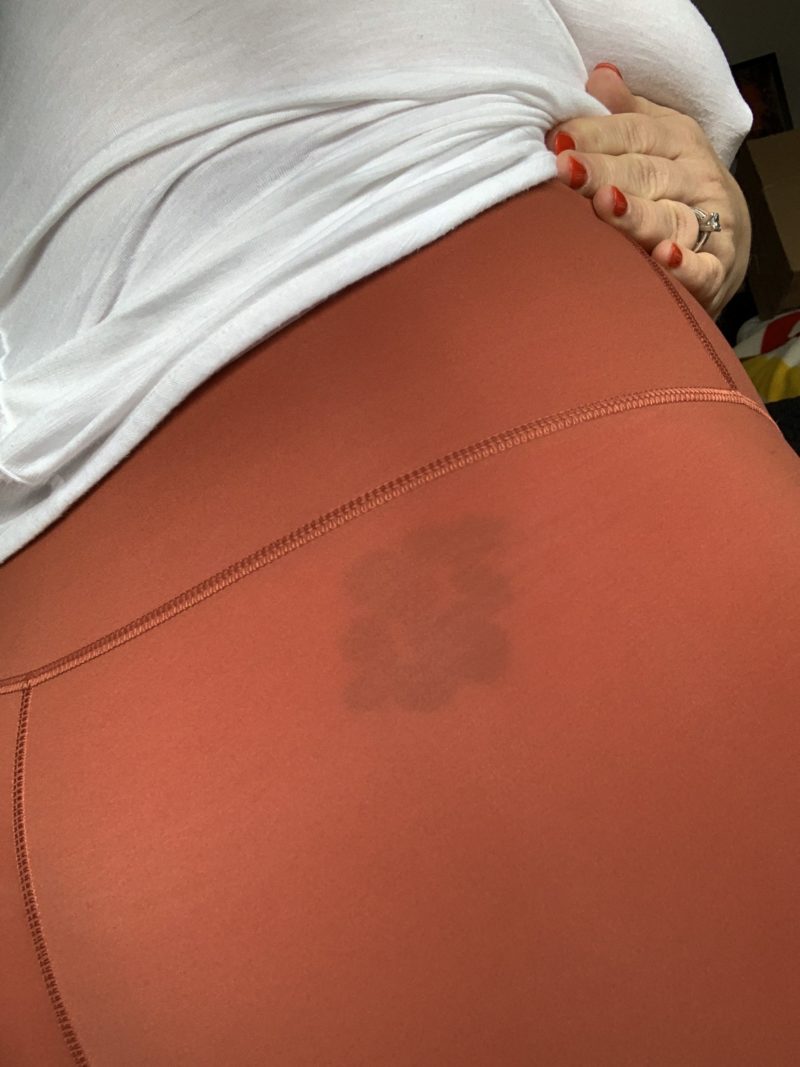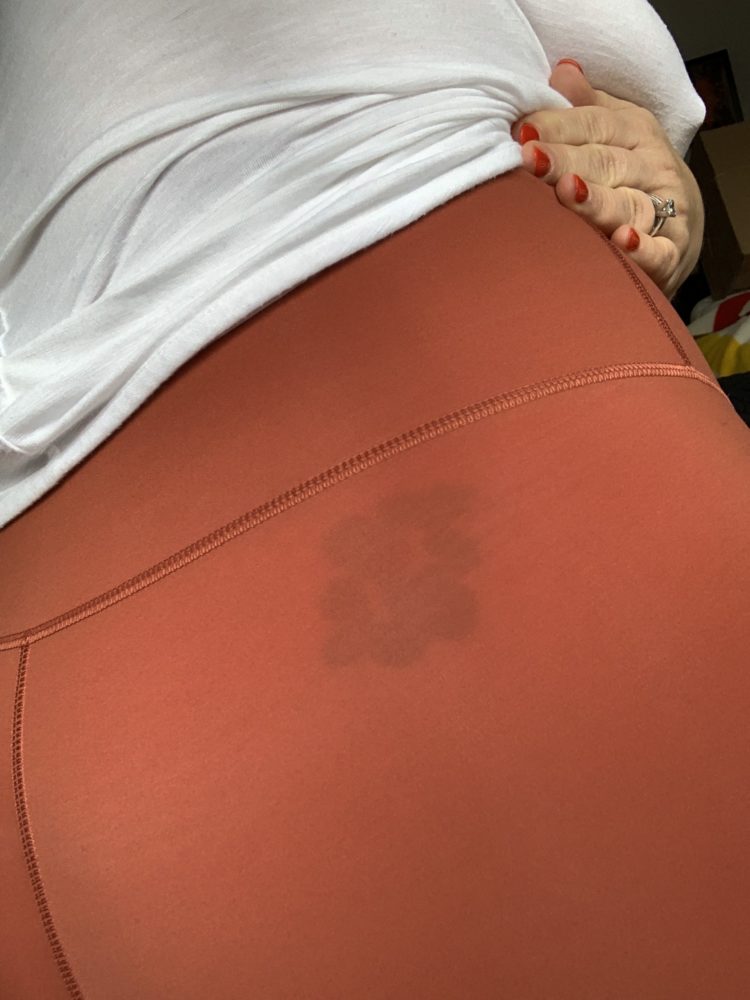 Everlane has me on a program where from time to time I am sent a list of their new arrivals and best sellers and can pick a couple of pieces for styling. Their new activewear leggings were on the list and I've been super curious about them. I like that they're from recycled materials, I thought the color choices interesting, Everlane makes some of my favorite jeans that fit my shape, I was excited. Well, these leggings feel like butter on. They keep their shape great and make my body look amazing. I got the Brandy Rose color which is a clay shade that is super trendy right now but also looks good with a lot of the other colors in my activewear wardrobe. But these leggings are SHEER. Like, above is a picture of my hip in these leggings, right below the waistband you see a black blob through the fabric? That's a tattoo. I am not doing squats, I am not pulling the fabric, that's just my butt in front of a window in the middle of the day. These leggings come in 4 colors and up to a size XXL and seem to get rave reviews but I can only think it's from people wearing the darker colors in a size or two larger than normal who wear them for athleisure not activewear. Miss.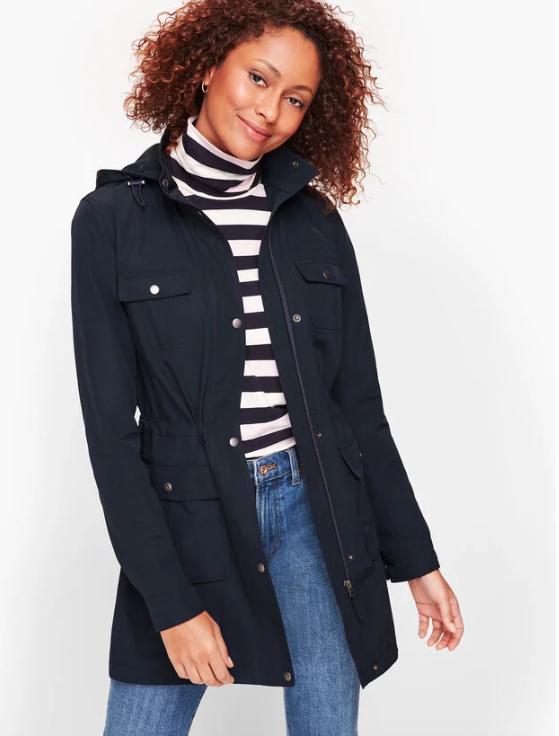 Talbots shared their spring looks with me and I asked for a few releases to style for the blog and/or social. This raincoat is one I asked for as I don't have a raincoat. I have the olive one in this blogpost but it left me soggy on a rainy vacation day. It comes in pink and navy; since I own this pink trenchcoat from Talbots, I went with navy. And I am so glad I did. This is the kind of classic raincoat I can throw over a dress or jeans, will be chic on travel, and will be stylish for years. Unlike many coats these days you find you can't launder, this one can be thrown in the washing machine and dryer (though I haven't done that yet). The hood can zipper off leaving you with a standing collar. The hood has an elastic drawcord for gales. The coat has a heavyweight zipper and snaps to keep dry and warm. There is an elastic drawcord at the waist so you can make it look more anorak style and cinch or leave it straight. Two chest and two front pockets with snap closure big enough for your phone, gloves, keys, and more. The lining is the taffeta-finish acetate not silky, so it won't stick to sweaty or damp skin. This raincoat comes in Misses and Plus sizes, though the plus only comes in Navy. Hit!
I mentioned in this blog post that I had an old Talbots yoga jacket that I still adore, but it's big on me (XL), and this looked like a good alternative. Talbots was kind enough to send it to me as a gift. I got the Festive Coral; it's a fun color almost like an electric hibiscus. Unlike the jacket I have from a few years ago that is shiny traditional activewear fabric, this one has a matte finish. It's a great weight; enough to feel warm even in the wind but not stiff. Front zipper pockets that are sewn so that they create separate interior patch pockets. The zipper pulls are black and white stripe, there is tonal grosgrain ribbon detail at some seams that I'd think I wouldn't like but actually helps with shape and adds style and an elevated feel. I got the jacket and immediately wore it with black cabi joggers and the striped tank below and my white Adidas Superstars for working from home, to get my kid at school, hit Target, the UPS store, the post office, and the grocery. I don't think I'll replace it yet as my gym jacket, I just like it too much. It comes in Misses, Petite, Plus, and Plus Petite and comes in four colors. Hit!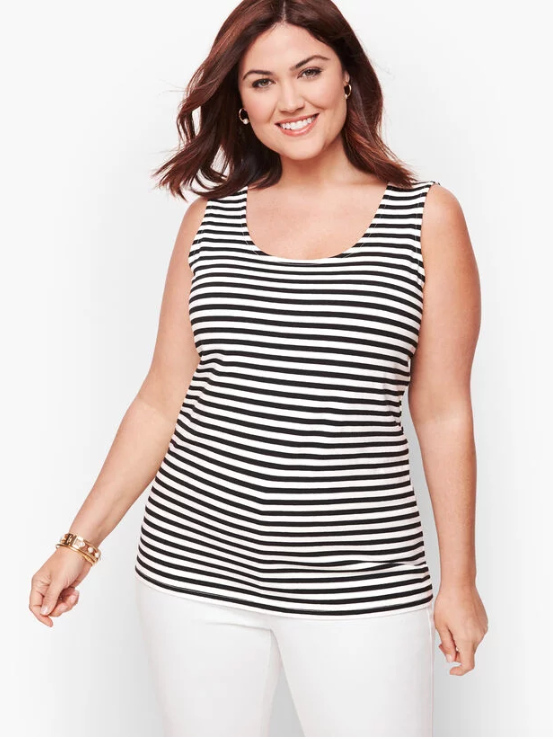 Y'all know I love my stripes! I love having striped tanks, but they often are too low cut and regularly have a solid-colored band around the neckline which makes it look more casual. This one from Talbots, which comes in four classic stripe colors, has no band and I know Talbots won't be cut to have all my cleavage on display. I asked if they would send me a Large Regular, wanting length to be able to tuck and blouse. And this is the perfect size. It covers my bra, isn't too low or high at the neck, and a smooth knit that can be casual or look chic under a blazer. As I mentioned, I wore this tank it under the brown suit and loved the effect, and wore it under the yoga jacket. It looks nice on its own, straps wide enough to cover any bra and weight heavy enough to be opaque. It comes in Misses, Petite, and Plus. Hit!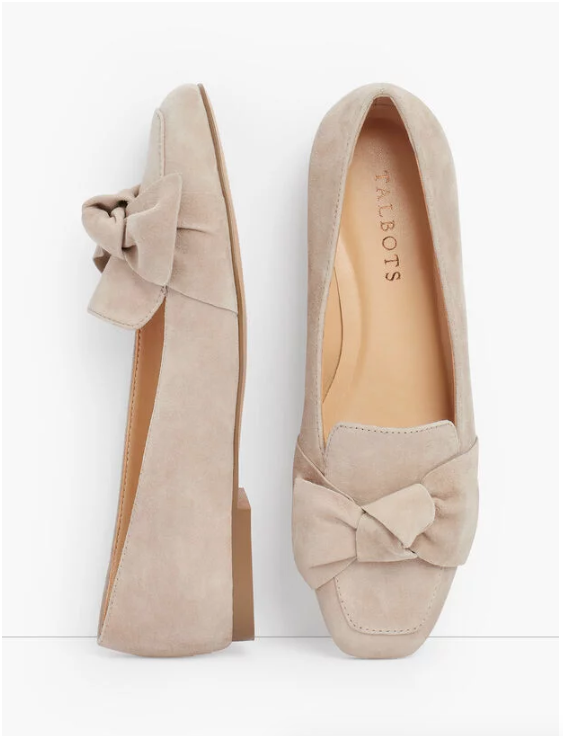 I've really been digging loafers lately and have been wearing my blush pink ones from Clarks a lot. I asked Talbots if I could have a pair of these loafers in Safari Sand, size 8 wide. I liked the elongated toe, the modified bow that isn't too cutesy, and the color that would be very low contrast to my skin. I've had a lot of success with Talbots shoes in the past and love that they carry some styles in widths. And these shoes are the same style and quality I've come to expect from Talbots… but the shoes are too wide. That is not a phrase I've said very often in my wide-footed life! They are better with no-see socks; I may get some Footpetals to make them work as they don't rub and otherwise feel great. These loafers come in six colors, three widths, and from size 5 to 11. They're not perfect, but I do plan on wearing them so… hit? Not a miss. Next time I may order medium.
Shop the Post: