This article may contain affiliate links; if you click on a shopping link and make a purchase I may receive a commission. As an Amazon Associate, I earn from qualifying purchases.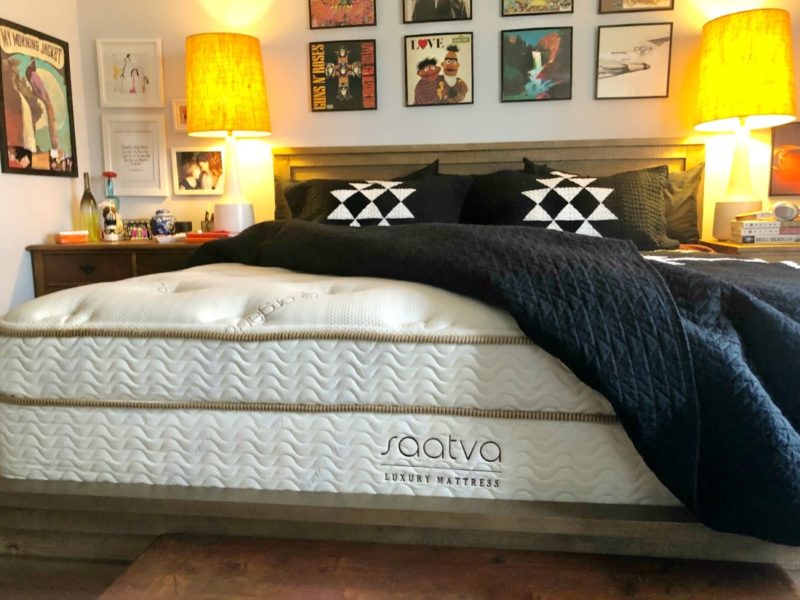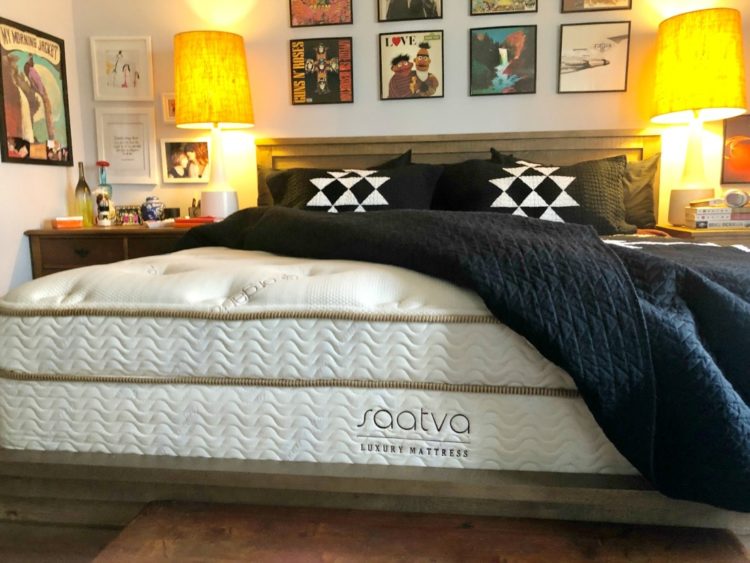 For the past year or so, my husband and I have been looking for ways to get more sleep and make that sleep higher quality. It doesn't matter your stress level, your diet, your fitness, if you're not getting enough sleep nothing will work right. Last year I wrote about how we improved our sleep with new pillows, a gravity blanket, and products to stop snoring. This past year, since adding a regular exercise routine to my life and changing my diet, my snoring has drastically reduced.
We started thinking about replacing our mattress. Our current one is a few years old and while it's comfortable, we wanted to upgrade to king size. My husband is 6'4" and the queen bed and our tall footboard plus his gravity blanket made the bed feel a bit cramped.
We began researching mattresses and asking friends what they thought about theirs. We didn't want foam – too hot. No adjustable bed – we didn't want the seam down the middle and so many friends said after a couple of years they no longer liked theirs. Based on our last mattresses, we knew we didn't like firm mattresses but still wanted structure and support. We liked having an innerspring mattress and the ability to sit on the side without it sinking. We began researching online, with Consumer Reports, and one of the top mattresses we were considering was Saatva Mattress.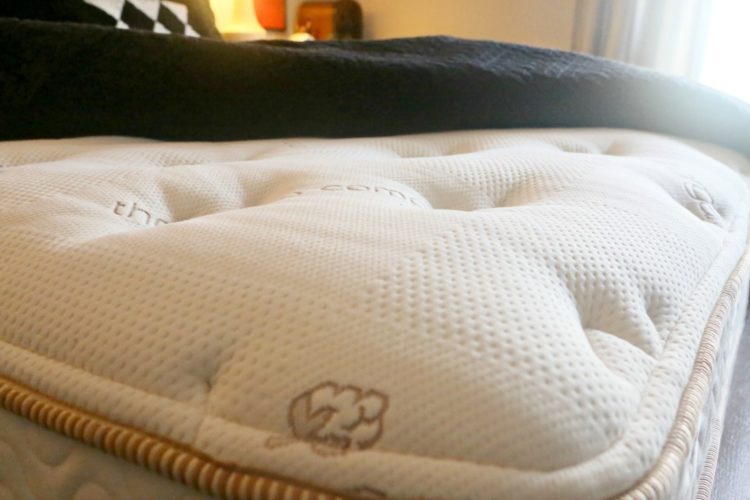 Saatva mattresses are handcrafted in the USA and made with eco-friendly ingredients like foam made with soy or corn oil, recycled steel, and organic cotton. It's an innerspring mattress, with individually wrapped coils and lumbar zone technology for spine support. They use high-end materials and are well-crafted but half the price of mattresses at the local store because the company is 100% online.
We decided to save up for a mattress and shop in a year when Saatva reached out and asked if I'd like to try one of their mattresses in exchange for a review on my blog. I confirmed I did not have to write a positive review, and I could write whatever I wanted. This review is completely my thoughts, words, and feelings. I was not paid in addition to receiving the mattress, but if you click on the links in this post and purchase a Saatva mattress I may make a commission. As always, I'd rather have your trust than the commission, and am being completely honest.
Choosing a Saatva Mattress
Saatva has three options for their mattresses – Plush Soft, Luxury Firm, and Firm. I figured we'd want Luxury Firm as it's the most popular and seems to be a middle ground between soft and firm. However, I did research beyond the Saatva website and found many individuals who found the Luxury Firm too firm. Some of them found the Luxury Firm great at first but after a few weeks found it too firm.
We had a similar experience with a mattress we purchased just before our daughter was born and replaced it with a softer mattress which we preferred, so I decided to go with Plush Soft.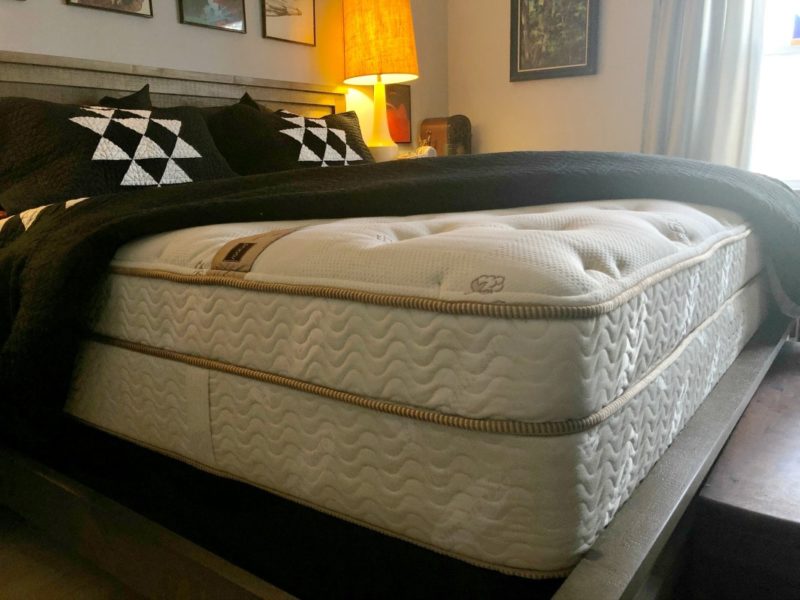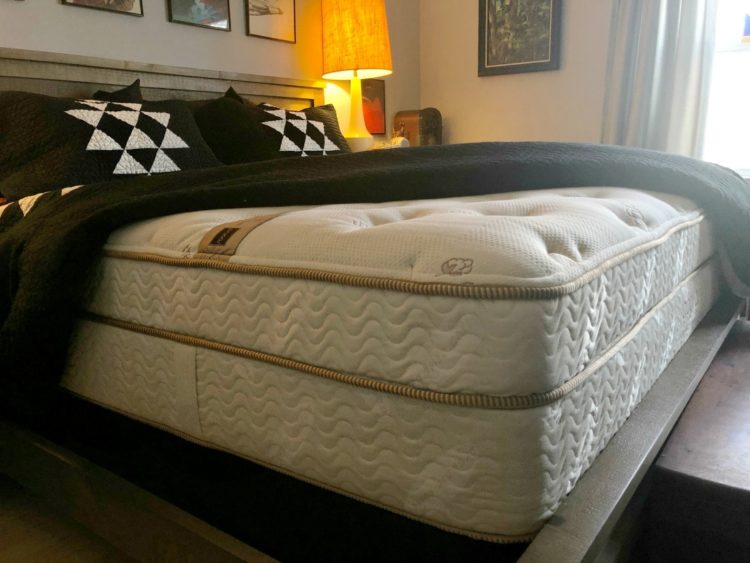 Saatva offers two heights of mattress; 11.5" tall and 14.5" tall. The Saatva website offers a guide to see how the height of the bed will be in comparison to a 5'4" person (only an inch taller than I am). Considering the height of my husband, we went with the taller mattress.
Ordering and Receiving a Saatva Mattress
We went through the same ordering and delivery process as anyone else would, and that service is pretty fantastic. Upon placing the order, I received a text from Saatva where I received a link to my order and confirmed the height of the mattress I desired. The text wasn't automated, I could call or text back with questions and have them answered by a real person. Once I confirmed I received a text response, and was notified by email when my mattress was ready for delivery. I received a call a couple of days before the mattress was to be delivered to schedule a window of time when the mattress would arrive.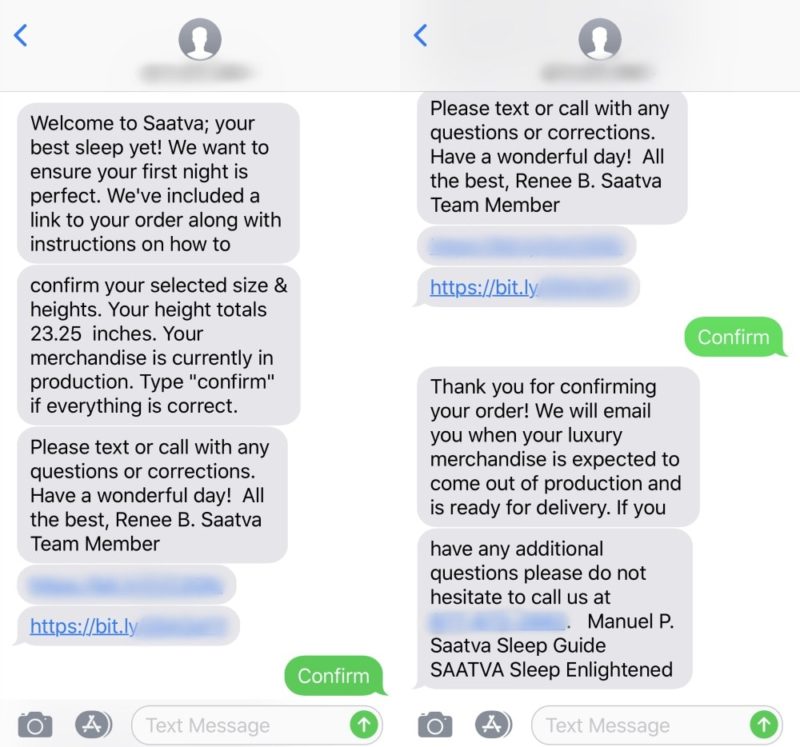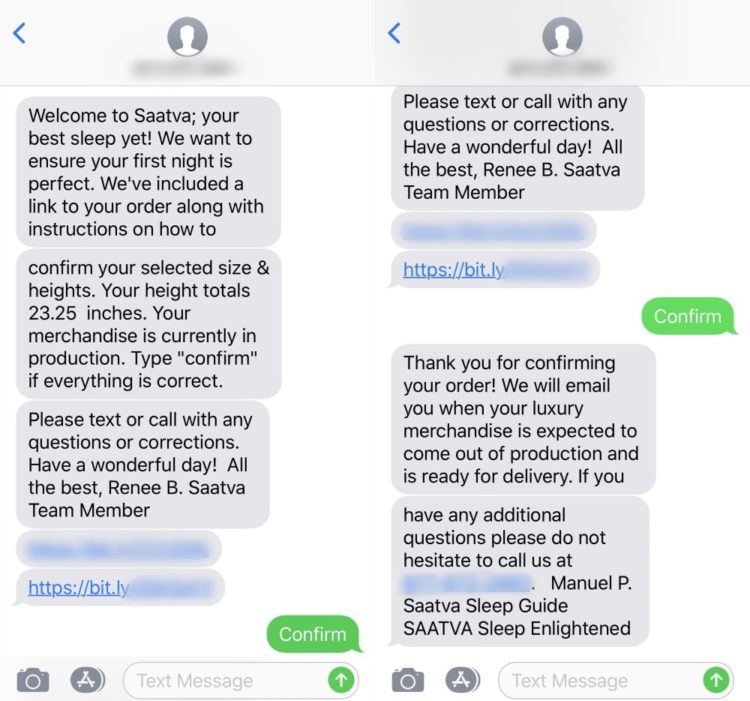 Saatva mattresses come with White Glove Delivery included – this means they won't just shove the mattress in your front door and be on their way. They will set up your new bed, even your new bed frame if you order one, and if you desire, will take away your old mattress. They called ahead of time to see if they needed to remove an old mattress; we said no as we were passing on our mattress to my mom who had a foam-topped one she hated.
The delivery people are contracted and not Saatva employees but they were very professional and friendly. We hadn't broken down our current bed and mattress so we declined the White Glove service, but they still made sure to place the mattress and boxspring in a place in our living room where it wouldn't fall or damage walls or furniture. I regret doing this as it's not easy to get a king-sized mattress up a narrow stairwell in a 1940's rowhome. Even if you plan on keeping your old bed, break it down before the new one comes as the delivery people are experts and it will save your back and your walls' paint job.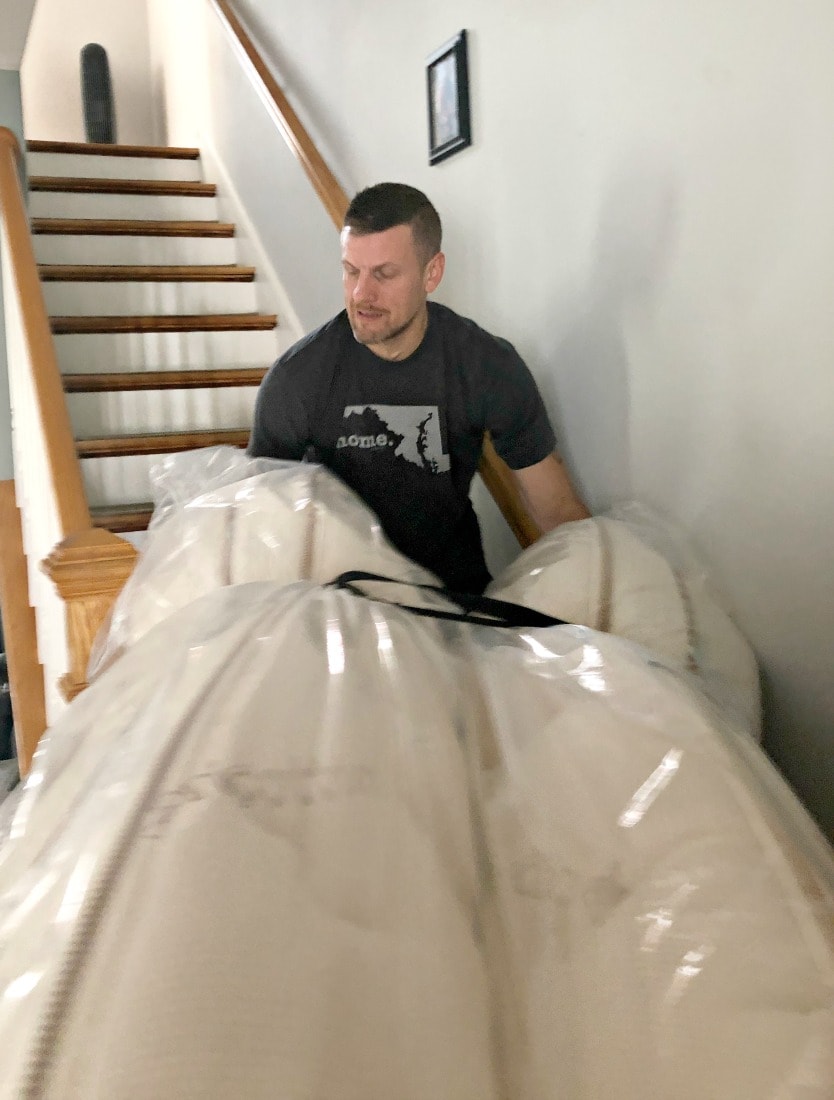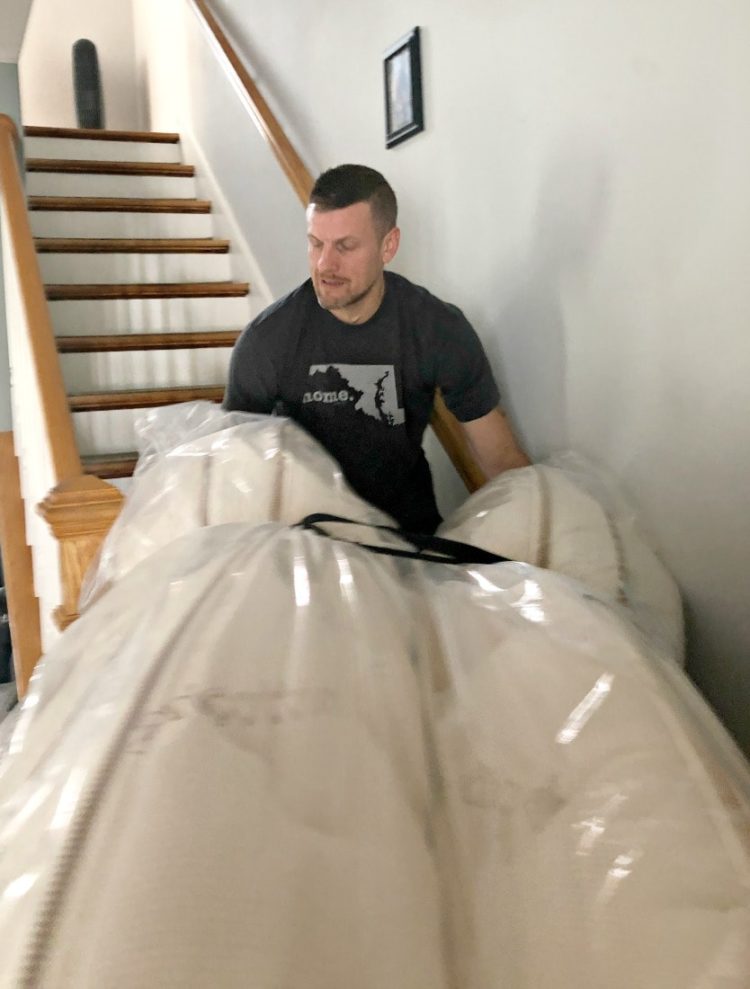 After breaking down our old bed and delivering it to my mom, we got to setting up our new bed. A king-sized bed comes with a two-piece boxspring which was super easy to get up the stairs. The mattress was another story. Thanks to YouTube, we found by using straps that we have in the car for strapping the canoe to our roof, we were able to cinch the mattress in half like a taco and shove it up the stairs.
This didn't damage the mattress; in fact it really let us see how well-crafted and durable the mattress is (way more than our current mattress which cost twice as much). It's well-sewn, really sturdy, both looks and feels quite luxe. Even the boxspring is better made than the one for our expensive mattress store mattress.
One Year Later: Our Saatva Mattress Review
The bed is tall; on the bedframe it's a few inches taller than our old bed but I like it. I feel like royalty in my big bed, and it's not so tall I can't easily slide in and out even when half asleep or after an especially rough leg workout at the gym. Since it's an innerspring mattress, you can sit on the side and it doesn't sink.
It isn't a classic pillow-top where it looks as though they sewed a comforter on top of the mattress; everything is contained. I like this, it feels sturdier and we haven't had any issue with bunching. And while the mattress is tall, deep pocket sheets from any retailer fit very easily on the mattress and a standard fitted sheet fits great over the boxspring as a bedskirt alternative.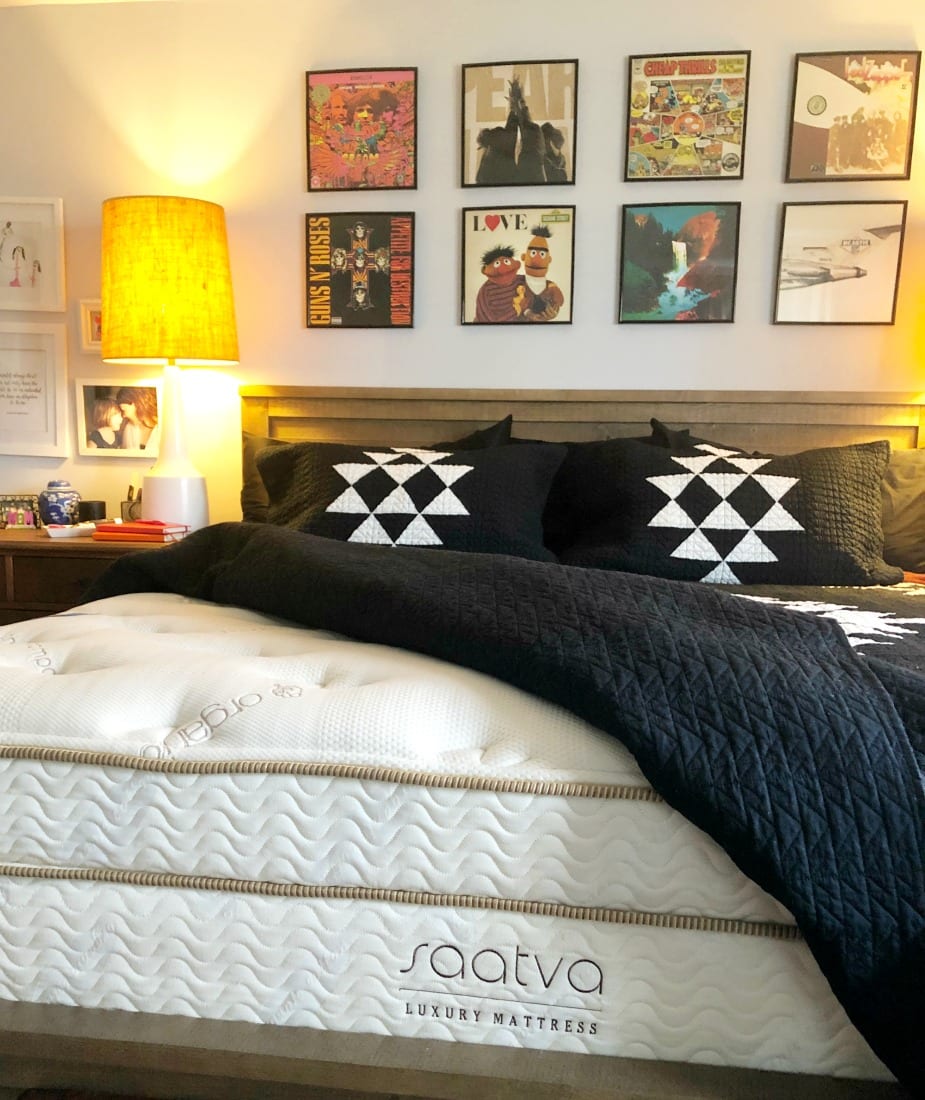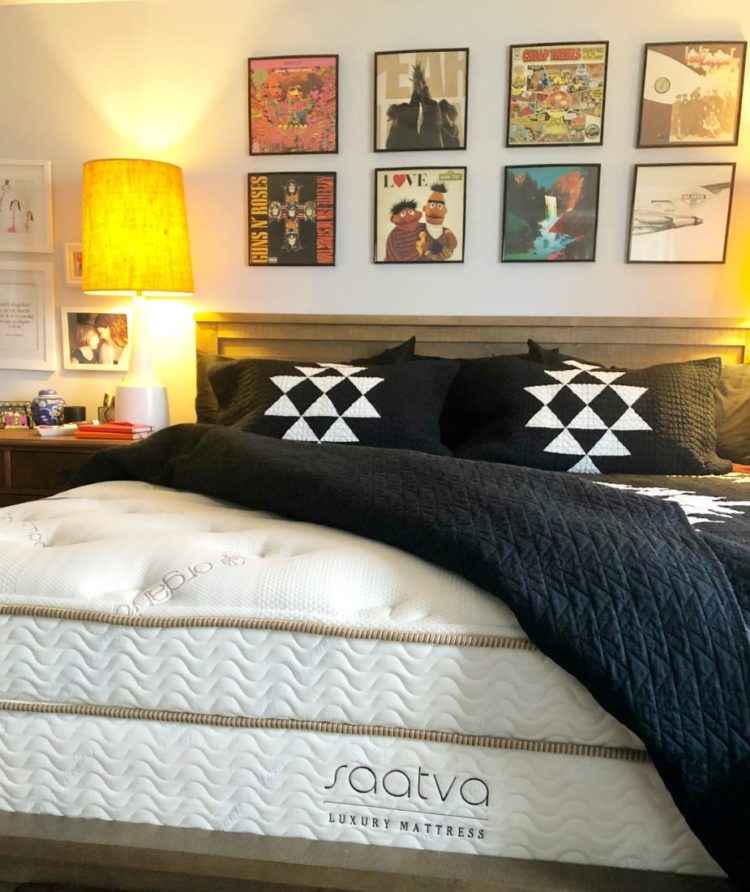 I am so glad we chose the Plush Soft option for our mattress. It is soft, like you feel cradled, but not soft like our very old mattress that didn't support and left me with back aches. We both sleep on our sides the majority of the time but occasionally sleep on our backs, and it's great for both. I often end up having an arm fall asleep and wake up with numbness and pins and needles; I have had that happen only once since getting the Saatva mattress. And while it's only been a month, I haven't experienced any sagging, no shape of our bodies on the mattress, no issues with construction, nothing. We are super happy with our mattress and look forward to bedtime.
Five Years Later Saatva Mattress Review
We have now had this Saatva mattress for over five years so I wanted to return to share how the Saatva mattress has held up and if I still hold true with my positive Saatva mattress review. In 2021 I updated this post unhappy due to the dents in the mattress where the two of us lie (see photo below).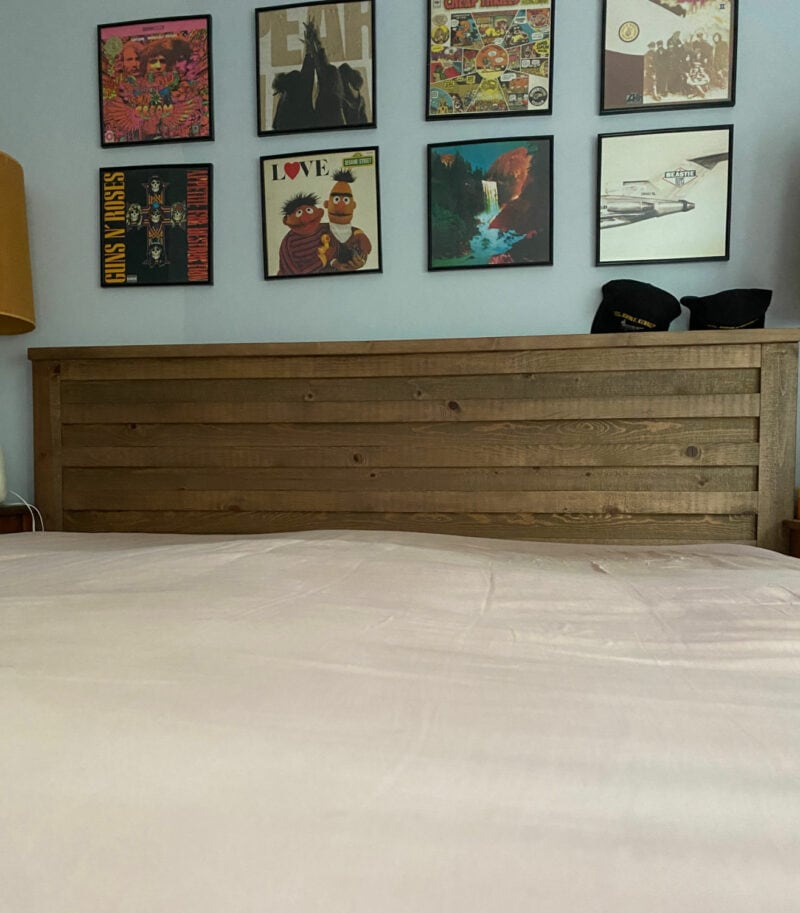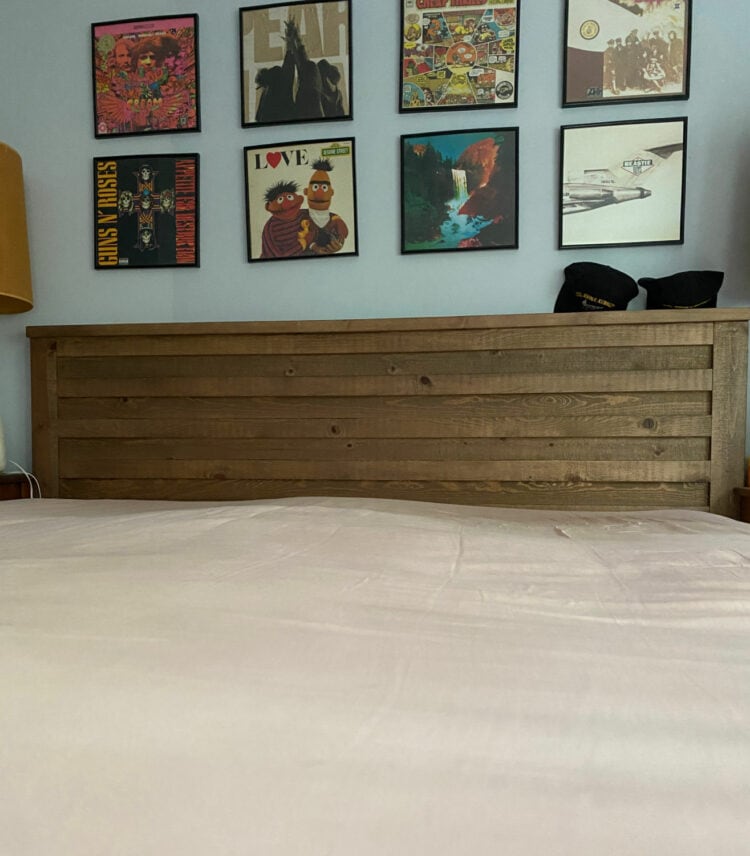 Researching online, such well/sinking seems common for king-sized beds. The reason is that instead of a single boxspring the same size as the mattress, a king mattress is on top of two twin boxsprings. Sinking can be prevented by putting a board between the mattress and boxspring, or buying a single-piece foundation in place of a two-piece boxspring.
Often, one would flip their mattress when they start sinking. The thing is our Saatva mattress has a padded top, and the bottom side of the mattress is a gray industrial fabric that is not comfortable or breathable. We thought we would have to replace our mattress due to these dents, but we've been able to remedy the situation.
Putting a board between the mattress and boxspring in fact, DOES work and evened out about 85% of the dents in the top of the mattress without affecting the comfort in any way. We also invested in an Eight Sleep mattress pad and having that tightly cinched as a mattress topper on the Saatva seemed to smooth out the rest of the dents.
I can see us having many more comfortable years on our Saatva mattress. I believe if we had a Queen sized mattress, we would have been less likely to have such dents in the first place.
Switching From a Queen to a King Mattress
The thing we did have to get used to was having a wider bed. Online measurements don't make it seem like a big difference but actually, the difference is huge. We measured and had exactly enough room on the same wall to do a king bed as long as the bedframe wasn't too wide. We have an eclectic style, a mishmash of different woods and styles in our room.
We wanted a true headboard, nothing upholstered, definitely wood and something that didn't look too specific to a décor style or time period. Oh, and we didn't have a lot of money to spend. We ended up going with this bed from Wayfair; it got good reviews for being sturdy and we liked that it looked a bit distressed and handmade.
This was our second purchase ever with Wayfair and it went well. The website showed real-time when the purchase would arrive so we didn't have to twiddle our thumbs during a four-hour window. The driver called when he was a couple miles away. They brought all the boxes for the bed into our home, nothing left on the front porch, and waited as we inspected to ensure all the boxes were there and nothing was visibly damaged.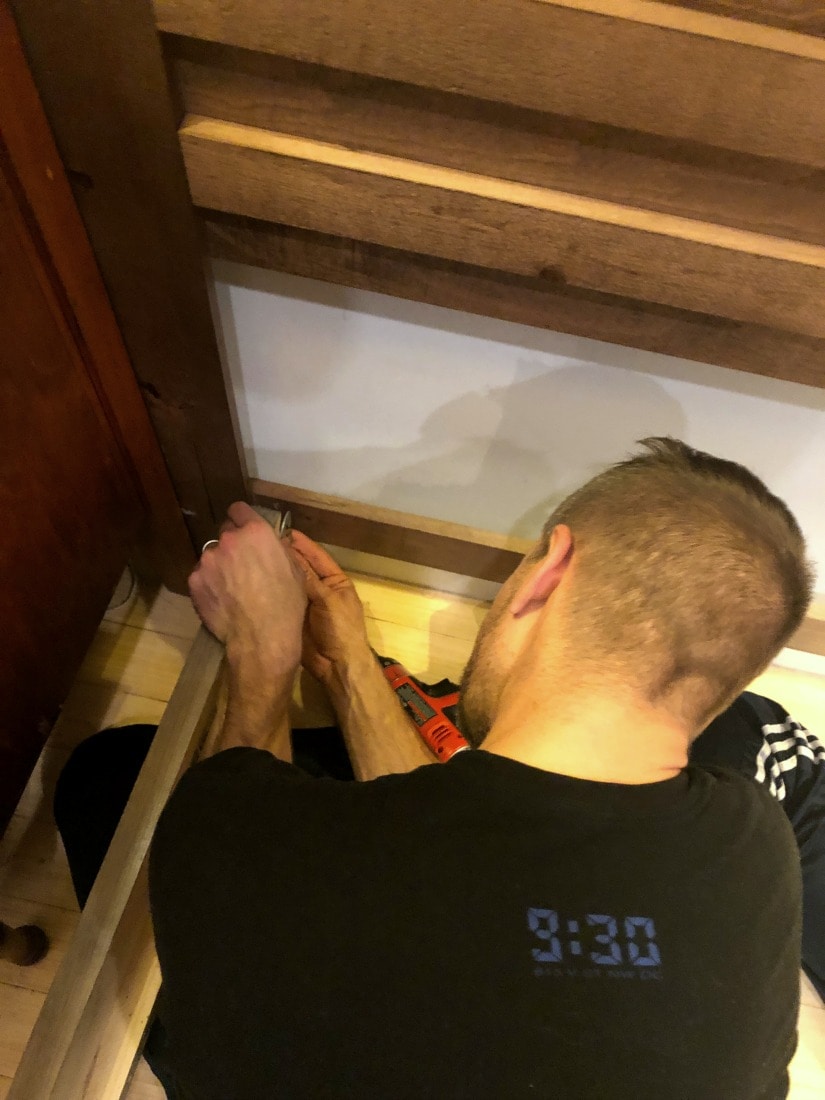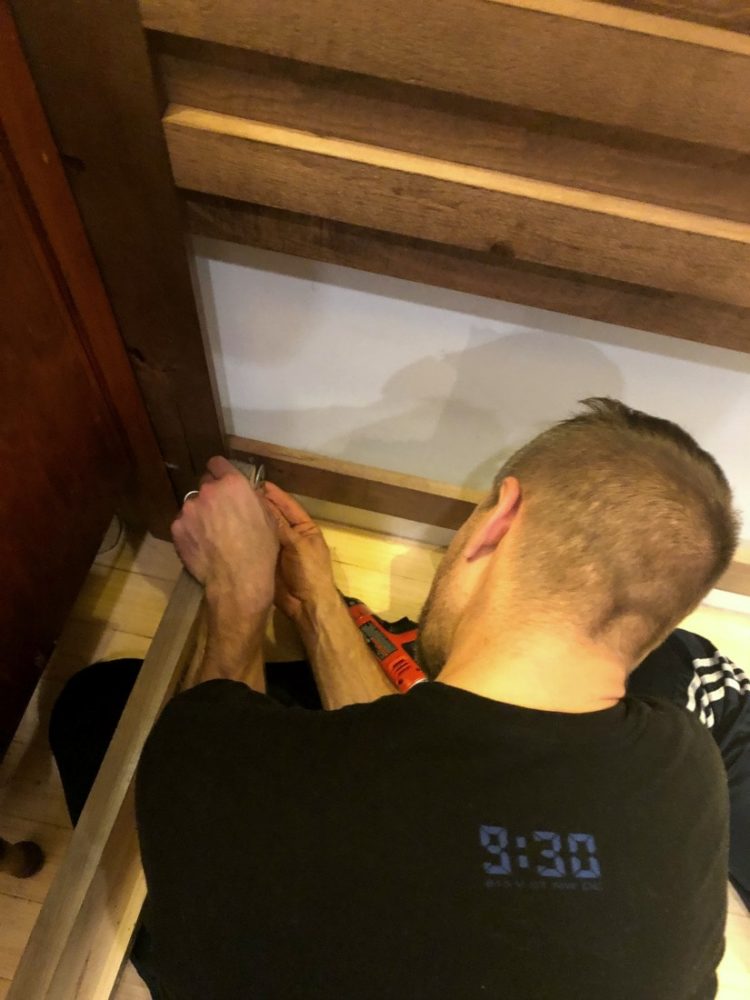 The bed was a bit of a pain to put together and we did some MacGyver-ing to make it sturdier. The bed is a headboard, footboard, two side rails, and three slats to hold the mattress in place. One siderail, the metal hook to connect it to the headboard was screwed on crooked and we couldn't get a good fit; good thing my husband is handy and was able to remove it and set it in the correct location.
There were two pieces of wood as part of the packing material to protect the bed; my husband sawed them off to be the same length as the slats so we'd have more mattress support. The bed also came with three wood blocks to screw to the slats to make legs in the middle of the bed; we took the sawed-off parts from the packing wood and made two more legs for the new slats. But once we did all that, the bed was very sturdy, strong, and looked nice. It also juuuust fit on the wall, a tiny bit tucked behind each bedside chest.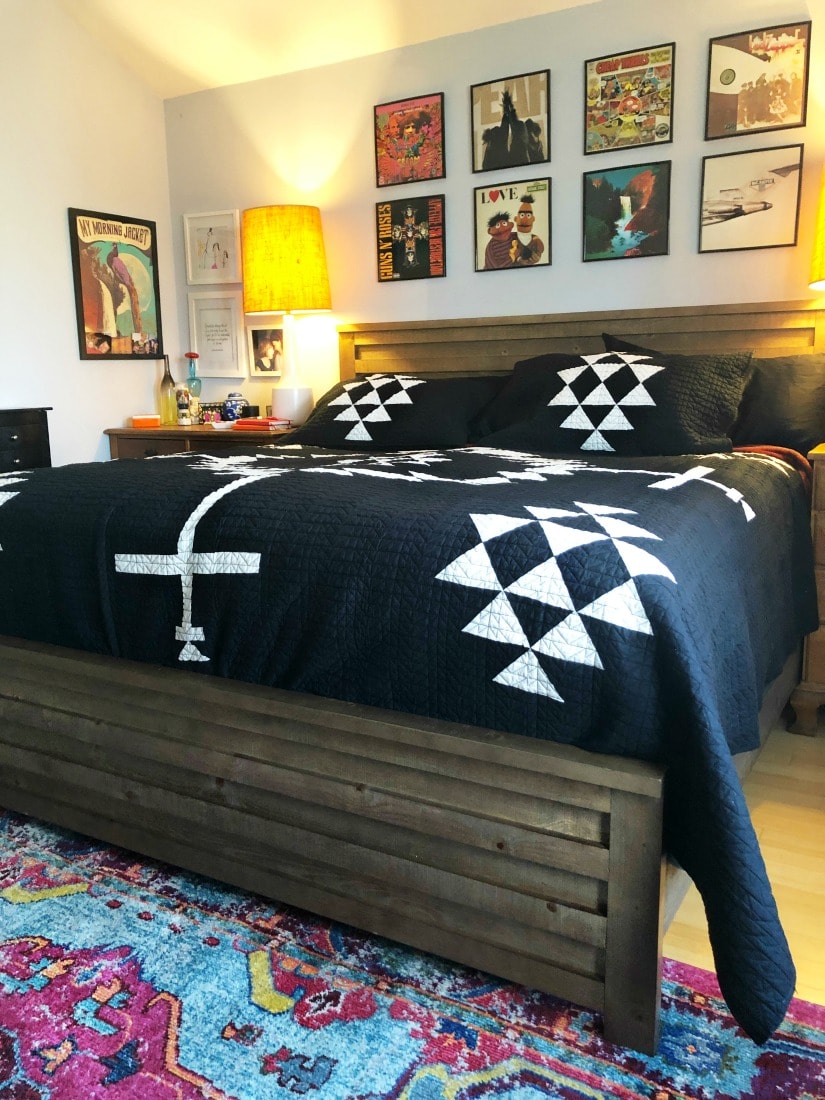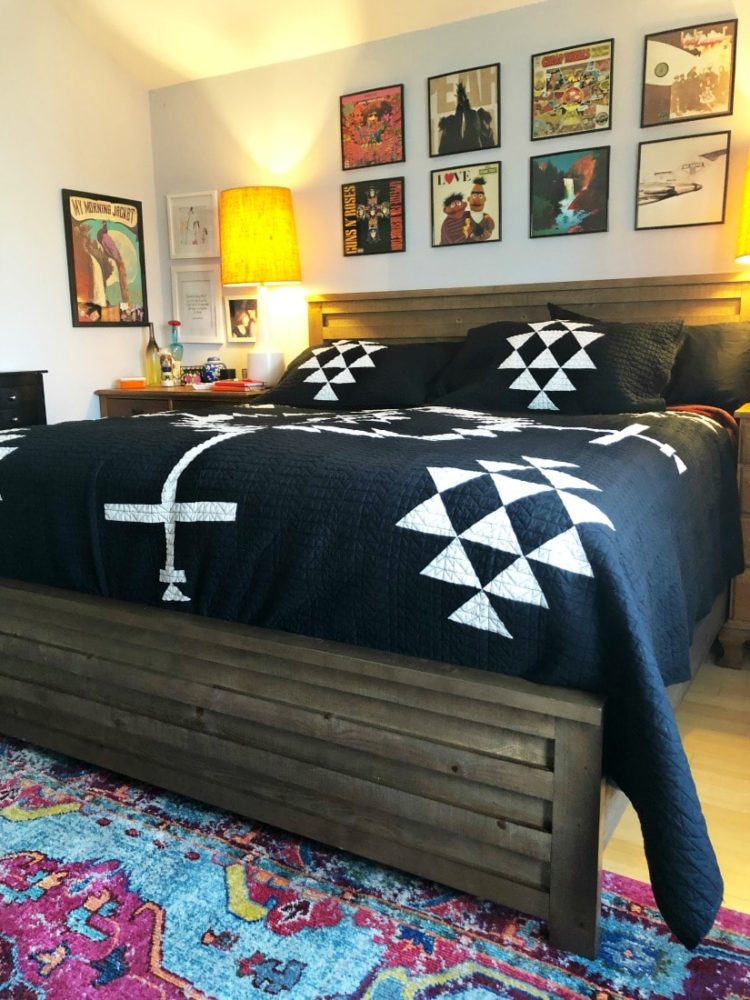 With the mattress and boxspring on the new bed, it is tall, but I like it. We don't have nightstands, but a chest of drawers on each side. With our old bed, these chests were at an awful height and I often cracked my head on it when turning in my sleep. Now the chests are at a comfortable height not just for protecting my noggin but grabbing a glass of water or my book.
But the bed is also wide. It's so wide I sometimes feel I am in bed alone. He can be on his side with the gravity blanket and there's so much space I don't even feel his body heat. At first this made me sad and I'd wake up in the middle of the bed as I kept inching towards him in my sleep, but now we find it's awesome. I set up my side of the bed the way I like it with lots of big pillows and my twin comforter and all that jazz, he's on his side with his single pillow and gravity blanket and we get amazing sleep. We do start the night spooning, but as we start to actually fall asleep we usually end up moving to our separate nests, though we usually still hold hands.
It's also taken a while to get used to the width in other ways. Before bed I put on my hand cream, lip balm, and put almond oil on my neck, arms, and décolleté. I then reach over, give him a couple drops as he puts it under his eyes to reduce dark circles. I used to just reach over, now I have to actually get on the bed to reach him.
We also had king-sized blankets and quilt on our queen-sized bed to have more length… now we're a king and everything feels so short. It's far harder to wrap the bedding around you like a cocoon. We've learned to work with it by having a shared main blanket and quilt, but I have my own sheet and comforter and he has his gravity blanket.
Our Bedroom Reveal
Speaking of bedding, I figured I had to share it with you and with it the updated bed side of our bedroom. For reference, this was my original bedroom reveal post, this post shares the story of our bedside lamps, and this post discusses our bedroom rug and shows more of our bedroom.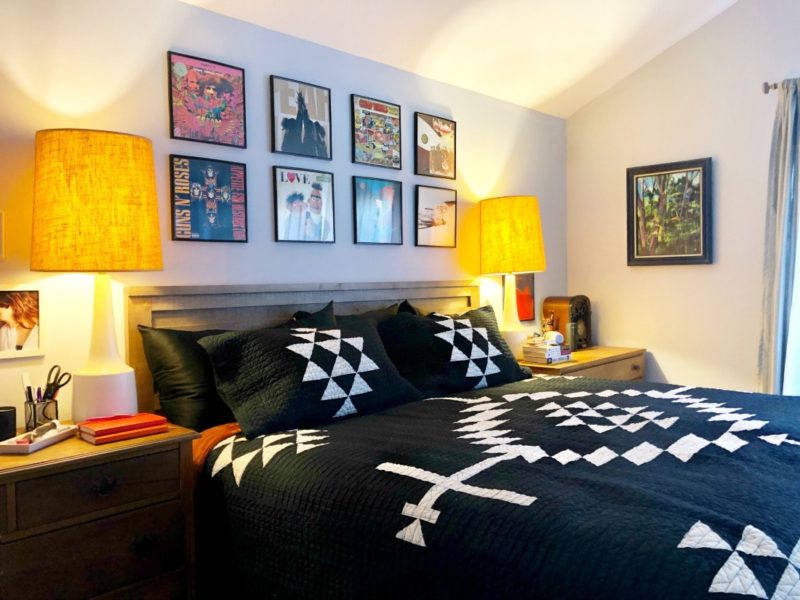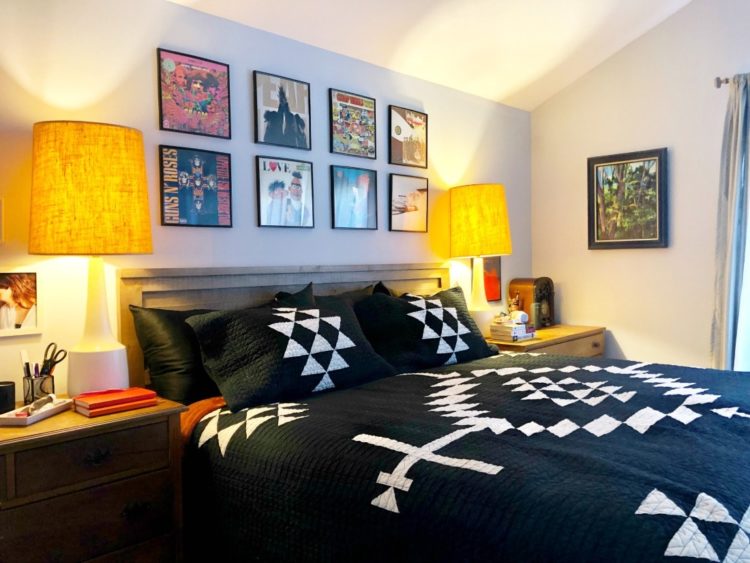 When we got the new bed, we got new bedding as a holiday gift to ourselves.
I mentioned in last year's post about sleep that Casper pillows don't last. I was wrong. I didn't realize how to fluff them. Wash them, throw them in the dryer, and then grab the sides and push in and out like its an accordion. This will make the pillow like new. We're still using our year-old Casper pillows and purchased two more in king size. FYI, they're exactly the same pillows, but Casper pillows are cheaper at Target.
The Company Store makes the absolute best bed and bath linens. We got their bamboo cotton sheets which are strong and breathable but smooth and they feel luxe. They fit the Saatva mattress perfectly. I use these silk pillowcases; as I mentioned in this blog post about the benefits of silk pillowcases, they help with both my hair and my skin.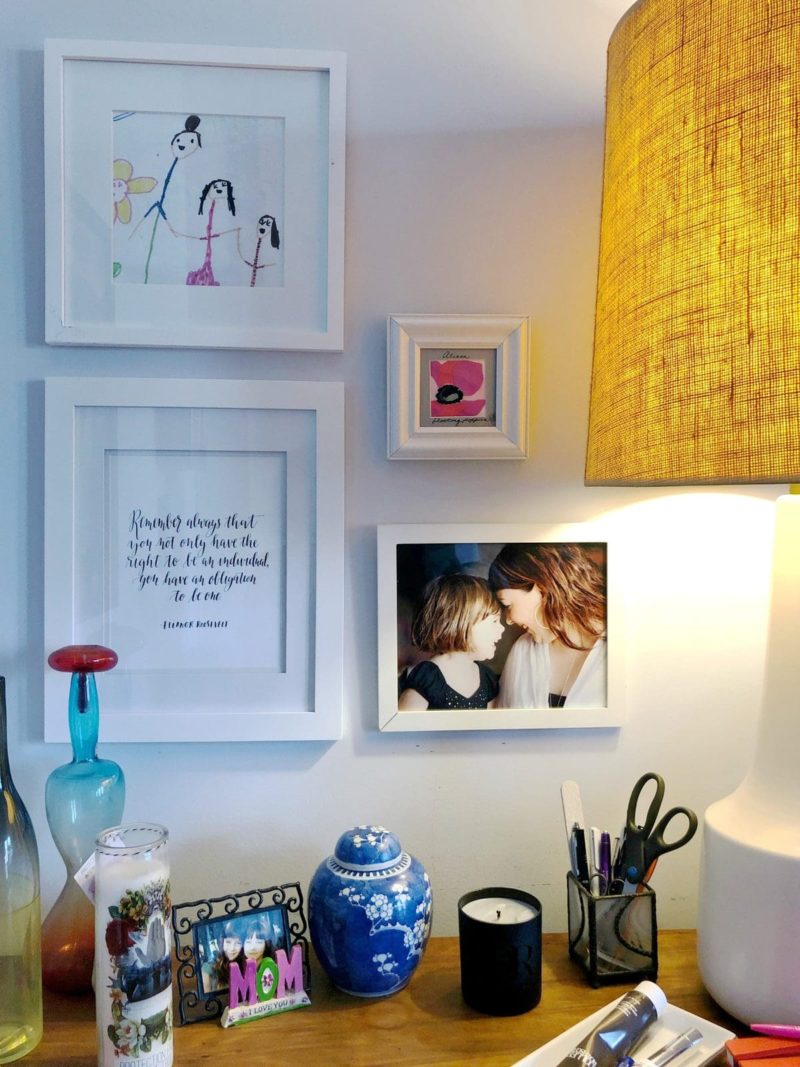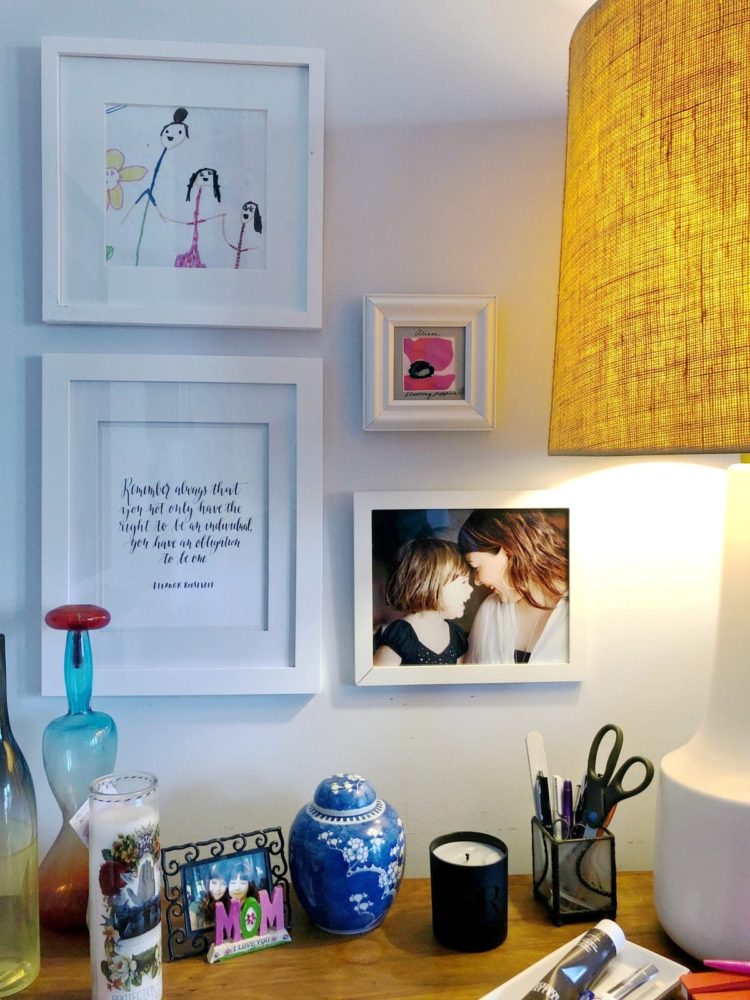 When I worked in an office, I had a huge blank wall that I decorated with a gallery of white framed photos and prints. A few of them have been added above my nightstand. The print is by my friend Julie of Sip & Script, the photo of me and my daughter was shot right after a Revlon campaign I did years ago, the small frame holds a print I received as a gift from cabi when I attended an event with them two years ago. The top frame is a drawing our daughter did a few years ago that I love.
I hope this Saatva mattress review was helpful to you as you go about researching a new bed. I am happy to answer any questions in the comments that you may have. And if you too own a Saatva mattress, feel free to share your thoughts as well!