This article may contain affiliate links; if you click on a shopping link and make a purchase I may receive a commission. As an Amazon Associate, I earn from qualifying purchases.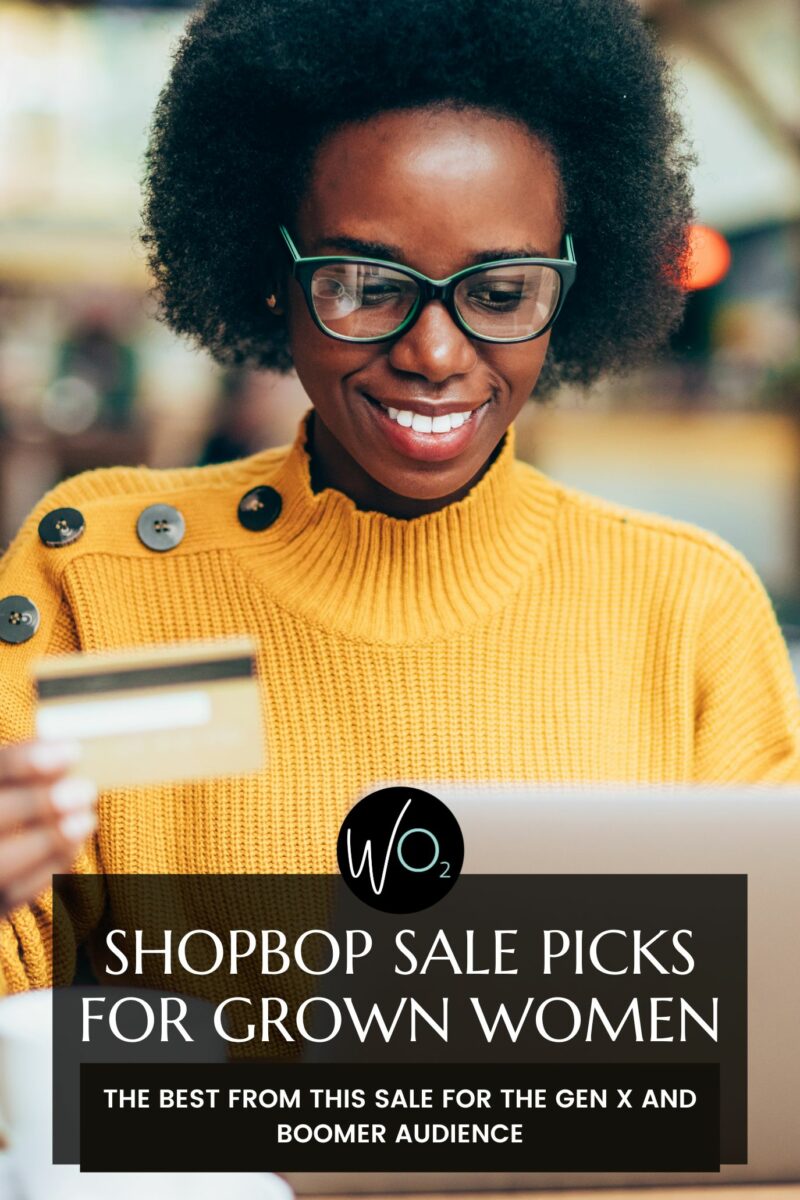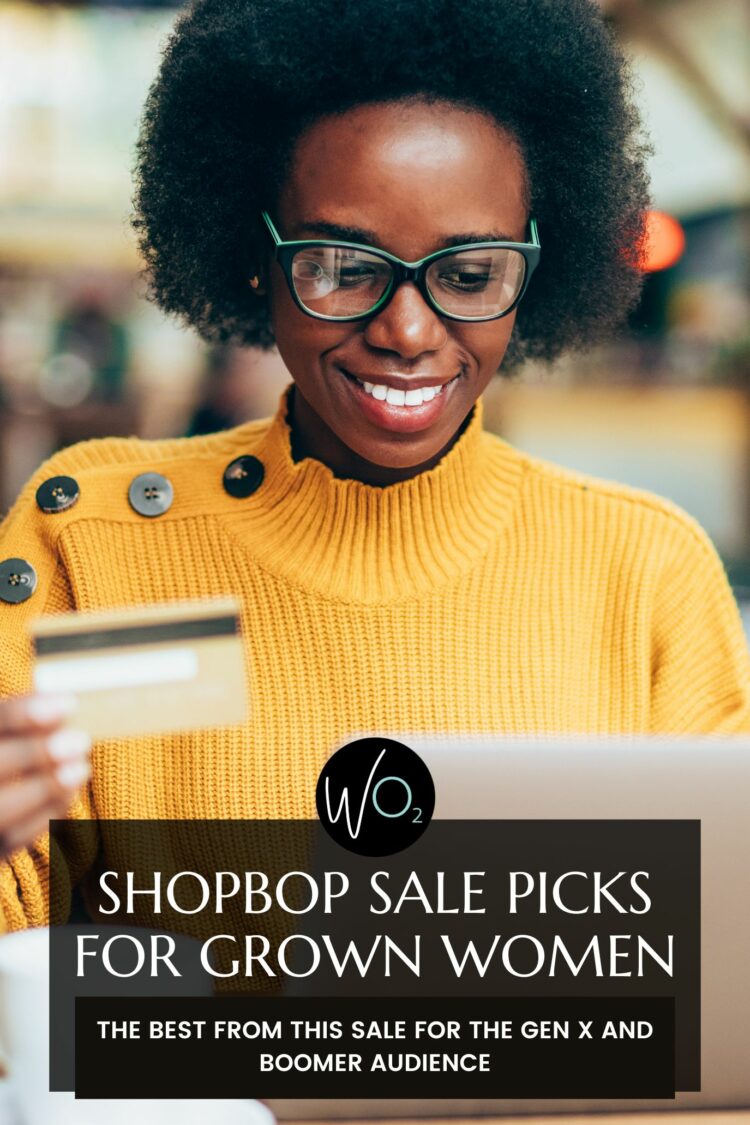 Shopbop Sale Picks for Grown Women
If you follow more blogs than just Wardrobe Oxygen you likely have been told the Shopbop sale is going on through April 20th. This is a "buy more save more" sort of sale where you receive 15% off $200+, 20% off $500+, and 25% off $800+. Nice deal on a Shopbop's collection of reasonably to astronomically priced pieces but most sale roundups are showing clothes that my daughter would more likely enjoy wearing than I, a 40-something. But Shopbop can be a great destination for us grown women.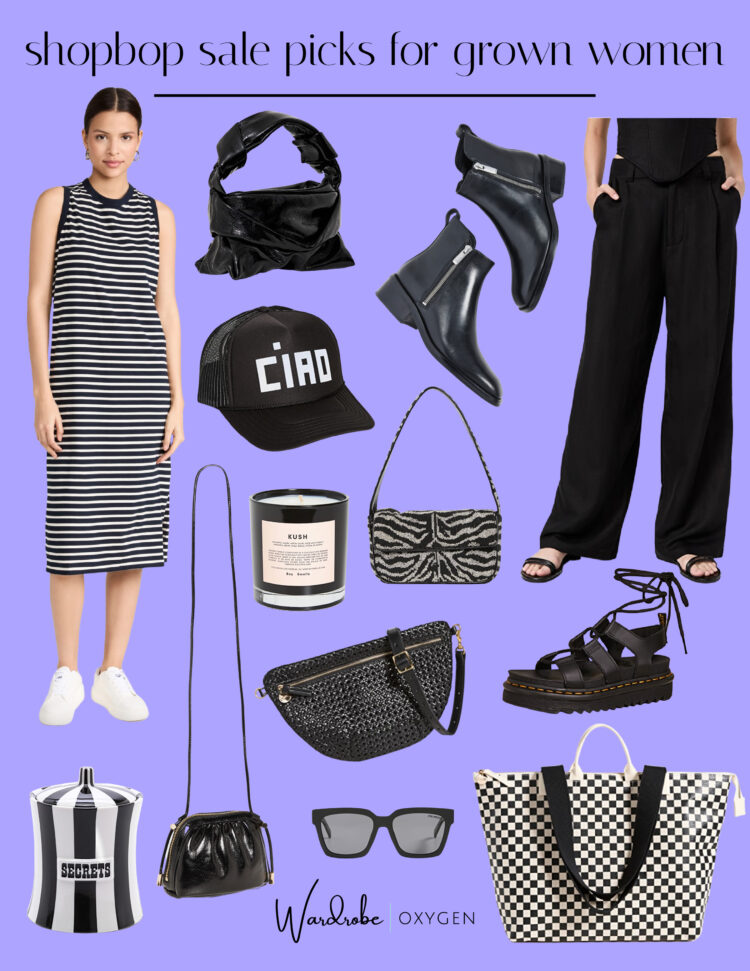 dress | patent leather handbag | hat | boots | pants | long-strap purse | candle | zebra beaded purse | woven leather bag | Doc Marten sandals | secrets jar | sunglasses | checkered tote

Shopbop is an online boutique that curates a selection of apparel, bags, shoes, jewelry, accessories, and other lifestyle items for a very specific person. While Shopbop does have a section of "inclusive sized" apparel, the majority of the fashion is for those who wear smaller than a size 14. But the aesthetic of Shopbop is creative yet wearable, clean but not boring, on-trend without being over the top. And while the clothes may not work for the majority of the Wardrobe Oxygen community, the non-apparel offerings are where Shopbop shines and it's why it's an online boutique I shop from on a regular basis.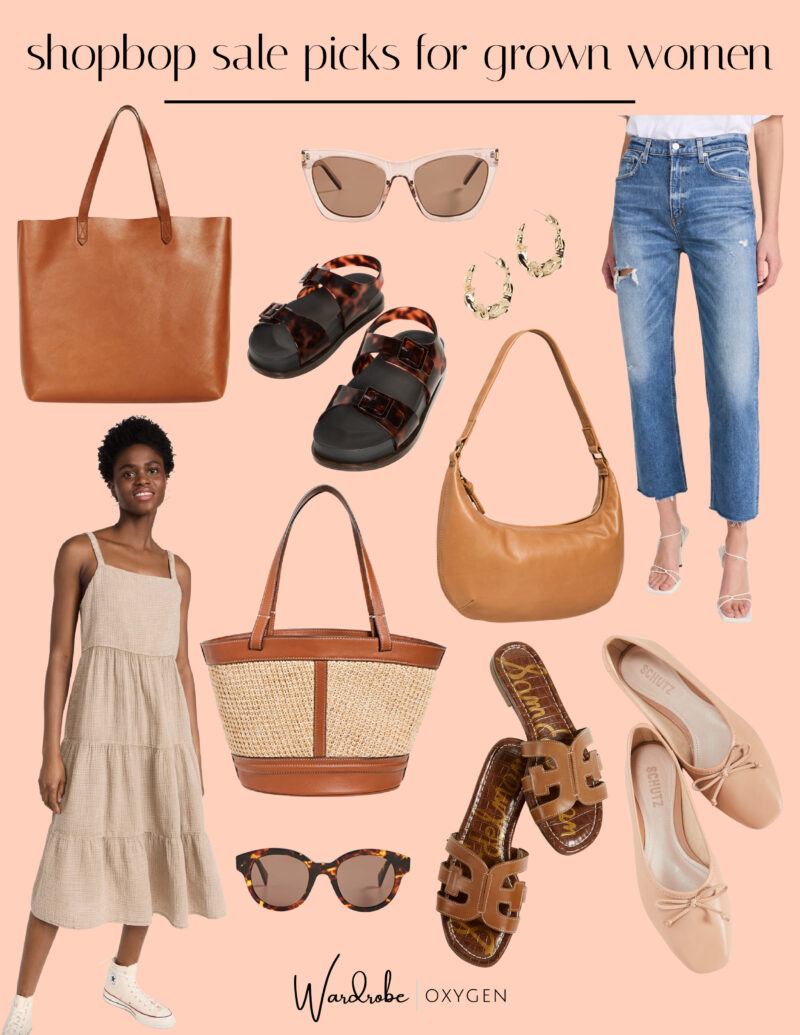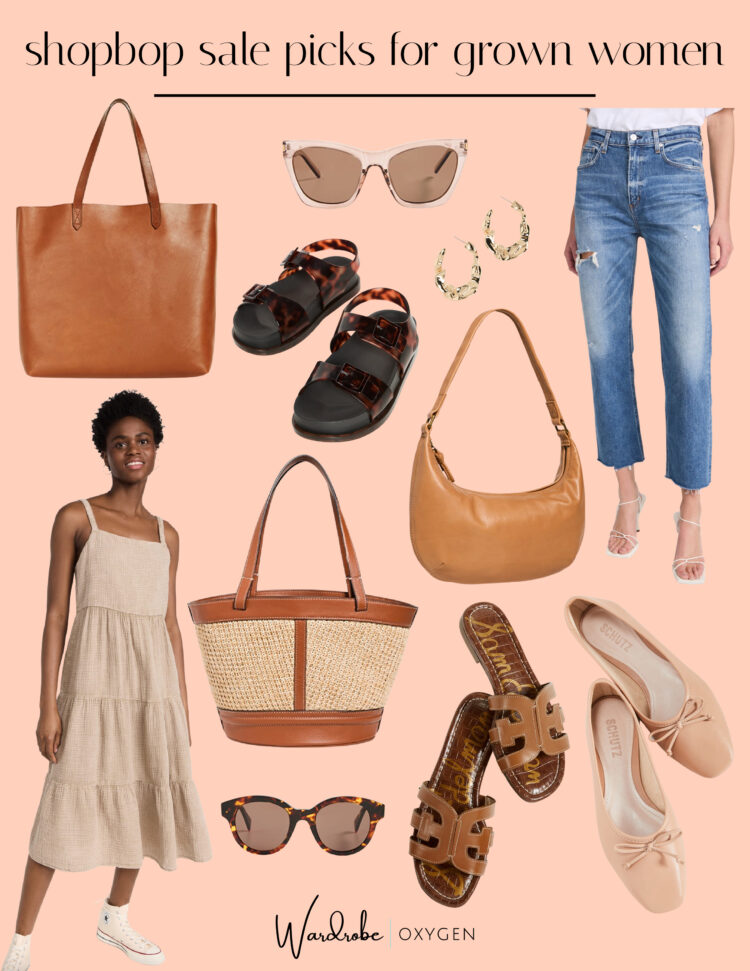 leather tote | lucite sunglasses | tortoise sandals | gold hoops | jeans | sundress | wicker tote | leather hobo bag | tortoise sunglasses | leather slide sandals | leather bow flats

Why I Recommend Shopping Shopbop
I shop at Shopbop often because they have a very reasonable shipping and return policy. Shopbop provides free 1-3 day shipping on all orders. Returns within 15 days of your order are free; for 16-30 days you will need to pay $10 for a return label.
I think this is reasonable because Shopbop is not the store where you purchase your comfort shoes, your intimates, or your wardrobe staples. Shopbop is where you buy that certain something to elevate everything else in your closet. It is a boutique of pieces that make your Old Navy jeans and your Target t-shirt look designer.
But Shopbop isn't all designer. Shopbop carries brands like Madewell and Levi's but along with the higher-end and indie brands, the buyers are very selective to create a curated aesthetic. It means you have to do less work deciphering what is "cool"; they did the work for you.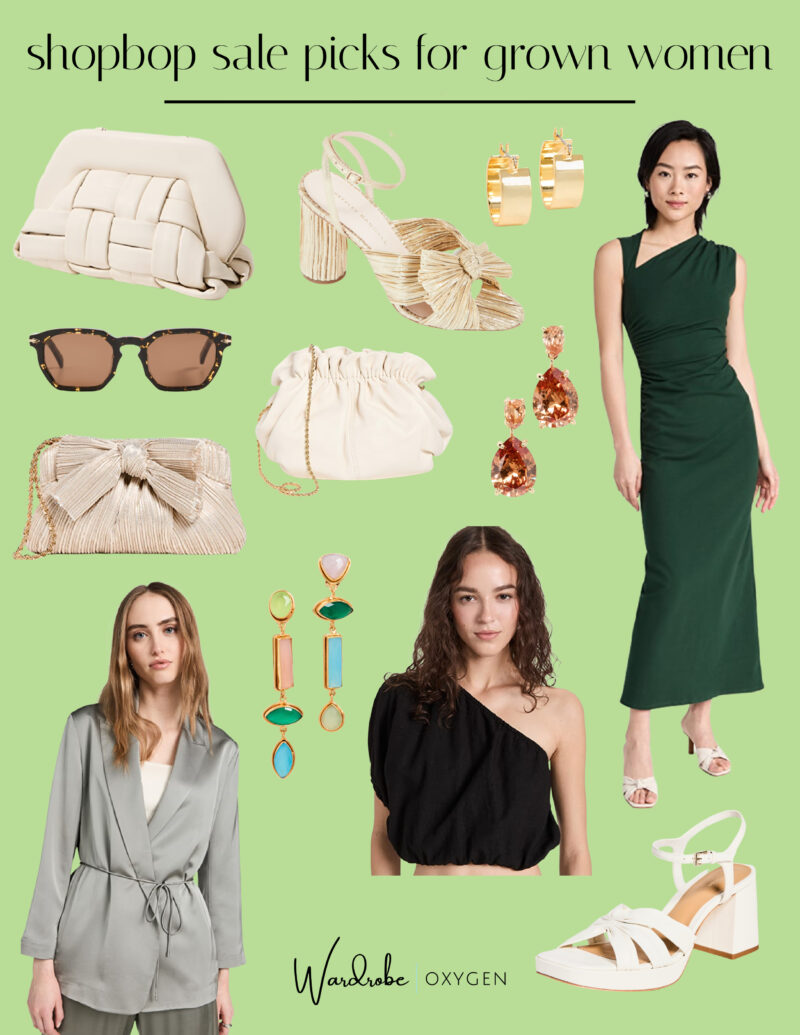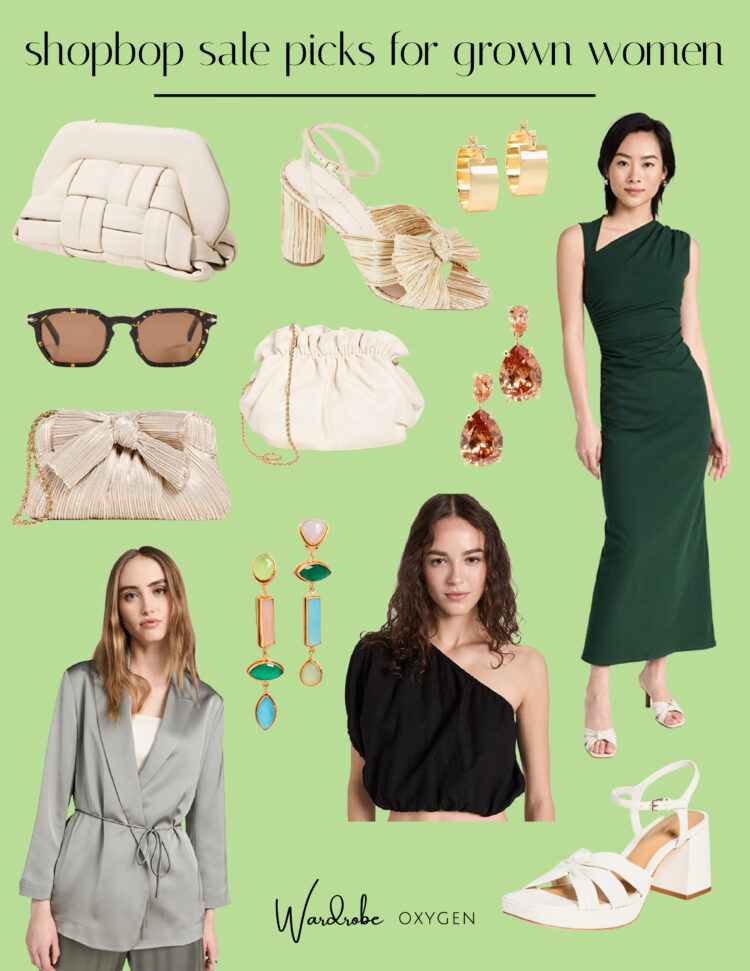 cream woven clutch | gold heeled bow sandals | gold hoops | green dress | sunglasses | cinched purse | sparkly earrings | bow clutch | belted jacket | dangle earrings | one-shoulder top | ivory heeled sandals

What Makes Shopbop Unique
If you're trying to figure out what bag to add to your existing closet to make your wardrobe look hip and modern, if you want a new pair of dressy shoes for spring and summer weddings, if you're wondering what kind of statement necklaces are stylish this year, if you want a pair of earrings to glam up your not-so-little black dress… check Shopbop. And shop this sale for some of the best prices all year.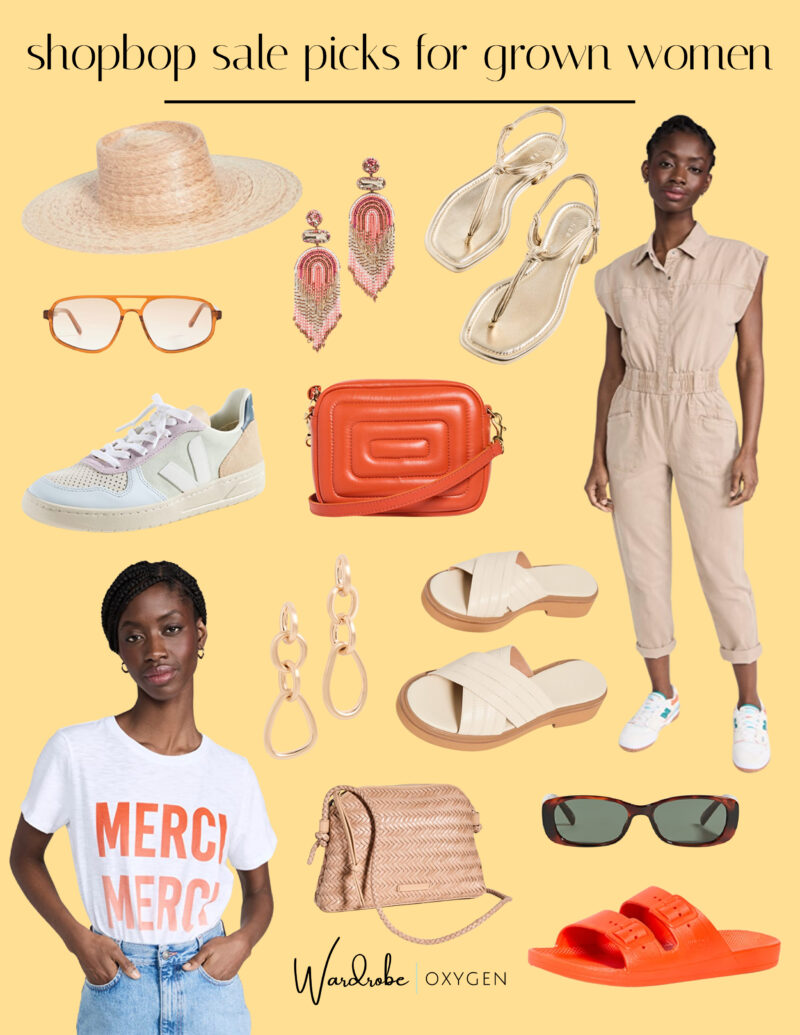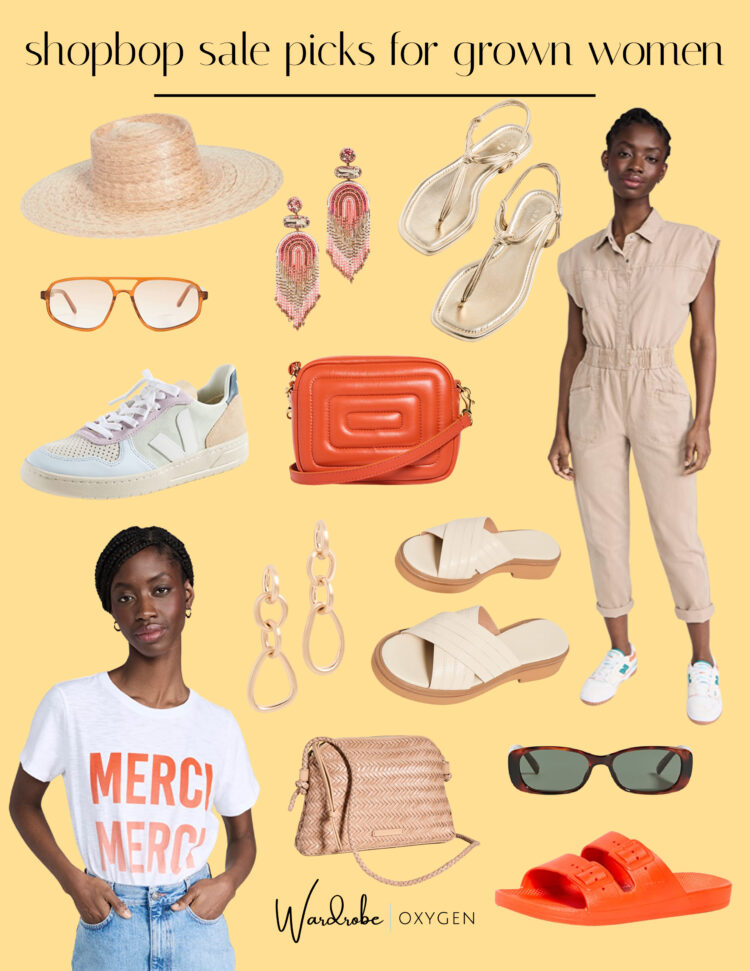 straw hat | aviator sunglasses | beaded earrings | gold sandals | jumpsuit | sneakers | orange bag | t-shirt | gold earrings | cream sandals | tan woven bag | tortoise sunglasses | orange sandals

Shopbop Sale Details
The promo code for this Shopbop sale is STYLE. And to reiterate the details of the sale, through April 20th, you receive 15% off $200+, 20% off $500+, 25% off $800+. Discount is only applied to items that are included in the sale, all items can help meet the minimum purchase requirement. You can recognize which items are included because they are labeled with "Style Event" on their thumbnail preview as well as on the product information page.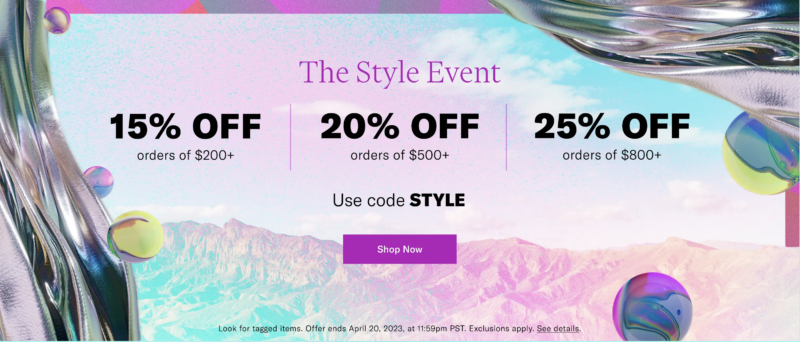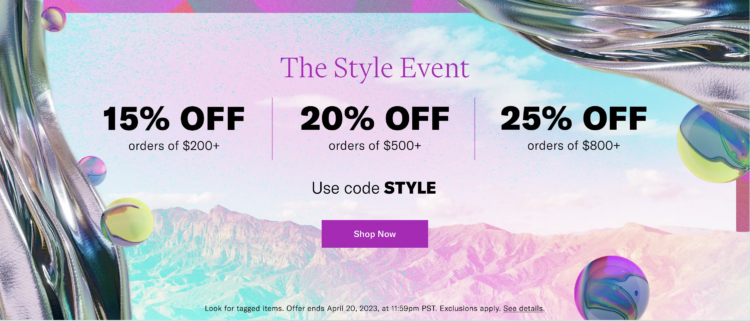 Please understand this is a very popular sale and items in the collages above may be sold out. But also know the are over 150 pages of apparel, accessories, footwear, home goods, candles, bags, hats, and more in this sale and these collages only scrape the surface of this Shopbop Sale Event!