This article may contain affiliate links; if you click on a shopping link and make a purchase I may receive a commission. As an Amazon Associate, I earn from qualifying purchases.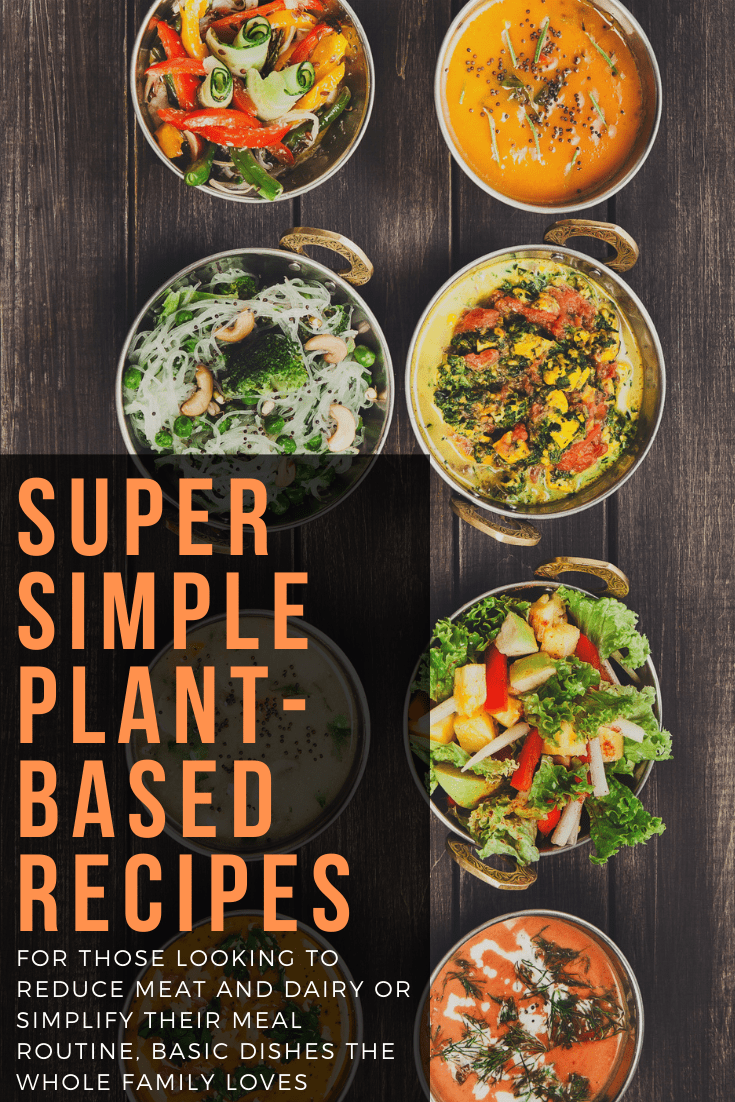 I am not a big cook, my husband is, but he would rather spend time baking bread and crafting soups for freezing and veggies for pickling than slaving over a hot stove for a single meal. So we make a lot of simple meals that are crowd-pleasers for a food lover, a picky tween who is starting to be more adventurous, and a cook who believes food is fuel. After my post about trying a plant-based diet while in quarantine, many of you asked for some of the recipes we use to make meals for our family. Below are the super simple plant-based recipes and meals we often make week after week in our home: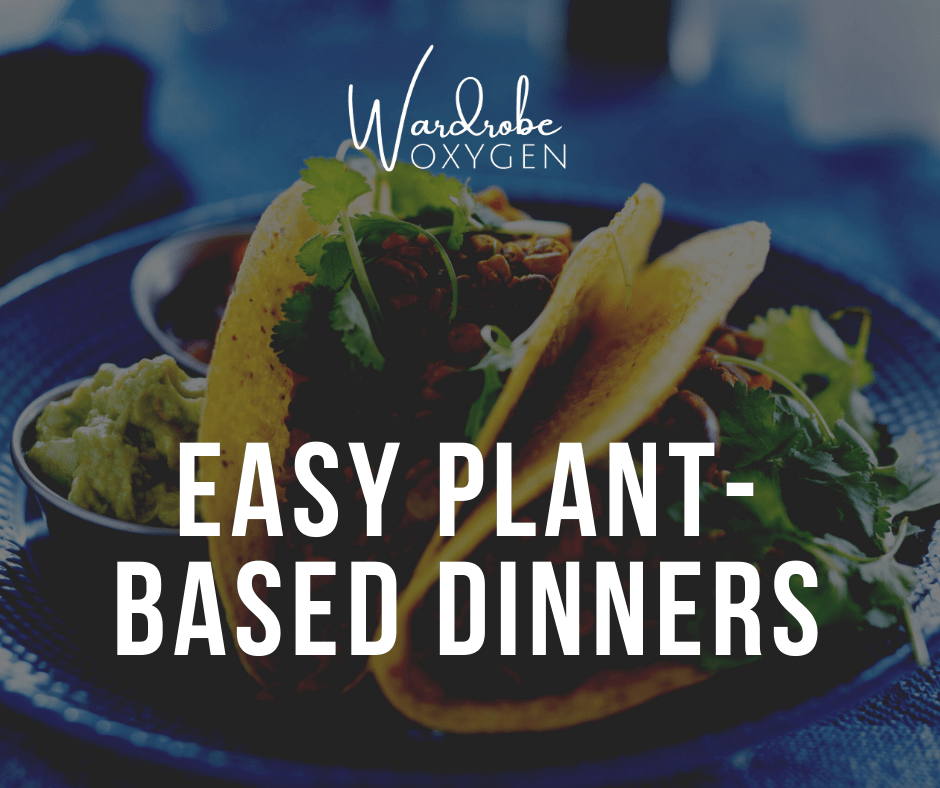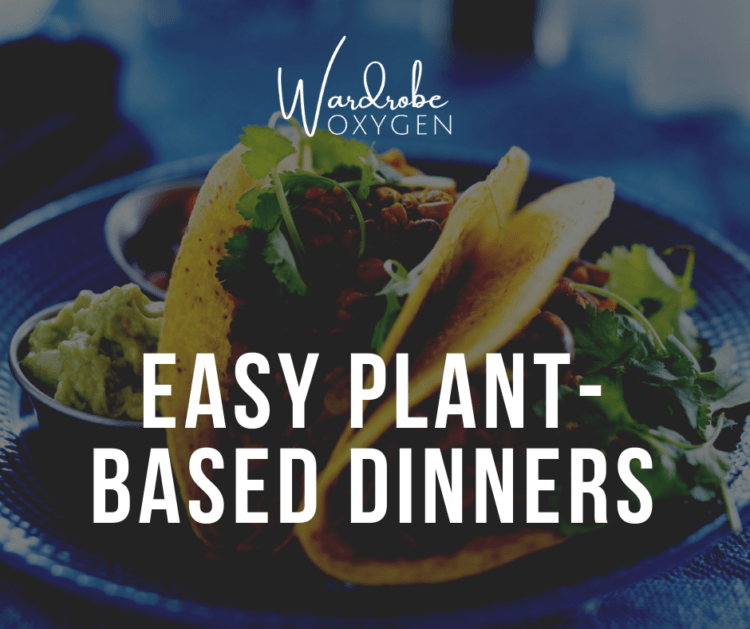 Super Simple Plant-Based Dinners
Plant-Based Taco Night
We have tacos once a week, never tire of them! It's so easy to make, and the leftovers are always gobbled up next day!
Our "meat" for taco night is Beyond Beef. We will thaw to cook a frozen pack of Beyond Beef ground in a pan and add a packet of taco seasoning. The brand and type of taco seasoning doesn't really matter; we've used Old El Paso and we've used fancy organic packets and follow the instructions on the packet.
Taco shells is also your preference; we get organic when possible, but we've also gotten what is on sale. Heat them up per the package instructions.
We usually cook up a can of beans too. Seasoned pinto beans, refried beans, black beans with some chopped jalapenos, nothing too complicated.
Then we make a buffet of toppings. Taco night is a great way to use up the random stuff in your fridge. That avocado that will go bad by tomorrow, that little bit of wilted lettuce, the remnants of a red onion, the single tomato. Sliced fresh or pickled jalapenos, salsa, shredded cheddar (we like Violife), sour cream (we like Tofutti), whatever you like.
What's great about taco night is you can pack up the leftovers either individually or in one container and it makes a great salad the next day, or mix with one of those 90-second microwave packets of brown rice for a warm dish!
Plant-Based Pizza Night
We also have pizza once a week. You may think that vegan pizza sounds terrible, but we've had omnivore friends enjoy it and not miss the dairy. You just need to know it won't taste or look like Domino's unless you're comparing it to their thin-crust pizza with a light sprinkling of cheese. While you can buy pre-made pizza crusts, making you're your pizza crust is super easy even if you're not comfortable in the kitchen. This is the recipe that Karl uses, it's from AllRecipes. Note that getting all healthy with different flours will result in different results. Karl has been trying adding in some whole wheat and such and it's… not as good. So start with the recipe and then once you've mastered it you may wish to seek out whole grain or grain alternative recipes.
We don't get fancy with pizza sauce, we use the stuff from the can. As for cheese, we like almond cheese for its meltability, but right now we're using what we can get and Oikos and Daiya both have mozzarella options that melt decently well and taste good.
For plant-based pizza, toppings are crucial IMO. While our daughter loves it just cheese, our side of the pizza we add olives, mushrooms, spinach, jalapeños, pepperoncinis, and even leftover Beyond Beef from a previous meal.
Plant-Based Mediterranean Bowl Night
This is even easier than pizza and taco night, and a great choice for singles and couples who don't want a lot of waste. Essentially it's just like taco night, but instead of taco shells, it's microwaved brown rice and then you add your toppings:
Chopped up cucumber and/or tomato
Chopped up feta
Roasted red peppers
Sauteed or roasted garlic
Chopped olives
Onion
Pepperoncinis
Chopped parsley or mint
Dried oregano , dill, or thyme
Chopped walnuts or pistachios (or honestly whatever nut you like)
Rinsed and drained chickpeas
Dried cranberries
Hummus
Falafel balls (there are easy kits, here is a recipe we used one for vegan falafel balls)
Your choice of dressing: lemon juice is good, so is a bit of olive oil, balsamic vinegar, or any premade Greek dressing or vinaigrette
Again, this is a great way to use up the random bits of things in your fridge and it's easy to use any leftover toppings the next day for salads or to add to a pasta sauce! I also love stuffing the leftovers into a pita for lunch.
Pho Night
We found these kits called Happy Pho Meal Kit at our local organic market. They are from StarAniseFoods and they have a shitake mushroom kit and a garlic kit. The kit is just brown rice noodles and a spice packet, you need the rest. We use veggie broth, the kind you can buy in cartons, boil it with the spice packet, then add anything that needs to be cooked, then the noodles for just one minute and then add fresh ingredients. Occasionally we add tofu but honestly most days we do this we keep it super simple. Some ingredients you can add:
Jalapenos
Fresh basil or cilantro
Bean sprouts
Ribboned fresh spinach or another green (just let it wilt in the hot broth)
Thinly sliced onion
Mushrooms (canned or fresh)
Shredded carrot
Thinly sliced celery
Thinly sliced pepper
Lime wedges
Hoisin sauce
Soy sauce
A dollop of peanut butter
Siracha
This is a great dish for kids; our daughter just likes the broth and noodles, and will consume a bit of spinach in it. We then add lots of veggies and seasoning to our bowls.

Pasta and Red Sauce Alternatives
When you're going plant-based it can feel that you're constantly eating pasta and tomato sauce because you can't think of anything else. Below are some alternatives:
Switch up the spaghetti with pasta-lover approved alternatives:
Rice. They make these genius packets of rice. Peel open the packet a hint, stick it in the microwave for 90 seconds, and you have perfectly cooked rice. Uncle Ben makes these, but they are high in sodium; we like the ones from Tasty Bite which have minimal ingredients and we can get brown rice as well as a variety of other grains and quick dishes. They have a long shelf life and are great to have several in your pantry at the ready to finish any dish. Heck, a packet of this with a few spoonfuls of salsa and a dollop of sour cream is an easy dish or late night treat when you have no desire to dirty up a bunch more pots and pans.
Polenta. Instead of spaghetti, consider polenta. You can make polenta pretty easily; I've made it following the instructions on the Bob's Red Mill package but they also carry it premade, super easy to slice into discs and then cook either in a bit of olive oil, place on a baking sheet in your oven or toaster oven, and some even air fry them so they're super crispy but not greasy.
Zucchini. I hate using vegetables to replace other foods, it never tastes like it… but zoodles are pretty delicious not as a fake pasta but as a separate dish. I like them sautéed up with some garlic and olive oil and a sprinkling of crushed red pepper, but in the summer I like cool zoodles with a cool chunky pasta sauce. We bought a spiralizer back when I did Whole30 and still use it, but you can just use a potato peeler or even buy pre-made zoodles from the grocery.
Doctor up that canned or jarred spaghetti sauce! A few ways to switch it up:
Spicy and Creamy. Add a spoonful (or two) of vegan sour cream. Add fresh chopped tomatoes, onion, and sautéed garlic. Can add mushrooms if it's your thing, I think the canned simple cheap mushrooms are perfect in this. Add crushed red pepper or hot sauce to your liking.
Veggie Overload. Olives. Shredded fresh spinach or kale. Mushrooms. Jalapeños or pepperoncinis. Fresh tomato. Peppers. Onions. Garlic. Zucchini chunks. Add one or all, don't worry about it being too thick or too chunky, it's nice with ziti and polenta and thicker bases and makes for great leftovers mixed with rice or even like bruschetta on crusty bread with or without a bit of melted non-dairy cheese
"Meat" sauce. Beyond Beef works well to create the effect of a meat sauce. Cook the Beyond Beef first with olive oil, spices, and add a couple of splashes of vegan Worcestershire sauce to give it more of a meaty taste then add to simmering sauce.
Pesto. Sure, you can buy pesto, but pesto is super easy to make yourself and it doesn't have to be from basil and pine nuts. If you're getting radishes right now in your CSA or farm box, consider using the greens for pesto; this recipe is vegan and super easy and you can switch out the pumpkin seeds for walnuts, almonds, cashews, or pine nuts. You can also make pesto with spinach or kale or collards or any other green. Pesto goes really well with whole wheat and chickpea pasta which is stiffer/more dense. Add some Follow Your Heart shredded parm on top and feel you made a really gourmet dish!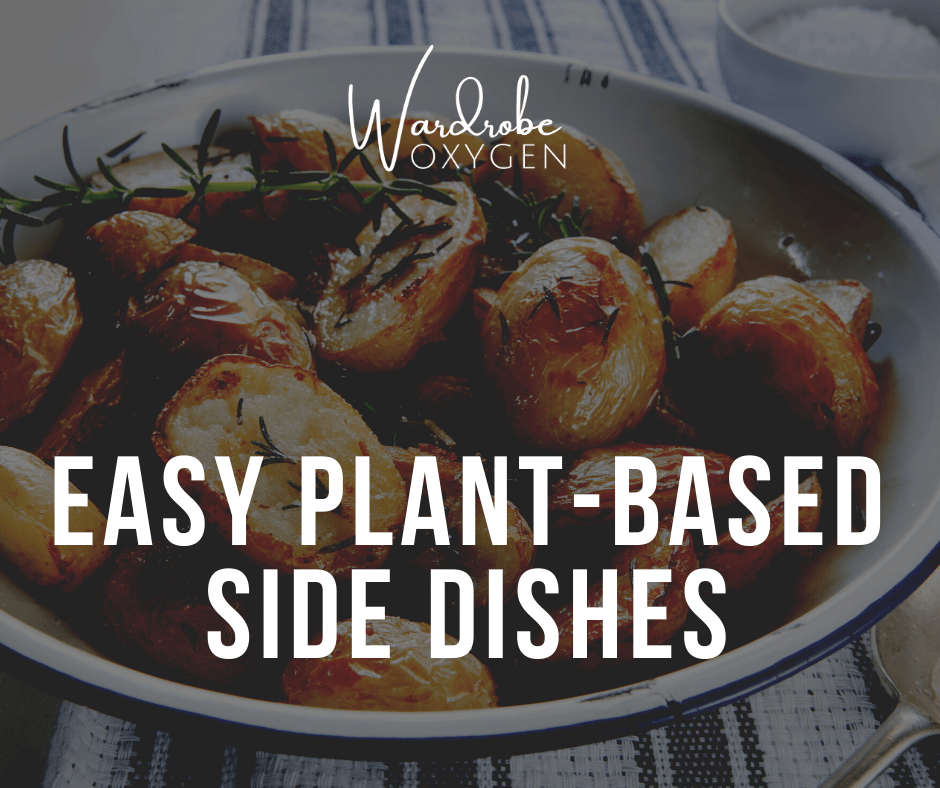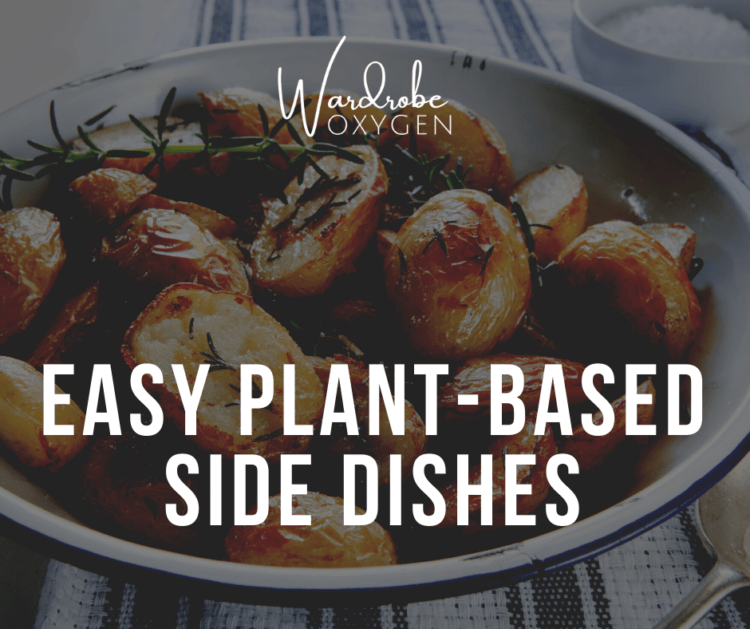 Super Simple Plant-based Side Dishes
Roasted Garlic Potatoes. Karl has been making this one and I loooove it. He uses this recipe as a base, it requires parboiling the potatoes before roasting so they are both soft and tender and crispy. What Karl does is also takes a head of garlic, slices off the top, drizzles with olive oil and places it on the cookie sheet with the roasting potatoes and has it cook the same amount of time. Then he squeezes the garlic from the cooked head into some mayonnaise and uses that as a dip for the potatoes (sometimes he puts a dollop on each potato wedge and roasts a bit longer to have it brown on top to be fancy). Once you're comfortable with this dish you can switch up the potatoes to your liking; for example, we often make them with Old Bay, being Marylanders and all!
Roasted Broccoli. Any vegetable is good roasted, but broccoli is insanely good when roasted and it makes the stalk yummy too (just peel off the tough parts and slice up). Broccoli gets crispy when it has a lot of space between pieces since it's such a moisture-filled veggie. Spread out on the cookie sheet, spray with a bit of oil, and roast at 425 degrees for about 20 minutes. We like topping our roasted broccoli with hemp hearts for some crunch.
Next Day Veggies. Did you use one of those steam in bags for some veggies for yesterday's meal and now you have some unappetizing Brussels sprouts, asparagus, broccoli, cauliflower, and other larger veggies in your fridge that you know you'll be composting in a week? Air fry them! Our kid loves steamed Brussels sprouts, but only one day in a row. We then take those soggy sad leftovers and airfry them the next day so they're crispy and yummy. Honestly, most anything leftover can be revived with an air fryer. If you don't have an air fryer, this is our air fryer which is also a toaster oven. We love it, especially in the summer because it can replace the oven for so many dishes keeping the house cooler!
Spicy Spinach with Walnuts and Feta. This is my jam and I make it for lunch sometimes three times a week and we've enjoyed it as a dinner side dish. There's no specific recipe. I drizzle a bit of olive oil in a pan on medium-low heat (on 4 on my electric stove). Add garlic (can be minced, can be sliced, can even be powder) and crushed red pepper and let them cook in the oil until the oil changes to the color of the dried spices or the fresh garlic is translucent. Then add big bunches of spinach. Add way more than you think you could eat because it will shrink down to 1/6 its size. Stir it around just enough so it doesn't stick to the pan and gets mixed with the spicy oil until it's all cooked down. Don't be afraid to add more spinach, the already cooked stuff won't be ruined. In the last minute, add a handful of crushed walnuts, though this could also be almonds or cashews or whatever you have on hand. Transfer to a bowl and top with chopped vegan feta or parm (I like Violife's feta for this).
Chickpea "Fries". This is a recipe I've been enjoying for many years. Take a skillet, add some olive oil and if you so desire, some spices (I like crushed red pepper). Cook on medium. Take a can of chickpeas, drain and rinse and then roll them around in a dish towel so they get pretty dry and drop them into the oil. Use a metal spatula or something firm to be able to move around the chickpeas and scrape up the bits that stick to the bottom of the pan. Cook until the chickpeas start popping. Add kosher salt. If you end up putting them in a bowl and eating the entire thing with a soup spoon while binging Netflix know you're not the only one. You can also just roast or airfry the chickpeas, but the added oily salty effect of cooking them in the pan and getting the little crusty bits makes me feel more like I'm eating traditional fries!

Because You Asked on Instagram: Roasted Dandelions
The dandelion is a dreaded addition to a lush grassy lawn, but it's actually an edible plant with a lot of benefits. The dandelion came to America as a potted herb, it just took so well to the good 'ol US of A that it decided to sprout up in every yard and between every block of sidewalk. Dandelions are edible; the leaves are often cooked but the flowers can also be eaten and be quite tasty. Please only eat dandelions from your own yard or garden, ones you know are free of pesticides and leg-lifting dogs.
We made this often, and it always either intrigues or grosses people out when I share on Instagram Stories. And each time we share I have dozens asking how we roast our dandelion flowers. Pick a bunch of flowers, no stems of dandelions. You want the full, peak flowers, not still closed or heading to seed. Take a cookie sheet, cover in foil, spray with oil and sprinkle with kosher salt. Add the flowers, head down to the cookie sheet, place in the oven at 350 degrees for 10-15 minutes. They will shrivel up and get brown, but still have a hint of dark burnished gold showing in the center. They should be slightly crispy, but not burnt. They shrink up a lot, this is not going to be enough for a side dish but it can be a treat or a topping on a salad. We love them, they're nutty and a hint of salt and fun to eat.
Great Sites for Easy Plant-Based Recipes
My husband is the cook, not I. He has the kind of mind where he can see a recipe and know how to modify it to accommodate what we have on hand. I am more the kind to wing it or else stick 100% to the recipe. These are sites where we have found doable recipes with either ingredients we have or ingredients that can easily be switched out for what we have on hand:
I hope this gives you some ideas of simple recipes with simple ingredients that can help you on your plant-based journey. Right now, it is fun to sometimes create an amazing gourmet meal, but there's other days when you just want something quick and easy yet still healthy. It's okay to need that, and by having your pantry and fridge filled with some of these ingredients, you can quickly whip up a satisfying dish!