This article may contain affiliate links; if you click on a shopping link and make a purchase I may receive a commission. As an Amazon Associate, I earn from qualifying purchases.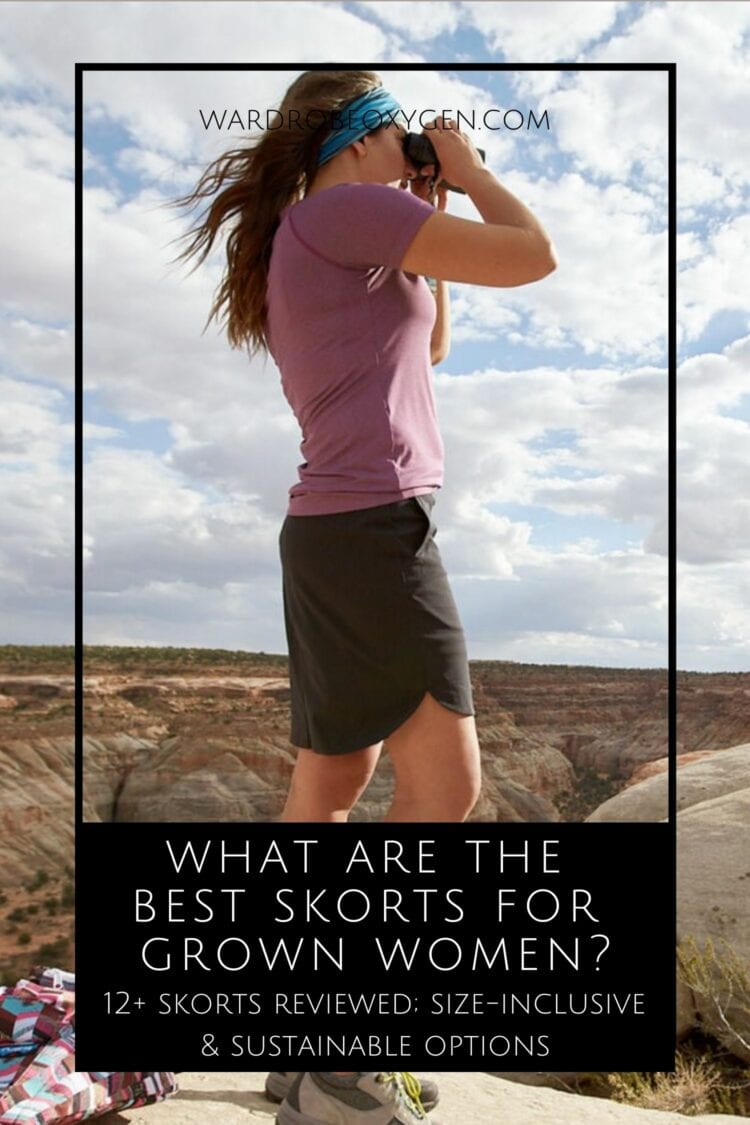 Let's talk about skorts. Practical, comfortable, but if you're like me you may have decided you'd never have one in your closet. But maybe after this past year, you're considering skorts again and are wondering what are the best skorts for grown women and women over 40. This post has been updated several times since its original publish date in 2021 as I have tried new skorts and learned more about brands.
The Best Skorts for Grown Women
My History with Skorts
Growing up in the '70s and '80s, my mom and the moms of my friends wore culottes, which had elasticized waists and sharp pleats; pastel polyester or crisp cotton twill hitting the knee, paired with pastel striped polo shirts and tees. In college in the '90s, I had a black skort: from the front, it looked like a mini a-line skirt but the back showed it was divided, offering coverage and comfort.
That time in college was the last time I wore a skort and I swore the last time I ever would. After that, skorts again became the attire of moms or those on the courts or links. I was not a golfer (though since writing this I have taken golf lessons), I didn't play tennis or pickleball, and even if I had a kid I didn't want to LOOK like a mom.
Why I Now Want a Skort
Surviving a pandemic, at least for me, changed how I look at my wardrobe. I realized I didn't need half of what I owned. And the other half… it no longer made sense. Where was I going to wear all those cocktail dresses and pantsuits? I've survived a hell of a year, why am I going to punish myself with control garments and heels?
I wanted clothes that expressed my style, but I wanted them functional too. Not feeling comfortable trotting around town in a pair of bike shorts and often finding looser shorts to ride up and cause thigh chafing, I found myself eyeing skorts. I KNOW, right?
But a skort is pretty darn genius. It comes anywhere from just covering the bum to hitting the knees. Straight, a-line, or with some flare, a skort has built-in chafe protection and modesty with the hidden fitted shorts underneath. While some skorts still only look appropriate on the golf course or tennis court, others can be stylish streetwear (or morning power walk/afternoon kayak/evening stroll wear).
I am a fan of the type of skort that doesn't LOOK like a skort. While I rocked the visibly divided skirt in the late '90s with my Steve Madden platform slides, in 2021 I think that effect feels a bit too much like my mom in the '80s. But not every skort is created equal; when searching for skorts for summer activities this year I found a lot of duds before I found any winners.
What I Wanted in a Skort
What I was looking for in a skort:
Size-inclusivity. Not only do I want to showcase items that can fit the largest percentage of my audience, I feel that buying size-inclusive brands is a way of voting with my wallet. If we continue to support the brands that recognize 67% of the American female population over a size 12, maybe that will encourage other brands to follow suit.
Street style. While I would be wearing these skorts for activities, I wanted to have a look that could go from canoe to café for lunch after our excursion. This meant nothing too athletic-looking (mesh, contrast colors, lots of reflective tape), and also being long enough that I can bend down to tie my shoe without my rear on display.
Pockets. I need to carry at a minimum, a key on a ring, an ID, and my phone, which is an iPhone Max/larger-sized smartphone.
Summer fabric. Since I would be wearing this in the summer in the DC area, which is regularly over 100 degrees from July to September, and high humidity, I was not down with any heavyweight fabrics like ponte or thick twill.
For reference, I am 48 years old, 5'3" in height, and usually wear a size 14. I have a soft curve at my lower belly and a solid, round rear, and solid thighs. I regularly ride my Peloton bike and take walks in my neighborhood and around the lake in my city. In the summer, I often kayak, canoe, hike, and do other weekend outdoor activities and like to travel to the beach and road trips to places where I do a lot of walking while sightseeing.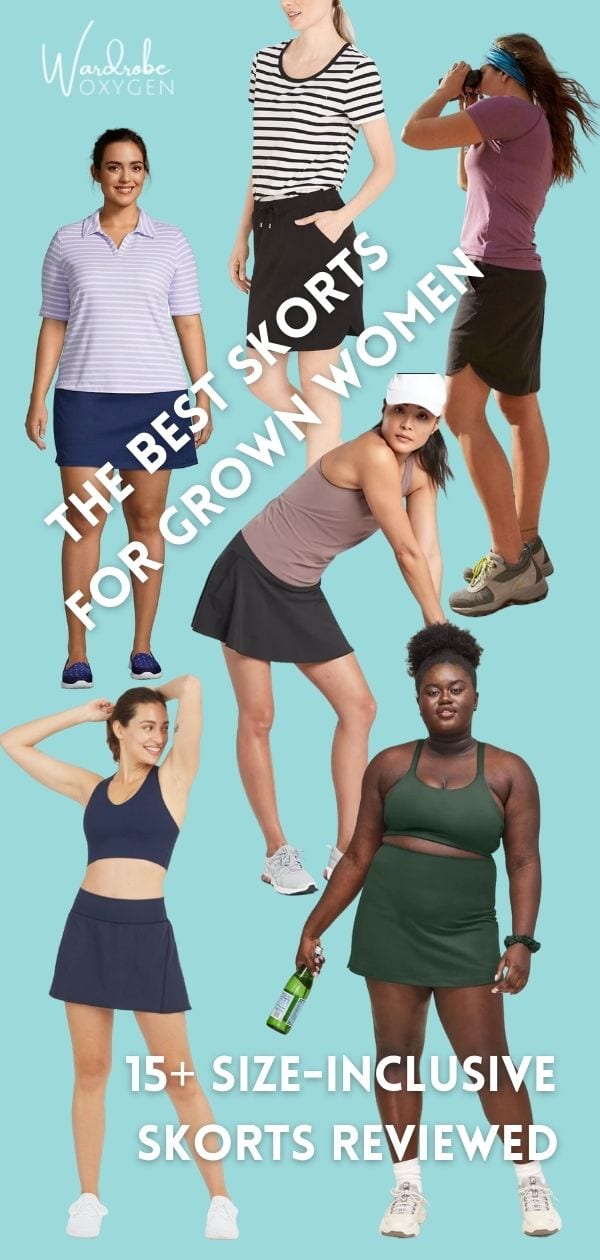 What Are the Best Skorts for Grown Women? My Honest Thoughts
I believe any woman can wear whatever the hell she wants to wear. If she's happy, she's chic. But I do know as I have gotten older I have different priorities for what I need from my clothing. I call that Grown Women Style.
Grown women may desire a bit of length, or something not quite as snug. With age comes wisdom, and many Grown women desire more practicality in their fashion: versatility, durability, comfort, and practical details like being able to machine wash, having functional pockets, and fabrics that are comfortable and appropriate for the weather and situation.
There is no specific age when a woman becomes grown. I often focus on women over 40 as I am 48, but I have learned from all of you that a grown woman can be 28 or 88. It's more a mindset than a birthdate on your driver's license. I am doing this skort review from my own grown woman's perspective. My needs for skorts may be different from yours; while some skorts in this review may be personal fails, that doesn't mean they are bad items and may be perfect for your body, lifestyle, and needs.
A few of these skorts I took for a test walk around my neighborhood in the heat. You can see the results in a highlight I have on Instagram called Skorts which is available at this link. Below is what I tried and what I thought!
Athleta Skorts Review
I am a fan of Athleta, and I usually find their products well-made and well-fitting. I also appreciate that Athleta offers their collection up to a 3X with many petite offerings. I had tried Athleta for leggings and workout tops but had yet to try their skorts.
Athleta Ace Tennis Skort Review
The Athleta Ace Tennis Skort is available in two lengths: 13.5" and 15.5", sizes XXS-3X, in a variety of colors. I ordered one of each length, in size Large.
The 13.5" skort was way too short on me, ending just at the bottom of the rear. Also, my rear caused the skort to be higher in the back than the front, making me self-conscious about my curves.
The 15.5" skort was a better length, one I'd wear out in public. However, this skirt seemed to be made more of a pear shape. It was loose on the waist and it hung weirdly on my hips and looked both too small and too large at the same time.
That being said, this is a good skort and I can see why so many of you love it. It is made of classic activewear stretchy fabric (like a pair of your favorite Athleta leggings), but I found it surprising that the skirt has a raw hem. I wonder how that would hold up over washings; some reviews shared that the hem didn't hold up well over time.
The skort has a zipper stash pocket on the upper back, perfect for an ID and your key. Then on the legs of the undershorts are two pockets perfect for your cell phone, and even a slim cardholder wallet (note that it doesn't have a traditional ball pocket for tennis players). It is a flippy/flare style; those who feel they have enough on the bottom half may find this skort adds more volume than you desire.
I returned these without taking them for a test run because I knew they wouldn't be ones I'd wear. If you own the Athleta Ace Skort, do share your feedback in the comments to assist other Wardrobe Oxygen readers!
Athleta Soho Skort Review
When I shared I was reviewing skorts, several of you told me about your love for the Soho Skort from Athleta. So many it was the first skort I ordered. I bought it in black, size 14 Regular, my usual size with Athleta. This skort comes in numbered sizes 0-26 with Tall options.
The Soho Skort is made from a lightweight performance fabric Athleta calls Recycled Featherweight Stretch™. The waistband is more like traditional activewear leggings fabric, the undershorts are a micromesh fabric. The skort has two front pockets and two back zipper pockets. Out of the box, I saw why so many of you love this skort.
However, yet again, the Athleta skort did not fit me correctly. The waistband was too big, but if I went down a size it wouldn't accommodate my rear. After an hour in the heat walking, the waistband grew even larger while the rest of the skirt stayed the same size. The waistband is also lightweight and easily folds over. May not be as much of an issue if you are wearing an untucked top that covers the waistband.
The skort's undershorts were very stretchy; pulled down they were long enough to prevent chub rub on the lower thighs but then there was a gap between my crotch and the short, meaning chafing could happen up there. The shorts also rose after just one block. On my mile-long walk, I had to stop to yank them down multiple times.
The concept was good, but it was not the right choice for me. However, they are worth checking out if you have a different shape from me or don't plan to tuck in tops with your skort.
Athleta Brooklyn Skort Review
The Athleta Brooklyn Pants are a favorite in the Wardrobe Oxygen community and with many of my IRL friends. I have tried them and understand the appeal, though they have never quite worked for me. The lightweight fabric combined with my solid legs and calves means they don't hang well. But I was intrigued by a skort in the same lightweight fabric and appreciated the longer 16″ length. I ordered the Brooklyn Skort in both a 14 and 16 as many reviews said this skort runs small.
The 14 was too snug and pulled across my lower stomach and rear. The undershorts rode up as soon as I took a step. The 16, however, was too loose in the waist. I decided to try the 16 and put on my sneakers to take a walk around the block. I didn't make it to the sidewalk. The shorts rode up along with the whole skort due to the too-wide waistband. The thin fabric also made the pockets quite visible which made the Brooklyn Skort look cheap and not dressy enough for going from trail to restaurant.
Lands' End Skorts Review
How could I not check out Lands' End? It's a favorite place for practical fashion in a decent size range with decent prices. I had never tried Lands' End for any sort of activewear/athleisure before, but many of you have raved about their collection so I was happy to try it!
Lands' End Women's Active Skort Review
The Lands' End Active Skort is available in black and navy, regular sizes XS-3X, and petites in XS-XL (here is the link for plus sizes). The poly/spandex fabric offers UPF50 sun protection. The skort has an interior pocket big enough for a phone and an exterior back pocket to secure your keys and ID.
I figured with the word active in the name, this skort would be ready for fitness activities. Nope, this is a fashion skort. This is made from a heavyweight knit-like Ponte, the undershorts are also heavy. There is no wicking of moisture or special technology that would make this knit comfortable in 100-degree humid DC weather, let alone 80-degree weather, unless you're just wearing it for a Target run.
I was thinking about teachers and care providers who have jobs where they may need to get on the floor and desire some coverage with their skirts. This may be a good option, but this fits more like a straight/subtle a-line fit so squatting down may have the skirt hem rise. But this skort doesn't look like a skort when on; it could easily work for more casual of workplaces with a nice knit top or sweater. On my 5'3″ self it hit about an inch above my knee.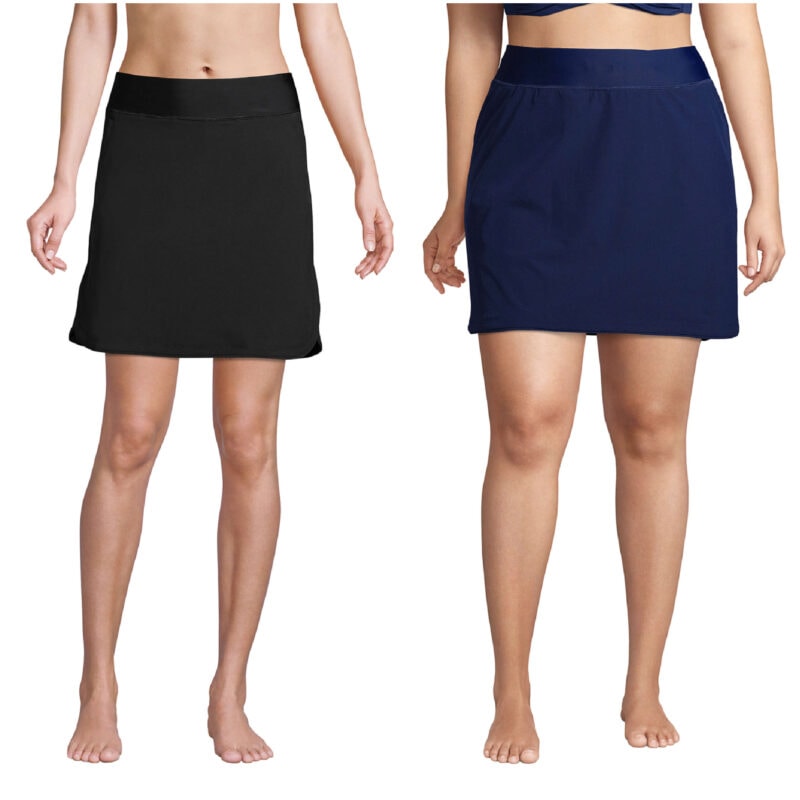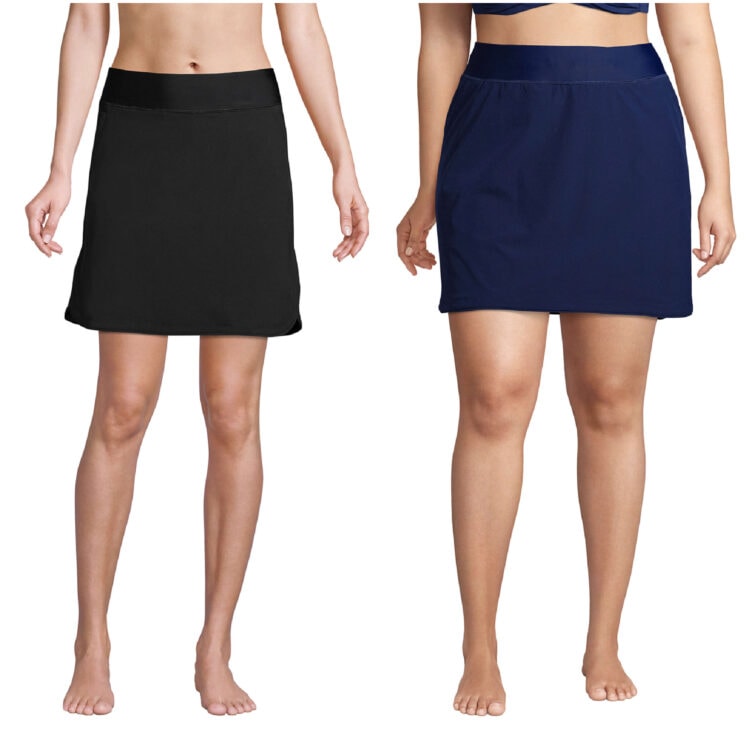 Lands' End Active Board Short Swim Skort
I am such a fan of Lands' End swimwear, I was thinking maybe this longer swim skort could work as a street skort. This skort had great features: a hidden drawstring at the stretchy waist, three pockets, and UPF 50 protection… even the description says it's a great option to wear from the water to your bike or for a walk. This skort is available in regular sizes 2-26 and Long sizes 6-18 in a range of colors.
This skort is the kind of fabric you'd expect from board shorts, and the undershorts are swimsuit material. While I own 3.5″ shorts (the length of the undershorts) and find they work for my 5'3″ self for preventing chub rub, these undershorts felt like true boyshorts; my bum was spilling out the back and my thighs immediately shimmied these up to my crotch.
This skort would be great if you desire more coverage in your swimwear. It would be fantastic with a swim top for a sassy pool look, and with a rashguard, you'll be protected and look great on the beach. But this skort is not meant to prevent chafing for much more than a walk to Thrasher's Fries on the boardwalk.
Duluth Trading Co. Skorts Review
Duluth wouldn't even be on my radar if it weren't for Kathryn, a long-time reader of Wardrobe Oxygen. I trust her judgment and she swears by Duluth. I had yet to purchase the brand, but when I knew I was going to review skorts, I headed to Duluth to make my first order. Kathryn was right: the quality surpasses the price and many pieces are great wardrobe staples, regardless of your personal style aesthetic.
Update: These two styles of skorts are no longer for sale at Duluth. Here is a link to their current skort selection. Even though these skorts are no longer made I am keeping them in the review as they may prove helpful in sizing for Duluth's current skort collection.
Duluth Breezeshooter Skort Review
I dug the idea of this woven fabric as a skort; sort of like an active version of linen. Super breathable, four pockets, mesh shorts, sounded like perfection, other than it wasn't available in plus sizes (just sizes 4-18; what a missed opportunity). I ordered it in black, size 14.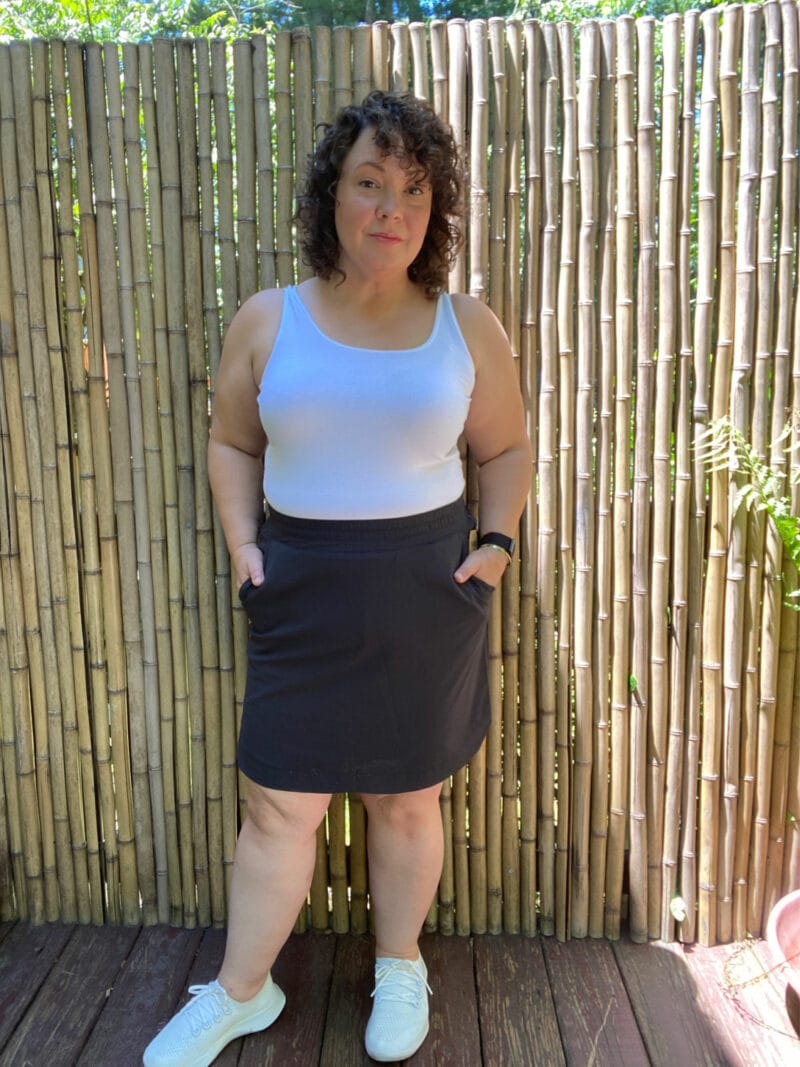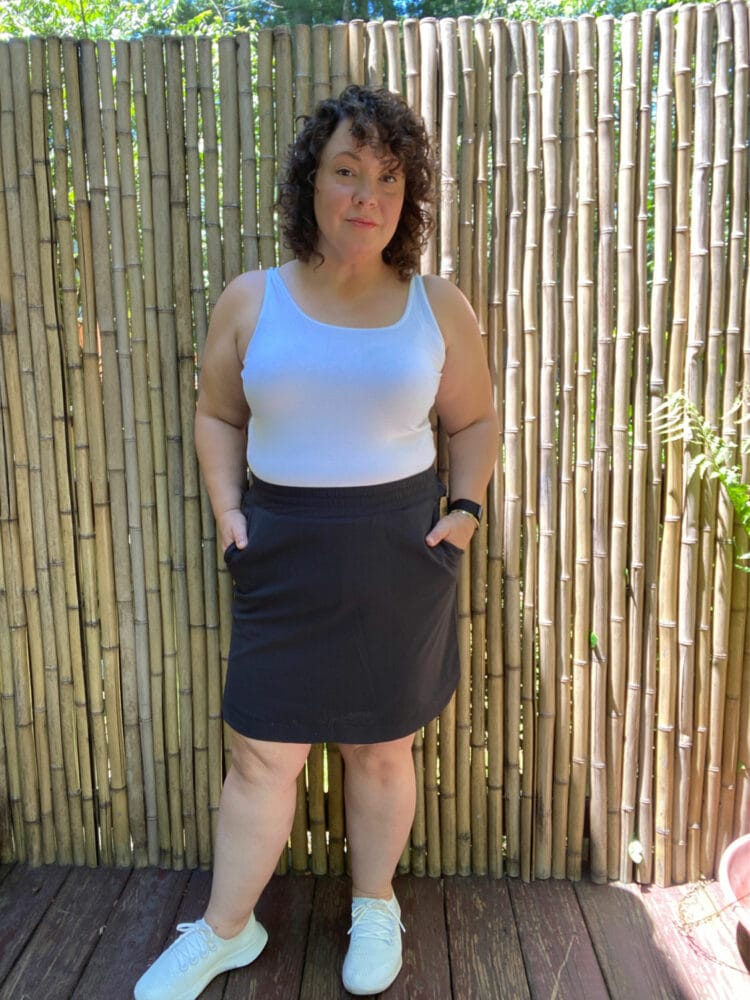 And when the skort arrived it looked like what I was desiring. It looked like a casual skirt. I found the waistband snug over my hips and rear, but once it hit my waist it was comfortable. The length was great, just above my knees but not frumpy. The textured fabric elevated the skort so it didn't look so much like activewear. I loved how cool and comfortable I found the mesh shorts.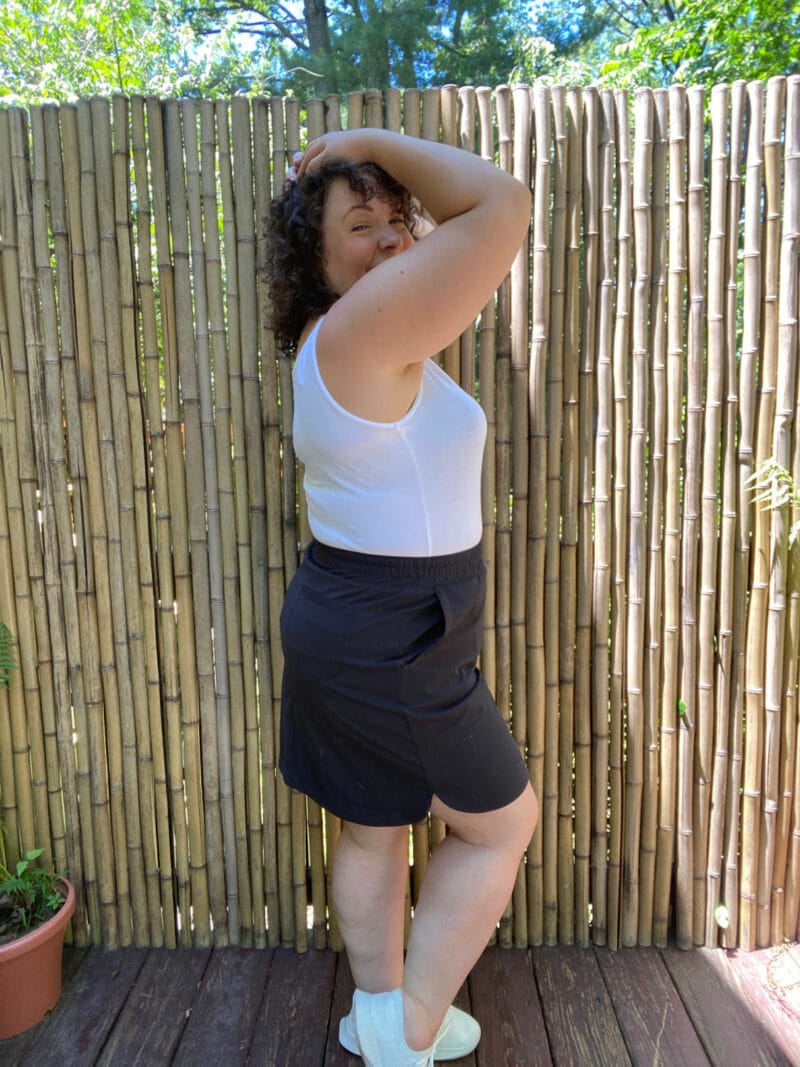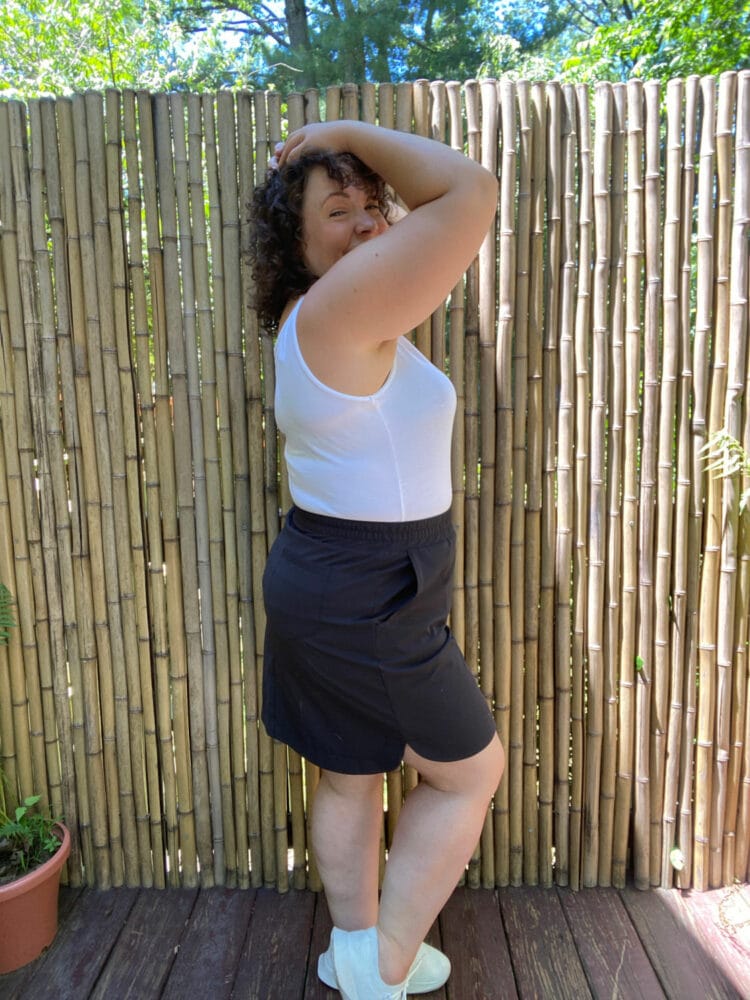 However, the shorts underneath were not long enough for me, nor were they snug enough to stay in place. If I did a review from my bedroom mirror I'd give this skort five stars. But by the time I got downstairs to take a photo in it, my thoughts dropped at least one star, if not two.
If you have firmer or thicker thighs, this skort may be great (hence so many 5-star reviews. But go through the three- and four-star reviews and you'll see others who also found the shorts too short and the waistband too snug to comfortably get on and off in a rush.
Duluth NoGA Classic Skort Review
This looked very similar to other skorts I ordered, but I liked the moisture-wicking, the UPF sun protection, and all the 5-star reviews. Unlike the Breezeshooter, the Duluth NoGA skort is available in sizes XS-3X. I ordered one in size Large.
This is a nice skort. The shorts are looser and lighter weight than the Athleta skorts, and like Athleta, I found the undershorts too short and they ended up riding up on me after about two blocks. The shorts could easily be an inch or two longer and still be hidden under the skirt, even when sitting. The fabric is heavier than I would usually choose for summer but for some reason. it was comfortable on a hot "soupy" day in July.
The problem with this skort is one I encountered with Athleta: it seems made for more of an hourglass or pear shape. The skort fit, but it had these weird bulges at the hips. Many reviews said that going down a size took care of that, but considering it fit well everywhere else, I worried going down to a Medium would not look or feel good. I even wore this one for a walk wondering if wearing and then washing would change the shape. Nope, the same fit though I am happy to report this skort does not shrink!
BALEAF Skorts
When I originally wrote this skort review, I had only tried one skort from BALEAF. Having such success with this activewear brand, I have purchased more and have added my reviews for those skorts as well:
BALEAF UPF 50+ 20″ Knee Length Golf Skort w/ Pockets
I had never heard of BALEAF but a few of you DMed me on Instagram telling me how awesome this brand is. Great price, great quality, and skorts in a range of lengths and sizes. Having experienced far too many skorts that looked mid-thigh length on models (no matter the site's measurements) I was down with trying a skort longer than any other I had ordered.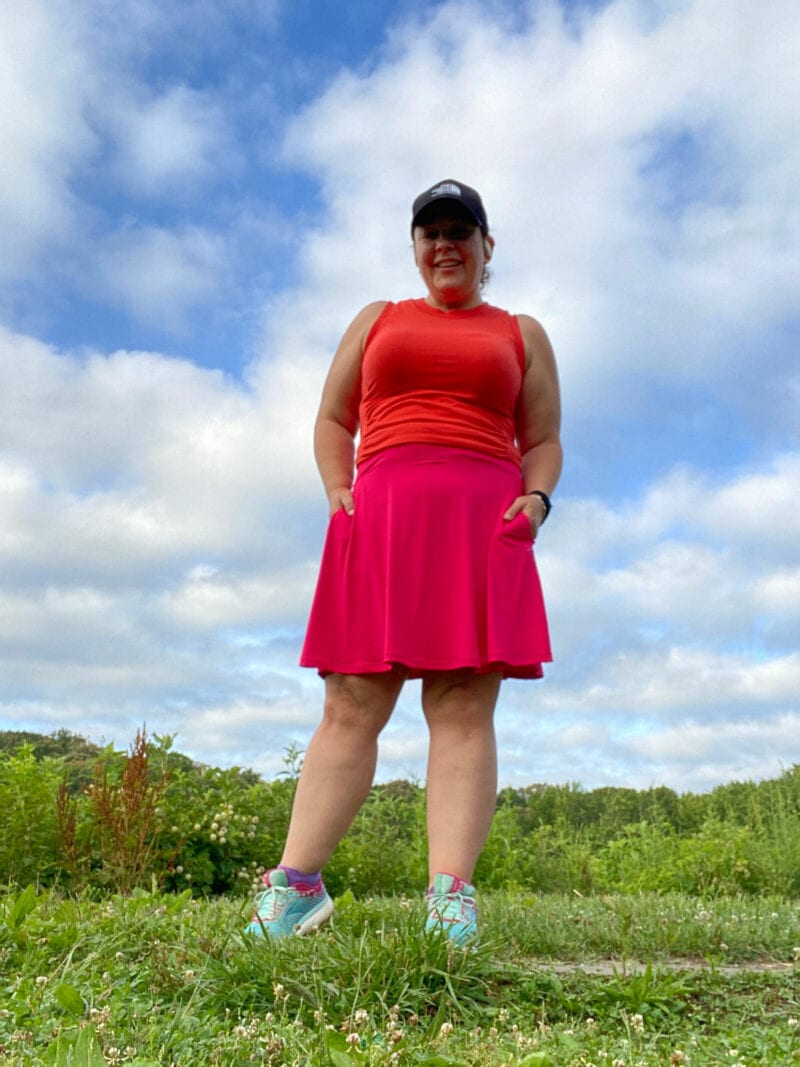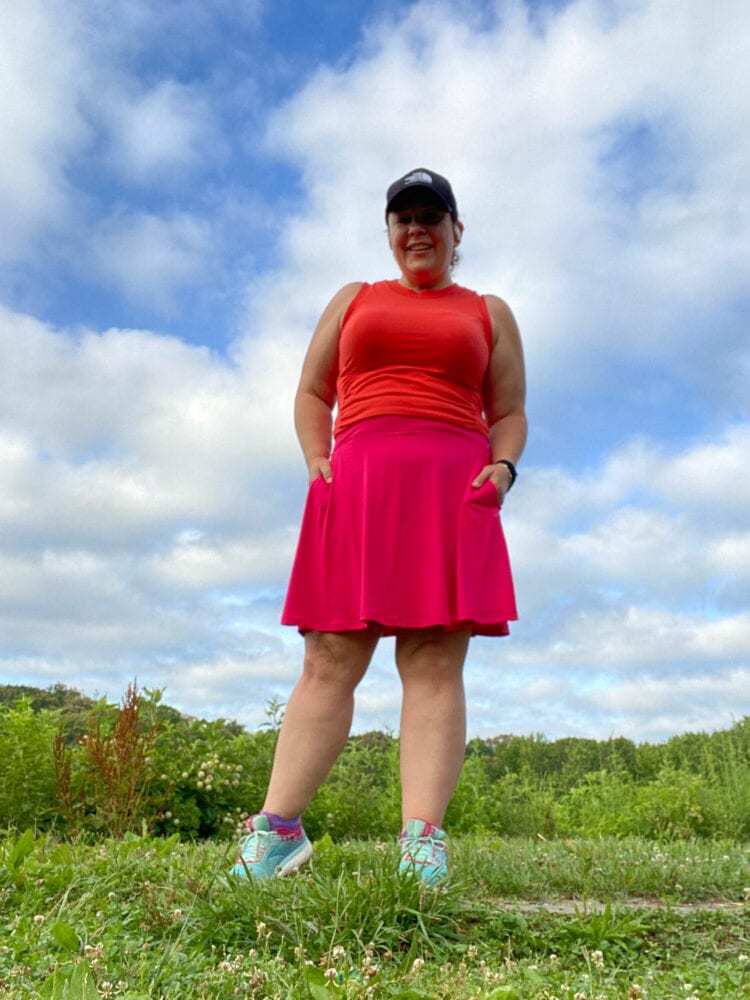 This skort is advertised as knee length. It is a poly/spandex blend and has an adjustable waistband, two secure pockets (one in the waistband good for your ID, one zipper one in the back good for keys), and two front pockets deep enough to hold a large smartphone and keep it in place even when hiking up a hill. It's available in a bunch of colors in sizes XS-XXL; I ordered Deep Pink in Large.
I love this skort. It is WAY longer than what I would ever think to get for a skort, but I think that's why I love it. It's swingy like a skater skirt, just above the knees, but designed for performance. When I squat, my thighs are still covered. When I sit down, my legs aren't bare against the seat.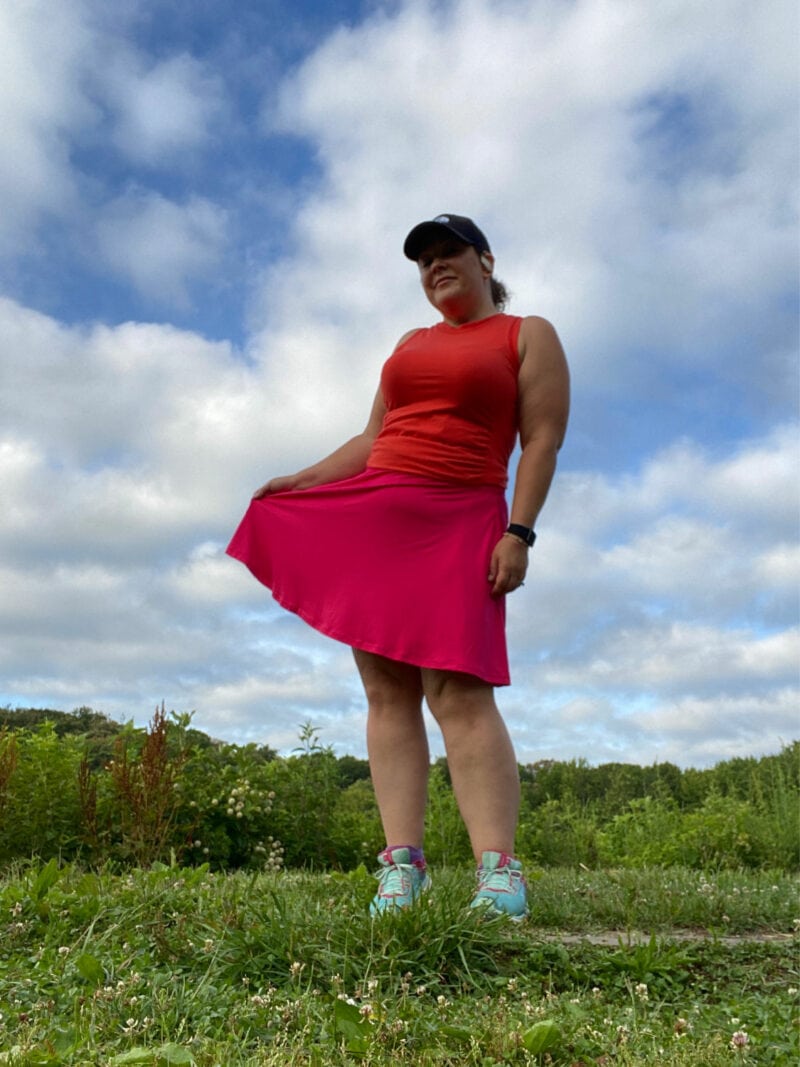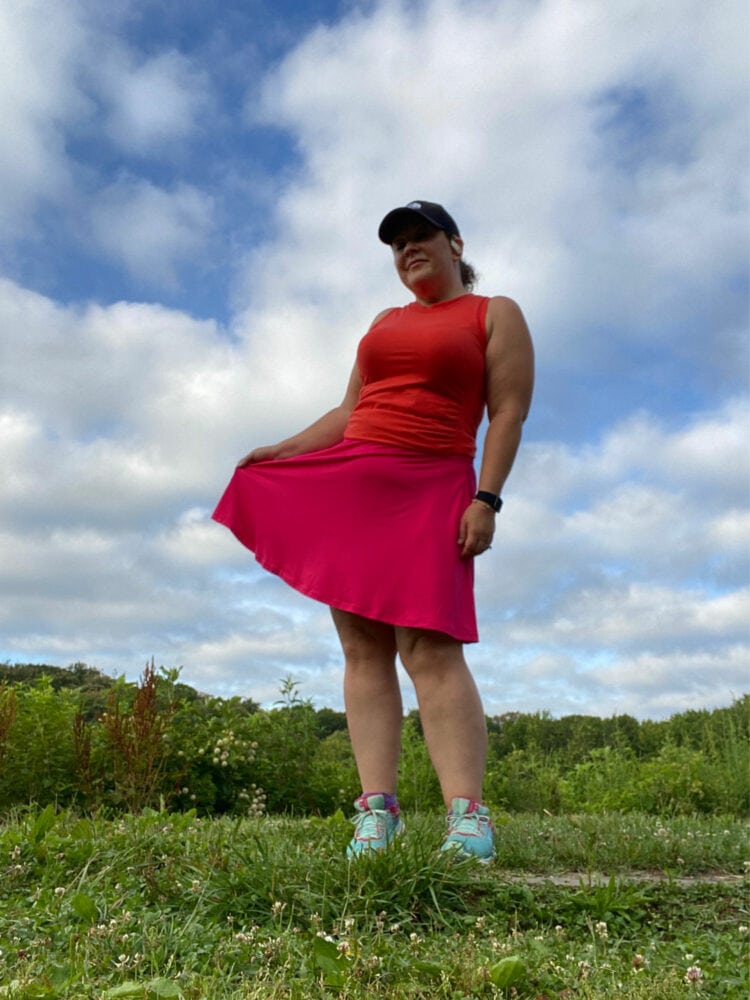 And most importantly? The undershorts are long enough and stay in place. The waist didn't grow, it didn't fold over. I found the fit very cute over my curves. The only issue I found with this skort was the lack of a more secure pocket for a smartphone. Those with smaller phones may be able to tuck it into the back zipper pocket, but a pocket on the mesh undershorts would have made this pretty darn perfect.
Since this is one of the skorts I did keep, I can share the experience of laundering it. The first and second times I washed on cold and line dried and it looked great and performed well. The next time I washed it, it was after helping a stranger with a medical emergency while I was on vacation. This individual was bleeding and crying and I got both on me. I washed the skort on hot and put it in a very hot dryer. Still looks great, same size, and performs the same. I feel confident recommending BALEAF and this skort!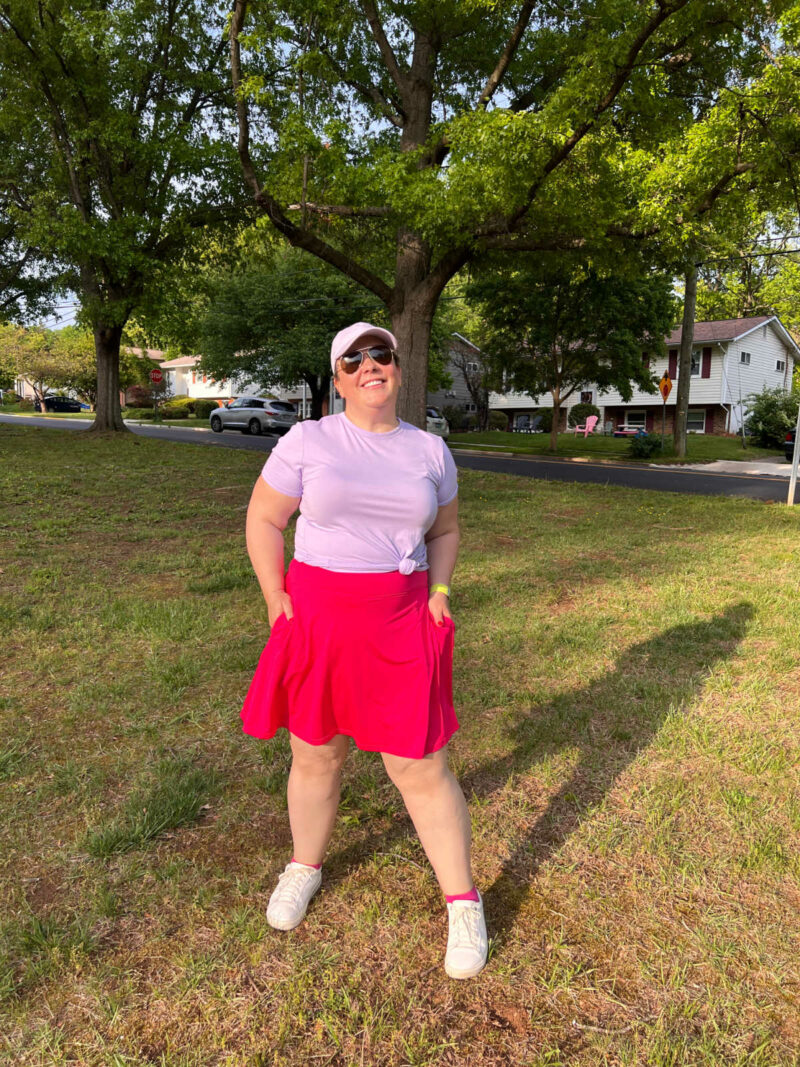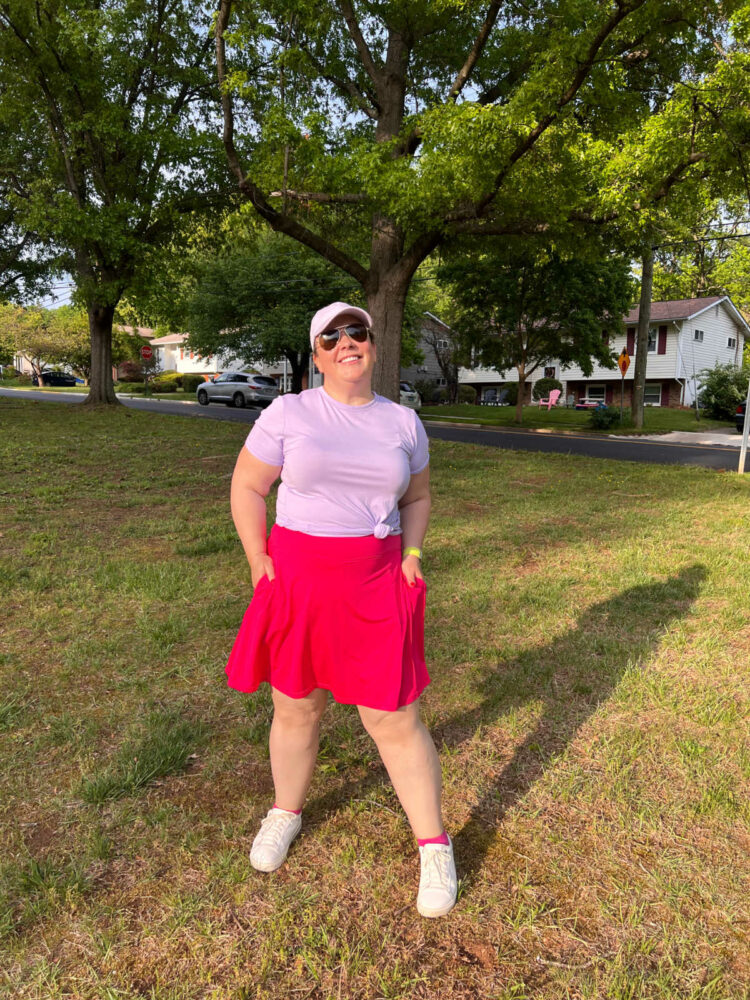 Update: It is three years since I purchased this first BALEAF skort and it is still a favorite. This is a photo of me wearing the same skort a few weeks ago. I throw it in the washer and dryer without a thought along with other activewear or knits. It has been in the ocean, it has been left damp in a bag for a week, and then washed on hot and came out great. I cannot rave enough about this skort.
This experience made me check out more of BALEAF, which is available on Amazon and the BALEAF website. They have an amazing range of skorts in different silhouettes, fabrics, and lengths. Amazon has select sizes and styles, and BALEAF's website has the full range of colors and styles and sizes XS-2XL and 14W-22W. And since this original skort review, I ordered more BALEAF skorts.
BALEAF Women's Tennis Skort
Last summer, I began taking golf lessons and wanted some cute looks to wear. Having such success with BALEAF, I ordered this tennis/golf skort from the brand. This tennis skort comes in 14 different colors, sizes XS (0/2) – 3XL (24/26), and the length is determined by the skort size with XS 14.6″ in length and 3XL 16.6″ in length. I ordered it in white, size XL and my skirt is a hair over 16″ in length.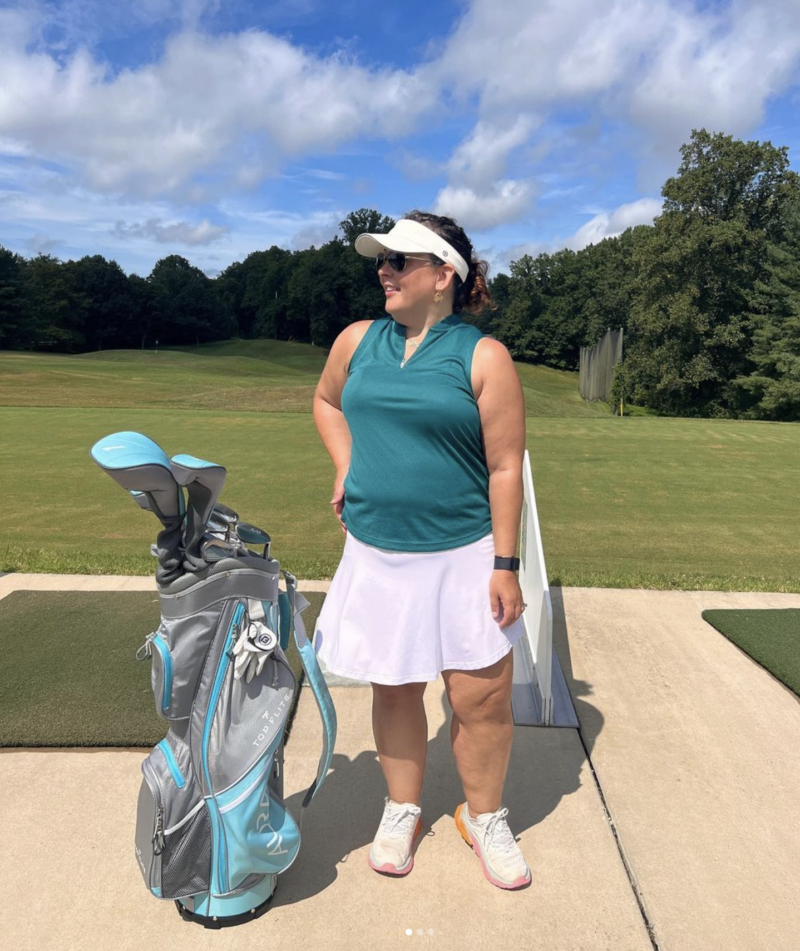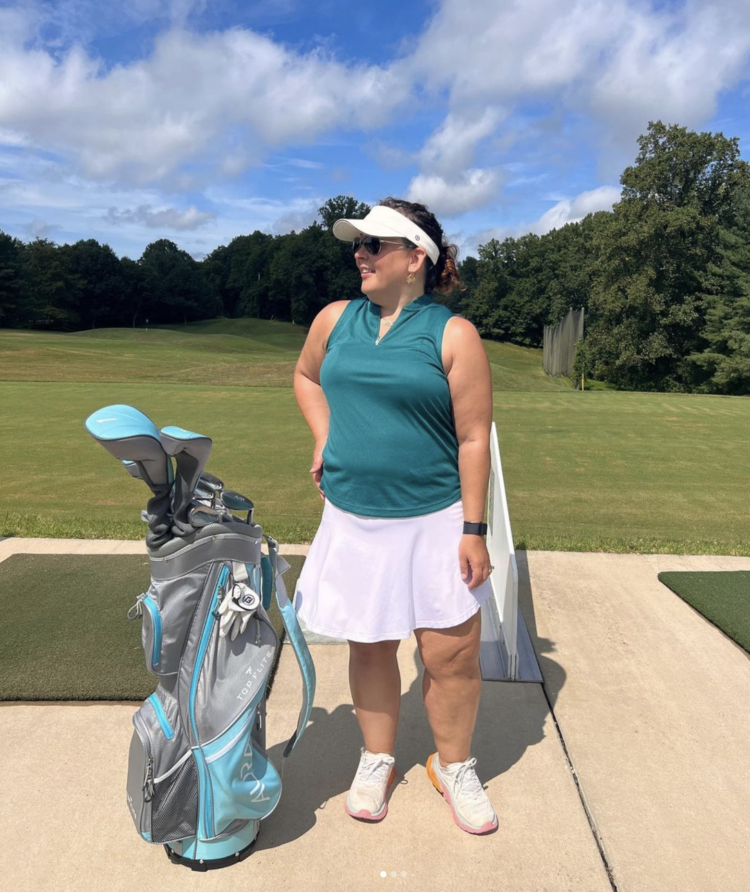 This tennis skort from BALEAF is the same design as the 20″ skort I've owned for years. Same weight fabric, and the same smartly designed waistband. No side pockets, but there is a ball pocket on the right leg. The only thing I didn't love about this skort is that because the skort is shorter, so are the shorts underneath.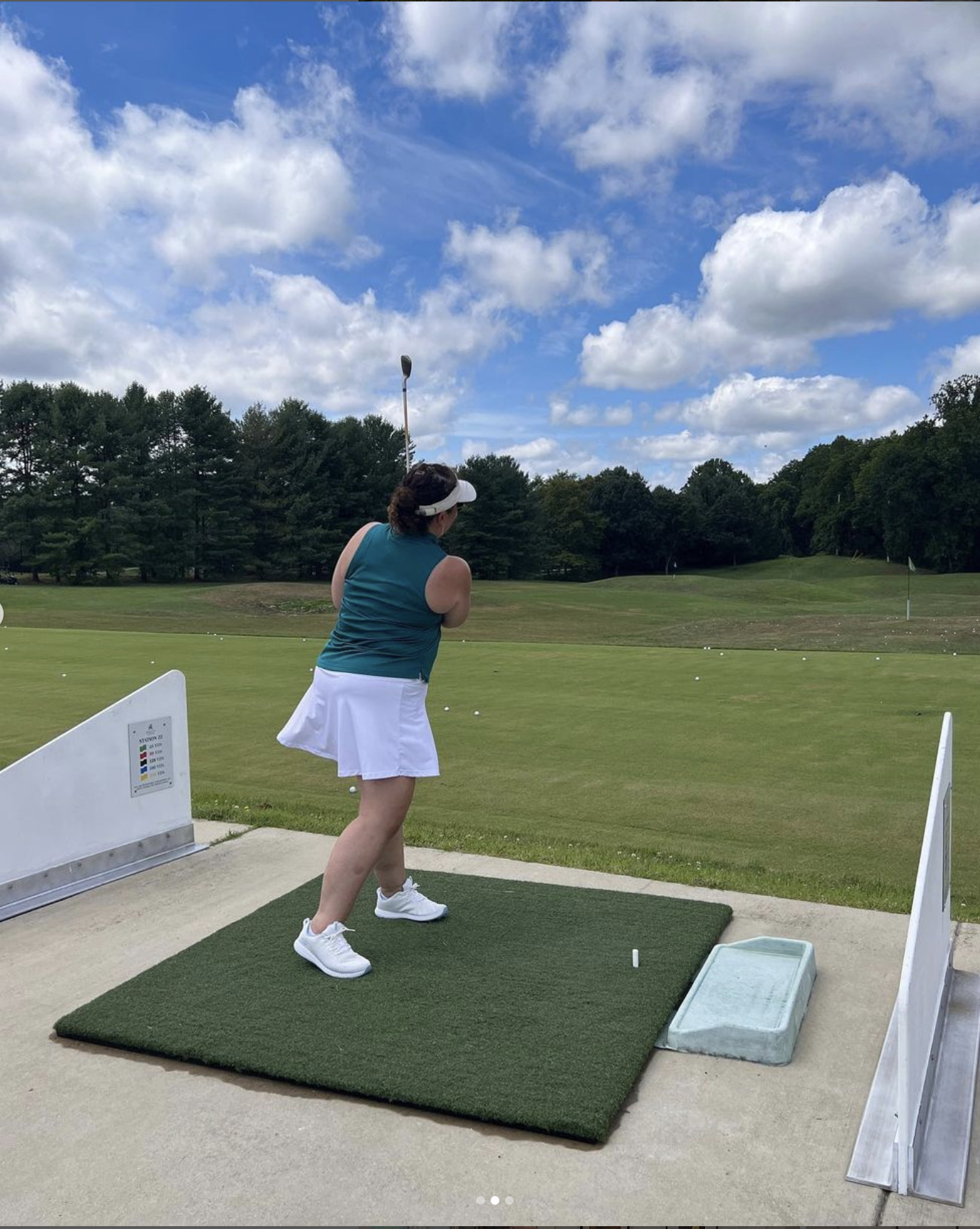 While they didn't immediately ride up like some brands of skorts, I did have to adjust them after walking from the parking lot to the driving range, and occasionally when walking between holes and back to the parking lot. For reference, the top I'm wearing here is this one from Three Sixty-Six.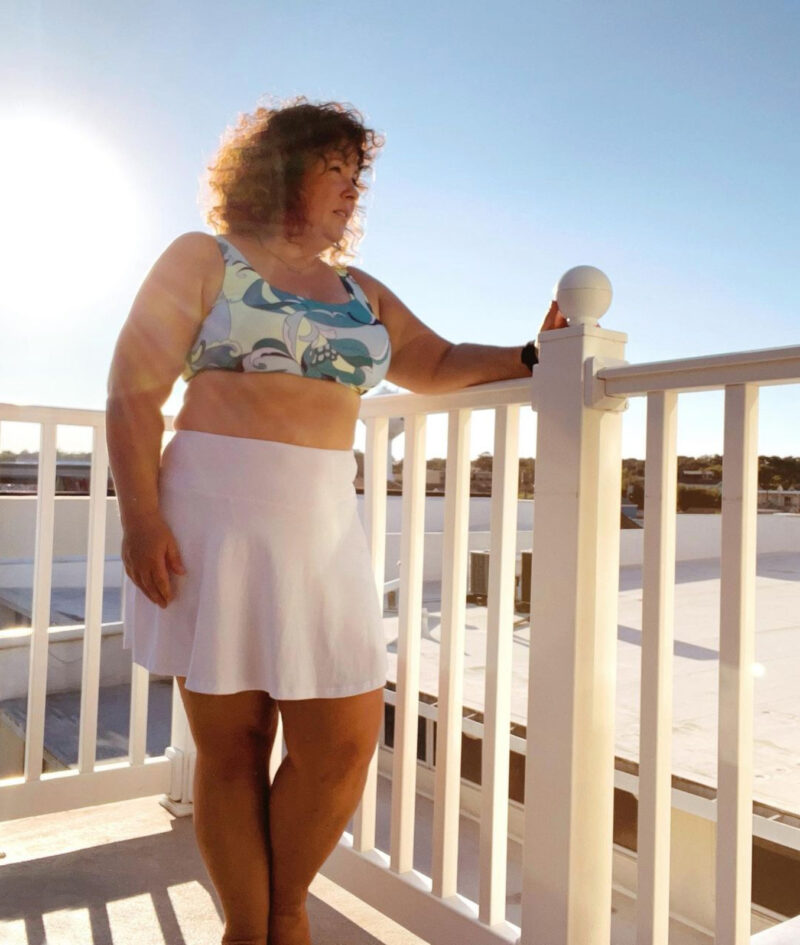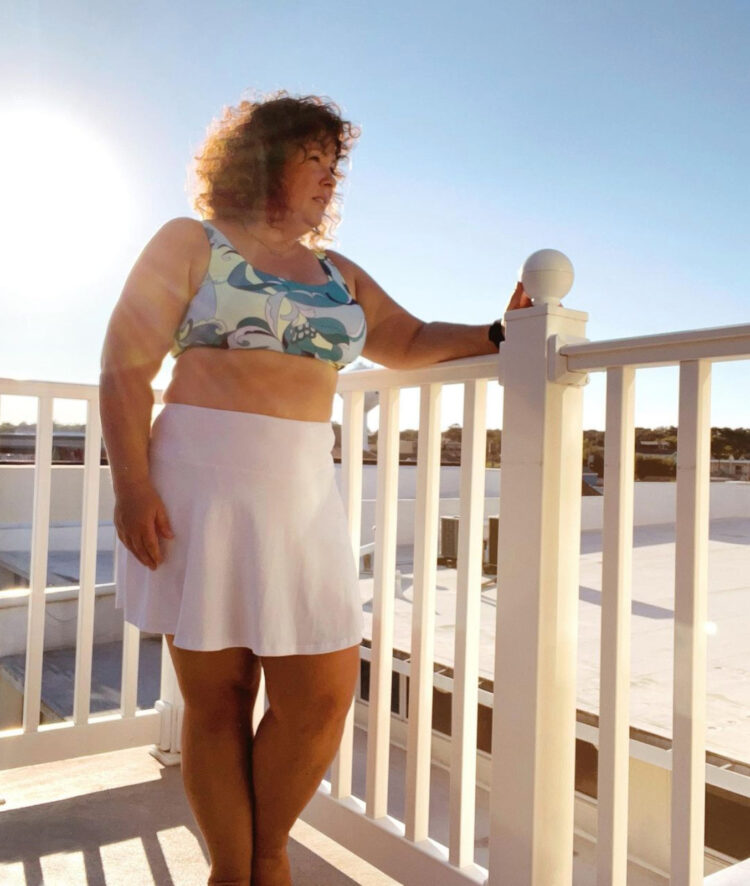 Even so, I continue to wear this skort for low-impact activities and like using it over a swimsuit for a bit of coverage when hanging out on the beach or walking to the pool house. Here I am wearing it over a Bravissimo swimsuit.
BALEAF Promo Code:
BALEAF is so thrilled I like their skort and so many of you have also bought and purchased it that the brand is offering 10% off to Wardrobe Oxygen readers. At the BALEAF site, enter WO2 at checkout to get 10% off your entire order!
Chico's Skorts
At the original time of writing this review of the best skorts for grown women, I had only tried one skort from Chico's. It was such a winner, I have now tried several styles of skorts from Chico's and am pleased to share that most of them fit the same, with their details being the factor that determines whether they work with my particular body.
The specific Chico skorts I own are from previous years, and the exact skorts are no longer in stock. However, after a look at the current Chico's skort collection, I see many made from the same fabrics, having similar silhouettes, and receiving reviews that make me think Chico's has not messed with a good thing with their skorts.
Chico's UPF50 Neema Skort
I don't think anyone is surprised that I not only tried a skort that was offered by Chico's but that I also loved the fit. Chico's fits me in general, quite well. This skort is no longer available but the page is still up for product detail. I ordered it in my usual size 2 in Chico's.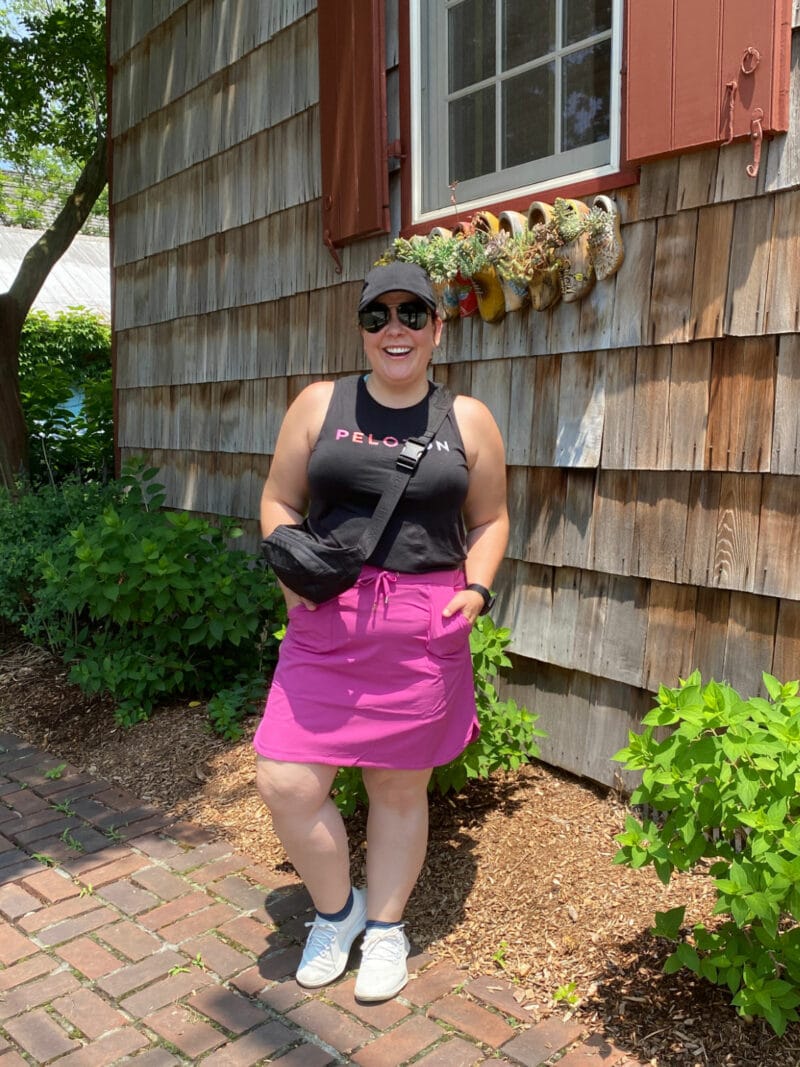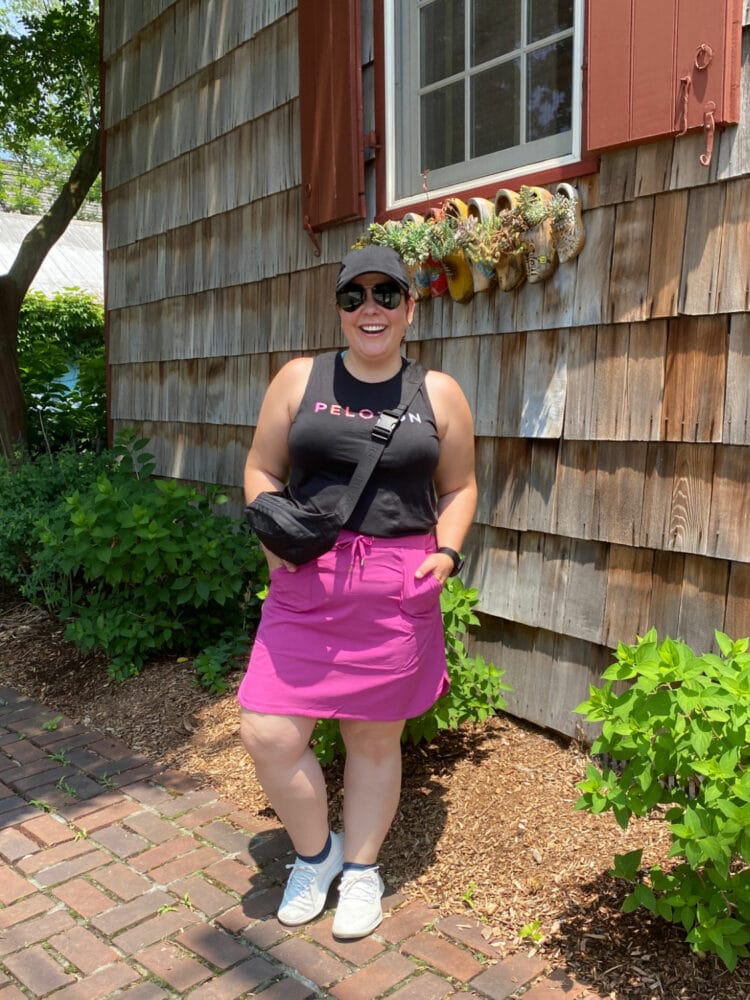 This is the kind of skort I was looking for. The fabric is like the Athleta Soho and Brooklyn Skorts – a stretchy but crepe-y performance fabric. It has a stretchy waistband but also a drawstring for a secure fit. The skirt isn't too fitted but isn't flippy, and it hits at a nice point above my knee. But the best part? The undershorts fit great and barely budge, even through hours of sightseeing in the blistering heat with sweat running down your legs.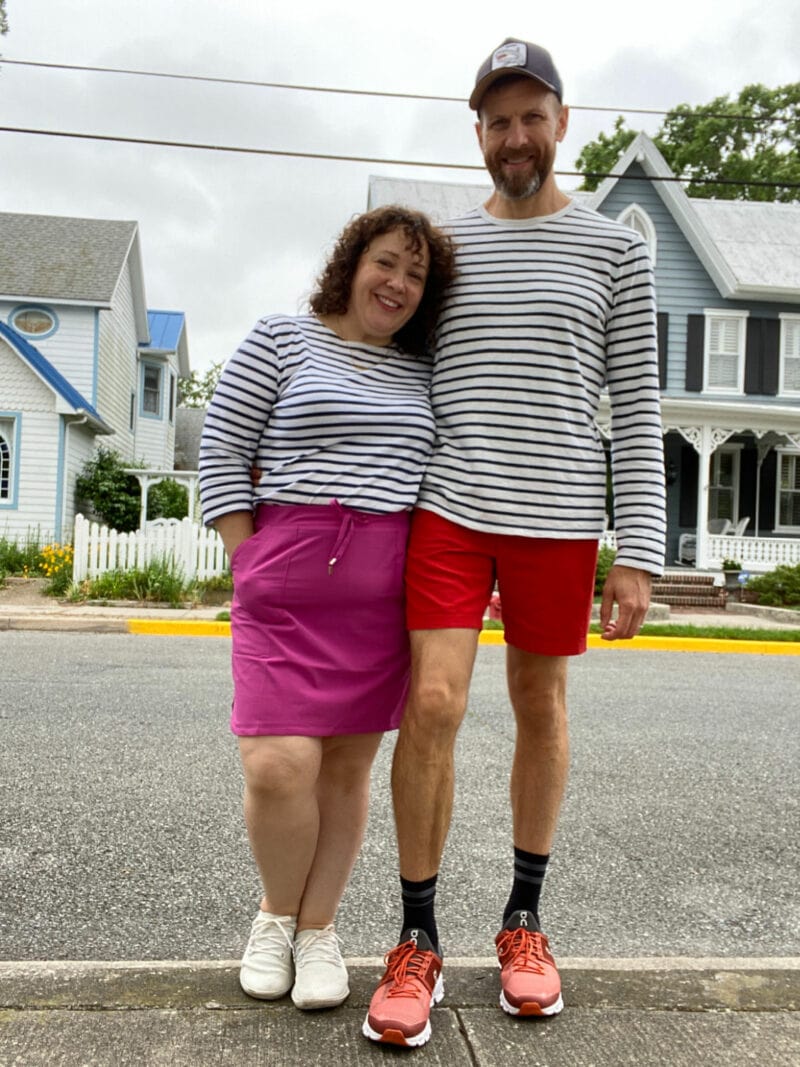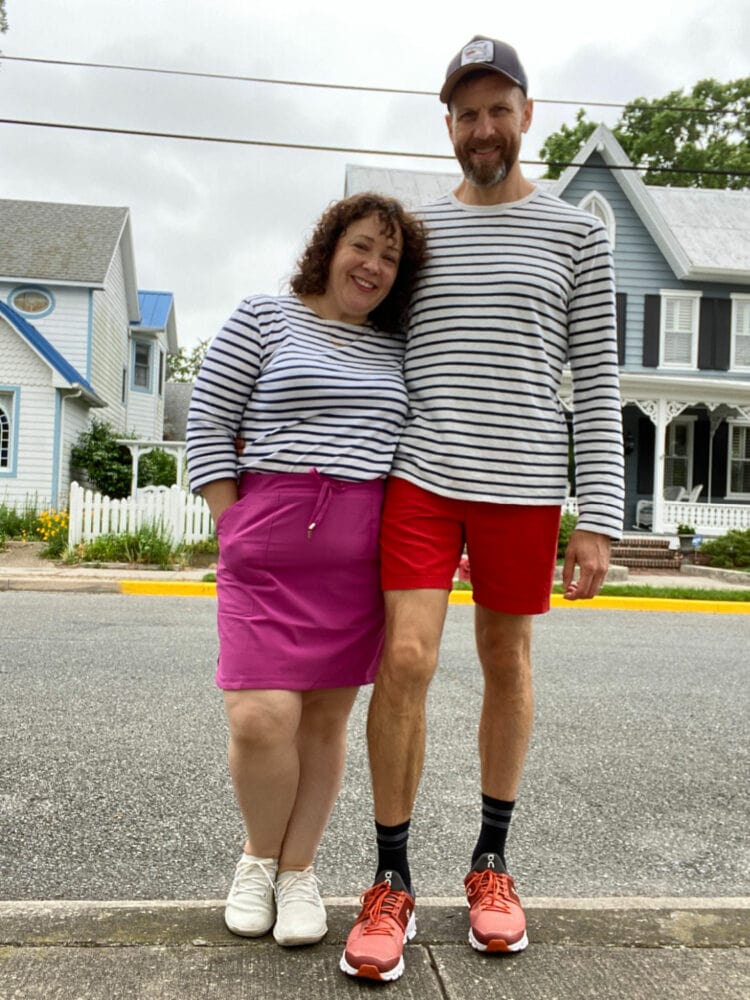 The only problem with this skort is the pockets. The two front pockets are good; they can hold a lot without ruining the fit and will stay in place as you hike up a hill. But there are no zipper or velcro pockets to secure items, and if you're doing a seated activity, there's a chance your items will fall out.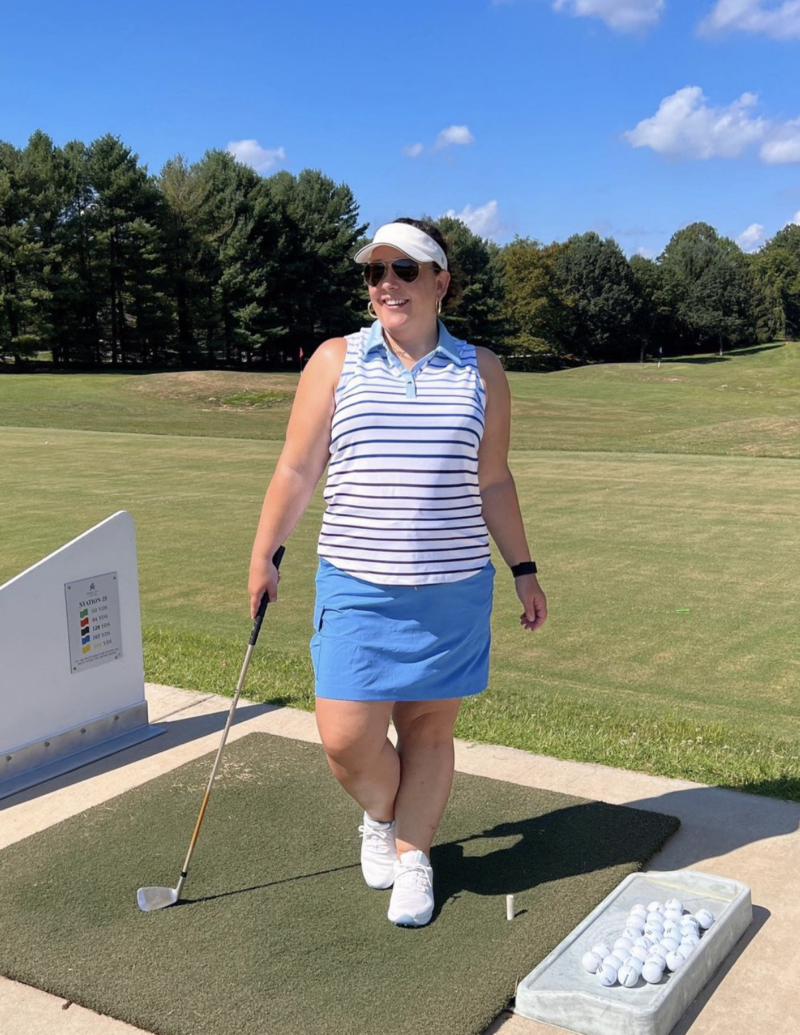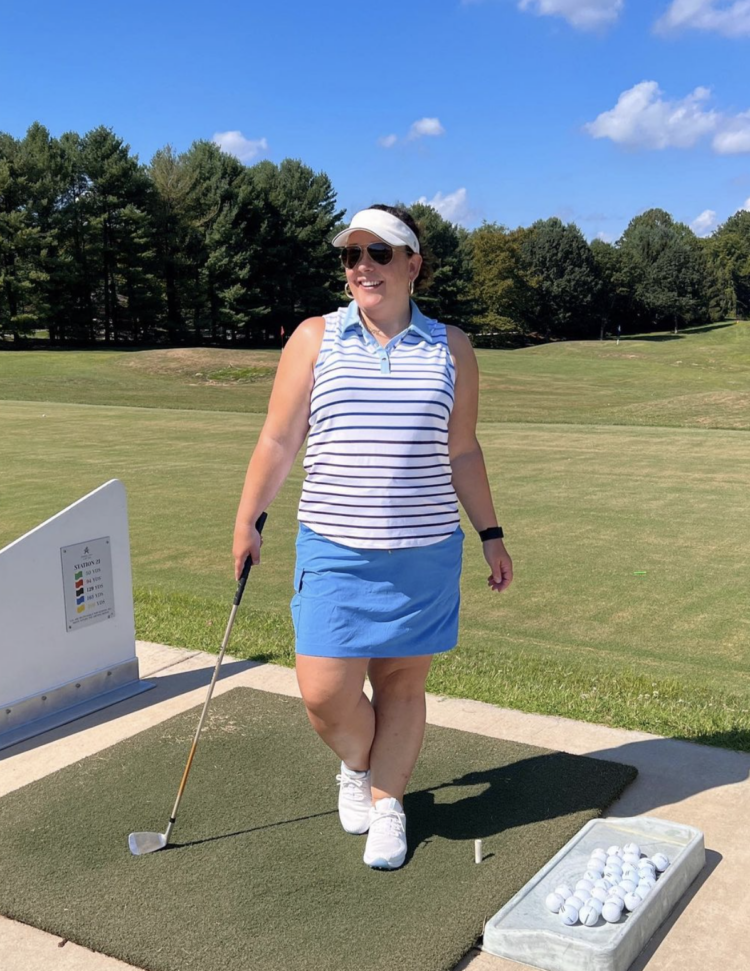 I have washed and dried this skort several times and years later, still own it. And I liked it so much I now order more Chico's skorts. Here I am wearing a Chico's Zenergy cargo-pocket skort from 2022, also size 2. Same fit, same length, same great undershorts, and is just as durable.
I again need to reiterate that details may determine how Chico's skort fits. I found those with pleats and ruffles at the bottom ran a bit more snug since the seam for the ruffle hem wasn't stretchy. Maybe due to my height, I found the pleats at the wrong place causing the skirt to flare out just a bit under my rear, creating an odd silhouette. However, the straight and a-line skorts without decorative hems have always fit well.
Other Brands of Skorts Reviewed
Below are other skorts I reviewed that are available at popular retailers, but I only tried one style from the brand. I hope my feedback helps you be a smart consumer and find the right skort for your body and needs.
Zella Taylor Performance Skort
I have had a lot of luck with Zella Activewear over the years. This is one of the first brands I checked for a skort, figuring it would be good quality, a good price, and well-designed. The Zella Taylor Performance Skort is a 16″ length with an elasticized plus drawstring waist, quick-dry recycled fabric, and several colors in sizes XXS (00)-XXL (20). I ordered one in Large.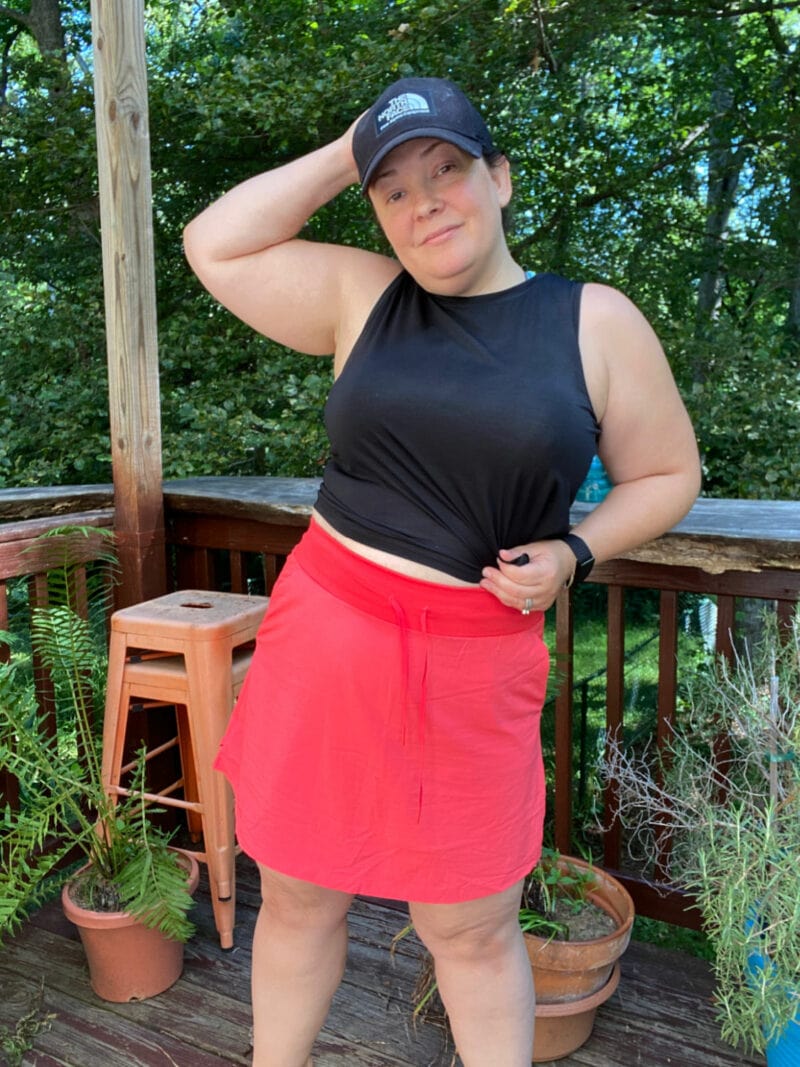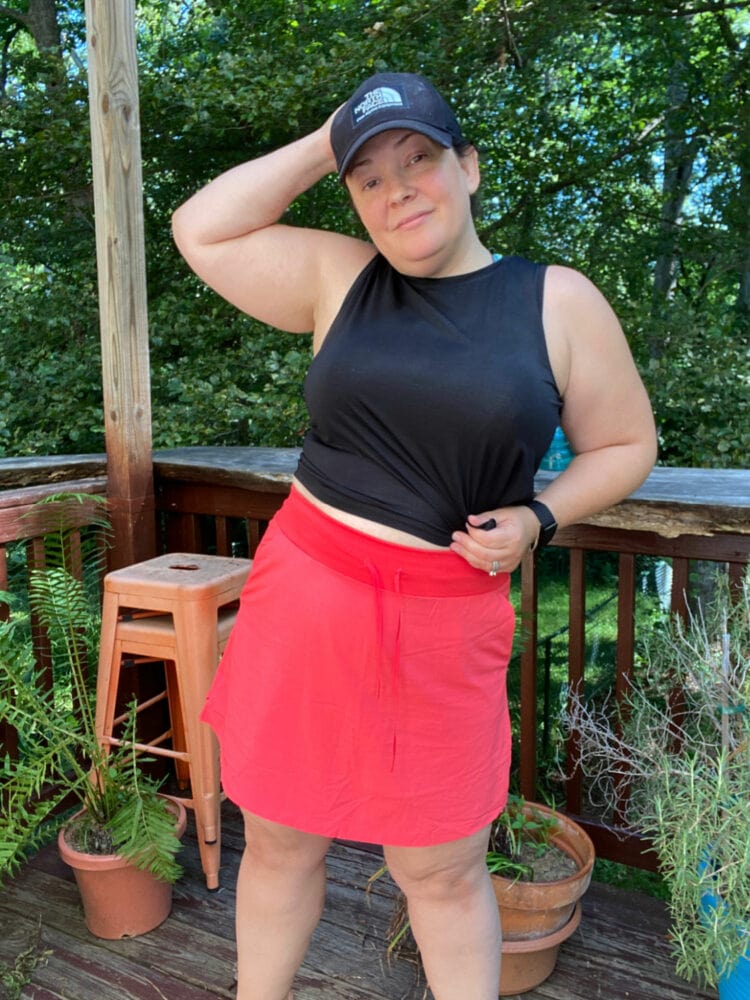 I had high hopes when I put on this skort and headed out for an hour-long walk on a warm summer morning. I liked the fabric, I liked the length, and the shorts were staying in place. One point off for the fact that this skort only has two front pockets; no security pockets for keys or ID.
The skort performed great. The shorts stayed in place through the entire walk; no need to yank them down. I liked the fabric which didn't cling and was lightweight. However, both the undershorts and the waistband were made out of a heavier fabric that was NOT moisture-wicking. By the end of the walk, my waistband and shorts were soaking with sweat and looked like it too.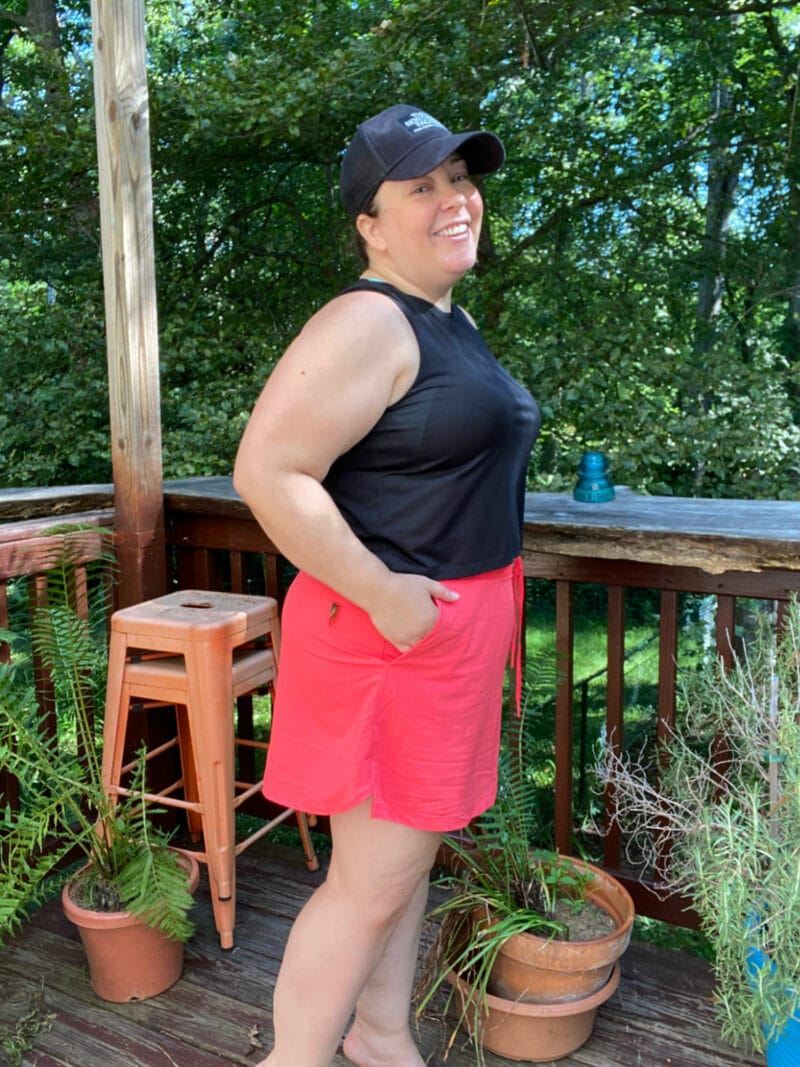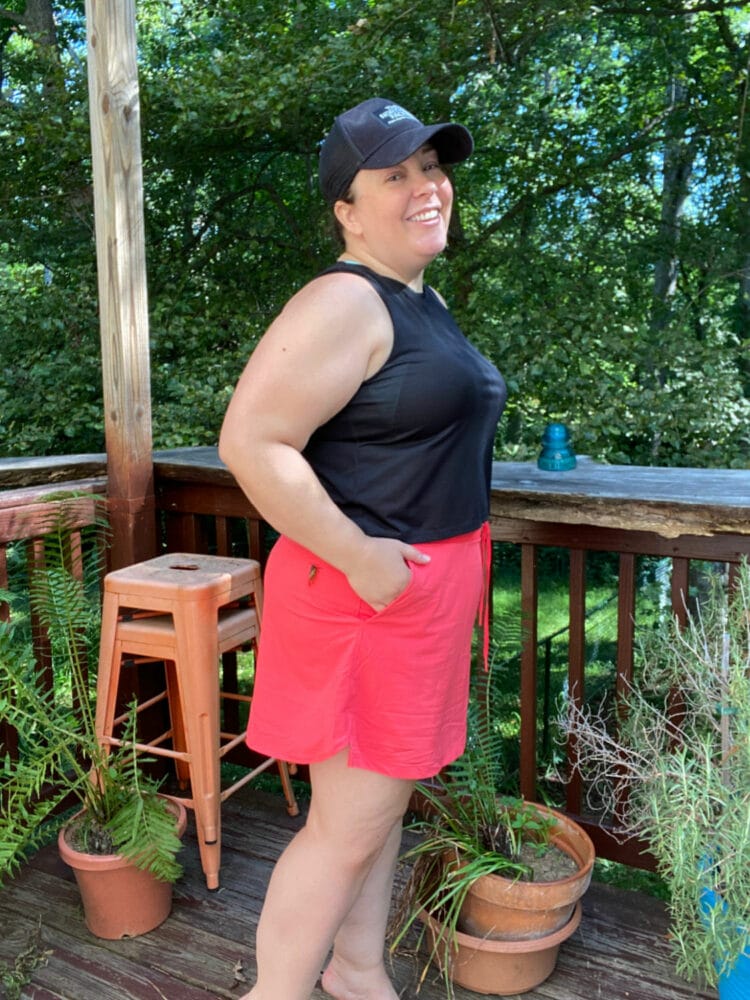 Also, my phone started creeping out of my pocket as soon as I started walking so I had to bring along a belt bag to carry my essentials. The skort this one is most similar to is the one from Chico's, but I prefer the shorts and waistband of Chico's skort.
L.L.Bean Vista Camp Skort
I didn't have high hopes for this skort. While I love L.L.Bean for some things like fleeces and t-shirts, I rarely have success with bottoms because they are created for a much more hourglass/pear shape than I have. I always end up with the waist too snug, the rise too high, and weird bumps on the hips.
The same happened with this skort. I could barely get it on over my butt, the waist fell so high it was near my ribcage, and the skirt poked out on the sides like jodhpurs. The only reason I am sharing this review is because the skort is a nice fabric, a good length, and if you do well with L.L.Bean bottoms this may be a good choice for you.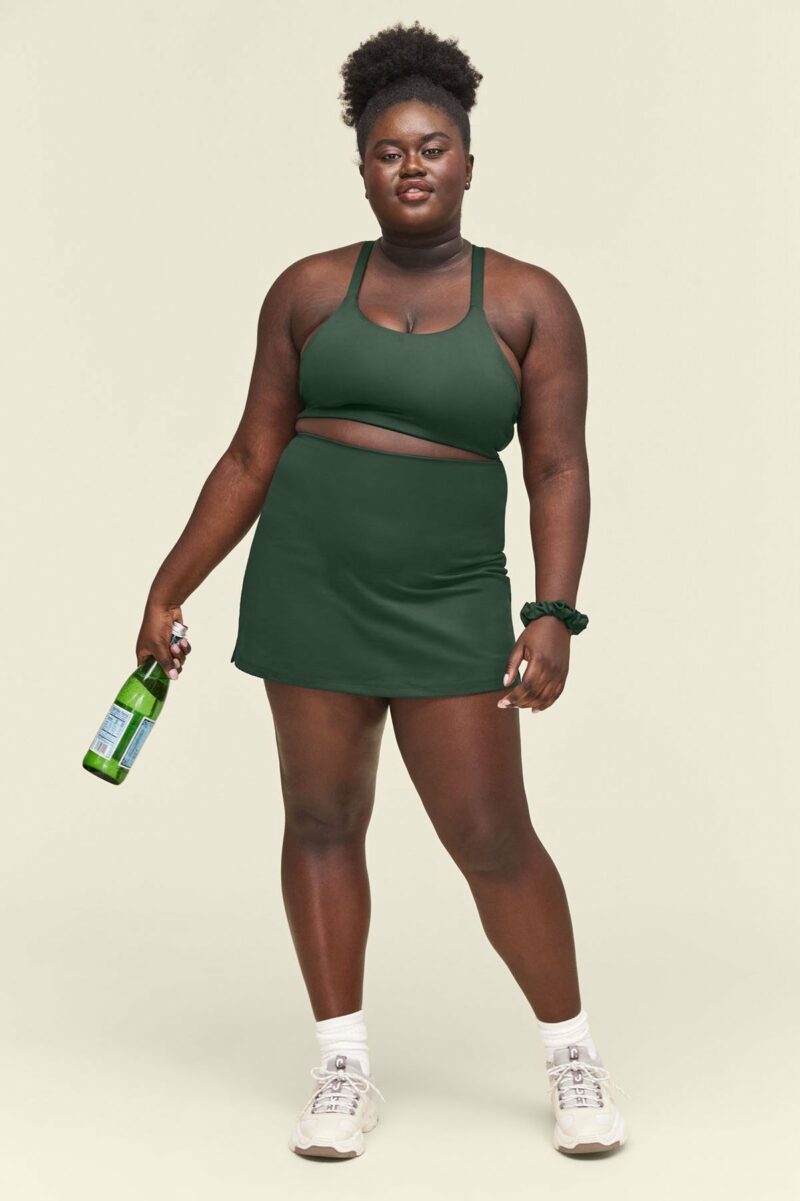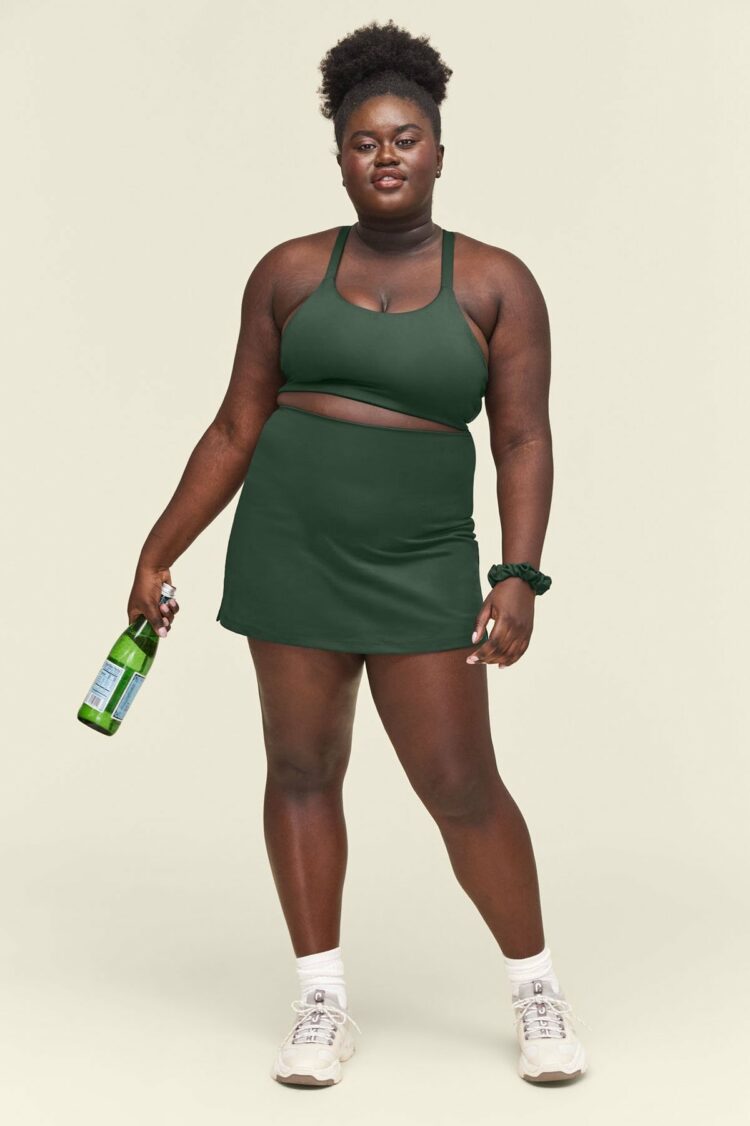 Girlfriend Collective Moss Skort
I want so desperately to love Girlfriend Collective. I have bought from this brand multiple times and the only thing I wear regularly is their belt bag which they no longer make. But I keep buying because I love the concept of this brand and when I saw they had a skort, I ordered it.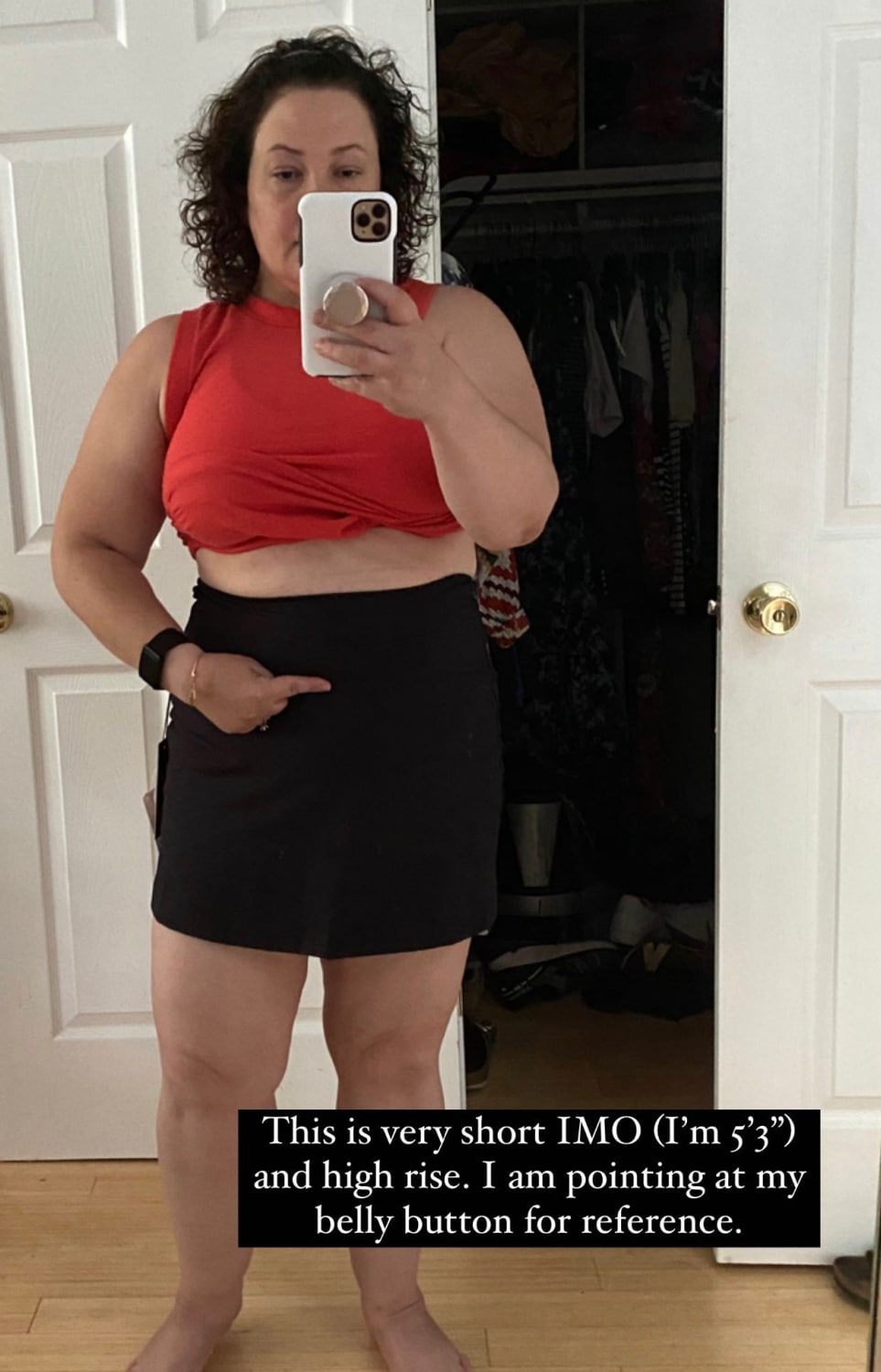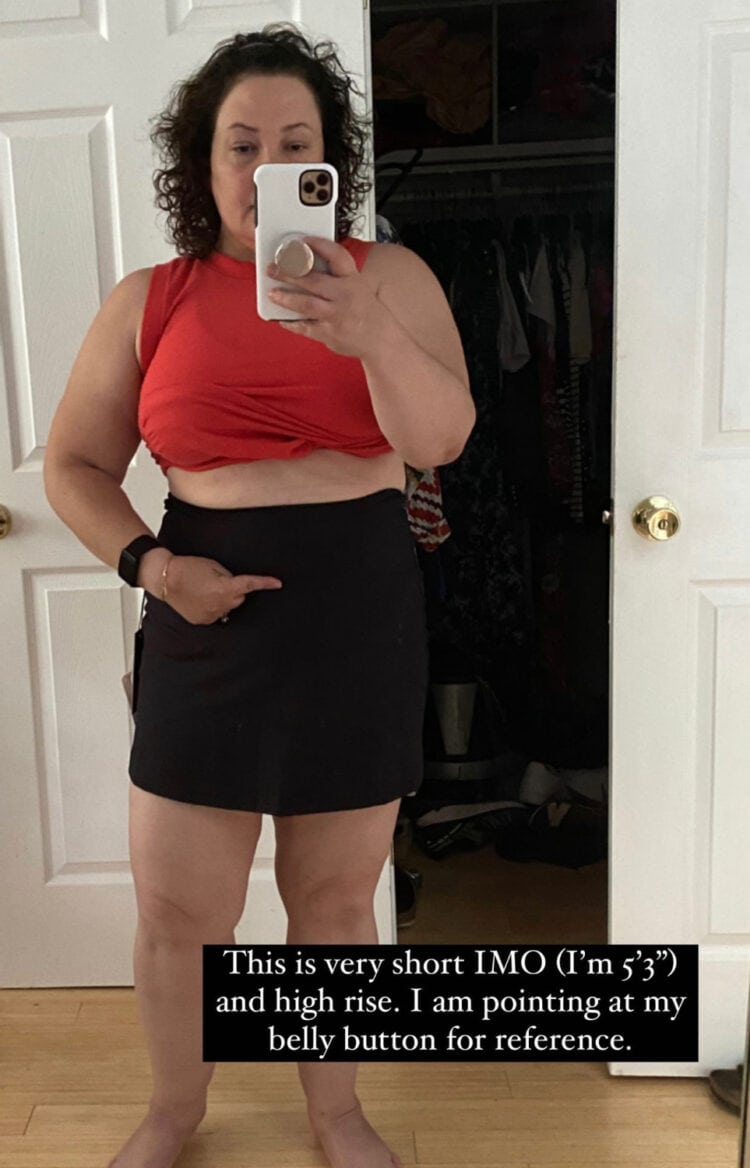 Available in XXS-6XL and a range of colors, the Girlfriend Collective Moss Skort is made from 79% RPET and 21% spandex which is sweat-wicking and crafted from recycled water bottles. It has mesh pockets on the undershorts. I ordered it in XL, my usual size in Girlfriend Collective.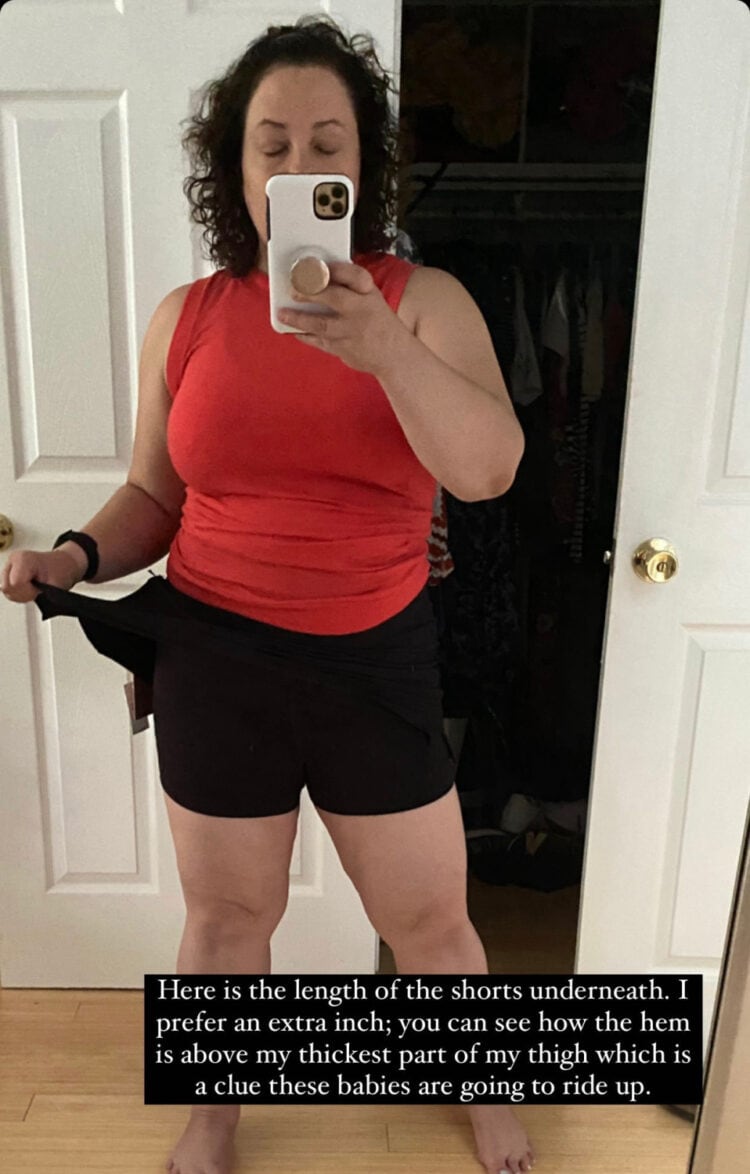 This skort was super short. When I bent over the back view was indecent. And the shorts rode up as soon as I stepped; they were essentially boy-short underwear offering more modesty than a pair of underwear, but nowhere enough length to stop thigh chafing.
It was also very high-waisted; the combination inspired this post about skorts for grown women. I would have loved this skort if I were 26. But at 46, I felt like I'd be going out on the town in a skirted swimsuit.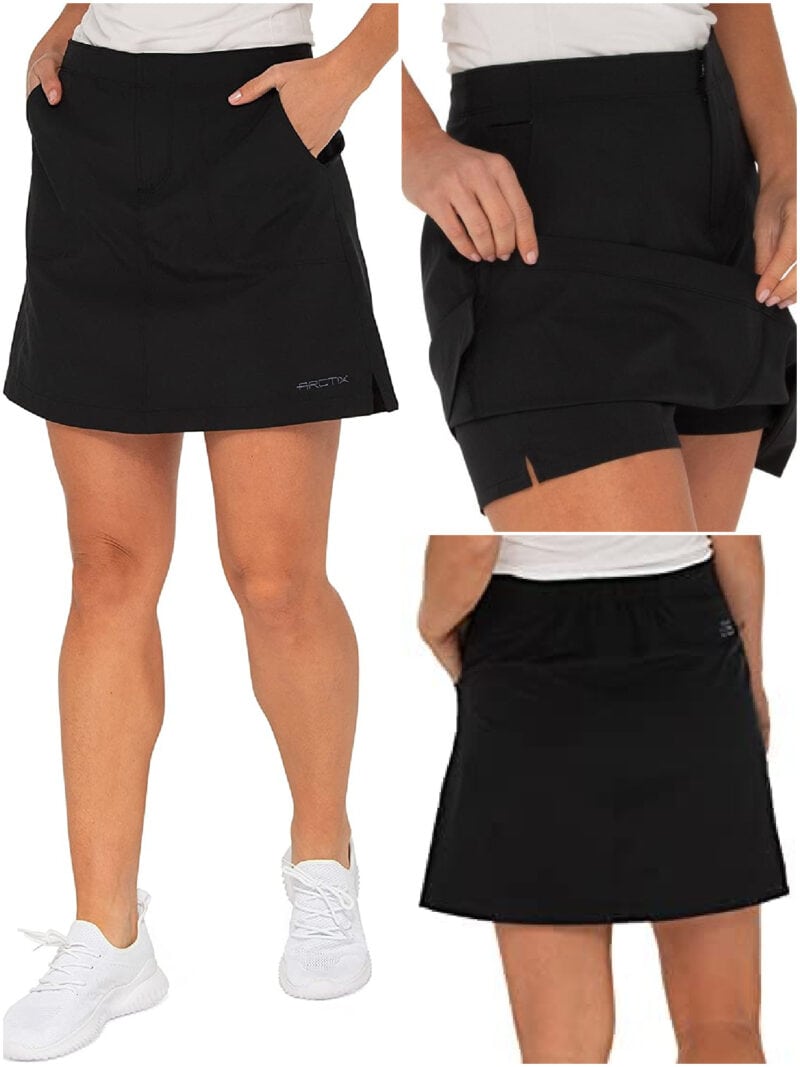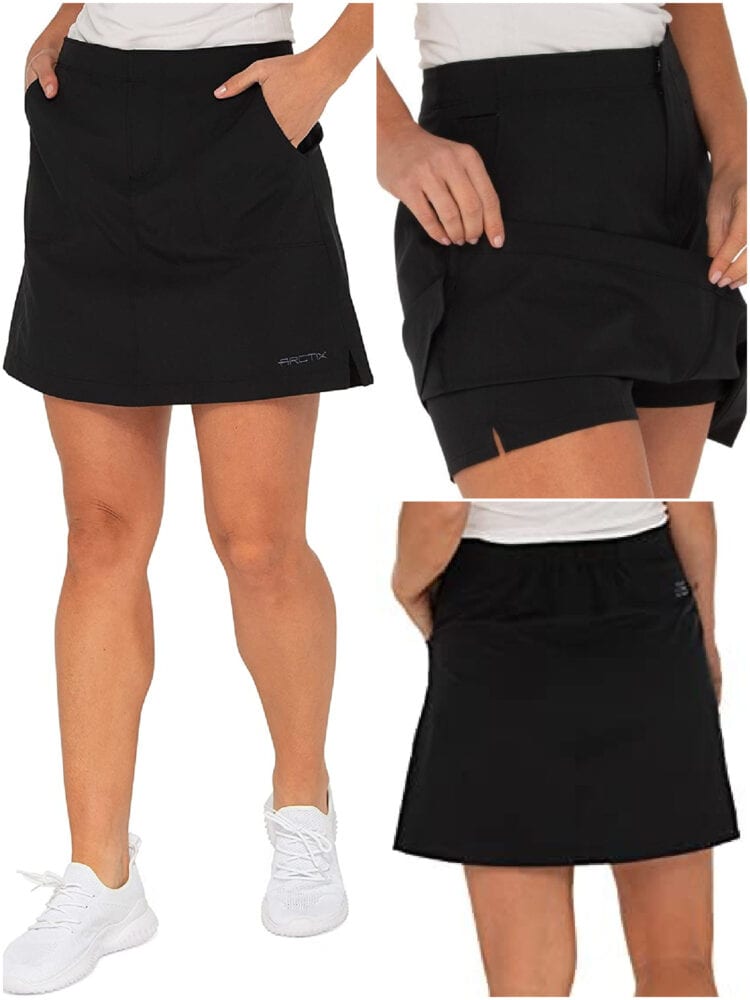 Arctix Women's Active Skort
Arctix is an outdoor activity retailer for men, women, and children that is also nicely priced. It also has a great size range for women from XS (0/2) to 4X (28/30). You can find Arctix at several outdoor stores; Amazon is the authorized online seller. I never tried Arctix before, but a few of you recommended the brand so I ordered their Active Skort in the 17″ length in size Large Regular, which is a 12/14. This skort is available in a range. of colors in sizes XS-4X with short and tall options.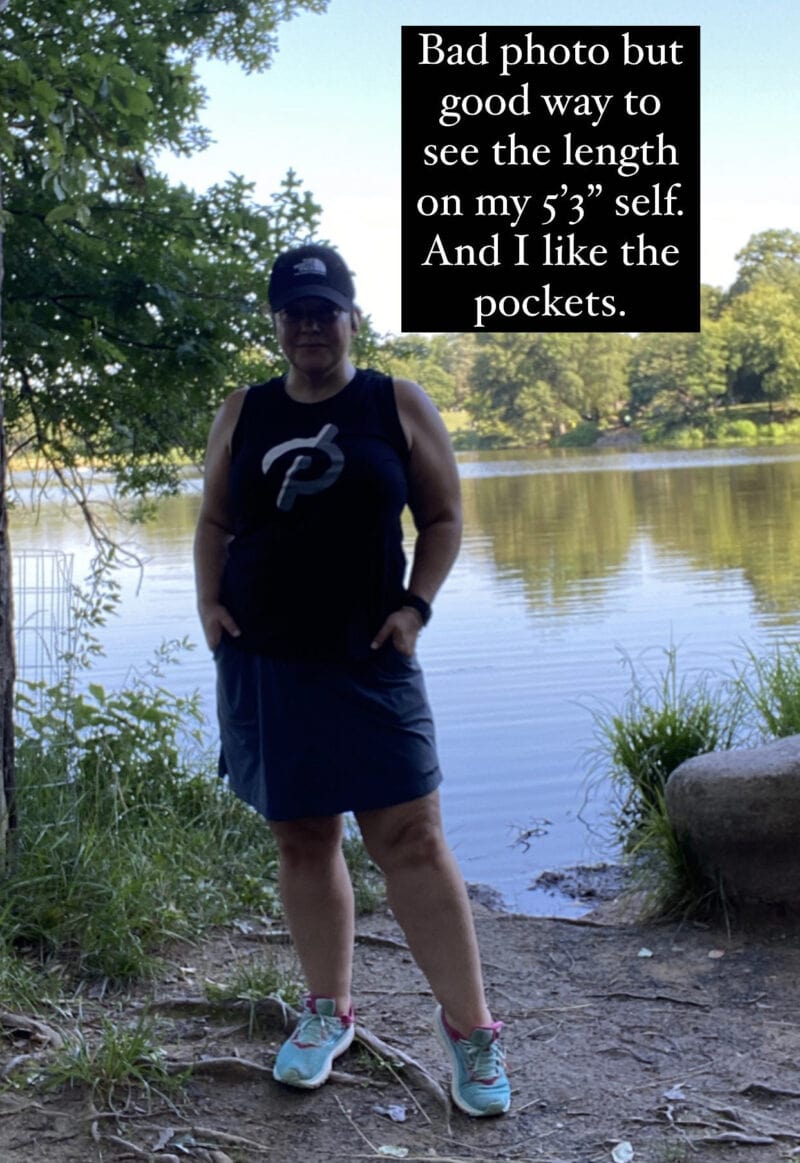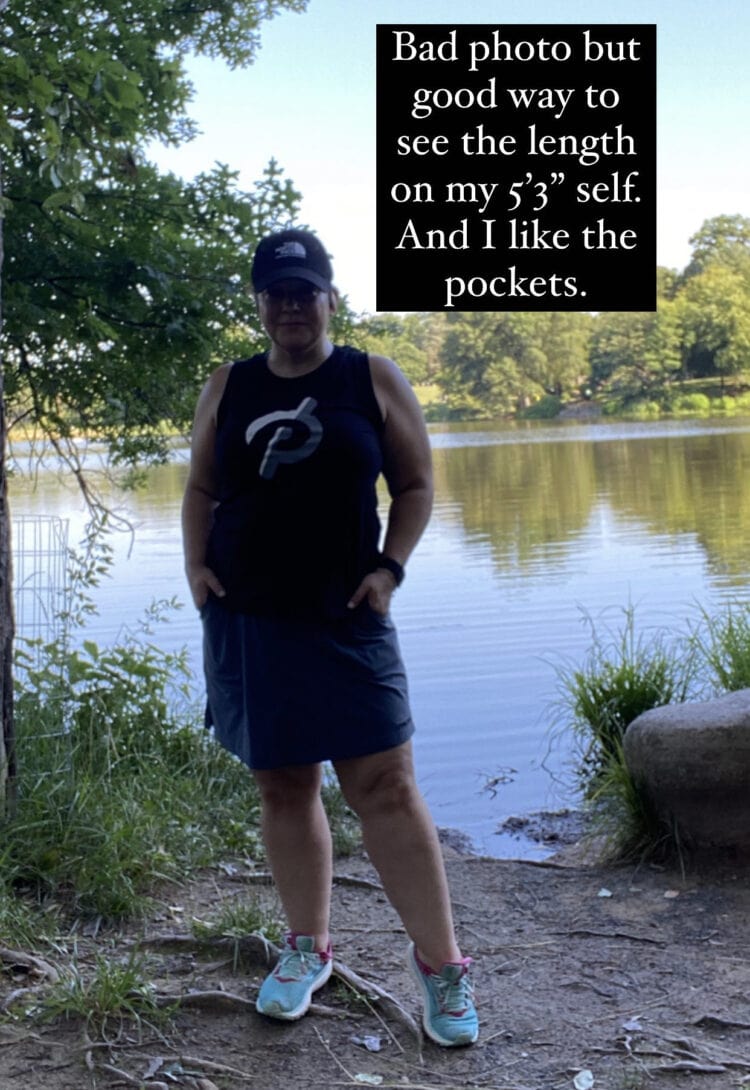 The Large was way too big. I needed a medium as it was big when I put it on and it grew as I wore it on a mile-long walk on a hot summer day. I wonder if I sized down to Medium in this skort it would not only fit better but also the shorts would stay in place. Because the shorts rode up big time and drove me batty.
This skort is a very "I shop for streetwear at REI because I am an outdoorsy person" vibe. Unlike the other skorts I've reviewed, this was more like a twill (but a performance twill) and it had a proper fly and smart pockets. The fabric is moisture-wicking, UPF50, abrasion-resistant, and all the things you want out of active outdoor wear. This skort isn't my style, but if I did more hiking and outdoor activities I'd repurchase these in a Medium to see if the shorts then would stay in place.
What To Wear With A Skort?
Overall, skorts are a fun and versatile piece that can add a touch of playfulness to any outfit, for all ages and body types. Petite women might opt for a skort with a pleated skirt, while women over 50 may want to choose a longer skirt style. If you have a pencil skirt body type, go for a fitted silhouette, and if you love mini skirts, choose a shorter skirt style. With so many options available, there's a skort out there for everyone. But, what to wear with them?
As you can see from the photos above, flowy skorts call for more fitted tops. You can wear anything from a fitted athletic tank top or crop top to a fitted casual long-sleeve top, and your look will remain balanced. On the other hand, if your skort itself is fitted – I recommend opting for a loose, flowy top. This could be a flowy long sleeve shirt (which you can tuck in the front for a different look), and oversized sweater, a zip-up athletic hoodie, or a tucked graphic tee. By juxtaposing the fits on the top and bottom, you can create an endless supply of looks.
---
Whew, I know that was a lot! But I hope you find this a helpful resource if you are looking for the best skorts for grown women. And if you have tried any of these skorts or have a skort you love, do share it below in the comments!