This article may contain affiliate links; if you click on a shopping link and make a purchase I may receive a commission. As an Amazon Associate, I earn from qualifying purchases.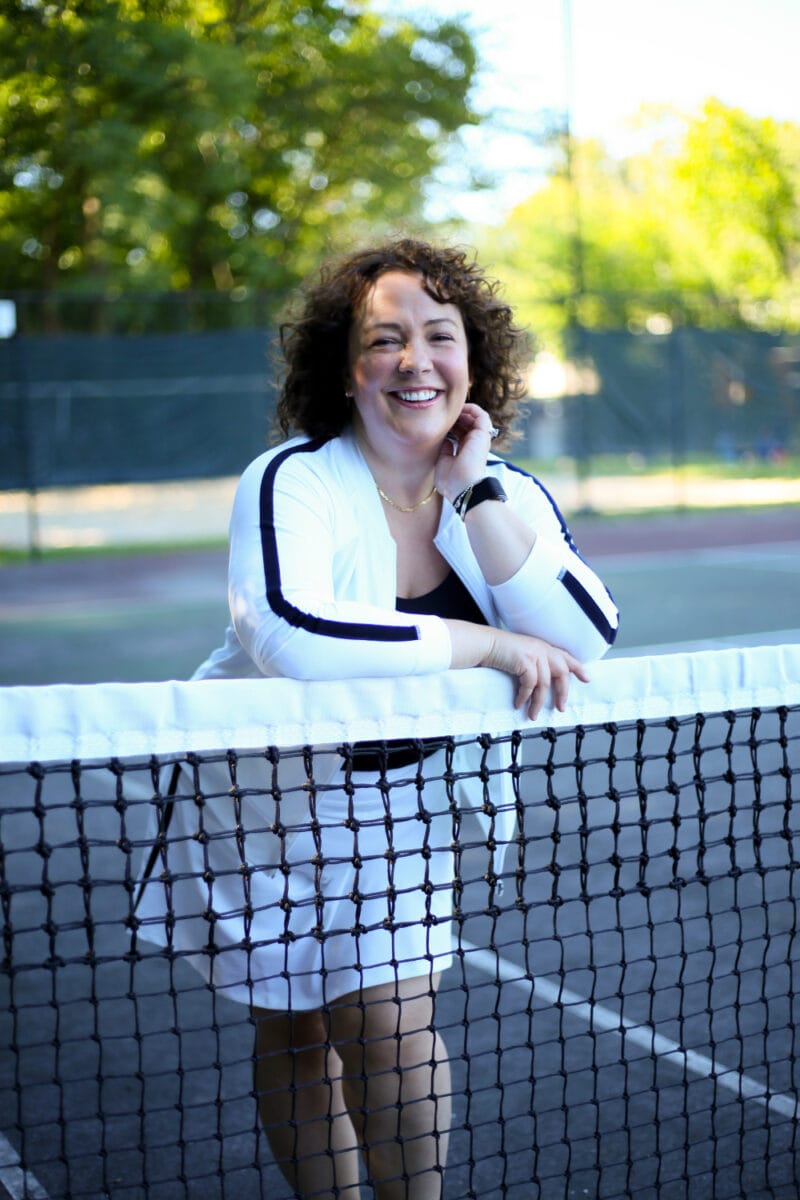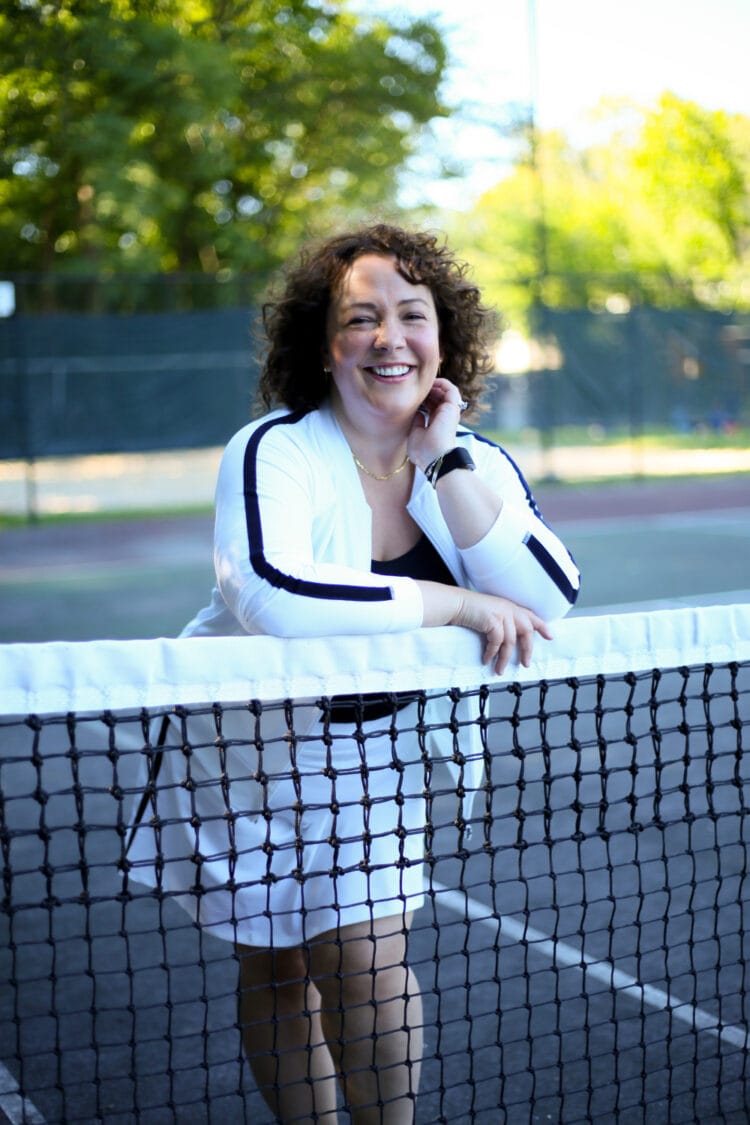 Throughout my childhood, my parents tried several sports with me to see which one I'd like. While swimming stuck with me from 2nd grade through high school, one of the other sports I tried during that time was tennis. I remember liking it, and don't recall why I stopped after what I believe was a very short time.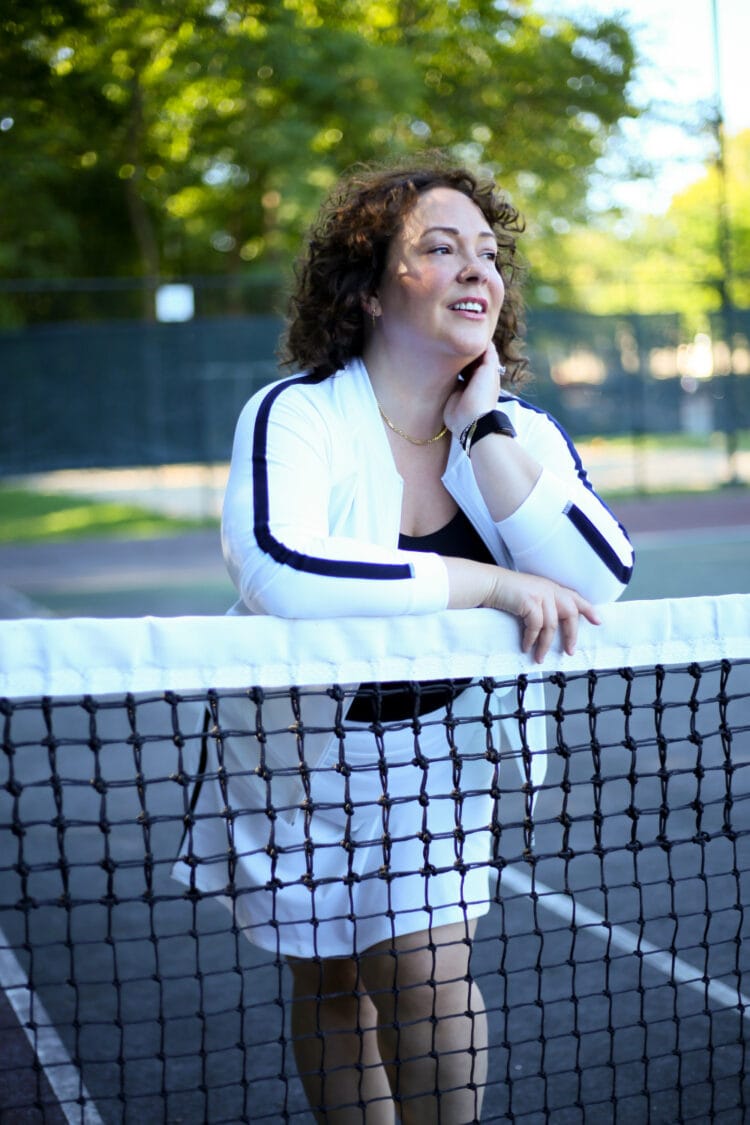 My parents didn't have a lot of money, and got me a tennis racket at a yard sale in great condition. Thing was, it was a wooden racket and this was the '80s when everyone had the colorful carbon and fiberglass rackets. But I remember still having fun with it, and having lessons at two different courts in my neighborhood.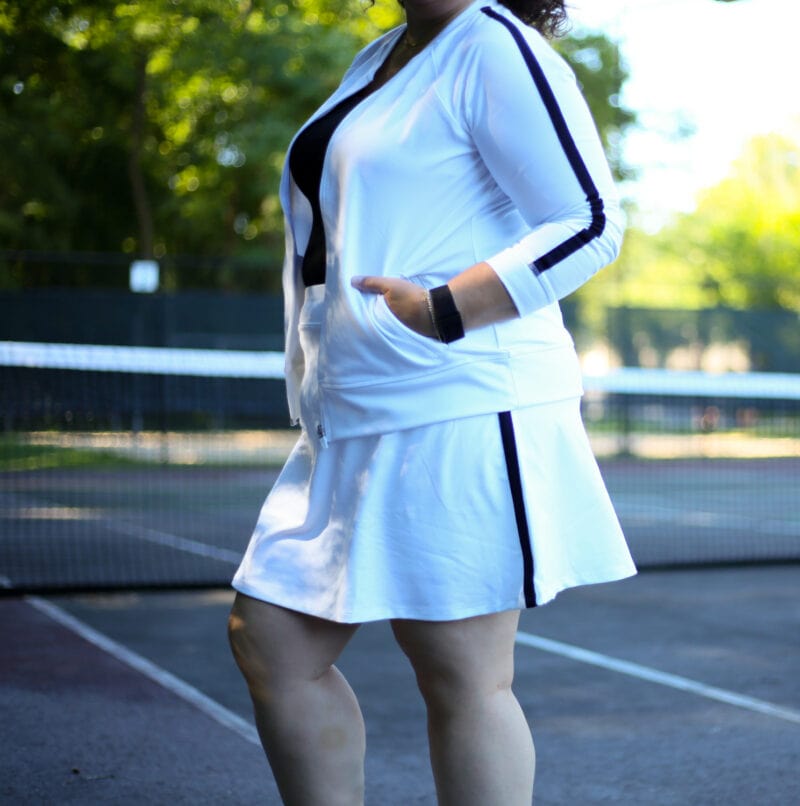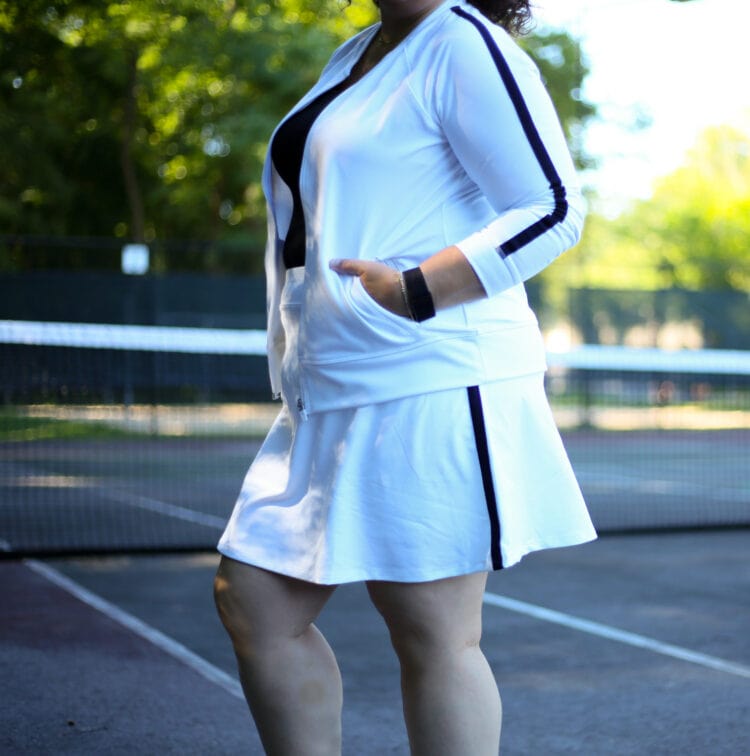 Even though I stopped tennis, I have always loved the style. And if you follow me on Instagram Stories you know I am on a quest to find great skorts this summer. I am looking to review brands that have a good size range; when I saw Talbots had a few styles of skorts I asked if they would send me some for this skort review. One in the mix was this white Talbots tennis skort with a black racing stripe and they sent me the matching bomber jacket.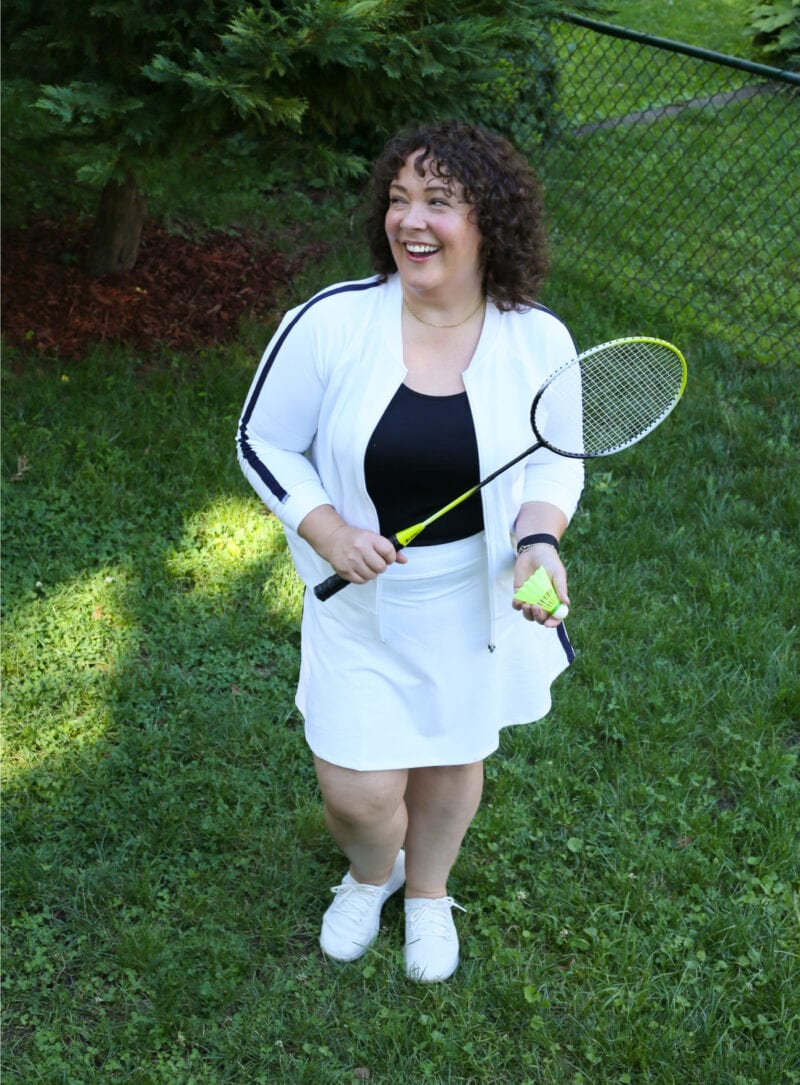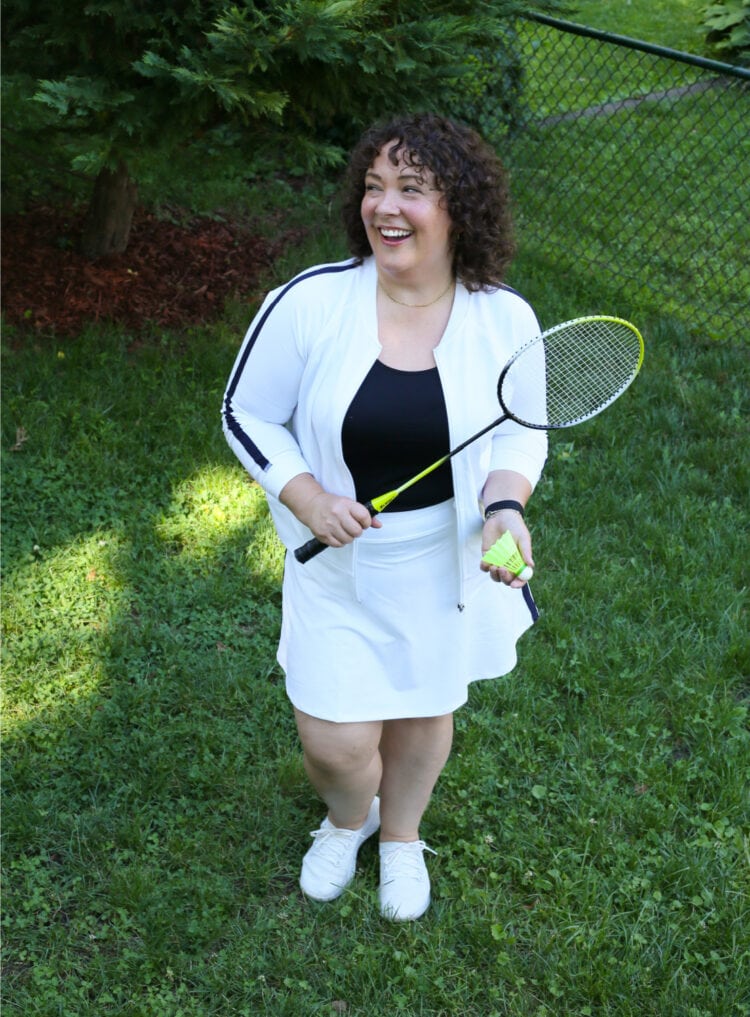 I don't think you need to play tennis to rock this utterly adorable ensemble. While we shot this at a tennis court in my community, I think this look would be great for many summer situations.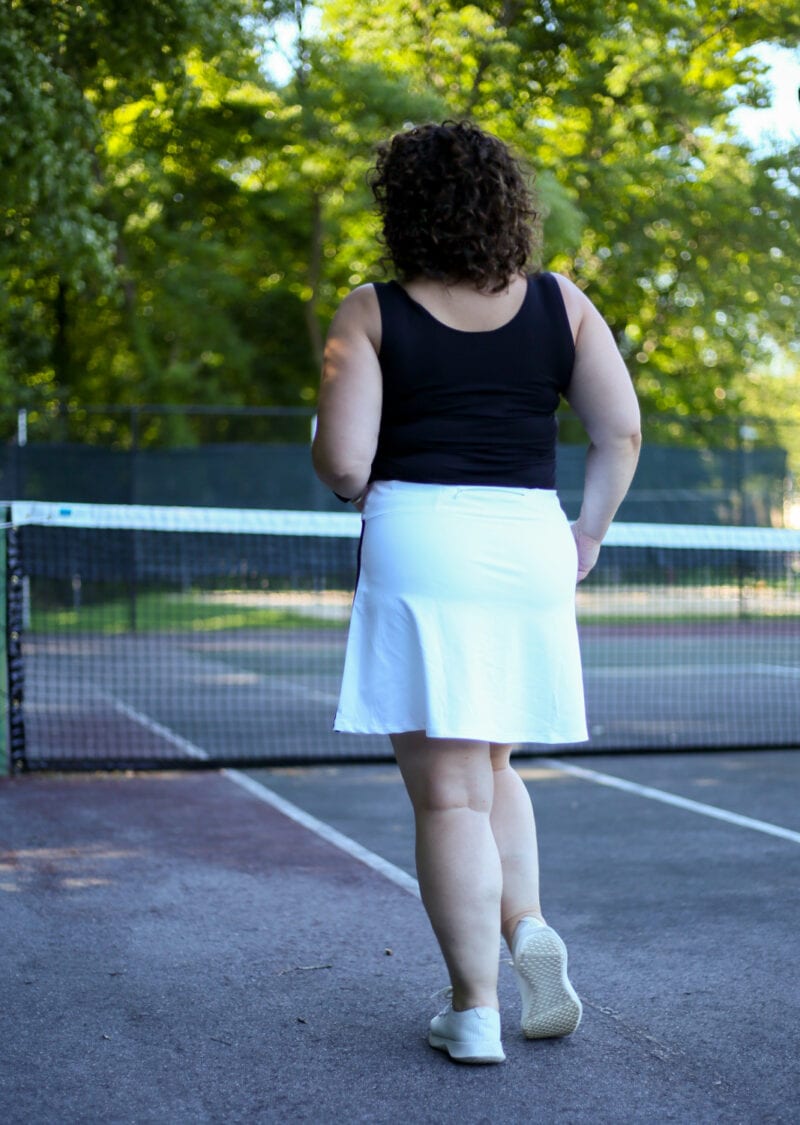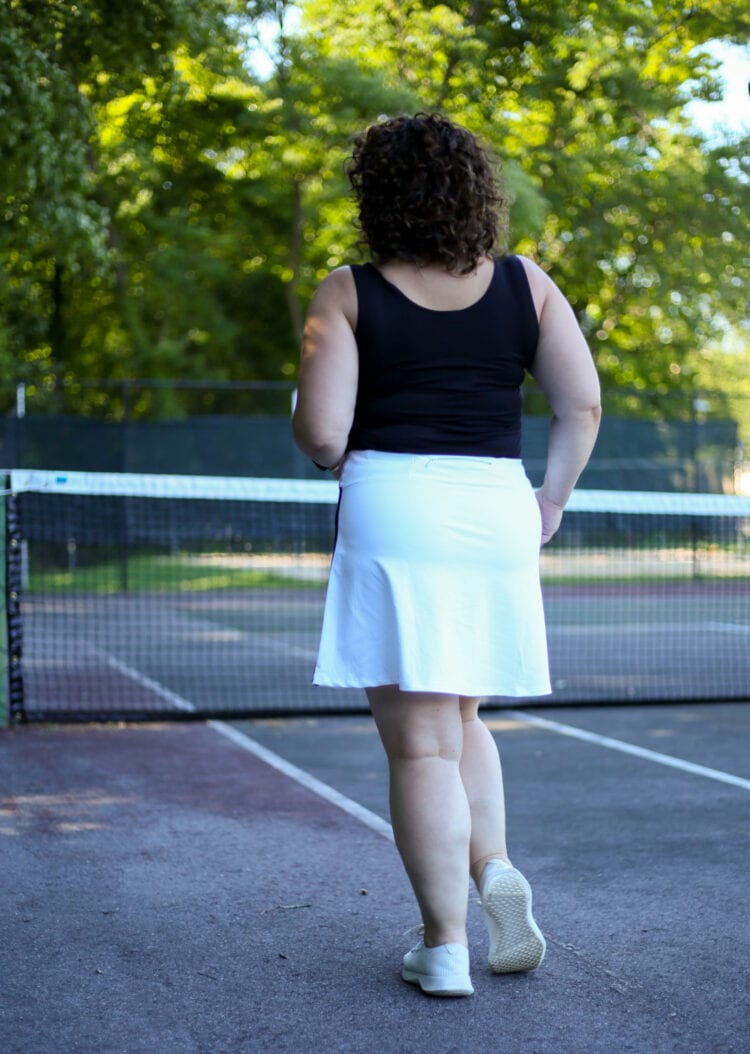 Skort: On the Move Skort c/o Talbots (Large) | Bomber: On the Move Bomber c/o Talbots (XL petite) | Tank: Microfiber Tank c/o Chico's (size 1) | Sneakers: Tree Blizzards c/o Allbirds | Necklace: Cuban Link Choker c/o Rellery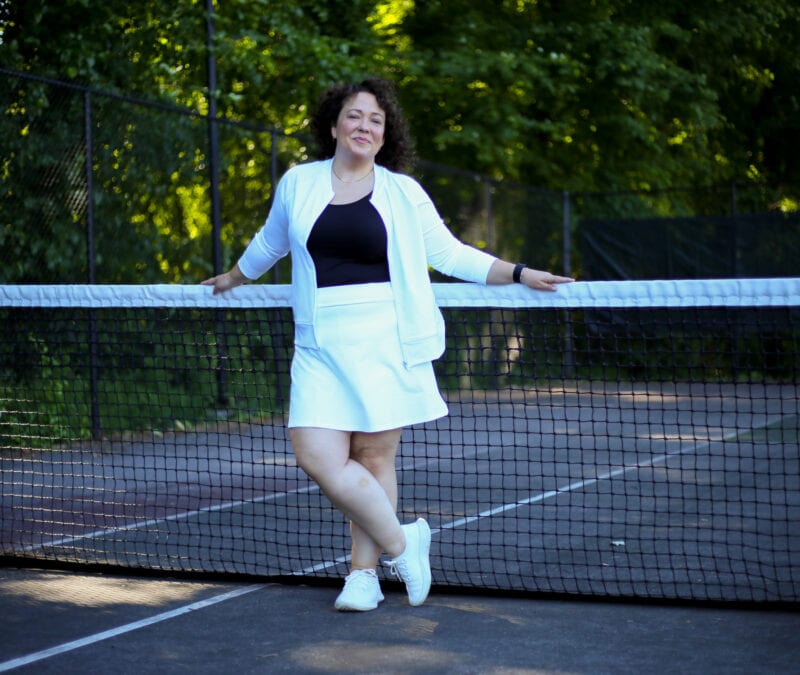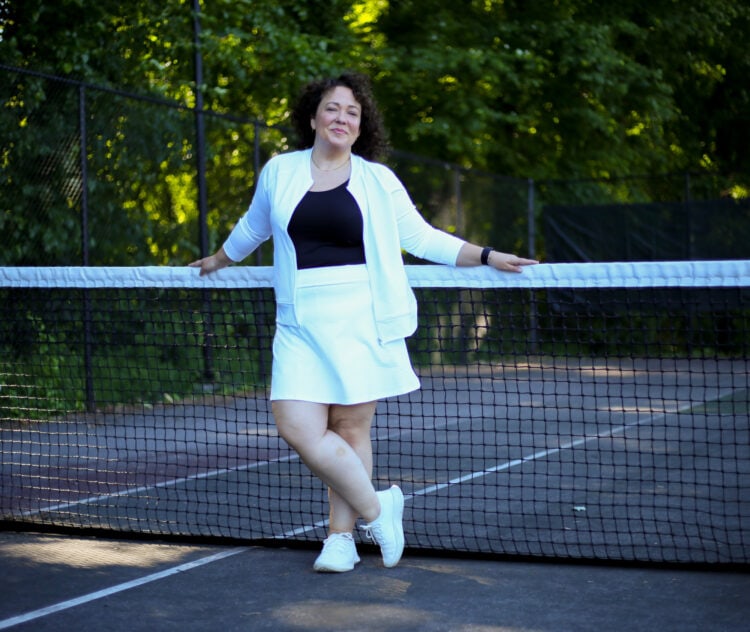 I ordered the skort in Large Regular. While I am 5'3″, I like a bit of length for my skort so it's streetwear instead of just court wear. The bomber I ordered in XL petite so it wouldn't be too long on me with the short skort. Under the bomber, I am wearing this tank from Chico's in size 1. My sneakers are from Allbirds; I have a detailed review of these Allbirds sneakers at this link.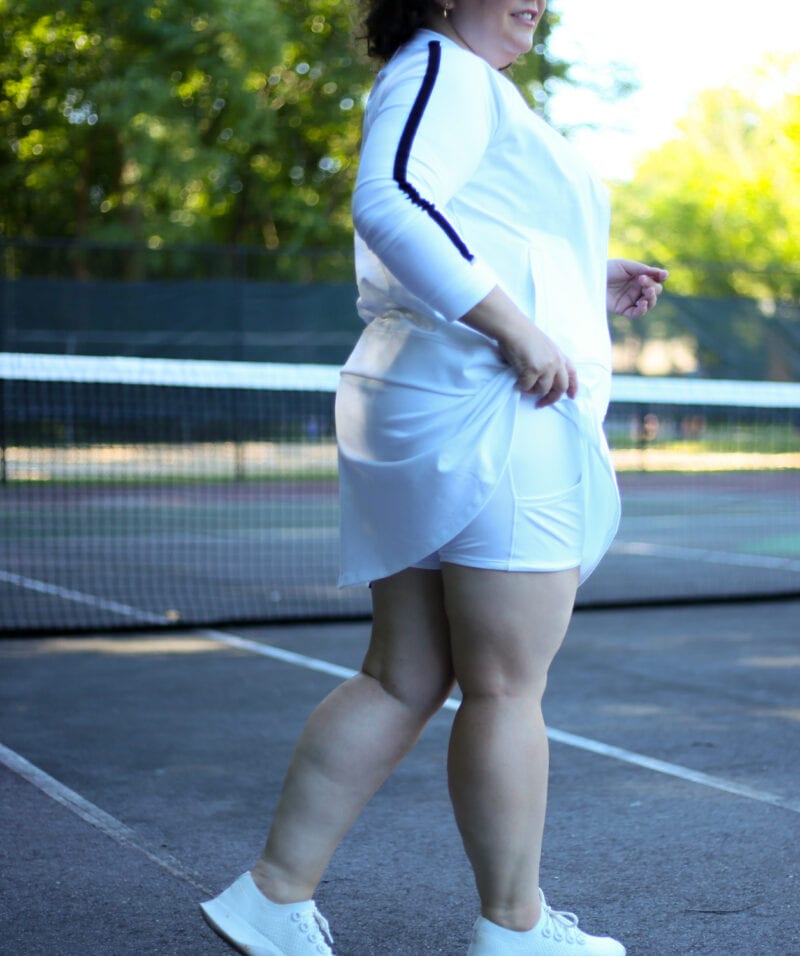 The skort is made from the same knit as the bomber jacket; while it won't wick moisture I found it comfortable for running around town. There is no zipper security pocket or hand pockets, but the shorts have a ball pocket that would hold a smaller smartphone (it held my iPhone Max vertically while walking but I wouldn't do much else) and did hold my keys and lip balm. The skirt is a flounce style so you will have a lot of swish and room to move (also nice for those of us who have a curvy lower half).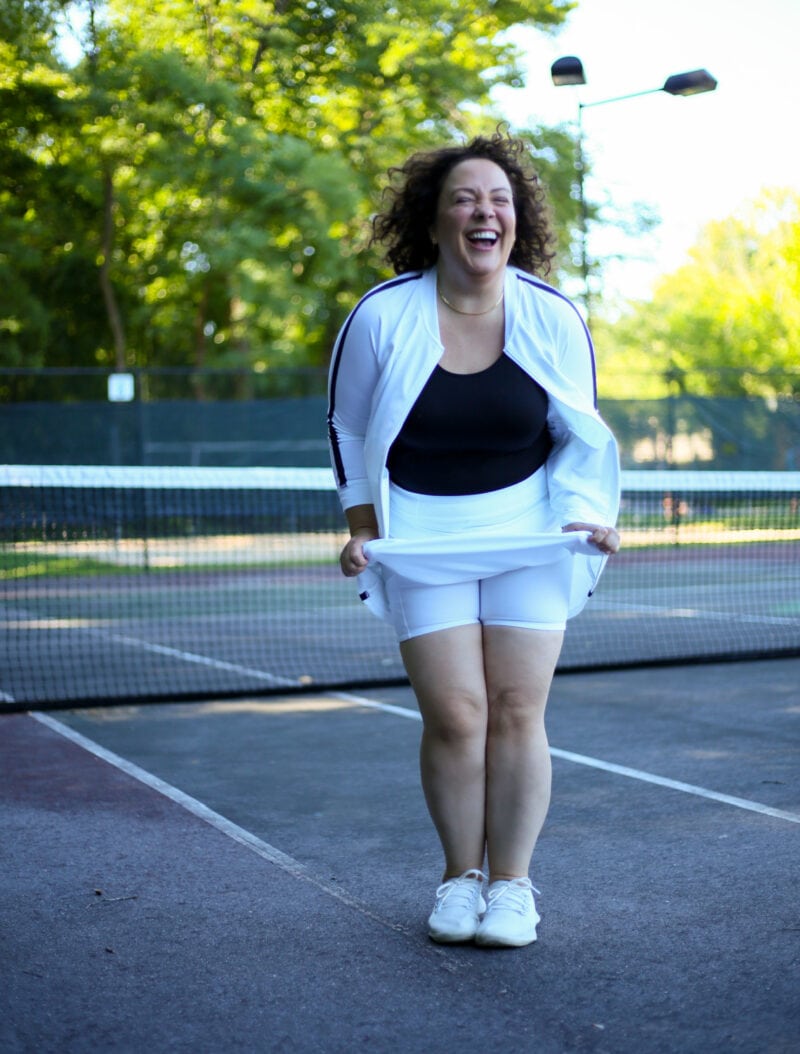 I am glad I got the jacket in XL; I find this runs very snug in the arms and think a Large would stretch over my bust. I am sad that it doesn't come in plus sizes; if the skort does why not the jacket? All sizes love a matched set!
However, it is white and black, so it would be easy to create a matched set from another retailer; this mesh bomber from Vera Wang for Kohl's comes in black or white and I think gives the same effect while being more comfortable in the summer weather. I've always had success with this line at Kohl's (see me wear the line at this link).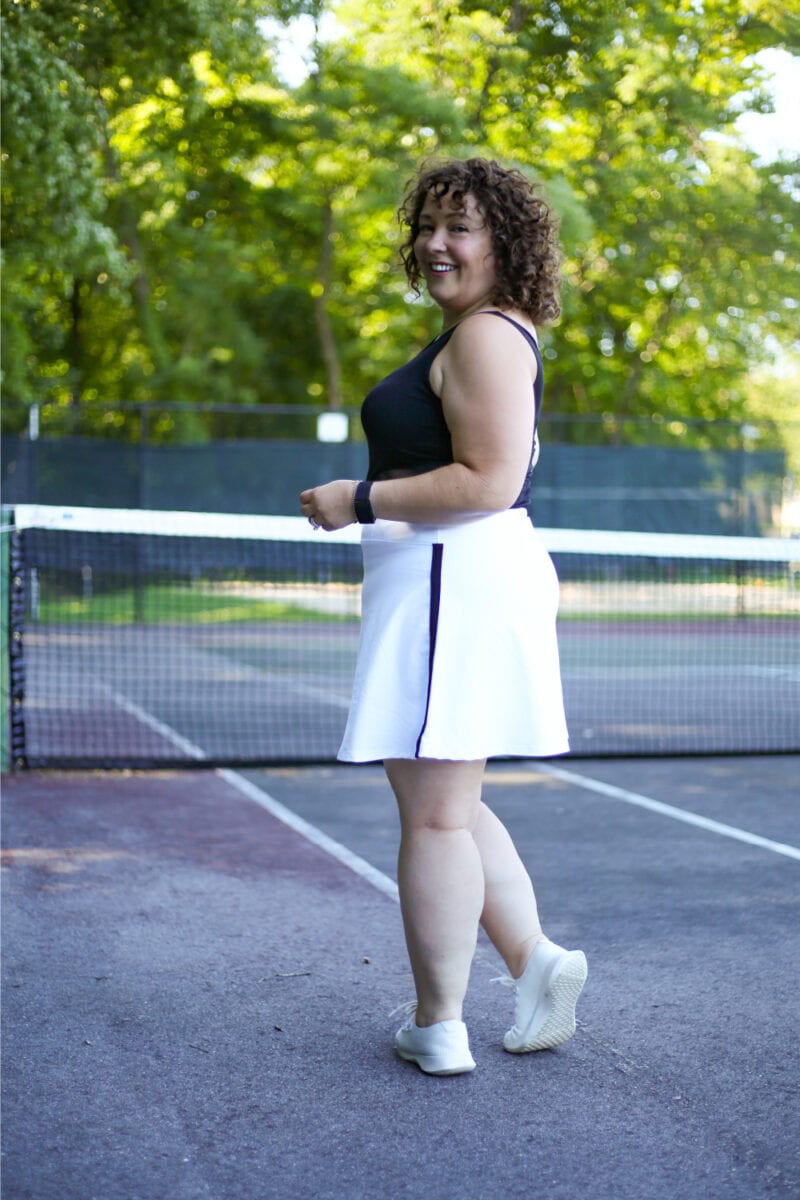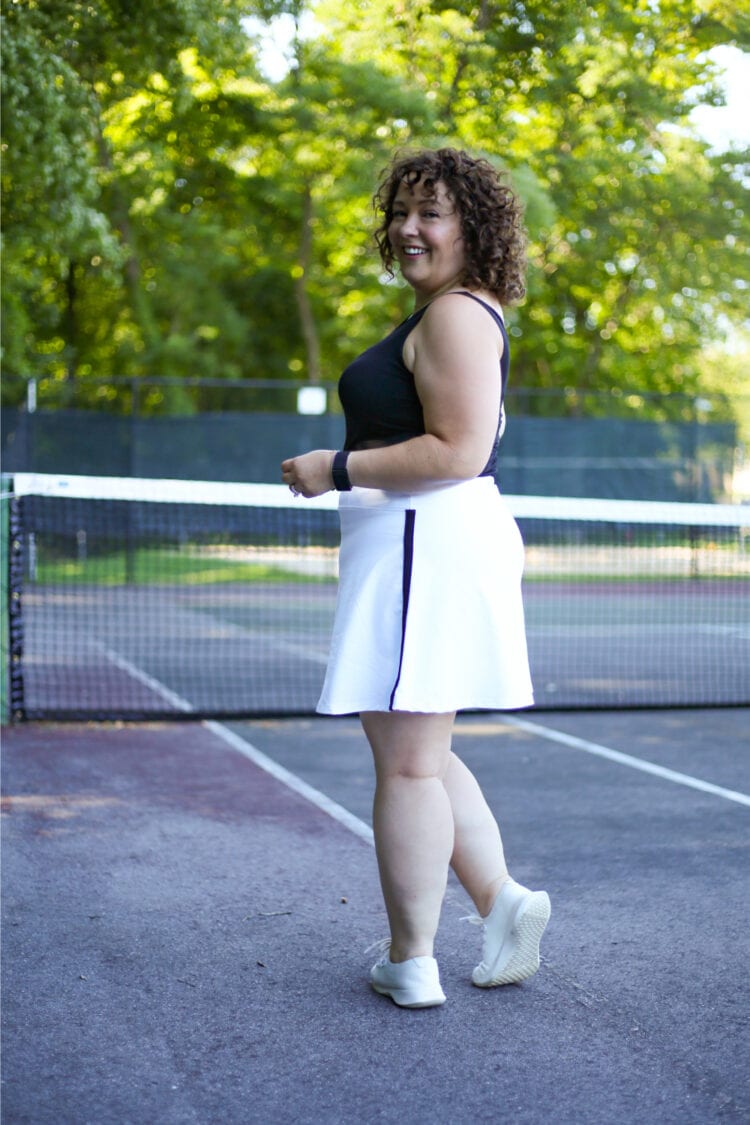 The tank is a favorite; I have a few in different colors. I like how it is so smooth like a bodysuit but not as clingy. The fabric has a subtle sheen and tight weave making it dressy enough to glam up with a maxi skirt and gold hoops for an evening outdoor event or wear under a work jacket.
I usually wear a 2 in Chico's but found this tank too blousy for my needs so went down to a 1. You can see a size 2 on me here in this outfit post from last year. I'd recommend going your usual size if you wish to wear this to work or have it a bit looser/like a shell and size down if you want it more like a cami/fitted tank.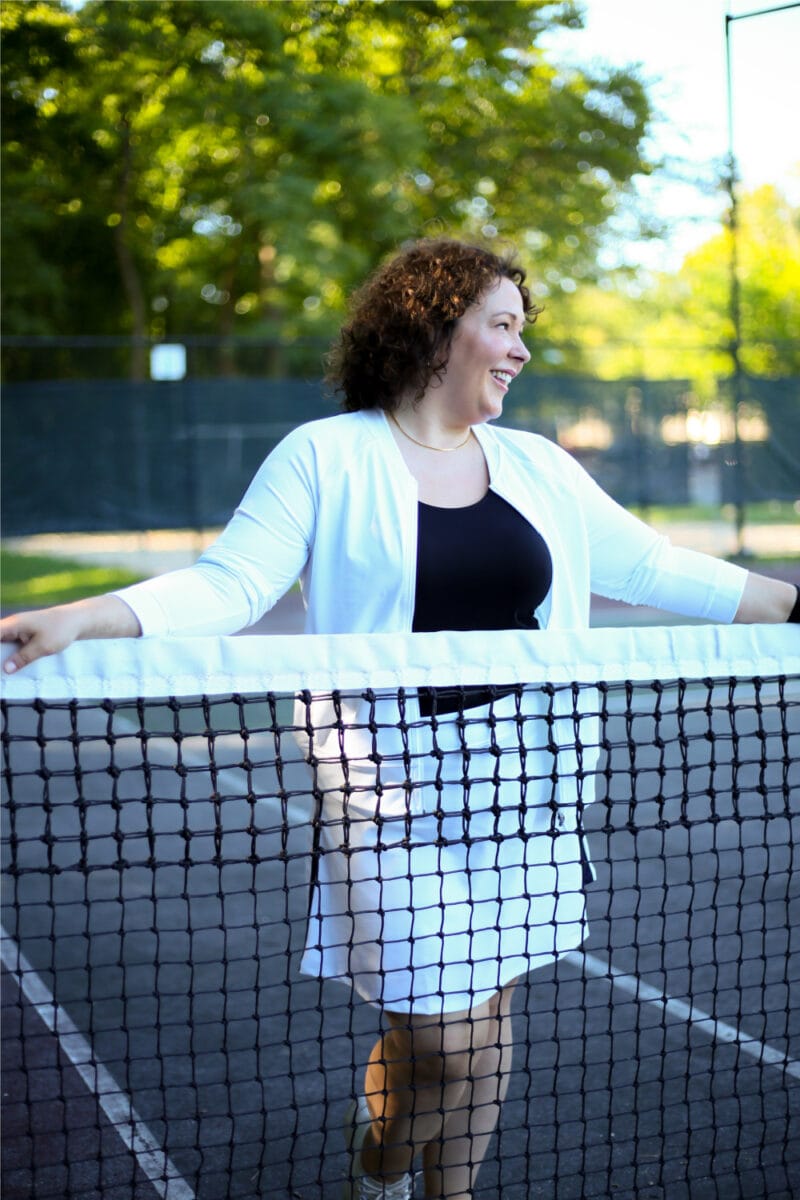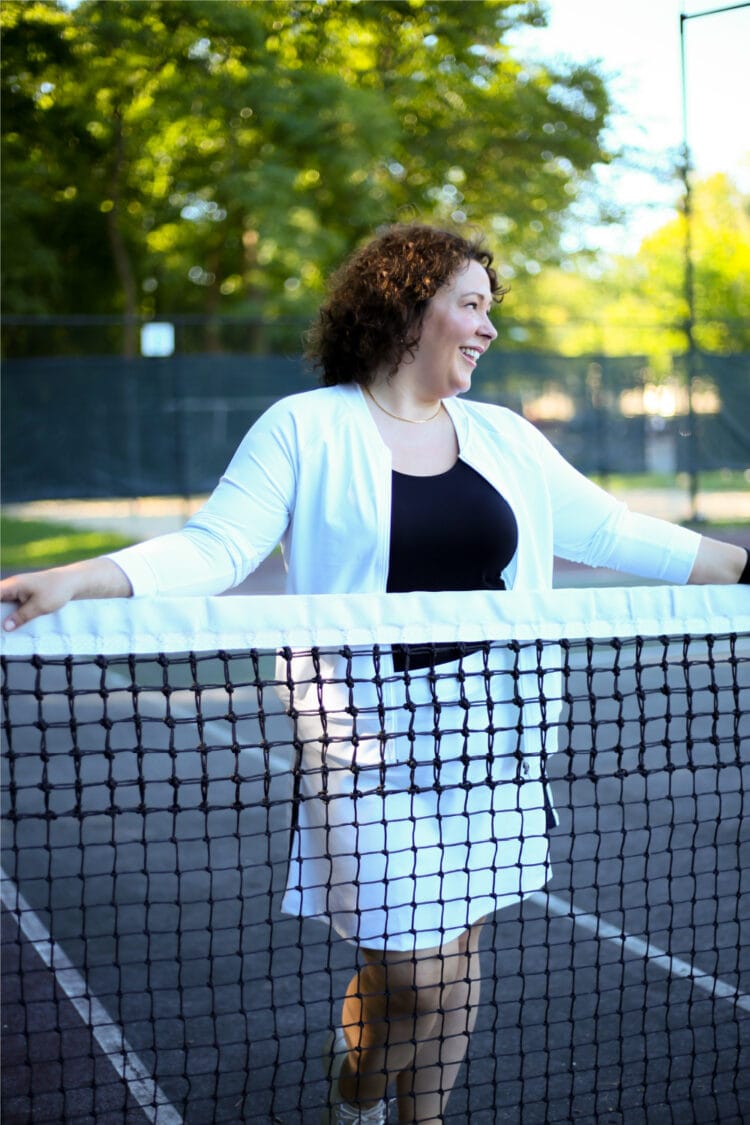 As I mentioned above, I am on a Skort Quest. I have stored my skorts reviews (each one is getting a workout before I grade it) as a Highlight on my Instagram profile. Click this link and there are circles in a row on my profile; click the one for skorts. This will play in the app but you can also watch them on your desktop. I'll have a full skort review here on Wardrobe Oxygen later this summer after I finish my reviews!
Shop the Post: