This article may contain affiliate links; if you click on a shopping link and make a purchase I may receive a commission. As an Amazon Associate, I earn from qualifying purchases. 
I had an amazing experience at the Trunk Club Clubhouse in DC. My stylist Kelsey did a great job picking pieces that were my style, but also a bit outside my comfort zone. I left with a dress, a blazer, a pair of jeans, and a pair of shoes. With the seasons changing, I decided to try Trunk Club again. I know many of you don't live near one of the seven Trunk Club Clubhouses, so this time I tried the mail-order aspect of Trunk Club.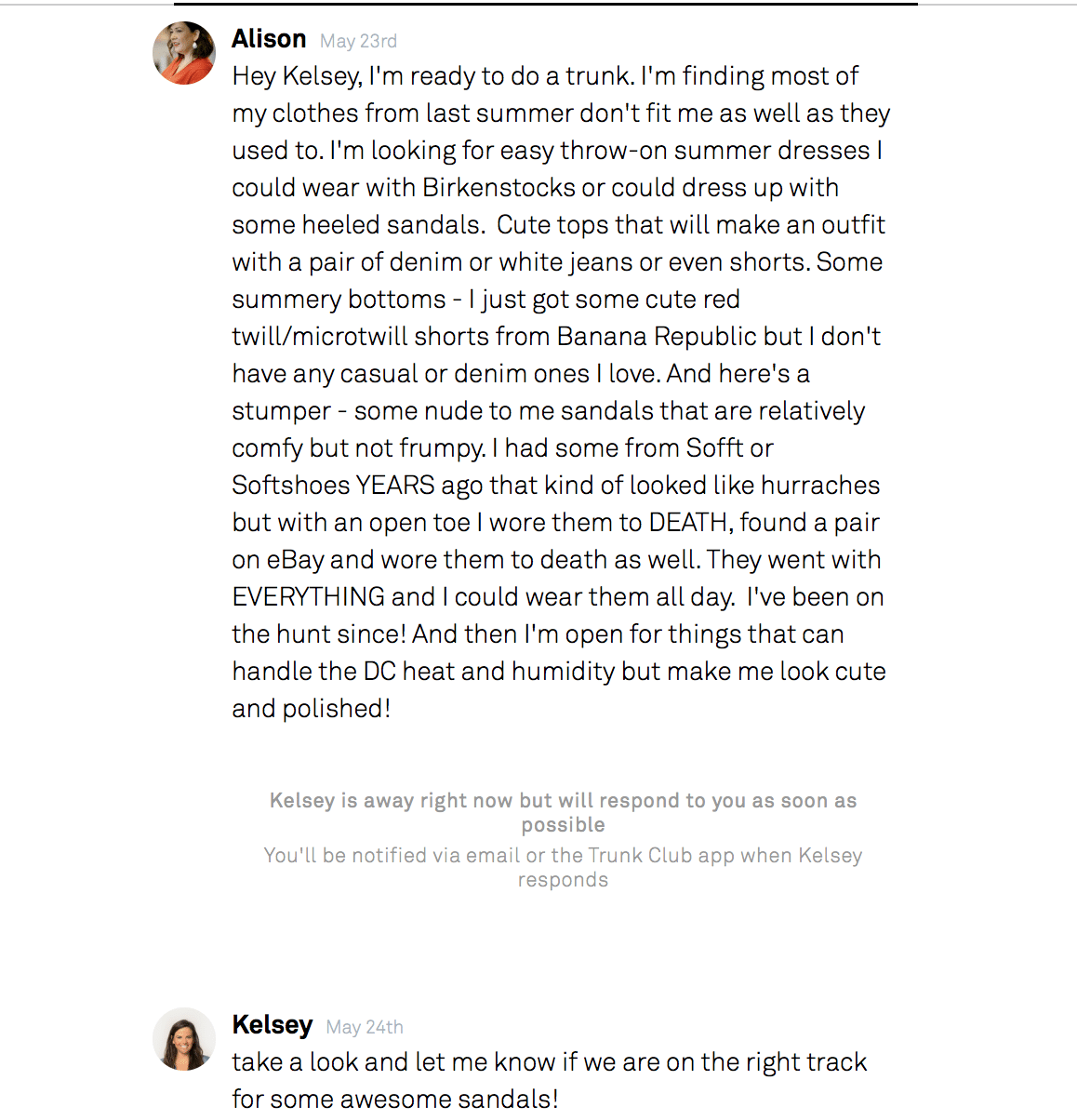 Through the Trunk Club website, I chatted with Kelsey and let her know what I was looking for. I needed casual summer dresses, maybe a pair of denim shorts or a cute casual top, and a pair of casual sandals in a color close to my skin tone. Kelsey sent me a preview of what she was thinking which included a jumpsuit I ordered from Nordstrom myself a month prior but didn't work for me. I was able to tell her no to that since I already had tried it. I didn't say no to any of the other pieces even though some didn't seem quite what I wanted because… maybe I didn't know what I wanted. I didn't think I wanted white Cole Haan sneakers or a yellow blazer when I visited the Clubhouse but I walked out the door with both. There's no buyer's remorse with Trunk Club; if you like what you get your styling fee used as credit towards your purchase. Don't like anything, send it all back. So I was willing to take a chance.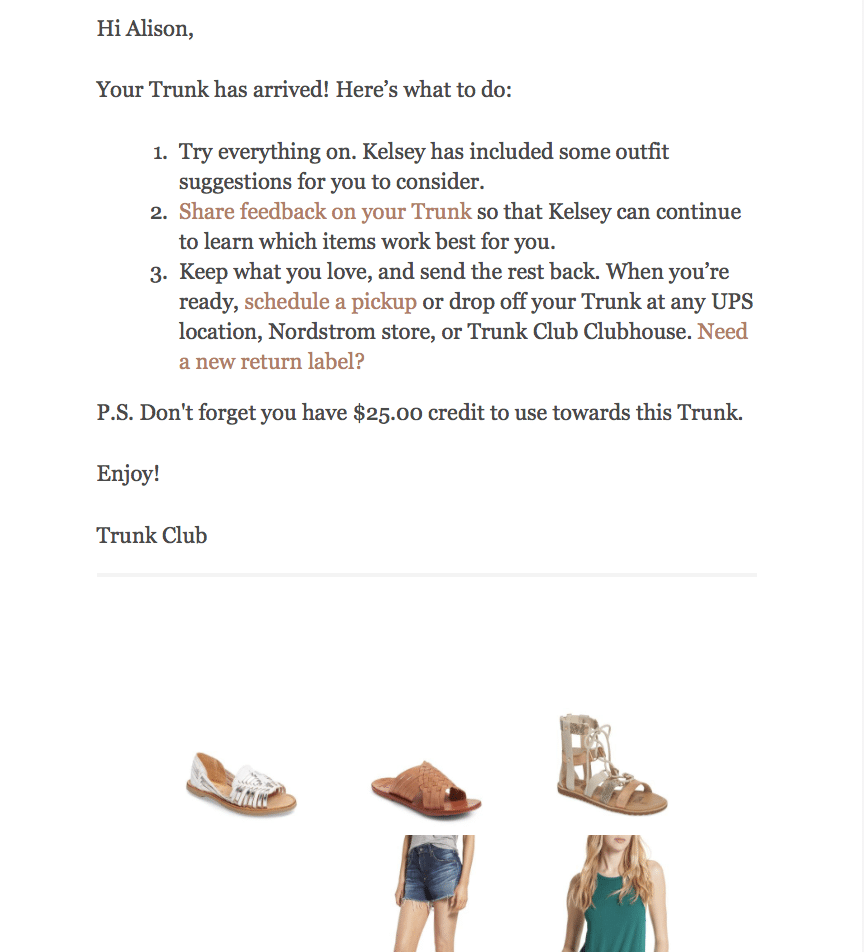 The day your Trunk arrives, Trunk Club sends you an email with styling suggestions. Unlike other virtual styling programs, what you're going to receive isn't a mystery.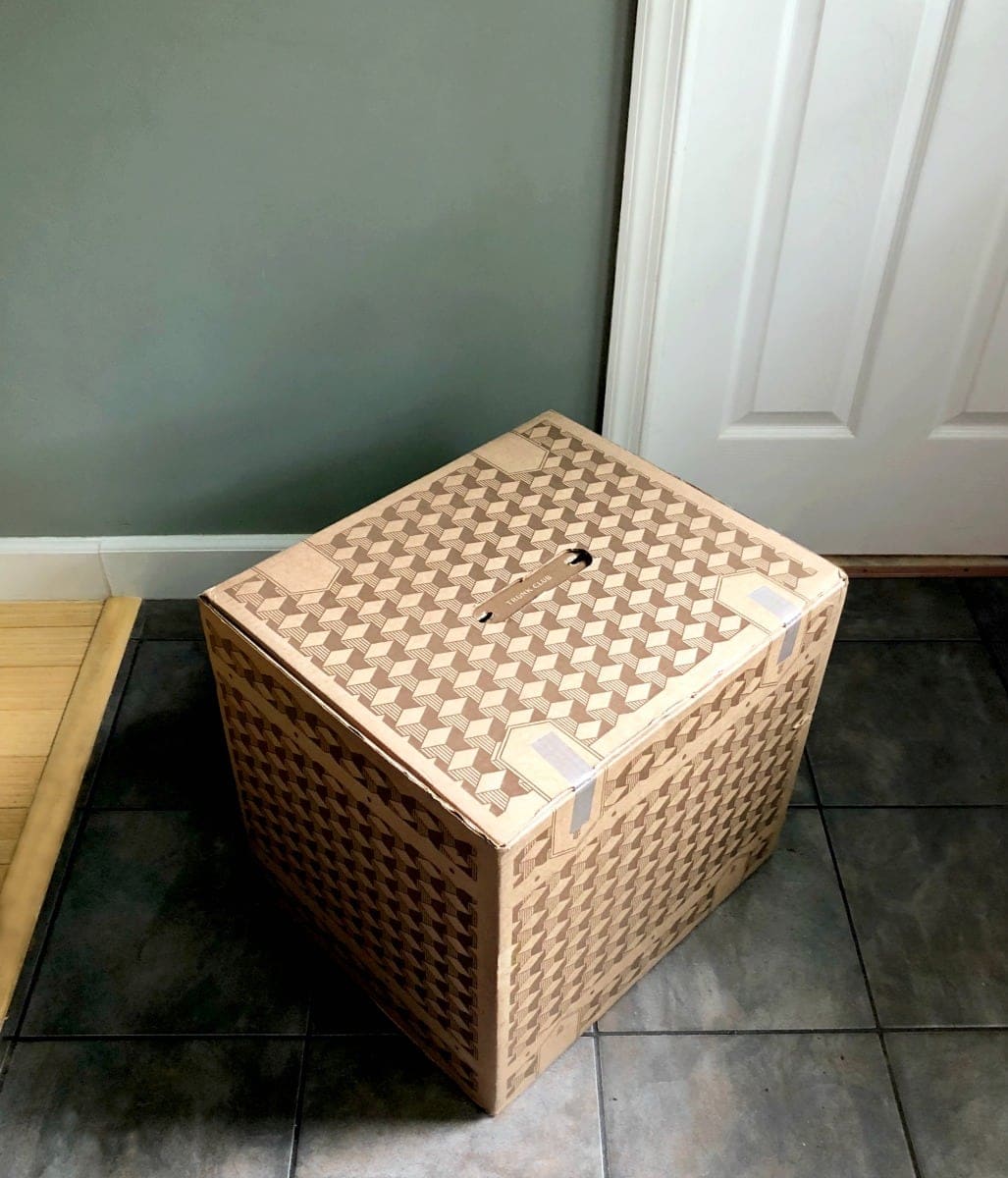 The box for Trunk Club is large. If you've used other subscription services like Stitch Fix or Dia & Co, the items come in a box or bag no bigger than one from USPS Priority Mail. But the Trunk Club trunk is big, like you bought yourself a new computer monitor big.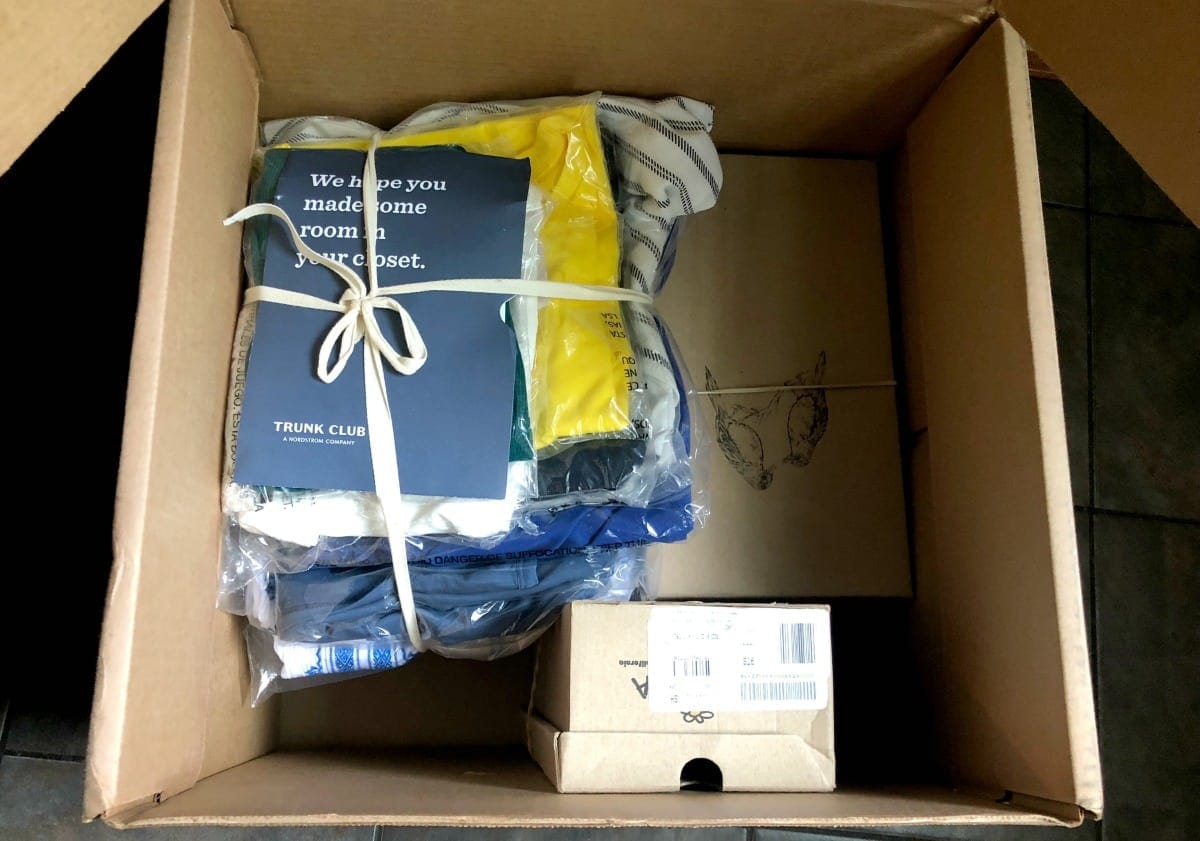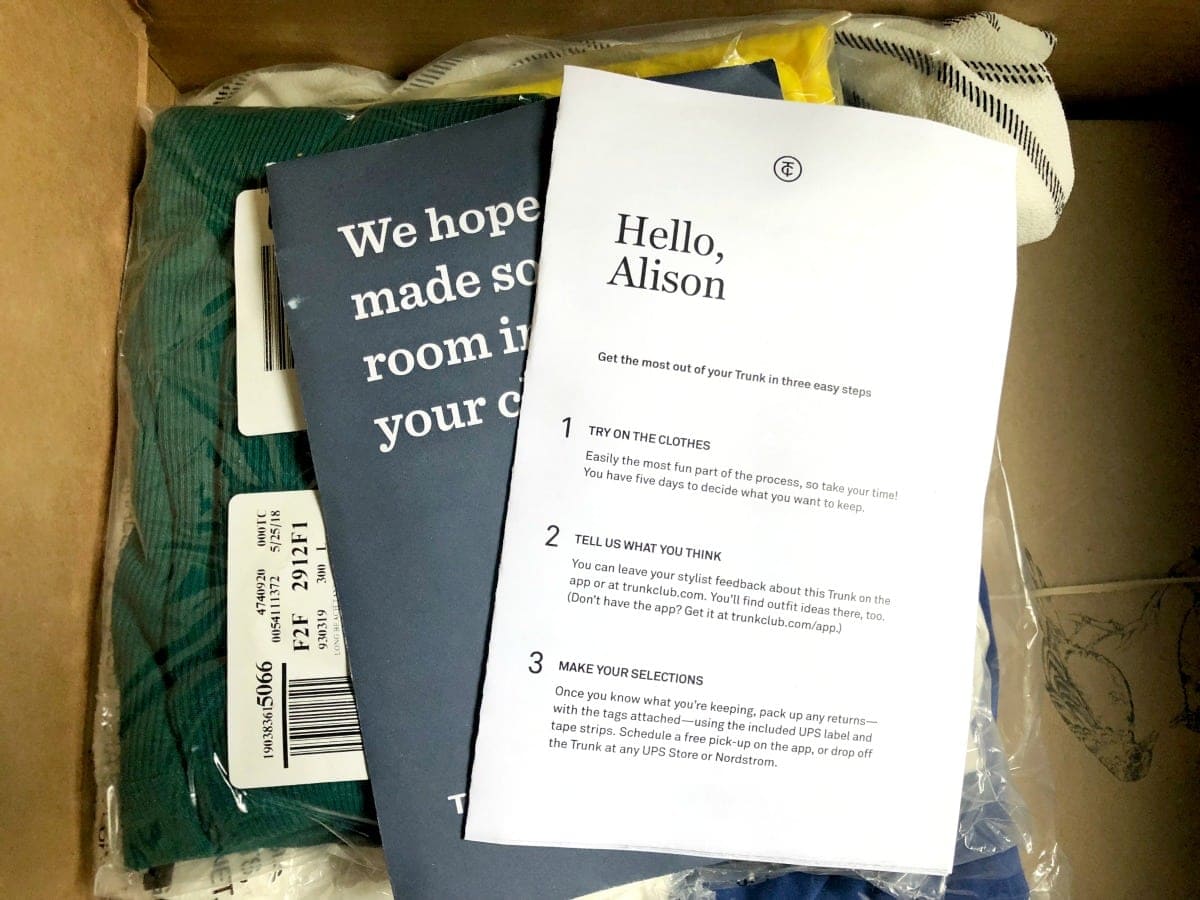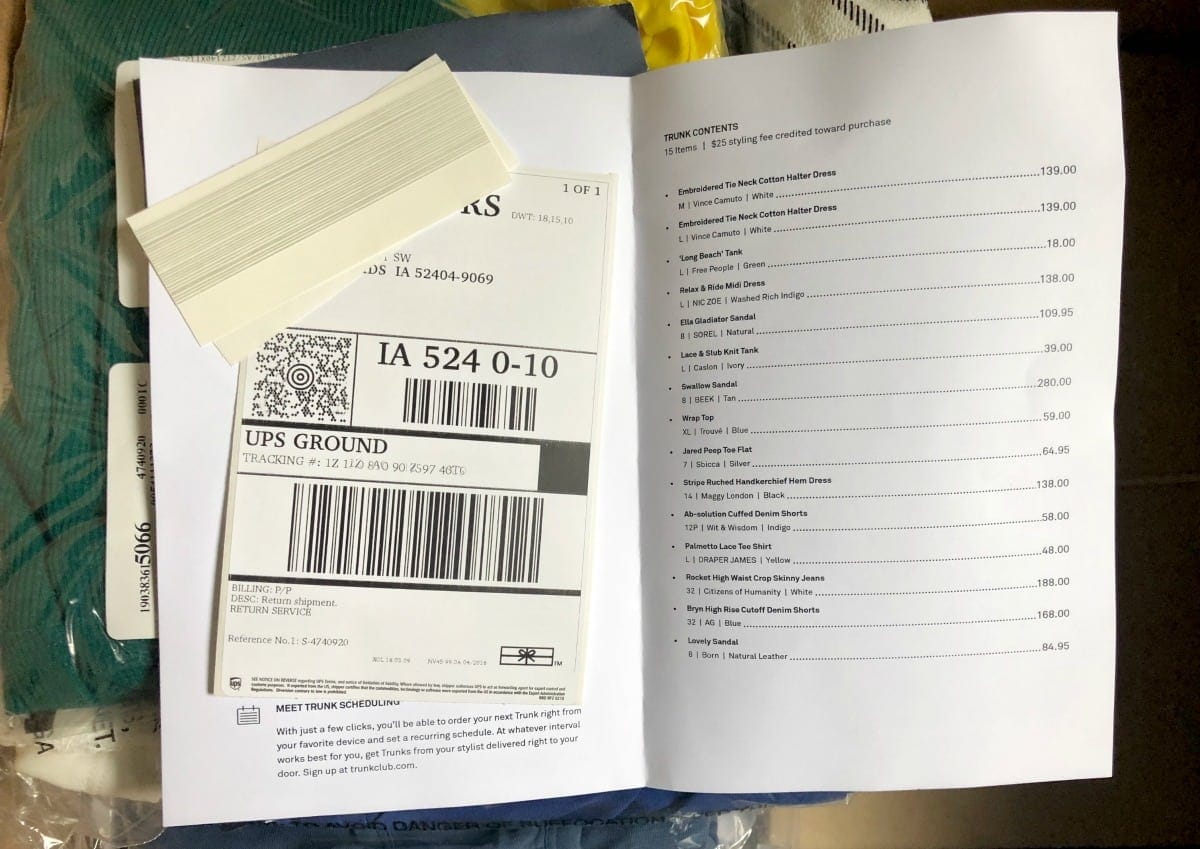 When you open the box, there's an envelope holding your return shipping label and two pieces of heavyweight tape to seal the trunk, and a sheet with what you got, details, and prices. Trunk Club offers free UPS pickup so don't worry about having to lug this giant box to your local UPS store or your office.
So anyway, let's get to what arrived in my Trunk!
Casual Tops with a Bit of Interest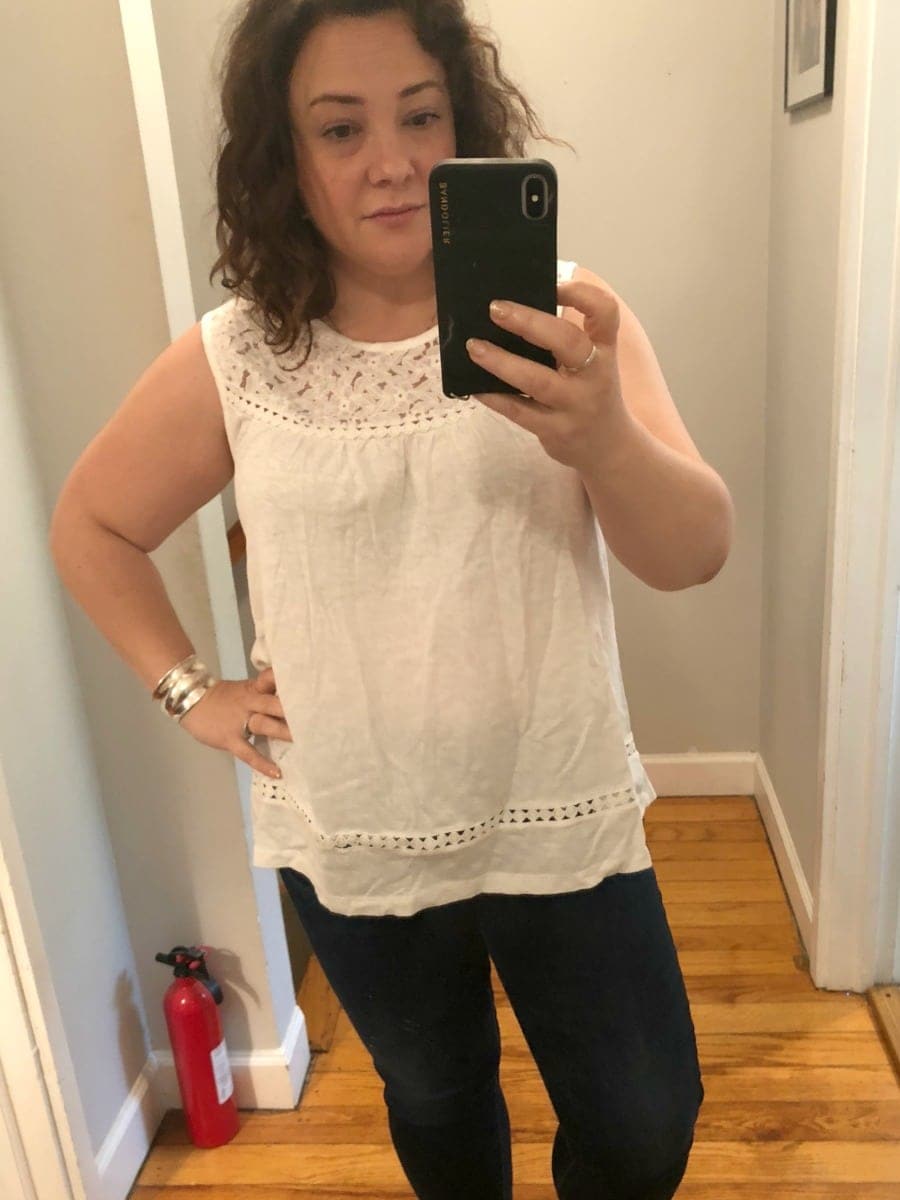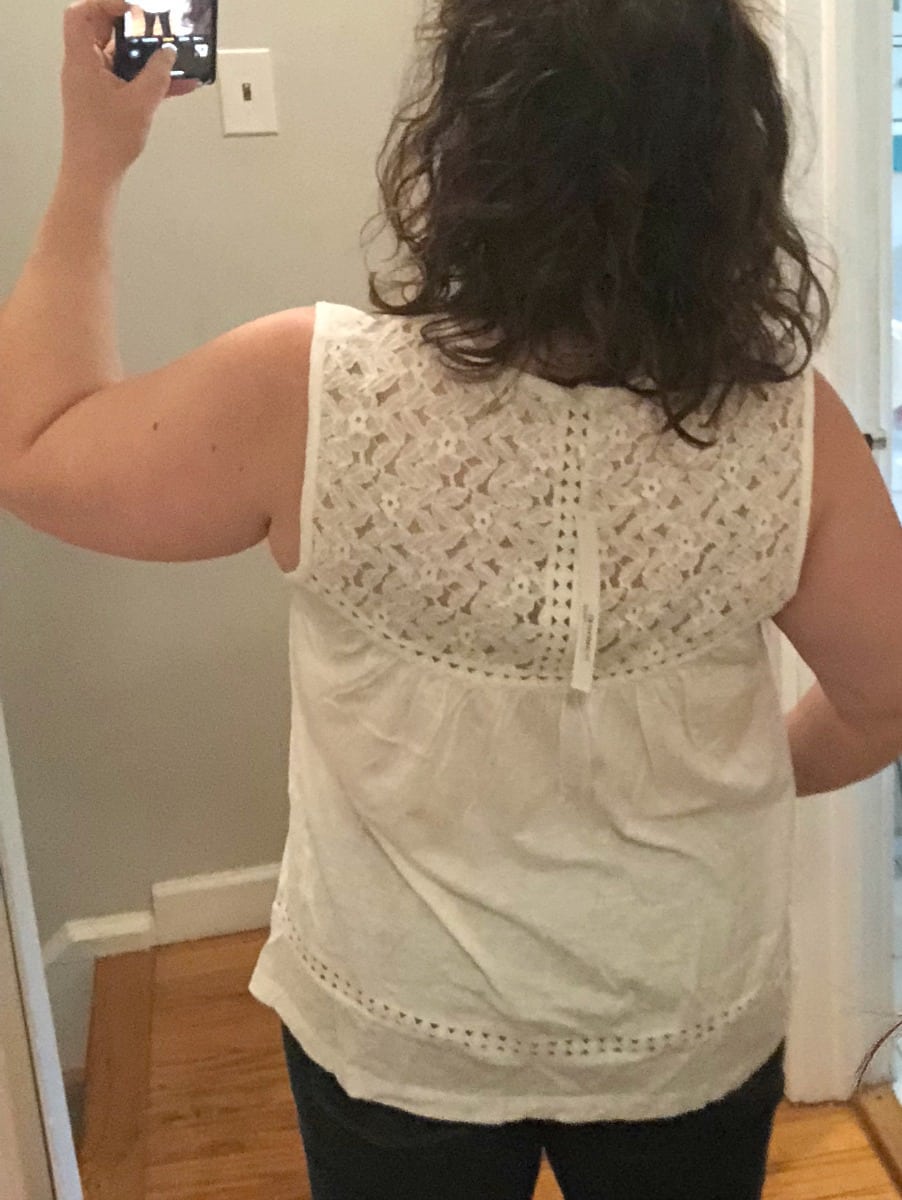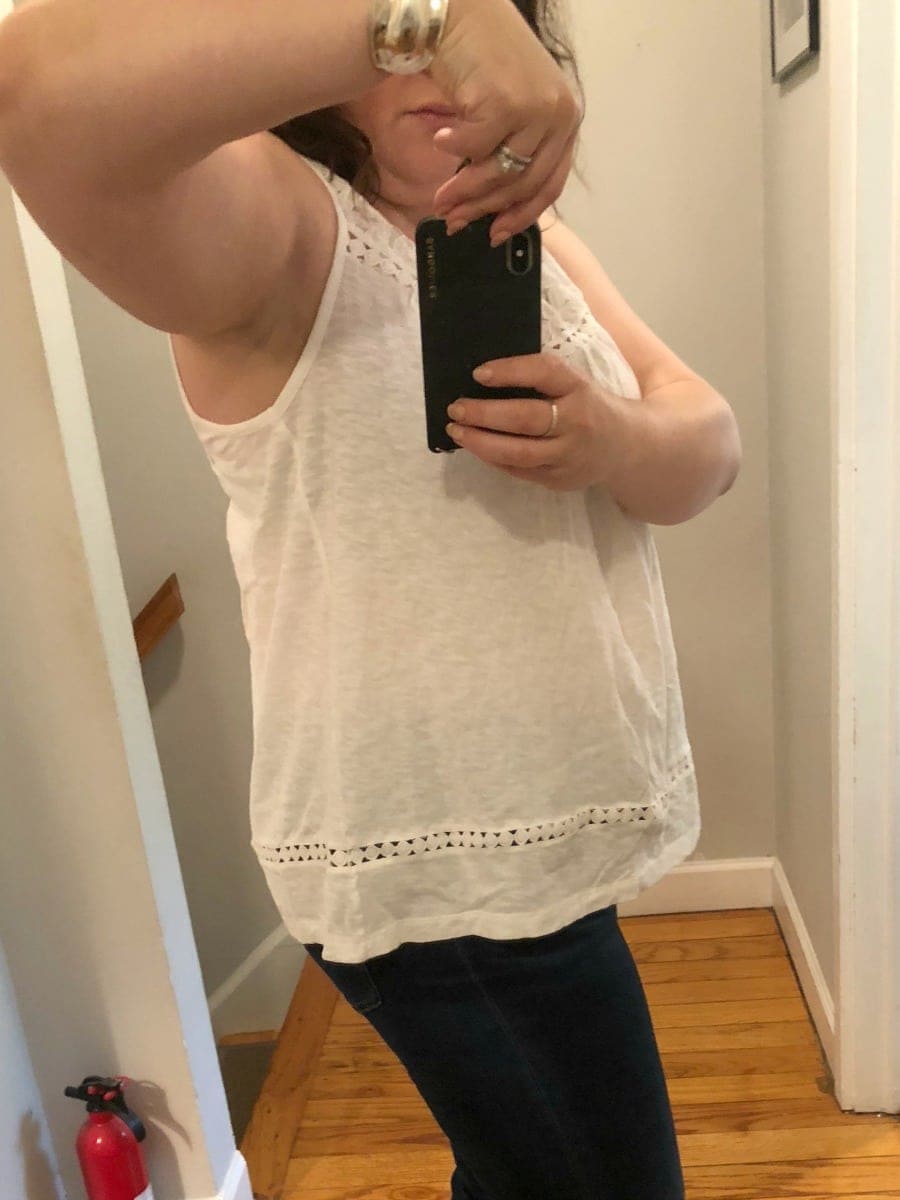 This top is from Caslon, size Large. It retails for $39. It comes in regular and petite sizes on the Nordstrom site and is available in five colors. I didn't think I'd like this top as much as I did. A top like this I wouldn't normally consider because my bra straps would show. However, I didn't notice my bra straps at all. I also would fear this top is too sheer, but I think it's a good amount of opacity that doesn't make me feel self-conscious. This is a great summer top, easy as a tank or tee but with far more style and interest. It's a good thing to have in your summer wardrobe… so good I realize I own practically the same top in navy that I got at LOFT a couple years ago. So while this top is a win in my book, I returned it because I don't really need it.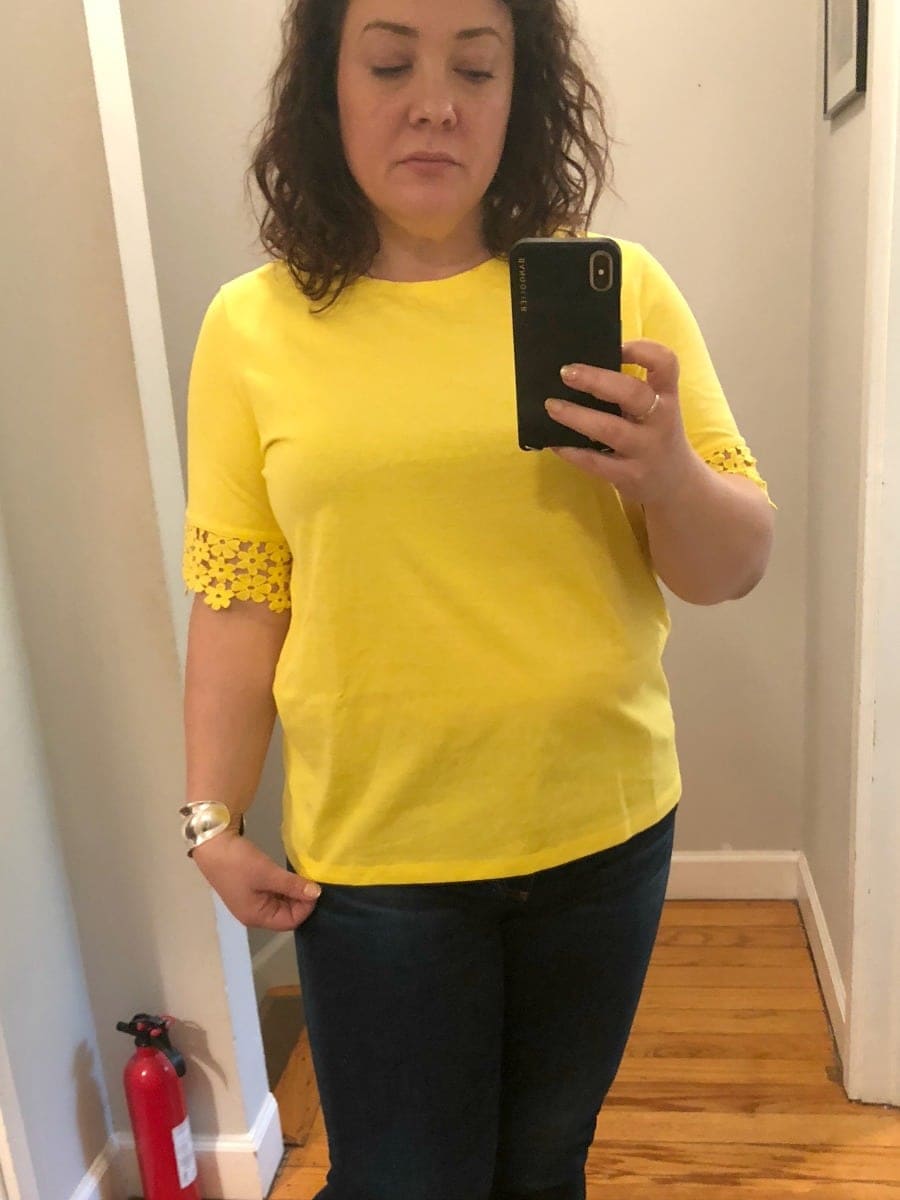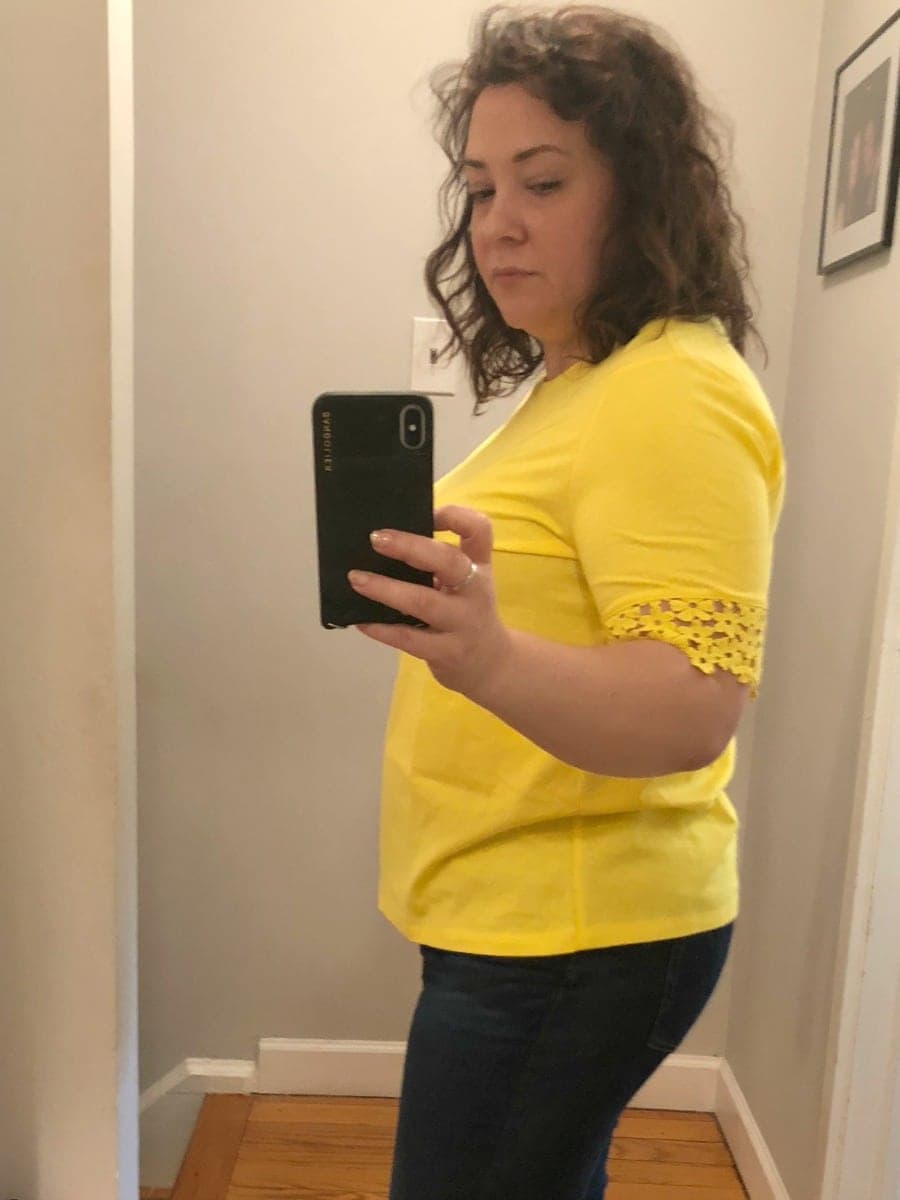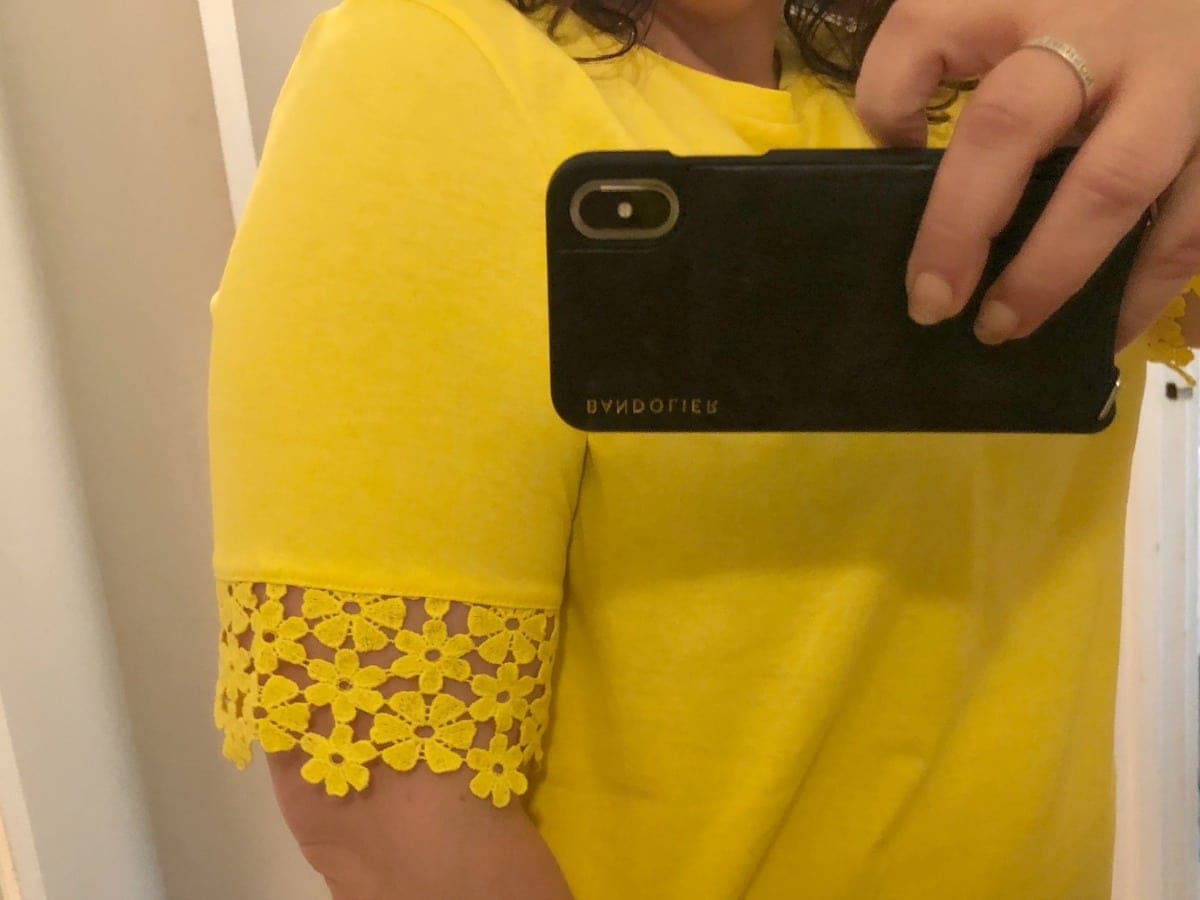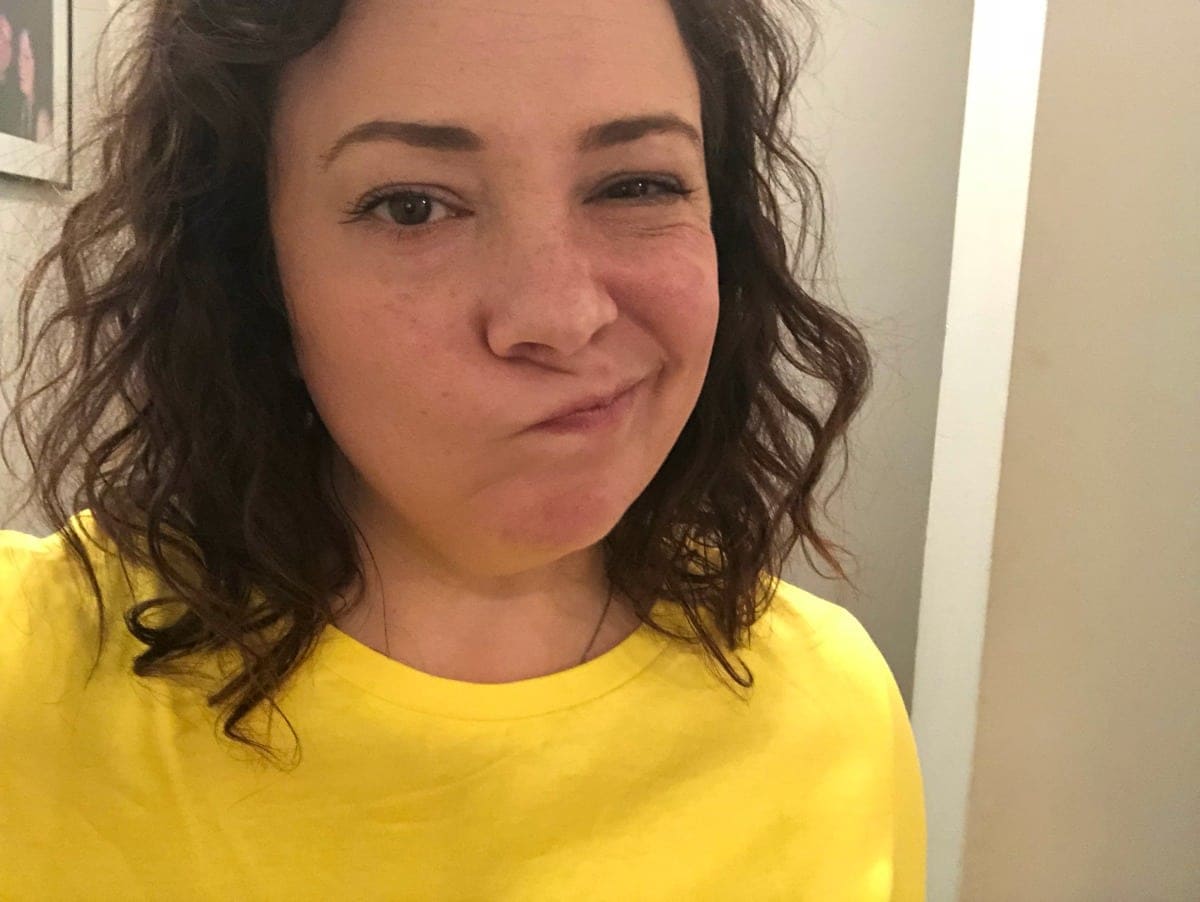 This is the Draper James Palmetto Lace Tee Shirt, size Large. It comes in three colors on the Nordstrom site and retails for $48. When I saw this top was coming in my Trunk I was ready to reject it and have her send something else. But I figured I didn't think I'd want a yellow blazer and I wear my yellow pants all the time so maybe this would be a win. It's not. It's essentially a Hanes t-shirt with some bric-a-brac on the sleeves and the yellow is so Crayola I just don't feel comfortable. This would be a fun DIY project with a boring tee in your own closet but it's not a hit. Returned.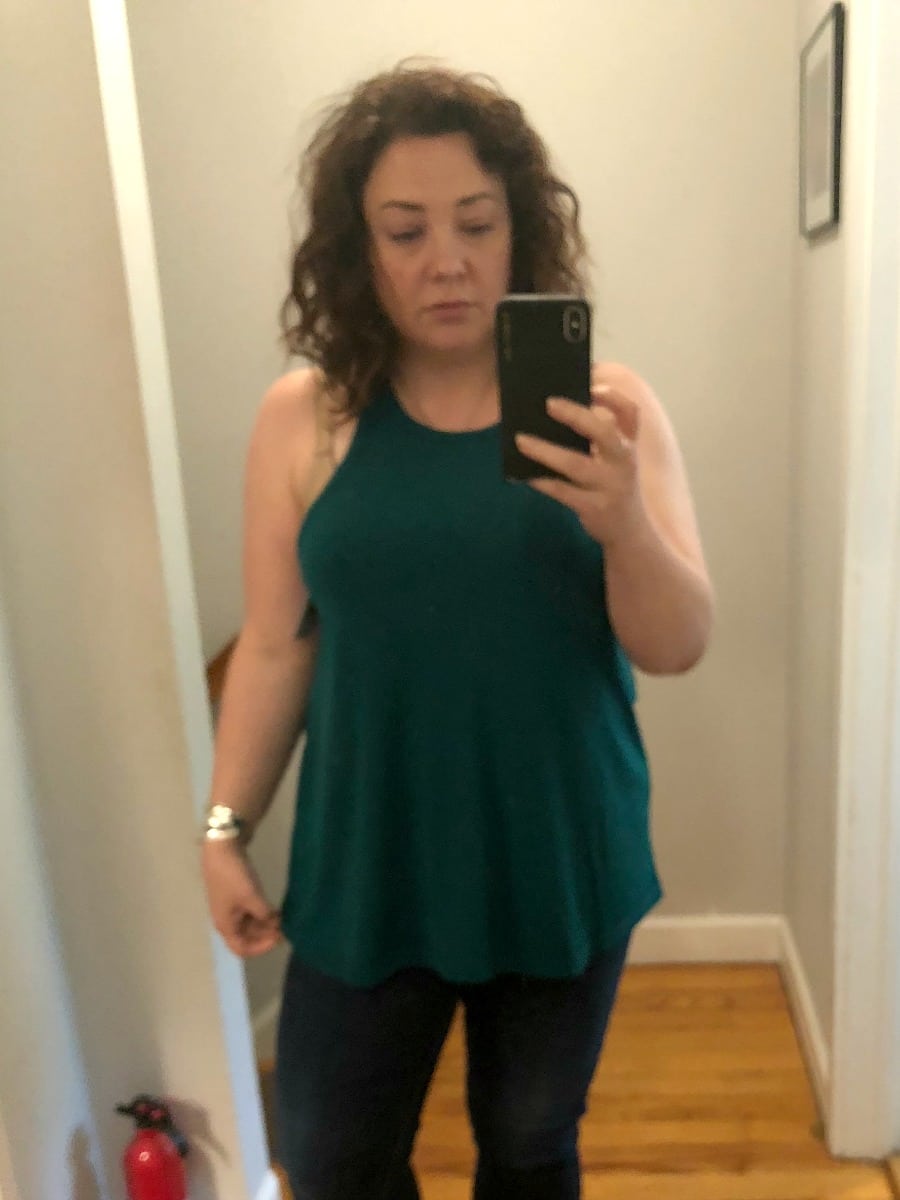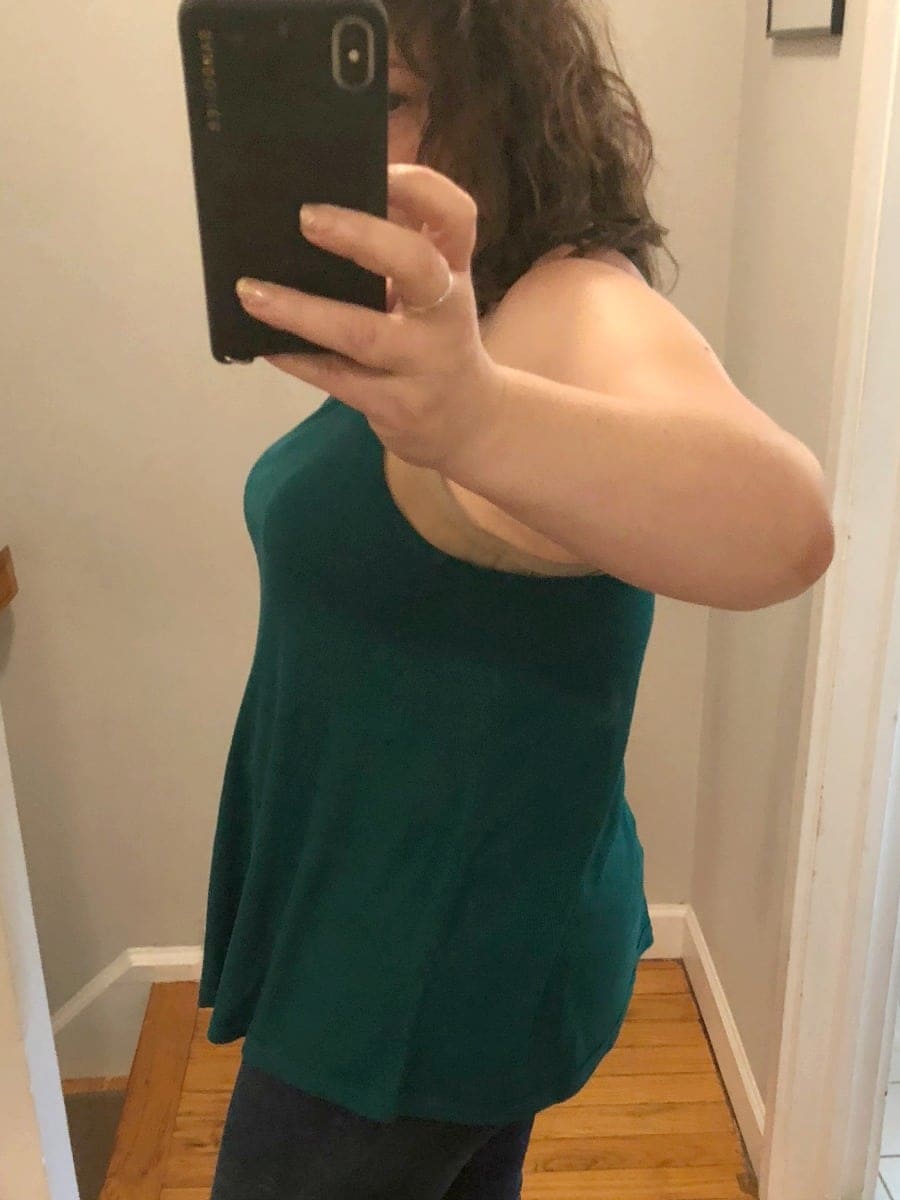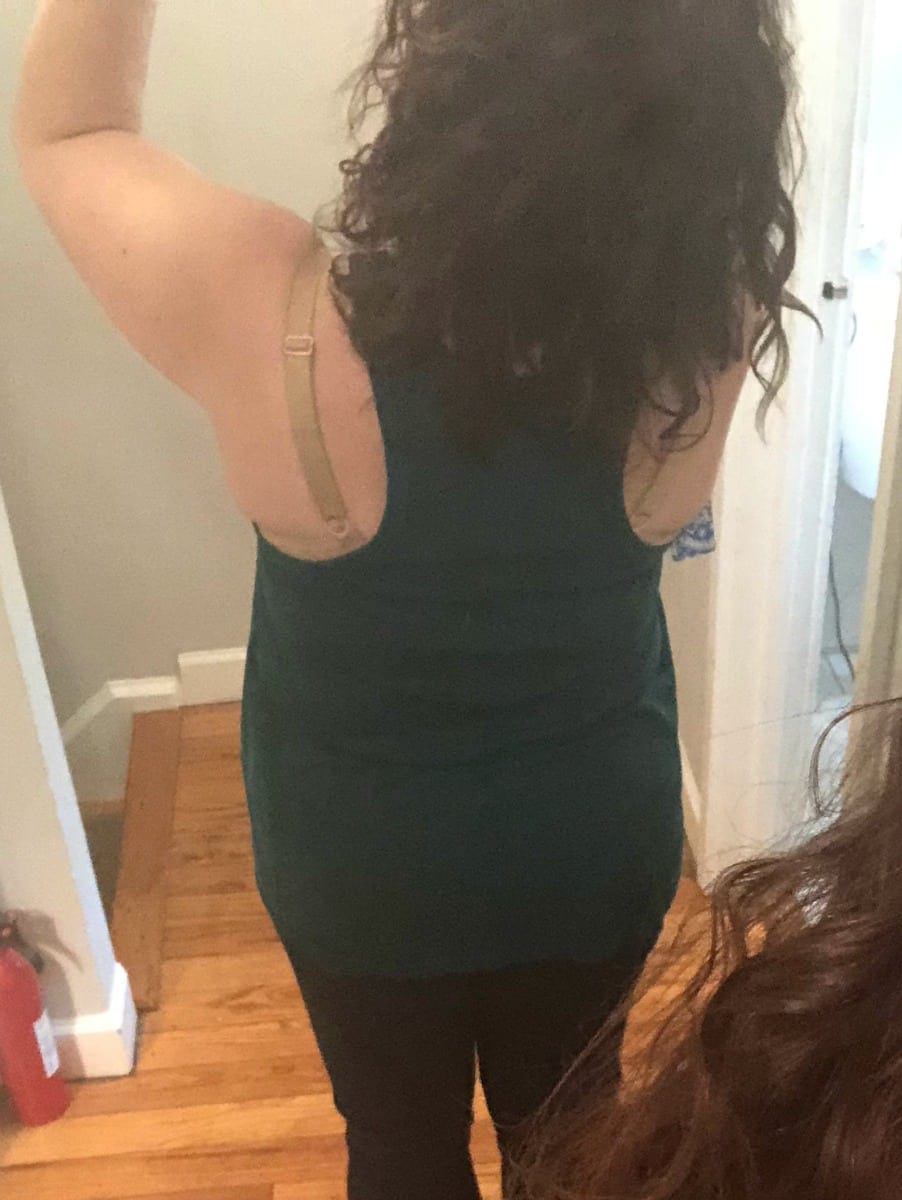 This is the Free People 'Long Beach' tank, size Large. This tank comes in a variety of colors, this specific color is on sale for $18. This color is positively stunning, these photos and the website do not do it justice. The fabric is so soft and it has amazing drape. However, I am an old and I don't care if it's now acceptable to show your bra straps I won't do it. And when it's 100 degrees with 99% humidity this summer, I don't want to be wearing multiple layers to cover my bra. But if you don't mind showing your bra or wearing layers or have a bust that works well with a racerback tank or likes to go braless, this is actually a really nice tank and the most lovely color. But for me, a miss. Returned.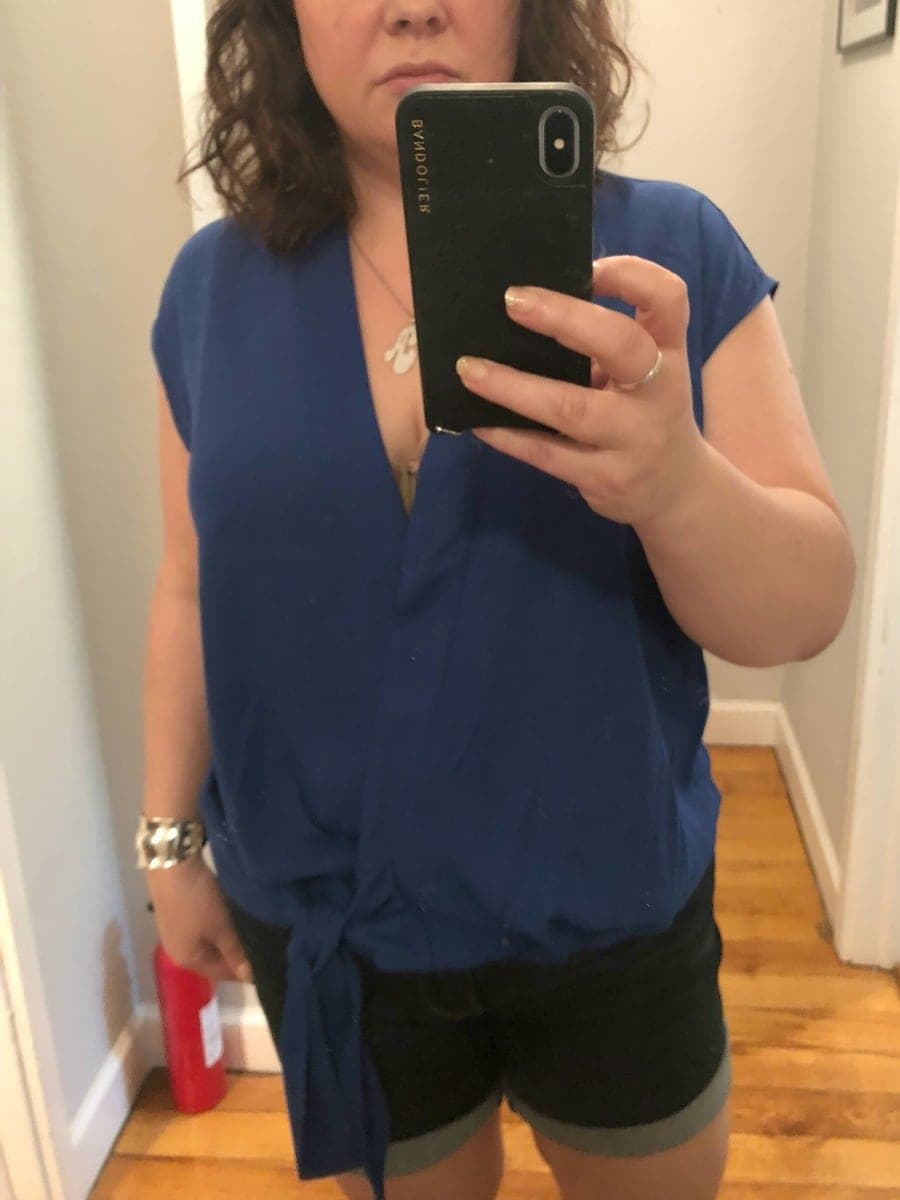 This is from Trouve, size XL. On Nordstrom, they have six colors at this link for $59, and two patterns at this link for $69. Even with all that variety, they don't have this blue currently for sale. A shame because this color is also one that is way more gorgeous in person. It's a machine washable lightweight poly crepe, the kind of fabric you can wear with a pair of white jeans and sandals, wide-leg silk trousers and heels, or under your most conservative business suit. It is too big for me. In fact, this runs so big I wonder if I would fit in a Medium. I would totally ask Trunk Club to send it in two sizes to determine the best choice (that's one cool aspect of Trunk Club, they can send you multiple sizes). If I still worked at an office job, I'd request other sizes, keep this top and wear the heck out of it all summer, into fall, and maybe even in the early winter under blazers. But I work from home and have few opportunities when such a top would be necessary so I returned it. But it's a good top at a good price so if you have an office job or a more refined personal style this is a good choice.
Denim Shorts and White Jeans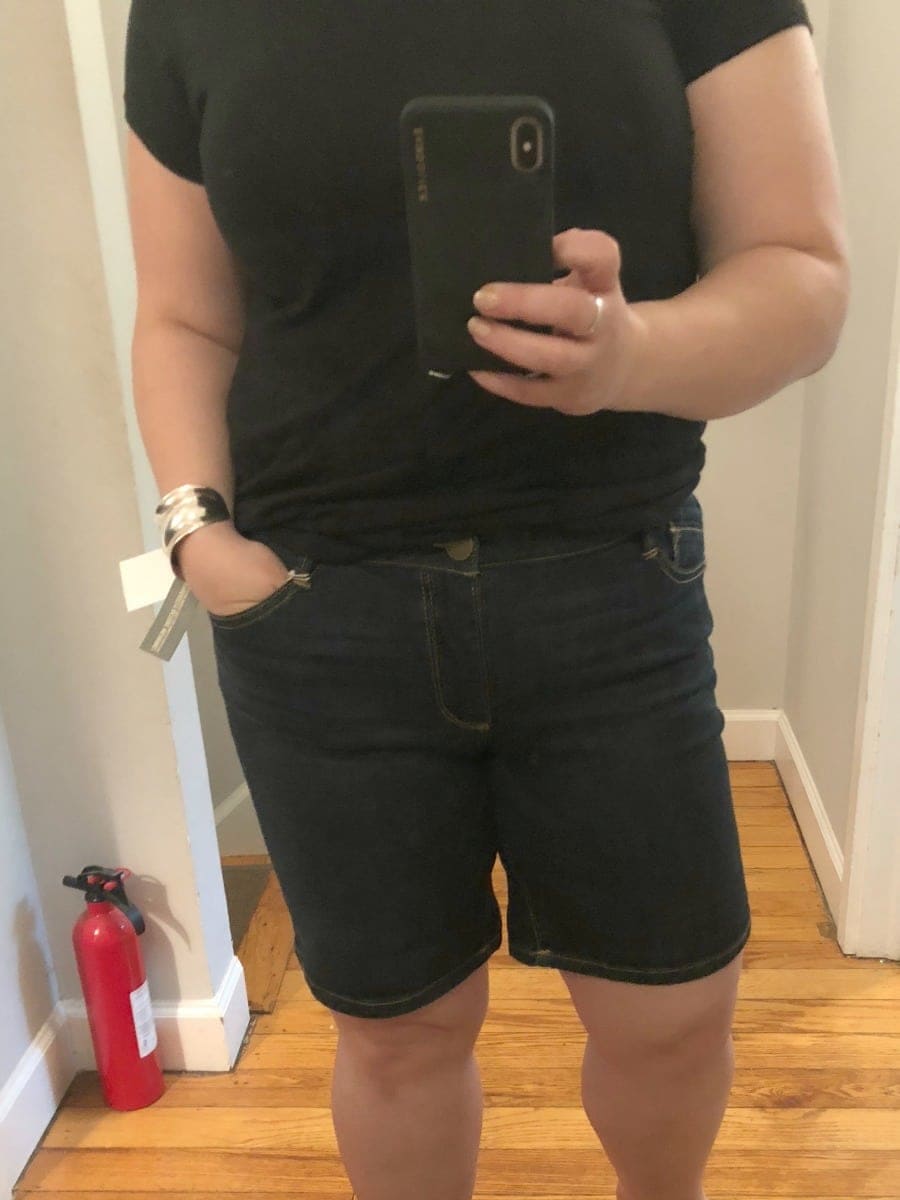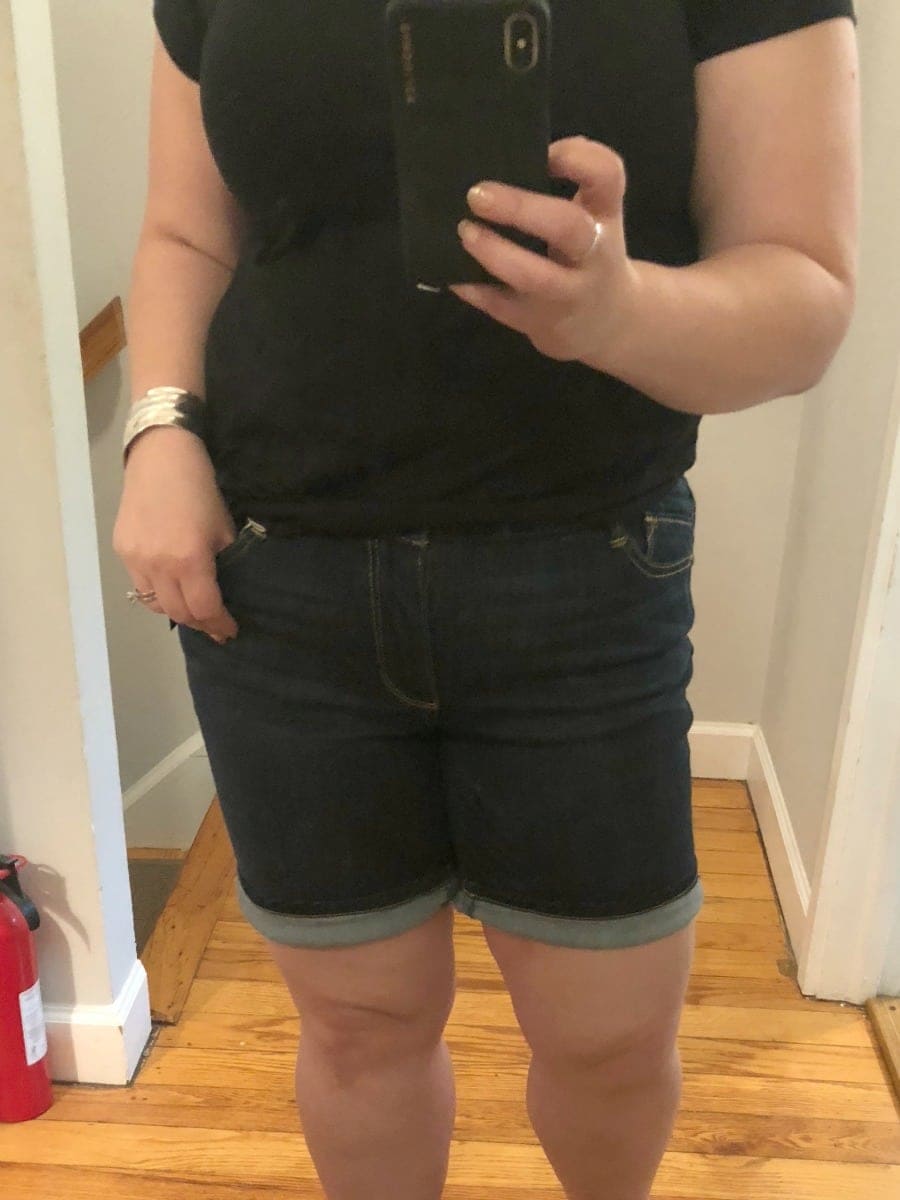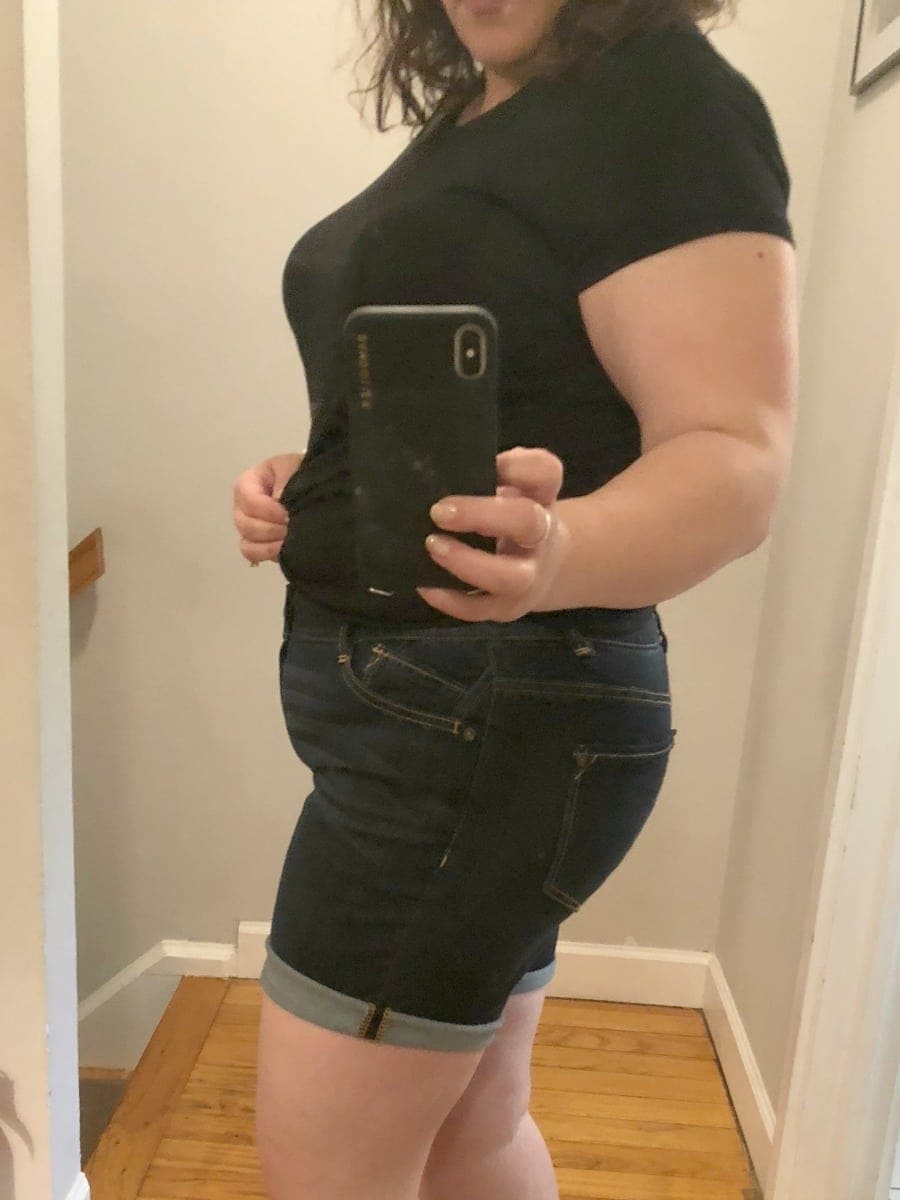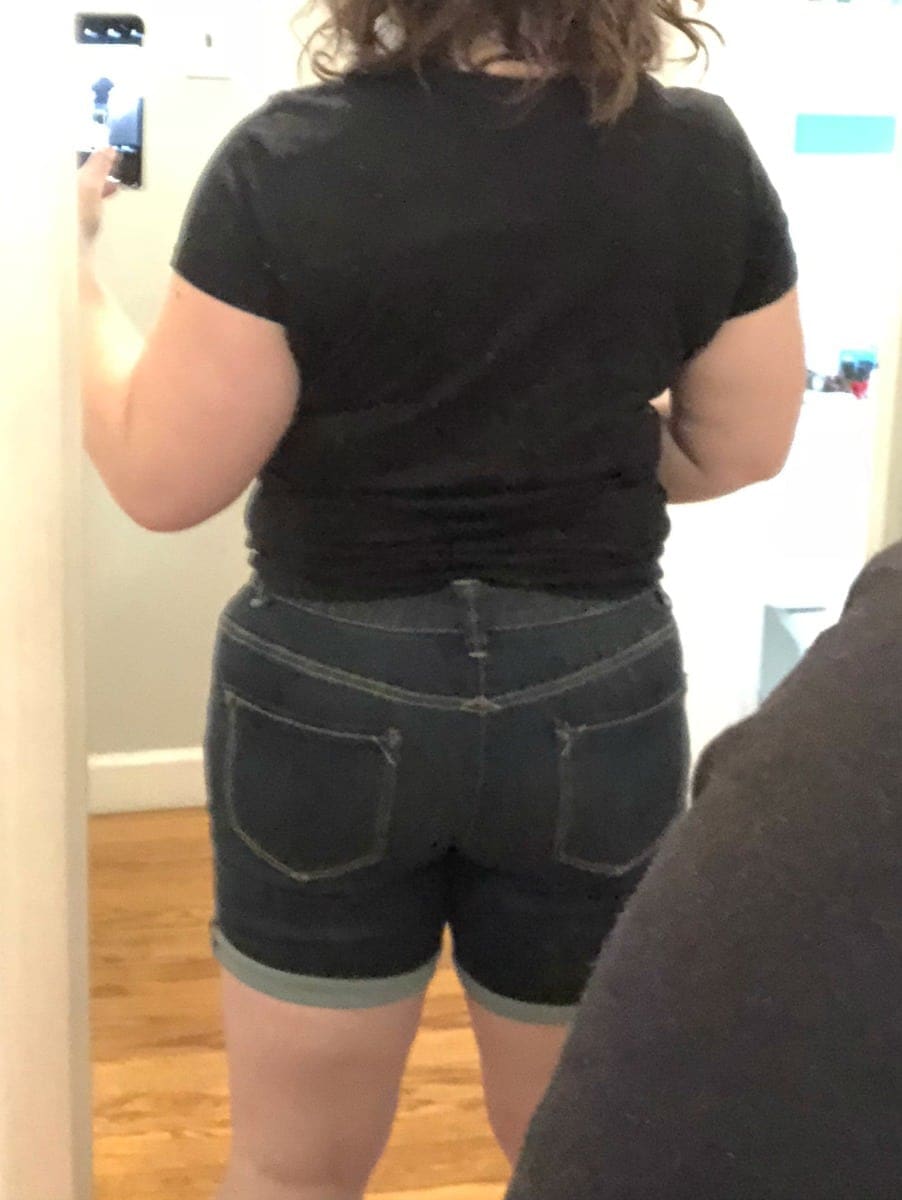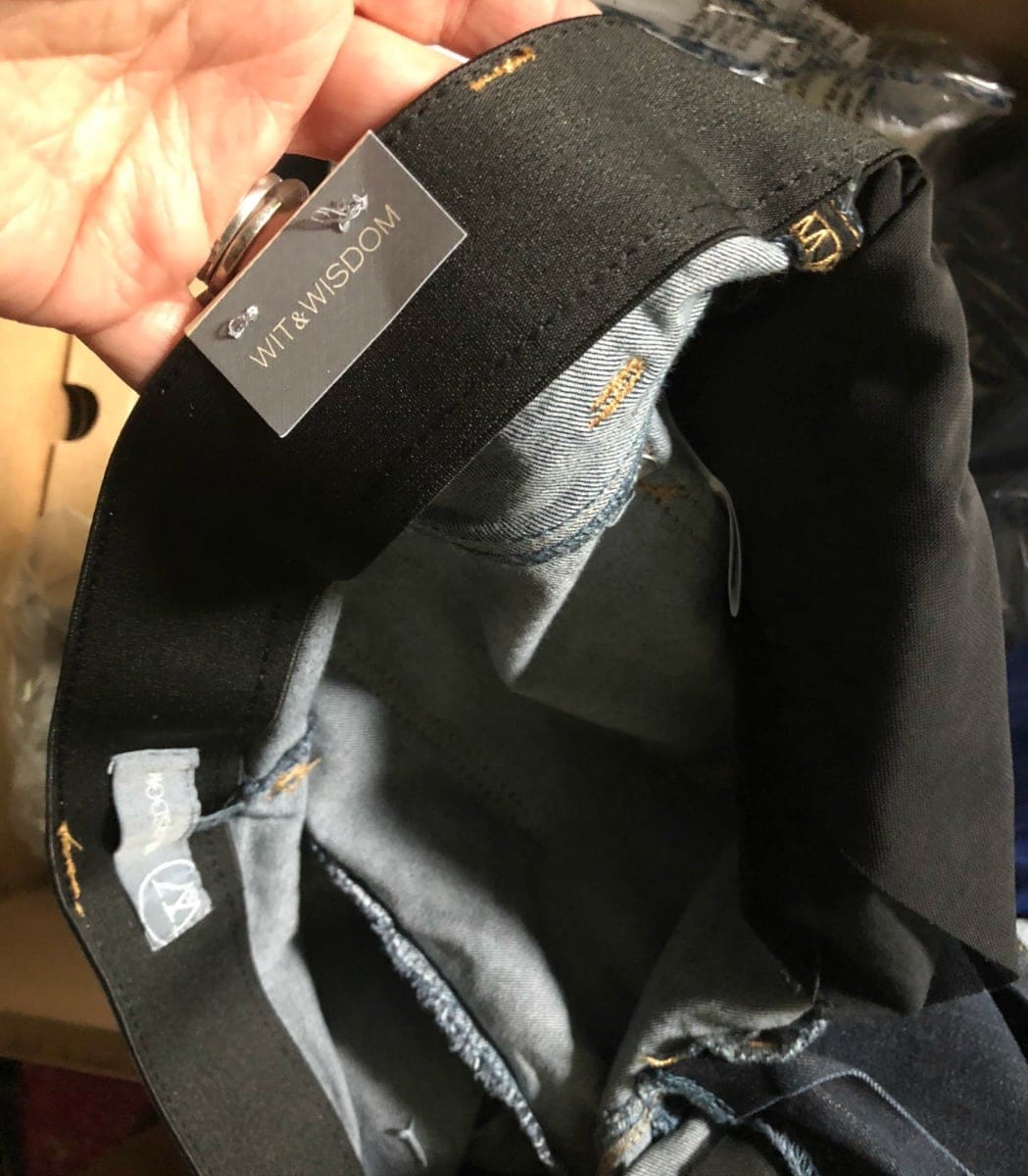 These are the Wit + Wisdom Ab-solution Cuffed Denim Shorts in size 12P. They come in regular and petite sizes up to 16 at this link; these are the same shorts in plus size but a lighter wash. They retail for $58. I think if I had received them in the lighter wash I would have kept them. The only problem I found with these shorts is the wash. I felt the super dark color made my legs look even pastier, and it didn't really coordinate with my boho-leaning summer wardrobe. I have another pair of denim shorts from Wit + Wisdom and they too are amazing. The shorts have a hidden wide elastic waistband that keeps the shorts from sliding down, from creating a muffin top, and prevents the waistband from folding over. The denim is high quality, the right thickness and stretch that is comfortable, looks high-end, and holds its shape all day. These shorts don't have a sewn-down cuff so they can be customized. They came uncuffed but easily made a crisp cuff that didn't roll down. Seriously, these are fantastic shorts. I just am trying to be super careful with any clothes I'm adding to my wardrobe and I just don't think this dark wash will get enough wear. So they were returned… but don't be surprised if you see me in the lighter wash version later this summer.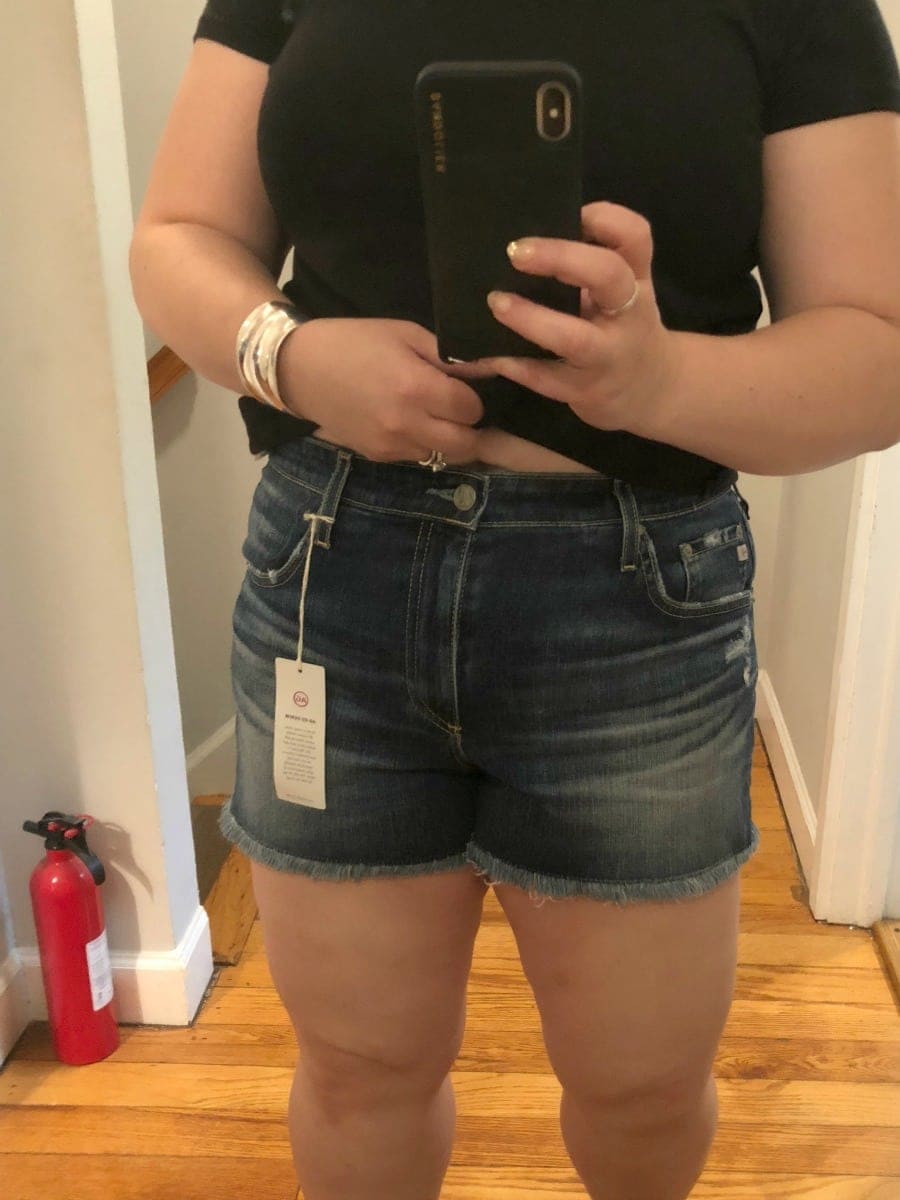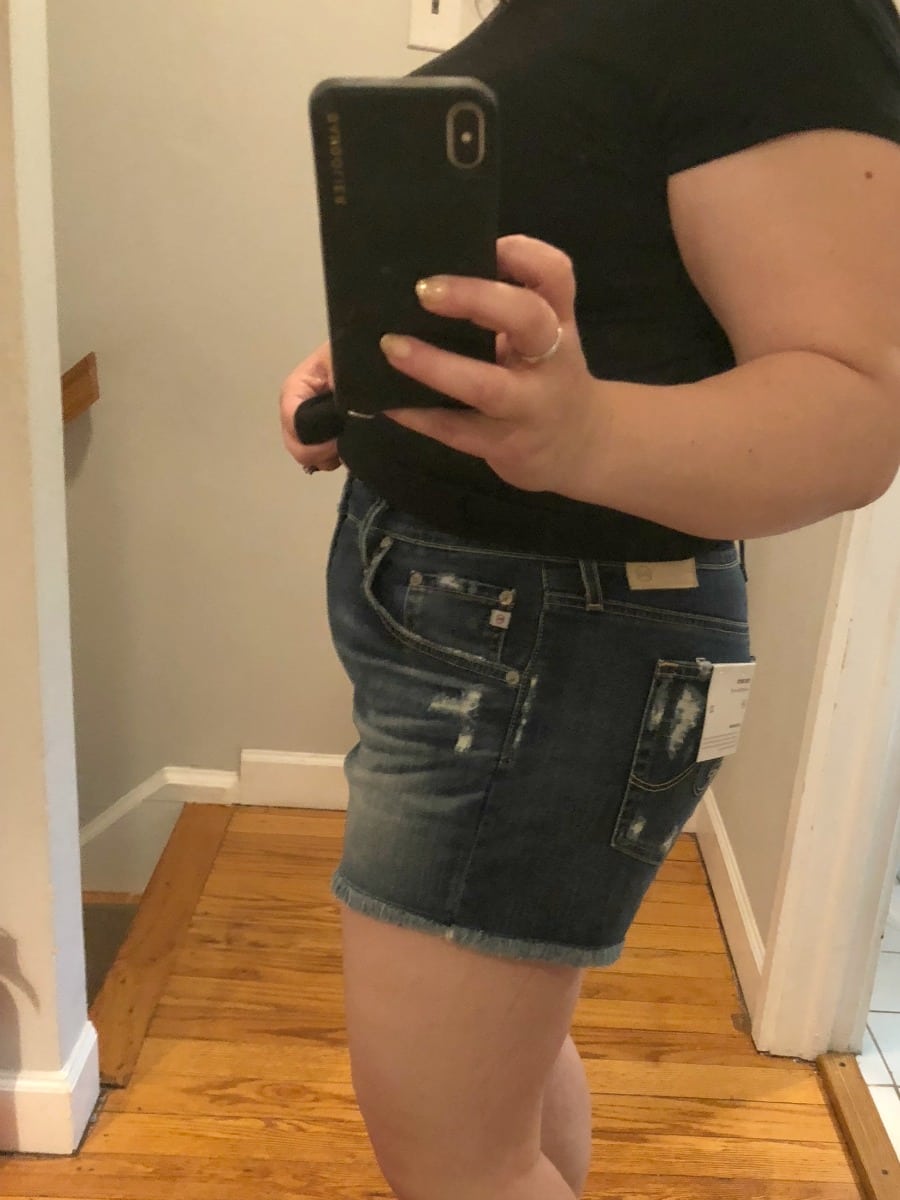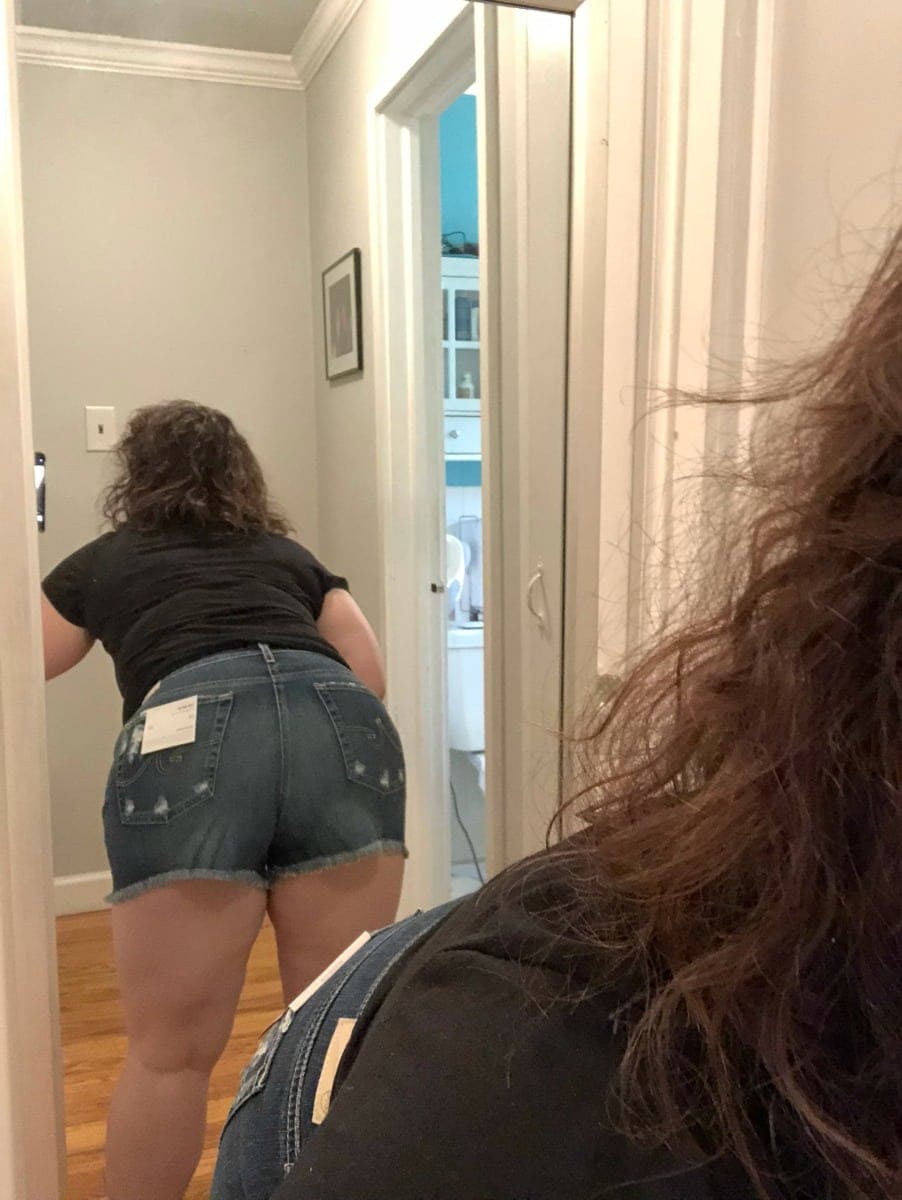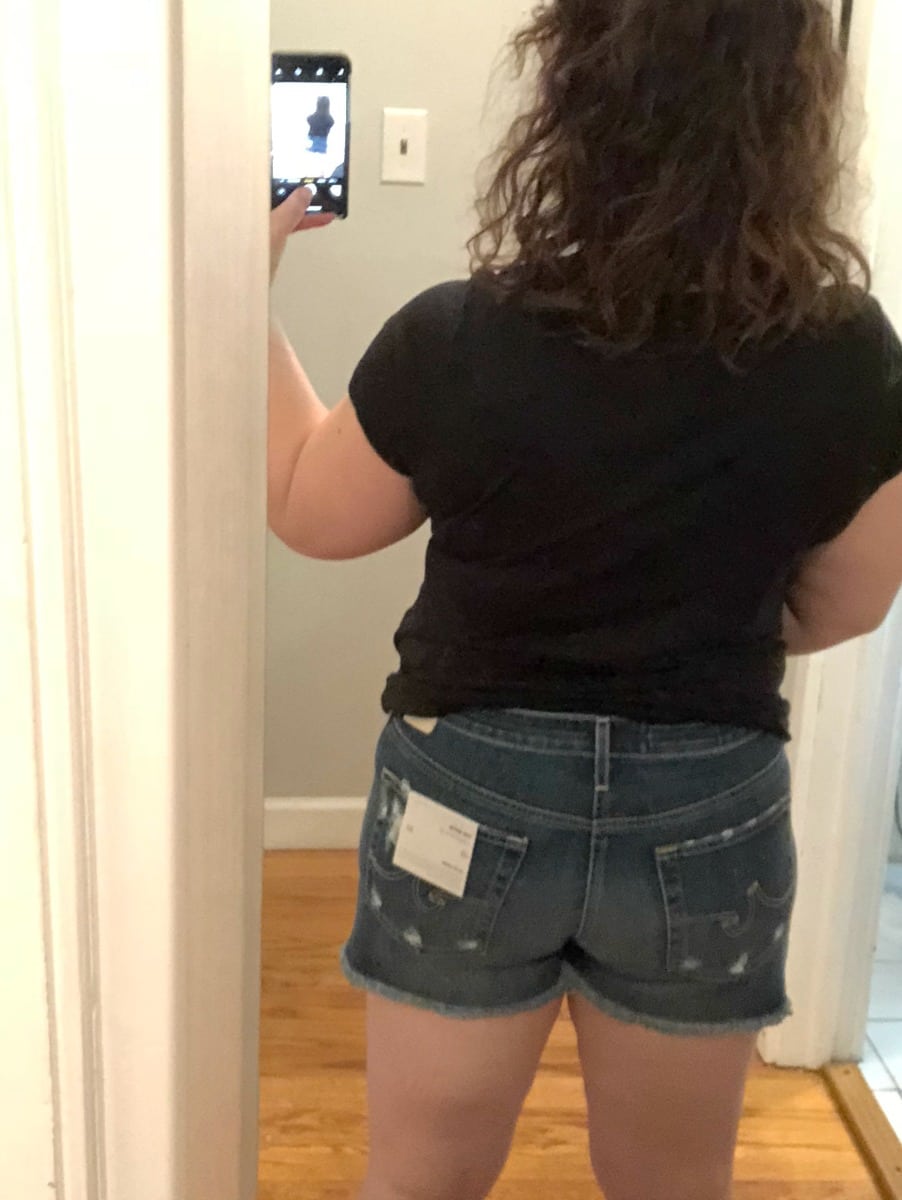 These are the 'Bryn' High Rise Cutoff Denim Shorts from the brand AG Jeans, size 32. They retail for $168. Once I saw the price tag I knew I wouldn't keep them even if they were amazing. I have learned that spending a lot on jeans is worth it, but I wear the heck out of my jeans on weekends, nights out, and for years. Shorts are a different matter. I'll pay a bit to not have a dumpy looking back view and thighs not oozing out of too-tight leg openings and an unflattering length, but I can't yet stomach spending over $100 for something that will be sitting on grass and sliding over a sandy or chlorinated bathing suit. But heck, I'll try them on and see how they are.
I believe you can wear whatever the heck you want to wear no matter your age, size, or shape as long as it makes you feel good. These shorts do not make me feel good. These shorts make me feel like I am a 43-year-old mom wishing she was still a 30-year-old at Bonnaroo. And I don't want to be her, I want to be right now. They're a bit too whiskered, a bit too short, a bit too trendy for my comfort level. If they were 3/4 to an inch longer and either less whiskered or a bit more faded/vintage (and well like $100 less) I would keep them. There's 2% polyurethane in them which gives them body and a hint of stretch without losing their vintage cool-girl feel. I know Kelsey sent these because I got a pair of full-length jeans from this brand when I visited the Clubhouse and am obsessed with them. And their shorts are also awesome, but yeah, I can't stomach that price tag along with the wash and the length of these shorts so I returned them.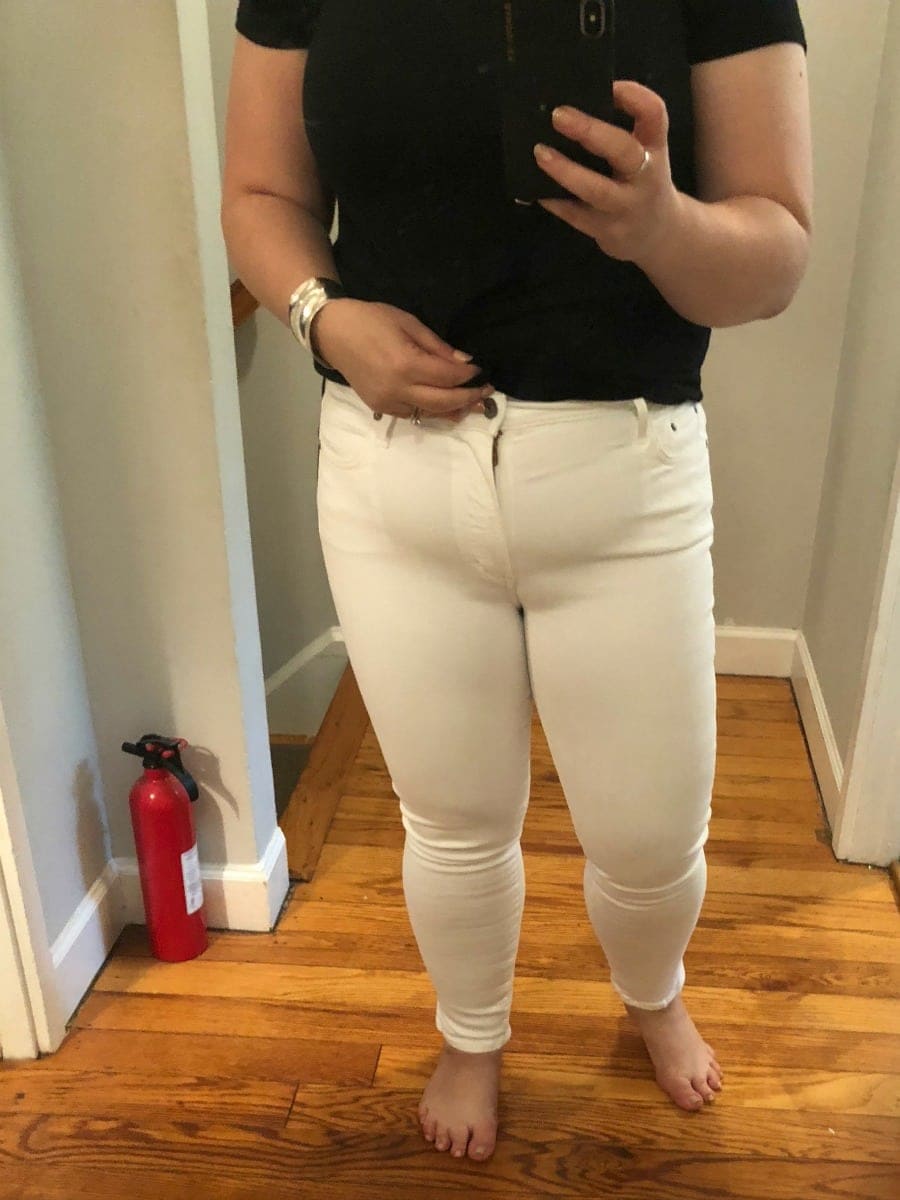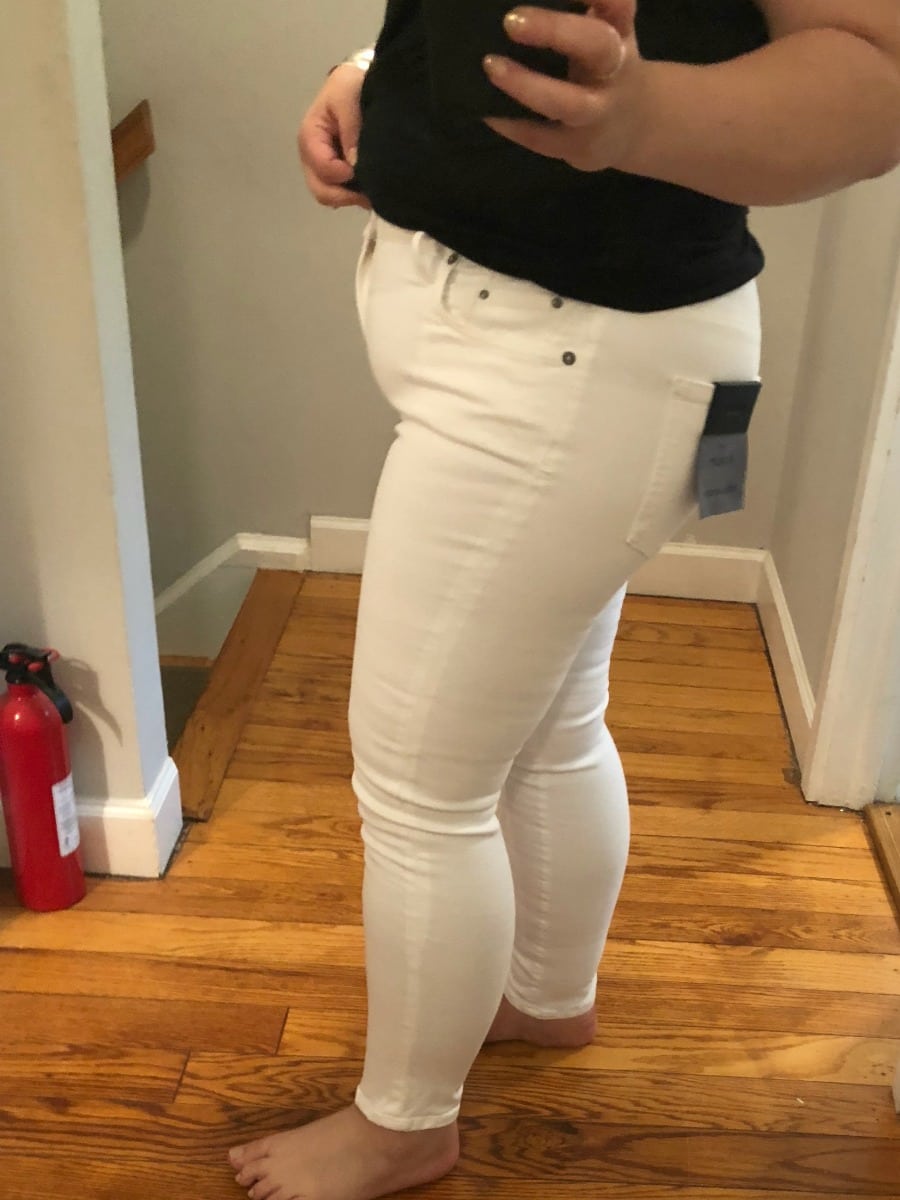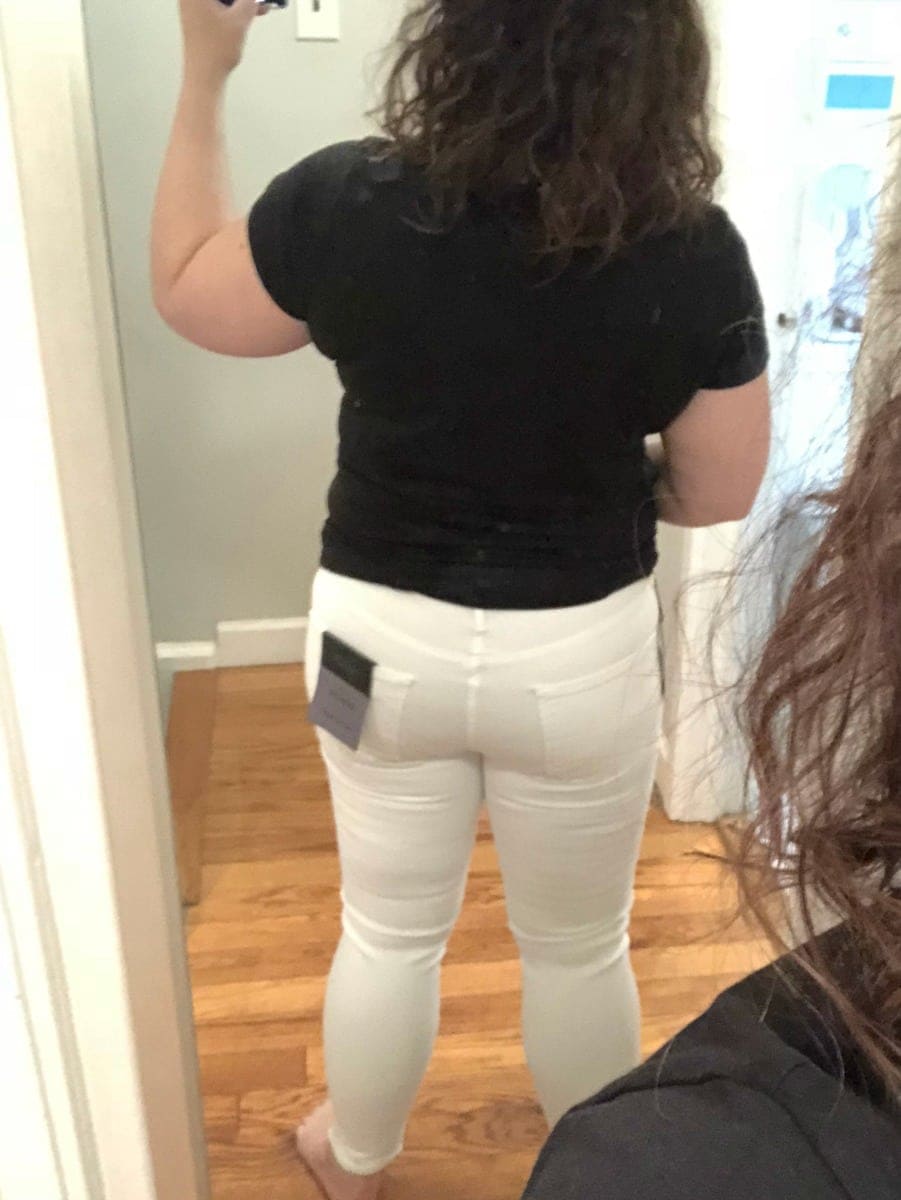 These are the Citizen of Humanity Rocket High Waist Crop Skinny Jeans in size 32. They retail for $168. These are so freaking tight they look ridiculous. Also, you can see my nude underwear through them. If they did fit and they weren't so transparent I still don't think I'd pay $168 for white jeans. My white jeans rarely last a season because I end up washing and bleaching them so often. Granted I've never owned white jeans that were stellar; maybe I would if they made my body look ba-silly but really I usually do well with a pair from Kut from the Kloth which has good fit, opacity, no weird details to make them look cheap, and are always under $100. But I get why Kelsey put these in my Trunk – I wanted white jeans, I bought an expensive brand in the past, and I wear a size 32. So while these were a miss, adding them to my Trunk wasn't a miss.
Summer Dresses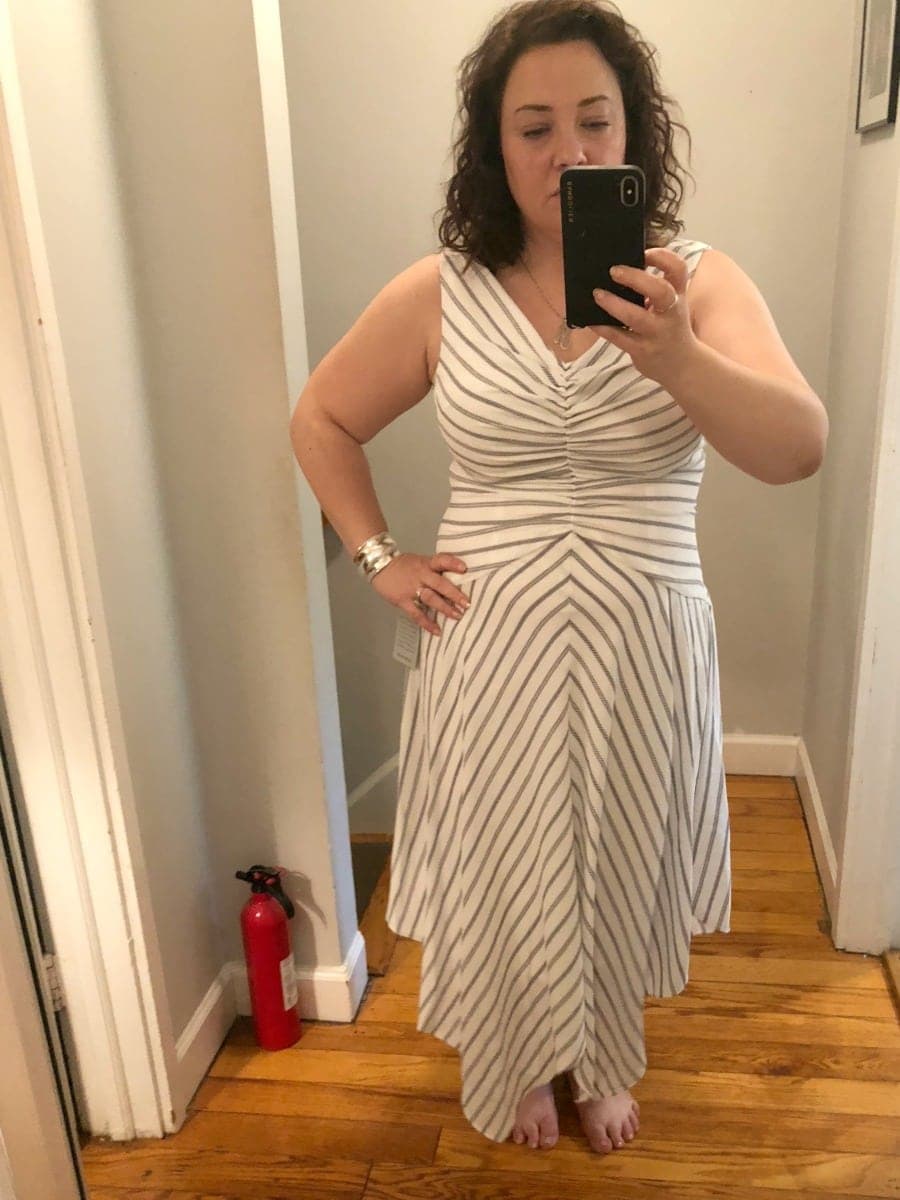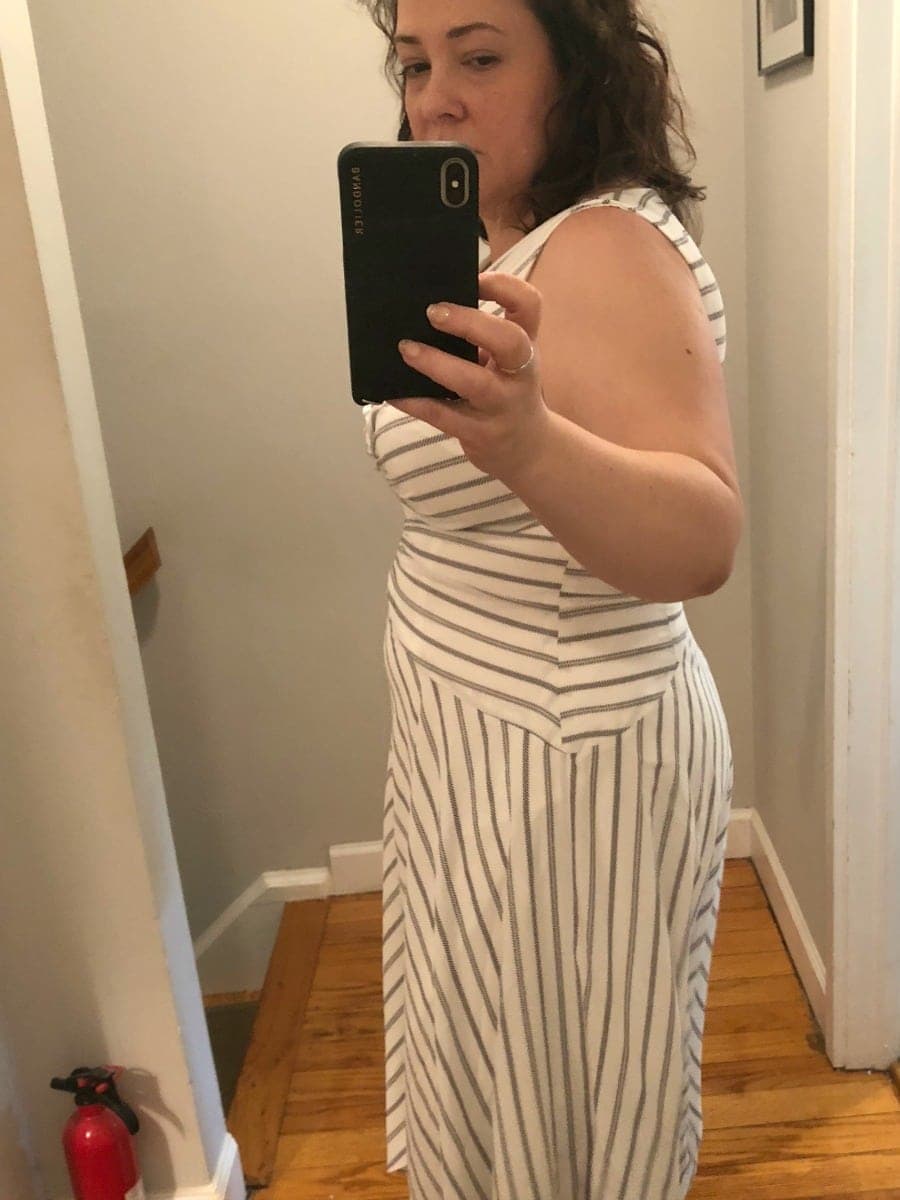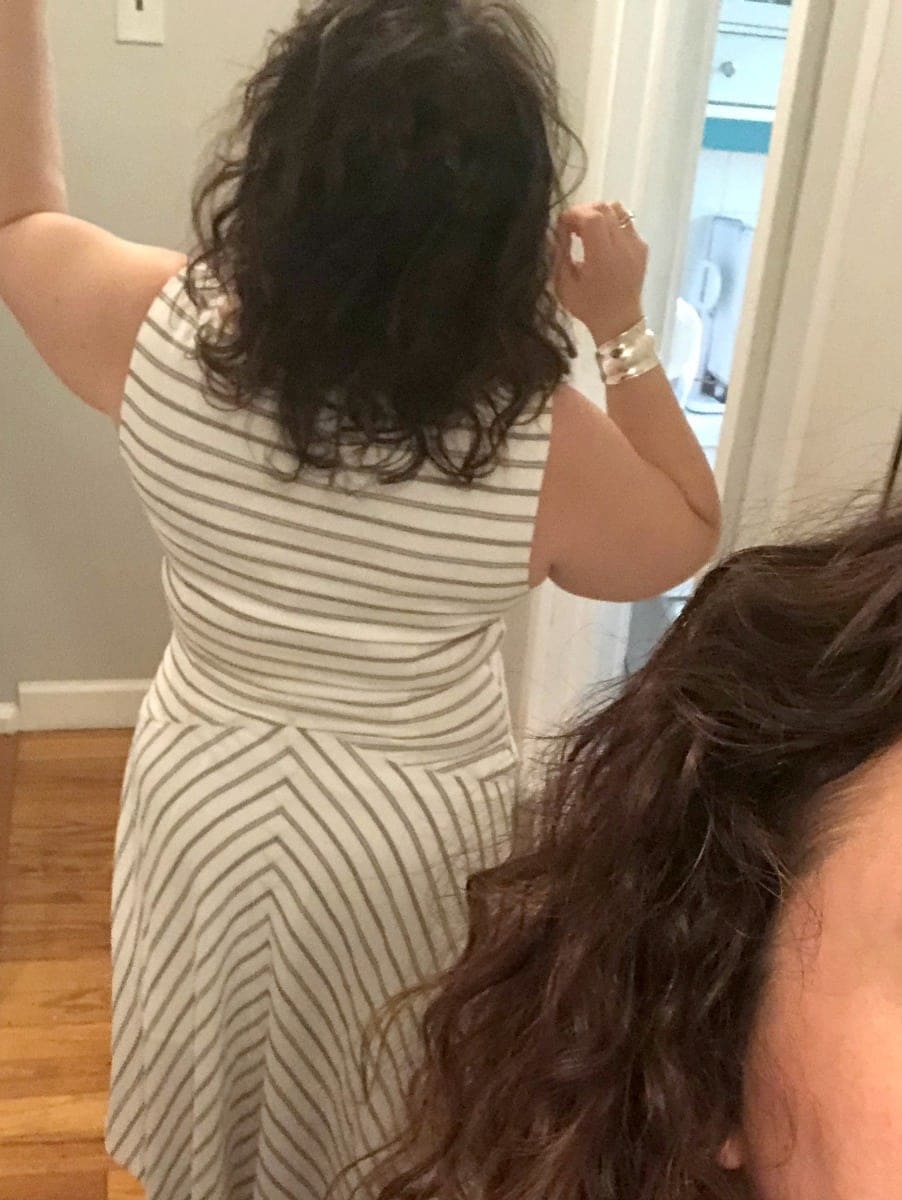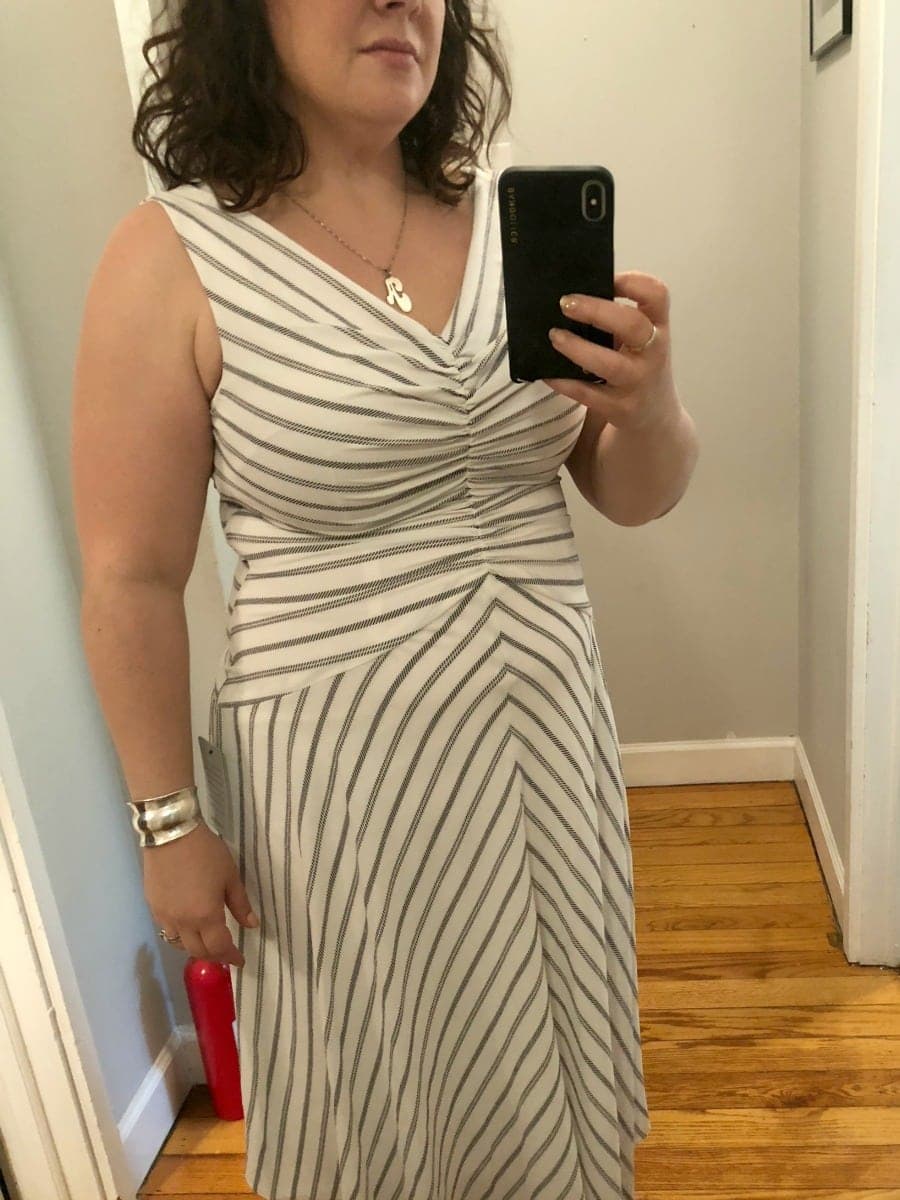 This is the Maggy London Stripe Ruched Handkerchief Hem Dress, size 14. At this link, you can find the dress in regular and petite sizes up to 18 for $138; at this link, you can find the dress in plus sizes for $148. This dress is machine washable, lined, and a textured crepe finish that can dress up nicely but also work with casual sandals. I needed a petite. It fits a bit weird at the bust and under the arms and the pointed waistband seems to be directing all traffic to the largest part of my midsection. This isn't a bad dress at all, but with the lining and the tight fit and the side zipper, I think it's a bit too polished for what I wanted (throw it on with some Birks and head to the market). Returned.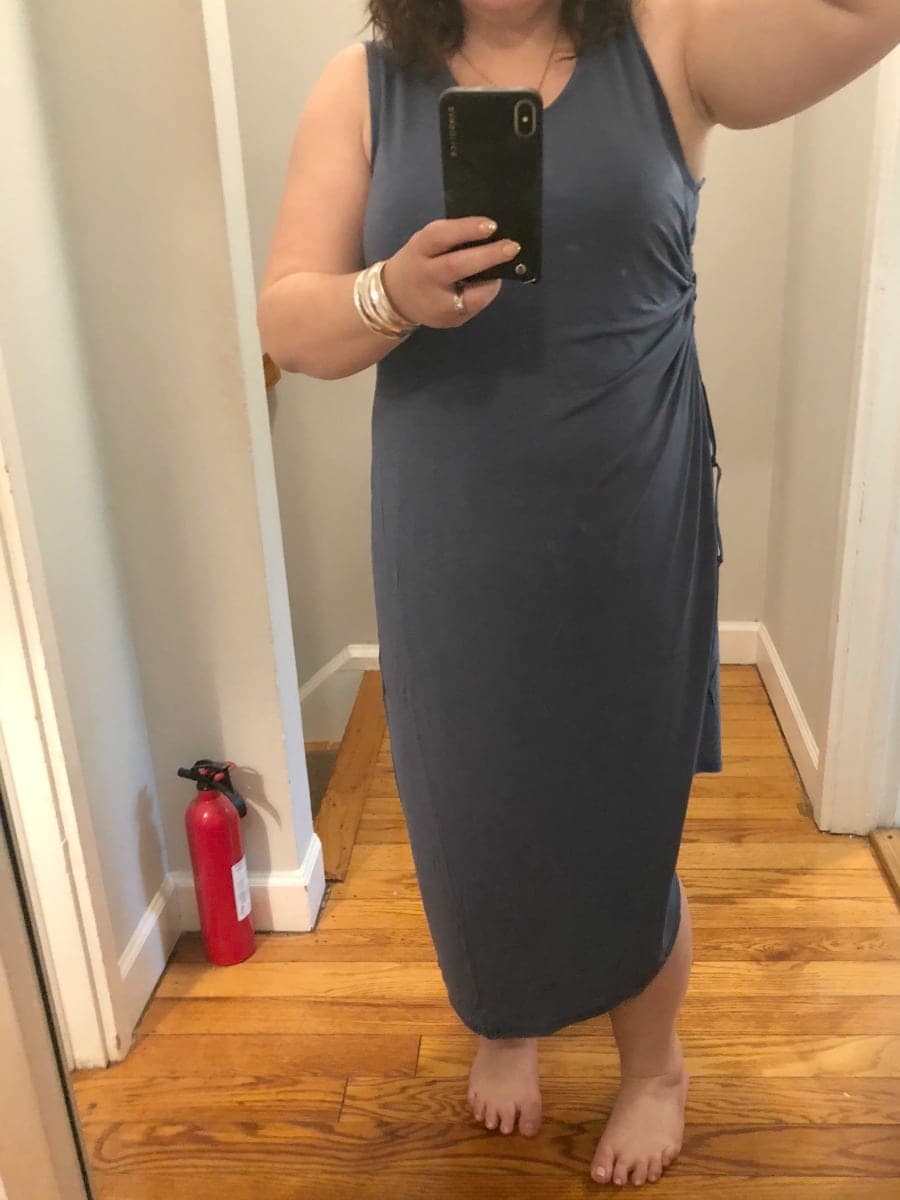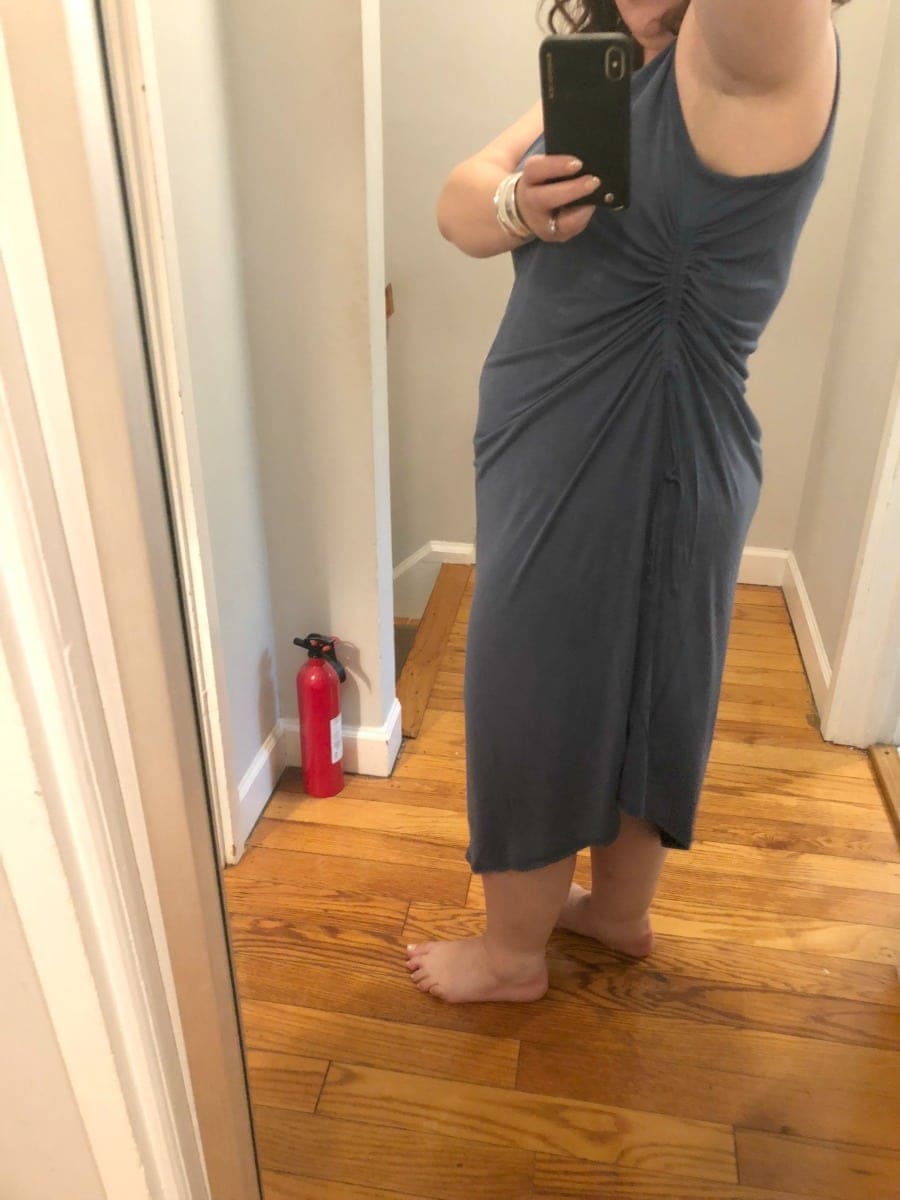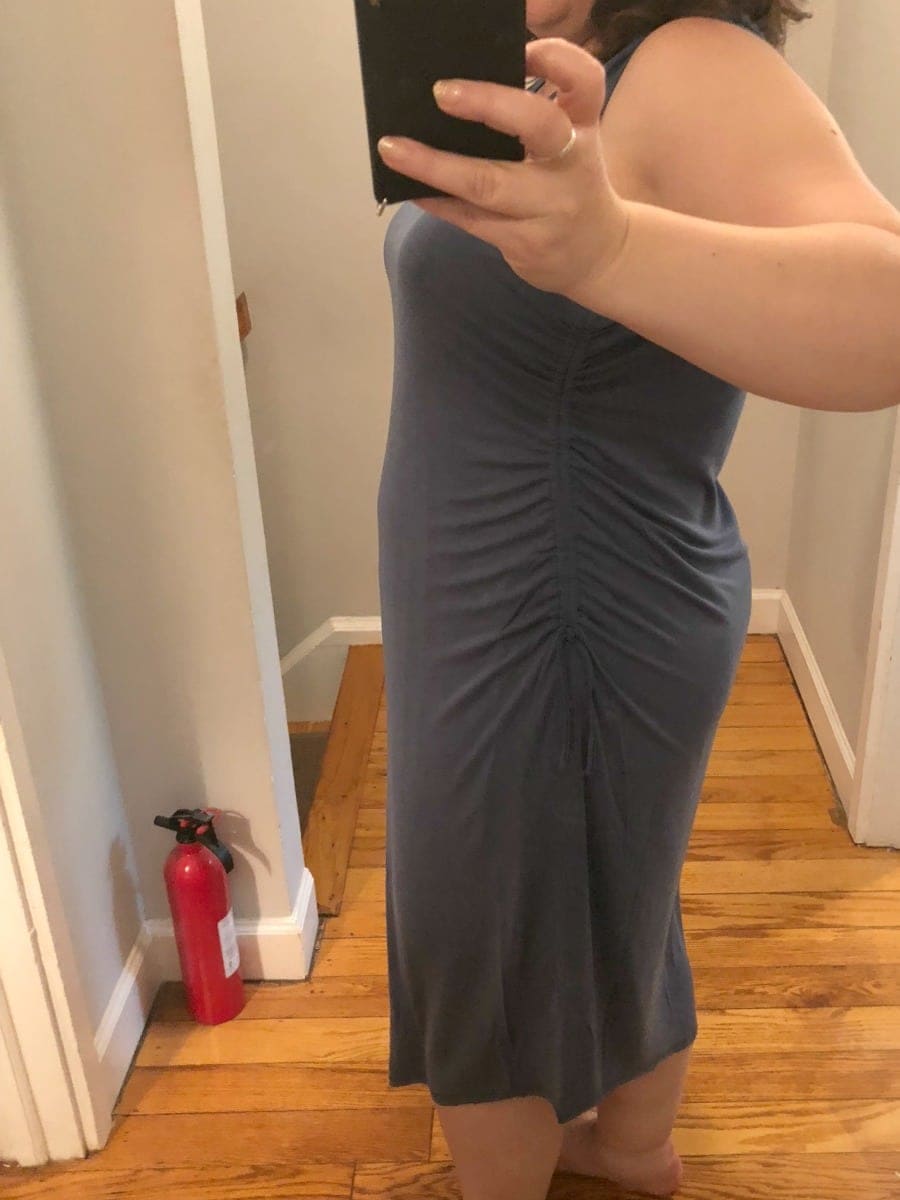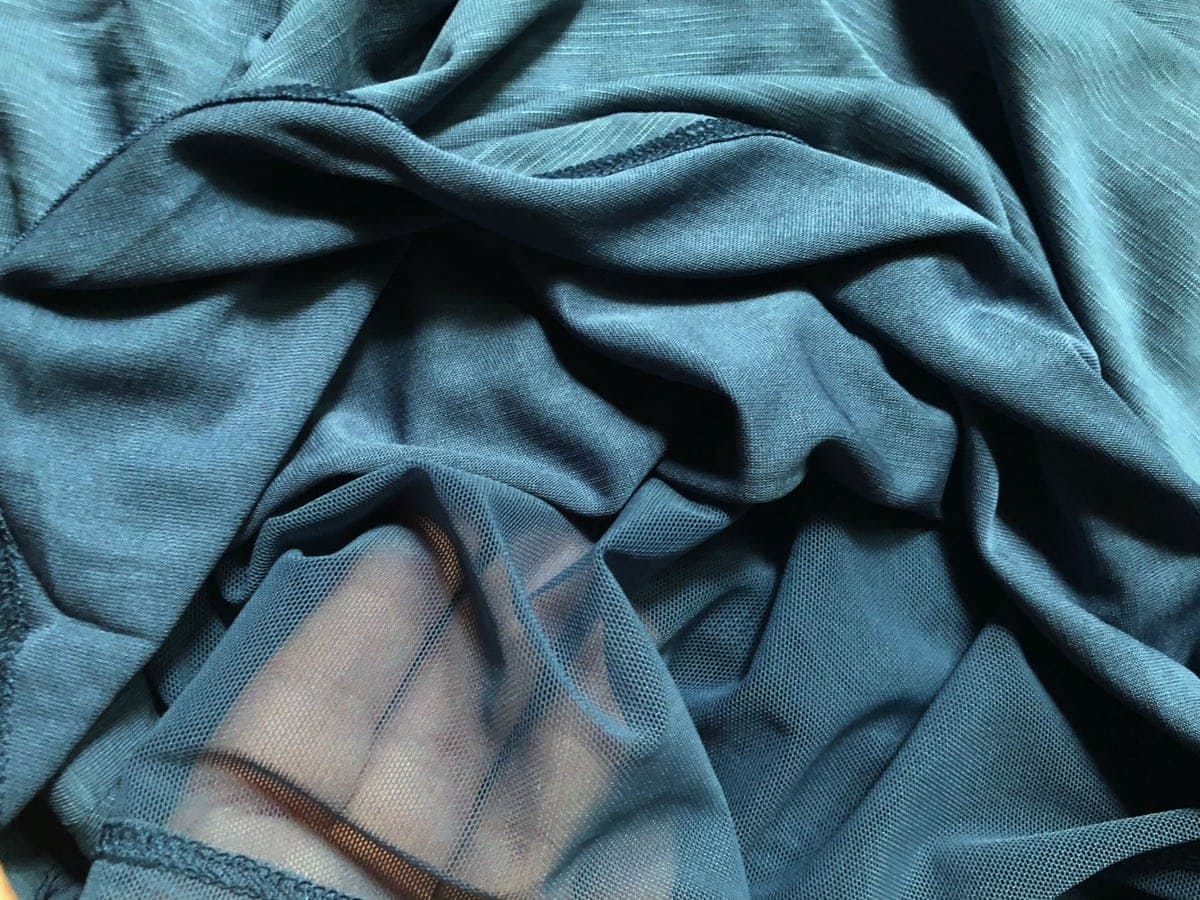 This is the Nic + Zoe Relax & Ride Midi Dress in size L. This dress retails for $138 and comes in regular sizes up to XL/16. This fabric is available on a variety of Nic + Zoe dresses in regular and plus sizes. I love this fabric. It's a super lightweight stretchy poly with a nubby texture that makes it look more expensive and elevated. It's a fabric that could show every lump and bump but the dress is lined to prevent that. And it's not lined in a layer of stretchy poly that will just make you sweat, but this thin mesh that is just as effective but cooler in the summer heat and humidity. The side ruching thing is adjustable, you can untie it and cinch it tighter or loosen it for less drape. This dress won't wrinkle and while it says it should be hand washed, it's the kind of fabric and style I'd risk in the washing machine on the gentle cycle safely in a lingerie bag. The only reason I didn't keep this dress is the color. It's not a bad color at all, but it's not a color I enjoy. Now if this dress was in the color of that green Free People tank I'd likely be wearing it while typing this blog post. But it's not and I know my history of owning yet never wearing this color so I returned it.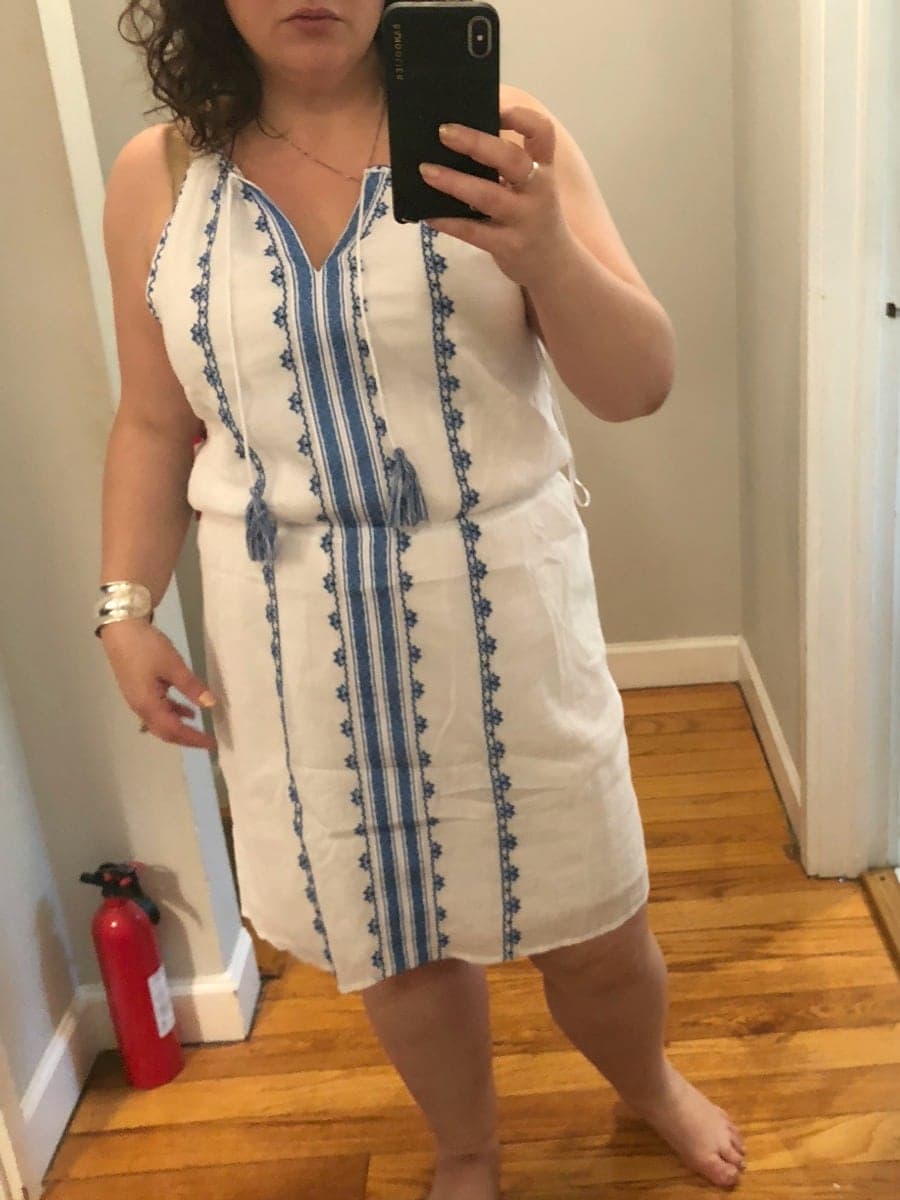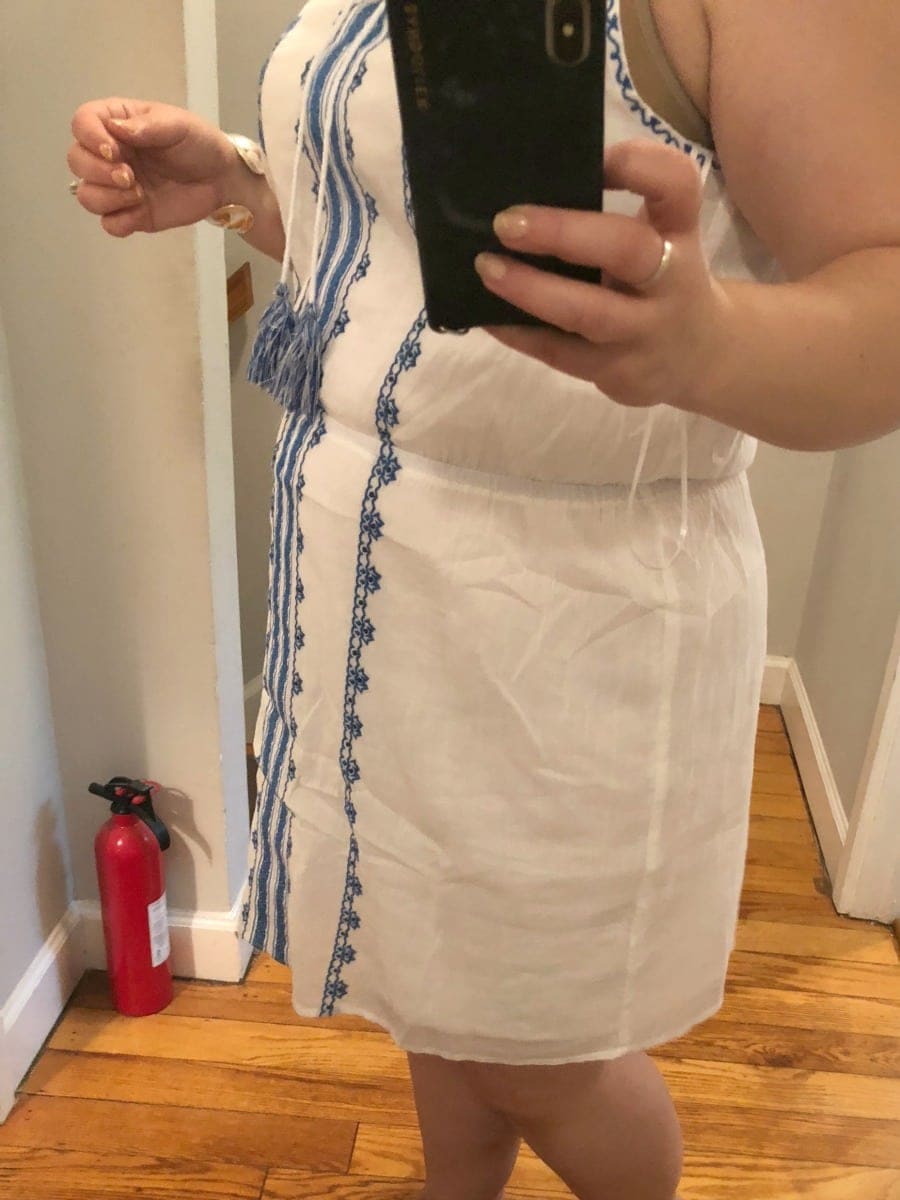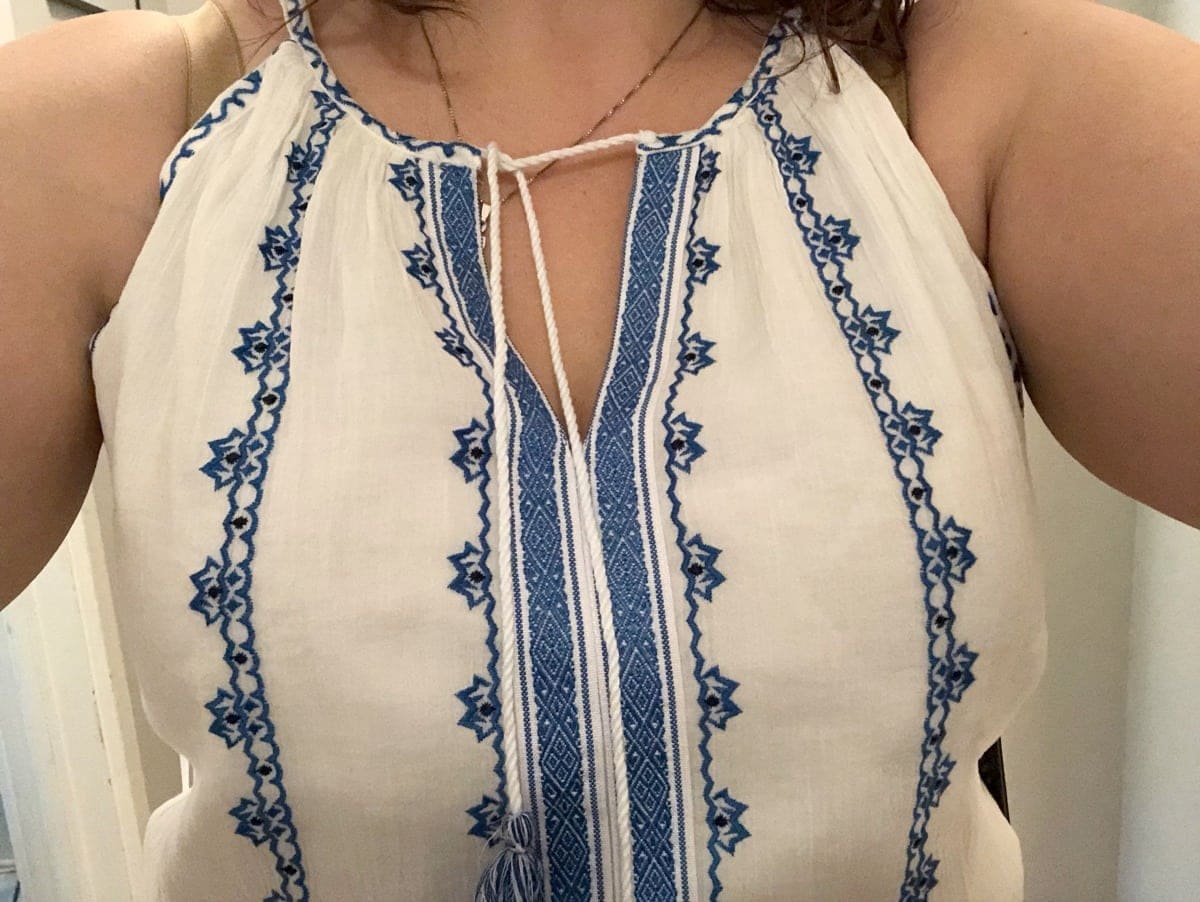 This is the Vince Camuto Embroidered Tie-Neck Cotton Halter Dress, size L. It comes in two colors, retails for $139, and comes in regular sizes up to XL. I would have never chosen this dress on my own because on the Nordstrom website it looks super fitted and super short. Reviews say it runs big, but I think that's because people want it to fit short and tight like on the model. Kelsey sent me this in a Medium and Large, I didn't even try on the medium and think I'd be more comfortable in an XL. The dress is fully lined in lightweight cotton so it was opaque, yet still cool and breezy. However, I returned this dress. Again, bra straps are showing. I don't mind a strapless bra, but not for casual run around town kind of looks. I wish it had pockets. Also, I wish it wasn't white; makes it hard to sit on a park bench or picnic blanket or even a seat on the Metro without worrying you're going to be a hot mess the rest of the day. If it was the XL in navy, with pockets… I'd maybe keep it. If it had no pockets but I could wear a standard bra I'd keep it. But there were too many things against it so I returned it.
Casual Flat Sandals in a Low-Contrast Color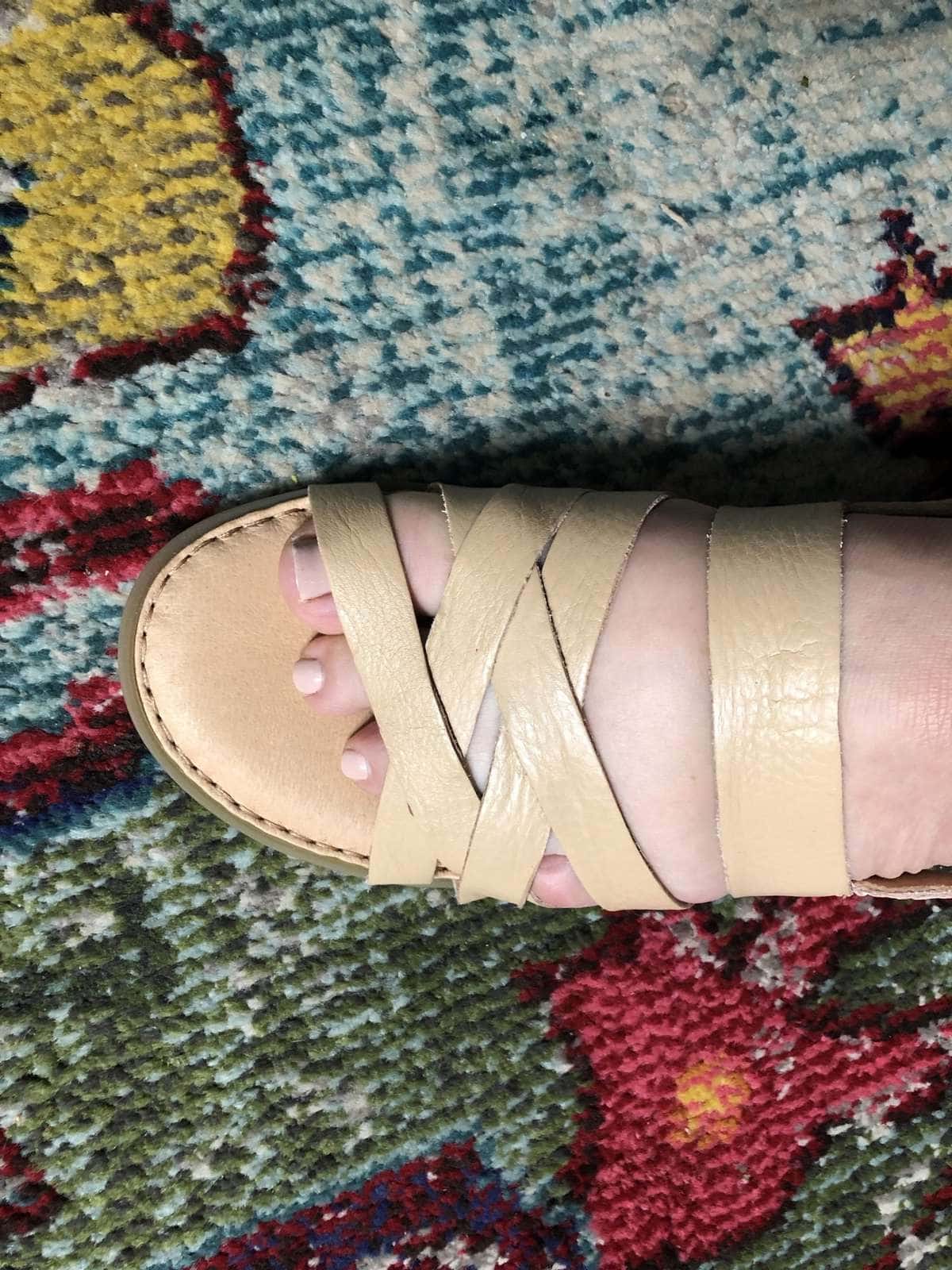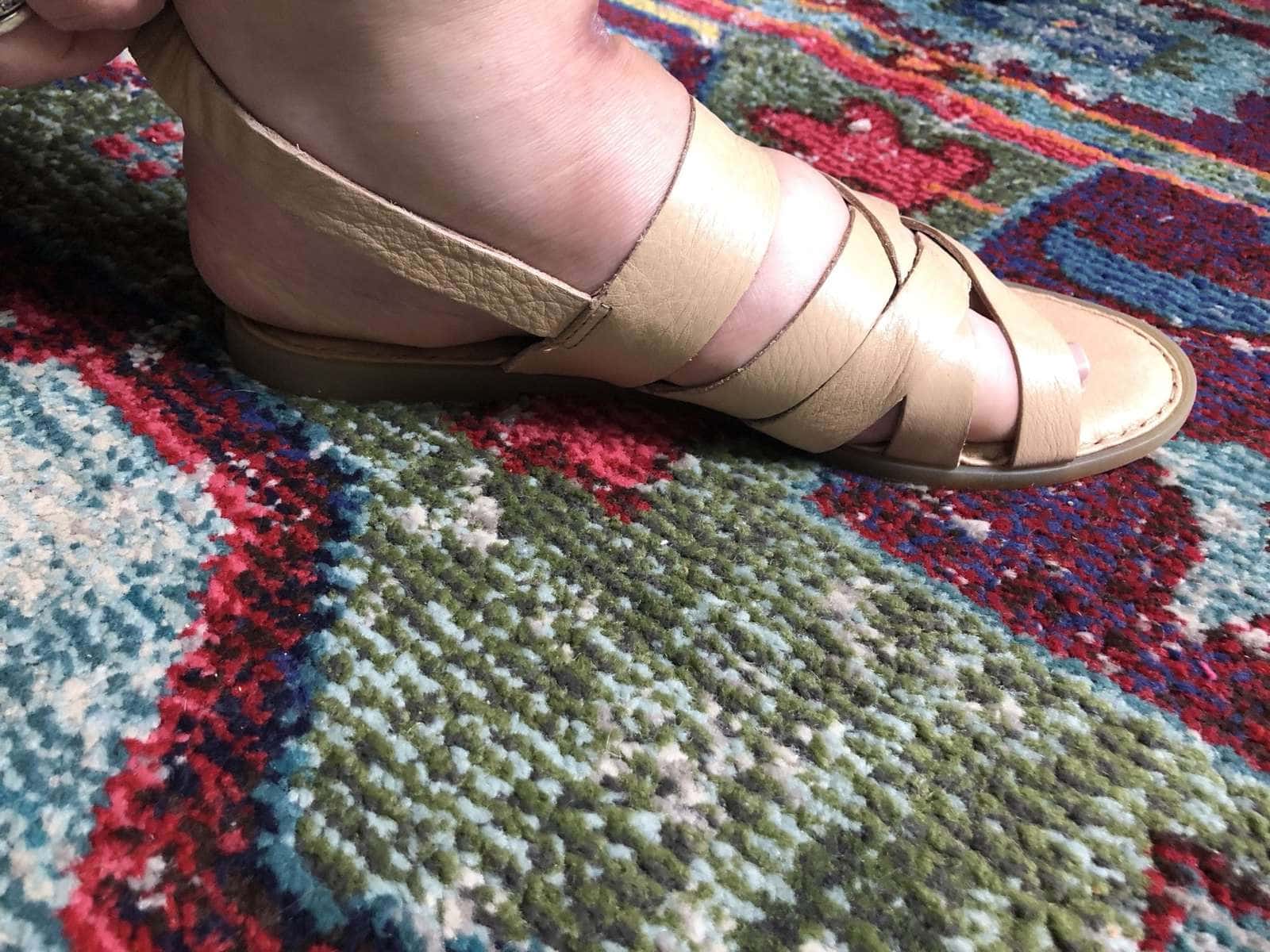 This is the 'Lovely' sandal from Born. It comes in four different colors and retails for $84.95. The leather is super soft and buttery, the sole cushioned, this shoe is nice. However, my feet are so wide/fat/high arches that I couldn't get them on. But if you don't have difficult feet like me these are a great buy.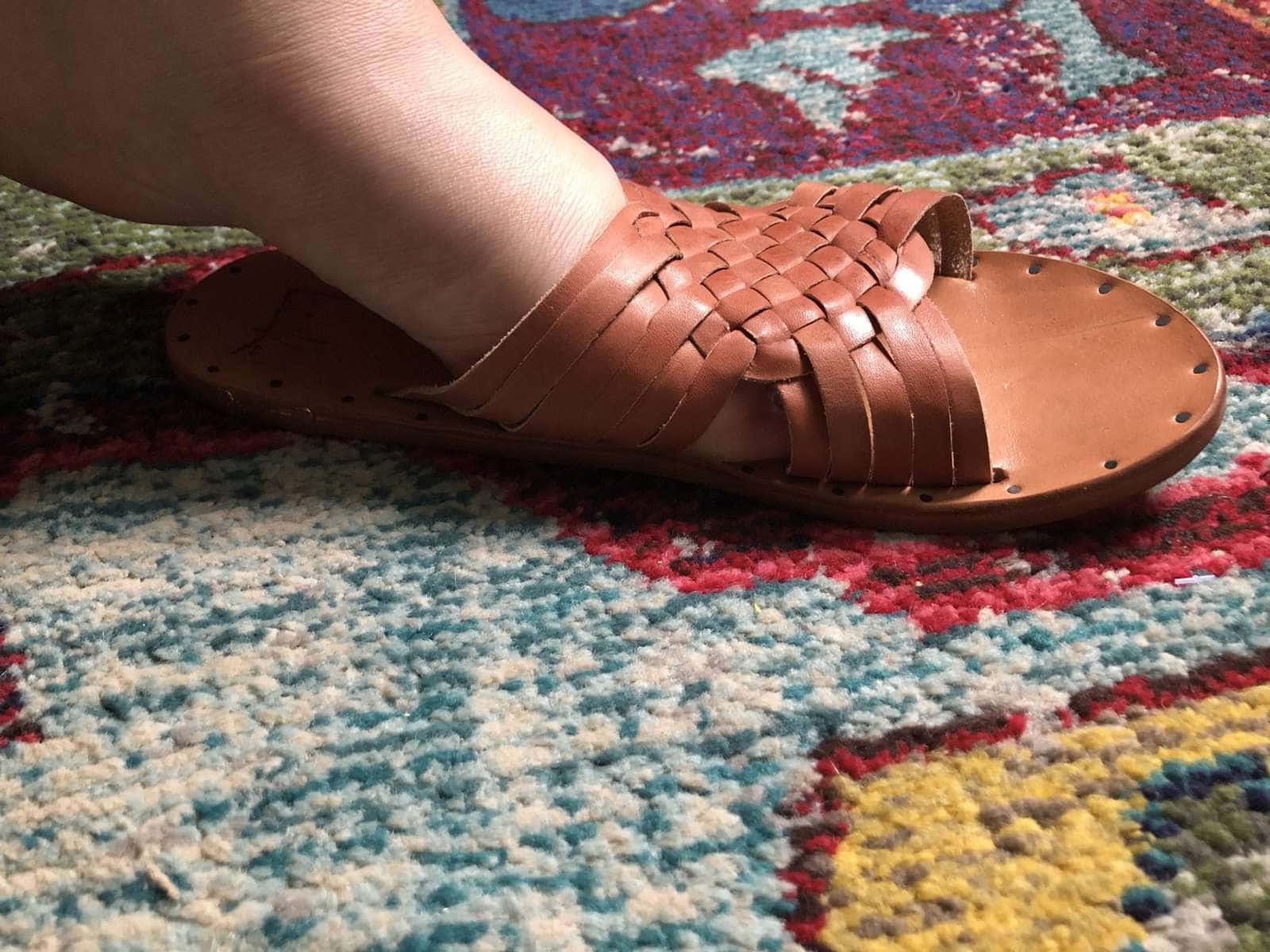 This is the Beek 'Swallow' sandal. It comes in two colors and retails for $280. That is as far as my foot fit into this shoe. I'm okay with that, the price tag made me throw up a little in my mouth and at least on my foot with my personal style I felt they looked too masculine.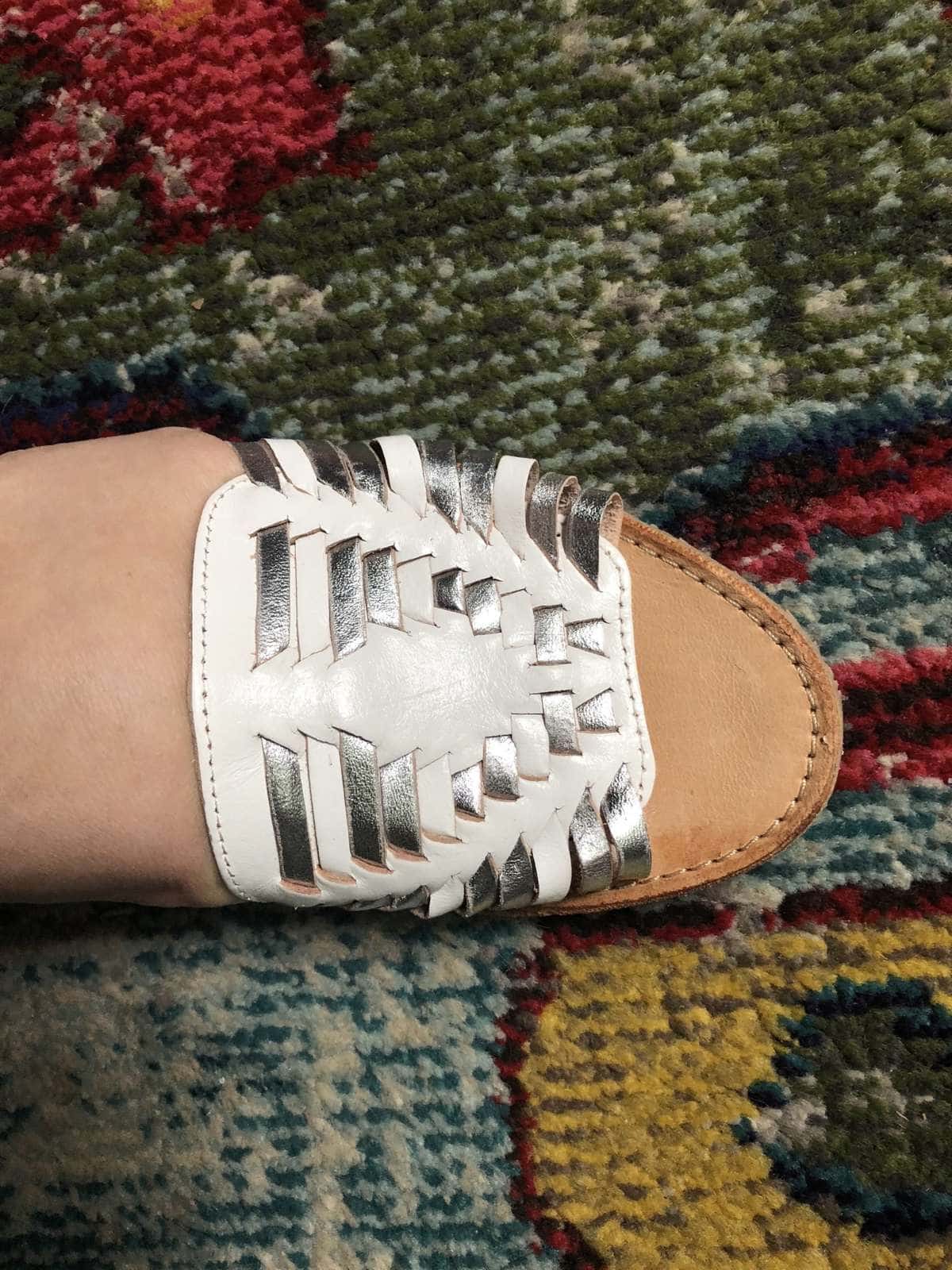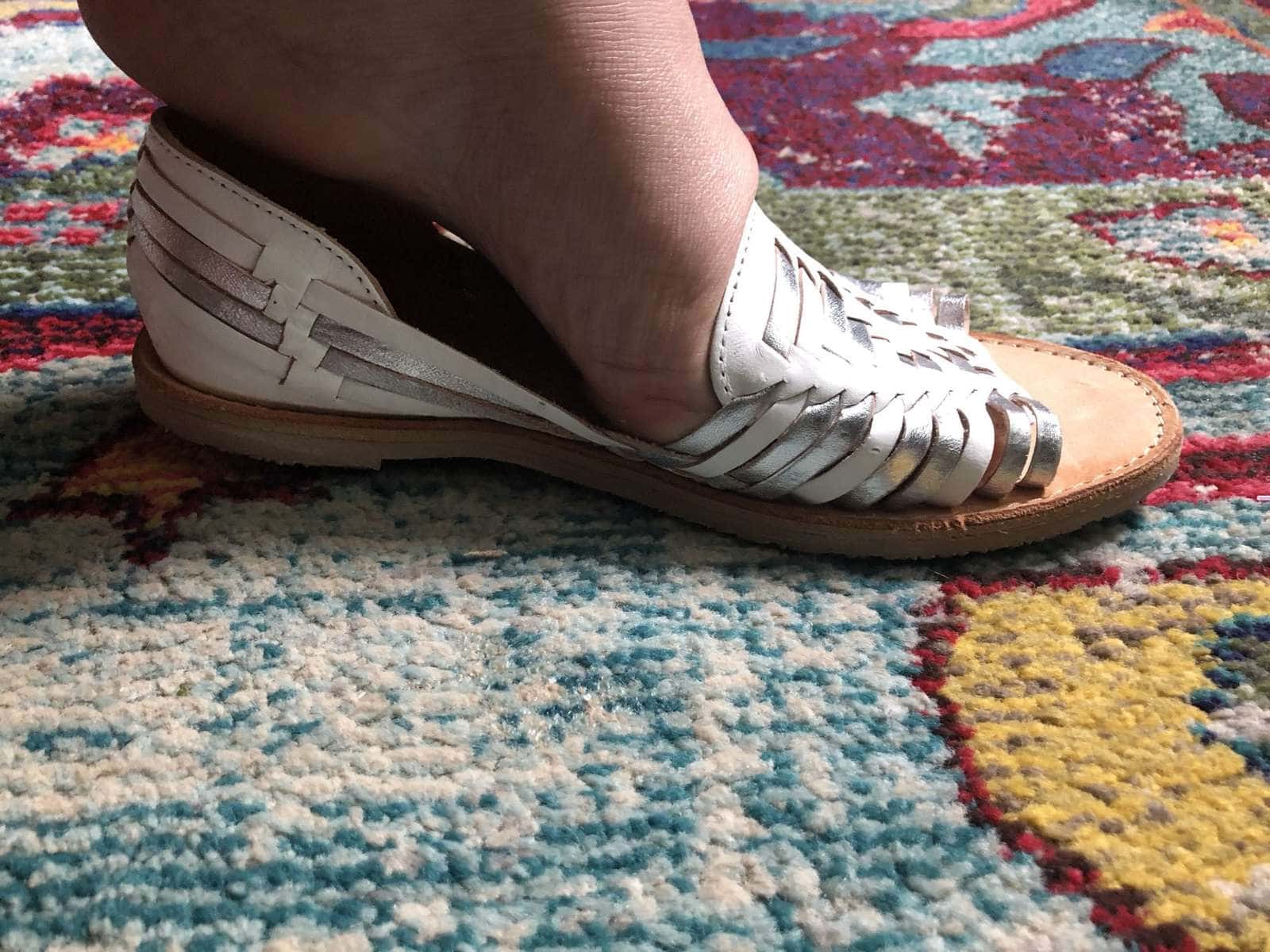 This is the 'Jared' Peep Toe Flat from Sbicca. It comes in two colors and retails for $64.94. Again, this is as far as I could fit my foot into the shoe. This one made me sad. This is a shoe I would never ever consider ordering on my own, but once I had it I liked it. This is the kind of shoe this summer I'd wear all shiny and new with sundresses and maybe some shorts and floaty linen pants. And then next summer they would be a bit dingy but in that cool, I've lived a life in these shoes way and I'd wear them with boho maxi dresses and denim cutoffs. And then the summer after, they'd be really worn in and maybe all the silver has tarnished or flaked off and I'm still rocking them with beat-up boyfriend jeans and an off the shoulder or gauzy cotton voile top and lots of silver jewelry. They would have molded to my foot and I'd wear them to festivals and street fairs and always pack them for my trips because they are so comfy. Yes, I just wrote a novel for a pair of shoes I can't even fit on my foot. But they're good shoes and at a great price and exactly why I wanted to do a Trunk but they were returned.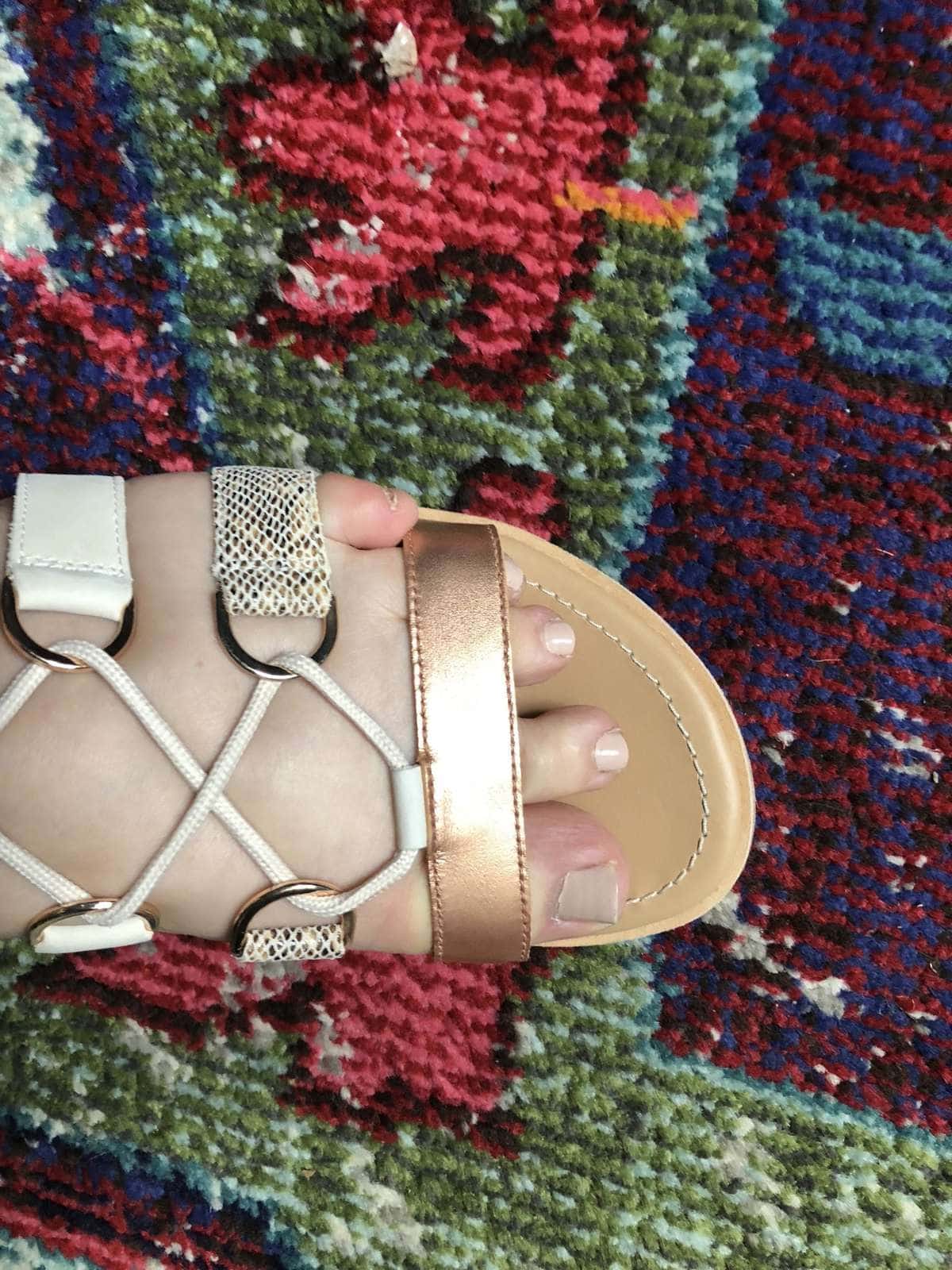 This is the SOREL Ella Gladiator Sandal. It's available in two colors and retails for $109.95. Since this is a lace-up sandal, it did fit. However, my pinky toe was left high and dry. I apologize for the gross photo of my foot needing some TLC but hey, real life. These are also shoes I would have never tried on my own. I would have found the mixed materials/colors hokey. However, in person, it looks much cooler. But yeah, I love my pinky toe so I had to return these shoes.
This concludes my review of my first Trunk Club Trunk. No, I didn't keep a single thing but I don't see this as a fail. In fact, I think it is a much better fit of pieces than I've received from any other virtual styling program. I will be doing another Trunk in the future. With Trunk Club, there's no auto delivery each month. You let your stylist know when you want another. You get a preview of most of the pieces you will receive so you can have veto power before it's on your doorstep. You have a running chat thread with your stylist that both of you can refer to and a record you can access of previous trunks with product names, sizes you chose, and your feedback. With each person you refer to Trunk Club, you get $50 once they get signed up and spent $50. This is my referral link if you'd like to try it; if you like it share your link with others and you can score a nice store credit for future Trunk purchases. If you don't like Trunk Club, you don't have to go through some long drawn out process to cancel the program. No need to drive to the UPS store or Post Office with your return.
Have you tried Trunk Club? Tried on any of the pieces in my Trunk Club Trunk? Share your experiences in the comments below. This is not a sponsored post. While I did have a store credit from a referral in my account to pay for this Trunk to be delivered, I was not paid to share this, all thoughts and all words are my own.