This article may contain affiliate links; if you click on a shopping link and make a purchase I may receive a commission. As an Amazon Associate, I earn from qualifying purchases.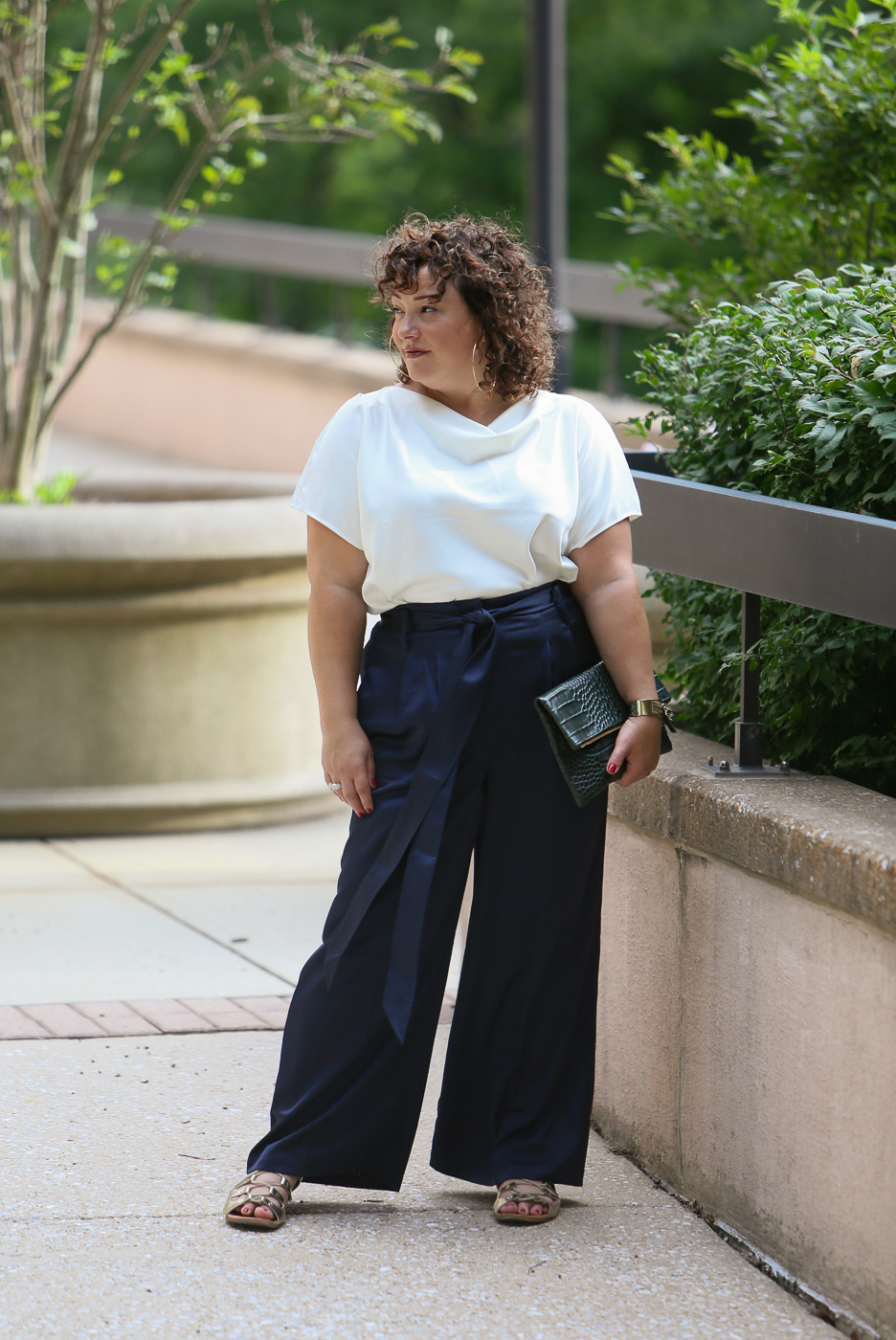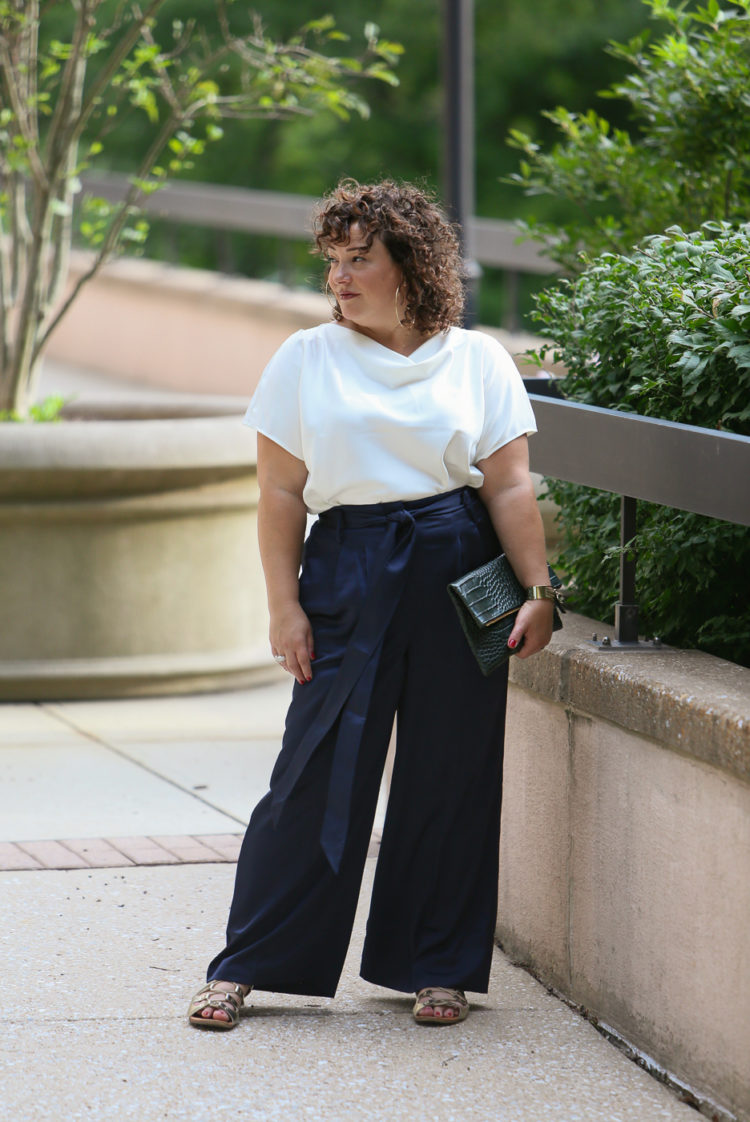 In yesterday's post on what to wear to a movie premiere, I mentioned I recently got the Universal Standard Tresa Wide Leg Pant in petite. I figured it made sense to show the pants with the blouse on me to help explain the look I created in the blog post. In the post I suggested the Universal Standard Viva Boatneck also in navy; I ordered that blouse but have yet to receive it so I used the same blouse in white (see me wear it previously in this blog post). This is a look that can transition beautifully into cooler seasons, but for this post, I dressed it for late summer.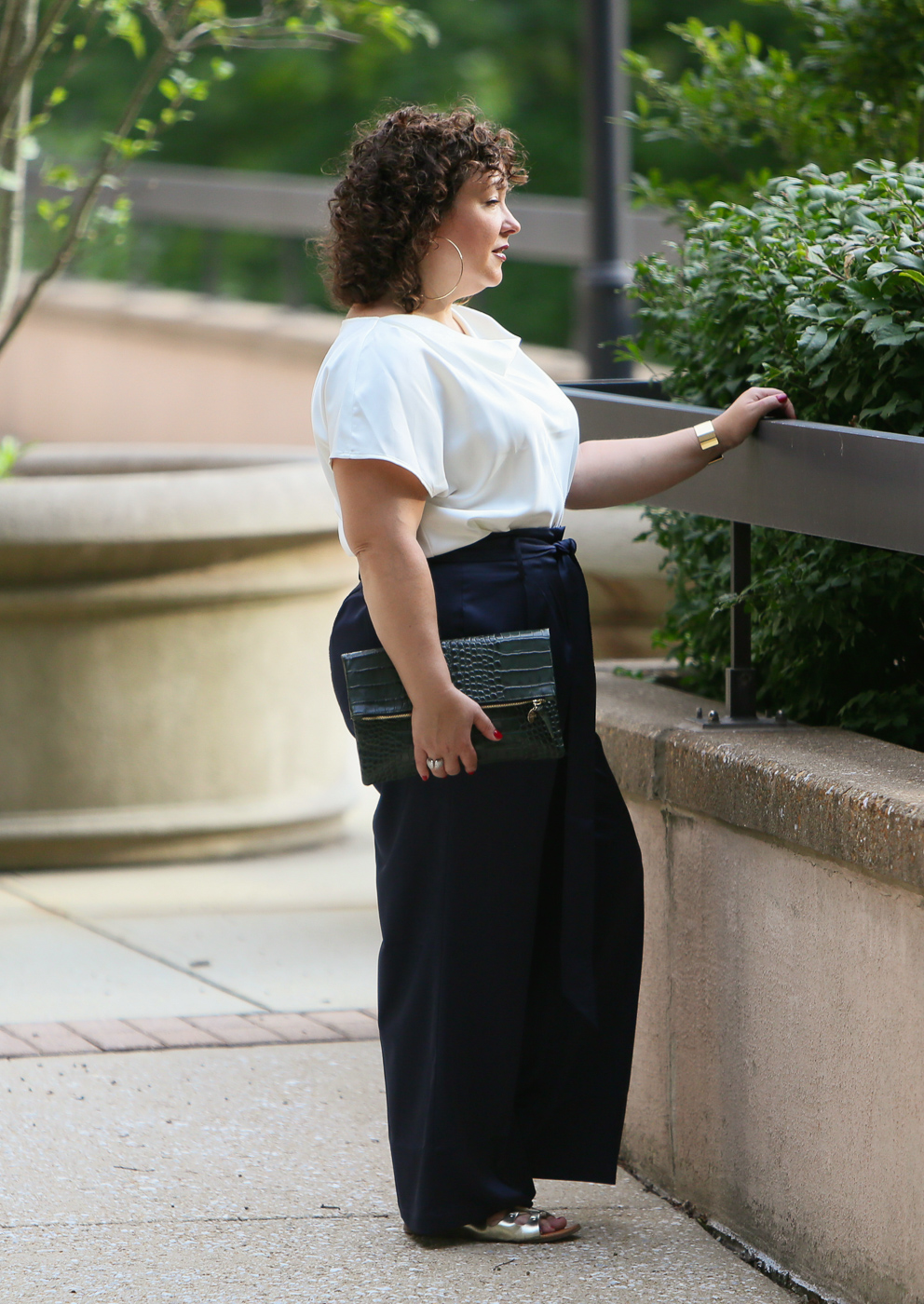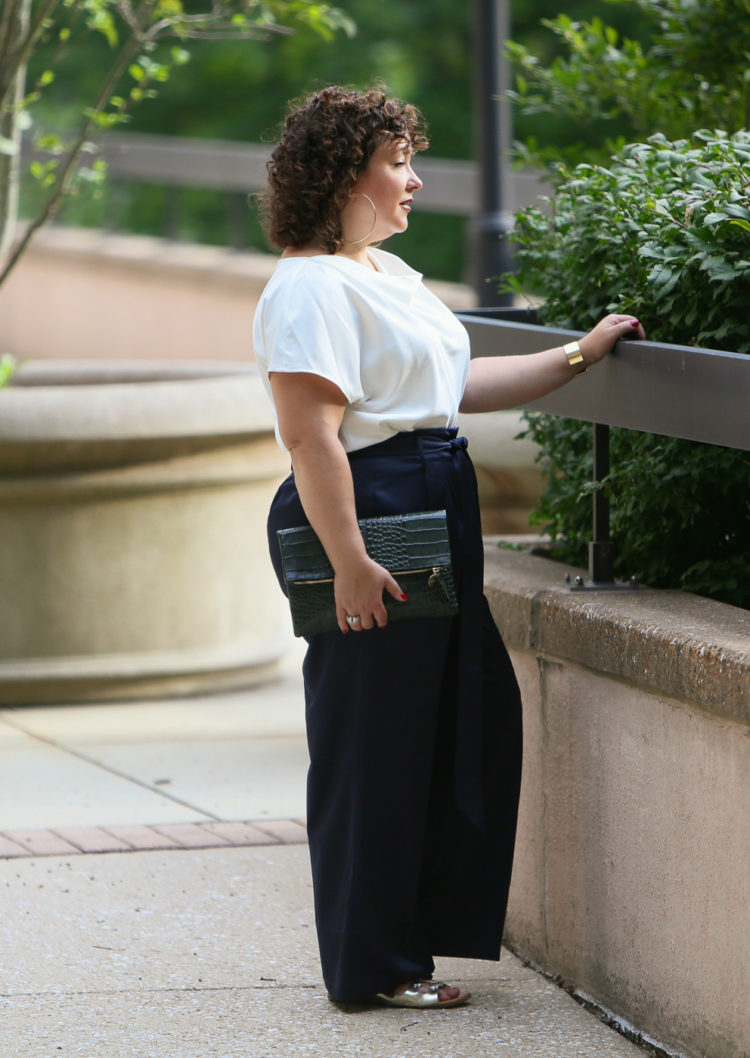 blouse | pants | earrings | bracelet | shoes | bag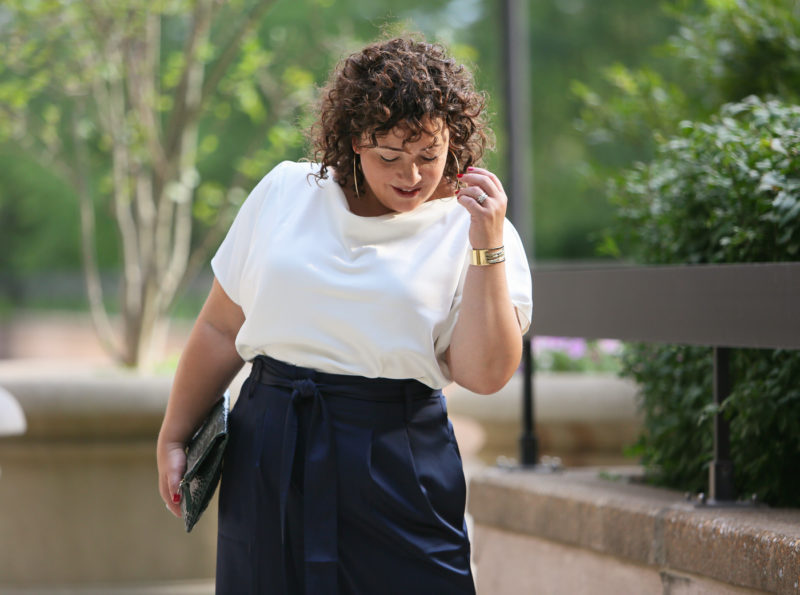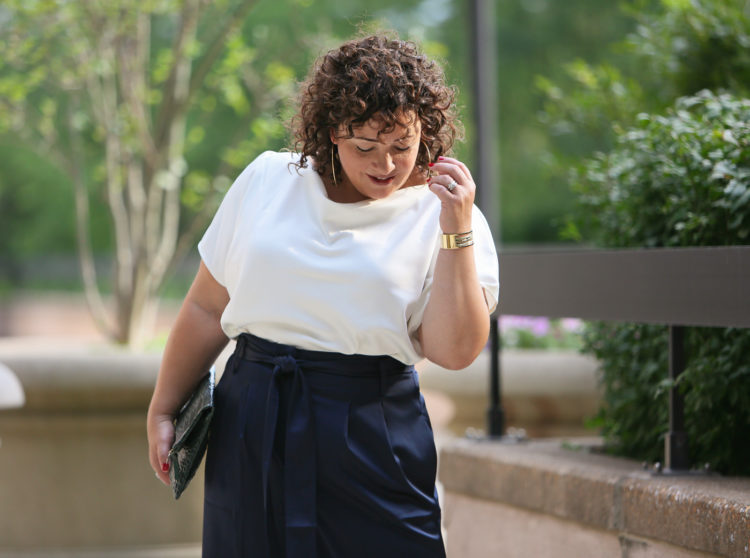 Blouse: Viva Boatneck c/o Universal Standard (XS) | Pants: Petite Tresa Wide Leg c/o Universal Standard (XS Petite) | Earrings: Monogram Hoops c/o Jenny Bird | Bracelet: Chloe Cuff c/o Jenny Bird | Shoes: Bella Vita | Bag: Clare V. (sold out; similar at a lower price)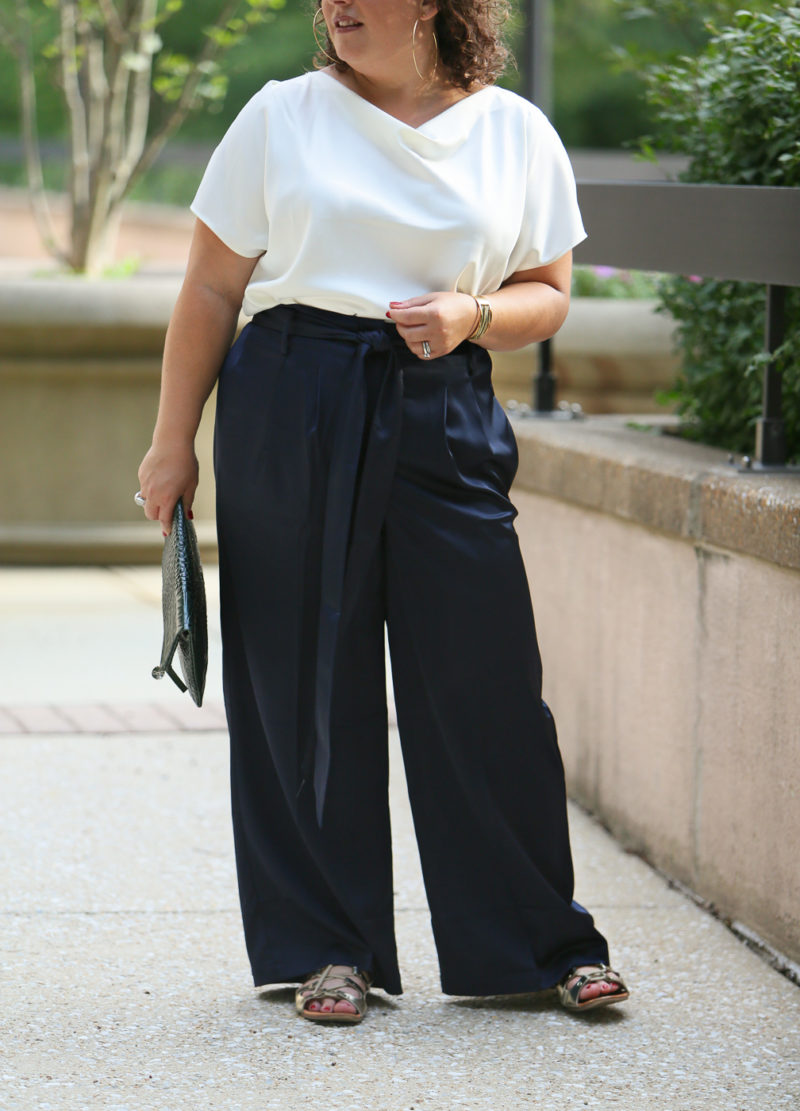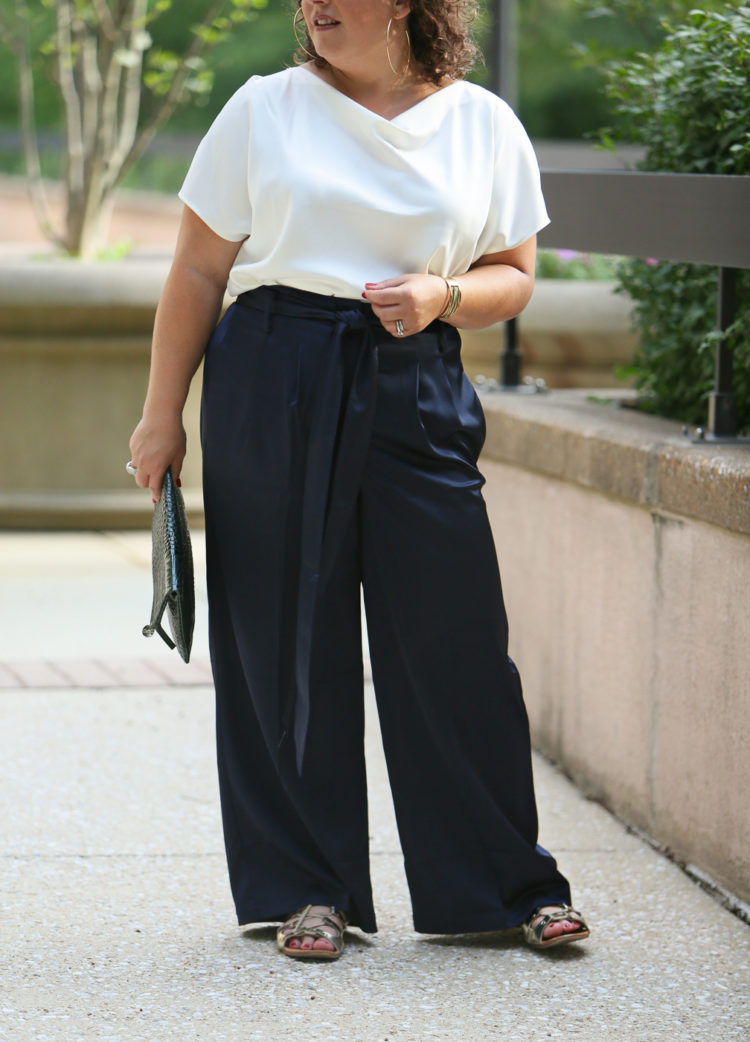 For those curious about the fit of these full leg pants, these are the XS Petite, unaltered, straight from the box. For reference, I usually wear a 32 or 14 petite in pants and jeans. The pants do run high on the waist and if you don't have much of a curve at the waist or a round rear they may slide down a bit and be drop crotch. the belt is separate and long enough to be creative with (think how pretty it would be in a bow), the pockets are deep. The back is made for a booty with tiny pleats to offer additional fabric. The material has a bit of stretch and definitely a lustre like a pearl or matte satin.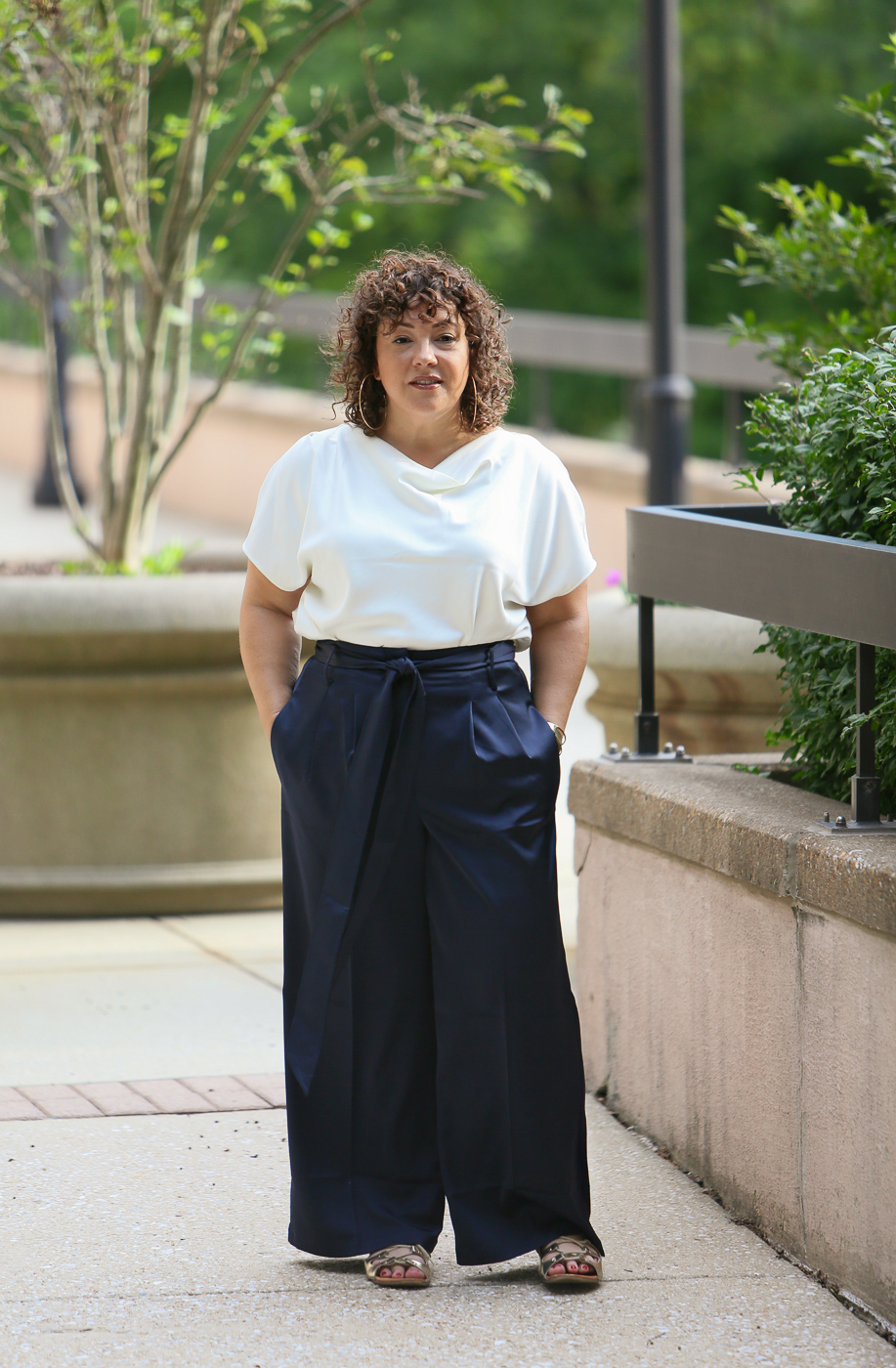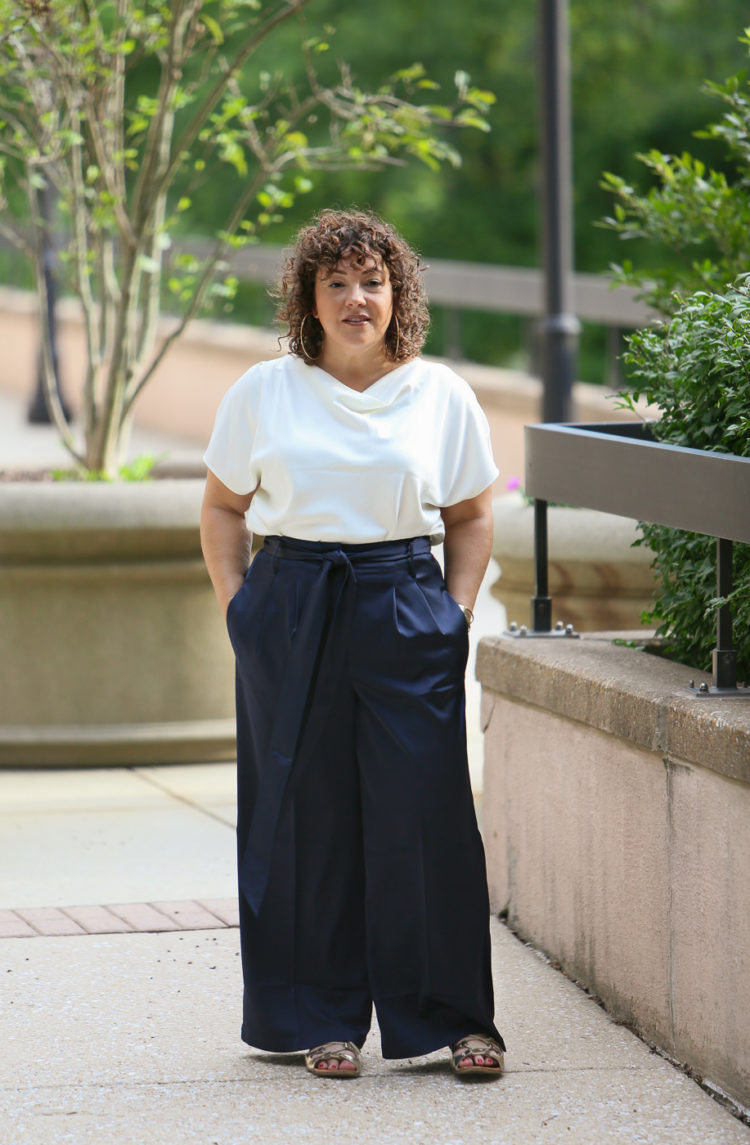 When I started Wardrobe Oxygen, I was all about figure flattery. Choose clothing to highlight your assets and minimize your problems. Choose looks to elongate the legs, create more of an hourglass shape, whittle the waist, hide the arms and tummy, make the body look taller and leaner. Thing is, the older I got the less I cared about these things. I want clothes that express me, that let me be me. The rules for figure flattery were essentially saying my body was wrong and I needed to "fix" it. And the older I got, the more I came to love this body just the way it was. No matter what I wear, I will still be the same weight, the same height. I found that clothes that fit and are the right length do more for flattering the body than following those rules, and when my clothes made me uncomfortable, no matter how waist-whittling and leg-elongating they are, I won't look good. This outfit is a good example – it's not following any rules for figure flattery. The pants make me look shorter and even shorter waisted. The volume of the blouse hides much of my waist. The shoes… well they're beat up and not trendy but they are comfortable and I love something about a full leg pant with a pair of flat sandals. Point is, this look does not define figure flattery… but it does define me.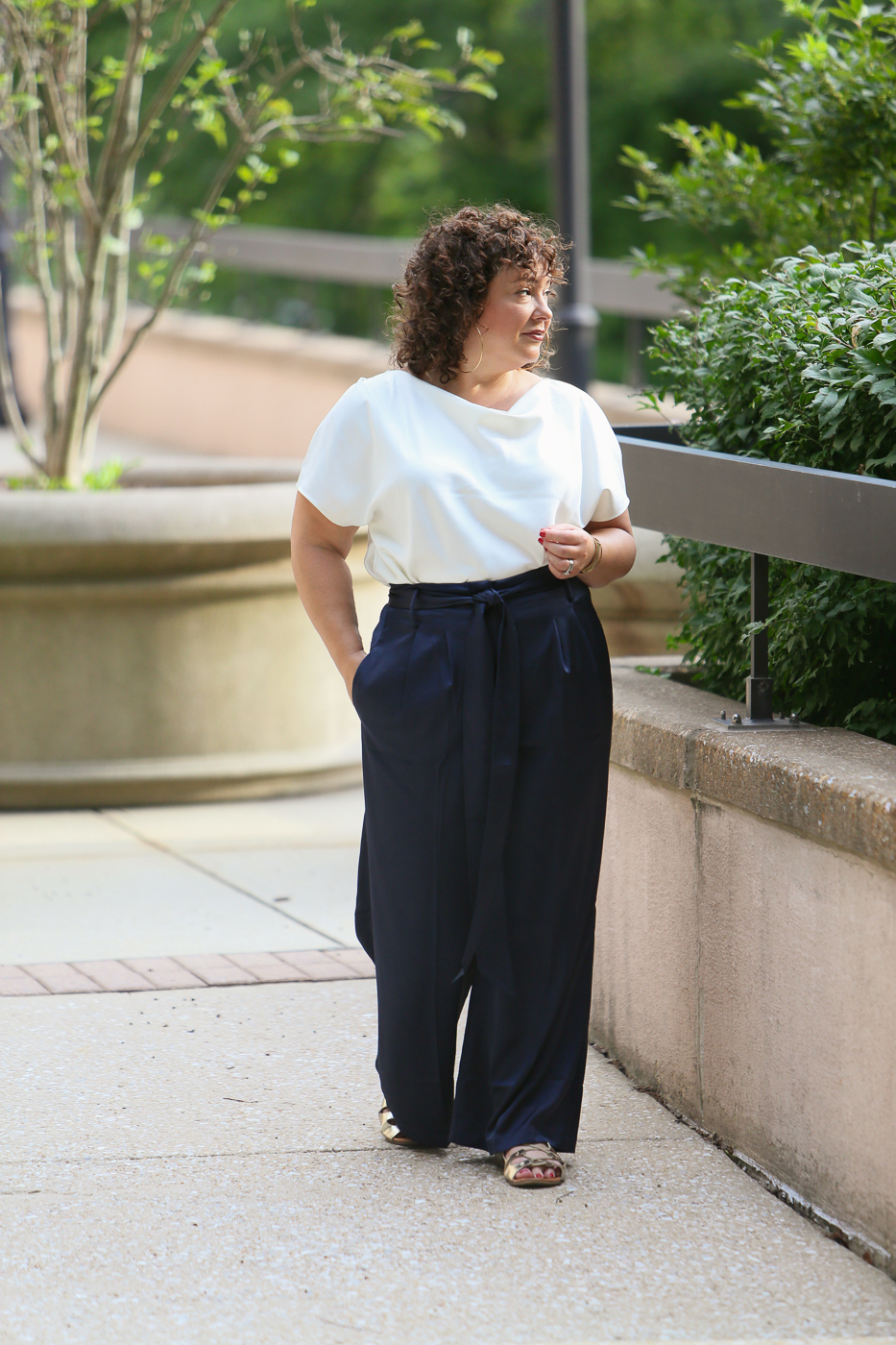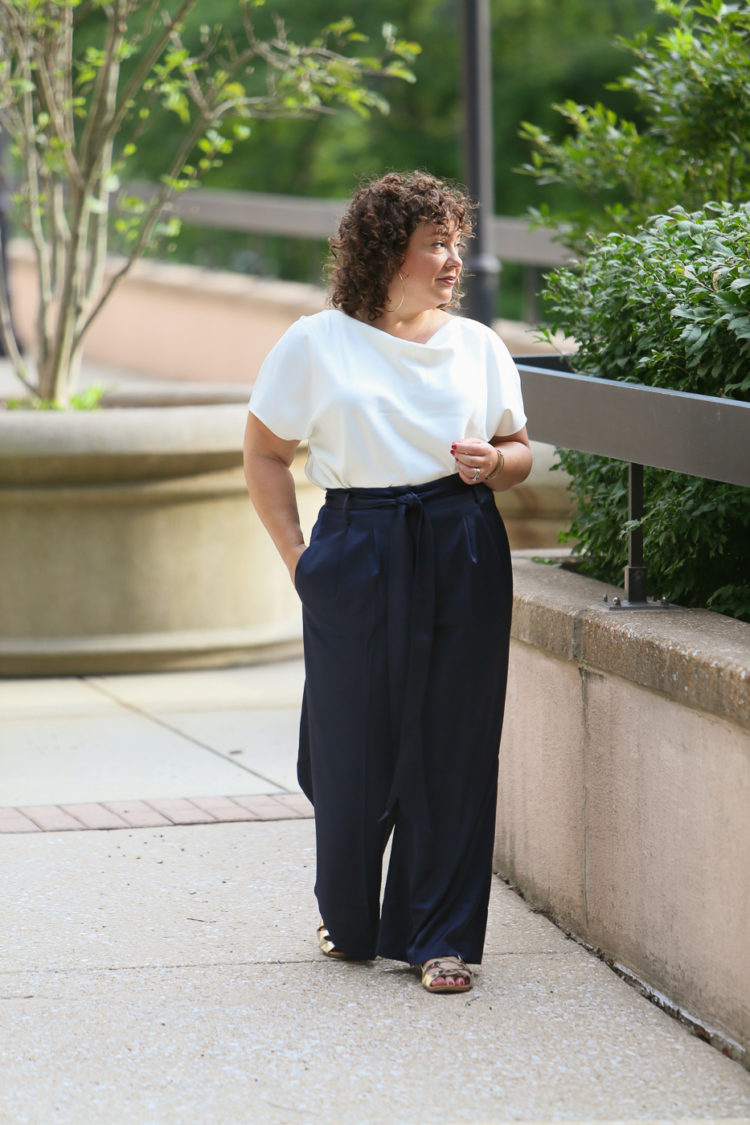 I love clothes that move and feel good on my skin. I love a pair of pants that swish like an evening gown but let me sit comfortably and shove my hands in pockets. I love pieces that look simple at first glance, but then you notice draping and pleats and other details that add interest and allure. I love this bag, it was terribly overpriced but I seem to find so many outfits that seem made for it (see it worn here and here). And I love opportunities to wear badass jewelry; I used to only wear silver as I am a "Winter," but gold makes me happy so it now has equal space in my jewelry armoire.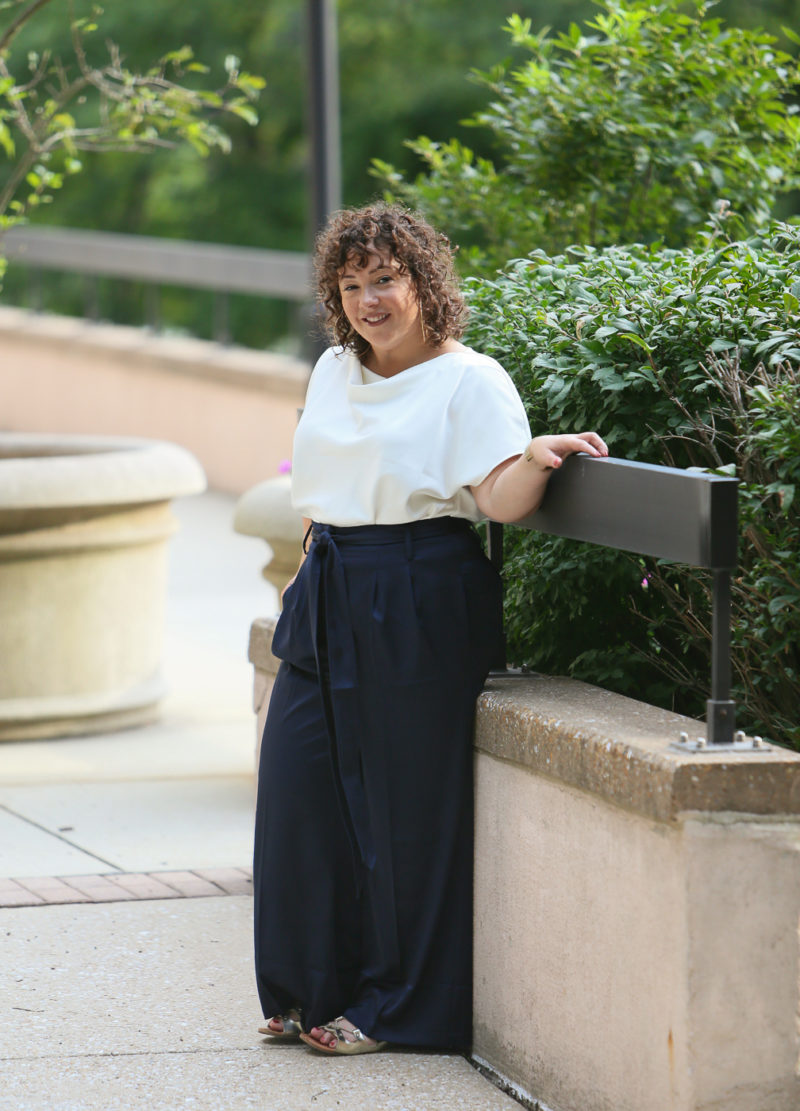 Life is short. Wear what makes you feel good. What is right for you may not be what is popular or cool or "flattering" but if it tells your story or makes you feel fantastic when you wear it, wear it. Confidence is always more stylish than a whittled waist.
Shop the Post: