This article may contain affiliate links; if you click on a shopping link and make a purchase I may receive a commission. As an Amazon Associate, I earn from qualifying purchases.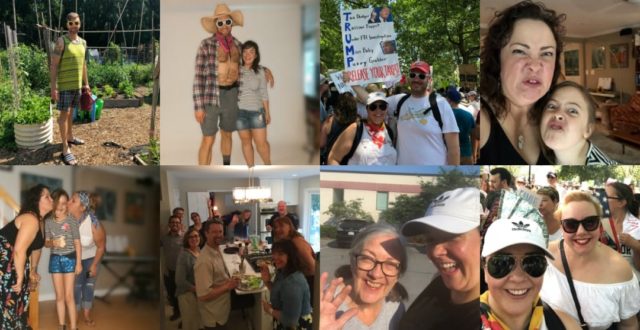 This post was finished on Thursday because Friday morning I headed to Rehoboth Beach, Delaware with my mom, sister, and daughter for our annual girls' getaway weekend. While I'll have my phone with me, it's going to just be used as a camera. I'm ready for a bit of a technology break and the beach is the perfect time to do so. I realized last week that my wardrobeoxygen.com email addresses were broken and likely had been for over a month. Ack! These are the email addresses associated with my contact form, most of the influencer programs I'm a member of, and the address most PR firms have. It was set up as an auto-forward to my Gmail account so I never really noticed until one of you told me (and a very smart PR person who hit me up in my Instagram DMs). I've spent the past week trying to set them up again… should have been easy but nothing ever is. But now it's set up and I am thrilled and trying to move past the fact that I likely missed out on thousands of dollars in missed campaigns and dozens of emails from all of you and the lack of professionalism… so yeah I'm ready for a tech break!
So I can blame my parents for saving money by sweating us out with window fans every summer for being a sweaty adult? Cool.
I remember when all the celebs in the '80s rocked those bedazzled airbrushed denim jackets.  I had no clue they were created by a cult leader.  Fascinating read.
My name is Alison and I love talking about poop. Come on, we all do it.  It's no surprise then that I found this article fascinating and now want to read this book.
I'm loving skirts for summer, and love that this season they're longer and looser (plenty of room for a pair of Jockey Skimmies underneath!). Pair with sandals and a t-shirt and get that casually cool look. I just ordered this one from Madewell, the neutral stripes will go with literally every color top and shoes in my wardrobe (how cute would it look with some cute sneakers?).
For the first time, two athletes competing in the Special Olympics have sponsors. Brooks is sponsoring two runners – Andy Bryant and Colleen Bryant.
Lip Sync Battle isn't as fun as it used to be (too much money and fame took away the goofy awesome aspect) but gosh if I didn't love Alicia Silverstone on it. If you were Alicia Silverstone what songs would you perform? How about some Aerosmith (middle finger up of course!) and then a song whose video was inspired by your most famous film? See the full episode on the Paramount Network site.
Amazon Prime Day is coming July 16th at noon PT! Closer to the date I'll share the best deals for the event but in the meantime, Amazon offered me some fashion for free in celebration of Prime Day. I just got this sleeveless wrap dress and the fabric and color is stellar especially for the nice price of $45.  I am a tad too short for this dress (neckline too low and rouching a hair too low on the torso), if it was available in petite I'd adore it. This is the kind of dress you could wear to the office as well as to a wedding from spring through fall.
I love Clare Vivier's style on Instagram, adore her line of bags and other fashion, so it's no surprise that I adore her house.  Check it out on The Glitter Guide.
And for your weekend enjoyment, the latest video from the utterly fabulous badass who is Lizzo. Sorrynotsorry if you catch yourself singing the chorus to yourself in line while pumping gas or waiting in line at the grocery store!