This article may contain affiliate links; if you click on a shopping link and make a purchase I may receive a commission. As an Amazon Associate, I earn from qualifying purchases.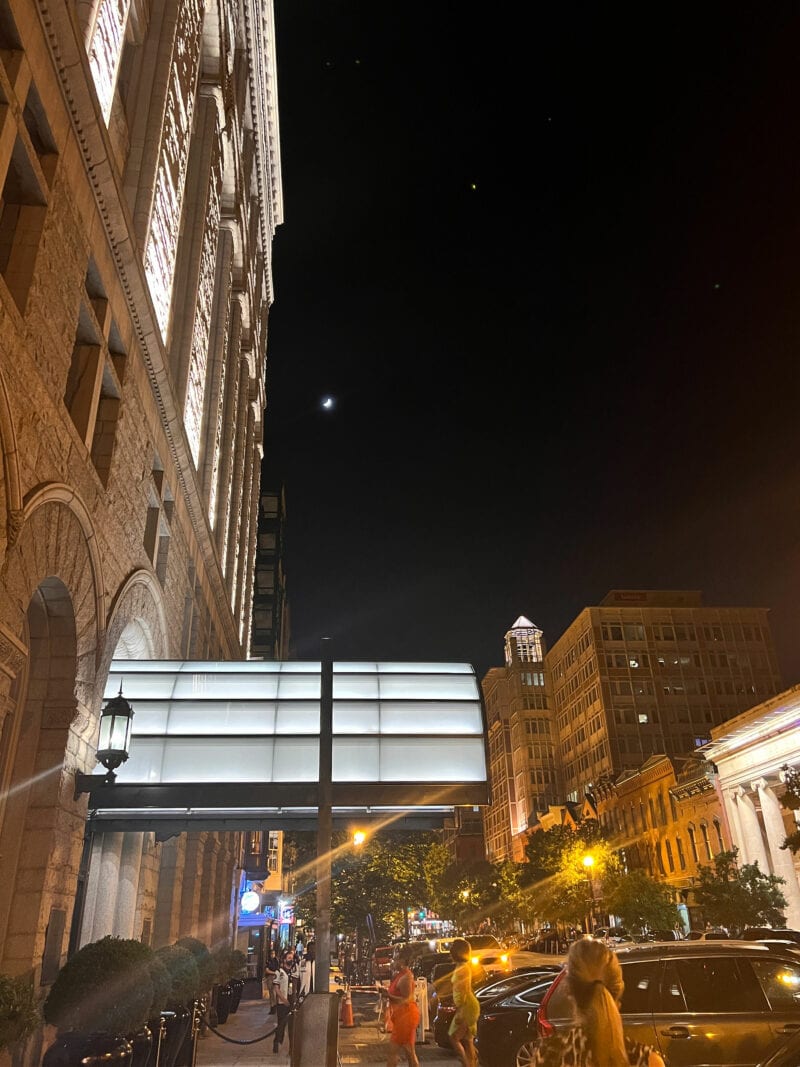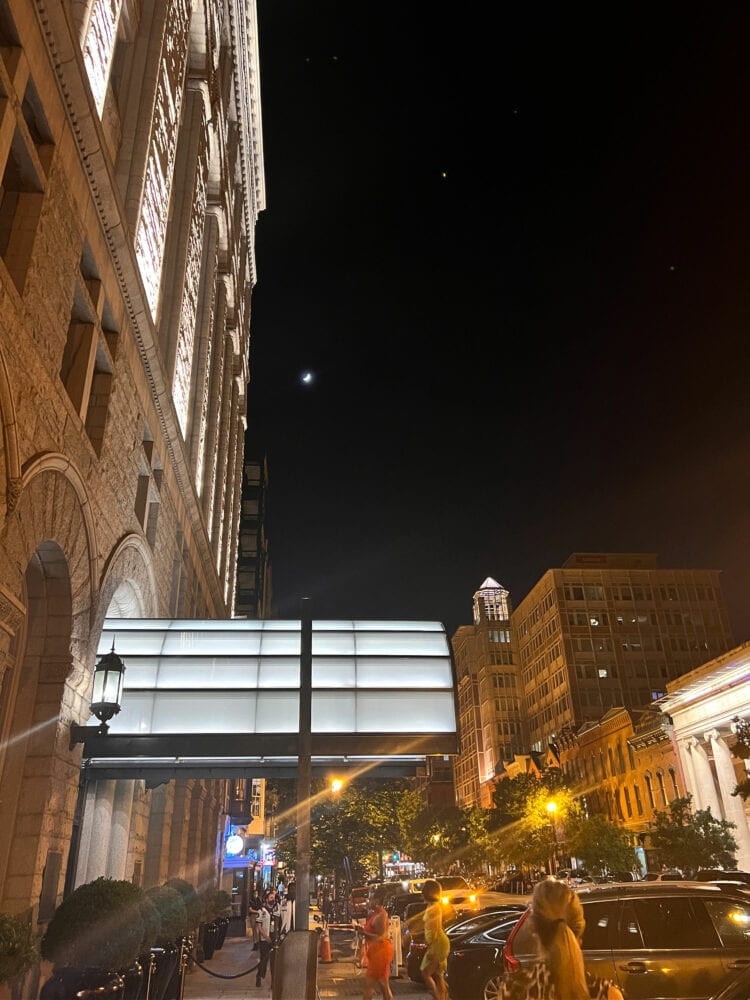 My husband and I celebrated our 18th wedding anniversary by scheduling a romantic Washington DC weekend getaway. We often do a Washington DC weekend getaway for our anniversary; last year we stayed close to Dupont Circle and in 2019 we stayed in Foggy Bottom. It's fun to do a staycation – not a long drive, and I enjoy being a tourist in my hometown
I was born in Washington DC and have lived in DC and the Maryland suburbs right outside the city for most of my life. While DC locals despise those in Maryland and Virginia who consider themselves from the Nation's Capital, I often say I live in DC because it is far closer to my home than Annapolis, Baltimore, Frederick, or the Eastern Shore which are usually associated with living in Maryland. So while I don't live in DC proper, I have DC pride and consider it a hometown.
We usually do our trips alone as a couple, but we were chatting with some of our best friends and thought it would be fun to do a double-date getaway. We could stay at the same hotel, make some joint dinner reservations, but also have solo time. The wife of this couple was one of my bridesmaids. She met her husband after our wedding but we immediately adored him and he became one of my husband's close friends.
Going on a double date for our wedding anniversary staycation was such a good idea and one we will be sure to do again in the future. All the privacy, but double the fun!
Romantic Weekend at The Hotel Riggs Washington DC
We didn't want to stay at a hotel in DC that we had visited before, and we wanted a hotel that was romantic and had plenty of amenities. Also not sure if we would have a dog sitter, we desired a pet-friendly hotel. We also wanted to stay in a part of the city we had not stayed in recently. Doing some research and admiring the sponsored trips some of my influencer friends took (and asking them for an honest review which I found matched the photos), we chose the hotel Riggs Washington DC.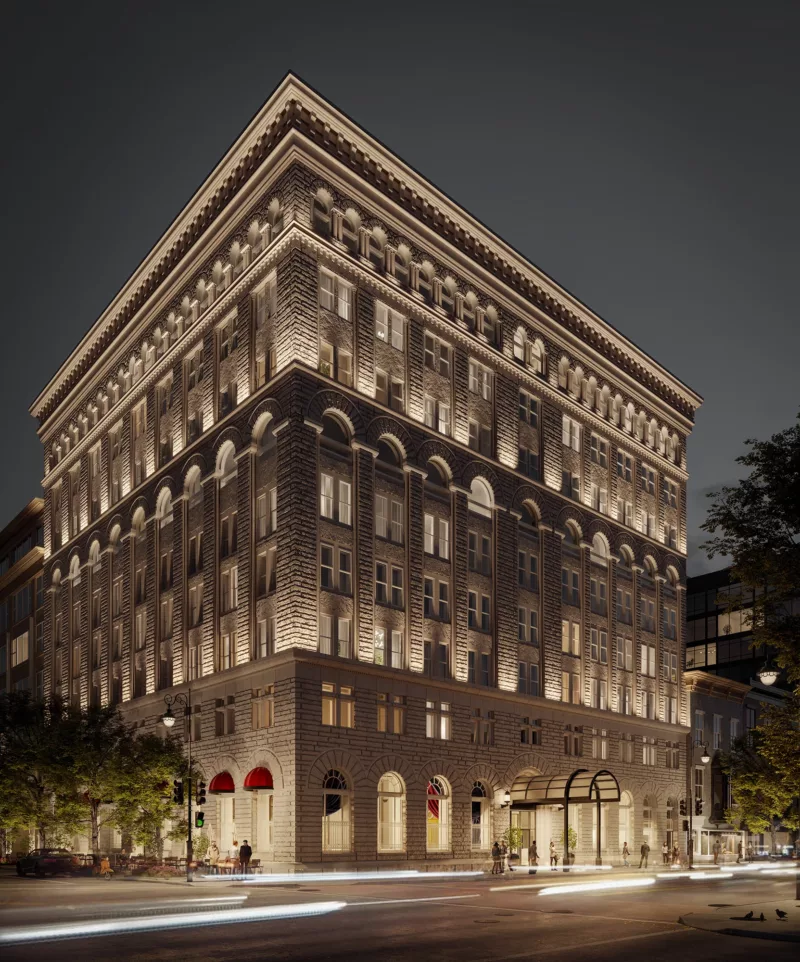 Located in Penn Quarter, the hotel Riggs Washington DC is walking distance to The Mall, the White House, Chinatown, as well as many popular attractions and sections of the city. It is also just three blocks from the Gallery Place-Chinatown Metro making it very easy to see all of the city and its outskirts without a car.
The Riggs Washington DC is called this because it is in the old Riggs Bank building. Built in 1891, Riggs Bank was a DC institution and known as the 'Bank of Presidents' because 23 different presidents and most of the embassies banked with Riggs. In 2017 the Lore Group purchased it and completely transformed it. In 2020, it became The Riggs Washington DC. The building is on the National Register of Historic Places.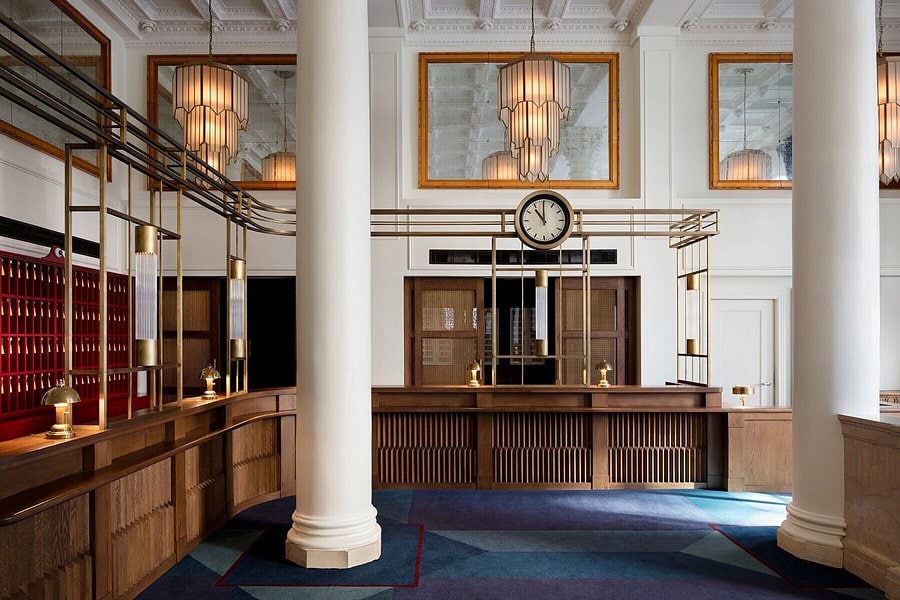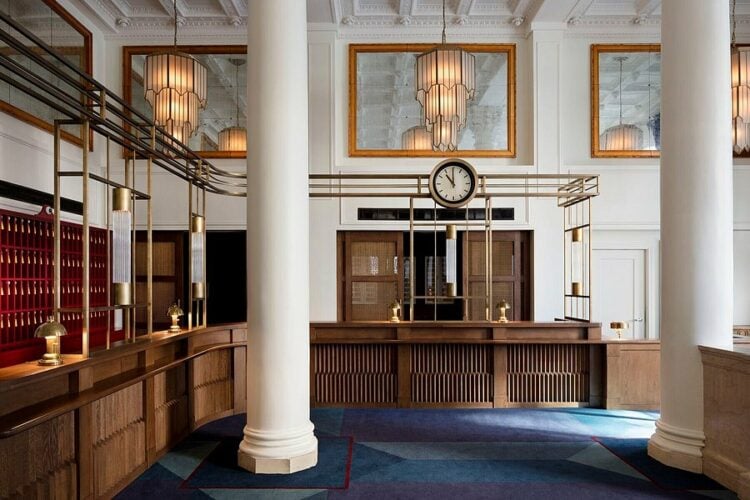 When undergoing its renovation, Creative Director Jacu Strauss preserved and integrated the original Romanesque Revival style of the building as well as features of the former bank, including the pillars, ceilings, brass detailing, and even the bank vault. During the renovation, the team uncovered historical medallions featuring the Roman goddess Juno Moneta, protector of funds. They kept these medallions and you'll see them incorporated into the decor throughout the Riggs Washington DC.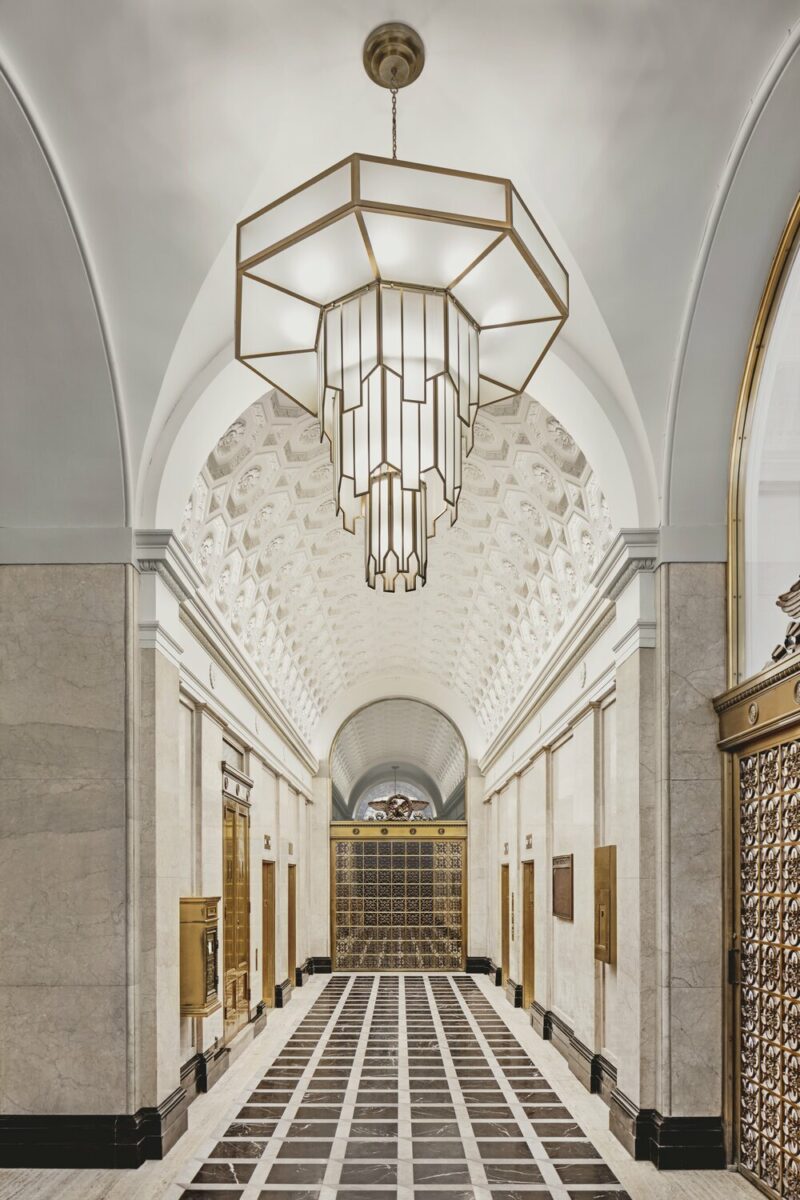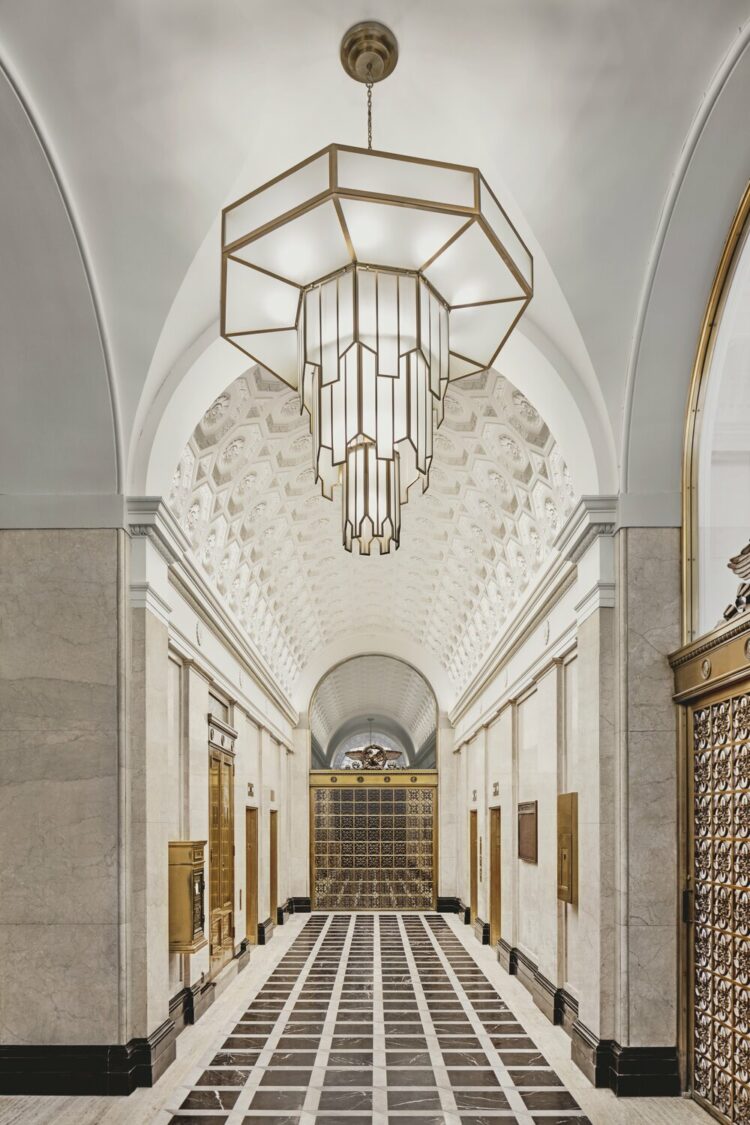 We really wanted a hotel that was close to everything, but if we didn't feel like trekking around the city we had everything we needed. And The Riggs offered just that.
Café Riggs is located right inside the doors to the hotel, is a beautiful bar and restaurant open as early as 7am for breakfast and until 11pm for cocktails. Featuring the original ceiling and Corinthian pillars from the bank, this room is airy and light-filled by day and quite sexy and stylish at night. Café Riggs also offers room service to guests of the hotel.
Silver Lyan is a bar in the basement of the Riggs. You can take the elevator or the stairs to the right of the check-in area. Showcasing the original bank vault door, this bar is named after Ryan Chetiyawardana who is known as Mr. Lyan, quite famous in the cocktail bar scene. Get reservations early, as this is a hot spot not just for guests of the hotel.
The hotel gym is spacious and has Peloton bikes
The Riggs Washington DC is pet-friendly (there is a pet fee)
Many of the rooms overlook The National Portrait Gallery and the Smithsonian American Art Museum
And the hotel has charming bikes to borrow to see the city (if we stayed another night, they would have been fun to ride as Penn Quarter is pretty quiet on Sunday)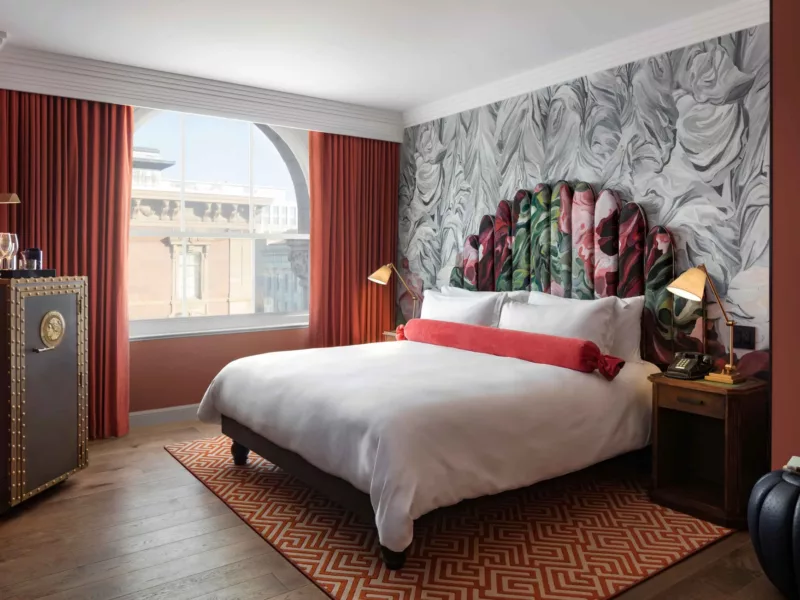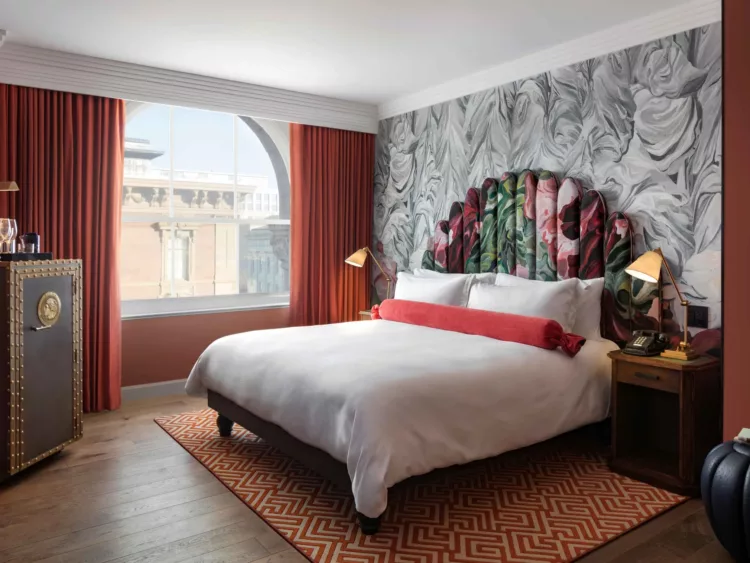 Not knowing at the time of booking if we'd have Oscar with us, we decided to go up a step from Riggs' Classic Rooms to a King Superior Room, which has a bit more space and with it, a nice view. Our friends stayed in a Classic Room which was decorated exactly the same, just a hint smaller with a different view. The Riggs was nice enough to have our rooms not far from one another; we stayed on the 9th floor.
Travel Tip: I always sign up for any free hotel rewards program, it always pays off. This hotel has a program called Riggs Direct. By joining, you get 20% off their best rate, $10 off valet parking, and more. The Riggs Washington DC is also part of the Preferred Hotels & Resorts group, which also has a free iPrefer perks program.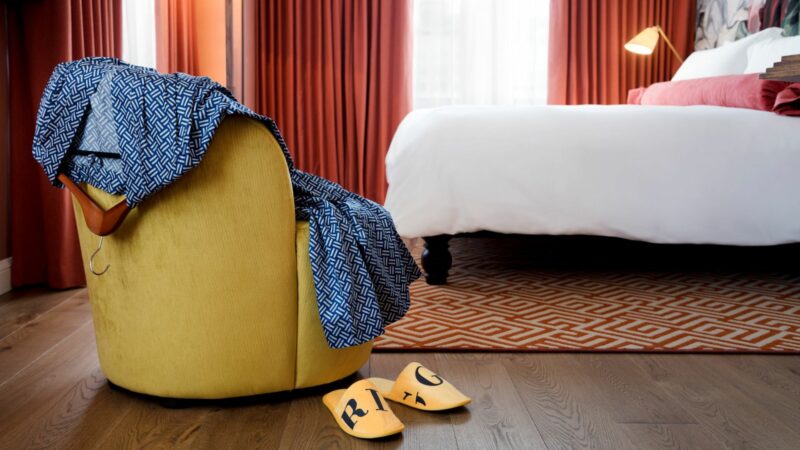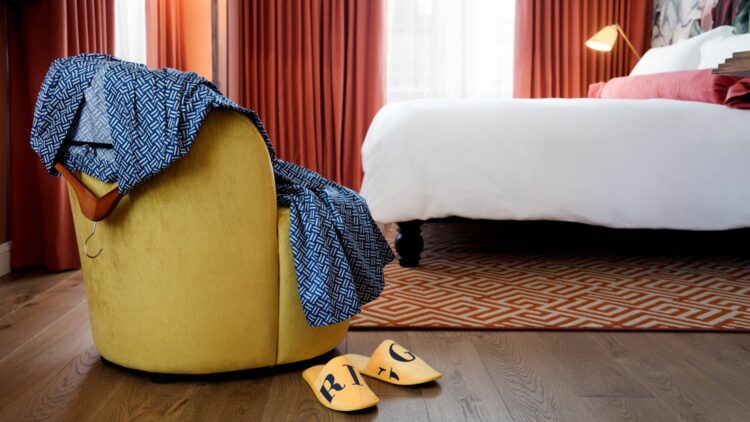 The rooms are beautiful and quite romantic. The decor is lush, with velvet curtains, a floral upholstered headboard against a complementary wallpaper, rich fabrics on the furniture, and a minibar that resembled a mini bank vault. The bed was really comfortable with hypoallergenic down pillows and duvet that didn't flare up my down allergies. A modern thermostat and a key card to turn off lights and save energy, a huge flatscreen TV that blended in with the decor; the room was elegant and high-tech at the same time.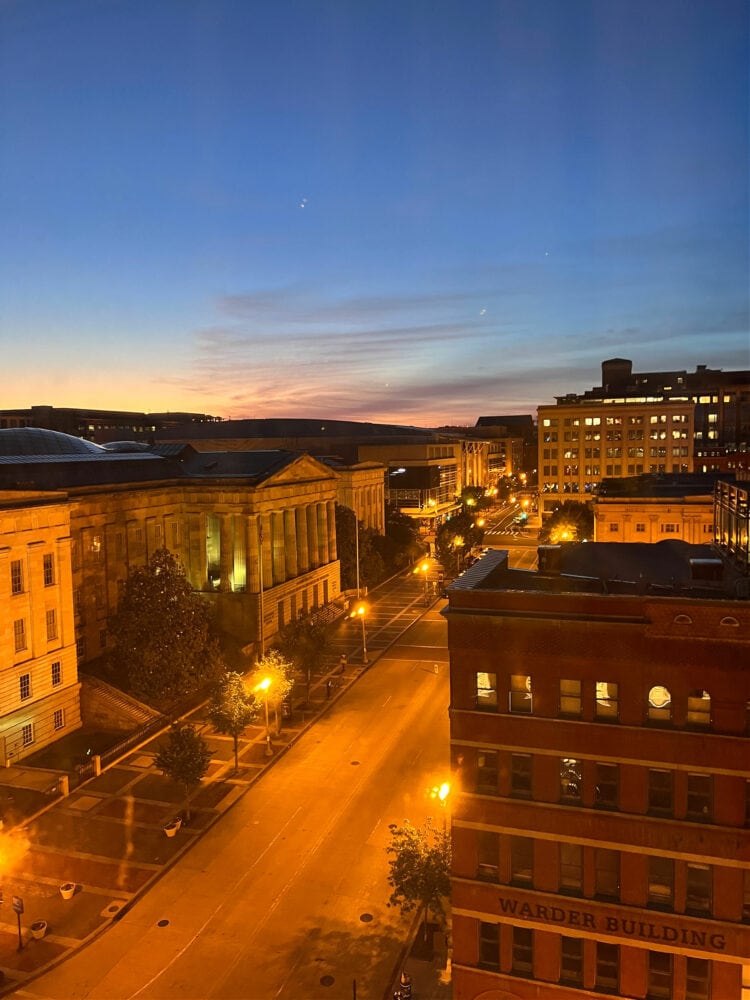 My only quibbles were that the toilet was extremely close to two walls, making it difficult for larger or less mobile bodies (they do have ADA rooms), there isn't anywhere to unpack (no drawers or shelves and only one luggage rack), and there should have been an additional trash can in the shower/toilet room (there was one under the sink which is outside the bathroom across from the closet).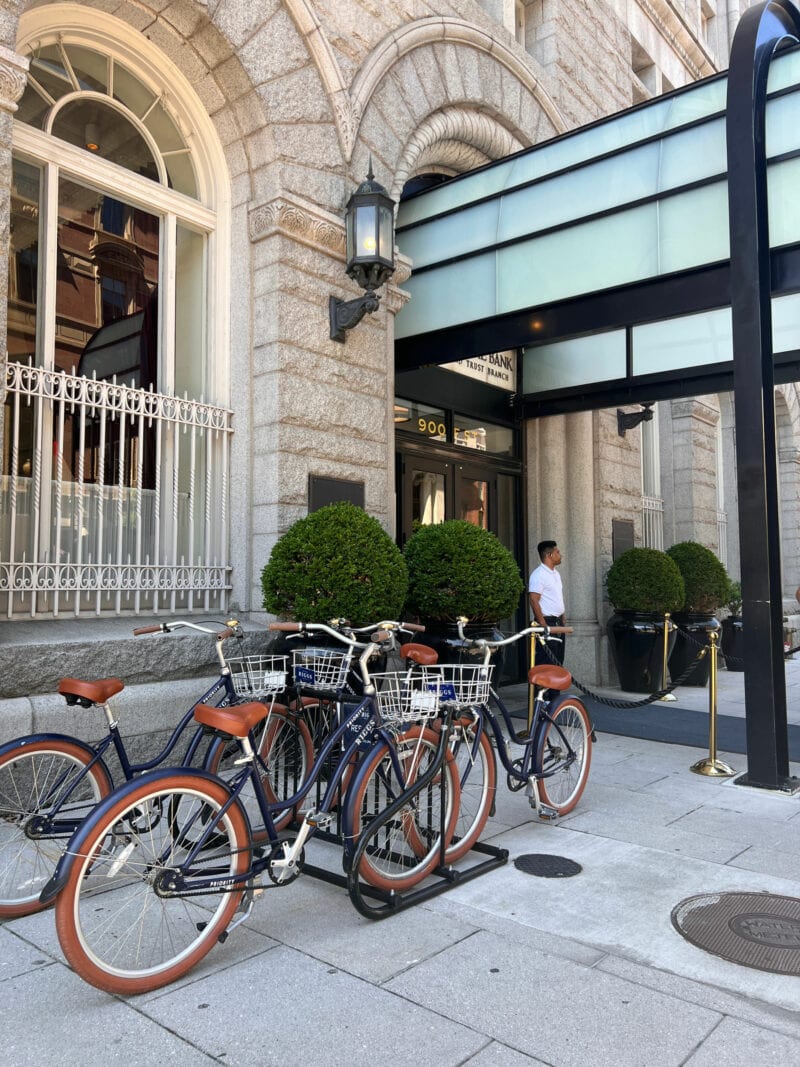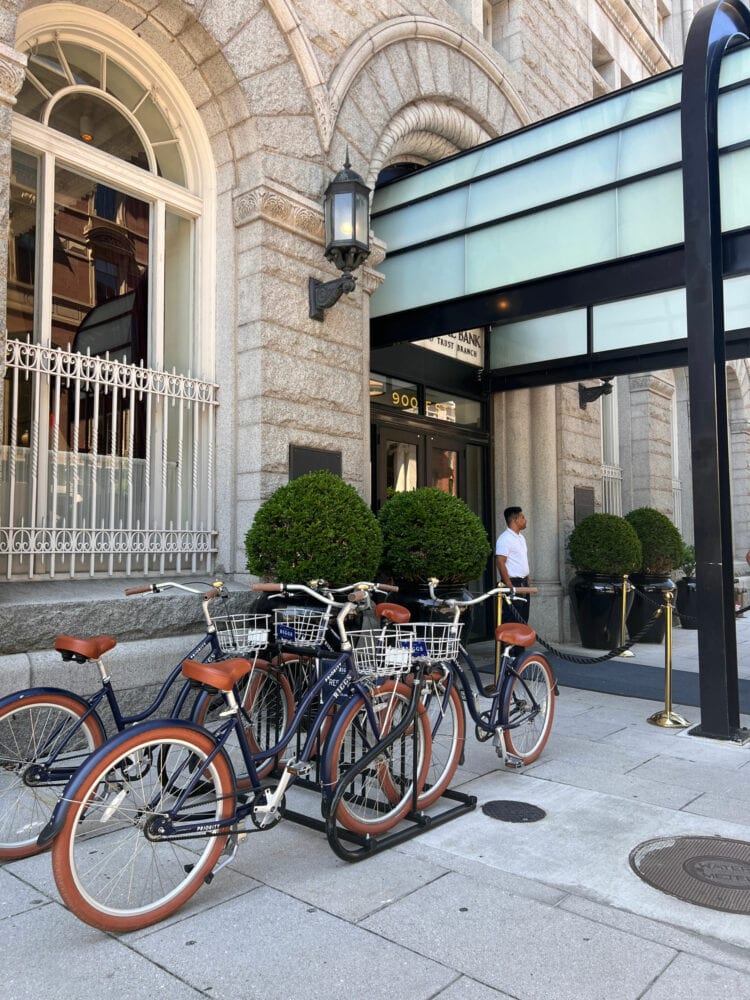 Romantic Washington DC Weekend Getaway Recap
Below I recap the three days of our romantic Washington DC weekend getaway. Where we went, where we ate, what we did, and any suggestions I can offer if you're looking to plan a similar trip!
Friday: Cocktails and then a Fancy Anniversary Dinner
Check-in at the Riggs is 4pm which meant we could all get in a good amount of work or prep before heading into the city and we were arriving right when those who are there to work are leaving and those who are there to play have not yet arrived. Since we didn't plan on driving during our getaway and wanted to save on valet, we carpooled there together, though we considered an Uber as the cost there and back would have been less than valet ($64/night, or $54 as a Riggs Direct member).
Even the front desk of the Riggs is beautiful, designed to look like a bank. The staff was so friendly, provided us with boxes of water, and they were quite knowledgeable about the area. We received a voucher for two free drinks at Café Riggs for our anniversary. We went to our rooms, staff brought up our luggage.
Welcome Drink at Café Riggs
After unpacking, we headed down to Café Riggs to grab a bite. The restaurant has a large bar, a high-top counter with stools, a proper restaurant, and a lounge area with couches, overstuffed chairs, and low tables. The hightop is considered part of the restaurant, but the lounge area is part of the bar and you can sit there any time with or without placing an order (waitstaff will come by with menus and check on you).
Café Riggs has a nice selection of cocktails and mocktails and for those who are vegan or vegetarian, there were yummy options on the menu. We each had a drink and shared some French fries to settle in. We liked it so much we knew we'd return for a proper meal or at least another cocktail.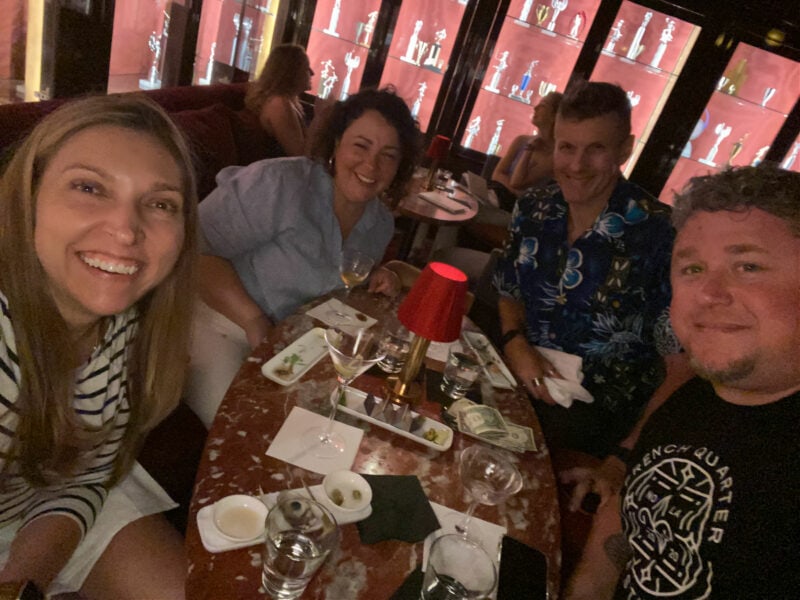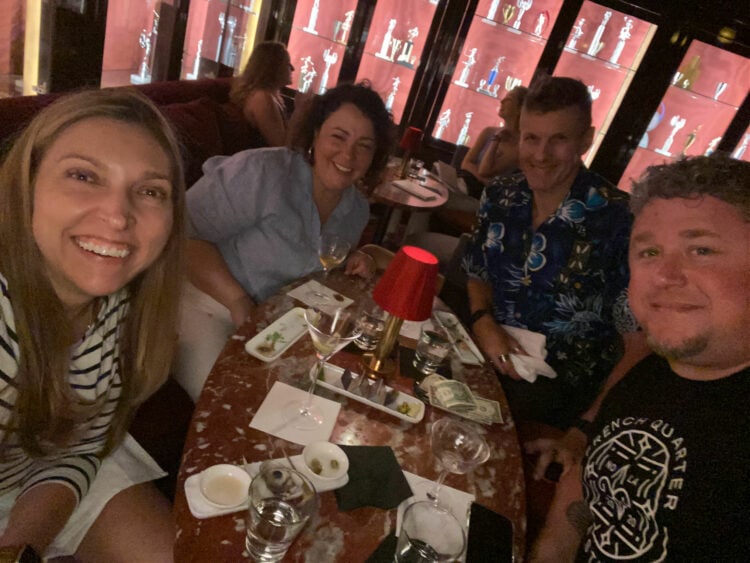 Happy Hour at Silver Lyan
We then decided to go downstairs and check out Silver Lyan, the hotel's award-winning bar. We were smart to do this during daylight as this place is small and reservations get booked up super fast. Visiting Silver Lyan at 5pm on a Friday will have the same ambiance as 10pm on a Saturday as there are no windows, just fewer folks (though the place was about 3/4 full even at that early hour).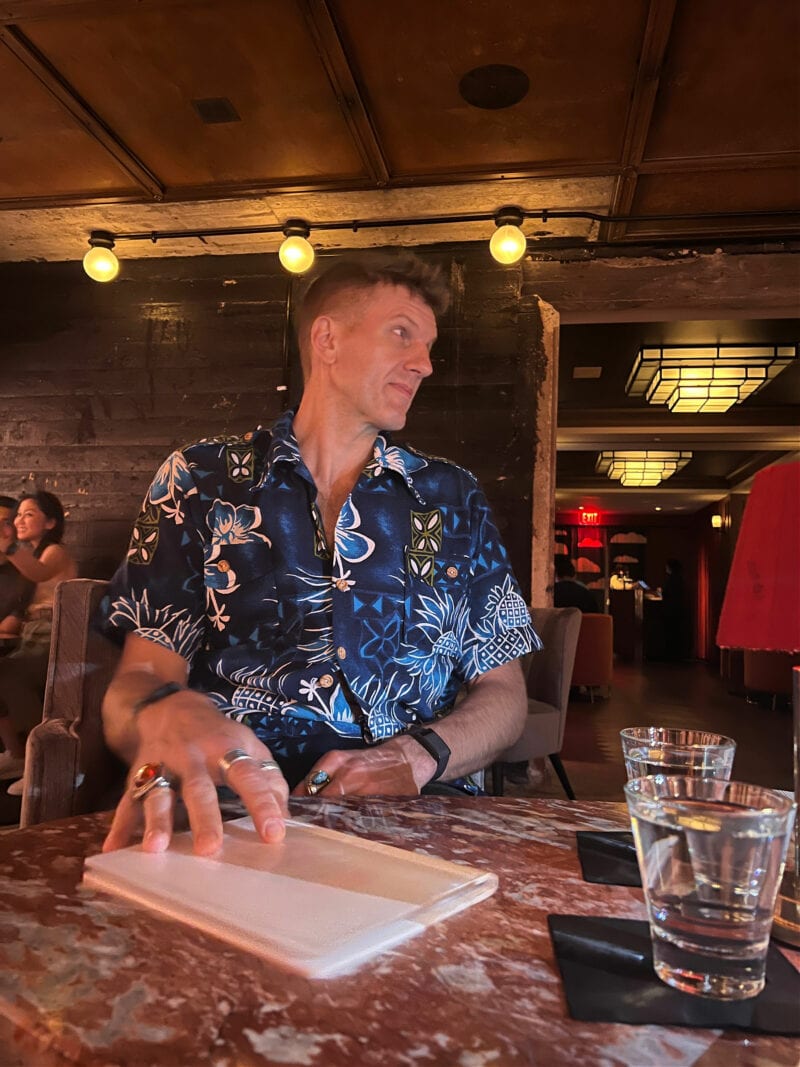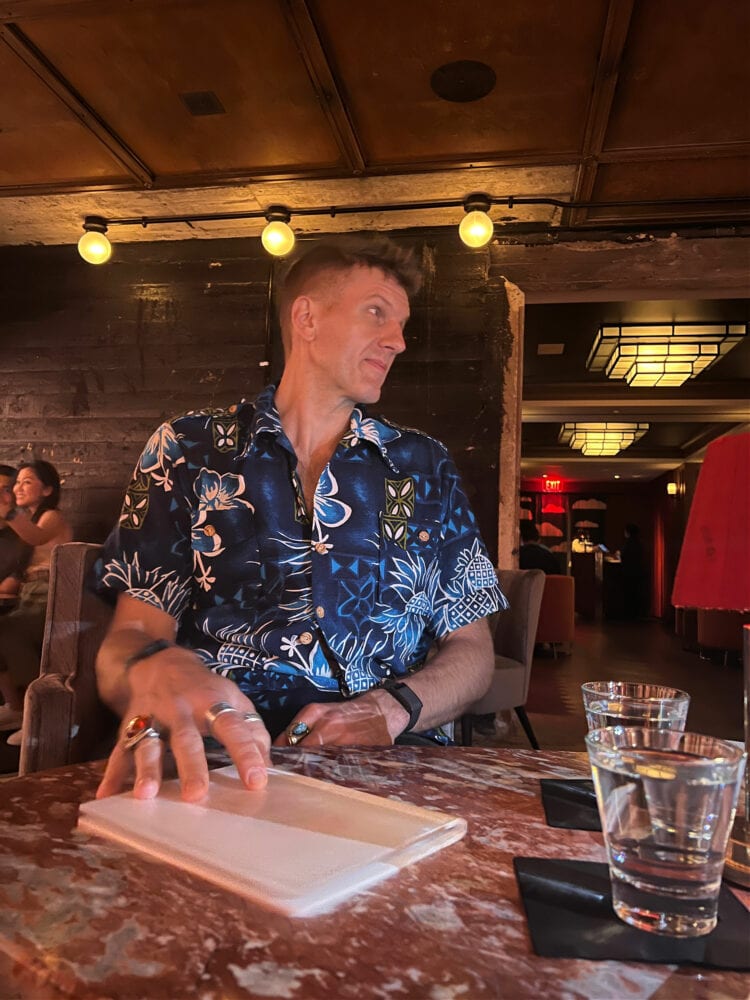 Our waiter at Silver Lyan was extremely passionate about his job, super knowledgeable about the menu and the history of the bar, and gave great suggestions. Their Jerk mushroom roll was so delicious, even the non-vegans enjoyed it and we all were impressed by our cocktails and mocktails.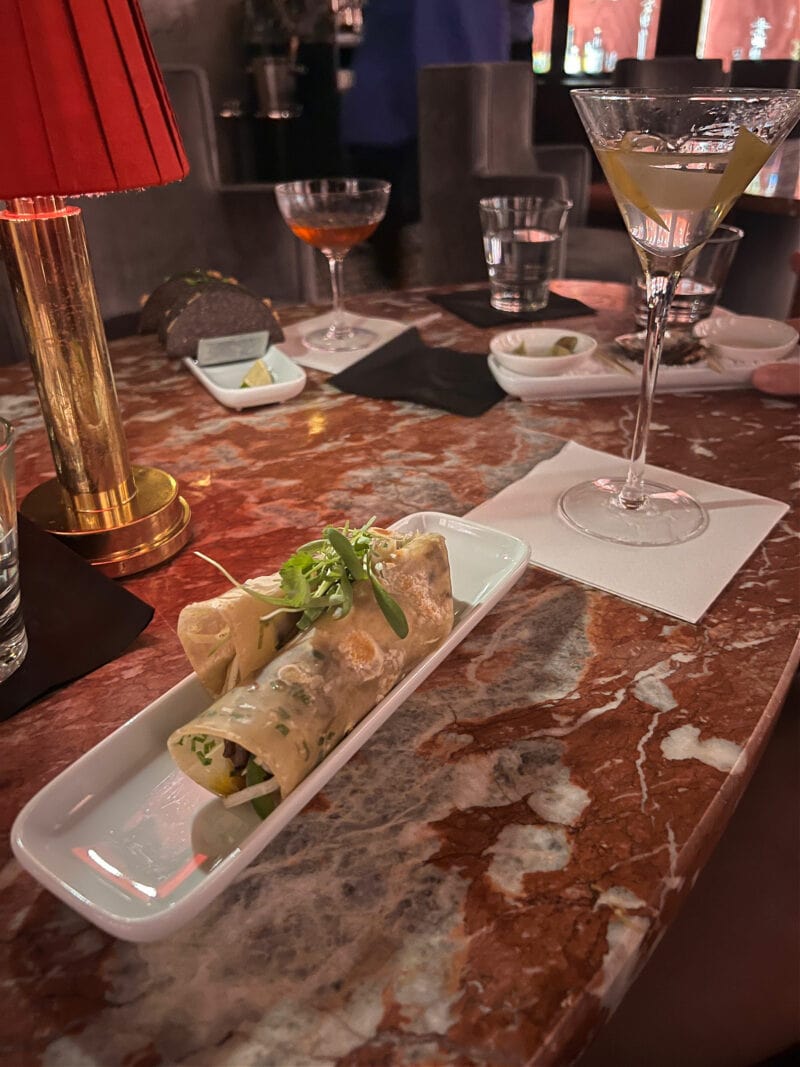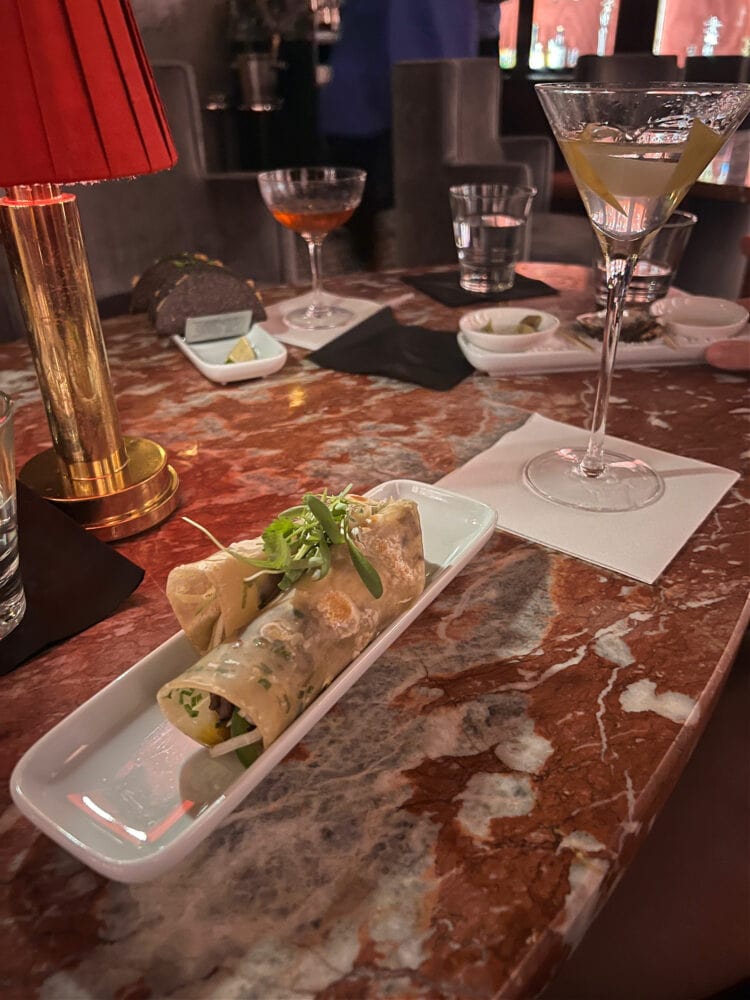 Silver Lyan is a very cool spot you don't want to miss. When you get your bill at the end, you will receive one gold token for each person at your table. Outside Silver Lyan next to the stairs to the front desk, there is a ginormous gumball machine. The tokens will give you a gumball! We then went up to our rooms to freshen up for a very special dinner.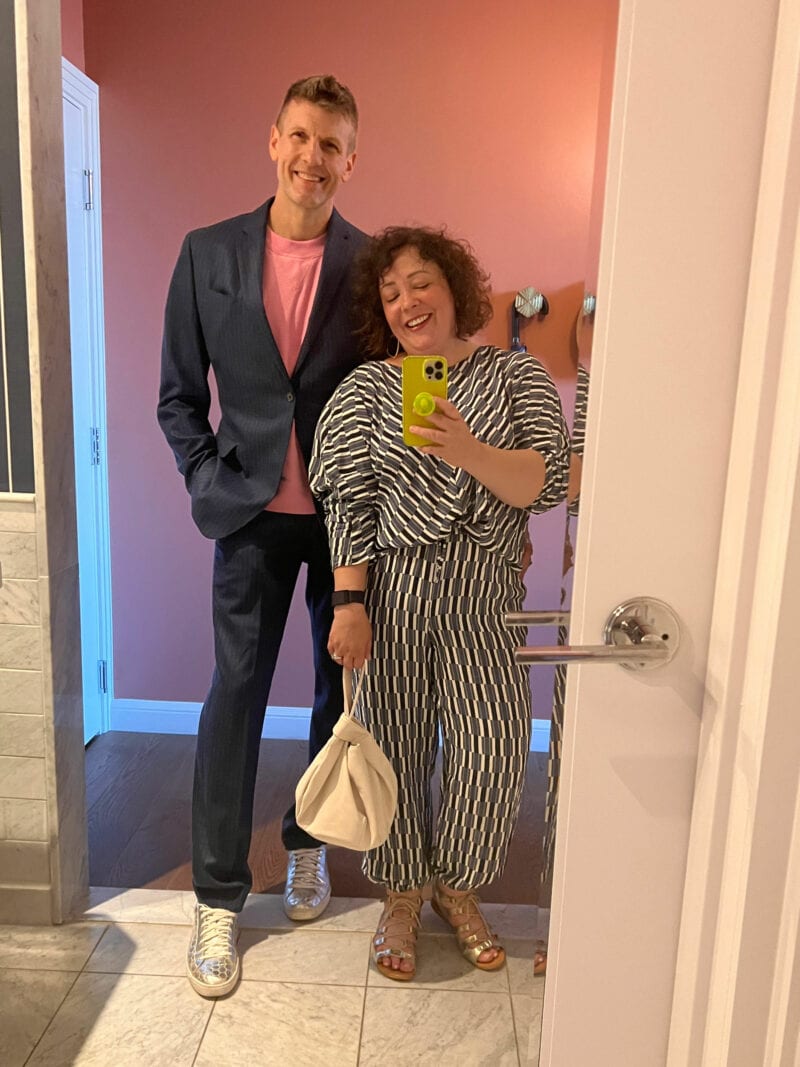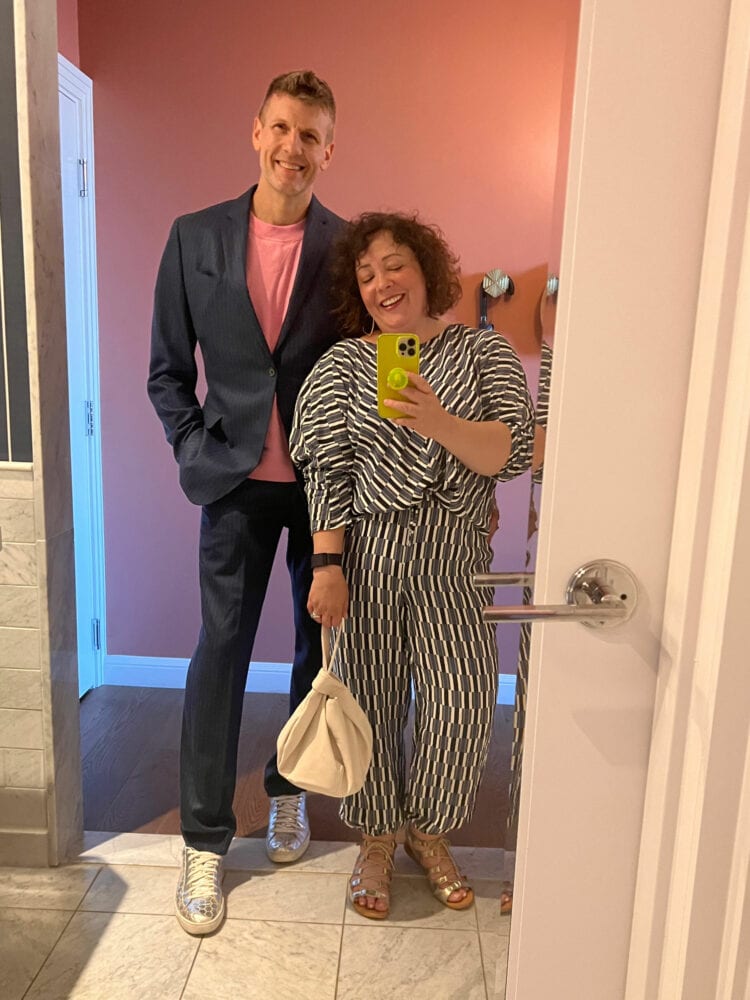 Dinner at Elizabeth's Gone Raw
My husband is vegan, I am a pescatarian, and our friend is allergic to shellfish and dairy. That can prove difficult when dining out, but we did our research and found many highly-rated restaurants that could easily accommodate our needs. Since it was a special occasion, a special restaurant was in order. Our friends got us reservations at Elizabeth's.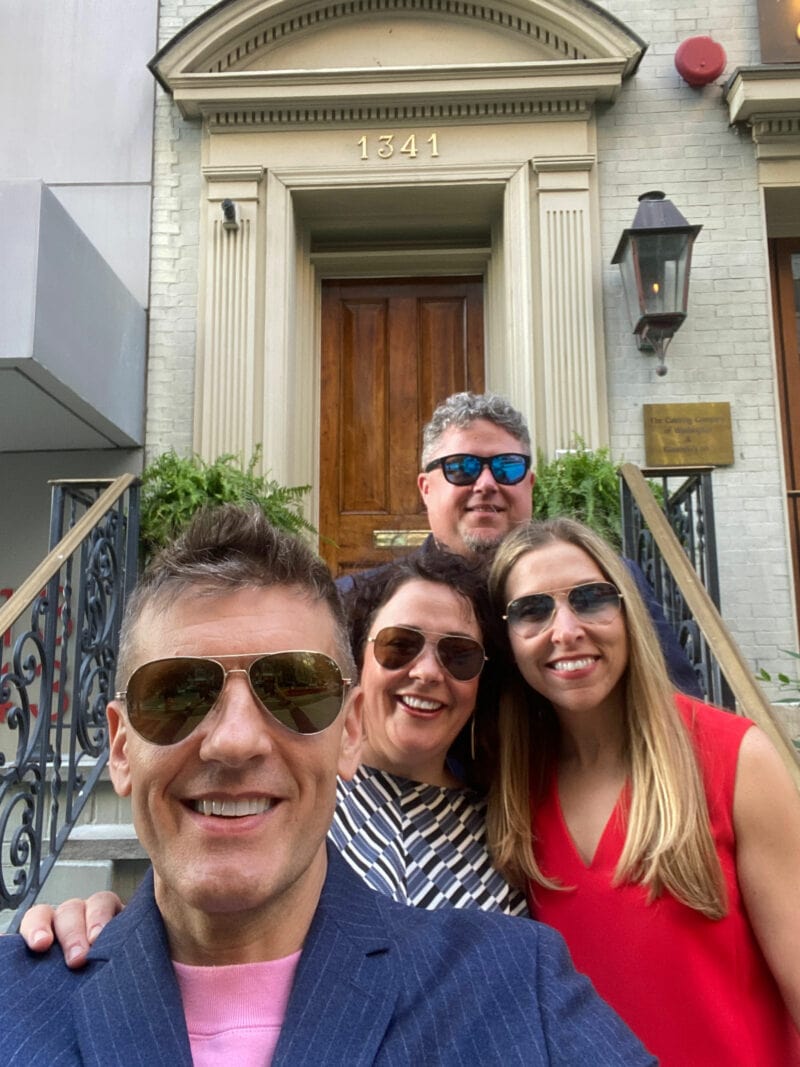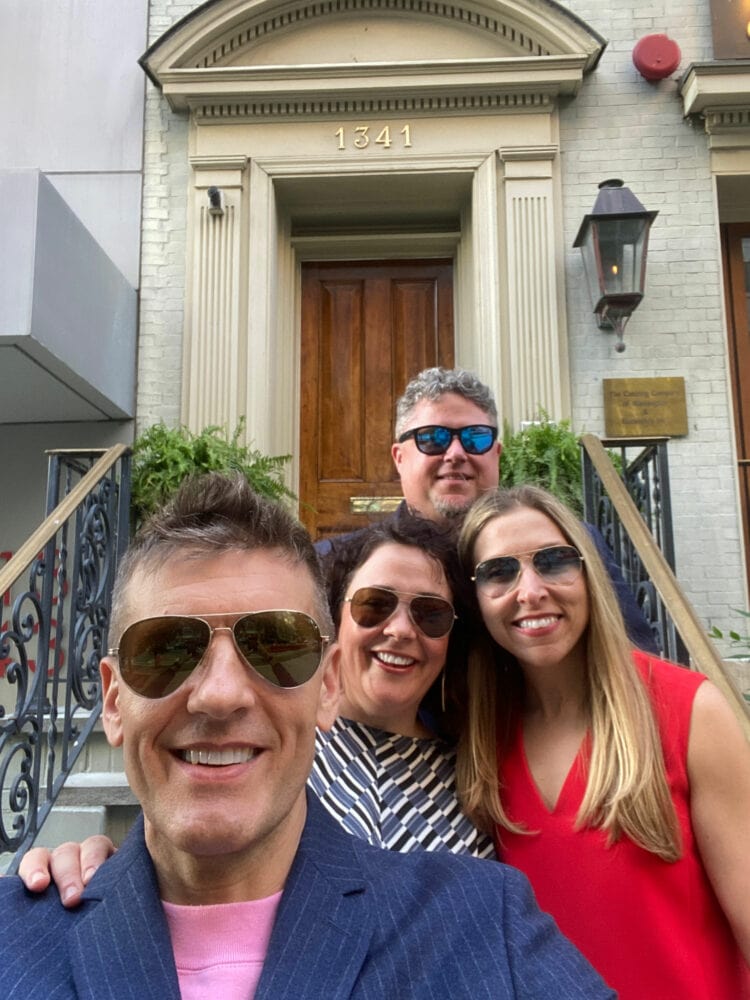 Elizabeth's (also known as Elizabeth's Gone Raw) opened in 2010 in a classic Federalist row home on L Street near Thomas Circle. Founder Elizabeth Petty started the restaurant after decades of catering in the city. She found the benefit of a plant-based diet after having cancer. She partnered with Executive Chef Franciso Hernandez who also had a passion for vegan cuisine. Originally only offering dinner three Friday nights a month, Elizabeth's Gone Raw now has a vegan prix fixe tasting menu dinner available Thursday through Saturday nights.
An easy 20-minute walk from the Riggs, we took our time (and wore comfortable footwear) and enjoyed the gorgeous weather. Elizabeth's was easy to find; we took the stairs up and entered a space that had a few tables and a gorgeous bar. The hostess guided us up a second flight of stairs to the dining room, which was the length of most of the rowhome.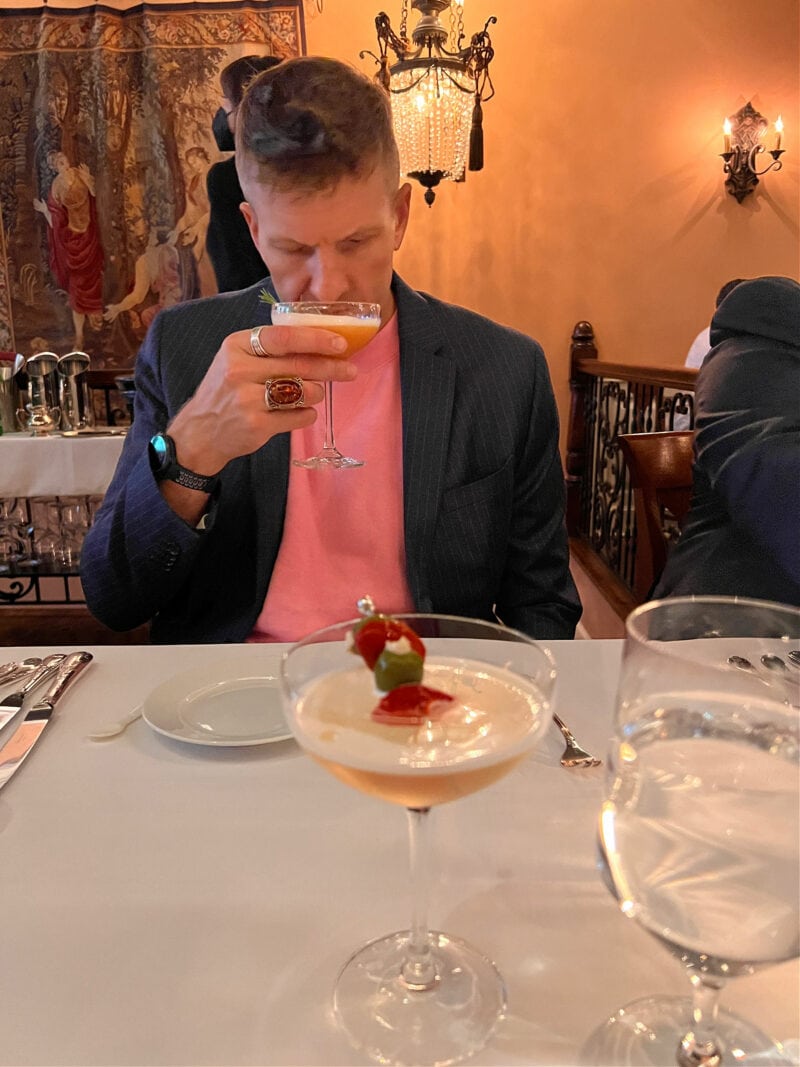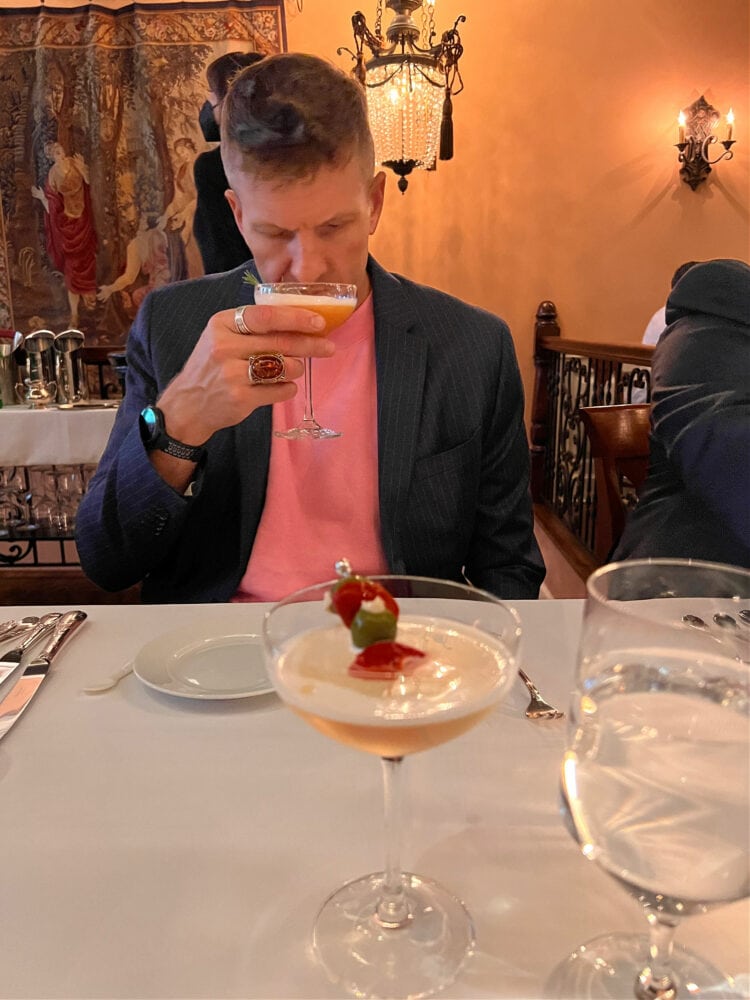 Elizabeth's Gone Raw is decorated like an elegant DC rowhome with oil paintings in ornate gilt frames, large mirrors and tapestries, and Oriental rugs on the floor. If you are looking for a romantic dinner destination or a switch from the trendy modern restaurants, even if you're not vegan, this would be a great choice.
All staff wore masks. Our waiter, Ben, was a delight. He was full of youthful exuberance but so incredibly knowledgeable. A vegan himself, he helped guide our journey through the multi-course meal and made great suggestions for additions, cocktails and mocktails.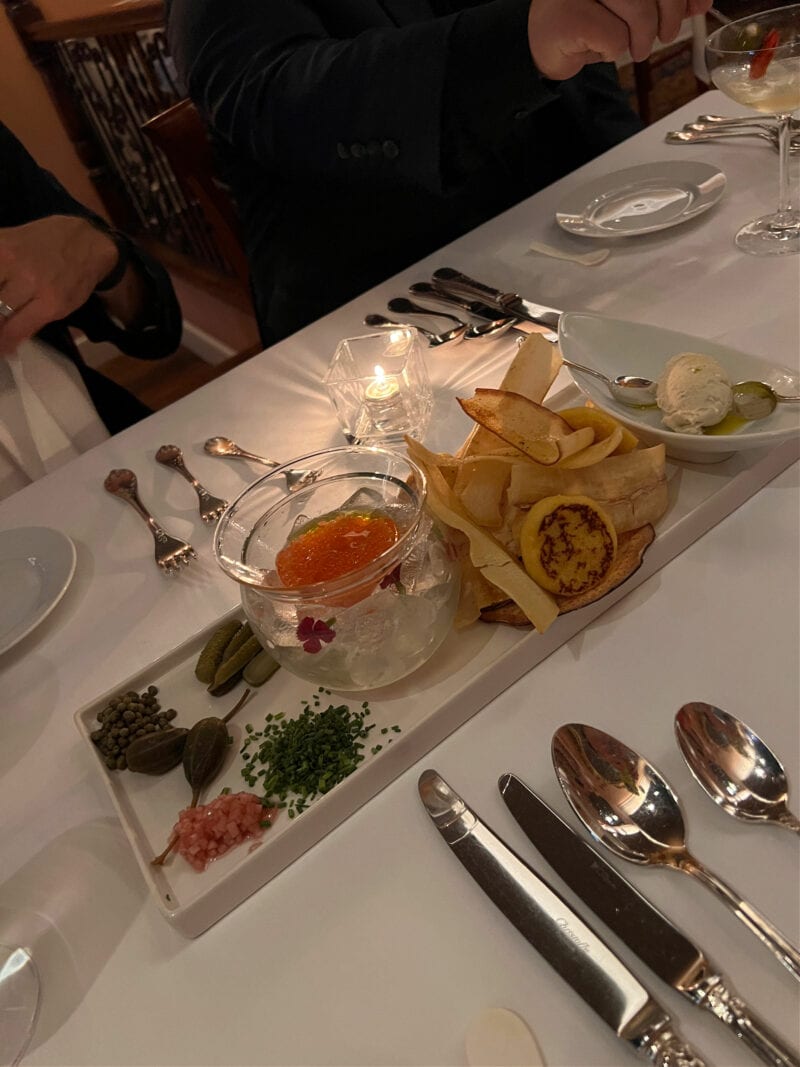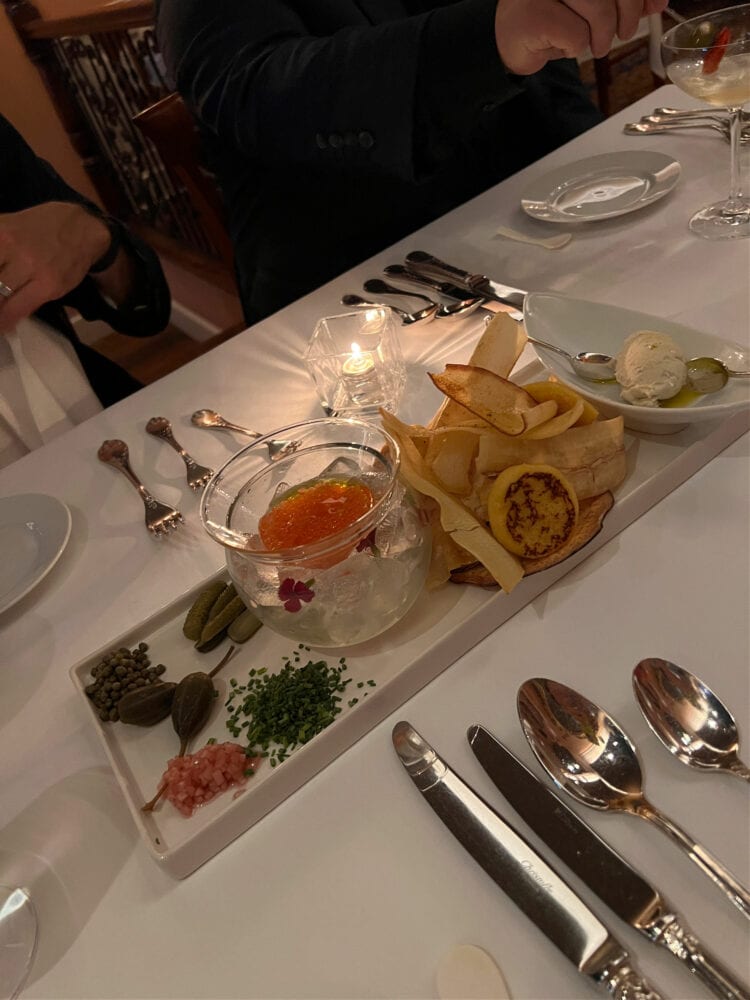 Each course came out with one server for each dish, and they timed it so each dish was placed on the table at the same time. One person in our party opted for the coordinating wine pairing and the sommelier (who was also young and passionate yet so knowledgeable) came out and shared the details of each bottle with the entire table, happily answering questions.
This was a very elegant and inventive meal, but not at all pretentious. The whole experience was warm and inviting while still quite elevated. The acoustics were great, you could chat in low tones and hear one another which is very important when you're somewhere for several hours.
Elizabeth's Gone Raw isn't the kind of restaurant you visit frequently. Most vegans I've spoken to who have dined there have only experienced it once, maybe twice. We all were full after the meal, and felt sated the rest of the evening.
Saturday: Being a Tourist in Our Hometown
Breakfast at Café Riggs
Keeping it simple, we met downstairs at Café Riggs for breakfast. We sat in the dining room area in a round booth under a large window and had a lovely meal. It was busy but we didn't feel rushed at all; our server was very chill about different members of our party arriving at different times.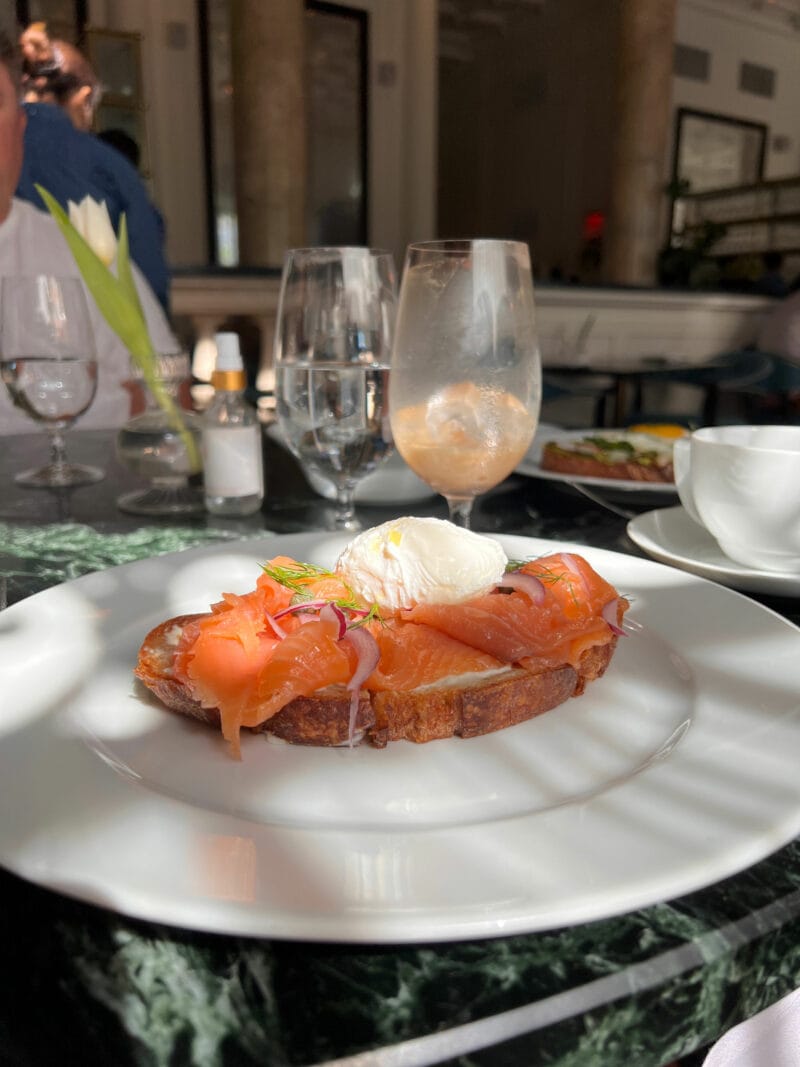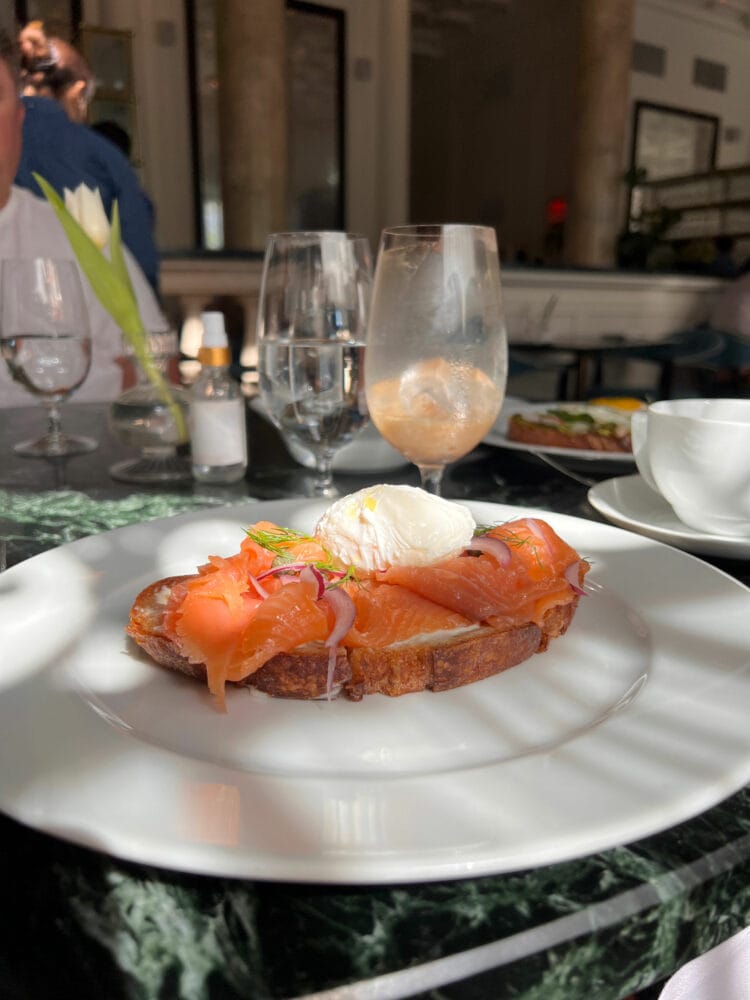 The breakfast menu is varied and we all found dishes we enjoyed and I had the loveliest iced oat milk latte! I would totally have brunch here again, and I bet their room service breakfast is phenomenal.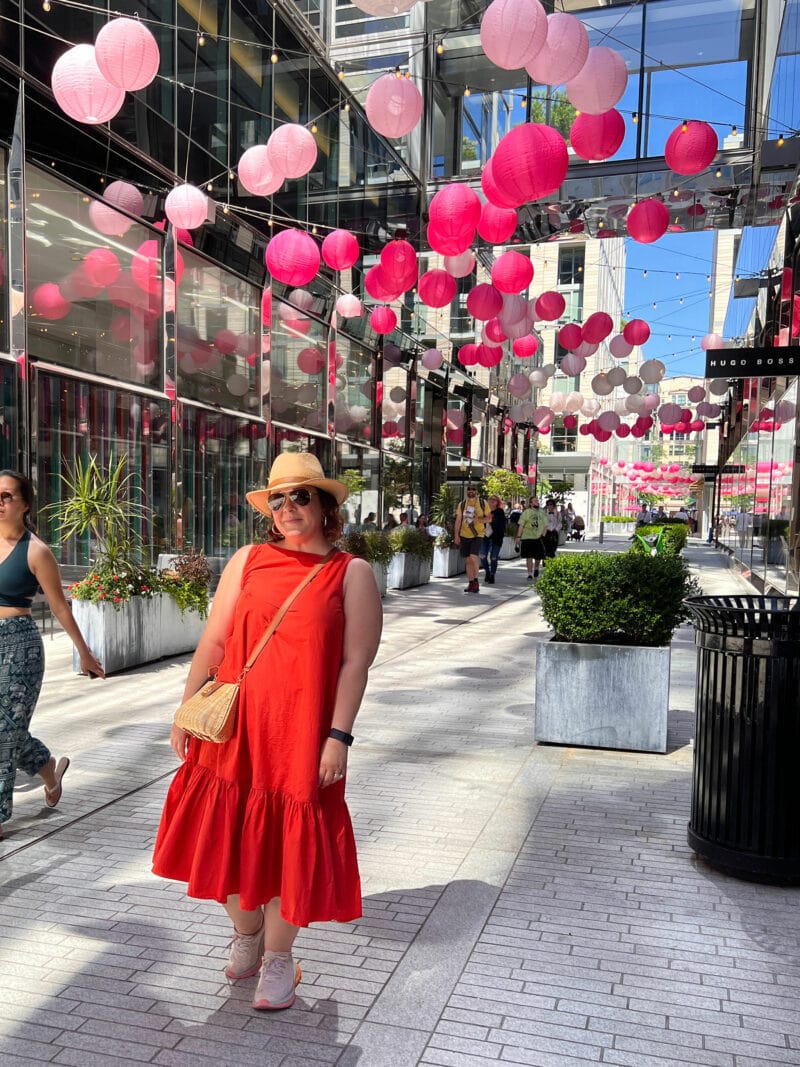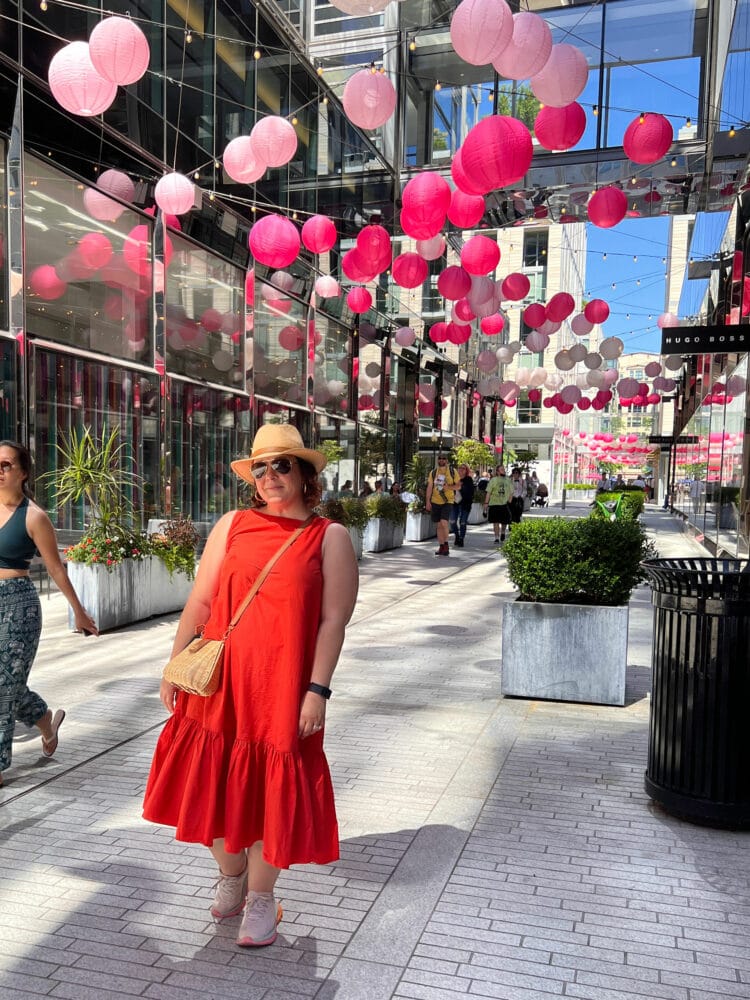 DC Guided Walking Tour with Attucks Adams
A few years ago, an influencer friend invited me as her plus one on a DC walking food tour. Even though I've lived here all my life, that tour introduced me to new restaurants and a lot of new information and history about that part of the city. I vowed to take more guided tours of DC to learn history beyond the placards and school textbooks.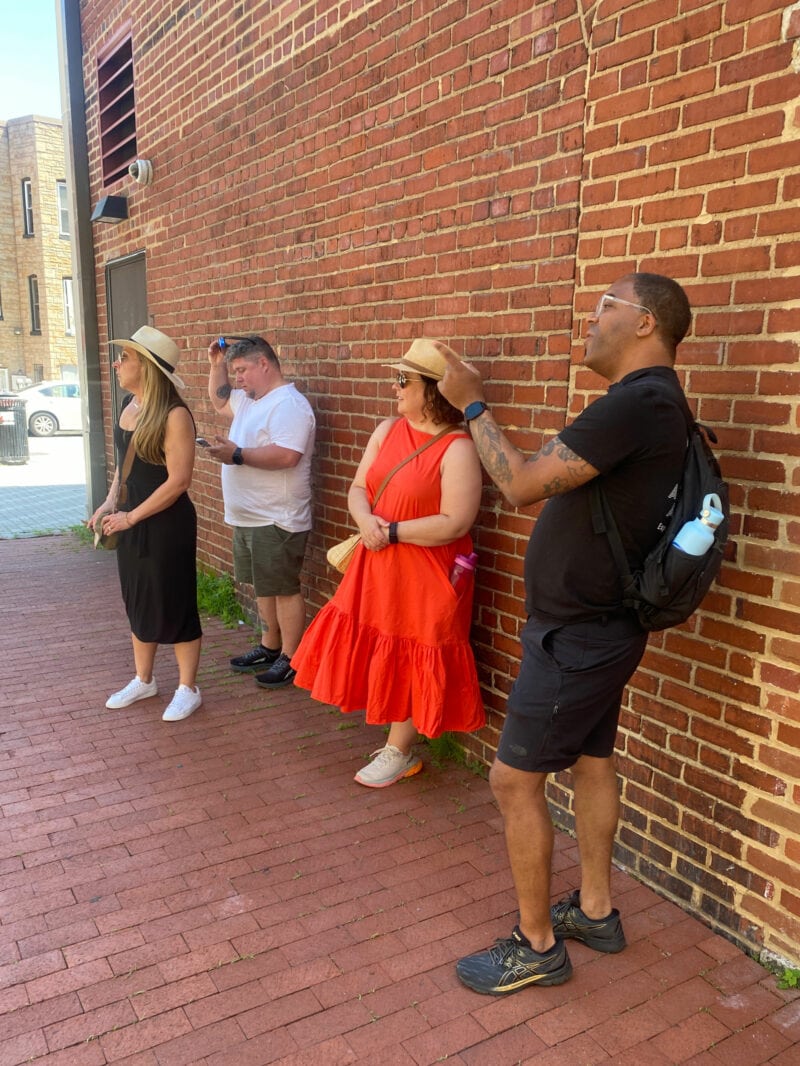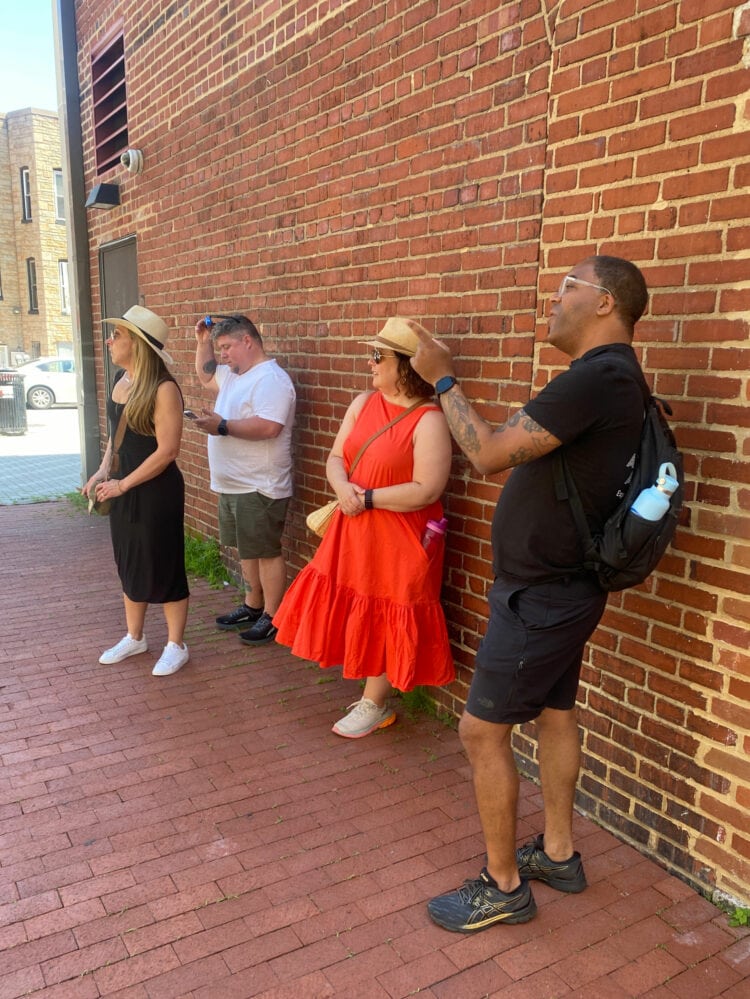 Our friends felt the same and booked a guided walking tour with Attucks Adams. Run by Tim Wright who has 15 years in experiential education including teaching about civics and American history, these tours are informative but also really enjoyable. We chose the tour U Street: The Art and Soul of Black Broadway and met up with Tim in front of the Howard Theatre at 11am (about a 40-minute walk or 20-minute Uber ride from the Riggs).
This was a private walking tour just for us four. Tim guided us around the area, showing us historic buildings, telling us the story behind murals and monuments, pointing out where iconic places were prior to the 1968 riots and 21st-century capitalism, and peppered it with music from the time period and visuals (iPad and original newspaper clippings).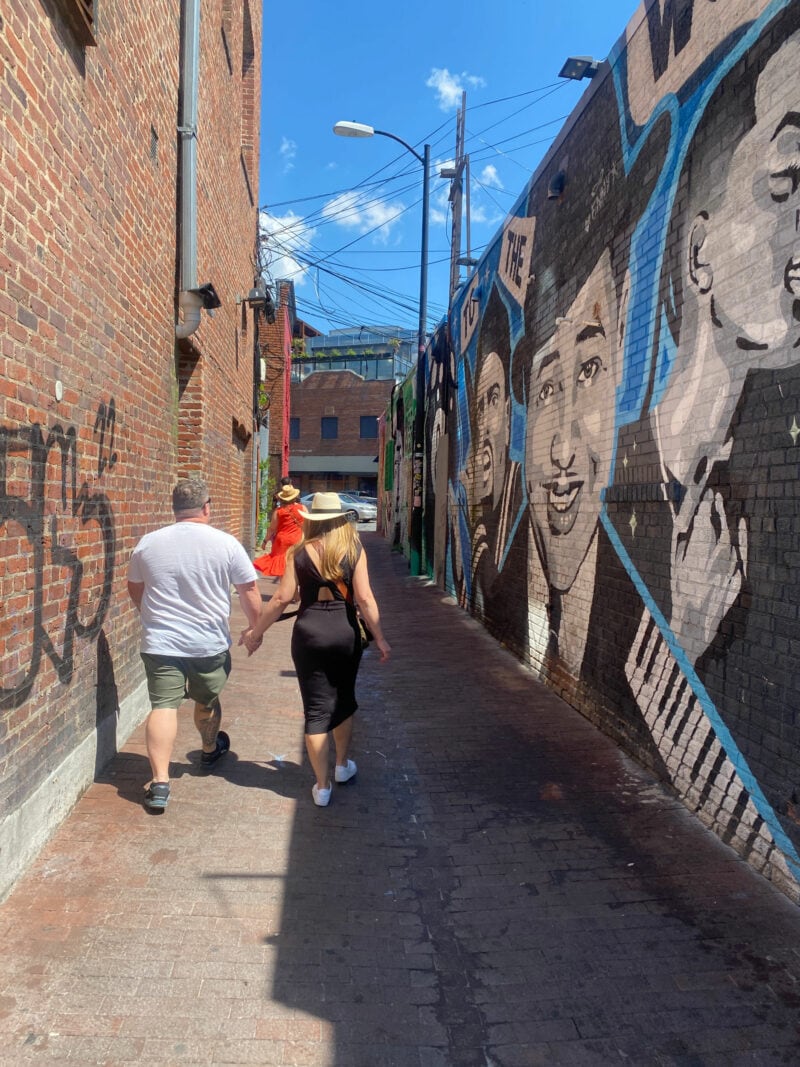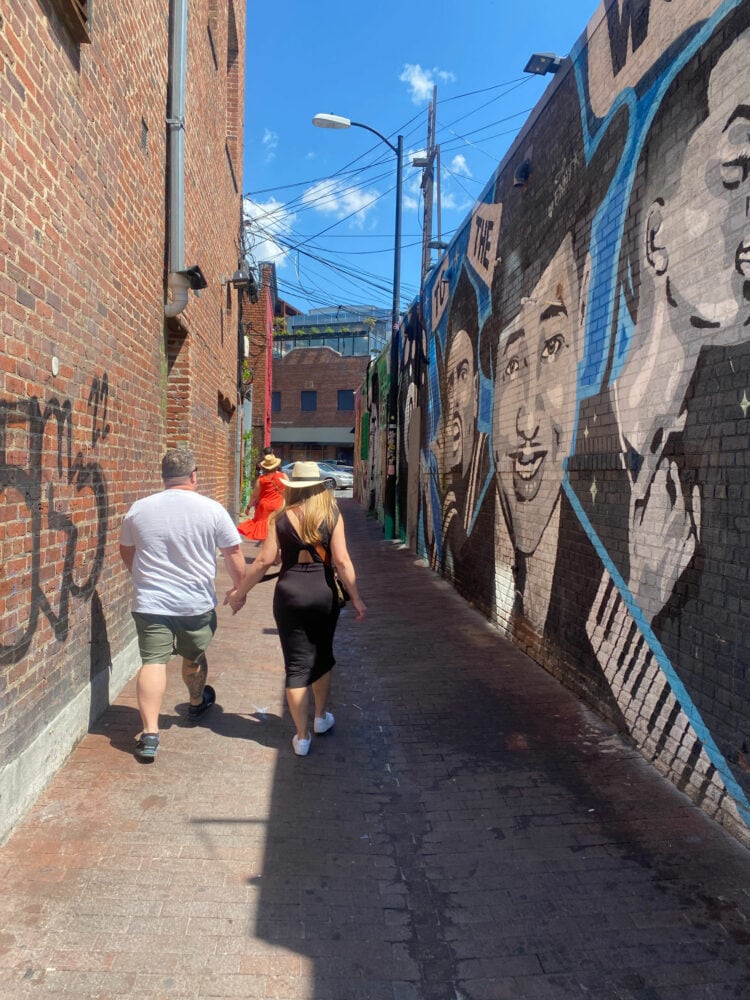 We again lucked out with the weather, and had a really great time investigating this part of the city and its rich history. Tim was engaging, the tour was flexible, a great pace, and while we saw a lot we weren't exhausted by the walk. We ended the tour outside the famous Ben's Chili Bowl and along with Ben's, Tim offered some great suggestions on where to have lunch.
All of us needing the facilities and desiring a cold drink, we just headed to a place we all know and love – Busboys and Poets, a DC institution. While there are now many locations of this restaurant in the DMV (DC, Maryland, Virginia), the one in the U Street Corridor is the original location and a great choice for everyone from vegans to omnivores and those who need gluten-free options.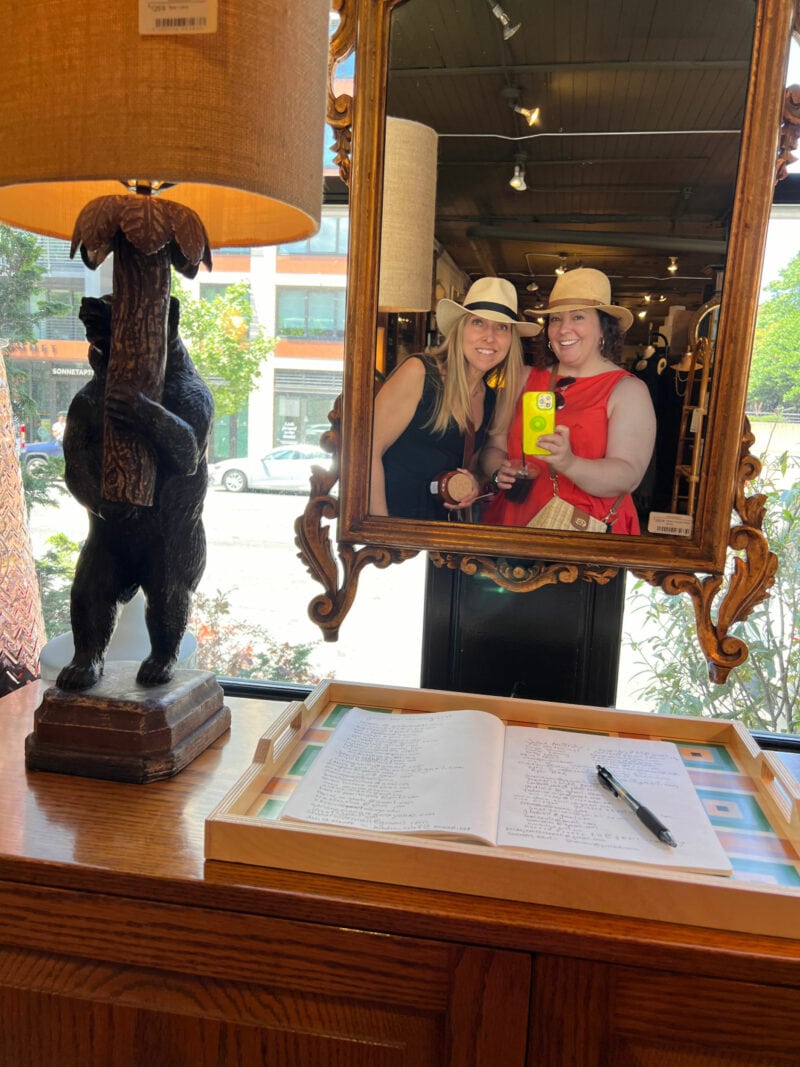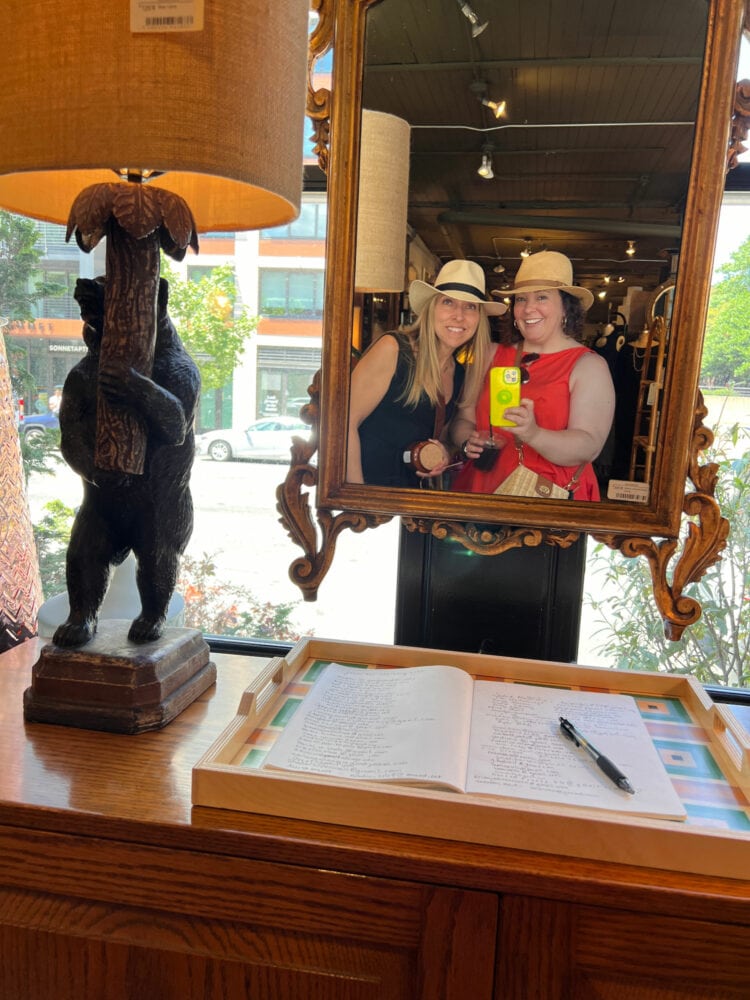 After fueling up, we were energized and ready to explore more of DC. and we just walked around for another two hours. Neighborhoods, shopping districts, busy streets, quiet alleys, the weather was fantastic and we were all wearing comfortable shoes. We grabbed smoothies and coffee drinks at South Block for an afternoon treat as we wandered around, going into stores, People Watching, and enjoying the beautiful day.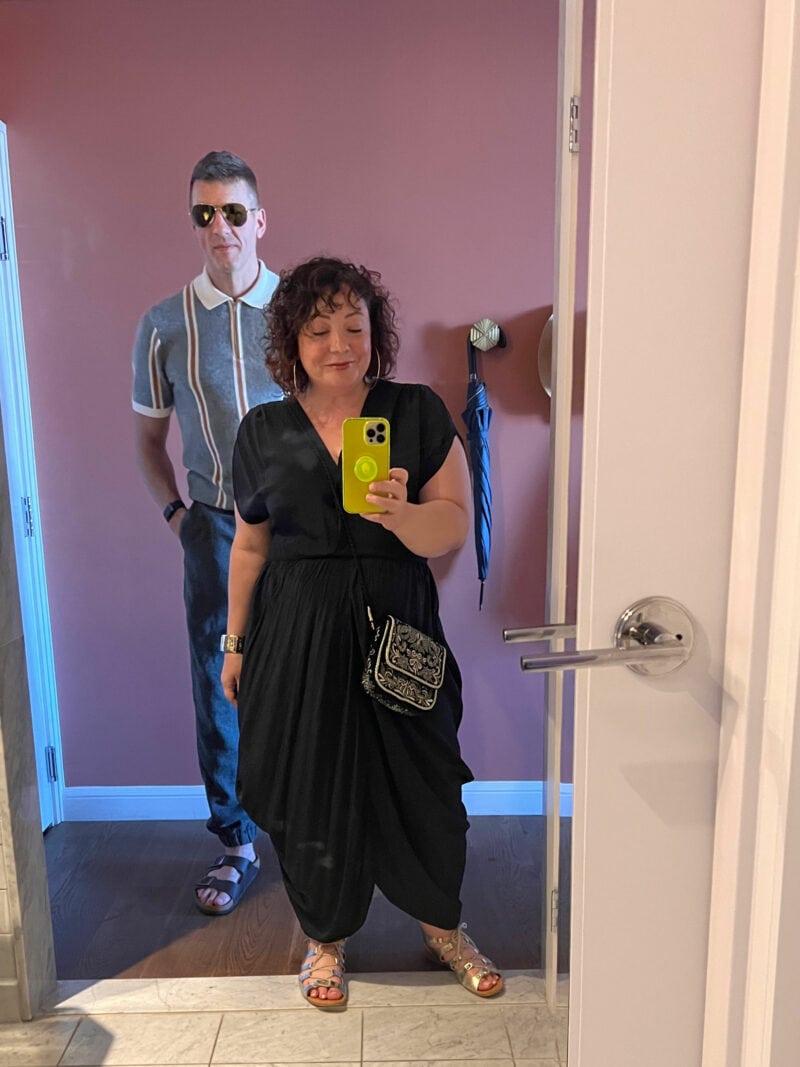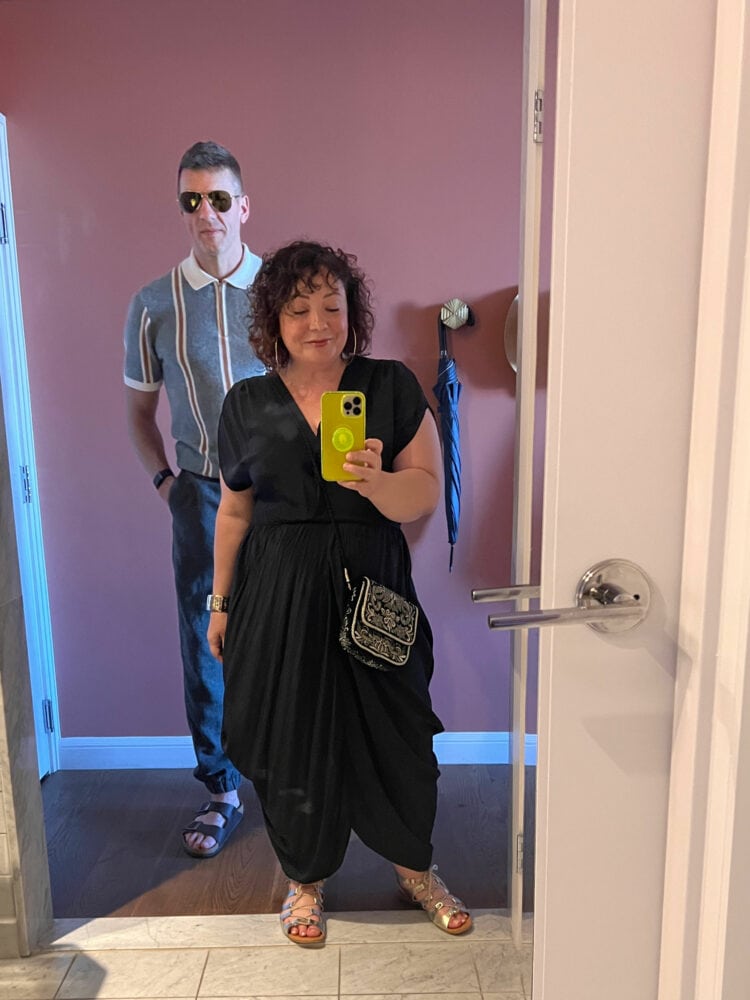 Dinner at Cranes DC
I reached out on Instagram Stories to ask for suggestions on where to eat when needing options for a vegan, a person with a shellfish allergy, and a person who can't consume dairy. And one of the recommendations I got for a place I had yet to visit was just a couple of blocks from the Riggs: Cranes.
A newer restaurant (opened in 2020 just before lockdown), Cranes took over the former Ruth's Chris location and just earned a Michelin Star. Chef Pepe Moncayo creates modern dishes that blend Japanese and Spanish cuisine. Offering an omakase tasting menu as well as tapas/small plates and a la carte larger dishes, Cranes is a great choice for those who are vegan, vegetarian, or have specific dietary needs.
Cranes is very trendy right now, and when we arrived at 7pm the place was packed with a very cool crowd. Lots of stylish people of all ages in cool framed glasses watching who walked in (as the night went on the crowd got less scenester and more… normal). We were seated in a room that looked to often be used as a private event space, but had large doors opened to make it feel like part of the main dining room.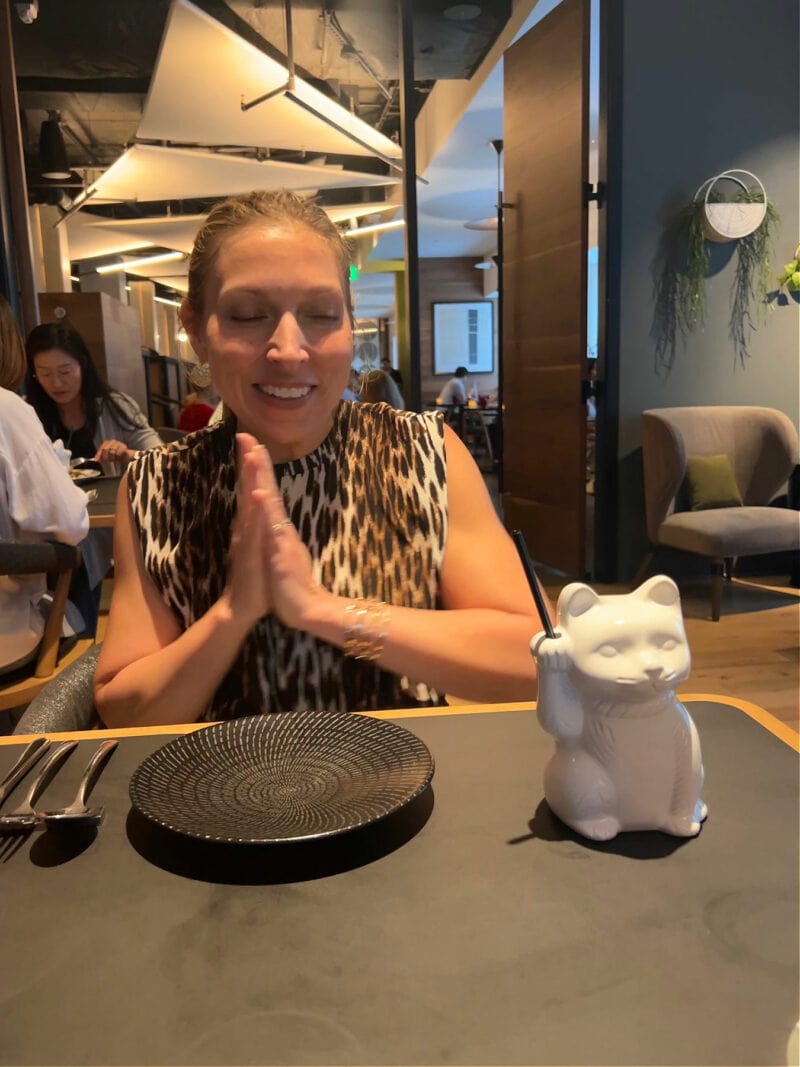 Our waitress clearly had studied the menu, the history of the restaurant, and Chef Moncayo, and I wondered if her spiel at the beginning was memorized word for word and she was new. My first impression was this was a bunch of pretentious hipster nonsense, but I was very wrong.
I personally wasn't ready for another epic hours-long tasting menu but I struggled to know what to choose from the menu. The rest of us at the table felt similar but then when we realized there were four of us and 11 different tapas on the menu and our waitress suggested 3-4 per person, we decided to order all of them plus we also ordered three a la carte dishes.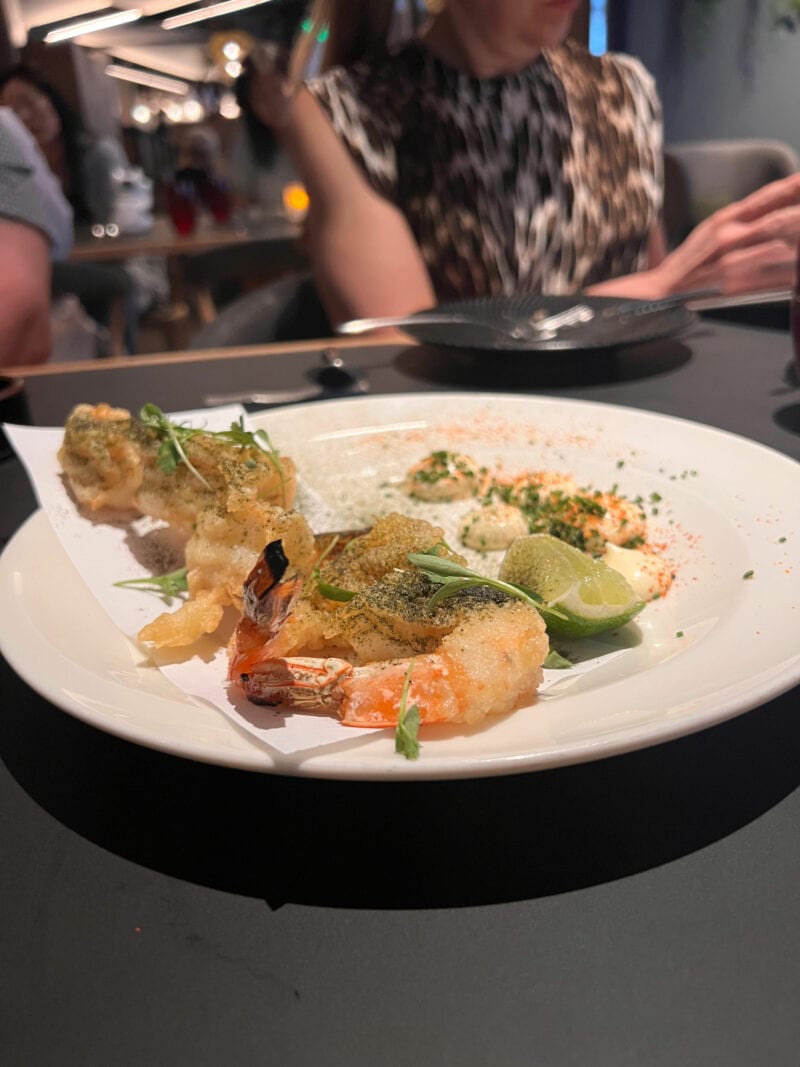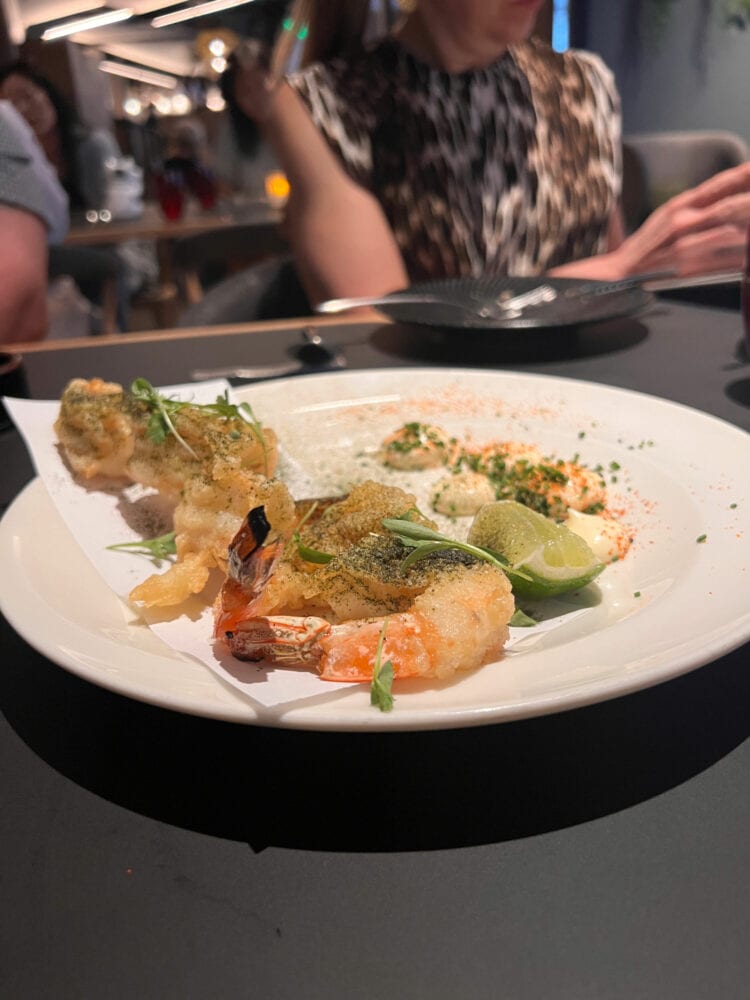 Our server Lindsay may have memorized the spiel, but she knew everything else by heart and with heart. Lindsay knew about the dairy and shellfish issues and Karl being vegan and immediately suggested ways to vegan-ize some of the tapas and which ones just could not be modified. From the 11 dishes, I think only three couldn't be vegan. We trusted her to choose to order in which they were delivered to the table.
Honestly, we would have been sated with just the tapas. They came out at a great pace, and every single one was delicious. There was one with eggplant and I never like eggplant but I adored this dish. Our friend ordered the pork shoulder and we didn't receive a knife other than the basic one at our place setting. Placed a fork on it and it just fell off the bone; no knife needed!
I didn't have a drink but the rest of the party enjoyed cocktails and mocktails and all of them were fantastic. If you go, consider the Neko Blanco which comes in an adorable white glass shaped like a cat.
As I mentioned, my first impression was wrong. Our waitress was charming, the place filled with a beautiful variety of happy people who were laughing and chatting together, and we really had a blast together, dining on shared dishes.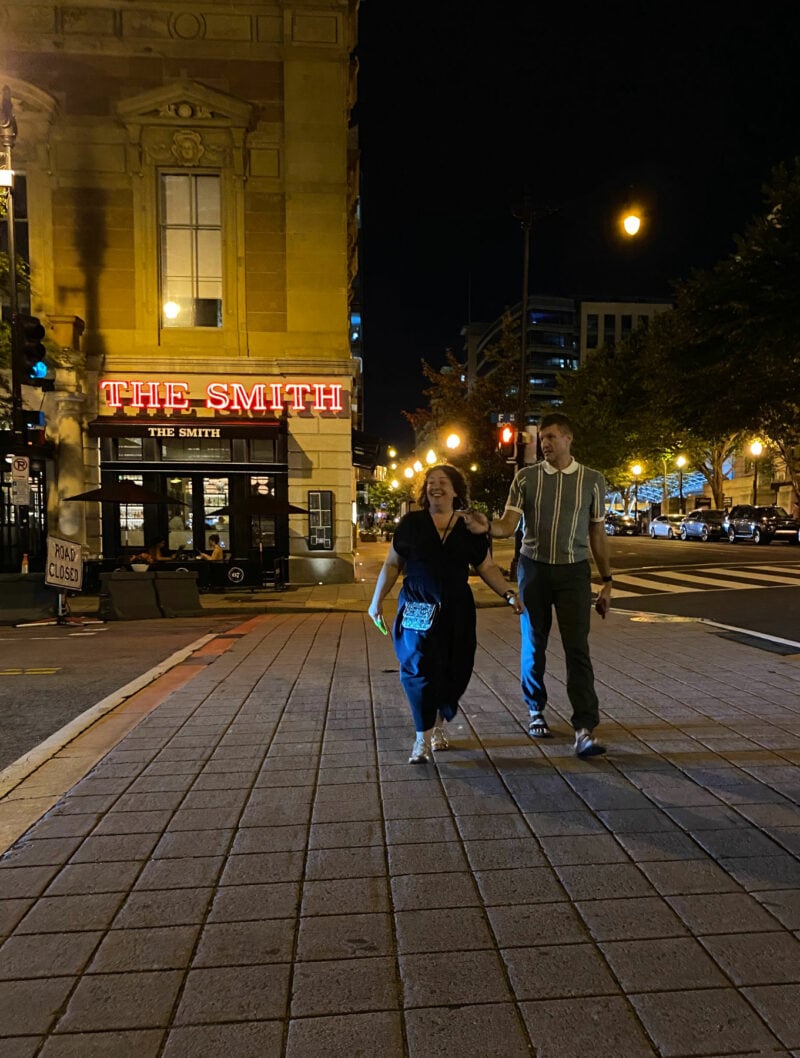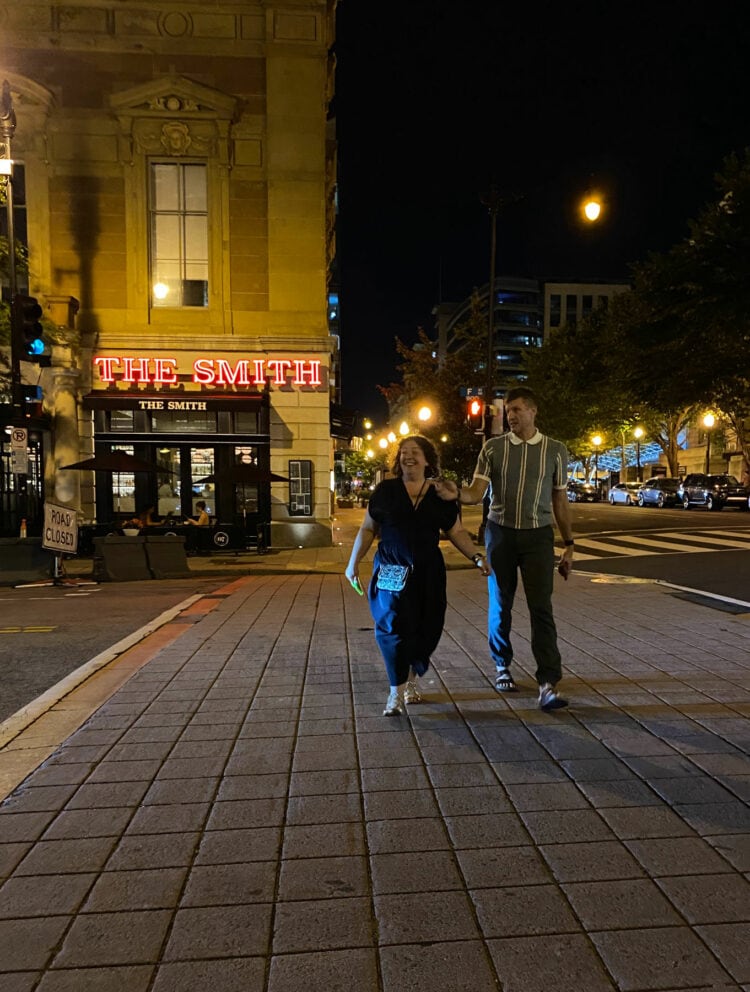 Comparing Elizabeth's Gone Raw to Cranes DC is like comparing apples to oranges. Both are a vegan paradise, both had stellar service, but that is where the similarities end. However, if you have a mixed group and aren't looking for a full tasting menu experience or a specifically vegan meal, I would recommend Cranes. I'd like to experience Cranes again, possibly for lunch.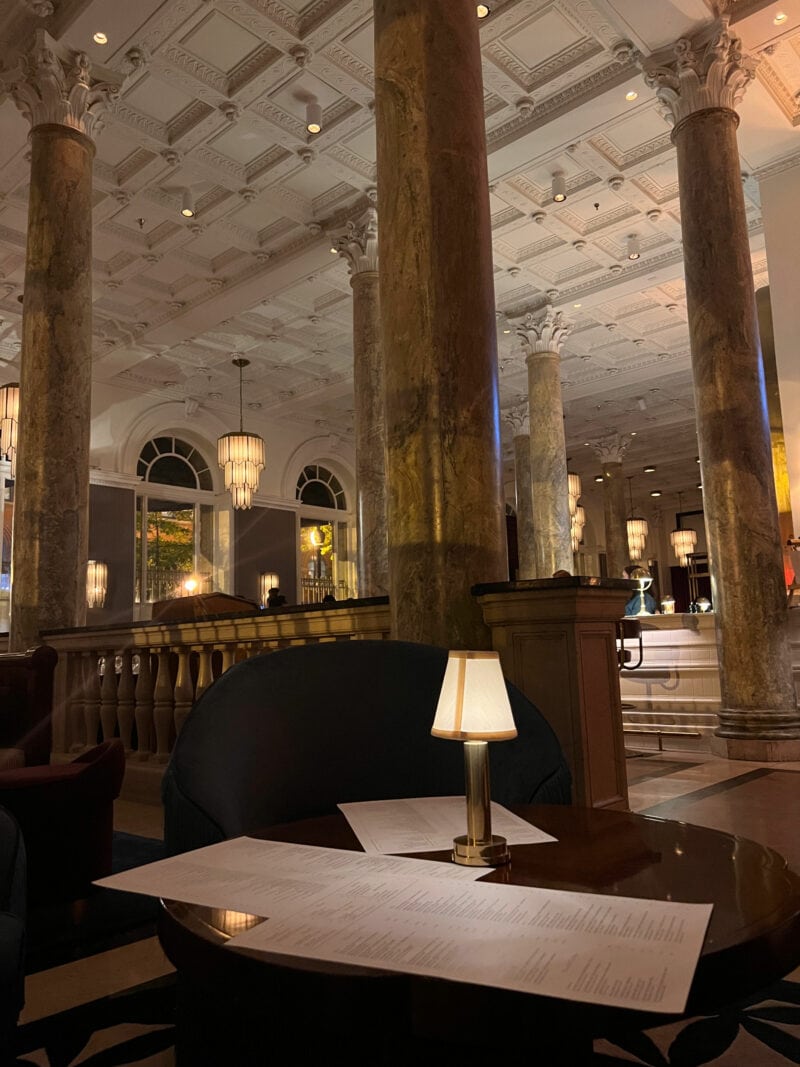 Nightcap at Café Riggs
Since the dinner ended earlier than Friday's and we had a shorter walk back, we decided to go to Café Riggs in the hotel and get a nightcap. Café Riggs looks dramatically different at night, quite elegant and sexy. There were several groups of friends there who were enjoying a drink before their reservation downstairs at Silver Lyan, several cozy couples at the bar and in the lounge area, and the hightop counter was full. We scored the four overstuffed chairs around a table right next to the entrance and us ladies enjoyed a glass of rosé prosecco and the gents some conversation before retiring to our rooms.
Sunday: Brunch and Go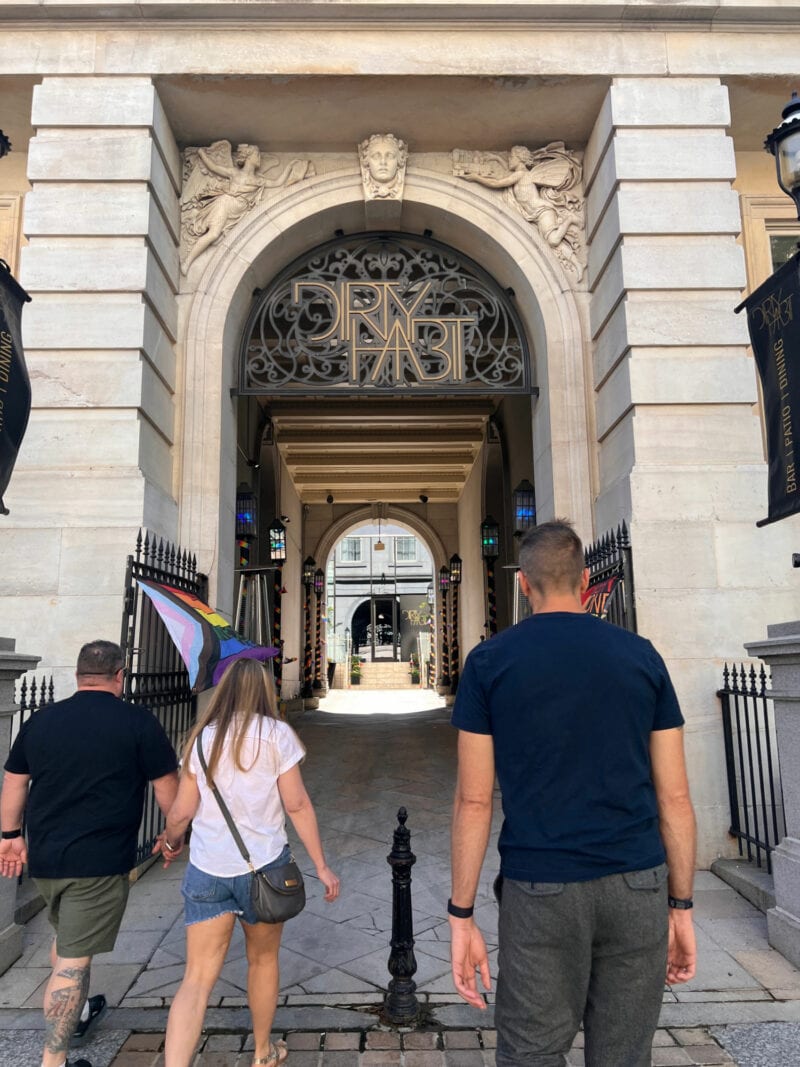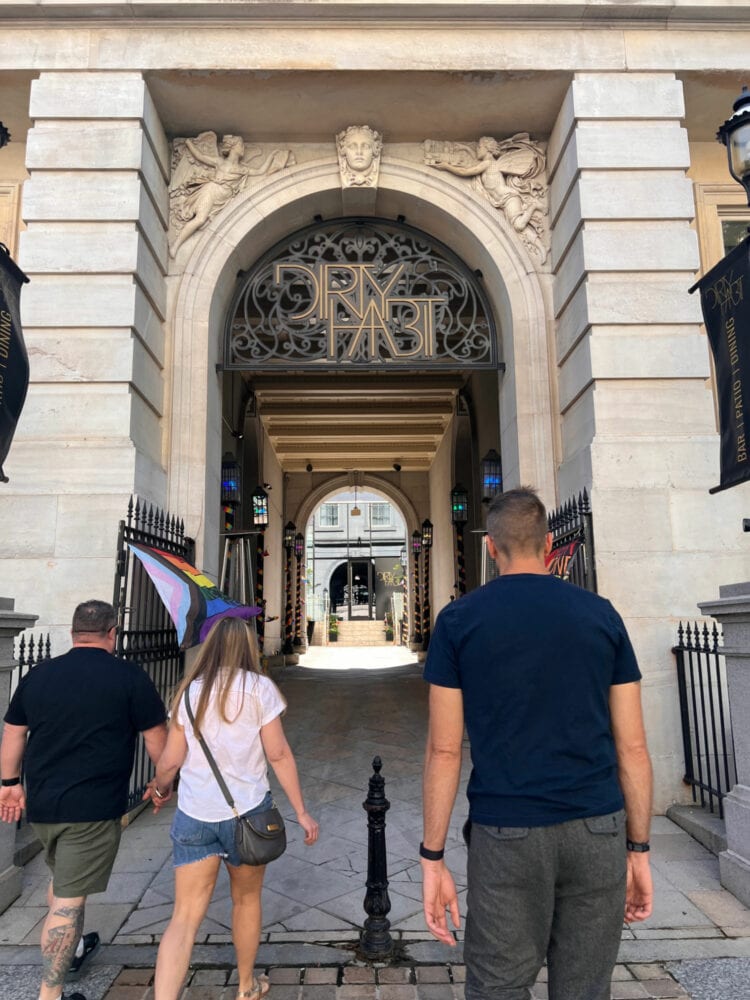 Brunch at Dirty Habit
Saturday at Busboys and Poets we realized with the weather being so nice and so many activities happening in the city, it would be smart to make a reservation for Sunday brunch. However, considering our friends had an event to attend that day our brunch would be more like a breakfast at 9:30am. Scrolling through OpenTable, Yelp, and Instagram and wanting somewhere close to the hotel, we thought Dirty Habit would be a good choice. We should have returned to Café Riggs, or maybe gone to The Smith or Succotash across the street from the hotel (not chosen purely because we've been there before).
Dirty Habit is the bar and restaurant inside the Kimpton Hotel Monaco, essentially across the street from the Riggs. There is a large outdoor area that is only open for dinner/nighttime bar scene and a chic industrial-themed interior with some cool metal art. There was only one table with customers; by the time we left there were maybe 8 tables full.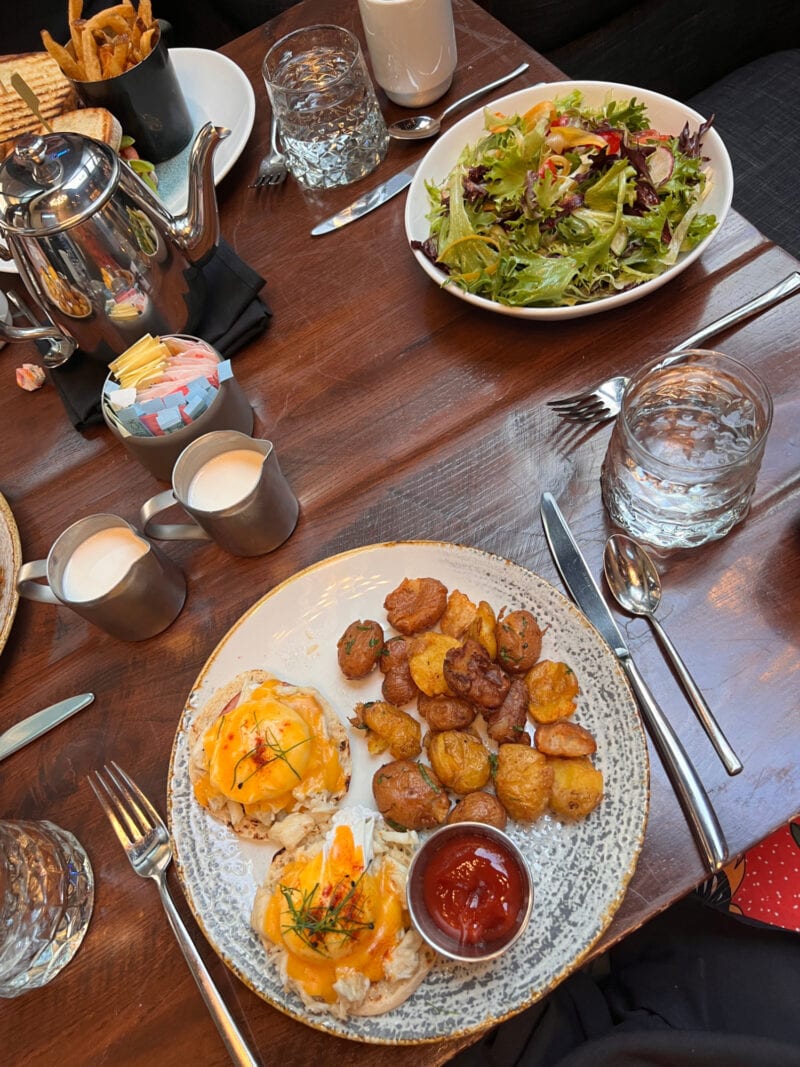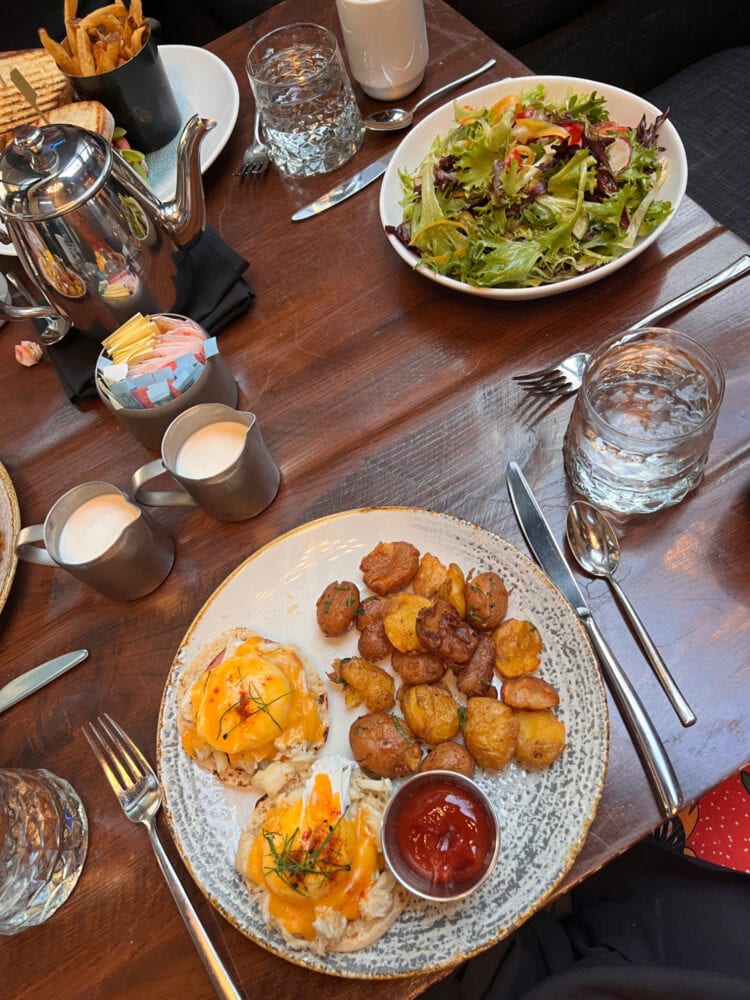 I just wrote three paragraphs about how underwhelming an experience we had at Dirty Habit but deleted them because it could have been just because of our waiter. However, after speaking to others I think Dirty Habit is likely highly rated because it's a fabulous bar that happens to have good food, and not because of being a restaurant. That being said our food was good, the location was convenient, and we didn't feel rushed.
Heading Home after a Wonderful Weekend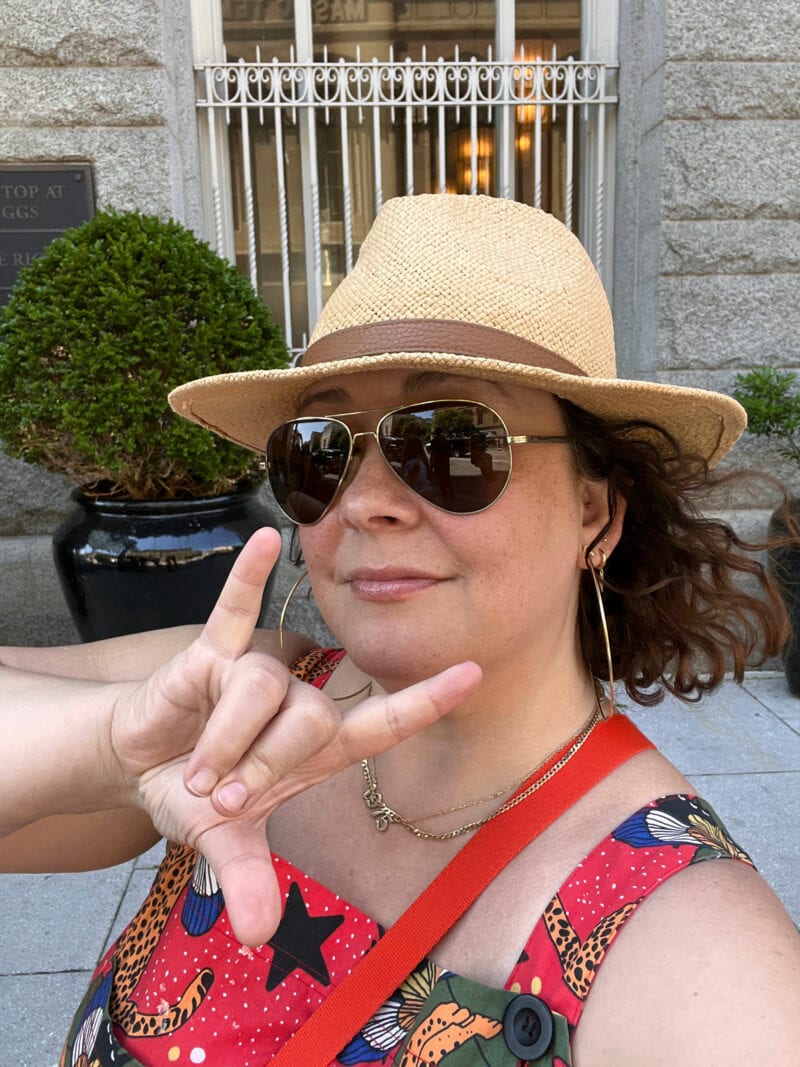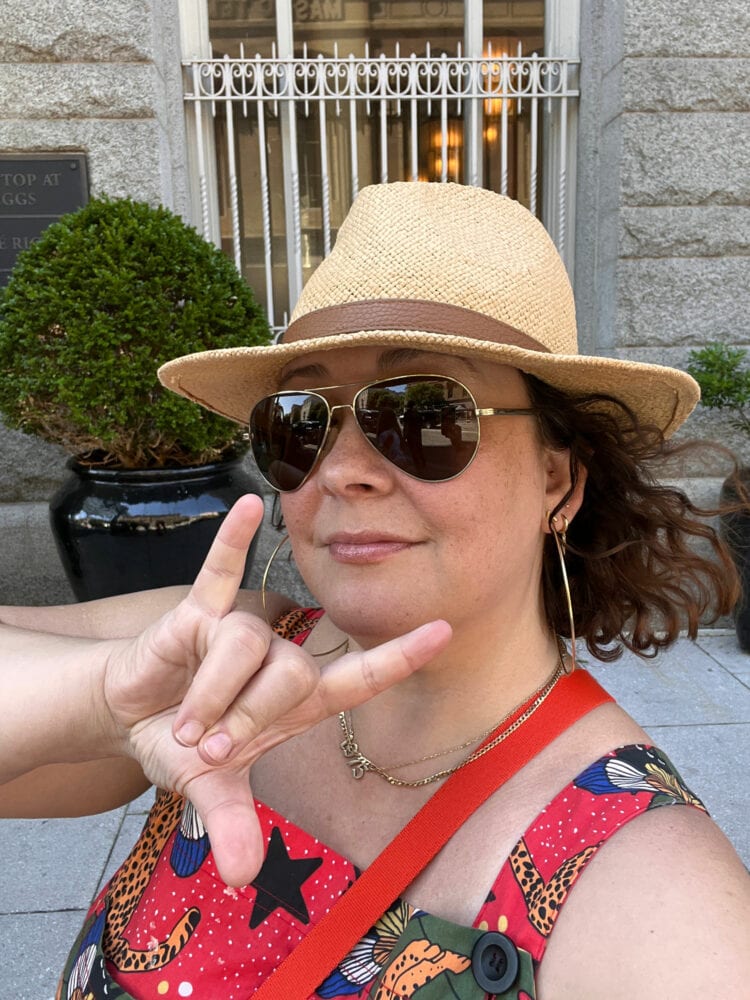 All good things come to an end, and it was time for us to check out of the Riggs Washington DC and head back to Maryland. But this was a fantastic weekend, and if you're looking to book a romantic Washington DC weekend getaway, I think replicating our itinerary would make for a wonderful time!