This article may contain affiliate links; if you click on a shopping link and make a purchase I may receive a commission. As an Amazon Associate, I earn from qualifying purchases.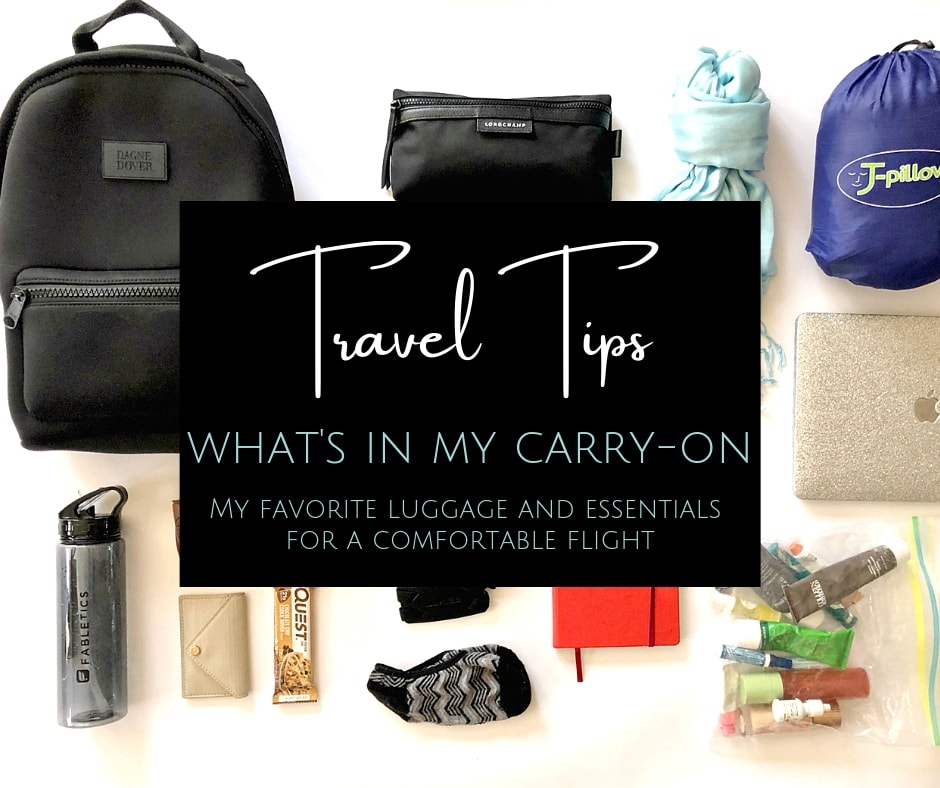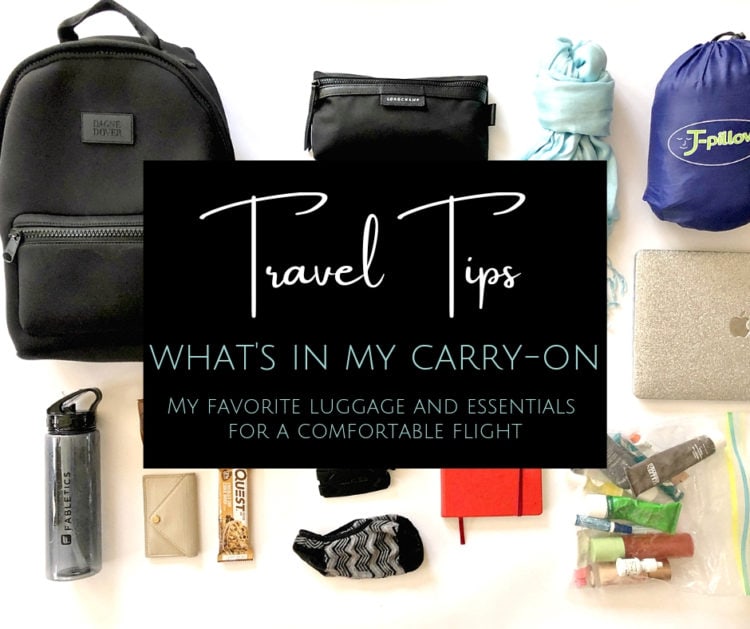 Thanks to a previous career that required a lot of business travel and plenty of travel opportunities as a blogger, I have become quite expert in packing for travel. I find especially for airplane travel, your carry-on bag contents determine how comfortable of a flight you will have. Friday I am traveling to California and wanted to share what I put in my carry-on bag to have as relaxing and comfortable a flight as possible.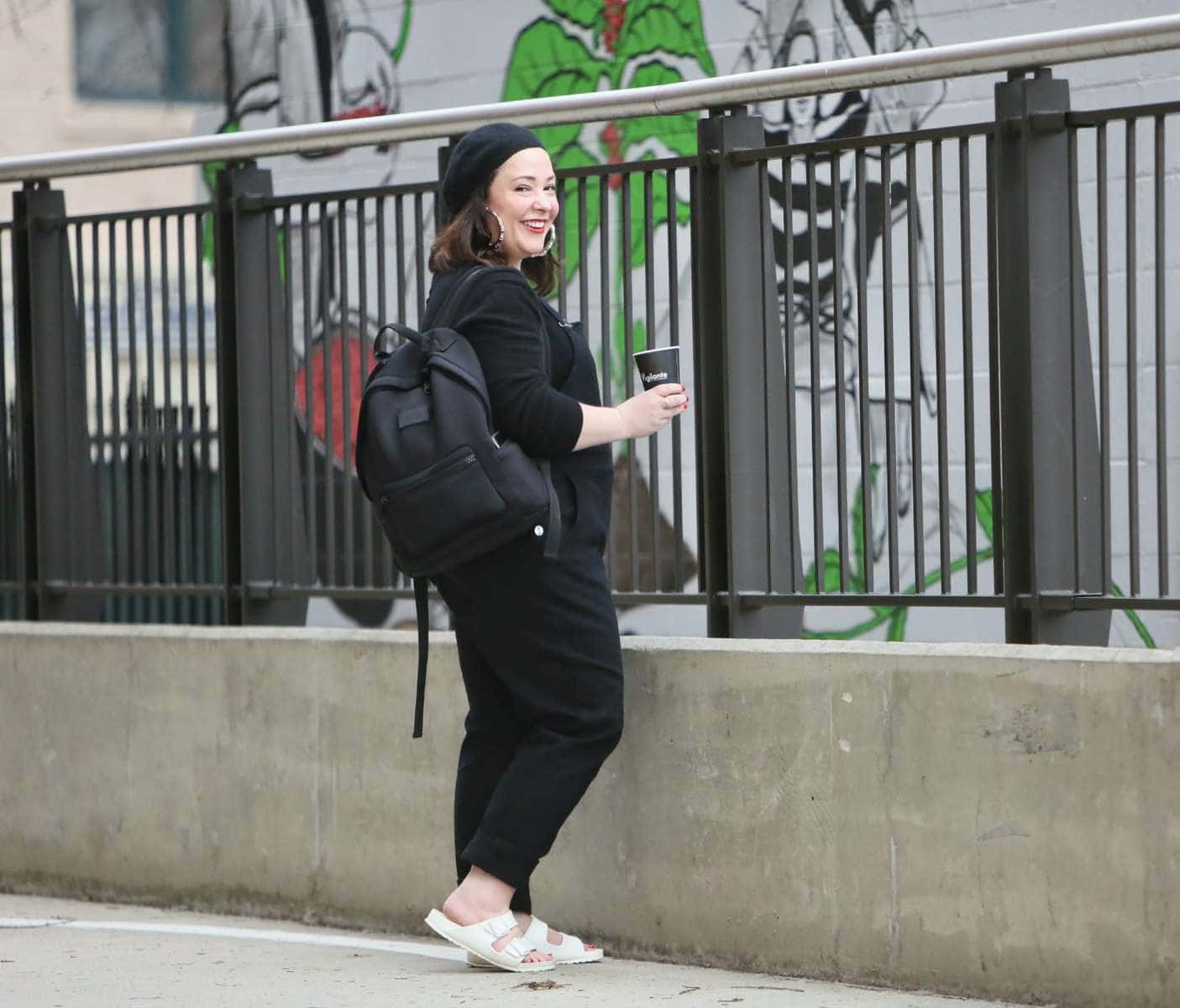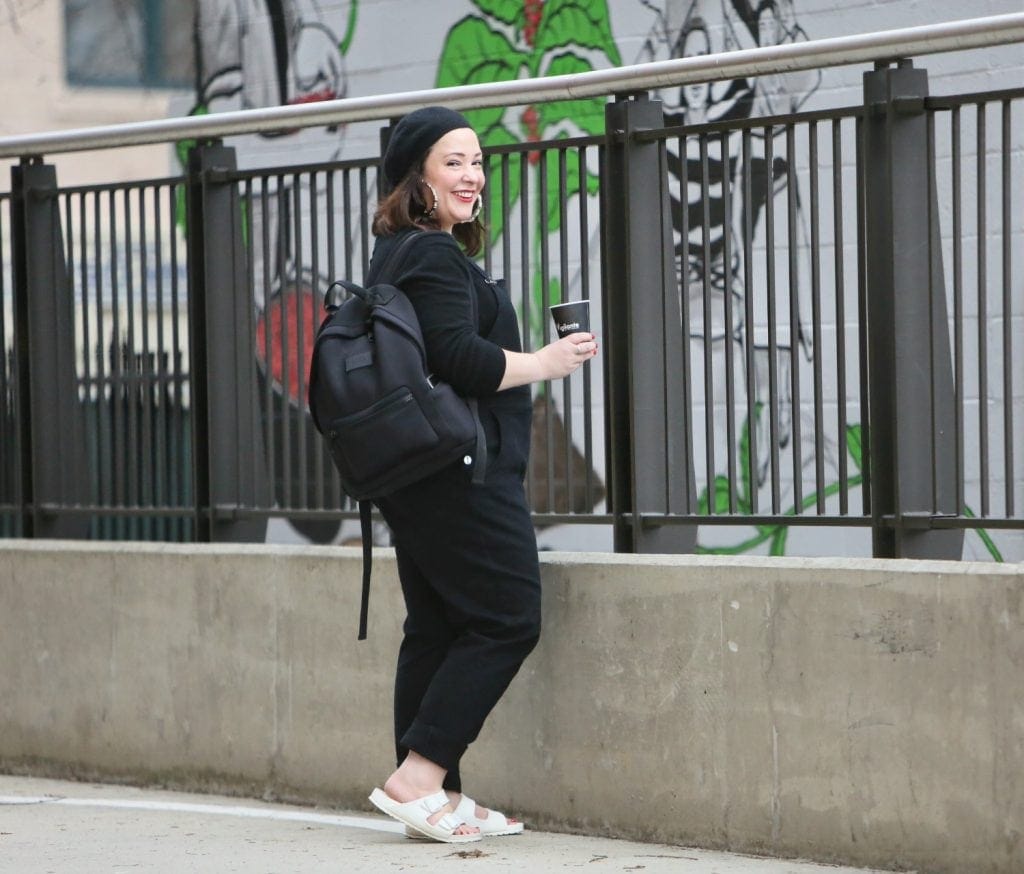 My Carry-on Bag of Choice: The Dagne Dover Dakota Backpack
Read my previous Dagne Dover Dakota Backpack review. I still am rocking the same backpack (FYI I have the Large size) and it still looks like new though many flights, train trips, and everyday carting my everything. I love the organization; so many pockets, a place for my laptop, and it's so easy to access what you need even when stuffed under a plane seat.
What's In My Carry-On Bag
I am all about pouches; it's how I organize my daily purse and it's also how I organize my travel bag.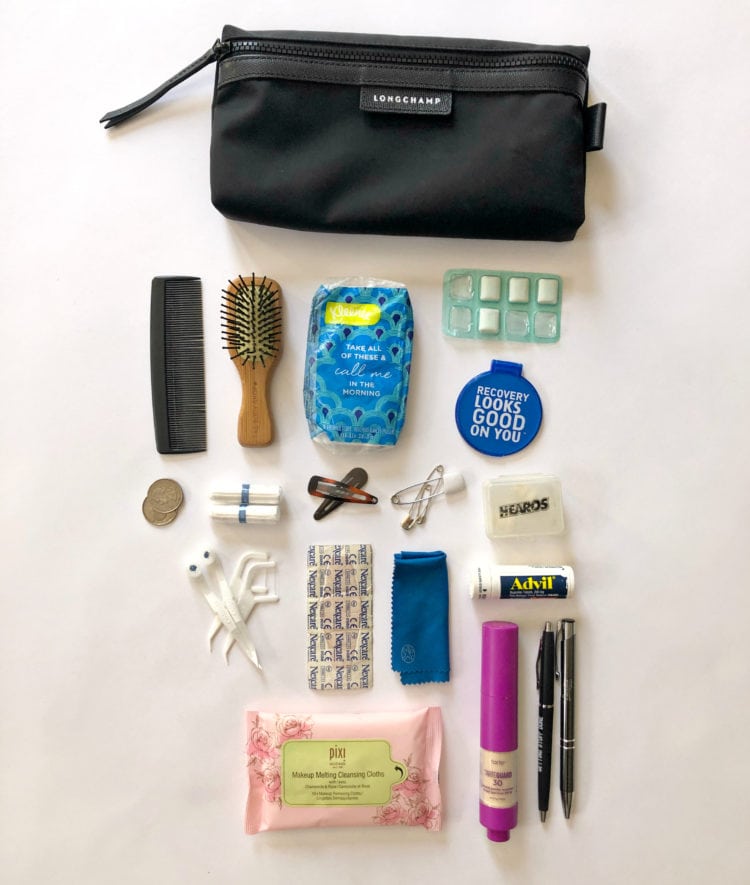 The main pouch I call my Personal Essentials Pouch; it's a heavyweight nylon bag with a durable zipper that I received in a swag bag from an event at a Longchamp store.  In this bag I have:
Small Comb and Hairbrush – As I mentioned in this post, choosing smaller versions of your everyday products saves space when packing.  The comb I have no idea when or where I got it; the brush is from The Body Shop and I purchased it at an airport!
Tissues – Because life happens.
Gum – For popping ears and fresher breath.  I usually carry more than one pack.
Mirror – A phone's selfie camers can work, but sometimes it's just nice to have the real thing.
Change – If I need to make a call, if I need to rent a trolly, if I want to give a tip at the coffee shop… I always carry a few quarters and dimes in my bag.
Tampons – In case Aunt Flo is early or in case a fellow woman is in a jam.  I am a fan of LOLA.
Barrettes and Safety Pins – Because life, fallen hems, busted seams, and bad hair happens.
Ear Plugs – I don't usually wear them on the flight, but like to have them just in case.  I also like them in case I have a noisy hotel room.  These are from Hearos and a style that is more for attending concerts but they get the job done and work with over-ear headphones (and I highly recommend them for live music).
Flossers and Wisps – Flossers are a must, especially if you have older teeth.  Colgate Wisps are great for a quick brushing and freshening during or after a flight.
Band-Aids – I once wore new shoes to the airport and had to spend $8 on two crappy Band-Aids to cover the popped blister on my ankle. Now I carry my own.
Glasses Wipe – I always carry one in my bag.
OTC Meds – See below.  They are sometimes in my liquids pouch, sometimes in this pouch.
Face Wipes – For when I feel grody after a long flight.
Mineral Powder Sunscreen – See below as I included them with my liquids.
Pens – I always bring at least two because one always decides to run out mid-brilliant thought in my journal.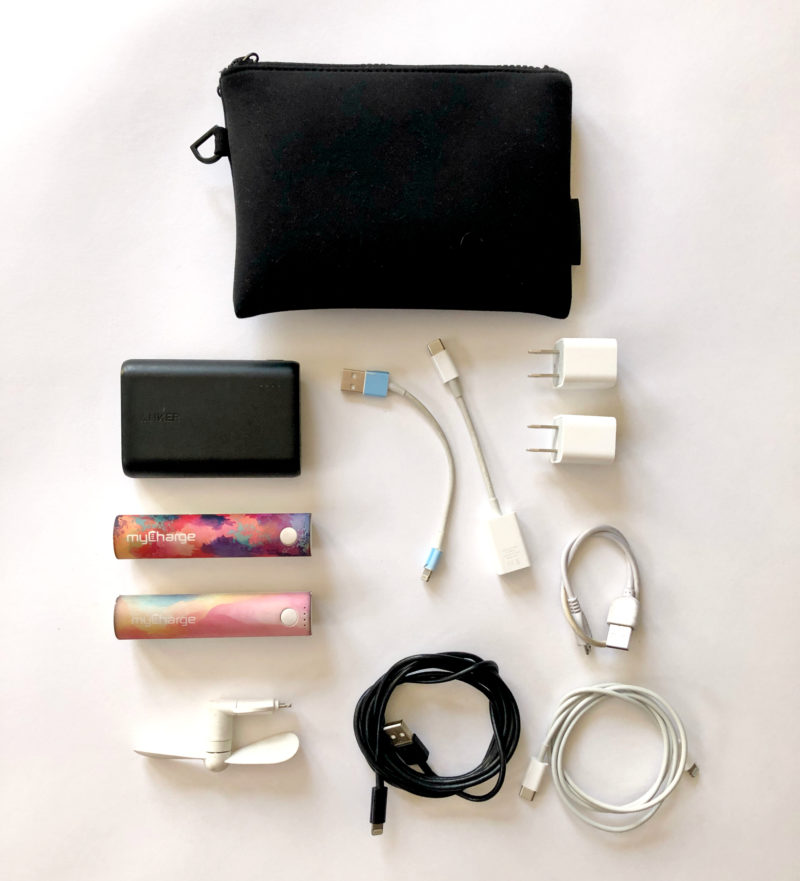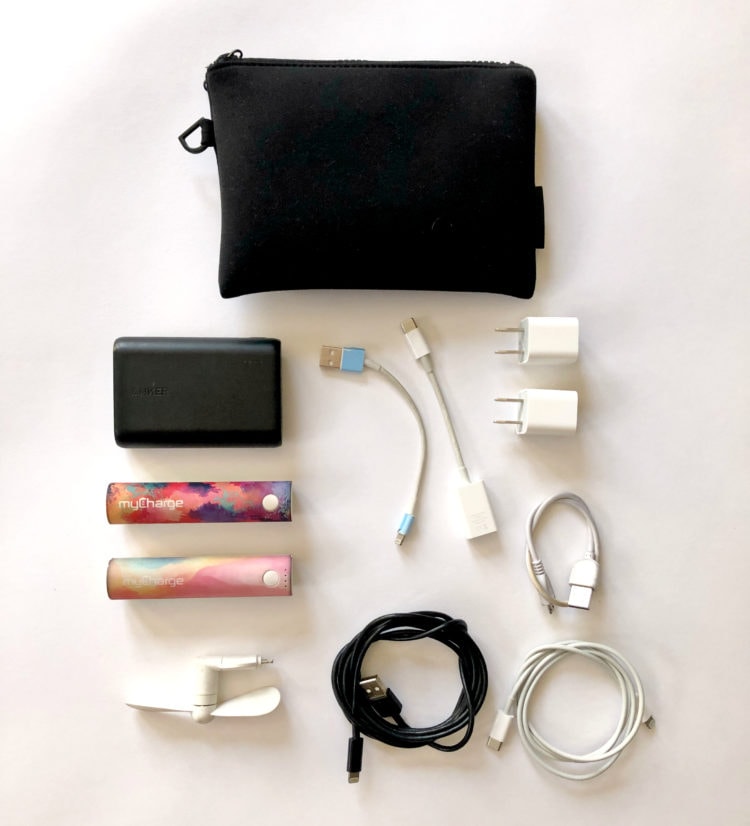 My second pouch is my Electronics Pouch.  This is the zippered pouch that comes with the Dagne Dover Dakota backpack.  In here I keep my chargers, cords, plugs, and a little USB fan I got in yet another swag bag and has become a travel must when stuck on the tarmac and the air isn't yet working on the plane (or when you're just on a hot plane).  Also nice when waiting in line outside. This is essentially the same gadget.  As for chargers, this one from Anker is my absolute favorite; it can keep me going all day even if I am at a blogger event and taking a ton of photos and videos and using social media without WiFi.  The ones from MyCharge (one I bought, one was gifted to me by the brand a year or so ago) are small enough to fit into a dressy clutch purse or my pocket and will give enough to get through an evening with lots of phone usage.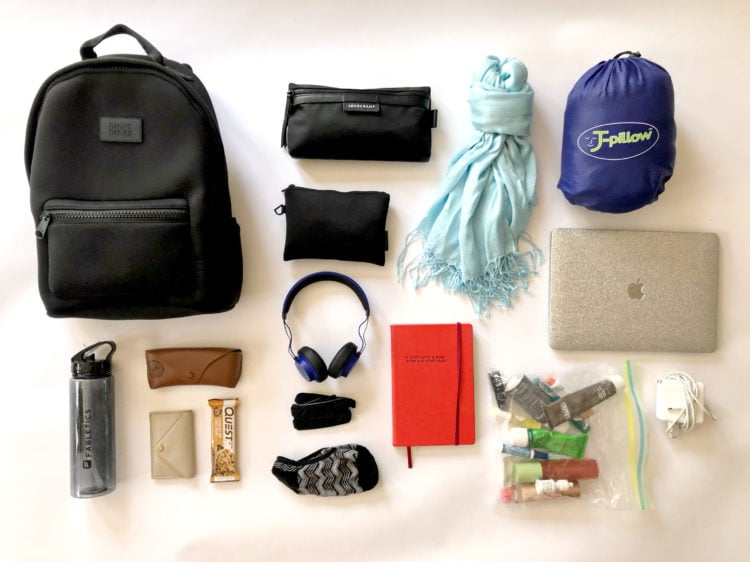 Other than the two pouches, the items in my carry-on bag are:
A Pashmina – This one is from Chico's but any large scarf is great for travel.  It's a good blanket on the plane, offers extra padding if you wish to take a nap, adds style to looks, and wards off chill with dresses.
A Neck Pillow – I hate carrying around a neck pillow, but it is essential when you're flying cross-country.  This flight I am leaving my house at 8am ET and not arriving in California until 4pm PT and then I have an event to go to that night.  If I don't nap on the plane I won't make it.  This is the J-Pillow which has an extra appendage that keeps your head from falling to the side (or onto your seatmate).
Reusable Water Bottle – You can't bring water through TSA, but if you bring a reusable water bottle, most restaurants at the gates will fill it with water and/or ice for free.  Then you also have a bottle once you reach your destination. I've found these days most hotels have a filtered water machine in their fitness centers.  This bottle was free when I did a campaign with Fabletics and I like that it's narrow enough to fit in the side pocket of my backpack.
A Snack – I always have at least one protein bar tucked in my bag.  Terrible options at the gate, hungry on the plane, flight delay, or saving money… it's a smart choice.
A Journal – I get some of my best writing done on flights.  I have trouble focusing on podcasts and reading, and I rarely have the time to sit down with a pen and paper like I can on a plane.
Bluetooth Headphones – My headphones are by Jabra.  I got them free from the brand but that was two years ago and they're still rocking.  They keep their charge way longer than any other Bluetooth headphones I've owned. I wear them to the gym and they get sweaty, they've been shoved in plenty of bags under plane seats and in trunks of cars and still rock.  Oh, they're also less than $50.
Sunglasses – I wear them to and from the airport, but they're also great at preventing people from trying to talk to you on a flight.
Socks – While I'm in line at TSA I will slip off my shoes and if I'm not already wearing socks I'll slip them on to stay off the gross floor and to save time. They're also nice to have on a flight if your shoes are constricting.  These are from Smartwool.
Laptop and Cord – I don't use my laptop much on a plane unless I have specific work to do but I spend a lot of time on my laptop when waiting for my flight.
Luggage Strap – My backpack doesn't have a sleeve to slide it onto my suitcase's handle; this gadget accomplishes the same thing and is great to have on hand if I come home with an additional bag.
Mini Wallet – No need to bring all the contents of my wallet on travel.  ID, debit card, emergency credit card, insurance cards, and some cash is pretty much all I need.  I use the Dagne Dover card holder; I like how there are two pockets so I can keep cash separate.
My Liquids – Separated for TSA, these are all the liquid products I want for the flight and after.  For this trip I am checking my luggage; click here to read how I pack when not checking luggage.
What Toilitries I Carry on a Plane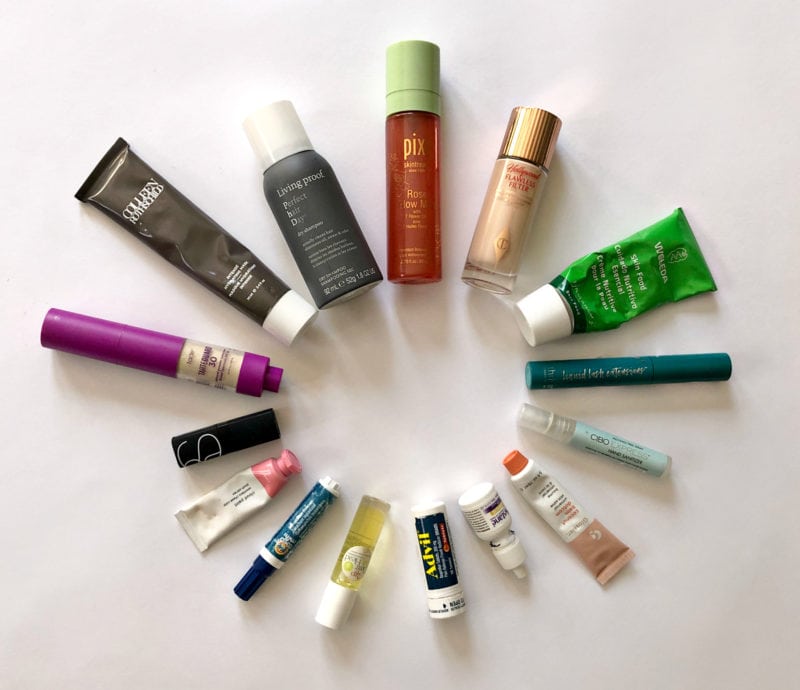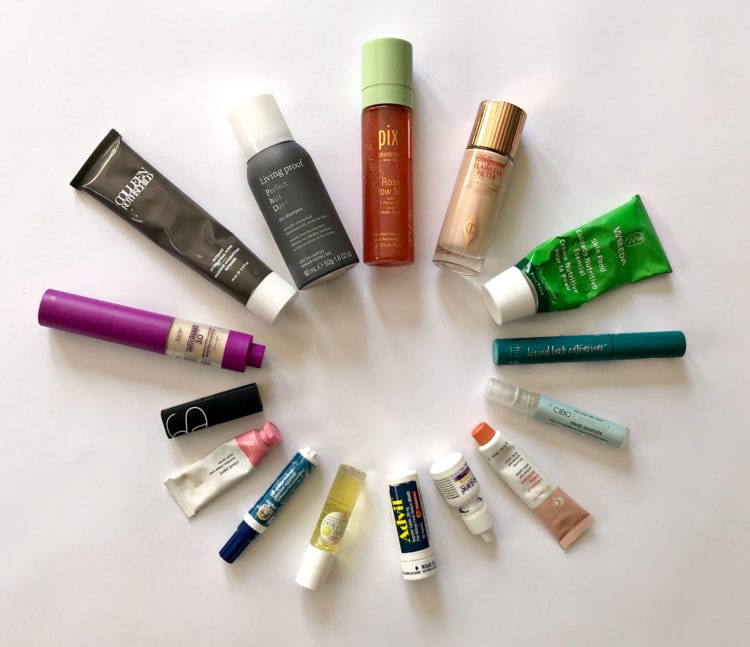 Here are the items that are in my liquids bag when I am checking luggage.  A few of the items aren't liquid but I put them in there anyway because there's room and it's easy to find them later.
Face Mist – Flights are drying, a mist can add a boost of hydration and also smells nice. I like the smell of this one from Pixi and like that the bottle is durable, a TSA-friendly size, and a nice price.
Tinted Moisturizer – I don't wear makeup on flights but like to have it for when I land, especially if I have to straight to an event or meeting.  Tinted moisturizer looks better when slapped on in a rush in an airport bathroom than heavier foundation.  This product from Charlotte Tillbury is great on its own, as a primer, or even over foundation to give a glow and filtered effect.
Hand Cream – Instead of classic hand cream, I prefer Weleda Skin Food which can also go on my face, lips, cuticles, elbows, and more.
Mascara – Again for once I arrive at my destination.  I am currently obsessed with Thrive Causemetics which doesn't smudge and makes my lashes look long and lush.
Hand Sanitizer – A must when flying!  I will even wipe down my tray table with hand sanitizer.
Lip Balm – Again, I like products that work double-duty, and Glossier's Balm Dot Com can also be added to cuticles and dry places anywhere on the body.
Eye Drops – My eyes became drier after getting LASIK, and are especially dry on flights.
OTC Meds – That little Advil container has Advil as well as Benadryl and Imodium.  I refill it from bigger containers, it's on its third year of being a given in my purse and travel bag.
Aromatherapy Roller Ball – This one helps destress while also helping with sinuses (two issues I regularly deal with). I also like having it when a seatmate has that not so fresh feeling.
Stain Stick – Because life happens.
Cream Blush – Again for once the plane lands.  I like Glossier's Cloud Paint because it's easy to apply without looking like a clown and because I can also add a dab on lips for a hint of color.
Lipstick – I like to go with a subtle color after a flight, this is 'Pigalle' by NARS.
Sunscreen – This is a mineral powder sunscreen from Tarte that also works as a mattifier/loose powder.  I've learned to carry sunscreen in my carry-on after one time I got stuck for an hour waiting for my ride in the blazing sun and got a sunburn.
Hydrating Face Mask – Since I go with a bare face, I use flights as a time to pamper my skin.  This face mask from Colleen Rothschild is clear, just looks like wet/creamy skin, isn't too fragrant, and can either be left on or easily tissued off.
Dry Shampoo – While my skin will be dry after a flight, my hair will look like it hasn't been washed in a week.  Living Proof makes my favorite dry shampoo.
Shop the Post:

Dagne Dover Promo Code
Use ALISON10 at checkout to get 10% off your order at Dagne