This article may contain affiliate links; if you click on a shopping link and make a purchase I may receive a commission. As an Amazon Associate, I earn from qualifying purchases.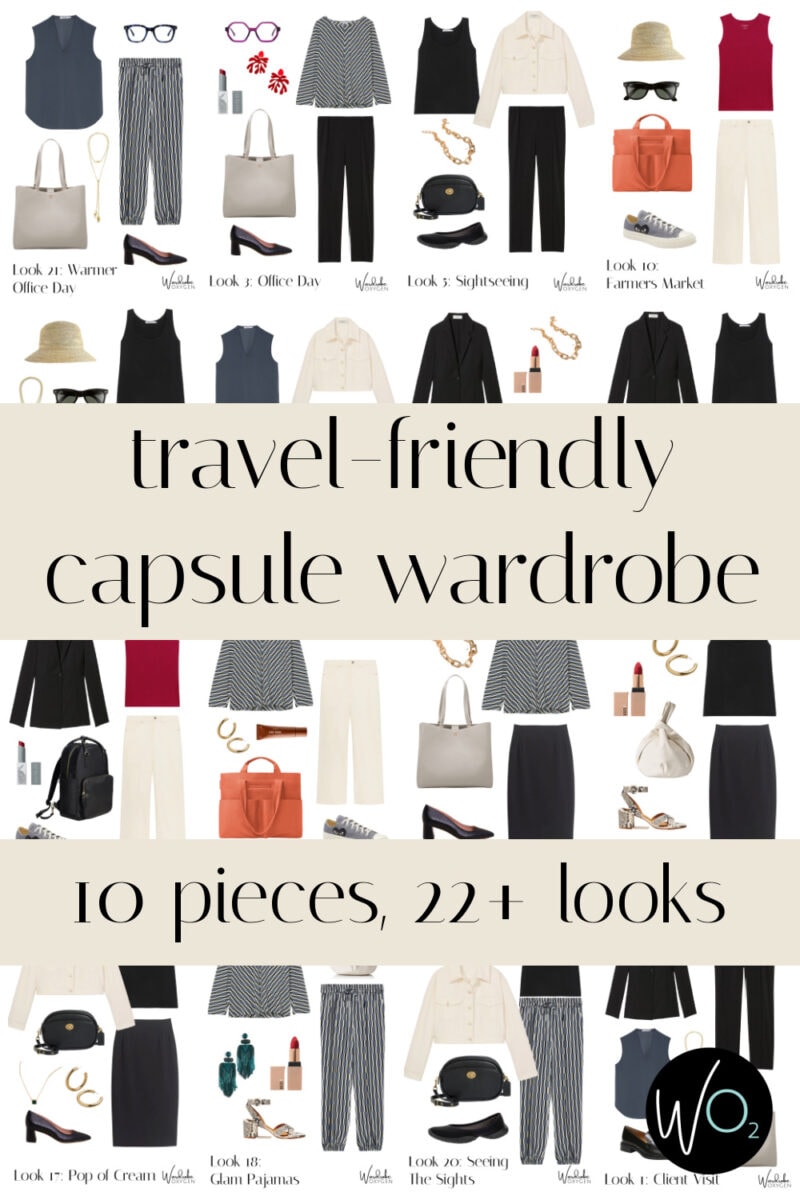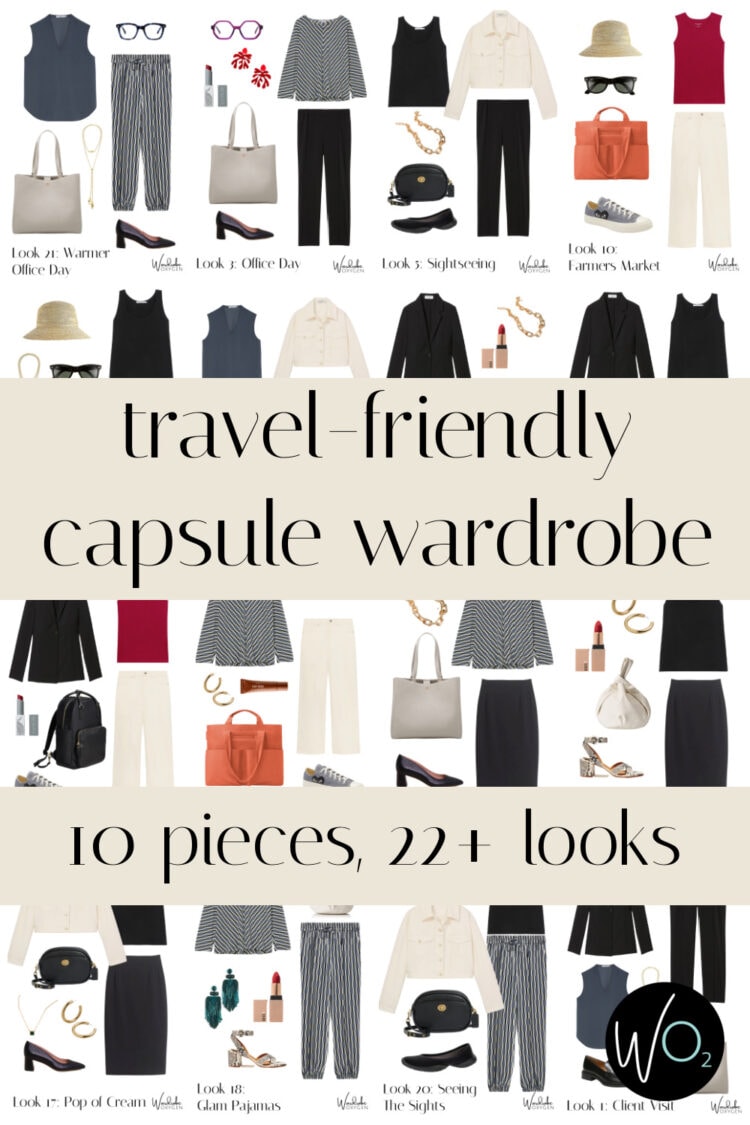 Earlier this month, I was invited to visit the DC M.M.LaFleur showroom and check out their summer collection. M.M.LaFleur gifted me four pieces of my choice, but it was hard to pick just four. I've struggled with M.M.LaFleur fitting my short, curvy body in the past when shopping online; going in person gave me a whole new perspective and everything I was trying worked together like a travel-friendly capsule wardrobe.
Inspired by my visit to M.M.LaFleur and some of the pieces currently in my wardrobe, I created this travel-friendly capsule wardrobe based on 10 pieces from the current M.M.LaFleur collection. While I have worked with M.M.LaFleur in the past, this is not a paid or sponsored post, this is just what was running through my head while shopping the retailer. Stay tuned, I got some of the pieces in this capsule and will be wearing them here and on Instagram!
A Travel-Friendly Capsule Wardrobe Inspired by M.M.LaFleur
This travel-friendly capsule wardrobe has a mix of casual, professional, and quirky. From 10 pieces of clothing and a bunch of accessories, I was able to create 22 very different looks for work, weekend, nights out, sightseeing, and much more.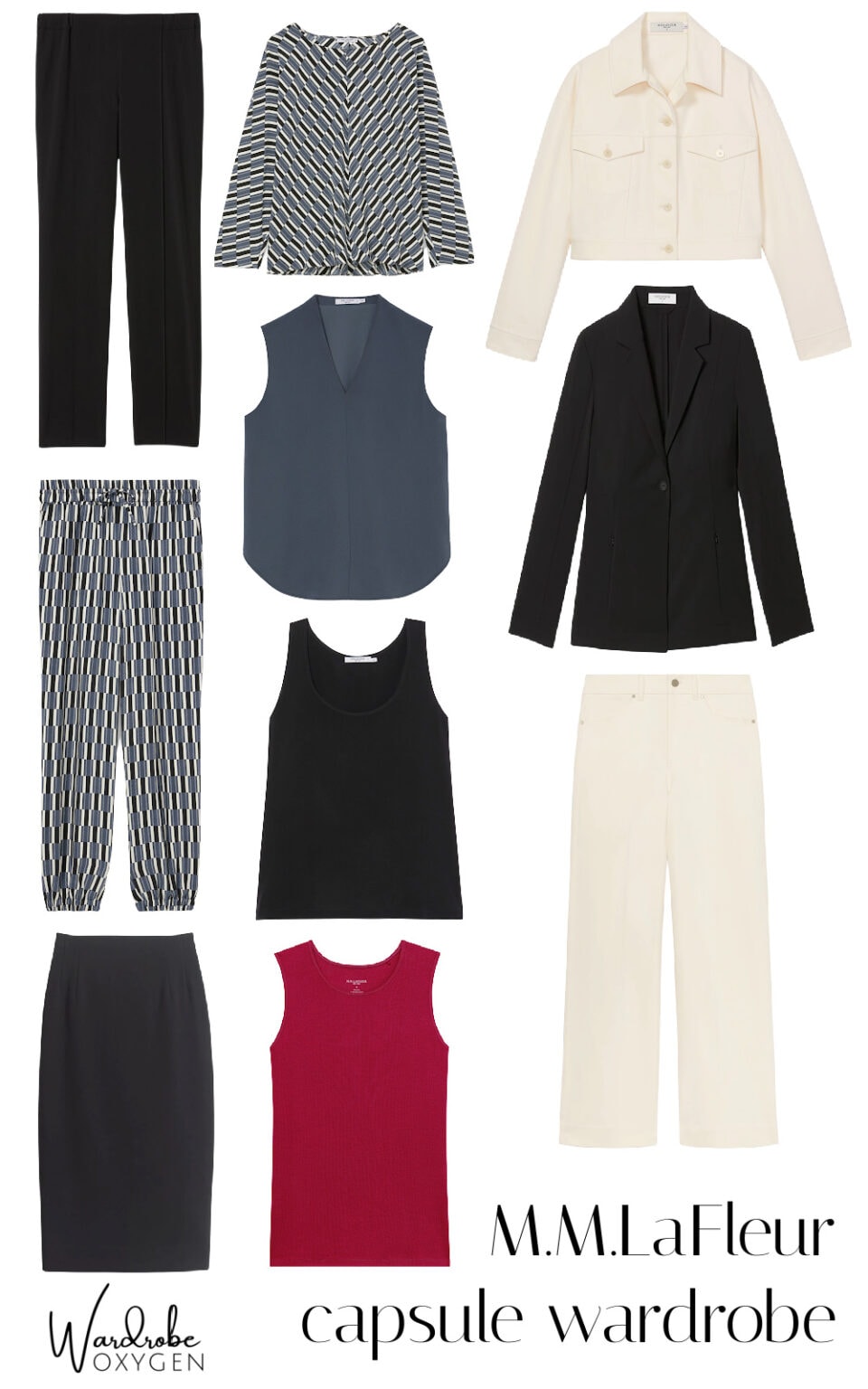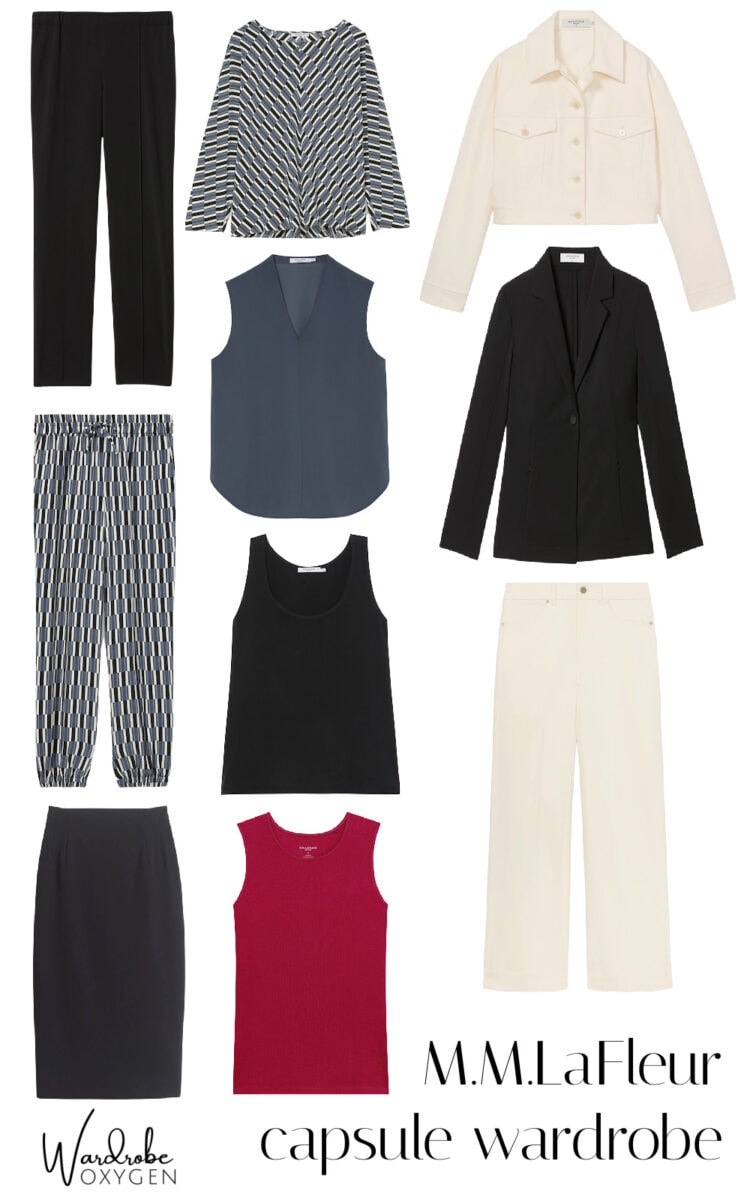 black OrigamiTech pants | printed washable silk joggers | black OrigamiTech skirt | printed washable silk top | sleeveless blue v-neck top | black washable silk tank | berry/red knit tank | cream Better than Denim jacket | black OrigamiTech blazer | cream Better Than Denim pants
I was originally inspired by the M.M.LaFleur OrigamiTech collection which I reviewed. I appreciated the fabric, the versatility, and how great it is for travel yet also polished situations. I also was impressed by M.M.LaFleur's washable silk, and added this top and these joggers in washable silk to my wardrobe. I saw how the two fabrics played so well with one another as well as other fabrics.
Speaking of other fabrics, when at M.M.LaFleur I got to experience their "Better than Denim" fabric first-hand and became an instant fan. This fabric is refined, stretchy, tightly woven, soft yet structured, and feels good on. I had to add some pieces as I do feel this fabric is better than denim for many situations, especially the workplace (it's more elevated than traditional jeans) and for travel (the stretch and bounceback is superb).
Adding a few M.M.LaFleur tops in a range of fabrics to accommodate a range of situations in a range of formality, this travel-friendly capsule wardrobe came to be.
As always, I create these capsule wardrobes not just to showcase these specific pieces of clothing, but to inspire you to see beyond the looks you currently create with your existing closet. My hope with Wardrobe Oxygen is that you find ways to create more style with fewer pieces. To shop slow and with care, creating a wardrobe that works as hard as you do, appropriate for the body you are in and the life that you lead.
M.M.LaFleur is available up to size 18 or XXL, with several pieces toted as being tall- or petite-friendly. I found that my 5'3″ soft curves fit well in size 14 and varied between Large and XL depending on the amount of stretch and the cut of the garment. I am usually a 14 or XL at most any mall brand.
Whether you do an in-person session at one of their showrooms or schedule a virtual appointment with M.M.LaFleur, your stylist will know the cuts and fabrics well and can guide you on what size may be best for you.
Travel-Friendly Capsule Wardrobe: 10 Pieces, 22+ Looks
Below are 22 separate images featuring 22 different outfits created from this capsule. To see any of these looks larger, simply click on any of the images. There will be arrows on the left and right of the images to scroll through. To return to this page, click the "X" at the top of the screen. Keep scrolling for details on the bags, shoes, and other accessories.
I hope you can see how this travel-friendly capsule wardrobe could extend even further with the addition of some items like a pair of classic jeans, walk-friendly shorts, a graphic t-shirt, and maybe another tank or shell in white, ecru, or another pop of color.
The Accessories Make this Travel-Friendly Capsule Wardrobe
What really made this travel-friendly capsule wardrobe great was the mix of accessories. Sometimes with my capsule wardrobes I stick to just two pairs of shoes and one bag, other times I have different accessories for each outfit. This one, I sort of stuck to a capsule of accessories and footwear: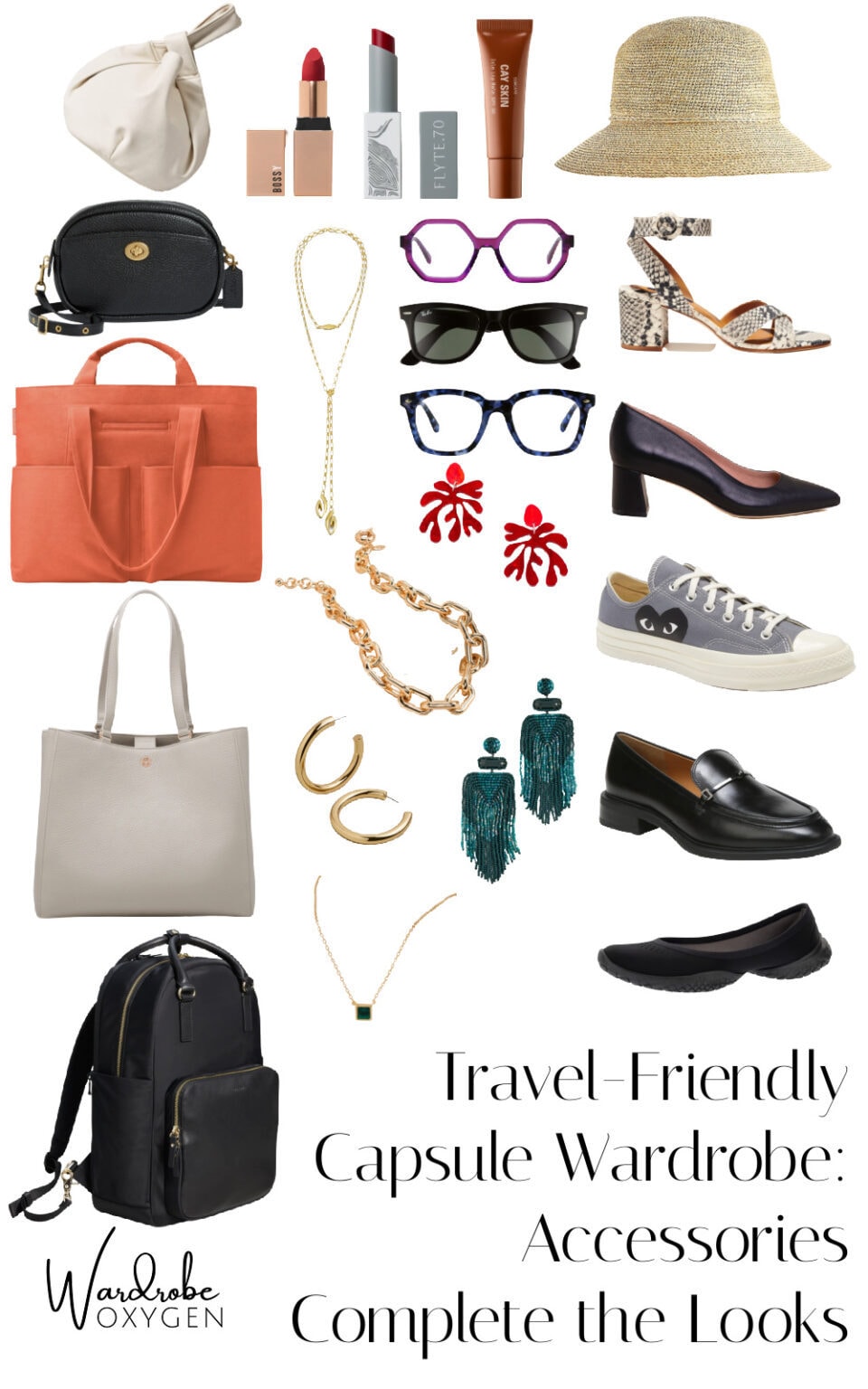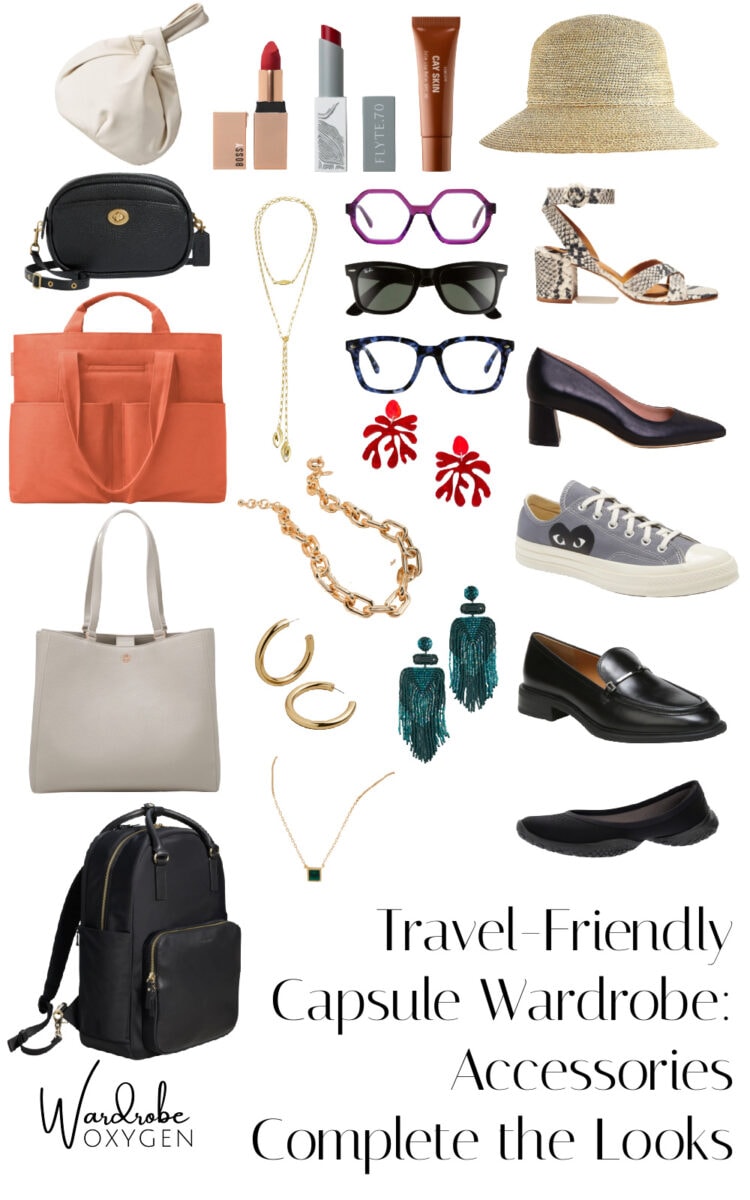 ivory pouch-style bag (I own and love; several other colors available) | black "camera" bag (a classic) | orange organic cotton tote (I own and love; several other colors available) | leather laptop tote (I own as well; other colors available) | laptop tote/backpack (highly recommended by members of the Wardrobe Oxygen community)
red lipstick (own and love) | dark red matte lip balm/stain (own and love) | lip balm with SPF
long gold lariat necklace (own a lot from this jewelry brand) | gold link necklace (own and love) | red lucite earrings | teal beaded fringe earrings (own other pieces from this brand) | gold hoops (own and love) | malachite and gold necklace (own other pieces from this Etsy seller)
purple statement readers (I own in a different color) | classic Wayfarer sunglasses | blue reading glasses | straw hat with UPF 50+
snakeskin heeled sandals (own shoes from this brand) | black block heels (own same shoes in different color) | gray sneakers (other colors available) | black loafers (other colors available) | black flats (own and love)
I kept the pieces pretty simple, so you may find similar already in your closet. If you do choose to shop, I specifically chose pieces I either own myself, are from brands I am very familiar with, and support small businesses and/or companies owned by women of color.
No capsule wardrobe will suddenly make you have the perfect outfit for every occasion. There is a good chance if you try too hard to make your everyday wardrobe a capsule you will quickly grow tired of the pieces. But capsules, especially for travel and to update an existing wardrobe for a new season, are a good practice for seeing how to make garments live multiple lives.
Each item you add to your closet should be able to be styled at least three ways. As you saw in this capsule, joggers went from work to weekend to dressy occasions. A silk tank was a shell for a quit, a relaxed top for a weekend look, and paired with a skirt to replicate a sheath dress. Pieces don't have to be boring or basic to be extremely versatile.
M.M.LaFleur is not a budget fashion brand, but the quality and attention to detail, along with extreme versatility is why I chose the brand for this travel-friendly capsule wardrobe. These pieces are on trend but not trendy, they are of high-quality fabrics that are also easy-care, they're timeless while still modern. The pieces in this capsule are the kind you can still enjoy wearing five years from now.
Whether or not you own or purchase these items, I hope this capsule wardrobe inspired you to create more style with fewer items in your closet!
Shop the Post: