This article may contain affiliate links; if you click on a shopping link and make a purchase I may receive a commission. As an Amazon Associate, I earn from qualifying purchases.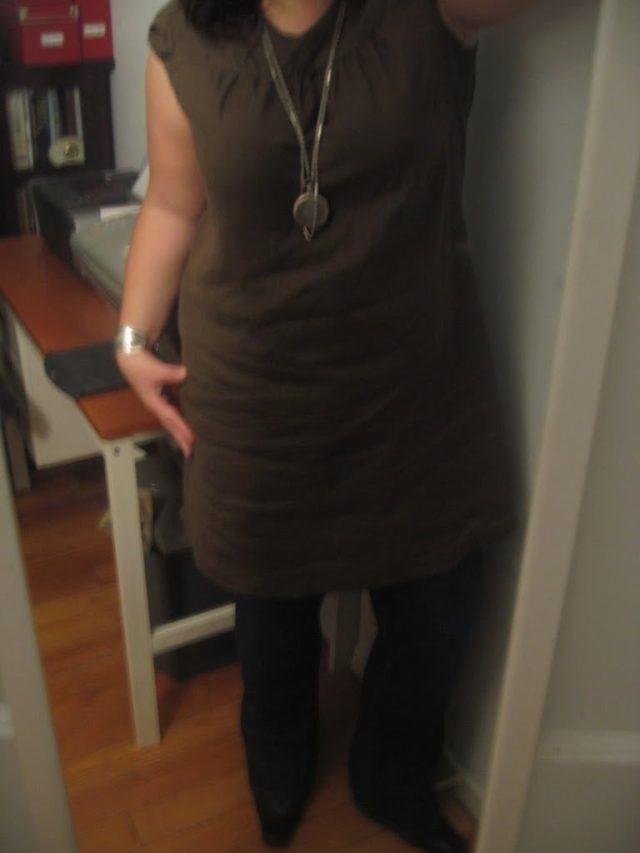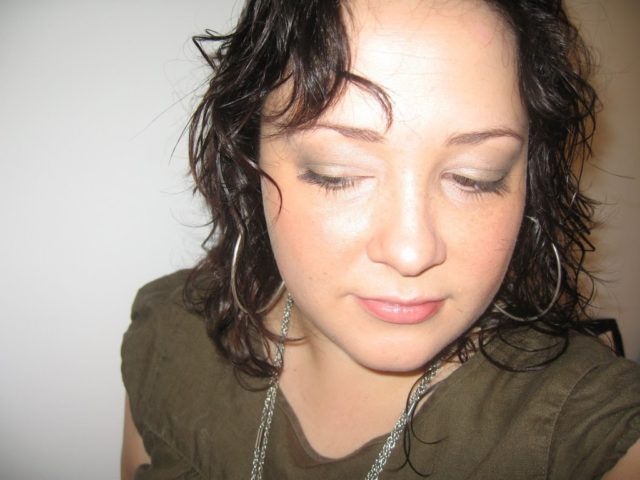 It's raining. I mean, I am glad for it because everything has been so darn dry but that plus the dark mornings already taking place… it's hard to be lively in the AM.
Olive linen puff-sleeved shift dress from Old Navy, dark "The Flirt" bootcut jeans from Old Navy, black city boots from Impo, silver hoops and cuff, silver necklace fromt he Ren Fest, silver pocketwatch necklace from Ann Taylor Loft.
Hair washed and conditioned, a bit of Jonathan Silky Dirt and obviously headed to work with my hair still wet. With the rain, it didn't look like Kip Winger, more like beachy hippie waves. I think it fits and looks pretty good.
Makeup is L'Oreal True Match concealer in W4-5, philosophy's The Supernatural in Beige, Cargo Matte BeachBlush in Tenerife, Revlon ColorStay shadow quad in Neutral Khakis – ivory in inner corners, olive on lid and along lash lines. Lashes curled, two coats of DiorShow in black. On lips is Revlon Super Lustrous Lip Gloss in glossy Rose.
I was supposed to dress up in costume today – this afternoon the employees are invited to bring their kids to trick or treat from desk to desk. I signed up – ended up being the only one outside of the corporate services side (I work in the corporate office of my company, but am in professional services/shmoozing the client). Feel a bit goofy so I stopped by Giant last night to get some Halloween garland to decorate my cube and one of those old-school plastic jack-o-lanterns to hold the candy I will be doling out. It's weird – the corporate services sides is all jazzed up with fake cobwebs and orange lights and witch decals on the windows. My department did get festive over near the copier – some lights and garland but my cube is a bit away from the rest and therefore needed some festivity.
But I didn't dress up. I knew no one in my office would and then it rained and I didn't want to wear baggy coveralls and slosh around in puddles. So I copped out. I guess it's for the best – I have seen one woman in a Halloween-themed sweater (Just say NO to Quacker Factory!) and one guy in my old department is wearing a kilt but not sure what the whole costume is supposed to be and they are the only two dressed up. So I guess it's for the best, though I wish I had some cat ears or something for the kiddies when they come this afternoon.