This article may contain affiliate links; if you click on a shopping link and make a purchase I may receive a commission. As an Amazon Associate, I earn from qualifying purchases.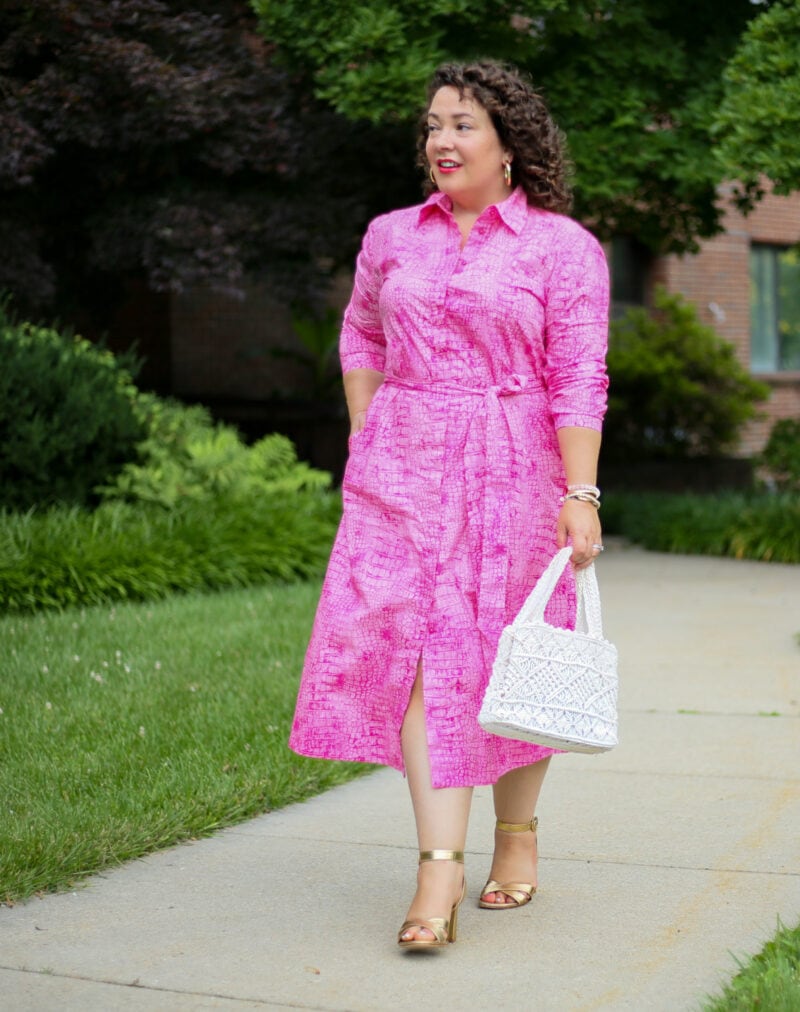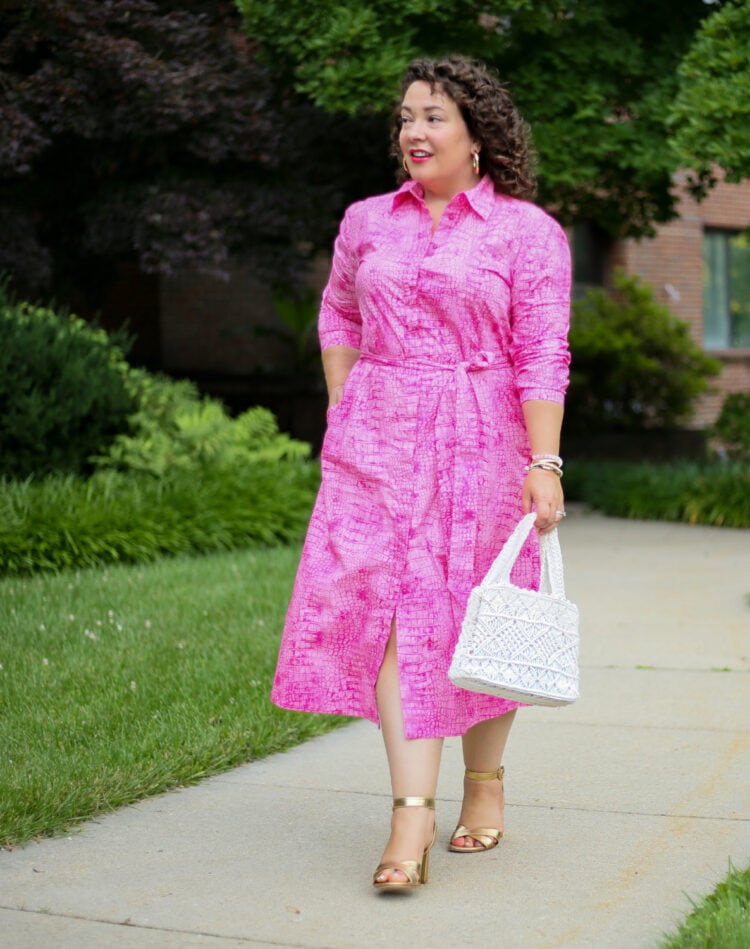 As I mentioned in this blog post, I think a cotton shirtdress is one of the best things for summer. They dry fast, they don't cling, and they can make you look and feel polished even with sweat running down your legs. When perusing the New Arrivals from Chico's I found this pink cotton shirtdress from Chico's Black Label collection and HAD to try it!
As a reminder, I am a Chico's Ambassador. This means I get to pick out New Arrivals to style on Instagram. If I share Chico's looks here on the blog, it is of my own choosing because I like them enough to style/feature, or I think they're worth reviewing (positive or negative). If a post is sponsored/paid by Chico's or any other retailer, I will state that at the beginning of the text.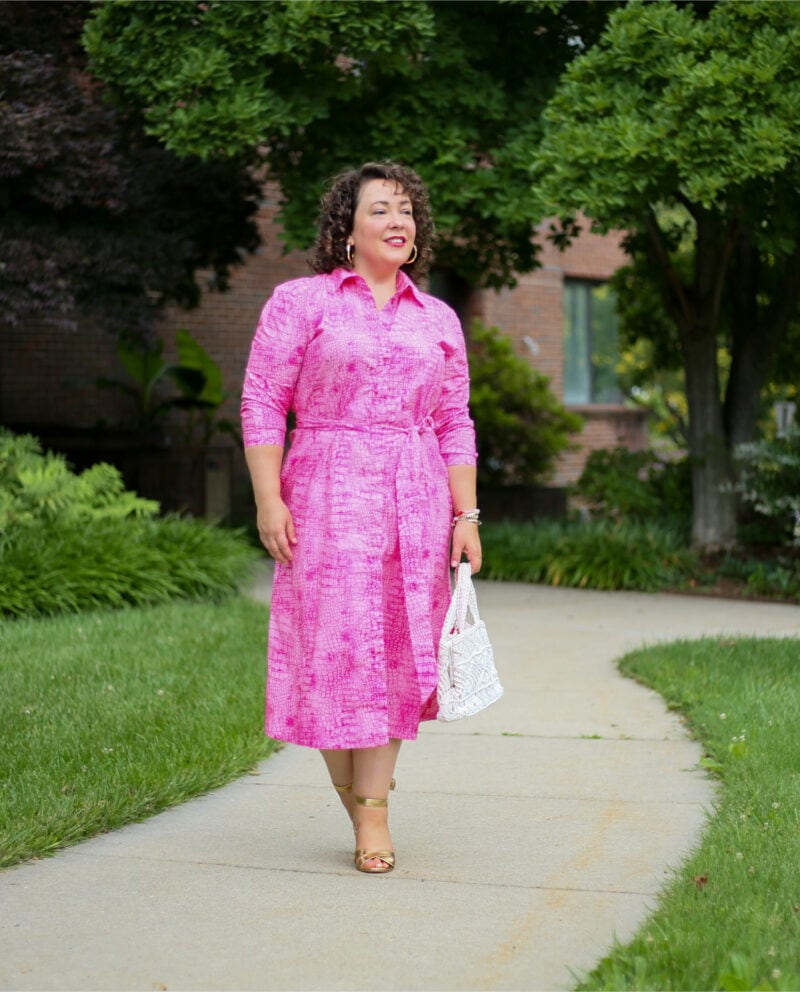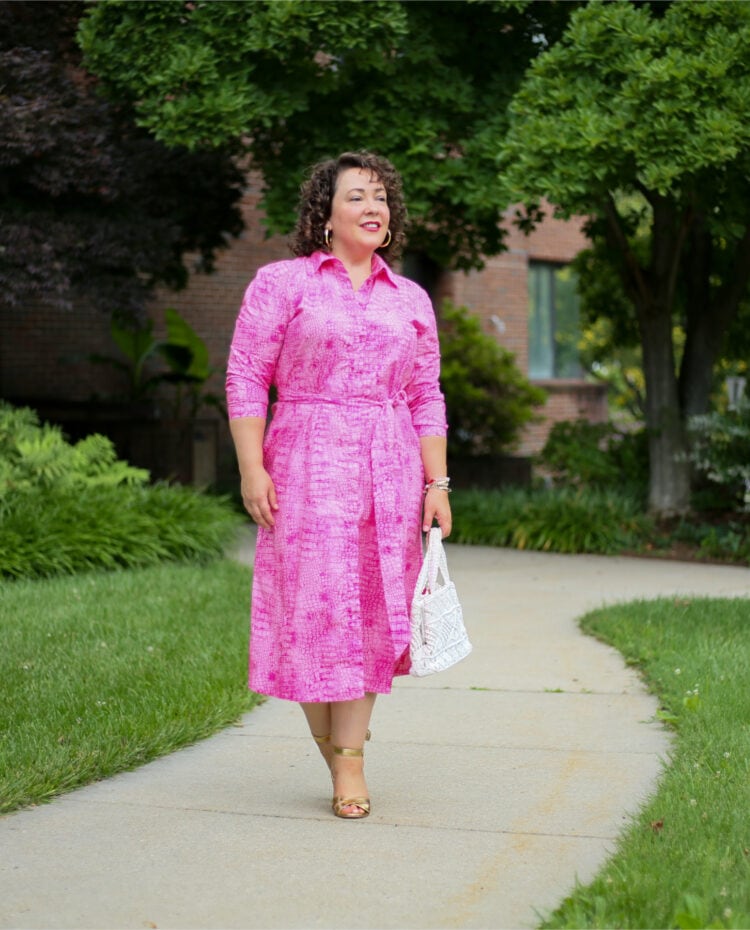 A Pink Cotton Shirtdress from Chico's Black Label Collection
Anyway, back to this pink cotton shirtdress. I showed it quickly in what I wore for a DC staycation, but it deserved some higher-quality photos where I wasn't a disheveled mess after a long day. The dress is made from cotton poplin with a hint of stretch. The buttons down the front are behind a hidden placket; the self-belt is removable (only attached with those little threads) and the dress has pockets. The sleeves are bracelet length with elasticized cuffs; this makes the sleeve look cute down or easy to push up and stay up.
For those who don't like pink, the dress is also available in solid black. However, I love the pink snake print because it's unexpected… and also because it hides sweat! With such a pattern, you can't tell what's shadow and what's from a really hot and humid summer day! At least at the time of writing this (yesterday), both dresses were on sale!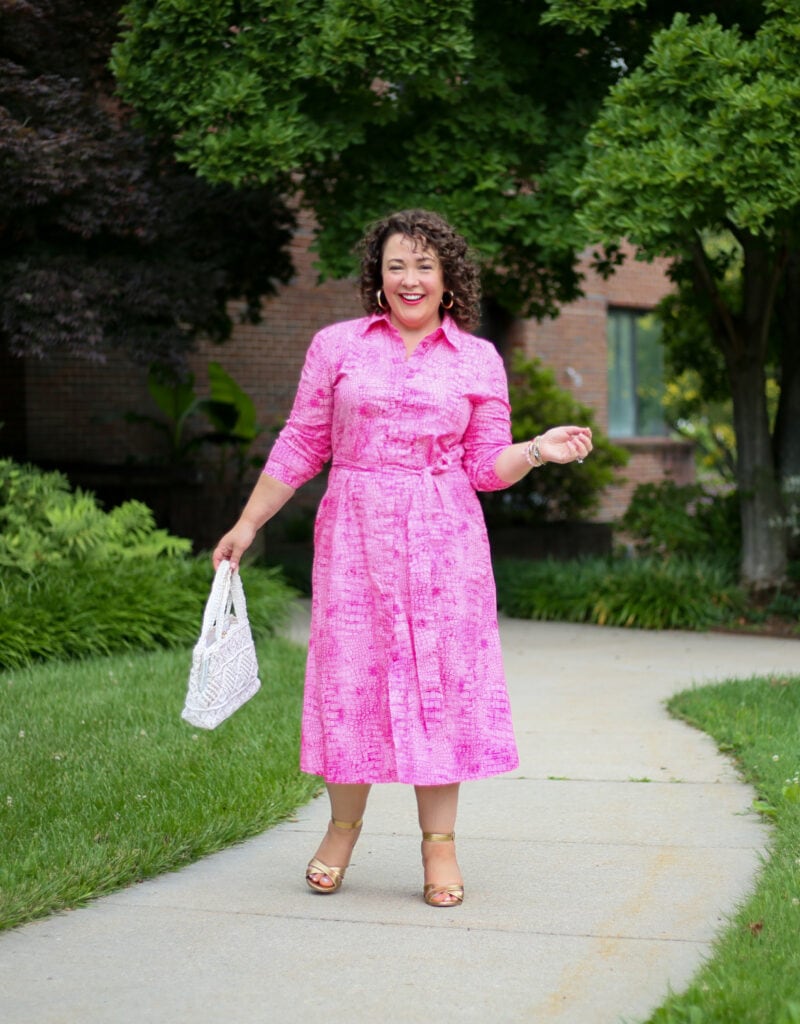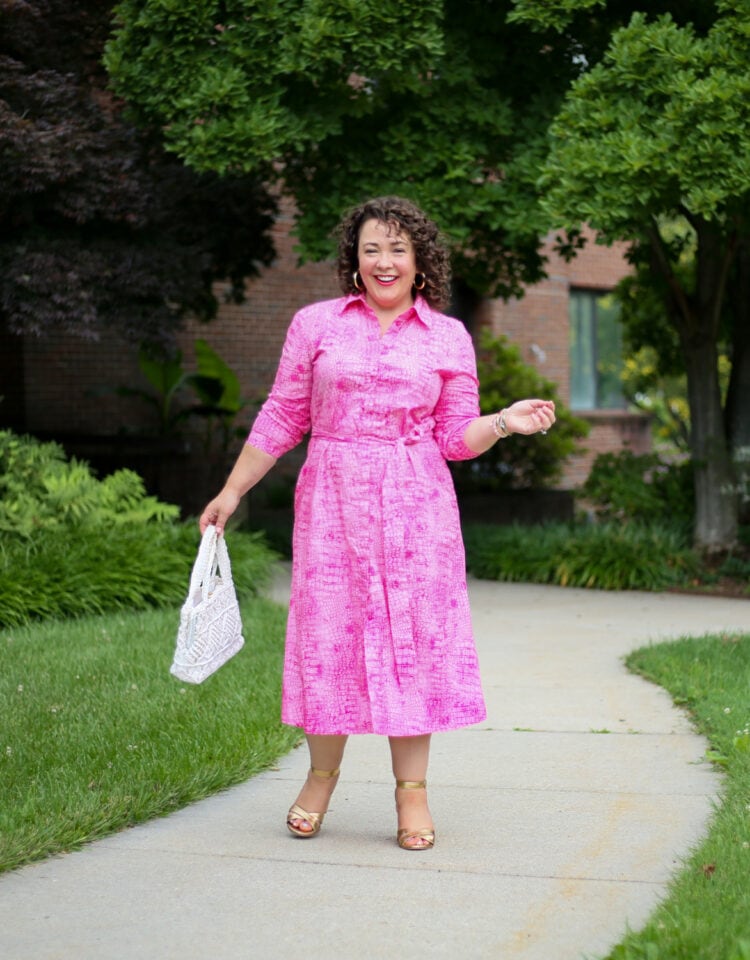 I plan on taking this dress to the tailor to have shortened, I know it will then look better with flat shoes. I am 5'3″; those who are taller will likely find the length lovely. I styled the dress with my Margaux Uptown Sandals (click here to read my Margaux shoes review) to give a bit of height to balance the length of the dress. These heels really go with everything and continue to be the only heels in my closet that I find comfortable.
I am wearing this dress in size Large. While Chico's has their unique numbering size system for its base collection, its Black Label collection has a more traditional sizing convention. I tested before reviewing it; I washed this in the machine AND I put it in the dryer! This is how it looks after without any steaming or ironing. The Chico's Black Label Collection may be pricey but the quality is so good and the attention to detail is designer-level. I have washed and dried other poplin shirtdresses and they have shrunk, faded, gotten pilly, or look like a crumpled paper bag. Highly impressed!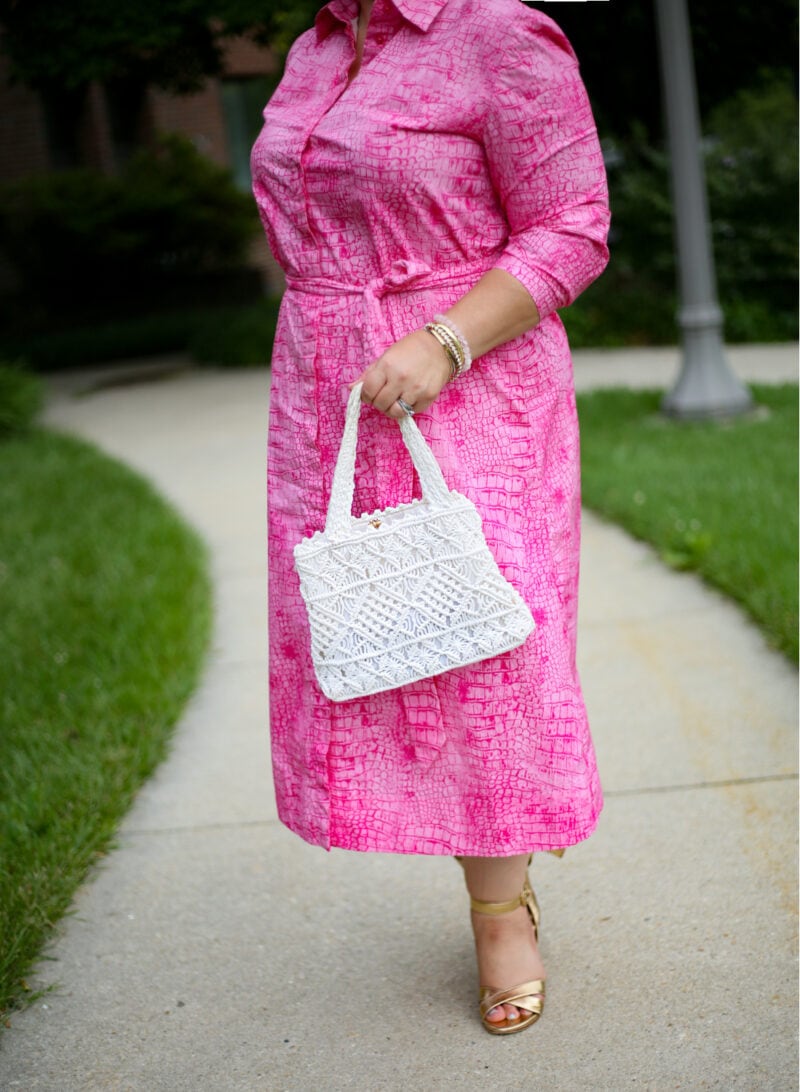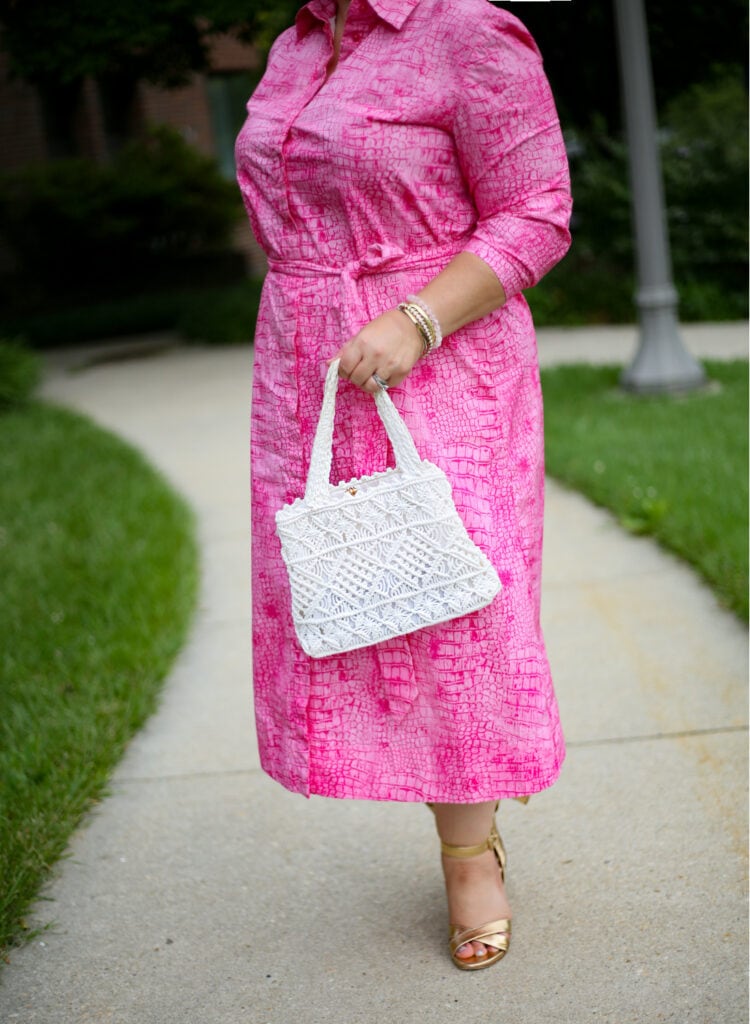 This bag belonged to my mom. She gave it to me when she was cleaning out her closet; we are not sure the history but it is older than I am and the label says Dickins & Jones Regent Street, made in Italy. She is guessing she bought it in the early '70s when she lived in London. A blue ink pen leaked inside but it's near impossible to see on the outside; the straps were a bit dingy over the years of wear but I was able to clean them up with some diluted Dr. Bronner's.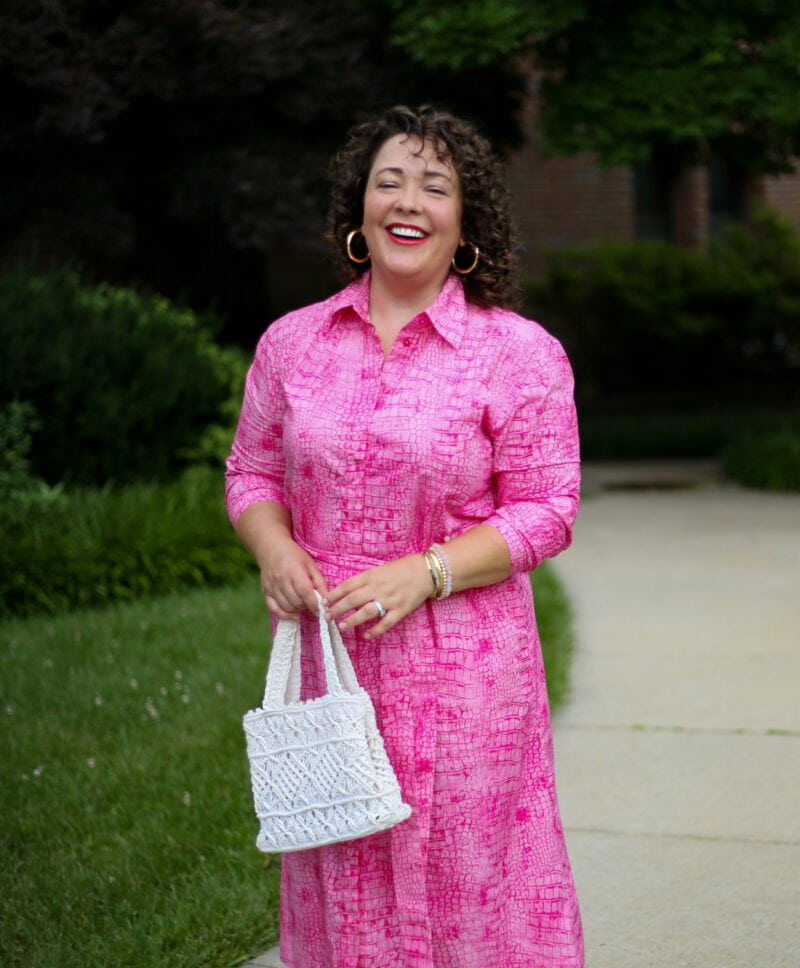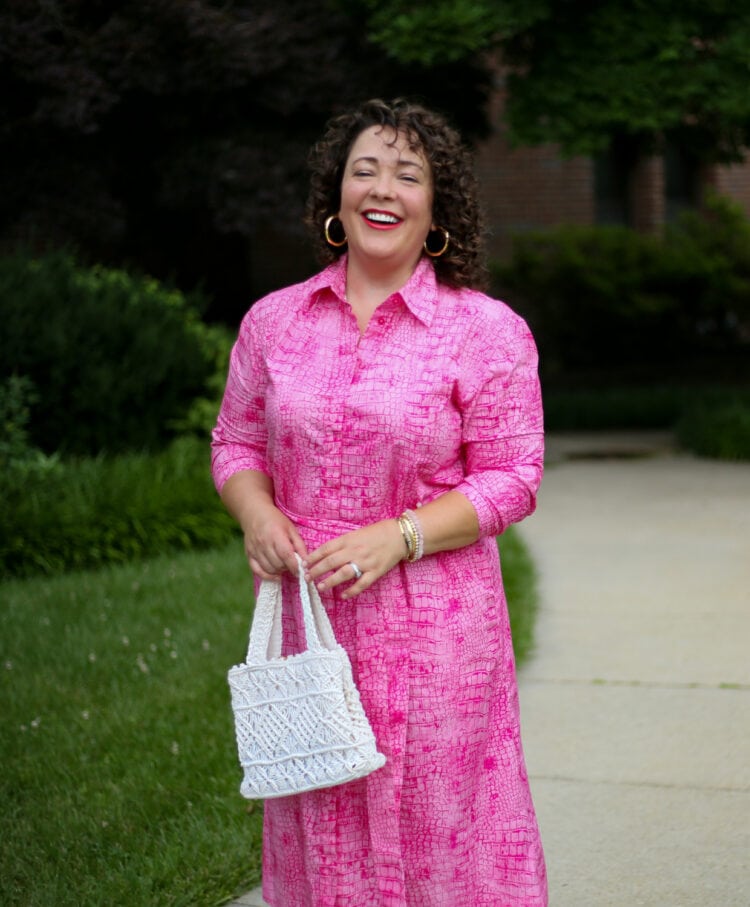 It has two open pockets with a center pocket that has a gold clasp closure and a size that works great in 2021: plenty of room for my phone, my keys, my mask, hand sanitizer, sunglasses, lip balm, and a small wallet (I've been using this in place of my big pre-'demic wallet finding I really don't need to cart all that stuff around). I of course can't link to this bag but I found some other great vintage crocheted bags on Etsy:
Shop Vintage Crocheted Bags:

On my wrist is a real mishmosh of bracelets. The whole "arm party" trend was hot over a decade ago but I am embracing it again. Usually I wear a WHOOP tracking wristband which makes it hard to wear my beloved silver cuff. I started adding a couple of small bracelets around the WHOOP wristband so it didn't look so… athletic. I took off the bracelet for the shoot but left all the randomness: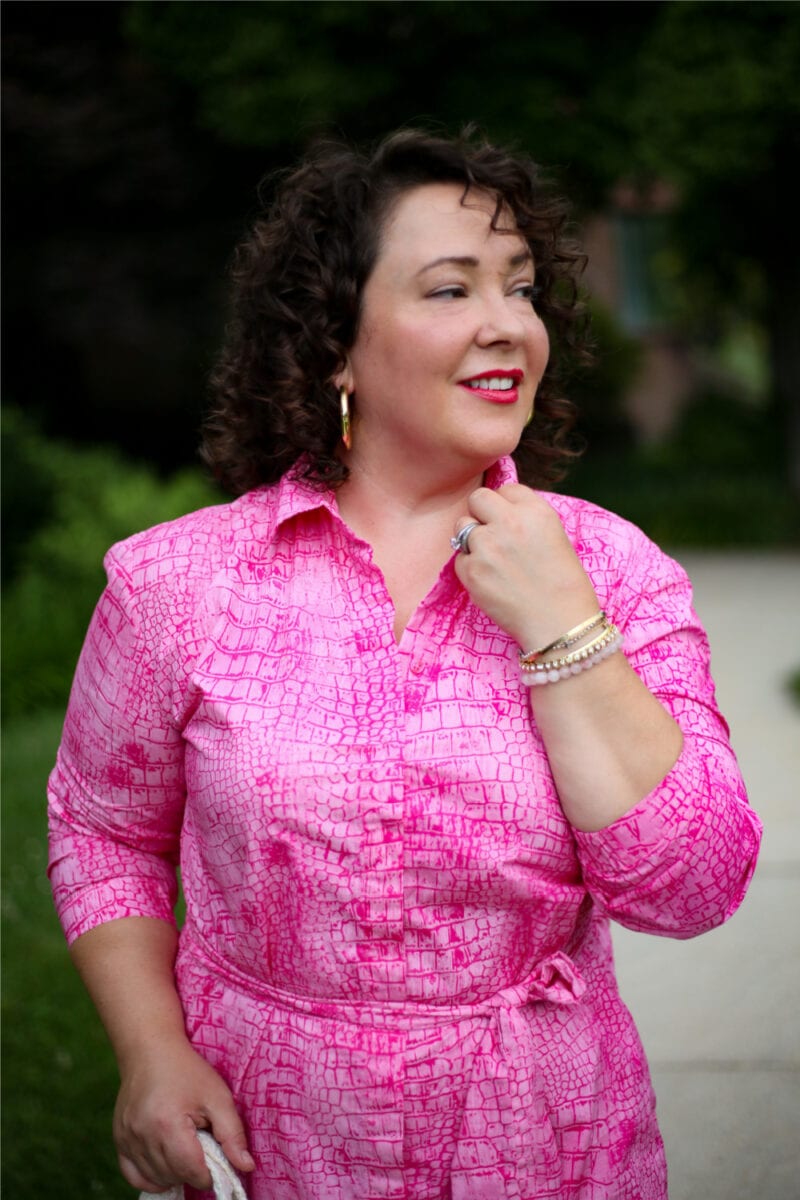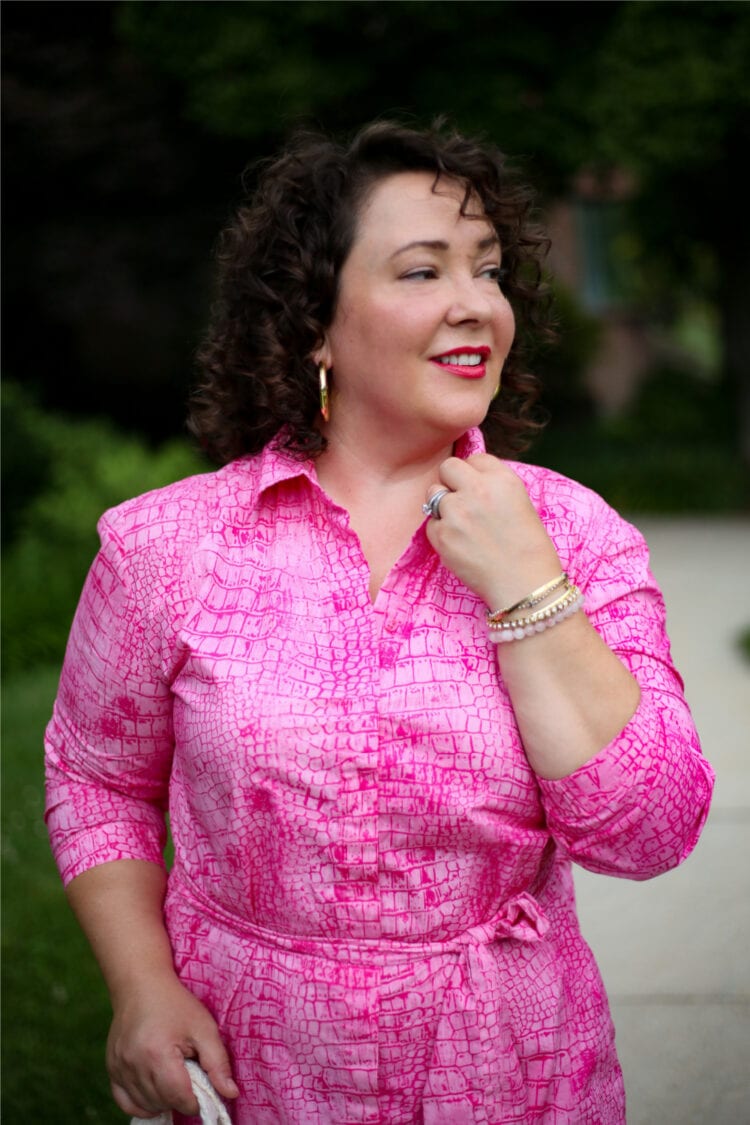 I have one of these cuffs, and one of these cuffs, the pink quartz bracelet was from Colleen Rothschild Beauty in a PR kit, the "diamond" tennis bracelet was a gifted item from a lab-manufactured diamond company that no longer exists that I partnered with back in my blogspot days, there is this LAGOS chain bracelet that was a gift from the brand at a lunch I attended a couple of years ago, and this bracelet which has a little saying our family says engraved on it (a gift from the brand from almost a year ago).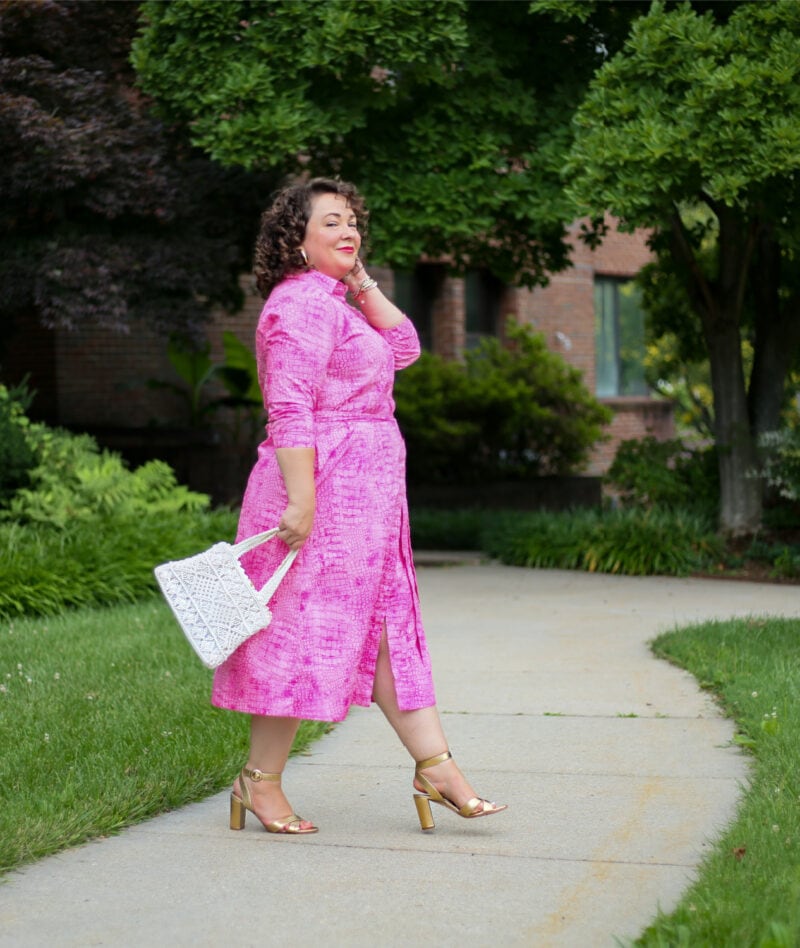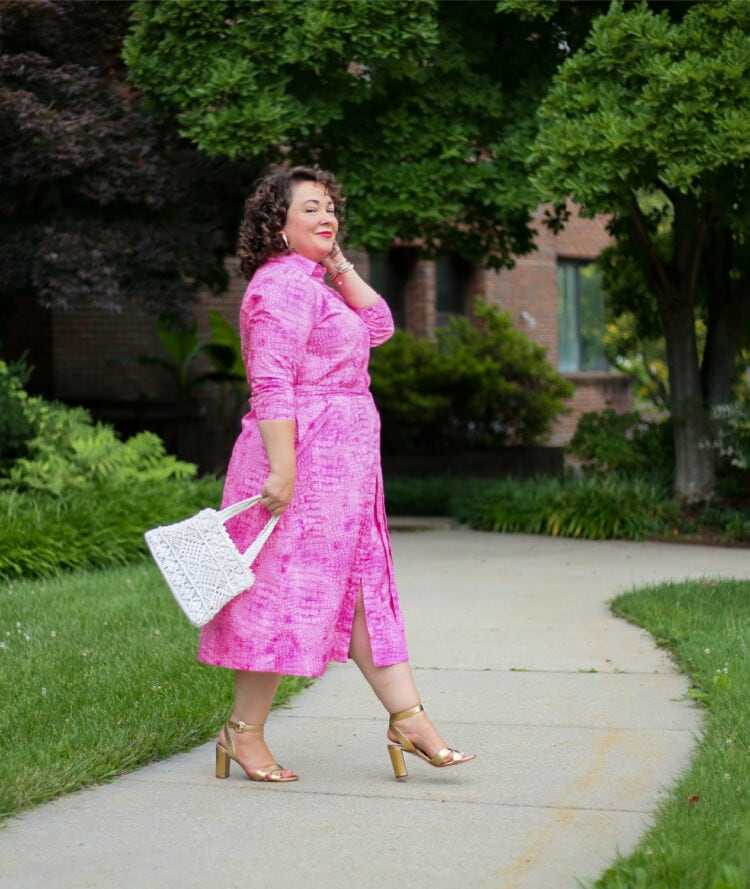 On my lips is Laura Mercier's Velour Matte pencil in "Clique" with Fenty Beauty's gloss in "Cheeky" over it. I love the "Cheeky" gloss, it transforms all of my lip products. I wear if over NARS "Pigalle," over my reds (this is my favorite red), and on its own and it makes everything pop. I don't think a bold lip is needed for such a bold dress but I felt bold today. The last time I wore this I wore an orangey lipcolor which was a fun contrast! No need to be matchy-matchy, contrast can be chic!
Shop the Post: