This article may contain affiliate links; if you click on a shopping link and make a purchase I may receive a commission. As an Amazon Associate, I earn from qualifying purchases.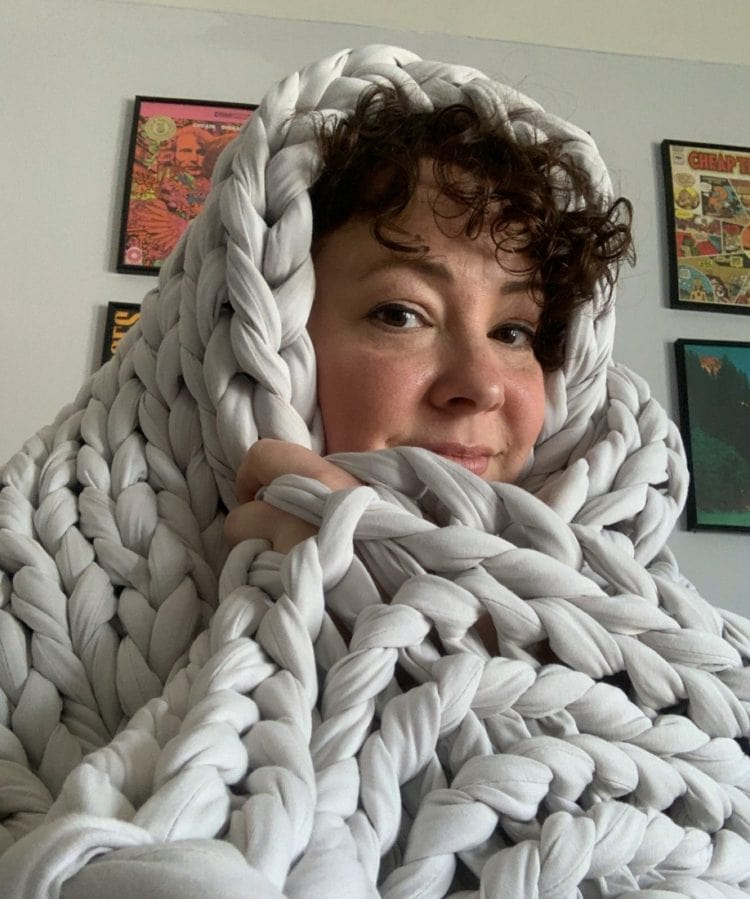 I'm calling it now; after years of contouring, compression garments, lash extensions, hair extensions, fake tans, and fillers, after this pandemic, the pendulum will swing. We will have weeks and weeks of our roots growing out, our brows growing out, our nails growing off, our skin getting clear from being bare and cared for. We will get out of the habit of highlighter and plucking, lifting and sucking in, and our feet won't feel right in our favorite heels. It will change beauty and fashion trends for seasons to come.
Thursday, my first powder dip acrylic nail popped off. By the end of the weekend, I'll likely have at least two more gone if I haven't resorted to soaking them off with that bottle of acetone nail polish I found way in the far back of my linen closet. My hair appointment for a root touch-up was canceled and my little bit of silver, not enough to look cool but just to make my thin hair look thinner and as though there's a bit more scalp peeking out, it's almost an inch long. I've decided to embrace it all. See it as a science experiment. I'm sharing it all on Instagram Stories, the bare face, the weird hair days, the janky nails. I think this is a time to do what feels right. If a full face or a box of Nice 'N Easy feels right, I support you 100%. If this is the chance you've been looking for to find out your current natural color or see if you can grow in your brows (my sister swears by plain old castor oil and a cleaned mascara wand) or to elimination test what cosmetic or skincare product or food item is causing a reaction do it. If there is one positive aspect of this situation, it may be the reduction of other people's opinions on our appearance. You do you, my friend!
How to Help
If like me, you feel helpless during this crisis there are ways you can help from your home and I want to share them. If you have an organization that can be helped, please share them in the comments and I may feature them in a future issue.
Periods don't stop for pandemics. If you still get a period, I'm thinking you included menstrual hygiene products as a must-buy along with toilet paper and hand soap. But not everyone is as lucky to be able to do a last-minute Amazon order, add them to an Instacart delivery, or have the money and transportation to drive to the nearby CVS to stock up. I Support the Girls provides bras and menstrual hygiene products to shelters and disaster locations across the globe. They have had 50 organizations already reach out begging for menstrual hygiene products. A donation of $50 will cover the cost of shipping such products to a small shelter tomorrow. Consider donating to I Support the Girls at this link; to learn more about I Support the Girls you can visit their site, or this post where I wrote about them in 2015 and this post where I mentioned them along with many other organizations last year.
Weekend Reads
A couple of people have asked this week where my "Buy a Coffee" link was. I have it here, if you'd like to buy me a coffee, and I have also added a button in the sidebar. Thank you.
A first look at Steven Speilberg's remake of West Side Story. (Vanity Fair)
The DC Environmental Film Festival has made available many of the films that were going to be screened this year at public events, which have been canceled. Most of them are free and can be found at this link. (DCEFF)
In this time of panic, we look to Generation X for inspiration. (The Mary Sue)
I mentioned last week that I ordered a Tree Napper weighted blanket from Bearaby and it arrived this week. And I love it. It feels like someone took jersey sheets and knitted them into a blanket, however, the jersey is Tencel lyocell and organic cotton so it feels cool to the touch. I bought the largest size in the gray color and it's a good size for one person like a shorter twin blanket. If you've used a weighted blanket before, this one is bumpy, not smooth, due to the knit. It gives weight without so much warmth. I've been sleeping with it and just a sheet and it's great since I sleep hot and often wake in the middle of the night in a sweat. I had always wanted a weighted blanket (my husband has one and is obsessed) but can't handle the heat and this is a great alternative. If you desire a classic weighted blanket, Bearaby also has one of those made with eucalyptus and no plastic beading.
For those who are working from home while also having kids at home, this one is for you. (The Cut)
My friend Sarah Conley interviewed a dermatologist and an epidemiologist to find out whether COVID-19 can live on your beauty products. Spoiler alert, they don't know for sure but this article also offers some great tips on sanitizing and other ways to prevent spreading it. (InStyle)
My friend Sharon at Cupcakes and Cutlery wrote a pretty comprehensive list of ways to have food delivered to your home. (Cupcakes and Cutlery)
"Premium mediocrity, by his definition, is a fancy tile backsplash in an apartment's tiny, nearly nonfunctional kitchen, or french fries doused in truffle oil, which contains no actual truffles. It's Uber Pool, which makes the luxury of being chauffeured around town financially accessible, yet requires that you brush thighs with strangers sharing the back seat. A plethora of subpar options is the foundation of modern shopping." I had a hard time finding the right quote from this article because so much of it is quotable. (The Atlantic)
If you're looking to shop Everlane, 100% of the profits from their 100% Human Collection are going to Feeding America's COVID-19 Response Fund, which provides supplies to food banks across the country.
My favorite hand creams are Aveda and O'Keeffe's but if you're looking for an alternative, Grace from The Stripe reviewed her favorites earlier this week. (The Stripe)
And for a little humor, fashionable outfits for working from home. (New Yorker)
See/Hear/Read
Currently reading The Seven Husbands of Evelyn Hugo. If you haven't heard of it, imagine if a Liz Taylor-esque star in her '80s decides to have someone write her biography to be shared after her death… with all the truths and all the juicy details of what really happened in old Hollywood. It has been an enjoyable read before bedtime.
Currently watching… God Friended Me. I somehow started watching this the first episode and love how it's so positive and light. It has gotten increasingly more unrealistic and ridiculous and Karl and I spend a good portion of the time yelling at the TV that what Rakesh is doing is illegal and why is that person divulging such information to strangers, but we still love it. We just started Alias Grace on Netflix, are DVRing the last season of Schitt's Creek, and are looking for a replacement since the most recent season of Project Runway is over (and yes, we already watched Next in Fashion and liked it!). I DVR and love Blackish (which I often watch with my daughter and/or my husband), Grownish, The Bold Type, This is Us, and also which has become ridiculous but I am still invested in, Empire. Karl and I also enjoyed a little date night watching Long Shot. Super cute movie that he (loves action and history) and I (love romance and comedies) both enjoyed.
Currently listening to… not a lot. I am having a hard time focusing enough to get work done, so I haven't listened to any podcasts and very little music. I shared on Instagram that the album Heaven or Las Vegas from The Cocteau Twins is my album to get through hard times and I have listened to it a bit. I also am a bit behind on the Bad on Paper podcast which I enjoy for light reads and interviews with fun people. Not too heavy, not too long, and I've met both hosts and think they're pretty swell people.
Share your favorites in the comments to inspire us and help us find new goodies to occupy us!
Sale Alert
I think we should all only buy what we know we can afford envisioning that this situation will be far longer than any of us estimate, and then be thrilled if it ends up shorter than that. My job depends on affiliate income, meaning I get paid when you click and buy. But I'd rather make less than feel I am causing future hardship for you and your family. Seriously, right now pretend that we will be in the current situation through the summer. If financially you can afford to shop or you truly are in need of something, I'd be honored if you use my links. If not, find another way to entertain yourself than scrolling through online sites and unsubscribe from any tempting emails. The next section is for those who need to or can afford to shop.
Nordstrom
Nordstrom has 25% off. This is not 25% off Zella leggings in olive green and Barefoot Dreams cardigans that aren't as fabulous as they were three years ago but off EVERYTHING. Nordstrom has free shipping, no minimum and free returns through USPS with no time limit on said returns. Nordstrom is also paying their employees while the stores are shut down. A few things that caught my eye:
Now is a good time to make your bed into a comfy, supportive, relaxing nest and Nordstrom has a great selection of bedding.
Shop My Picks for Beautiful Bedding:

And of course, we all love Nordstrom for fashion! I'm going to focus on wear-now fashion, which for most of you is clothing you're wearing while at home. As someone who has worked from home for many years, I've come to create a good wardrobe of comfortable, washable, yet polished looks and these items looked good to me:
If you go too long with slipper socks, slippers without support, and bare feet, you may end up with plantar fascitis or other foot issues. This can be pain on the side of the sole, on the top of the foot, and various other weird places having you think you broke, sprained, or bruised yourself. The way to prevent this I found was by wearing shoes inside, true house shoes that don't go outside. My favorite, and what my husband also wears is Birkenstocks. In the summer we wear them alone, in the winter we wear with wool socks. Not chic, but they make sense and they're easy to slip off to put on shoes to leave the house. Our second favorite, which is much more wallet-friendly? Adidas slides. We've been wearing their "shower shoes" since high school. They can be washed in the dishwasher or by hand, and they have just enough shape and support to keep your feet happy all day.
Now, if you're a cozy fuzzy slipper kind of person I don't blame you and now is the time to get really nice ones at a really nice price. These from UGG are water-resistant and come in six fab colors. A scuff is great for slipping on as you slide out of bed; these are a classic and these have a nice gripper sole. While my "UGG boots" are from another brand, I really appreciate them for slipping on early in the morning and letting out the dog (and previously, times when I ran errands). The UGG Classic Mini isn't too tall, making it a great house shoe and comes in a lot of nice colors. If you want fuzzy and cozy while also supportive, you can't go wrong with Vionic. Whether you want toe coverage or want to let your piggies breathe, Vionic has them and they look great too. And if you love a boiled wool clog-style slipper, these are just too cute.
Shop My Picks for Slippers:

Do you own a pair of blue light-blocking glasses? If you don't, get some. I have a feeling you'll be on screens more than usual in the near future. I have some from The Book Club and they're not super high quality but they're cool looking and a fantastic price.
If you're like me, your roots are coming in. It may be a couple of grays, or it may be a completely different color. I recommend not going to a salon right now, but I also recommend steering clear from the box dyes unless you're a pro at them already. Instead, let your hair go natural for a bit, and when you wish to hide it, consider a hat or scarf! I have three of these berets, and can't believe right now they're around $11! I also have this cashmere beanie which is super lightweight and floppy so it doesn't feel like you're wearing anything (and I can't believe it's under $10!). As for scarves, unless you're familiar with wearing scarves on your head, I recommend a square one in cotton, linen, or silk/silk blend. Consider a couple of Bobby pins or barrettes to hold it in place. Bon Appetit has an article showing how to tie a bandana like a chef which offers some different tying options.
As for clothing… I am not recommending anything in particular. Items are selling out quickly and I don't want to recommend anything I don't personally own and feel responsible for lots of returns to be sent out right now. However, if you have a question about a specific item, leave a question and I will give my honest feedback. We're also chatting about Nordstrom purchased in the WO2 Community.
Talbots
Talbots has 40% off your entire purchase plus free shipping through Sunday. You know I love Talbots and wear the brand quite often. I feel good about suggesting their clothes as I find their sizing pretty consistent and their customer reviews quite detailed. Their T by Talbots collection is a mix of activewear, loungewear, athleisure, and casual clothing with stretch that will be enjoyable now and in the future. I have this jacket from the current collection, but have knit tops and leggings from past T by Talbots collections that are still going strong with fit, quality, color saturation, etc. Not part of the collection, but this open cardigan is looking so lovely to wear now, and also after glammed up with wide leg pants for the office or with leggings on the weekend.
Their New Arrivals are so good; Talbots always does spring style so well. This L'amour tee is so chic, this linen blazer is similar looking to one I ordered from Everlane that had a terrible fit for my body and not nearly as extensive a size range, if you like the Trouser Jean from cabi but they don't have your size this is a slightly more casual alternative, this is the kind of dress you can enjoy at home now and for summer social events once they can happen again. The colors of this Breton tee are so on trend and elegant, I am obsessed with this shirtdress, and I want to wear these pants all the time with t-shirts, silk tees, blazers and blouses, and linen sweaters. If you're looking for that perfect cardigan or shrug to wear with dresses, Talbots has it covered. And if you want a chic suit for suit, for work, or for getting to work once we can all leave our houses and fight again for our rights, how about this lovely jacket and matching pants?
Shop my picks from Talbots:

Soma
Soma has 40% off a purchase of $200 and more with promo code 74316, 30% off a purchase of $150 to $200 with promo code 74725, and 15% off any purchases under $150 wth promo code 35313. I recently did an Instagram campaign with them for their Vanishing 360 collection which is amazing. It weighs nearly nothing, molds to your body, doesn't roll down or ride up, the bras mold to you so there's no visible cup edge, and it has a good size range (bands 32-46, cups A-I, sizes XS-3X). If you're one who likes to shelter at home in a comfy dress, check out Soma as they just stocked a bunch of great looks. They make amazing dresses, many have built-in bras great for being at home; here is my review of one of their dresses last summer; this one looks like the same dress but a knee length. And if you haven't tried their Cool Nights sleep collection, now is a great time. Silky, easy to launder, truly does regulate your temperature so you're not cold but you don't sweat (and great if you deal with hot flashes!).
Shop my Picks from Soma:

For Your Entertainment
Norah Jones is back, and her song, "I'm Alive," fits the life we've been experiencing the past few years and right now quite well. I feel a sense of nostalgia as I look at this video of friends hanging out together, love seeing Jeff Tweedy, and love Jones' voice that seems to lower blood pressure while also reminding us that right now being alive is important, hell it's an achievement, but once we are able, we must stop sitting still to have things change (here's a link to the lyrics). Much love to all of you.